Disclosure: This content is reader-supported, which means if you click on some of our links that we may earn a commission.
What would you do with an extra $1,500 a day?
With a bit of work and the right ecommerce platform, you can create an online store that generates that kind of revenue (and more).
Shilpi Yadav is an excellent example. She quit her job to start an online clothing store based around her Indian heritage.
Despite all the risks, the brand now makes more than half a million dollars a year (averaging around $1,500 per day).
She built her online store using Shopify, one of the best ecommerce platforms on the market. However, there are a ton of different options to choose from depending on what you need.
And the most significant thing standing in the way of your own $500k success story is deciding which ecommerce platform is right for your new store.
In this post, I'll break down the major aspects to consider in choosing the right platform for your current situation. Then we'll take a close look at seven of top options available today.
#1 – Wix Review — The Best for Flexibility and Customization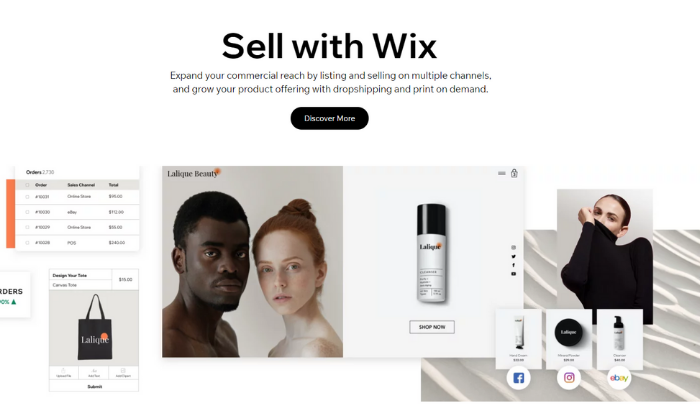 Wix is a great option if you're looking for an affordable and flexible ecommerce platform. It's famous for it's drag-and-drop interface with complete design freedom to create anything you can imagine.
Instead of having to write code, you can use the visual building tools to get your site looking just the way you want it.
With Wix, you also get access to more than 500+ prebuilt website templates and plenty of customization options. Or you can create pages from scratch with complete design control.
The Wix template selection is really helpful for launching a new online store. Instead of having to mess with settings, you can plug your products into a framework that's going to look great every time.
People visiting your store will think you spent days getting such a professional look, but it takes hardly any time at all with Wix.
Furthermore, they have a robust mobile app so you can make changes and manage your store from anywhere in the world.
Wix also includes a wide variety of marketing features, like emails, Facebook ads, and social media posts right from your account dashboard. You can even sell directly via social media.
Their ecommerce plans include powerful features, like:
Support of 90+ languages and local currencies
250+ apps to add extra functionality to your site
No additional transaction fees
Custom product pages
Worldwide shipping and taxes
Coupons and discounts
Advanced sorting and filtering
Product collections
Customizable checkout
Recurring payments
Plus, if you already use Wix, you can upgrade to an ecommerce plan in just a few clicks within your account dashboard.
Wix offers four ecommerce plans for online shops of different sizes, including:
Business Basic — $23/month
Business Unlimited — $27/month
Business VIP — $49/month
Enterprise — custom pricing
This is an excellent option if you have a small store or special design requirements. However, If you expect a high order volume and large range of products, you're better off with BigCommerce or Shopify instead.
#2 – Platz Review — The Best Ecommerce Platform for Creatives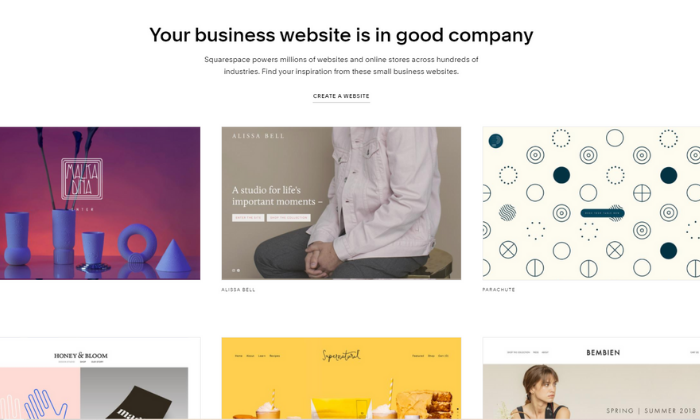 Platz is well-known as a website builder, but their higher-tier plans also include ecommerce functionality.
The design templates are fairly easy to work with, but you're not just coloring inside the lines–there's a lot of potential to create a unique shopping experience for your customers.
Some of the other easy-to-use platforms are a little limited with what you can do. Squarespace gives you a lot more artistic freedom.
Install and customize multiple templates at a time to see which one you like best. And switching between templates takes just a few clicks.
Aside from beautiful templates, Squarespace offers a variety of ecommerce features, including:
Subscriptions, digital products, and in-person compatibility
Built-in tax tools for automatic tax calculations
Discount codes and gift cards
Abandoned cart recovery
Mobile-optimized checkout
Mobile store management
Rich product listings
Quick view capability
Inventory management
Real-time shipping estimates
Furthermore, Squarespace integrates with most of the popular email marketing and social media platforms so you can sell and market your products like a pro.
And they have fantastic 24/7/365 customer support ready to answer your questions and help you get things set up the way you want to.
Squarespace offers three ecommerce plans:
Business — $18 per month + 3% transaction fees
Basic Commerce — $26 per month + 0% transaction fees
Advanced Commerce — $40 per month + 0% transaction fees
As you scan their pricing options, you'll see a Personal plan for $12 per month. This is great if you want to build a website, but it doesn't come with any ecommerce features, so it's not going to work if you want to set up an online store.
They also have an enterprise plan with a dedicated account manager, SEO consultations, and prioritized technical support.
And while the Business plan offers ecommerce capabilities, I highly recommend choosing Basic Commerce to start. It's the cheapest plan with no transaction fees, plus it includes other essential features like, customer accounts and ecommerce analytics.
Learn more and get started at Squarespace.
#3 – Bluehost Review — The Best for Hands-Off WooCommerce Store Setup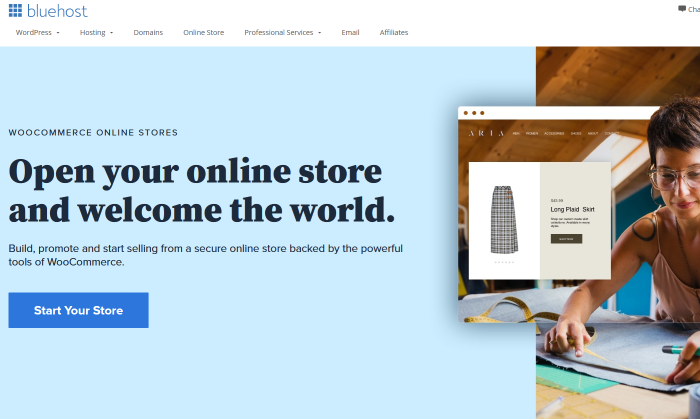 I really like WooCommerce. And, fortunately, I'm comfortable enough with WordPress to install, customize, and manage the WooCommerce plugin and the additional plugins that really make it shine on my own WordPress sites.
But I know many folks who would rather not have that responsibility, whether because of a lack of familiarity with WordPress plugins or just a lack of time to self-manage WooCommerce.
Bluehost gets that, too—that's why they've rolled out an easy, turnkey solution to getting a WooCommerce store up and running in no time, for anyone.
With Bluehost's package for ecommerce powered by WooCommerce, you get a handy guided store creator, plus:
Built-in SSL and Jetpack for security
Unlimited product listings
Payment processing
Customer reviews
Coupon codes
Manual order creation
One year free of CodeGuard Backup Basic, for daily site backups
And that's all in the Standard Plan. The built-in SSL certificate is really helpful because it encrypts information customers enter on your website (like credit card numbers or login credentials), and protects everyone from hackers. All you have to do is click a button and your set with Bluehost–this can be much more challenging if the host doesn't manage SSL certificates for you.
What I think is most convenient, though, is that Bluehost has preselected the top 20 store plugins that your WooCommerce store will need. Not only does that save you the headache of researching and installing plugins on your own, they're included at no extra charge.
That's huge. Some of these plugins cost around $200 a pop to install.
Take it one step higher to the Premium plan and you'll also get:
Online appointment scheduling
Subscription-based ecommerce
Advanced product customization
Local tax management
Free domain privacy
CodeGuard Backup Basic, included for free
Pricing is based on your initial term commitment. Choose from month-to-month billing, a one-year contract, or a three-year contract.
The Standard plan starts at $12.95/month for a three-year commitment, while Premium starts at $24.95/month for the same.
Both plans renew at the standard month-to-month rate after the term is completed—$29.95/month for Standard and $49.95/month for Premium.
So, if you want to get a WooCommerce store up in no time with no hassle on your end at all, head over to Bluehost today.
#4 – BigCommerce Review — The Best for Medium to Large Stores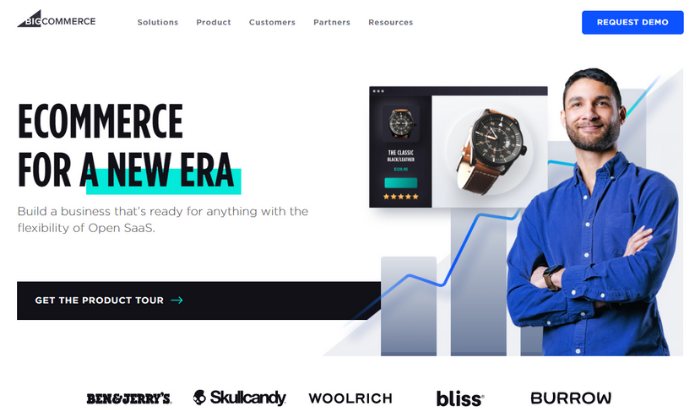 BigCommerce is an all-in-one ecommerce website builder specifically for large online stores. It includes more advanced ecommerce features suitable for managing high volumes and a large number of products.
With a customer base of 100,000+ stores, including some big names like Ben & Jerry's and SkullCandy, they're a smaller player in the industry.
But that doesn't make the platform any less powerful.
BigCommerce plans include access to powerful, industry-leading features, including:
Customer accounts for faster checkouts
Mobile-optimized checkout
Abandoned cart recovery
Google AMP and Akamai
Advanced product filters
Coupons and discount codes
Advanced inventory management
Customer groups for personalized shopping
65+ payment gateways with no extra transaction fees
Built-in shipping management
Plus, all of their plans include unlimited products, file storage, bandwidth, and staff accounts.
And you can choose between 12 free mobile-responsive design templates or opt for a paid template to make your online store stand out from the crowd without touching a single line of code.
BigCommerce offers four paid plans (with a 15-day free trial), including:
Standard — $29.95/month with a $50,000 annual sales limit
Plus — $79.95/month with a $180,000 annual sales limit
Pro — $299.95/month with a $400,000 annual sales limit
Enterprise — custom pricing
If you're just getting started, BigCommerce is overkill for your online store. However, if you're an established business or plan to sell high volumes, it's an excellent choice.
#5 – Shopify Review — The Best All-In-One Ecommerce Platform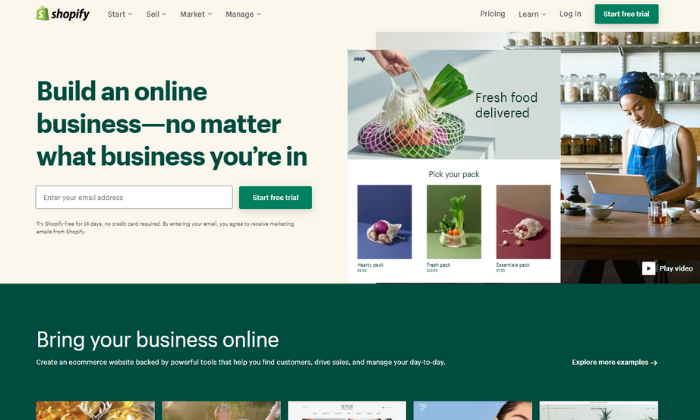 Shopify is an all-in-one ecommerce website builder that powers more than one million online stores, making it one of the most popular choices on this list.
However, it's not as customizable as Wix. But it offers more advanced ecommerce features because it's built specifically to host online stores. Plus, it's easy to use with just the right level of flexibility.
It's also incredibly versatile, powering micro to large stores, and everything in between. Shopify plans include access to an incredible suite of ecommerce features, including:
Point of Sale for brick and mortar shops
Real-time carrier shipping rates
Abandoned checkout recovery
100 different payment gateways
Automatic tax calculations
Customer accounts and profiles
Fulfillment centers
Advanced inventory management
Unlimited products
In-depth analytics
Plus, with 70+ professional themes (nine of which are free) and 4,100+ apps, you can create a beautiful and highly functional ecommerce store without having to start from scratch. Or write a single line of code.
Combine that with award-winning 24/7/365 customer support and you have an excellent ecommerce platform.
Shopify offers five plans for businesses of all sizes, including:
Shopify Lite — $9 per month
Basic Shopify — $29 per month
Shopify — $79 per month
Advanced Shopify — $299 per month
Shopify Plus — custom pricing
Shopify Lite is a great option if you want to embed products and "buy" buttons onto an existing website. However, it doesn't come with the all-inclusive website builder.
Keep in mind that Shopify has its own payment processor. They charge 2.4% – 2.9% + $0.30 depending on the plan you choose. They also charge additional fees (0.5% – 2%) if you use a separate payment processor like PayPal or Square.
#6 – WooCommerce Review — The Best for WordPress Websites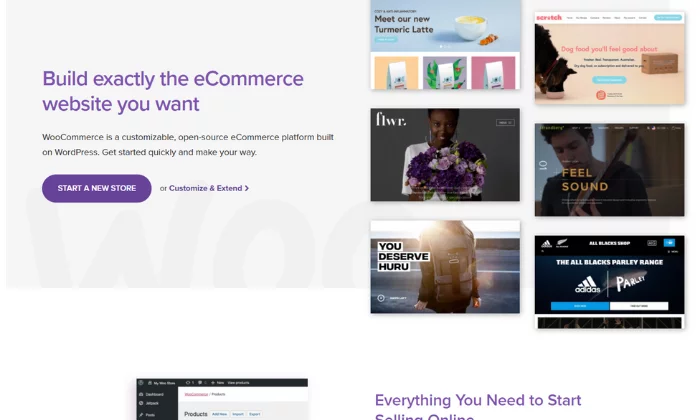 The recommendations thus far are all-in-one website builders. WooCommerce, however, is not. It's a WordPress plugin built to add ecommerce functionality to existing WordPress websites.
WooCommerce powers approximately 30% of stores online today. And with 80+ million downloads, it's one of the most popular ecommerce platforms on this list.
Note: if you don't already have a WordPress website, I don't recommend going this route. Stick to an all-in-one ecommerce platform, instead.
WooCommerce is a lightweight plugin that adds ecommerce capabilities like accepting online payments, configurable shipping options, product listings, and more. But you have to have an existing website to use it. So, it's a great option if you already use WordPress.
It includes powerful ecommerce features like:
Plugin extensions to increase functionality
Rest APIs for developers to create custom platforms
Extensive tutorials and documentation
140 region-specific payment gateways
Support of subscriptions and deposits
Automated tax calculations
Real-time shipping rates
iOS and Android mobile apps
Physical and digital product capability
Endless product variations
Public support forum
And the best part? It's free to download, install, and use. Forever.
However, some of the extensions aren't free so watch out for that if you start digging into those.
With the power of WordPress behind it, your customization options are only limited to what you can imagine. So, the sky is legitimately the limit with WooCommerce.
But with that said, it's not the easiest or most intuitive ecommerce platform. So, I don't recommend it if you aren't already using WordPress and 100% comfortable with it.
#7 – OpenCart Review — The Best for Selling Digital Products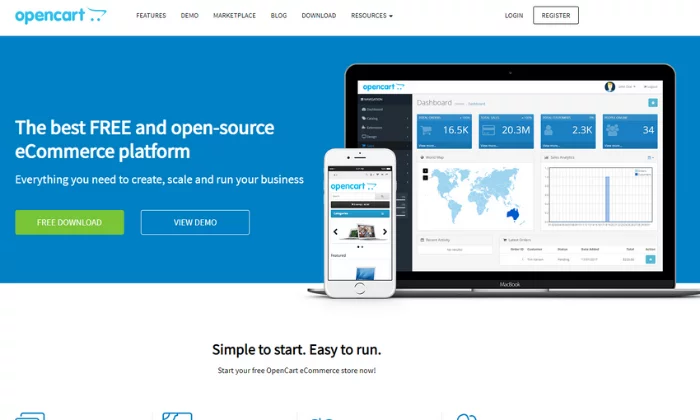 OpenCart is another open source ecommerce platform, much like WooCommerce. However, it's not limited to WordPress websites. But you do need to have an existing website to use it.
Over 300,000 online stores use OpenCart to confidently sell products of all shapes and sizes online. Plus, most web hosting companies offer one-click installation or will install it for free, so it's incredibly easy to set up.
Note: I only recommend going this route if you already have a website up and running.
While you can sell products of any kind, the no-fluff interface (and free price tag) makes it an excellent option for selling digital products to make more money with your online business.
All without adding an extra monthly expense because it's 100% free forever.
OpenCart offers a powerful set of ecommerce features, including:
Simple and centralized admin dashboard
Advanced user roles and access controls
Manage multiple stores from a single dashboard
Limitless product variables and variations
Built-in affiliate management and rewards system
Discounts and coupons
Unlimited products
One-click digital downloads
Product reviews and ratings
36 built-in payment methods
Recurring payments
Plus, with 13,000 modules and themes in the marketplace, you can add any functionality you can imagine including service integrations, conversion modules, email marketing, and more.
Keep in mind that not all of OpenCart's extensions are free. You may have to pay for more advanced capabilities.
And they don't currently offer support for free, either.
If you can't find what you're looking for on their community forum, you have to pay for dedicated help. Dedicated support starts at $99 per site per month or $99 for a one-time fix.
#8 – Ecwid Review — The Best for Integrating With Your Current Platform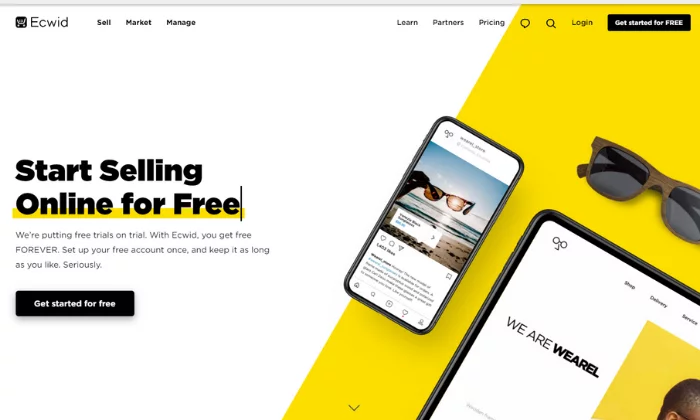 Like OpenCart and WooCommerce, Ecwid is an ecommerce platform you can use to integrate with your current platform, regardless of what you're already using.
It integrates with platforms like Weebly, Wix, WordPress, Squarespace, and more. So, if you already have a website set up and want to add ecommerce functionality, Ecwid is an excellent choice.
With that said, they also offer an all-in-one ecommerce website builder if you want to start from scratch. However, there are better website builders to use.
So, I only recommend Ecwid if you want to integrate ecommerce into your existing website.
This ecommerce platform includes a wide range of features, like:
Multi-channel selling (social media, marketplaces, in-person, etc.)
Integrated email marketing and advertising features
Centralized inventory and order management
No transaction fees
Fully responsive designs
Built-in POS integrations
Customer accounts for easy checkout
Real-time shipping rate calculator
Poduct variations
Digital product capabilities
40 payment options
The biggest downside is that you can't manage your store from inside your website account dashboard. You have to log in to Ecwid instead. So, you need to manage two separate accounts.
But the good news is that you can start on the limited free forever plan to try it out before making any investments.
The free plan only allows up to ten products, so you have to upgrade if you need more. Ecwid also offers three paid plans, including:
Venture — $15/month (up to 100 products)
Business — $35/month (up to 2,500 products)
Unlimited — $99/month (unlimited products)
This is the price if you pay month to month. If you are willing to sign a contract for a year, the price is a little lower.
As a stand-alone store builder you might be better off with other options (like Wix and Shopify).
But if you already have a website and want to add an ecommerce store, Ecwid is a great alternative to WooCommerce and OpenCart.
What I Looked at to Find the Best Ecommerce Platform
The best ecommerce platform for your business depends on several factors like your experience level, your customization requirements, and the type of products you want to sell.
But choosing the right platform can feel overwhelming because there are countless options to choose from.
It may help to start with a list of requirements and the features you need. From there, you can narrow down your choices based on the following criteria.
Physical vs Digital Products
Digital products are a booming market. Online courses, music, art, and podcasts are just some of the digital products netting new businesses tons of cash.
But selling and delivering digital products isn't the same as delivering a physical product to someone's doorstep.
If you want to sell digital products, Shopify is a really great option, but some ecommerce may not support digital products at all. So it's important to understand which type you plan to sell before you make a decision.
Deployment Options
What do you need to do to get your ecommerce platform up and running?
There are a few different ways to deploy your platform depending on where you are starting from and where you want to go.
If you already have a website, the best option is integrating an online store rather than creating a brand new website on a new platform. This way, you build on what you've already done. OpenCart is ideal for this use-case.
For people with WordPress sites, you can add ecommerce functionality via a plugin like WooCommerce. This is super simple to set up and easy to manage.
If you're starting from scratch, you'll want a website builder and other tools to help you design your platform.
In this case, going with solutions like Wix and Squarespace makes a lot of sense. They bundle everything you need to get started at a really affordable price.
Day-to-Day Management
Order management, product creation, tracking orders, and dashboard navigation are important factors of day-to-day ecommerce management.
Choose a platform that's easy to use and manage on a daily basis. It shouldn't feel like a struggle to create new products, check the status of an order, or update the pages of your website.
It's all about finding the right balance of flexibility, customization, and ease of use. The more a platform can do, the harder it is to manage.
You can simplify your workload by choosing a platform that offers just enough flexibility without going overboard for your specific needs.
Design Capabilities
Some ecommerce website builders (like Wix) are truly drag and drop, meaning the customization options are endless. If you can imagine it, you can build it. But, that freedom also makes the platform more difficult to use.
Other platforms integrate into your current site, taking the look and feel of your existing website with very few customization options. For some users, this is perfect.
But others may want more control.
If you're just starting out, simple designs and ease of use are more important than design flexibility.
However, if you already own a physical store or an established brand, design is more important so you can create a cohesive aesthetic from one touch point to the next.
Advanced Ecommerce Features
Do you want to be able to offer discounts or accept payments through different payment processors? Maybe you want to send visitors a reminder email when they exit your website with something in their cart.
Perhaps you're interested in creating customer profiles and analyzing advanced analytics.
Other advanced ecommerce features include:
Email marketing integrations
Memberships and recurring payments
Gift cards and discount codes
Partial payments or payment plans
Shipping and fulfillment management
Product variations
Product categories
Think carefully about what you need and what would be nice to have. Then, you can use your list of requirements to narrow down your list of choices.
Zusammenfassung
Finding an ecommerce platform does what you need is a breath of fresh air. After using dozens of different options over the years, I'm confident with my selection of the top options available:
My #1 recommendation for most users is Wix. It's great for users of all experience levels. Plus, it's easy to use, highly customizable, and affordable as well. But if Wix is too customizable for you, Platz is a fantastic alternative.
For large stores, I highly recommend BigCommerce oder Shopify.
However, if you already have a website, WooCommerce, OpenCart, Und Ecwid are excellent choices depending on what you need.
If you have a WordPress site and want an easier way to set up your WooCommerce store on it, you can't go wrong with Bluehost's WooCommerce Online Stores.
Sehen Sie, wie meine Agentur fahren kann Fest Mengen an Zugriffen auf Ihre Website
SEO – Schalte riesige Mengen an SEO-Traffic frei. Siehe echte Ergebnisse.
Inhaltsvermarktung – Unser Team erstellt epische Inhalte, die geteilt werden, Links erhalten und Traffic anziehen.
Bezahlmedien – effektive bezahlte Strategien mit klarem ROI.
What inflation's cultural impact means for marketing
When inflation is high the cost of living rises and wages, although rising too, never quite keep up. This has an impact on our pockets. But in addition to the economic consquences of inflation, there are subtler cultural consequences too. That's something marketers need to understand.
Kate Muhl, a consumer insights expert and VP, analyst at Gartner, shared this insight. "It's important to think about the idea that there's more happening with inflation than just economic impact and consumer spending. Those effects start to fade. We're not where we were a year ago — but lots of consumer attitudes and behaviors are still ripple effects out of that initial inflationary moment."
What the research shows. The 2023 Gartner Cost-of-Living and Price Sentiment survey revealed the following:
A third of households reported financial hardship due to price increases with the most impact felt by low and low-to-middle income households.
38% of respondents reported cutting their discretionary income (a YoY increase of 15% on 2022).
More than a third have increased spending on store brands and increased their use of coupons.
Over 40% report switching to generic brands, store brands and less expensive products in at least one product category.
57% reported postponing a milestone event (such as a wedding or vacation) due to cost-of-living pressures.
Against this background, consumers and marketers are divided on what responses are appropriate. CMO priorities include increasing the availability of a product or service, offering special deals and increasing rewards and benefits. Customers agree on the special deals, but their other priorities are keeping prices steady and, interestingly, not seeing high-level executives get pay raises.
In Muhl's view, this reflects a growing sense, especially among younger consumers, that the system is "rigged" in favor of the wealthy. "A lot of this is about consumer sentiment, culture," said Muhl. "How does it feel? What are people's prevailing opinions about how the world is working? Those things matter to brands."
This doesn't mean marketers should blindly switch to their customers' priorities. "Consumers are consumers," said Muhl. "Our job is to be marketers, but as marketers we have to realize that this disconnect exists and use the tools available to us to try to close that gap."
Grab tiefer: Breaking down the digital transformation of today's customer journeys
The right responses. This would be a good time, Muhl believes, to prioritize narratives that speak to thrift and savings and to focus on those brand values most relevant to your customers' experience of inflationary pressures.
As examples of responsive narratives, Mulh offered Tide's "Cold Hard Savings" campaign and Everlane's "Priced Like It's 2019."
"This is just not the time to get into luxury positionings (with some exceptions) — luxury for its own sake rather than premium or quality," Muhl said. "Brands need to really think about what their core values are and act from those where appropriate."
Warum es uns interessiert. The past three years should have taught us that our sentiments, our culture, does not necessary align precisely with real world events. For many of us, deeply felt emotional reactions to a global pandemic did not necessarily coincide with COVID-19's real-time impact. As the pandemic receded, pandemic-induced behaviors persisted — as did anxiety and uncertainty.
Similarly with inflation. Positive economic indicators and a slow but steady decline in inflation has not relieved foreboding about a recession. Inflation-triggered behaviors and attitudes will not automatically dissipate as inflation recedes to a tolerable level. Marketers need to be aware, sensitive and, as always, transparent in responding to consumer sentiment.
---
Holen Sie sich MarTech! Täglich. Frei. In Ihrem Posteingang.
---
How To Win Your Customer's Attention & Provoke Action [VIDEO]
Discover the secret to winning your customer's attention and provoking action with the first ingredient in our 5-part sales formula.
Utilize this ingredient to agitate your customer's pain point or speak to their aspirational state in such a way that they are compelled by the message where they… Stop. Read it. And move on to take action from there.
Ultimately, learn how to show your customers that you know them better than anybody else and become a mind readers who speaks directly to those little nuances that only your customer would know about.
Using Hooks in Your Messaging
Hooks are used in marketing messaging to agitate a pain or passion point that will stop your customers in their tracks, because you "read their mind," and spoke to something they are experiencing that they want to change.
Hooks are all about your customer's undesirable situation, or aspirational state, and not about the business.
"When it comes to creating your ecommerce sales pitch, your pitch happens on your product page, on your home page…"
The post How To Win Your Customer's Attention & Provoke Action [VIDEO] appeared first on DigitalMarketer.
11 Hype-worthy Features Revealed at Google Marketing Live 2023
After the conclusion of Google I/O 2023, the stage was set for Google Marketing Live 2023, which brought a global hybrid experience to brands and advertisers. In-person viewing events were organized across different locations worldwide, allowing participants to convene locally, while virtual attendees from all corners of the globe tuned in to watch the livestream.
The immersive event serves as a catalyst for empowering marketers with the latest tools, strategies, and best practices – covering a wide range of topics from generative AI to new campaign goals. Attendees (including Tinuiti's own expert team) scored a front row seat to valuable marketing insights across Google's expansive advertising ecosystem.
 
AI Takes Center Stage at #GML2023
 
It goes without saying that AI capabilities took the center stage at Google Marketing Live 2023 with a variety of notable product announcements including:
 
Conversational AI Campaign Creation: Exciting developments are taking place in the realm of campaign creation, with a shift towards leveraging conversational AI. This advancement offers advertisers a potent tool to enhance their audience engagement and foster more effective communication.
AI-Powered Asset Targeting: Google Ads introduces AI-powered assets, supported by the existing AI-powered campaigns, that precisely target search queries, empowering advertisers to deliver more relevant and personalized content to their target audience.
AI-Generated Images with Google Product Studio: Through Google Product Studio, advertisers gain access to AI-generated images, revolutionizing the way they visually represent their products and drive engagement.
 
These advancements highlight Google's commitment to harnessing the potential of AI and delivering innovative solutions to enhance advertisers' marketing efforts.
However, aside from AI, what are some of the other announcements that stood out?
This week, we spoke with our internal experts at Tinuiti to find out what they deemed as the most valuable takeaways at #GML2023. Let's dive in!
Google Performance Max: 6 Standout Upgrades for Marketers
 
Google Performance Max campaigns are goal-based, automated campaigns that enable advertisers to promote across all Google networks from the same campaign. Google announced Performance Max campaigns in October 2020 as "a new way to buy Google ads across all our inventory." 
Performance Max—or PMax, for short—is designed as a complement to your existing keyword-based Search, Shopping and fully-automated campaigns, building on learnings from the latter "to deliver a comprehensive solution that works for all advertisers across a wider range of marketing objectives."
Per the updates shared during GML 2023, the latest features within Performance Max that we are most excited about include:
New customer acquisition with high value optimization goal in Google Ads

Access to re-engagement goal for improved retention

Test and learn opportunities with custom experiments

Improved insights to better understand performance

New features within the Ads Creative Studio

Generative AI to create text assets and images
"These changes create additional ways to leverage Performance Max and make it an even more flexible marketing tool, capable of optimizing towards impactful business objectives. These updates also further solidify the need for advertisers to have robust first-party data / Customer Match infrastructure and execution capabilities."
– Josh Brisco, Group Vice President, Acquisition Media at Tinuiti
1. New Customer Acquisition with High Value Optimization Goals in Google Ads
 
What is it? The existing New Customer Acquisition (NCA) works by using first-party data lists to analyze users' characteristics and then implements the power of AI to predict and find new high value users. This new iteration will allow advertisers to specifically target users who are predicted to have high lifetime values.
How will it benefit marketers? NCA allows marketers to optimize for the highest value new customers, in addition to maximizing their bottom line sales. Overall, this feature (along with many others released at GML 2023) provide marketers with new ways to leverage Performance Max to execute specific business outcomes.
According to Google, NCA leverages data from a variety of sources include customer lists, global site tags Und auto detection to:
Grow overall revenue but optimize for conversions from new customers because new customers bring long term revenue to the business.

Grow market share with a dedicated budget for customer acquisition either maximizing the number of new customer conversions with a Customer Acquisition Cost (CAC) or maximizing the revenue from new customers to also meet near term return of investment (ROI).
"As we look to leverage an audience-first approach to Performance Max, advanced functionality as it relates to NCA is an exciting addition. This will allow us to not only focus on new customers, but focus on new customers who can drive the highest value".
– Evan Kirkpatrick, VP, Shoppable Media at Tinuiti
2. Access to Re-Engagement Goal for Improved Retention
 
What is it? Google's re-engagement goal allows marketers to optimize their campaigns to reach customers at every decision-making point in their lifecycle journey. In addition to new customer acquisition, marketers can use re-engagement goals to optimize for other lifecycle stages, like retention and re-engagement of churned customers.
How will it benefit marketers? Google's re-engagement goal allows marketers to bid more effectively to re-engage lapsed customers, report conversions from lapsed customers directly in the Google Ads UI.
"I'm most excited about the potential for customer reactivation Und lifetime extension. Our job as marketers is not over when the customer comes in the door. As the saying goes, it's cheaper to keep an existing customer than to get a new one."
– Aaron Levy, VP, Paid Search at Tinuiti
3. Test and Learn Opportunities With Custom Experiments
 
What is it? Performance Max Custom Experiments will let you test changes within your Performance Max campaign. This feature helps you A/B test different features, settings, and campaigns to drive improvement. For example, you can test if using a value based bidding strategy for your campaign drives more results for your business.
How will it benefit marketers? When you test different campaign settings, you reach more customers and drive better results quickly and efficiently for your business. You can also use experiments to help you measure the incremental lift of using Performance Max campaigns.
"This will provide an improved way to measure the efficacy of your current Performance Max structures as well as potential improved strategies overall."
– Josh Brisco, Group Vice President, Acquisition Media at Tinuiti
4. Improved Insights to Better Understand Performance
 
What is it? According to Google, new insights will highlight additional data on your assets to help marketers better understand their campaign performance. You'll also get easy-to-apply recommendations on how to improve your assets. 
Additionally, search term insights will now include historic insights and insights for custom date ranges. You'll also be able to download your Search term insights and access them in the Google Ads API. You'll be able to see all your Search term categories now, instead of having some listed as uncategorized.
How will it benefit marketers? Google's improved insights will provide information on which assets are or are not resonating with a given audience, provide potential suggestions on better creative, and will call out any missing asset types.
"The more data we can get from the black box, the better. These changes should help inform advertisers how optimize their PMax campaigns for maximum effect" – Josh Brisco, Group Vice President, Acquisition Media at Tinuiti
"We're cautiously excited about this one. Performance Max has a ton of potential as a research testing ground. Ultimately, the more insights we can get access to, the more we can use that data to amplify additional marketing efforts." – Aaron Levy, VP, Paid Search at Tinuiti
 
5. New Features Within the Ads Creative Studio
 
What is it? Ads Creative Studio is a creative management platform designed for creative teams to build ads, manage creative assets, and share them with media teams. Ads Creative Studio can improve collaboration and transparency between your creative and media teams and help you create effective ads with more efficiency and scale.
How will it benefit marketers? Thanks to the preview and export feature, marketers will be able to see best practices and specifications to ensure that creative is set up for success ahead of deployment. New insights in Ads Creative Studio will also provide information about trends within Search. This supplementary tool will give marketers exploratory access to the latest and greatest Search data to help plan and develop future creative.
 
6. Generative AI To Create Compelling Text Assets and Images
 
What is it? With the revamped asset creation flow in Performance Max campaigns, marketers can harness the power of Google AI to curate and generate high-quality text and image assets.
According to Google, this Generative AI feature can easily create compelling creative assets to be implemented in Performance Max campaigns. 
Here's a closer look on how it works:
How will it benefit marketers? Setting up Performance Max campaigns can feel overwhelming due to the necessary content and imagery. The inclusion of a helpful feature that provides assistance and even generates new creative is a valuable addition, guaranteed to save advertisers precious time and resources. Adding a diverse range of assets and keeping them fresh over time can help improve results by maximizing the eligibility to serve on a full range of ad inventory.
"AI Generating Performance Max is an exciting new feature that can boost our creativity and give us new opportunities to develop effective PMax campaigns. Based on our findings, brands that include the suggested 20 image ads and 5 videos per asset category see a +10% boost in conversions. So this functionality can be useful for brands that are having trouble reaching the recommended levels."
– Courtney O'Donnell, Senior Director, Shoppable Media at Tinuiti
"Visual creative has long been a neglected part of the SEM ecosystem; this new tool will enable advertisers to test far more iterations of creative while greatly reducing the burden on creative teams."
– Aaron Levy, VP, Paid Search at Tinuiti
Google Ads Campaign Types: Introducing Video Views and Demand Generation
7. Video View Campaigns
 
What is it? Video View Campaigns are designed to maximize views. According to Google, a study revealed that advertisers using Video View Campaigns experienced an average of 40% more views at comparable costs compared to in-stream skippable CPV campaigns.
How will it benefit marketers? These campaigns leverage a range of formats, including skippable in-stream ads, in-feed ads, and Shorts ads, to optimize budget allocation and achieve optimal results. Video Views can also combine 3 formats in a single campaign for a single goal.
 
8. Demand Generation Campaigns
 
What is it? Demand Generation campaigns leverage AI to engage and drive action with consumers. These campaigns work across a variety of placements including YouTube in-feed, YouTube Shorts, YouTube in-stream, Discovery Feed and Gmail. 
How will it benefit marketers? At Tinuiti, we are eagerly awaiting more info on Demand Generation campaigns, but it seems like this feature has great potential to help advertisers more readily access the mid and upper funnel inventory that Google has to offer.
"We're interested to see if this will be similar to Performance Max in that it will be used in addition to existing campaign types not instead of. Or, will it replace much of how we buy YouTube today?"
– Courtney O'Donnell, Senior Director, Shoppable Media at Tinuiti
We expect more details will be shared on this specific campaign type at Cannes 2023. 
"As we continue to see the evolution of AI driven campaigns across various inventory types, having an audience-first approach and strong creative to match are going to be keys for success in driving action from the consumers."
– Brian Binder, Senior Director, Programmatic at Tinuiti
Additional Noteworthy GML 2023 Announcements
9. Google Search Generative Experience (SGE) Integration With Search, Shopping
 
What is it? Google is currently conducting experiments to seamlessly integrate Search and Shopping ads directly into the AI snapshot and conversational mode. SGE has the opportunity to create customized ad experiences (across Search and Shopping) that align with the user journey.
While Google has not disclosed specific metrics like CTR for these SGE (Search, Shopping, and Google Express) ads due to their experimental nature, they offer immense potential. It's important to note that since this feature is still in its early stages, there is currently no option to opt in or out of ads appearing in SGE.
How will it benefit marketers? Google's AI integration with Search and Shopping provides marketers with an opportunity to drive more engagement and visibility of their ads. The new Search Generative Experience (SGE) can be found in Search Labs, a new program to access early experiments in Search. Ads that show up as a part of this experiment will be from existing Google Ads campaigns.
Want to give generative AI in Search a try? Tap the "Labs" icon in the Google app or Chrome desktop to express your interest, and visit labs.google.com/search to learn more.
"SGE represents the long awaited manifestation of conversational search and ads on Google's results page. It will be interesting to see the ways in which this impact how we buy Google Ads"
– Josh Brisco, Group Vice President, Acquisition Media at Tinuiti
10. Product Studio Leverages AI To Create High-Quality Images
 
What is it? Product Studio is a new suite of free, AI-powered tools available within Merchant Center Next and the Google & YouTube app on Shopify that helps save marketers time and resources  – while helping enhance and create high-quality product images.
How will it benefit marketers? According to Google, these tools can help marketers generate scenes, increase image resolution, and edit backgrounds. Recent data indicates, fresh images may attract more customers when you scale them across various marketing channels. 
"This was one of the more eye-catching updates of the day and speaks to the importance of leveraging new creative within Google's suite of ad types. It will be interesting to see how this solution works at scale but it definitely has the potential to open the door to far more creative testing, especially around seasonal campaigns, promotions, and new releases".
– Evan Kirkpatrick, VP, Shoppable Media at Tinuiti
11. Google Merchant Center Next Streamlines User Experience
 
What is it? The Merchant Center Next platform gives Google advertisers an opportunity to manage how their products appear across Google, and provides valuable insights about the business, products, and market.
How will it benefit marketers? Google's latest iteration of Merchant Center offers a more streamlined and user-friendly experience, particularly for newcomers to the channel. 
Notably, the update enables direct product imports from a client's website, simplifying the process for marketers. Google is also doubling down on Product Merchandising, enhancing the visibility of crucial information such as product pricing, competitiveness, and other relevant data. This update promises to empower advertisers with improved functionality and valuable insights.
"Similar to other feature announcements over the past couple of years – as it pertains to Merchant Center, this change will make it easier for smaller advertisers to get up and running on Shopping. Allowing products to be automatically populated from a merchant's website is the most notable change, but one that is unlikely to move the needle for larger advertisers. Sophisticated merchants will want to ensure they are still leveraging product feeds to optimize and improve the data for their program, rather than simply relying on the data from the website."
– Evan Kirkpatrick, VP, Shoppable Media at Tinuiti
Have questions about any of the announcements you read above? Drop us a line, we'd love to hear from you.