16 Hidden Facebook Marketing Tools That Will Increase Your Engagement by 154%
Facebook engagement is easier and more valuable than you ever imagined.
I found this out the hard way.
At one point, I was spending hundreds of thousands of dollars a month on Facebook Ads.
Sure, I was getting some huge successes. But I was also wasting a ton of money.
For example, I once spent $400,000 on Facebook fan page likes.
I still feel dumb for that one.
The engagement just wasn't there. I had a large number of fans, but very little actual engagement.
I had no idea that hidden tools within Facebook's apps, extensions, and insights (and a few external tools) could have made my Facebook ad spend 80 times more effective.
Facebook marketing is like an iceberg. Most people see the top part — Facebook ads. They spend their entire time optimizing that little bit of potential.
The real power is underneath. It's hidden.
That's why I created this list.
I want you to know exactly what those hidden Facebook marketing tools are and how you can increase your engagement by 154 percent, as I did.
Before we get started, for the first few hidden tools you need Mobile Monkey to utilize all of the tactics (it's free).
Some of the hidden tools I'll share are within Facebook; you just don't know about them.
Hidden Facebook Tool #1: Facebook Messenger Marketing
This one is hiding in plain sight: Facebook Messenger marketing.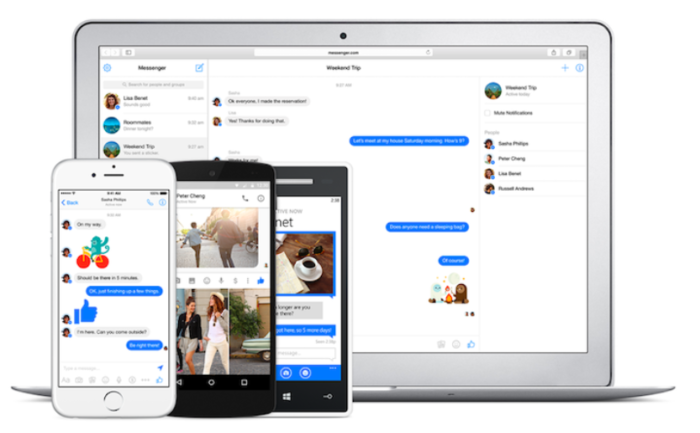 For some reason, not very many marketers are taking advantage of Messenger marketing, even though it's the hottest opportunity in digital marketing today.
What does this mean for you? It means that you can gain first mover's advantage.
Using Facebook Messenger for marketing is as simple as it sounds… you send messages to customers on Facebook Messenger.
What makes this channel different from other marketing methods like email marketing is the results.
Where else can you get engagement results like that?
I don't know of any, and I've done quite a bit of online marketing.
The best way to get started with Facebook Messenger marketing is with MobileMonkey.
MobileMonkey is a powerful chatbot builder that I use personally. Chatbots are essential for scoring sky-high open rates, CTRs, and conversion rates.
And best of all, it's free.
Hidden Facebook Tool #2: Comment Guard (Private Reply via Messenger)
A comment guard is a Facebook Messenger marketing feature that allows you to add new contacts to your contact list when they comment on your Facebook post.
Here's how it works:
You post something on Facebook as usual.
People comment on your post.
Anyone who comments on the post gets your automatic private reply in Messenger.
When they engage with this reply, they are added to your Facebook Messenger contact list.
The mobile screenshot below displays exactly what happens.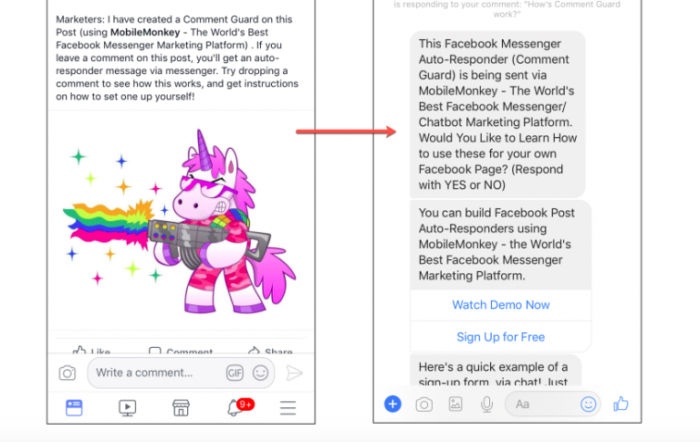 Say you post something on your Facebook page that has high engagement potential, such as a meme, a quiz, a contest, a question, whatever. All the comments aren't just comments anymore; they're warm leads.
You'll need to use MobileMonkey in order to pull this off, but it's really easy.
Just click the "FB comment guard" button using the MobileMonkey app.
Create an autoresponder message.
Point them to your Messenger chat landing page.
Add the comment guard to your selected Facebook post.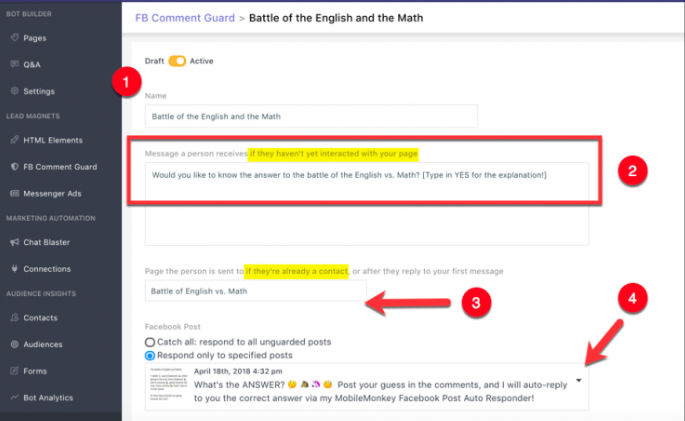 Hidden Facebook Tool #3: Click to Messenger Ads
A Click-to-Messenger Ad is a normal Facebook ad with a twist. Instead of sending people to a landing page, you send them to a Facebook Messenger bot sequence.
It looks like this: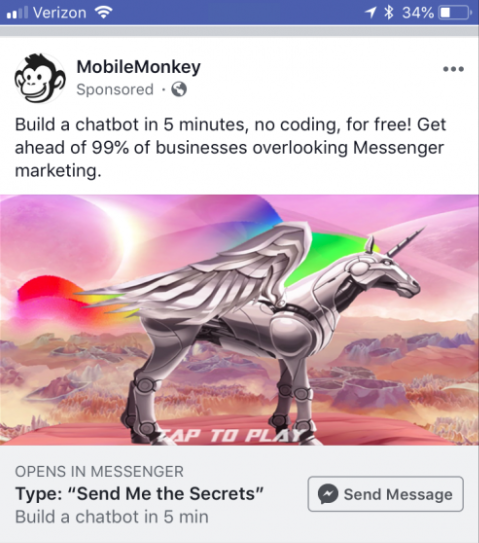 Once the person starts the Facebook Messenger sequence, they are a lead. Then, the chatbot takes over to bring them through the conversion funnel.
For example, you could have your chatbot ask users questions, and send them offers based on their responses.
It can be hard to manually respond to thousands of messages. Instead, you can direct those chat from your Messenger Ads directly to a MobileMonkey chatbot, which can ask qualifying questions and engage users at scale.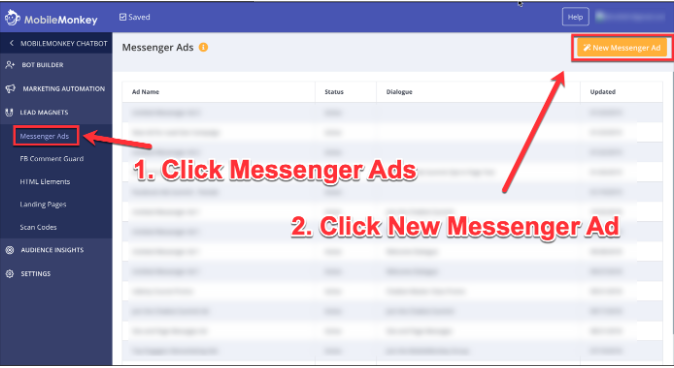 Check out this article, for step by step instructions on leveraging this strategy.
Hidden Facebook Tool #4: Chat Blaster
Chat blasting is a powerful method for getting your message in front of your entire Facebook Messenger list in minutes.
I've managed chat blasting campaigns that scored a 96.9 percent open rates in just sixty minutes.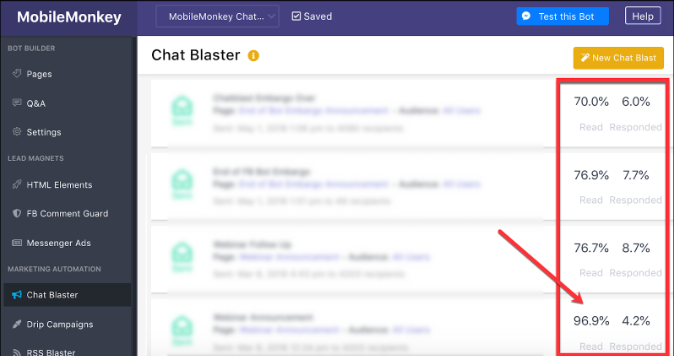 With MobileMonkey, you can schedule chat blasts, bulk send, develop interactive Messenger sequences, create special offers, and anything else that helps your marketing.
To start, just click "Chat Blaster" in the app.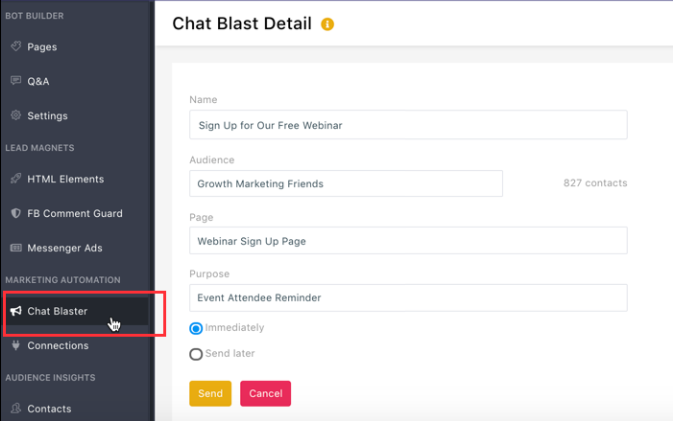 Chat Blaster also has the ability to segment audiences. Many of the campaigns I manage involve thousands of contacts, so I want to narrow down my contacts to just the right targets.
Creating segments is simple using MobileMonkey, which allows you to "Create Audience" with a click.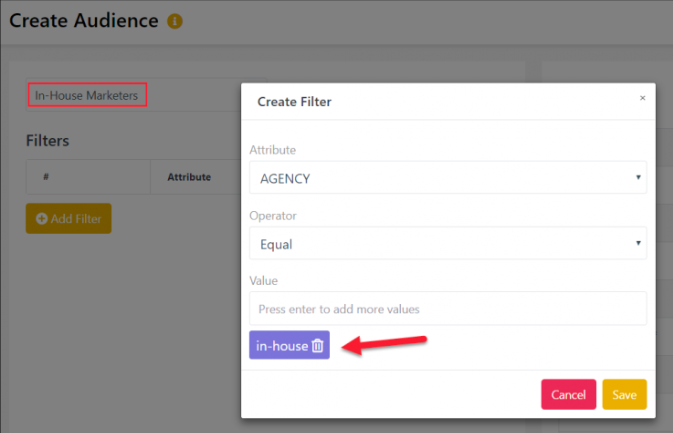 Your audience can perform self-segmentation when the chat blast sends.

Hidden Facebook Tool #5. Warm Engaged Invites
One tactic that I've used to build my Facebook audience is by personally inviting people who engage with my Facebook page to become a page fan.
From your business Facebook page (desktop), find a post that has engagement.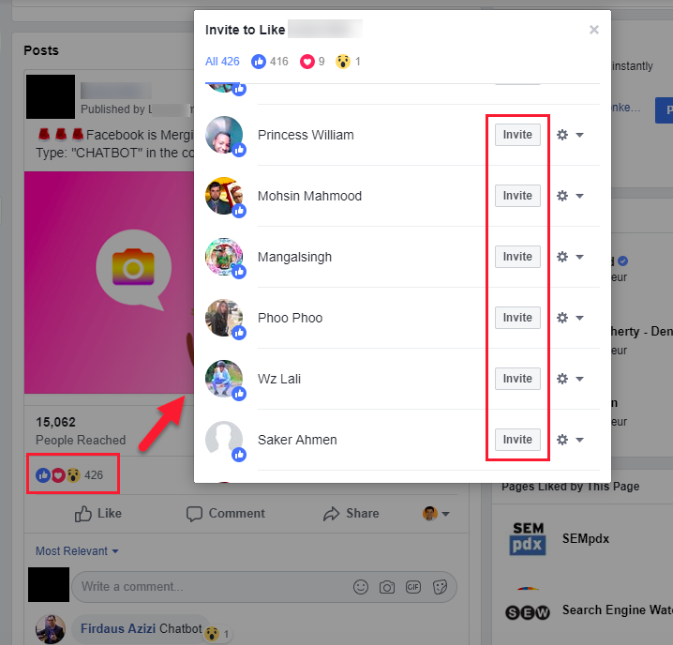 Using this tool, you view the people who engaged with your post and can invite people to like the page.
The reason why this is valuable is that you're able to target engaged fans. If you have a lot of Facebook fans, but not a lot of engagement, Facebook's algorithm will punish you.
Instead, identify those people who will be engaged and manually invite them.
Hidden Facebook Tool #6: Send Personal Invites in Messenger
Another strategy is inviting your friends to like your business page, and also sending the invite in Messenger.
This allows you to personalize the message and give them two touches instead of just one.
Click on the "Community" button on your Facebook page, then click "Invite Friends to Like Your Page."
Here, you can invite friends and create a personalized message. Be sure to check the box at the bottom to send the invite using Messenger.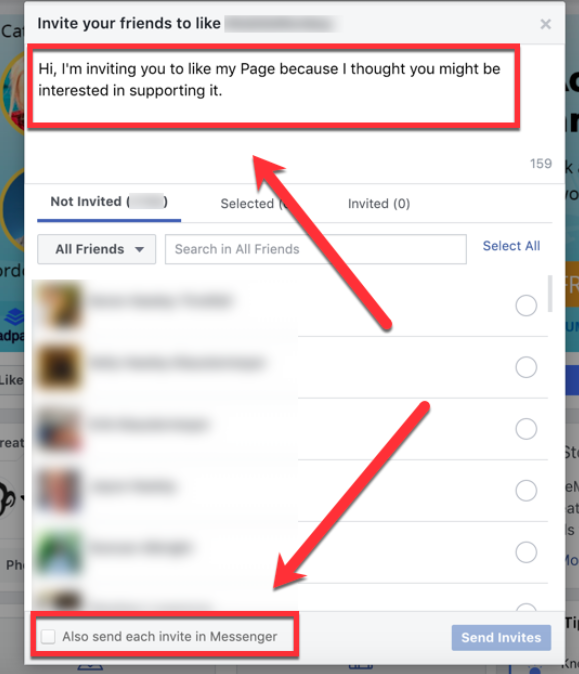 Hidden Facebook Tool #7: Competitor Ad Espionage
I'm a huge fan of ethical espionage.
In the world of SEO, it's not that hard.
Just plug in a URL to something like RankSignals.

Boom, you have intel.

A lot of this data is really helpful.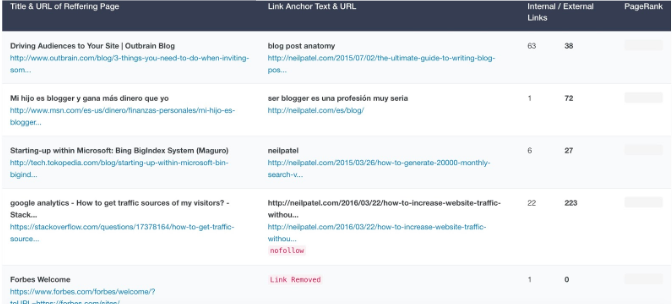 With so many brands now spending millions of dollars on Facebook ads, how do you get a handle on that kind of information?
You will not be able to get your competitor's targeting info and ad spend but you can find out where, how often, and what the competition is advertising.
Hidden Facebook Tool #8. View Competitor's Ads
Ever wish you could see exactly what ads your competitors are running? Actually, you can — right in Facebook.
Let's say I'm the competition and you want to spy on me. First, find my Facebook page and tap the "i" button. (It might be on the right or under the "Details" tab, depending on the device you're using.)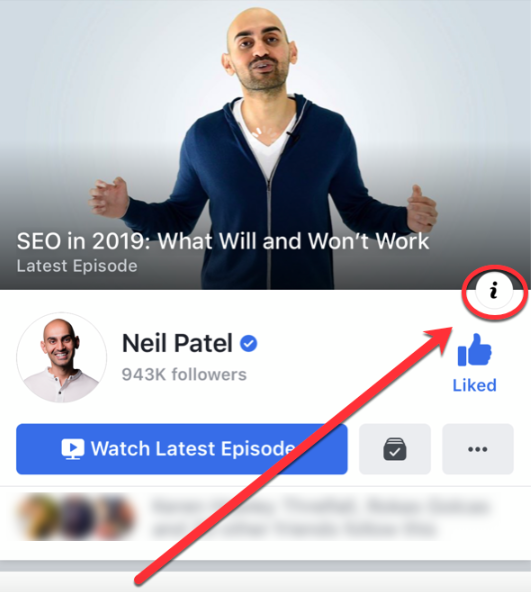 On this page, you can find out if the page has ever changed names, when it was created, and where the page managers are located. This can be handy intel.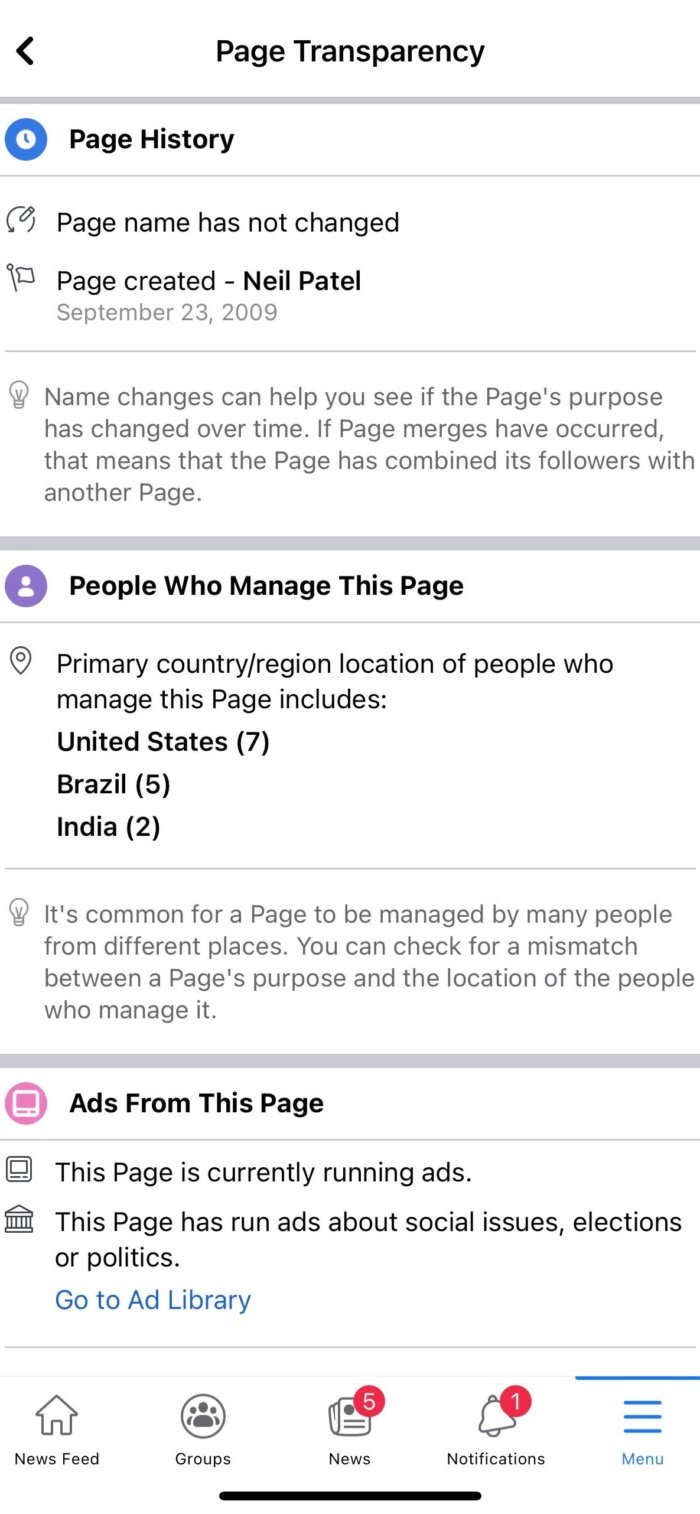 Tap on "Go to Ad Library."
If the page is (or has) run ads, you'll be able to see them here. This means you can see the ads they are running now and see what they have run in the past.
Granted, you don't have access to insights about how well ads performed, but you can see if they tend to use the same ad copy or types of images and use those strategies for your own page.
Hidden Facebook Tool #9:  Page Competition Gauge
I like to have a solid understanding of who my competition is and what they're up to.
How do I know who my competition is? Thankfully, Facebook's algorithm has figured it out for me.
To use this feature, go to your Facebook Page Insights. From Insights, scroll down until you see "Pages to Watch."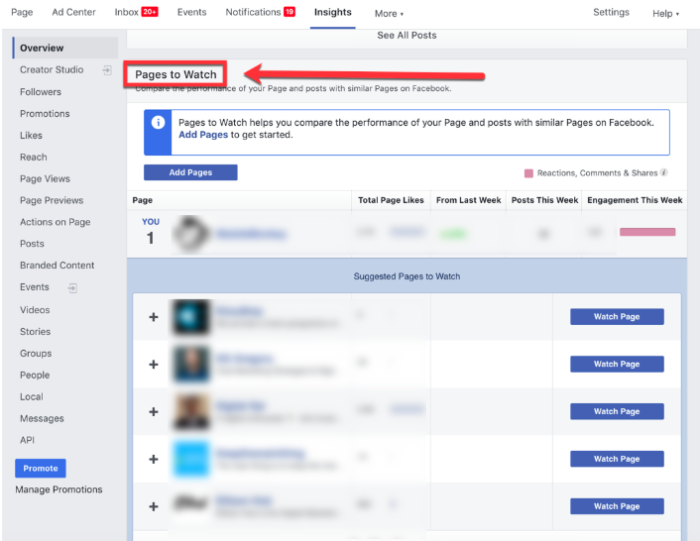 By default, Facebook shows you five potential competitors, but you can view more by clicking "See More Suggested Pages."
When you add a competitor to your watched pages, you'll be able to keep up with their activity, growth rates, total likes, and the frequency of their posts.
This information will help you understand how you're doing and what you might need to change.
Hidden Facebook Tool #10: Find Where Your Followers Are Coming From
It is important to figure out where your followers are coming from so you can know how to get more.
One helpful way to get this information is again through Page Insights.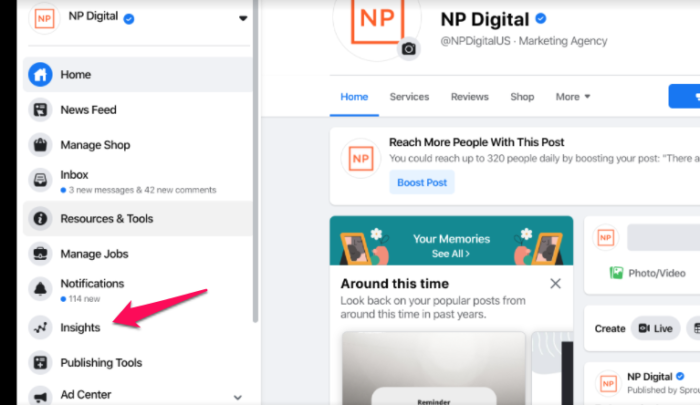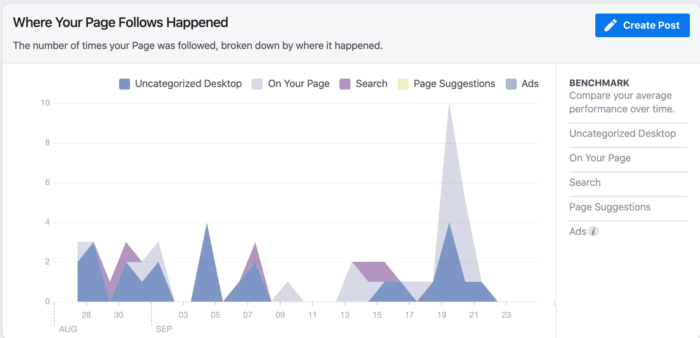 Facebook shows you follow quantities according to five locations:
Uncategorized Desktop
On Your Page
Search
Page Suggestions
Ads
If a particular source shows large follow rates, try to reverse engineer what happened, then do it again.
Hidden Facebook Tool #11: Identify Audience Signals on Page Insights
One way that I use metrics to improve my targeting is to view my Facebook page insights, particularly the demographic information.
When viewing this information, I'm looking for strong positives — indications that my audience favors a particular demographic.
For example, this page demonstrates a strong positive for men and women between the ages of 25-44.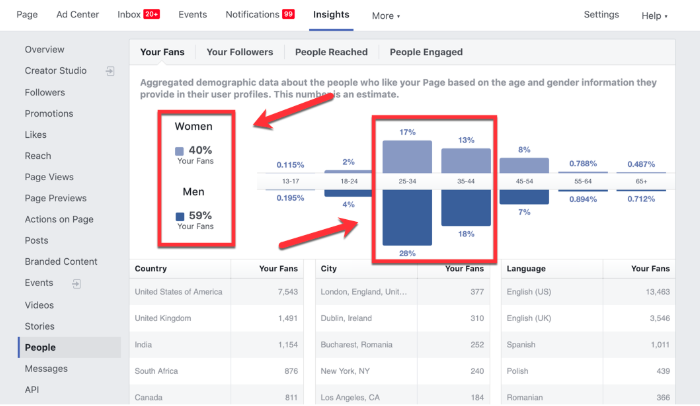 If you're 21, there's only a small chance you're going to be interested in my page. By contrast, if you're a 30-year old male, there is a far stronger likelihood that you will have an interest in this page.
This information helps me know how, where, and upon whom to focus my marketing and advertising efforts.
Hidden Facebook Tool #12: Pull Email Addresses
Building an email list is tough these days. No matter how appealing your content upgrade, asking for someone's email address is tantamount to asking for their social security number.
With Facebook Messenger marketing, that's no longer the case.
You can create a Facebook Messenger chatbot that asks for an individual's email address. Then, all they do is click a button to pre-fill their address.
Facebook does all the work for you.
Here's what the bot looks like in MobileMonkey.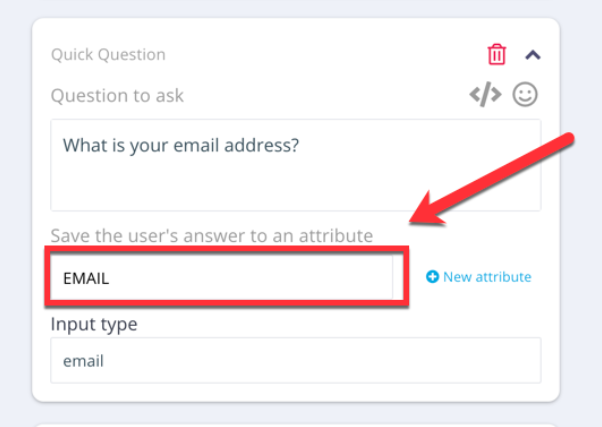 As long as you set the input type as email, Facebook will know to pull the user's email address as they've entered it when creating a Facebook account. No typos, nothing.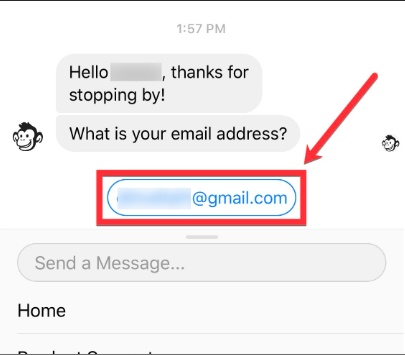 This is another case of using two different channels to get information and engage your users. When you use a chatbot, it makes the process automatic and easy.
Hidden Facebook Tool #13: Pull Phone Numbers
If there's one thing harder to get from a customer than their email address, it's their phone number.
Again, powered by chatbots, it's a cinch. Using input type "phone" in MobileMonkey means that you're guaranteed to get the user's primary phone number as they provided when and if they stored their phone number in Facebook.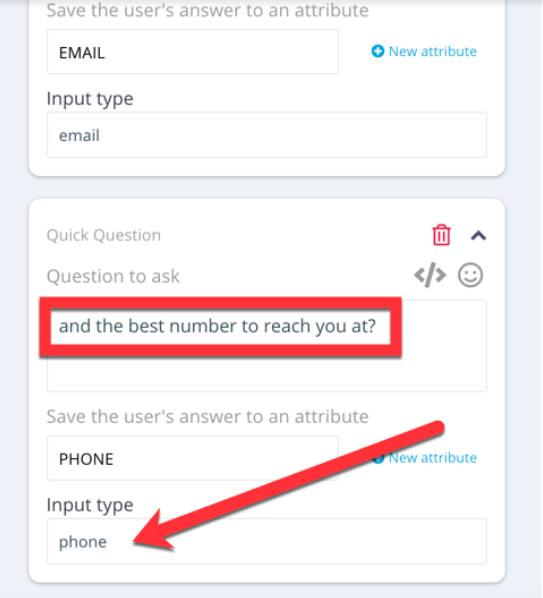 It's understandable that people are hesitant to enter their phone number on an unfamiliar platform
Understandably, people are hesitant to enter their phone number on an unfamiliar platform — a contact form on your website, for instance.
It's quite a different comfort level when they are asked for a phone number in a familiar messaging app, and Facebook automatically adds the number.
All that your contact has to do is tap their phone number.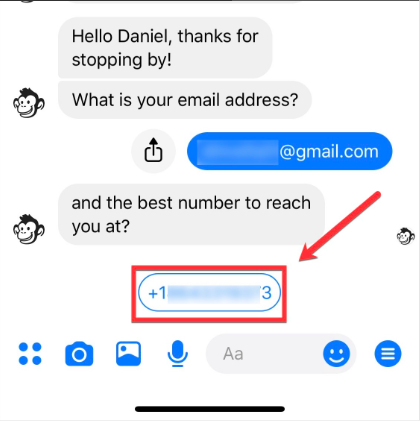 Hidden Facebook Tool #14: Website Chat Widget
This one seems obvious, but again it's surprising how few websites are putting the power of a website chat widget to work.
Check this out. If you go to MobileMonkey's website, there is a chat widget on nearly every page.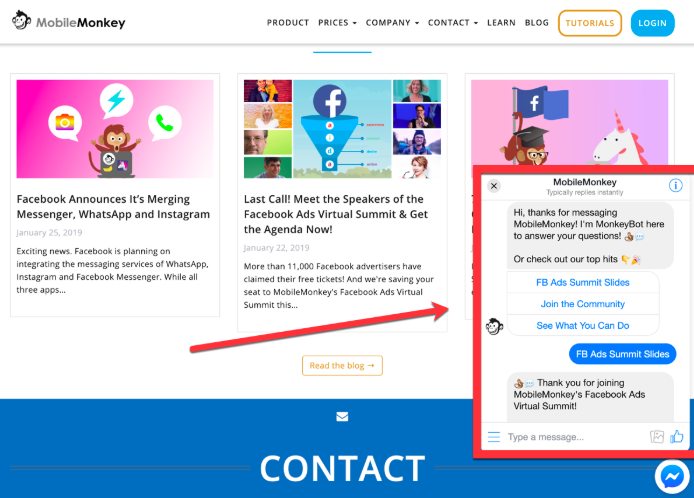 If you've logged into Facebook Messenger on that browser, all you have to do is click and you're introduced to a Messenger sequence with MobileMonkey.
This sequence powered by a chatbot brings you further down the funnel.
One of the unique and powerful features of this funnel is that it is self-guided. You feel as if you're in control — making choices and selecting options.
Regardless of your choices, however, you are making deeper connections with the brand and the marketing funnel.
Hidden Facebook Tool #15: Track Specific Facebook Conversions
The good thing about Facebook Ads Manager is that you have access to a ton of information.
The bad thing about Facebook Ads Manager is that you also have access to a ton of information.
Take conversions, for example.
If you're tracking them, good for you. But which conversions are you tracking? Here are the options: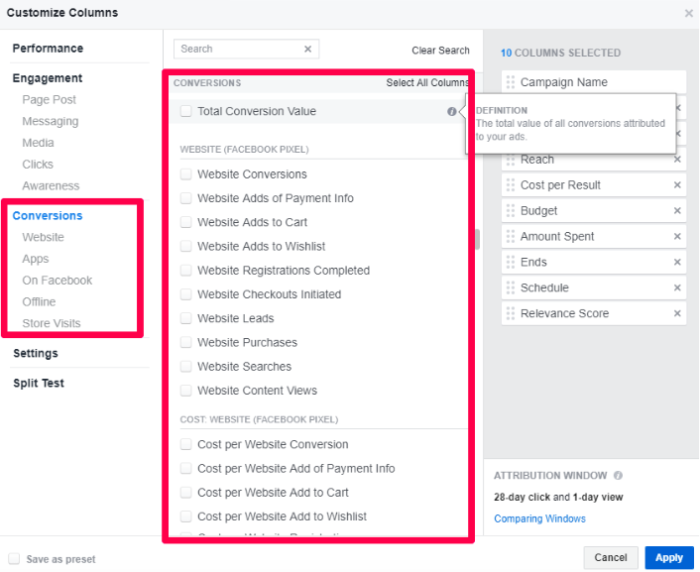 I call this one "hidden" because true conversions are essentially in Ad Manager underneath a lot of other noise.
You have to narrow down your conversion tracking to just the conversions that you need to know about.
For one of my businesses, I only focus on five types of conversions.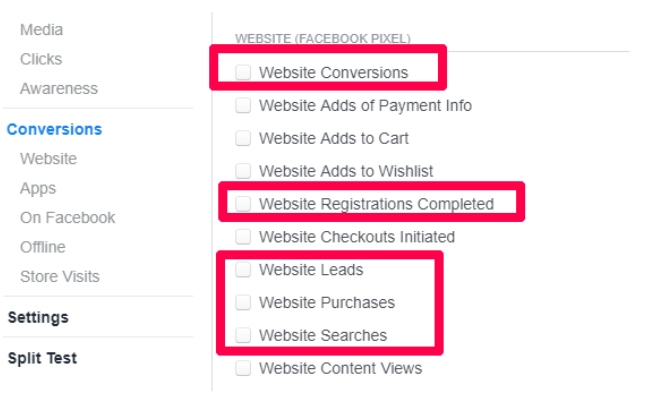 Everything else is useless.
I've written about this before; when you get clarity on what to track, you'll do a lot better at making real progress with your Facebook advertising.
Hidden Facebook Tool #16: Messenger Drip Campaigns
If you've been in internet marketing for any amount of time, you know how potent a good drip campaign can be.
Imagine increasing this potency by 10x.
That's exactly what a Facebook Messenger drip campaign can do. Again, the power is in the chatbot builder.
MobileMonkey's drip campaign feature just takes a click to get started.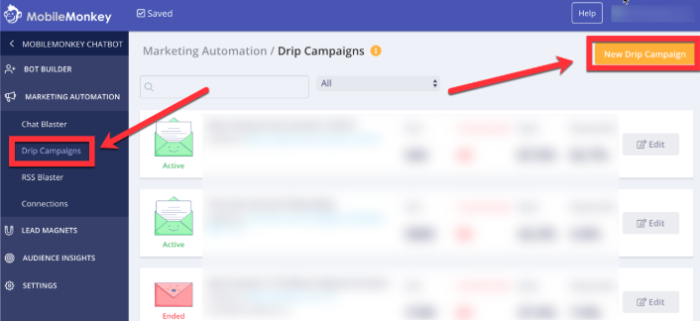 Unlike an email drip campaign, which can take days or weeks to complete, a Facebook Messenger drip campaign can be completed in a matter of minutes or hours.
Plus, when you use a chatbot, the entire sequence can be interactive. You can create choices and engage the user on a far deeper level.
Facebook Hidden Marketing Tools FAQs
How can I use Facebook as a marketing tool?
You can use Facebook to run ads, create and promote your own Facebook business page, join groups related to your industry and post your promotional content there.
Why is Facebook a great marketing tool?
As of 2021, there are about 2.85 billion Facebook users, meaning you have access to an unbelievably huge audience.
What are some Facebook marketing tools?
Facebook offers content curation, ad builders and campaign building, A/B testing, campaign measurement and reporting, hashtag targeting, and more.
How do I start marketing on Facebook?
If you want to market on Facebook, your first step should be to perform competitor research. Look into how your competition uses it to market their products or services, and figure out what they are doing well, and go from there.
Hidden Facebook Marketing Tools Conclusion
There's way more to Facebook than meets the eye.
There's a reason why so many of the hidden marketing tools above focus on Facebook Messenger.
Facebook Messenger marketing has fundamentally changed the game, and it's done so in two  areas where marketing rises or falls:
Interactivity and dialogue: Messenger marketing, even when powered by a bot, has a personal feel. Instead of bullhorn marketing — telling your audience to do buy, read, visit, or watch, you are opening up a conversation.
Speed of engagement: Unlike the glacial speed of email marketing (like drip campaigns), Messenger marketing has a much swifter cadence. Many people have a Pavlovian response to the crisp ding of their Messenger notifications. They want to see who's sending them a personal message. This means your open rates and click through rates are shooting up.
It's not going to last forever. Like the banner ads of decades past, Messenger marketing will lose its luster as people become accustomed to it.
By engaging Messenger marketing now, you'll have a far stronger advantage.
What Messenger marketing tactics does your brand or business currently use?
See How My Agency Can Drive Massive Amounts of Traffic to Your Website
Content Marketing – our team creates epic content that will get shared, get links, and attract traffic.
Paid Media – effective paid strategies with clear ROI.
Facebook fighting against disinformation: Launch new options
Meta, the parent company of Facebook, has dismantled new malicious networks that used vaccine debates to harass professionals or sow division in some countries, a sign that disinformation about the pandemic, spread for political ends, is on the wane not.
"They insulted doctors, journalists and elected officials, calling them supporters of the Nazis because they were promoting vaccines against the Covid, ensuring that compulsory vaccination would lead to a dictatorship of health," explained Mike Dvilyanski, director investigations into emerging threats, at a press conference on Wednesday.
He was referring to a network linked to an anti-vaccination movement called "V_V", which the Californian group accuses of having carried out a campaign of intimidation and mass harassment in Italy and France, against health figures, media and politics.
The authors of this operation coordinated in particular via the Telegram messaging system, where the volunteers had access to lists of people to target and to "training" to avoid automatic detection by Facebook.
Their tactics included leaving comments under victims' messages rather than posting content, and using slightly changed spellings like "vaxcinati" instead of "vaccinati", meaning "people vaccinated" in Italian.
The social media giant said it was difficult to assess the reach and impact of the campaign, which took place across different platforms.
This is a "psychological war" against people in favor of vaccines, according to Graphika, a company specializing in the analysis of social networks, which published Wednesday a report on the movement "V_V", whose name comes from the Italian verb "vivere" ("to live").
"We have observed what appears to be a sprawling populist movement that combines existing conspiratorial theories with anti-authoritarian narratives, and a torrent of health disinformation," experts detail.
They estimate that "V_V" brings together some 20,000 supporters, some of whom have taken part in acts of vandalism against hospitals and operations to interfere with vaccinations, by making medical appointments without honoring them, for example.
Change on Facebook
Facebook announces news that will facilitate your sales and purchases on the social network.
Mark Zuckerberg, the boss of Facebook, announced that the parent company would now be called Meta, to better represent all of its activities, from social networks to virtual reality, but the names of the different services will remain unchanged. A month later, Meta is already announcing news for the social network.
The first is the launch of online stores in Facebook groups. A "Shop" tab will appear and will allow members to buy products directly through the group in question.
Other features have been communicated with the aim of facilitating e-commerce within the social network, such as the display of recommendations and a better mention of products or even Live Shopping. At this time, no date has been announced regarding the launch of these new options.
In the light of recent features, the company wants to know the feedback from its users through the survey same like what Tesco doing to get its customers feedback via Tesco Views Survey. However, the company is still about this feedback will announce sooner than later in this regard.
Entireweb Articles – Read the latest Articles and News in Search Engine related world!
Facebook AI Hunts & Removes Harmful Content
Facebook announced a new AI technology that can rapidly identify harmful content in order to make Facebook safer. Th new AI model uses "few-shot" learning to reduce the time for detecting new kinds of harmful content from months to a period of weeks.
Few-Shot Learning
Few-shot learning has similarities to Zero-shot learning. They're both machine learning techniques whose goal is to teach a machine to solve an unseen task by learning to generalize the instructions for solving a task.
Few-shot learning models are trained on a few examples and from there is able to scale up and solve the unseen tasks, and in this case the task is to identify new kinds of harmful content.
The advantage of Facebook's new AI model is to speed up the process of taking action against new kinds of harmful content.
The Facebook announcement stated:
"Harmful content continues to evolve rapidly — whether fueled by current events or by people looking for new ways to evade our systems — and it's crucial for AI systems to evolve alongside it.

But it typically takes several months to collect and label thousands, if not millions, of examples necessary to train each individual AI system to spot a new type of content.

…This new AI system uses a method called "few-shot learning," in which models start with a general understanding of many different topics and then use much fewer — or sometimes zero — labeled examples to learn new tasks."
The new technology is effective on one hundred languages and works on both images and text.
Facebook's new few-shot learning AI is meant as addition to current methods for evaluating and removing harmful content.
Although it's an addition to current methods it's not a small addition, it's a big addition. The impact of the new AI is one of scale as well as speed.
"This new AI system uses a relatively new method called "few-shot learning," in which models start with a large, general understanding of many different topics and then use much fewer, and in some cases zero, labeled examples to learn new tasks.

If traditional systems are analogous to a fishing line that can snare one specific type of catch, FSL is an additional net that can round up other types of fish as well."
New Facebook AI Live
Facebook revealed that the new system is currently deployed and live on Facebook. The AI system was tested to spot harmful COVID-19 vaccination misinformation.
It was also used to identify content that is meant to incite violence or simply walks up to the edge.
Facebook used the following example of harmful content that stops just short of inciting violence:
"Does that guy need all of his teeth?"
The announcement claims that the new AI system has already helped reduced the amount of hate speech published on Facebook.
Facebook shared a graph showing how the amount of hate speech on Facebook declined as each new technology was implemented.
Graph Shows Success Of Facebook Hate Speech Detection
Entailment Few-Shot Learning
Facebook calls their new technology, Entailment Few-Shot Learning.
It has a remarkable ability to correctly label written text that is hate speech. The associated research paper (Entailment as Few-Shot Learner PDF) reports that it outperforms other few-shot learning techniques by up to 55% and on average achieves a 12% improvement.
Facebook's article about the research used this example:
"…we can reformulate an apparent sentiment classification input and label pair:

[x : "I love your ethnic group. JK. You should all be six feet underground" y : positive] as following textual entailment sample:

[x : I love your ethnic group. JK. You should all be 6 feet underground. This is hate speech. y : entailment]."
Facebook Working To Develop Humanlike AI
The announcement of this new technology made it clear that the goal is a humanlike "learning flexibility and efficiency" that will allow it to evolve with trends and enforce new Facebook content policies in a rapid space of time, just like a human.
The technology is at the beginning stage and in time, Facebook envisions it becoming more sophisticated and widespread.
"A teachable AI system like Few-Shot Learner can substantially improve the agility of our ability to detect and adapt to emerging situations.

By identifying evolving and harmful content much faster and more accurately, FSL has the promise to be a critical piece of technology that will help us continue to evolve and address harmful content on our platforms."
Citations
Read Facebook's Announcement Of New AI
Our New AI System to Help Tackle Harmful Content
Article About Facebook's New Technology
Harmful content can evolve quickly. Our new AI system adapts to tackle it
Read Facebook's Research Paper
Entailment as Few-Shot Learner (PDF)
Roger Montti is a search marketer with 20 years experience.
I offer site audits and link building strategies.
New Facebook Groups Features For Building Strong Communities
Meta launches new features for Facebook Groups to improve communication between members, strengthen communities, and give admins more ways to customize the look and feel.
In addition, the company shares its vision for the future of communities on Facebook, which brings features from Groups and Pages together in one place.
Here's an overview of everything that was announced at the recent Facebook Communities Summit.
More Options For Facebook Group Admins
Admins can utilize these new features to make their Groups feel more unique :
Customization: Colors, post backgrounds, fonts, and emoji reactions used in groups can now be customized.
Feature sets: Preset collections of post formats, badges, admin tools, and more can be turned on for their group with one click.
Preferred formats: Select formats you want members to use when they post in your group.
Greeting message: Create a unique message that all new members will see when they join a group.
Stronger Connections For Members
Members of Facebook Groups can build stronger connections by taking advantage of the following new features:
Subgroups: Meta is testing the ability for Facebook Group admins to create subgroups around specific topics.
Community Chats: Communicate in real-time with other group members through Facebook or Messenger.
Recurring Events: Set up regular events for member to get together either online or in person.
Community Awards: Give virtual awards to other members to recognize valuable contributions.
New Ways To Manage Communities
New tools will make it easier for admins to manage their groups:
Pinned Announcements: Admins can pin announcements at the top of groups and choose the order in which they appear.
Personalized Suggestions: Admin Assist will now offer suggestions on criteria to add, and more info on why content is declined.
Internal Chats: Admins can now create create group chats exclusively for themselves and other moderators.
Monetization & Fundraisers
A new suite of tools will help Group admins sustain their communities through fundraisers and monetization:
Raising Funds: Admins can create community fundraisers for group projects to cover the costs of running the group.
Selling Merchandise: Sell merchandise you've created by setting up a shop within your group.
Paid Memberships: Create paid subgroups that members can subscribe to for a fee.
Bringing Together Groups & Pages
Facebook is introducing a new experience that brings elements of Pages and Groups together in one place.
This will allow Group admins to use an official voice when interacting with their community.
Currently, Admins post to a Facebook Group it shows that it's published by the individual user behind the account.
When this new experience rolls out, posts from Admins will show up as official announcements posted by the group. Just like how a post from a Facebook Page shows that it's published by the Page.
Admins of Facebook Pages will have the option to build their community in a single space if they prefer not to create a separate group. When this change rolls out, Page admins can utilize moderation tools accessible to Group admins.
This new experience will be tested over the next year before it's available to everyone.
Source: Meta Newsroom
---
Featured Image: AlesiaKan/Shutterstock
Matt Southern has been the lead news writer at Search Engine Journal since 2013. With a degree in communications, Matt has an uncanny ability to make the most complex subject matter easy to understand. When he's not ferociously following and covering the search industry, he's busy writing SEO-friendly copy that converts.