Disclosure: This content is reader-supported, which means if you click on some of our links that we may earn a commission.
What would you do with an extra $1,500 a day?
With a bit of work and the right ecommerce platform, you can create an online store that generates that kind of revenue (and more).
Shilpi Yadav is an excellent example. She quit her job to start an online clothing store based around her Indian heritage.
Despite all the risks, the brand now makes more than half a million dollars a year (averaging around $1,500 per day).
She built her online store using Shopify, one of the best ecommerce platforms on the market. However, there are a ton of different options to choose from depending on what you need.
And the most significant thing standing in the way of your own $500k success story is deciding which ecommerce platform is right for your new store.
In this post, I'll break down the major aspects to consider in choosing the right platform for your current situation. Then we'll take a close look at seven of top options available today.
#1 – Wix Review — The Best for Flexibility and Customization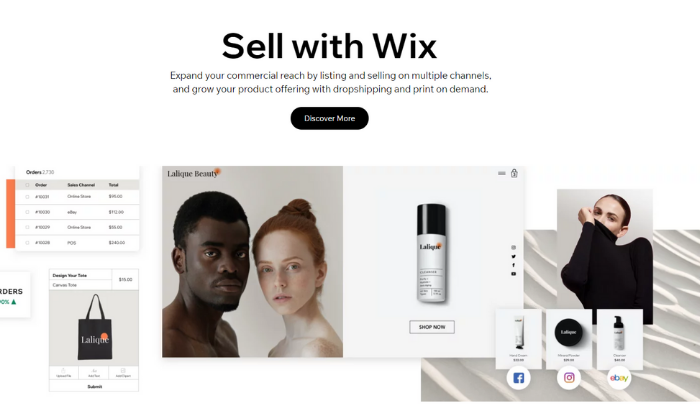 Wix is a great option if you're looking for an affordable and flexible ecommerce platform. It's famous for it's drag-and-drop interface with complete design freedom to create anything you can imagine.
Instead of having to write code, you can use the visual building tools to get your site looking just the way you want it.
With Wix, you also get access to more than 500+ prebuilt website templates and plenty of customization options. Or you can create pages from scratch with complete design control.
The Wix template selection is really helpful for launching a new online store. Instead of having to mess with settings, you can plug your products into a framework that's going to look great every time.
People visiting your store will think you spent days getting such a professional look, but it takes hardly any time at all with Wix.
Furthermore, they have a robust mobile app so you can make changes and manage your store from anywhere in the world.
Wix also includes a wide variety of marketing features, like emails, Facebook ads, and social media posts right from your account dashboard. You can even sell directly via social media.
Their ecommerce plans include powerful features, like:
Support of 90+ languages and local currencies
250+ apps to add extra functionality to your site
No additional transaction fees
Custom product pages
Worldwide shipping and taxes
Coupons and discounts
Advanced sorting and filtering
Product collections
Customizable checkout
Recurring payments
Plus, if you already use Wix, you can upgrade to an ecommerce plan in just a few clicks within your account dashboard.
Wix offers four ecommerce plans for online shops of different sizes, including:
Business Basic — $23/month
Business Unlimited — $27/month
Business VIP — $49/month
Enterprise — custom pricing
This is an excellent option if you have a small store or special design requirements. However, If you expect a high order volume and large range of products, you're better off with BigCommerce or Shopify instead.
#2 – Squarespace Review — The Best Ecommerce Platform for Creatives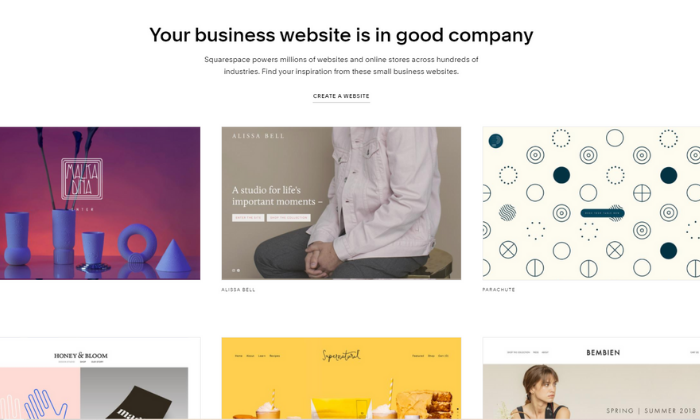 Squarespace is well-known as a website builder, but their higher-tier plans also include ecommerce functionality.
The design templates are fairly easy to work with, but you're not just coloring inside the lines–there's a lot of potential to create a unique shopping experience for your customers.
Some of the other easy-to-use platforms are a little limited with what you can do. Squarespace gives you a lot more artistic freedom.
Install and customize multiple templates at a time to see which one you like best. And switching between templates takes just a few clicks.
Aside from beautiful templates, Squarespace offers a variety of ecommerce features, including:
Subscriptions, digital products, and in-person compatibility
Built-in tax tools for automatic tax calculations
Discount codes and gift cards
Abandoned cart recovery
Mobile-optimized checkout
Mobile store management
Rich product listings
Quick view capability
Inventory management
Real-time shipping estimates
Furthermore, Squarespace integrates with most of the popular email marketing and social media platforms so you can sell and market your products like a pro.
And they have fantastic 24/7/365 customer support ready to answer your questions and help you get things set up the way you want to.
Squarespace offers three ecommerce plans:
Business — $18 per month + 3% transaction fees
Basic Commerce — $26 per month + 0% transaction fees
Advanced Commerce — $40 per month + 0% transaction fees
As you scan their pricing options, you'll see a Personal plan for $12 per month. This is great if you want to build a website, but it doesn't come with any ecommerce features, so it's not going to work if you want to set up an online store.
They also have an enterprise plan with a dedicated account manager, SEO consultations, and prioritized technical support.
And while the Business plan offers ecommerce capabilities, I highly recommend choosing Basic Commerce to start. It's the cheapest plan with no transaction fees, plus it includes other essential features like, customer accounts and ecommerce analytics.
Learn more and get started at Squarespace.
#3 – Bluehost Review — The Best for Hands-Off WooCommerce Store Setup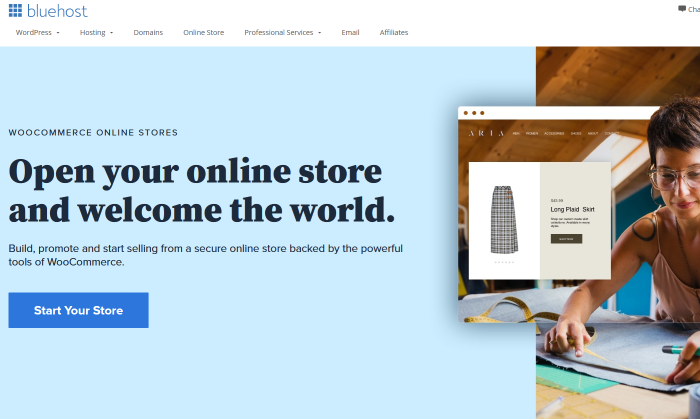 I really like WooCommerce. And, fortunately, I'm comfortable enough with WordPress to install, customize, and manage the WooCommerce plugin and the additional plugins that really make it shine on my own WordPress sites.
But I know many folks who would rather not have that responsibility, whether because of a lack of familiarity with WordPress plugins or just a lack of time to self-manage WooCommerce.
Bluehost gets that, too—that's why they've rolled out an easy, turnkey solution to getting a WooCommerce store up and running in no time, for anyone.
With Bluehost's package for ecommerce powered by WooCommerce, you get a handy guided store creator, plus:
Built-in SSL and Jetpack for security
Unlimited product listings
Payment processing
Customer reviews
Coupon codes
Manual order creation
One year free of CodeGuard Backup Basic, for daily site backups
And that's all in the Standard Plan. The built-in SSL certificate is really helpful because it encrypts information customers enter on your website (like credit card numbers or login credentials), and protects everyone from hackers. All you have to do is click a button and your set with Bluehost–this can be much more challenging if the host doesn't manage SSL certificates for you.
What I think is most convenient, though, is that Bluehost has preselected the top 20 store plugins that your WooCommerce store will need. Not only does that save you the headache of researching and installing plugins on your own, they're included at no extra charge.
That's huge. Some of these plugins cost around $200 a pop to install.
Take it one step higher to the Premium plan and you'll also get:
Online appointment scheduling
Subscription-based ecommerce
Advanced product customization
Local tax management
Free domain privacy
CodeGuard Backup Basic, included for free
Pricing is based on your initial term commitment. Choose from month-to-month billing, a one-year contract, or a three-year contract.
The Standard plan starts at $12.95/month for a three-year commitment, while Premium starts at $24.95/month for the same.
Both plans renew at the standard month-to-month rate after the term is completed—$29.95/month for Standard and $49.95/month for Premium.
So, if you want to get a WooCommerce store up in no time with no hassle on your end at all, head over to Bluehost today.
#4 – BigCommerce Review — The Best for Medium to Large Stores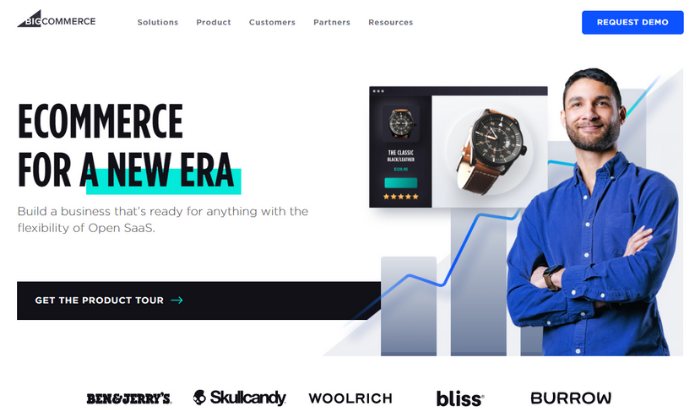 BigCommerce is an all-in-one ecommerce website builder specifically for large online stores. It includes more advanced ecommerce features suitable for managing high volumes and a large number of products.
With a customer base of 100,000+ stores, including some big names like Ben & Jerry's and SkullCandy, they're a smaller player in the industry.
But that doesn't make the platform any less powerful.
BigCommerce plans include access to powerful, industry-leading features, including:
Customer accounts for faster checkouts
Mobile-optimized checkout
Abandoned cart recovery
Google AMP and Akamai
Advanced product filters
Coupons and discount codes
Advanced inventory management
Customer groups for personalized shopping
65+ payment gateways with no extra transaction fees
Built-in shipping management
Plus, all of their plans include unlimited products, file storage, bandwidth, and staff accounts.
And you can choose between 12 free mobile-responsive design templates or opt for a paid template to make your online store stand out from the crowd without touching a single line of code.
BigCommerce offers four paid plans (with a 15-day free trial), including:
Standard — $29.95/month with a $50,000 annual sales limit
Plus — $79.95/month with a $180,000 annual sales limit
Pro — $299.95/month with a $400,000 annual sales limit
Enterprise — custom pricing
If you're just getting started, BigCommerce is overkill for your online store. However, if you're an established business or plan to sell high volumes, it's an excellent choice.
#5 – Shopify Review — The Best All-In-One Ecommerce Platform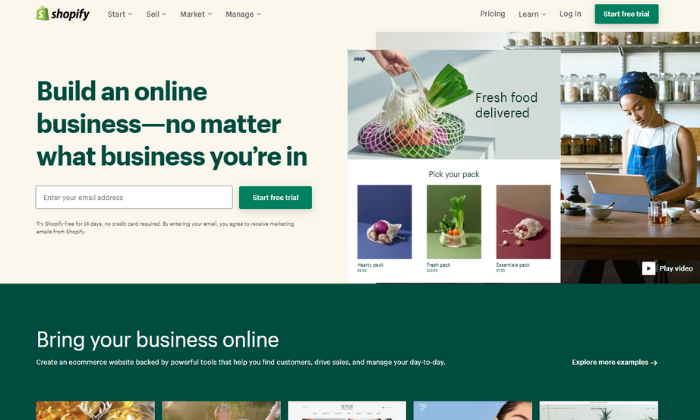 Shopify is an all-in-one ecommerce website builder that powers more than one million online stores, making it one of the most popular choices on this list.
However, it's not as customizable as Wix. But it offers more advanced ecommerce features because it's built specifically to host online stores. Plus, it's easy to use with just the right level of flexibility.
It's also incredibly versatile, powering micro to large stores, and everything in between. Shopify plans include access to an incredible suite of ecommerce features, including:
Point of Sale for brick and mortar shops
Real-time carrier shipping rates
Abandoned checkout recovery
100 different payment gateways
Automatic tax calculations
Customer accounts and profiles
Fulfillment centers
Advanced inventory management
Unlimited products
In-depth analytics
Plus, with 70+ professional themes (nine of which are free) and 4,100+ apps, you can create a beautiful and highly functional ecommerce store without having to start from scratch. Or write a single line of code.
Combine that with award-winning 24/7/365 customer support and you have an excellent ecommerce platform.
Shopify offers five plans for businesses of all sizes, including:
Shopify Lite — $9 per month
Basic Shopify — $29 per month
Shopify — $79 per month
Advanced Shopify — $299 per month
Shopify Plus — custom pricing
Shopify Lite is a great option if you want to embed products and "buy" buttons onto an existing website. However, it doesn't come with the all-inclusive website builder.
Keep in mind that Shopify has its own payment processor. They charge 2.4% – 2.9% + $0.30 depending on the plan you choose. They also charge additional fees (0.5% – 2%) if you use a separate payment processor like PayPal or Square.
#6 – WooCommerce Review — The Best for WordPress Websites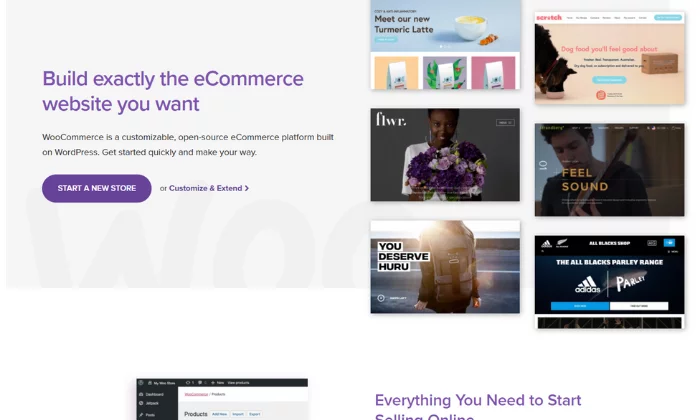 The recommendations thus far are all-in-one website builders. WooCommerce, however, is not. It's a WordPress plugin built to add ecommerce functionality to existing WordPress websites.
WooCommerce powers approximately 30% of stores online today. And with 80+ million downloads, it's one of the most popular ecommerce platforms on this list.
Note: if you don't already have a WordPress website, I don't recommend going this route. Stick to an all-in-one ecommerce platform, instead.
WooCommerce is a lightweight plugin that adds ecommerce capabilities like accepting online payments, configurable shipping options, product listings, and more. But you have to have an existing website to use it. So, it's a great option if you already use WordPress.
It includes powerful ecommerce features like:
Plugin extensions to increase functionality
Rest APIs for developers to create custom platforms
Extensive tutorials and documentation
140 region-specific payment gateways
Support of subscriptions and deposits
Automated tax calculations
Real-time shipping rates
iOS and Android mobile apps
Physical and digital product capability
Endless product variations
Public support forum
And the best part? It's free to download, install, and use. Forever.
However, some of the extensions aren't free so watch out for that if you start digging into those.
With the power of WordPress behind it, your customization options are only limited to what you can imagine. So, the sky is legitimately the limit with WooCommerce.
But with that said, it's not the easiest or most intuitive ecommerce platform. So, I don't recommend it if you aren't already using WordPress and 100% comfortable with it.
#7 – OpenCart Review — The Best for Selling Digital Products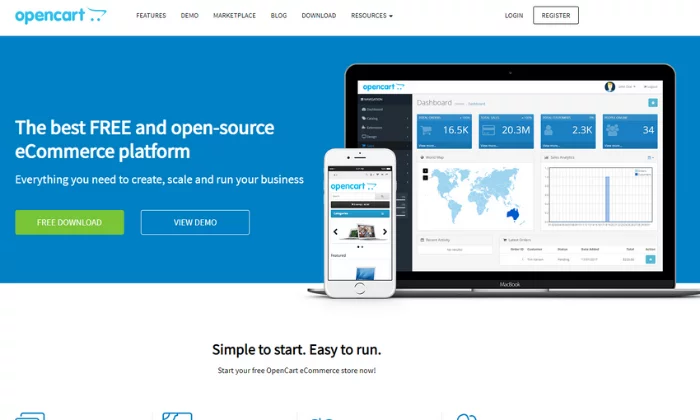 OpenCart is another open source ecommerce platform, much like WooCommerce. However, it's not limited to WordPress websites. But you do need to have an existing website to use it.
Over 300,000 online stores use OpenCart to confidently sell products of all shapes and sizes online. Plus, most web hosting companies offer one-click installation or will install it for free, so it's incredibly easy to set up.
Note: I only recommend going this route if you already have a website up and running.
While you can sell products of any kind, the no-fluff interface (and free price tag) makes it an excellent option for selling digital products to make more money with your online business.
All without adding an extra monthly expense because it's 100% free forever.
OpenCart offers a powerful set of ecommerce features, including:
Simple and centralized admin dashboard
Advanced user roles and access controls
Manage multiple stores from a single dashboard
Limitless product variables and variations
Built-in affiliate management and rewards system
Discounts and coupons
Unlimited products
One-click digital downloads
Product reviews and ratings
36 built-in payment methods
Recurring payments
Plus, with 13,000 modules and themes in the marketplace, you can add any functionality you can imagine including service integrations, conversion modules, email marketing, and more.
Keep in mind that not all of OpenCart's extensions are free. You may have to pay for more advanced capabilities.
And they don't currently offer support for free, either.
If you can't find what you're looking for on their community forum, you have to pay for dedicated help. Dedicated support starts at $99 per site per month or $99 for a one-time fix.
#8 – Ecwid Review — The Best for Integrating With Your Current Platform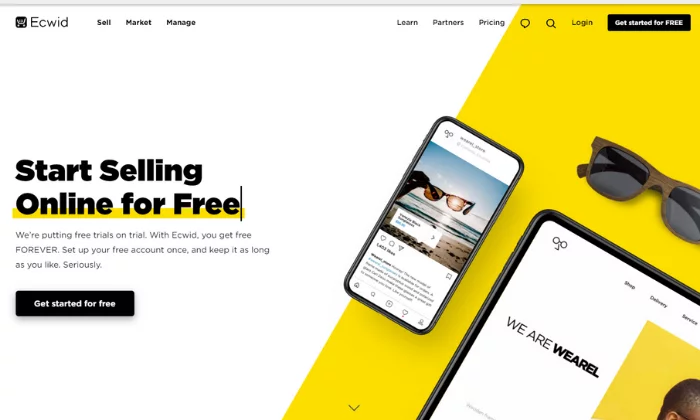 Like OpenCart and WooCommerce, Ecwid is an ecommerce platform you can use to integrate with your current platform, regardless of what you're already using.
It integrates with platforms like Weebly, Wix, WordPress, Squarespace, and more. So, if you already have a website set up and want to add ecommerce functionality, Ecwid is an excellent choice.
With that said, they also offer an all-in-one ecommerce website builder if you want to start from scratch. However, there are better website builders to use.
So, I only recommend Ecwid if you want to integrate ecommerce into your existing website.
This ecommerce platform includes a wide range of features, like:
Multi-channel selling (social media, marketplaces, in-person, etc.)
Integrated email marketing and advertising features
Centralized inventory and order management
No transaction fees
Fully responsive designs
Built-in POS integrations
Customer accounts for easy checkout
Real-time shipping rate calculator
Poduct variations
Digital product capabilities
40 payment options
The biggest downside is that you can't manage your store from inside your website account dashboard. You have to log in to Ecwid instead. So, you need to manage two separate accounts.
But the good news is that you can start on the limited free forever plan to try it out before making any investments.
The free plan only allows up to ten products, so you have to upgrade if you need more. Ecwid also offers three paid plans, including:
Venture — $15/month (up to 100 products)
Business — $35/month (up to 2,500 products)
Unlimited — $99/month (unlimited products)
This is the price if you pay month to month. If you are willing to sign a contract for a year, the price is a little lower.
As a stand-alone store builder you might be better off with other options (like Wix and Shopify).
But if you already have a website and want to add an ecommerce store, Ecwid is a great alternative to WooCommerce and OpenCart.
What I Looked at to Find the Best Ecommerce Platform
The best ecommerce platform for your business depends on several factors like your experience level, your customization requirements, and the type of products you want to sell.
But choosing the right platform can feel overwhelming because there are countless options to choose from.
It may help to start with a list of requirements and the features you need. From there, you can narrow down your choices based on the following criteria.
Physical vs Digital Products
Digital products are a booming market. Online courses, music, art, and podcasts are just some of the digital products netting new businesses tons of cash.
But selling and delivering digital products isn't the same as delivering a physical product to someone's doorstep.
If you want to sell digital products, Shopify is a really great option, but some ecommerce may not support digital products at all. So it's important to understand which type you plan to sell before you make a decision.
Deployment Options
What do you need to do to get your ecommerce platform up and running?
There are a few different ways to deploy your platform depending on where you are starting from and where you want to go.
If you already have a website, the best option is integrating an online store rather than creating a brand new website on a new platform. This way, you build on what you've already done. OpenCart is ideal for this use-case.
For people with WordPress sites, you can add ecommerce functionality via a plugin like WooCommerce. This is super simple to set up and easy to manage.
If you're starting from scratch, you'll want a website builder and other tools to help you design your platform.
In this case, going with solutions like Wix and Squarespace makes a lot of sense. They bundle everything you need to get started at a really affordable price.
Day-to-Day Management
Order management, product creation, tracking orders, and dashboard navigation are important factors of day-to-day ecommerce management.
Choose a platform that's easy to use and manage on a daily basis. It shouldn't feel like a struggle to create new products, check the status of an order, or update the pages of your website.
It's all about finding the right balance of flexibility, customization, and ease of use. The more a platform can do, the harder it is to manage.
You can simplify your workload by choosing a platform that offers just enough flexibility without going overboard for your specific needs.
Design Capabilities
Some ecommerce website builders (like Wix) are truly drag and drop, meaning the customization options are endless. If you can imagine it, you can build it. But, that freedom also makes the platform more difficult to use.
Other platforms integrate into your current site, taking the look and feel of your existing website with very few customization options. For some users, this is perfect.
But others may want more control.
If you're just starting out, simple designs and ease of use are more important than design flexibility.
However, if you already own a physical store or an established brand, design is more important so you can create a cohesive aesthetic from one touch point to the next.
Advanced Ecommerce Features
Do you want to be able to offer discounts or accept payments through different payment processors? Maybe you want to send visitors a reminder email when they exit your website with something in their cart.
Perhaps you're interested in creating customer profiles and analyzing advanced analytics.
Other advanced ecommerce features include:
Email marketing integrations
Memberships and recurring payments
Gift cards and discount codes
Partial payments or payment plans
Shipping and fulfillment management
Product variations
Product categories
Think carefully about what you need and what would be nice to have. Then, you can use your list of requirements to narrow down your list of choices.
Summary
Finding an ecommerce platform does what you need is a breath of fresh air. After using dozens of different options over the years, I'm confident with my selection of the top options available:
My #1 recommendation for most users is Wix. It's great for users of all experience levels. Plus, it's easy to use, highly customizable, and affordable as well. But if Wix is too customizable for you, Squarespace is a fantastic alternative.
For large stores, I highly recommend BigCommerce or Shopify.
However, if you already have a website, WooCommerce, OpenCart, and Ecwid are excellent choices depending on what you need.
If you have a WordPress site and want an easier way to set up your WooCommerce store on it, you can't go wrong with Bluehost's WooCommerce Online Stores.
See How My Agency Can Drive Massive Amounts of Traffic to Your Website
SEO – unlock massive amounts of SEO traffic. See real results.
Content Marketing – our team creates epic content that will get shared, get links, and attract traffic.
Paid Media – effective paid strategies with clear ROI.
10 Ways to Use AI for Better Ads
In our recent post about OpenAI's ChatGPT, we unpacked what the tool is and how it works, and why we don't see its popularity as a threat to search engines like Google. In this post, we'll be diving further into the OpenAI Playground, and how PPC marketers can use that tool along with ChatGPT to save time on research, ideation, execution, and more.
The Playground is a basic UI built on top of OpenAI's API. OpenAI has recently added ChatGPT to their API. When accessing ChatGPT through this UI, users have the ability to customize the model being used for each query (or continuation of the "conversation") as they progress through their work.
 
How to Write ChatGPT Prompts
 
When working with tools like ChatGPT, it's important to be as clear as possible in what you ask, and how you ask it. As you write prompts for ChatGPT to work with in retrieving and displaying the information you need, remember that you are giving instructions in a more direct way than you might if conversing with a colleague.
While another person may have contextual insight into what you're really looking for with your question, tools like ChatGPT take language more literally, tailoring their response to the information you explicitly provide in your request.
ChatGPT will consider every element of your ask, so don't give generic prompts. The more information you provide the tool in your prompt, the better it will be able to generate what you're looking for in its response.
Example: Let's assume you're using ChatGPT for dinner inspiration…
Generic prompt (least likely to return what you're looking for): Give me 10 recipe ideas for a home-cooked dinner

 

Slightly better prompt: Give me 10 recipe ideas for a home-cooked dinner with squash as the primary ingredient

 

Even better prompt: Give me 10 recipe ideas for a vegetarian home-cooked dinner that I can make in an air fryer in 20 minutes or less with squash as the primary ingredient
See here and the examples below for more information and inspiration on crafting strong prompts.
 
How to Start Using the OpenAI Playground for PPC Marketing
To get started with the OpenAI Playground, create an account using your personal email address at https://platform.openai.com/. Once you're logged in, navigate to the Playground page to access the interface and begin making requests.
The right-hand sidebar provides some options for different modes and GPT submodels, as well as Codex models, which are primarily used for generating code. The Complete mode is selected by default, along with the text-davinci-003 model. The other models within the "Complete" mode are typically faster and cheaper but are also less advanced, so they may be viable alternatives depending on the nature of your needs. ChatGPT can be accessed via the Chat mode and is what we used for the examples below.
 
OpenAI Playground Tokens and Settings
The billing model for using this service is constructed around the concept of tokens. Each new user gets $18 of free credit (900K tokens) that can be used during their first 3 months from sign up; after that, it's $0.02 for every 1,000 tokens.
There is a token counter in the footer of the Playground display which can help you keep track of how many tokens you are using. 1 token is approximately 4 characters (or 0.75 words), with token usage measured against both your prompts and the responses.
You can limit the number of tokens that can be used in a response by toggling the Maximum length slider on the right hand sidebar, which is set to a 256-token cap by default. If you make an inquiry that requires an elaborate response, you may see the response get cut off before completion; in this case, it may be helpful to increase the Maximum length.
There is a maximum of 4,000 tokens that can be used in a single "request" (single session), i.e. a series of questions within the same Playground. Once you've hit that limit, all you need to do is delete your earlier prompt questions and answers, or save them as a "preset" before moving on to a new prompt.
Note: The use of tokens is required in the OpenAI Playground, but not when using ChatGPT natively. As of the time of this writing, ChatGPT is still free to use. A paid version of ChatGPT with advanced features and benefits is also available—ChatGPT Plus.
 
OpenAI Playground and ChatGPT Temperature
The Temperature setting controls randomness; lowering the temperature results in less random completions. As the temperature approaches zero, the model will become deterministic and repetitive. For most PPC purposes, we recommend a temperature range of 0.6-0.8 as optimal.
 
10 Ways PPC Marketers Can Use GPT to Improve Workflow Efficiency
"In terms of use cases, there are many different ways in which people working in all industries, and all fields of expertise, can lean on tools like ChatGPT and the OpenAI API to improve their efficiency and automate certain redundant tasks. This technology can help with smaller, repetitive tasks, such as breaking down a long document into a bullet point summary. However, when it comes to critical thinking and understanding the implications of things, I would be very cautious about over-relying on AI."

— Josh O'Donnell, Sr. Strategist, Paid Search at Tinuiti
A couple of important things to consider before diving into our examples below:
ChatGPT/GPT language models training data cuts off in 2021. They do not have any knowledge of current events, and cannot accurately respond to questions about such topics. ChatGPT is not aware of things like who won the big game last night; it is not even aware of what day it is.

 

ChatGPT/GPT language models do not have access to the internet or any other kind of external data retrieval; they can only answer questions based on the knowledge acquired from their training data. They cannot verify facts or provide references, only generate responses based on their own internal knowledge and logic.
1. Keyword Research
Whether you work on the Paid Search side of marketing, or the organic side, you know how important (and time-consuming) thorough keyword research can be. One of the most important rules of marketing is to know your audience—which includes knowing what they want, and how they search for it—and the OpenAI Playground can help you find those answers faster.
Sample Scenario:
You're just getting started building a new PPC campaign for a client that sells running shoes. To kick off your initial keyword research, you want to get an idea of which related keywords are being searched most often. You want a Top 20 keyword list, and GPT can generate a list for you to help you get started.
The prompt: Provide me with a list of 20 running shoe keywords for google ads, list them in descending order based on expected search volume in the United States.
The result:
Note that since OpenAI enables you to continue the "conversation" beyond your first query, we also asked it where it got the returned information from (above photo); it's always important to consider the source when relying on AI-generated responses. This is a good example of why it's important to take the outputs with a grain of salt, using them as inspiration to get you started, but not the finished product.
 
2. Competitor Research
Comprehensive competitor research and analysis is a crucial part of a marketer's job, helping inform and guide their campaigns. However, just like keyword research, this is also an ongoing, time-consuming process.
When you work in a complex space—or your products or services are part of different spaces—it can sometimes feel overwhelming to assure you're accounting for everything and everyone. The OpenAI Playground can help make short work of initial research in a variety of ways.
Below, we showcase the results provided by three different prompts aimed at unpacking competitor insights instantly…
Sample One: Ask for a list of top US competitors ranked largest to smallest with accompanying website URLs to get ideas for custom audiences, messaging, and product positioning.
Sample Two: Ask objective questions about your competitor and their product.
Sample Three: Ask about pain points for competitor products, and use that info to inform your own product messaging & marketing strategies.
3. Generate Ad Copy
In the below examples, we used the URL of the ad's landing page to help inform the suggestions from ChatGPT, providing character limits in our prompt to help direct the output. If your original result doesn't meet your expectations, continue to sculpt with additional follow-up prompts. GPT cannot access these web pages in real-time, but it can use the context from the URL structure to inform the output.
"It's more of a utilitarian thing, where you provide the tool with the data, and ask it to manipulate that data for a better output. One example is to provide it with a web page, and ask it to generate some ad copy based on the URL text; it can provide fifteen or twenty options within seconds. I would never recommend simply taking those headlines and pasting them into an ad, but you can now start off your project with a list that you or a teammate can garner inspiration from, and strategically refine or tweak to fully optimize. This gives the practitioner more time to spend on critical thinking, with ChatGPT taking away the more mundane elements of the task."
— Josh O'Donnell, Sr. Strategist, Paid Search at Tinuiti
The copy itself should be quality, but the important aspect of parity between what you're saying on the ad and what's on the page can be efficiently solved for.
 
4. Translations of Copy & Headlines
In the example below, we asked ChatGPT to translate the 5 English language ad copy options generated above into Spanish. Additional options currently available include French and Japanese translations.
5. Answer Questions on Demand
Similar to ChatGPT, the OpenAI Playground can also be used for Q&A purposes. Just remember that answers can only be generated based on the tool's current knowledge.
This can be especially helpful during calls with clients when you need a fast and simple answer to keep the conversation moving forward.
 
6. Simplify Complex Concepts
When talking about digital marketing with other practitioners, we know our audience 'speaks the same language' and certain questions, concepts, or outcomes need no further explanation. However, those same complexities aren't always as easy to communicate to newer team members or clients.
Even when our day-to-day contacts are digital savvy, they often have to convey information to those higher up the chain in their organization who might not be as familiar with the lingo, or even why certain things they're highlighting matter.
For scenarios like these, OpenAI's Summarize for a 2nd grader feature can prove especially helpful. Once you have the foundation laid out, you can add more color and context to paint the fuller picture without worrying the basics would be glazed over.
 
7. Generate Product Descriptions & Names
Working with accurate, well-optimized product names and descriptions is one of the most essential elements of effective marketing. Strong, descriptive names and product information help search engines and users alike in uncovering the items that will be most relevant to their needs.
While names and descriptions will always require a human touch for proper refinement, tools like ChatGPT and the OpenAI Playground can provide a great starting point to build from.
 
8. Parse Unstructured Data
The OpenAI Playground makes it easy to organize long-form text into a table format. Simply specify a desired structure, provide a few examples to work from, and enjoy the time saved.
9. Call Summaries & Follow-Ups
Call summaries are an important aspect of keeping organized and ensuring everyone working on a project is clued into plans and discussions, even if they weren't part of the original calls. Putting together these comprehensive, valuable recaps can sometimes take as much time as the call itself, but GPT can help.
Below, we asked GPT to write a follow-up email based on a call summary.
10. Convert text from first-person to third-person
We have found this feature especially helpful for turning our own notes into actionable steps someone can follow when shared. For example, if you want to share steps for completing a process with a team member or client, you can type naturally using "I" language to convey those directions. You can then quickly convert the text to third-person, adjusting as necessary for optimal clarity.
Conclusion
 
The capabilities of advanced tools like OpenAI's Playground and ChatGPT can make short work of mundane tasks, help quickly generate ideas and direction, and ultimately save us all time to focus on the elements of marketing and advertising where our expertise and strategic insights can truly shine. If you're interested in more under-the-hood information about how ChatGPT works, check out Stephen Wolfram's breakdown of ChatGPT. Also see here for additional application options, or reach out today to learn more about how our Paid Search team can bring your PPC advertising results to the next level!
 
The Optimizely Podcast – episode 26: digital evolution in a climate of rapid change
Transcript:  
Laura Dolan:
Hello everyone. And welcome to the Optimizely Podcast. I am Laura Dolan, your host, and today we are joined by Dom Graveson, who's the director of strategy and experience at Netcel and Deane Barker, who is the global director of content management here at Optimizely. How's it going, gentlemen?
Dom Graveson:
Yeah, very good, thank you. How are you?
Laura Dolan:
Doing well, doing well. How about you Deane? How's it going?
Deane Barker:
Good, Laura. I'm a veteran of this podcast by now.
Laura Dolan:
You are. You are, Deane. So we already know all about you. So Dom, please, let's start off by telling us a little bit about your background and your history of Netcel.
Dom Graveson:
Yeah, sure. So I've been with Netcel for coming up for four years. Netcel are a digital product and experience development company, so we build everything from kind of websites through to integration with CRM, marcoms, basically building digital experiences on the Optimizely platform.
Dom Graveson:
We do a lot of work with kind of experience research and data, so we kind of put customers at the center of all the work we do, but also, we understand that there's quite a profound impact on businesses. So when you are really going to deliver transformational digital experiences and really up your digital game, particularly in the current climate and the world that everything's changed so much recently, you are going to need to change your organization and the way that you govern, the way that you manage people, so we do a lot of work with our clients, kind of helping them through that process as well, the kind of change process.
Dom Graveson:
Previous to that, I was with some of the big sort of consultancies working on digital product innovation. I worked around all over the world. So yeah, I kind of bring a few years of experience and broad experience to this.
Laura Dolan:
Very good. Can you speak on some of the digital experience that you've worked on with Optimizely?
Dom Graveson:
Yeah, so we've built products, digital experiences for some of the major not-for-profit organizations in the U.K. So we mainly work in the U.K., U.K. Based, based just North of London. We're working currently with a large agricultural organization that represents Britain's farmers around building kind of digital experiences and business-to-business commerce systems with them. So, yeah, then we also work with quite a lot of well-known financial services businesses in the U.K. As well. So our kind of focus has been membership organizations, business-to-business, and financial services with bits of NFP, not-for-profit, as well.
Laura Dolan:
Very cool. Thank you so much for spending a little bit of time on that. I always like to know our relationship with partners, so it's nice to have that visibility. So today we are talking about the digital evolution in a climate of very rapid change. So what do we mean by digital evolution as opposed to the more traditional concept of digital transformation?
Dom Graveson:
Well, I mean, it's been something I think that's been emerging for a while, but for the last kind of 15 years or so, or 20 years since digital really kind of took hold as it were and became a kind of serious channel that organizations were taken seriously, it always seemed that the focus was on getting from A to B or getting from where we are now to a level of competence and capability, which we can define at the beginning of the project.
Dom Graveson:
And I think over the last few years, or over that time really, we've seen that become less and less of an appropriate or working approach. And what we are trying to encourage now, and what we are building within the businesses that we work with is this approach to digital, which is more of an evolution rather than the transformation. Because if you're working across a three-year program, what you define as being the destination now, certainly in the last few years, probably isn't going to be relevant or fit for purpose within three years of you delivering it, and a lot of IT and digital projects fail to meet their objectives because of this exact approach.
Dom Graveson:
So it's about kind of structuring your programs in a way that keeps an open mind, a beginner's mind, and has the instruments within it, and governance within it, and structure that will enable you to discover as you go and focus on outcomes or customer outcomes, business outcomes, rather than thinking too much about kind of architecting the house before you start building, when you don't know where you're building it yet, if that makes sense.
Laura Dolan:
Absolutely. Deane, is there anything you can contribute to this as well?
Deane Barker:
So Dom and I did an event together in London at the very top of The Gherkin and we had a long conversation up there. We had a panel discussion up there. We had a long conversation about the fact that digital transformation is maybe a term that we need to retire, replace it with digital evolution, or digital progress, or digital incrementalism. And it's just the general idea that you make your way over time. You make little bets, and you improve your digital estate piece by piece. I think that too many people are doing too much at one time and digital projects are failing for that reason, whereas they're not being more deliberate about their goals and they're not giving themselves room to evolve organically, make one step and see where that leads them, and then make another step and see where that leads them. And I think the goal of instant complete transformational overhaul is maybe unrealistic for a lot of digital teams. So that was the conversation that Dom and I had, which kind of led us the idea of digital evolution. So that's kind of the perspective we're coming on.
Dom Graveson:
Yeah. I think also what's interesting with that is the idea that as Deane was saying that if you're doing more than one thing at once and something works, how do you know which thing made it work, gave you the success? And one of the things that people aren't investing in, they're investing heavily in kind of a sense, trying to make progress, but not investing very heavily in measuring that progress or actually understanding and interpreting that data to be able to understand what was the thing that they did that delivered that benefit. And this is one of the aspects where we need to change the way that we work. It's interesting, we've kind of heard of a major project just this week, big program in the U.K. That's really struggling. I won't mention names, but it's really struggling because they've been so desperate to achieve a certain point that they've kind of lost their way.
Dom Graveson:
They've hired lots of people. They've got lots of people leading different parts of the product and all the rest of it, but they kind of lost their way because in their quest to arrive somewhere so quickly or make progress, they've kind of lost track of where they were trying to get from the business objectives' point of view. And I think that's a common problem. I mean, I've been in this business 25 years, I guess, and something I see again and again, that if we can build the team to a certain size or if we can get this kind of throughput of features shipped, we will arrive somewhere.
Dom Graveson:
And of course, that's important. Progress is at the heart of all of this. But you do need to keep this mindset, as Deane mentioned, this kind of incrementalist mindset, of break things down, take it a step at a time, and structure the organization, manage upward, manage your sponsors robustly so that they understand that this is not something that you can just steamroller into existence. It's much more of a kind of step forward across a series of fronts to make progress. And that takes kind of courage and communication with all kinds of levels of the organization.
Laura Dolan:
It does. And it is a very common problem because you end up with too many cooks in the kitchen as it were, and then you also end up with a quantity over quality issue, which is such a common problem that you find within organizations. And then you also have the issue of just all the siloing that goes on and the lack of transparency between different departments, and so you have this huge team, but they're not communicating with each other. So that's also just a very difficult thing to work around and there has to be a better way, don't you think?
Dom Graveson:
Yeah. I mean think this is the thing, is that this is why people need to want… Where I've seen this successful is where it's seen as an organizational change, as much as it's seen as a program of delivery of product or delivery of an experience or new channels or whatever, is that the organization needs to learn and change as the program evolves. You can't just throw tons of money at this. You need to understand how it's going to require people to behave differently, work together differently, measure things differently, check in on one another, enable mistakes to be made in a way that people aren't afraid of that, and that they get surfaced quickly, and that they're maturely and honestly addressed, all that kind of stuff. And I think a lot of some kind of wasted money over the last 10, 15 years has been where that hasn't really been seen.
Dom Graveson:
The business case has been made for the program, for the objectives of the program, without really thinking about how the organization is going to change. And organizations are changing, have changed profoundly in the last few years. We're working from home. We've changed the way that we interact with one another socially. We've got political upheaval in the U.S. We've got a war in Europe. We've got all of this stuff that's really changed the way that we kind of feel about the world and trust is more important than ever and kind of empathy, and understanding, and individualized experiences, and all of these things are not just technical problems to solve by throwing a load of infrastructure in place.
Dom Graveson:
Infrastructure is important, but it's also about building an experimental mindset. It's about empowering your people to take risks in a safe environment. It's about changing the way that your organizations have run right from the top to show and demonstrate that behavior is understood from the frontline all the way to the C-suite.
Laura Dolan:
Hundred percent. So when you talk about these changes that organizations need to make to dovetail into this evolution, where have you seen this approach be successful? Do you have any examples that you can describe for us?
Dom Graveson:
Yeah. When I think where we've talked about it, and Deane feel free to jump in here, is where I've seen it on organizations of all kinds of sizes that have invested in their digital teams, both from the kind of point of view of giving them the freedom to be able to innovate and the freedom to be able to try new things out, try new technologies out, and build experiences, and invest in audience research, and kind of pulling together the kind of insights, departments and sources of insight within the organization, but also where they've had the visibility and had the visible support from the senior leadership.
Dom Graveson:
I think still, you see quite a lot of digital teams being run by either technology or marketing. And I think digital is something that is actually the responsibility of the whole business now, the whole organization. I don't know, Deane, have you got any thoughts on this? We talked about it extendedly.
Deane Barker:
You and I have talked about this, Dom, and I think I've talked about this in the podcast before, is that a key component of digital leadership is trust. Do you trust your people to work towards the good of the organization. Too often, we get kind of hampered by the tyranny of metrics. We need an instant uplift. We need an instant improvement, where that really discourages your team from making small changes and running experiments and trying new things that might not work. For some reason, we want everybody to guarantee that everything's going to work right out of the box. It's not. And I think if you trust your teams and provide them kind of the emotional and professional safety to make small changes, and see what works, and come back to you and say, "Look, we tried five things. Four of them didn't work, but this one thing worked really, really well."
Deane Barker:
I'm big on taking little bets, small incremental changes, and lengthening the periods required for return and results. If you demand quantitative metric results from your team in 30 days, you're going to get some very brittle results, if anything. Someone might even be massaging some numbers or framing it in such a way to give you the numbers that you want. But if you sit your team down and say, "Look, I'd like to be in a better place this time next year." Well then, they can come up with a long term plan, and they can try some things and see what works and see what doesn't work, and I also think that plays very heavily into employee retention. I think that lets your employees do their best work and be satisfied with their job and satisfied with their efforts, and I think it's a huge win for the organization, but it takes trust. As a leader, you need to believe that your people are skilled and are working towards the benefit of the organization, and some leaders are more shortsighted than others, let's say.
Dom Graveson:
It's interesting, actually. You talk about this kind of leaders wanting results quickly because I think that's a reality of organizations on this part is. And one of the things that I think a lot of kind of chief digital officers who we tend to work with are struggling between… I have this kind of analogy I use, which is a bit like you're running a chip van. You're trying to feed people, hot dogs and chips in the rain and there's a big queue of people and everyone's hungry, and you know that you could evolve your product and make better food, but you're so bogged down by having to kind of feed people that you never get the chance to think about that. And I think one of the things that we talk about is building this idea of a balanced portfolio.
Dom Graveson:
So digital evolution or digital transformation, but digital evolution is always going to be kind of made up of combination of small little bits of quick win work and big core transformational change, which are things like integrating your CRM, or migrating your digital experience platform, or swapping out your ERP or whatever. And you've always got this combination of the quick wins, the things that if you're going to bring the business on the journey with you, you need to demonstrate some simple improvements, such as the marketing team in South America just can't update their campaigns without calling you. And of course, you are running a chip van, so they're going to be 15th in the queue, so they're furious. They don't want to hear about your big innovation program of new digital experience with the customer centricity. They just want to update their campaigns. So it's about balancing a number of simple things that you can do for everybody, along with those longer term transformational changes.
Dom Graveson:
And then a third part, which is what we call future possible, which is looking at what technology or platforms might be useful in the future for you and experimenting. So you've got this, do the simple stuff that just the CEO, she's just getting hassled for every day from her colleagues. Get our stuff fixed, because that'll make you popular and it'll build you some support. Obviously investing in the, not being afraid to make decisions that are long term. This is not the right platform. We need to change, or we need to integrate this with this, or we need to invest in these people and up-skill them. That's the kind of big kind of transformational stuff. And then these experiments that will help you discover what the future is. And you have to govern each of those three types of portfolios in a different way, and understand that the experiments will fail, most of them. But that's where you will discover that the pot of gold for five years' time, whereas the quick win or BAU, I hate that term BAU, but the quick win stuff, which is really important in building support.
Laura Dolan:
So how can organizations get started on the digital evolution journey?
Deane Barker:
Well, I've always been a big proponent of absolutely knowing what your goals are, what your conversion points, are for your digital presence. A conversion, most people know this now, but a conversion is when somebody takes an action in your digital properties that provides value. Ecommerce, it's somebody checks out or in other websites, if somebody requests a demo or something like that, you have to know what these things are. You have to know the moment that your visitor provides value and the moment that your digital presence has provided value to you. Without knowing that you're just nowhere, and we see a lot of people doing an enormous amount of work without any idea kind of what the goal is.
Deane Barker:
Back when I was in services, I was working with a healthcare client, and I was talking to their director of marketing. He says, the CEO calls me all the time and says, "We need more social media updates." And he would go back to the CEO and say, "Why?" And the CEO couldn't even tell them why, because the CEO didn't understand the chain from action that the digital team takes to conversion or some moment when the website provides value. So you have to know that. Once you know that, the conversion points when your website provides them value, then you just need to break things down. You need to divide your web presence up into chunks that you can improve over time. Too many people just try to tackle the entire thing at once.
Deane Barker:
Let's take a look at your contact dose form. Maybe we need to spend some time just fixing that. And then, let's move to your homepage and run a couple experiments there. I would be remiss if I didn't mention that Optimizely sells an experimentation suite. Run a couple experiments on your homepage. What's it going to take to drive people to that contact form? Literally, if that's the goal that you know have to improve, you can work towards improving that goal and you can filter out people in the organization that have pet projects, or pet ideas, or they're sure that this is going to make things better. If you can go back to them and say, "Nope, this is the goal. This is the goal we're working towards," you can start making incremental steps toward improving that goal. And that's probably the most important thing that an organization can do.
Dom Graveson:
Yeah. I mean think Deane hits upon two things that are really interesting there. The first one is a lot of people that we work with or often one of the struggles that heads of digital have is, I keep getting asked to do kind of crazy things like create more social media posts by senior people, which adds to that whole noise, that adds to the queue of the backlog of urgent stuff that needs doing, that means that you never get the chance to stop and actually think about things strategically.
Dom Graveson:
And actually, there's an element of a lack of understanding within very senior people because maybe they're not so experienced at working within the kind of digital space. Although to be honest, it's been 20 years. I have little sympathy for that now. An organization that's probably not only just digital first, but pretty much digital all over. If you think about it now, your first interaction with an organization is going to be probably through its digital channels, and maybe even the entire service experience will be through digital channels. Leaders should get this by now, right?
Dom Graveson:
But my point is that if digital teams are getting kind of requests from leadership, such as create loads of social media posts or build us an app is another one I've heard. "We need an app." "Well, why do we need an app?" Is because actually there's a responsibility on digital leaders to step up and be leaders and to be able to say, "Right. You need to tell us where this business needs to be. And we will help develop an understanding of what those key conversion points are." You can't expect senior, necessarily people who aren't sort of native digital folk to understand that. But if you provide them with that information, I hope you would get less of those kinds of slightly daft requests. If you see what I mean, Deane, I think there's a responsibility on digital professionals to educate upwards. And rather than kind of feel like if you're in an organization that's struggling, change that organization if you can. It's a two-way thing.
Deane Barker:
This goes back to trust, right?
Dom Graveson:
Yeah.
Deane Barker:
The reason why you have people in digital, not resisting calls to do things that aren't going to provide value is because professional insecurity. They don't believe that their leaders trust them. They think they just have to do whatever the CEO or the CMO tells them to do. They don't feel like they can push back. I have been working in the digital space for 25 years and everything comes back to organizational and personal psychology at some level. I think you have people in digital team that they just don't feel like they can push back and make the right suggestions. And they just have to do what someone higher at the [inaudible 00:22:13] tells them to do, and that's just a recipe for disaster, really.
Dom Graveson:
It also means you're going to lose the other best people you have, because no one with any integrity and real talent will stick around if that's the kind of corporate environment that they're in. People have a lot of choice these days, particularly with increasing mobility and hybrid working, is that really the world is your talent market now and you can find the best people if you build the best cultures, and it doesn't really matter where they live. For example, Netcel, some of us live outside of the U.K., Some of us live across the U.K., And it's worked very well.
Dom Graveson:
But I think this thing about what Deane was saying about breaking it down and we touched upon this in the answer to the last question about the balance portfolio. This is where you do need to break down those conversion points and how we improve those conversion points into a really simple set of steps, that by improving this, you can understand how you are influencing the outcome. So don't necessarily need to rebuild the whole of your shopping funnel, for example, or your conversion funnel, but build a program and invest in this experimentation.
Dom Graveson:
So, this is both in the platform, as Deane said, Optimizely has an experimentation suite built into it, but also working with the agency, the partner that you work with, to understand how experimentation works. At Netcel, we do a lot of work with pitch leaders on kind of building out both kind of capability at the kind of operational level. How do I design an experiment, but also about how you build a business case for experimentation, and kind of build a business case for broader digital evolution as a concept. We've actually published a report that you can download from Netcel.com/report that talks a lot about this, that's Deane's been involved with and some other leading digital professionals as well. So, if you wanted to read more, you can check that out. That's been supported by Optimizely. Yeah, so there's some good sort of starting points in that.
Laura Dolan:
Yes, please go ahead and send me that link when you can, Dom, and I will definitely put it in the link to the show notes of this podcast that we will have on our website. Perfect. Thank you. Great. You guys have covered a lot and just being conscious of time, is there anything else that we didn't cover that you'd like to speak on before we wrap up?
Deane Barker:
Both Dom and I have alluded to the concept of employee morale, psychology and retention. And I think this is one of the big crises in digital right now, is that people are searching for the organization that gets it. People are searching for the organization that they can work at, and feel good about their work, and feel like they're making a positive impact. And so when you hamper your digital teams, when you try to overload them, when you are vague with them, and you don't have clear goals with them, you don't let them try new things and incrementally make improvements, you hurt your organization in two ways.
Deane Barker:
Number one, just through lack of conversion, right? Lack of digital efficiency and effectiveness, but you also hurt them from lack employee morale and retention. Losing digital employees is so painful because they're so painful to replace these days. And so, the damage to your organization is considerable and I think it's very shortsighted to put some 30-day quantitative metric in front of that.
Dom Graveson:
Yeah. I mean, I completely agree with that, and I think one of the ways that you can tackle that is by ensuring that you've got… Digital isn't something that's just done with the digital team or just done by the digital team. We talk a lot about digital operating models with the clients that we work with, and this is where we get into the kind of, how do you govern and lead digital, not just how do you build the right products, or build the right experiences.
Dom Graveson:
But if, for example, you're a professional services company and you want to segment to different markets and build authority in different markets, say you're a lawyer firm or another kind of professional services firm. You want to build authority in merchants and acquisitions. You want to build authority in sports licensing law. You are going to need a lot of help from the people in your organization to generate that content. That content isn't going to be generated necessarily by the digital team. But the digital team are there as an enabler. They're there to provide the technology and the advice and the kind of lead and give people the confidence to be able to create content themselves, to be able to create their own campaigns.
Dom Graveson:
So digital is something that actually another principle and concept that Deane and I have been talking about recently is this idea of digital is like water. It's kind of everywhere and you don't notice it, as if you're a fish, and we'll put the link to that article in the podcast as well. There's this idea that actually everyone should be responsible for doing digital to a level of excellence across your organization in the same way that everyone's able to write emails to a level of excellence across the organization. And your digital teams are really there to set the standard, set examples, measure success, share that success, build a center of excellence, but also enable everyone else. So, you don't need to necessarily overwork people. You can give people the tools they need to be able to run their own operations and the digital elements of their operations, but with the oversight and support from the digital team. So, this is known as a kind of hub and spoke model.
Dom Graveson:
And this has been a really powerful way of scaling digital, where you don't want to overload your digital teams. The digital leaders can stay being exactly that, leaders, innovators, consultants, working within the organization to set the agenda, to build the infrastructure that your organization needs for the future, while training up and building basic levels of high-quality digital competencies in your marketing teams, in your customer service teams, in your product development teams, in all the different parts of your organization that interface with customers. And that's been a really successful model for many, and I think I'm one that has a kind of rosy future ahead of it.
Laura Dolan:
I love that you brought up the, "What is water?" paper. I had a chance to read that and it's a very interesting article and I know Deane, you actually sent a YouTube video that talks about the commencement speech. So, I am also going to put a link to that in the article, because it is quite fascinating and quite applicable as I said. So, thank you both for contributing both of those pieces that would supplement this subject that we talked about today. I think that'll really drive the point home.
Deane Barker:
Dom and I have a shared love of David Foster Wallace.
Dom Graveson:
Yes, indeed.
Laura Dolan:
Awesome. Well, thank you both so much for taking the time to come on today and thank you all so much for taking the time to listen to this episode of the Optimizely Podcast. I am Laura Dolan, and I will see you next time.
Laura Dolan:
Thank you for listening to this edition of the Optimizely Podcast. If you'd like to check out more episodes or learn more about how we can take your business to the next level by using our marketing, content, or experimentation tools, please visit our website at optimizely.com, or you can contact us directly using the link at the bottom of this podcast blog to hear more about how our products will help you unlock your digital potential.
How to Leverage Social Media for Your E-commerce Business
You're probably in a competitive market if you sell fashion accessories, premium gadgets, or consumer-packaged products.
With competitors, consumers, and cultural trends shifting quickly, it can be tough to gain a competitive advantage – and even more difficult to maintain. Fortunately, an effective technique to stake an e-commerce claim allows you to move quickly and organically engage with customers to increase sales and conversions.
Even better, it is most likely that you already have one foot in the door using this instrument, which is social commerce.
Why is Social Commerce Important for E-commerce Businesses?
Social commerce is selling products or services directly through social media platforms. It differs from traditional e-commerce because customers can discover and purchase products directly within their social media feeds. It often involves more user-generated content and personalized shopping experiences. Social commerce provides businesses with an additional avenue for reaching customers and increasing sales and engagement.
The following are the benefits of social commerce for e-commerce businesses:
How to Utilize Social Media for Your E-Commerce Business
Utilizing social media for your e-commerce business can be a highly effective way to increase brand awareness, drive traffic to your website, and boost sales. Here are some tips on how to make the most of social media for your e-commerce business:
1. Choose the right social media platform: Identify the target audience and the social media platforms they are most active on. Then, create a presence on those tailor-made platforms for the audience.
2. Create a social media strategy: Define the social media goals, target audience, content strategy, and posting frequency. Ensure that the content strategy showcases products and provides value to the audience.
3. Build a social media presence and engage with the audience: Respond promptly to comments and messages, and encourage user-generated content. This helps build a loyal customer base and increases engagement.
4. Drive traffic and sales to the e-commerce website: Create shoppable posts, use product tagging, and promote sales and discounts to drive traffic and sales to the e-commerce website.
Revolutionizing e-Commerce: Unique Features of Social Commerce Platforms that Help Businesses Grow
Social commerce platforms offer unique features that can help businesses grow and revolutionize the e-commerce industry. Here are some of the most important features that businesses can utilize:
Instagram
Instagram is a popular social media platform that allows users to share photos and videos. With its shopping feature, businesses can create a shoppable feed of their products, tag products in their posts, and even set up an Instagram shop where customers can browse and purchase directly from their profile.
Facebook Shops
Facebook Shops is a feature that allows businesses to set up an online store on their Facebook page. With Facebook Shops, businesses can showcase their products, customize their storefront, and communicate with customers through Facebook Messenger.
Pinterest
Pinterest is a visual search engine where users can discover and save ideas for projects, products, and more. Businesses can create pins and boards showcasing their products, and users can save and share them with others. Pinterest also has a shopping feature that allows businesses to tag products in their pins and create shoppable pins.
TikTok
TikTok is a popular short-form video app that has become a powerful marketing tool for businesses. With TikTok's "Shop Now" feature, businesses can link to their online store directly from their videos, making it easy for viewers to shop for their products. You can also use TikTok analytics tools to get more insights.
Snapchat
Snapchat is a social media platform that allows users to share photos and videos that disappear after a short period of time. With its shoppable AR lenses, businesses can create fun, interactive experiences that allow users to try on products virtually and purchase them directly from the app.
Each social commerce platform has unique features that can help businesses grow by reaching new customers, increasing engagement, and driving sales.
Tips for Successful Social Commerce Implementation
Successful implementation of social commerce requires a well-thought-out strategy and execution plan. Here are some tips to help ensure success:
1. Best Practices for Incorporating Social Commerce into your e-Commerce Business
2.  How to Measure the Success of your Social Commerce Efforts
3. Common Pitfalls to Avoid when Implementing Social Commerce
Conclusion
Social media has changed the game for e-commerce businesses with the rise of social commerce. By integrating social media platforms with e-commerce, businesses can tap into the power of social media to boost sales, improve customer engagement, and gain a competitive advantage.
To succeed in social commerce, businesses should choose the right platform, create engaging content, and make it easy for customers to purchase their products.
It's time to revolutionize your e-commerce business with the power of social commerce!