Disclosure: This content is reader-supported, which means if you click on some of our links that we may earn a commission.
What would you do with an extra $1,500 a day?
With a bit of work and the right ecommerce platform, you can create an online store that generates that kind of revenue (and more).
Shilpi Yadav is an excellent example. She quit her job to start an online clothing store based around her Indian heritage.
Despite all the risks, the brand now makes more than half a million dollars a year (averaging around $1,500 per day).
She built her online store using Shopify, one of the best ecommerce platforms on the market. However, there are a ton of different options to choose from depending on what you need.
And the most significant thing standing in the way of your own $500k success story is deciding which ecommerce platform is right for your new store.
In this post, I'll break down the major aspects to consider in choosing the right platform for your current situation. Then we'll take a close look at seven of top options available today.
#1 – Wix Review — The Best for Flexibility and Customization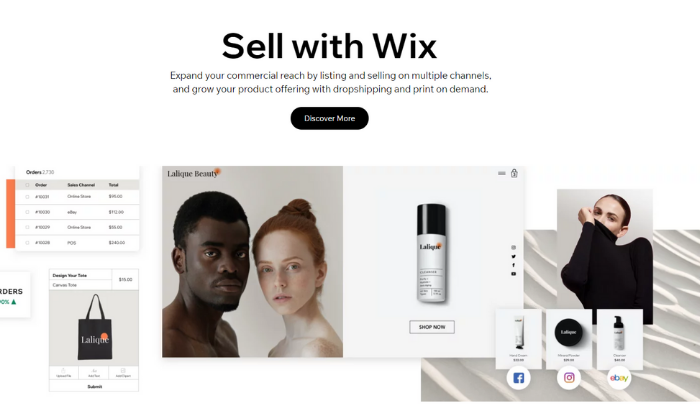 Wix is a great option if you're looking for an affordable and flexible ecommerce platform. It's famous for it's drag-and-drop interface with complete design freedom to create anything you can imagine.
Instead of having to write code, you can use the visual building tools to get your site looking just the way you want it.
With Wix, you also get access to more than 500+ prebuilt website templates and plenty of customization options. Or you can create pages from scratch with complete design control.
The Wix template selection is really helpful for launching a new online store. Instead of having to mess with settings, you can plug your products into a framework that's going to look great every time.
People visiting your store will think you spent days getting such a professional look, but it takes hardly any time at all with Wix.
Furthermore, they have a robust mobile app so you can make changes and manage your store from anywhere in the world.
Wix also includes a wide variety of marketing features, like emails, Facebook ads, and social media posts right from your account dashboard. You can even sell directly via social media.
Their ecommerce plans include powerful features, like:
Support of 90+ languages and local currencies
250+ apps to add extra functionality to your site
No additional transaction fees
Custom product pages
Worldwide shipping and taxes
Coupons and discounts
Advanced sorting and filtering
Product collections
Customizable checkout
Recurring payments
Plus, if you already use Wix, you can upgrade to an ecommerce plan in just a few clicks within your account dashboard.
Wix offers four ecommerce plans for online shops of different sizes, including:
Business Basic — $23/month
Business Unlimited — $27/month
Business VIP — $49/month
Enterprise — custom pricing
This is an excellent option if you have a small store or special design requirements. However, If you expect a high order volume and large range of products, you're better off with BigCommerce or Shopify instead.
#2 – Squarespace Review — The Best Ecommerce Platform for Creatives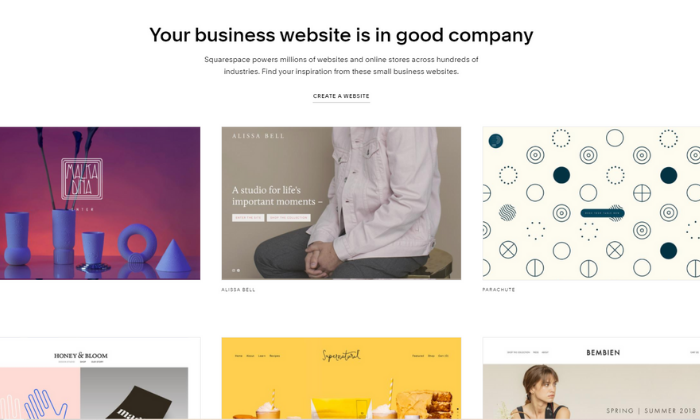 Squarespace is well-known as a website builder, but their higher-tier plans also include ecommerce functionality.
The design templates are fairly easy to work with, but you're not just coloring inside the lines–there's a lot of potential to create a unique shopping experience for your customers.
Some of the other easy-to-use platforms are a little limited with what you can do. Squarespace gives you a lot more artistic freedom.
Install and customize multiple templates at a time to see which one you like best. And switching between templates takes just a few clicks.
Aside from beautiful templates, Squarespace offers a variety of ecommerce features, including:
Subscriptions, digital products, and in-person compatibility
Built-in tax tools for automatic tax calculations
Discount codes and gift cards
Abandoned cart recovery
Mobile-optimized checkout
Mobile store management
Rich product listings
Quick view capability
Inventory management
Real-time shipping estimates
Furthermore, Squarespace integrates with most of the popular email marketing and social media platforms so you can sell and market your products like a pro.
And they have fantastic 24/7/365 customer support ready to answer your questions and help you get things set up the way you want to.
Squarespace offers three ecommerce plans:
Business — $18 per month + 3% transaction fees
Basic Commerce — $26 per month + 0% transaction fees
Advanced Commerce — $40 per month + 0% transaction fees
As you scan their pricing options, you'll see a Personal plan for $12 per month. This is great if you want to build a website, but it doesn't come with any ecommerce features, so it's not going to work if you want to set up an online store.
They also have an enterprise plan with a dedicated account manager, SEO consultations, and prioritized technical support.
And while the Business plan offers ecommerce capabilities, I highly recommend choosing Basic Commerce to start. It's the cheapest plan with no transaction fees, plus it includes other essential features like, customer accounts and ecommerce analytics.
Learn more and get started at Squarespace.
#3 – Bluehost Review — The Best for Hands-Off WooCommerce Store Setup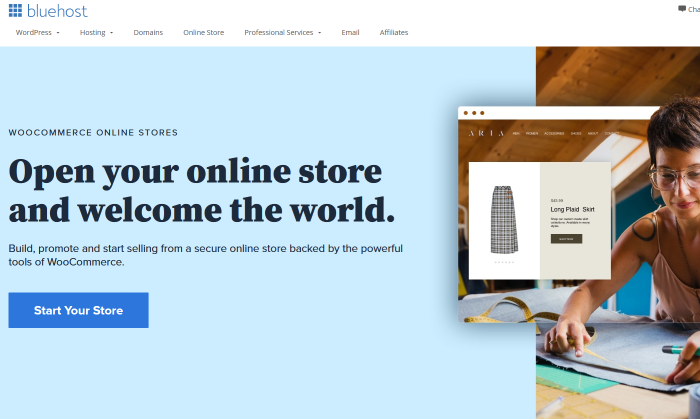 I really like WooCommerce. And, fortunately, I'm comfortable enough with WordPress to install, customize, and manage the WooCommerce plugin and the additional plugins that really make it shine on my own WordPress sites.
But I know many folks who would rather not have that responsibility, whether because of a lack of familiarity with WordPress plugins or just a lack of time to self-manage WooCommerce.
Bluehost gets that, too—that's why they've rolled out an easy, turnkey solution to getting a WooCommerce store up and running in no time, for anyone.
With Bluehost's package for ecommerce powered by WooCommerce, you get a handy guided store creator, plus:
Built-in SSL and Jetpack for security
Unlimited product listings
Payment processing
Customer reviews
Coupon codes
Manual order creation
One year free of CodeGuard Backup Basic, for daily site backups
And that's all in the Standard Plan. The built-in SSL certificate is really helpful because it encrypts information customers enter on your website (like credit card numbers or login credentials), and protects everyone from hackers. All you have to do is click a button and your set with Bluehost–this can be much more challenging if the host doesn't manage SSL certificates for you.
What I think is most convenient, though, is that Bluehost has preselected the top 20 store plugins that your WooCommerce store will need. Not only does that save you the headache of researching and installing plugins on your own, they're included at no extra charge.
That's huge. Some of these plugins cost around $200 a pop to install.
Take it one step higher to the Premium plan and you'll also get:
Online appointment scheduling
Subscription-based ecommerce
Advanced product customization
Local tax management
Free domain privacy
CodeGuard Backup Basic, included for free
Pricing is based on your initial term commitment. Choose from month-to-month billing, a one-year contract, or a three-year contract.
The Standard plan starts at $12.95/month for a three-year commitment, while Premium starts at $24.95/month for the same.
Both plans renew at the standard month-to-month rate after the term is completed—$29.95/month for Standard and $49.95/month for Premium.
So, if you want to get a WooCommerce store up in no time with no hassle on your end at all, head over to Bluehost today.
#4 – BigCommerce Review — The Best for Medium to Large Stores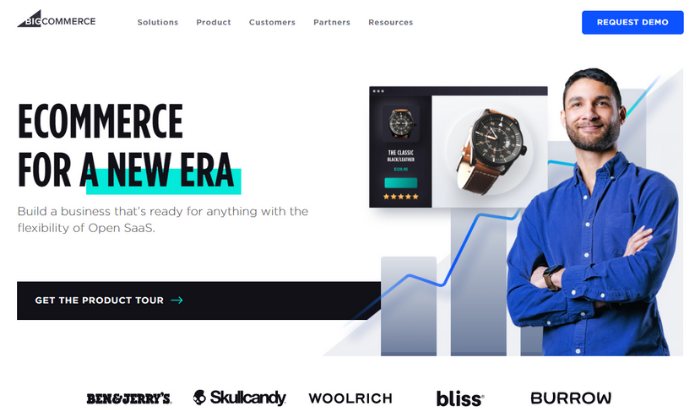 BigCommerce is an all-in-one ecommerce website builder specifically for large online stores. It includes more advanced ecommerce features suitable for managing high volumes and a large number of products.
With a customer base of 100,000+ stores, including some big names like Ben & Jerry's and SkullCandy, they're a smaller player in the industry.
But that doesn't make the platform any less powerful.
BigCommerce plans include access to powerful, industry-leading features, including:
Customer accounts for faster checkouts
Mobile-optimized checkout
Abandoned cart recovery
Google AMP and Akamai
Advanced product filters
Coupons and discount codes
Advanced inventory management
Customer groups for personalized shopping
65+ payment gateways with no extra transaction fees
Built-in shipping management
Plus, all of their plans include unlimited products, file storage, bandwidth, and staff accounts.
And you can choose between 12 free mobile-responsive design templates or opt for a paid template to make your online store stand out from the crowd without touching a single line of code.
BigCommerce offers four paid plans (with a 15-day free trial), including:
Standard — $29.95/month with a $50,000 annual sales limit
Plus — $79.95/month with a $180,000 annual sales limit
Pro — $299.95/month with a $400,000 annual sales limit
Enterprise — custom pricing
If you're just getting started, BigCommerce is overkill for your online store. However, if you're an established business or plan to sell high volumes, it's an excellent choice.
#5 – Shopify Review — The Best All-In-One Ecommerce Platform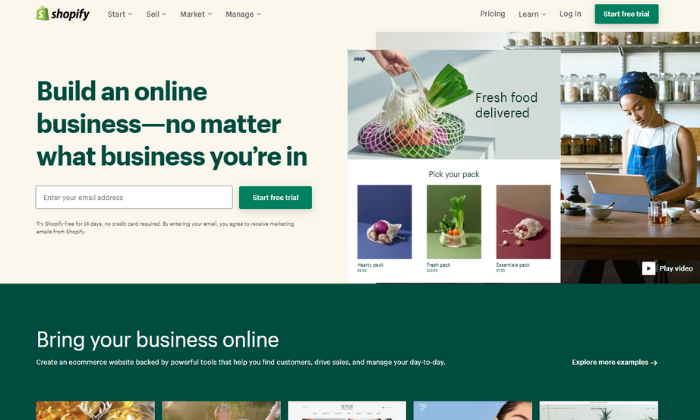 Shopify is an all-in-one ecommerce website builder that powers more than one million online stores, making it one of the most popular choices on this list.
However, it's not as customizable as Wix. But it offers more advanced ecommerce features because it's built specifically to host online stores. Plus, it's easy to use with just the right level of flexibility.
It's also incredibly versatile, powering micro to large stores, and everything in between. Shopify plans include access to an incredible suite of ecommerce features, including:
Point of Sale for brick and mortar shops
Real-time carrier shipping rates
Abandoned checkout recovery
100 different payment gateways
Automatic tax calculations
Customer accounts and profiles
Fulfillment centers
Advanced inventory management
Unlimited products
In-depth analytics
Plus, with 70+ professional themes (nine of which are free) and 4,100+ apps, you can create a beautiful and highly functional ecommerce store without having to start from scratch. Or write a single line of code.
Combine that with award-winning 24/7/365 customer support and you have an excellent ecommerce platform.
Shopify offers five plans for businesses of all sizes, including:
Shopify Lite — $9 per month
Basic Shopify — $29 per month
Shopify — $79 per month
Advanced Shopify — $299 per month
Shopify Plus — custom pricing
Shopify Lite is a great option if you want to embed products and "buy" buttons onto an existing website. However, it doesn't come with the all-inclusive website builder.
Keep in mind that Shopify has its own payment processor. They charge 2.4% – 2.9% + $0.30 depending on the plan you choose. They also charge additional fees (0.5% – 2%) if you use a separate payment processor like PayPal or Square.
#6 – WooCommerce Review — The Best for WordPress Websites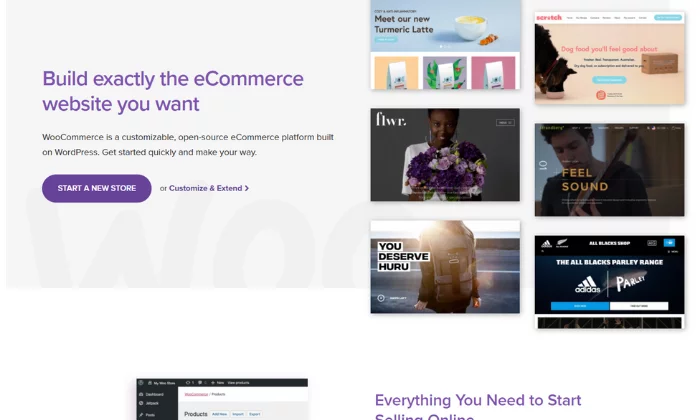 The recommendations thus far are all-in-one website builders. WooCommerce, however, is not. It's a WordPress plugin built to add ecommerce functionality to existing WordPress websites.
WooCommerce powers approximately 30% of stores online today. And with 80+ million downloads, it's one of the most popular ecommerce platforms on this list.
Note: if you don't already have a WordPress website, I don't recommend going this route. Stick to an all-in-one ecommerce platform, instead.
WooCommerce is a lightweight plugin that adds ecommerce capabilities like accepting online payments, configurable shipping options, product listings, and more. But you have to have an existing website to use it. So, it's a great option if you already use WordPress.
It includes powerful ecommerce features like:
Plugin extensions to increase functionality
Rest APIs for developers to create custom platforms
Extensive tutorials and documentation
140 region-specific payment gateways
Support of subscriptions and deposits
Automated tax calculations
Real-time shipping rates
iOS and Android mobile apps
Physical and digital product capability
Endless product variations
Public support forum
And the best part? It's free to download, install, and use. Forever.
However, some of the extensions aren't free so watch out for that if you start digging into those.
With the power of WordPress behind it, your customization options are only limited to what you can imagine. So, the sky is legitimately the limit with WooCommerce.
But with that said, it's not the easiest or most intuitive ecommerce platform. So, I don't recommend it if you aren't already using WordPress and 100% comfortable with it.
#7 – OpenCart Review — The Best for Selling Digital Products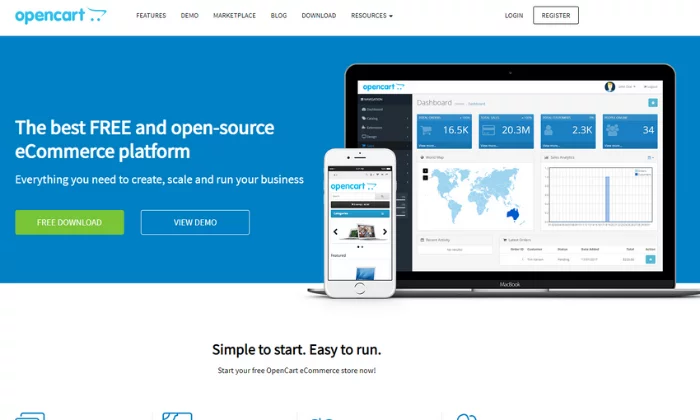 OpenCart is another open source ecommerce platform, much like WooCommerce. However, it's not limited to WordPress websites. But you do need to have an existing website to use it.
Over 300,000 online stores use OpenCart to confidently sell products of all shapes and sizes online. Plus, most web hosting companies offer one-click installation or will install it for free, so it's incredibly easy to set up.
Note: I only recommend going this route if you already have a website up and running.
While you can sell products of any kind, the no-fluff interface (and free price tag) makes it an excellent option for selling digital products to make more money with your online business.
All without adding an extra monthly expense because it's 100% free forever.
OpenCart offers a powerful set of ecommerce features, including:
Simple and centralized admin dashboard
Advanced user roles and access controls
Manage multiple stores from a single dashboard
Limitless product variables and variations
Built-in affiliate management and rewards system
Discounts and coupons
Unlimited products
One-click digital downloads
Product reviews and ratings
36 built-in payment methods
Recurring payments
Plus, with 13,000 modules and themes in the marketplace, you can add any functionality you can imagine including service integrations, conversion modules, email marketing, and more.
Keep in mind that not all of OpenCart's extensions are free. You may have to pay for more advanced capabilities.
And they don't currently offer support for free, either.
If you can't find what you're looking for on their community forum, you have to pay for dedicated help. Dedicated support starts at $99 per site per month or $99 for a one-time fix.
#8 – Ecwid Review — The Best for Integrating With Your Current Platform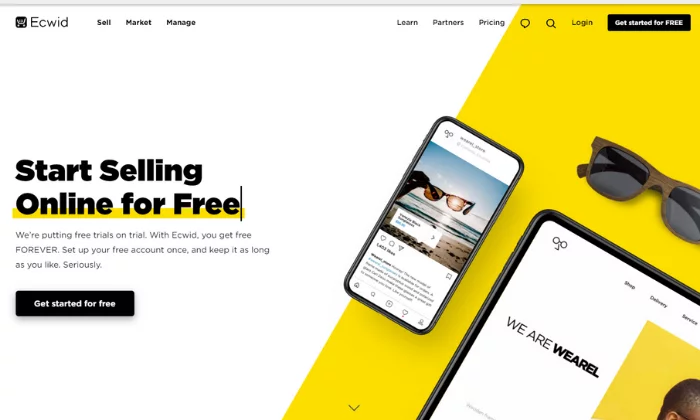 Like OpenCart and WooCommerce, Ecwid is an ecommerce platform you can use to integrate with your current platform, regardless of what you're already using.
It integrates with platforms like Weebly, Wix, WordPress, Squarespace, and more. So, if you already have a website set up and want to add ecommerce functionality, Ecwid is an excellent choice.
With that said, they also offer an all-in-one ecommerce website builder if you want to start from scratch. However, there are better website builders to use.
So, I only recommend Ecwid if you want to integrate ecommerce into your existing website.
This ecommerce platform includes a wide range of features, like:
Multi-channel selling (social media, marketplaces, in-person, etc.)
Integrated email marketing and advertising features
Centralized inventory and order management
No transaction fees
Fully responsive designs
Built-in POS integrations
Customer accounts for easy checkout
Real-time shipping rate calculator
Poduct variations
Digital product capabilities
40 payment options
The biggest downside is that you can't manage your store from inside your website account dashboard. You have to log in to Ecwid instead. So, you need to manage two separate accounts.
But the good news is that you can start on the limited free forever plan to try it out before making any investments.
The free plan only allows up to ten products, so you have to upgrade if you need more. Ecwid also offers three paid plans, including:
Venture — $15/month (up to 100 products)
Business — $35/month (up to 2,500 products)
Unlimited — $99/month (unlimited products)
This is the price if you pay month to month. If you are willing to sign a contract for a year, the price is a little lower.
As a stand-alone store builder you might be better off with other options (like Wix and Shopify).
But if you already have a website and want to add an ecommerce store, Ecwid is a great alternative to WooCommerce and OpenCart.
What I Looked at to Find the Best Ecommerce Platform
The best ecommerce platform for your business depends on several factors like your experience level, your customization requirements, and the type of products you want to sell.
But choosing the right platform can feel overwhelming because there are countless options to choose from.
It may help to start with a list of requirements and the features you need. From there, you can narrow down your choices based on the following criteria.
Physical vs Digital Products
Digital products are a booming market. Online courses, music, art, and podcasts are just some of the digital products netting new businesses tons of cash.
But selling and delivering digital products isn't the same as delivering a physical product to someone's doorstep.
If you want to sell digital products, Shopify is a really great option, but some ecommerce may not support digital products at all. So it's important to understand which type you plan to sell before you make a decision.
Deployment Options
What do you need to do to get your ecommerce platform up and running?
There are a few different ways to deploy your platform depending on where you are starting from and where you want to go.
If you already have a website, the best option is integrating an online store rather than creating a brand new website on a new platform. This way, you build on what you've already done. OpenCart is ideal for this use-case.
For people with WordPress sites, you can add ecommerce functionality via a plugin like WooCommerce. This is super simple to set up and easy to manage.
If you're starting from scratch, you'll want a website builder and other tools to help you design your platform.
In this case, going with solutions like Wix and Squarespace makes a lot of sense. They bundle everything you need to get started at a really affordable price.
Day-to-Day Management
Order management, product creation, tracking orders, and dashboard navigation are important factors of day-to-day ecommerce management.
Choose a platform that's easy to use and manage on a daily basis. It shouldn't feel like a struggle to create new products, check the status of an order, or update the pages of your website.
It's all about finding the right balance of flexibility, customization, and ease of use. The more a platform can do, the harder it is to manage.
You can simplify your workload by choosing a platform that offers just enough flexibility without going overboard for your specific needs.
Design Capabilities
Some ecommerce website builders (like Wix) are truly drag and drop, meaning the customization options are endless. If you can imagine it, you can build it. But, that freedom also makes the platform more difficult to use.
Other platforms integrate into your current site, taking the look and feel of your existing website with very few customization options. For some users, this is perfect.
But others may want more control.
If you're just starting out, simple designs and ease of use are more important than design flexibility.
However, if you already own a physical store or an established brand, design is more important so you can create a cohesive aesthetic from one touch point to the next.
Advanced Ecommerce Features
Do you want to be able to offer discounts or accept payments through different payment processors? Maybe you want to send visitors a reminder email when they exit your website with something in their cart.
Perhaps you're interested in creating customer profiles and analyzing advanced analytics.
Other advanced ecommerce features include:
Email marketing integrations
Memberships and recurring payments
Gift cards and discount codes
Partial payments or payment plans
Shipping and fulfillment management
Product variations
Product categories
Think carefully about what you need and what would be nice to have. Then, you can use your list of requirements to narrow down your list of choices.
Summary
Finding an ecommerce platform does what you need is a breath of fresh air. After using dozens of different options over the years, I'm confident with my selection of the top options available:
My #1 recommendation for most users is Wix. It's great for users of all experience levels. Plus, it's easy to use, highly customizable, and affordable as well. But if Wix is too customizable for you, Squarespace is a fantastic alternative.
For large stores, I highly recommend BigCommerce or Shopify.
However, if you already have a website, WooCommerce, OpenCart, and Ecwid are excellent choices depending on what you need.
If you have a WordPress site and want an easier way to set up your WooCommerce store on it, you can't go wrong with Bluehost's WooCommerce Online Stores.
12 Tools and Resources for Software Developers in Insurance
If a developer designs a system for Big Data analysis or creates programs for processing and analyzing application data for mobile gadgets, in any case he cannot do without analytics tools and services. Big Data is understood as the basis of the business of insurance companies that depend on information, that is, probabilities, statistical data, customer information, and so on.
Today, for programmers whose responsibilities include insurance software development, many useful tools have been created that are suitable for their needs and corresponding to their skills.
TOP-12 tools for programmers of insurance companies

Every developer who works on coding for insurance products will need the following 12 "helpers":
BitDeli. It is a startup that has been operating since November 2021. With its help, programmers are able to analyze various data using a variety of metrics through Python scripts. An important plus of it is that the scripts can be of different levels of complexity, which will depend on the needs of the developers. They can even be self-taught. Suitable for analytics. The solution is easy to use.
Continuity. It is a platform that was created with the aim of pulling businesses to the same level as the companies of its creators – Yahoo and Facebook. The guys created a data structure to implement a new level of abstraction over complex connections in HBase and Hadoop. The main advantage of the platform is the facilitation of Big Data development processes for programs that are designed to work with external and internal audiences.
Flurry. This application is in the "store" format, which is intended for the creation of mobile programs, as well as for the analysis of their data. This allows the application to be improved.
Google Prediction API. Suitable for developers who have the necessary knowledge to work with the Prediction API. This interface will provide a wide range of diagrams and topics, and will also allow the application to give correct answers.
Infochimps. We are talking about a platform, despite the fact that the brand today is trying to become a company and become even more successful. As for the platform for the programmer, he gets the Wukong framework, which has a key task – to interact with Hadoop and its data, while using Ruby scripts.
Keen IO. In 2012, this tool was recognized as the best and most effective in its category, and it is used in analytics by mobile application developers. Its plus lies in its ease of use. You need to apply just one line, which is inserted into the source code to be able to track all the necessary information from the programs.
Kontagent. A tool for processing huge amounts of information.
Mortar Data. It is a cloud service that has managed to replace MapReduce with a combination of Python and Pig. It differs in simplicity and clarity in operation.
Placed Analytics. A tool that provides programmers with ready-made products. With its help, it is possible to obtain complete information about the use of the application by customers: where, when and how long it lasted. The data is especially useful for app owners and advertisers.
Precog. It is an interactive environment for developing insurance analytics products based on Quirrel, an open query language.
Spring for Apache Hadoop. A tool that greatly simplifies the creation of programs that use Hadoop, and also provides integration with other Spring applications.
StatsMix. It is a tool with which developers can collect and analyze data received from programs using only the languages they have learned.
Take a look at the Fireart site for more interesting and useful information. The main thing to remember is that analytics not only assesses the quality of traffic, looks for ways to increase conversion and reduces the cost of attracting customers, but also determines the most effective advertising channels, compiles portraits of visitors and their behavior patterns on sites, identifies site shortcomings up to technical errors.
Entireweb Articles – Read the latest Articles and News in Search Engine related world!
From Creation to Stellar ROI
Reaching the right customers with your Google Ads campaigns is critical to increase conversions. While it's possible that scattershot advertisements could catch the interest of Internet users, it's far more likely that this general ad approach will result in a disconnect between dollars spent and sales made.
To help ensure your ads are reaching the people in the right place, it's worth leveraging a function in the Google Display Network (GDN) known as affinity audiences. Using these audiences helps pinpoint customer segments that may be more likely to purchase your products, in turn driving more effective and efficient ad spend.
But what exactly is an affinity audience? How do they work, how can you create your own — and what can you expect once you dial in the ideal customer segment? Let's find out.
What are Affinity Audiences?
Affinity audiences are used by the Google Display Network to deliver your ads to relevant locations online. Given that Google's network reaches more than 90 percent of Internet users worldwide, it's well worth the time and effort to understand and apply these audiences at scale.
But what is an affinity audience?
Let's break the term down into its component parts. Audience is easy — it's the group of people that will see your ad. Affinity, meanwhile, is defined as "a feeling of closeness and understanding that someone has for another person because of their similar qualities, ideas, or interests." The result? An affinity audience is a group of potential customers that share similar interests or qualities (similar to a buyer persona).
Using affinity audiences allows your brand to better align ad campaigns to buyers who are interested in what you have to sell. For example, if you're in the coffee-making business but also have a focus on reducing plastic waste, your affinity audience might contain both people who love coffee and those who love the environment. Groups with both of these qualities are far more likely to buy your product than either group individually.
Affinity Targeting
Affinity targeting, meanwhile, is the process of identifying the ideal affinities that align with your product or service. Consider the coffee example above. While targeting buyers who love coffee helps improve your brand placement, it also puts you in direct competition with a host of other brands all producing similar products. Additional affinity modifiers that narrow your focus — such as sustainable growth processes, fair labor practices, or environmental priorities — can help set your brand apart.
Do note that it is possible to get too specific with your audience targeting. For example, if your coffee brand targets audiences that prefer beans from a specific region that are collected, packed, and shipped in a specific way, you may end up with a handful of very loyal customers but almost no broader appeal. As a result, targeting needs to narrow the focus without preventing you from reaching the greater public.
What are Custom Audiences?
GDN and the Google Ads platform contain a host of pre-built Google affinity audiences — also called segments — that you can use to focus your marketing and advertisements. These include everything from pet lovers to do-it-yourselfers, TV comedy fans and users with an interest in news and politics.
But they can't cover everything. You may have a product or service that doesn't dovetail with existing segments — here, custom affinity audiences can help.
Understanding Custom Affinity Audiences
Custom affinity audiences are those you create yourself in your Google Ads platform to align with the interests of your target customer base. While Google will suggest different potential segment tags depending on what you input, it's worth taking the time to do some market research before diving into the custom affinity process. This lets you pinpoint the audience preferences that align best with your brand.
You can create custom affinity audiences related to four criteria: Interests, URLs, places, or applications. In general, places and applications are the least useful of the bunch. Here's why. In our coffee example above, there aren't a lot of coffee-related applications that would set your audience apart. And while geography has some impact on buying behavior, it's usually not enough to justify an entire segment.
Interests and URLs, meanwhile, can help you dig down and identify potential affinity options that may be shared by your target market at large.
How to Create Affinity Audiences
Ready to create your own affinity audience? Follow these steps:
Log into your Google Ads account.
Select "Tools and Settings", then "Audience manager."
Select "Custom Segments."
Enter segment name and interests.
Save your new segment.
Let's tackle each step in more detail.
1. Log Into Your Google Ads Account
First, log into your Google Ads account. Here, you can see any active campaigns along with the associated affinity audiences.
2. Select "Tools and Settings", then "Audience Manager"
Next, head to "tools and settings" in the upper-right-hand corner and then find "Audience manager" in the drop-down menu.
3. Select "Custom Segments"
Now you'll see a list of any data segments you're currently using to target prospective buyers. To create an audience or segment, click on "Custom Segments" and then the blue "+" icon.
4. Enter Segment Name and Interests
Now, give your segment a name and add a few potential interests. For example, if you enter "coffee", Google will return interests or purchase intention ideas such as "coffees to make with an espresso machine", "how to make coffee with coffee beans" and "coffee makers that make different coffees."
5. Save Your New Segment
Finally, save your new segment with use for ad campaigns. You can create as many segments as you like until you've covered all relevant market bases.
The Impact of Effective Affinity Audiences
Ideally, affinity audiences lead to a definitive result: Increased ROI.
Here's why: When your ads are shown to audiences that are interested in what you're selling, they're more likely to click through and purchase your products. As a result, the money you spend on advertising is directly offset by the conversions driven by these ads, in turn creating positive ROI. More generic campaigns, meanwhile, may still increase overall sales but not enough to balance out the spend required to reach larger audiences.
The right audience makes all the difference. Targeted, customized affinity audiences help you reach the people that want to buy your products, in turn boosting conversions and making your overall ad spend more cost-effective. Custom affinity audiences further narrow your market targeting, increasing the likelihood of revenue and reducing the gap between what you spend on ads and what you get in return.
Entireweb Articles – Read the latest Articles and News in Search Engine related world!
The HubSpot Blog's 2022 Social Media Marketing Report: Data from 310 Marketers
In our recent Marketing Trends survey, we learned that social media is the most effective channel marketers leverage, as well as the channel they use most.
Entireweb Articles – Read the latest Articles and News in Search Engine related world!