How to Get Online Event Sponsors
With most events going online, you need to find strategies to find and attract online event sponsors.
Hosting an event, even online, is expensive. And ticket sales alone probably won't cover all your costs.
This is where event sponsors come in.
What is Event Sponsorship?
Event sponsorship is an agreement between an external brand (event sponsor) and an event organizer. In this agreement, the sponsor provides funding or in-kind donations to your event in exchange for something from your brand—usually exposure.
In exchange for brand exposure, they can underwrite your event costs and potentially leave you with a decent profit.
But how do you get online event sponsors?
10 Strategies for Finding a Sponsor for Your Online Events or Conferences
Getting sponsorship for a live event is challenging. But getting event sponsorship for online events takes challenging to a whole new level.
Many brands aren't sure they'll get a good return on their investment.
That's why you must develop a strategy for finding event sponsors for your online events. Here are ten strategies that may help you secure event sponsors.
1. Find Event Sponsors Who Share Your Company Values
One of the most important steps to getting sponsors for your online event is finding brands sharing your company's values.
Looking for shared values can narrow your search—meaning less time communicating with brands that may be bad fits—and potentially help you find common ground to negotiate.
As a bonus, shared values may mean shared consumers, even if you sell different products or services. For instance, if you and your event sponsors focus on environmentalism, environmentalist consumers may be interested in learning more about each of you.
Sharing your event sponsors' same values helps you create a better experience for your attendees because their messaging and advertisements will seamlessly fit your event.
2. Find Event Sponsors Who Work in a Related Field
An advantage to finding sponsors in related fields is that you and your event sponsors appeal to the same target audience. If you sell similar products and services, people may be there to shop around, listen to speakers on the same topics, and so forth.
Having sponsors who work in unrelated fields could do your event more harm than good. Seeing brands and ads that are unrelated to your brand and your event's theme may disorient your attendees or even contradict your messages.
3. Offer Something of Value to Your Online Event Sponsors
Sponsorship is not a donation. It's a give-and-take relationship.
This means you must offer something of value to your potential event sponsors. The truth of the matter is sponsorship is an investment for them.
To do this, create an enticing virtual event sponsorship package. A sponsorship package is a collection of benefits your sponsors will get for helping underwrite your event.
Examples of incentives you can offer include:
Opportunities for collaboration: This includes opportunities to be interviewed or to be part of a special panel. Collaboration affords your event sponsors maximum visibility.
Virtual environments: You could create virtual environments where event sponsors and attendees can interact.
Social media exposure: You should develop special hashtags for event sponsors to include in posts event attendees share. You can also add links to their websites in social media posts during your event.
Branded waiting rooms: Most online events have a 15-30-minute waiting period before the event begins. Leverage this time by creating branded waiting rooms. You can display your sponsors' logos during or show short ads during these times.
These are just a few incentives you can offer your event sponsors. Create packages that will give your sponsors exposure or opportunities to generate leads, and they'll likely jump at the opportunity to partner with you.
4. Run a Paid Campaign to Find Event Sponsors and Attendees
Paid ads on social media, search engines, and other platforms could help you get sponsors for your online event.
One of the main things you must do is conduct keyword research to make your paid ads hyper-targeted. Using a keyword research tool to research phrases your potential sponsors use and use them yourself. If you're targeting different types of potential sponsors, create separate campaigns for them.
Paid advertising may help kill two birds with one stone. You can use paid ads to reach and attract both event sponsors and event attendees.
5. Reach Out to Potential Sponsors on Social Media
With close to four billion active users, social media has gone beyond just connecting people on a social level. It has become a powerful business and marketing tool.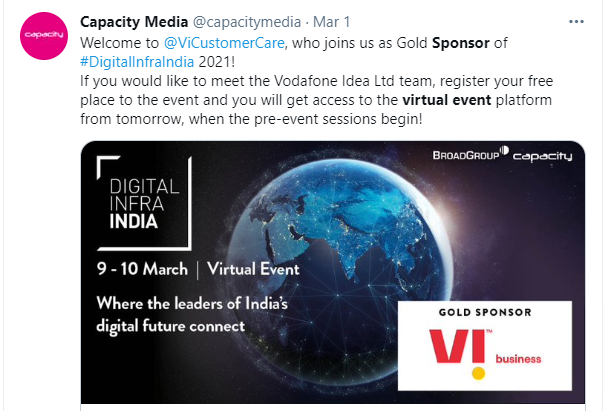 A few ways you can do this are:
1. Create a Public Post
Share a post on your timeline calling for event sponsors. Don't be afraid to ask your followers to help spread the word, too. You can also increase your reach by paying to boost your post.
2. Post in Groups
If you're active in relevant social media groups, let them know that you're looking for sponsors for your next event.
3. Reach Out Privately
Besides posting on your timeline, you can also send direct messages (DMs) to your prospects. For this strategy to work, make sure to:
Target decision-makers: Research the brands you'd like to partner with for your event and find the decision-makers. These are the people you must reach out to.
Personalize your messages: This requires you to study your prospects and tailor your message to appeal to them.
Clearly outline the benefits of sponsorship: Introduce your brand and the event, then spell out the benefits of partnering with you.
Keep it short: Get to the point. Your prospects are busy. Besides, they receive many DMs and don't have the time to read through a long pitch.
Don't underestimate the power of social media in getting your sponsors for your online event. Used well, it could help you generate a good number of leads.
6. Create, Advertise, and Update Your Online Event Agenda
Before people commit to anything, they want to know what they're getting into. That's why one of the strategies you must use to get sponsors for your online event is to create and advertise your agenda for the event.
Make sure your agenda includes all the essential details such as the speakers, topics, and breakout sessions. Doing so lets sponsors preview what to expect from your event.
Design an epic event page and share it on as many platforms as possible. You can also create digital brochures and distribute them on social media and your email list.
7. Use Tools to Find Event Sponsors for Your Online Event
Thanks to technology, finding event sponsors has become easier through the use of tools. These are platforms that help connect event organizers and event sponsors. Because most act like a match-making service, you'll likely get good results if you use these tools. A couple of examples of such platforms include:
SponsorMyEvent
SponsorMyEvent is a platform designed to make it easy for event marketers to find sponsors. One cool feature of this tool is the homepage featuring current events looking for sponsors. It also allows you to set a minimum price for your event sponsorship packages.
SponsorMyEvent can be used as a complete sponsorship management tool. You could use it to sell event tickets, organize your data, and a whole lot more.
SponsorPitch
SponsorPitch goes beyond facilitating quick connections between event organizers and event sponsors. The brand gives you access to their extensive database of sponsors and allows you to use their CRM.
You also get detailed analytics and data for both event organizers and sponsors, making it easier to choose who to work with.
8. Create Case Studies and Get Testimonials From Previous Sponsors
Because sponsorship is an investment for your event sponsors, new potential sponsors want to see proof your events will benefit them.
This is where social proof comes in. It helps give event sponsors the confidence they need to partner with you.
You can ask past event sponsors to give testimonials of their experiences with being part of your previous events. Their testimonials should highlight what they gained from sponsoring your events. With video being one of the most preferred content formats, it's advisable to get video testimonials if possible.
Another great form of social proof is creating case studies of past events. Ask previous event sponsors if they can document their journey of being a part of your online event and its impact on their business.
These case studies and testimonials make for excellent marketing material as well. You can post them on social media or distribute them via your other marketing strategies.
9. Offer Different Online Event Sponsorship Levels
Create and offer tiered sponsorship packages with different benefits. For example, a higher-tiered sponsorship package could include collaboration opportunities, which wouldn't be available for lower-tiered packages. Creating tiers allows sponsors to choose the package that best suits their needs.
Offering different event sponsorships is also a great way to open up to potential event sponsors of all sizes. The diversity in the size of sponsors doesn't just benefit your event financially but also helps create a vibrant atmosphere.
10. Contact Sponsors From Similar Events
One of the best strategies to get online event sponsors is to research events similar to yours and reach out to their sponsors.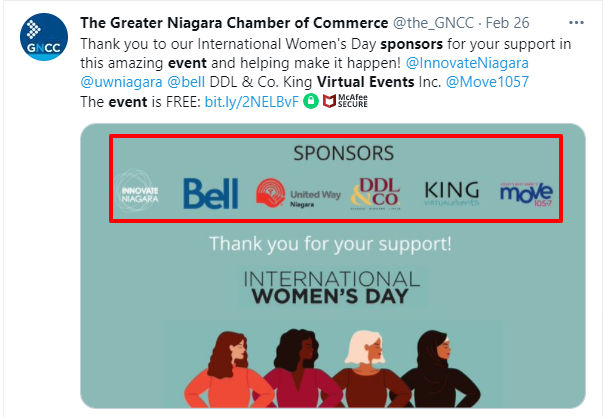 This often works well because these sponsors understand and appreciate the value of marketing their brands through event sponsorship. As a result, they may be more likely to be interested in sponsoring your event.
Another reason to contact sponsors from similar events is that your audience is likely to be relevant to them, which may make your event more appealing to sponsor.
Conclusion
Getting event sponsors for an online event has its challenges. But if you can leverage the strategies outlined in this post, you could get better response rates for your pitches.
To better improve your chances of success, you must know your way around digital marketing.
Better still, partner with an agency that can take care of tricky aspects of event marketing, like paid advertising, social media marketing, and SEO. Getting these right will also help you get sponsors for your next online event.
What other online event sponsorships strategies have worked for you?
See How My Agency Can Drive Massive Amounts of Traffic to Your Website
Content Marketing – our team creates epic content that will get shared, get links, and attract traffic.
Paid Media – effective paid strategies with clear ROI.
How to Manage Your Online Brand?
You might be asking yourself, "Why do I need to manage my online brand?" It's a valid question, especially if you're not sure what managing your online brand means precisely.
In short, managing your online brand is the process of taking control of how others see you and your business online. This can involve creating and maintaining a strong presence on social media, developing positive reviews and testimonials, and monitoring your web analytics to track progress.
By taking the time to manage your online brand, you can improve your chances of success in today's digital age.
In this article, we'll explore some key reasons why managing your online brand is essential.
What is an online brand, and why do you need one?
Your online brand is the way you are perceived by others online. This includes your website, social media profiles, online reviews, and all other digital real estate that represents you when someone searches for you or your business.
It's important to have one because it helps your potential customers get to know, trust, and like you before they buy anything from you. A strong online brand can also help you attract new customers and grow your business.
It's good to remember that your online brand is the first thing people will see when they search for you, so it's important to make sure it represents you and your business well.
How to manage your online brand for success?
Your online brand is your reputation. It's how people perceive you when they see your name, read your work, or interact with you online.
A strong online brand can help you attract new clients, collaborators, and opportunities. But how do you create and manage your brand for success?
1) Consider what you want your online brand to convey.
Are you an expert in a certain field? A thought leader? A creative visionary?
Once you know what you want your brand to communicate, be consistent in everything you do online.
Use the same name, photo, and bio across all of your social media platforms. Post regularly about topics related to your brand, and make sure the tone of your posts is consistent with the image you're trying to convey.
2) Interact with other people online in a way that reinforces your brand.
When someone mentions you in a post, thank them publicly. If someone leaves a negative comment on one of your posts, don't delete it – instead, respond politely and professionally.
By managing your online brand thoughtfully and proactively, you can set yourself up for success both online and offline.
3) Monitor your web analytics to track your progress.
Use Google Analytics or another web analytics tool to track how people are finding you online and what they're doing on your website. This data can give you insights into what's working well and what needs improvement.
For example, if you see that most of your website visitors are coming from Facebook, you might want to focus on creating more engaging content for that platform.
Or, if you notice that people are spending a lot of time on your blog but not your sales page, you might need to work on driving traffic to your products or services.
4) Make sure your website represents your brand well.
Your website is often the first thing people will see when they search for you online, so it's important to make sure it's up-to-date and represents your brand well.
Update your website regularly with new blog posts, photos, and products. Use attractive visuals, easy-to-navigate menus, and clear calls to action.
If you're not sure how to create a website that represents your brand well, consider working with a web designer or developer.
5) Pay attention to your social media presence.
Social media is a powerful tool for managing your online brand. Use it to connect with your audience, share your work, and promote your products or services.
Be sure to post regularly, interact with others, and use hashtags and keywords that will help people find you. You can also use social media ads to reach a wider audience or promote specific products or services.
6) Monitor your online reputation.
Use Google Alerts or another tool to monitor your online reputation. This will help you stay on top of what people are saying about you online and take action if necessary.
For example, if you see a negative review of your business, you can reach out to the customer directly to try to resolve the issue. Or, if you see someone spreading misinformation about your work, you can correct it.
7) Manage your online brand proactively.
The best way to manage your online brand is to be proactive. Be thoughtful about everything you do online, from the content you post to the way you interact with others. By taking control of your online presence, you can set yourself up for success both professionally and personally.
By following these tips, you can create and manage an online brand that will help you achieve your goals.
The benefits of having a strong online brand
Let's look at a few benefits of having a strong online brand:
1) Stand out from the competition.
With so much noise online, it can be difficult to stand out from the crowd. But if you create a well-defined brand, you'll be better able to cut through the clutter and attract attention.
2) Build trust and credibility.
A strong online brand can help you build trust and credibility with your audience. If people know what to expect from you, they're more likely to trust and respect you.
3) Connect with your audience.
By definition, a brand is a way of differentiating yourself from others. But it's also a way of connecting with your audience on a deeper level. When done well, branding can create an emotional connection between you and your audience.
4) Drive traffic and sales.
A strong online brand can help you drive traffic and sales. If people are familiar with your brand, they're more likely to buy from you. And if they trust and respect you, they're more likely to tell others about you.
5) Increase your visibility.
A well-managed online brand will increase your visibility online. When people search for you or your business, you'll be more likely to show up in the search results. And when people see you frequently in their feeds, you'll be more likely to stay top of mind.
6) Attract media attention.
A strong online brand can help you attract media attention. If you're known for something specific, journalists and bloggers will be more likely to write about you. This can help increase your visibility and reach even further.
7) Enhance your career prospects.
Your online brand can have a big impact on your career prospects. If you're looking for a new job, employers will likely research you online. And if you're an entrepreneur, investors will want to know more about your brand before they invest in your business.
8) Make a positive impact.
Finally, a strong online brand can help you make a positive impact in the world. If you're passionate about something, you can use your platform to raise awareness and advocate for change.
The importance of staying consistent with your branding strategy
As you can see, there are many benefits to having a strong online brand. But it's not enough to just create a brand—you also need to be consistent with your branding strategy.
When it comes to branding, consistency is essential. Your audience needs to know what to expect from you, and they need to see that you're consistent in your messaging and your visuals.
Here are a few pointers if you're not sure how to stay consistent with your branding:
1) Define your brand.
The first step to being consistent with your branding is to define your brand. What do you want people to think of when they see your name or your logo? What do you want your brand to represent?
2) Create guidelines.
Once you've defined your brand, it's time to create guidelines. These guidelines should include everything from your mission statement to the colors and fonts you use in your branding. By having a set of guidelines, you'll be able to ensure that all of your marketing materials are on-brand.
3) Train your team.
If you have a virtual assistant or team, it's important to train them on your branding guidelines. Make sure everyone knows what your brand represents and how they can help you maintain a consistent brand identity.
4) Monitor your brand.
Once you've launched your brand, it's important to monitor it. This means paying attention to how people are reacting to your brand and making sure that you're still presenting yourself in the way you want to be seen.
5) Be prepared to adjust.
Finally, be prepared to adjust your branding strategy as needed. As your business grows and changes, your branding will need to change with it. By being flexible and willing to adjust, you'll be able to ensure that your brand is always relevant.
Wrap Up
A strong online brand is essential for any business or individual. By definition, your online brand is the way you're perceived by others online. And while that may seem like a superficial thing, the reality is that your online brand can have a big impact on your business or career.
If you're not sure how to create a strong online brand, start by defining your brand and creating guidelines. Then, train your team on your branding strategy and monitor your brand over time. And finally, be prepared to adjust as needed.
About:
Oscar is a passionate full-time blogger and a part-time author. In his personal blog OssieRodriguez.com, he writes about software, online influence, and different business models.