How to Get Online Event Sponsors
With most events going online, you need to find strategies to find and attract online event sponsors.
Hosting an event, even online, is expensive. And ticket sales alone probably won't cover all your costs.
This is where event sponsors come in.
What is Event Sponsorship?
Event sponsorship is an agreement between an external brand (event sponsor) and an event organizer. In this agreement, the sponsor provides funding or in-kind donations to your event in exchange for something from your brand—usually exposure.
In exchange for brand exposure, they can underwrite your event costs and potentially leave you with a decent profit.
But how do you get online event sponsors?
10 Strategies for Finding a Sponsor for Your Online Events or Conferences
Getting sponsorship for a live event is challenging. But getting event sponsorship for online events takes challenging to a whole new level.
Many brands aren't sure they'll get a good return on their investment.
That's why you must develop a strategy for finding event sponsors for your online events. Here are ten strategies that may help you secure event sponsors.
1. Find Event Sponsors Who Share Your Company Values
One of the most important steps to getting sponsors for your online event is finding brands sharing your company's values.
Looking for shared values can narrow your search—meaning less time communicating with brands that may be bad fits—and potentially help you find common ground to negotiate.
As a bonus, shared values may mean shared consumers, even if you sell different products or services. For instance, if you and your event sponsors focus on environmentalism, environmentalist consumers may be interested in learning more about each of you.
Sharing your event sponsors' same values helps you create a better experience for your attendees because their messaging and advertisements will seamlessly fit your event.
2. Find Event Sponsors Who Work in a Related Field
An advantage to finding sponsors in related fields is that you and your event sponsors appeal to the same target audience. If you sell similar products and services, people may be there to shop around, listen to speakers on the same topics, and so forth.
Having sponsors who work in unrelated fields could do your event more harm than good. Seeing brands and ads that are unrelated to your brand and your event's theme may disorient your attendees or even contradict your messages.
3. Offer Something of Value to Your Online Event Sponsors
Sponsorship is not a donation. It's a give-and-take relationship.
This means you must offer something of value to your potential event sponsors. The truth of the matter is sponsorship is an investment for them.
To do this, create an enticing virtual event sponsorship package. A sponsorship package is a collection of benefits your sponsors will get for helping underwrite your event.
Examples of incentives you can offer include:
Opportunities for collaboration: This includes opportunities to be interviewed or to be part of a special panel. Collaboration affords your event sponsors maximum visibility.
Virtual environments: You could create virtual environments where event sponsors and attendees can interact.
Social media exposure: You should develop special hashtags for event sponsors to include in posts event attendees share. You can also add links to their websites in social media posts during your event.
Branded waiting rooms: Most online events have a 15-30-minute waiting period before the event begins. Leverage this time by creating branded waiting rooms. You can display your sponsors' logos during or show short ads during these times.
These are just a few incentives you can offer your event sponsors. Create packages that will give your sponsors exposure or opportunities to generate leads, and they'll likely jump at the opportunity to partner with you.
4. Run a Paid Campaign to Find Event Sponsors and Attendees
Paid ads on social media, search engines, and other platforms could help you get sponsors for your online event.
One of the main things you must do is conduct keyword research to make your paid ads hyper-targeted. Using a keyword research tool to research phrases your potential sponsors use and use them yourself. If you're targeting different types of potential sponsors, create separate campaigns for them.
Paid advertising may help kill two birds with one stone. You can use paid ads to reach and attract both event sponsors and event attendees.
5. Reach Out to Potential Sponsors on Social Media
With close to four billion active users, social media has gone beyond just connecting people on a social level. It has become a powerful business and marketing tool.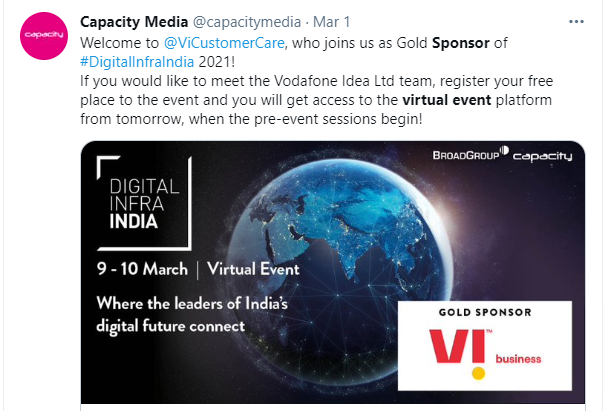 A few ways you can do this are:
1. Create a Public Post
Share a post on your timeline calling for event sponsors. Don't be afraid to ask your followers to help spread the word, too. You can also increase your reach by paying to boost your post.
2. Post in Groups
If you're active in relevant social media groups, let them know that you're looking for sponsors for your next event.
3. Reach Out Privately
Besides posting on your timeline, you can also send direct messages (DMs) to your prospects. For this strategy to work, make sure to:
Target decision-makers: Research the brands you'd like to partner with for your event and find the decision-makers. These are the people you must reach out to.
Personalize your messages: This requires you to study your prospects and tailor your message to appeal to them.
Clearly outline the benefits of sponsorship: Introduce your brand and the event, then spell out the benefits of partnering with you.
Keep it short: Get to the point. Your prospects are busy. Besides, they receive many DMs and don't have the time to read through a long pitch.
Don't underestimate the power of social media in getting your sponsors for your online event. Used well, it could help you generate a good number of leads.
6. Create, Advertise, and Update Your Online Event Agenda
Before people commit to anything, they want to know what they're getting into. That's why one of the strategies you must use to get sponsors for your online event is to create and advertise your agenda for the event.
Make sure your agenda includes all the essential details such as the speakers, topics, and breakout sessions. Doing so lets sponsors preview what to expect from your event.
Design an epic event page and share it on as many platforms as possible. You can also create digital brochures and distribute them on social media and your email list.
7. Use Tools to Find Event Sponsors for Your Online Event
Thanks to technology, finding event sponsors has become easier through the use of tools. These are platforms that help connect event organizers and event sponsors. Because most act like a match-making service, you'll likely get good results if you use these tools. A couple of examples of such platforms include:
SponsorMyEvent
SponsorMyEvent is a platform designed to make it easy for event marketers to find sponsors. One cool feature of this tool is the homepage featuring current events looking for sponsors. It also allows you to set a minimum price for your event sponsorship packages.
SponsorMyEvent can be used as a complete sponsorship management tool. You could use it to sell event tickets, organize your data, and a whole lot more.
SponsorPitch
SponsorPitch goes beyond facilitating quick connections between event organizers and event sponsors. The brand gives you access to their extensive database of sponsors and allows you to use their CRM.
You also get detailed analytics and data for both event organizers and sponsors, making it easier to choose who to work with.
8. Create Case Studies and Get Testimonials From Previous Sponsors
Because sponsorship is an investment for your event sponsors, new potential sponsors want to see proof your events will benefit them.
This is where social proof comes in. It helps give event sponsors the confidence they need to partner with you.
You can ask past event sponsors to give testimonials of their experiences with being part of your previous events. Their testimonials should highlight what they gained from sponsoring your events. With video being one of the most preferred content formats, it's advisable to get video testimonials if possible.
Another great form of social proof is creating case studies of past events. Ask previous event sponsors if they can document their journey of being a part of your online event and its impact on their business.
These case studies and testimonials make for excellent marketing material as well. You can post them on social media or distribute them via your other marketing strategies.
9. Offer Different Online Event Sponsorship Levels
Create and offer tiered sponsorship packages with different benefits. For example, a higher-tiered sponsorship package could include collaboration opportunities, which wouldn't be available for lower-tiered packages. Creating tiers allows sponsors to choose the package that best suits their needs.
Offering different event sponsorships is also a great way to open up to potential event sponsors of all sizes. The diversity in the size of sponsors doesn't just benefit your event financially but also helps create a vibrant atmosphere.
10. Contact Sponsors From Similar Events
One of the best strategies to get online event sponsors is to research events similar to yours and reach out to their sponsors.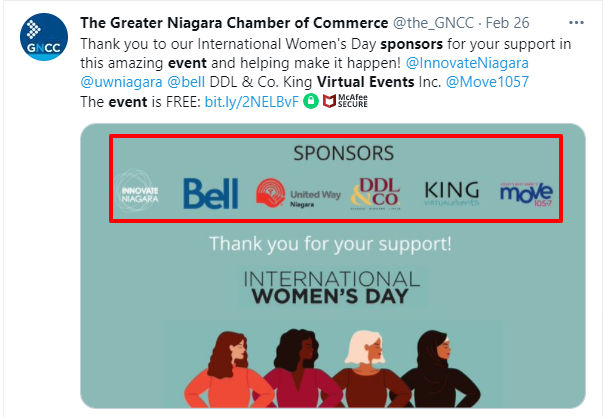 This often works well because these sponsors understand and appreciate the value of marketing their brands through event sponsorship. As a result, they may be more likely to be interested in sponsoring your event.
Another reason to contact sponsors from similar events is that your audience is likely to be relevant to them, which may make your event more appealing to sponsor.
Conclusion
Getting event sponsors for an online event has its challenges. But if you can leverage the strategies outlined in this post, you could get better response rates for your pitches.
To better improve your chances of success, you must know your way around digital marketing.
Better still, partner with an agency that can take care of tricky aspects of event marketing, like paid advertising, social media marketing, and SEO. Getting these right will also help you get sponsors for your next online event.
What other online event sponsorships strategies have worked for you?
See How My Agency Can Drive Massive Amounts of Traffic to Your Website
SEO – unlock massive amounts of SEO traffic. See real results.
Content Marketing – our team creates epic content that will get shared, get links, and attract traffic.
Paid Media – effective paid strategies with clear ROI.
How To Enable Dark Mode For YouTube, In App & Online
If you're looking to enable dark mode in YouTube, we've got just the guide for you. And, as with many of our how-to guides, that's regardless of where you're looking to make that change. Whether on the web or in the app. With or without the latest, greatest phone model.
Here's how to turn on YouTube dark mode on the web
Of course, the world of mobile OS has already seen the introduction of a dark mode in YouTube and we'll discuss how to enable that later on. But not every YouTube user has access to the service via mobile. And, equally importantly, not every user only accesses YouTube on their Android or iOS device either. Sometimes, the web service is still needed.
For those reasons, we're starting this guide with a rundown of how to enable dark mode for YouTube on the web. And that's a fairly easy process too if you know where to look.
…if you're signed in to your account on YouTube
Navigate to the YouTube.com website
Click or tap — for users on touchscreen gadgets — on your profile image
Within the resulting overflow menu — at the top in our sample images, although Google can and often does rearrange UI elements — look for an "Appearance" option. YouTube accompanies that with a descriptor for the current setting. So if "Appearance is set to follow the device theme, for instance, it will read "Appearance: Device theme" instead of just "Appearance"
Select the "Appearance" option
If your device already uses a dark theme, then select the "Use device theme" option from the drop-down list. The theme should automatically change to dark to match your theming preferences at the system level. You may also choose to select "Dark theme" if you don't want the YouTube theme to change alongside your device theme
…if you're accessing YouTube without signing in
Navigate to the YouTube.com website
Click or tap — for users on touchscreen gadgets — on the three-vertical-dots icon located at the top-right-hand side of the UI. As shown in our images below
Within the resulting overflow menu — at the top in our sample images, although Google can and often does rearrange UI elements — look for an option that reads "Appearance." YouTube accompanies that with a descriptor for the current setting. So if "Appearance is set to follow the device theme, for instance, it will read "Appearance: Device theme" instead of just "Appearance"
Select the "Appearance" option
If your device already uses a dark theme, then select the "Use device theme" option from the drop-down list. The theme should automatically change to dark to match your theming preferences at the system level. You may also choose to select "Dark theme" if you don't want the YouTube theme to change alongside your device theme
Here's how to enable dark mode in the app
Changing to dark mode in the app will be a similar set of steps.
Open YouTube
Tap on your profile image in the top-right-hand corner to open the overflow menu
Tap on the "Settings" option, located near the bottom of the resulting menu
In Settings, select "General" from the list. It should be located near the top of the Settings menu
Near the top of the General Settings page, an option appears labeled "Appearance." Select that option
If you're using a system-wide dark theme, and you want YouTube to follow your system-level theme "Use device theme" should be selected
If you don't want YouTube to follow your system-wide theme but do want a dark-themed YouTube experience, then select the "Dark theme" option
Conversely, if you want a light theme, select "Light theme"
To change back to a different theme
Now, going back to the Light theme is easy but how you do that will depend on how you've set the dark theme. If, for example, you've set the entire system theme to dark and want to keep it that way, you'll need to follow the appropriate steps above to get to the theme selection setting. Then you'll need to switch manually to the "Light theme" option.
Conversely, if you want to change your system theme to light and already have that set to follow the system setting, simply change that setting to a light theme and YouTube will follow suit.
Entireweb Articles – Read the latest Articles and News in Search Engine related world!
Editing with Style: Tips on Giving Actionable Writing Feedback
Feedback can be such a delicate process. We are all human, and writers can be sensitive about their work. This is especially true in cases involving manuscript editing where how you provide feedback can be directly related to whether or not your customers return.
The fine art of feedback is being able to provide feedback that is not only useful but also demonstrates a sense of compassion and empathy:
It can help build strong, supportive relationships.

It can clearly demonstrate what is working well, as well as what is not.

It can stir a desire within the writer to continuously improve.
It is important to keep in mind that the writer/editor relationship is strongest when it is built on mutual respect. When feedback is requested, it is a way of saying, "I respect your opinion, and I need your help."
The following rules apply when giving feedback:
Exchanges should be polite but also direct.

Even the finest writing will require changes.

Communication should be frequent, but not so frequent that it is annoying.

Writer/editor relationships aren't always a party. Be mutually respectful because the relationship should be mutually beneficial.
Communication Is Critical
No one can argue that the "track changes" feature and the use of "comments" within a document are wonderful technical enhancements when it comes to feedback, but just as often, they are also very prone to misinterpretation. The beauty of such tools is their ease of use in sharing suggestions, asking questions, and tracking revisions.
However, communication outside the document is perhaps even more important than the revisions within the document. How we offer feedback, whether verbally or technically, can have a direct impact on the writer/editor relationship as well as having a less-than-favorable impact on the reader's experience.
We all have feelings, and we can all be especially sensitive when we receive feedback, so your feedback should be provided carefully and with empathy.
Understand the Writer's Expectations



Be proactive in trying to understand what the writer expects of your feedback. Engage the writer in a conversation before the feedback process in order to:
Assure the writer that you have their interests in mind.

Clarify that your role is to represent "the reader."

State clearly that your intentions are not to simply critique the content.
It can also be useful to provide feedback in stages. For example, "First, I'll review the structure. Then, I'll suggest revisions to the wording."
Have a Clear Process
Remember, having a strong writer/editor relationship, and a clear process can eliminate the need to track formatting, style errors, and large structural modifications that have been discussed in prior projects. This eliminates having to send the writer a document that is loaded with edits, comments, and red text.
It should be emphasized that when you include a reason or explanation for your changes, it can contribute tremendously towards building that desired trust and rapport with your clients. Adding the "why" to your feedback can demonstrate that "you have your client's back" and can be a huge factor in future business.
You don't want your client to think you are making revisions just for the sake of making revisions
Keep the Lines Open
One key benefit of being able to provide feedback is how it affords you the opportunity to keep talking with your writer. This is where the "human touch" applies. Remember to point out to your writer what they have done exceptionally well and use this as an opportunity to remind them of earlier discussions.
Most importantly, the feedback process should always be focused on the experience of the reader. Never lose focus on your target audience.
Feedback delivered right can be a great tool for editors looking to build stronger relationships with their clients. Like with anything else, kindness goes a long way, and it might just be the defining factor that differentiates you from other competitors in the market.
Read full article on our webpage.
Entireweb Articles – Read the latest Articles and News in Search Engine related world!
Google Search Console Notice: Google Chrome To Help Users Automate Changing Passwords Using The Assistant
Google is emailing through Google Search Console about a new Google Assistant feature that will offer users the ability to automatically change their passwords to login to your website in Google Chrome. The Chrome feature, I think is several months old, but the notice from Google Search Console, I think, is new.
J.J. James Patterson sent me a screenshot of this notice on Twitter that reads "New Google Assistant feature will go live on [domain here] in two weeks." Then it says, "in two weeks, Google Chrome will begin to offer some users the ability to automate changing their password on your website using Google Assistant. When this feature is enabled, Google Assistant can perform the following actions on behalf of the user:"
Google Assistant automatically logs the user in with the right credentials and navigates to the account settings page on your website. If the credentials saved in Chrome are outdated, the Google Assistant can help the user reset their password for supported sites.
The user chooses either to use a password generated by Chrome or to create their own password.
Google Assistant helps the user submit the changed password on your website.
Google said this feature is "powered by Duplex on the Web." Google said you can disable this feature on your site in Google Search Console.
Here is a screen shot of this email:
The link to the duplex on the web in the email J.J. received goes to this Google help document that says Duplex on the Web for Search Console "feature is only available if your site is eligible, and you have been contacted about participating." If you are eligible, clicking here you can enable it in Search Console.
The help document has this all under the automated password change section that says:
Enable Duplex on the Web to automate changing site passwords using Google Assistant. Within Chrome on Android, users will have the option to use Google Assistant to automate the process of changing their password on your site. You can see a demo of the feature recorded at the Google I/O conference.
Here is the video demo:
This has been popping up for me on Chrome a lot over the past few days:
Are these related?
Forum discussion at Twitter.
Entireweb Articles – Read the latest Articles and News in Search Engine related world!