What is IaaS? How Does it Affect Your e-Commerce Site?
Cloud computing has taken over in recent years, and it offers many opportunities for businesses and users. The terminology can be a little complex though, and like with many IT-related things, there are lots of acronyms that get thrown around.
IaaS is one acronym you might have seen, but what does it mean, and how can it affect your e-commerce store?
Along with PaaS and SaaS, these acronyms describe the different ways businesses can use cloud technology, and choosing the right one for your e-commerce store can make a big difference.
What IaaS Means for Your Website
If you're creating a website today, there's a good chance it's going to be hosted in the cloud. Very few companies maintain their own servers; instead, they rely on third-party companies to take care of many elements of their online presence.
The distinction between IaaS (Infrastructure as a Service), PaaS (Platform as a Service), and SaaS (Software as a Service) is crucial because it dictates what level of control you have over your website.
For some businesses, particularly those with large, complex e-commerce sites, infrastructure as a service will likely be the best option because it allows for greater flexibility and control.
Every day, more and more businesses move their infrastructure to the cloud, and it's important they understand how best to use it to get the best results. IaaS, SaaS, and PaaS are simply ways of describing how you use the cloud—and each business will do this slightly differently.
Today, 90% of businesses use the cloud. According to some estimates, cloud data centers will soon process 94% of workloads.
This means it's vitally crucial for businesses to understand what they're investing in and how they can make the most of cloud computing.
Cloud Computing: IaaS Vs. SaaS Vs. PaaS Vs. Serverless Computing
When it comes to cloud computing, it can seem like you're constantly being bombarded by acronyms. Actually, IaaS, SaaS, and PaaS are useful distinctions that can help you run your e-commerce store more efficiently.
Cloud computing is all about allowing you to take care of the bits you're good at and leaving the rest to professionals. Each business has different skill sets, so they're going to use the cloud in different ways.
For example, in a bootstrapped business, the owner might be building the entire website with limited funds. In this case, they might only want to focus on the basics of creating a functional, appealing store and leave aspects such as runtime, servers, and storage to an external company.
On the other hand, a big multinational business may have a host of developers and IT professionals capable of handling more complex functions.
IaaS, SaaS, PaaS, and Serverless Computing give businesses the flexibility to control different parts of the cloud.
IaaS
IaaS is the cloud-based alternative to maintaining on-site infrastructure. Whereas in the past, businesses would have had their own data centers. Today, it can be much more efficient to utilize the cloud.
Maintaining your own IT infrastructure can be costly, and most businesses don't have the skills to do this without an external company's help. With IaaS, businesses don't need to maintain their infrastructure. Instead, they pay to use a third-party's servers, networking technology, storage, and data center space.
For businesses running e-commerce sites, this means they don't have to worry about the highly technical aspects of running a web application and they don't have to invest in expensive infrastructure. Instead, they pay for access to infrastructure through the cloud through companies like AWS, IBM, and Rackspace.
While things like storage and networking are taken care of by the third party, this option still leaves you in charge of the following aspects:
applications
data
runtime
middleware
O/S
This is important for larger businesses because it gives them much more control over how they run their site, while still offering a scalable, cost-effective solution.
PaaS
Like IaaS, PaaS leaves key components such as physical compute, network, storage, and virtualization to the provider. However, with PaaS, you also outsource runtime, middleware, and O/S.
As the name suggests, PaaS gives you the platform to develop, run, and manage applications without having to take care of the infrastructure behind it.
While this means you have less to worry about, and need fewer technical skills, it also means you have less control over how you run your e-commerce site than with IaaS.
Whichever service you choose, there is a tradeoff between convenience and control. With PaaS, you're getting something of a middle ground between IaaS and SaaS. While much of the service is managed, you're still in control of applications and data, which can be valuable for certain businesses.
This makes PaaS providers such as Magento Commerce Cloud and Bluehost particularly popular with developers, as it provides everything they need to create new applications without having to invest in expensive infrastructure and operating platforms.
Instead, they pay for what they need, allowing them to focus more on building the applications.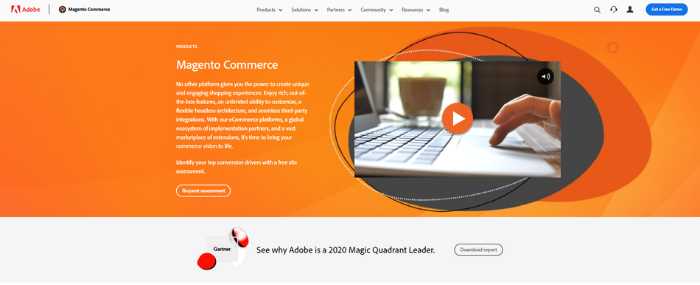 Serverless Computing
Businesses are constantly searching for the most efficient ways to use the cloud, and another option is serverless computing.
Serverless computing is very similar to PaaS, but has a few slight differences.
One of the main differences between serverless computing and PaaS is that serverless is event-driven. You pay only for what you use, whereas with PaaS, you pay a monthly fee and have a limit to what you can use.
Serverless computing automatically scales with your business, but you'll give up some control. It does allow you to be extremely flexible though, saving on costs while still getting excellent performance.
This is an ideal option for fast-growing e-commerce sites or those creating viral content that may cause a massive traffic spike.
SaaS
For many people, SaaS is the quickest and easiest way to set up an e-commerce store. Using providers like Shopify, you use third-party platforms and apps to quickly create a functional store.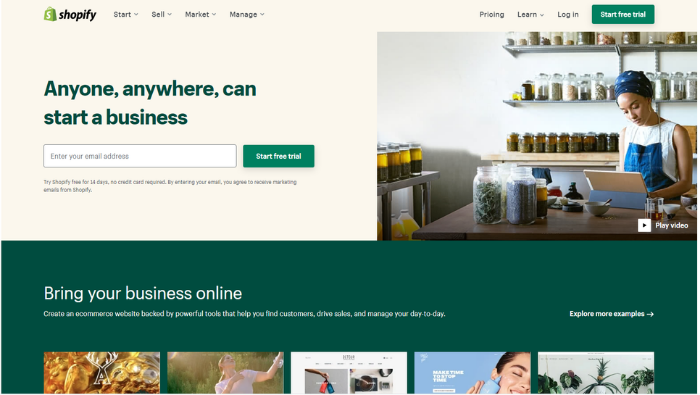 Everything is taken care of for you, and all you need to do is upload your own products and create your marketing content.
The obvious benefit of this is convenience. Not everybody who wants to create an e-commerce store has IT expertise and SaaS means they don't have to. Rather than focusing on networking and hosting, they simply have to focus on building out their website and creating the content that's going to help them sell.
SaaS applications are very common across the internet. Not only are there lots of SaaS applications that help people run their e-commerce stores but software such as Microsoft 365, Google Cloud, and HubSpot are all examples of SaaS.
The downside for e-commerce stores that run on SaaS is that they're limited in what they can do. If you have a Shopify store, then you have to work within the limitations set by that third party. When you run your store through IaaS or PaaS, there are fewer limitations, giving you greater control over your store.
How Can IaaS Affect Your E-commerce Site?
Cloud computing has made it much more accessible to create an e-commerce site. No longer do you have to invest in expensive hardware and instead, you can pay for access to infrastructure as and when you need it.
This has opened up e-commerce to a wide variety of people. With SaaS, it's not necessary to have IT skills to create a competitive store. However, with the ease of creating and managing a store through SaaS comes limitations.
Many businesses possess the skills to handle the more technical aspects of running an e-commerce site, and they want to be able to make the most of those skills without building their infrastructure. IaaS is the perfect option for these businesses as it allows them to strike a profitable balance.
These businesses can use infrastructure as and when they need it, scaling as their business grows and shrinks.
With IaaS, you have maximum control over your e-commerce store, allowing you to make the most of your creative and IT skills without building the infrastructure yourself.
How to Use IaaS for Your E-commerce Company 
One of the most important things when choosing between IaaS, PaaS, and SaaS is understanding the skills and resources available to you. If you don't have people with experience in building and developing web applications, then IaaS isn't going to be the best option for you, and it might be better to look at a SaaS option.
If you're confident you can create and maintain a high-level store through IaaS, then the next step is understanding your needs. There are lots of different IaaS providers out there, and many different packages to choose from.
Each business is different, and will have different requirements. When choosing a provider, consider the following questions:
What level of access and customization do you need?
How flexible can the provider be?
How will the provider deal with changing regulations?
How much is it going to cost you?
What level of security is offered?
The whole idea of "as a service" is that you pay for the parts you need, freeing you up to take care of the bits you can handle. To get the most out of this concept, you need to have a clear picture of where your skills lie, and how your provider can take care of the rest.
IaaS Tools
When choosing an IaaS package, you must take the time to get the one that best fits your business needs. There are lots of different options out there, and choosing the right tools can make all the difference to your business:
Amazon EC2
Google Compute Engine
Digital Ocean Droplets
Hostwinds
Alibaba Elastic Compute Service
IBM Cloud Private
IONOS Cloud
Azure Linux Virtual Machines
Rackspace Technology
Openstack
As you can see, there are lots of different options out there, and this is just a small sample. The important thing is making sure you get the services your business needs without paying for resources you don't.
It might take a little extra research to unlock the true power of IaaS for your business, but it's certainly worth it in the long run.
Conclusion
There are many different ways to run an e-commerce store, and how you use the cloud is a key consideration when setting up or expanding your store.
Maintaining onsite infrastructure can be expensive and time-consuming, and with modern cloud products, there isn't much need for it.
The bigger question is: what do you need from the cloud?
For large-scale e-commerce sites, with tons of resources at their disposal, infrastructure as a service is often the best way to go. This provides greater control over your site than PaaS or SaaS options and is a cost-effective way to scale your business.
When you utilize the cloud well, it can help you maximize your store's profitability, so it's essential to make the right choice.
How does your e-commerce store use the cloud?
See How My Agency Can Drive Massive Amounts of Traffic to Your Website
Content Marketing – our team creates epic content that will get shared, get links, and attract traffic.
Paid Media – effective paid strategies with clear ROI.
Sneak Peek: The MozCon 2023 Speaker Line-Up
The year may slowly be wrapping up but we've got an extra special, early gift to share before you log off that laptop and put away your favorite travel mug.
We're thrilled to announce the first 19 extraordinary speakers that will be taking the MozCon 2023 stage in Seattle this coming August (in alphabetical order).
Snag your Super Early Bird tickets!
Meet the speakers
Director of Digital Strategy, RicketyRoo
@amandatjordan | @ricketyroo
Amanda is passionate about helping complex, large businesses improve their local visibility. Her background includes working with clients in the legal, health, financial, and home services industries.
Strategy Director, Eximo Marketing
@andijarvis | @EximoMarketing
Andi is the Founder and Strategy Director of Eximo Marketing, a marketing strategy consultancy based in the UK. Eximo works with established manufacturers who want to grow their business via direct to consumer. Andi also hosts the Strategy Sessions podcast.
Owner, BEAST Analytics
@brie_e_anderson
Brie E Anderson is an Analytical Nerd with a Soft Spot for Strategy. She's spent the last 10 years helping businesses of all sizes execute data-driven strategies to increase ROI. Today, she runs BEAST Analytics, a digital marketing analytics consultancy.
CEO & Founder, Rise At Seven
@CarrieRosePR | @RiseAtSeven
Carrie Rose, Founder of leading Global Search-First Creative Agency Rise at Seven both driving and facilitating search demand for global brands operating in 4 locations across the world including UK, US and EU
VP of Marketing, Go Fish Digital
Chris Long is the VP of Marketing for the Go Fish Digital team. He works with unique problems and advanced search situations to help clients improve organic traffic through a deep understanding of Google's algorithm and web technology.
Head of SEO Communications, Wix
@CrystalontheWeb | @wix
Head of SEO Communications, Wix, Crystal is an SEO & digital marketer with over 15 years of experience. Her clients have included Disney, McDonalds, and Tomy. An avid SEO communicator, her work has been featured at Google Search Central, Brighton SEO and more.
Search Advocate, Google
@DanielWaisberg | @google
Daniel is a Search Advocate at Google, part of the Search Console engineering team. His job is divided between educating / inspiring the Search community and working with the product's engineering team to develop new capabilities.
Founder & Head of Strategy, Take Some Risk Inc.
@DuaneBrown
Duane has lived in 6 cities across 3 continents while working with Ecom, DTC and SaaS brands. He now lives in Canada helping brands grow through data, strategy and PPC marketing across search & social ad platforms.
SEO Lead, Intelligence, Uber
@jackiecchu | @uber
Jackie Chu is currently the SEO Lead, Intelligence for Uber, driving analytics and tooling for the SEO teams globally. She has deep experience in technical SEO, content SEO, ASO and international SEO spanning both B2B and B2C industries.
Group CMO, Ringier
jes_scholz | @ringier_ag
Group CMO at Swiss media giant Ringier, marketing technologist & mum of two tiny humans. Jes loves to talk about the future of search, smart marketing automation and travel.
Senior SEO Manager, Sanity
@LidiaInfanteM | @sanity_io
Lidia has been working in SEO for almost a decade, helping businesses in SaaS, media and e-commerce grow online. She has a BSC in Psychology and a Master in Digital Business and is a regular speaker at SEO events such as MozCon, BrightonSEO or WTSFest.
Senior Director, SEO & Head of Organic Research, Amsive Digital
@lilyraynyc | @​​amsive_digital
Lily Ray is the Sr. Director, SEO & Head of Organic Research at Amsive Digital, where she provides strategic leadership for the agency's SEO client programs. Lily began her SEO career in 2010 in a fast-paced start-up environment and moved quickly into the agency world, where she helped grow and establish an award-winning SEO department that delivered high impact work for a fast-growing list of notable clients, including Fortune 500 companies.
Head of Organic Search, John Lewis (Financial Services)
@Mira_Inam
Miracle is Head of Organic Search at John Lewis (Financial Services) and is armed with more than a decade of supporting national, and global brands with technical SEO and data strategy.
Product Director, Two Octobers
@NoahLearner | @twooctobers
Noah is a technical marketer, nicknamed the Kraken, who is happiest building SEO tools, automations, data pipelines and communities. When not in the lab, he loves skiing, fly fishing, camping with his family, and walking his dog, Shadow.
Marketing Scientist, Moz
@Dr_Pete | @Moz
Dr. Pete is Marketing Scientist for Seattle-based Moz, where he works with the marketing and data science teams on product research and data-driven content.
CEO & Founder, Foundation Marketing
@TheCoolestCool | @FoundationIncCo
Ross Simmonds is the founder & CEO of Foundation, a global marketing agency that provides services to organizations all over the world ranging from some of the fastest-growing startups to global brands. He was named one of Atlantic Canada's Top 50 CEO.
CTO, SearchPilot
@TomAnthonySEO | @SearchPilot
Tom is CTO at SearchPilot, where he leads the engineering & product teams. Tom has been working on the web for over 25 years, and has a PhD in Computer Science. He lives with his wife and 3 daughters in Germany.
Senior Search Scientist, Moz
@thcapper | @Moz
Tom heads up the Search Science team at Moz, providing research and insight for Moz's next generation of tools. Previously he headed up the London consulting team for SEO agency Distilled, and worked as a chef in a roadside grill.
CEO & Vice President of Innovation, Seer Interactive
@wilreynolds | @SeerInteractive
Wil has been leading the charge to leverage "Big Data" to break down silos between SEO, PPC, and traditional marketing — pulling together data from various sources to see the big picture.
Meet the emcees
Event Marketing Manager, Moz
@CherylDraper | @Moz
Learning Team Manager, Moz
@Melissa_R_B_ | @Moz
User Researcher, Moz
@justolaking | @Moz
From fan favorites to fresh faces, it's a pretty great start to what's sure to be the best MozCon yet! We'll have even more incredible speakers to reveal, including our community speaker lineup, in early 2023.
But don't wait to snag your tickets! Save up to $600 on MozCon 2023 now with Super Early Bird pricing.