How to Add Promotions in Google Merchant Center
As consumers, we're always looking for the best price for the best quality we can find. When it comes to online shopping, FOMO – the fear of missing out – is very real. Personally, I'm more likely to purchase something when it's offered at a discount or when it's a limited time offer because I don't want to miss out and have to pay full price later on.

You can use Google Merchant Center to capitalize on FOMO by offering special sales and promotions in your Shopping ads to boost clickthrough rate, increase conversions, and capture multiscreen traffic across desktop and mobile devices.

Promotions can be applied in four ways:
Amount off: Offer a monetary discount.
Percent off: Offer a percentage discount.
Free Gift: Offer a free gift with purchase.
Free Shipping: Offer free shipping with purchase.
Follow these steps to set up and customize your promotion using Google Merchant Center Promotions:
Go to Google Merchant Center and login to your account.
In the left-hand toolbar, click "Manage Programs" in the "Growth" tab, as shown below.
On the Programs page, scroll down to "Merchant Promotions" and click "Get Started," as shown below.
From there, you can fill out a "Merchant Promotions Interest Form" and apply to use Merchant Center Promotions in your account. The application will be reviewed by Google to make sure you meet the necessary criteria.
Once you're approved and enrolled in Merchant Promotions – usually within 24 hours – you can start adding promotions to your account. The promotion we see the most often is the "Percent off" promotion, in which you can have the option to set a minimum purchase amount that the customer needs to meet in order to receive the discount.

To add the promotion:
Login to your Google Merchant Center account.
On the left-hand toolbar, you'll now see a "Marketing" tab with a "Promotions" drop-down, as shown below. Click Promotions and then click the blue icon to add a promotion.
When setting up the promotion, you'll select the country where your promotion will be available and your promotion will automatically apply to Shopping Ads, as shown below.
You'll see the four promotion categories you can choose from, as shown below. Click "Percent off" for "Promotion category" and "Promotion type."
Enter the discount percentage you're offering and the minimum purchase amount (if applicable), as shown below. Then click "Continue."
Now you can enter a customer-facing "Title," as shown below, that describes the promotion you're offering – for example, 25% off Orders over $100. You also enter an ID that customers won't see – for example, DecemberSale2019 – to keep track of how your promotion performs. Then choose which products are eligible for the promotion. You can choose only products that have a label that corresponds to one that matches the promotions ID that's on specific products in your feed, or create custom filters based on brand, product type, or item group ID. Or, as shown below, you can choose to apply it to all products.
Lastly, enter your promo code – for example, DECEMBER – if applicable, as shown below. Set the start and end dates, click "Create Promotion," and you're all set. Even if your sale is year-round, it is always a good idea to use shorter end dates because it creates a sense of urgency for the customer, knowing that they need to act sooner rather than later.
Now that you've added your promotion, customers will see that you have a special offer when searching in Google. It will appear at the bottom of your shopping ads and will look like the image below: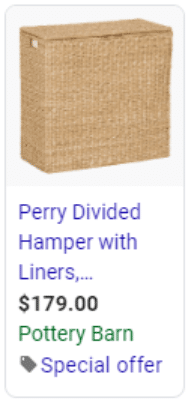 When the customer clicks on the promotion to expand it, they can see the promotion and the code they need in order to get the discount at checkout, as shown below.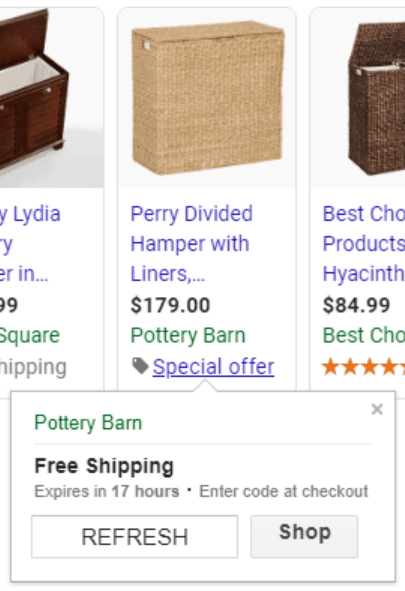 Another popular offer to use in Merchant Center is "Free Shipping," which requires a promo code. Free Shipping is a great offer for your customers because it helps them justify their purchase; it's the same price online as it would be if they'd gone into the store and purchased it in person, but they don't have to leave the comfort of their own home to get it. Without the extra charges, it makes the decision to buy that much easier.

Google Merchant Center Promotions are a great way to offer discounts and make your ads stand out against the rest. Especially around the holidays, when people are looking for the best sales, promotions can help boost your traffic in a meaningful way. Don't miss out on the possibilities.
Google Home App Gets an Overhaul, Rolling Out Soon
Google refreshes its Home app with a slew of new features after launching a new Nest gear. This makes it faster and easier to pair smart devices with Matter, adds customization and personalization options, an enhanced Nest camera experience, and better intercommunication between devices.
This revamped Home app utilizes Google's Matter smart home standard – launching later this year – especially the Fast Pair functionality. On an Android phone, it will instantly recognize a Matter device and allow you to easily set it up, bypassing the current procedure that is often slow and difficult. Google is also updating its Nest speakers, displays, and routers – to control Matter devices better.
Google Home App New Features
Spaces: 

This feature allows you to control multiple devices in different rooms. Google has listed a few things by room: kitchen, bedroom, living room, etc., although it's pretty limited right now. Spaces let you organize devices how you see fit. For instance, you can set up a baby monitor in one room and set a different room's camera to focus on an area the baby often plays. With Spaces, you can categorize these two devices into one Space category called 'Baby.'
Favorites: 

This one is pretty self-explanatory. It allows you to make certain gears as a favorite that you frequently use. Doing so will bring those devices into the limelight within the Google Home app for easier access. 
Media:

 Google adds a new media widget at the bottom of your Home feed. This will automatically determine what media is playing in your home and provide you with the appropriate controls as and when needed. There will be song controls if you listen to music on your speakers. There will be television remote controls if you're watching TV. 
Google probably won't roll out this Home app makeover anytime soon. But you can try it for yourself in the coming week by enrolling in the public preview, available in select areas.