How to Optimize Microsoft AdCenter for More Effective Paid Campaigns
Gaining paid search footholds can be challenging, and once you've built a successful Google Ads campaign and watched it perform, it can be disheartening to reach the end of that campaign's lifespan.
However, it doesn't have to end there.
An excellent strategy for expanding the success of your PPC campaigns is to look beyond Google Ads to other platforms like Microsoft AdCenter, which allows you to advertise on Bing, Yahoo!, and other affiliate platforms.
It's simple to translate your Google Ads campaign to the Microsoft platform because they have similar functionality. Using the same fundamental best practices, you can create more leads through PPC on an entirely new platform.
What Is Microsoft AdCenter?
Microsoft AdCenter is the centralized hub where advertisers go to buy sponsored ads on Bing or Yahoo!
Previously Bing Ads, the platform underwent a rebrand after combining forces with Yahoo!
While it's safe to say that the majority of internet search traffic comes through Google, that doesn't mean digital marketers should be sleeping on Microsoft AdCenter.
In fact, with a combined 30 percent market share of the internet's search function, you're going to want to add a visit to Microsoft AdCenter to your digital marketing itinerary.
Benefits of Optimizing Microsoft AdCenter for Your Ad Campaigns
Whenever you're running a PPC campaign, you want to be constantly optimizing.
Why?
When you recalibrate through optimization, you increase your chances of reaching your target audience. This practice will not only increase your overall revenue but will also decrease your ad spend.
Microsoft AdCenter is no different. You want to continuously optimize your campaigns for success. While there's much work to be done before launching a campaign, it's arguable that the most valuable work is done post-launch.
With 1.03 billion unique users each month, Bing offers advertisers extensive reach.
However, without optimizing your campaigns, how can you ensure you're reaching the right audience members?
Short answer: You can't, which is why understanding how to optimize in Microsoft AdCenter is vitally important to your success on the platform.
Difference Between Microsoft AdCenter and Google Ads
As mentioned above, Microsoft AdCenter has similar functionality to Google Ads. However, the two PPC platforms differ greatly in five key areas: campaign-level control, closed variants, engagement rates, search partner targeting options, and ad scheduling.
Campaign-Level Control
Google Ads requires users to set the language, ad rotation, network, ad scheduling, and location settings at the campaign level. Groups are then restricted to these settings.
On the other hand, Microsoft AdCenter opens these options at the ad group level, permitting users to easily make change settings at any time, rather than having to build an entirely new campaign.
Closed Variants
After eliminating exact and phrase match keywords by enforcing a "close variant" target within Google Ads, the reach of exact and phrase keywords extended by 7 percent, including misspellings, pluralized terms, and grammatical iterations.
While Microsoft AdCenter does have an option to use the close variant query, it is just that: optional.
Increased Engagement and Conversion Rates
Users who engage with Microsoft AdCenter PPC ads have increased engagement with the selected sites and landing pages.
In fact, studies found that automotive search users who interacted with Microsoft AdCenter content had conversation rates 10-56 percent higher than Google Ads.
While this is clearly a particular audience subset, it is still indicative of increased interaction overall.
In addition to these factors, another difference emerges between Google Ads and Microsoft AdCenter.
As we discussed above, it's simple to import your Google Ads campaign into Microsoft AdCenter. Despite this ease, there are considerable differences to keep in mind as you optimize your campaigns on each respective platform, including:
search partner targeting options
ad scheduling
While both Google Ads and Microsoft Ads have search partner networks (external sites that permit advertisers to expand reach on their platforms), the networks are notably different.
Search Partner Targeting Options
Unsurprisingly, Google boasts hundreds of sites in their search partner network. If you're not seeing big returns on including this extended network in your targeted campaign, you can remove the function. Unfortunately, that removal is all or nothing—you can't cherry-pick which partners you'd like to reach.
With Microsoft Ads, however, you can select which partners to reach, a key difference as you optimize your campaigns.
Ad Scheduling
While ad scheduling is a key component of any PPC campaign, different parameters for setting ad schedules apply when transitioning your Google Ads strategy to Microsoft.
With Google Ads, dashboard time is automatically set to the time selected upon account creation, so users need to update scheduled times depending on the time zone they're trying to reach.
Microsoft Ads, however, allows users to set schedules based on the location of the target, making scheduling infinitely easier.
While these differences may not seem huge, they're important to note as you begin your Microsoft AdCenter campaign.
Tips for Optimizing Microsoft AdCenter
We've already highlighted the importance of optimization; now it's time to break down exactly how to optimize your Microsoft AdCenter campaigns.
1. Perform Keyword Research
If you don't have a solid grasp on your keywords, now's the time to start. By researching what terms apply to your purpose and audience, you can incorporate that language into your campaigns to ensure you're reaching your desired audience.
2. Use Negative Keywords
When you include negative keywords in your campaign, you can exclude confusing or irrelevant terms from your strategy. This allows more accurate audience reach as well as reduced ad spend due to more precise matching.
3. Segment Your Campaigns
For data-driven PPC advertisers, segmenting campaigns into ad groups will allow you to make more intelligent optimization decisions. Segmentation lets marketers focus their message on different groups, which enables the collection of targeted metrics. Through a more segmented audience, you can tailor the message and receiver.
4. Use Ad Extensions
With ad extensions, you can add additional pieces of information about your business, including phone number, address, or a particular link. These free-to-add options can increase the visibility and utility of your ads.
5. Follow Ad Writing Best Practices
Strong, relevant copy is vital to the success of any PPC campaign. As you optimize your Microsoft AdCenter content, keep these best practices in mind:
Underscore the audience's primary pain point: By speaking toward your audience's primary pain point, you not only establish how you can solve their pain; you also establish that you understand their pain. This builds trust and connection between the advertiser and consumer.
Incorporate numbers or statistics: Historically, numbers work to grab reader attention. This was true long before the internet and will continue to be true as the internet evolves.
Utilize emotional triggers: It's no secret that people react to emotional triggers. When you harness the power of emotion in your ads, you can almost guarantee a reaction from your audience. Check out how this law firm used emotion to advertise its services:

6. Adjust Audience Type
Microsoft Ads provides users with several different types of audiences to use to ensure your ads reach the right group. You can adjust the type of audience to optimize your campaign and improve your reach.
7. Experiment With Dynamic Search Ads
These ads will automatically target relevant search queries formed from your website content. The ads are then dynamically created to react to those custom queries, reducing workload and increasing audience reach.
8. Use the Microsoft Audience Network
This audience marketing solution draws on Microsoft's artificial intelligence (AI) to better target your ideal audience. Be sure to take advantage of this Microsoft-exclusive offering, as it can drastically boost ad performance.
9. Use Universal Event Tracking (UET)
Yet another Microsoft-exclusive solution, you can use UET to view customer behavior after they interact with your ad. By placing a UET tag across your website, Microsoft gathers data that tracks goals and audiences with remarketing lists.
10. Set up Conversion Tracking
By setting up conversion tracking in Microsoft AdCenter, the platform matches you with relevant searchers across the Microsoft network. Conversion tracking also provides tools to optimize your campaigns for success.
Measuring the Success of Your Microsoft AdCenter Campaign
You've optimized your campaign throughout its lifespan, and now you want to know if it should be deemed a success or a failure.
Below, we break down three key metrics that will highlight your campaign's overall performance.
Click-Through Rate (CTR)
This metric is key to understanding whether your ads are relevant to your customers. CTR is determined by dividing the number of clicks your ad receives by the number of times your ad is shown.
Conversion Rate
Strong conversion rates indicate that what you spend on clicks is returning to you in profits. This metric is calculated by dividing the number of conversions by the number of total ad interactions tracked to a conversion in a given time period.
Cost Per Conversion
If you're overpaying for conversions, it's time to go back to the drawing board. This metric is determined by dividing the total cost for clicks by the number of conversions.
These three metrics provide a strong, foundational assessment of your campaign's performance. While you can get lost in the intricacies of data, these figures always provide a clear result.
Examples of Great Microsoft AdCenter Campaigns
Although Microsoft AdCenter is filled with examples of great PPC advertising, here are three excellent PPC ads that used a unique feature of the platform for a successful campaign.
Maybelline
Maybelline uses a detailed breakdown in their paid listing to allow searchers to find exactly what they need. By segmenting by eyes, lips, mascara, and face makeup, the beauty company increases the likelihood that the searcher with clear intent will readily find what they need.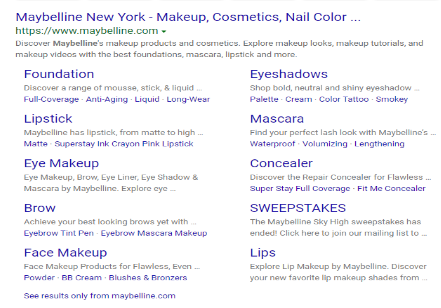 From You Flowers
These product ads rely on visuals to interest the searcher. By placing product images, pricing, and information along the side of the page, searchers have all the information they need instantly.
Papa John's
Ad extensions can go a long way for PPC ads. Pizza vendor Papa John's made their listing as informative as possible, while also touting their success and visibility by sharing the number of monthly site visitors. This strategy not only provides helpful information like deals and pizza type options, but it also increases consumer trust through the sheer number of social visitors.

While all three of these ads use extensions in very different ways, they bring more texture to the search engine results page (SERP), engaging the audience through images, increasing the immediacy of search success, and building consumer trust.
Conclusion
While both Google Ads and Microsoft AdCenter offer similar functionality, the options to optimize in Microsoft AdCenter are completely different.
Be sure to take advantage of Microsoft's unique offerings and optimize your content and strategy through the Microsoft lens, ensuring that you get the most bang out of your advertising buck.
As you become more familiar with Microsoft AdCenter's features, you could see your success rate rise as you optimize for target audience reach.
If you're ready to find an agency partner to help you kickstart your paid campaign on Microsoft's ad platform, let us know!
What's the best Microsoft AdCenter campaign you've ever seen?
See How My Agency Can Drive Massive Amounts of Traffic to Your Website
Content Marketing – our team creates epic content that will get shared, get links, and attract traffic.
Paid Media – effective paid strategies with clear ROI.
How to Manage Your Online Brand?
You might be asking yourself, "Why do I need to manage my online brand?" It's a valid question, especially if you're not sure what managing your online brand means precisely.
In short, managing your online brand is the process of taking control of how others see you and your business online. This can involve creating and maintaining a strong presence on social media, developing positive reviews and testimonials, and monitoring your web analytics to track progress.
By taking the time to manage your online brand, you can improve your chances of success in today's digital age.
In this article, we'll explore some key reasons why managing your online brand is essential.
What is an online brand, and why do you need one?
Your online brand is the way you are perceived by others online. This includes your website, social media profiles, online reviews, and all other digital real estate that represents you when someone searches for you or your business.
It's important to have one because it helps your potential customers get to know, trust, and like you before they buy anything from you. A strong online brand can also help you attract new customers and grow your business.
It's good to remember that your online brand is the first thing people will see when they search for you, so it's important to make sure it represents you and your business well.
How to manage your online brand for success?
Your online brand is your reputation. It's how people perceive you when they see your name, read your work, or interact with you online.
A strong online brand can help you attract new clients, collaborators, and opportunities. But how do you create and manage your brand for success?
1) Consider what you want your online brand to convey.
Are you an expert in a certain field? A thought leader? A creative visionary?
Once you know what you want your brand to communicate, be consistent in everything you do online.
Use the same name, photo, and bio across all of your social media platforms. Post regularly about topics related to your brand, and make sure the tone of your posts is consistent with the image you're trying to convey.
2) Interact with other people online in a way that reinforces your brand.
When someone mentions you in a post, thank them publicly. If someone leaves a negative comment on one of your posts, don't delete it – instead, respond politely and professionally.
By managing your online brand thoughtfully and proactively, you can set yourself up for success both online and offline.
3) Monitor your web analytics to track your progress.
Use Google Analytics or another web analytics tool to track how people are finding you online and what they're doing on your website. This data can give you insights into what's working well and what needs improvement.
For example, if you see that most of your website visitors are coming from Facebook, you might want to focus on creating more engaging content for that platform.
Or, if you notice that people are spending a lot of time on your blog but not your sales page, you might need to work on driving traffic to your products or services.
4) Make sure your website represents your brand well.
Your website is often the first thing people will see when they search for you online, so it's important to make sure it's up-to-date and represents your brand well.
Update your website regularly with new blog posts, photos, and products. Use attractive visuals, easy-to-navigate menus, and clear calls to action.
If you're not sure how to create a website that represents your brand well, consider working with a web designer or developer.
5) Pay attention to your social media presence.
Social media is a powerful tool for managing your online brand. Use it to connect with your audience, share your work, and promote your products or services.
Be sure to post regularly, interact with others, and use hashtags and keywords that will help people find you. You can also use social media ads to reach a wider audience or promote specific products or services.
6) Monitor your online reputation.
Use Google Alerts or another tool to monitor your online reputation. This will help you stay on top of what people are saying about you online and take action if necessary.
For example, if you see a negative review of your business, you can reach out to the customer directly to try to resolve the issue. Or, if you see someone spreading misinformation about your work, you can correct it.
7) Manage your online brand proactively.
The best way to manage your online brand is to be proactive. Be thoughtful about everything you do online, from the content you post to the way you interact with others. By taking control of your online presence, you can set yourself up for success both professionally and personally.
By following these tips, you can create and manage an online brand that will help you achieve your goals.
The benefits of having a strong online brand
Let's look at a few benefits of having a strong online brand:
1) Stand out from the competition.
With so much noise online, it can be difficult to stand out from the crowd. But if you create a well-defined brand, you'll be better able to cut through the clutter and attract attention.
2) Build trust and credibility.
A strong online brand can help you build trust and credibility with your audience. If people know what to expect from you, they're more likely to trust and respect you.
3) Connect with your audience.
By definition, a brand is a way of differentiating yourself from others. But it's also a way of connecting with your audience on a deeper level. When done well, branding can create an emotional connection between you and your audience.
4) Drive traffic and sales.
A strong online brand can help you drive traffic and sales. If people are familiar with your brand, they're more likely to buy from you. And if they trust and respect you, they're more likely to tell others about you.
5) Increase your visibility.
A well-managed online brand will increase your visibility online. When people search for you or your business, you'll be more likely to show up in the search results. And when people see you frequently in their feeds, you'll be more likely to stay top of mind.
6) Attract media attention.
A strong online brand can help you attract media attention. If you're known for something specific, journalists and bloggers will be more likely to write about you. This can help increase your visibility and reach even further.
7) Enhance your career prospects.
Your online brand can have a big impact on your career prospects. If you're looking for a new job, employers will likely research you online. And if you're an entrepreneur, investors will want to know more about your brand before they invest in your business.
8) Make a positive impact.
Finally, a strong online brand can help you make a positive impact in the world. If you're passionate about something, you can use your platform to raise awareness and advocate for change.
The importance of staying consistent with your branding strategy
As you can see, there are many benefits to having a strong online brand. But it's not enough to just create a brand—you also need to be consistent with your branding strategy.
When it comes to branding, consistency is essential. Your audience needs to know what to expect from you, and they need to see that you're consistent in your messaging and your visuals.
Here are a few pointers if you're not sure how to stay consistent with your branding:
1) Define your brand.
The first step to being consistent with your branding is to define your brand. What do you want people to think of when they see your name or your logo? What do you want your brand to represent?
2) Create guidelines.
Once you've defined your brand, it's time to create guidelines. These guidelines should include everything from your mission statement to the colors and fonts you use in your branding. By having a set of guidelines, you'll be able to ensure that all of your marketing materials are on-brand.
3) Train your team.
If you have a virtual assistant or team, it's important to train them on your branding guidelines. Make sure everyone knows what your brand represents and how they can help you maintain a consistent brand identity.
4) Monitor your brand.
Once you've launched your brand, it's important to monitor it. This means paying attention to how people are reacting to your brand and making sure that you're still presenting yourself in the way you want to be seen.
5) Be prepared to adjust.
Finally, be prepared to adjust your branding strategy as needed. As your business grows and changes, your branding will need to change with it. By being flexible and willing to adjust, you'll be able to ensure that your brand is always relevant.
Wrap Up
A strong online brand is essential for any business or individual. By definition, your online brand is the way you're perceived by others online. And while that may seem like a superficial thing, the reality is that your online brand can have a big impact on your business or career.
If you're not sure how to create a strong online brand, start by defining your brand and creating guidelines. Then, train your team on your branding strategy and monitor your brand over time. And finally, be prepared to adjust as needed.
About:
Oscar is a passionate full-time blogger and a part-time author. In his personal blog OssieRodriguez.com, he writes about software, online influence, and different business models.