How to Optimize Microsoft AdCenter for More Effective Paid Campaigns
Gaining paid search footholds can be challenging, and once you've built a successful Google Ads campaign and watched it perform, it can be disheartening to reach the end of that campaign's lifespan.
However, it doesn't have to end there.
An excellent strategy for expanding the success of your PPC campaigns is to look beyond Google Ads to other platforms like Microsoft AdCenter, which allows you to advertise on Bing, Yahoo!, and other affiliate platforms.
It's simple to translate your Google Ads campaign to the Microsoft platform because they have similar functionality. Using the same fundamental best practices, you can create more leads through PPC on an entirely new platform.
What Is Microsoft AdCenter?
Microsoft AdCenter is the centralized hub where advertisers go to buy sponsored ads on Bing or Yahoo!
Previously Bing Ads, the platform underwent a rebrand after combining forces with Yahoo!
While it's safe to say that the majority of internet search traffic comes through Google, that doesn't mean digital marketers should be sleeping on Microsoft AdCenter.
In fact, with a combined 30 percent market share of the internet's search function, you're going to want to add a visit to Microsoft AdCenter to your digital marketing itinerary.
Benefits of Optimizing Microsoft AdCenter for Your Ad Campaigns
Whenever you're running a PPC campaign, you want to be constantly optimizing.
Why?
When you recalibrate through optimization, you increase your chances of reaching your target audience. This practice will not only increase your overall revenue but will also decrease your ad spend.
Microsoft AdCenter is no different. You want to continuously optimize your campaigns for success. While there's much work to be done before launching a campaign, it's arguable that the most valuable work is done post-launch.
With 1.03 billion unique users each month, Bing offers advertisers extensive reach.
However, without optimizing your campaigns, how can you ensure you're reaching the right audience members?
Short answer: You can't, which is why understanding how to optimize in Microsoft AdCenter is vitally important to your success on the platform.
Difference Between Microsoft AdCenter and Google Ads
As mentioned above, Microsoft AdCenter has similar functionality to Google Ads. However, the two PPC platforms differ greatly in five key areas: campaign-level control, closed variants, engagement rates, search partner targeting options, and ad scheduling.
Campaign-Level Control
Google Ads requires users to set the language, ad rotation, network, ad scheduling, and location settings at the campaign level. Groups are then restricted to these settings.
On the other hand, Microsoft AdCenter opens these options at the ad group level, permitting users to easily make change settings at any time, rather than having to build an entirely new campaign.
Closed Variants
After eliminating exact and phrase match keywords by enforcing a "close variant" target within Google Ads, the reach of exact and phrase keywords extended by 7 percent, including misspellings, pluralized terms, and grammatical iterations.
While Microsoft AdCenter does have an option to use the close variant query, it is just that: optional.
Increased Engagement and Conversion Rates
Users who engage with Microsoft AdCenter PPC ads have increased engagement with the selected sites and landing pages.
In fact, studies found that automotive search users who interacted with Microsoft AdCenter content had conversation rates 10-56 percent higher than Google Ads.
While this is clearly a particular audience subset, it is still indicative of increased interaction overall.
In addition to these factors, another difference emerges between Google Ads and Microsoft AdCenter.
As we discussed above, it's simple to import your Google Ads campaign into Microsoft AdCenter. Despite this ease, there are considerable differences to keep in mind as you optimize your campaigns on each respective platform, including:
search partner targeting options
ad scheduling
While both Google Ads and Microsoft Ads have search partner networks (external sites that permit advertisers to expand reach on their platforms), the networks are notably different.
Search Partner Targeting Options
Unsurprisingly, Google boasts hundreds of sites in their search partner network. If you're not seeing big returns on including this extended network in your targeted campaign, you can remove the function. Unfortunately, that removal is all or nothing—you can't cherry-pick which partners you'd like to reach.
With Microsoft Ads, however, you can select which partners to reach, a key difference as you optimize your campaigns.
Ad Scheduling
While ad scheduling is a key component of any PPC campaign, different parameters for setting ad schedules apply when transitioning your Google Ads strategy to Microsoft.
With Google Ads, dashboard time is automatically set to the time selected upon account creation, so users need to update scheduled times depending on the time zone they're trying to reach.
Microsoft Ads, however, allows users to set schedules based on the location of the target, making scheduling infinitely easier.
While these differences may not seem huge, they're important to note as you begin your Microsoft AdCenter campaign.
Tips for Optimizing Microsoft AdCenter
We've already highlighted the importance of optimization; now it's time to break down exactly how to optimize your Microsoft AdCenter campaigns.
1. Perform Keyword Research
If you don't have a solid grasp on your keywords, now's the time to start. By researching what terms apply to your purpose and audience, you can incorporate that language into your campaigns to ensure you're reaching your desired audience.
2. Use Negative Keywords
When you include negative keywords in your campaign, you can exclude confusing or irrelevant terms from your strategy. This allows more accurate audience reach as well as reduced ad spend due to more precise matching.
3. Segment Your Campaigns
For data-driven PPC advertisers, segmenting campaigns into ad groups will allow you to make more intelligent optimization decisions. Segmentation lets marketers focus their message on different groups, which enables the collection of targeted metrics. Through a more segmented audience, you can tailor the message and receiver.
4. Use Ad Extensions
With ad extensions, you can add additional pieces of information about your business, including phone number, address, or a particular link. These free-to-add options can increase the visibility and utility of your ads.
5. Follow Ad Writing Best Practices
Strong, relevant copy is vital to the success of any PPC campaign. As you optimize your Microsoft AdCenter content, keep these best practices in mind:
Underscore the audience's primary pain point: By speaking toward your audience's primary pain point, you not only establish how you can solve their pain; you also establish that you understand their pain. This builds trust and connection between the advertiser and consumer.
Incorporate numbers or statistics: Historically, numbers work to grab reader attention. This was true long before the internet and will continue to be true as the internet evolves.
Utilize emotional triggers: It's no secret that people react to emotional triggers. When you harness the power of emotion in your ads, you can almost guarantee a reaction from your audience. Check out how this law firm used emotion to advertise its services:

6. Adjust Audience Type
Microsoft Ads provides users with several different types of audiences to use to ensure your ads reach the right group. You can adjust the type of audience to optimize your campaign and improve your reach.
7. Experiment With Dynamic Search Ads
These ads will automatically target relevant search queries formed from your website content. The ads are then dynamically created to react to those custom queries, reducing workload and increasing audience reach.
8. Use the Microsoft Audience Network
This audience marketing solution draws on Microsoft's artificial intelligence (AI) to better target your ideal audience. Be sure to take advantage of this Microsoft-exclusive offering, as it can drastically boost ad performance.
9. Use Universal Event Tracking (UET)
Yet another Microsoft-exclusive solution, you can use UET to view customer behavior after they interact with your ad. By placing a UET tag across your website, Microsoft gathers data that tracks goals and audiences with remarketing lists.
10. Set up Conversion Tracking
By setting up conversion tracking in Microsoft AdCenter, the platform matches you with relevant searchers across the Microsoft network. Conversion tracking also provides tools to optimize your campaigns for success.
Measuring the Success of Your Microsoft AdCenter Campaign
You've optimized your campaign throughout its lifespan, and now you want to know if it should be deemed a success or a failure.
Below, we break down three key metrics that will highlight your campaign's overall performance.
Click-Through Rate (CTR)
This metric is key to understanding whether your ads are relevant to your customers. CTR is determined by dividing the number of clicks your ad receives by the number of times your ad is shown.
Conversion Rate
Strong conversion rates indicate that what you spend on clicks is returning to you in profits. This metric is calculated by dividing the number of conversions by the number of total ad interactions tracked to a conversion in a given time period.
Cost Per Conversion
If you're overpaying for conversions, it's time to go back to the drawing board. This metric is determined by dividing the total cost for clicks by the number of conversions.
These three metrics provide a strong, foundational assessment of your campaign's performance. While you can get lost in the intricacies of data, these figures always provide a clear result.
Examples of Great Microsoft AdCenter Campaigns
Although Microsoft AdCenter is filled with examples of great PPC advertising, here are three excellent PPC ads that used a unique feature of the platform for a successful campaign.
Maybelline
Maybelline uses a detailed breakdown in their paid listing to allow searchers to find exactly what they need. By segmenting by eyes, lips, mascara, and face makeup, the beauty company increases the likelihood that the searcher with clear intent will readily find what they need.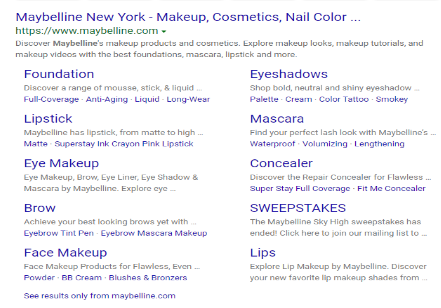 From You Flowers
These product ads rely on visuals to interest the searcher. By placing product images, pricing, and information along the side of the page, searchers have all the information they need instantly.
Papa John's
Ad extensions can go a long way for PPC ads. Pizza vendor Papa John's made their listing as informative as possible, while also touting their success and visibility by sharing the number of monthly site visitors. This strategy not only provides helpful information like deals and pizza type options, but it also increases consumer trust through the sheer number of social visitors.

While all three of these ads use extensions in very different ways, they bring more texture to the search engine results page (SERP), engaging the audience through images, increasing the immediacy of search success, and building consumer trust.
Conclusion
While both Google Ads and Microsoft AdCenter offer similar functionality, the options to optimize in Microsoft AdCenter are completely different.
Be sure to take advantage of Microsoft's unique offerings and optimize your content and strategy through the Microsoft lens, ensuring that you get the most bang out of your advertising buck.
As you become more familiar with Microsoft AdCenter's features, you could see your success rate rise as you optimize for target audience reach.
If you're ready to find an agency partner to help you kickstart your paid campaign on Microsoft's ad platform, let us know!
What's the best Microsoft AdCenter campaign you've ever seen?
See How My Agency Can Drive Massive Amounts of Traffic to Your Website
Content Marketing – our team creates epic content that will get shared, get links, and attract traffic.
Paid Media – effective paid strategies with clear ROI.
How SEO Works in Digital Marketing
Search engine optimization (SEO) is an integral part of digital marketing.
SEO helps with brand discoverability. When done right, SEO can create the most consistent and by far the highest-quality traffic source which doesn't require on-going maintenance.
Yet, SEO is usually the most isolated part of the marketing. Whether it is an in-house team or a third-party service that's delivering your SEO campaigns, it usually exists on its own without really communicating goals, progress or results to the whole company.
This creates silos that can lead to poor results and even reputation crises.
How does SEO work in digital marketing and how can a business make it work better?
What is SEO?
SEO is a collection of tactics (content, technical, link building, even website security and usability) that ensures that your website is easy to understand for search engines.
Basically, it ensures a machine knows that your page will be easy to find to a human being who is looking to solve a related problem.
Search engine traffic is one of the highest-quality traffic for many reasons:
Unlike PPC (paid) traffic, it doesn't require an ongoing investment to keep coming
Unlike social media traffic, it doesn't require an ongoing work to keep coming
Unlike social media traffic, you are not interrupting people's browsing. Instead you give them what they were actually searching for.
In other words, it is consistent and it converts well. No other digital marketing tactic beats that.
Apart from driving direct traffic, search engine optimization helps build brand awareness by increasing your brand's organic findability.
Keep Your Whole Team Aware of Why SEO is Important
The great thing about today is that everyone understands the value of ranking high on Google! Sadly, however, many folks only know that they "need SEO" without having really understood what that means.
SEO these days is too hard for a digital marketer to do alone. Many SEOs find themselves in situations where an executive will simply come down and go "Why are we not ranking well for 'dingwobble'?"
Keep working hard with teams for them to understand how they contribute to the SEO process:
Product Marketers who are responsible for the business, personas and messaging understand that SEO is critical to driving the bottom line revenue numbers they are looking at. Part of the persona developing process should be the development of the "digital persona" – what websites and search terms are these people looking for? This helps the product marketer when it comes time to develop messaging, as that is going to be critical for developing the content, so the right search terms better be there!
Field Marketers responsible for the campaigns need to know how SEO fits within their campaign, how it in fact is core to our demand generation, and how to make sure to keep the campaigns integrated.
Marketing Communications is creating the content, so SEO should very well be top of mind for them, as the content itself will be critical in impacting how successful SEO will be.
But that's not all! Often, other groups are creating content (Press Releases, Blog Posts, Presentations, etc.) that also end up on the web and impact SEO. Whether it's Corporate Communications, Investor Relations or even Legal teams, working with them is critical.
IT manages the infrastructure and can be very critical to the technical aspects of SEO.
Sales and customer support teams are at the forefront of marketing talking to your future and current customers, so they need to be involved in the SEO strategy. Creating relevant content goes beyond keywords. It needs to address real problems and answer actual people's questions, and your client-facing teams will be your best source of inspiration here.
Executives also care! While they can't often influence the day-to-day of SEO, they will care a lot about the bottom line, to which SEO contributes.
Educating all of these people about SEO helps empower them, as well as position yourself, the SEO, as the subject matter expert who is not just someone back-office who gives very little visibility into the black box of SEO, but someone who is actively educating and contributing to the organization's success.
Review and discuss common KPIs early and often to make sure everyone knows what victory looks like to the team.
Additionally, SEO should be a solid part of any project launch as it impacts every stage of product positioning. From choosing a business name to choosing a website builder, your initial efforts should be driven by SEO best practices.
What is the key to SEO success in a constantly changing environment?
As a practitioner of SEO, I believe that you need to look to ensure you are looking at both developing yourself in both depth and breadth of knowledge. A key danger in the name of being informed or being a part of the SEO community is spending all your time debating tactics and practices rather than testing them.
Additionally, SEOs as with all employees need to look outside their field to stretch and learn how to be more well rounded. This could mean learning to code, or educating yourself in some other area of the business you work for. This will expose you to ideas others may not have.
As a manager of people, success is really about diversity of expertise. Who you hire and the kind of people you hire will be far more valuable than much of what people invest in with regards to SEO programs. You have to have people who can roll with the punches and develop a skill for self-management and personal growth.
Finally, I think knowing what your real goals are in having an SEO program are the key to long term success. The reality is you may get more traffic, but if that traffic is not from qualified leads and generates real revenue then the benefit may be very little. Having well defined goals and metrics will also help you avoid chasing algorithm changes and focus on the big picture.
Conclusion
SEO is the most essential long-term digital marketing strategy but to make it really effective, you need a knowledge team that is well-integrated into the company's life. Good luck!
Ann Smarty
Ann Smarty is the brand NINJA at Internet Marketing Ninjas as well as the founder of numerous startups including MyBlogGuest, MyBlogU, ViralContentBee, TwChat and many more.
Ann Smarty has been an online marketing consultant for 10 years providing high-quality digital marketing consulting through her services and courses (both free and paid).
Ann Smarty's content marketing ideas have been featured in NYtimes, Mashable, Entrepreneur, Search Engine Land and many more. She is known for her indepth tool reviews, innovative content marketing advice and actionable digital marketing ideas.
Source: Ann Smarty
3 Effective Ways to Quickly Identify Your SaaS Brand's Top SEO Competitors
The author's views are entirely his or her own (excluding the unlikely event of hypnosis) and may not always reflect the views of Moz.
There are over 22,600 software-as-a-service (SaaS) companies in the world right now, according to Crunchbase.
On Capterra, there are more than 800 software categories.
Research by Statista indicates that the market size of the SaaS industry has grown from $5.56 billion in 2008 to over $156 billion in 2020.
What do these figures show? It's simple. The SaaS industry landscape is becoming more competitive by the day.
To stay on top of your game as a SaaS business, you must identify the companies you're competing with from an SEO standpoint. That way, you'll know the content strategies to focus on, the keywords to target, and the type of backlinks to acquire. In this post, you'll learn three effective ways to do this quickly.
Why care about your SEO competitors as a SaaS brand?
If you don't know your SEO competitors, you're leaving so much on the table, while they occupy the top spots on the SERPs.
1. You can identify the top keywords they're targeting and how they're acquiring backlinks to help your own strategies.
By identifying the companies competing against your SaaS brand, you'll know the top keywords they're targeting. That way, you can focus on those keywords that can generate qualified traffic and drive user signups for your SaaS. This streamlines your keyword research process.
Knowing your top SEO competitors is also a great way to perform a link gap analysis. That way, you can know the type of backlinks they're acquiring and where they're getting them from. This helps you to identify relevant websites that are more likely to link to you.
2. You can figure out the competitive edge you have over them
If you don't know who your top competitors are, you won't be able to find the SEO opportunities to focus on to drive growth for your business.
Take, for instance, if they focus more on high-volume, top-of-the-funnel keywords. If you then go after middle- and bottom-funnel keywords, it could give you a competitive edge.
3. You can understand their biggest drivers of growth and conversion.
Most SaaS companies optimize their blog posts, landing pages, and product pages for conversions. This is because they measure growth by the number of signups and paying customers that they have.
By identifying your SEO competitors, you can know the kind of CTAs and buttons that work well in your niche. That way, you'll have a better understanding of the conversion strategies that can drive growth for your SaaS business.
Three ways to identify the SEO competitors of your SaaS brand
Here are three tactics you can try today to identify your SaaS brand's top SEO competitors.
1. Use SEO tools
SEO tools have access to large amounts of data for different websites and niches — and they've analyzed and categorized this information for your own use.
For example, SEMrush has the Market Explorer tool, which helps you to find potential competitors for your business. Ahrefs also has a competing domains report in the Site Explorer tool. This helps you to identify the websites competing with your SaaS, based on the kind of keywords you're ranking for.
You can also use the Moz Pro True Competitor tool to identify the top SEO competitors for your SaaS brand. Here's how it works: Let's say you want to identify the top SEO competitors of Moz. With this tool, you can find that information within a few seconds.
The first thing you need to do is enter the following details in the tool:
Preferred market: The specific location you're targeting
Domain type: The type of domain
Domain name: Your website URL
Once you enter this information and hit the "Find Competitors" button, you'll get a list of top 25 competitors:
As you can see, websites competing with Moz on the SERPs aren't limited to software brands alone. They include others such as:
Search Engine Journal
Hubspot
Search Engine Land
Wordstream
Backlinko.
This tool also has the Overlap and Rivalry metrics, to filter your top competitors.
The Overlap metric filters your top competitors based on the shared keywords you both rank for on the first page of Google. The Rivalry metric uses factors like CTR, DA score, the volume of shared keywords, etc. to identify the most relevant competitors for your SaaS.
After identifying your top SEO competitors, you can perform an in-depth analysis of at most 2 of them, to know the keywords they're targeting.
2. Survey or interview your new and existing customers
If someone signs up for your SaaS product, chances are that they've demoed or tried out other options before deciding to go with yours. It's also possible that they've just churned from one of your competitors to become a customer.
This shows that they have an idea of who your direct and indirect competitors are. To get this information, all you need to do is reach out and interview them one after the other. This could be by talking to them via a quick call, sending a short survey for them to fill out, or asking them during the onboarding process.
Here are some questions you can ask customers to identify your top competitors:
What tools were you using to [solve X problem] before trying out our product?
If you've never used any tool before, how were you able to solve this problem before now?
What made you interested in trying out our product?
When did you realize that a tool​ like ours is what you need right now?
How much research did you do to decide on our product? What are some other, similar tools you discovered during the research process?
3. Perform a Google search targeting your SaaS use cases and features
Performing a Google search for the use cases, features, and problems your software solves is a great way to identify your top SEO competitors. This is effective because most companies ranking high on Google are investing in SEO.
Use the "related:website" advanced search feature
This search operator shows you other websites related to the one you search for on Google.
Let's say you want to find websites like salesforce.com. You can search for "related:salesforce.com" on Google. The results on page one are some of SalesForce's top SERP competitors:
Search for the use cases of your software
If your software helps SaaS companies onboard and activate new users, one of your core use cases is "user onboarding".
If you search "user onboarding software" on Google, you'll unlock competitors who are either bidding for or ranking organically for the keyword.
Some of the websites targeting this use case on Google include:
Appcues
Userpilot
Apty
Userflow
Aside from that, there are SaaS brands paying to rank on the first page of Google for this keyword.
Search for your SaaS features
One of the core features of the Moz tool is the "rank tracking" feature. To identify the websites that have a similar feature, you can input that keyword on the Google search bar.
Here's the result it returns:
As you can see, aside from Moz, other competing websites for this feature include:
Link-Assistant
Ahrefs
Rank Tracker
Spyfu
SEMrush
Search for your SaaS jobs-to-be-done (JTBD)
Let's say you run an online video editing software, one of the problems that your audience most likely have is "how to add an image to video".
By performing a Google search for this query, you'll see a result that looks like this:
This shows that some of the top SEO competitors in the online video editing space include:
Kapwing
Veed
Online Video Cutter
Flixier
Movavi
Conclusion
If you don't know the SaaS companies you're competing with, they'll leave you behind and dominate your niche.
In this post, you've learned three effective ways to identify your top SEO competitors as a SaaS brand:
You can use an SEO software such as the Moz True Competitor tool to find your competitors and know the keywords they're targeting.
You can reach out to new and existing customers, to find out the solutions they're comparing you with.
You can search Google for your SaaS product's features and use cases. This shows you the companies likely competing with your brand on the SERPs.
Ever tried any of these tactics before? Kindly share which of them worked really well for your SaaS brand in the Q&A.
Source: AbdulGaniy Shehu
Picking SEO Keywords: An Expert's Guide
If you don't tell that rocket which direction to head (the moon or Mars?), you're stuck crossing your fingers and hoping things work out. That's not good marketing. Good marketing comes with predictability, data, and then some crossed fingers.
And that's the perfect way to describe search engine optimization, SEO, in 2022.
SEO is part of the search engine algorithm:
Input = Keywords
Output = Content
For every keyword, there are thousands of pages of search results and plenty of content to choose from (outputs). But, page 1,000 isn't nearly as useful as page 1. Even page 2 of search results can feel like no man's land.
That's why marketers care about SEO. Because all search engine pages are not equal. The power of ranking top 3 on page 1 of a search engine beats out ranking first on page 2 by 100x (honestly, maybe even 1,000x). 
How do you land a coveted spot on page 1 of the search results?
By picking the right SEO keywords through these three steps.
3 Steps SEO Experts Use to Pick Keywords
SEO has been around long enough that you don't need to reinvent the wheel. A new, innovative, never-before-seen SEO strategy that takes you months to implement and even longer to see results is the opposite of what SEO experts are doing.
The SEO experts writing high-quality content, landing on page 1 for relevant searches, and seeing results from their content are the ones following this tried-and-true SEO strategy.
#1: Ideate Keywords
There are two types of advertising: interruption-based and intent-based. Interruption-based advertising is an ad on your social media newsfeed. It's the ads between paragraphs on the news article you're trying to read. It's a search engine ad strategically placed before the organic results. This isn't your focus in organic SEO marketing, but this IS your focus in paid SEO advertising.
In SEO marketing, you're focused on intent-based advertising. When somebody chooses to search for an answer to their question—that's intent-based advertising. A search for "olive green cotton blanket" is an example of intent-based advertising.
And the search engine results are a mix of interruption (paid ads) and intent-based advertising (organic results).
When you're ideating keywords for your products and brand, you're looking at intent-based words. These are the words somebody needs to use to find your products or brand. For DigitalMarketer, these are words like:
Digital marketing training
Digital marketing help
Content marketing training
Copywriting training
These keywords correlate directly to our products. They teach people how to be great digital marketers, either for their own company, their full-time marketing role, marketing consultancy, or their agency clients.
Your customer avatar asks specific questions and uses certain words to describe to search engines what content they want output. Use these questions to make a list of 20+ keywords you could rank for:
What questions do your customers ask surrounding your products or brand?
What single words would your customers use to describe your product or brand?
What phrases would your customers use to describe your product or brand?
These questions will give you a page full of keywords and keyword phrases (several words used in a search query) that you want to rank for.
Once you have those keywords, go to AnswerThePublic.com and automatically generate a list of questions people have asked search engines related to those keywords. See if there are any other keywords or keyword phrases you missed—and take notes of the questions people are asking. Those questions will be the topics of your content.
For example, if we see people asking "how to pick SEO keywords," our team knows that content on picking SEO keywords is a great addition to our online library. You don't want to chase every keyword that looks like a great piece of content, though.
First, you need to research the best keywords to see which are worth spending your time on.
#2: Research the Best Keywords
With your list of keywords and keyword phrases (which should be looooooooong by now), you're set up to figure out which keywords to put your focus on. Unlike your pets, you're allowed to play favorites here. You don't want to choose keywords that are highly saturated and difficult to rank for. You also want to avoid the keywords that will only capture a minuscule part of your audience (at least, at first).
Time to bring in more help from our robot friends. Research the best keywords with tools like Google Keyword Planner, SEMRush, Ahrefs, and seriously, there are so many other awesome SEO tools out there.
Here's what keyword research for "running shoes" looks like in SEMRush:
A few things to take note of to compare your keywords/phrases and see which are the best option:
Volume is key to understanding if this keyword is worth creating content on or if it's better to choose something with a higher search volume.
The keyword difficulty score shows you how hard it will be to organically rank for that keyword (good luck on getting on page 1 for running shoes!).
Use Keyword Variations to figure out if there are other keywords you can try to rank for that are similar but less competitive.
You can also use tools like Google Trends to see which times of the year certain searches spike. For example, the keyword phrase "plants for desk" had its highest search volume between July 27th and July 3rd. From October to the end of November, it has the lowest search volume.
This data can tell you what time is the best to push interruption-based search paid ads—and if there's specific content you can create around the seasons or months where you see these spikes.
Once you know which keywords you're going all-in on, it's time for a quick chat with your finance team.
#3: Check Bid Estimates (For Paid Advertising)
If you're not putting money behind your SEO strategy and aiming to get organic traffic through high-ranking content, skip to the next section. If you're looking to put your ad budget towards SEO, keep reading.
Once you've narrowed down the keywords to prioritize based on factors like search volume and difficulty score, it's time to run your keywords through their last filter: cost. Every keyword comes at a different cost to win the ad auction. The ad auction is how Google determines which ad trying to rank for the same keyword wins an ad placement depending on the user.
Your Bid: This is your maximum budget for an ad click.
Ad Quality: Google won't show your ad to everybody searching for your keyword—they'll show it to the people most likely to click based on past behavior and data they have on the user.
Extensions and Ad Formats: Google likes when you use extensions, like phone number and other links, as well as the other ad formats you've chosen and can boost you in the auction for a lower price.
Understanding how the auction works is necessary to figuring out how much you can afford to spend on ads and what your expected ROI should be. For example, in the SEMRush example for the search "running shoes" the cost-per-click is estimated to be $0.84. This tells you that if you want 10 clicks on your ad per day, you need a minimum $8.40 budget. Of course these numbers are a lot smaller than what you'll really be working with, but this gives you an idea of how to figure out your SEO budget.
This is why Step 3 is so important. If your SEO budget is $100 per day, you don't want to splurge on keywords with a cost-per-click of $10 each (unless you're certain they'll lead to conversions!). Instead, you want to create a broader strategy that encompasses several keywords and keyword phrases that make up your $100 per day budget.
You can use Google Keyword Planner to get suggested bid amounts per keyword: 
You have your keywords, researched and ready to go. There's only one more thing left to do.
What Do You Do After Picking SEO Keywords?
After you've chosen your SEO keywords, it's time to create the content and ads. There are 3 types of content and ads to create:
Top-of-funnel content
Middle-of-funnel content
Bottom-of-funnel content
Top-of-Funnel Content and Ads
When your customer avatar is first introduced to your brand, show them top-of-funnel content (TOFU). Think of this content as the getting to know you phase relationships (professional, family, friends, or even with your pets!). Every relationship goes through a stage of learning more about someone's goals, values, and challenges. Your customer avatar wants to know who your brand is, what your goals are, and if your values align with theirs. They're also looking to see if you understand their challenges.
Here's an example of TOFU at DigitalMarketer: What is Digital Marketing? In this article, we're introducing the reader to digital marketing which means we're not trying to turn them into a customer just yet. It's not the right time.
And the same applies to paid ads. You're looking to educate at the top-of-the-funnel. Check out how these productivity apps use the limited amount of space on their ad to educate Google users about their productivity app.
Middle-of-funnel content and ads take things a step further.
Middle-of-Funnel Content and Ads
Middle-of-funnel content (MOFU) and ads are still educating the reader, but they're *really* hinting at the product. The productivity apps above had to talk about their product in their TOFU content (they didn't have another choice), but there's a difference between their TOFU content and their MOFU content.
At the MOFU level, they're flaunting their features and actively talking about why the competition isn't the best option. An example of our MOFU content is this Ultimate Guide to Digital Marketing. This guide is LONG, and anybody reading it clearly trusts us as their teacher. This content is designed to build a stronger relationship with this lead and get them to give us their email address (so we can send them even more valuable content).
Notice the "Download as PDF" button? If you click that, a pop-up form appears asking for your First name, last name, email address AND two questions:
Are you an agency or marketing consultant?
Do you manage a sales and/or marketing team?
These two questions help us tag our email subscribers so we know which content, products, and offers are best suited for them. We can build out specific funnels based on their responses and get first-party data that we can continue using in the future (take that iOS 14!).
Bottom-of-Funnel Content and Ads
Bottom-of-funnel content (BOFU) and ads have a direct call-to-action to join, buy, or sign-up. There isn't any fluff. Think of this as a sales page—there's only one action to take on that page and it involves contact information or a credit card.
For the search, "mailchimp vs. constant contact vs. sendinblue," Constant Contact created a BOFU ad. How can you tell?
They're giving you a special offer to sign up now
They're promoting their 60-day full access, free trial
Their link extensions are promoting product features
BOFU content cuts straight to the chase.
Every great SEO strategy involves these 3 types of content. 
You're Ready to Pick Your SEO Keywords
You don't have to classify yourself as an expert before you choose your keywords. You finished this article which means—you're ready. You have the 3 steps to follow:
Ideate Keywords
Research the Best Keywords
Check Bid Estimates (For Paid Advertising)
And you know what to do after you've chosen them (create TOFU, MOFU, and BOFU content and ads). The only thing left to do is put what you've learned into practice. Remember that every SEO marketer started where you were, unsure how to use the Google ads platform and scared they'll run through their marketing budget without an ROI.
Just like we're not telling you to put your entire life savings into Gamestop stock, putting your entire ad budget into your first SEO strategy is the wrong move. Take a percentage of that budget and start testing out ads, seeing their CTR, and how much each keyword or keyword phrase costs.
Build up from there. If you take this route, you'll feel comfortable enough with your SEO strategy to add another story on top of it, and another in the future, and eventually you'll have a solid building on your hands. That's when you'll look back at yourself reading this article and think—wow, that was just the beginning.

Source: DigitalMarketer
Entireweb Articles – Read the latest Articles and News in Search Engine related world!