How to Target Millennials Through Paid Ads
Millennials are something of a mythical bunch in society. Much is said about their behaviors and preferences, yet many of the stories seem to contradict. Even narrowing down what age group millennials represent is challenging, and many people have differing views.
This confusing picture makes it challenging to target millennials through paid ads, but don't let it put you off. Let's look at who millennials are and how you can use that data to create targeted ads that will convince them to convert.
When Were Millennials Born?
Millennials are defined as "people reaching young adulthood in the early 21st century." The Pew Research Center further defines the group as those born between 1981 and 1996, though that time period has shifted over time.
Millennials are now the most populous group in the US, making up 21.97 percent of the population, and this trend is set to continue well into the 2050s.
This makes understanding millennials crucial to creating paid ads that actually drive revenue.
What Makes Millennials Unique?
One of the key things that make millennials unique is their relationship with technology.
Millennials were born into a world where modern technology hadn't yet taken hold in daily life like it has today. However, they did grow up in an age where technology was transforming the way we live, so they aren't new to it.
Generation X adapted to digital technology as adults, and Generation Z have never known life without the smartphone or super-fast internet, but millennials have a foot in both worlds.
The rapid shift to a digital world means millennials' lives have followed a different path to those generations before and after them. This has influenced them in many different ways.
Of course, it's hard to ascribe common characteristics to such a diverse group, but some traits seem to be common in this generation, including:
connected
tech-savvy
curious
in need of instant gratification
collaborative
seek transparency
crave authenticity
care about diversity and sustainability
Keep in mind; this is just a rough picture of millennials. There are still individual people with unique politics, education levels, likes, and dislikes. However, these insights need to inform your paid ad strategy.
Why You Should Target Millennials Through Paid Ads
If you successfully target millennials through paid ads, you'll engage 21.97 percent of the US population and 2 billion people worldwide. While millennials are more receptive to certain products, this is a huge market for virtually any business.
However, millennials pose several challenges to marketers. First, it is a large, diverse group, and secondly, they're so accustomed to advertising that some think they've become immune to it.
Nobody is immune to advertising, and millennials click paid ads every day. The trick is finding the right strategy.
It starts with understanding your target audience. If your product doesn't solve the problems millennials have or fit their view of the world, then this group shouldn't be your primary target.
For example, businesses that provide traditional weddings and razor blade manufacturers have a notoriously difficult time advertising to millennials. This isn't because this generation is immune to advertising, it's because the products aren't as closely aligned to the people's wants and needs (think of the proliferation of beards in society today versus 20 years ago).
Instead, it's businesses in travel, tech, fast food, and other sectors where the products match millennials' specific pain points that are finding success.
If millennials are a key part of your target audience, then paid advertising is an effective option, because it allows you to reach these people where they're "hanging out." Ninety percent of millennials are on Facebook, making it exceptionally easy to reach these people with your message.
A key part of marketing is getting your message seen, and millennials give you ample chances to do this.
6 Strategies for Targeting Millennials Through Paid Ads
To successfully target millennials through paid ads, you have to remember this group is very tech-savvy, and they've grown up with online advertising.
They see through the cheap gimmicks and aren't coerced into clicking for no reason. Therefore, you should focus on offering genuine value. The strategies you use to target millennials through paid ads must add to the experience, rather than just serving your own purposes.
Here's a few ways to successfully target millennials with paid ads.
1. Run Ads on the Social Media Platforms Millennials Use the Most
The good thing about millennials is they are easy to reach. A huge percentage are active on social media, but to make the most of this, we need to understand what platforms millennials are using.
In the past, this was pretty easy. People had Facebook, Twitter, and maybe Instagram. There weren't many other popular options. Today there are dozens of social media platforms, with new ones popping up every day.
Let's look at what percentage of millennials use some of the most popular platforms weekly:
Facebook: 87 percent
Twitter: 42 percent
Instagram: 71 percent
Snapchat: 52 percent
YouTube: 86 percent
Pinterest: 42 percent
Additionally, LinkedIn's audience is 38 percent millennials aside from these platforms, and 19 percent of millennials are using TikTok.
There are plenty of opportunities out there to target millennials through paid ads. The ability to reach this group isn't difficult; the tricky part is getting your medium and message right.
These platforms rely on marketing revenues though, so they're constantly innovating and finding new ways for advertisers to engage their users. For example, Pinterest Story Pins, or Instagram filters let you offer the experience millennials are looking for.
2. Create Paid Ads That Appeal to Millennial Values
Many studies point to millennials closely held values, and three that are commonly referenced are personal responsibility, diversity, and sustainability.
It's no surprise, given that millennials make up such a large percentage of the population that these values are being highlighted more in advertising. We often see ads that reference issues that are close to millennials' hearts, such as climate change and equality.
If your brand is active in these issues, then this is something you should be highlighting in your advertising.
Take Allbirds shoes. they entered the highly-saturated shoe market in 2015, where they faced huge competition. Through a highly-effective advertising campaign that played on their shoes' sustainable credentials, sales have exploded, and today the company is worth $1.4 billion.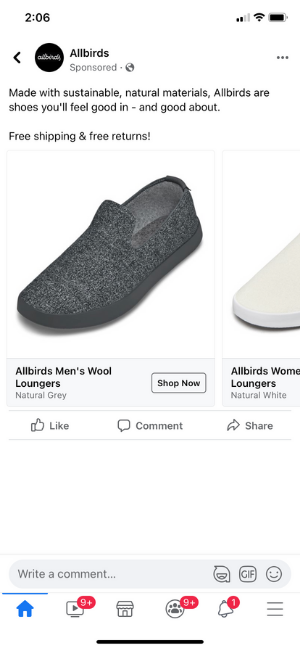 There's no crazy marketing strategy, it's just clear messaging that hits on people's (millennial's) values.
3. Be Upfront and Honest in Your Paid Ads Targeting Millennials
Millennials grew up in the digital age, and for the most part, they've seen all the tricks. They're used to gimmicky advertising tricks to get their attention, and they learned to filter these out.
What cuts through the noise with millennials (and this is closely related to their values) is being honest and upfront with your advertising. This group knows if something sounds too good to be true, then it probably is, so there's no point in over-promising and under-delivering.
This ties in with creating paid ads that appeal to millennials' values; if you're not serious about sustainability, or equality, or whatever it might be, then millennials are more likely to hold you to account.
This group grew up in a world of big (often faceless) corporations, but thanks to technology, they have a chance to see behind the branding and see the values behind a company. This can be a great opportunity for your advertising, but it's got to be done in a clear, honest way.
For example, Allbirds doesn't just use convenient slogans about sustainability in their paid ads. It's a theme that's central to its entire customer journey, and it delivers on its promises.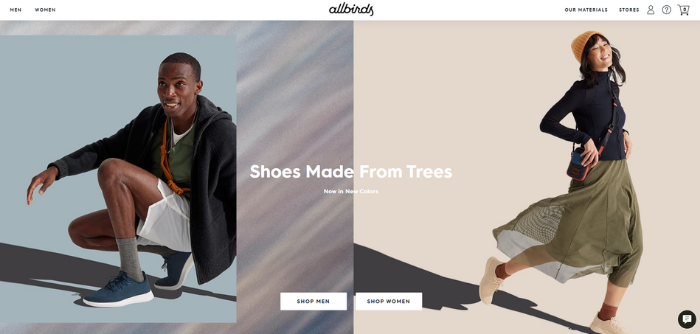 4. Create Funny Paid Ads to Target Millennials
Fifty-five percent of 13 to 35-year-olds send memes every week, and 30 percent do so daily. That's a lot of memes!
Humor plays a huge role in millennial culture, and it's something you can use in your paid ads. Funny ads are nothing new; just take a look back at some of the classic TV ads, but for some brands keep things very straightlaced online.
When used in content and ads, memes can have many benefits:
They allow you to be creative.
It's an easy way to show your brand's personality.
They increase engagement.
They're easy to use.
They are shareable.
People enjoy humor, and there's certainly a place for it when you target millennials through paid ads. Just make sure your ads reflect the values of your business and resonate with your target audience. Otherwise, it can backfire.
5. Take Your Cue From Millennial Trends
The boozy brunch, avocado toast, and emojis are just some of the reported millennial trends in recent years. When 21.97 percent of the population enthusiastically gets behind something, you can bet it's a factor to target with your marketing.
If you keep seeing something crop up in popular culture, then check it on Google Trends and see if it's worth factoring into your marketing.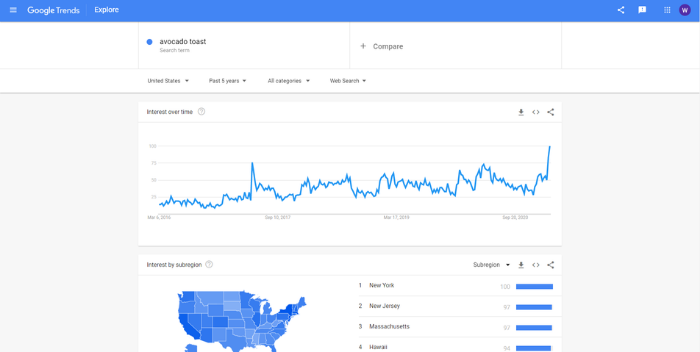 Remember that millennials are cynical consumers of advertising, so if it's a reach to link your products to the trend, it's probably best to leave it alone rather than look like you're just trying too hard.
6. Ask the Millennials in Your Office for Help
One of the best ways to learn about your target audience is simply to ask them questions. Millennials now make up the largest proportion of the workforce, so there are bound to be some in your office.
Obviously, your co-workers have jobs to do, but it won't hurt to run a few ideas by them. Millennials are a very diverse group, so they won't be able to speak for everyone, but they might be able to give you some ideas about what works and what doesn't with this generation.
Examples of Paid Ads Targeting Millennials
Brands are always trying to reach millennials through paid advertising, so there are lots of examples, some of which have had tremendous success, and others that are best forgotten. Let's take a look at the best and the worst of the bunch.
The Good
Here are a few ads that nailed millennial marketing.
NFL and McDonald's: Bad Lip Reading
This is a great example of brands capitalizing on millennial trends in a positive way.
In 2013, a series of YouTube videos found huge success by taking video footage of normal events and overlaying them with "bad lip reading." One of the most successful videos was "The NFL: A Bad Lip Reading," which has over 72 million views.
Rather than take offense at the light-hearted fun, the NFL embraced the trend and teamed up with McDonald's to create their own version.
Airbnb: Belong Anywhere
Airbnb was founded in 2008 and was valued at over $100 billion when it went public in 2020. Part of its success has been a product that is closely aligned with the values of millennials, and its advertising continues to capitalize on this.
Messages such as "Let's Keep Travelling Forward," and "We Accept" fit perfectly with the ideals millennials respond to, and this has helped bring the company great success.
The Bad
What does it look like when millennial marketing goes wrong? Here are a few ads that missed the mark.
McDonald's: Fish Fillet
It was widely accepted that McDonald's missed the mark with its fish fillet ad because it's seen as emotional manipulation.
Emotion is a big part of any ad, but it's got to be done in the right way. This ad just seems like McDonald's is using a child's grief to sell its sandwiches, and that's something millennials will see through.
Pepsi: Kendall Jenner Protest Ad
Millennials tend to feel a personal responsibility to make a positive change in the world, but brands that exploit that drive will suffer. For many people, this Pepsi ad featuring Kendall Jenner did just that.
Aired during a time of heightened tension around America, the ad seemed to trivialize the cause of the protests and struck the wrong chord with millennials.
Conclusion
Millennials are a diverse, tech-savvy group that were brought up with advertising, so it's no surprise that it takes some fine-tuning to get your targeting right.
When you take the time to understand millennials, discover what values they hold dear, the platforms they engage with, and the types of content they respond to, then you will find you can successfully advertise to this group.
For some businesses, millennials simply won't be part of their target market, but with this group making up over a fifth of the population, the majority of businesses are going to have to learn how to target them through paid ads.
Have you had success advertising to millennials?
See How My Agency Can Drive Massive Amounts of Traffic to Your Website
Content Marketing – our team creates epic content that will get shared, get links, and attract traffic.
Paid Media – effective paid strategies with clear ROI.
12 Tools and Resources for Software Developers in Insurance
If a developer designs a system for Big Data analysis or creates programs for processing and analyzing application data for mobile gadgets, in any case he cannot do without analytics tools and services. Big Data is understood as the basis of the business of insurance companies that depend on information, that is, probabilities, statistical data, customer information, and so on.
Today, for programmers whose responsibilities include insurance software development, many useful tools have been created that are suitable for their needs and corresponding to their skills.
TOP-12 tools for programmers of insurance companies

Every developer who works on coding for insurance products will need the following 12 "helpers":
BitDeli. It is a startup that has been operating since November 2021. With its help, programmers are able to analyze various data using a variety of metrics through Python scripts. An important plus of it is that the scripts can be of different levels of complexity, which will depend on the needs of the developers. They can even be self-taught. Suitable for analytics. The solution is easy to use.
Continuity. It is a platform that was created with the aim of pulling businesses to the same level as the companies of its creators – Yahoo and Facebook. The guys created a data structure to implement a new level of abstraction over complex connections in HBase and Hadoop. The main advantage of the platform is the facilitation of Big Data development processes for programs that are designed to work with external and internal audiences.
Flurry. This application is in the "store" format, which is intended for the creation of mobile programs, as well as for the analysis of their data. This allows the application to be improved.
Google Prediction API. Suitable for developers who have the necessary knowledge to work with the Prediction API. This interface will provide a wide range of diagrams and topics, and will also allow the application to give correct answers.
Infochimps. We are talking about a platform, despite the fact that the brand today is trying to become a company and become even more successful. As for the platform for the programmer, he gets the Wukong framework, which has a key task – to interact with Hadoop and its data, while using Ruby scripts.
Keen IO. In 2012, this tool was recognized as the best and most effective in its category, and it is used in analytics by mobile application developers. Its plus lies in its ease of use. You need to apply just one line, which is inserted into the source code to be able to track all the necessary information from the programs.
Kontagent. A tool for processing huge amounts of information.
Mortar Data. It is a cloud service that has managed to replace MapReduce with a combination of Python and Pig. It differs in simplicity and clarity in operation.
Placed Analytics. A tool that provides programmers with ready-made products. With its help, it is possible to obtain complete information about the use of the application by customers: where, when and how long it lasted. The data is especially useful for app owners and advertisers.
Precog. It is an interactive environment for developing insurance analytics products based on Quirrel, an open query language.
Spring for Apache Hadoop. A tool that greatly simplifies the creation of programs that use Hadoop, and also provides integration with other Spring applications.
StatsMix. It is a tool with which developers can collect and analyze data received from programs using only the languages they have learned.
Take a look at the Fireart site for more interesting and useful information. The main thing to remember is that analytics not only assesses the quality of traffic, looks for ways to increase conversion and reduces the cost of attracting customers, but also determines the most effective advertising channels, compiles portraits of visitors and their behavior patterns on sites, identifies site shortcomings up to technical errors.
Entireweb Articles – Read the latest Articles and News in Search Engine related world!
From Creation to Stellar ROI
Reaching the right customers with your Google Ads campaigns is critical to increase conversions. While it's possible that scattershot advertisements could catch the interest of Internet users, it's far more likely that this general ad approach will result in a disconnect between dollars spent and sales made.
To help ensure your ads are reaching the people in the right place, it's worth leveraging a function in the Google Display Network (GDN) known as affinity audiences. Using these audiences helps pinpoint customer segments that may be more likely to purchase your products, in turn driving more effective and efficient ad spend.
But what exactly is an affinity audience? How do they work, how can you create your own — and what can you expect once you dial in the ideal customer segment? Let's find out.
What are Affinity Audiences?
Affinity audiences are used by the Google Display Network to deliver your ads to relevant locations online. Given that Google's network reaches more than 90 percent of Internet users worldwide, it's well worth the time and effort to understand and apply these audiences at scale.
But what is an affinity audience?
Let's break the term down into its component parts. Audience is easy — it's the group of people that will see your ad. Affinity, meanwhile, is defined as "a feeling of closeness and understanding that someone has for another person because of their similar qualities, ideas, or interests." The result? An affinity audience is a group of potential customers that share similar interests or qualities (similar to a buyer persona).
Using affinity audiences allows your brand to better align ad campaigns to buyers who are interested in what you have to sell. For example, if you're in the coffee-making business but also have a focus on reducing plastic waste, your affinity audience might contain both people who love coffee and those who love the environment. Groups with both of these qualities are far more likely to buy your product than either group individually.
Affinity Targeting
Affinity targeting, meanwhile, is the process of identifying the ideal affinities that align with your product or service. Consider the coffee example above. While targeting buyers who love coffee helps improve your brand placement, it also puts you in direct competition with a host of other brands all producing similar products. Additional affinity modifiers that narrow your focus — such as sustainable growth processes, fair labor practices, or environmental priorities — can help set your brand apart.
Do note that it is possible to get too specific with your audience targeting. For example, if your coffee brand targets audiences that prefer beans from a specific region that are collected, packed, and shipped in a specific way, you may end up with a handful of very loyal customers but almost no broader appeal. As a result, targeting needs to narrow the focus without preventing you from reaching the greater public.
What are Custom Audiences?
GDN and the Google Ads platform contain a host of pre-built Google affinity audiences — also called segments — that you can use to focus your marketing and advertisements. These include everything from pet lovers to do-it-yourselfers, TV comedy fans and users with an interest in news and politics.
But they can't cover everything. You may have a product or service that doesn't dovetail with existing segments — here, custom affinity audiences can help.
Understanding Custom Affinity Audiences
Custom affinity audiences are those you create yourself in your Google Ads platform to align with the interests of your target customer base. While Google will suggest different potential segment tags depending on what you input, it's worth taking the time to do some market research before diving into the custom affinity process. This lets you pinpoint the audience preferences that align best with your brand.
You can create custom affinity audiences related to four criteria: Interests, URLs, places, or applications. In general, places and applications are the least useful of the bunch. Here's why. In our coffee example above, there aren't a lot of coffee-related applications that would set your audience apart. And while geography has some impact on buying behavior, it's usually not enough to justify an entire segment.
Interests and URLs, meanwhile, can help you dig down and identify potential affinity options that may be shared by your target market at large.
How to Create Affinity Audiences
Ready to create your own affinity audience? Follow these steps:
Log into your Google Ads account.
Select "Tools and Settings", then "Audience manager."
Select "Custom Segments."
Enter segment name and interests.
Save your new segment.
Let's tackle each step in more detail.
1. Log Into Your Google Ads Account
First, log into your Google Ads account. Here, you can see any active campaigns along with the associated affinity audiences.
2. Select "Tools and Settings", then "Audience Manager"
Next, head to "tools and settings" in the upper-right-hand corner and then find "Audience manager" in the drop-down menu.
3. Select "Custom Segments"
Now you'll see a list of any data segments you're currently using to target prospective buyers. To create an audience or segment, click on "Custom Segments" and then the blue "+" icon.
4. Enter Segment Name and Interests
Now, give your segment a name and add a few potential interests. For example, if you enter "coffee", Google will return interests or purchase intention ideas such as "coffees to make with an espresso machine", "how to make coffee with coffee beans" and "coffee makers that make different coffees."
5. Save Your New Segment
Finally, save your new segment with use for ad campaigns. You can create as many segments as you like until you've covered all relevant market bases.
The Impact of Effective Affinity Audiences
Ideally, affinity audiences lead to a definitive result: Increased ROI.
Here's why: When your ads are shown to audiences that are interested in what you're selling, they're more likely to click through and purchase your products. As a result, the money you spend on advertising is directly offset by the conversions driven by these ads, in turn creating positive ROI. More generic campaigns, meanwhile, may still increase overall sales but not enough to balance out the spend required to reach larger audiences.
The right audience makes all the difference. Targeted, customized affinity audiences help you reach the people that want to buy your products, in turn boosting conversions and making your overall ad spend more cost-effective. Custom affinity audiences further narrow your market targeting, increasing the likelihood of revenue and reducing the gap between what you spend on ads and what you get in return.
Entireweb Articles – Read the latest Articles and News in Search Engine related world!
The HubSpot Blog's 2022 Social Media Marketing Report: Data from 310 Marketers
In our recent Marketing Trends survey, we learned that social media is the most effective channel marketers leverage, as well as the channel they use most.
Entireweb Articles – Read the latest Articles and News in Search Engine related world!