How Google's Search Engine Really Works (A Peek Under The Hood)
Google's search engine is technically complex.
There are hundreds (maybe even thousands) of different factors taken into account so that the search engine can figure out what should go where.
It's like a mysterious black box, and very few people know exactly what's inside.
However, the good news is that search engines are actually pretty easy to understand.
We may not know every single factor (out of a hundred or thousand), but we also don't need to.
I'll bring it down to the basics with a simple method to please Google, rank higher, and bring in more website traffic.
I'll also introduce some of the latest developments, like RankBrain, that help Google guess what you're actually looking for (even if you don't type it in).
First, I'm going to walk you through exactly how Google's search engine really works so that you can see that it's not as difficult to understand as you might think.
How Do Search Engines Crawl the Web?
Google's first job is to 'crawl' the web with 'spiders.'
These are little automated programs or bots that scour the net for any and all new information.
The spiders take notes on your website, from the titles you use to the text on each page to learn more about who you are, what you do, and who might be interested in finding you.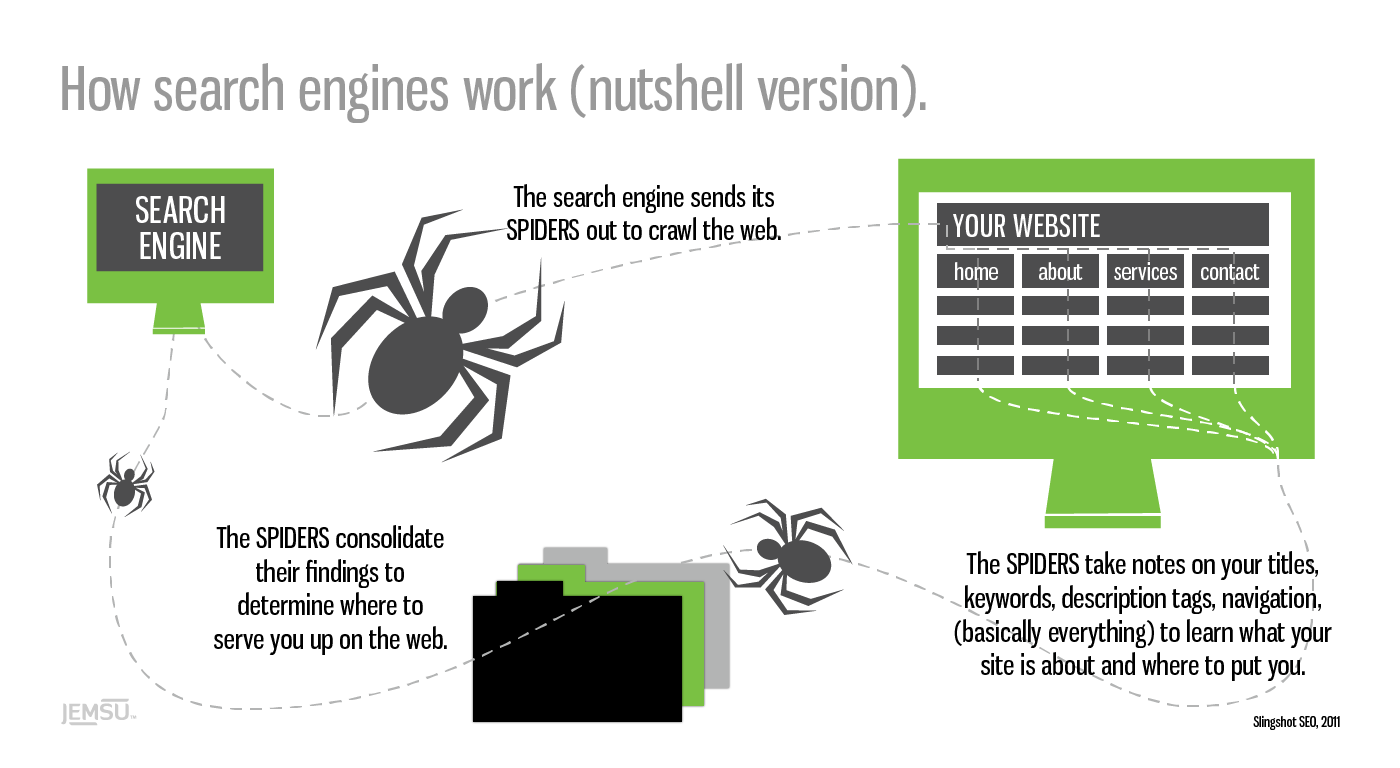 That may sound simplistic on the face of it.
Which is no small feat, considering there are more than 1.8 billion websites online today — with thousands of new sites popping up every day.
The first massive challenge is to locate new data, record what it's about, and then store that information (with some accuracy) in a database.
Google's next job is to figure out how to best match and display the information in its database when someone types in a search query. Scaling becomes a problem, though.
Google processes over 3.5 billion searches a day, and that number increases every year.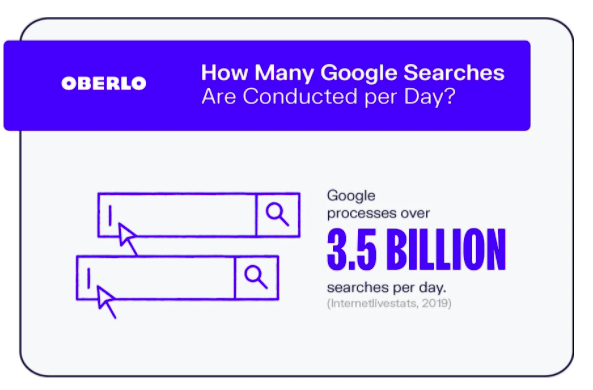 That means the information in its database needs to be categorized correctly, rearranged, and displayed in less than a second after someone expects it.
Time is of the essence here, because speed wins, according to Marissa Mayer back when she worked for Google over a decade ago.
She reported when they were able to speed up Google Maps' home page (by cutting down on its size), traffic leaped 10 percent within seven days and 25 percent just a few weeks later.
Google won the search engine race because it's able to:
Find and record more information
Deliver more accurate results
Do both of those two tasks faster than any other search engine
One of the reasons Google is the front of the pack comes down to the accuracy of its results.
The information it displays is more likely to match what users are actually looking for.
Think about it this way.
When you type something into Google, you're expecting something. It might be a simple answer, like the weather in your city, or maybe a little more complex, like "how does Google's search engine really work?"
Google's results, compared to other search engines, tend to answer those queries better. The information was the best of the best.
This breakthrough came from an initial theory Google's co-founders actually worked on in college.
Why Do Links Matter to Google?
Google's co-founders were still at Stanford in 1998 when they released a paper entitled "The PageRank Citation Ranking: Bringing Order to the Web."
Check it out — you can read the whole thing right here!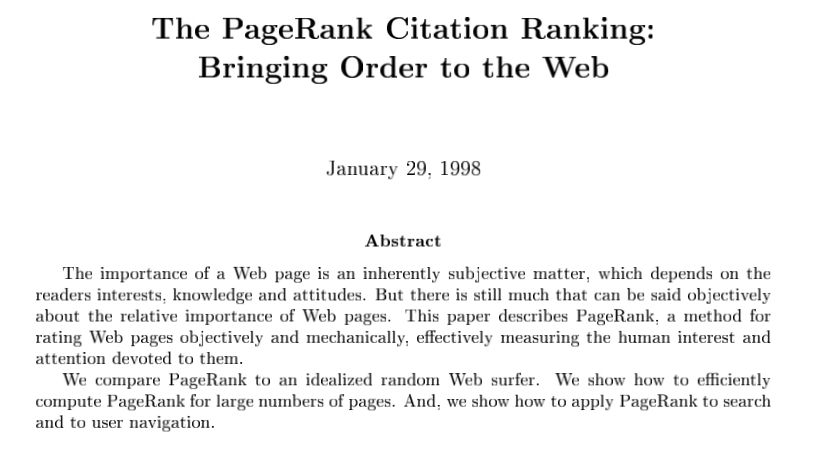 The PageRank breakthrough was simple.
Academic papers were often 'ranked' by the number of citations a paper received. The more they received, the more authoritative they were considered on that topic.
Google co-founders, Larry Page and Sergey Brin, wanted to apply the same 'grading' system to the web's information. They used backlinks as a proxy for votes. The more links a page received, the more authoritative it was perceived on that particular topic.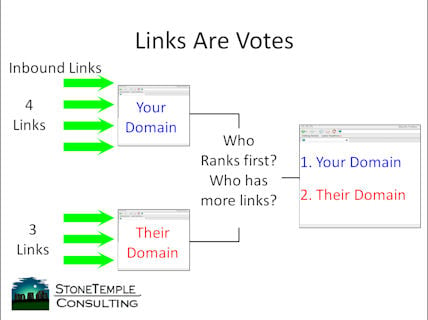 Of course, they didn't just look at the number of links. They also factored in quality by considering who was doing the linking.
If you received two links, for example, from two different websites, the one with the more authority on a topic would be worth more.
They also considered relevance to better gauge the 'quality' of a link.
For example, if your website talks about "dog food," links from other pages or sites that talk about things related to "dogs" or "dog food" would be worth more than one talking about "truck tires."
External links (links from other sites) are also more valuable than internal links (links to different pages on your own site.)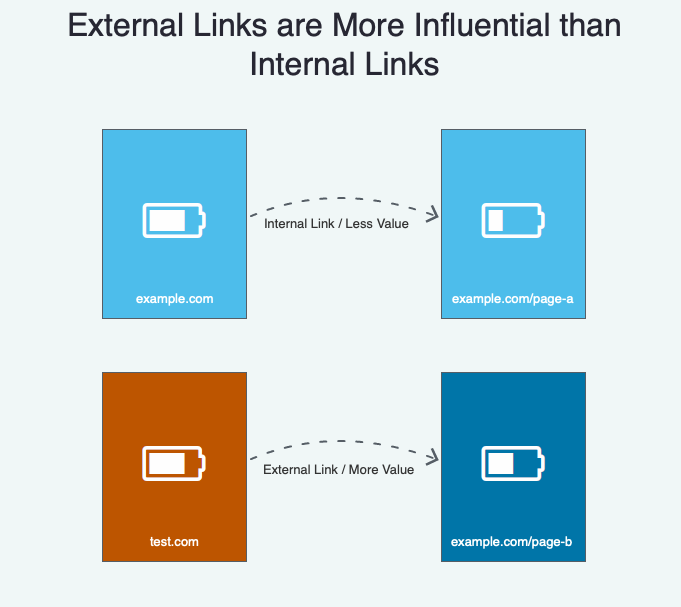 Before we go any further, please understand these concepts are over two decades all.
PageRank may have mattered years ago, but it's evolved tremendously since then. So don't worry about it explicitly today.
One of the reasons is because of newer algorithm developments, including RankBrain.
What is 'RankBrain' and How Does It Work?
RankBrain was first acknowledged in 2015 by Google engineer Greg Corrado:
RankBrain has become the third-most important signal contributing to the result of a search query.
Google's been working on this technology for years to help the search engine handle the massive increases in volume without losing accuracy.
The RankBrain secret sauce is that it uses artificial intelligence to continually learn how to improve.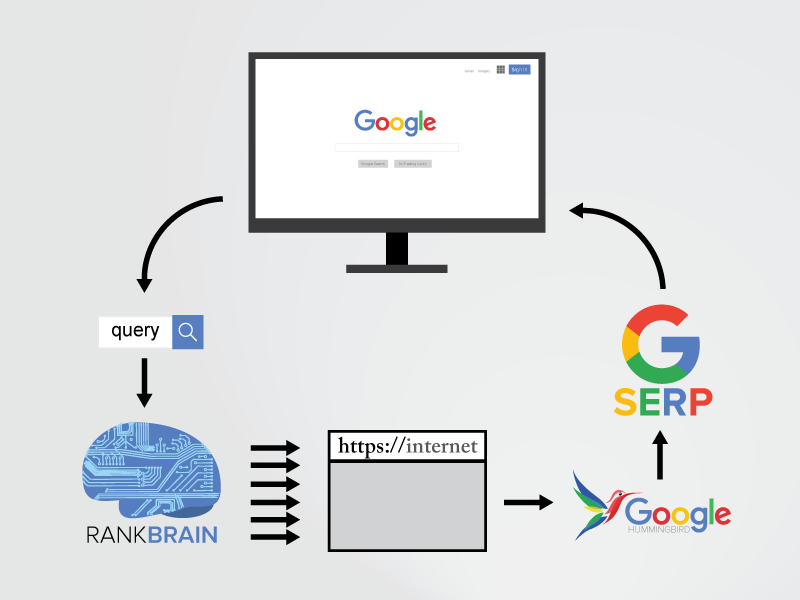 So the more it processes new information or new search queries for users, it actually gets more accurate.
For example, in 2010, Google's algorithm "might have up to 10,000 variations or sub-signals," according to Search Engine Land. That's a lot!
As you can imagine, somehow managing all of those on the fly would be incredibly difficult (if not impossible).
That's where RankBrain comes in.
Generally, the two most important ranking factors are:
Links (and citations)
Words (content and queries)
Note: this changes over time, and these aren't the only factors that matter. Speed plays a major factor in Google ranking, as do Core Web Vitals.
RankBrain, however, is still a main component. It helps analyze or understand the connections between those links and content so Google can understand the context behind what someone's asking. This is often called semantic search.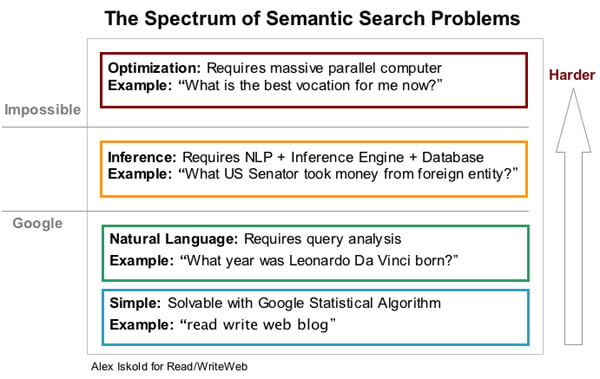 For example, let's say you type in the word "engineer salaries."
Now think about that for a moment. What type of engineer salaries are you looking for?
It could be "civil," "electrical," "mechanical," or even "software."
That's why Google needs to use several different factors to figure out exactly what you're asking for.
Let's say the following events played out over the past few years:
You're getting a degree in computer science.
Your IP address puts you on the campus of Stanford University.
You follow tech journalists on Twitter.
You read TechCrunch almost every single day.
You Googled "software engineer jobs" last week.
Google's able to piece all of these random bits of data together. It's like a bunch of puzzle pieces suddenly coming together.
So now Google knows what type of "engineer salaries" to show you, even though you never explicitly asked for "software engineer salaries."
That's also how Google is now answering your questions before you even ask them.
For example, do a generic search right now for anything, like "pizza."
Now, what do you see?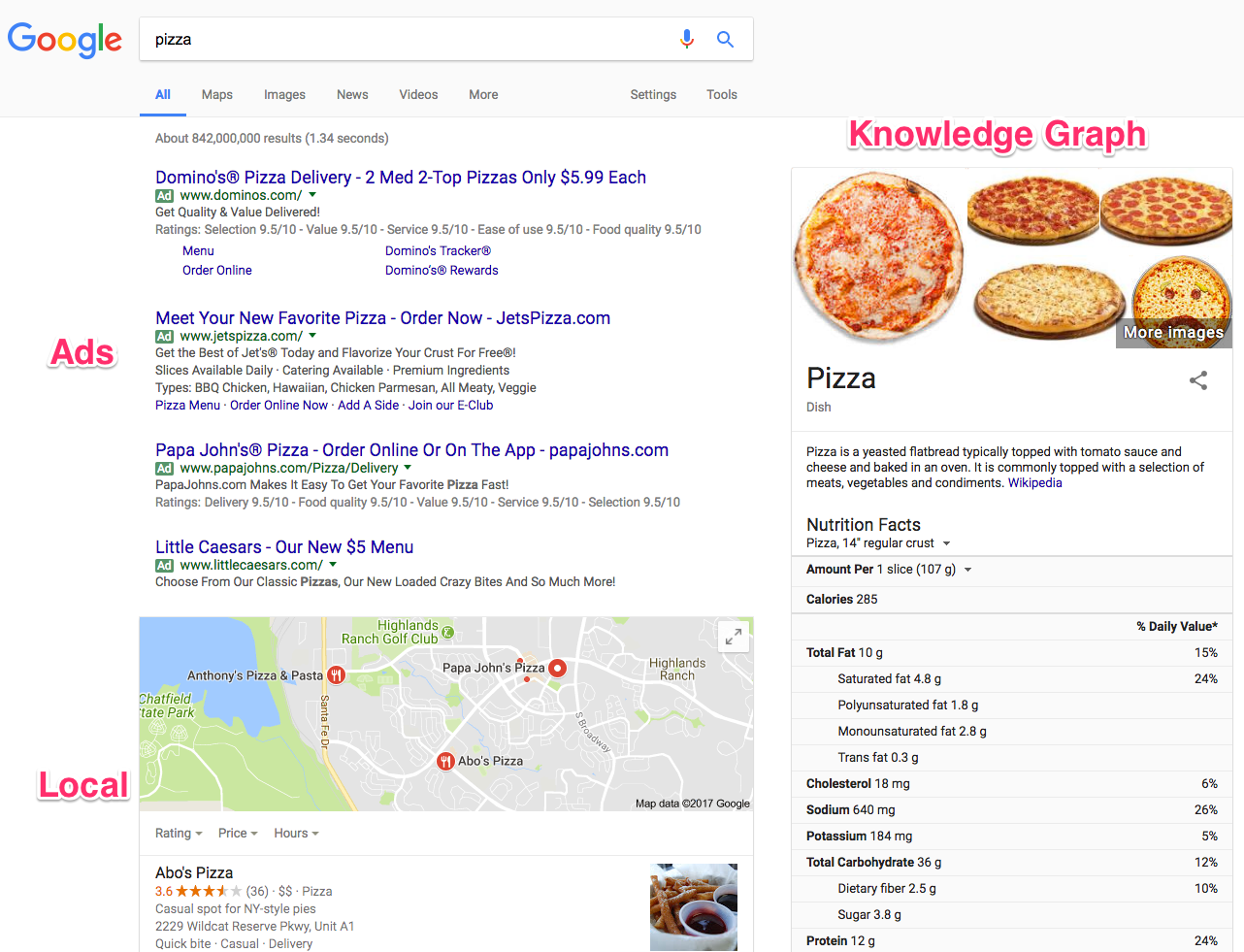 You see the typical ad spaces up at the top.
However, the local results below the ads are assuming that you're asking "where to get pizza."
The Knowledge Graph on the far right-hand side is serving up almost every fact and figure about pizza imaginable.
RankBrain process and filters all this data to give you answers before you even ask them.
Change your search up a little (like this one for "pizza hut") and the search engine result page (SERP) changes with new information.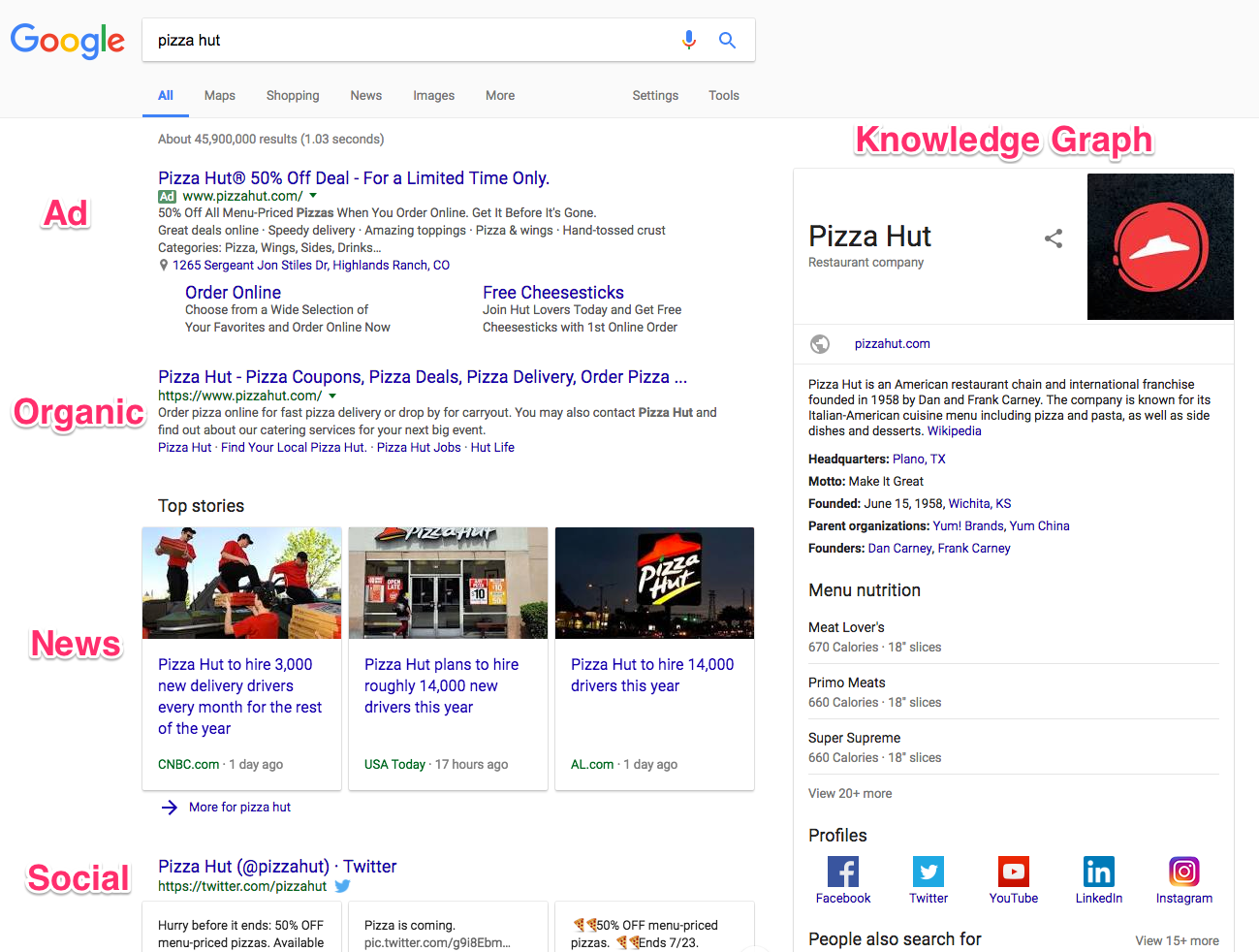 Now you know how Google's search engine really works.
While you don't need to be an expert, understanding the basics like this can help you better figure out how to give your prospects exactly what they want (so you get better rankings and more traffic).
Here are a few of the big things to keep an eye on.
How to Rank Higher in Google: Solve People's Problems
People type searches into Google to get an answer to whatever question they're facing.
If they're looking for an answer, it means they have a question.
If they have a question, it means they have a problem.
So your primary job is to solve someone's problem.
In theory, it's really that simple. If you solve someone's problem better than anyone else, you'll get better rankings and more traffic.
Let's take a look at a few examples so you can see how this works in real life.
Someone comes home from a long day at work. All they're looking forward to doing is grabbing something to eat fast and hanging out with their family or watching a new show on Netflix.
Before they're able to throw a meal together, they try to run the kitchen sink and discover that it's clogged.
Bummer.
It's already getting late, though, so they don't want to call a plumber. Instead, they head over to Google and start typing in "how to unclog drain" as their search query.
Then here's what they see: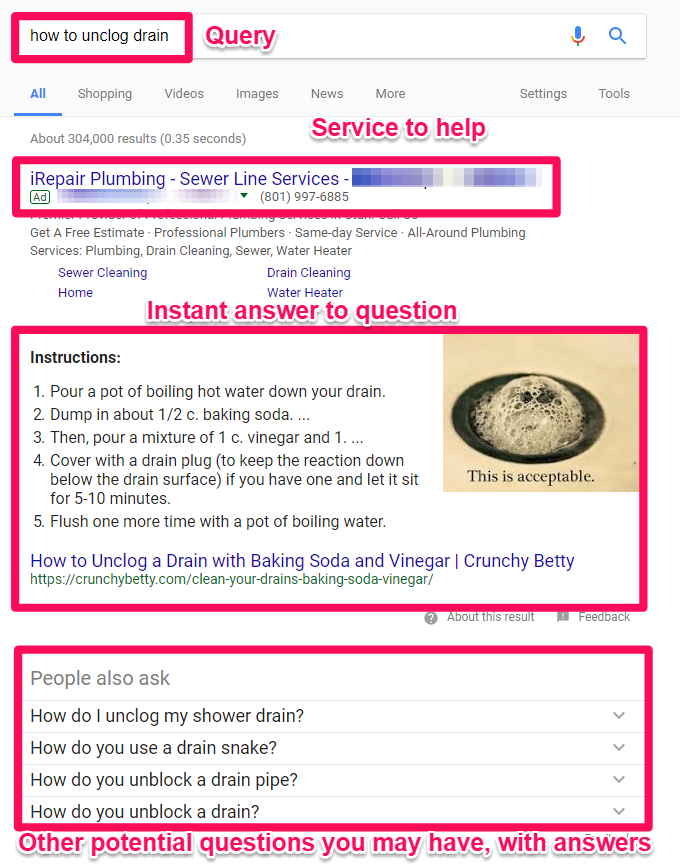 See?!
Way up at the top is an ad for a plumber (just in case you want to call in a professional).
Next up is an Instant Answer box that contains step-by-step instructions that Google believes has helped other people. So you might already be able to fix your sink without ever leaving this page!
Below that are related questions that other people commonly ask (along with their answers).
So all of this begs the question: How do you create something that can help solve a user's problem?
I'll answer that in one second, but here's what you don't do for the record:

"Keyword density" used to be an old-school tactic that was once relevant when Google's algorithm was dumb and static. With RankBrain, Google has become a borderline genius.
So keyword stuffing like it's 1999 will hurt you in the long run. As you can see, this is a terrible "answer" or "solution" to someone's problem.
After saying that, there are a few places on a page that you want to pay special attention to.
For example, the Title Tag and Meta Description are used by Google to provide an official answer for what this page is about.
Those are the two elements that will also show up on a SERP when someone types in their query.
It only makes sense, then, that you should use the main topic in those areas so that everyone knows exactly what your page is discussing.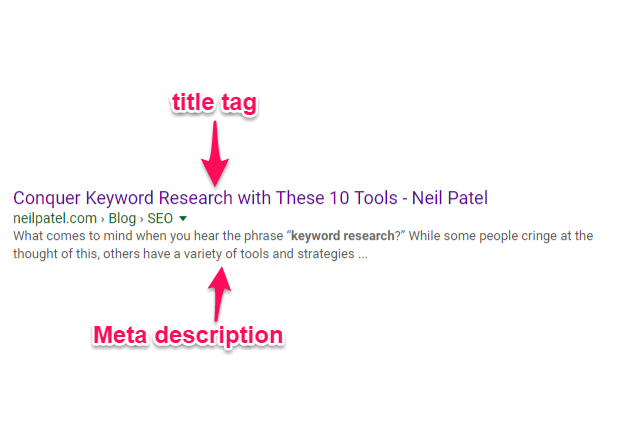 Do you want to see where that text is getting pulled from?
Simply right-click on a website to view the source code. For example, my homepage looks something like this: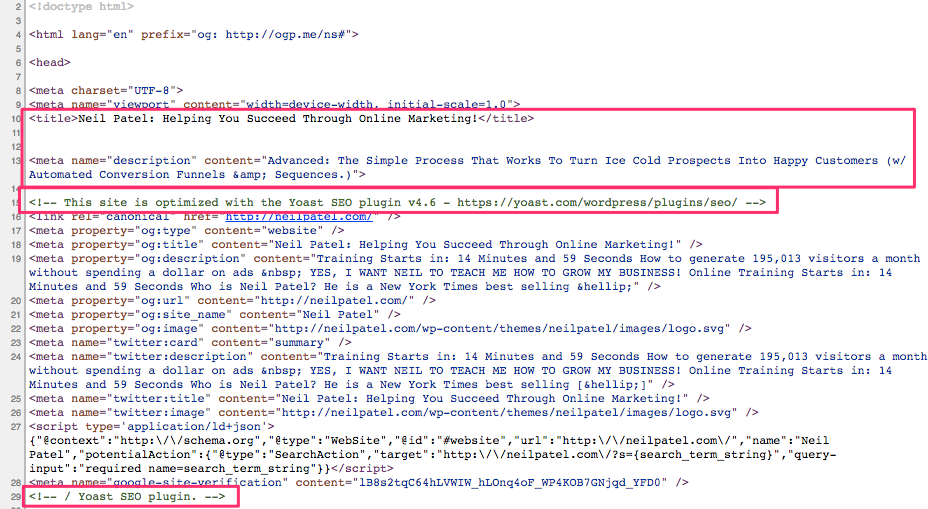 You can see the title tag and meta description at the top of the code.
I'm also using Yoast's WordPress SEO plugin to help add these extra fields on the backside of WordPress.
That way, all you have to do is write out the specific title and description in plain text (as opposed to getting your hands dirty with code).
Otherwise, the actual page content should be written for humans (as opposed to keyword stuffing to tricks or fool the search engines).
Instead, here's how your page content should look: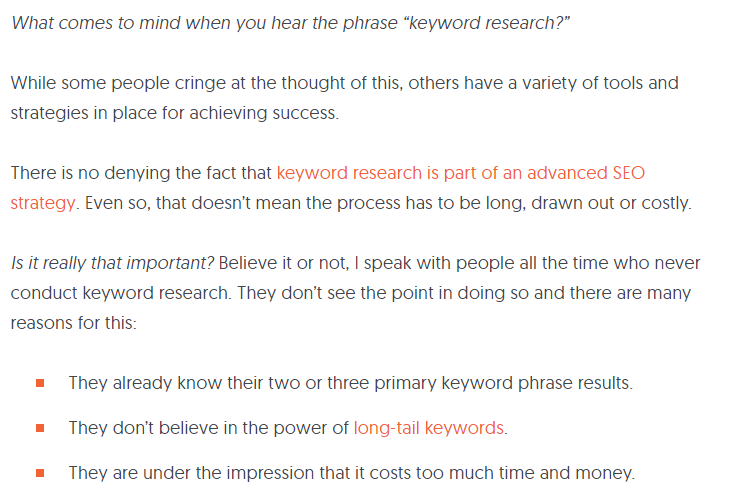 I wrote an in-depth response to help someone figure out a solution to a complex problem (keyword research).
Even though it's a complex subject, I was trying to give them a simple, step-by-step solution so they could fix that problem ASAP.
Google even takes website usage data into account now to determine how helpful your content is.
For example, let's say that someone clicks on your website from Google and is turned off by the poor design or hard-to-read content. So they 'bounce back' to Google immediately to find a different result.
That's a bad sign! Google determines you weren't a happy searcher. So maybe Google will try to find a few other results to swap out with that one to hopefully make everyone happy.
That's why I also break up the paragraphs and include a lot of images. The goal is to help people quickly find what they're looking for.
I want them to read the page faster and digest the information more easily so that they'll stick around longer instead of bouncing away.
That's the key to ranking well in search engines. Give the people what they want, keep them around or coming back for more, and Google will be happier as a result.
Let's go back to our clogged drain example to see how this works in another context.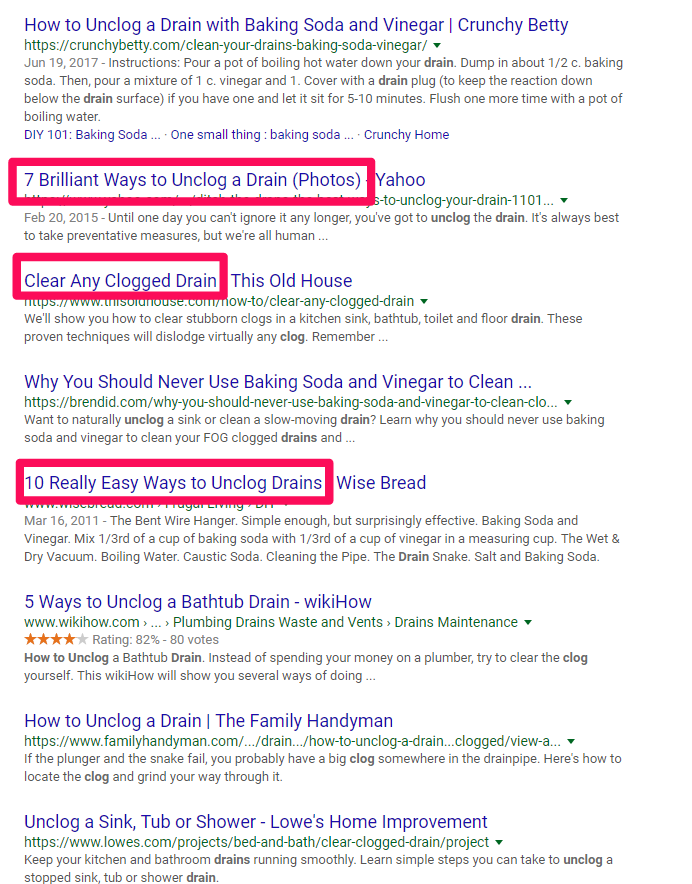 Those are all pretty good results!
In each case, the person who crafted each page provided a detailed answer to a common problem.
Let's zero in on that second SERP result, "7 Brilliant Ways to Unclog a Drain (Photos)" from Yahoo, to discover what they're doing so well to hit number two on a big, popular search query like that.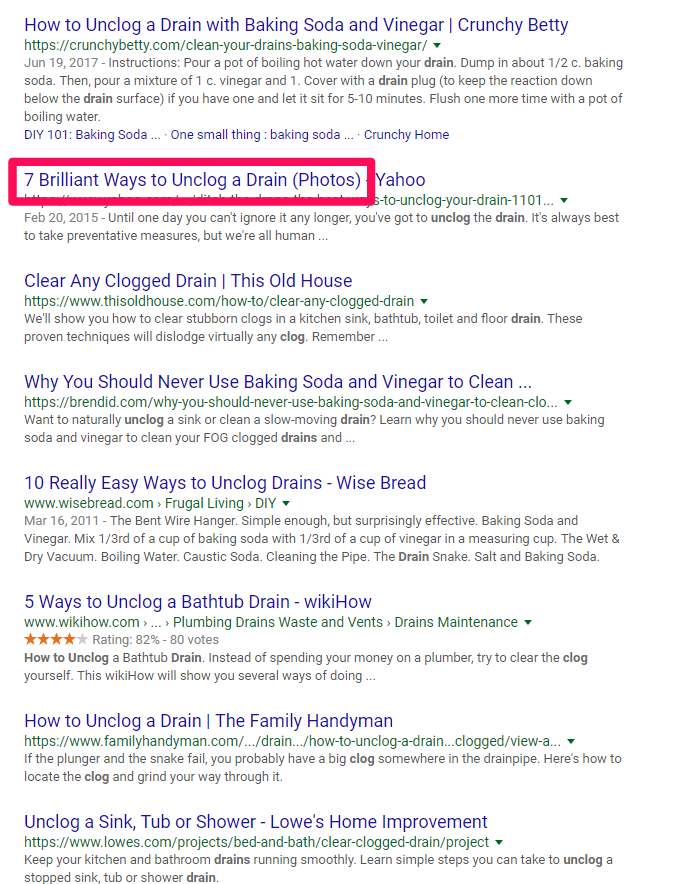 This seems like it might be a good result because it gives us multiple methods to try, along with photos so we can see exactly what's happening.
Let's click on that to see what they provide.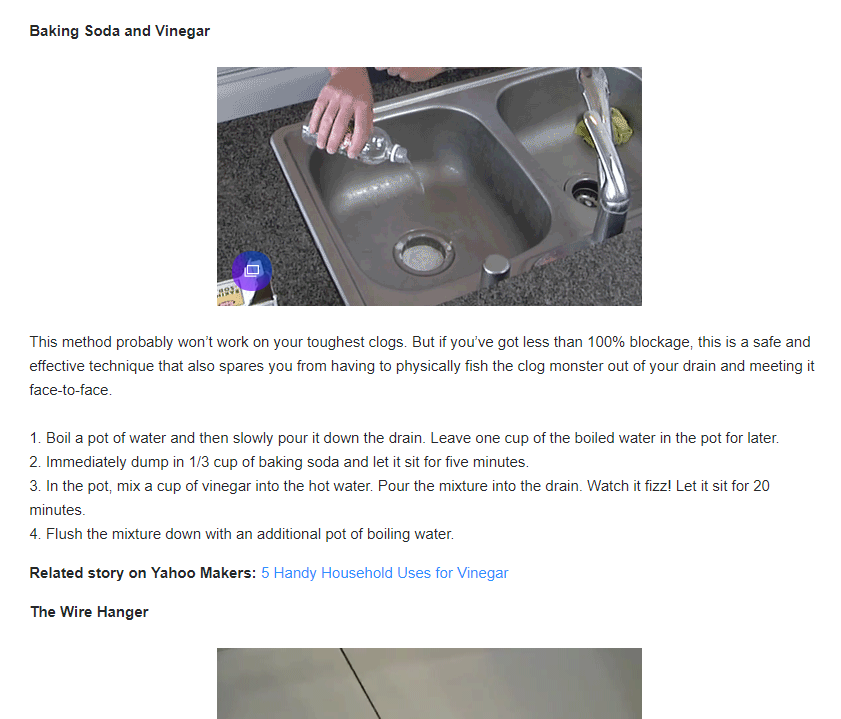 Pretty good overall!
It provides the user with good, quality content to help solve a problem. The better your content does that, the more links or 'upvotes' it will receive when other people find it useful, too.
Links and other citations or social signals help alert Google. They tell the search engine that your page is on the rise and to start paying attention to your website for these topics.
Your page will get better treatment, move up in the rankings, be exposed to more people, get more links or votes as a result, and continue that upward trend.
That's where the genius of Google's process comes into play.
It makes people happy by giving them exactly what they're looking for. When you do it right, it gives you compounding benefits that can take off all of a sudden, expanding your website traffic as a result.
How Google Search Engine Works: Conclusion
Google's search engine is one of the most complex technologies in the world.
It crunches a mind-numbing amount of data at lightning speeds to give people exactly what they're looking for in seconds.
When you boil it down to the basics, search engines are actually pretty easy to understand.
They want to help people find what they're looking for.
People use Google to find answers and solutions. They have something on their minds, and they want to find an answer that helps them clear the issue to move on with their day.
How Google finds and delivers that information is the building blocks of SEO, making it crucial to growing your business online.
Now that you know how Google works, how are you going to use this information?
See How My Agency Can Drive Massive Amounts of Traffic to Your Website
SEO – unlock massive amounts of SEO traffic. See real results.
Content Marketing – our team creates epic content that will get shared, get links, and attract traffic.
Paid Media – effective paid strategies with clear ROI.
Are you writing your SEO content based on the latest best practice tips?
I originally wrote this SEO copywriting checklist in 2012—my, how things have changed. Today, Google stresses quality content even more than before, conversational copy is critical, and there are revised SEO writing "rules." 
I've updated the list to reflect these changes and to provide additional information.
As a side note, I would argue that there's no such thing as "writing for Google." Yes, there are certain things you should do to make the Google gods happy. However, your most important goal should be writing clear, compelling, standout copy that tells a story. 
I'm keeping the old headline in the hopes that I can convert some of the "write for Google" people to do things the right way.
Whether you're an in-house SEO content writer, a DIY business owner, or a freelance SEO copywriter, this 27-point checklist will help you write engaging, Google-happy content—every time.
Items to review before you start your SEO writing project
– Do you have enough information about your target reader?
Your copy will pack a powerful one-two punch if your content is laser-focused on your target reader. Ask your client or supervisor for a customer/reader persona document outlining your target readers' specific characteristics. If the client doesn't have a customer persona document, be prepared to spend an hour or more asking detailed questions. 
Here's more information on customer personas.
– Writing a sales page? Did you interview the client?
It's essential to interview new clients and to learn more about their company, USP, and competition. Don't forget to ask about industry buzzwords that should appear in the content.
Not sure what questions to ask to get the copywriting ball rolling? Here's a list of 56 questions you can start with today. 
– Writing a blog post? Get topic ideas from smart sources
When you're blogging, it's tempting to write about whatever strikes your fancy. The challenge is, what interests you may not interest your readers. If you want to make sure you're writing must-read content, sites like Quora, LinkedIn, Google Trends, and BuzzSumo can help spark some ideas.
– Did you use Google for competitive intelligence ideas?
Check out the sites positioning in the top-10 and look for common characteristics. How long are competing articles? Do the articles link out to authoritative sources? Are there videos or infographics? Do the articles include quotes from industry experts? Your job is to write an essay that's better than what's already appearing in the top-10 — so let the competition be your guide.
– Did you conduct keyphrase research?
Yes, keyphrase research (and content optimization) is still a crucial SEO step. If you don't give Google some keyphrase "cues," your page probably won't position the way you want.
Use a keyphrase research tool and find possible keyphrases for your page or post. As a hint: if you are tightly focusing on a topic, long-tail keyphrases are your best bet. Here's more information about why long-tail keyphrases are so important.
If you are researching B2B keyphrases, know that the "traditional" keyphrase research steps may not apply. Here's more information about what to do if B2B keyphrase research doesn't work.
– What is your per-page keyphrase focus?
Writers are no longer forced to include the exact-match keyphrase over and over again. (Hurray!) Today, we can focus on a keyphrase theme that matches the search intent and weave in multiple related keyphrases.
– Did you expand your keyphrase research to include synonyms and close variants?
Don't be afraid to include keyphrase synonyms and close variants on your page. Doing so opens up your positioning opportunities, makes your copy better, and is much easier to write!
Are you wondering if you should include your keyphrases as you write the copy — or edit them in later? It's up to you! Here are the pros and cons of both processes.
 — Do your keyphrases match the search intent?
Remember that Google is "the decider" when it comes to search intent. If you're writing a sales page — and your desired keyphrase pulls up informational blog posts in Google – your sales page probably won't position. 
— Writing a blog post? Does your Title/headline work for SEO, social, and your readers?
Yes, you want your headline to be compelling, but you also want it to be keyphrase rich. Always include your main page keyphrase (or a close variant) in your Title and work in other keyphrases if they "fit."
Here's some excellent information on how to write headlines that get noticed (and that are good for Google.) You can also use headline-analyzing tools to double-check your work.
– Did you include keyphrase-rich subheadlines?
Subheadlines are an excellent way to visually break up your text, making it easy for readers to quick-scan your benefits and information. Additionally, just like with the H1 headline, adding a keyphrase to your subheadlines can (slightly) help reinforce keyphrase relevancy.
As a hint, sometimes, you can write a question-oriented subheadline and slip the keyphrase in more easily. Here's more information about why answering questions is a powerful SEO content play.
– Is your Title "clickable" and compelling?
Remember, the search engine results page is your first opportunity for conversion. Focusing too much on what you think Google "wants" may take away your Title's conversion power. 
Consider how you can create an enticing Title that "gets the click" over the other search result listings. You have about 59 characters (with spaces) to work with, so writing tight is essential. 
– Does the meta description fit the intent of the page?
Yes, writers should create a meta description for every page. Why? Because they tell the reader what the landing page is about and help increase SERP conversions. Try experimenting with different calls-to-actions at the end, such as "learn more" or "apply now." You never know what will entice your readers to click!
– Is your content written in a conversational style?
With voice search gaining prominence, copy that's written in a conversational style is even more critical.
Read your copy out loud and hear how it sounds. Does it flow? Or does it sound too formal? If you're writing for a regulated industry, such as finance, legal, or healthcare, you may not be able to push the conversational envelope too much. Otherwise, write like you talk.
Here's how to explain why conversational content is so important.
–Is your copy laser-focused on your audience?
A big mistake some writers make is creating copy that appeals to "everyone" rather than their specific target reader. Writing sales and blog pages that are laser-focused on your audience will boost your conversions and keep readers checking out your copy longer. Here's how one company does it.
Plus, you don't receive special "Google points" for writing long content. Even short copy can position if it fully answers the searcher's query. Your readers don't want to wade through 1,500 words to find something that can be explained in 300 words.
Items to review after you've written the page
– Did you use too many keyphrases?
Remember, there is no such thing as keyword density. If your content sounds keyphrase-heavy and stilted, reduce the keyphrase usage and focus more on your readers' experience. Your page doesn't receive bonus points for exact-matching your keyphrase multiple times. If your page sounds keyphrase stuffed when you read it out loud, dial back your keyphrase usage.
– Did you edit your content?
Resist the urge to upload your content as soon as you write it. Put it away and come back to it after a few hours (or even the next day.) Discover why editing your Web writing is so very important. Also, don't think that adding typos will help your page position. They won't.
– Is the content interesting to read?
Yes, it's OK if your copy has a little personality. Here's more information about working with your page's tone and feel and how to avoid the "yawn response." Plus, know that even FAQ pages can help with conversions — and yes, even position.
– Are your sentences and paragraphs easy to read?
Vary your sentence structure so you have a combination of longer and shorter sentences. If you find your sentences creeping over 30 or so words, edit them down and make them punchier. Your writing will have more impact if you do.
Plus, long paragraphs without much white space are hard to read off a computer monitor – and even harder to read on a smartphone. Split up your long paragraphs into shorter ones. Please.
– Are you forcing your reader onto a "dead end" page?
"Dead-end" pages (pages that don't link out to related pages) can stop your readers dead in their tracks and hurt your conversion goals. 
Want to avoid this? Read more about "dead-end" Web pages.
– Does the content provide the reader with valuable information?
Google warns against sites with "thin," low-quality content that's poorly written. In fact, according to Google, spelling errors are a bigger boo-boo than broken HTML. Make sure your final draft is typo-free, written well, and thoroughly answers the searcher's query.
Want to know what Google considers quality content — directly from Google? Here are Google's Quality Raters guidelines for more information.
– Did you use bullet points where appropriate?
If you find yourself writing a list-like sentence, use bullet points instead. Your readers will thank you, and the items will be much easier to read.
Plus, you can write your bullet points in a way that makes your benefit statements pop, front and center. Here's how Nike does it.
– Is the primary CTA (call-to-action) clear–and is it easy to take action?
What action do you want your readers to take? Do you want them to contact you? Buy something? Sign up for your newsletter? Make sure you're telling your reader what you want them to do, and make taking action easy. If you force people to answer multiple questions just to fill out a "contact us" form, you run the risk of people bailing out.
Here's a list of seven CTA techniques that work.
– Do you have a secondary CTA (such as a newsletter signup or downloading a white paper?)
Do you want readers to sign up for your newsletter or learn about related products? Don't bury your "sign up for our newsletter" button in the footer text. Instead, test different CTA locations (for instance, try including a newsletter signup link at the bottom of every blog post) and see where you get the most conversions.
– Does the page include too many choices?
It's important to keep your reader focused on your primary and secondary CTAs. If your page lists too many choices (for example, a large, scrolling page of products), consider eliminating all "unnecessary" options that don't support your primary call-to-action. Too many choices may force your readers into not taking any action at all.
– Did you include benefit statements?
People make purchase decisions based on what's in it for them (yes, even your B2B buyers.) Highly specific benefit statements will help your page convert like crazy. Don't forget to include a benefit statement in your Title (whenever possible) like "free shipping" or "sale." Seeing this on the search results page will catch your readers' eyes, tempting them to click the link and check out your site.
– Do you have vertical-specific testimonials?
It's incredible how many great sales pages are testimonial-free. Testimonials are a must for any site, as they offer third-party proof that your product or service is superior. Plus, your testimonials can help you write better, more benefit-driven sales pages and fantastic comparison-review pages.
Here's a way to make your testimonials more powerful. 
And finally — the most important question:
– Does your content stand out and genuinely deserve a top position?
SEO writing is more than shoving keyphrases into the content. If you want to be rewarded by Google (and your readers), your content must stand out — not be a carbon copy of the current top-10 results. Take a hard look at your content and compare it against what's currently positioning. Have you fully answered the searcher's query? Did you weave in other value-added resources, such as expert quotes, links to external and internal resources (such as FAQ pages), videos, and graphics? 
If so, congratulations! You've done your job.