How to Score a Perfect 100% on Google PageSpeed Insights
If you don't have a fast website, people will bounce faster than you can say "conversions."
However, speeding up your website is no easy task.
Your problem could be anything from code that's written poorly to images or large page elements.
You need to fix those issues fast, because Google will ding your website if you don't.
The faster your site loads, the lower the bounce rate. If your site is fast, you have a better chance of ranking on Google over slow sites that drive high bounce rates.
Thankfully, Google offers the PageSpeed Insights tool to find out what you need to fix.
Unfortunately, they don't give you the best instructions on getting your score to 100%.
Here's how to score a perfect 100% on Google's PageSpeed Insights and why you need to accomplish this feat.
Why Page Speed Matters
Page speed is a critical factor in ranking your website higher on Google's search engine results.
If your website isn't on par with the top 10 organic pages, you won't rank on the first page.
So focusing on page speed is paramount to having a successful company and a website that converts.
Backlinko recently conducted a study where they analyzed over eleven million search engine results pages (SERPs) on Google.
They wanted to figure out which factors were the most common among sites ranked in the top 10 results.
Surprisingly, they found page speed and ranking don't seem to be correlated. However, the average load time of a site on the first page is 1.65 seconds, which is decently fast.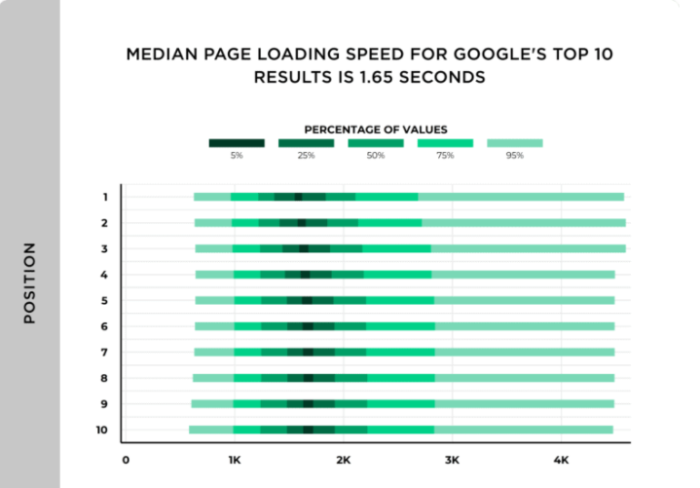 However, Google says page speed does matter. There was even an entire update about it.
That connection is backed up and supported by Google's new PageSpeed industry benchmarks.
They found that as page load times go up, the chance of someone bouncing from your site increases dramatically: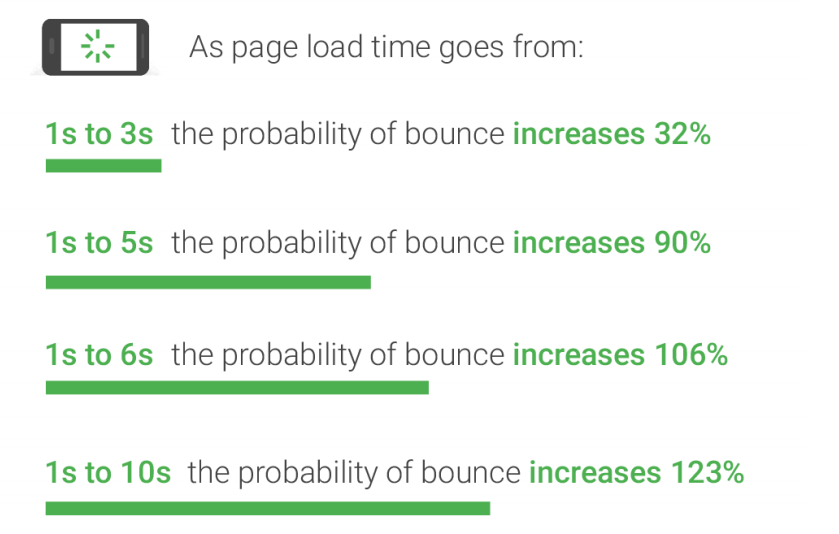 That means that if your page takes 10 seconds to load, the likelihood of someone leaving your site before it even loads increases by more than 120 percent!
But according to a recent study of more than 5 million sites, the average website takes 10.3 seconds to load fully on desktop and 27.3 seconds to load on mobile.
This means almost all of us are missing the mark when it comes to having a fast-performing website.
In another study, BigCommerce found that conversion rates for e-commerce websites average somewhere in the one to two percent range.
Portent found page speed can increase conversion rates drastically.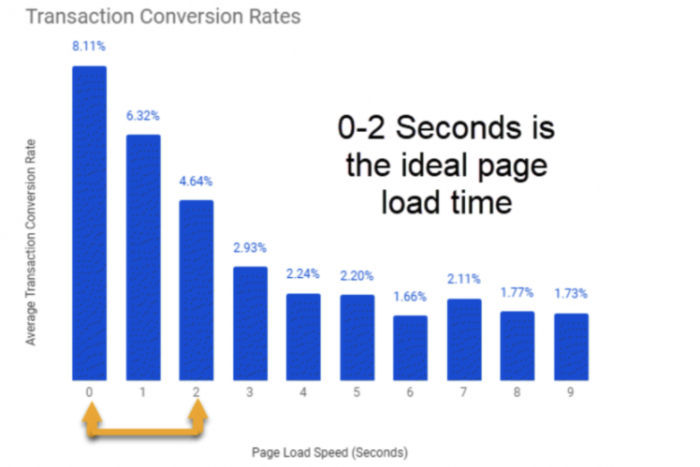 Getting your speed to under two seconds can increase traffic and revenue.
So, what causes a page to load slowly?
The most common causes of slow pages are bulky images and poorly-designed coding.
If you look at any website in the modern era, it's likely filled to the tipping point with images.
If you aren't optimizing your images, you could have pages that take up multiple megabytes of space.
Page size and weight are often measured by page weight bytes. Simply put, page weight bytes show the total size of a web page measured in bytes.
Google's benchmark data shows that the best practice for page size or weight is under 500KB: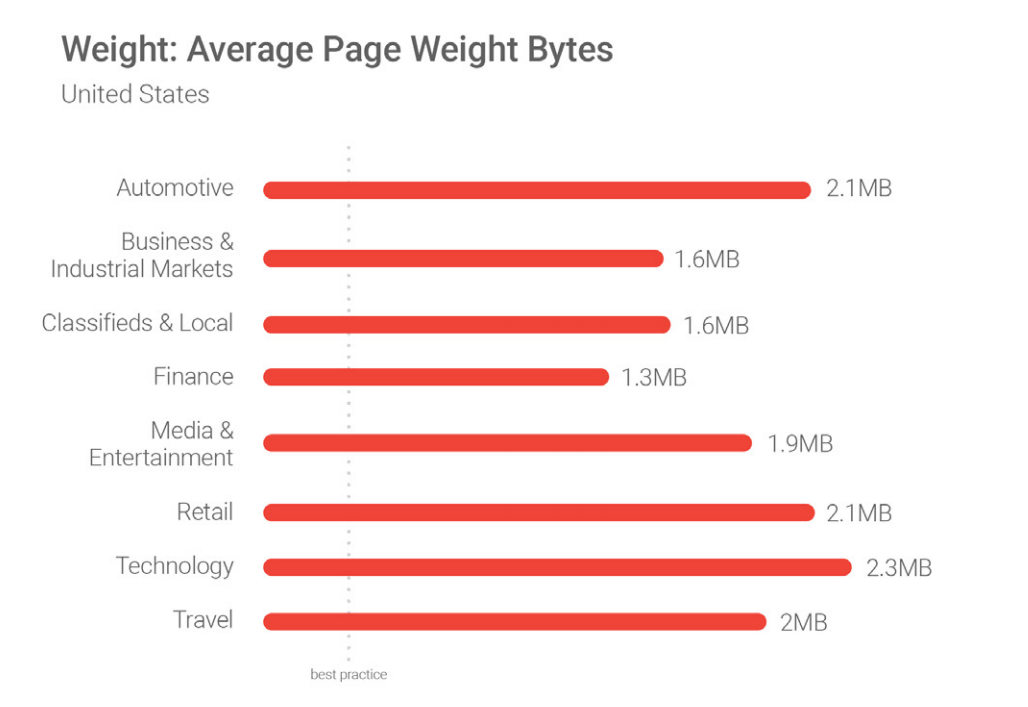 But again, most of us are missing the mark here. We are vastly exceeding the recommended weight.
One of the concepts that stood out to me the most from the Google report comes from this short yet impactful quote:
"No matter what, faster is better and less is more."
No matter how well your site is doing, there's a good chance you have serious room for improvement.
How to Use PageSpeed Insights Tool
Most sites run slowly due to large images that take up too much space.
But that's not always the case for every website.
You need to know exactly what's causing your slow site speeds before you can make the necessary changes to score 100% on the PageSpeed Insights tool.
To get started, open up the PageSpeed Insights tool and enter your website URL into the bar:

Click "Analyze" to have Google run a quick test on your site.
The finished report will tell you everything you need to know about your site and what might be hindering its performance.
Here's what my report looks like: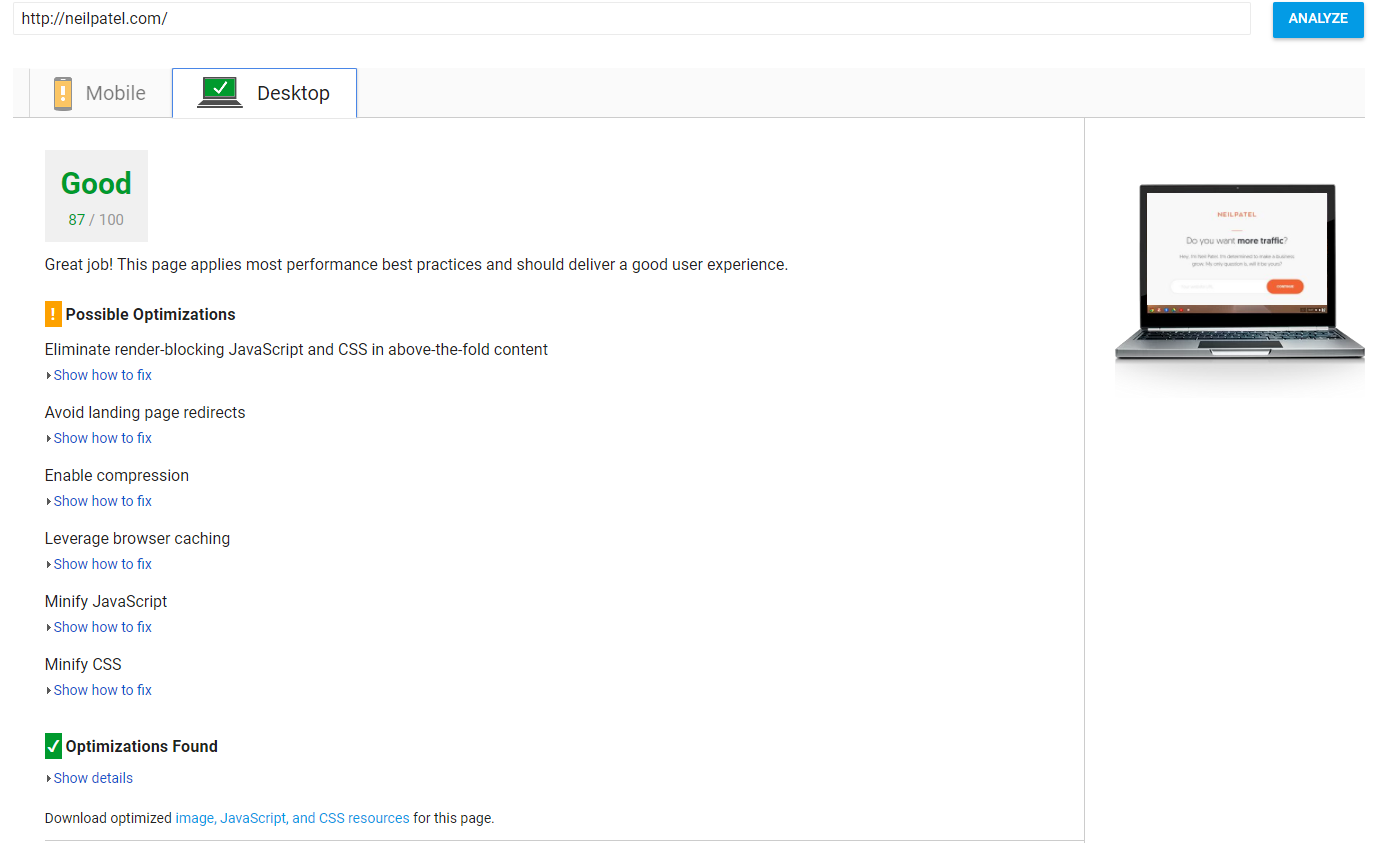 It's an 87/100.
It's not great. It's not terrible either, though.
There's almost always have room for improvement. My goal here is to get you to 100% by the end of this article as we take this journey in page speed together.
First, let's look at the items that I have optimized and perfected: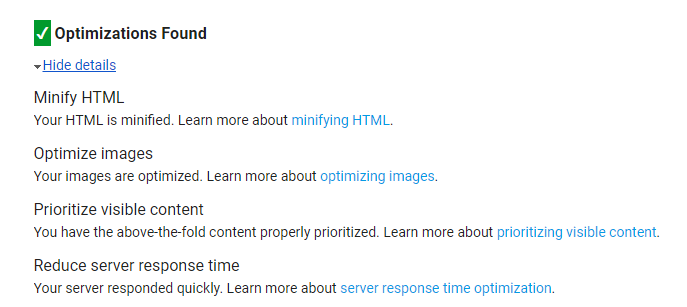 Now, notice how there are only a few items on this list compared to my "Possible Optimizations" list: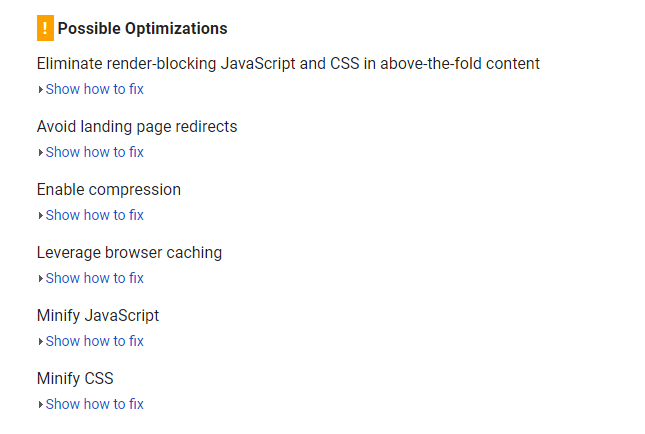 This information tells me that the items on "Possible Optimizations" are a little less impactful than those I have already optimized.
Obviously, you'll need to take care of every element to hit 100% on the Page Speed Insights tool.
You'll want to start with the top priority items (more on this later).
Next, we want to test our mobile site separately.
You can use the mobile site tester on the PageSpeed Insights tool, but Google released an updated, more accurate version of this.
Head over to Test My Site to try it. Input your website URL and hit enter: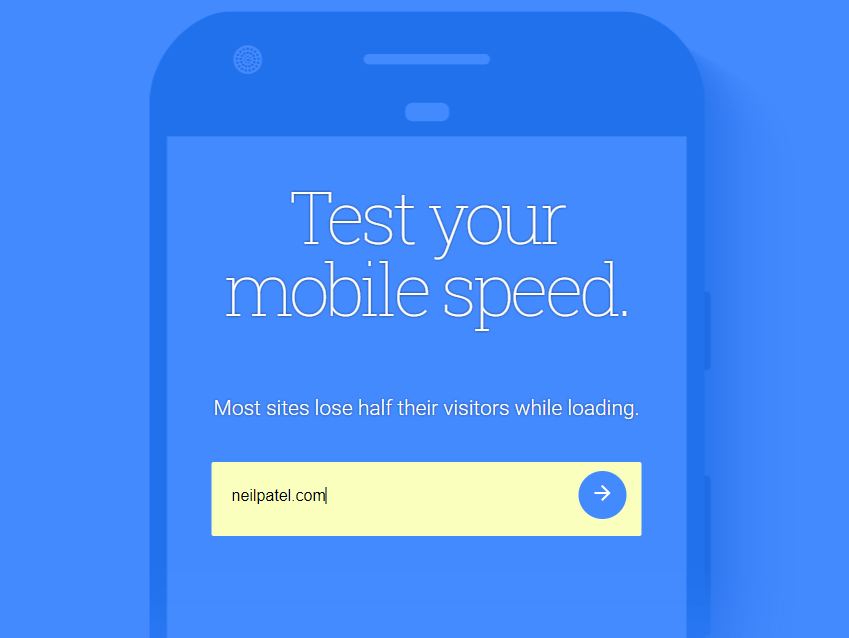 Google will take a few minutes to run this report, but it will give you a detailed look at how your mobile site performs compared to industry standards.
It will even tell you how many visitors you could be losing because of a lower page speed.
Here's what my data looks like: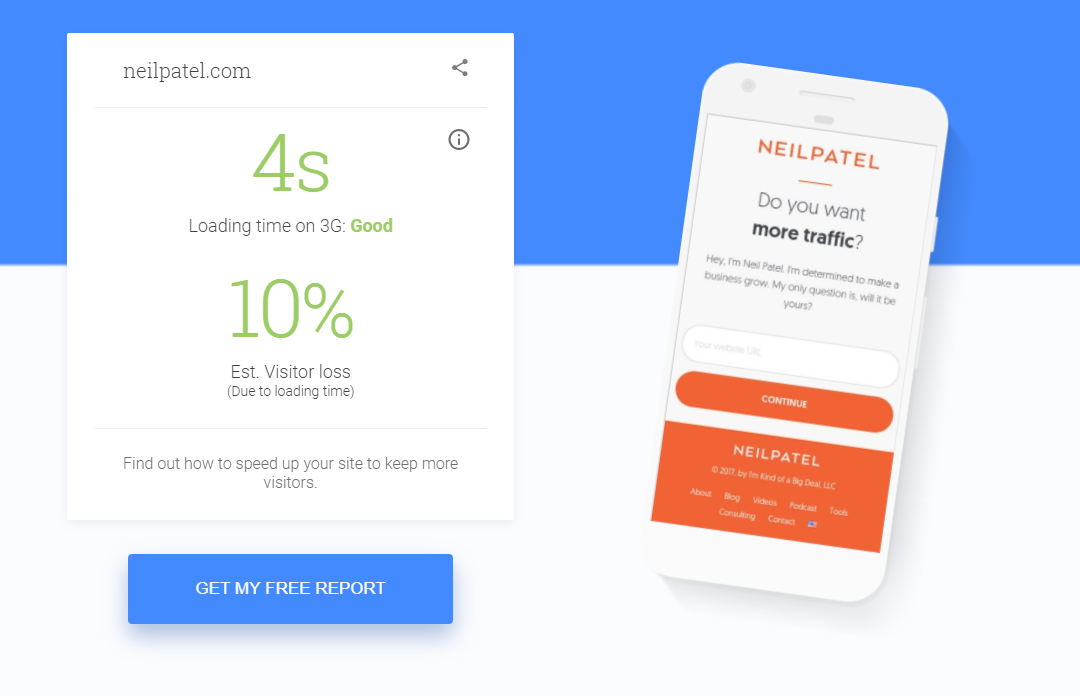 My load time on mobile is four seconds.
Remember: The recommended load time is three seconds or less.
That means that my speed isn't up to par with industry standards.
Due to that, I am losing up to 10 percent of my visitors simply from poor speed performance!
Here's what my mobile test looks like when I compare it to the industry standards:

While still in the top-performing section, I am not where I should be if I want to maximize the effectiveness of my website or drive more traffic and conversions.
Scroll down even further and Google will give you an estimate on what your top fixes could do for your website: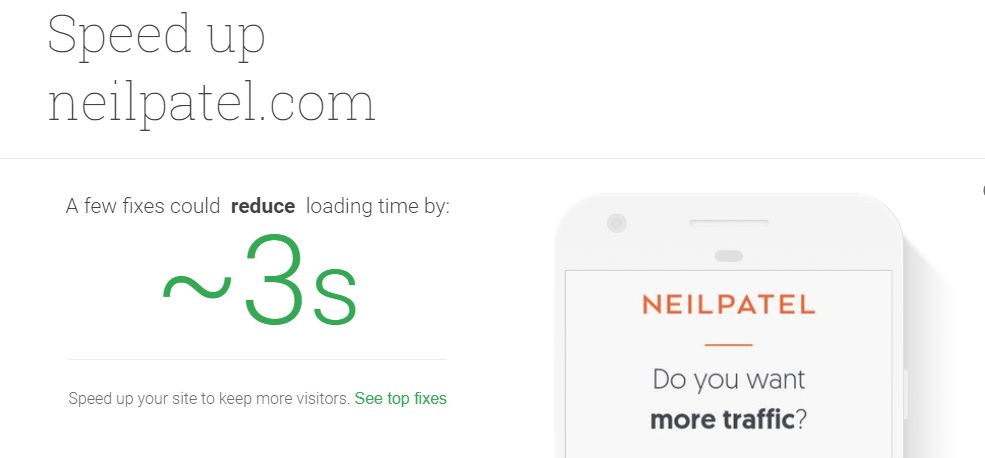 Google says that with a few fixes I could reduce my load times by around three seconds.
That means that I could potentially get my website to load at the one-second mark!
That's amazing. Trust me, to save 10 percent of your visitors or more, it's something that you need to do.
Run your website through this mobile site test to get data on what fixes you need for your website.
In this next section, I'll walk you through fixing the top page speed problems to help you score a 100% on the PageSpeed Insights tool.
4 Ways to Land a Perfect PageSpeed Insights Score
Getting a perfect 100% on Google's PageSpeed Insights tool is no easy task.
It's not going to happen overnight, either. You'll have to do some legwork and spend some hours at the grindstone.
But if you want to save traffic, drive more conversions, and bring in more revenue, you need to do it.
It may be tedious and tiresome, but you need those conversions. You can't be lazy and risk leaving traffic and profit on the table.
Here are the top four ways you can speed up your site and score a perfect 100% with Google.
1. Compress Your Images
The biggest cause of slow pages and low scores is large images.
When I fixed this on my own site, I found a huge impact on speed.
One of the top optimization techniques for fixing image size is compression.
You can save an average of 50 percent or more on image size by using simple compression tools.
If you use WordPress, one of the best ways to do this without spending much time is to use a plugin, like WP Smush Image.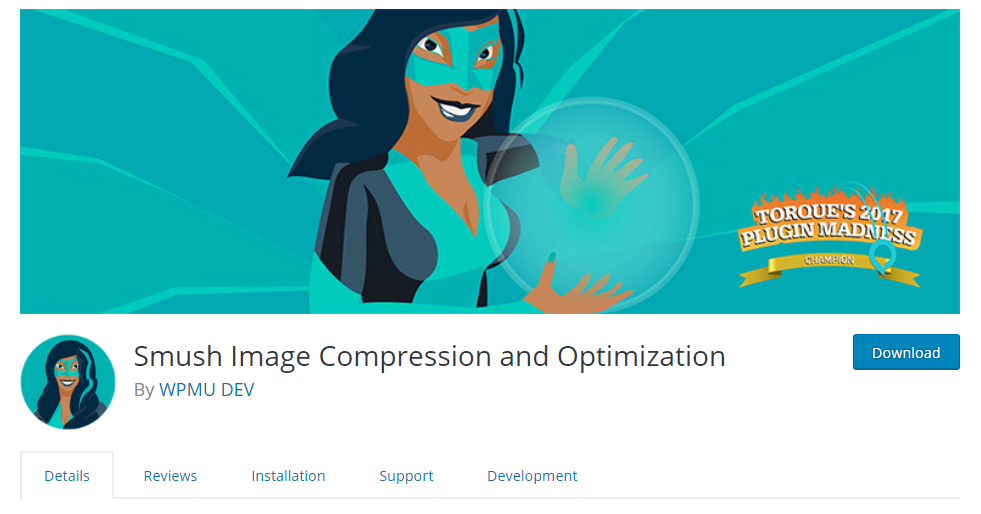 WP Smush has tons of awesome features for free.
You can smush images automatically by adding the plugin. It will scan your media library on WordPress and detect images that it can compress: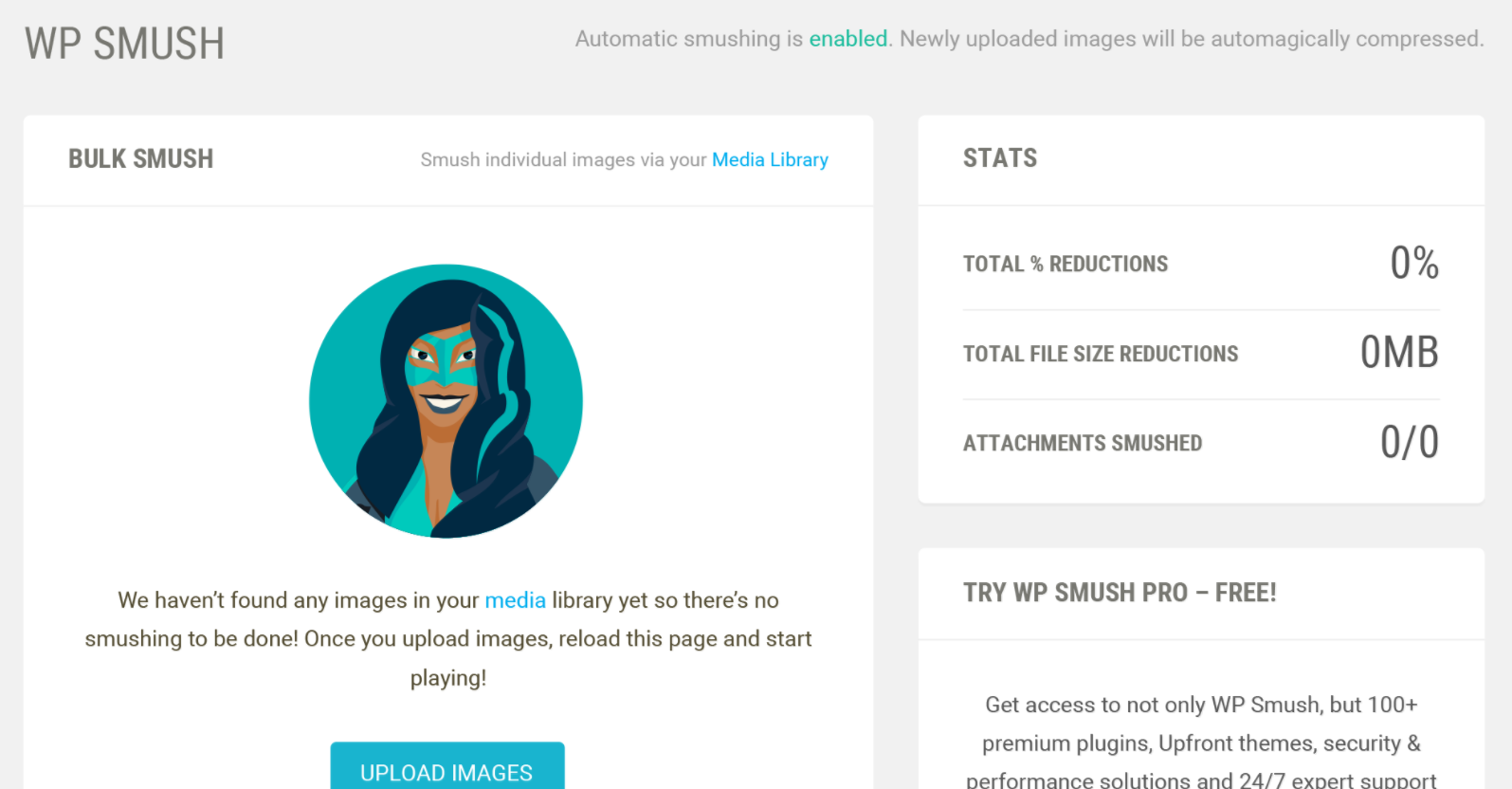 If you want to smush tons of new images for your site in bulk, you can upload them directly into the plugin.
You can smush up to 50 images at a single time, making it one of the fastest tools on the market:

If you head to the settings for this plugin, you can turn on the setting to automatically smush images on upload.

If you enable this setting, you'll never have to worry about compression again. And if you compress all of the existing images on your site, then you don't have to worry about it every time you upload.
WP Smush is an excellent, free tool for the everyday WordPress user.
But, if you don't use WordPress, what do you do?
If you run a Shopify-based store and site, you can use Crush.pics: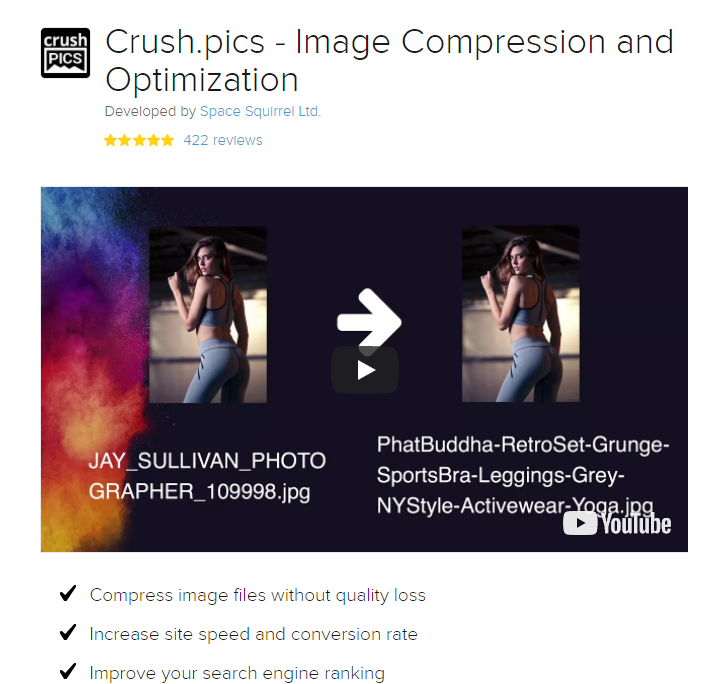 Crush.pics says that you can expect a big jump in PageSpeed Insights scores using their tool:
PageSpeed score before compression: 75/100. PageSpeed score after compression: 87/100
If you aren't familiar with plugins or don't like to use them for your site, you can use free tools online like Compress JPEG or Optimizilla.
Both are fast, free tools that allow you to compress up to 20 images in a single upload.
Check out this example image that I compressed to give you an idea of how impactful these programs can be: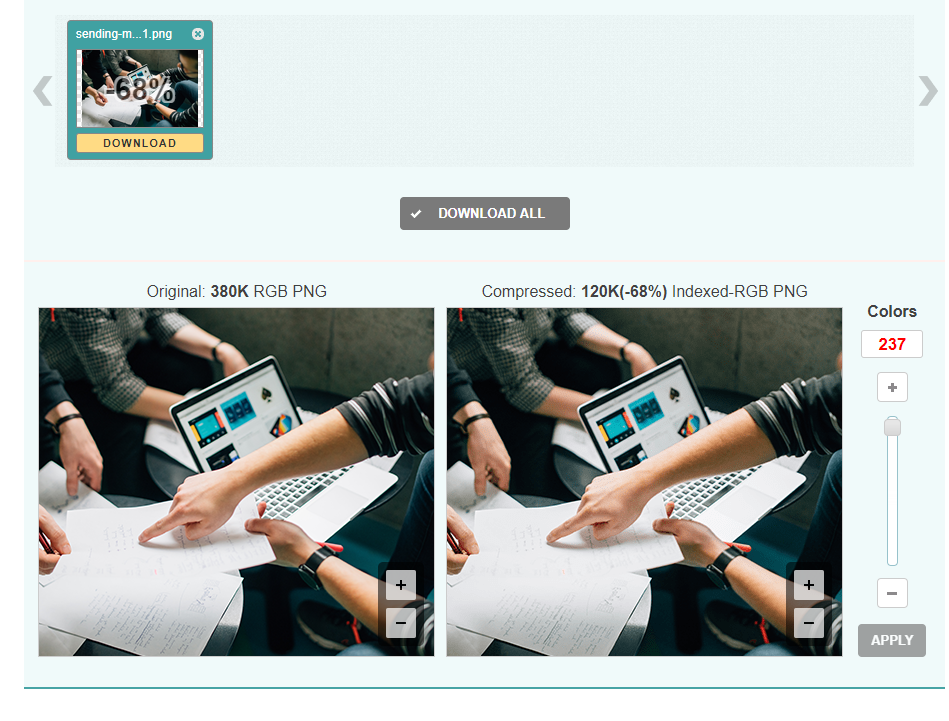 I reduced the file size by 68 percent in just two seconds using Optimizilla. It reduced the size from 380KB to 120KB with almost no quality difference!
You can use all of these tools for free and you should definitely implement them if you can't use a plugin.
2. Use Browser Caching
Browser caching works by "remembering" the previously-loaded resources so that it doesn't have to reload them upon every single visit.
When a website visitor travels to a new page on your site, all of your data, like logos and footers, won't need to load again.
That will result in a big increase in speed when people land on your site.
How do you implement it? Thankfully, there's a plugin for it. You don't need to be a coding expert to do it.
Try using W3 Total Cache for WordPress sites. It's got over one million active installs and is the most popular caching plugin on the market: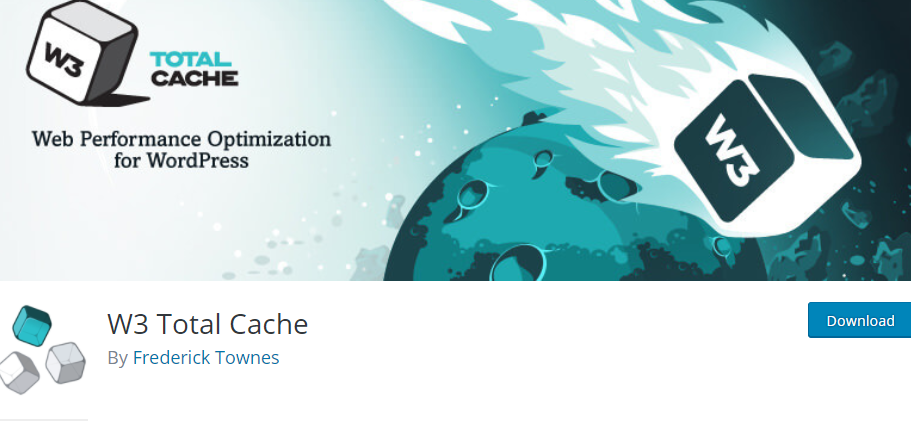 W3 Total Cache claims that it can give you at least a 10x improvement in overall site performance.
On top of that, they claim (and back up) that this plugin will help you achieve higher results on Google's PageSpeed tools.
The tool also helps you minify HTML (which we will dive into next), JavaScript, and CSS, giving you up to 80 percent bandwidth savings.
Try using W3 Total Cache today to give your website a fast, easy boost in speed even if you don't have coding experience.
3. Minify Your HTML
Minimizing the space your HTML coding takes up is another big factor in getting a perfect score from Google.
Minification is the process of removing or fixing unnecessary or duplicated data without impacting how a browser will process the HTML.
It involves fixing code, formatting, removing unused code, and shortening code when possible.
Once again, thanks to the awesome plugin options of WordPress, you don't need to be a coding genius to fix this.
One of the best tools to do this is HTML Minify.
You can download this plugin for free directly from their site and install it to your WordPress account in seconds.
You can also install it directly from this plugin page.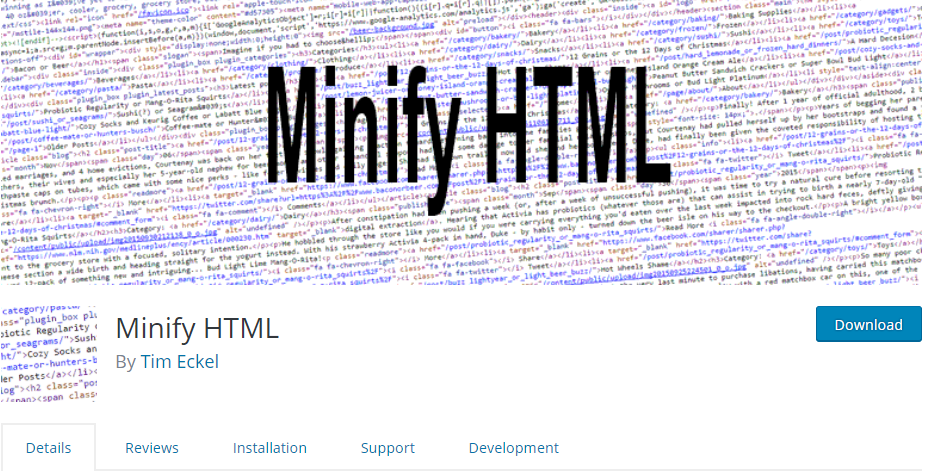 Once you install the plugin, you only need to take a few steps before you see an instant impact on your site.
Head to the settings tab on your Minify HTML plugin and enable all of the following settings: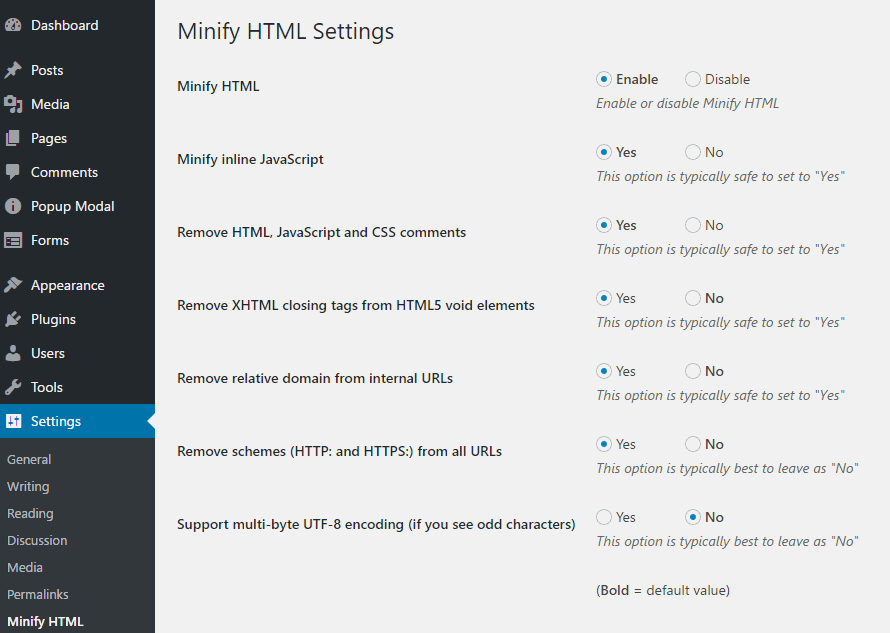 You can effectively kill multiple birds with one stone.
Google's PageSpeed Insights recommends that you minify HTML, JavaScript, and CSS.
Enable the "Minify HTML" + "Inline JavaScript" settings.
Next, be sure to select yes for "Remove HTML, JavaScript and CSS comments."
The great thing about this plugin is that it will tell you what the recommended action is under each setting.
Follow these actions if you are unfamiliar with how these settings work.
Minify your coding today and you should see an instant impact on your insights report.
4. Implement AMP
AMP is short for Accelerated Mobile Pages.
It's a project implemented by Google to help mobile pages load faster.
It works by making an open-source format that strips away tons of unnecessary content, making your mobile pages load nearly instantly.
It gives users a more streamlined experience on mobile without any clunky features that don't work well on mobile devices.
If you browse the Internet on your mobile phone, you probably have clicked on an AMP-based article.
Here's what they look like: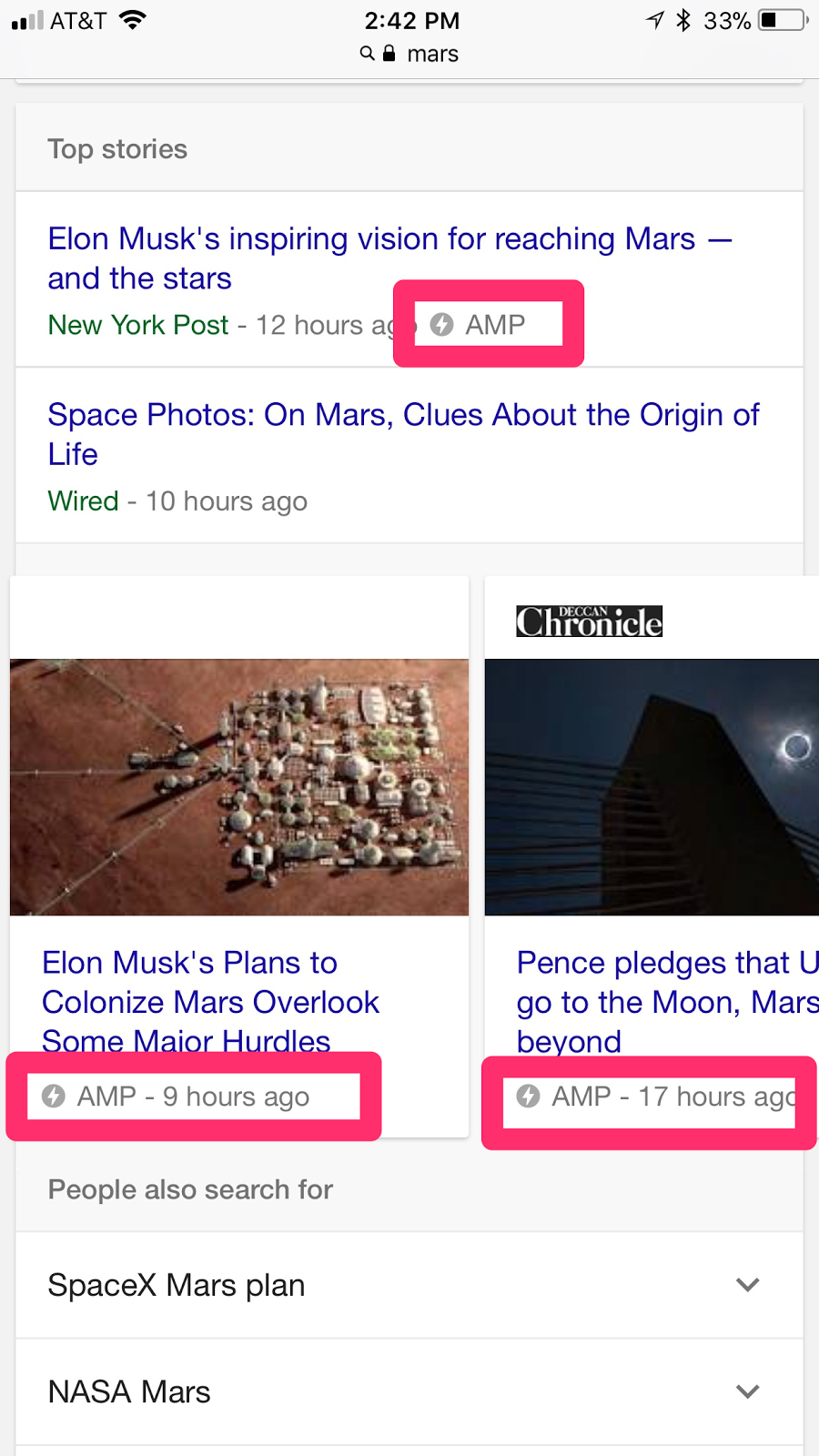 They are often relegated to the "Top Stories" section of Google search results and they load up instantly.
They don't have much formatting, which helps them load quickly and deliver the content that the mobile user wants to see.
When a searcher on Google clicks one of these AMP articles, they see the content like this: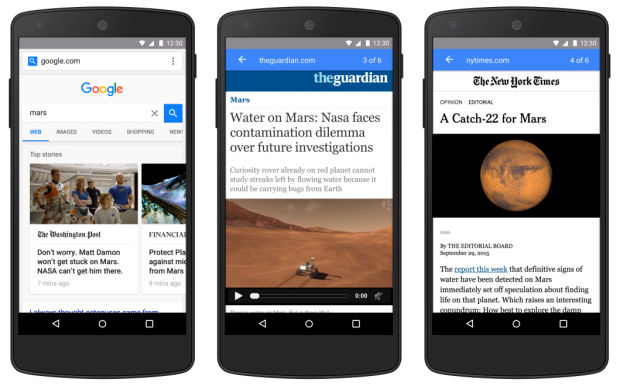 It's a simplified version of the real website that allows a user to scroll between different stories without leaving the web page and clicking on the next.
This feature streamlines the user experience on mobile.
Gone are the days where you had to wait 10 seconds for a site to load, then click back to the search results page, and wait another 10 seconds for the next site to load.
Here you can access the content of multiple articles without clicking the back button once.
It's extremely effective at speeding up your site and reducing the likelihood that someone will leave.
Tons of companies are taking advantage of AMP.
The company WIRED started implementing AMP to do a better job of reaching their customers.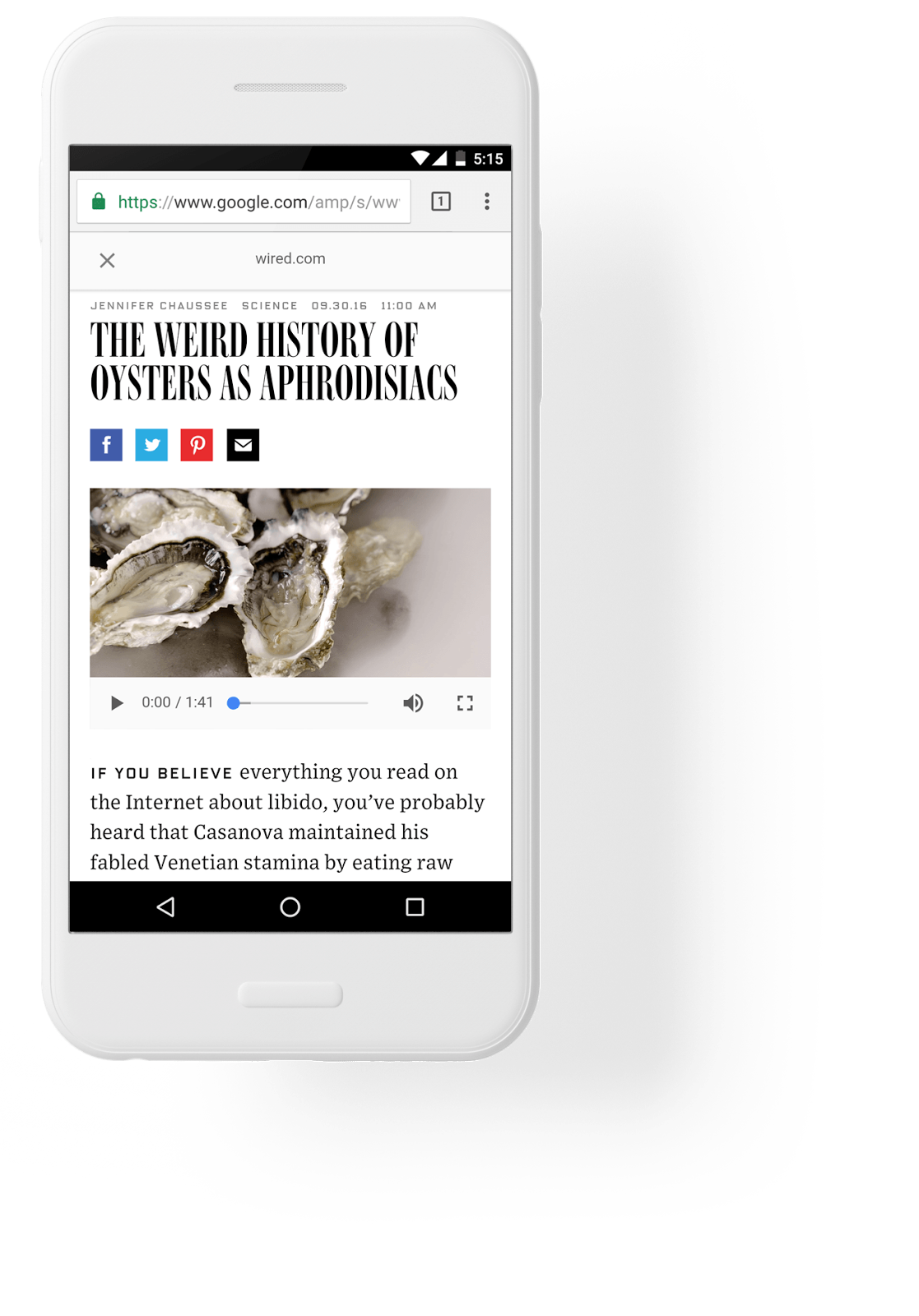 They were finding that their mobile user experience was too slow. Conversions were simply not happening because of the speed issues and visitor retention problems.
Deciding to invest time into AMP made a huge impact for WIRED.
They increased their click-through rate from organic search results by 25 percent.
They found a 63 percent increase in CTRs on ads in AMP stories, too.
They also were able to add AMP stories to over 100k articles on their site.
Gizmodo also hopped on the AMP train and saw huge improvements on their mobile site.

They were getting over 100k AMP page visits every single day with load times that were 3x faster than standard mobile pages.
Conversions increased by 50 percent, too.
It's safe to say that AMP can significantly increase conversions and mobile speed, giving you a massive opportunity to score higher on Google's PageSpeed Insights.
If you want to start using AMP on your own site, there are a few ways to do it.
If you're familiar with HTML, you can follow AMP's detailed tutorial here.
For those who are less technologically savvy or have no experience in HTML, try using a WordPress plugin.
One of the most popular plugins is AMP for WP.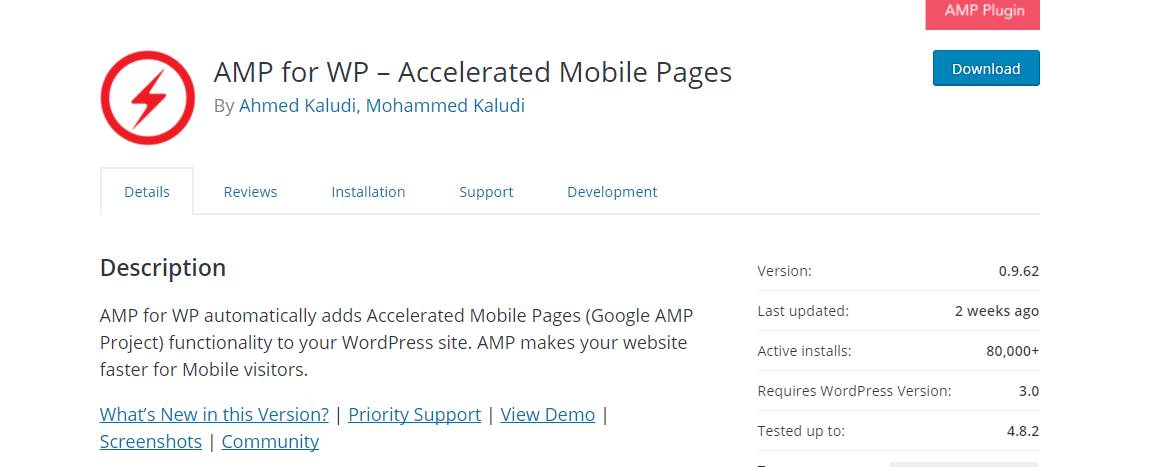 It has over 80,000 active installs and has constant support and updates.
The plugin includes an AMP page builder that you can easily drag and drop page elements on: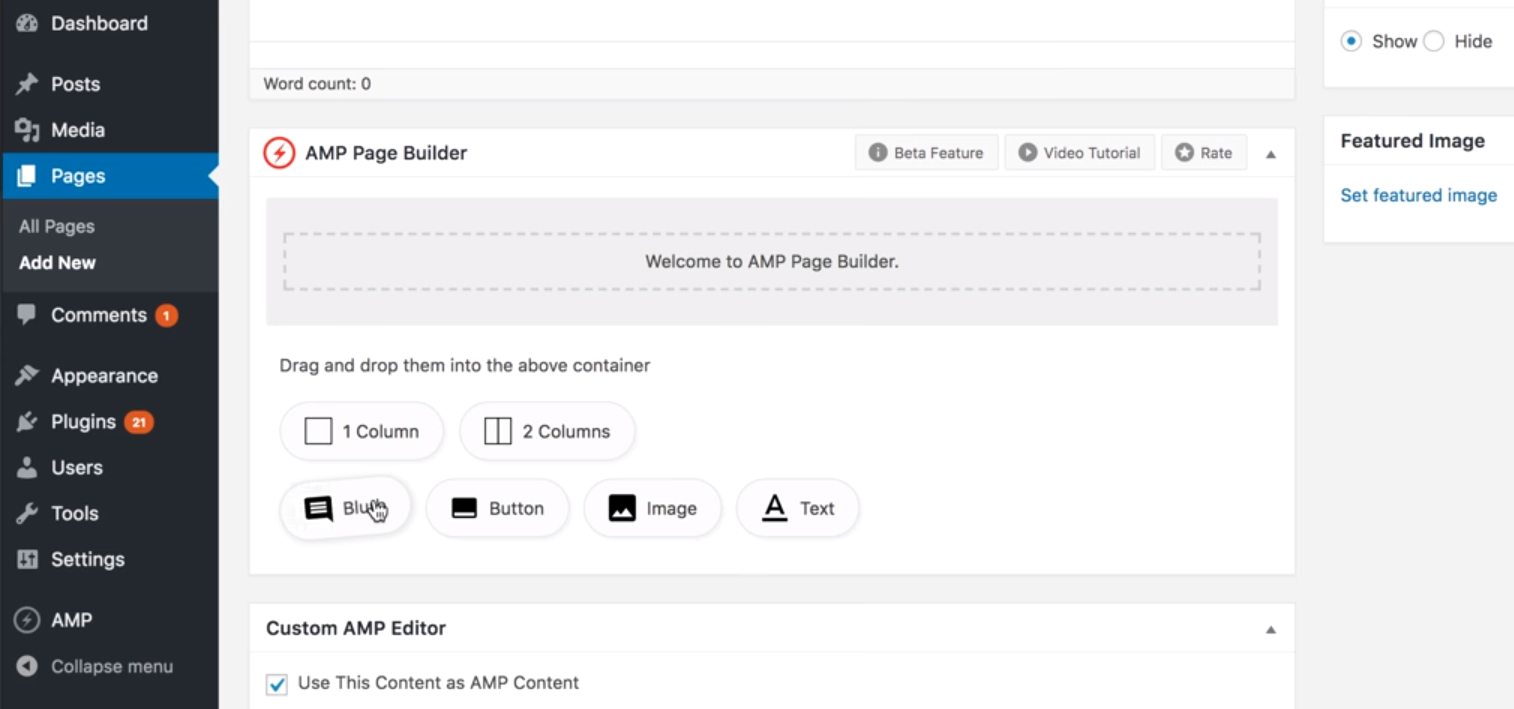 It's one of the easiest ways to create AMP-friendly content.
All you have to do is download and install the plugin on your WordPress dashboard and activate it.
From there, you can use the page builder on each new post that you upload.
These pages will then create an AMP-friendly version that will show up in mobile search results.
AMP is a proven way to speed up your mobile site and reduce your speed to under one second–and tons of companies are finding success with it.
Google PageSpeed Insights FAQs
Why is page speed important?
Google uses page speed as a ranking factor because it affects user experience. It may affect your ability to rank higher in SERPs.
How does bounce rate correlate to page speed?
Studies have shown that sites that load faster have a lower bounce rate. This means the user is likely having a better experience.
What industries have the slowest sites?
On average, technology and travel sites load the slowest, where local and classified sites load the fastest.
How fast should a site load?
The best practice for page speed load time is three seconds.
Google PageSpeed Insights Conclusion
When you've spent countless days, weeks, and months building a new website, you want every image, element, and icon to be top-notch.
However, that often results in a site that is slower than Google recommends.
When it comes to driving conversions on your site, speed will always play a big role.
People don't want to wait 10 seconds for your site to load when they can click back to Google and select the next result.
Scoring well on the PageSpeed Insights test should be one of your main priorities when trying to perfect and optimize your site.
To get started, you first need to diagnose what issues are plaguing your site.
Is it images, page elements, too much text, bad coding, or all of the above?
Use the Google PageSpeed Insights tool to see where the problem lies, then work through their suggestions. You'll also want to minify code, compress images, add browser caching, and implement AMP.
These are proven steps that can have a big impact on your PageSpeed Insight score.
Scoring a perfect 100 percent on Google's PageSpeed Insights can give your website the boost that it needs to succeed.
What are the best ways you have found to increase your site speed?
See How My Agency Can Drive Massive Amounts of Traffic to Your Website
Content Marketing – our team creates epic content that will get shared, get links, and attract traffic.
Paid Media – effective paid strategies with clear ROI.
Are you writing your SEO content based on the latest best practice tips?
I originally wrote this SEO copywriting checklist in 2012—my, how things have changed. Today, Google stresses quality content even more than before, conversational copy is critical, and there are revised SEO writing "rules." 
I've updated the list to reflect these changes and to provide additional information.
As a side note, I would argue that there's no such thing as "writing for Google." Yes, there are certain things you should do to make the Google gods happy. However, your most important goal should be writing clear, compelling, standout copy that tells a story. 
I'm keeping the old headline in the hopes that I can convert some of the "write for Google" people to do things the right way.
Whether you're an in-house SEO content writer, a DIY business owner, or a freelance SEO copywriter, this 27-point checklist will help you write engaging, Google-happy content—every time.
Items to review before you start your SEO writing project
– Do you have enough information about your target reader?
Your copy will pack a powerful one-two punch if your content is laser-focused on your target reader. Ask your client or supervisor for a customer/reader persona document outlining your target readers' specific characteristics. If the client doesn't have a customer persona document, be prepared to spend an hour or more asking detailed questions. 
Here's more information on customer personas.
– Writing a sales page? Did you interview the client?
It's essential to interview new clients and to learn more about their company, USP, and competition. Don't forget to ask about industry buzzwords that should appear in the content.
Not sure what questions to ask to get the copywriting ball rolling? Here's a list of 56 questions you can start with today. 
– Writing a blog post? Get topic ideas from smart sources
When you're blogging, it's tempting to write about whatever strikes your fancy. The challenge is, what interests you may not interest your readers. If you want to make sure you're writing must-read content, sites like Quora, LinkedIn, Google Trends, and BuzzSumo can help spark some ideas.
– Did you use Google for competitive intelligence ideas?
Check out the sites positioning in the top-10 and look for common characteristics. How long are competing articles? Do the articles link out to authoritative sources? Are there videos or infographics? Do the articles include quotes from industry experts? Your job is to write an essay that's better than what's already appearing in the top-10 — so let the competition be your guide.
– Did you conduct keyphrase research?
Yes, keyphrase research (and content optimization) is still a crucial SEO step. If you don't give Google some keyphrase "cues," your page probably won't position the way you want.
Use a keyphrase research tool and find possible keyphrases for your page or post. As a hint: if you are tightly focusing on a topic, long-tail keyphrases are your best bet. Here's more information about why long-tail keyphrases are so important.
If you are researching B2B keyphrases, know that the "traditional" keyphrase research steps may not apply. Here's more information about what to do if B2B keyphrase research doesn't work.
– What is your per-page keyphrase focus?
Writers are no longer forced to include the exact-match keyphrase over and over again. (Hurray!) Today, we can focus on a keyphrase theme that matches the search intent and weave in multiple related keyphrases.
– Did you expand your keyphrase research to include synonyms and close variants?
Don't be afraid to include keyphrase synonyms and close variants on your page. Doing so opens up your positioning opportunities, makes your copy better, and is much easier to write!
Are you wondering if you should include your keyphrases as you write the copy — or edit them in later? It's up to you! Here are the pros and cons of both processes.
 — Do your keyphrases match the search intent?
Remember that Google is "the decider" when it comes to search intent. If you're writing a sales page — and your desired keyphrase pulls up informational blog posts in Google – your sales page probably won't position. 
— Writing a blog post? Does your Title/headline work for SEO, social, and your readers?
Yes, you want your headline to be compelling, but you also want it to be keyphrase rich. Always include your main page keyphrase (or a close variant) in your Title and work in other keyphrases if they "fit."
Here's some excellent information on how to write headlines that get noticed (and that are good for Google.) You can also use headline-analyzing tools to double-check your work.
– Did you include keyphrase-rich subheadlines?
Subheadlines are an excellent way to visually break up your text, making it easy for readers to quick-scan your benefits and information. Additionally, just like with the H1 headline, adding a keyphrase to your subheadlines can (slightly) help reinforce keyphrase relevancy.
As a hint, sometimes, you can write a question-oriented subheadline and slip the keyphrase in more easily. Here's more information about why answering questions is a powerful SEO content play.
– Is your Title "clickable" and compelling?
Remember, the search engine results page is your first opportunity for conversion. Focusing too much on what you think Google "wants" may take away your Title's conversion power. 
Consider how you can create an enticing Title that "gets the click" over the other search result listings. You have about 59 characters (with spaces) to work with, so writing tight is essential. 
– Does the meta description fit the intent of the page?
Yes, writers should create a meta description for every page. Why? Because they tell the reader what the landing page is about and help increase SERP conversions. Try experimenting with different calls-to-actions at the end, such as "learn more" or "apply now." You never know what will entice your readers to click!
– Is your content written in a conversational style?
With voice search gaining prominence, copy that's written in a conversational style is even more critical.
Read your copy out loud and hear how it sounds. Does it flow? Or does it sound too formal? If you're writing for a regulated industry, such as finance, legal, or healthcare, you may not be able to push the conversational envelope too much. Otherwise, write like you talk.
Here's how to explain why conversational content is so important.
–Is your copy laser-focused on your audience?
A big mistake some writers make is creating copy that appeals to "everyone" rather than their specific target reader. Writing sales and blog pages that are laser-focused on your audience will boost your conversions and keep readers checking out your copy longer. Here's how one company does it.
Plus, you don't receive special "Google points" for writing long content. Even short copy can position if it fully answers the searcher's query. Your readers don't want to wade through 1,500 words to find something that can be explained in 300 words.
Items to review after you've written the page
– Did you use too many keyphrases?
Remember, there is no such thing as keyword density. If your content sounds keyphrase-heavy and stilted, reduce the keyphrase usage and focus more on your readers' experience. Your page doesn't receive bonus points for exact-matching your keyphrase multiple times. If your page sounds keyphrase stuffed when you read it out loud, dial back your keyphrase usage.
– Did you edit your content?
Resist the urge to upload your content as soon as you write it. Put it away and come back to it after a few hours (or even the next day.) Discover why editing your Web writing is so very important. Also, don't think that adding typos will help your page position. They won't.
– Is the content interesting to read?
Yes, it's OK if your copy has a little personality. Here's more information about working with your page's tone and feel and how to avoid the "yawn response." Plus, know that even FAQ pages can help with conversions — and yes, even position.
– Are your sentences and paragraphs easy to read?
Vary your sentence structure so you have a combination of longer and shorter sentences. If you find your sentences creeping over 30 or so words, edit them down and make them punchier. Your writing will have more impact if you do.
Plus, long paragraphs without much white space are hard to read off a computer monitor – and even harder to read on a smartphone. Split up your long paragraphs into shorter ones. Please.
– Are you forcing your reader onto a "dead end" page?
"Dead-end" pages (pages that don't link out to related pages) can stop your readers dead in their tracks and hurt your conversion goals. 
Want to avoid this? Read more about "dead-end" Web pages.
– Does the content provide the reader with valuable information?
Google warns against sites with "thin," low-quality content that's poorly written. In fact, according to Google, spelling errors are a bigger boo-boo than broken HTML. Make sure your final draft is typo-free, written well, and thoroughly answers the searcher's query.
Want to know what Google considers quality content — directly from Google? Here are Google's Quality Raters guidelines for more information.
– Did you use bullet points where appropriate?
If you find yourself writing a list-like sentence, use bullet points instead. Your readers will thank you, and the items will be much easier to read.
Plus, you can write your bullet points in a way that makes your benefit statements pop, front and center. Here's how Nike does it.
– Is the primary CTA (call-to-action) clear–and is it easy to take action?
What action do you want your readers to take? Do you want them to contact you? Buy something? Sign up for your newsletter? Make sure you're telling your reader what you want them to do, and make taking action easy. If you force people to answer multiple questions just to fill out a "contact us" form, you run the risk of people bailing out.
Here's a list of seven CTA techniques that work.
– Do you have a secondary CTA (such as a newsletter signup or downloading a white paper?)
Do you want readers to sign up for your newsletter or learn about related products? Don't bury your "sign up for our newsletter" button in the footer text. Instead, test different CTA locations (for instance, try including a newsletter signup link at the bottom of every blog post) and see where you get the most conversions.
– Does the page include too many choices?
It's important to keep your reader focused on your primary and secondary CTAs. If your page lists too many choices (for example, a large, scrolling page of products), consider eliminating all "unnecessary" options that don't support your primary call-to-action. Too many choices may force your readers into not taking any action at all.
– Did you include benefit statements?
People make purchase decisions based on what's in it for them (yes, even your B2B buyers.) Highly specific benefit statements will help your page convert like crazy. Don't forget to include a benefit statement in your Title (whenever possible) like "free shipping" or "sale." Seeing this on the search results page will catch your readers' eyes, tempting them to click the link and check out your site.
– Do you have vertical-specific testimonials?
It's incredible how many great sales pages are testimonial-free. Testimonials are a must for any site, as they offer third-party proof that your product or service is superior. Plus, your testimonials can help you write better, more benefit-driven sales pages and fantastic comparison-review pages.
Here's a way to make your testimonials more powerful. 
And finally — the most important question:
– Does your content stand out and genuinely deserve a top position?
SEO writing is more than shoving keyphrases into the content. If you want to be rewarded by Google (and your readers), your content must stand out — not be a carbon copy of the current top-10 results. Take a hard look at your content and compare it against what's currently positioning. Have you fully answered the searcher's query? Did you weave in other value-added resources, such as expert quotes, links to external and internal resources (such as FAQ pages), videos, and graphics? 
If so, congratulations! You've done your job.