Technical SEO Audits: Tips For Successful Implementation
According to BrightEdge, 68 percent of all online experiences start with a search engine, and 53 percent of website traffic comes from organic search.
Yet, only 0.78 percent of these searchers click results on the second page of Google.
That means if you're not showing up on the front page of the SERPs, you aren't getting traffic.
It's clear why SEO is a top priority for marketers. In fact, 61 percent say it's their main focus when it comes to inbound marketing.
If you can get your client's website to the top of user search, you'll have a much easier time improving their ROI.
Of course, mastering SEO is no easy task.
There are so many things to consider, from on-page SEO to off-page SEO, copy, content, and even technical SEO.
A truly effective SEO strategy includes all of these strategies, plus regular optimization to ensure consistent returns.
This post dives deep into technical SEO and how you can use it to increase organic traffic, show up in search, and improve your overall site experience.
What Is Technical SEO?
Technical SEO is an area of SEO that covers optimizations that improve search engine ranking by making your site easier for search engines to crawl. For example, improving site load time, checking robot.txt files, and making redirects work properly.
Essentially, it's the process of ensuring your website can be seen, crawled, and ranked by search engines.
Search engines, such as Google, give preference to websites that meet their webmaster guidelines. The basic principles state your website content should be accurate, easy to access, and user-friendly.
If your website loads slowly, has an unresponsive design, or lacks a secure connection, your content will not meet these guidelines.
This is where technical SEO comes in, as it can help you improve the technical characteristics of your website to improve organic traffic.
Why Is Technical SEO Important?
Imagine you wrote the most amazing content in the world. It's content that everyone should read.
People would pay buckets of money just to read it. Millions are eagerly waiting for the notification that you've posted this new, incredible content.
Then, the day finally comes, and the notification goes out. Customers excitedly click the link to read your article.
Then, it takes over 10 seconds for your web page to load. Readers are annoyed and they don't want to wait.
For every second that it takes for your web page to load, you're losing readers and increasing your bounce rate.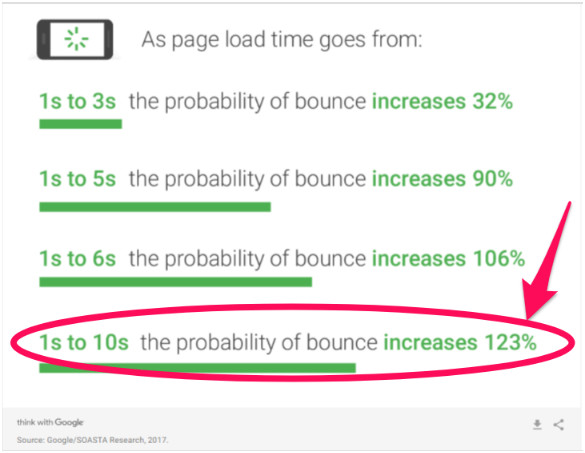 It doesn't matter how great that piece of content is—your site isn't functioning well, and you're losing precious traffic.
That's just one example of why technical SEO is so critical.
Without it, Google and other search engines are incapable of finding, crawling, and indexing your site.
If search engines can't access your site, you can't rank and you become one of the 90.63 percent of websites that get no organic search traffic from Google. Yikes.
Even if your site can be found, user experience issues, like page load times and confusing navigation, can still negatively impact SEO.
Other issues like mobile optimizations, duplicate content, and site security can cause search engines to rank your site lower.
Elements of Technical SEO
While crawling and indexing are important factors in SEO, there are many more aspects to consider when performing a technical SEO audit. These include:
mobile optimization
page load speed
link health
duplicate content
schemas
crawl errors
image issues
site security
URL structure
404 pages
301 redirects
canonical tags
XML sitemaps
site architecture
At a minimum, a technically sound website should be secure, quick to load, easy to crawl, have clear and actionable navigation, and not contain any duplicate links or content.
It should also have systems in place to engage users even if they do hit a dead end, such as content created for 404 errors and 301 redirect pages.
Finally, a site should have structured data to help search engines understand the content. This can come in the form of schema graphs and XML sitemaps.
When conducting a technical SEO audit, be wary of over-optimizing your website. Too many improvements can work against your best intentions and actually damage your SEO rankings.
What Is an SEO Audit?
An SEO audit is the process of evaluating your website to see how well it is performing on search engines.
SEO audits are a great way to create actionable plans to outperform your competitors, identify opportunities within your website, find and fix exit points, and create better customer experiences.
You should perform technical SEO audits, on-page SEO audits, and off-page SEO audits regularly.
As you go through your audit, you'll find places where you can improve or optimize your website performance to improve performance and keep site visitors happy.
You may not be able to fix every error at once, but you can figure out what's going wrong and make a plan to fix it.
What Are the Key Elements of a Technical SEO Audit?
There are three key factors to look at during an SEO audit:
back-end factors, such as hosting and indexing
front-end factors, such as content, keywords, and metadata
link quality and outside references
Sometimes, you won't have the time to address each pain point. So, when deciding which audit insights are worth taking action on, use the 80/20 rule.
The most important part of your site's SEO is the part that your incoming traffic actually sees.
That's all washed away if your site isn't mobile-friendly, though.
With the introduction of the mobile-first index, you need to make sure you understand how your site performs on mobile to ensure proper placement on SERPs.
What does the mobile-first index mean?
Due to 52.2 percent of global web traffic coming through mobile, Google has adjusted its algorithm to crawl the mobile version of websites.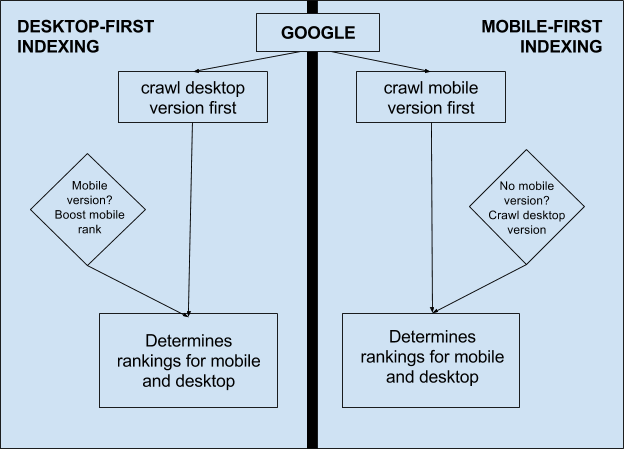 It boils down to this—if your site doesn't perform well on mobile devices, you are not just losing traffic; your site also looks bad to Google. That can result in lower rankings, and even less traffic.
How to Perform a Technical SEO Audit
SEO guidelines are constantly changing. Every time a major search engine significantly updates its algorithm, SEO has to adapt.
The good news is the frequency of changes in technical SEO tends to be lower.
After all, it's not like search engines or readers will suddenly decide they're okay with slower speeds.
If anything, you will see the average acceptable speed continue to drop. Your site simply has to be faster if you want to keep up with SEO demands.
Your website has to be mobile-friendly. This is only going to become more important over time, too.
It has to work without errors, duplicate content, and poor images.
Search engines also have to be able to crawl it successfully.
These things are all crucial to your success on search engines and site visitors. If you want to prioritize your SEO efforts, make sure you tackle the technical aspects first.
1. Crawl Your Website
The most important part of the SEO audit is the crawl.
Before you do anything else, start a crawl of your website. You can use Ubersuggest to make it a simple process. Here's how you do it:
Step 1: Enter your URL and click "Search."
Step 2: Click "Site Audit" in the left sidebar.
Step 3: Run the scan. Upon completion, you'll see this: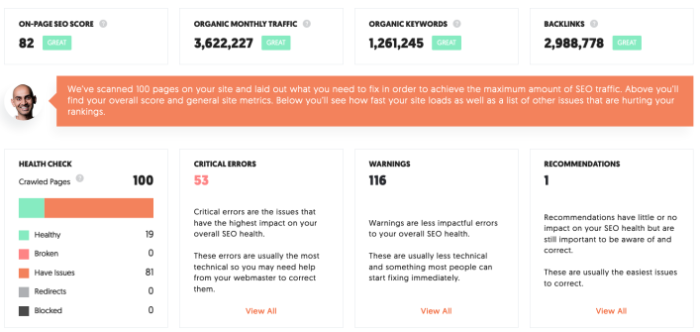 Crawling is useful for identifying problems such as duplicate content, low word count, unlinked pagination pages, and excess redirects. Ubersuggest will even rank issues in order of importance, so you can focus on what matters most.
If you find anything here, click on it for more information and advice on how to fix it. For example, our website has 32 pages with a low word count.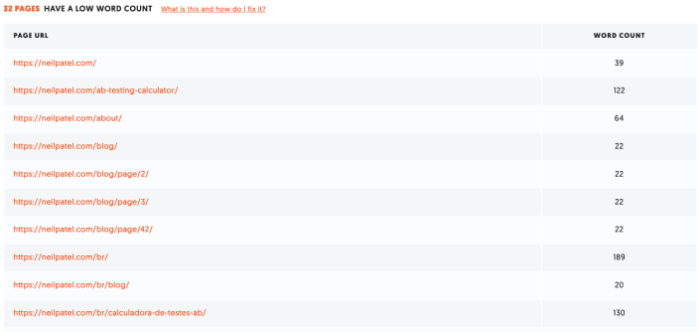 You can then review these pages to determine if you need to add more content.
What does this all mean?
In short, it gives you a glimpse into how the Googlebot is crawling your site.
If you don't use Ubersuggest for your technical SEO audit, you can also search your site manually. We'll explain that below.
2. Perform a Manual Google Search
A few Google searches can tell you approximately how well your website is ranking. This will help you figure out where to start your technical SEO audit.
How many of your pages appear in relevant search results?
Does your site appear first when you search for it by name?
Overall, where does your site appear in the results?
To figure out which pages are actually being crawled, you can use a "site:rootdomain" search to see what shows up.
Here's what this looks like in action: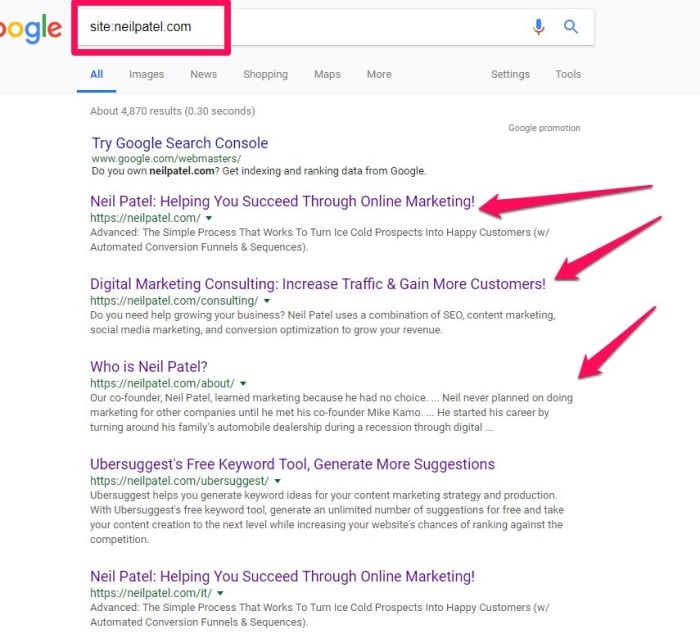 Missing pages don't automatically mean that your site is un-crawlable, but it's useful to understand what's happening behind the scenes.
Your website doesn't need to be at the very top of your searches, either. By using the site search, it will show you only pages on your own site.
3. Make Sure Only One Version of Your Site Is Browseable 
If your website has multiple "versions" of itself, you send search engines a mixed message about how to crawl your site.
Basically, the crawlers don't know which one is the right one.
If search engines don't even know how to show your site to prospective traffic, your site's SEO ranking will be negatively impacted.
This could be a mobile and desktop version warring with each other, or a duplicate "https" version and a non-"https" version.
The impact of HTTP vs. HTTPS on a site's SEO is debated in the SEO community. Some sites using AdSense saw a decrease in revenue after making the switch to HTTPS.
For example, Crunchify's revenue decreased 10 percent after switching to an HTTPS site.
However, it seems that websites without SSL protection are being deprecated on Google SEO moving forward.
Google is even taking steps to make it more known which sites have SSL protection and which do not. Chrome is marking pages as "Not secure" to make it clearer.
With this change from Google, it seems you will need to make sure that your website only uses "https."
4. Conduct On-Page Technical SEO Checks
When evaluating your site and the results from your crawl, there are tons of things to check. Don't get overwhelmed! Start by looking for duplicate pages, headers, and title tags.
If you've published a lot of content with similar themes, like me, some seemingly unrelated content will show up in your crawl.
That's okay. You're looking for duplicates of the same content.
You can use a tool like Copyscape to assess potential technical SEO problems arising from duplicate content.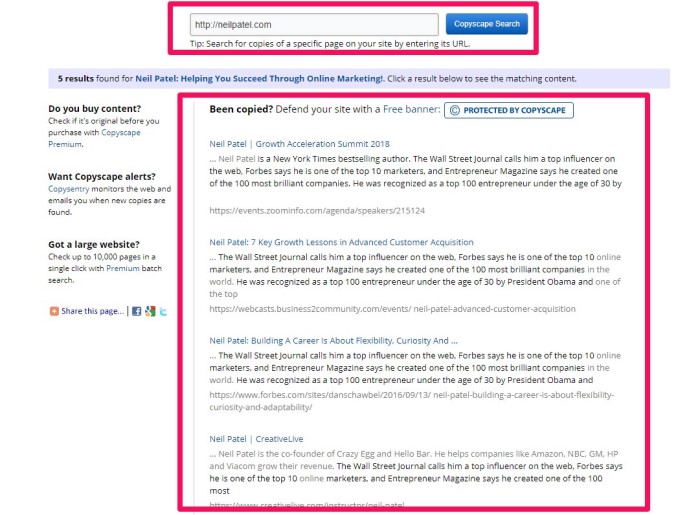 From there, closely examine a few key criteria that Google evaluates in their rankings.
Page Titles and Title Tags
A title tag is an HTML code that tells search engines the title of a page. This information will be displayed on SERPs.
It looks something like this:

You'll want to make sure these are relevant to the content on your page. The content should also answer the questions your users are asking as fast as possible.
The optimal length for title tags is between 56-60 characters. You can use a pixel width checker to make sure that your title isn't truncated.
Meta Descriptions
Meta descriptions don't directly impact ranking; but they are still incredibly important because it's the first thing a user sees in the SERPs.
Meta descriptions should be compelling, engaging, and give a taste of what the user will find on the page.
Google recently expanded the limit for descriptions from 160 to 320, which provides even more real estate to draw in a click.
Clear Hierarchy
You'll want to make sure your content is organized, with a clear hierarchy on the page.
This makes it easy for Google to analyze your site and index it for search.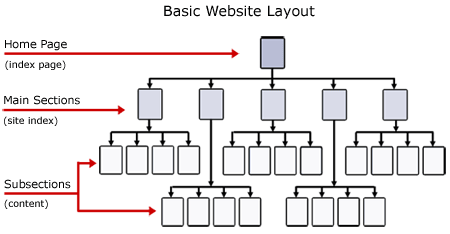 Essentially, you want to make sure the placement of pages makes sense—all your service pages should be under your "services" tab, for example. Make sure users don't have to click through four levels of pages to find best-selling products. The goal is to make it easy for Google —and users—to find the information or products they are looking for.
Keyword Placement
Every page on your site should have a focus keyword included in the first 100 words.
For example, in this post about social proof, it's included twice in the first 100 words.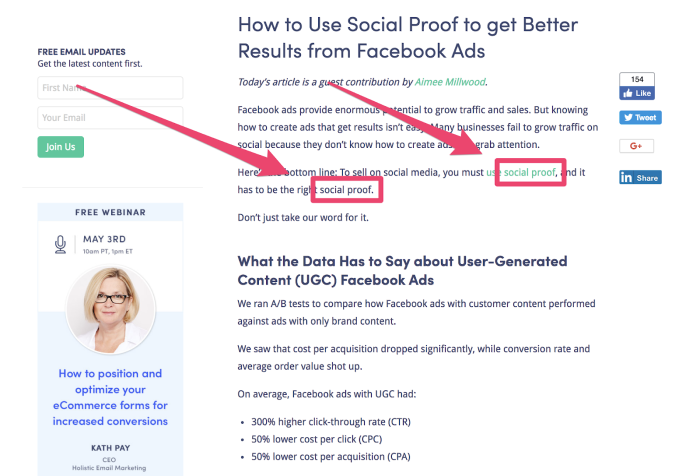 This helps Google understand what the post focuses on—but don't stop there.
While keyword stuffing will penalize you, you should be strategic about keyword placement.
Include them, when possible:
title
URL
subheadings (h2, h3, etc.)
meta description
Overall, on-page SEO checks are incredibly important, but they are only one part of your overarching technical SEO strategy. There are also other SEO checks to consider.
5. Manage Your Internal and External Links
Sites with logical hierarchies have improved SEO rankings. That's why it's important to check your internal and external links—to make sure visitors can navigate your site intuitively.
Pages might be deleted or moved, which can result in broken links and annoyed site visitors.
Don't worry; you don't have to do this manually.
Integrity and Xenu Sleuth can help you identify your broken links on your site. (Note: Integrity only works for Mac.)
While both tools are straightforward to use, I'll use Integrity as an example.
Once you download it, add your URL in the text bar at the top of the page and click "Go."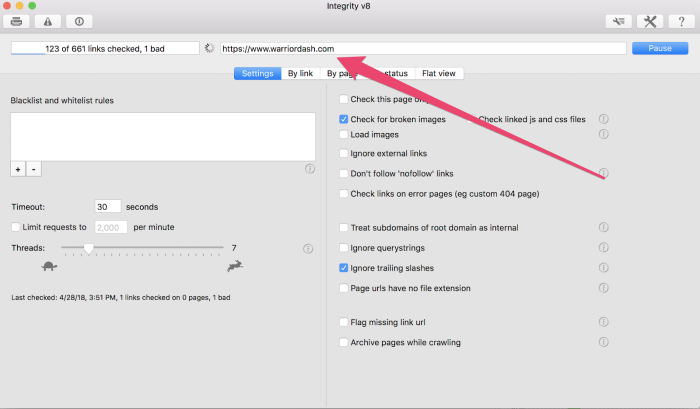 Then the tool will begin testing all the links found on your site and provide you with the results.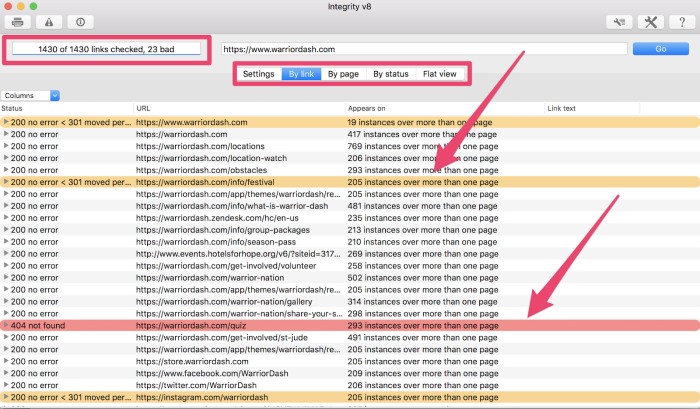 In the top-left corner, you see a snapshot of links and how many are bad.
Depending on the size of your site and how many links you have, you might consider viewing the results by link, page, status, or flat view to understand the results.
You'll want to change any links marked in red with the "404 not found" label. These dead ends can negatively impact your technical SEO.
Google does score clicks from internal and external links differently, although both have their purpose in improving your SEO.
6. Check Your Site Speed
People are impatient. Google knows this.
Your customers don't want to wait around. The longer your page takes to load, the higher the chance your customer will bounce.
You need to check your site speed, and Ubersuggest can help. Here's how to get started:
Step 1: Enter your URL and click "Search."
Step 2: Click "Site Audit" in the left sidebar.
Step 3: Scroll down to "Site Speed."
Ubersuggest displays loading time for both desktop and mobile devices. The results above show my site is in the "excellent" range for both.
In addition to loading time, it also tests:
First Contentful Paint
Speed Index
Time to Interactive
First Meaningful Paint
First CPU Idle
Est. Input Latency
Take action if your website scores less than excellent or good.
You might need to optimize your images, minify JavaScript, leverage browser caching, or more.
Ubersuggest will outline just what you need to do to improve site speed.
7. Leverage Your Analytics and Compare Site Metrics
This step determines whether your analytics service (e.g., Google Analytics, Kissmetrics, etc.) is reporting live metric data.
If it is, your code is installed correctly.
If not, your code is not installed correctly and needs to be fixed.
If you're using Google Analytics, you want the tracker code to be placed above the header of each web page.
Once you have an analytics service up and running, compare the metric data to the results of your earlier "site:rootdomain" search.
The number of pages showing in your metric data should be comparatively similar to the number of pages from the "site:rootdomain" search.
If not, certain pages aren't properly accepting crawl requests.
Check Your Bounce Rate
Google Analytics can be helpful when assessing your page's bounce rate.
A high bounce rate means that people aren't finding what they are looking for on your site. This means you might have to go back and make sure the content is optimized for your audience.
You can check your bounce rate by logging into your Google Analytics account and clicking on Audiences > Overview.
Compare Metrics With the MozBar
In addition, you can use Moz's tool called The Mozbar to benchmark between pages.
The MozBar is a tool that provides various SEO details of any web page or search engine results page.
The toolbar adds an overlay to your browser and offers a number of features.
For example, MozBar can be used to highlight different types of links that you view.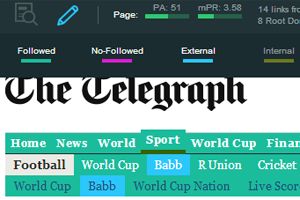 This is useful on its own, but it also lets you compare link metrics on or between pages.
It also comes with robust search tools to make your life easy.
With it, you can create custom searches by location, down to the city.
Page Authority is also supported by the MozBar.
It ranks each specific page from 1 to 100 in terms of how well it will rank on search engine results pages.
When doing a technical SEO audit, tools like this help you quickly take the temperature of your site's relationship with search engines.
The less guesswork you have to do, the better quality your SEO audit will be.
8. Check Your Off-Site SEO and Perform a Backlink Audit
Backlinks are critical for SEO success.
This way, Google and other search engines will know that your page is particularly relevant and that other users will find it useful.
Remember that hyperlinks are not the only thing crawlers look for in off-site SEO.
Your site is also crawled for brand mentions. This is why it's crucial to pay attention to what's happening both on and off your site.
Perform Your Backlink Audit
Use a tool such as Ubersuggest to perform a backlink audit and assess the kind of backlinks pointing to your site. Here's how:
Step 1: Enter your URL and click "Search."
Step 2: Click "Backlinks" in the left sidebar.
Step 3: Review the report.

Backlink audits are helpful because:
You can assess your current link profile and see how it is affecting your site.
You can identify areas where you can focus on getting more high-value links.
You can assess your competitors' number of backlinks and work to outperform them.
Don't just stop with your site's backlink audit—you'll also want to see what the competition is up to.
Analyze Competitor Keywords
Your competitors were busy upping their SEO capability while you were sleeping. Now, they rank higher for your most important search terms.
Ubersuggest can also help with this.
It allows you to see what keywords other sites are ranking for. It also shows what backlinks are going to those sites.
Basically, you want to explore your competitors' backlinks and see how they compare to your own. Here's how you do it:
Step 1: Enter your competitor's URL and click "Search."
Step 2: Click "Keywords" in the left sidebar.
Step 3: Review the results.
This provides a clear overview of what your competitor's site is ranking for. In addition to a list of keywords, you can review:
Volume: the average number of monthly searches for the keyword
Position: position the URL is ranked in Google search
Estimated Visits: estimated monthly traffic the webpage gets for the keyword
SD: estimated competition in organic search, the higher the number, the more competitive the term is
Engage on Social Media
Social media is a conduit for consistent backlinks and engagement. You can use it to support your technical SEO efforts.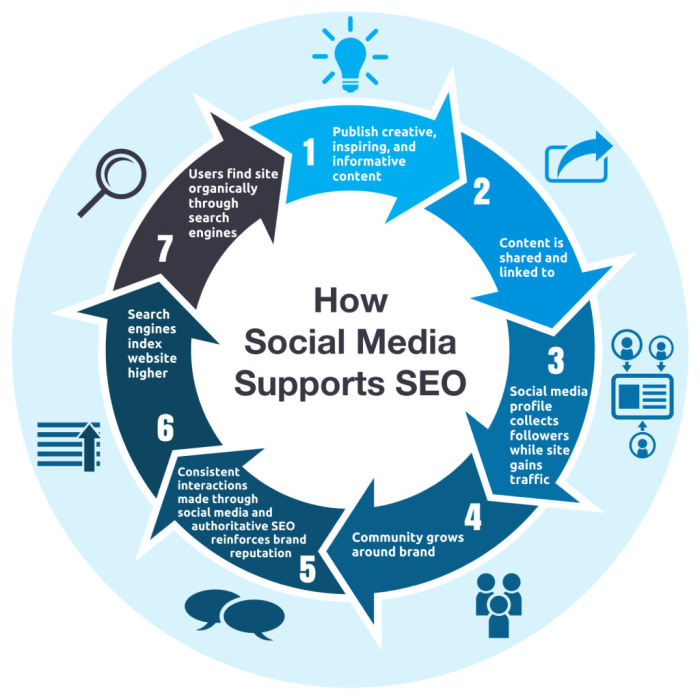 You want to figure out which additional social media platforms are frequented by your target audience.
Simply put, social media can improve your SEO by:
Increasing the number of your backlinks. Those who discover your content on social media might be more likely to link to it.
Increasing brand awareness, which can help with search queries including your brand's name.
Social media is an opportunity to increase traffic and mentions beyond what people are searching for on a search engine.
Social media saturation is also simpler than putting together a link-building campaign.
Use the Facebook Sharing Debugger to see what your web content looks like when shared on Facebook.
This tool also allows you to check your Open Graph tags.
Technical SEO: Final Thoughts
There are three different aspects of SEO, and technical SEO is the most important of the three.
It won't matter how amazing your on-page SEO is if you fail at technical SEO.
It also won't matter how great you are at off-page SEO if you're horrible at the technical stuff.
Don't get overwhelmed by the idea of it being "technical" or complex. Start with the big, critical aspects discussed above and tackle them one problem at a time.
How have you found success with technical SEO on your site?
See How My Agency Can Drive Massive Amounts of Traffic to Your Website
SEO – unlock massive amounts of SEO traffic. See real results.
Content Marketing – our team creates epic content that will get shared, get links, and attract traffic.
Paid Media – effective paid strategies with clear ROI.
A Simple (But Complete) SEO Tutorial for Beginners in 7 Steps
Starting with SEO can be overwhelming—many technical terms, checklists of tens of tasks to do, learning resources contradicting each other, and the list goes on. I remember when I got into the game.
This SEO tutorial should get you on the right track. We'll go through seven essential steps to help you increase organic traffic and ensure you have the right foundation to advance your SEO skills further.
Let's dive into it.
People look up information around your brand, product, or service in tons of different ways.
Our job is to find these keywords and choose the best ones to target with relevant content. This process is known as keyword research.
You'll need a keyword research tool to do that. There are a bunch of free ones, such as our free keyword generator, so you can get started right away. Simply plug in keywords that describe your business, products, or problems your audience might need to solve.
Let's say we have a coffee equipment shop, so discovering what people look up regarding espresso machines and how frequently is a good starting point:
Are you used to saying "espresso maker" instead? Well, this is exactly why we do keyword research because "espresso machine" has 15 times the monthly search volume:
To me, these two keywords are synonyms and can be used interchangeably. But maybe others imagine two different things? Let's use Google as the best verification method here since its goal is to deliver the most relevant results to any search query.
If there's a big overlap of the search results, then Google sees these two keywords as synonymous, meaning that most people think that way too.
You can either open up two Google search tabs or use the SERP overview comparison feature in Ahrefs' Keywords Explorer. As you can see, the overlap is huge and there's not a single page targeting the keyword "espresso maker":
So clearly, "espresso machine" is the right keyword to target here. And we also just touched on the topic of the next step.
Learn more: How to Do Keyword Research for SEO
Chose a keyword that you want to rank for? Then you need to create a piece of content that aligns with search intent. In other words, figure out what people searching that keyword are looking for and deliver it to them.
We just went through the example of people searching for "coffee makers" actually meaning "coffee machines," which is more commonly used. In general, we can assume that what already ranks at the top for any given keyword is something most searchers want to see.
Let's keep up with the coffee equipment theme and target the keyword "burr coffee grinder." Here's what Google's top results in the U.S. look like:
We've got two types of pages here: product reviews with recommendations (in blue) and e-commerce category pages (in yellow). Since the category pages are in the minority and only the biggest players like Amazon or Target rank with them, I'd go with the listicle kind of post recommending multiple coffee grinders.
If you look closely, some of those review pages don't even specifically target the "burr" grinder type but focus on the best coffee grinders in general. Those naturally mention a few burr grinders, so they're relevant too.
Both ways here are fine, although focusing on "burr" specifically will likely result in a higher chance of ranking well for this keyword, especially for websites that aren't huge authorities in the niche yet.
Last but not least, it should go without saying that searchers also want to see valuable and trustworthy information. A good rule of thumb is not to cover topics that you're not very familiar with and can't provide value. There's too much regurgitated information on the internet already, so don't just create content for the sake of it.
Want to squeeze the most clicks out of your SERP impressions? You need to catch searchers' attention.
Now, the truth is if your page's title is plain bad to begin with, you'll have a lower chance of ranking well. It's hardly a surprise that search engines assess title tags for ranking the pages since the title is the most visible SERP component:
Which result would you click on here? The second one caught my attention immediately because the title promises I'll find the answer quickly in some sort of chart. The rest of the titles are good too, but they don't stand out to me despite higher relevance to my search query.
Yes, you should absolutely use your primary keyword in your title. Also, the example above just proves that there are other variables at play. Here's a short list of the best practices for writing great titles:
Include your primary keyword in a natural way – This means you can transform "grinding coffee for moka pot" into something like "How to Grind Coffee for a Delicious Moka Pot."
Make it descriptive – It should perfectly sum up the core of your content.
Try to stand out – Always check pages that already rank for the keyword and think how you can differentiate your own.
Avoid overpromises and clickbaits – Try your best to deliver what you promise in the SERP snippet.
Fit into Google's pixel limits – Titles truncate (or even change) when you go over a certain pixel length in your title tag. Use a SERP snippet preview tool like this.
Ever came across a promising search snippet that you clicked through and then a messy website that you didn't really want to engage with appeared? Yeah, me too.
That's why Google is looking at multiple UX factors when it comes to ranking its results. Visitor satisfaction isn't only dependent on the provided information but on the whole experience of your page and website.
Think about these UX factors as a solid foundation for your other SEO efforts, not a silver bullet to skyrocket your rankings:
Mobile-friendly website 
How your website looks and behaves on mobile matters more than its desktop version. Most searches take place on our small devices, and that's why Google predominantly uses mobile versions of pages in its index.
Yet this factor is easy to overlook since we use our desktop devices to create websites. Here are a few tips to make both human and robot visitors on mobile happy:
Use a modern CMS that can easily make both desktop and mobile versions of your pages look good. Most popular CMS choices should be fine here.
Keep the important content visible on both mobile and desktop. Small variations are fine.
Check and troubleshoot mobile reports in the Experience section of your Google Search Console:
Learn more: Mobile-First Indexing: What You Need to Know
Solid website structure and navigation
Website structure is how your site is organized and webpages interlinked. Having a logical site structure helps visitors and search engines easily find and navigate content while improving conversions and supporting your SEO efforts.
We could go really deep into creating an optimal website structure. But listen—don't go deep here. Instead, choose a flat website structure like this:
The top-level pages should be your most important ones, and they should be linked from your header navigational elements that are accessible at all times. Since we just talked about mobile versions, here's an example of the popular "hamburger" menu at the top-right corner:
Learn more: Website Structure: How to Build Your SEO Foundation
Easy-to-read content
Would you get this far if this article was all just a block of text? Probably not.
Notice how we're making use of headings and subheadings (from H1 to H3s) to add proper hierarchy to the content. But that will still make for a rather dry-looking page. Here are the three most important tips to make your content easy and enjoyable to read:
Add relevant visual elements to cut through the text.
Use multiple text formatting options (like I just did with this list and bolded words).
Write like your audience talks to avoid trying to sound smart with big words and overcomplicated terminology.
By the way, even your URLs could be considered part of your content. It's something people see on the SERP, along with the title and description. Making your URLs short and descriptive is the best way to ensure they're SEO-friendly.
Ads and pop-ups in moderation
The best way to ensure your visitors leave your pages ASAP is to overwhelm them with stuff they didn't come for. Like here:
By all means, monetize your website with ads and grow your email list with pop-ups—but do them in moderation. Potentially higher short-term gains are not worth losing in the long run.
HTTPS
Providing a secure connection between your server and visitors has been a must for many years already.
New websites should come HTTPS-enabled by default with good hosting providers. Just double-check that there's a "lock" icon next to your domain name in your browser signaling a valid TLS certificate that's needed to run on this secure protocol:
Internal links are links within the same website. Their main roles in SEO are to provide paths for search bots to crawl websites and pass link equity from linking pages.
Think about the link equity as votes that pages get in the form of links from other pages throughout the whole internet. Since internal links are fully within your control, it's something we should tackle first.
Simply find suitable internal link opportunities every time you publish a new piece of content. Then add the links.
The easiest way to find these opportunities is to use Google. Surprised? With the help of the site: search operator, Google will show you all your website's pages that contain a certain keyword (or similar ones). Like this:
I even narrowed down the search to our blog section of the website and used the quotation marks as another search operator to return exact matches on that keyword. Voilá, we get a list of pages that talk about "internal links" to internally link our articles on this topic. OK, we're getting too meta here.
Replicate the process for each new piece of content and its target keyword, and you'll get ahead of many competitors.
Learn more: Internal Links for SEO: An Actionable Guide
Now we get to the part of links you don't control because they come from external websites: backlinks.
Backlinks are one of the most important ranking factors, meaning that there's a huge demand for them. Getting worthy backlinks isn't a piece of cake.
There are tons of ways to build links. The overarching rule of thumb is to provide enough (non-monetary) value to motivate the other side to link to you.
Let me explain the "non-monetary value."
If you're trying to get backlinks to subpar content or products, then you'll most likely have to buy the link or provide something else in exchange for it. Not only would you be unlikely to even get responses to such pitches, but Google could also penalize you for this unnatural link acquisition that violates its webmaster guidelines.
Your biggest asset for building high-quality backlinks is stellar content others find valuable and interesting. Not only can asking for links become quite effective, but you'll also have a chance to grow your link profile passively without having to write a single email.
Take a look at our five most popular linked-to pages (excluding the homepage):
Two of them are free tools providing valuable data, and one is a data study with important insights for our industry. This type of content is called link bait, and it's arguably the best way to land high-quality links—as those often come naturally, not from you asking for them.
So how do we qualify backlinks as high-quality?
Generally speaking, the best links you can get are "followed" links placed within the main content that's published on a highly authoritative website in your niche.
To sum this up: Building links is an important part of SEO, and you'll do well if people find your pages so valuable they're naturally inclined to link to it on their own.
Since link building is a whole SEO discipline, I recommend you also check these two guides to learn more about it:
Perfecting all the steps above won't matter if search engines can't access your content. You need to make sure a search engine can discover, crawl, and store the pages in its index.
Luckily, severe technical errors that could cause your content to not rank at all are rather rare. Unless you click on random things in your CMS, you're probably fine.
But there are quite a few issues that can hinder your success in search engines.
Well, the good thing is that you don't need to have any deep technical knowledge to discover and troubleshoot technical SEO issues yourself. All you have to do is to use a tool like Ahrefs Webmaster Tools, set up a regular SEO audit, and keep an eye on the issues it finds.
You could do this for free right now. Ahrefs' Site Audit tool will crawl your website (like search engines) and check it for more than 130 SEO issues. It will then give you a comprehensive overview showing all the issues with explanations on how to fix them:
This will guide you on the spot. If you first want to learn the theory, we have a guide for you too.
Learn more: The Beginner's Guide to Technical SEO
Final thoughts
There are multiple guides referenced throughout the tutorial, so come back to each step whenever you want to learn more. But don't fall into the "learning" rabbit hole, as nothing can beat hands-on experience.
Go and apply what you just learned. Then monitor your progress, learn from your mistakes, and double down on what's working. Once you get stuck, try to perform an SEO audit.
We could go on and on. So here's my last important piece of advice: be patient. SEO takes time, and there are no guarantees.
Got any questions? Ping me on Twitter.