The One Thing Every Marketer Should Do
Marketers tend to be very reactive.
And it makes sense because every time a search engine or a social network changes their algorithm, we jump as marketers.
We are conditioned to be very reactive. Whether it's your boss who is pissed that your traffic dips or even yourself… everyone hates when sales and income drop because of something you can't fully control.
And even when you try to be proactive, you are probably planning ahead from a 3-month period to a year max.
But that's not how you win. You win by making bold bets that take time and can't be done in a few months or a year… you win by doing what your competition isn't willing to do.
So how do you come up with these bold bets?
You unplug!
Here's how I come up with my ideas
Once a year I try to unplug. Just like right now… as I am writing this, I don't have cell reception and there is no WiFi.
I'm on a ranch in the middle of nowhere.
No matter where I look, there are no neighbors. All you have is nature in its rawest form. Just look at how the lightning kept going on for hours.
By unplugging and just being one with nature, you truly realize what's important.
See, we all have problems and issues… especially in business. But how bad are your problems? Do they even matter in the grand scheme of things?
Look, I'll be honest with you. I am not a big nature person… I'm actually quite the opposite.
I live in a modern, cold feeling house in a heavily congested city. I'm so OCD that I have a full-time cleaner come just because I'm afraid of getting dirty (seriously).
Heck, I won't even go through airport security without having booties in my briefcase, just in the rare chance they make me take off my shoes. There is no way I can have my socks touch that dirty ground.
Yes, I am crazy when it comes to cleanliness and hygiene.
But even me, I go to places that are full of nature and wild animals… or in this case… cows, bears, deer, snakes, mountain lions, and more. Being there really helps put things into perspective.
Because when you aren't surrounded by noise caused by us humans, it allows you to clearly focus and think about what's important.
For me, spending 3 days a year usually does the trick.
It allows me to forget about the bullshit we all have to deal with on a daily basis and come up with ideas about what I need to do over the next 5 (or even 10) years to win.
I know that sounds like a really long time… and it is. But again, to win you need to think long term and make bold bets that your competition wouldn't dare to copy.
Just look at what I did with Ubersuggest.
I came up with that idea a few years ago by disconnecting (just like I described above).
Companies like Moz would constantly post their revenue stats and their competitors decided to also talk about their financials. So while being disconnected, I came up with an idea on how I could win and the first step was acquiring a tool like Ubersuggest.
And since then I've executed a few of the steps in my plan, but I still have a long way to go.
Nonetheless, those steps have paid off. Just look at my traffic numbers.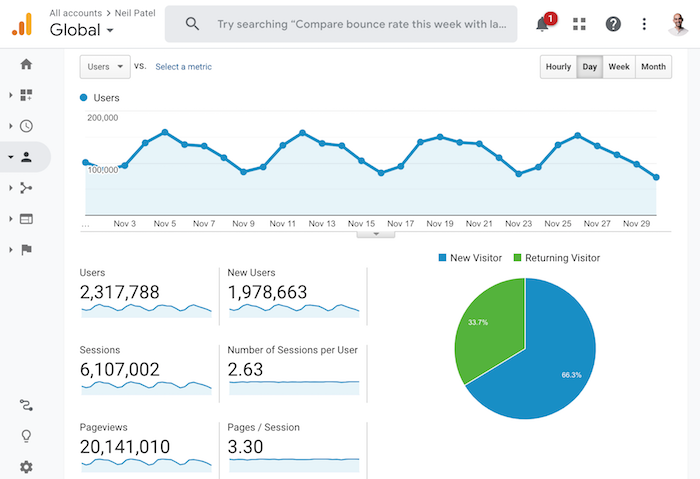 So what I am going to do over the next 5 to 10 years?
I am going to turn SEO on its head again.
It hit me on this trip that we all have to go to sites like Ubersuggest, SEMrush, Ahrefs, or even Moz to get data.
But why is that?
It's not natural in our workflow. Wouldn't it just be easier to see this data as you browse the web?
When you search Google for any query you can use browser extensions like Keywords Everywhere to get some data or SEOquake or the Mozbar… but what you can't get is that Ahrefs or SEMrush experience when you are just on a Google Search results page.
What will that look like? I have no clue yet, but I will figure that out over time.
Will that kill the traffic I generate to Ubersuggest over time?
Yes!!!!!!
But that is what needs to be done. I obsess about providing an amazing experience to my audience, even if that will kill off my existing business.
And no, that won't take 5 years to do… I will probably do it over the next 6 months. I will first roll out a basic plugin like Keywords Everywhere and, eventually, I will add the functionally so you can get that type of Ubersuggest or Ahrefs experience right on Google or on your competitor's site.
What will happen over the next 5 years though, is that I will be able to build something that gets you more traffic. Just like a light switch. Something that simple.
Why can't we automate most of our marketing tasks? Why does SEO have to be manual when I can add a piece of JavaScript to a website and automate most of it? Why do I have to send out a blog post every time I release a new post or a push notification?
It should all be automated.
And no, I don't mean in a templatized way. I manually send out emails every time I write a blog post because I know I can write custom copy that generates a 30% open rate and a high click rate.

But again, it should all be automated. And not just for English based sites, it should be done on a global level and work for every site in any language or country.
So how can you figure out what to focus on?
You may not be able to disconnect like me and spend the money that it costs to go to a ranch in the middle of nowhere.
And that's fine… you don't have to.
When I first started off, I didn't have the resources or money, and I did just fine within my constraints.
For example, roughly 5 years ago I came up with the concept that I needed to go after global markets and compared to any of my competitors in the digital marketing realm, I've crushed all of them when it comes to global marketing.
Most of my competitors just translated their site or translated some of their content. Me on the other hand, I have 7 offices and teams in 18 different countries. And I'll continue to expand so I can keep beating my competition when it comes to grabbing international attention.
But that idea didn't come to me when I was in nature, being disconnected.
At that time, I was in my condo in the middle of Seattle and I disconnected my Internet for a few days.
Before I disconnected my Internet, I went and got food so I didn't have to leave my house, and then I turned off all my gadgets… from my TV to phone and anything that was a distraction.
It worked well because now only 18.89% of my traffic is from the United States compared to 57% before I started to expand globally.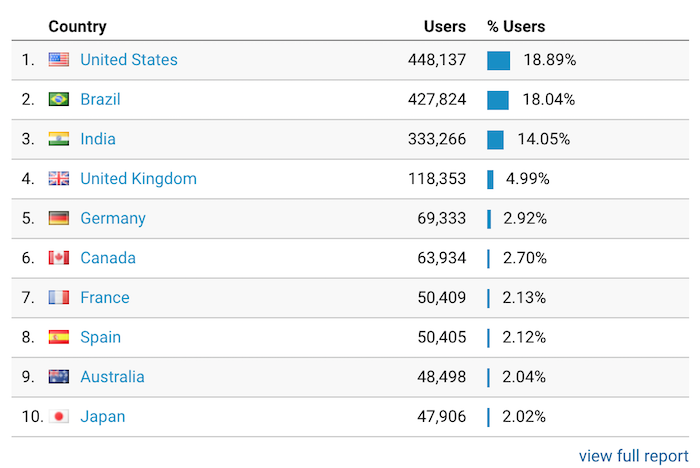 In other words, you can disconnect no matter where you are. You just literally have to disconnect your router, turn off your phone, and unplug your TV… it really is that simple.
If you do that for a few days, you'll start realizing what is important and what isn't. You'll be able to strategize and start thinking more long term.
Conclusion
The key to winning long term isn't by being reactive every time there is an algorithm update or even proactive and preparing for each algorithm update.
Because some of those things are simply out of your control.
Instead, you need to think long term and how you can disrupt your market to make a long-term bet that your competition isn't willing to make.
Nike wasn't built by SEO.
Airbnb wasn't built through paid advertising.
American Express wasn't built through social media marketing.
Tesla wasn't built through content marketing.
Doing something disruptive or better than the competition is how you win.
Ubersuggest gets 1,668,233 visitors and 9,136,512 page views a month from people just coming directly. Not through SEO, marketing, or anything like that… I just focus on the future instead of being reactive.
That's how I win.
Now, the real question is, how are you going to win?
Employee-Generated Content: Tips To Inspire Interest
There never seems to be enough resources to execute all your killer content marketing ideas, does there?
No matter how large and prolific your team of creators, how efficient your creative processes are, or how ample your outsourcing budget is, too many great content ideas are left on the drawing board. Meanwhile, you've got an increasing number of gaps to fill with engaging stories across multiple platforms.
Fortunately, a solution is sitting practically under your nose: Enlist the assistance of fellow employees – including internal subject matter experts (SMEs) and colleagues in sales, customer support, and other functional departments.
Have content gaps to fill? Enlist the assistance of employees outside the #ContentMarketing team, says @joderama via @CMIContent. Click To Tweet
Read on for tips on how to activate their interest, overcome common objections, and reap the rewards of having a wellspring of employee-generated content (EGC) at your disposal.
Tip 1: Provide process clarity and examples of success
Enlisting colleagues outside of marketing to help with content creation can be a big ask, if not a downright imposition. To make the request more palatable, set clear expectations and establish a framework for their participation. Use your process to solicit content from external industry experts or social community members to inform the EGC process.
Knowing in advance exactly what they'll be asked to do and the time it will take can help reassure them they aren't committing to something they don't have the bandwidth to fulfill.
As part of their employee-centric LinkedIn evangelist program, B2B podcast company Sweet Fish created an internal document outlining requirements for participating, detailing what the commitment involves, and informing them of the benefits to both brand and employee. Those who join the evangelist program receive personalized brand development and content training and information on LinkedIn best practices.
It's also helpful to provide examples of EGC efforts that performed well, so new contributors can get a feel for the types of content, tone, and voice used in their efforts.
@SweetFishMedia created an internal document outlining the requirements to help employees participate in its @LinkedIn evangelist program, says @joderama via @CMIContent. Click To Tweet
In a LinkedIn post on how SaaS business Chili Piper activates its sales development reps (SDRs) as brand evangelists on social media, they point to a team member's contribution. The SDR's post generated strong engagement and inspired other employees to post similar content on their own profiles. (Special thanks to Emily Brady for sharing this example.)
HANDPICKED RELATED CONTENT:
Tip 2: Provide tools, support, and training
Employees might raise objectives, such as they don't have strong writing skills or they aren't creative. While experience crafting quality copy certainly helps, EGC doesn't need to be polished and perfected – or even in written form – to be an effective marketing vehicle.
To help reluctant contributors upskill and gain confidence in their writing abilities, consider providing support through these approaches:
Invite them to the creative's table: Ask interested colleagues to attend your editorial planning meetings and creative brainstorms. They can get a feel for your processes and goals and get a chance to weigh in with their ideas. Being "in the room where it happens" can deepen their interest and investment in bringing new content to life.
Use technology to sharpen their skills: Experienced content marketers aim for technical precision when crafting copy. But it's unrealistic to expect EGC creators to memorize the AP Style Guide before contributing content. Reassure colleagues that their writing skills can be developed and enhanced with the help of headline generators, apps like Grammarly and Hemmingway, fact-checking tech like Nexis for Media and Meedan, and other writing support tools. They're easy to use, and many of them are available for free.
Point them to training opportunities: If your company offers a career development program, aspiring creators may have access to writing classes, creative workshops, photography and videography training, and other educational resources. That can include free access to LinkedIn Learning courses, Udemy classes, or even internal training tools. Document the opportunities and post them on your internal newsletter, intranet portal, or Slack channel. It is an excellent way to let colleagues know your team welcomes their content contributions and wants them to feel prepared for the task.
Create tutorials and guides: If no formal employee education program exists, try the DIY route: Ask your content team to write, screen-capture, or film the process as they do their next blog post, newsletter article, expert interview, or social content. Seeing how it's done teaches colleagues the best practices and guidelines. This content also can be repurposed into brand-relevant lessons, such as tip sheets, how-to demos, and other behind-the-scenes stories to share on customer-facing platforms.
The CMI editorial team is always refining the guest blogging guidelines to onboard new contributors – internal and external. We include successful posts as models and educate writers on the kinds of submissions we accept. We also curated some of our best writing tips and advice from existing articles to produce an e-book on the secrets of successful content creation. We shared it with other teams across our enterprise.
Tip 3: Make content creation easy and organic to their experiences
If aspiring contributors still feel intimidated, you can develop more ways for them to contribute to the content marketing cause. For example, if employees already post brand-friendly content on their social streams, downgrade your ask to create content to a request to share content.
If employees aren't ready to create original brand-friendly #Content, ask them to share the company's content, says @joderama via @CMIContent. Click To Tweet
For example, Reebok used #fitasscompany on Instagram to provide a space for its employees to share photos from their personal workouts and other active hobbies.
Brands like Dunkin Donuts actively encourage employees to capture and post informal photos and videos of themselves during their workday using #DunkinCrewAmbassador. The company frequently reshares those posts on its official TikTok and Instagram profiles.
Sephora makes it even easier for employees to play a role in creating the brand's Instagram content: The company conducts employee profile interviews and shares snippets on its Sephoralife account, using #EmployeeSpotlight.
Not only do these approaches make it easy for non-writers to collaborate on content, but they tell a more personal and relatable brand story that tightly controlled and scripted content can't.
Of course, it also takes less time on the interviewed employees' part. This tip may not add more stories to your content calendar, but the subsequent amplification assistance from the employee can make a big impact on your brand's reach, search rankings, and content performance.
Working with internal communication tools like EveryoneSocial, SocialWeaver, Bambu, and Hootsuite Amplify can help streamline the process. Use them to automatically distribute your freshly published assets to willing "content deputies" who can share those stories with a few clicks. Some such tools even provide scheduling capabilities, feedback surveys, and gamification features to make the experience more convenient and engaging for contributors.
Tip 4: Fuel their creative journey and provide an outlet to share personal passions
Employee-generated content doesn't need to be about your company to further your content goals. Shifting the storytelling focus from brand to personal experiences of the workforce can result in relatable, empathetic, and engaging content.
One way to do this is to leverage team outings and events as a source of relevant, authentic brand stories. If your company hosts off-site retreats, allows colleagues to attend industry conferences, or organizes volunteer opportunities, consider splurging on a couple of disposable digital cameras or a photo booth or lending a few smartphones. These tools give employees everything they need to capture spontaneous moments of camaraderie and interactions throughout the day. They can livestream or post them on Instagram, Facebook, Twitter, or TikTok.
On a smaller scale, you can organize a happy hour or host a cross-team trivia contest (live or virtual) to give colleagues something fun to talk about. Or approach individual colleagues who have exciting roles, unusual hobbies, or have taken part in unique work opportunities that your audience might be interested in. Ask to interview them or for them to snap and share a selfie or write a summary of their experience that your team can polish up and publish.
Look at this recent post on the We Are Cisco blog from a team member who moved to the United Kingdom as part of the company's employee rotation program. It gave the author a chance to tell a personally meaningful story – one that Cisco also can use for its recruiting efforts.
Tip 5: Incentivize, celebrate, and recognize
For some team members, the chance to share their knowledge and exercise their creative skills are all the motivation they need to jump on the EGC train. But others might need to know WIFM (What's In it For Me?). You need to give them a more compelling reason to participate.
Take a page from Walmart's playbook and offer an incentive. On its employee-centric Instagram account WalmartSocialChamps, the company recently launched an associate video contest to solicit more brand-friendly visual stories from its workforce. In addition to offering a prize (a free trip to its Associate Week event), Walmart made it easy to enter by providing starter ideas, animation assets, filming tips, and posting instructions.
If a sweepstakes is too much for your marketing, provide rewards like gift cards or company swag. If your budget is non-existent, offer public gratitude and recognition. Here are a few ways to do that:
Give a shoutout: After sharing the content they created, post a word of thanks or image of gratitude. Tag their personal social profiles or link to their personal website (with their consent). Not only is it a nice thing to do, it can raise their industry profile, grow their personal brands, and help them connect with others in their chosen communities to further their careers or achieve other personal goals.
Invite them as a featured guest on your team's Twitter chats, webinars, podcasts, or livestream video shows: If their initial content asset references a personal passion, hobby, or specialized skill, they might relish the opportunity to continue the conversation and connect with others who share their interests.
Nominate them for company awards and recognition programs: It rarely hurts to raise HR and management team awareness of a colleague's above-and-beyond efforts to support your brand, and it may even help get their name on the short list when their applying for an internal role or are up for a promotion.
EGC formula: Enlist, empower, and activate
The everyday responsibilities of co-workers outside the content team might not have a creative focus, but that doesn't mean they aren't ready, willing, and able to show off their knowledge, lend you their talents, and spread their enthusiasm for your brand. Often, all they need is some direction, encouragement, and the right motivation to get them started.
Please note: All tools included are suggested by the author. Feel free to include additional tools in the comments (from your company or ones that you have used). 
Want more content marketing tips, insights, and examples?
Subscribe
 to workday or weekly emails from CMI.
Cover image by Joseph Kalinowski/Content Marketing Institute
!function(f,b,e,v,n,t,s)
{if(f.fbq)return;n=f.fbq=function(){n.callMethod?
n.callMethod.apply(n,arguments):n.queue.push(arguments)};
if(!f._fbq)f._fbq=n;n.push=n;n.loaded=!0;n.version='2.0′;
n.queue=[];t=b.createElement(e);t.async=!0;
t.src=v;s=b.getElementsByTagName(e)[0];
s.parentNode.insertBefore(t,s)}(window, document,'script',
'https://connect.facebook.net/en_US/fbevents.js');
fbq('init', '1432232210459613');
fbq('track', 'PageView');