The One Thing Every Marketer Should Do
Marketers tend to be very reactive.
And it makes sense because every time a search engine or a social network changes their algorithm, we jump as marketers.
We are conditioned to be very reactive. Whether it's your boss who is pissed that your traffic dips or even yourself… everyone hates when sales and income drop because of something you can't fully control.
And even when you try to be proactive, you are probably planning ahead from a 3-month period to a year max.
But that's not how you win. You win by making bold bets that take time and can't be done in a few months or a year… you win by doing what your competition isn't willing to do.
So how do you come up with these bold bets?
You unplug!
Here's how I come up with my ideas
Once a year I try to unplug. Just like right now… as I am writing this, I don't have cell reception and there is no WiFi.
I'm on a ranch in the middle of nowhere.
No matter where I look, there are no neighbors. All you have is nature in its rawest form. Just look at how the lightning kept going on for hours.
By unplugging and just being one with nature, you truly realize what's important.
See, we all have problems and issues… especially in business. But how bad are your problems? Do they even matter in the grand scheme of things?
Look, I'll be honest with you. I am not a big nature person… I'm actually quite the opposite.
I live in a modern, cold feeling house in a heavily congested city. I'm so OCD that I have a full-time cleaner come just because I'm afraid of getting dirty (seriously).
Heck, I won't even go through airport security without having booties in my briefcase, just in the rare chance they make me take off my shoes. There is no way I can have my socks touch that dirty ground.
Yes, I am crazy when it comes to cleanliness and hygiene.
But even me, I go to places that are full of nature and wild animals… or in this case… cows, bears, deer, snakes, mountain lions, and more. Being there really helps put things into perspective.
Because when you aren't surrounded by noise caused by us humans, it allows you to clearly focus and think about what's important.
For me, spending 3 days a year usually does the trick.
It allows me to forget about the bullshit we all have to deal with on a daily basis and come up with ideas about what I need to do over the next 5 (or even 10) years to win.
I know that sounds like a really long time… and it is. But again, to win you need to think long term and make bold bets that your competition wouldn't dare to copy.
Just look at what I did with Ubersuggest.
I came up with that idea a few years ago by disconnecting (just like I described above).
Companies like Moz would constantly post their revenue stats and their competitors decided to also talk about their financials. So while being disconnected, I came up with an idea on how I could win and the first step was acquiring a tool like Ubersuggest.
And since then I've executed a few of the steps in my plan, but I still have a long way to go.
Nonetheless, those steps have paid off. Just look at my traffic numbers.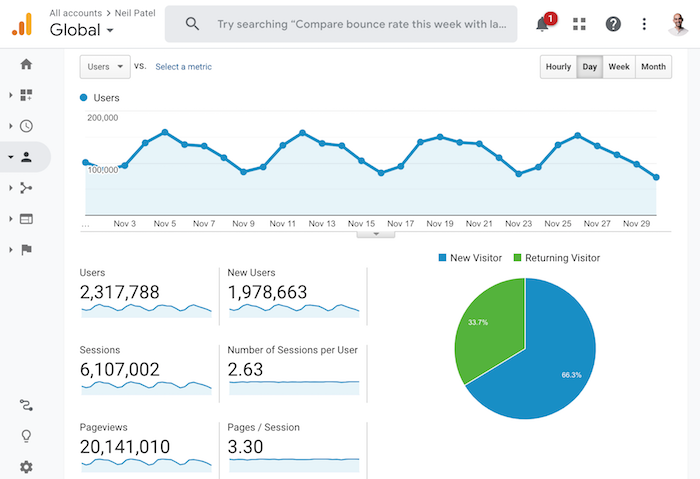 So what I am going to do over the next 5 to 10 years?
I am going to turn SEO on its head again.
It hit me on this trip that we all have to go to sites like Ubersuggest, SEMrush, Ahrefs, or even Moz to get data.
But why is that?
It's not natural in our workflow. Wouldn't it just be easier to see this data as you browse the web?
When you search Google for any query you can use browser extensions like Keywords Everywhere to get some data or SEOquake or the Mozbar… but what you can't get is that Ahrefs or SEMrush experience when you are just on a Google Search results page.
What will that look like? I have no clue yet, but I will figure that out over time.
Will that kill the traffic I generate to Ubersuggest over time?
Yes!!!!!!
But that is what needs to be done. I obsess about providing an amazing experience to my audience, even if that will kill off my existing business.
And no, that won't take 5 years to do… I will probably do it over the next 6 months. I will first roll out a basic plugin like Keywords Everywhere and, eventually, I will add the functionally so you can get that type of Ubersuggest or Ahrefs experience right on Google or on your competitor's site.
What will happen over the next 5 years though, is that I will be able to build something that gets you more traffic. Just like a light switch. Something that simple.
Why can't we automate most of our marketing tasks? Why does SEO have to be manual when I can add a piece of JavaScript to a website and automate most of it? Why do I have to send out a blog post every time I release a new post or a push notification?
It should all be automated.
And no, I don't mean in a templatized way. I manually send out emails every time I write a blog post because I know I can write custom copy that generates a 30% open rate and a high click rate.

But again, it should all be automated. And not just for English based sites, it should be done on a global level and work for every site in any language or country.
So how can you figure out what to focus on?
You may not be able to disconnect like me and spend the money that it costs to go to a ranch in the middle of nowhere.
And that's fine… you don't have to.
When I first started off, I didn't have the resources or money, and I did just fine within my constraints.
For example, roughly 5 years ago I came up with the concept that I needed to go after global markets and compared to any of my competitors in the digital marketing realm, I've crushed all of them when it comes to global marketing.
Most of my competitors just translated their site or translated some of their content. Me on the other hand, I have 7 offices and teams in 18 different countries. And I'll continue to expand so I can keep beating my competition when it comes to grabbing international attention.
But that idea didn't come to me when I was in nature, being disconnected.
At that time, I was in my condo in the middle of Seattle and I disconnected my Internet for a few days.
Before I disconnected my Internet, I went and got food so I didn't have to leave my house, and then I turned off all my gadgets… from my TV to phone and anything that was a distraction.
It worked well because now only 18.89% of my traffic is from the United States compared to 57% before I started to expand globally.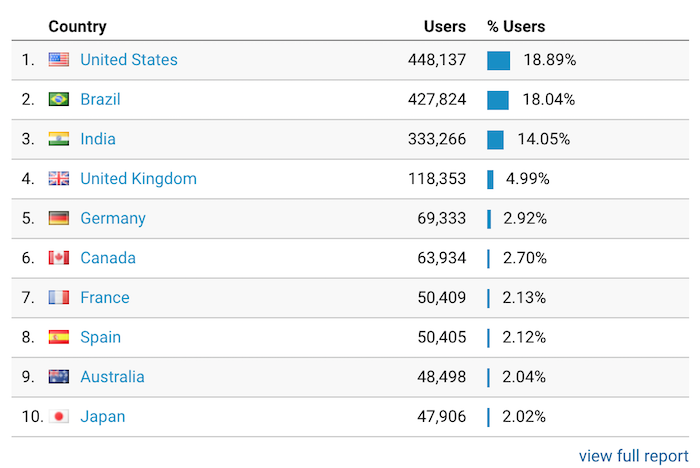 In other words, you can disconnect no matter where you are. You just literally have to disconnect your router, turn off your phone, and unplug your TV… it really is that simple.
If you do that for a few days, you'll start realizing what is important and what isn't. You'll be able to strategize and start thinking more long term.
Conclusion
The key to winning long term isn't by being reactive every time there is an algorithm update or even proactive and preparing for each algorithm update.
Because some of those things are simply out of your control.
Instead, you need to think long term and how you can disrupt your market to make a long-term bet that your competition isn't willing to make.
Nike wasn't built by SEO.
Airbnb wasn't built through paid advertising.
American Express wasn't built through social media marketing.
Tesla wasn't built through content marketing.
Doing something disruptive or better than the competition is how you win.
Ubersuggest gets 1,668,233 visitors and 9,136,512 page views a month from people just coming directly. Not through SEO, marketing, or anything like that… I just focus on the future instead of being reactive.
That's how I win.
Now, the real question is, how are you going to win?
What You Need to be Doing NOW to Get Your Shop Ready for Black Friday
Did you know that 130 million users use Facebook and Instagram to discover sales and buy products during Black Friday weekend alone? 
This means that setting your shop up for success is an excellent way to attract all shopaholics into your business and make serious money. But, with so little time, how can you know what you're supposed to do? 
Well, after talking with Meta experts, I've put together an easy-to-follow checklist with everything you need to do AHEAD of Black Friday if you want your Instagram or Facebook Shop to be a huge success this holiday. 
So read on, and start planning now!
11 Things you need to do to get your shop Black Friday ready
The key to a successful Black Friday is reaching the right audience with the right products. In years past, this meant a well-placed ad in the local newspaper or a spot on the radio. But today, the best way to reach potential shoppers is through social media. And of all the social media platforms out there, Instagram and Facebook offer the best buying experience. 
Facebook and Instagram Shops provide an easy way for businesses to showcase their products and reach a wide audience, and offer a convenient way to browse and purchase items with just a few clicks. Plus, since most users are already using these social media platforms *we're talking about more than 3 billion*, it has become a natural way to shop. 
So if you're a business owner looking to take advantage of Black Friday, setting up an Instagram or Facebook shop is a must, and here are the best tips to do so: 
1. Start planning your holiday strategies if you haven't already
For many businesses, Black Friday is make-or-break time, when they can either turn a profit or end up in the red. That's why it's so important to have a solid plan in place for dealing with traffic. 
By mapping out a strategy beforehand, businesses can avoid being overwhelmed by the high demand and ensure that everyone has a positive experience. This means, planning your offer and deals ahead of time, placing your ads budget, doing product inventory, organizing customer service, etc. 
Regarding offers, Instagram and Facebook Shops allow businesses to set up coupons and discount codes during checkout, and timely offers to display their deals. Offer parity with your site is key. So be sure to review #7!
Become A Certified E-Commerce Marketing Master
The Industry's Most Comprehensive E-Commerce Marketing Certification For The Modern Marketer. Turn Products Into Profit, Browsers Into Buyers, & Past Purchasers Into Life-Long Customers By Copying This Proven Marketing Method Developed By The Top E-Com Mavericks In The Game Today. 
2. Update your Meta Shop banners 
In order for retailers to lure customers into their shops, they need to make sure their signage is up-to-date and eye-catching. This is especially true for banners, which are the first thing people see when hunting for good deals and promotions. 
A well-designed banner can help to create a sense of urgency and excitement, convincing shoppers that they need to act now in order to get the best deals. These act as hero images from a traditional site, but for your Instagram Shop.
Additionally, they can be used to highlight specific sales or promotions, making it easy for shoppers to find the products they're looking for. After all, what good is a sale if no one knows about it?
So if you're looking to make the most of this busy shopping day, don't forget to update your social shop banners with eye-catching designs. It could make all the difference in attracting customers to purchase in your store.
3. Make your organic media is shoppable
Facebook and Instagram Shops allow you to tag a product every time you post a picture, reel, story, or video. This is especially relevant because it drives users from an organic publication to your shop where they can check all the information about the item they're interested in. 
Plus, tagging can give you clean insights to how they're interacting with products and creatives. 
Hat tip: Did you know that you can tag your products in the description of your feed posts? No more using 'link in bio' in your copy for your organic posts. Use the @ symbol and choose 'products', once you have found your product select it and BAM, your product is now linkable in your Instagram post's description!
4. Set your products up for success
Each product description should contain anything and everything a user needs in order to buy. This includes: 
Engaging and informative product descriptions
Standing out from the crowd of sellers can be especially hard during the holidays. However, a great way to do that is to make sure your product descriptions are clear, concise, and compelling. 
No matter if you're selling clothes, accessories, or home decor, a good product description will tell potential customers everything they need to know about a product, including its features, benefits, etc. Plus,  it should also be engaging, so that shoppers are tempted to click "add to cart", so don't forget about the call to action and use strong and convincing language to urge the buyers to take your deal. 
Be sure to exclude urls in your product description because it's not allowed. Keep your product descriptions centered on benefits and remember, users often have 1-3 seconds to evaluate the efficacy and interest in a product from a product description.
Images that are well-lit and clearly show the product details can be the difference between a customer clicking "add to cart" or moving on to the next item on their list.
For Instagram and Facebook Shops, images need to be at least 500×500 pixels. Additionally, it's important that you include more than just one image and focus on features. 
Extra tip: according to Meta experts, if your product is in the lifestyle category, detailed product images can help you increase your possibilities of making a sale by 6-8%. 
Extra extra tip: Include an image of a customer's selfie with the product. Showcasing real customers using or holding your product makes a big difference with your conversions.
Include price, availability, and sizes
No one will buy anything from your shop if you don't have this information! So check your products and make sure that all of them include the deal price, pieces in stock, and sizes (this one applies only for items that are in categories like: Clothing Accessories, Newborn & Baby Fashion Accessories, and Costume Accessories)
Regarding sizes, you can (and should) add a size chart to help users feel confident in the purchase decisions and potentially reduce return rates. 
Bear in mind: July 2022, Meta changed the basic information each item showcased in their shops needs to have in order to be displayed, so click here to discover everything your products need to have!
5. Update your catalog
An outdated catalog will make it difficult for them to find what they're looking for, and they may decide to do their shopping elsewhere. 
So, it's important that you check and update your catalog to display all the products that are on sale to help your customers make important purchase decisions and drive sales. 
Taking this into account, your catalog should: 
Have all the products displayed with their variants
Include product details: complete all data fields (materials, ingredients, multiple images, videos, and size charts where applicable)
Be maintained: update collections with new items and inventory quantity. Regarding this, you can use Meta Pixel to automatically update your catalog and reduce operational load. 
6. Enable checkout on Facebook and Instagram Shops
Redirecting users to your own website or another platform in order to complete a sale is inconvenient and can lead to lost sales. So, it's HIGHLY recommended that you set up your shop with checkout, if you're allowed,to help potential customers discover and buy your products on one platform. 
**For eligible stores in the US, all fees are waived through the end of 2022 for enabled checkouts.
Onsite checkout can be set up in Commerce Manager and it's available for US shops only; it will give insights into shopper demographic and full-funnel conversion data which, in return, can help you optimize your campaigns. 
7. Offer Parity
An Instagram or Facebook Shop is an extension of your store, but in a more consumable form that doesn't require users to go from a place to another in order to buy something. This means that both should offer the same data: from prices and deals, to contact information and banners. 
Why? Because some people may find your social shop and make their purchase there, meanwhile others would prefer to go to your website to get more information about you, so offer parity is a must if you want to build trust with potential customers. After all, no one wants to find mismatched prices!
8. Enable product reviews 
By reading reviews, users can get an idea of what other shoppers thought of a particular item before they make a purchase and it can help them make informed decisions. That's why they're a key player when it comes to driving sales during Black Friday. 
Regarding this, US shops with onsite checkouts have access to ratings and reviews and can manage them in Commerce Manager, which will allow you to check customer feedback and answer them. 
Remember this: you need to have a shop with onsite checkout to enable product reviews and ratings. 
Moreover, it's possible to import reviews from 3rd parties! For now, Yotpo and Bazarro are active, meanwhile, Okendo and Stamped.io will be available with the reviews section in the next quarter. 
9. Don't forget about user-generated content
User-generated content has the added benefit of being more authentic and relatable than traditional marketing materials. It's this human element that can be critical in helping persuade undecided shoppers to make a purchase. In fact, UGC drives a 9% increase in CTA clicks for buy now or view on the website
Want to get certified in Content Marketing?
Leverage the tools and channels to predictably and profitably drive awareness, leads, sales, and referrals—EVERYTHING you need to know to become a true master of digital marketing.​ Click Here
During Black Friday, this type of content can be a valuable tool for helping brands connect with consumers and build trust, so it's important to include it in your strategy. 
For this, you can use images and videos of different customers using, wearing, and loving your products or provide buyers with information like "how to use" or tips that can help them make the most out of an item. 
If you go to the UGC section of your commerce account, you can find UGC that's ready for potential use in your stories and in your Meta Shops. You can find any images that tagged your handle or used one of your branded hashtags. When you find images that you'd like to use, you can send a request to that user's profile for permission of usage of that media in your store.
It's really that easy!
10. Leverage Shopping Ads and Catalog Ads
Instagram shopping ads allow businesses to showcase their products directly in the Instagram feed. 
By tagging product photos with relevant information, businesses can create ads that include pricing, product descriptions, and a link to purchase the product. These ads are designed to be highly visual and engaging, and they provide a convenient way for users to learn about and purchase products without ever leaving Instagram. 
On the other hand, Advantage+ Catalog Ads are a must-try for those businesses that have a large catalog of products and don't want to be bothered by having to create a different ad per product. Instead, this type of ad helps you to create one campaign for all your products and show it to people that are interested in even one item from your catalog by creating an individual ad. 
By integrating Catalog and Shop Ads into your paid media plan for Black Friday, you can attract possible customers and take them through your sales funnel all in one platform. 
If you're not familiar with these types of ads, you should start experimenting and scaling them as you see fit from now on! Also, don't forget to set up your CPA!
*** Black Friday ad ramp up should begin by September 20th. October 15th is the BIG day when everyone enters the Meta Ads marketplace and auction pressure increase***
11. Prepare your customer support service
Answering questions from possible customers in less than 24 hours increases their possibility to make a purchase by 50%, that's why it's important to invest in effective customer service to help users get a clear understanding of your business and build trust. 
With Facebook and Instagram Shops, you can get an email every time someone asks specific questions and reply by using the feedback tag on Commerce Manager. These replies become publicly available helping future customers see that social proof to make better buying decisions.
However, this feature is only available if you have enabled checkout and are an admin to the commerce account.
When should you start?
The peak of users eager to get Black Friday deals starts from October 15th to the big date *yes, more than a month before Black Friday*, so it's crucial that you start optimizing your Instagram and Facebook Shops ASAP. 
And, if you feel like this long list may overwhelm you and already give you a headache, at Mongoose Media we have a team of experts that will take this task from you and make the most out of your shop to go from plan to bestselling during the holidays!