7 Instagram Contest Ideas to Grow Brand Awareness
Instagram accounts that hold contests can achieve up to 70% faster follower growth than accounts that don't hold contests.
If you want a popular Instagram account, coming up with and executing some Instagram contest ideas is a great start.
In this post, we'll explore how you can use Instagram contests to raise brand awareness for your business.
We'll also dive into some of the best practices to keep in mind when running your contests.
By the end, you'll know how to run a successful Instagram contest that will bring your business the attention it deserves.
Why Instagram Contests Are a Good Idea
There are other ways to get more Instagram followers, of course, but few other methods can increase your follower numbers so quickly, and with such minimal effort.
Not only that: Instagram contests can also help you achieve more engagement.
Posts that are related to Instagram contests tend to earn roughly 64x more comments and 3.5x more likes when compared to 'normal' content.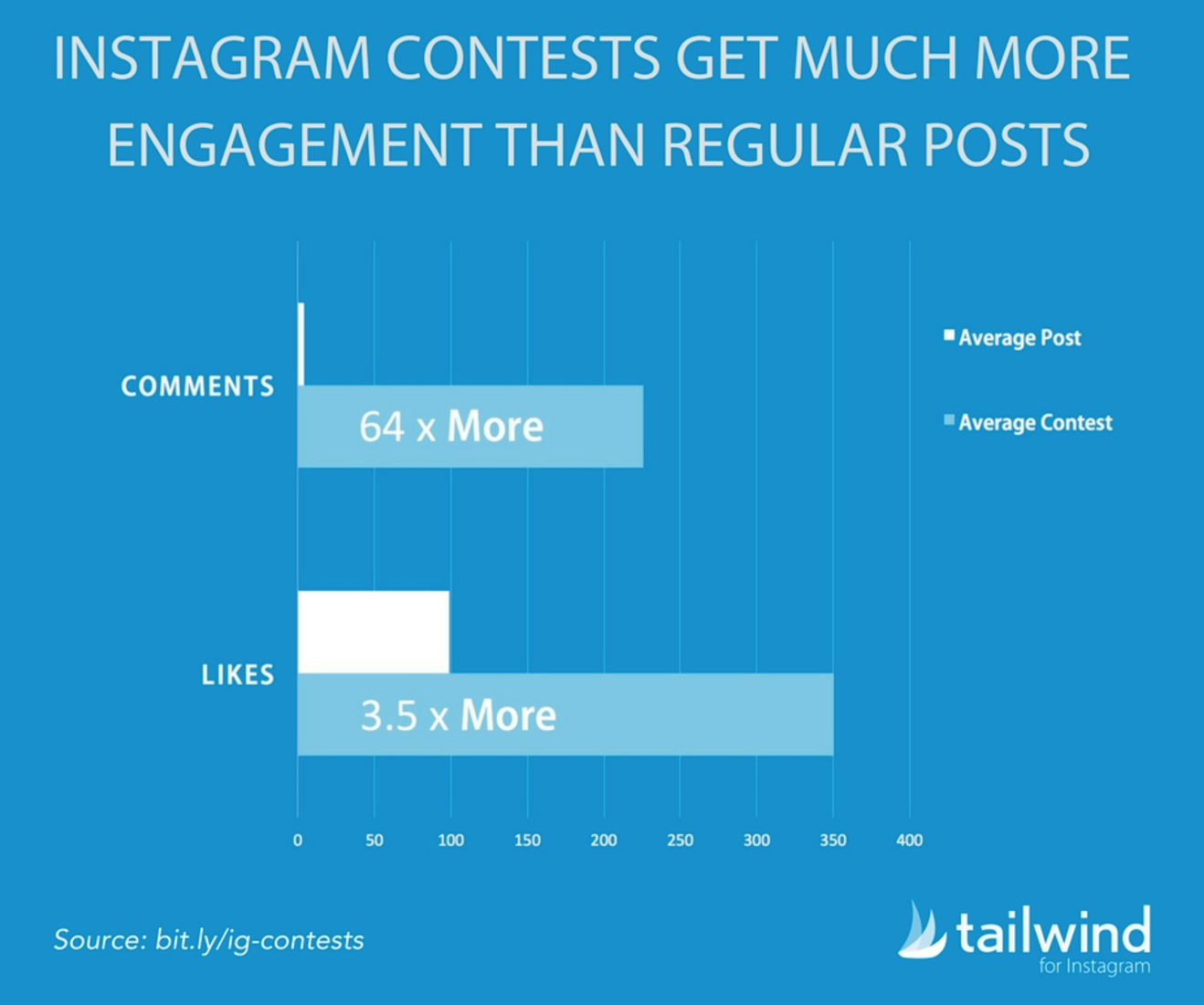 On top of that, 91% of the posts that have achieved 1,000+ comments are contests.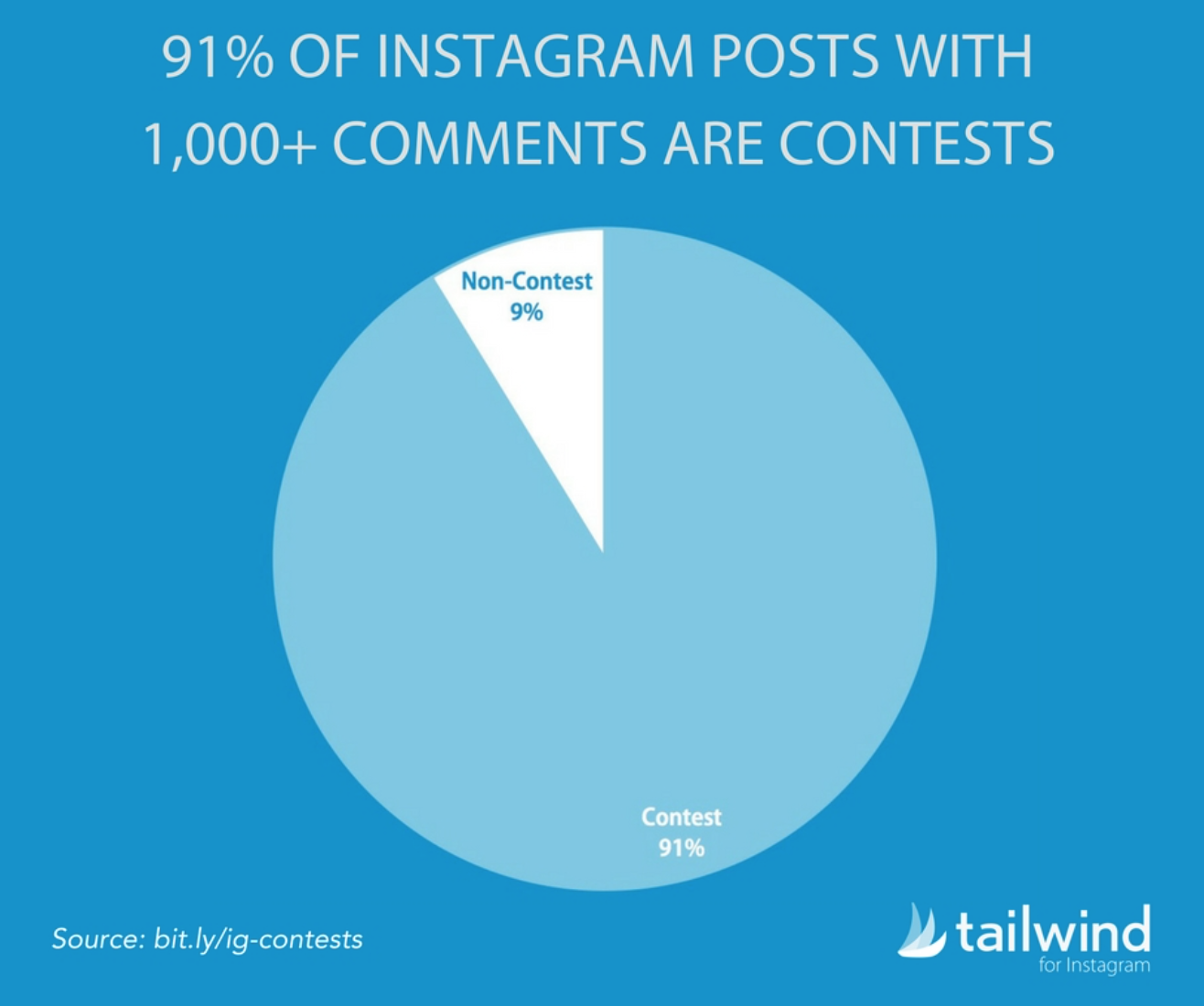 All of these stats show that running Instagram contests is one of the best ways to improve brand awareness.
If you're worried about being stuck in a cycle of constantly churning out contests, all in the name of boosting brand awareness, don't worry; you don't need to continuously run contests to reap the benefits that good Instagram contest ideas can offer.
That's because you'll notice a trickle-down effect on the rest of your normal content as a result of running contests. People will feel a greater affinity toward your brand due to the goodwill you've generated with your contests.
As a result, they'll be more likely to share and engage with your normal content.
Plus, because contests generate more followers, there will naturally be more people exposed to your content. This increases the likelihood that share and engagement levels will be higher than 'pre-contest levels.
Best Practices for Running Contests on Instagram
Before you run your first contest, you need to be aware of some important best practices. Failure to follow some of these best practices could mean that you're going against the rules of Instagram.
It could also lead to your contest producing lackluster results, which can amount to a lot of wasted effort.
What are these best practices?
The first is to make sure that you write a clear and detailed description for your contest.
When writing the description for your contest, be sure to cover:
What the rules are
What people need to do to be eligible
Any restrictions on who can enter
The prize
The deadline
When you will announce the winner
Doing things this way makes it easy for you to stay on the right side of the promotion guidelines provided by Instagram.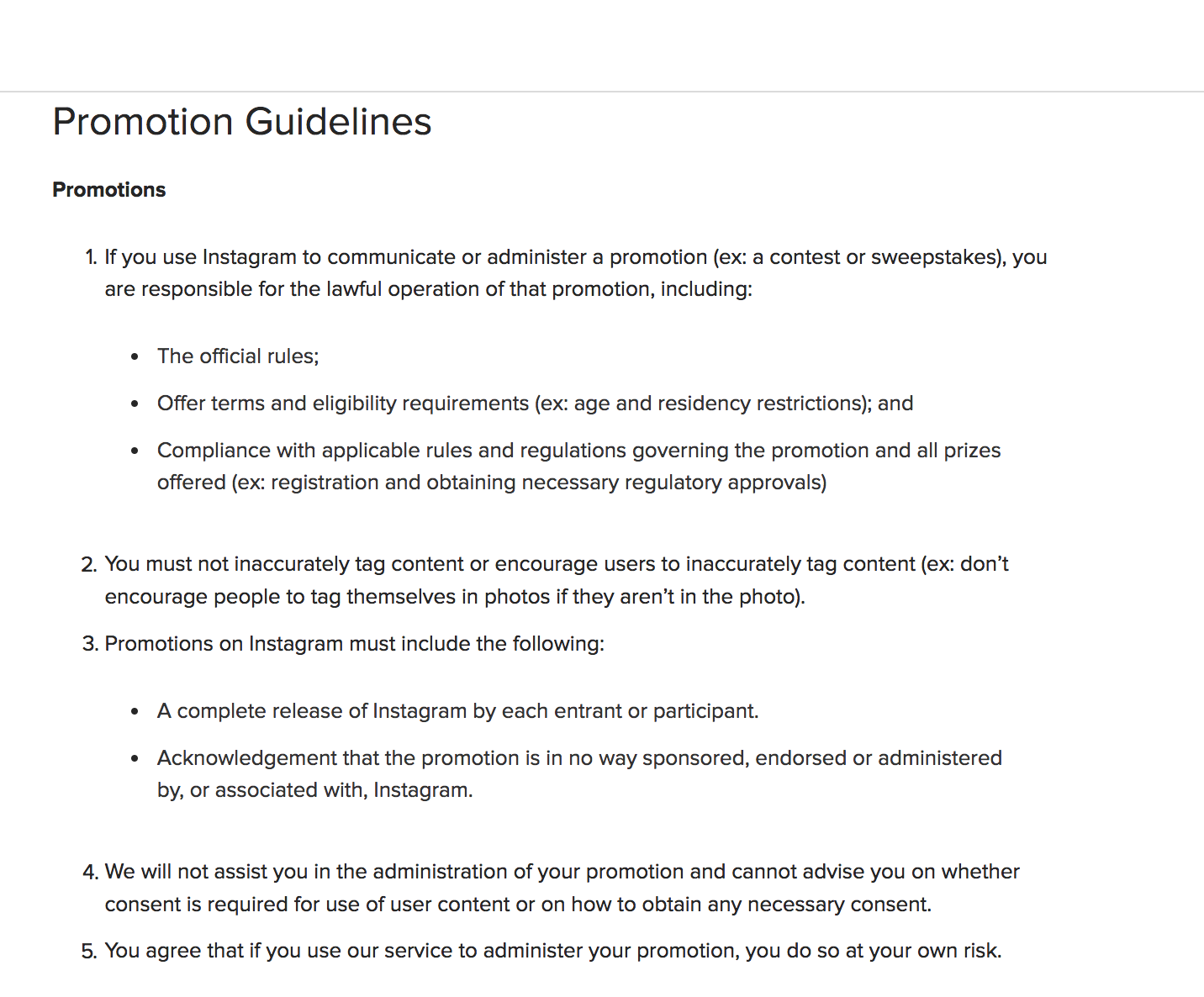 It is important that you don't stray from the guidelines, as doing so could put your account at risk.
Here's a great example of a contest description.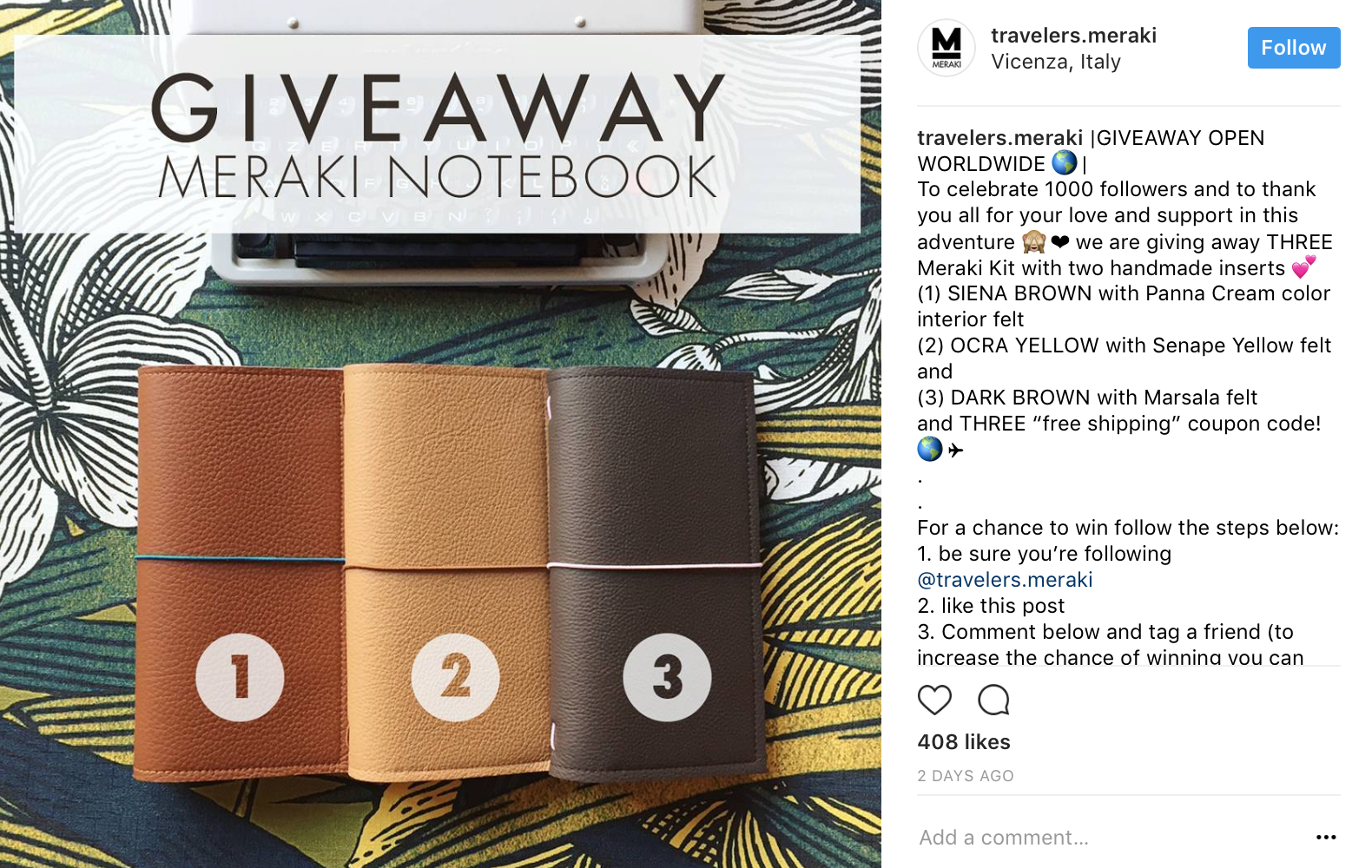 They've done a good job of making this detailed, so it's difficult to fit into one image.
Here's the first part, which helps establish a reason for the competition while also describing what's on offer.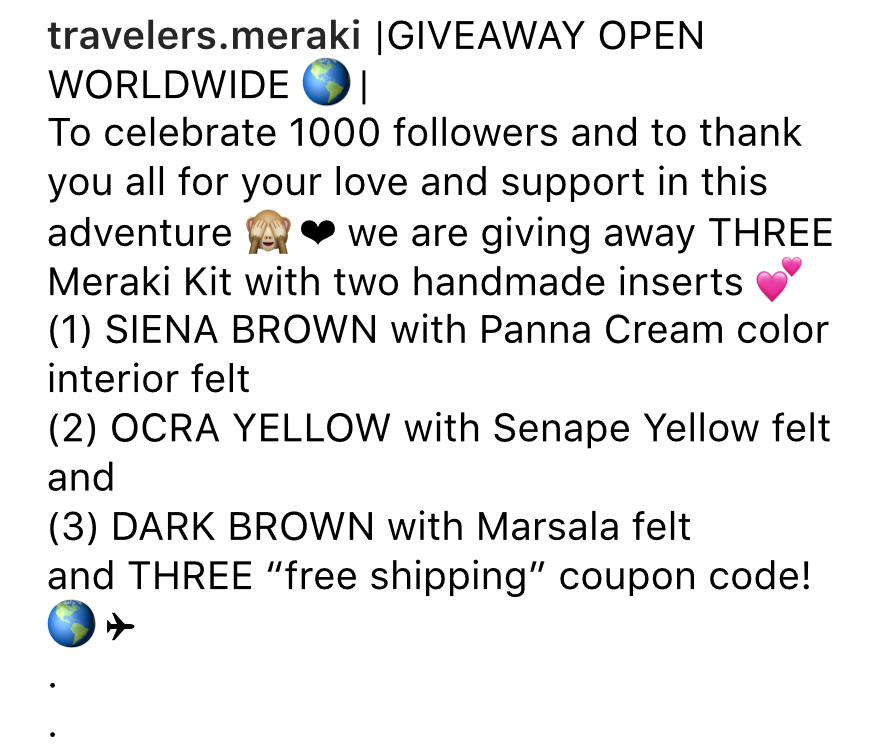 This second part does a good job of letting people know what they need to do to be eligible to win.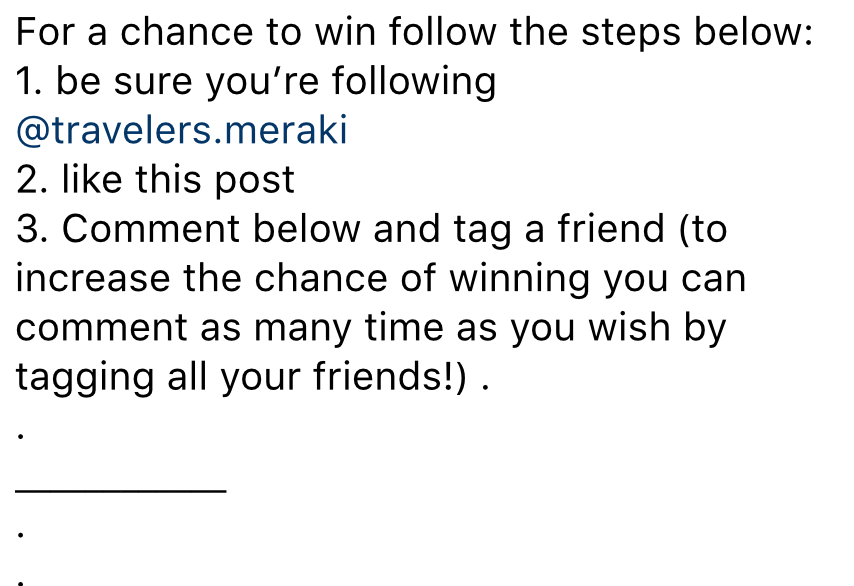 The next bit tells people how they can gain an extra entry. The terms of the contest are clearly shown, while also indicating how the winners of the contest will be announced.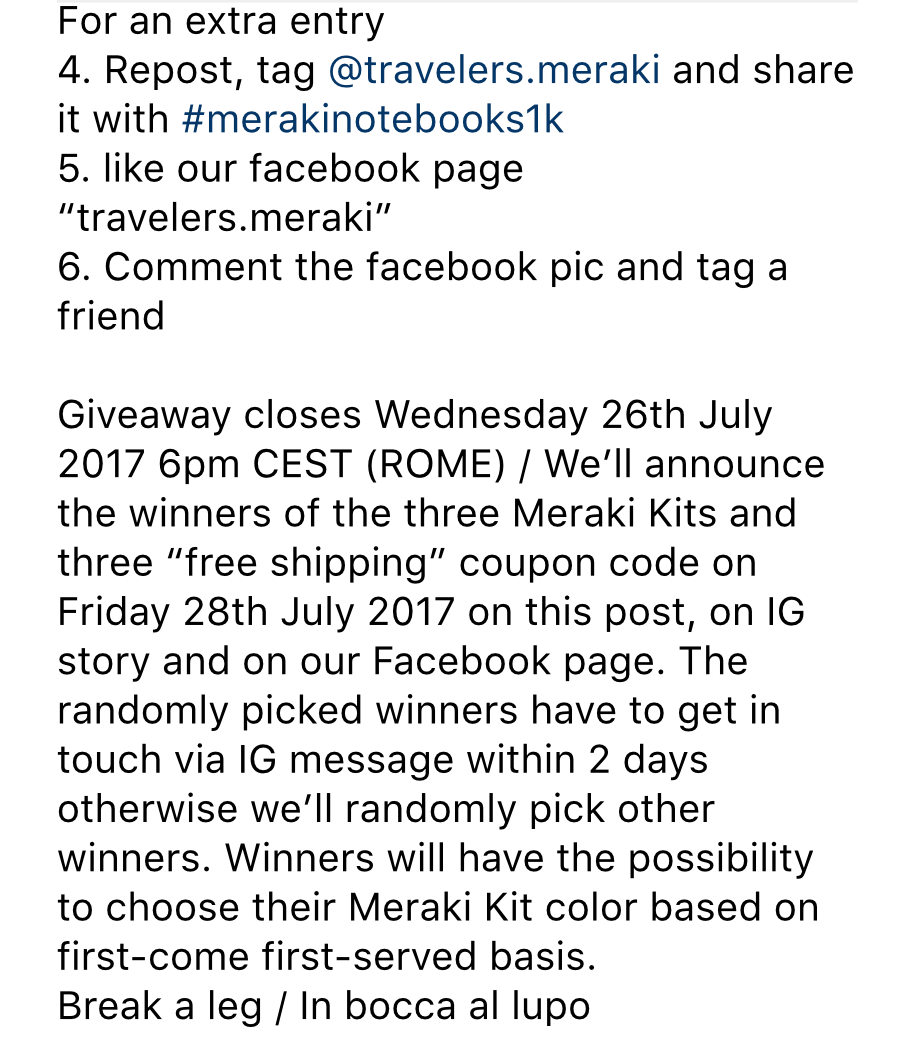 By studying how others are writing their contest descriptions, you'll learn a lot about what separates a bad description from a good one.
You also need to ensure you're giving away relevant prizes that your target audience will feel compelled to have.
If you focus on giving away prizes that are relevant to your target audience, your contest will generate better results.
If the products you're giving away aren't specific to your target audience, you run the risk of attracting followers that don't care about your business or the products or services it provides.
In the long term, this arguably does more harm than good.
Such individuals may unfollow your account after a contest, or simply not engage with your profile in the future.
By picking the right prizes, you can reliably attract the right kinds of followers and generate brand awareness among the best demographic for your business.
All of which helps increase the odds of you earning a return-on-investment from your efforts.
As you might have guessed, giving away items of high value tends to produce higher levels of engagement.
The chart below shows that prizes worth $1,000 or more generally achieve 5.8 engagements per 100 followers.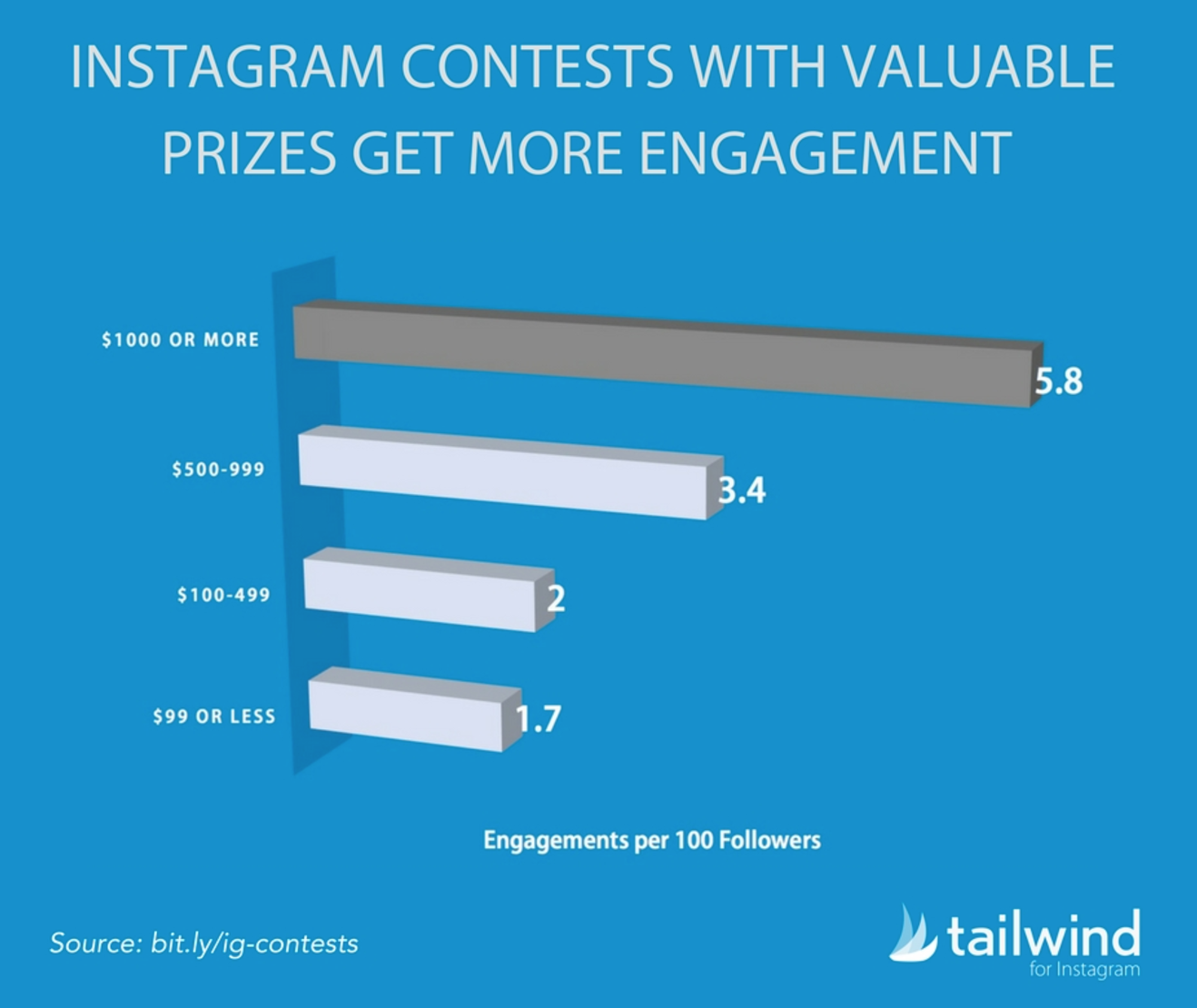 This figure is quite high when compared to the 1.7 engagements that brands enjoy when they give away prizes worth $99 or less.
If you want to give away a high-value prize, but you don't have the funds to invest in one, consider arranging a partnership deal with another brand. Provided that you have a large enough follower count, there will be brands that are willing to provide a prize for your contest in exchange for some promotion.
The way you promote the brand that provides the prize should be low-key. In the description of the contest, simply mention that the contest is sponsored by a particular company.
This Instagram post shows how you can pull this off.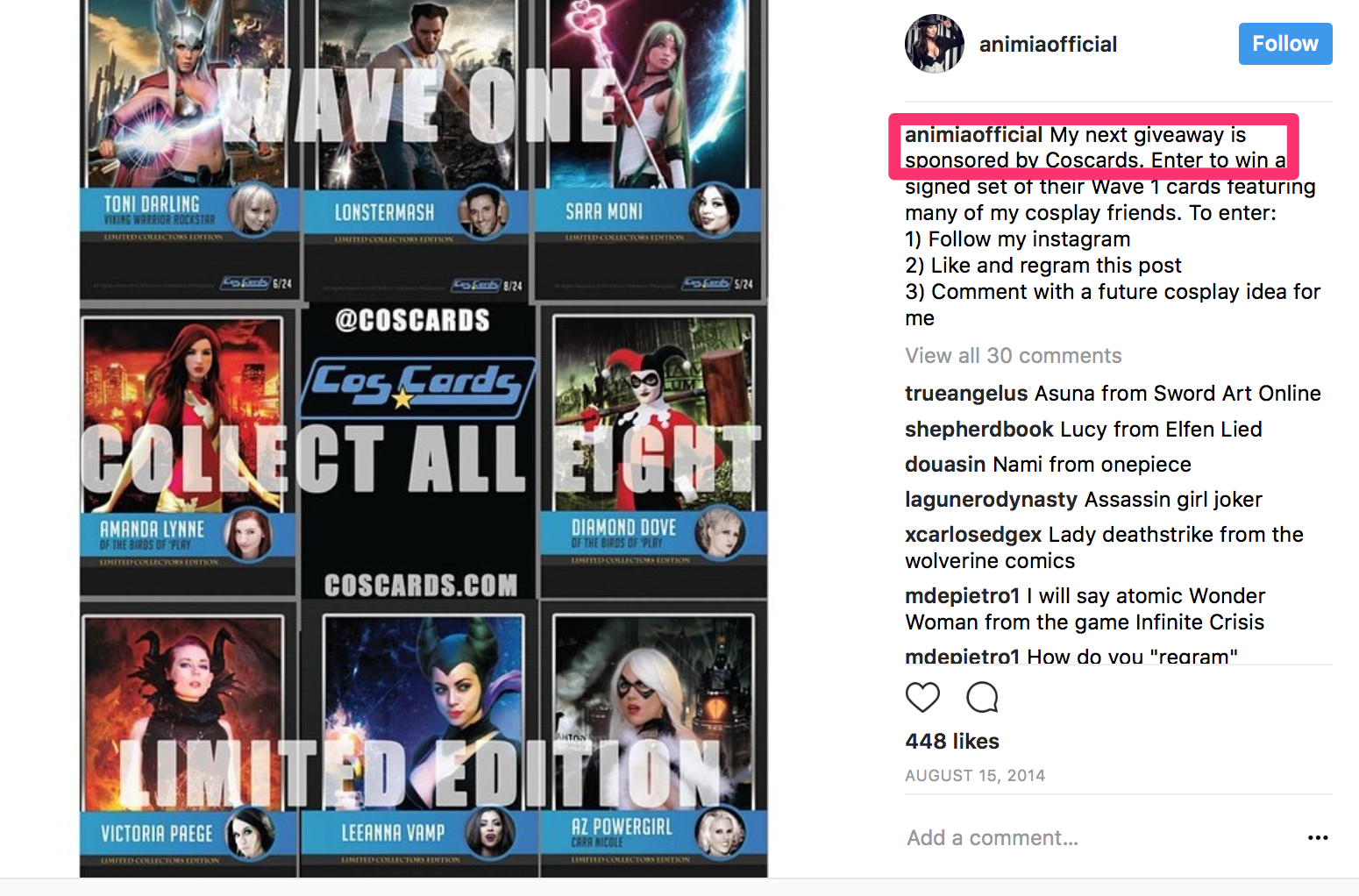 You also need to put some thought into how you're going to announce the contest.
It's a good idea to use a custom image within the post that announces the contest.
Here's an example of how you can do that.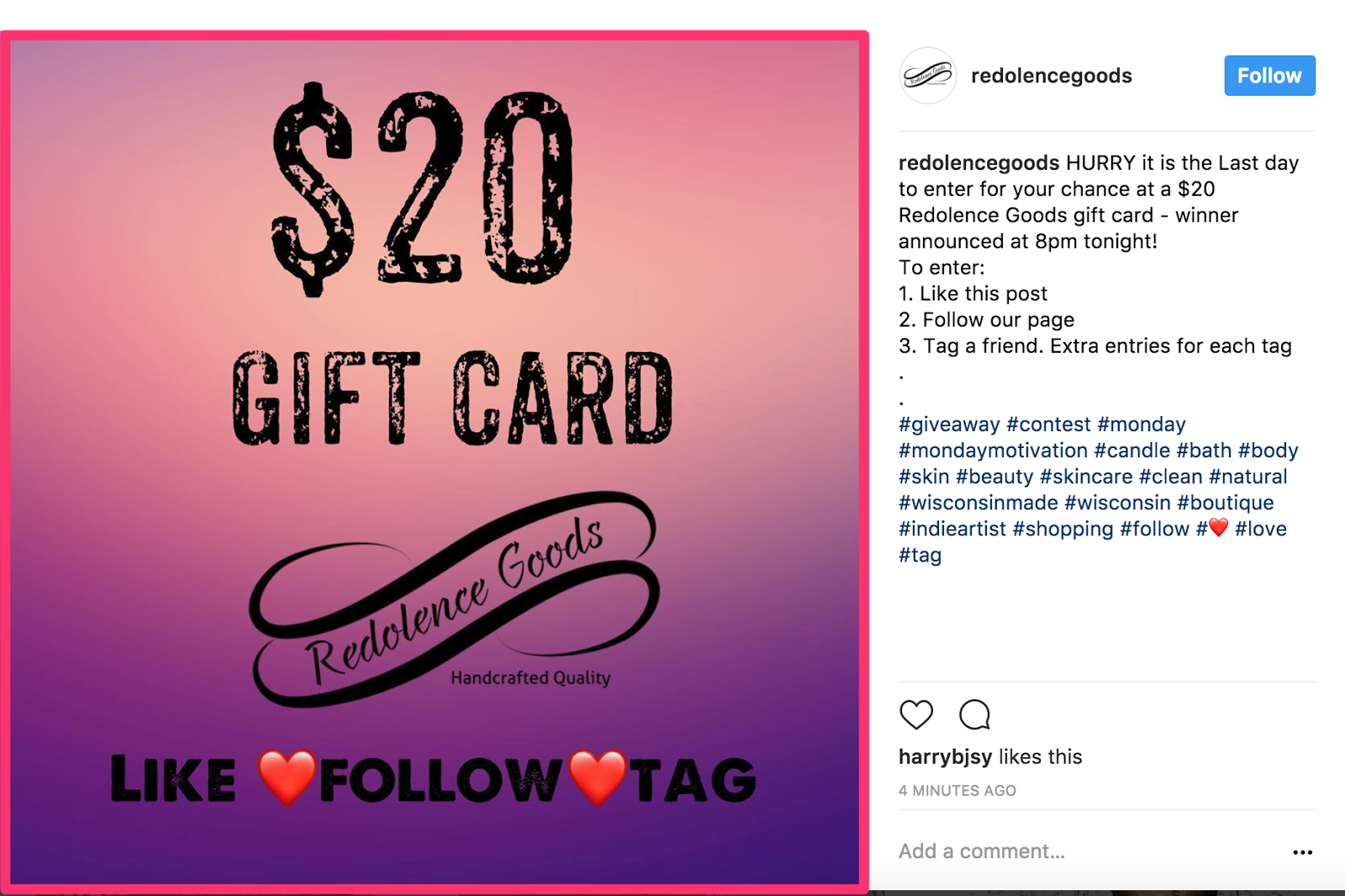 As shown above, there's also the option of adding the terms of the competition to the image, too.
With all of that out of the way, let's check out some of the contest ideas you can use.
Instagram Contest Idea #1: Tag to Win
The tag-to-win contest idea is nice and straightforward.
All you're doing is asking people to tag a friend in the comments section so that they can enter the contest, as well, and become eligible to win the prize.
This contest format does a great job of improving your profile's organic reach.
That's because once people are tagged by someone, they'll likely receive a notification.
These people will then check out your profile and potentially become a follower.
They may also tag others. This will create a viral feedback loop, bringing more people into the competition.
To increase the impact of this feedback loop, you can also ask people to follow your account in addition to tagging someone.
Here is an example of a brand that uses this strategy.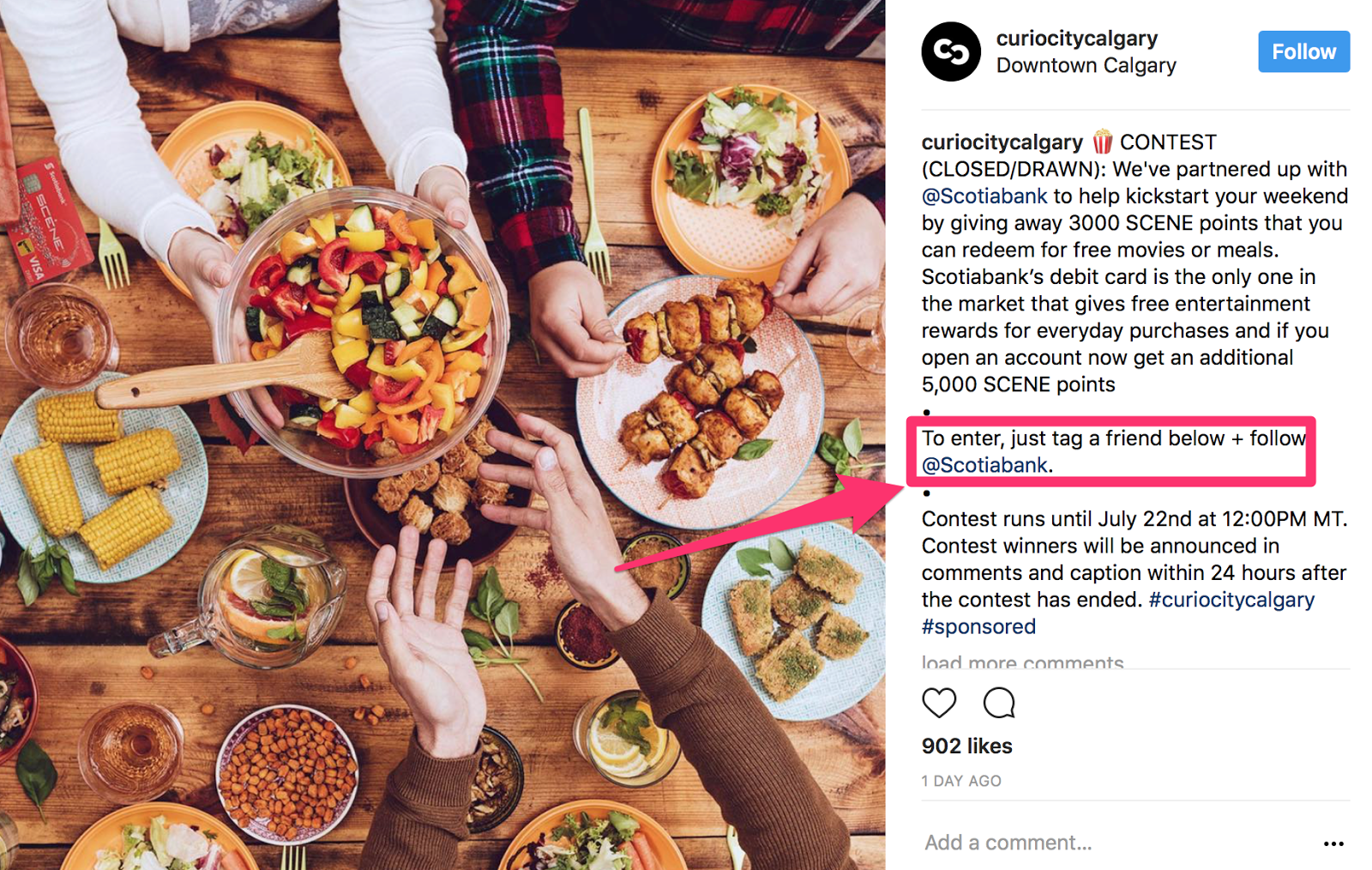 If you want to be brave, you can ask people to tag two people. This, again, increases the potential reach of your contest.
The contest below shows how this can be done.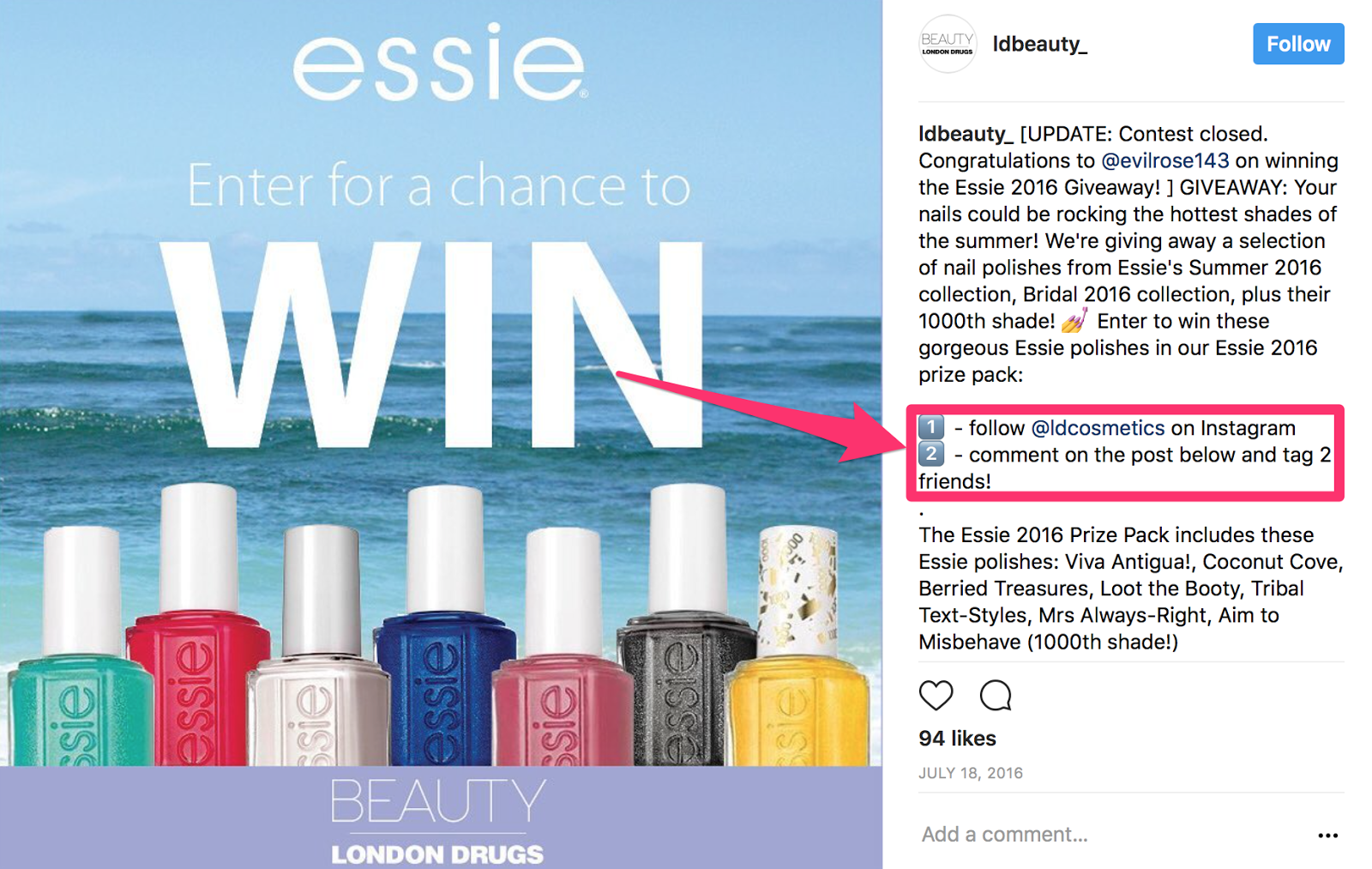 Once the competition is over, pick someone at random from the comments section. You can use an automated system to do this so that the contest remains objective.
If one of the entry conditions is to follow your profile, cross-reference the winner's account with your follower list to make sure that everything is in order.
An alternative take on this format, the 'nominate a friend to win' contest, can work equally well.
Instead of asking people to randomly tag someone, you can instead suggest that they tag someone they believe deserves to win.
With this kind of format, the winner of the contest will be the person who has been tagged, and not the person who left the initial comment.
Instagram Contest Idea # 2: Like to Win
With this Instagram contest, you ask people to like your content if they want to enter the contest and have a chance of winning.
You can even use the phrase 'double-tap to win' since, on the Instagram app, double-tapping a photo automatically likes it.
There's also the option of asking people to like your brand on Facebook, making it easy to increase the visibility and, therefore, the impact of your contest.
If you want to boost your follower count, mention that people also need to follow your profile if they want to be eligible to win.
Here's an example of how that can be done.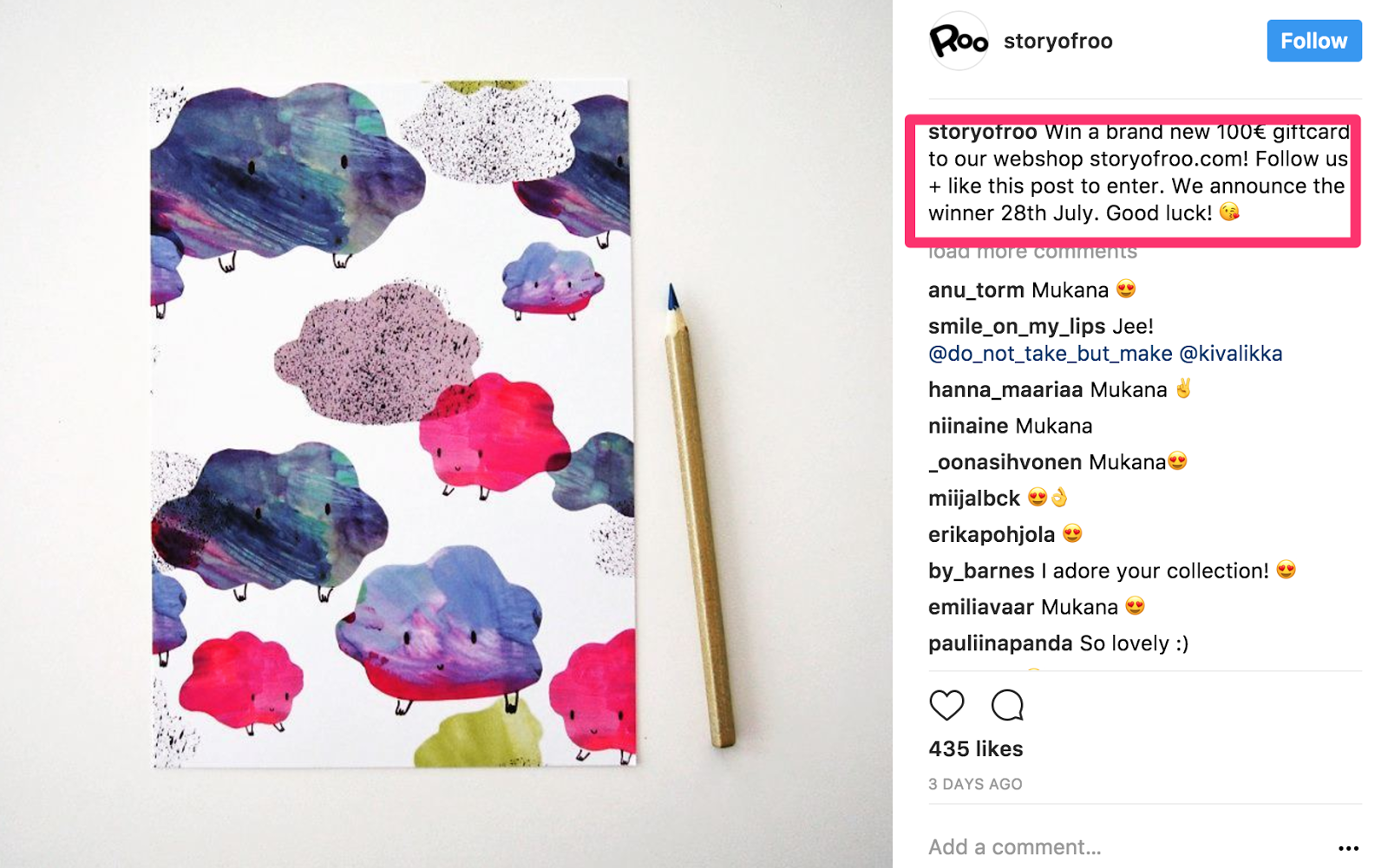 This profile has used the combination of asking people to follow and like, thereby increasing the potential engagement this contest can produce.
Instagram Contest Idea #3: Selfie Contest
Instagram is arguably the home of selfies, so this kind of contest is a great match for the platform.
It's a type of contest that works particularly well with products.
With a selfie contest, you ask people to post a picture of themselves while they're using your product, or with the product somewhere in the background.
This contest format is especially useful for a business because it helps show potential customers how a product can be used. It's an excellent form of user-generated content.
When writing the description for a selfie contest, create a unique hashtag and then ask people to use this hashtag whenever they post their photos.
You can find the pictures people have uploaded for this contest by searching for the hashtag on Instagram.
At the end of the contest, pick the picture that you think is best.
Make sure that, when you create the rules for a selfie contest, you add that you might use the content at a later date.
User-generated content can provide an excellent source of social proof. Long after the contest is over, you can repost the content that the contest generated.
Here's an example of how you can do a selfie contest.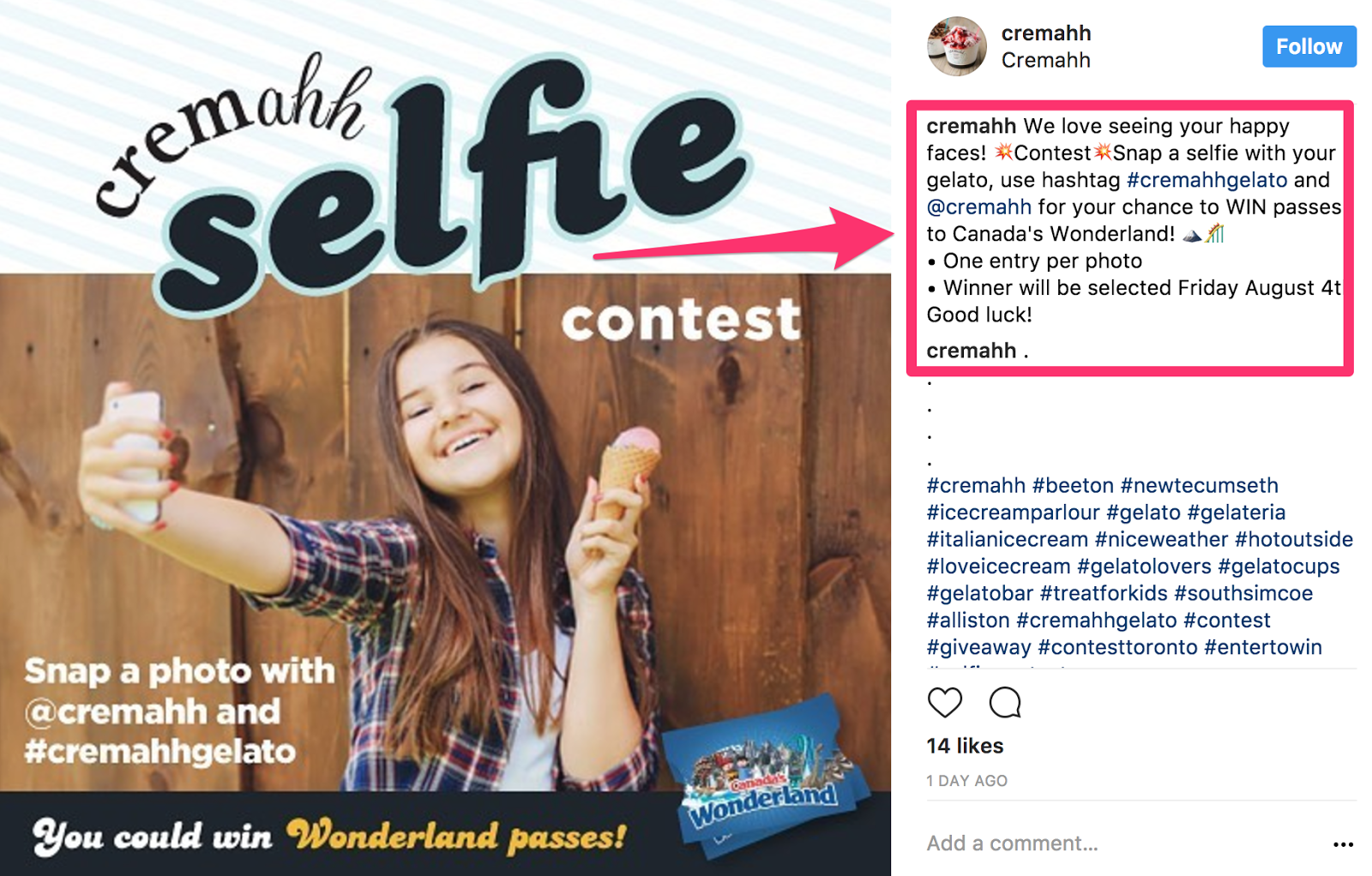 Similar to the 'like-to-win' example from earlier, you can combine the format of the selfie contest with the other contest formats we've already covered.
You could mention that people need to like the post that announces the contest as well as posting a selfie.
Instagram Contest Idea #4: Photo Contest
The photo contest is closely related to the selfie contest we just covered.
The difference, however, is that you're not asking people to take a selfie. Instead, they can take any type of photo they wish.
Like before, you ask people to submit photos using a relevant hashtag that you create.
You then search Instagram using this hashtag so that you can find a winning photo.
With this kind of contest, you don't always have to offer a physical prize for the winner.
You can just let people know that the prize is that you'll feature their content on your profile.
Here's an example of a photo contest of which relates to a Boston News channel.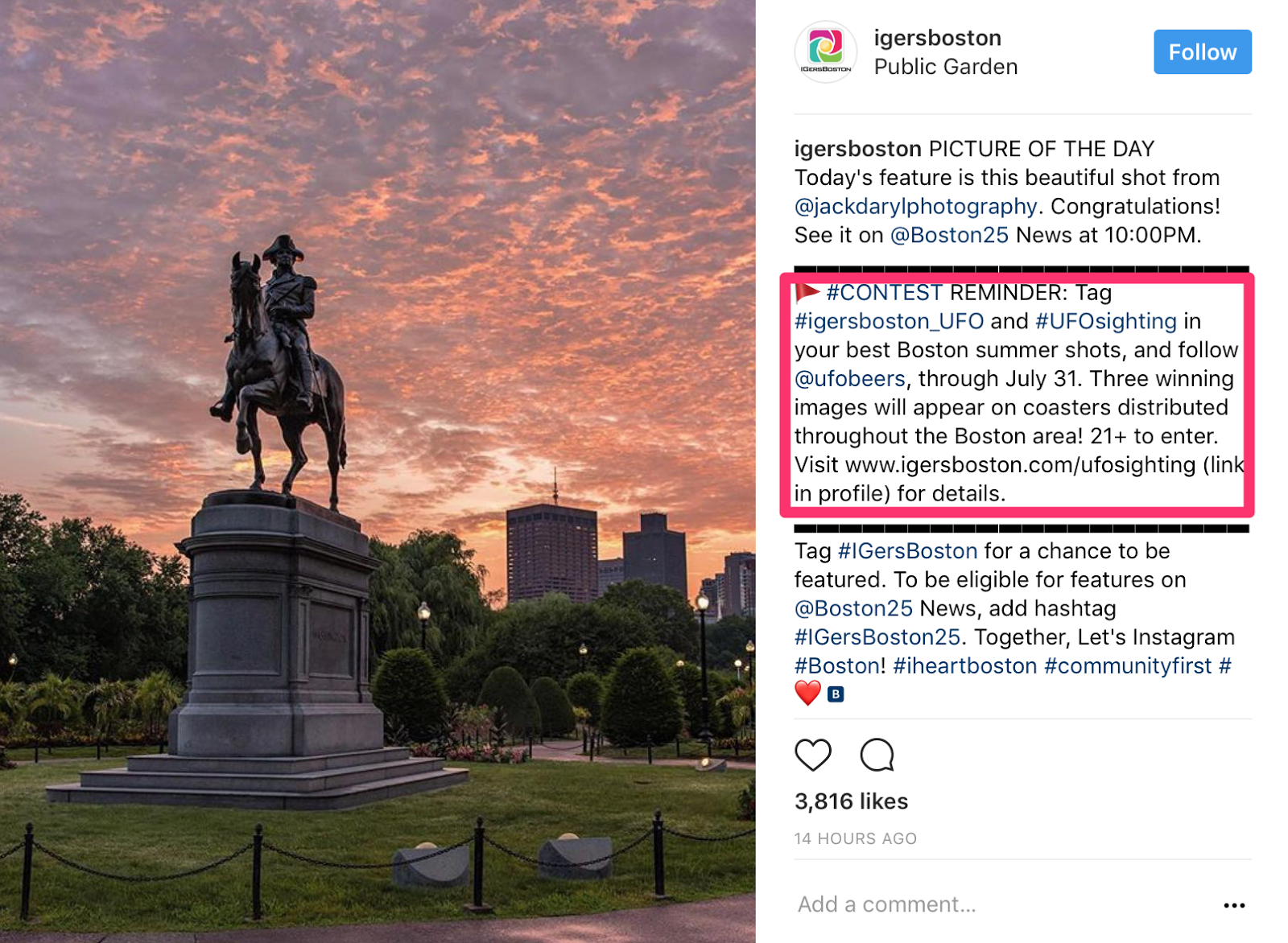 Here's another one from the Empire State Building Instagram account.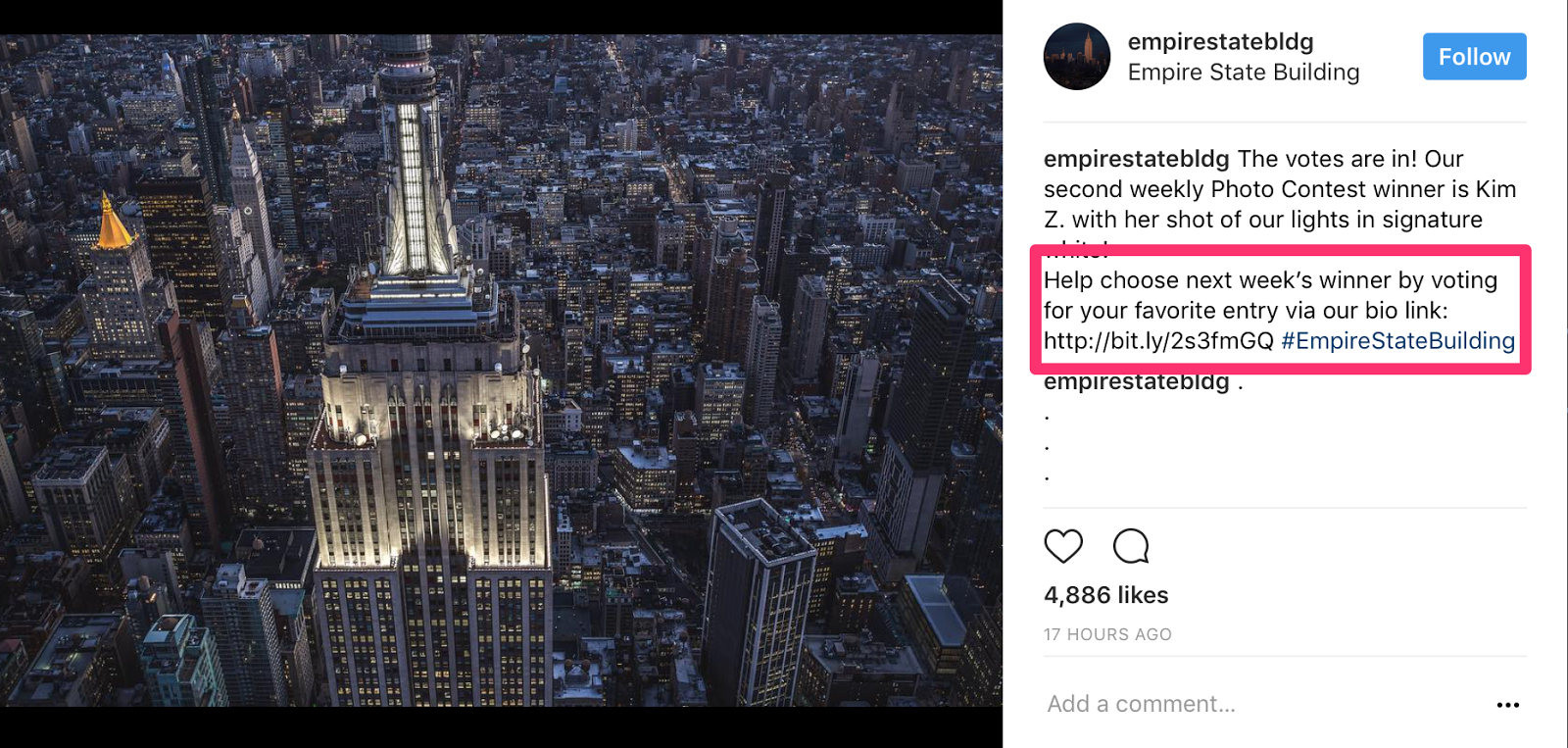 It may be that you have a product or niche that is perfectly suited to photo contests. GoPro is an example of such a product.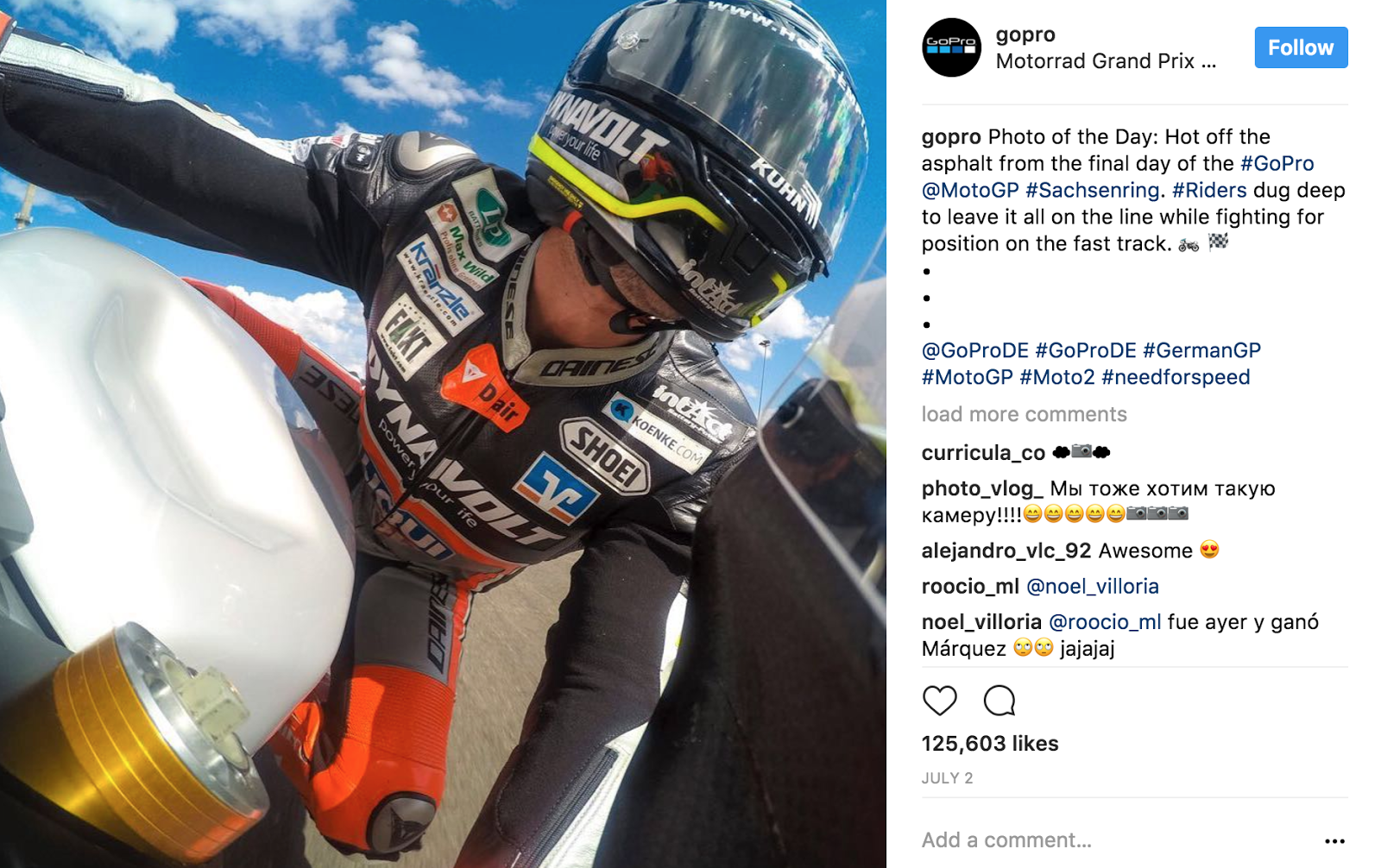 If so, you should place a special focus on running photo contests.
That's because this format will be especially easy to pull off while also providing you with an abundance of user-generated content that you can feature on your Instagram account.
Instagram Contest Idea # 5: Voting Contest
A voting contest revolves around the following steps:
You ask people to upload a piece of content alongside a designated hashtag. You also ask people to tag your profile in the description.
Your followers then search Instagram using this hashtag and vote for the one that they think is best. The easiest way to collate votes is to ask people to like the photo that they think should be the winner.
The person with the most likes is deemed the winner of the contest.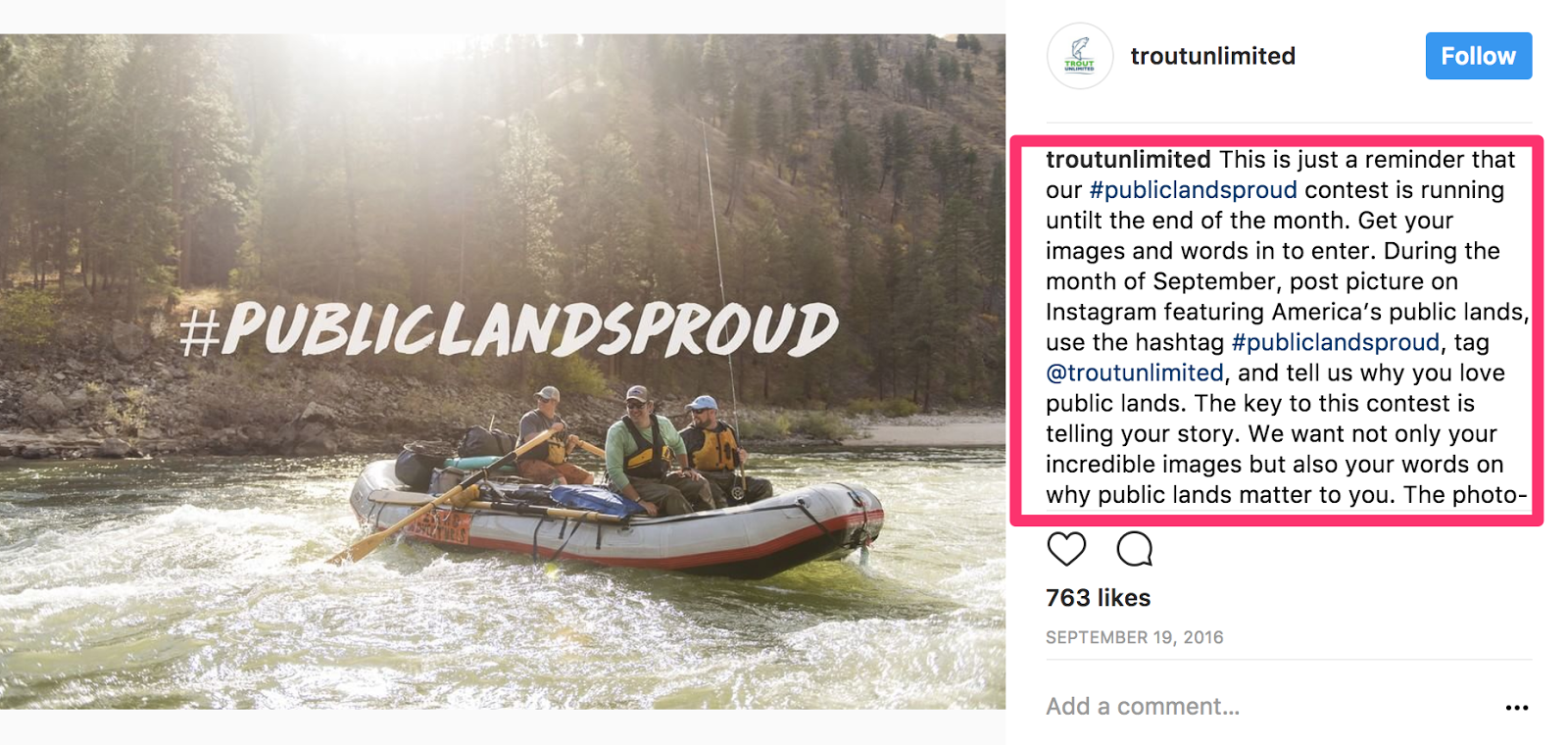 This contest format is great at generating engagement because you're asking people to take a lot of social actions. Plus, the people who enter the contest will promote their own entries through their social channels.
However, you could argue that such a format is potentially asking too much from people.
Because of this, you may want to use this contest format only when you have a highly-engaged audience that cares about your profile and its content.
With that being said, another way you can run this contest is by having people submit photos first, and then only you find them using the assigned hashtag.
Based on what you find, you pick 3-5 finalist images and host them on your own profile.
You then ask your followers to like the one that they think is best, and the photo with the most likes wins.
This approach can help you achieve great results with a voting contest without asking too much of your followers.
Here's an example of a profile that is doing something similar, but instead asking people to submit the photos to the host's account directly.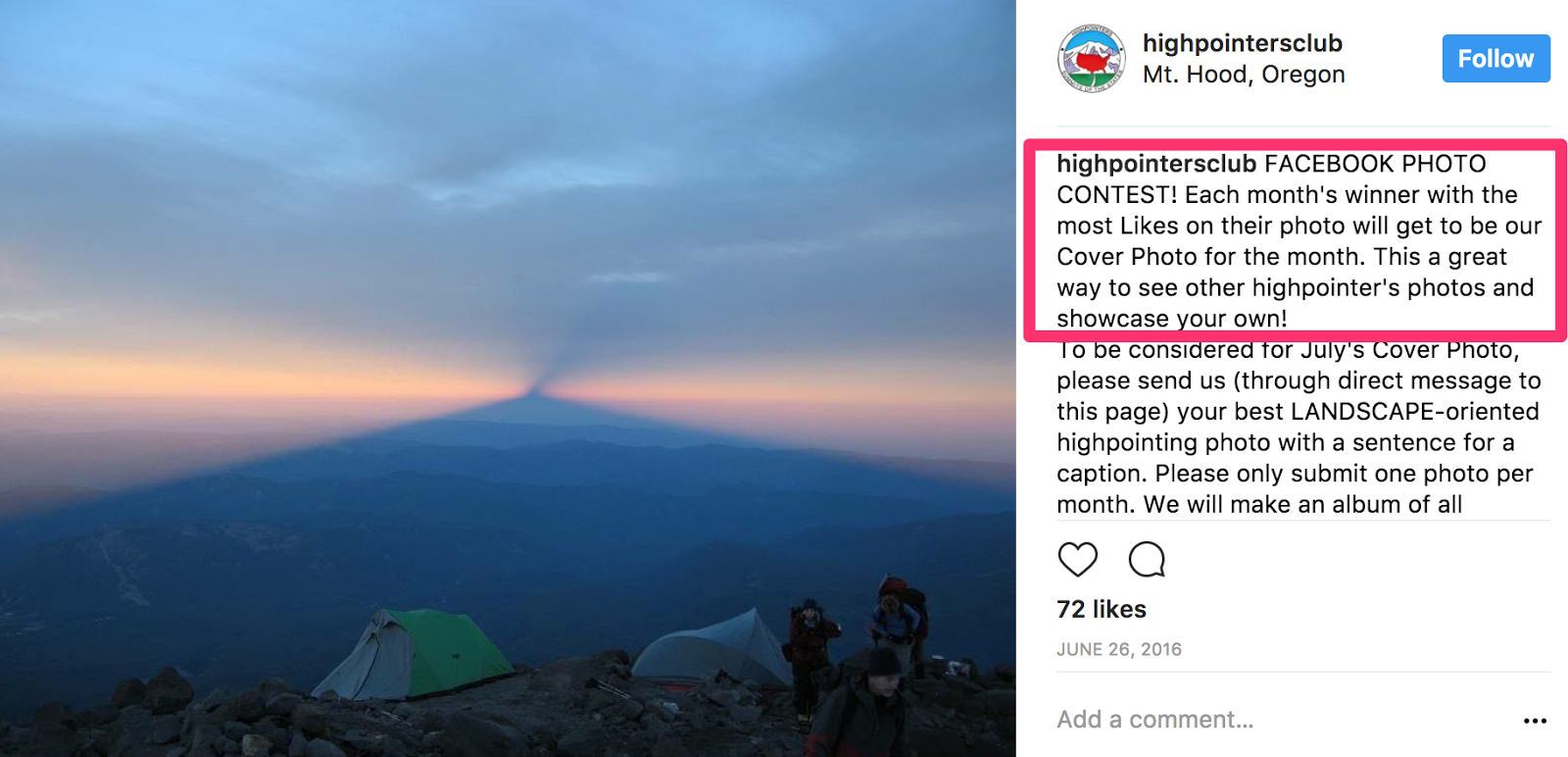 Here's a bit more context.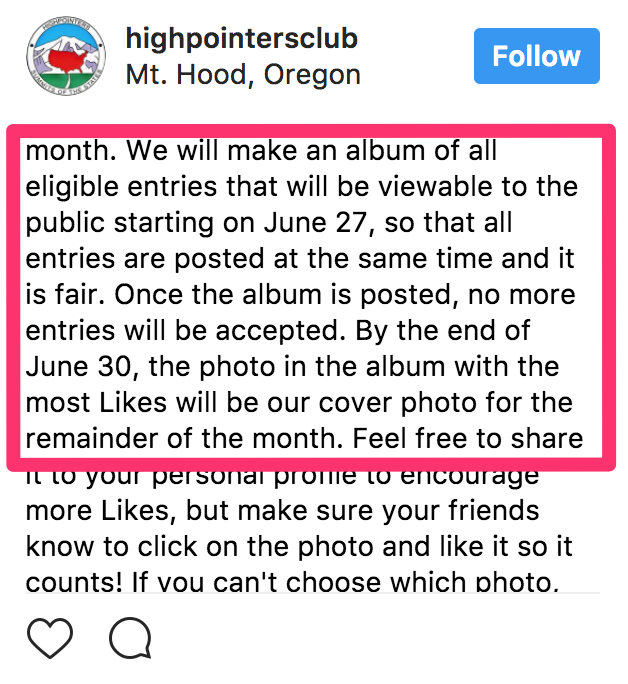 Here's an example of how someone might post their own content in the hopes of obtaining a vote.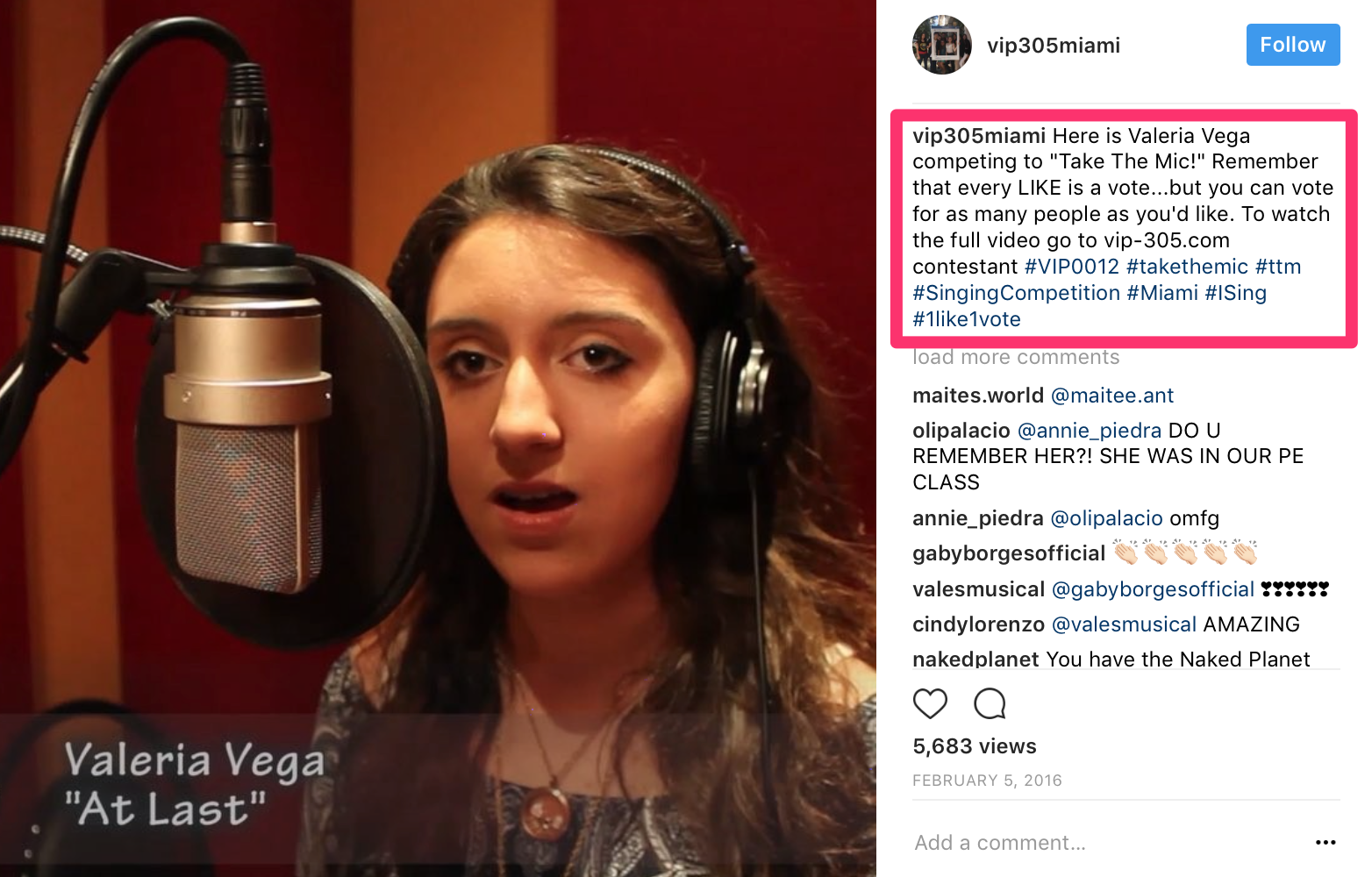 When running this kind of competition, you can also ask people to post their contest content to Facebook, as well.
Then you can count the likes that people have gathered on that platform and combine them with what they've achieved on Instagram.
Doing things this way can help expand the reach of your contest, improving your ability to generate brand awareness.
Instagram Contest Idea # 6: Caption Contest
A caption contest is a contest in which you ask people to caption a photo that you've uploaded.
From that point, you can either:
Pick the best caption using your own judgment, or
Tell others to like the best caption.
The caption with the most likes is the winner.
While the second option can be a good way to engage your audience, the first option can help prevent people from artificially inflating their likes.
Here's an example of a caption contest: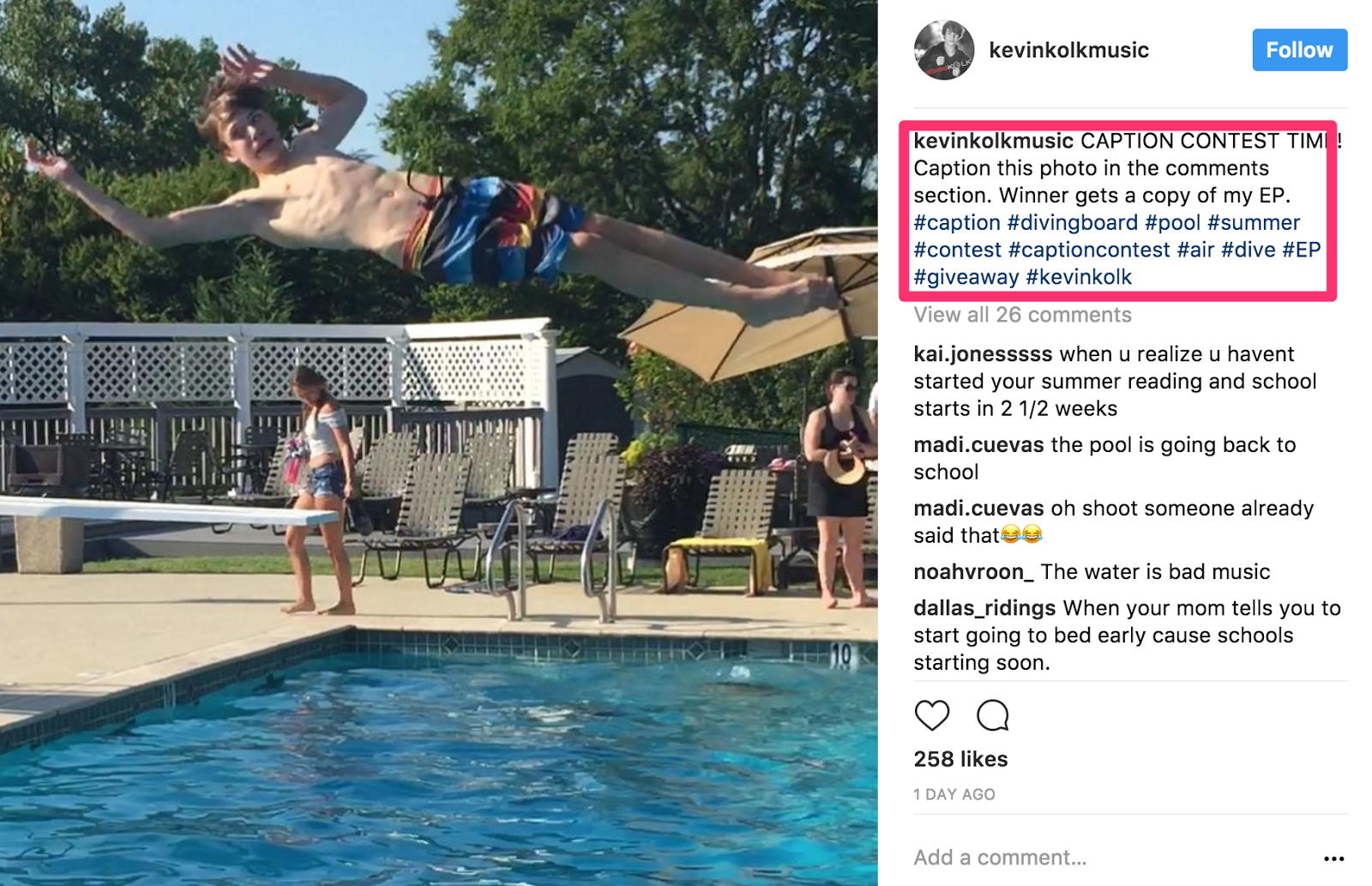 You may want to edit the image you use to announce the contest so that it highlights the fact that you're in need of a caption.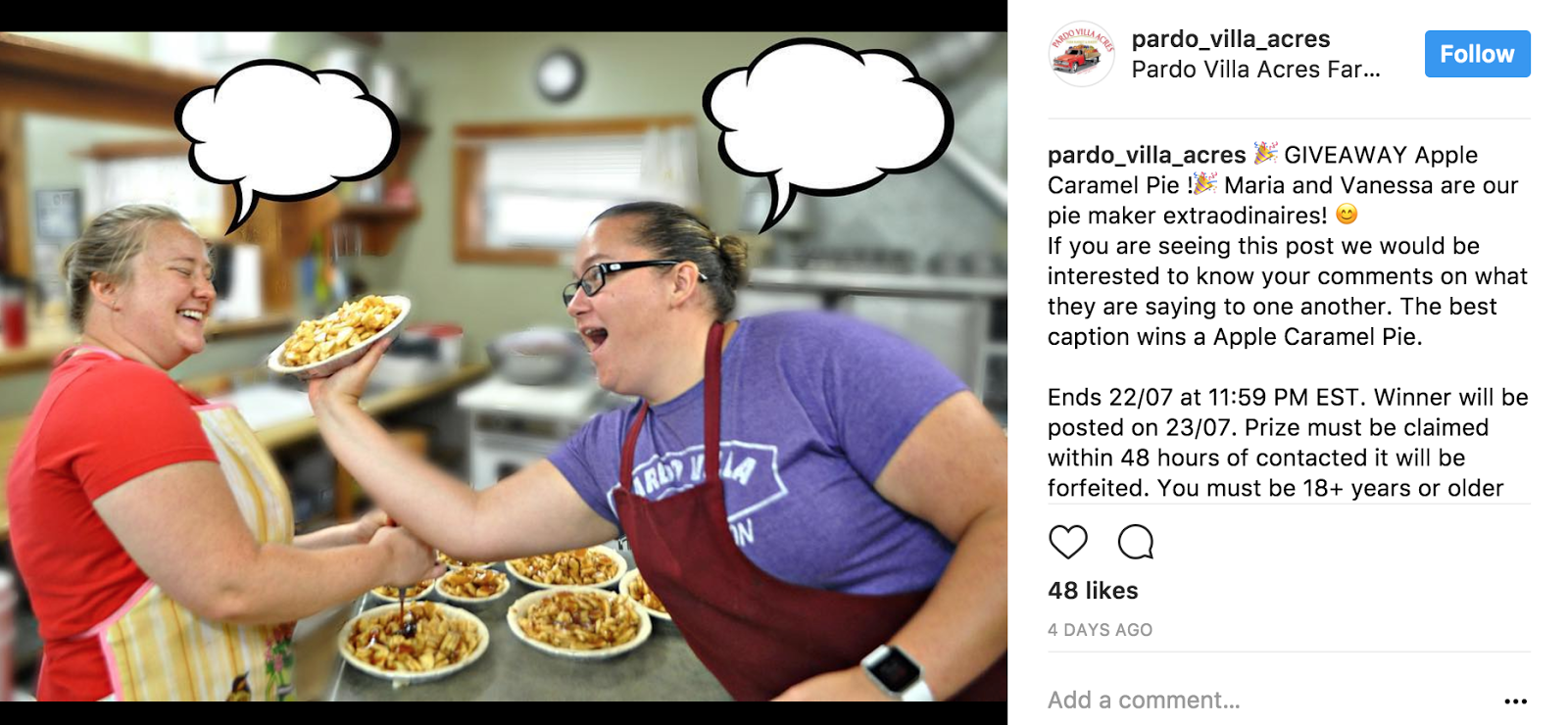 The speech bubbles in the above post are a good example of how this can be done.
Instagram Contest Idea # 7: Challenge Contest
If you're in a position where you need to put together a contest in a short amount of time, a challenge contest can work wonders.
With this contest format, you just need to come up with a simple challenge for people to meet, and the person who solves the challenge wins.
The challenge doesn't need to be complex. In fact, simpler contests generally draw more social engagement and participation.
The post below shows how this can be done.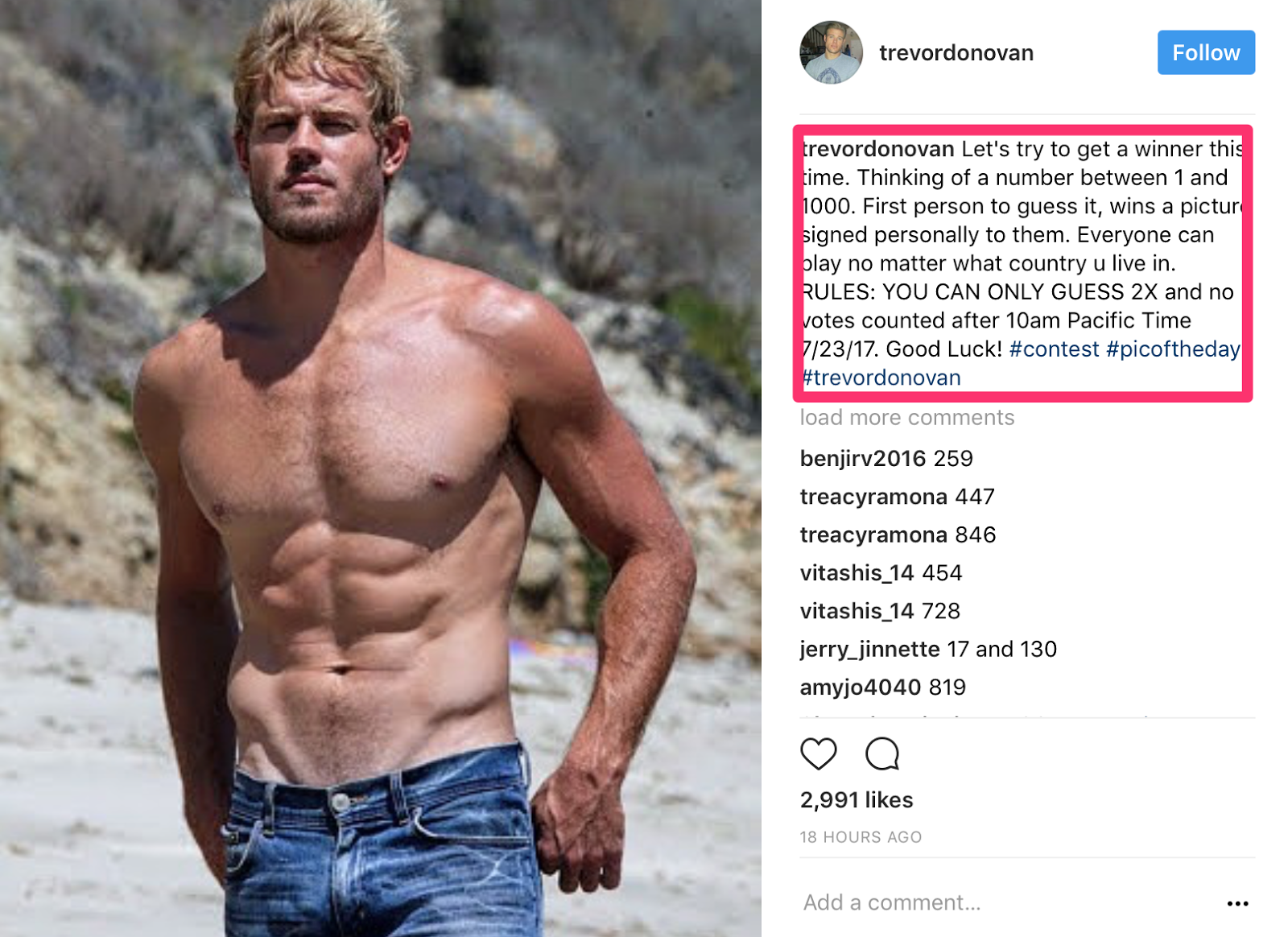 All that's being asked of in this contest is that people guess which number the account owner is thinking of.
It's simple and fun. The spontaneous feel helps to increase the authenticity of the profile, too, which helps boost long-term engagement.
Here's another example, this time using a 'guess the marbles' challenge.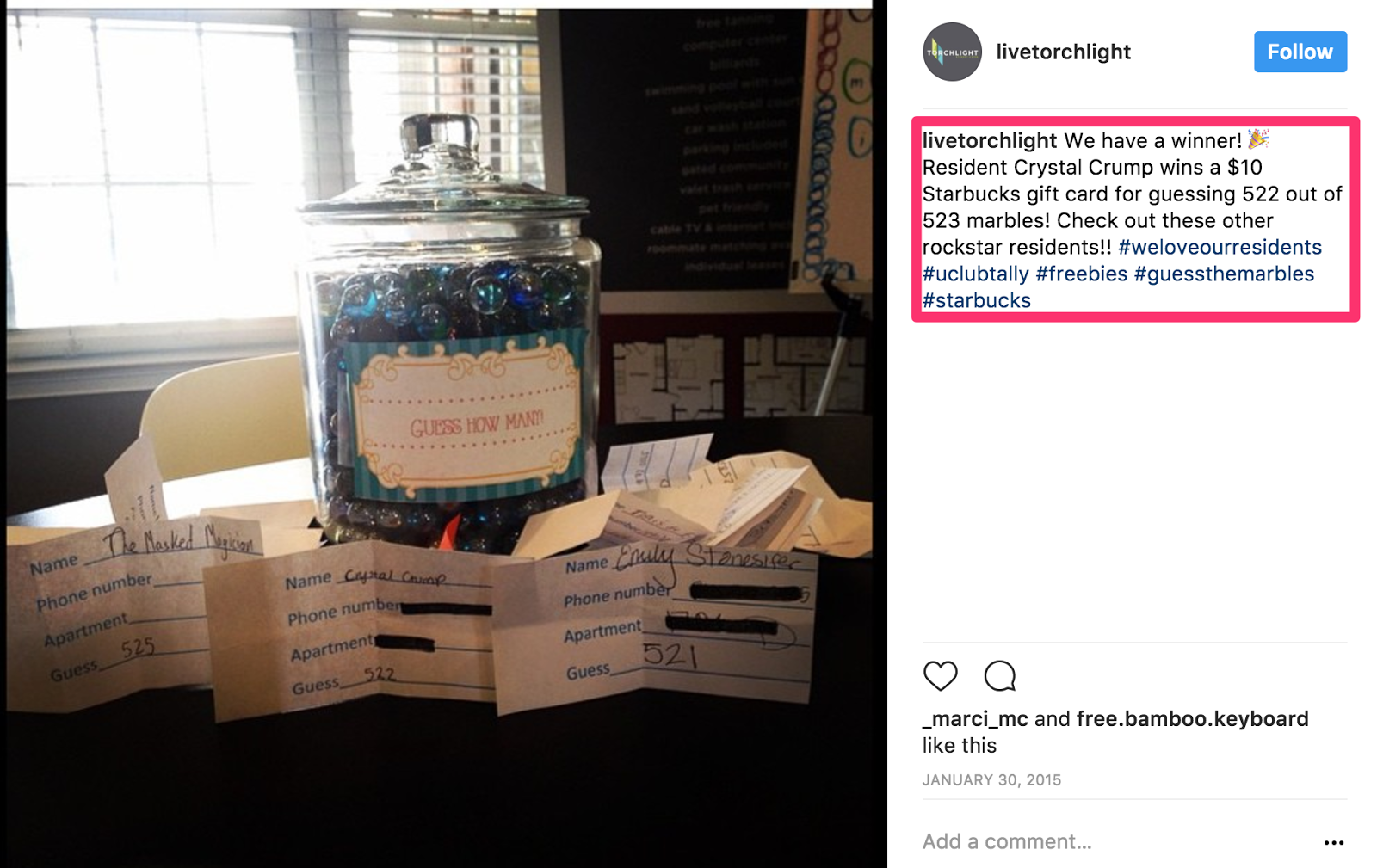 This contest format is simple and low-effort, making it a good choice for anyone who is new to running contests on Instagram.
Conclusion
You should now understand how to use Instagram contests to grow brand awareness.
As soon as you run your first contest, you'll find that the whole process is a lot of fun. It's also probably much easier than you expected.
Decide on a contest theme, create the rules, and establish a dedicated hashtag. Increase user engagement by cross-posting the contest on Facebook.
If you're feeling nervous about setting up your first Instagram contest, get in touch and we can help you strategize (and assist you with your other digital marketing efforts).
If you can encourage people to invite their friends to participate in the contest, do so. The more people who see your contest and content, the better.
Do you have any tips related to running Instagram contests?
See How My Agency Can Drive Massive Amounts of Traffic to Your Website
SEO – unlock massive amounts of SEO traffic. See real results.
Content Marketing – our team creates epic content that will get shared, get links, and attract traffic.
Paid Media – effective paid strategies with clear ROI.
Instagram adds "Text to Speech" and "Voice Effects" feature to assist content creators to …
Instagram has brought two new features "Text to Speech" and "Voice Effects" to its platform. These features are already present on Tiktok. According to Instagram, users who create reels will be able to use these new features to make the reels better.
After Tiktok was banned in India, Instagram added a feature called Reels on its platform to attract content creators, although even after this, Reels has not been able to garner as much popularity as Tiktok, keeping this in mind Instagram is adding features like Tiktok to the reels so that more and more content creators will get attracted to the reels.
Text to speech feature will allow giving artificial voice to text. On the other hand, if we talk about Voice effects feature then with the help of the Voice Effects tool, you will be able to modify the audio and voice-over. Using these features will also be very easy, you will get a total of five-voice effect options, with the help of which you can convert ordinary audio into artificial voice including Announcer, Helium, Giant, Robot, and Singer. After recording a reel, tapping on a music note in the audio mixer will take you to the Effects menu, where you can add different sounds to your reel. Users can leverage these features on iOS and Android devices. Further in this article we will know how we can use these features to make a perfect reel.
Step 1: First of all go to the Instagram app and open the Reels section.
Step 2. After that open Instagram camera tocreate a reel or upload it from the mobile gallery.
Step 3: Now to write new text, you have to go to the Text tool.
Step 4: After typing the text, tap on Text to Speech at the bottom.
Step 5: In this option, you will see different options of voice, out of which you can select the voice of your choice.
Instagram Launches 'Add Yours' Sticker to Facilitate More Engagement in Stories
Oh look, Instagram is once again following the lead of TikTok with a new feature, what an astounding surprise this is.
Today, Instagram has launched a new 'Add Yours' sticker for Stories, which enables users to prompt others to respond to their Stories content, in order to create more engaging reply threads to Stories posts.
As you can see here, now, users can add the new 'Add Yours' sticker to their Stories frame, with the example using an 'outfit of the day' prompt, calling for followers to respond with their own #OOTD image.
When users respond, they're added to the profile bubble listing on the sticker, which, when tapped, enables users to go through all the other responses to the thread, building a response chain within Stories that can help prompt more engagement.
Which sounds a lot like TikTok's Duet feature, which often sees many users adding to a Duet chain, creating long, interactive streams of content based on the original theme.
The engaging, community-based creativity of TikTok is a key element in its appeal, so it's no surprise to see Instagram, once again, taking inspiration from its now key rival. But at the same time, it's a bit much – Facebook's repetition sometimes feels like it's going too far to try and latch onto these usage trends.
I mean, it makes sense – TikTok is seeing huge engagement, and Instagram wants to hook into that wherever it can, in order to keep users from migrating away from its app, and if it can utilize similar functions, it probably should at least test and see what results it gets. But it's a fairly obvious replication here.
Maybe it works, so who really cares? But still, Instagram, and Facebook (or Meta) more broadly, is not very good at coming up with new, original ideas in this respect.
Which will be a key impediment to its new push to win back younger audiences, with Facebook CEO Mark Zuckerberg recently noting that it will make serving young adults a priority in its products, rather than optimizing for older users. Facebook knows that it needs to maintain engagement with younger user groups to maximize take-up of its advanced, metaverse-aligned offerings, and the data shows that it's losing on this front, with Facebook usage among people under the age of 24 declining over the past decade.
A key issue in this sense is that Facebook simply lacks cultural nous, and understanding what younger audiences respond to – which is why Snapchat is regularly able to spark and lead new trends, and now TikTok has become the main vehicle for the same. Instagram did once have that cultural presence, that direct line with creative online communities, but over time – since Facebook took over – it's also lost touch. And while the graph above doesn't relate to Instagram usage, you can bet that the same trends are likely happening on IG as well, hence the renewed focus from Zuck on younger groups.
Which is relevant here because of the replication. Yes, Facebook has seen success in stealing features from Snapchat and TikTok, to varying degree, with Instagram Stories being the key winner, while Reels has also been a hit for Instagram, even if usage still trails well behind TikTok. But it's not helping Facebook win the broader cultural shift, Facebook is no longer seen as the innovator, it's lost its cool factor in this respect, because of the constant replication.
Or maybe not because of this, but it's an element in the wider shift – Facebook's become very good at bringing these features to less web-savvy users who aren't active in these other, newer apps.
But for those that are always across the next key trends – like, say, younger audiences – Facebook's replication just seems stale and second rate. It's the older people catching up on things behind everyone else, then telling you about this cool new feature that you'd already been using well before they came across it.
That's the inherent failure in Facebook's replication approach, that it constantly leaves it a step behind, rather than being a leader – and if it's not a leader, it loses that cool cred, and younger audience engagement as a result.
So it might work, in a broader sense, in terms of deriving in-app engagement on the back of these usage trends originating from other apps. But really, it's like the corporatization of these shifts, and unless Facebook can change things up, and start leading the way on some of these key trends, I don't see how it's going to win back the youth.
Instagram had been testing the 'Add Yours' sticker with some users over the past month, but it's now being rolled out to all users globally, on iOS and Android.
Alright, let's get this out the way. Millennials and Gen-Z have ruined everything. Now that that's out of the way, we can get on to how they've changed the way e-commerce brands handle sales, marketing, customer engagement, and advertising.
‍
We've seen and read enough articles online about how Millennials have ruined this industry, or that industry.
In all fairness, the way they've changed the e-commerce industry has had a quite positive impact for businesses and vice versa. Millennials and Gen-Z make up a majority of Instagram users, growing in their careers to have better purchasing power. In fact, a study (.pdf) has revealed that 81 percent of millennials are shopping online on a weekly basis. 
What does that mean?
Essentially, with such a large number of shoppers online, it changes the way you'd handle e-commerce and retail. The pandemic and the waves of lockdowns have exploded the use and growth of online shopping.
If the pandemic has taught us anything, it's how digital spaces have added value to businesses, helped companies stay afloat during these times, and how physical spaces aren't always a 100 percent necessary to run your business. But rejoice! Because this does have quite a few positive implications for businesses. 
All you need to look at is the recent trends in advertising and marketing on Instagram. The endless scrolling that Instagram users go through pretty much everyday exposes users to hundreds of ads, and the lines between posts and ads become quite blurred.
‍
Sure, Amazon does have a firm grip in the e-commerce space, but while Amazon functions on a planned shopping model (where users pretty much know what exactly they're looking for, and search for those products), Instagram relies more on impulse buying.
So while Amazon is established in the market, it lacks Instagram's appeal of seamless advertising with the ease of online purchase. 
Why Go Digital?
The pros of online shopping really do outweigh the cons. Yes, quite a few shoppers do love the experience of physically going to stores, actually seeing and trying out the products they're buying, and speaking to a sales person to get more details of the product they're buying.
However, with the rate at which e-commerce is scaling, businesses (and these platforms) are finding better ways of offering better online shopping experiences to customers. The most obvious pro is accessibility. Customers are no longer limited to shopping in stores specific to their city.
You no longer have to go through the disappointment of finding some great products and realising there are no stores in your city. In fact, it's also become the case that you might find some great international brands as well, really love their products, and realise, "Yes! I can get this shipped to my place!"
‍
According to ToughNickel, the biggest advantage is convenience. But besides the convenience, you have the bonus of not facing any undue sales pressure, wider variety, as well as easy comparison of prices to find the best deal for yourself.
While Instagram may not solve the problem of physical spaces and physically trying out products, it does solve the problem of making your business accessible online, and giving them another channel to shop.
Plus, with Instagram's APIs now open, giving you the ability to build out chatbots and integrate with other apps, it solves the problem of communication, with chatbots being able to answer FAQs, give customers purchase options, instant information about their orders, and provide a seamless transition between chatbots and human interaction.
As mentioned earlier, the number of users on Instagram along with the impulse to buy stuff they come across randomly while scrolling makes Instagram one of the best spaces to be present in, especially considering the shift in shopping habits by the younger generation, regardless of whether you're a new business or not.
Author:
Anish, Developer, Tellephant