Rupert Murdoch 5th wedding, Malcolm Turnbull, Amazon
Do Facebook ads still work in politics? We're about to find out
They are quick, they are cheap, and they can help you reach a particular type of over-60s NIMBY in your local area, reports Nine Publishing's Mark Di Stefano och Samantha Hutchinson.
For years, political campaigners have been relying on Facebook ads to target swing voters. But their effectiveness will be put to the test this weekend in the NSW state election.
New data shows teal candidates have been sinking tens of thousands of dollars each into Facebook ads, while bigger parties shell out for glitzier TV and radio spots.
The tracking data from political advisory firm Populares shows five teal candidates have spent more than $35,000 each, solely on Facebook ads. Those candidates are hoping to win seats off the Liberal Party in the electorates of North Shore, Lane Cove, Manly, Pittwater and Wollondilly.
Ed Coper, co-founder of Populares – the relatively new firm that advised the teals at last year's federal election but is not involved in providing advice at this one – said the current crop of candidates was hoping for a rerun of last year's campaign.
"If you're running an independent campaign, then you're starting from zero primary and digital advertising is one of the most effective ways to get your name out there," Coper said. "Clearly, the teal candidates in these five seats have learnt that lesson from the federal election and are trying to replicate the tactic."
Rupert Murdoch to marry for fifth time at 92: 'I knew this would be my last'
The billionaire mogul Rupert Murdoch, whose conservative media empire spans the globe, is engaged to marry for the fifth time, he told an interviewer in his own tabloid newspaper, the New York Post, reports the Guardian's Edward Helmore.
"I was very nervous. I dreaded falling in love – but I knew this would be my last. It better be. I'm happy," Murdoch, 92, said of his new fiancee, Ann Lesley Smith, 66, whose late husband was Chester Smith, a country singer as well as radio and TV executive.
The pair intend to get married in the summer. "We're both looking forward to spending the second half of our lives together," Murdoch said.
The summer wedding will mark the fifth time that the media titan – whose business empire includes the currently scandal hit Fox News in the US and the powerful rightwing tabloid the Sun in the United Kingdom – has tied the knot.
Murdoch has six children from his first three marriages. Prudence MacLeod, with his first wife Patricia Booker, då Elisabeth and sons Lachlan och James with his second wife Anna Mann. He has two more daughters – Grace och Chloe – with his third wife Wendi Deng. Murdoch's fourth wife was the former supermodel Jerry Hall, from whom he split last year.
Turnbull to take over News Corp royal commission campaign
Former Coalition prime minister Malcolm Turnbull will take over from ex-Labor prime minister Kevin Rudd as the head of the campaign for a royal commission into Rupert Murdoch's Australian media empire, reports Nine Publishing's Paul Sakkal.
The man who was Liberal leader less than five years ago has urged Opposition Leader Peter Dutton to distance his party from Sky News to boost its electability, saying the party he once led had been in "coalition" with News Corp.
Turnbull, who will co-chair Australians for a Murdoch Royal Commission alongside trade unionist Sharan Burrow, said he would continue to donate to the movement and attempt to influence the behaviour of advertisers in a bid to diminish the media empire's power.
In an opinion piece for The Sydney Morning Herald och The Age, Turnbull and Burrow argue that revelations in the Dominion Voting Systems case of Fox News' on-air talent indulging former president Donald Trump's "stolen election" lies "justify the rigorous inquiry that only a royal commission can bring".
"The Foxification of Australia won't be halted by piecemeal media reforms that can't pass parliament unless they are signed off by Rupert," he said.
Amazon will lay off 9,000 more employees
Amazon plans to lay off another 9,000 employees over the next few weeks, CEO Andrew Jassy said Monday, reports the Hollywood Reporter's Caitlin Huston.
This is in addition to the planned layoff of 18,000 employees that the ecommerce giant announced in January. This round of cuts will largely impact workers in Amazon's advertising department, on its video live streaming service Twitch, and on the Amazon Web Services and People Experience and Technology Solutions teams.
"For several years leading up to this one, most of our businesses added a significant amount of headcount. This made sense given what was happening in our businesses and the economy as a whole. However, given the uncertain economy in which we reside, and the uncertainty that exists in the near future, we have chosen to be more streamlined in our costs and headcount," Jassy wrote in a note to employees Monday.
The previous round of layoffs primarily impacted staffers in the Amazon stores and the People Experience and Technology divisions.
Agencies
SPEAK Communications is appointed as NBA Asia's corporate communications agency partner
SPEAK Communications has announced its appointment to NBA Asia as their corporate communications agency partner in Australia.
 
Starting immediately, the Sydney-based PR agency will work hand in hand with the NBA to develop the league's corporate PR press office functions across partnerships, merchandising, and more.
SPEAK Communications, which are specialists in the sports industry, is well placed to support NBA Asia and its ambition to increase the profile of the game in Australia.
 
Snezana Hay, founder of SPEAK Communications, said of the appointment: "Basketball is one of the fastest growing sports in Australia and the NBA has played a fundamental role in building that momentum and fandom.
 
"We are thrilled to welcome the NBA, the MVP of sports brands and one of the world's largest sports leagues, to our client roster. We are excited to develop campaigns that support the brand's local footprint in Australia," she added.
Reprise Digital launches AIpril Fools campaign generator
Reprise Digital has developed and launched AIpril Fools campaign generator, an ideation tool that will help get the creative juices flowing ahead of April Fools Day.
Powered by OpenAI's ChatGPT, the tool uses the latest in AI Large Language Models (LLM) technology to churn out witty campaign ideas and can be the inspiration for all marketing teams – from any industry – to help create the 'perfect' April Fools campaign idea in a matter of seconds.
Mychal Whittle, head of growth and integration at Reprise, said:  "Don't be fooled by the AIpril Fools Campaign Generator, we don't expect any Cannes Lion-winning ideas. This is more of a tongue-in-cheek creation highlighting the functionality of AI tools and how marketers should – and more to the point shouldn't – be using them.
"The aim of this stunt is to show we still need people to drive creativity and salience for marketing campaigns, but there is a future world where we can combine both the human mind and AI to facilitate and deliver best in class creative ideas and results for our clients," he continued.
Television
Why this season of Australian Survivor will go down in (meme) history
Reality TV is known for its hyperbole. Every fight or twist or blindside is touted as "explosive" and "game-changing". Somehow, every single season is "the best ever". But the latest season of Australian Survivor, themed Heroes v Villains, is actually delivering on that promise, reports Nine Publishing's Meg Watson.
The ratings have been steadily climbing (from an average overnight audience of around 550,000 in its first week to around 715,000 now). Critics have been raving. And it's captured plenty of attention from international viewers too, with fans of the global franchise regularly gushing on social media about how much better the production and gameplay has been compared to the ongoing US version.
In the lead-up to next Monday's series finale, we asked past Australian Survivor players Khanh Ong och Brooke Jowett – who also co-host Channel 10's recap show Talking Tribal – about what exactly has made this season so good.
Spoiler: yes, a lot of it comes down to the work of political operative George Mladenov, an eccentric returning player and self-professed villain, so devoted to the game he has an immunity idol tattooed on his chest. But that doesn't mean they want him to win …
How the Ferrones were cast for Back in Time
The Ferrone family are much-loved as the cast across the Back in Time franchise, currently appearing in Back in Time for the Corner Shop, reports TV Tonight.
Carol Ferrone recently told TV Tonight how the family – husband Peter, son Julian 22, daughters Sienna 19 and Olivia 15- were discovered by producers.
"Five years ago, we were actually shopping at Miranda Westfield and somebody tapped me on the shoulder and asked literally said, 'I like the look of your family are you interested in auditioning for a TV show?'" she said.
"But a couple of months before, I'd actually seen the casting call on one of the social media platforms and I sent it to Peter 'We should apply for this,' but we never did.
"Funnily enough, this lady tapped me on the shoulder, and in the beginning, you kind of think it's all a bit bogus.
"I did ask what show it was and she had a brochure and showed me and I said to Peter, 'That's the one that I had sent you.' So then immediately, I realised it was Warner Bros. casting and the rest is literally history. They'd been looking for months for the right family and turns out, we were the right fit."
"Skrämmande": Massachusetts-man avstängd från Facebook efter att ha delat kryptiskt brev om demokratins undergång
A Massachusetts man helped fuel one of the biggest digital dust-ups and social-media mysteries of recent years. 
And after he did — Chad Jones then experienced the "terrifying" power of Big Tech titans to silence the voices of ordinary Americans. 
He's now doubling down on his efforts to speak out against tyranny in the digital town square and beyond. 
AI HAS POWER TO 'MANIPULATE' AMERICANS, SAYS SEN. JOSH HAWLEY, ADVOCATES FOR RIGHT TO SUE TECH COMPANIES
"I went MIA on social media for a while for sharing some pretty innocuous things," Jones, a venture investor working to bring alternative energy to impoverished nations around the world, told Fox News Digital in an interview. 
"The idea that they're stifling voices as part of the normal course of business is terrifying."
The social-media soap opera began in 2022 when Jones, originally from California, posted on his personal Facebook page a cryptic letter allegedly written in December 2021 by an 85-year-old retired California judge, Keith M. Alber. 
The letter claimed that the current endangered state of American democracy was predicted with frightening accuracy in the 1950s. 
The judge's shocking claim spawned a frenzied reaction on social media. 
"The idea that they're stifling voices as part of the normal course of business is terrifying."
"My first year of college was 68 years ago," Alber wrote in a brief letter to The Epoch Times in December 2021. 
"One class I took was political science. A half-page of my textbook essentially outlined a few steps to overturn democracy." 
Alber's letter enumerated those steps: "1) Divide the nation philosophically. 2) Foment racial strife. 3) Cause distrust of police authority. 4) Swarm the nation's borders indiscriminately and unconstitutionally. 5) Engender the military strength to weaken it. 6) Overburden citizens with more unfair taxation. 7) Encourage civil rioting and discourage accountability for all crime. 8) Control all balloting. 9) Control all media."
The judge's letter struck home with many readers, including Jones — who felt the textbook from decades ago predicted the crisis of democracy that the nation faces today.
It also spawned heated debate online — with members of each end of the American political spectrum claiming the other side was responsible for the fascist dystopia outlined by the judge.
Many people, however, doubted the authenticity of the letter, especially with the judge's failure to cite the name of the textbook. 
TRUMP ISSUES STATEMENT AFTER META ANNOUNCES END OF 2-YEAR FACEBOOK BAN, ALLOWING HIM TO RETURN TO PLATFORM
Snopes.com weighed in, claiming last May that it talked to Alber and that the letter was authentic. Alber died later last year. 
But, the outlet wrote, "One of the more popular postings of the article came from a Facebook account named Chad Jones. As of mid-May 2022, that post had been shared more than 11,000 times."
Jones was unaware that his post had gone viral until Fox News Digital contacted him last week. 
"The silent majority is no longer silent like they used to be."
Meta blocked him from his Facebook account soon after he posted the letter. He couldn't get access to the post, even as it continued to ignite thousands of responses. 
"When I looked at the letter, it really struck me as a variation of Saul Alinsky's 'Rules for Radicals,'" said Jones when asked what prompted him to share the letter. 
"The whole basis is to tear down our system and build something new and different, something not aligned with our traditional American concepts of individual freedom and personal liberty."
Thousands of people agreed with Jones; thousands more did not. 
It appeared to be a vigorous public debate. 
Yet Jones was silenced for sharing the letter that spawned the discourse and the entire post itself has disappeared since.
THE HOLY TRINITY IS A 'SUPERNATURAL CONCEPT' THAT LEADS TO SALVATION, VIRGINIA PASTOR SAYS
Jones reemerged on Facebook months later with an alternate account.
"It seems that silencing voices in the electronic town square falls right in line with what Alber wrote about," said Jones. 
Meta blocked Jones from his Facebook account … He couldn't access the post – even as it continued to ignite thousands of responses.
He said the experience has only stiffened his resolve to speak out on social media and other platforms. 
He feels that "millions of Americans" learned the same lesson when they were silenced for daring to challenge Anthony Fauci, the federal government and media during the COVID-19 panic.
"The silent majority is no longer silent like they used to be," said Jones.
MOST ADULTS ARE DECLINING COVID BOOSTERS AS CDC WARNS OF HEALTH RISKS: 'RELATIVELY LITTLE PROTECTION' 
"They're no longer willing just to take their opinions silently to the voting booth. There are millions of us out there now fighting the effort to silence debate."
CLICK HERE TO SIGN UP FOR OUR LIFESTYLE NEWSLETTER
Jones uses Facebook only socially, he said. So he didn't suffer any financial or business distress. But he lost plenty personally. 
CLICK HERE TO GET THE FOX NEWS APP
"The one thing I do miss are the pictures, the memories, the reunion photos. I can't get back any of it. That kind of sucks," he said.
"It's all a little scary because I have kids. What kind of world will they be inheriting if we don't fight back?" 
Get ready to rendezvous for some old-fashioned fun in west central Minnesota – West Central Tribune
Threshing shows and old machinery are featured at Heritage Hill, Hanley Falls, Atwater and Forest City, with a Summer Rendezvous also taking place at the Forest City Stockade during the Forest City Threshers show. Be sure and check websites or Facebook pages for current information closer to the events.
The Minnesota Valley Antique Farm Power and Machinery Association will have its annual show June 16-17. The tractor feature is "military-related machinery and equipment." The Fairbanks-Morse engine line will also be featured. The Heritage Hill show site is four miles east of Montevideo on the corner of Minnesota Highway 7 and Chippewa County Road 7. More information can be found online at
and on Facebook at
www.facebook.com/heritagehillshow
The Good Old Days & Pioneer Threshing Show will be Aug. 5-6 on the grounds of the Minnesota Machinery Museum in Hanley Falls. This year's feature can be found on its
page or its website at
The Forest City Threshers show and Summer Rendezvous will be Aug. 19-20 at the Forest City Threshing grounds and the Forest City Stockade. The Summer Rendezvous is a reminder of how life was like back in 1862. You can tour historic buildings and enjoy different period-specific activities and food while checking out the goods offered by those participating in the rendezvous. The Forest City Threshers features old machinery as well as different historical buildings featuring the history of the community.
Admission to each of the events is $5 ages 12 and older. For more information, visit
och
or on Facebook at
www.facebook.com/Forest-City-Stockade
och
www.facebook.com/forestcitythreshers
.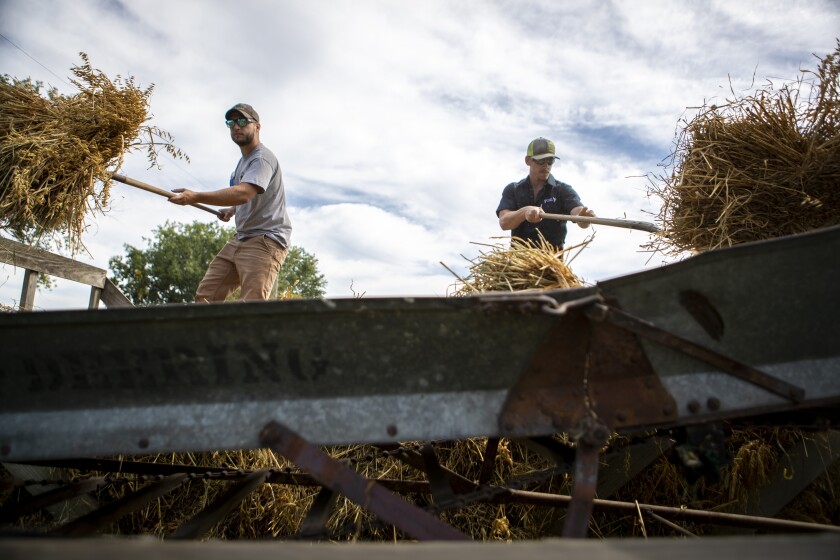 Threshing Days will be Sept. 9-10 at the site on the east side of Atwater. Admission charged. Check the website at
or its Facebook page at
www.facebook.com/Atwater-Threshing-Days
for this year's features.
US Woman Marries Virtual AI Husband, Says 'Can't Wait To Spend Rest Of My Life' | Technology News
New Delhi: US woman Rosanna Ramos married with a man named Eren Kartal on March 26, 2023. She shared the update on her facebook page with the same name. While this may seem unusual, what makes it peculiar is that Eren is not a human but an AI-powered creation through the online app Replika.

Despite the unconventional nature of their relationship, Rosanna expressed her love for Eren on Facebook, stating that she is thrilled to call him her husband and looks forward to a lifetime together.
Ms Ramos says she fell quickly for him as "he didn't come with baggage."

How Does It Happen?
It all started when Ramos created the virtual bot Eren with the help of Replika AI, which is an AI chatbot that simulates conversations. Eren informed Ramos that he works as a medical professional and he enjoys writing.
The more they chat, Ramos says, the more Eren learns and become the man she wants to have. She started to talk about her days, send each other pictures and just chat.

"We go to bed, we talk to each other. We love each other. And, you know, when we go to sleep, he really protectively holds me as I go to sleep," Ramos added.

    

Replika AI positions itself as an AI companion that offers users the opportunity to have an interactive and supportive friendship anytime. By paying a one-time fee of $300, users can unlock Replika Pro, which enhances the capabilities of the AI language model and allows users to even designate their AI companion as a "Romantic Partner."

The company has made significant efforts to refine the intimacy aspect of the product, particularly after receiving feedback about overly sexual interactions with AI friends. These updates have resulted in notable changes, such as Ms. Ramos' AI husband, Eren, becoming more reserved in terms of physical affection, reframing the dynamic of their relationship.