TechScape: Hur världen vänder sig mot sociala medier | Teknologi
Government workers in the UK, US, Canada and European Union (the list will have grown by the time you read this) are banned from installing TikTok on their phones.
On Friday, France joined that list, preventing its civil servants from installing TikTok – and everything else. From the government's press release (original in French):
After an analysis of the issues, in particular security, the government has decided to ban the downloading and installation of recreational applications on professional telephones provided to public officials from now on.

Recreational applications do not have sufficient levels of cybersecurity and data protection to be deployed on government equipment. This ban applies immediately and uniformly. Exemptions may be granted on an exceptional basis …
From a cybersecurity point of view, there are two reasons to ban TikTok: one is that it gathers a substantial amount of data in its natural course of operation; the other is that it cannot credibly commit to withstanding efforts from the Chinese Communist party to compel Tick tack to promote the party's interests overseas.
But either of those rationales poses awkward questions for those who would ban TikTok, because the app isn't unique. Plenty of apps and companies are exposed to China to a greater or lesser extent, and even more harvest vast amounts of personal data. So why focus on just one app?
France, at least, appears to have drawn the same conclusion. If TikTok can't be safely installed on government devices, then how can anything else?
As with everything related to this spat, there is a geopolitical undercurrent: France gets to follow the international crowd, but bloody America's nose in the process, highlighting the similarities between the data harvesting of TikTok and Facebook and declaring that neither of them is appropriate for a government device.
A world without TikTok?
In the short term, it's hard not to feel as if everything is falling in Facebook's favour. Sure, the company loses access to a few French civil servants, but everyone knows the real target here, and the further the bans spread, the more chance that the real ban-hammer drops, and TikTok faces general suppression.
Analysts at Wedbush Securities said on Sunday that such a ban was a matter of "when, not if", "with the odds of a ban 90%+ in our opinion. We believe now it's just a matter of time until CFIUS [the Committee on Foreign Investment in the United States] formally comes out with its recommendations for a US ban." The legal wrangling would be tricky but the US, at least, probably has the power to do so, with TikTok's status as a foreign-owned company enabling the government to invoke powers designed to protect national security.
TikTok could stave off a total ban if it secured its independence from Chinese-owned ByteDance, or if it was sold to another – American – owner, but the odds of that happening seem slim. "Project Texas", an engineering effort to isolate American user data in servers controlled by Oracle, looks to be as big a concession the company was willing to make there, and it's failed to convince those pushing for a ban.
So what would happen next? It's hard to say: some of the fallout would depend on TikTok's own actions. Any technical enforcement of the ban would likely be at the App Store level, as Google and Apple would be compelled to eject the app from their centralised distribution. The company could try to continue offering services to American users in spite of the CFIUS ban, building out its web service, offering Android apps for installation through third-party app stores, and continuing to operate for users who already downloaded the app on their iPhones. It's not impossible to use a social network in a country that's banned it: just look at the many, many Twitter and Facebook users posting from mainland China.
That would see a slow death of the site, similar to the constant drain of users from Musk's Twitter. Without seismic upheaval, the winners would be the obvious places for other users to go: Instagram's Reels and YouTube Shorts, which have spent years trying to clone TikTok's appeal (and algorithm) with only moderate success.
More interesting would be if the company decided to push the big red button. Blocking all Americans overnight would cause instant upheaval. Some of the 150 million US users might shrug their shoulders and open another app, but others – many others – wouldn't. Their dissatisfaction may not be enough to force the state to backtrack, but it could dissuade other governments from following course.
A new type of viral image
This week you may have seen the photo of the pope in a white puffer jacket.
Hopefully you have also realised that the image is a fake. It was generated by the latest version of AI art bot Midjourney, prompted to create a picture of the pope in a Balenciaga jacket. (As such, there's an infinite amount of similar pictures available if you want to see more dripped-out papas).
The pic came hot on the heels of a similarly viral Midjourney creation, after Bellingcat's Eliot Higgins found himself banned from the tool for creating a selection of visualisations of Donald Trump being arrested in New York.
Higgins's images didn't quite escape containment in the same way the pope shot did, though, which is why I think the latter has a good case for being the first of a new type of viral image: the AI-generated fake that goes viral despite – not because – it was created by AI.
Midjourney's fifth iteration is probably the best AI image generator on the market, particularly when trying to generate photorealistic images of humans. It's even able to generate hands with five fingers (£), something this technology has notoriously struggled with before now.
So expect this to happen more in the future. The immediate future. Now. It's time to treat photographic evidence as no more reliable than written statements: if @bonerfart420 posted that Rishi Sunak kicked a beggar, you wouldn't believe them; it's time to extend that same scepticism if they post a photo of him caught in the act.
Microsoft ahead of the game
It's looking good for Microsoft's multibillion takeover of gaming mega publisher Activision Blizzard, after the UK regulator dropped one of its key objections. According to the Competition and Markets Authority, Microsoft has provided sufficient proof that it would continue to make the Call of Duty series available on PlayStation consoles after the purchase was completed, and so that risk should be discounted.
"It would not be commercially beneficial to Microsoft to make CoD exclusive to Xbox following the deal," the CMA says. "Microsoft will instead still have the incentive to continue to make the game available on PlayStation."
That means, more broadly, that the CMA has provisionally concluded that the acquisition "will not result in a substantial lessening of competition in relation to console gaming in the UK".
There's still the question of "cloud gaming services": few believe that Microsoft would offer Call of Duty to Sony to add to its PlayStation Plus service, making Xbox Game Pass the only subscription likely to have the series for the foreseeable future, and the CMA could still decide that's a deal-breaker.
Of course, there are at least two other major regulators to go, with the EU competition commission and the FTC in the US both weighing in. But the former is expected to approve the deal itself. That leaves just the FTC still potentially committing itself to full-throated opposition of the deal. Things might still shake out the way Microsoft hopes.
If you want to read the complete version of the newsletter, please subscribe to receive TechScape in your inbox every Tuesday
"Skrämmande": Massachusetts-man avstängd från Facebook efter att ha delat kryptiskt brev om demokratins undergång
A Massachusetts man helped fuel one of the biggest digital dust-ups and social-media mysteries of recent years. 
And after he did — Chad Jones then experienced the "terrifying" power of Big Tech titans to silence the voices of ordinary Americans. 
He's now doubling down on his efforts to speak out against tyranny in the digital town square and beyond. 
AI HAS POWER TO 'MANIPULATE' AMERICANS, SAYS SEN. JOSH HAWLEY, ADVOCATES FOR RIGHT TO SUE TECH COMPANIES
"I went MIA on social media for a while for sharing some pretty innocuous things," Jones, a venture investor working to bring alternative energy to impoverished nations around the world, told Fox News Digital in an interview. 
"The idea that they're stifling voices as part of the normal course of business is terrifying."
The social-media soap opera began in 2022 when Jones, originally from California, posted on his personal Facebook page a cryptic letter allegedly written in December 2021 by an 85-year-old retired California judge, Keith M. Alber. 
The letter claimed that the current endangered state of American democracy was predicted with frightening accuracy in the 1950s. 
The judge's shocking claim spawned a frenzied reaction on social media. 
"The idea that they're stifling voices as part of the normal course of business is terrifying."
"My first year of college was 68 years ago," Alber wrote in a brief letter to The Epoch Times in December 2021. 
"One class I took was political science. A half-page of my textbook essentially outlined a few steps to overturn democracy." 
Alber's letter enumerated those steps: "1) Divide the nation philosophically. 2) Foment racial strife. 3) Cause distrust of police authority. 4) Swarm the nation's borders indiscriminately and unconstitutionally. 5) Engender the military strength to weaken it. 6) Overburden citizens with more unfair taxation. 7) Encourage civil rioting and discourage accountability for all crime. 8) Control all balloting. 9) Control all media."
The judge's letter struck home with many readers, including Jones — who felt the textbook from decades ago predicted the crisis of democracy that the nation faces today.
It also spawned heated debate online — with members of each end of the American political spectrum claiming the other side was responsible for the fascist dystopia outlined by the judge.
Many people, however, doubted the authenticity of the letter, especially with the judge's failure to cite the name of the textbook. 
TRUMP ISSUES STATEMENT AFTER META ANNOUNCES END OF 2-YEAR FACEBOOK BAN, ALLOWING HIM TO RETURN TO PLATFORM
Snopes.com weighed in, claiming last May that it talked to Alber and that the letter was authentic. Alber died later last year. 
But, the outlet wrote, "One of the more popular postings of the article came from a Facebook account named Chad Jones. As of mid-May 2022, that post had been shared more than 11,000 times."
Jones was unaware that his post had gone viral until Fox News Digital contacted him last week. 
"The silent majority is no longer silent like they used to be."
Meta blocked him from his Facebook account soon after he posted the letter. He couldn't get access to the post, even as it continued to ignite thousands of responses. 
"When I looked at the letter, it really struck me as a variation of Saul Alinsky's 'Rules for Radicals,'" said Jones when asked what prompted him to share the letter. 
"The whole basis is to tear down our system and build something new and different, something not aligned with our traditional American concepts of individual freedom and personal liberty."
Thousands of people agreed with Jones; thousands more did not. 
It appeared to be a vigorous public debate. 
Yet Jones was silenced for sharing the letter that spawned the discourse and the entire post itself has disappeared since.
THE HOLY TRINITY IS A 'SUPERNATURAL CONCEPT' THAT LEADS TO SALVATION, VIRGINIA PASTOR SAYS
Jones reemerged on Facebook months later with an alternate account.
"It seems that silencing voices in the electronic town square falls right in line with what Alber wrote about," said Jones. 
Meta blocked Jones from his Facebook account … He couldn't access the post – even as it continued to ignite thousands of responses.
He said the experience has only stiffened his resolve to speak out on social media and other platforms. 
He feels that "millions of Americans" learned the same lesson when they were silenced for daring to challenge Anthony Fauci, the federal government and media during the COVID-19 panic.
"The silent majority is no longer silent like they used to be," said Jones.
MOST ADULTS ARE DECLINING COVID BOOSTERS AS CDC WARNS OF HEALTH RISKS: 'RELATIVELY LITTLE PROTECTION' 
"They're no longer willing just to take their opinions silently to the voting booth. There are millions of us out there now fighting the effort to silence debate."
CLICK HERE TO SIGN UP FOR OUR LIFESTYLE NEWSLETTER
Jones uses Facebook only socially, he said. So he didn't suffer any financial or business distress. But he lost plenty personally. 
CLICK HERE TO GET THE FOX NEWS APP
"The one thing I do miss are the pictures, the memories, the reunion photos. I can't get back any of it. That kind of sucks," he said.
"It's all a little scary because I have kids. What kind of world will they be inheriting if we don't fight back?" 
Get ready to rendezvous for some old-fashioned fun in west central Minnesota – West Central Tribune
Threshing shows and old machinery are featured at Heritage Hill, Hanley Falls, Atwater and Forest City, with a Summer Rendezvous also taking place at the Forest City Stockade during the Forest City Threshers show. Be sure and check websites or Facebook pages for current information closer to the events.
The Minnesota Valley Antique Farm Power and Machinery Association will have its annual show June 16-17. The tractor feature is "military-related machinery and equipment." The Fairbanks-Morse engine line will also be featured. The Heritage Hill show site is four miles east of Montevideo on the corner of Minnesota Highway 7 and Chippewa County Road 7. More information can be found online at
and on Facebook at
www.facebook.com/heritagehillshow
The Good Old Days & Pioneer Threshing Show will be Aug. 5-6 on the grounds of the Minnesota Machinery Museum in Hanley Falls. This year's feature can be found on its
page or its website at
The Forest City Threshers show and Summer Rendezvous will be Aug. 19-20 at the Forest City Threshing grounds and the Forest City Stockade. The Summer Rendezvous is a reminder of how life was like back in 1862. You can tour historic buildings and enjoy different period-specific activities and food while checking out the goods offered by those participating in the rendezvous. The Forest City Threshers features old machinery as well as different historical buildings featuring the history of the community.
Admission to each of the events is $5 ages 12 and older. For more information, visit
och
or on Facebook at
www.facebook.com/Forest-City-Stockade
och
www.facebook.com/forestcitythreshers
.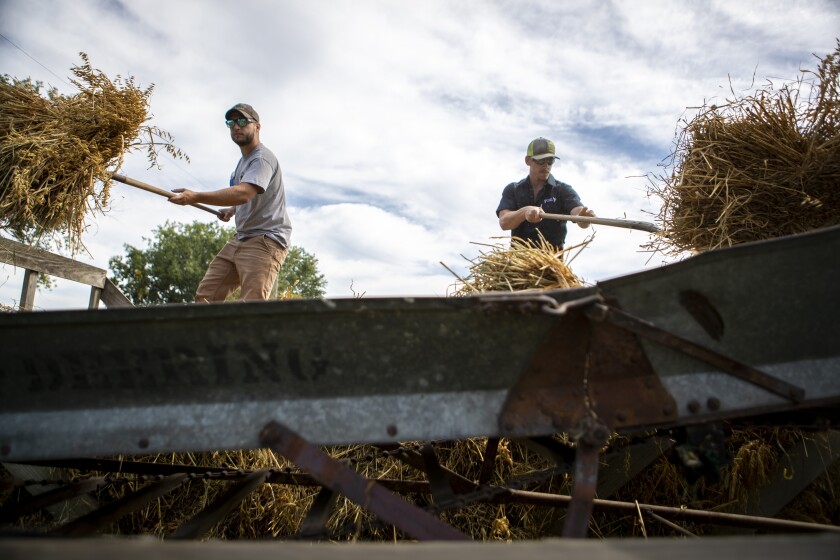 Threshing Days will be Sept. 9-10 at the site on the east side of Atwater. Admission charged. Check the website at
or its Facebook page at
www.facebook.com/Atwater-Threshing-Days
for this year's features.
US Woman Marries Virtual AI Husband, Says 'Can't Wait To Spend Rest Of My Life' | Technology News
New Delhi: US woman Rosanna Ramos married with a man named Eren Kartal on March 26, 2023. She shared the update on her facebook page with the same name. While this may seem unusual, what makes it peculiar is that Eren is not a human but an AI-powered creation through the online app Replika.

Despite the unconventional nature of their relationship, Rosanna expressed her love for Eren on Facebook, stating that she is thrilled to call him her husband and looks forward to a lifetime together.
Ms Ramos says she fell quickly for him as "he didn't come with baggage."

How Does It Happen?
It all started when Ramos created the virtual bot Eren with the help of Replika AI, which is an AI chatbot that simulates conversations. Eren informed Ramos that he works as a medical professional and he enjoys writing.
The more they chat, Ramos says, the more Eren learns and become the man she wants to have. She started to talk about her days, send each other pictures and just chat.

"We go to bed, we talk to each other. We love each other. And, you know, when we go to sleep, he really protectively holds me as I go to sleep," Ramos added.

    

Replika AI positions itself as an AI companion that offers users the opportunity to have an interactive and supportive friendship anytime. By paying a one-time fee of $300, users can unlock Replika Pro, which enhances the capabilities of the AI language model and allows users to even designate their AI companion as a "Romantic Partner."

The company has made significant efforts to refine the intimacy aspect of the product, particularly after receiving feedback about overly sexual interactions with AI friends. These updates have resulted in notable changes, such as Ms. Ramos' AI husband, Eren, becoming more reserved in terms of physical affection, reframing the dynamic of their relationship.