How to Run Sponsored App Ad Campaigns
You created an app. Now you just need to drive traffic to it. As a marketer or app creator, you might not know where to start to drive app downloads.
It might not be as hard as you think.
You can start gaining traffic through a sponsored app ad campaign. Wondering what a sponsored ad campaign is and how to run one effectively? Let's cover what you need to do to get started and optimize your chances of success.
This includes how to use a sponsored ad campaign to get traffic directly to your app through major players like the Apple App Store and Google Play. We'll also cover which metrics you'll want to track and how to create compelling app ads to encourage engagement and installs.
Let's get started by explaining precisely what a sponsored app ad campaign is.
What is a Sponsored App Ad Campaign?
Sponsored ads allow you to display adverts for your app the same way you would for any other product. As an advertiser/creator, you pay for these ads, and they're usually marked as "Sponsored" or "Ad," so users can differentiate them from regular apps in the search results.
To explain this further, let's use Apple as an example. When you advertise on the platform, your app ads show at the top of the search page on its online app store. Sponsored ads also appear in other apps.
Depending on the network you're using, there may be some variations in how ads are displayed, and your ads may also appear on more than one platform.
Why You Should Run Sponsored App Ad Campaigns?
There's no doubt about it; developing and launching an app is tough. It takes a lot of time and financing, and that's before you even start to think about the marketing side.
However, regardless of the niche you're in, you'll want to drive installs and interest. That's why you should consider running a sponsored app campaign.
Is it worth your while? Potentially.
No one can say just how well your paid advertising will go and whether it will pay off long term. That said, there are some methods you can use to tip the scales in your favor.
Begin by ensuring your messaging is consistent throughout every stage, from the initial ads right down to the installation.
Also, make sure you understand your audience and the best methods to reach them. You may find it helpful to see which apps are performing best so you know if yours would be a good fit.
Finally, look for opportunities to re-engage and retarget your customers and continuously track your metrics along the way. I'll talk more about the app metrics you should be monitoring later.
Before I move on to the next section, something else you'll want to think about is your company's budget and how far it's likely to take you.
In the United States, it costs an advertiser $2.07 for each iOS app install and $1.72 for each Google Play Android installation, so be sure a paid campaign makes financial sense for your business.
Mobile Vs. Desktop App Ads
Now let's talk about mobile and desktop ads, as these are the two main ways to display your app ads.
With 260 million smartphone users in the United States alone, it makes sense to focus on mobile app ads. You're going to want to catch mobile users while they're on the move, and these are the users who are most likely to install your app.
When you're running mobile ads, these will show in tablets, wearables, mobile and smart devices, and in other apps as promotional adverts. You can also link your Google Ads account to Google Play Developer Account to display ads to app users without the need for retargeting.
Mobile apps are good for personalization and reaching your target audience, while research indicates tablets have a higher conversion rate than desktops.
With desktops, your ads will appear on static devices, like a laptop. This method may not seem like the most obvious way to advertise your app, but you shouldn't ignore them completely.
Some argue to create the most effective sponsored app campaign, you need to run both types to improve your chances of success.
How to Run App Ads in App Stores
The process for running app ads will vary depending on the app stores you're using. You can run these campaigns yourself or ask an agency to run them on your behalf.
Here are some of the most high-profile options and how get started.
Apple App Store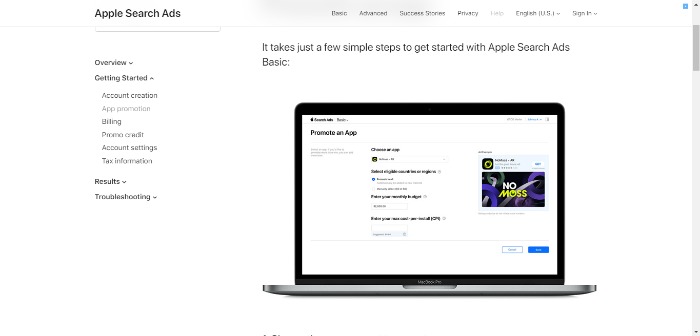 With stores in 175 countries and regions and half a billion users every week, Apple's App Store is the place to be.
To get started advertising your app, you'll have to set up an Apple ads account if you haven't already. You'll need to fill out details like personal information, accept Apple's terms, and provide a payment method.
If you haven't set up an ad before, Apple makes the whole process user-friendly.
Go to the Search ads "Promote an App" page.
Go to your account dashboard. Select the app you're promoting from the list. Apple lets you choose up to 50.
Select your target country and regions.
Decide on your budget. Apple sometimes offers a free $100 to get you started.
Detail your cost per install. Apple states it will set a "max CPI based on what we know about your app and what other developers are willing to pay to reach the same users." However, you can change this.
You're ready to go!
Android App Store (Google Play)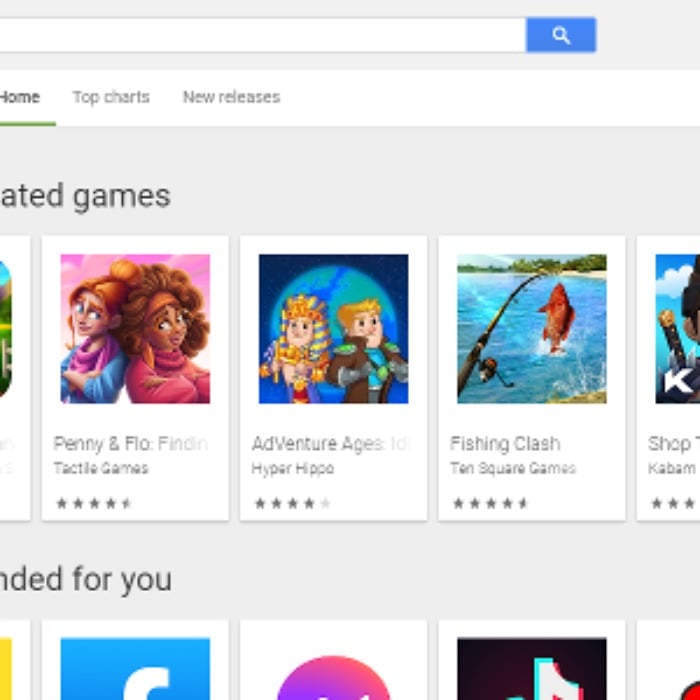 If you want a sponsored ad on Google Play, you can do this by creating an app campaign in Google Ads. Google's app adverts allow you to advertise both Android and iOS apps.
Google will help you out by optimizing your adverts so your target audience sees them, and you won't need to design your ads. Google does this for you by using the material you have in your App store listing.
When you're using Google, your app ads can appear on Play, YouTube, Discovery, and other channels.
Unlike some other sites, Google has quite a lengthy process, so I'll break it down as simply as I can.
Sign up or log in to Google Ads. If you don't already have an account, you can set one up online.
Look out for the page menu. You'll find it on the left. Choose "Campaigns." You'll see a blue button with a white plus sign in the middle. Click on that and then select "New Campaign."
You'll then need to set your campaign goals. In this case, it's going to be "App promotion."
Next, Google will ask you for a campaign subtype. You can choose between "app installs" and "App engagement."
Choose your platform (iOS or Android.)
You'll then see a search field. Here, you add your app's name, package name, and publisher. Your app should then show in a list.
Select your app and press "continue." Google suggests, "You may want to indicate in the name that this is an App campaign." Doing this will make your app campaign easier to find if you need to refer to it later.
Update location or language setting. Be careful when selecting target languages because Google won't translate your adverts for you.
Choose your average daily budget.
Go to "campaign optimization." Here, you can optimize the campaign depending on the user actions most important to you.
Fill out your target bids. You don't need to do this for app install campaigns.
Set your campaign dates.
Choose an ad group name.
Go to "Ad Assets." Include two headline ideas (minimum) and a description idea. You can add up to five.
Tips to Create Effective App Ads
How do you write effective app ads? It helps if you think of them in the same way you would for your other marketing content.
With regular marketing content, you'd:
Craft a compelling headline.
Provide a clear, concise summary detailing your product (app) and its features.
Target your content toward your ideal user.
Use easy-to-understand, everyday language.
Include keywords and a call to action.
You should also consider that ad space is limited, so you want your messaging to be precise and targeted, with the most important information first.
Here are a few more tips for creating an effective app campaign.
Remember, Image is Everything
Images are every bit as important as text if you want to capture mobile users' attention. Choose an image that is in line with your brand and appropriate to your audience. Include branding in the image if you can.
Also, make sure your images are consistent with your overall style and tone, so both blend seamlessly.
One last tip: Always use the recommended image sizes for each platform you're selling on for the best results.
Test and Tweak Your App Ads 
To see what works, you'll need to test different ads to compare results when you start advertising. Consider testing:
image
app description
targeting options
Running A/B campaigns can help you better understand which adverts are resonating best with your audience. Test over time and keep tweaking until you're getting the results you're aiming for.
Keep Your App Ad Objectives in Mind
Most importantly, know what your objectives are. Be clear on what you want your ads to achieve, what you want users to do, and ensure your sponsored app ads convey it clearly. For example, if your goal is to drive free downloads and push paid add-ons later, focus on the features in your free version.
Tracking App Ad Metrics
To understand if your sponsored ad apps campaign delivers the results you want, you'll need to track your ad metrics. If you'd like a refresher, I've covered this subject before. However, you may find there are others you want to focus on, like:
App store conversion rate: This will vary depending on the platform, your category, traffic type, and ad quality.
CPC: Your CPC rate will differ depending on several factors, like your chosen platform and ad placement.
Daily and monthly users: Also known as DAU and MAU, these metrics help you understand how often your customers are revisiting your app.
Return on investment: Are sponsored app campaigns worth the cost? Make sure you include the efforts of testing your ads, the cost per click of your ads, and the cost of developing and marketing your app.
User growth rates: This will help you see if your audience is growing.
App store rank: This metric is essential for seeing if your app ranks for a keyword and its visibility.
Slutsats
It's one thing to build an app, but you may find getting traffic to be a challenge. An effective sponsored app ad campaign can drive traffic and increase installs.
Even if you're new to it, the entire process is user-friendly. With just a few steps, you'll be ready to get going.
To maximize your results, carefully craft your app ads and track your metrics so you can make adjustments. This will allow you to optimize your campaigns and drive results.
Once you've started getting downloads, make sure to encourage your users to leave app reviews and implement app store optimization efforts to keep your audience growing.
Do you run sponsored app campaigns? What strategies helped you the most?
See How My Agency Can Drive Massive Amounts of Traffic to Your Website
SEO – unlock massive amounts of SEO traffic. See real results.
Content Marketing – our team creates epic content that will get shared, get links, and attract traffic.
Paid Media – effective paid strategies with clear ROI.
Best ASO Tips To Boost Your App Search In 2022
You need your application to be really effective in the overpopulated application market. Then, at that point, you will have to drive downloads to endure. So when it's all said and done, you must account for yourself. Get your application the consideration it merits.
The uplifting news, however, is that customers love to download applications – last year, we downloaded in excess of 200 billion applications around the world, and that figure is set to increment to 258 billion every year by 2022 as cell phone reception increments.
Assuming you need to be seen and have your application downloaded by however many clients as could reasonably be expected, then, at that point, you should begin by taking a gander at the application store.
Underneath, we've assembled probably the best application store improvement methods to assist you with creating more downloads in 2021 and then some…
Start with Your Application Name 
The odds are you as of now have an extraordinary name for your application, yet an appropriately advanced application is about significantly more than marking.
Assuming you need to amplify transparency and guarantee you're showing up when clients look for applications like yours, you ought to remember the primary keywords for your application name or title, comparable to how you'd make a title label while improving a site page.
You could begin with your application name so it tends to be plainly recognized, thus it appears on the home screen of gadgets.
Then, at that point, you can add a scramble or vertical bar prior to adding a few pertinent watchwords to your speciality, or even put your application name in quotes as we did with FORE Business Golf Networking.
Urge Users to Leave Reviews 
You could ask for reviews by clients through the means of your site, or through an in-application notice toward the finish of their meeting, yet make sure to restrict the number of pop-ups you execute with the goal that you don't disturb or disappoint your clients, as this could urge them to erase your application.
We'd support all application engineers and entrepreneurs to react to criticism on their applications, as this can further develop client relations and resolve issues in an open arena.
Zero in on Your Application Depiction 
Your application depiction is your principle assemblage of text your landing page content, in a manner of speaking. Utilize a site like KeywordTool.io to discover information on your picked catchphrases to expand your openness. As portrayals are shortened, ensure you remember the main data for the initial three lines of your depiction, and afterwards add things like social confirmation, emoticon, and suggestions to take action to build commitment and downloads.
Incorporate Appealings Screen Captures 
Pictures and recordings won't help your application rank, yet they will expand changes and assist clients with working out whether it's an application they truly need.
There's a little guide in empowering clients toward downloading your application if in any case, they're not going to interface with it, or download and leave a negative survey when they understand it wasn't what was promoted.
Assuming you need to 'tart up' your item page, then, at that point, you can add marking and extra text and data and designs to your recordings and screen capture, yet they ought not to diminish your item.
Pay for App Store or Play Store 
As we have SEO and pay-per-click, you need to work one next to the other (one is a gradual methodology with long haul benefits – the other is a speedy success yet requires an endless spending plan), application store promotions can be utilized to get the message out with regards to your new programming and assist you with positioning at the highest point of query items pages – in front of your opposition and enormous names in the application world.
Keep in mind, you'll need to focus on the right crowd and art an advertisement that will assist you with changing over and that since you're paying for situations, that doesn't mean clients will download or cooperate with your application.
Wrapping Up!
You can employ a group of  App  Store Optimization Services suppliers to benefit a scope of application store improvement administrations, including watchword advancement, resource enhancement, and restriction to guarantee your application is seen by individuals that matter.
We have long periods of involvement in creating and showcasing applications and have assisted different customers with expanding their downloads by infiltrating rewarding and regularly undiscovered business sectors.
Author:
Prachi Gupta likes to write information about Digital Marketing Trends that can help audience to grow their business.

WhatsApp will finally let users encrypt their chat backups in the cloud
WhatsApp said on Friday it will give its two billion users the option to encrypt their chat backups to the cloud, taking a significant step to put a lid on one of the tricky ways private communication between individuals on the app can be compromised.
The Facebook-owned service has end-to-end encrypted chats between users for more than a decade. But users have had no option but to store their chat backup to their cloud — iCloud on iPhones and Google Drive on Android — in an unencrypted format.
Tapping these unencrypted WhatsApp chat backups on Google and Apple servers is one of the widely known ways law enforcement agencies across the globe have for years been able to access WhatsApp chats of suspect individuals.
Now WhatsApp says it is patching this weak link in the system.
"WhatsApp is the first global messaging service at this scale to offer end-to-end encrypted messaging and backups, and getting there was a really hard technical challenge that required an entirely new framework for key storage and cloud storage across operating systems," said Facebook's chief executive Mark Zuckerberg in a post announcing the new feature.
Store your own encryption keys
The company said it has devised a system to enable WhatsApp users on Android and iOS to lock their chat backups with encryption keys. WhatsApp says it will offer users two ways to encrypt their cloud backups, and the feature is optional.
In the "coming weeks," users on WhatsApp will see an option to generate a 64-digit encryption key to lock their chat backups in the cloud. Users can store the encryption key offline or in a password manager of their choice, or they can create a password that backs up their encryption key in a cloud-based "backup key vault" that WhatsApp has developed. The cloud-stored encryption key can't be used without the user's password, which isn't known by WhatsApp.
"We know that some will prefer the 64-digit encryption key whereas others want something they can easily remember, so we will be including both options. Once a user sets their backup password, it is not known to us. They can reset it on their original device if they forget it," WhatsApp said.
"For the 64-digit key, we will notify users multiple times when they sign up for end-to-end encrypted backups that if they lose their 64-digit key, we will not be able to restore their backup and that they should write it down. Before the setup is complete, we'll ask users to affirm that they've saved their password or 64-digit encryption key."
A WhatsApp spokesperson told TechCrunch that once an encrypted backup is created, previous copies of the backup will be deleted. "This will happen automatically and there is no action that a user will need to take," the spokesperson added.
Potential regulatory pushback?
The move to introduce this added layer of privacy is significant and one that could have far-reaching implications.
End-to-end encryption remains a thorny topic of discussion as governments continue to lobby for backdoors. Apple was reportedly pressured to not add encryption to iCloud Backups after the FBI complained, and while Google has offered users the ability to encrypt their data stored in Google Drive, the company allegedly didn't tell governments before it rolled out the feature.
When asked by TechCrunch whether WhatsApp, or its parent firm Facebook, had consulted with government bodies — or if it had received their support — during the development process of this feature, the company declined to discuss any such conversations.
"People's messages are deeply personal and as we live more of our lives online, we believe companies should enhance the security they provide their users. By releasing this feature, we are providing our users with the option to add this additional layer of security for their backups if they'd like to, and we're excited to give our users a meaningful advancement in the safety of their personal messages," the company told TechCrunch.
WhatsApp also confirmed that it will be rolling out this optional feature in every market where its app is operational. It's not uncommon for companies to withhold privacy features for legal and regulatory reasons. Apple's upcoming encrypted browsing feature, for instance, won't be made available to users in certain authoritarian regimes, such as China, Belarus, Egypt, Kazakhstan, Saudi Arabia, Turkmenistan, Uganda and the Philippines.
At any rate, Friday's announcement comes days after ProPublica reported that private end-to-end encrypted conversations between two users can be read by human contractors when messages are reported by users.
"Making backups fully encrypted is really hard and it's particularly hard to make it reliable and simple enough for people to use. No other messaging service at this scale has done this and provided this level of security for people's messages," Uzma Barlaskar, product lead for privacy at WhatsApp, told TechCrunch.
"We've been working on this problem for many years, and to build this, we had to develop an entirely new framework for key storage and cloud storage that can be used across the world's largest operating systems and that took time."
Dispo launches a test to gauge user interest in selling their photos as NFTs
Dispo, the photo-sharing app that emulates disposable cameras, started rolling out a test yesterday that will record user interest in selling photos as NFTs. Some users will now see a sell button on their photos, and when they tap it, they can sign up to be notified when the ability to sell Dispo photos launches.
CEO and co-founder Daniel Liss told TechCrunch that Dispo is still deciding how it will incorporate NFT sales into the app, which is why the platform is piloting a test with its users. Dispo doesn't know yet what blockchain it would use, if it would partner with an NFT marketplace or what cut of sales Dispo would take.
"I think it's safe to say from the test that there will be an experience native to the Dispo app," Liss said. "There are a number of ways it could look — there could be a native experience within Dispo that then connects through an API to another platform, and in turn, they're our partner, but to the community, it would look native to the Dispo app."
This marks a new direction for the social media app, which seeks to redefine the photo-sharing experience by only letting users see the photos they took at 9 AM the next morning. From Dispo's perspective, this gimmick helps users share more authentically, since you take one photo and then you're done — the app isn't conducive to taking dozens of selfies and posting the "best" image of yourself. But though it only launched in December 2019, Dispo has already faced both buzzy hype and devastating controversy.
Until about a year ago, the app was called David's Disposables, named after co-founder and YouTuber David Dobrik. The app was downloaded over a million times in the first week after its release and hit No. 1 on the App Store charts. In March 2021, the app dropped its waitlist and relaunched with social network features, but just weeks later, Insider reported sexual assault allegations against a member of Vlog Squad, Dobrik's YouTube prank ensemble. In response, Spark Capital severed ties with the company, leading to Dobrik's departure. Other investors like Seven Seven Six and Unshackled Ventures, which contributed to the company's $20 million Series A round, announced that they would donate any profits from their investments in Dispo to organizations working with survivors of sexual assault.
Liss told TechCrunch in June, when the company confirmed its Series A, that Dobrik's role with the company was as a marketing partner — Liss has been CEO since the beginning. In light of the controversy, Liss said the app focused on improving the product itself and took a step back from promotion.
According to data from the app analytics firm SensorTower, Dispo has reached an estimated 4.7 million global installs to date since launch. Though the app saw the most downloads in January 2020, when it was installed over 1 million times, the app's next best month came in March 2021, when it removed its waitlist — that month, about 616,000 people downloaded Dispo. Between March and the end of August, the app was downloaded around 1.4 million times, which is up 118% year over year compared to the same time frame in 2020 — but it should be expected that this year's numbers would be higher, since last year, the app's membership was exclusive.
Now, with the announcement that Dispo is pursuing NFTs, Liss hopes that his company won't just change how people post photos, but what the relationship will be between platforms and the content that users create.
"Why NFTs? The most powerful memories of our lives have value. And they have economic value, because we created them, and the past of social media fails to recognize that," Liss told TechCrunch. "As a result, the only way that a creator with a big following is compensated is by selling directly to a brand, as opposed to profiting from the content itself."
Adding NFT sales to the app offers Dispo a way to profit from a cut of user sales, but it stands to question how adding NFT sales could impact the community-focused feel of Dispo.
"I think there is tremendous curiosity and interest," Liss said. "But these problems and questions are why we need more data."