What is IaaS? How Does it Affect Your e-Commerce Site?
Cloud computing has taken over in recent years, and it offers many opportunities for businesses and users. The terminology can be a little complex though, and like with many IT-related things, there are lots of acronyms that get thrown around.
IaaS is one acronym you might have seen, but what does it mean, and how can it affect your e-commerce store?
Along with PaaS och SaaS, these acronyms describe the different ways businesses can use cloud technology, and choosing the right one for your e-commerce store can make a big difference.
What IaaS Means for Your Website
If you're creating a website today, there's a good chance it's going to be hosted in the cloud. Very few companies maintain their own servers; instead, they rely on third-party companies to take care of many elements of their online presence.
The distinction between IaaS (Infrastructure as a Service), PaaS (Platform as a Service), and SaaS (Software as a Service) is crucial because it dictates what level of control you have over your website.
For some businesses, particularly those with large, complex e-commerce sites, infrastructure as a service will likely be the best option because it allows for greater flexibility and control.
Every day, more and more businesses move their infrastructure to the cloud, and it's important they understand how best to use it to get the best results. IaaS, SaaS, and PaaS are simply ways of describing how you use the cloud—and each business will do this slightly differently.
Today, 90% of businesses use the cloud. According to some estimates, cloud data centers will soon process 94% of workloads.
This means it's vitally crucial for businesses to understand what they're investing in and how they can make the most of cloud computing.
Cloud Computing: IaaS Vs. SaaS Vs. PaaS Vs. Serverless Computing
When it comes to cloud computing, it can seem like you're constantly being bombarded by acronyms. Actually, IaaS, SaaS, and PaaS are useful distinctions that can help you run your e-commerce store more efficiently.
Cloud computing is all about allowing you to take care of the bits you're good at and leaving the rest to professionals. Each business has different skill sets, so they're going to use the cloud in different ways.
For example, in a bootstrapped business, the owner might be building the entire website with limited funds. In this case, they might only want to focus on the basics of creating a functional, appealing store and leave aspects such as runtime, servers, and storage to an external company.
On the other hand, a big multinational business may have a host of developers and IT professionals capable of handling more complex functions.
IaaS, SaaS, PaaS, and Serverless Computing give businesses the flexibility to control different parts of the cloud.
IaaS
IaaS is the cloud-based alternative to maintaining on-site infrastructure. Whereas in the past, businesses would have had their own data centers. Today, it can be much more efficient to utilize the cloud.
Maintaining your own IT infrastructure can be costly, and most businesses don't have the skills to do this without an external company's help. With IaaS, businesses don't need to maintain their infrastructure. Instead, they pay to use a third-party's servers, networking technology, storage, and data center space.
For businesses running e-commerce sites, this means they don't have to worry about the highly technical aspects of running a web application and they don't have to invest in expensive infrastructure. Instead, they pay for access to infrastructure through the cloud through companies like AWS, IBM, and Rackspace.
While things like storage and networking are taken care of by the third party, this option still leaves you in charge of the following aspects:
applications
data
runtime
middleware
O/S
This is important for larger businesses because it gives them much more control over how they run their site, while still offering a scalable, cost-effective solution.
PaaS
Like IaaS, PaaS leaves key components such as physical compute, network, storage, and virtualization to the provider. However, with PaaS, you also outsource runtime, middleware, and O/S.
As the name suggests, PaaS gives you the platform to develop, run, and manage applications without having to take care of the infrastructure behind it.
While this means you have less to worry about, and need fewer technical skills, it also means you have less control over how you run your e-commerce site than with IaaS.
Whichever service you choose, there is a tradeoff between convenience and control. With PaaS, you're getting something of a middle ground between IaaS and SaaS. While much of the service is managed, you're still in control of applications and data, which can be valuable for certain businesses.
This makes PaaS providers such as Magento Commerce Cloud and Bluehost particularly popular with developers, as it provides everything they need to create new applications without having to invest in expensive infrastructure and operating platforms.
Instead, they pay for what they need, allowing them to focus more on building the applications.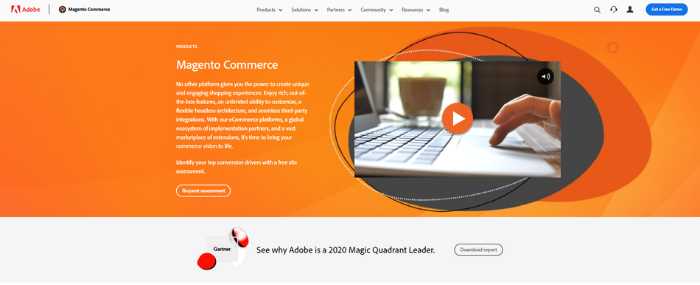 Serverless Computing
Businesses are constantly searching for the most efficient ways to use the cloud, and another option is serverless computing.
Serverless computing is very similar to PaaS, but has a few slight differences.
One of the main differences between serverless computing and PaaS is that serverless is event-driven. You pay only for what you use, whereas with PaaS, you pay a monthly fee and have a limit to what you can use.
Serverless computing automatically scales with your business, but you'll give up some control. It does allow you to be extremely flexible though, saving on costs while still getting excellent performance.
This is an ideal option for fast-growing e-commerce sites or those creating viral content that may cause a massive traffic spike.
SaaS
For many people, SaaS is the quickest and easiest way to set up an e-commerce store. Using providers like Shopify, you use third-party platforms and apps to quickly create a functional store.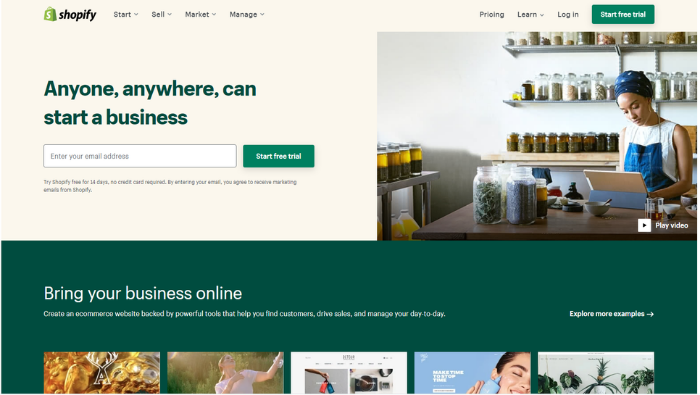 Everything is taken care of for you, and all you need to do is upload your own products and create your marketing content.
The obvious benefit of this is convenience. Not everybody who wants to create an e-commerce store has IT expertise and SaaS means they don't have to. Rather than focusing on networking and hosting, they simply have to focus on building out their website and creating the content that's going to help them sell.
SaaS applications are very common across the internet. Not only are there lots of SaaS applications that help people run their e-commerce stores but software such as Microsoft 365, Google Cloud, and HubSpot are all examples of SaaS.
The downside for e-commerce stores that run on SaaS is that they're limited in what they can do. If you have a Shopify store, then you have to work within the limitations set by that third party. When you run your store through IaaS or PaaS, there are fewer limitations, giving you greater control over your store.
How Can IaaS Affect Your E-commerce Site?
Cloud computing has made it much more accessible to create an e-commerce site. No longer do you have to invest in expensive hardware and instead, you can pay for access to infrastructure as and when you need it.
This has opened up e-commerce to a wide variety of people. With SaaS, it's not necessary to have IT skills to create a competitive store. However, with the ease of creating and managing a store through SaaS comes limitations.
Many businesses possess the skills to handle the more technical aspects of running an e-commerce site, and they want to be able to make the most of those skills without building their infrastructure. IaaS is the perfect option for these businesses as it allows them to strike a profitable balance.
These businesses can use infrastructure as and when they need it, scaling as their business grows and shrinks.
With IaaS, you have maximum control over your e-commerce store, allowing you to make the most of your creative and IT skills without building the infrastructure yourself.
How to Use IaaS for Your E-commerce Company 
One of the most important things when choosing between IaaS, PaaS, and SaaS is understanding the skills and resources available to you. If you don't have people with experience in building and developing web applications, then IaaS isn't going to be the best option for you, and it might be better to look at a SaaS option.
If you're confident you can create and maintain a high-level store through IaaS, then the next step is understanding your needs. There are lots of different IaaS providers out there, and many different packages to choose from.
Each business is different, and will have different requirements. When choosing a provider, consider the following questions:
What level of access and customization do you need?
How flexible can the provider be?
How will the provider deal with changing regulations?
How much is it going to cost you?
What level of security is offered?
The whole idea of "as a service" is that you pay for the parts you need, freeing you up to take care of the bits you can handle. To get the most out of this concept, you need to have a clear picture of where your skills lie, and how your provider can take care of the rest.
IaaS Tools
When choosing an IaaS package, you must take the time to get the one that best fits your business needs. There are lots of different options out there, and choosing the right tools can make all the difference to your business:
Amazon EC2
Google Compute Engine
Digital Ocean Droplets
Hostwinds
Alibaba Elastic Compute Service
IBM Cloud Private
IONOS Cloud
Azure Linux Virtual Machines
Rackspace Technology
Openstack
As you can see, there are lots of different options out there, and this is just a small sample. The important thing is making sure you get the services your business needs without paying for resources you don't.
It might take a little extra research to unlock the true power of IaaS for your business, but it's certainly worth it in the long run.
Slutsats
There are many different ways to run an e-commerce store, and how you use the cloud is a key consideration when setting up or expanding your store.
Maintaining onsite infrastructure can be expensive and time-consuming, and with modern cloud products, there isn't much need for it.
The bigger question is: what do you need from the cloud?
For large-scale e-commerce sites, with tons of resources at their disposal, infrastructure as a service is often the best way to go. This provides greater control over your site than PaaS or SaaS options and is a cost-effective way to scale your business.
When you utilize the cloud well, it can help you maximize your store's profitability, so it's essential to make the right choice.
How does your e-commerce store use the cloud?
See How My Agency Can Drive Massive Amounts of Traffic to Your Website
SEO – unlock massive amounts of SEO traffic. See real results.
Content Marketing – our team creates epic content that will get shared, get links, and attract traffic.
Paid Media – effective paid strategies with clear ROI.
How to Write YouTube Titles for SEO
Creating a video is a creative process which involves a lot of brainstorming, editing and producing. But the success of your video does not 100% rely on the quality or originality of that video.
Whether your video is going to be a success is determined by how many people will be able to find it and watch it.
Don't underestimate the discoverability of your video. It may make or break your whole video marketing strategy performance.
One of the biggest channels that can drive findability of your video is search engine optimization, i.e. optimizing your video page for it to rank in search engines (mainly Google and Youtube search) for relevant keywords.
And one of the most important SEO elements of any page is its title.
What is a Youtube title?
"Title" is what you see on the browser tab when you open any Youtube page:
It is controlled by the "Title" field which is required when you upload your video to Youtube:
In the code of the page the title can be found within <title></title> tags.
On a Youtube video page, the title is also repeated underneath the video as the main heading making it also an on-page SEO element.
Youtube allows you to enter up to 100 characters to the title field and I recommend making the most of those 100 characters.
How can titles impact the findability of your video?
Page titles are key on-page SEO elements because they do both:
Page titles are direct ranking factors (Google uses them to understand what the page is about)
Page titles impact click-through by being the most visible parts of standard search snippets.
In that respect, Youtube SEO is not much different from any other types of SEO. The only slight difference is Youtube videos also get an additional section in organic results which you can target: Page titles are also included next to video thumbnails in video carousels:
Since titles are so important for your video findability and clickability, spend some extra time brainstorming effective video titles. Here are a few ideas:
How to create an effective Youtube title
1. Include your keyword
This is important in the context of this article. Keywords are still very important for SEO because they still help search engines understand the main topic of your page.
Keyword research is also a great way to estimate a demand for any topic (by looking at the search volume).
Identifying your main keyword and including it into the page title will help that video page rank for that keyword driving views for your video and generating additional brand visibility to your business. There are lots of tools and plugins allowing you to identify your target keywords.
It is a good idea to grab URLs of your competing videos and run them through this SEO Content Checker to identify their keyword usage and learn from that:
2. Make it sound interesting
I know it sounds obvious but there are too many boring video titles for me not to mention it.
Your video title needs to invite a click, so make sure it is interesting enough to invite one.
I realize it sounds easier than it really is and in many cases it is also highly subjective. But there's a tool to help.
Using ChatGPT will help you find some ideas, in case you are stuck. Here's what the tool was able to generate when I requested the following "Generate video title ideas that will include "Youtube marketing" keyword. Make those titles sound intriguing:"
There are quite a few pretty nice ones. If you don't like what the tool suggested, keep asking it for more, changing your request just a bit to make it think harder.
This tool is great but make sure to pick a title that won't over-promise. There's a fine line between "intriguing" and "click-baiting." Try and avoid the latter as it may reflect badly on your branding strategies.
3. Include numbers
Including a number in your page title has proven to be an effective way to get more people to click it. Click-through is likely to be an (indirect) ranking factor, so if more people click your title, there's a good chance it will rank higher.
You cannot make each of your videos a listicle though, so you won't be able to use this trick in each of your Youtube titles. But it is a good format to keep in mind and use from time to time.
Want to get certified in Content Marketing?
Leverage the tools and channels to predictably and profitably drive awareness, leads, sales, and referrals—EVERYTHING you need to know to become a true master of digital marketing.​ Click Here
4. Mention a brand (if there's one to mention)
Finally, if your video is about a well-known brand (for example, if that video is of you speaking at an event) or, more importantly, if you create it in collaboration with a well-known expert and/or influencer, include that name in your title.
Not only will it help your video rank for that searchable name, it will also increase its click-though thanks to people recognizing that name.
Youtube also allows you to tag that name in the title (much like tagging works on Twitter or Facebook). If you add @ and then start typing that name, Youtube will allow you to select that name from the drop-down (if that brand or person has a Youtube channel). This will notify them on the mention and urge them to engage with the video helping its visibility:
No need to include your brand name though (unless that video is all about you or your company). If you pick your Youtube name well, it will help you build your brand's recognizability with every high-ranking video because the channel name is always included in search snippets.
Keep a close eye on your results
Finally, creating an effective title is something that you can never do perfectly. There's always room for improvement and experimentation. Learn from other well-performing videos in your or outside your niche and never stop experimenting.
Monitor video carousels for your important keywords to get notified when a new video succeeds in getting there and not what may have brought them that success. There are SEO monitoring tools that can help you with that task:
Additionally, keep a close eye on your Youtube analytics to monitor keywords that generate views from Youtube search and learn from those results:
Slutsats
You spend hours creating your video. It deserves a good title which will help your video get found. Spend some time brainstorming an effective title, experiment with different formats and measure your success. Good luck!
The post How to Write YouTube Titles for SEO appeared first on DigitalMarketer.
Amazon Announces Auction System for FBA Storage Space [What Sellers Need to Know]
Amazon's FBA program is a tremendous asset for brands who sell products on the platform. With FBA, retailers can outsource the heavy lifting of logistics such as warehousing, fulfillment, and distribution for a fee. In the last few years, sellers have expressed the need for more capacity, predictability, and control over their inventory. Amazon's recent update helps sellers tackle those challenges and so much more.
Amazon just announced a new streamlined FBA capacity management system that will go into effect on March 1, 2023. With this new system in place, Amazon FBA will be turned into an auction where sellers can bid for additional storage space.
The system will now incorporate a single, month-long FBA capacity limit rather than weekly restock limits that can make inventory planning challenging for sellers. Now, capacity limits for the upcoming month will be announced in the third full week of each month via the Capacity Monitor in Seller Central and email notification. According to Amazon, the majority of sellers will now have access to greater capacity volumes than before.
With this new update, Amazon also announced they will provide estimated limits for the following two months to help sellers plan over a longer period. In a recent blog post highlighting the announcement, Dharmesh Mehta, Vice President of Amazon Worldwide Selling Partner Services stated, "We will forecast how much space and labor we expect to have to provide these estimates, but these estimates may vary up or down based on how efficiently sellers are using their capacity, as measured by the Inventory Performance Index (IPI) score."
With the new Capacity Manager in place, sellers will also be able to request additional capacity based on a reservation fee that they specify. Mehta noted…
"Requests are granted objectively, starting with the highest reservation fee per cubic foot until all capacity available under this program has been allocated. When additional capacity is granted, sellers' reservation fees are offset by earning performance credits from the sales they generate using the extra capacity. Performance credits are designed to offset up to 100% of the reservation fee, so sellers don't pay for the additional capacity as long as their products sell through.

 

Our goal is to provide sellers with more control over how much space they can have while limiting unproductive use. We've piloted this feature with certain US sellers, and we're excited that with this launch, we will expand it so all sellers can request higher FBA capacity limits."
The recent announcement also highlighted how Amazon will set capacity limits and measure sellers' inventory usage in cubic feet (vs. number of units), which better represents the capacity sellers' products use in our fulfillment centers and transportation vehicles. As many sellers prefer to plan in units, Amazon will continue to show inventory usage in units but will also provide an estimate of how many units specific cubic volume capacity limits are likely to permit.
Tinuiti's Take on the New FBA Capacity System
Change is certainly on the horizon. Let's hear from Tinuiti's own Bjorn Johnson on tips for how you can prepare for the FBA change coming March 1st.
"These changes are likely to be impactful, especially to sellers with larger products. Amazon reverting to cubic foot-based storage limits is likely to reintroduce previous issues for these clients in maintaining healthy inventory levels. Their difficulties look to be exacerbated by the addition of the bidding system. In order to keep their already high-fulfillment-fee products in stock, they'll need to bid on large amounts of space. On the other hand, sellers with smaller products are likely to be able to store more units than before, and have the flexibility to bid on smaller amounts of space. The decision from Amazon looks like a clear effort to encourage small, light, easy-to-ship and fulfill products."
– Bjorn Johnson, Operations Manager at Tinuiti
Want to Learn More About the New Auction System for FBA Storage Space?
We will continue to keep you informed as we learn more about the new FBA capacity system. If you're interested in learning more about our Amazon offerings or if you have any questions concerning FBA, contact us today.
How to optimize your online forms and checkouts
Forms are probably the most important part of your customer journey. They are the final step where the user entrusts you with their precious personal information in exchange for the goods or services you've promised.
And yet, too many companies spend minimal time on making sure their form experience is a good one for their users. They don't use data to establish where the UX problems are on their forms, and they don't run form-specific experiments to determine how to improve their conversion rate. As a result, too many forms are unnecessarily driving potential customers away, burning potential revenue and leads that could have been converted if they had only spent a little time and effort on optimization. Two-thirds of people who start a form don't go on to complete it, meaning that a lot of money is being left on the table.
This article contains some of our top tips to help optimize your forms + checkouts with the goal of improving their conversion rate and delivering more customers and leads.
Use data to identify your problem fields
While user testing and session replay tools are useful in identifying possible form issues, you should also be using a specialist form analytics tool, as this will allow you to quantify the scale of the problem – where are most people dropping out – and prioritize improvements accordingly. A good form analytics tool will have advanced insights that will help work out what the problem is as well, giving you a head start on creating hypotheses for testing.
A/B test your forms
We've already mentioned how important it is to nurture your forms like any other part of your website. This also applies to experimentation. Your A/B testing tool such as Optimizely should allow you to easily put together a test to see if your hypothesis will improve your conversion rate. If there is also an integration with your form analytics tool you should then be able to push the test variants into it for further analysis.
Your analytics data and user testing should guide your test hypothesis, but some aspects you may want to look at are:
Changing the error validation timing (to trigger upon input rather than submission)
Breaking the form into multiple steps rather than a single page
Removing or simplifying problem fields
Manage user expectations by adding a progress bar and telling them how long the form will take upfront
Removing links to external sites so they are not distracted
Re-wording your error messages to make them more helpful
Focus on user behavior after a failed submission
Potential customers who work their way through their form, inputting their personal information, before clicking on the final 'Submit' button are your most valuable. They've committed time and effort to your form; they want what you are offering. If they click that button but can't successfully complete the form, something has gone wrong, and you will be losing conversions that you could have made.
Fortunately, there are ways to use your form data to determine what has gone wrong so you can improve the issue.
Firstly, you should look at your error message data for this particular audience. Which messages are shown when they click 'Submit? What do they do then? Do they immediately abandon, or do they try to fix the issue?
If you don't have error message tracking (or even if you do), it is worth looking at a Sankey behavior flow for your user's path after a failed submission. This audience will click the button then generally jump back to the field they are having a problem with. They'll try to fix it, unsuccessfully, then perhaps bounce back and forth between the problem field a couple of times before abandoning in frustration. By looking at the flow data, you can determine the most problematic fields and focus your attention there.
Microcopy can make the checkout experience less stressful
If a user is confused, it makes their form/checkout experience much less smooth than it otherwise could be. Using microcopy – small pieces of explanatory information – can help reduce anxiety and make it more likely that they will complete the form.
Some good uses of microcopy on your forms could be:
Managing user expectations. Explain what information they need to enter in the form so they can have it on hand. For example, if they are going to need their driver's licence, then tell them so.
Explain fields. Checkouts often ask for multiple addresses. Think "Current Address", "Home Address" and "Delivery Address". It's always useful to make it clear exactly what you mean by these so there is no confusion.
Field conditions. If you have strict stipulations on password creation, make sure you tell the user. Don't wait until they have submitted to tell them you need special characters, capital letters, etc.
You can often nudge the user in a certain direction with a well-placed line of copy.
Users are reluctant to give you personal information, so explaining why you need it and what you are going to do with it is a good idea.
A good example of reassuring microcopy
Be careful with discount codes
What is the first thing a customer does if they are presented with a discount code box on an ecommerce checkout? That's right, they open a new browser tab and go searching for vouchers. Some of them never come back. If you are using discount codes, you could be driving customers away instead of converting them. Some studies show that users without a code are put off purchasing when they see the discount code box.
Fortunately, there are ways that you can continue to offer discount codes while mitigating the FOMO that users without one feel:
Use pre-discounted links. If you are offering a user a specific discount, email a link rather than giving them a code, which will only end up on a discount aggregator site.
Hide the coupon field. Make the user actively open the coupon box rather than presenting them with it smack in the middle of the flow.
Host your own offers. Let every user see all the offers that are live so they can be sure that they are not missing out.
Change the language. Follow Amazon's lead and combine the Gift Card & Promotional Codes together to make it less obvious.
An example from Amazon on how to make the discount code field less prominent
Get error messages right
Error messages don't have to be bad UX. If done right, they can help guide users through your form and get them to commit.
How do you make your error messages useful?
Be clear that they are errors. Make the messages standout from the form – there is a reason they are always in red.
Be helpful. Explain exactly what the issue is and tell the user how to fix it. Don't be ambiguous.
Don't do this!
Display the error next to the offending field. Don't make the user have to jump back to the top of the form to find out what is wrong.
Use microcopy. As noted before, if you explain what they need to do early, they users are less likely to make mistakes.
Segment your data by user groups
Once you've identified an issue, you'll want to check whether it affects all your users or just a specific group. Use your analytics tools to break down the audience and analyze this. Some of the segmentations you might want to look at are:
Device type. Do desktop and mobile users behave differently?
Operating system. Is there a problem with how a particular OS renders your form?
New vs. returning. Are returning users more or less likely to convert than first timers?
Do different product buyers have contrasting expectations of the checkout?
Traffic source. Do organic sources deliver users with higher intent than paid ones?
————————————————————-
Om författaren
Alun Lucas is the Managing Director of Zuko Analytics. Zuko is an Optimizely partner that provides form optimization software that can identify when, where and why users are abandoning webforms and help get more customers successfully completing your forms.