Accelerated Mobile Pages (AMP): Den definitiva guiden för marknadsförare
When it comes to your website, speed matters. The longer your page takes to load, the more traffic you'll lose.
A few years ago, Google launched its mobile-friendliness update and made page load speed one of its mobile search engine ranking factors. Today, load speed affects your position in the SERPs; so uses may not be able to see your page at all if it loads slowly.
What's the solution? Accelerated Mobile Pages, or AMP. Well, maybe — there's actually been pushback on AMP pages in recent years.
What is AMP? Is it still relevant? If you want to dig deeper into AMP and learn how to use it to grow your online marketing strategy, you are in the right place.
What Are Accelerated Mobile Pages (AMP)?
The AMP plugin was born out of a collaboration between tech giants like Google and Twitter.
In simple terms, Accelerated Mobile Pages is an open-source project designed to optimize faster mobile pages. It's like taking a page that's already mobile-friendly and making it load quicker, by stripping it down to basics.
If AMP isn't already part of your marketing strategy, you should consider it.
Webmasters, marketers, and SEOs have analyzed how AMP can affect mobile web pages. They found AMP can have a huge impact on mobile search engine rankings, though Google maintains this isn't directly factual.
In a roundabout way, however, it might be true. According to Google, the AMP plugin increases page load speed, and site speed is a confirmed ranking factor.
Faster mobile pages + readable content = better user experience
In a nutshell, pages that are AMP-optimized load faster and therefore rank better than other mobile web pages.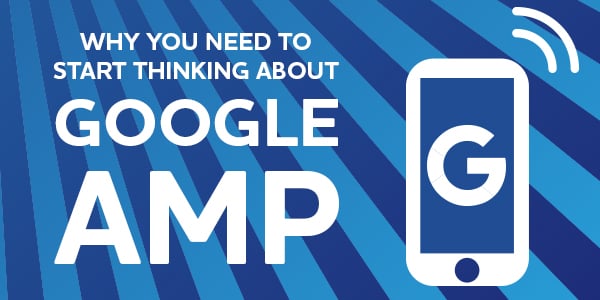 You can visit the open source initiative platform here.
How Does The AMP Plugin Work?
Paul Shappiro, from Search Engine Land, lays out the three part structure of AMP:

The AMP plugin renders mobile pages faster by cutting back on the HTML coding and rendering only those suitable for mobile users.
This diagram and explanation from Will Critchlow's Whiteboard Friday make it pretty easy to understand: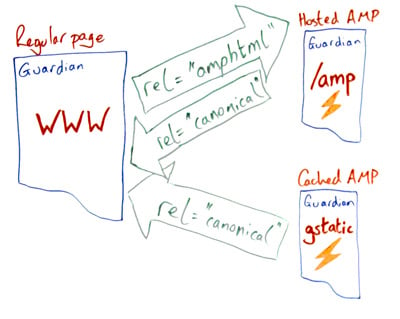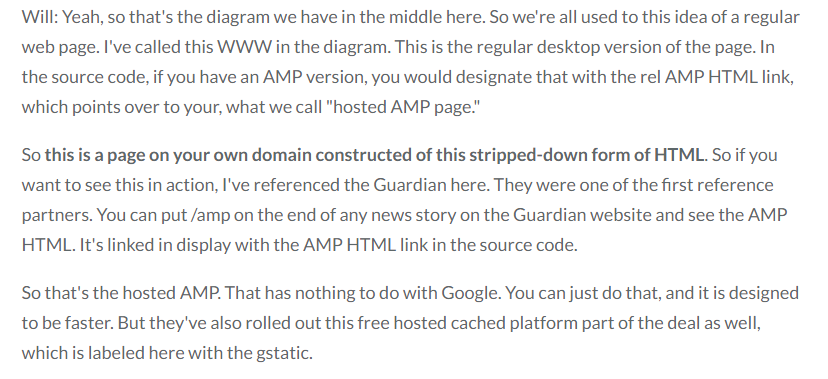 AMP renders your pages using optimized HTML code. The pages are expected to load faster because certain HTML code tag manager aspects that would otherwise slow down the page are eliminated.
If JavaScript is included in your mobile pages, the script won't be rendered for your Accelerated Mobile Pages.
Here are a few more things you should know:
With AMP, you have to use a streamlined version of CSS.
You are only permitted to use the JavaScript library that AMP provides. Since you're not in control, you may experience lazy loading. This might be the only downside to AMP.
For AMP sites to work every time, they must be properly validated.
For a better experience, custom fonts have to be specially loaded.
To avoid quirky-looking images, make sure to declare height and width.
Använda sig av AMP-approved extensions if you want to have videos on your page.
There has been some controversy with AMP, with some experts reporting it lowers ad revenue and makes it harder to spot "fake news" articles.
When you integrate the AMP plugin and use it to improve your mobile pages, what should matter to you most is speed and readability, not share-ability. Your social share buttons may not even display properly since the majority of them are developed using JavaScript.
Benefits of Accelerated Mobile Pages
There's a significant correlation between site speed, page views, and mobile search engine rankings.
One thing that you have to remember is that whenever a particular web page loads up quickly, mobile browser users will view more pages on the site, thereby reducing bounce rate.
When bounce rate is reduced and onsite experience increases, Google will reward the page.
Truth be told, there are many benefits to optimizing with the AMP plugin. Here's the top four:
1. Insanely Fast-loading Web Pages That Users Love
Speed is the lifeblood of your mobile browser page. Great content is important, but unless your pages are accessible, users won't read them.
AMP helps you to achieve that.
Remember the way and rate at which people consume content (e.g., articles, blog posts, videos, and podcasts) has changed dramatically. People browsing the internet want their content to load quickly as they jump from site to site, usually consuming many different kinds of content in quick succession or even at once.
If your mobile pages are as slow as a snail, you won't get mobile browsers that land on your site to convert into customers. AMP gives you dramatic page speed increases that will help you keep users who click on your site from clicking away.
2. Improved Mobile Search Engine Rankings
There's a strong relationship between site speed and conversion rate. If users are happy on a fast-loading site, they're more likely to subscribe to a list or purchase a product.
Although a lot is still expected of AMP, Google hasn't yet made it a ranking factor.
Since AMP works closely with mobile pages, it may never be used as an independent ranking factor; it has nothing to do with the desktop version of pages.
That said, since sites that are mobile-friendly are rewarded with higher rankings in organic mobile search results, pages developed with AMP tend to rank higher than non-AMP pages in the mobile results pages (MRPs).
3. Flexible Ad Support
Most people started a website or blog in order to make money and to possibly replace their day job.
Looking at the desktop and mobile browser versions of a site's pages, it's easy to conclude if there are too many distractions.
These distractions, such as the header image, navigational menu, sidebar, social share buttons, forms, popups, and other unnecessary elements, can lower your conversion rate.
With AMP, you can get rid of distractions on your mobile browser pages.
That's because not all HTML code tags are executed, you use a streamlined version of CSS, and JavaScript is out of the question (mostly).
That means that you can make money more easily from your ads.
When you click on an Accelerated Mobile Page, it'll load nearly instantaneously, even before you're done clicking.
When displaying ads from a third party on your Accelerated Mobile Pages, make sure that you deliver ads that load quickly but also grab the user's attention and deliver immense value.
As you already know, this content marketing approach is the easiest way to increase your influence, help users get answers to their questions, and improve ROI on ad spend.
If you're ready to monetize your AMP-optimized pages, here are some of the most popular ad networks that are currently using the AMP-ads functionality:
Amazon A9
AdReactor
Google Doubleclick
Flite
Adform
Google AdSense
AOL AdTech
Taboola
plista
Smart AdServer
Yieldmo
DotAndAds
4. User Tracking is Simplified
It's not enough to send traffic to your mobile browser pages. You also have to know how they arrived at your site.
Tracking helps you determine where people came from, which pages they viewed and so on.
Tracking users and site performance is pretty easy on AMP because there are analytical tools in place, where you can study your AMP versions in greater detail.
User behavior can only be influenced when you track it. With AMP, publishers can utilize such tag manager analytics to choose from two tags.
These tags help to automatically track essential data, such as clicks/conversions, video and link tracking, visitor counts, new vs. returning visitors and more.
Other technology solutions companies, such as WordPress, Parse.ly, Chartbeat, LinkedIn, Adobe Analytics, Pinterest and, of course, Twitter, are also already supporting AMP.
How to Set Up Accelerated Mobile Pages
There are several options when you're looking to optimize your web pages for AMP. If you're a beginner, the first step is to maintain at least two versions of your content page.
Your original content page would be the mobile browser friendly version that users will see, but you'll also have the AMP version of that specific page, which will definitely speed things up.
Remember that AMP versions contain basic HTML code, which doesn't allow form elements and third-party JavaScript.
As marketers, we all want to build our email list. The downside to AMP is that it won't allow you to easily achieve that.
Moreover, user comments and other activities that users participate in when viewing your content on a mobile page may not be possible with AMP.
Again, the focus is on speed and readability.
To get started with AMP right now, if you're a WordPress user, then you just need to download and install the WordPress plugin at GitHub.
Simply click on the "Download Zip" button.
Note that you can install the AMP plugin through your WordPress dashboard, just as you would any other plugin. It's pretty straightforward.
Once you've successfully installed and activated the plugin, all that you have to do is append "/amp/" to your blog post pages. Here's how it looks on a mobile browser:

Here's the AMP version of this page on The Guardian: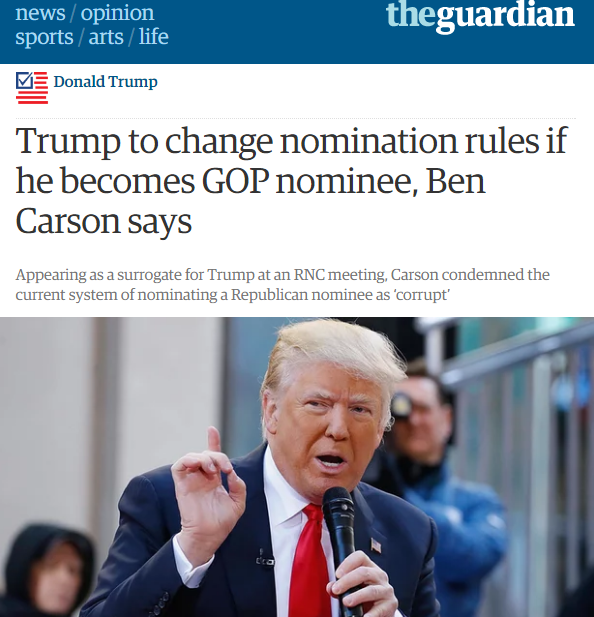 If you don't have a friendly permalink, then you can append this "?amp=1" instead.
Don't forget to validate and tweak at Google Search Console. That way, you can help Google pick up your AMP versions faster.
Accelerated Mobile Pages FAQ
How do AMP pages work?
AMP pages strip down pages to their essentials, which helps improve page load time. They do this using a three step configuration.
When should I use AMP pages?
When most of your site traffic comes from mobile devices or you want to lower your bounce rate.
Are AMP pages still relevant in 2021?
AMP doesn't appear to be going away, but there has been some controversy. Google recently announced it will not AMP pages for news sites to show up in top stories, so it does seem to be less important.
Are AMP pages good for SEO?
They can be helpful, but are not essential for SEO. Optimizing for page speed and mobile experience can be done in several ways.
Accelerated Mobile Pages Slutsats
AMP is powerful, but some marketers say it is losing steam. As an upgrade to mobile-friendly pages, it can help you meet Google's expectations for site speed.
While there is still a focus on AMP, don't forget to use proven mobile marketing strategies. That's the best way to attract mobile customers and grow your business.
Before you leave, I have a question for you: Have you accelerated your mobile pages for speed and readability? If not, what's stopping you?
Se hur min byrå kan köra Massiv Mängder av trafik till din webbplats
SEO – lås upp enorma mängder SEO-trafik. Se verkliga resultat.
Innehållsmarknadsföring – vårt team skapar episkt innehåll som kommer att delas, få länkar och locka trafik.
Betald media – effektiva betalda strategier med tydlig ROI.
Google Bard vs. ChatGPT: vilken är den bättre AI-chatboten?
Google Bard och ChatGPT are two of the most prominent artificial intelligence (AI) chatbots available in 2023. But which is better? Both offer natural language responses to natural language inputs, using machine learning and millions of data points to craft useful, informative responses. Most of the time. These AI tools aren't perfect yet, but they point to an exciting future of AI assistant search and learning tools that will make information all the more readily available.
As similar as these chatbots are, they also have some distinct differences. Here's how ChatGPT and Google Bard measure up against one another.
Which is better, Google Bard or ChatGPT?
This is a tricky question to answer, as at the time of writing, you can only use Google Bard if you're part of a select group of early beta testers. As for its competition, you can use ChatGPT right now, completely for free. You may have to contend with a waitlist, but if you want to skip that, there's a paid-for Plus version offering those interested in a more complete tool the option of paying for the privilege.
Still, when Google Bard becomes more widely available, it should offer credible competition for ChatGPT. Both use natural language models — Google Bard uses Google's internal LaMDA (Language Model for Dialogue Applications), whereas ChatGPT uses an older GPT-3 language model. Google Bard bases its responses to questions on more recent data, with ChatGPT mainly trained on data that was available prior to 2021. This is similar to how Microsoft's Bing Chat works.
We'll have to reserve judgment on which is the more capable AI chatbot until we get time to play with Google Bard ourselves, but it looks set to be a close contest when it is more readily available.
Are Google Bard and ChatGPT available yet?
As mentioned, ChatGPT is available in free and paid-for tiers. You might have to sit in a queue for the free version for a while, but anyone can play around with its capabilities.
Google Bard is currently only available to limited beta testers and is not available to the wider public.
What's the difference between Google Bard and ChatGPT?
ChatGPT and Google Bard are very similar natural language AI chatbots, but they have some differences, and are designed to be used in slightly different ways — at least for now. ChatGPT has been used for answering direct questions with direct answers, mostly correctly, but it's caused a lot of consternation among white collar workers, like writers, SEO advisors, and copy editors, since it has also demonstrated an impressive ability to write creatively — even if it has faced a few problems with accuracy and plagiarism.
Still, Microsoft has integrated ChatGPT into its Bing search engine to give users the ability to ask direct questions of the search engine, rather than searching for terms of keywords to find the best results. It has also built it into its Teams communications tool, and it's coming to the Edge browser in a limited form. The Opera browser has also pledged to integrate ChatGPT in the future.
| | |
| --- | --- |
| ChatGPT | Google Bard |
| Accessible through ChatGPT site. Only text responses are returned via queries. | Integrated with Google Search. You only need to change a Google setting to get your regular search results when using Google Bard AI, and vice versa. |
| ChatGPT produces answers from its trained database from 2021 and before. | Google Apprentice Bard AI will be able to answer real-time questions. |
| Based on GPT (Generative Pre-trained Transformer). | Based on LaMDA (Language Model for Dialogue Applications). |
| Service has a free and paid plan option (called ChatGPT Plus). | Service is free. |
| Has built-in plagiarism tool called GPT-2 Output Detector. | No built-in plagiarism detection tool. |
| Available now | Still in beta test phase |
Google Bard was mainly designed around augmenting Google's own search tool, however it is also destined to become an automated support tool for businesses without the funds to pay for human support teams. It will be offered to customers through a trained AI responder. It is likely to be integrated into the Chrome browser and its Chromium derivatives before long. Google is also expected to open up Google Bard to third-party developers in the future.
Under the hood, Google Bard uses Google's LaMDA language model, while ChatGPT uses its own GPT3 model. ChatGPT is based on slightly older data, restricted in its current GPT3 model to data collected prior to 2022, while Google Bard is built on data provided on recent years too. However, that doesn't necessarily make it more accurate, as Google Bard has faced problems with incorrect answers to questions, even in its initial unveiling.
ChatGPT also has a built-in plagiarism checker, while Google Bard does not, but Google Bard doesn't have the creative applications of ChatGPT just yet.
Google to pay $391.5 million settlement over location tracking, state AGs say
Google has agreed to pay a $391.5 million settlement to 40 states to resolve accusations that it tracked people's locations in violation of state laws, including snooping on consumers' whereabouts even after they told the tech behemoth to bug off.
Louisiana Attorney General Jeff Landry said it is time for Big Tech to recognize state laws that limit data collection efforts.
"I have been ringing the alarm bell on big tech for years, and this is why," Mr. Landry, a Republican, said in a statement Monday. "Citizens must be able to make informed decisions about what information they release to big tech."
The attorneys general said the investigation resulted in the largest-ever multistate privacy settlement. Connecticut Attorney General William Tong, a Democrat, said Google's penalty is a "historic win for consumers."
"Location data is among the most sensitive and valuable personal information Google collects, and there are so many reasons why a consumer may opt out of tracking," Mr. Tong said. "Our investigation found that Google continued to collect this personal information even after consumers told them not to. That is an unacceptable invasion of consumer privacy, and a violation of state law."
Location tracking can help tech companies sell digital ads to marketers looking to connect with consumers within their vicinity. It's another tool in a data-gathering toolkit that generates more than $200 billion in annual ad revenue for Google, accounting for most of the profits pouring into the coffers of its corporate parent, Alphabet, which has a market value of $1.2 trillion.
The settlement is part of a series of legal challenges to Big Tech in the U.S. and around the world, which include consumer protection and antitrust lawsuits.
Though Google, based in Mountain View, California, said it fixed the problems several years ago, the company's critics remained skeptical. State attorneys general who also have tussled with Google have questioned whether the tech company will follow through on its commitments.
The states aren't dialing back their scrutiny of Google's empire.
Last month, Texas Attorney General Ken Paxton said he was filing a lawsuit over reports that Google unlawfully collected millions of Texans' biometric data such as "voiceprints and records of face geometry."
The states began investigating Google's location tracking after The Associated Press reported in 2018 that Android devices and iPhones were storing location data despite the activation of privacy settings intended to prevent the company from following along.
Arizona Attorney General Mark Brnovich went after the company in May 2020. The state's lawsuit charged that the company had defrauded its users by misleading them into believing they could keep their whereabouts private by turning off location tracking in the settings of their software.
Arizona settled its case with Google for $85 million last month. By then, attorneys general in several other states and the District of Columbia had pounced with their own lawsuits seeking to hold Google accountable.
Along with the hefty penalty, the state attorneys general said, Google must not hide key information about location tracking, must give users detailed information about the types of location tracking information Google collects, and must show additional information to people when users turn location-related account settings to "off."
States will receive differing sums from the settlement. Mr. Landry's office said Louisiana would receive more than $12.7 million, and Mr. Tong's office said Connecticut would collect more than $6.5 million.
The financial penalty will not cripple Google's business. The company raked in $69 billion in revenue for the third quarter of 2022, according to reports, yielding about $13.9 billion in profit.
Google downplayed its location-tracking tools Monday and said it changed the products at issue long ago.
"Consistent with improvements we've made in recent years, we have settled this investigation which was based on outdated product policies that we changed years ago," Google spokesman Jose Castaneda said in a statement.
Google product managers Marlo McGriff and David Monsees defended their company's Search and Maps products' usage of location information.
"Location information lets us offer you a more helpful experience when you use our products," the two men wrote on Google's blog. "From Google Maps' driving directions that show you how to avoid traffic to Google Search surfacing local restaurants and letting you know how busy they are, location information helps connect experiences across Google to what's most relevant and useful."
The blog post touted transparency tools and auto-delete controls that Google has developed in recent years and said the private browsing Incognito mode prevents Google Maps from saving an account's search history.
Mr. McGriff and Mr. Monsees said Google would make changes to its products as part of the settlement. The changes include simplifying the process for deleting location data, updating the method to set up an account and revamping information hubs.
"We'll provide a new control that allows users to easily turn off their Location History and Web & App Activity settings and delete their past data in one simple flow," Mr. McGriff and Mr. Monsees wrote. "We'll also continue deleting Location History data for users who have not recently contributed new Location History data to their account."
• This article is based in part on wire service reports.
5 Tips to Boost Your Holiday Search Strategy
With the global economic downturn, inflation, ongoing supply chain challenges, and uncertainty due to the Ukraine war, this year's holiday shopping season promises to be very challenging. Will people be in the mood to spend despite the gloom? Or will they rein in their enthusiasm and save for the year ahead?
With these issues in mind, here are five considerations to support your search engine optimization strategy this holiday shopping season:
1. Start early.
Rising prices are likely to mean shoppers will start researching their holiday spending earlier than ever to nab the best bargains. Therefore, retailers must roll out their holiday product and category pages — and launch any promotions — sooner to ensure their pages get crawled and indexed by search engines in good time.
Vissa e-handelsbutiker lyckas få sina sidor att rankas tidigt genom att uppdatera och återanvända samma del av webbplatsen för högtidsinnehåll och kampanjer, rotera mellan innehåll för jul, mors dag, alla hjärtans presenter, försäljning av fjärde juli, etc. Detta tillvägagångssätt kan hjälpa dig att behålla den fart, länkar och auktoritet du bygger upp med Google och få dina semestersidor synliga och rankas snabbt.
2. Gör forskning till en ännu större prioritet.
Med all osäkerhet i år är det viktigt att använda SEO-forskning för att identifiera trendiga säsongsbetonade nyckelord och sökfraser i din detaljhandelskategori – och sedan optimera innehållet därefter.
Med verktyg som Google Trender kan du extrahera användbara insikter baserat på vilka typer av sökningar människor gör. Till exempel, med många modeåterförsäljare som nu tar betalt för produktreturer, kommer prioritering av sökord som "gratis retur" att få mer sökkraft? Och när pengarna är snävare, kommer konsumenterna att hålla fast vid varumärken de litar på snarare än något nytt – vilket betyder att varumärkessökningar kan vara högre?
3. Använd Google Shopping mer.
För att få ut det mesta av sina semesterutgifter är det mer sannolikt att konsumenter vänder sig till onlinemarknadsplatser som Google Shopping eftersom de gör det lättare att jämföra produkter, funktioner och priser, samt att identifiera de bästa erbjudandena både online och i närliggande butiker .
Använd därför ett kombinerat tillvägagångssätt som inkluderar listning i Google Shopping och samtidigt optimera produktdetaljsidor på din e-handelssida för att säkerställa att de är unika och ger mer värde än konkurrenternas sidor. Var exakt med produktnamn på Google Shopping (innehåller namnen t.ex. de ord som folk söker efter?); se till att du tillhandahåller all nödvändig information som Google kräver; och sätt ett pris som inte är alltför långt från konkurrenterna. 
4. Ge andra sökkällor den uppmärksamhet de förtjänar.
Tidigare i år Google själv erkänd att konsumenter – särskilt yngre konsumenter – börjar använda TikTok, Instagram och andra sociala medier för sökning. Faktiskt, forskning föreslår att 11 procent av produktsökningarna nu börjar på TikTok och 15 procent på Instagram. Särskilt yngre konsumenter är mer engagerade av visuellt innehåll, vilket kan förklara varför de anammar visuellt fokuserade sociala webbplatser för sökning. Så, som en del av din sökstrategi, skapa och dela innehåll på populära sociala medier som dina målkunder besöker.
På samma sätt, med människor som börjar sina shoppingsökningar på marknadsplatser som Amazon.com, bör optimering av alla listor du har på webbplatsen vara en del av din strategi. Och tack och lov, ju bättre optimerade dina produktdetaljsidor är för Amazon (med unikt, användbart innehåll), desto bättre kommer de att rankas på Google också!
5. Håll betald budget för sena tillfällen.
Den större osäkerheten och volatiliteten den här semesterperioden innebär att du måste hålla ett öga på kundernas beteende och vara redo att omfamna möjligheter som dyker upp senare. Att få höga organiska rankningar för sena kampanjer är alltid mer utmanande, så håll tillbaka en del av den betalda sökbudgeten för att hjälpa till att driva trafik till dessa sidor – till exempel via Google Ads. Viktiga sökord att inkludera i sensäsongens sökannonskampanjer inkluderar "leverans före jul" och "leverans samma dag". För lokalt inriktade sökannonser kan du överväga att "hämta när som helst före jul".
Utsikten till en tuff, oförutsägbar shoppingsäsong för helgerna innebär att sökteam måste lansera säsongsbetonade SEO-planer tidigt, noggrant spåra shoppares beteende och vara redo att anpassa sig när saker och ting förändras.
Marcus Pentzek är chefs SEO-konsult på Sökmetrics, den globala leverantören av sökdata, mjukvara och konsultlösningar.