How to Lower PPC Churn Rates
It's a pay-to-play world. From social media to Google Ads, companies invest thousands of dollars a month into paid ads. However, there's a lurking metric you might not be tracking: your PPC churn rate.
When it comes to paid ads, most marketers and business owners track metrics like click-through rate (CTR), quality score, and cost per click (CPC). While those are important metrics, they tell only part of the story.
If your PPC conversion rates are high, but your overall revenue isn't, the issue might not be your ad. It might be that your customers aren't sticking around.
What is the elusive PPC churn rate, and, more importantly, why should you care?
What Is PPC Churn Rate?
Your PPC churn rate is the number of people who convert via paid ads but don't hang around. They might buy or subscribe to your product or service from a paid ad and then decide to end the relationship.
It's similar to a standard churn rate in that it tracks the number of customers who convert but then leave your company. However, your PPC churn rate looks specifically at the customers who convert from your paid ads from platforms like Google Ads.
Why You Should Care About Your PPC Churn Rate
Most PPC metrics tell you how well your ads convince people to buy. For example, CPC tells you how much you spend to get one person to click on your ad. Conversion rates tell you how often people actually purchase from your paid ads.
Those critical metrics let you know if your ad and landing page match, if your targeting is on track, or how well your copy speaks to your audience.
There's also a lot those metrics don't tell you.
For example, how well does your onboarding process work? Do your ads focus on the features customers care about the most? Are customers disappointed with your product or service?
Let's look at a (fictitious) example to see why PPC churn rates matter. I'm looking for a grammar tool, so I type in "grammar help." The first ad is for Grammarly, and it says it will help me eliminate mistakes and find the right words.

Say I decide to purchase based on that ad. However, a few weeks down the road I find the tool didn't quite meet my expectations. Maybe it didn't work as well as I had hoped, was too hard to use, or I found a better solution. I end up canceling my subscription.
Does that mean the ad didn't work? No, the ad did what it was supposed to do, but something along the way didn't meet my expectations.
If Grammarly is only tracking their PPC conversion rate and not their churn rate, they might not realize they are losing customers until it's too late.
Here are a few things PPC churn rate can tell you:
how well your onboarding process works
whether customers' expectations match your product or service
whether your competitors offer a feature you don't
if your customer service is terrible
if your documentation is confusing
If you aren't paying attention to what and why customers are leaving, you might be wasting valuable ad spend on customers who won't stick around.
How to Calculate Your PPC Churn Rate
To calculate your PPC churn rate, you'll need to calculate how many customers sign up from your PPC ads and then how many customers from paid ads you lose by the end of the month.
The formula you'll use to calculate churn rate is:
For example, if your business has 100 customers who converted from PPC ads at the beginning of the month, and it loses 25 of those customers, you'd calculate your PPC churn rate like this:
One of the biggest challenges of accurately tracking PPC churn rate is following customers that convert via paid ads throughout their lifecycle so you can tell when they churn. If you can't access this data, you can use your overall churn number, but it won't be quite as accurate.
If possible, use a customer relationship management (CRM) system or other customer lifetime tracking tool to see where customers come from and when they leave.
Strategies for Lowering Your PPC Churn Rate
Now you know how to calculate your churn rate and why it matters, but what happens if you realize there's an issue?
If you are disappointed in your churn rate results, there are several ways to improve them. Let's look at a few.
Figure Out Why Your PPC Churn Rate Isn't Up to Snuff
The first step to addressing a high PPC churn rate is to identify why it is higher. This can be a challenge because there might not be an easy answer, or you might have several issues!
Start by looking at things like:
Has your software become outdated?
Has a competitor created a better solution or feature you don't have?
Are there issues with the quality of your product?
Do you have a customer service strategy?
Do you provide documentation?
Is your onboarding process lacking?
Perform a competitive analysis och UX testing to try to locate the cause. Customer reviews may also shed light on where customers are struggling.
If you can find the source of your high churn rate, obviously, you can lower it. However, what if the cause of churn isn't clear? Let's look at a few other strategies.
7 Ways You Can Use Customer Loyalty to Lower PPC Churn Rate
One of the best ways to reduce churn rate is to make sure your customers are happy. After all, satisfied customers are far less likely to leave.
Here are a few ways to improve customer loyalty.
#1: Offer Loyalty Rewards
Rewarding long-term customers fosters a bond between your brand and your customers. Consider offering high-value customers early access to new features, a dedicated customer support line, or a free month for signing up for a new year.
#2: Make Customer Service a Priority
One of the top reasons customers churn is poor customer service. Don't make customers wade through terrible documentation to figure out how to use your tool or service. Create an easy-to-use FAQ or video documentation and consider using a chatbot to provide timely service.
#3: Create a Community
People like to feel like they are part of something bigger than themselves. Creating a community lets die-hard fans interact with other customers, allows you to interact with customers, and can drive user-generated content you can use in other marketing efforts. Use a platform like Facebook, Reddit, or Slack to create a place where your customers can get tips, make new friends, and interact with your team.
#4: Reduce Customer Friction
Customer friction refers to anything that makes your customer's life more difficult. For example, poor UX, a lack of training for customer support teams, or hard-to-navigate documentation. Making it easier for customers to buy, navigate your website, and get information improves customer loyalty by ensuring customers can get what they need quickly.
#5: Make It Easy to Get in Touch With You to Help Lower PPC Churn Rate
Good customer service is crucial to reducing your churn rate. Nothing makes customers cancel faster than struggling to get a hold of support when they have a question or an issue.
Start by responding quickly to messages and posts on paid ads. For example, Sipsey Wilder ran this paid ad on Facebook for their hip bags.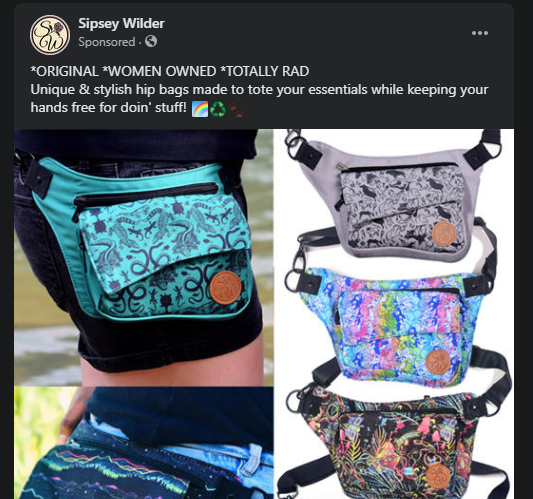 The ad has several hundred comments, and the brand made sure to respond to questions and requests from customers.
Responding provides customers with the information they need and establishes trust.
Here are a few more tips:
In your PPC ad, provide the email address or phone number of your customer service or sales team.
Make sure your contact information is displayed clearly on your website and key landing pages.
Use a chatbot to provide answers to frequently asked questions.
If customers know they can get in touch with you and count on you to help them, they will be less likely to cancel your product or service when they get frustrated.
#6: Create a Smooth Onboarding Process to Lower PPC Churn Rates
Paid ads might convince a customer to convert, but the onboarding process can make or break how the customer feels about your brand.
Ensure your onboarding process is seamless. If people are confused about how to use or even set up the service your business provides, you have an issue. If customers don't understand how to use specific features, they might not get any value from your product or service.
Here are a few ways to improve the onboarding process:
Make the process easy: Label documents and make them easy to understand. Add action items if necessary. For example, if users need to install a code or sign a document, make that clear and provide documentation to walk them through the process.
Ask what contact method they prefer: Some customers may prefer email, others phone. They might be in different time zones. Make sure you know when and how to contact them most efficiently.
Offer training and tips: Make sure customers understand how to make the most of your offering by creating an automated email campaign that shares tips on utilizing your tool or product.
Only gather the information you need: Some information is critical, like a customer's language preference or email address. However, do you really need their physical address or company name? While that information might be great for your sales or marketing team, consider whether it benefits the customer or if asking will just annoy them.
Take your time: It might be tempting to explain how awesome your tool or service is right away. However, introducing too many features at once can be overwhelming to customers. Instead, use triggered popup boxes or spaced out emails to explain features over time. Start by engaging customers so they care enough to want to learn about all those extra features later.
You could also test your onboarding process every few months. There's a good chance what works now might not be as successful in six months, or you might find that specific types of customers need more (or less) support during the onboarding process.
#7: Provide a "Cancellation Survey" to Those Who Cancel
If you've ever left a job, there's a good chance you were asked to do an exit interview where the company asked why you were leaving and what they could do to improve. These interviews allow companies to gather honest feedback about things like work culture and management decisions.
Cancellation surveys serve the same purpose: Understanding why customers are leaving allows you to improve and prevent other customers from leaving.
When people go to cancel, attach a survey with just a few questions. For example, when the user clicks "cancel," a question box could come up and ask why the customer is leaving.
Make it easy to complete by offering a multi-choice answer without too many choices so users don't get overwhelmed and click away. For example, "too expensive," "went with a competitor," or "no longer needed the service." Create an "other" option with an answer box so customers can leave more detailed feedback if they wish.
Slutsats
Tracking the effectiveness of paid ads starts with tracking metrics like CTR and quality score, but it shouldn't end there. Tracking your PPC churn rate highlights issues that can tank long-term profits.
Start by figuring out why your churn rate is high and remember that several different issues may contribute to customers leaving.
Next, focus on improving customer loyalty, making it easy for customers to reach you, and streamlining the onboarding process. Finally, ask churning customers why they are leaving. You might find the answer to your problems is an easy fix; and if not, our agency here to help.
Are you struggling with high PPC churn rates? What strategies will you try first?
See How My Agency Can Drive Massive Amounts of Traffic to Your Website
SEO – unlock massive amounts of SEO traffic. See real results.
Content Marketing – our team creates epic content that will get shared, get links, and attract traffic.
Paid Media – effective paid strategies with clear ROI.
47 kreativa marknadsföringsidéer för februari (bortom alla hjärtans dag!)
February is home to the most romantic holiday of the year:
Just kidding (shouldn't that be in March anyway?). But there is so much more to February than Branch's Conversation Hearts and #sharethelove. So today, I'm showering you with over 50 creative and February marketing ideas and examples to help you connect with customers and build your brand.
Table of contents
February awareness causes
Below is a list of awareness causes recognized in February that can help you with cause-related marketing.
American History Month
American Heart Month (heart disease)
Bake for Family Fun Month
Black History Month
Cancer Prevention Month
Children's Dental Health Month
Embroidery Month
Free and Open-Source Software Month
Library Lover's Month
Self-Check Month
Teen Dating Violence Awareness Month
Wedding Month
Some of these are general while others are highly specific, so depending on your business, your trade, or your niche, you may or may not be able to apply these to your February social media and marketing campaigns (National Embroidery Month isn't exactly versatile, for example).

February national days
There's a full list of February national days and dates at the bottom of this post, but here are some highlights:
Known: Groundhog Day, President's Day, Valentine's Day (Valentine's Day marketing ideas here), Galentine's Day.
Fun: Day the Music Died Day, Ice Cream for Breakfast Day,

Don't Cry Over Spilled Milk Day, Make a Friend Day, Do A Grouch a Favor Day, Comfy Day, Optimist Day.

Meaningful: Freedom Day, Girls and Women in Sports Day, Wear Red Day, Safer Internet Day,

Random Acts of Kindness Day, Shut-In Visitation Day, Set a Good Example Day, Skip the Straw Day.

Industry-specific: Toothache Day, Dog Biscuit Day, Love Your Pet Day, Spay Day,

Clean Out Your Computer Day, Caregivers Day, Lash Day, Home Warranty Day, Women Physicians Day.

Well alright: Public Sleeping Day.
February diversity, equity & inclusion
Alright, now it's time to get into the marketing ideas. Let's start with important dates and observances that can help you in your diversity, equity, and inclusion efforts.
Black History Month: Your Black History-related content should not actually be a marketing ploy but a genuine initiative to raise awareness and promote civil rights.
Here are some things you can do.

Highlight prominent Black leaders in your industry—lawyers, politicians, scientists, artists, educators, and athletes who have shaped or are shaping American society or your industry.
Interview or feature Black business owners, influencers, or members of your community who are helping to make history.
Share quotes, little-known facts, and eye-opening stats about Black History—especially those related to your industry or niche.

Tammy Baldwin's birthday (Feb 11): Tammy Baldwin is the first openly LGBT woman elected to both houses of Congress. Post an inspiring quote from her on Instagram or Facebook.
Susan B. Anthony's birthday (Feb 15): This famous female is a leader of the women's suffrage movement who advocated for abolition, labor rights, equal pay and more. On this day, share an eye-opening statistic or inspirational quote to raise awareness.
Meaningful February marketing ideas
In addition to inclusivity, there are plenty of other themes during February that can help you with meaningful marketing. Showing your support for causes you care about is a great way to connect with your audience and express your core values. Here are some ideas and examples.
Heart Health Awareness Month
So February isn't all about that $1 pink balloon heart but also that invaluable organ inside of you that makes you tick. If your business is focused on health and wellness, this is a great marketing opportunity for you.
Fitness centers and gyms can partner with a local health center for heart disease awareness or screenings.
Host special classes focusing on cardiovascular activity.
Write informative blog posts about heart health and risk factors. Use this time to market your business by educating your customers on leading healthy lives.
Give out a free heart-healthy gift with purchases or registrations.
In the example below, this fitness center is giving out free heart rate monitors to those who join in the month of February.
If you're not a health or fitness business, no problem.
Any business can sponsor a Healing Heart 5k, or donate a portion of their profits to a heart health-related nonprofit.
Think outside the box—pet hearts, artichoke hearts, hearts of remain, website health (the heart of a business marketing strategy, for example).
RELATED: 34 Genuine Valentine's Day Messages and Email Templates to Send to Customers
Children's Dental Health Month
Dentists can certainly have a field day with this one, but other businesses can use this opportunity to teach parents and students about the importance of dental health.
Daycares, fitness centers, and churches can host special classes about the importance of dental hygiene.
If you're a dentist, you may offer to teach such classes. Or spruce up your dentist website with some extra decorations or promotions.
Ecommerce businesses can promote their oral hygiene products.
If you're not a dentist, a simple social media post to bring your target audience's attention to the cause can go a long way.
Cancer Awareness Month
In addition to having World Cancer Day, the whole month of February is dedicated to cancer awareness. Show your support on Facebook with a purple-themed post or initiative. You can encourage your followers to "purple" their profile, promote your purple products, or run a purple-themed contest.
Wear Red Day
National Wear Red Day is focused on raising awareness for heart disease. On this day, you could:
Host an event in support of cardiovascular health and promote it on Instagram.
Promote your red products or give your social media profiles or homepage a red theme for the day.
Post an applicable picture to Instagram with an eye-opening stat. This is a great way to increase Instagram engagement.
World Cancer Day
You may also want to run a special promotion on World Cancer Day itself, especially if you're in the health and fitness industry.
Fun February marketing ideas
Some of these are well-known, others not so much. Take a look and see which ones align with your brand voice and values.
Presidents Day
Federal holidays like these are always versatile. Any industry can run a Presidents Day sale—for the day, the weekend, or the whole dang month. Here are some ideas:
Run a presidential trivia night at your restaurant or even on social media.
Run a Presidents Day giveaway on Instagram or Facebook.
Create a Facebook event for your sale.
Ice Cream for Breakfast Day
Ironically, in the middle of Children's Dental Health Month is Ice Cream for Breakfast Day…oops? But who says you can't use this quirky holiday to market your business?
Held on the first Saturday of February, this is an opportunity for bakeries, ice cream shops, or restaurants to run special promotions.
Mardi Gras
Fat (mardi) Tuesday (Gras) is held on the last Tuesday before Ash Wednesday every year. It's a celebration of life before the more somber Ash Wednesday and following period of Lent. Here are some Mardi Gras marketing ideas:
Write a blog post with a "celebration of life" theme.
Promote your purple, green, and gold products.
Run a Mardi Gras Instagram giveaway.
Enter customers on that day into a drawing for a gift card or discount.
Offer a discount to those who wear Mardi Gras beads to your store, event, or classes. Promote the sale ahead of time with a post and encourage followers throughout the day by posting pictures of customers wearing their beads.
Love Your Pet Day
Love Your Pet Day is February's opportunity for you to shamelessly post about your pet. But here are some additional ideas to consider:
Write a blog post about what your pet can teach you about [topic relevant to your industry].
Have your employees share photos of their pets and put the montage on social media or in your February newsletter.
Come up with a pet-themed incentive. For example, Select Hotels invited its followers to comment on its post with their favorite moments with their pets, and that if they did, "A surprise awaits the two of you on your next visit."
Make a Friend Day
This day gives you lots of opportunities for creative marketing.
Send out a review request email themed around asking your customers to be your friend. (Use these February email subjet lines for inspiration!)
Partner with a neighboring or complementary business and run a joint friends promotion.
Remind people of your referral program or run a one-day special where referrals result in a discount or gift.
Groundhog Day Contest
This superstitious day happens on February 2 every year. For the uninitiated, if the groundhog sees its shadow, winter will last six more weeks. If it does not see its shadow, spring will arrive early. Plenty of fun marketing material to work with here.
Run a sale where the offer is contingent upon the outcome of the day.
Create content inspired by the Groundhog Day movie, sharing tips to break up the monotony or avoid repeating mistakes.
On Groundhog Day, you can run a contest, share a question or poll with your audience, or simply share a fun fact about the day.
Super Bowl
The Super Bowl is one of the most watched programs on television. How does your target audience relate to football? Are they football fans? Spouses or parents of football fans? Athletes? Is your business located near a Superbowl venue? Run a special during Superbowl weekend, create Superbowl-themed products, or share a helpful tip relevant to what their Superbowl experience will be like.
February hashtag marketing ideas
Hashtags can expand your reach and add some personality to your posts. Here are some basic February hashtags to play around with.
#Febsale
If you're just getting started with your Instagram marketing, start basic with something as simple as a #Febsale. In the below example, the small business Mexicali took a snapshot of their ready-to-ship orders to promote their February sale and encourage people to buy.
They didn't use a photo shoot or fancy Photoshop graphics; just a simple behind-the-scenes sneak peek and a caption that closes with a question.
#FebruaryFeels for mood
You don't need to have a sale for a February-friendly Instagram post. How about just appealing to your audience's mood during this time of year?
Just make sure you're appealing to the mood of your specific audience in February as it relates to your business. Is your audience…
Filing tax forms?
Returning back to school after break?
Reading love stories and seeking positive vibes?
Totally embracing singledom?
#FebruaryFeels for a testimonial
Look back through your photos or even user-generated content. Can you repurpose any of them for a #FebruaryFeels-inspired testimonial, as the Australian Girls Choir does below?
#FebruaryFavorites to promote other content
This is a good way to surface seasonal content or products or even to bring to light some of the forgotten ones. Share a roundup of your most popular products or services, or even your favorite tips, tools, products, or resources related to your audience's goals and needs.
#FebruaryFeature to promote products
Whether the product you're promoting is February-themed or not, you can make it so by using the hashtag #Februaryfeature. Pick something you'd like to promote in February and see if #Februaryfeature can help increase sales and engagement related to it.
#FebruaryFeature to feature an employee
You could also feature an employee, student, or customer. These types of feature posts can get your employees, customers, and fans excited about your business. Plus, they'll want to share their "celebrity" post with their network, which can help increase your reach.
#FreshStartFebruary
Another theme you can take advantage of in your February Instagram marketing is #FreshStartFebruary. This is especially applicable for businesses in the health and wellness industry.
As you can see, there is much more to February than Valentine's Day (but we have plenty of Valentine's Day marketing ideas here). Use the ideas above for creative and quality engagement with your audience—the best way to market your business. And don't forget about March! If you have events or promotions planned for Saint Patrick's Day or other holidays, get your audience in the know.
For more monthly marketing ideas, here's our full list:
P.S. For marketing ideas for the whole year, check out LocaliQ's always-updated marketing calendar.
Full list of February national days & dates
Thanks, as always, to National Day Calendar.
February 1
Baked Alaska Day
Dark Chocolate Day
Freedom Day (Freedom From Slavery)
Get Up Day
Serpent Day
Texas Day
February 2
Heavenly Hash Day
Tater Tot Day
Groundhog Day
Girls and Women in Sports Day – Changes Annually
February 3
Carrot Cake Day
Day the Music Died Day
Missing Persons Day
Women Physicians Day
Optimist Day – First Thursday in February
February 4
Create a Vacuum day
Hemp Day
Homemade Soup Day
Thank a Mail Carrier Day
Wear Red Day – First Friday in February
Bubble Gum Day – First Friday in February
February 5
Weatherperson's Day
World Nutella Day
Ice Cream for Breakfast Day – First Saturday in February
Play Outside Day – First Saturday of Every Month
February 6
Frozen Yogurt Day
Lame Duck Day
Chopsticks Day
February 7
Fettuccine Alfredo Day
Periodic Table Day
Send a Card to a Friend Day
February 8
Boy Scouts Day
Kite Flying Day
Iowa Day
Safer Internet Day U.S. – changes annually
February 9
Cut the Cord Day
Bagel and Lox Day
Pizza Day
Toothache Day
February 10
Cream Cheese Brownie Day
Home Warranty Day
Umbrella Day
Giving Hearts Day – Second Thursday in February
February 11
Don't Cry Over Spilled Milk Day
Inventors' Day
Make a Friend Day
Peppermint Patty Day
Shut-In Visitation Day
White Shirt Day
February 12
Plum Pudding Day
Global Movie Day – Second Saturday in February
February 13
Galentine's Day
Cheddar Day
Tortellini Day
Pork Rind Day – Day of the Big Game
February 14
Cream-Filled Chocolates Day
Ferris Wheel Day
Organ Donor Day
Valentine's Day
Football Hangover Day – day after the Superbowl
Clean Out Your Computer Day – Second Monday
February 15
Gumdrop Day
Singles Awareness Day
Wisconsin Day
February 16
Almond Day
Do A Grouch a Favor Day
Pancake Day (IHOP) – changes annually
February 17
Random Acts of Kindness Day
Cabbage Day
February 18
Battery Day
Crab Stuffed Flounder Day
Drink Wine Day
No One Eats Alone Day – Changes annually
Caregivers Day – Third Friday
February 19
Arabian Horse Day *
Red Sock Day * – Third Saturday in February
Chocolate Mint Day
Lash Day
Vet Girls RISE Day
February 20
Comfy Day
Cherry Pie Day
Love Your Pet Day
Muffin Day
February 21
Grain-Free Day
Sticky Bun Day
Presidents Day – Third Monday
February 22
Supermarket Employee Day *
California Day
Cook a Sweet Potato Day
Margarita Day
World Spay Day – Last Tuesday in February
February 23
Banana Bread Day
Dog Biscuit Day
Tile Day
February 24
Tortilla Chip Day
Toast Day – Last Thursday
Chili Day – Fourth Thursday
February 25
Chocolate Covered Nut Day
Clam Chowder Day
Skip the Straw Day – Fourth Friday
February 26
Set a Good Example Day *
Pistachio Day
Tell a Fairy Tale Day
February 27
Anosmia Awareness Day
Kahlua Day
Retro Day
Strawberry Day
Polar Bear Day
February 28
Chocolate Souffle Day
Floral Design Day
Public Sleeping Day
Tooth Fairy Day
Rare Disease Day USA – Last Day in February
February 29 (Every Four Years)
7 sätt att optimera dina LinkedIn-annonser för toppresultat
LinkedIn has become the go-to resource for businesses looking to advertise to a specific targeted audience of professionals.
But as with any ad platform, you are paying to play, so you need to make sure you're taking advantage of every feature, setting and strategy to get the most out of your budget. Lucky for you, that's what I'll be covering in today's post.
Read on to learn why LinkedIn advertising is a top B2B strategy and how to optimize your campaigns to get the highest return on your investment.
Why should every B2B strategy include LinkedIn ads?
LinkedIn advertising is an effective platform for anyone looking to drive leads and sales. Before we get into the optimizations, let's cover a few of the reasons why it's so effective.
Reach a highly targeted audience
LinkedIn allows you to target your ads based on job title, company size, industry, location, interests, groups, company growth rate, and more.
This means that you can easily "hunt" for the right prospects that are most likely to be interested in your service or product. How could you pass on that!?
Boost brand awareness
Yes I know, PPC is geared toward getting actual leads and not just increasing brand awareness. But increased awareness is a great by-product of a well-targeted campaign.
LinkedIn is an extremely popular platform with a huge user base, making it an unmissable channel to reach a wider audience and boost brand awareness.
Generate leads
Well, this one is just stating the obvious.
LinkedIn ads are designed to drive traffic to your website or landing pages, which can help you generate leads and sales. LinkedIn also offers lead generation forms, which allow users to sign up for more information or download either a whitepaper or some other resource directly from the ad.
Keep in mind, lead gen forms will get you more leads, but at a lower intent than those who will actually sign up directly on your website.
Track results
Data is everything. LinkedIn provides invaluable analytics and tracking tools to help you measure the effectiveness of your ads.
You can track:
How many people have seen your ad
How many have clicked on it
How many have taken a specific action, such as visiting your website or filling out a form.
While these are the basics of any advertising platform, with LinkedIn you can slice it by company size, job title, industry and other accurate targets that LinkedIn offers—which we will go through in this post!
Multiple ad formats
LinkedIn offers a variety of ad formats to choose from, including sponsored content, sponsored InMail, display ads, and sponsored job postings. This allows you to choose the format that best fits your business needs and goals, which depend on your product and target market.
How to optimize your LinkedIn ads
Bottom line? LinkedIn's targeting capabilities, brand awareness potential, lead generation forms, and analytics make it a valuable tool for any business looking to grow and succeed.
Well now that we have that settled, the question remains: How to make this advertising platform successful?
Here are seven bulletproof ways to hack your LinkedIn campaigns for success.
1. Define and regularly update your target audience
Having a target audience is crucial for creating ad content that resonates and drives conversions. Here are some steps to define your target audience:
Identify your target market: Who is your product or service for? Consider factors such as age, gender, location, job title, and industry.
Define your buyer personas: Create detailed profiles of your ideal customers, including their needs, goals, and challenges.
Analyze your current customer base: Look at your current customer data to understand who is already using your product or service, why, and how.
Consider your value proposition: What makes your product or service unique and valuable to your target audience? And what keeps them coming back?
Don't forget to regularly review and update your target audience to ensure that your ad campaigns stay relevant and effective.
2. Create great ads (and I mean really great ads)
LinkedIn is a crowded network, filled with recruiters, salespeople, and advertisers. So you'd better make sure you've got winning ads!
Your ads need to stand out for all the right reasons, or they just won't cut it.
Use compelling headlines and visuals as an effective way to capture the attention of your target audience and improve the performance of your LinkedIn Ads.
Here are some tips for creating great ads:
Use responsive design: Make sure your ad looks good on both desktop and mobile devices. LinkedIn offers responsive ad formats that automatically adjust to the size of your screen, so your ad will look great no matter how it's viewed.
Use eye-catching visuals: Visuals are an important part of any ad, and they are especially important on mobile where people are more likely to scroll quickly through their feed.
Keep the ad copy short and to the point: Mobile users tend to have shorter attention spans, so use clear, concise language that gets your message across fast.
Make sure the ad is easy to read: Use a clear, easy-to-read font and make sure there is enough contrast between the text and the background.
Test your ad on different devices: Before you launch your ad, make sure to test it on a variety of mobile devices to ensure it's readable and looks good.
Don't forget to regularly review and optimize your headlines and visuals to make sure they're effective at driving conversions.
Here's a great example of an ad by Superlegal:
Why is this ad successful?
Eye-catching visuals: The creative captures the user's eye while quickly browsing through their feed.
Concise copy: The messaging is to the point and keeps details on how it works to a minimum, generating interest. Less is more.
Benefit-focused: The messaging immediately tells the user what's in it for them, and focuses on the why, not the what.
3. Test, test, and then test some more
Testing different ad variations allows you to make data-driven decisions and optimize your LinkedIn ad performance. Here are some things to test:
Ad copy: Try testing different versions of your ad copy to see which ones resonate most with your audience. You can test different headlines, descriptions, and calls to action to see which ones perform the best.
Visuals: Try testing different visuals, such as images or videos, to see which ones are most effective. You can also experiment with different image sizes and aspect ratios to see which ones perform the best.
Targeting: Test different targeting options, such as job titles, industries, or locations to see which ones perform the best for your business.
Audience sizes: You can also test different audience sizes to see if targeting a smaller, more specific audience performs better than targeting a larger, more general audience.
Ad format: LinkedIn offers a variety of ad formats, including sponsored content, sponsored InMail, display ads, and sponsored events. It's important to test different formats to see which ones perform the best for your business.
Pro Tip: When launching a new campaign, make sure to set your campaign to rotate ads evenly to begin with, as this will give each ad a fair chance.
It's important to regularly review and analyze the results of your ad variations to identify areas for improvement and don't forget to keep optimizing your ads over time to maximize your chances.
4. Use LinkedIn's targeting options
LinkedIn's audience targeting options allow you to narrow down your audience and show your ads to specific groups of people on the platform. This can be an incredibly effective way to reach the right audience and improve the performance of your ads.
Here are some examples of LinkedIn's audience targeting options:
Company growth rate: This one is actually very interesting. You can target your campaign to be shown exclusively to prospects who work at companies with a positive growth rate. So, if you provide recruiting services, you'd want to target the companies with a (very) positive growth rate and exclude the ones with a negative growth rate.
Job title: This one is probably the most basic targeting method on LinkedIn. Target specific job titles or job functions, such as marketing managers or sales executives. This can be especially useful if your product or service is only relevant to certain professions or job roles.
Company size: You can target specific company sizes, such as small businesses or large enterprises. This can be useful if your product or service is more suited to a particular size of company.
Industry: You can target specific industries, such as finance or healthcare. This can be useful if your product or service is specifically relevant to a particular industry for example insurance or tech.
Location: You can target specific locations, such as a specific city or country. This is useful for those whose product or service is available only in certain areas or if you are trying to reach a local audience.
Group: Target prospects who are members of specific groups on LinkedIn. This is a great one if you know your target audience is likely to have specific interests, passions,  and hobbies.
Pro Tip: Make sure to always disable the LinkedIn audience expansion from your campaigns. It will show your ads to a mostly irrelevant audience in most cases.
By using LinkedIn's Audience Targeting options, you'll make sure that your ads are being shown to the right people and maximize your chances of getting conversions.
Not to sound like a broken record, but keep reviewing and adjusting your targeting to make sure you're reaching your ideal customer.
5. Use LinkedIn's conversion tracking
To set up conversion tracking on LinkedIn, you'll need to install a small piece of code, called the LinkedIn Insight Tag, on your site. This will allow you to track a variety of conversion actions like form submissions (like contact us or ebook download), page views (like for your product pages), clicks on a specific link, and more.
This will allow you to see which of your ads are driving the most conversions so you can optimize your campaigns accordingly.
For example, if one ad is generating a lot of clicks but very few conversions, you may want to consider changing either the ad copy or the targeting to improve performance. On the other hand, if an ad is generating a high number of conversions, consider either increasing your budget for that ad or creating similar ads to capitalize on its success.
Overall, LinkedIn's conversion tracking is a brilliant tool for optimizing your LinkedIn Ads. By regularly tracking and analyzing your conversions, you can make data-driven decisions to improve the effectiveness of your campaigns.
6. Use LinkedIn's insights & analytics
In addition to standard metrics, LinkedIn offers advanced analytics such as demographic data, interests, and job functions. This data is extremely useful to help you understand who is interacting with your ads and how they are engaging with your content.
To access LinkedIn's insights and analytics, you'll need to have a LinkedIn Ads account. From the dashboard, you can view a range of data and metrics including impressions, clicks, conversions, and cost per action (CPA). You can also view data by specific campaigns, ad groups, and ads to get a more granular understanding of your performance.
By using LinkedIn's insights and analytics, you can identify areas for improvement and optimize your campaigns. If you notice that an ad is generating a high number of clicks but a low number of conversions, you may want to consider changing the ad copy or targeting to improve its performance. On the other hand, if an ad is generating a high number of conversions at a low cost, you may want to consider increasing your budget for that ad or creating similar ads.
LinkedIn insights are another great tool to get the most out of your LinkedIn campaign. Track, track, and track your data over time to get the most out of your LinkedIn budget!
7. Optimize for mobile
Most people use LinkedIn on their mobile devices and spend significantly more time on LinkedIn while using their mobiles, so make sure your ads and landing pages look great on mobile!
Optimize your LinkedIn campaigns
So there you have it: seven bulletproof ways to optimize your LinkedIn ad campaigns and get the most for your budget.
Define and regularly update your target audience
Create great ads
Test, test, and then test some more
Use LinkedIn's targeting options
Use LinkedIn's conversion tracking
Use LinkedIn's insights and analytics
Optimize for mobile
All that's left for you to do now is start implementing these tips and tricks on your LinkedIn campaigns and get ready for higher ROI!
Hur man skapar en redaktionell kalender (+Gratis mall!)
Being a content creator can be overwhelming. Keeping up with blog posts, guides, and everything else on the agenda is hard work!
Now, imagine a system that keeps track of all the content you want to create, all the steps you have to take when creating it, and where each piece of content is at in its creation process.
Sound like a distant dream? Well, it's not. It's called an editorial calendar and in this post, I'm going to show you exactly how to create one, with a free template too!
If you're looking for a way to streamline and speed up your work flow, read on.
Table of contents
What is an editorial calendar?
An editorial calendar is more than just a schedule of your content. It's a visual tool that lets one person or an entire team to plan, create, schedule, and promote content—for the next week, month, or even year. It includes the tasks, team members, and due dates involved at every stage.
Why use an editorial calendar?
The benefits of using an editorial calendar are many, but here are a few:
More cohesive content. When you plan out your content in advance, you can organize it into themes and create pieces that support one another each month.
Save time. You always know exactly what content to work on next, taking writers block out of the equation. Plus, all of your tasks are prioritized and streamlined. Some editorial calendar tools even have integrations where you can publish and promote across multiple platforms at once.
Stay on track. An editorial calendar ensures that you and every team member can progress along with the timeline of a project, and make sure no task is left undone or delayed.
Store ideas. Combining an idea bank with your content calendar is very effective idea capturing on the go, especially if you can access your calendar on mobile.
In my experience, using an editorial calendar has made a tremendous difference in the way I work and I have never looked back. Procrastination often occurs when we don't know what to do next, and so we delay the work at hand.
But for me at least, when I know that all I need to do is conduct the different tasks listed in my specific checklists, I am more productive and I procrastinate much less. Now, I hope it can do the same for you!
Keep reading and I'll show you how you can use a free template of a Trello-based editorial calendar.

How to create an editorial calendar
Here are some foundational principles to guide you in the process.
1. Establish a loose content strategy
While an editorial calendar can help you to refine your content strategy, you do need to have an initial framework to begin with. You can use our guide to creating a content strategy for a deeper dive, but here are some basic questions to start with.
What are your goals? Are you looking to increase organic traffic with blog posts, generate leads with gated content, produce sales enablement materials? This will help you answer the next question…
What type(s) of content are you making? For organic traffic, you'll need SEO blog posts. For gated content, you'll need to produce PDF ebooks. For sales enablement, you'll need to create one-sheets and slide decks. For brand awareness and link building, you'll likely need to write guest posts.
How much content do you want to publish? Based on the content type and team size, you should have some realistic goals and objectives for how much content you want to publish each week, month, and year.
2. Lay out your work flow
Once you have an idea of what content you want to produce and how much of it, you can lay out your workflow. This includes:
Your ideation process. How do you find, store, and manage your content ideas?
SEO optimizations. You'll want to include keyword research and on-site and off-site tasks.
Lay out the different stages and specific activities of your workflow, and assign any tags, color codes, or labels that are important to visualize and maintain production timelines.
3. Choose an editorial calendar software
With an understanding of your strategy, workflow, and team size, now you'll need to find out which software is most suitable for you and/or your team. Which is what this next section will cover.
Editorial calendar tools
There are several different approaches and tools you can use to create your own editorial calendar for free.
Project management software
Project management software like Asana and Trello are often the go-to for editorial calendars. My coworkers and I use the free version of Trello and we love it! With Trello, you have a workspace and within your workspace you can create boards. Within boards are cards where you can add descriptions, checklists, labels, due dates, attachments, and more. This makes it simple to keep track of various aspects of the content creation process.
You can also invite others to work on your boards. This is great for collaboration, but not the best for large teams since it can become quite messy with too many cards and labels.
You can upgrade to the paid version for more power-ups and powerful integration features.
Keep reading to download our Trello editorial calendar template.
Spreadsheets
Spreadsheet software like Excel and Google Sheets can be used for editorial calendars if you don't have the time to learn new software, but they are more manual and not as visual. I have made an example in a spreadsheet to demonstrate what an editorial calendar in Excel/Google docs might look like. Feel free to make your own based on this suggestion.
Regular calendars
Regular calendars like Outlook or Google Calendar can be good choices for visualizing and scheduling tasks fast and easy—plus you'll get built-in reminders. Furthermore, you can create checklist templates with specific tasks across the different stages of the workflow, and paste them into the calendar note field to keep track of what you have done and what's remaining.
Nevertheless, regular calendars might not be the best if you want to keep track of status in an orderly manner and see everything in one glance. Here's a simple overview of how a month's worth of planned content might look like in Google Calendar, with color codes used to identify the type of content and status.
Free Trello editorial calendar template
Ok! Let me share with you my Trello editorial calendar template. It works wonders for me in building out my content marketing funnel, so I want to share it with you!
Here's the link:
Trello editorial calendar template
Here's what it looks like:
And here are its three components:
Lists: The lists are used to represent the different stages of content, from ideation to promotion.
Checklists: The checklists are used to add tasks to cards.
Labels: Colored labels represent statuses, for example "Pending review".
When you decide to make content on one of your ideas, simply move the card into the "date assigned" list and set a date for it.
The lists
This Trello editorial calendar board consists of 6 lists:
Guest post ideas: Stores all your ideas for guest content
In-house post ideas – Stores all your ideas for own content
Date assigned – Content ideas that you have scheduled
In progress – Content that are in the making
Published – Published content
Resources – Checklist templates and other resources.
As mentioned above, each list consists of cards, which are your content ideas. You can add checklists, labels, and dates to each card.
The checklists
This editorial calendar has several different checklists, each relevant to different stages of the content creation process. Alright, but what kind of checklist am I talking about here? Well, in fact, checklists for helping you along every step of the process!
Keyword research – This is the very first checklist you conduct when creating a piece of content. Here you can choose between the free approach, or the paid approach using Ahrefs. I use both methods. I have made a post on how to do free keyword research.
Review draft checklist: Title, content structure, call to action, images identified.
Review checklist. Relevant when editing your first draft and getting it ready for publication. It's basically on-site SEO stuff, optimizing for social media sharing, quality check etc.
Publishing and initial promotion checklist. For publishing and promoting your content. It's a list of several different channels to promote your content in.
Follow-up promo checklist. Promotion activities one year after publication.
Pinterest publishing checklist: Step-by-step checklist on how to make pins and schedule them for post promotion on Pinterest.
To import any of these checklists into a card:
Go to the card in which you want to import a checklist
Click the "Checklist" option on the card's right-hand side.
Choose "Copy items from…" and choose your intended checklist from the menu.
The labels
In this template, I use labels for content type as well as status. This is great for staying organized and in control of your schedule.
You can add new labels as well to customize it as you wish. Here are the labels I use for content types:
Blog post
Video
Email newsletter
Guest post
Freebie
Podcast episode
Passive income products
Here are the labels I use for content status:
Draft in progress
Pending review
Scheduled (publish date)
Published
How to get this free editorial calendar template
Here's how you get your copy of the board:
If you don't have a Trello account already, go sign up for Trello at Trello.com
Log in to your Trello account
Once signed up / logged in, click here
Now you should be inside the board. Click the icon with the 3 dots on it at the top right, and choose "More".
Click on the "copy board" option
Now go back to your workspace overview in Trello. You should be able to access your new editorial calendar from there!
Pro tips for this editorial calendar
Now I'll leave you with some final tips for getting the most out of this template!
1. Customize to your liking
Note that this editorial calendar is a template, and you can edit it the way you want. The more detailed customization is added to it, the better. If it suits your needs as it is, great!
2. Get Trello for mobile
Download the Trello app on your mobile phone and use the widget to capture ideas quickly when you're out and about. Here's how
First, download and install the Trello app from Appstore or Google Play
Second, add the widget to your phone's widget area
Then, wait until you're hit with a content idea. Now, quickly get your phone out and click the widget's "Add card" button
Choose the Trello board and the list that you want the card to be added to. This would be one of your idea lists. Like this:
Finally, click the "Add" button, and that's it! Your new idea has been saved to your idea list.
3. Use the calendar power-up
When the calendar power-up is activated in Trello you will see the scheduled posts in the Trello calendar making up to a month's worth of content visible at a glance. Simply click the calendar power-up located at the top of your board.
Now you'll see a calendar with all your cards visible at the assigned date, with its labels. I have done some demo scheduling with cards in all the different lists to show you how it looks like in the Trello calendar
In the calendar view you may click on the cards and view them directly from the calendar interface. Notice that all the status labels are also showing, which gives you a good overview of status of all the scheduled posts. The labels are explained in more detail below together with the other features of the board.
4. Use Mammoth
If you have a WordPress site and write your content in Microsoft Word or in Google Docs, you can use a plugin called Mammoth .docx converter to import a post from your writing client easily into WordPress!
5. Use Yoast
Now you can just do the tasks in this checklist and get the stuff done! The YOAST SEO plugin is very helpful when working through this list.
Start building out your editorial calendar
Using some form of an editorial calendar is a must for every content creator. I hope you have enjoyed reading this post and that it has provided you with some constructive value.
Enjoy this editorial calendar! I hope it makes a difference in your workflow efficiency. Please leave a comment if you have any questions and I'll be happy to answer them the best I can!
Thank you!
Om författaren
René Frydson is a 33-year-old passionate digital marketer, blogger, and productivity enthusiast from a small city called Forde in Western Norway. Alongside his formal education in marketing management with a specialty in digital marketing, Renè has 6+ years of experience from his own ventures online. He has hands-on experience from his employment in the marketing department of a large energy company in Norway. Join him over at themarketingonion.com where he publishes interesting and informative content within the digital marketing and productivity space.