Google's New Link Building Guidelines
In case you missed it, Google has just changed up the rules for link building.
It used to be that when people link to you, the link would either be a dofollow link or a nofollow link.
Well, that's now changed.
They are now introducing 2 more link types that will affect SEOs.
Now before we get into the 2 new link types, make sure you read the whole post. Because not only will I explain Google's requirements, but I will break down what this means for SEOs.
The current landscape
The current SEO landscape is simple… especially when it comes to link building.
The more dofollow (regular links) links you can get the better your search rankings.
If you are unsure of the number of links you have or the type, just go here and enter in your domain.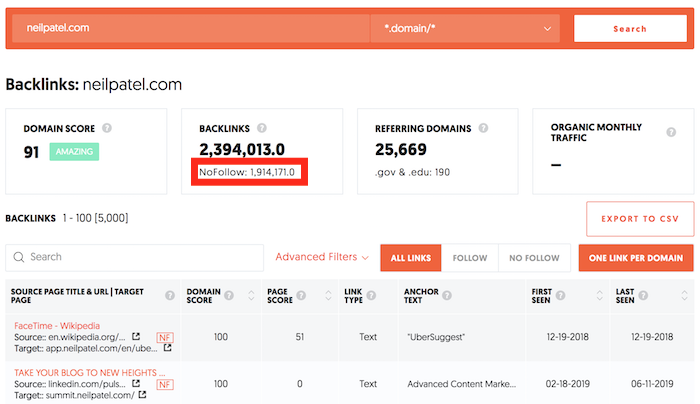 You'll see a count of total backlinks along with the total amount of nofollow links pointing to your site.
Now, when you are link building, if you are paying for links or leveraging tactics like guest posting, Google wants you to nofollow those links because they don't think you should be leveraging tactics like guest posting to manipulate rankings.
And as for buying links, you shouldn't do that as it is a simple way to get penalized or banned from Google.
So don't send emails like this if you are trying to build links… it's a big no, no.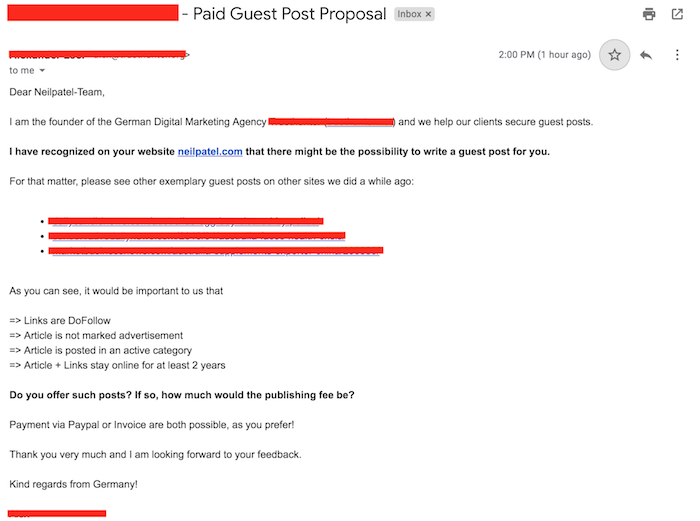 How does Google look at links?
Google's algorithm is smart. Sure, they ideally want you to nofollow links if they are bought or not naturally earned (such as from guest posts), but many SEOs break the rules.
They aren't going to say it publicly but they do these things. And because Google isn't dumb, they also know.
Google can easily identify when a post on these big news sites aren't earned because many of them have signs all over them that Google can detect.
For example, here is an example of a guest post from me.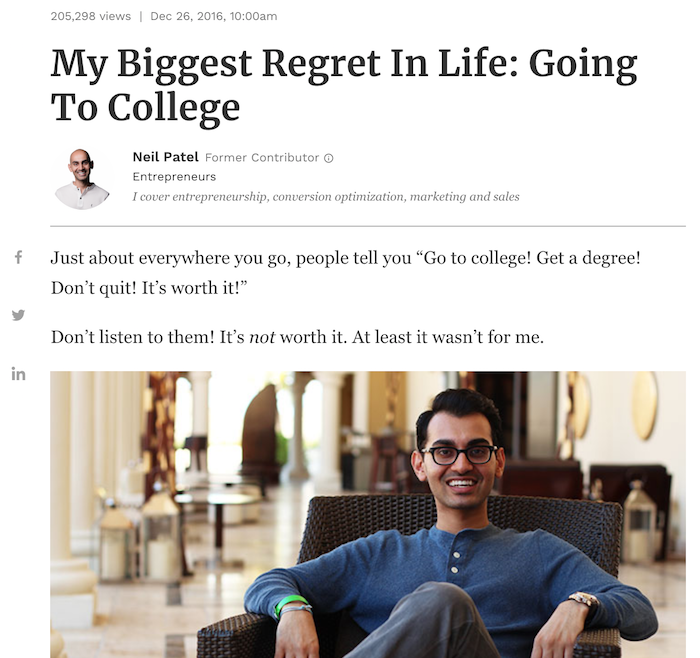 Forbes, of course, uses nofollows links, but it wasn't always that way.
Google can easily detect it is a guest post through verbiage on the page like "former contributor" or "guest contributor".
And even if they didn't label me as a guest contributor, Google can use other signals to figure out that this link shouldn't be given much weight when it comes to SEO just by reading the URL structure of that article on Forbes.
Let's take a closer look at the URL
https://www.forbes.com/sites/neilpatel/2016/12/26/my-biggest-regret-in-life-going-to-college/#5f74f3a91ac7
Do you see the big issue with the URL?
It's clear that an author can have their own subsection on Forbes through the "site" folder structure. Now that doesn't mean all "Forbes sites" are bad, but they clearly know which one is from staff writers because they are clearly marked.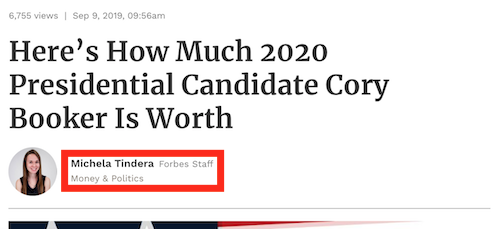 Those signals (among others) that Google probably won't disclose (nor should they) make it easy for Google to determine if a link is natural or earned.
If Google doesn't want to count a link from a specific author, they can just ignore it on their end.
So, whether it is nofollowed or followed, on their end they can systematically control whether a link should help your rankings or if it shouldn't.
As John Mueller from Google once said, in the context of bad links…
If we recognize them, we can just ignore them – no need to have you do anything in most cases.
Now keeping that in mind, here are the changes Google wants webmasters to make.
Google's new link policy
If someone pays you for a link or you are buying a link, Google now wants you to mark it as sponsored. Not just in the text of the site, but more so through the link attribute:
Rel="sponsored"
And if you build links through user-generated content, they want you to mark the links with the attribute:
Rel="ugc"
The same goes for site owners. For example, if you have a forum on your site because the content is user generated, the links that people place should contain a rel="ugc".
You can still use the nofollow attribute or if you want you can use a combination of the above. For example, if you have a paid link you can use:
Rel="nofollow sponsored"
So, what's the purpose of this change?
Well, here is how Google puts it:
All the link attributes — sponsored, UGC and nofollow — are treated as hints about which links to consider or exclude within Search. We'll use these hints — along with other signals — as a way to better understand how to appropriately analyze and use links within our systems.
Now if you are wondering what that means, Google is pretty much saying that adding these attributes will give them a better idea on if they should crawl the link or not. Or how they should analyze the link when it comes to indexing or SEO.
This change goes into effect March 1, 2020, and don't worry because you don't have to make modifications to your old links. The ones that were nofollow can just be left as nofollow.
And even in the future, if you decide to just use nofollow instead of "sponsored", you'll be fine.
What does all of this mean for SEOs?
As I mentioned earlier, I would provide my own insights and opinions on why Google is doing this.
We all know their algorithm is sophisticated and hard to game. But, just like any other algorithm or computer, it isn't perfect.
By webmasters and SEOs labeling the type of links they are building and the purpose of them, it will make it easier for Google to learn how we use different link types and it will help their algorithms more quickly and easily identify link types and the context they are used in.
For example, if thousands of people use rel="ugc" for links generated through guest posts, it may help train Google's algorithm that these links were actually created by random people instead of the webmaster and they should be discounted.
Of course, Google already can identify wikis, forum, and other types of user-generated content, but this helps them tighten things up and make things more accurate.
They can also decide to take a more relaxed stance on certain link types. For example, maybe they will decide to count UGC links when it comes to link building, but they may decide to only give it 1/3rd the weight of a naturally earned link.
In addition to that, this also provides them with more signals on if the URL linked to should be potentially crawled or ignored.
But in the long run, as their algorithm becomes more accurate, it's safe to say that the real solution to winning is putting the user first.
Their goal isn't to rank a site at the top that has "perfect SEO". They want to rank the site that people love the most.
Hence, you'll want to focus on creating an amazing user experience, building a great product/service, creating mindblowing content, and anything else your competition isn't doing.
As for link building though, links will always be hard to come by, so they will be part of their algorithm for the foreseeable future. And as the data shows, there is a strong correlation between links and rankings.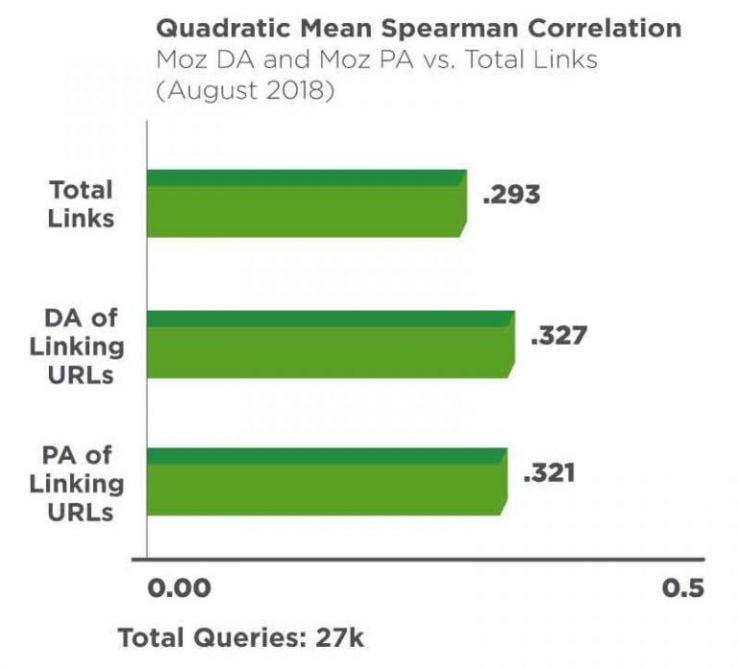 So one thing I would recommend is that you build as many links as possible, even if they are user-generated links. As long as they are from relevant sites, the referral traffic can generate you sales or leads. And if Google starts placing some value on these user-generated links, it can help boost your rankings.
Now that doesn't mean you should go out to forums and spam your link everywhere. It means you should go find all of the user-generated content sites, provide a ton of value, AND ONLY IF IT MAKES SENSE, add a link back to your site when it benefits the reader.
Slutsats
Over the next year or so you'll see adjustments in how SEOs build links.
First off you'll start seeing companies like Ahrefs and the SEMrush show you nofollow, dofollow, UGC, and sponsored backlinks. This one change will help SEOs build better links and spend their effort on the links that actually help with rankings.
Secondly, my hunch is UGC links will eventually carry some weight. Probably not a ton, but more than 0 as long as they are from relevant sites, the link is within context and it provides value to the end-user.
And lastly, most webmasters probably won't use sponsored or UGC attributes anytime soon. It will probably take another year before they really catch on, which means for now you will just have to focus your efforts on dofollow links.
So, what do you think about the new change?
Keyword Mapping. A Practical Guide for the Curious
Deciding whether a keyword should be targeted by a separate page or clustered with other keywords is a common problem in SEO. Keyword mapping is a process aimed at solving this.
Keyword mapping is popularly defined as assigning keywords to pages. But what you really need to solve the problem is assigning topics till content types. 
In this article, I'll explain the benefits of this approach and, more importantly, I'll show you the process. No templates required.
Fact 1. Google may see seemingly different keywords as the same topic.
For example, we rank for these keywords in the top 10 with a single page: 
"

seo basics"

"

how to use seo" 

"

beginner's guide to seo"

"

getting started with seo"

"

seo knowledge"
Fact 2. Conversely, Google may see seemingly similar keywords as different topics. 
For example, let's compare "digital marketing" with "online marketing." I'd say those two keywords are pretty close to each other. Google disagrees. 
The above two facts are also reasons why keyword mapping by just relying on keywords is not the optimal way. You won't know whether you're wasting your time targeting the same topic with different keywords or just "confusing" Google. 
But why content types instead of pages or even URLs? Because before you decide what page will be used to target the keyword, you'll need to identify the search intent of the keyword. And a good starting point for that is identifying the dominating type of content on the first page of Google. 
To sum up, the benefits of keyword mapping using topics and content types are: 
Seeing keywords the same way Google sees them: as topics and subtopics. 
Incorporating search intent into the process. 
Keeping an organized list of topics, which also helps to prevent duplicating content.
Note
Keyword mapping can't substitute keyword research. While keyword mapping is basically a form of
organizing
keywords, keyword research
provides
you the keywords and the confidence that: 
Your keywords have traffic potential.
You can match the search intent behind your keywords.
Your keywords will bring valuable traffic. 
You can rank for those keywords. 
Learn how to choose the right keywords with our full guide.
Going further, we'll look at two levels of using this method: the fast lane and the more thorough one. 
Learn more: What Is Semantic Search? How It Impacts SEO 
You'll need a keyword research tool that can do keyword grouping based on what's on the SERP, such as Ahrefs' Keywords Explorer. In the case of this tool: 
Enter your keywords
Open Matching terms report
Go to the Parent topics tab 
If you click on a Parent Topic, you will find separate topics "distilled" from your keywords. So for example, you will see keywords like "can babies get covid" and "babies and covid" grouped under the same topic. 
Sidenote.
To identify the Parent Topic, we take the #1 ranking page for your keyword and find the keyword responsible for sending the most traffic to that page.
At this level of keyword mapping, your target keyword is the Parent Topic (not the keywords inside that Parent Topic). 
The next step is to identify the content type. The easiest way to do this is to see what kind of content dominates the first three to five results in Google. 
Typical content types are:
Articles
Videos
Product pages
Product category pages
Landing pages 
As a result, assigning topics to content types will give you a super simple yet highly actionable database.
| Topic | Content type |
| --- | --- |
| Teething symptoms | Article |
| When do babies roll over | Article |
| Baby formula | Mixed (product pages on top) |
| When can babies have water | Article |
Sidenote.
What about secondary keywords or supporting keywords? We recommend picking them in the content creation phase as subtopics needed to cover a topic in full. Learn a few ways you can find them här.
So this is the fast method. The great thing about it is that it automates keyword grouping by using real SERP data (and not just semantics). 
However, it has its downsides too. Sometimes, it "hides" less popular topics that could potentially be targeted with a separate page. Here's why. 
The parent keyword is derived from the top-ranking page on the SERP. If Google thinks that the best answer to the query is found on a page that is targeting a broader topic, it will still use it. This may result in a confusing SERP like this one: 
This kind of situation probably won't happen too often. But if you want to squeeze everything out of your keyword mapping process, you need to go to level 2. 
In level 2, we're going to take a closer look at the Parent Topics to see what's in them. 
First, you should pick a Parent Topic.
Sort keywords inside the topic by KD (Keyword Difficulty). Big differences in KD will be an indication of a different set of pages on the SERP.
If you see a keyword with a significantly different KD than the Parent Topic, click on the SERP button.
See if the top-ranking pages, excluding the first result, talk about the keyword instead of the Parent Topic. You can use the Compare with feature for a quick overview of the situation. The lower the SERP similarity score, the higher the probability you're looking at two different topics. 
Let's look at a couple of examples. 
In the first example, we've got a keyword with a KD score that's 20 higher than the Parent Topic. Upon investigating, we see that we may be dealing with two separate topics: The SERP similarity is quite low. Also, there is only one common result, while other pages target the keyword directly. 
Next example. Here we have "teething symptoms" (KD 65) and "when do babies get molars" (KD 28). Looking at SERP similarity, we see that this, again, may be a case of two topics. 
But there's more. Only the bottom results target the keyword directly. Others talk about teething timelines, stages, charts, etc. This is a hint for yet another way to rank for the keyword. 
Generally speaking, when you see that you're dealing with a separate topic "in disguise," the decision comes down to:
Targeting the Parent Topic anyway. For example, if the top result is a featured snippet, you may be able to win it with a page on a relevant broader topic. 
Marking the keyword as a separate topic and targeting it directly with a separate page. In this case, add that keyword as a topic to target and note down the content type. 
Turning to SERP analysis in tougher cases (like our example above). 
Slutgiltiga tankar 
Feel free to customize the process and add your own data points. If you feel like going a step further and assigning URLs, your website folders, or introducing some kind of prioritization (e.g., business potential), this won't hurt. 
However, keep in mind that keyword mapping is not a good way to design your entire website structure. Most often than not, not all pages on your site should be search-based. 
What are the next steps after keyword mapping? 
Got comments or questions? Ping me på Twitter eller Mastodont. 
Of all the many, many functions available in Google Ads, I have a few that are my favorites. And sitelink assets – previously known as sitelink extensions – are at the top of my list.
Why? Because they're so versatile. You can do almost anything with them if you think through your strategy carefully.
For example, you can use the mighty sitelink in your advertising to:
Promote low search volume themes.
Push lagging products out the door.
Maximize hot sellers.
Highlight certain product categories.
Answer common questions.
Handle PR problems.
And that's just a start! Sitelink assets can almost do it all.
Best Practices For Using Sitelink Assets Extensions
If you truly want to get the most out of your sitelinks, you need to think about your intention.
To help you with that, I'm going to lay out a few sitelink guidelines.
1. Get clear on your objectives. Before you start, you need to think about your goals. What are you trying to achieve with these assets? Are you advertising products or services? Will the asset work well with both branded and non-branded keywords? Your answers to these questions will help determine if your sitelinks are versatile and useful to the searcher.
2. Use sitelinks as part of your larger strategy. Don't think of your sitelinks in isolation. You should also consider the accompanying ad, landing page, and other assets. Make sure they all work together in service to your overarching strategy.
3. Use a mix of sitelinks. Sitelinks can serve multiple purposes, so make sure you're using a variety. For example, you don't want to use every sitelink on an ad to promote on-sale products. Instead, use a mix. One could promote an on-sale product, one could generate leads, one could highlight a new product category, and one could direct prospective clients to useful information.
4. Create landing pages for your sitelinks. Ideally, you want to send users to landing pages that tightly correlate with your sitelink instead of just a regular page on your website.
5. Track sitelink performance and adjust. It's not enough to set up sitelinks. You should also track them to see which links are getting traction and which ones are not. This doesn't mean that all sitelinks should perform equally (more on this below), but it does mean they should perform well given their type and objectives.
Why it's Better To Use A Mix Of Sitelink Assets
Let's dive deeper into this idea of using a mix of sitelinks by looking at an example.
In a new client account, we created four different types of sitelinks:
Two sitelinks are product-focused (as requested by the client).
One sitelink connects users with an engineer to learn more about the product ("Speak to an Engineer"). It has more of a sales focus.
One sitelink allows users to learn more about the products without speaking to an engineer ("What is?").
The "What is?" sitelink is outperforming the "Speak to an Engineer" sitelink when we measure by CTR. While we need more data before making any changes, I predict we'll eventually swap out the sales-y "Speak to an Engineer" sitelink for something else.
The fact that the educational link ("What is?") is performing better than the sales-y link ("Speak to an Engineer") isn't too surprising in this case. The product is a new, cutting-edge robot that not many people are aware of, yet. They want more info before talking to someone.
By using a mix of sitelinks, and assessing the performance of each, we gained a lot of valuable information that is helping to guide our strategy for this account. So going with a mix of sitelinks is always a good idea. You never know what you'll discover!
Sitelink Assets Examples
Now, let's look at some specific examples of sitelink assets in Google Ads.
Example 1: Chromatography
Application Search: This ad is for a highly technical product that can be used in a wide variety of applications. (Chromatography is a laboratory technique for separating mixtures.) So putting "application search" in a sitelink here might make sense. It helps prospective clients find what they're looking for.
Sign up and Save Big: A good sitelink for lead generation and potential revenue.
Technical Support: I'm not a big fan of putting technical support in sitelinks. Tech support seems more targeted to current users rather than prospective users. But who knows, maybe they really do want to help current users get tech support via their advertising.
Guides and Posters: Again, this sitelink is a bit unusual, but it might be appropriate for this product. Perhaps people are downloading branded posters and posting them in their workplaces. If so, it's a great way to build brand awareness.
Example 2: Neuroscience Courses
I love everything about these sitelinks! The advertising is using them to reach people in all phases of the buyer journey.
For people not ready to commit:
Study Neuroscience: This sitelink is broad and informational. It's helpful to people who have just started to explore their options for studying neuroscience.
Get Course Brochure: This sitelink is also great for people in the research phase. And while we mostly live in an online world, some people still prefer to consume hard-copy books, brochures, etc. With this sitelink, the school is covering its bases.
For people getting close to committing:
Online Short Course: This is the course the school offers. It's a great sitelink for those almost ready to sign up.
For people ready to sign up:
Register Online Now: This is the strongest call to action for those ready to commit. It takes people directly to the signup page.
Example 3: Neuroscience Degrees
Let's look at another example from the world of neuroscience education: this time for a neuroscience degree program.
In contrast to the previous two examples, the sitelinks in this ad aren't as strong.
Academics Overview: This sitelink seems more appropriate for a broad term search, such as a search on the school's name. If the searcher is looking for a specific degree program (which seems like the intention based on the term and the ad), the sitelinks should be something specific to that particular degree program.
Scholarships: Just as with the above sitelink, "Scholarships" doesn't seem very helpful either. The topic of scholarships is important—but probably doesn't need to be addressed until the person determines that this school is a good fit.
Example 4: Code Security
Next, let's look at two Google search ads for code security products.
The sitelinks in these two ads look like typical assets you'd find for SaaS, cloud-based, or tech companies. They click through to a lot of helpful information, such as product plans and success stories.
I particularly like the Most Common Risks sitelink in the second ad. It leads to a helpful article that would be great for engaging top-of-funnel leads.
On the flip side, I'm not a big fan of the Blog sitelink in the first ad. "Blog" simply isn't very descriptive or helpful.
Still, there are no right or wrong sitelinks here. And it would be interesting to test my theory that blog content is not a top-performing asset!
Sitelink Assets Are More Than An Afterthought
I hope I've convinced you of the usefulness and versatility of sitelinks when created with specific objectives that align with your broader strategy.
So don't create your sitelink assets as an afterthought.
Because if you give them the careful consideration they deserve, they'll serve you well.
Note: Google sitelink assets were previously known as sitelink extensions and renamed in September 2022.
Fler resurser:
---
Featured Image: Thaspol Sangsee/Shutterstock
AI-innehåll i sökresultat
Google has released a statement regarding its approach to AI-generated content in search results.
The company has a long-standing policy of rewarding high-quality content, regardless of whether humans or machines produce it.
Above all, Google's ranking systems aim to identify content that demonstrates expertise, experience, authoritativeness, and trustworthiness (E-E-A-T).
Google advises creators looking to succeed in search results to produce original, high-quality, people-first content that demonstrates E-E-A-T.
The company has updated its "Creating helpful, reliable, people-first content" help page with guidance on evaluating content in terms of "Who, How, and Why."
Here's how AI-generated content fits into Google's approach to ranking high-quality content in search results.
Quality Over Production Method
Focusing on the quality of content rather than the production method has been a cornerstone of Google's approach to ranking search results for many years.
A decade ago, there were concerns about the rise in mass-produced human-generated content.
Rather than banning all human-generated content, Google improved its systems to reward quality content.
Google's focus on rewarding quality content, regardless of production method, continues to this day through its ranking systems and helpful content system introduced last year.
Automation & AI-Generated Content
Using automation, including AI, to generate content with the primary purpose of manipulating ranking in search results violates Google's spam policies.
Google's spam-fighting efforts, including its SpamBrain system, will continue to combat such practices.
However, Google realizes not all use of automation and AI-generated content is spam.
For example, publishers automate helpful content such as sports scores, weather forecasts, and transcripts.
Google says it will continue to take a responsible approach toward AI-generated content while maintaining a high bar for information quality and helpfulness in search results.
Google's Advice For Publishers
For creators considering AI-generated content, here's what Google advises.
Google's concept of E-E-A-T is outlined in the "Creating helpful, reliable, people-first content" help page, which has been updated with additional guidance.
The updated help page asks publishers to think about "Who, How, and Why" concerning how content is produced.
"Who" refers to the person who created the content, and it's important to make this clear by providing a byline or background information about the author.
"How" relates to the method used to create the content, and it's helpful to readers to know if automation or AI was involved. If AI was involved in the content production process, Google wants you to be transparent and explain why it was used.
"Why" refers to the purpose of creating content, which should be to help people rather than to manipulate search rankings.
Evaluating your content in this way, regardless of whether AI-generated or not, will help you stay in line with what Google's systems reward.
---
Featured Image: Alejandro Corral Mena/Shutterstock