Hur lång tid det tar att ranka om en webbplats med fasta kvalitetsproblem
Googles John Mueller discussed how long it takes for Google to re-crawl and re-rank a site when significant changes to web page quality have been made.
In a Google SEO Office Hours hangout, someone asked John Mueller about unstable rankings in the Google search results pages (SERPs).
He related that the site in question was fluctuating from page one to page four then back to page one results to subsequently slipping back into the abyss of page four of Google's search results again.
Mueller answered that maybe it was because there were quality issues that needed to be improved on the site.
In a follow up question the member who asked the SERP fluctuation question next asked how long it takes Google to take major changes in a website into account and then re-rank that site.
He asked:
"Could you please let me know how much time it takes?"
Google's Mueller paused as if thinking and repeated the question as he presumably considered how to best answer the question.
Mueller said:
"How long that takes… yeah… it's hard to say…it's really hard to say…"
Screenshot of Google's John Mueller Pausing to Answer a Question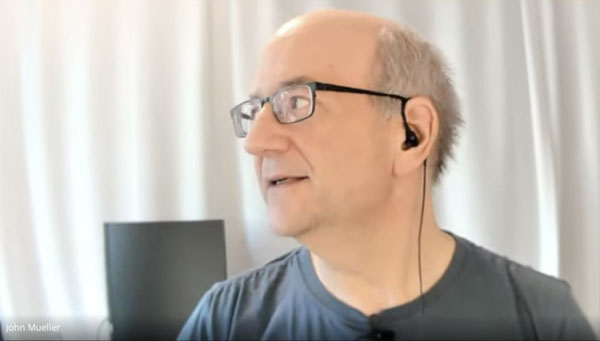 He then offered an answer comprised of a scenario where major changes were made and how Google would subsequently handle those changes.
Mueller first highlighted the first step of crawling the content and how long that would take.
Mueller answered:
"It's like, on the one hand, we have to re-crawl the content… like if you make significant changes on your website we have to re-crawl that.

And to re-crawl that across a larger site that can take a bit of time, especially if you make bigger changes like across everything if you change the structure of your website.

I would assume something like that, just purely from a technical point of view would take… I don't know… maybe a month."
Mueller next answered how long it would take to then take that crawled content, make sense of it and then re-rank it.
John Mueller:
"And for understanding the quality changes overall, I would see that as something where it probably takes a few months on our side to actually understand that this website has significantly changed.

So not something that you can fix in a week. It's probably more like… I don't know… three, four months, something like that, if you make significant quality changes."
Might Take Months to Fix Quality Issues
Google's Mueller highlighted that improving a website (as opposed to a few pages) is a process that takes at least two time-consuming steps.
The first step is crawling the changed and updated site might take about a month. The second step of understanding the site and what all the pages are about takes even longer, up to approximately four months.
Mueller did not affirm a firm date for how long it would take to understand and re-rank a site that had fixed quality issues. His statement was accompanied with qualifying phrases like, "something like that" to indicate that this may be a generalized answer for a hypothetical website.
His answer is very helpful because it helps to contextualize what is happening on Google's end and to be able to communicate that to a client or to understand it for oneself.
Citat
Watch the Google Office Hours hangout beginning at the 24 minute mark.
Google ska betala $391,5 miljoner för uppgörelse över platsspårning, säger statliga AG:er
Google has agreed to pay a $391.5 million settlement to 40 states to resolve accusations that it tracked people's locations in violation of state laws, including snooping on consumers' whereabouts even after they told the tech behemoth to bug off.
Louisiana Attorney General Jeff Landry said it is time for Big Tech to recognize state laws that limit data collection efforts.
"I have been ringing the alarm bell on big tech for years, and this is why," Mr. Landry, a Republican, said in a statement Monday. "Citizens must be able to make informed decisions about what information they release to big tech."
The attorneys general said the investigation resulted in the largest-ever multistate privacy settlement. Connecticut Attorney General William Tong, a Democrat, said Google's penalty is a "historic win for consumers."
"Location data is among the most sensitive and valuable personal information Google collects, and there are so many reasons why a consumer may opt out of tracking," Mr. Tong said. "Our investigation found that Google continued to collect this personal information even after consumers told them not to. That is an unacceptable invasion of consumer privacy, and a violation of state law."
Location tracking can help tech companies sell digital ads to marketers looking to connect with consumers within their vicinity. It's another tool in a data-gathering toolkit that generates more than $200 billion in annual ad revenue for Google, accounting for most of the profits pouring into the coffers of its corporate parent, Alphabet, which has a market value of $1.2 trillion.
The settlement is part of a series of legal challenges to Big Tech in the U.S. and around the world, which include consumer protection and antitrust lawsuits.
Though Google, based in Mountain View, California, said it fixed the problems several years ago, the company's critics remained skeptical. State attorneys general who also have tussled with Google have questioned whether the tech company will follow through on its commitments.
The states aren't dialing back their scrutiny of Google's empire.
Last month, Texas Attorney General Ken Paxton said he was filing a lawsuit over reports that Google unlawfully collected millions of Texans' biometric data such as "voiceprints and records of face geometry."
The states began investigating Google's location tracking after The Associated Press reported in 2018 that Android devices and iPhones were storing location data despite the activation of privacy settings intended to prevent the company from following along.
Arizona Attorney General Mark Brnovich went after the company in May 2020. The state's lawsuit charged that the company had defrauded its users by misleading them into believing they could keep their whereabouts private by turning off location tracking in the settings of their software.
Arizona settled its case with Google for $85 million last month. By then, attorneys general in several other states and the District of Columbia had pounced with their own lawsuits seeking to hold Google accountable.
Along with the hefty penalty, the state attorneys general said, Google must not hide key information about location tracking, must give users detailed information about the types of location tracking information Google collects, and must show additional information to people when users turn location-related account settings to "off."
States will receive differing sums from the settlement. Mr. Landry's office said Louisiana would receive more than $12.7 million, and Mr. Tong's office said Connecticut would collect more than $6.5 million.
The financial penalty will not cripple Google's business. The company raked in $69 billion in revenue for the third quarter of 2022, according to reports, yielding about $13.9 billion in profit.
Google downplayed its location-tracking tools Monday and said it changed the products at issue long ago.
"Consistent with improvements we've made in recent years, we have settled this investigation which was based on outdated product policies that we changed years ago," Google spokesman Jose Castaneda said in a statement.
Google product managers Marlo McGriff and David Monsees defended their company's Search and Maps products' usage of location information.
"Location information lets us offer you a more helpful experience when you use our products," the two men wrote on Google's blog. "From Google Maps' driving directions that show you how to avoid traffic to Google Search surfacing local restaurants and letting you know how busy they are, location information helps connect experiences across Google to what's most relevant and useful."
The blog post touted transparency tools and auto-delete controls that Google has developed in recent years and said the private browsing Incognito mode prevents Google Maps from saving an account's search history.
Mr. McGriff and Mr. Monsees said Google would make changes to its products as part of the settlement. The changes include simplifying the process for deleting location data, updating the method to set up an account and revamping information hubs.
"We'll provide a new control that allows users to easily turn off their Location History and Web & App Activity settings and delete their past data in one simple flow," Mr. McGriff and Mr. Monsees wrote. "We'll also continue deleting Location History data for users who have not recently contributed new Location History data to their account."
• This article is based in part on wire service reports.