How Sky News quietly became Australia's biggest news channel on social media
He didn't. Only a week into his tenure, Alan Jones had fewer than 60,000 viewers. By comparison, the ABC's flagship news program 7.30 gets more than ten times that and both Seven and Nine's evening news bulletins regularly reach more than a million viewers.
But the coverage of Jones and Sky News ratings was missing a much more interesting story.
Sky News Australia had successfully built a Fox News-like online operation in Australia, making it one of Australian media's digital leaders with a reach that dwarfs its terrestrial audience numbers.
Remarkably, it has taken just over a year to cement its place as one of the nation's loudest online voices, despite having a significantly smaller operation than its competitors. On YouTube, its videos have been viewed 500 million times, more than any other Australian media organisation.
Facebook posts from its Page had more total interactions last month than the ABC News, SBS News, 7News Australia, 9 News and 10 News First Pages – and they've had more shares than all of them combined.
University of NSW's Associate Professor David McKnight, a media researcher who's written books including "Rupert Murdoch: An Investigation of Political Power", said he was surprised to hear about the size of Sky News Australia's digital audience.
"Most people look at the live viewership and they see very small numbers on these shows. What these numbers show is the possibility of a very big audience in Australia and beyond," Dr McKnight said.
Sky News has grown this audience by focusing on producing highly partisan opinion content targeted at a global audience.
A new approach to digital
When former editor-in-chief of the Australian Paul Whittaker took over as head of Sky News Australia in late 2018, he was told to "continue expanding Sky News to reach more Australians".
The channel had already changed from a 24/7 cable news channel best known for being consumed by politicians and their staffers to a station increasingly watched by average Australians, particularly as it began to broadcast on free-to-air in regional areas.
"Most people see Sky News' impact as its effect on business leaders, politicians, the political class, which is very influential but is small," Dr McKnight said.
Its television audience has grown since Whittaker took over. Sky News Australia is one of the top channels on Foxtel, reaching more than 800,000 unique viewers. Still, the channel's ratings pale in comparison to its free-to-air competitors. But the real growth has been happening on the digital side.
According to current and former Sky News Australia employees, two things happened in mid-2019 that changed the course of the channel's digital operation.
The first was hiring digital editor, Jack Houghton, previously at the Daily Telegraph. The second was more intense discussions with tech companies about their digital strategy. In August the company announced new partnerships with YouTube and Facebook. (As part of these partnerships, the company also stopped posting videos to Twitter.)
Following these discussions and partnerships, there was a push to produce a specific type of video that would perform well on these platforms. Specifically, that meant videos longer than three minutes.
This favoured opinion such as editorials or panel interviews over news content, which is generally shorter and more expensive to produce.
According to one former Sky News Australia employee, the digital side of operations "gained credibility in News Corp" as videos were cross-posted across different News Corporation websites and were embedded in articles.
The channel now puts out dozens of videos every day which are between three and six minutes in length on average, primarily taken from their 'After Dark' opinion coverage produced each evening.
Sky News Australia goes viral
Following this shift in strategy, Sky News Australia has experienced explosive growth.
According to social media analytics tool Social Blade, the YouTube channel had fewer than 70,000 subscribers in June 2019. The channel didn't upload a video between February 2017 and April 2019.
Today, it has more than 900,000. This puts it second among Australian news publications behind only ABC News, which has more than 1.2 million.
But Sky News Australia's videos have been viewed 500 million times – 60 million times more than ABC News' total views. Their videos are being watched more than 3.7 million times a day on average — more than their monthly numbers halfway through last year.
Social Blade predicts Sky News Australia's total subscription numbers will overtake the ABC in early 2021 if current trends continue.
Sky News Australia's Facebook following is the smallest out of all of Australia's television news channels' main Pages, except for Channel 10. It has accumulated just 730,000 likes, far behind ABC News' 4.13 million.
But its reach likely beats all others. Facebook doesn't offer publicly accessible reach or viewing metrics, but interactions — reactions, comments and shares — offer an idea.
And on that metric, Sky News Australia had 5.69 million interactions in October 2020 out of the 16.06 million recorded by Australia's major broadcast television's Facebook Pages. The account had more than 890,000 of the 1.6 million shares across all the Pages.
Sky News Australia's videos are also hosted on their website. Metrics for these views aren't publicly available, but in July it was reported that the website had recorded an average of 50 million views per month in 2020, up more than 400 per cent year on year.
The secret to Sky News Australia's enormous number of interactions isn't posting frequently.
The Pages' interaction rate — a metric that shows you how engaging a post is by dividing the number of interactions an average post gets by the account's follower count — is off the charts compared to other news media outlets.
Sky News Australia's average interaction rate is 0.19 per cent. The average for its peers is between 0.04-0.05 per cent. Second to Sky News Australia is 10 News First at 0.07 per cent.
Part of the reason for their success appears to be their close coverage of international affairs, particularly the topics favoured by America's right-wing media ecosystem.
Culture war content for a global audience
Unlike cable or terrestrial television, Sky News Australia's digital content isn't limited to Australian audiences. In fact, part of the strategy has been to try to cater to a potentially much larger global audience.
Not a single one of their top 10 videos on YouTube by views is about Australia. Of those videos, five are about US politics, three are about COVID-19, one is about Jeffrey Epstein and another is about bears wandering into shops. Each of them have millions of views.
Although there are more Australian videos in their top fifty, it's still dominated by videos about non-Australian issues.
Their most popular videos are primarily about politically contentious, culture war adjacent figures like Donald Trump, Greta Thunberg and Meghan Markle.
And many feature intentionally misleading or sensationalist content. Three of the Sky News Australia's 15 most viewed videos contend or imply that Joe Biden is suffering from cognitive problems — something not supported by evidence.
Alan Jones has been among the most sensationalist out of all the hosts — and he's been rewarded with views.
His September video downplaying the risk of COVID-19, "Australians must know the truth – this virus is not a pandemic – Alan Jones" has been viewed 2.2 million times on YouTube. (A pandemic was declared by WHO in March and the virus had killed nearly a million people worldwide, including 800 Australians, by the time the video was published).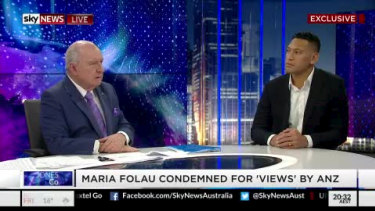 Another video implying that the Democrats had committed election fraud, "There is 'something odd about postal votes which have magically materialised' for Biden" had been viewed more than 330,000 times in 18 hours on YouTube. The video had been reviewed by Facebook's third-party checker Politifact and found to be 'partly false information'.
Two of the biggest periods of growth in YouTube subscribers and views since the middle of last year have been in May this year, when the channel extensively covered allegations of China covering up COVID-19, and in September, during the channel's pro-Trump coverage of the lead up to the US election.
According to Dr McKnight, the far reach of opinion content online challenges what he calls the "hopeful description" that Sky News Australia is balanced between news and opinion.
"This upsets the way that Sky News Australia is being 'straight up' news in the daytime and right-wing after dark," he said. "In digital, the right-wing material is 24/7."
And this digital growth is introducing new types of audiences to the brand as well as earning them money, according to Sky News Australia's Whittaker. "[YouTube]'s a growing channel, both for in terms of reaching a younger demographic, as well as in terms of a source of revenue," he told Mediaweek.
A US presidential campaign exclusive on Sky News Australia
Sky News Australia host Sharri Markson conducted a 20-minute interview with former White House adviser and Trump campaign manager Steve Bannon several weeks ago.
Bannon is awaiting trial on fraud charges and is accused of being part of an effort to spread misinformation about the US election and COVID-19. He was recently suspended from Twitter and had content deleted off YouTube for saying he'd like to see National Institute of Allergy and Infectious Diseases director Anthony Fauci's head on a stick.
In the interview, filled with unproven allegations left unchallenged by Markson, Bannon made a new claim regarding the Hunter Biden laptop saga.
Nearly 5 million people have watched the interview on YouTube. Clips have been reposted on Facebook and Twitter and been viewed hundreds of thousands of times. News articles about the interview's claims had been written — including by other Australian News Corporation publications — and widely shared.
Why Bannon decided to make what he considered an impactful announcement to do with the US presidential campaign on a Australian television station with small viewership numbers wouldn't have made sense viewed through the lens of traditional reach.
But Sky News Australia isn't just a small Australian television station anymore.
Quietly, almost without anyone noticing, Sky News Australia had cemented itself as an Australian digital juggernaut broadcasting to the whole world.
This story was first published on businessinsider.com.au.
5 Considerations for the Future of X Following Elon's Anti-Advertiser Comments This Week
So what comes next for Elon Musk's ambitious "everything app" now that he's insulted those in charge of the platform's key revenue stream?
Will X be forced to shut down? Will Elon pay out of his own pocket to keep it running? Can X possibly make enough from subscriptions to offset its ad losses?
There are a range of considerations, and while we don't have all the answers (because only Elon and Co. have the full data), based on reported insights, here's what we do know about how X is currently placed.
Will X go bankrupt?
Maybe. Again, we don't have a full overview of X's financial situation, because as a private company, it's no longer required to report quarterly performance statements.
But we do know that X was already set to post a loss for FY 23 before this latest advertiser exodus.
Based on previous data reported by Twitter, the platform generated around $3.96 billion from ads in 2022. In September, Elon said that the company's ad revenue has halved since he took over, due to concerns about his new direction for the platform, as well as broader market pressures, so we can assume, then, that before this latest ad pause, X had been on track to bring in around $2 billion in ad revenue for the year.
Which is still a lot, and even with a range of advertisers pausing their campaigns, that's only going to impact this quarter, which, based on a recent report from The New York Times, will cost X around $75 million in ad revenue overall.
So the platform's still likely on track to bring in around $1.9 billion for the year. Which is a lot less than what Twitter had been generating, but even so, that's a lot of money that the company's churning over. So it's not exactly close to shutting down entirely, depending on costs.
Which is the other complexity in this equation.
In 2022, Twitter's costs were set to exceed $5 billion before Musk took over at the app, with around $3.8 billion of that in staff costs alone. That's why Elon set about his drastic cost-cutting plan, which included a cull of 80% of staff, shutting down regional offices, re-negotiating rent deals, closing down a key data center, etc.
We don't know what the full impacts of these cost-saving measures has been, but we can estimate that, in combination, X's costs may have been brought down to around $2 billion overall, though there have also been additional costs in GPUs for xAI and other elements that Musk and his team have implemented (it's unclear if and how these costs are attributed to X Corp, and how that relates to X's operating margins).
But for the sake of this exercise, let's say that X's costs are now $2 billion, and its income from ads is $1.9 billion or so. X is also seemingly on track to bring in an additional $650 million from subscriptions and data/API sales, so overall, even with this ad boycott, X is still looking okay, maybe.
But then there's also the debt load that X took on as part of Musk's takeover deal. In order to acquire the full funding for his $44 billion offer for the platform, Elon also took on debt that will cost X an estimated $1.2 billion per year in interest payments.    
So X is currently looking at income of around $2.5b for the year, and costs of $3.2b. Which means that any further loss will only compound this, and if advertisers stay away into the new year, things start to look pretty bleak pretty fast.
So, in summary, right now, for this year, X will probably be okay. But as the losses mount, by March next year, if things don't turn around, X could be facing billions in losses, which may indeed end up putting it out of business.
Elon's the richest man in the world, couldn't he just keep X afloat with his own cash?
Probably, but it's not necessarily as simple as it seems.
Elon does, of course, have access to billions in capital, and various means to raise more. But at the same time, he can't just head to the bank and take out a few billion from the ATM to keep X going.
Musk has previously stated that the majority of his wealth is tied up in Tesla, SpaceX, The Boring Company, etc. So while he does have hundreds of billions to his name, he's not necessarily liquid, and when he wants to cash out, there are processes that must be followed, and impacts as a result, so it's not as simple as just paying it out of his personal wallet.
In order to find his purchase of Twitter, for example, Elon sold around $7 billion of Tesla stock. Which did not sit well with Tesla investors, who essentially then forced him to promise not to sell any more Tesla stock due to fears that it could tank the company's value.
Musk also borrowed $1 billion from SpaceX around the time of his Twitter acquisition, which has since been repaid.
So, essentially, Musk can fund X as an ongoing project, but pumping billions into something with no return is not smart business, and won't be as easy as just transferring Tesla money into X's coffers.
Maybe other backers will help him, and be willing to take some hits, if Elon can sell them on a path to profitability. But again, telling your key revenue partners to "go f— yourself" is probably not going to win him a lot of corporate support, even from those who view him as a genius.
X is moving towards subscriptions, will that offset its ad losses?
No. Not even close, though that did, initially, seem like Musk's ambition.
In November last year, shortly after Elon took over at Twitter, he outlined a vague plan to make subscriptions a key revenue driver, eventually accounting for 50% of Twitter's overall revenue intake.
As per the above figures, that would mean that X would need to be bringing in more than $2 billion per year from subscriptions at its FY 2022 income levels, which equates to around 12 million paying subscribers at X's highest priced subscription tier.
Thus far, however, X hasn't even been able to convince a million people to pay for X Premium.
Though you can see the idea, conceptually, and why Musk thought that this was a viable option. Elon's belief is that the majority of people support his "free speech" push in the app, and at 250 million+ daily active users, convincing just 5% of them to pay seems like an achievable target.
Evidently, that hasn't been the case.
And while upping the cost of API access, and selling verification to brands has helped to bring in more supplementary revenue, it's not close to bringing in anywhere near what X generates from ads.
Even at its now lower ad revenue intake, of around $2 billion for the year, its other income streams are far from generating 50% of its overall revenue.
Last month, X said that subscriptions and data sales now make up 25% of its overall intake, which seems like a positive, but that's mostly due to X's overall ad revenue declining so much, not its subscription intake increasing.
Will advertisers come back?
This, ideally, would be what X is aiming for, but Musk's comments this week indicate that he's not going to any effort to rectify the situation.
In fact, he's actively pushing ad partners away, while also insulting publications and journalists, who have long been the key drivers of information flow in the app.
The disconnect here seems to be that Elon is associating advertisers abandoning his app with his own ideological view on what X is, and where it stands within the broader "free speech" debate.
This is evident when you look at Musk's specific wording in his criticism of advertisers this week:
"If somebody is going to try to blackmail me with advertising, blackmail me with money, go fuck yourself. Go fuck yourself. Is that clear? I hope it is."
Musk's view is that advertisers are trying to make X tow the line on perceived censorship, which is not actually what's happening.
As articulated by YouTube star Hank Green:
"Fortune 500 companies aren't overly moral actors. They make decisions based on whether they think they will make more or less money. Advertisers are not leaving Twitter because they are trying to make a statement or achieve some goal (which would be a boycott). They are leaving Twitter because they aren't sure whether advertising on the platform is delivering negative or positive value, and why spend a bunch of money doing something that might actually be hurting you."
Musk's viewing this from an ideological standpoint, but as Green notes, his business partners are worried about their respective brand value, not controlling what can and cannot be said.
That misunderstanding is at the core of Musk's defiance, and his stance against advertiser pressure.
Will Elon see it that way, and look into potential failings in the platform's ad serving system, and indeed his own comments, and how they represent X as an entity?
It seems, at this stage, that Elon is determined to make a stand, that he will not be silenced, even if what he shares is wrong/misinformed/harmful, etc.
That being the case, I'm not sure how Yaccarino and her team are going to be able to pitch ad partners on an improved situation moving forward.
How long does X have?
Well, all of this, of course, is variable, and dependent on a range of factors along the way.
Maybe, Elon does decide that he wants to work with ad partners, and improve the situation, and maybe that then secures X's user base, and brings back ad partners as a result. X still has hundreds of millions of active users, and offers significant advertising opportunity as a result, so there is still a chance that X can turn things around once again.
But right now, most of X's growth plans are still vague, while Elon has shown no interest in re-aligning the platform in this respect.
X is looking to implement payments, but is years away from making this a reality. And even if does bring payments into the app, why would people use such a service?
X is rolling out its Grok AI chatbot to more users, but most people already use ChatGPT, and there's not really a significant differentiation between AI chatbots to make this a more attractive option.
X has added jobs, is looking at dating, and is pushing for more long-form text and video content, all of which is already available in more fully-formed, functional offerings in other apps.
With no big, game-changing advances on the horizon, and Elon standing firm on his advertising stance, I imagine that X could be in significant trouble by March next year, as its Q1 results will show just how far off it is, and how much of a loss it's facing as a result.
X won't necessarily report this publicly, but that's when you're likely to see more cost-cutting from the app, which will be a signal that it's in serious trouble. And given that Musk has already cut most elements to the bone, it may well be staring down a massive loss, which could see it considering bankruptcy mid next year.
Things might change, X might re-assess its stances, and this could end up being a blip in its longer-term trajectory. But right now, Elon seems determined to die on his "free speech" hill, cheered on by his many fans, who hang on his every utterance, desperate for his acknowledgment in any form.
If those are the people Musk really wants to impress, then X may well end up being the cost.
And right now, Elon seems just fine with that.  
With outburst, Musk puts X's survival in the balance
Even after Elon Musk gutted the staff by two-thirds, X, formerly Twitter, still has around 2,000 employees, and incurs substantial fixed costs like data servers and real estate
– Copyright POOL/AFP/File Leon Neal
Thomas URBAIN
Elon Musk's verbal assault on advertisers who have shunned X (formerly Twitter) threatens to sink the social network further, with the tycoon warning of the platform's demise, just one year after taking control.
"If somebody's gonna try to blackmail me with advertising, go fuck yourself," a visibly furious Musk told an interviewer in New York in front of an audience of the US business elite this week.
Musk was lashing out at the advertisers who had abandoned his platform after Media Matters, a left-wing media watchdog group, warned big companies that their ads were running aside posts by neo-Nazis.
Walmart on Friday was the latest to join the exodus, following the footsteps of IBM, Disney, Paramount, NBCUniversal, Lionsgate and others.
The latest controversy broke earlier this month when Musk declared a tweet exposing an anti-Semitic conspiracy theory as the "absolute truth."
Musk apologized for his tweet, even taking a trip to Israel to meet with Prime Minister Benjamin Netanyahu, but on Wednesday he targeted his anger squarely at advertisers.
"It doesn't take a social media expert to know that publicly and personally attacking the people in companies that pay X's bills is not going to be good for business," said analyst Jasmine Enberg of Insider Intelligence.
"Most advertiser boycotts on social media companies, including X, have been short lived. There's a potential for this one to be longer," she added.
Musk said the survival of X could be at stake.
"What this advertising boycott is going to do is kill the company," Musk said.
"Everybody will know" that advertisers were those responsible, he angrily added.
– Bankruptcy looms? –
Even before the latest bust up, Insider Intelligence was forecasting a 54-percent contraction in ad sales, to $1.9 billion this year.
"The advertising exodus at X could accelerate with Musk not playing nice in the sandbox," said Dan Ives of Wedbush Securities.
According to data provided to AFP by market data analysis company SensorTower, as many as half of the social network's top 100 US advertisers in October 2022 have already stopped spending altogether.
But by dropping X, "you are opening yourself up for competitors to step into your territory," warned Kellis Landrum, co-founder of digital marketing agency True North Social.
Advertisers may also choose to stay for lack of an equivalent alternative.
Meta's new Threads platform and other upstarts have yet to prove worthy adversaries for the time being, Landrum argued.
Analyst Enberg insisted that "X is not an essential platform for many advertisers, so withdrawing temporarily tends to be a pretty painless decision."
Privately held, X does not release official figures, but all estimates point to a significant drop in the number of users.
SensorTower puts the annual fall at 45 percent for monthly users at the start of the fourth quarter, compared with the same period last year.
Added to this is the disengagement of dozens of highly followed accounts, including major brands such as Coca-Cola, PepsiCo, JPMorgan Bank and Starbucks as well as many celebrities and media personalities that have stopped or reduced usage.
The corporate big names haven't posted any content for weeks, when they used to be an everyday presence.
None of the dozen or so companies contacted by AFP responded to requests for comments.
In normal conditions, Twitter or X "was always much larger than its ad dollars," said Enberg.
It was "an important place for brands and companies to connect with consumers and customers," she said.
Even after Musk gutted the staff by two-thirds, X still has around 2,000 employees, and incurs substantial fixed costs like data servers and real estate.
Another threat is the colossal debt contracted by Musk for his acquisition, but now carried by X, which must meet a payment of over a billion dollars each year.
In his tense interview on Wednesday, Musk hinted that he would not come to the rescue if the coffers run dry, even if he has ample means to do so.
"If the company fails… it will fail because of an advertiser boycott and that will bankrupt the company," Musk said.
Walmart says it has stopped advertising on Elon Musk's X platform
Walmart said Friday that it is scaling back its advertising on X, the social media company formerly known as Twitter, because "we've found some other platforms better for reaching our customers."
Walmart's decision has been in the works for a while, according to a person familiar with the move. Yet it comes as X faces an advertiser exodus following billionaire owner Elon Musk's support for an antisemitic post on the platform. 
The retailer spends about $2.7 billion on advertising each year, according to MarketingDive. In an email to CBS MoneyWatch, X's head of operations, Joe Benarroch, said Walmart still has a large presence on X. He added that the company stopped advertising on X in October, "so this is not a recent pausing."
"Walmart has a wonderful community of more than a million people on X, and with a half a billion people on X, every year the platform experiences 15 billion impressions about the holidays alone with more than 50% of X users doing most or all of their shopping online," Benarroch said.
Musk struck a defiant pose earlier this week at the New York Times' Dealbook Summit, where he cursed out advertisers that had distanced themselves from X, telling them to "go f— yourself." He also complained that companies are trying to "blackmail me with advertising" by cutting off their spending with the platform, and cautioned that the loss of big advertisers could "kill" X.
"And the whole world will know that those advertisers killed the company," Musk added.
Dozens of advertisers — including players such as Apple, Coca Cola and Disney — have bailed on X since Musk tweeted that a post on the platform that claimed Jews fomented hatred against White people, echoing antisemitic stereotypes, was "the actual truth."
Advertisers generally shy away from placing their brands and marketing messages next to controversial material, for fear that their image with consumers could get tarnished by incendiary content. 
The loss of major advertisers could deprive X of up to $75 million in revenue, according to a New York Times report. 
Musk said Wednesday his support of the antisemitic post was "one of the most foolish" he'd ever posted on X. 
"I am quite sorry," he said, adding "I should in retrospect not have replied to that particular post."