How to Conduct a Social Media Audit in Just 30 Minutes
The number of worldwide social media users will surpass 3 billion by 2021.
That's more than a third of the Earth's population!
That creates an incredible opportunity to reach online users, and you shouldn't pass it up.
However, not every platform works the same for every business. That's why it's important to review what's working and what isn't.
Otherwise, you risk wasting time, energy, and money on flawed campaigns.
Don't worry. That's where social media audits can help.
In this post, I'll show you how to perform a social media audit in just 30 minutes.
The result will tell you if you're on track to hit it big or if you're at risk of flushing more dollars down the drain.
Before we get to that, let's talk about preparing your audit.
How to Prepare Your Social Media Audit
"Auditing" can sound intimidating.
I've worked with agencies that charge tens of thousands of dollars and take months to complete a single audit.
In this case, though, yours will be pretty simple. We'll take a look at each platform and identify a few critical KPI benchmarks to gauge progress.
How often should you perform an audit?
Ultimately, you can do them as often as you'd like to. I recommend at least once a year, but every quarter is ideal.
The point is that you do it consistently and in a way that works for you.
I recommend creating a spreadsheet to maintain all of the information you'll be recording. Google Drive is a great place to do so since it's free. Here's how to do a simple one.
Pull up Google Drive and create a new Google Sheets.
I like using Google Drive because you can share them with your team, partners, and other vendors.
Next, you'll want to label the columns.
These will be categories that list account information and key performance indicators.
What exactly should your columns contain? Here are some ideas:
The username and URL for each platform that you'll audit
The number of followers for each account
Engagement metrics
Demographic information
Popular content
These create a nice base to work off of. Here's what my spreadsheet looks like now.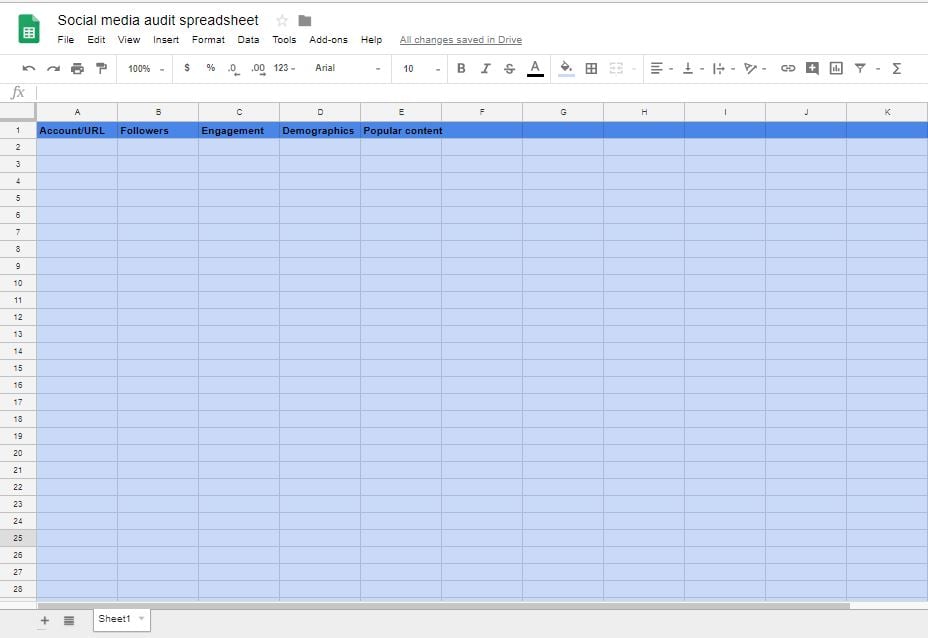 It seems a bit empty, huh? Let's fix that by entering our account information.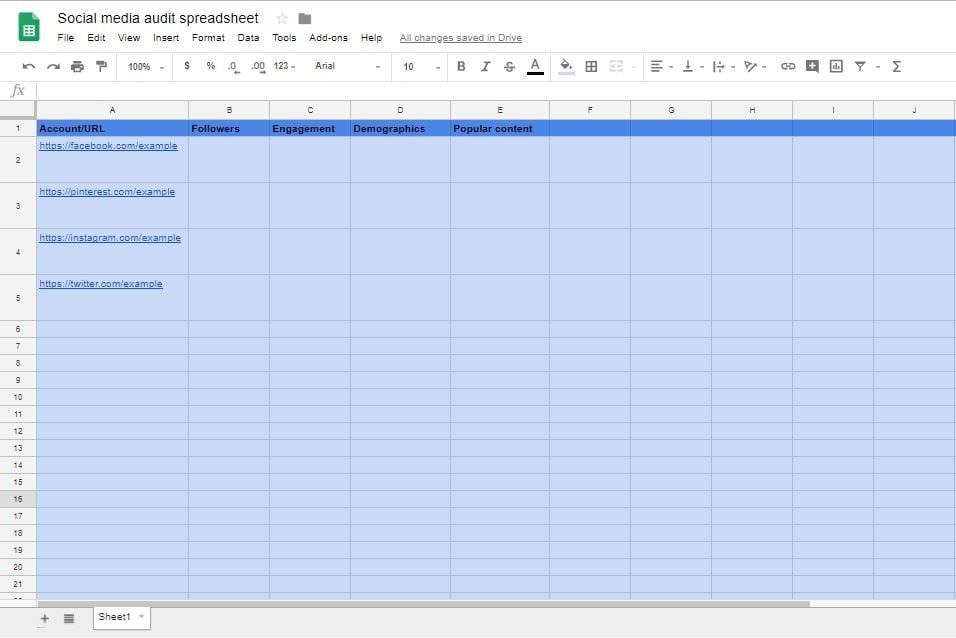 I'd suggest that you date your audits or add monthly sections to them. This helps track monthly changes when you audit again in the future.
Since every platform is unique, you could also add columns for network-specific metrics.
With this basic template, you're ready to use your auditing spreadsheet. Now, it's time to get to work.
I'll walk you through analyzing Facebook, Pinterest, Instagram, and Twitter. If you are using TikTok or other niche social media platforms, add those to your spreadsheet as well.
Social Media Audit: Facebook
Facebook collects tons of useful data about your Pages and organizes it in one place. You can access it by visiting the Facebook Business Suite.
On that page, Facebook provides valuable insights into both your ad accounts and the business Page itself.
Since we're focusing on general social media today, let's first take a glance at the overview.

Right away, Facebook displays information about your Page likes, reach, and the engagement you've accumulated. You can filter the results for today, yesterday, the last seven days, or the last 28 days.
Next, click the arrow to the left of your Page to see a breakdown of your best-performing posts.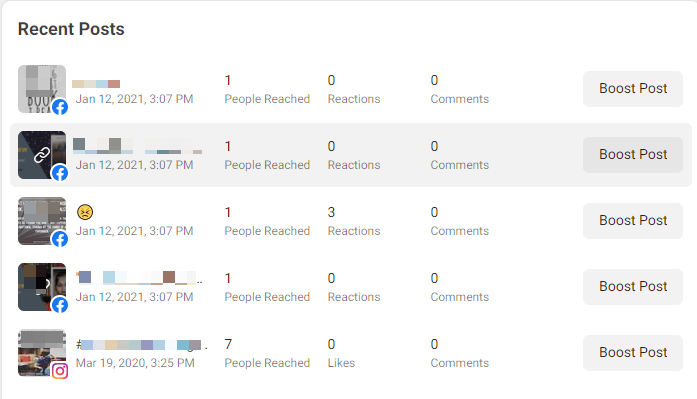 This will tell you what type of content is delivering the most engagement and reach. With this information, let's go back to our spreadsheet and fill it in.
It should look similar to this: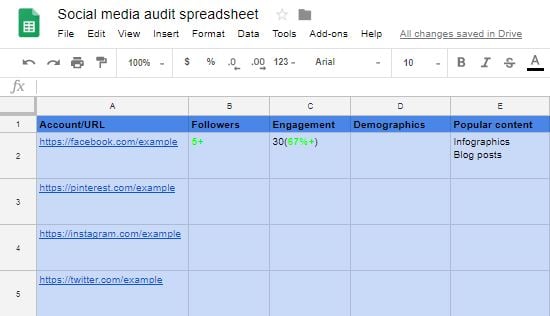 As you can see, I've entered how many new followers I've gained, how much my engagement has improved, and what content performed the best.
What about demographics?
For that, you will need to visit the insights tab. Click on This will give you a report on all of the Pages you run.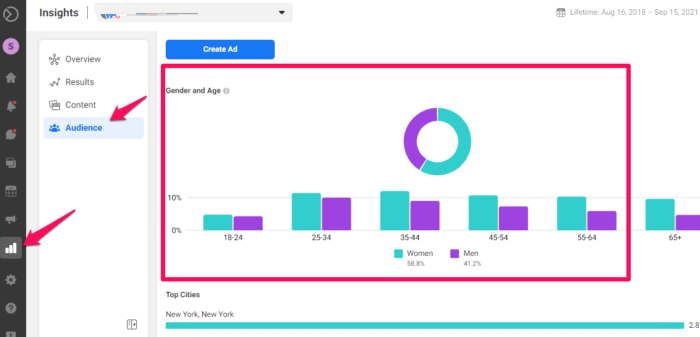 Select the Page you're auditing and it will take you to an overview.
You can also click "results' to see how many people you reach (this will also show you Instagram reach if you've connected that account.)
You'll also see:
The ratio of men versus women that follow you.
The percentage of users in each age group.
Which countries and cities your followers are from.
What other pages they like.
You have to market differently to every target demographic. Take note of which gender, age groups, and locations make up the majority of your fans.
You can use this data later for tailoring content. But first, let's input some of this data into our spreadsheet.
With that simple Facebook audit, you should now have a good idea of who your target audience is and what content they enjoy the most.
When you decide to audit your Page again, you can compare these metrics to the updated ones to see how your content performs.
Social Media Audit: Pinterest
Pinterest is a goldmine for marketers.
It's a platform that heavily rewards quality infographics and visual content. It also offers an awesome analytics page to boot.
Once you've upgraded to the free business account, you can select "Analytics" and "Overview" from the top-left corner.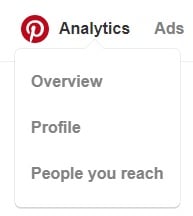 The overview will tell you your average daily impressions, average daily viewers, and most popular content. These first two metrics are convenient for measuring your account's growth.
As we saw with Facebook, understanding what content performs best will help you offer more of it in the future. This can further increase your engagement and pins.
What kind of content do you notice performs well for your page?

To dig into the demographics of your Pinterest follower, you can click the arrow beside "People you reach."
You will find information about their location, gender, and language.
Clicking the "Interests" tab shows categories that your followers are most likely to be interested in.
Record these in your spreadsheet. In the future, you could publish more content in these categories to see if your followers enjoy them.
You'll also see your impressions, saves, and clicks on the "Profile" page.
Saves and clicks are arguably the most important metrics here.
Seeing which posts users save the most will tell you which content to focus on and which to dial back.
It also reveals which types of pins are driving the most traffic to your website.
Selecting the "All-time" tab shows you which pins received the most shares and ranked the highest in searches.
Do you notice any similarities between the pins that are receiving the best feedback? Note this in your spreadsheet.
Record any important data in your spreadsheet. By now, your spreadsheet should be filling out quite nicely.
Social Media Audit: Instagram
Instagram is the go-to social media platform for fashion, beauty, and health brands.
Instagram already has over a billion users. Plus, more than 200 million businesses are using it to reach customers, too.
If you upgrade to a business account (and have 100 followers) you gain access to Instagram Insights. This is their native analytics tool to aid you in measuring performance.
It won't give you insights into content that you posted before you upgraded, but it will give you information about your posts from then on. It can only be accessed from your phone.
Start by tapping the "hamburger" menu in the upper right-hand corner (the three lines.)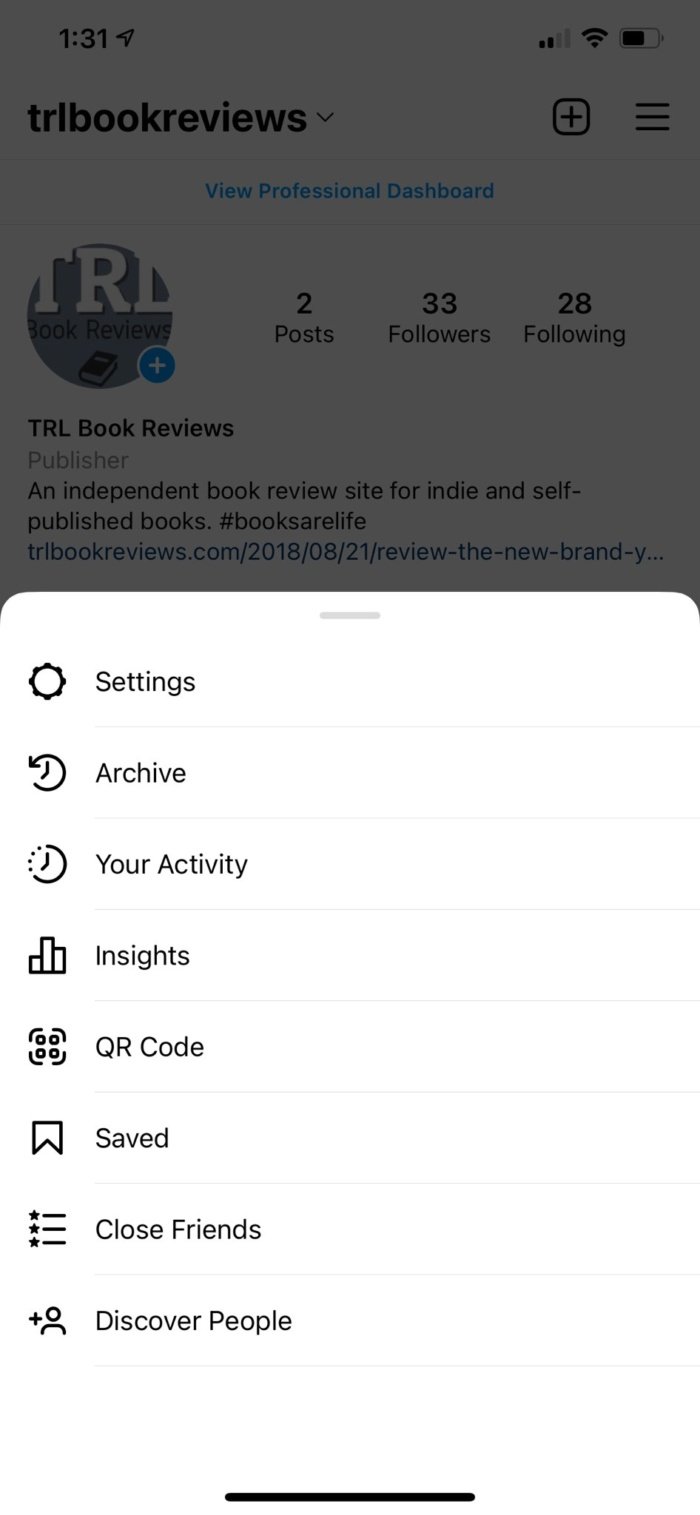 Then tap Insights.
If you visit the Insights homepage, it will give you a general overview of your Instagram account. It first content overview, including posts and Stories.
There are also three tabs: content, activity, and audience. The audience tab will show you who your followers are and demographics.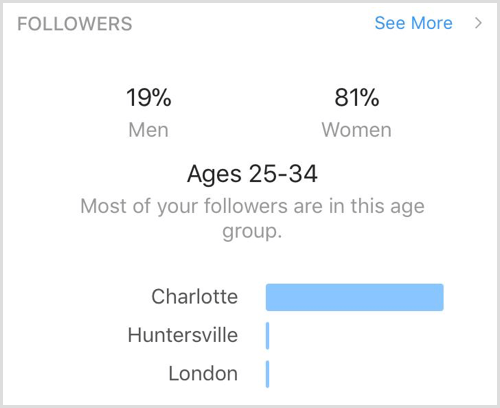 If you want to find out even more about your followers, click "See More" at the top-right corner. That will pull up two graphs.
One will show you the hours when your followers are most active.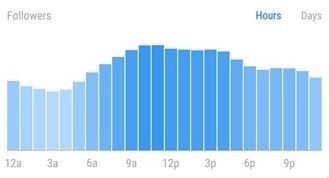 The other will reveal which days they are most active.
You can use this to find the most optimal day and hour to post.
Audit Instagram Posts
Next, it's wise to analyze how your photos are performing. You can do this in one of two ways.
The first option is to select an individual post and click "View Insights."
Likes, comments, shares, and saves will appear at the top. Instagram also tells you how many profile visits the post resulted in and your reach.
Since hashtags are a huge part of marketing on Instagram, take the time to see which ones attracted the most users.
Consider adding that to your spreadsheet as well if you'd like.
Over time, you will be able to weed out the lesser-performing hashtags and replace them with better ones.
The second approach is to navigate to the posts area of the Insights homepage.
Click "Content" and Instagram will display every post from the last year and their impressions.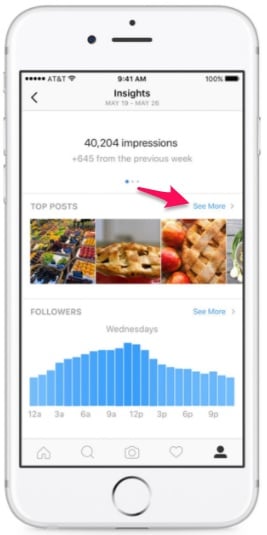 You can further filter it by time, type of content, and measurements such as comments or likes.
There are numerous ways that you can take advantage of this.
For example, you can filter by content to discover whether your audience likes photos, videos, or carousel posts the most.
Refine it down to comments and you may notice which captions or questions get the most responses.
Audit Instagram Stories
Have you ever posted an Instagram Story?
For businesses, it's a fun way to show followers behind-the-scenes action.
With the Insights tool, you can dive into how your Stories are performing. Simply open a Story and click the viewers on the bottom-left area of the screen.
You will find which users viewed the Story, total impressions, and reach. It also documents actions like replies and clicks.
Use this to determine which content followers respond to the most positively with Instagram Stories.
Social Media Audit: Twitter
Twitter advertising is one of my favorite techniques for quickly gaining attention because it's so simple.
If you visit the Ads Manager, you will gain access to your account's analytics.
Let's start by selecting the "Analytics" drop-down menu and clicking "tweet activity." This will let you view tweet engagement, impressions, and more.
First, Twitter is nice enough to give you a convenient graph of your impressions over the last 28-day period. You can change this to the last seven days or a custom number as well.
Click the "Top Tweets" tab to see which of your tweets in a selected period are the most popular. Twitter determines this based on engagement and impressions.
Do you notice any trends?
Are certain calls-to-action or styles of tweets doing better than others?
These are questions you should ask yourself to further complete the audit.
Do you know who your followers are?
Well, you can figure that out by visiting "Audience insights" under the "Analytics" tab on top again.
Make sure that you change the selection to your followers.

At first glance, you'll see an overview with several tabs.
On this first page, you can see information about your followers, such as their:
Interests
Consumer buying styles
Household income categories
Wireless carrier
Gender
If you click the "Demographics" tab, you'll see the following:
It's safe to say that Twitter has a seriously impressive analytics system. It's convenient, too.
From exact regions to home value, there's nothing you won't know about your followers.
Moving along to the "Lifestyle tab," you'll get a better idea of what interests them. This is great information to use for tailoring your content.
If you know what they like, you can integrate that into what you post.
They will feel much more connected to your brand when they know that you understand them on a deeper level.
For those of you who are involved in e-commerce, you'll find a special benefit to the next tab, which is the "Consumer Behavior" tab.

Twitter shows us what kind of consumer buying style our followers fall under and what kind of consumer goods they enjoy purchasing.
This is a goldmine if you sell products online.
It's literally telling you how they prefer to shop and what they're looking for.
Finally, the "Mobile Footprint" tab tells you which carrier and devices your followers mostly use.
What Should You Do With Your Social Media Audit When It's Done?
You're sitting back and marveling at your in-depth spreadsheet. Now what?
It's time to get marketing.
You now hold a great deal of data that you can use to improve your social channels and your business as a whole.
You should start with content.
What type of content does your audience like the most? Try producing more of this and measure the results next week or next month.
For example, you may find that your Facebook fans prefer videos over images. As simple as it sounds, delivering more videos could be the easiest way to increase shares and engagement.
I recently posted this video on Facebook: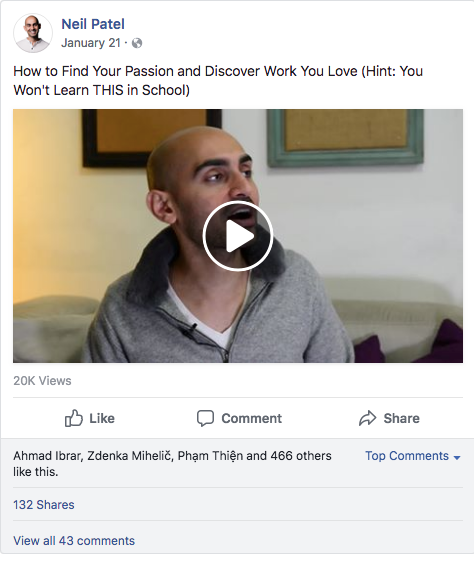 It was a direct result of a simple social media audit like this.
I'm investing a ton into video marketing because I've seen that it produces the best results across almost every platform.
I typically don't talk about "finding your passion" and that type of stuff. I usually like to stick to nerdy marketing ideas.
However, I've noticed that more personal topics like this get an awesome reaction.
Guess what?
I'm adding more topics like this to my content calendar.
The whole reason for producing this content is to gain awareness and increase engagement.
The purpose is not to try and sell anything.
Instead, you want to mix content types and topics to drive the most interest possible.
Then, you can run retargeting campaigns with custom audiences to eventually sell to everyone who's watching, commenting, and hitting the Like button.
Target a More Defined Audience
With all of the research you've performed, you also now know a lot more about the demographics of your fans.
Things like age, gender, and location are much more concrete.
In the beginning, you probably had a rough idea of what your ideal user was like. Now, you know for sure.
I'd recommend searching for market reports based on your target demographics. These will give you further ideas on how to serve them better.
Even infographics like this one from Goldman Sachs on millennials can contain rich nuggets of knowledge about your audience.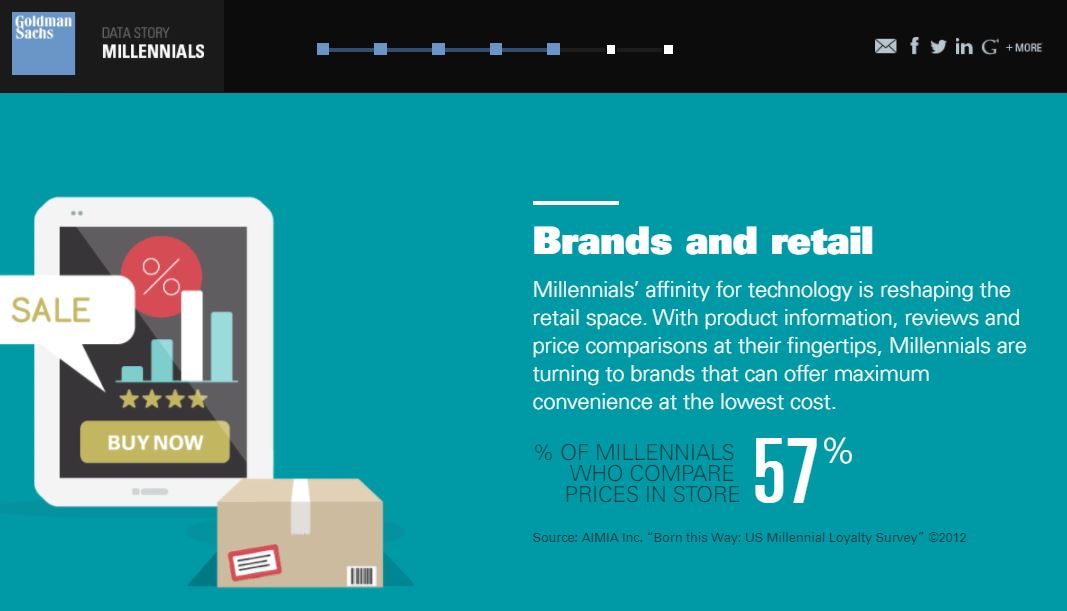 Going off of this example, we might experiment by offering free shipping, discounts, or other convenience as the studies suggest.
Once you've compiled all of the previous data on your users, it's simple to find out what works for them.
Reports and similar publications will detail trends and opportunities to take advantage of.
New sales channels and promising promotional strategies are some things to expect.
Overall, you know what your ideal user responds to the best, so you can tailor more content toward that.
Work Smarter, Not Harder
You now also know which platforms are delivering the biggest results.
You can use this information to implement what we call the "80/20 rule."
It involves doubling down on the social networks that work the best for you.
Perhaps Instagram and Facebook drive the most traffic. If that's the case, then focus your attention on those platforms.
Putting more energy into just a couple of networks may create more results than diversifying.
This rule also applies to content and advertisements. The data is telling you what works the best, so consider shifting your focus to just a few key areas.
At the same time, you can take this opportunity to test out different platforms. At the end of the day, you'll never know until you try.
Maybe another social network would perform incredibly well, but you just haven't tested it.
You can test a couple on a smaller scale and look at the results before you invest too much time into it.
You should also now be setting goals for your social accounts, including:
Follower count
Engagement numbers such as likes or comments
Traffic that you drive to your website
When you perform another audit, you should be able to do it faster. You'll be much more familiar with the process, which will help you streamline the process.
When you perform your next audit, you can track changes by comparing your numbers to your previous audits.
Over time, you will have a vivid picture of how your social accounts are developing.
Calculate Social Media Ad Budget And ROI
Do you include ads in your social media marketing strategy?
If so, you'll want to make them a component of your audit.
Ad platforms on Facebook and Pinterest, for example, will record the performance, costs, and other metrics for the ads you run.
Analyze which ad types and creatives are bringing you the best results. You could invest more of your budget into these while dialing back others.
This way, you can avoid spending money on advertisements that don't deliver the most value.
Even small experiments with paid campaigns can help you better calibrate your organic efforts.
I integrate SEO and PPC for this very same reason.
I run a quick PPC campaign to find the keywords that convert best within an industry. Then, I'll start building out content and SEO campaigns around this new data.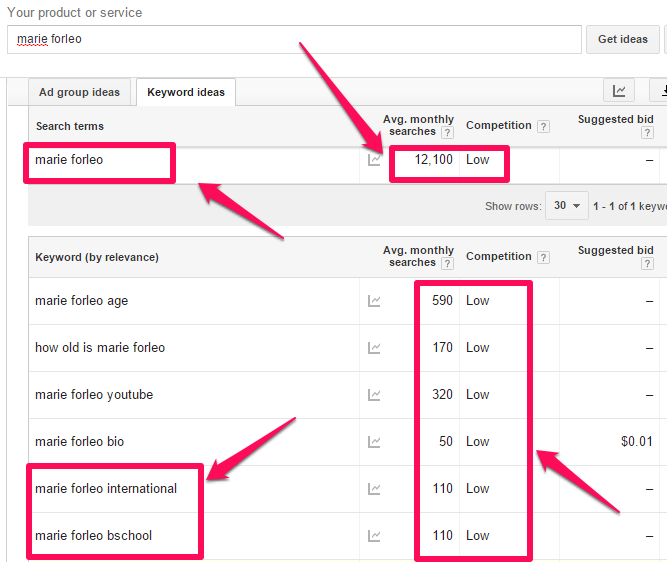 The same applies to social. Run paid campaigns to quickly identify top content, audiences, and so on. Then, tailor your organic efforts around what already works.
Social Media Audit: Frequently Asked Questions
Why are social media audits important?
To understand what is working or what is not in your social media strategy.
How often should I do a social media audit?
Any time you are considering changing your strategy or at least once a year.
Do I need tools to do a social media audit?
No. While they can be helpful, the internal tools on social media can be used in your audit.
What do I do with a social media audit?
Social media audits help you find strengths, weaknesses, and opportunities in your social media strategy. Use it to target a more defined audience, improve your social media strategy, and work harder not smarter.
Social Media Audit Conclusion
A social media audit doesn't have to be long or tedious.
If you follow what I've outlined in this article, you can complete yours in as little 30 minutes.
Every social media platform offers analytics and insights that you need to improve your social media marketing strategy and speak to your audience in their language.
Preparation and organization are the keys to a successful audit. That's why a simple spreadsheet is so handy.
You'll want to keep a record of how these numbers increase or decrease over time. That way, you can draw conclusions about what's working and what's not.
Set a schedule to perform your audits, too. You could do them on a weekly, monthly, or quarterly basis.
Don't be afraid to experiment by trying out new social media networks. You can add these to your next audit.
Set goals based on the collected data, and you'll be consistently growing your social accounts over time.
What do you think is the most important part of a social media audit?
See How My Agency Can Drive Massive Amounts of Traffic to Your Website
SEO – unlock massive amounts of SEO traffic. See real results.
Content Marketing – our team creates epic content that will get shared, get links, and attract traffic.
Paid Media – effective paid strategies with clear ROI.
Reports Show that Facebook Usage is Up, as Meta Continues to Develop its AI Targeting Models
While Facebook is no longer the cool app, especially among younger audiences, it remains a key platform for many users, and its capacity to keep people updated on important updates from friends and family is likely to ensure that many continue to return to the app every day for some time yet.
But more than that, Facebook usage is actually increasing, according to internal insights viewed by The Wall Street Journal, which also include some interesting notes on overall Facebook and Instagram usage trends.
As per WSJ:
"Data gathered in the middle of the fourth quarter showed that time spent on [Facebook] was up worldwide, including in developed markets, over the course of a year."
Which seems unusual, given the subsequent rise of TikTok, and short form video more generally. But actually, Facebook has been able to successfully use the short-form video trend to drive more usage – despite much criticism of the platform's copycat Reels feature.
Indeed, Reels consumption is up 20%, and has become a key element in Meta's resurgence.  
How is it finding success? Increased investment in AI, which has driven big improvements in the relevance models that fuel both Reels and its ads, which are also now driving better response.
On Reels, Meta's systems are getting much better at showing users the Reels content that they're most likely to be interested in. You've likely noticed this yourself – what was initially a mess of random clips inserted into your Facebook feed has now become more focused, and you're probably finding yourself expanding a Reels clip every now and then, just to see what it's about.
Reels has actually been too successful:
"Because ads in Reels videos don't currently sell for as much as those sold against regular posts and stories, Reels' growing share of content consumption was denting ad revenue. To protect the company's earnings, the company cut back on promoting Reels, which lowered watch time by 12%."
So again, while Meta has been criticized for stealing TikTok's format, it's once again shown, just as it did with Stories, that this is a viable and beneficial pathway to keeping users engaged in its apps.
You might not like it, but replication works in this respect.
But for marketers, it's likely the development of Meta's AI targeting tools for ads that's of most interest.
Over time, many performance advertisers have been increasingly recommending that marketers trust Meta's AI targeting, with newer offerings like Advantage+ driving strong results, with far less manual targeting effort.
Advantage+ puts almost total trust in Meta's AI targeting systems. You can choose a couple of targeting options for your campaigns, but for the most part, the process is designed to limit manual impact, in order to let Meta's systems determine the right audience for your ads.
Which may feel like you're ceding too much control, but according to Meta, its continued AI investment is now driving better results.
"Heavy investment in artificial intelligence tools has enabled the company to improve ad-targeting systems to make better predictions based on less data, according to the interviews and documents […] That, along with shifting to forms of advertising less dependent on harvesting user data from off its platforms, are key to the company's plans to overcome an Apple privacy change that restricted Meta's capacity to gather information about what its users do outside its platforms' walls, the documents show."
That's likely worth considering in your process, putting more trust in Meta's targeting systems to drive better results. At the least, it may be worth experimenting with Meta's evolving AI for ad targeting. 
It's not all good news. Meta also notes that while time spent in its apps is on the rise, creation and engagement is declining, with fewer people posting to both Facebook and Instagram than they have in the past.
That's particularly true among younger audiences, while notably, usage of Instagram Stories is also in decline, down 10% on previous levels.
So while Meta is driving more engagement from Reels, which draws on content from across the app, as opposed to the people and Pages you follow, that's also led to a decline in user posting.
Is that a bad thing? I mean, logically, engagement is important in keeping people interested in the app, and Meta also relies on those signals to help refine its ad targeting. So it does need users to be sharing their own content too, but if it can get more people spending more time in its apps, that will help it maintain advertiser interest.
In essence, despite all of the reports of Facebook's demise, it remains a key connective platform, in various ways, while Meta's improving ad targeting systems are also helping to drive better results, which will keep it as a staple for brands moving forward.
If you were thinking of diversifying your social media marketing spend this year, maybe don't reduce Facebook investment just yet.
Effective Ways To Personalize Your Customer Touch Points Even More In 2023
Will 2023 be the year of personalization? Consumers hope so. For the past two years, shoppers have been craving the personal touch: In 2021, McKinsey & Company noted that 71% of customers expected companies to deliver personalization. In 2022, a Salesforce survey found that 73% of people expected brands to understand their needs and expectations. So, this year is looking like one where personalization can no longer be seen as a "nice to have."
The problem, of course, is how to get more personalized. Many companies have already started to dabble in this. They greet shoppers by name on landing pages. They rely on CRMs and other tools to use historical information to send shoppers customized recommendations. They offer personalized, real-time discounts to help buyers convert their abandoned shopping cart items to actual purchases.
These are all great ideas. The only problem is that they've become widespread. They don't move the needle on the customer experience anymore. Instead, they're standard, expected, and kind of forgettable. That doesn't mean you can afford to stop doing them. It just means you must devise other ways to pepper personalization throughout your consumer interactions.
If you are scratching your head on how to outdo 2022's personalization in 2023, try implementing the following strategies:
1. Go for full-blown engagement on social media.
One easy way to give the personal touch is through your social media business pages. Social media use just keeps growing. In 2022, there were about 266 million monthly active users (or MUAs) on Facebook, one billion on Instagram, and 755 million on TikTok. Not all these active users will fall into your target audiences, but plenty of them will.
Make engaging with your social followers one of this year's goals. People spend a lot of time on social media. It's where many of them "live," so it only makes sense that it should be a place to drive personalization.
One quick way to ratchet up your company's personal touch on social media is to personalize all your retargeted ads. Quizzes can also offer a chance for personalization. Simply set up an engaging quiz and allow people to share their results. It's a fun way to build brand recognition and bond with consumers. Of course, there's nothing wrong with going very personal and answering all comments. Depending on your team's size and the number of comments you receive, this might be a viable option.
2. Leverage AI to go beyond basic demographics.
Most companies rely on customer demographic information to bolster personalization efforts. The only trouble with this tactic is that demographics can't tell the whole story. It's impossible to get a lot of context about individual users (such as their lifestyles, personal preferences, and motivators) just from knowing their age, gender, or location. Though demographic data is beneficial, it can cause some significant misses.
Michael Scharff, CEO and cofounder of Evolv AI, explains the workaround for this problem: "The most natural, and therefore productive, personalization efforts use demographics as a foundation and then layer in user likes, dislikes, behaviors, and values."
You can leverage AI's predictive and insightful capabilities to uncover real-time user insights. Scharff recommends this technique because it allows you to stay in sync with the fast-moving pace of consumer behavior changes. He adds that AI can be particularly beneficial with the coming limits to third-party cookie access because it can be a first-party data source, allowing you to maintain customer knowledge and connection.
To flesh out your organization's strategy, look to other companies that have gone beyond demographics. Take Netflix, for example, which constantly tweaks its AI algorithm to help improve personalized content recommendations. Bottom line? Going deeper than surface information makes all the sense in the world if you want to show customers you know them well.
3. Keep your data spotless.
The better your data, the better your personalization efforts. Period. Unfortunately, you are probably sitting on a lot of unstructured or otherwise tricky-to-use (or impossible-to-use) data. One recent Great Expectations survey revealed that 77% of data practitioners have data quality problems, and 91% say that this is wreaking havoc on their companies' performance.
You can't personalize anything with corrupt or questionable data. So, do your best to find ways to clean your data promptly and routinely. For example, you might want to invest in a more centralized data system, particularly if the personalization data you rely on is scattered in various places. Having one repository of data truth makes it easier to know if the information on hand is ready to use.
Another way to tame your data is to automate as many data processes as possible. Reducing manual manipulation of data lessens the chance of human error. And you'll feel more confident with all your personalization efforts if you can trust the reliability and health of your data.
4. Go for nontechnical personalization.
It's the digital age, but that doesn't mean every touchpoint has to be digitized. Consumers often react with delight and positivity when they receive personalization in decidedly nontech forms. (Yes, you can use tech to keep track of everything. Just don't make it part of the actual personalized exchange!)
Consider writing handwritten thank-you notes to customers after they've called in for support or emailed your team, for instance. Or send an extra personalized gift to buyers who make a specific number of purchases. These interactions aren't technical but can differentiate your customer experience from your competitors' experiences.
A groundbreaking Deloitte snapshot taken right before the pandemic showed that people were hungry for connection. By folding nondigital experiences into your personalization with customers, you're showing them that you see them first as valued humans. That's compelling and appealing, making them more apt to give you their loyalty in return.
Putting a personal spin on all your consumer interactions takes a little time. It's worth your energy, though. You'll wind up with stronger brand-buyer connections, helping you edge ahead of your competitors even more.
Planning for 2023: What Social Media Marketers Need to Win in 2023
January is, for many, a month of reflection, goal-setting, strategizing and planning for the year ahead. 
In line with this, we've kicked off the new year with a series of articles covering the latest stats, tips and strategies to help social media marketers build an effective game plan for 2023.
Below, you'll find links to our 2023 social media planning series, which includes:
Content strategy guidelines to help you define your brand's content mission and set SMART goals
Organic posting tips for Facebook, Instagram, TikTok, Twitter, LinkedIn,

Snapchat

and Pinterest 
Explainers on how to research key topics of interest in your niche, understand the competitive landscape, and help you find your audience and connect with them where they're active
A holiday calendar and notes on the best days and times to post to each of the major platforms