How to Conduct a Social Media Audit in Just 30 Minutes
The number of worldwide social media users will surpass 3 billion by 2021.
That's more than a third of the Earth's population!
That creates an incredible opportunity to reach online users, and you shouldn't pass it up.
However, not every platform works the same for every business. That's why it's important to review what's working and what isn't.
Otherwise, you risk wasting time, energy, and money on flawed campaigns.
Don't worry. That's where social media audits can help.
In this post, I'll show you how to perform a social media audit in just 30 minutes.
The result will tell you if you're on track to hit it big or if you're at risk of flushing more dollars down the drain.
Before we get to that, let's talk about preparing your audit.
How to Prepare Your Social Media Audit
"Auditing" can sound intimidating.
I've worked with agencies that charge tens of thousands of dollars and take months to complete a single audit.
In this case, though, yours will be pretty simple. We'll take a look at each platform and identify a few critical KPI benchmarks to gauge progress.
How often should you perform an audit?
Ultimately, you can do them as often as you'd like to. I recommend at least once a year, but every quarter is ideal.
The point is that you do it consistently and in a way that works for you.
I recommend creating a spreadsheet to maintain all of the information you'll be recording. Google Drive is a great place to do so since it's free. Here's how to do a simple one.
Pull up Google Drive and create a new Google Sheets.
I like using Google Drive because you can share them with your team, partners, and other vendors.
Next, you'll want to label the columns.
These will be categories that list account information and key performance indicators.
What exactly should your columns contain? Here are some ideas:
The username and URL for each platform that you'll audit
The number of followers for each account
Engagement metrics
Demographic information
Popular content
These create a nice base to work off of. Here's what my spreadsheet looks like now.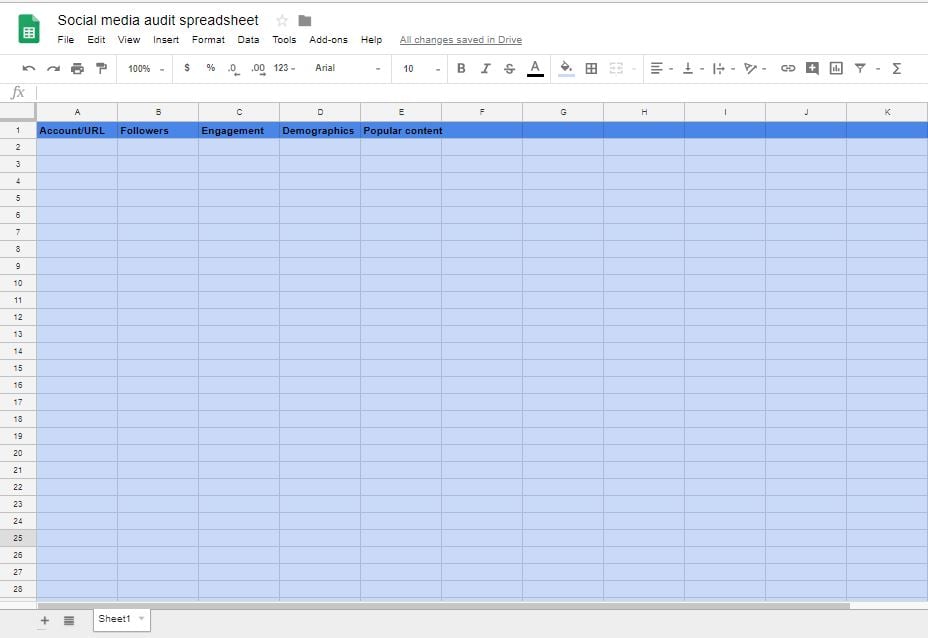 It seems a bit empty, huh? Let's fix that by entering our account information.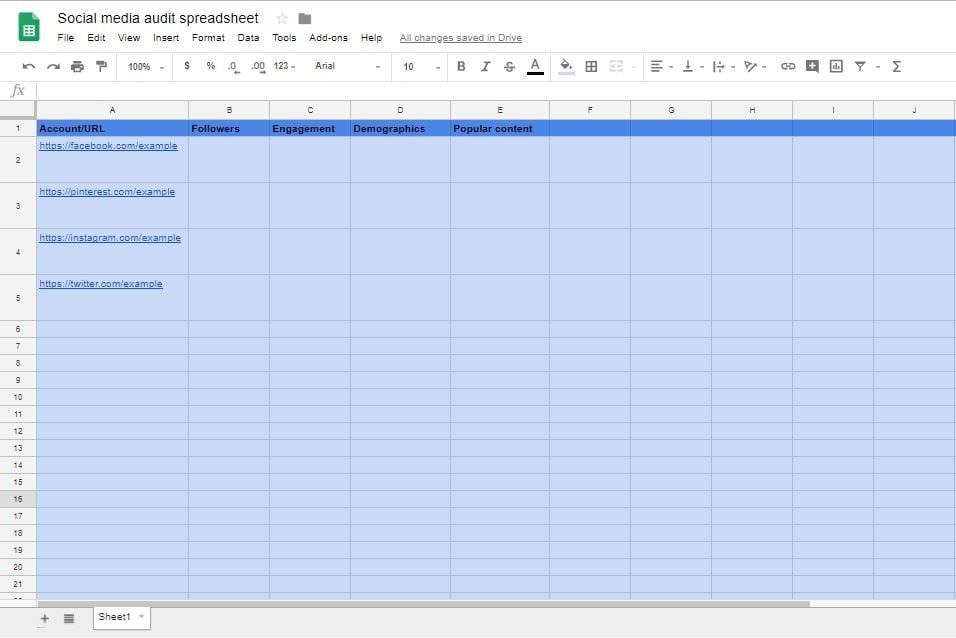 I'd suggest that you date your audits or add monthly sections to them. This helps track monthly changes when you audit again in the future.
Since every platform is unique, you could also add columns for network-specific metrics.
With this basic template, you're ready to use your auditing spreadsheet. Now, it's time to get to work.
I'll walk you through analyzing Facebook, Pinterest, Instagram, and Twitter. If you are using TikTok or other niche social media platforms, add those to your spreadsheet as well.
Social Media Audit: Facebook
Facebook collects tons of useful data about your Pages and organizes it in one place. You can access it by visiting the Facebook Business Suite.
On that page, Facebook provides valuable insights into both your ad accounts and the business Page itself.
Since we're focusing on general social media today, let's first take a glance at the overview.

Right away, Facebook displays information about your Page likes, reach, and the engagement you've accumulated. You can filter the results for today, yesterday, the last seven days, or the last 28 days.
Next, click the arrow to the left of your Page to see a breakdown of your best-performing posts.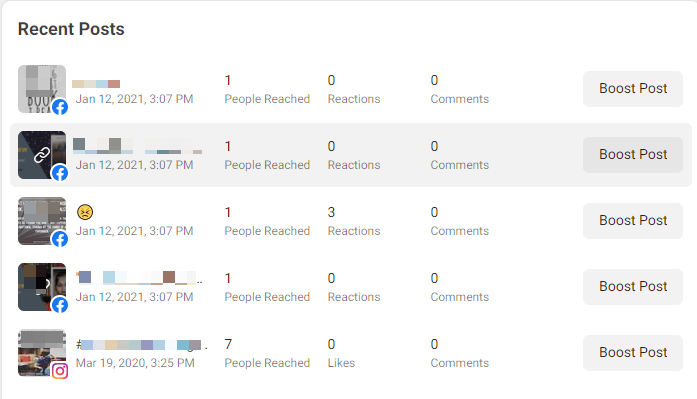 This will tell you what type of content is delivering the most engagement and reach. With this information, let's go back to our spreadsheet and fill it in.
It should look similar to this: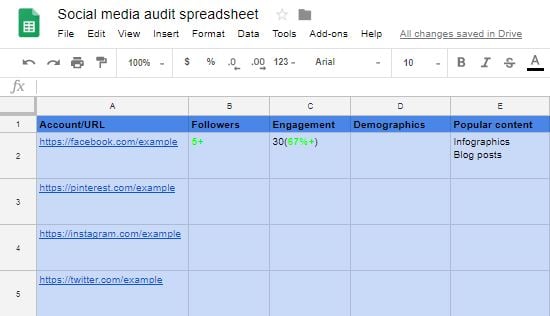 As you can see, I've entered how many new followers I've gained, how much my engagement has improved, and what content performed the best.
What about demographics?
For that, you will need to visit the insights tab. Click on This will give you a report on all of the Pages you run.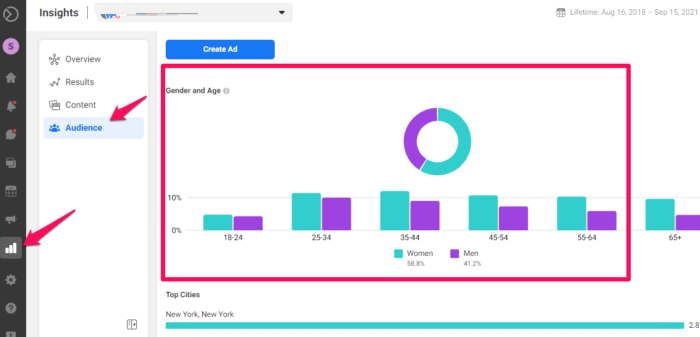 Select the Page you're auditing and it will take you to an overview.
You can also click "results' to see how many people you reach (this will also show you Instagram reach if you've connected that account.)
You'll also see:
The ratio of men versus women that follow you.
The percentage of users in each age group.
Which countries and cities your followers are from.
What other pages they like.
You have to market differently to every target demographic. Take note of which gender, age groups, and locations make up the majority of your fans.
You can use this data later for tailoring content. But first, let's input some of this data into our spreadsheet.
With that simple Facebook audit, you should now have a good idea of who your target audience is and what content they enjoy the most.
When you decide to audit your Page again, you can compare these metrics to the updated ones to see how your content performs.
Social Media Audit: Pinterest
Pinterest is a goldmine for marketers.
It's a platform that heavily rewards quality infographics and visual content. It also offers an awesome analytics page to boot.
Once you've upgraded to the free business account, you can select "Analytics" and "Overview" from the top-left corner.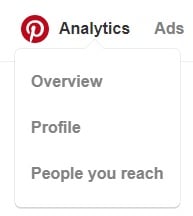 The overview will tell you your average daily impressions, average daily viewers, and most popular content. These first two metrics are convenient for measuring your account's growth.
As we saw with Facebook, understanding what content performs best will help you offer more of it in the future. This can further increase your engagement and pins.
What kind of content do you notice performs well for your page?

To dig into the demographics of your Pinterest follower, you can click the arrow beside "People you reach."
You will find information about their location, gender, and language.
Clicking the "Interests" tab shows categories that your followers are most likely to be interested in.
Record these in your spreadsheet. In the future, you could publish more content in these categories to see if your followers enjoy them.
You'll also see your impressions, saves, and clicks on the "Profile" page.
Saves and clicks are arguably the most important metrics here.
Seeing which posts users save the most will tell you which content to focus on and which to dial back.
It also reveals which types of pins are driving the most traffic to your website.
Selecting the "All-time" tab shows you which pins received the most shares and ranked the highest in searches.
Do you notice any similarities between the pins that are receiving the best feedback? Note this in your spreadsheet.
Record any important data in your spreadsheet. By now, your spreadsheet should be filling out quite nicely.
Social Media Audit: Instagram
Instagram is the go-to social media platform for fashion, beauty, and health brands.
Instagram already has over a billion users. Plus, more than 200 million businesses are using it to reach customers, too.
If you upgrade to a business account (and have 100 followers) you gain access to Instagram Insights. This is their native analytics tool to aid you in measuring performance.
It won't give you insights into content that you posted before you upgraded, but it will give you information about your posts from then on. It can only be accessed from your phone.
Start by tapping the "hamburger" menu in the upper right-hand corner (the three lines.)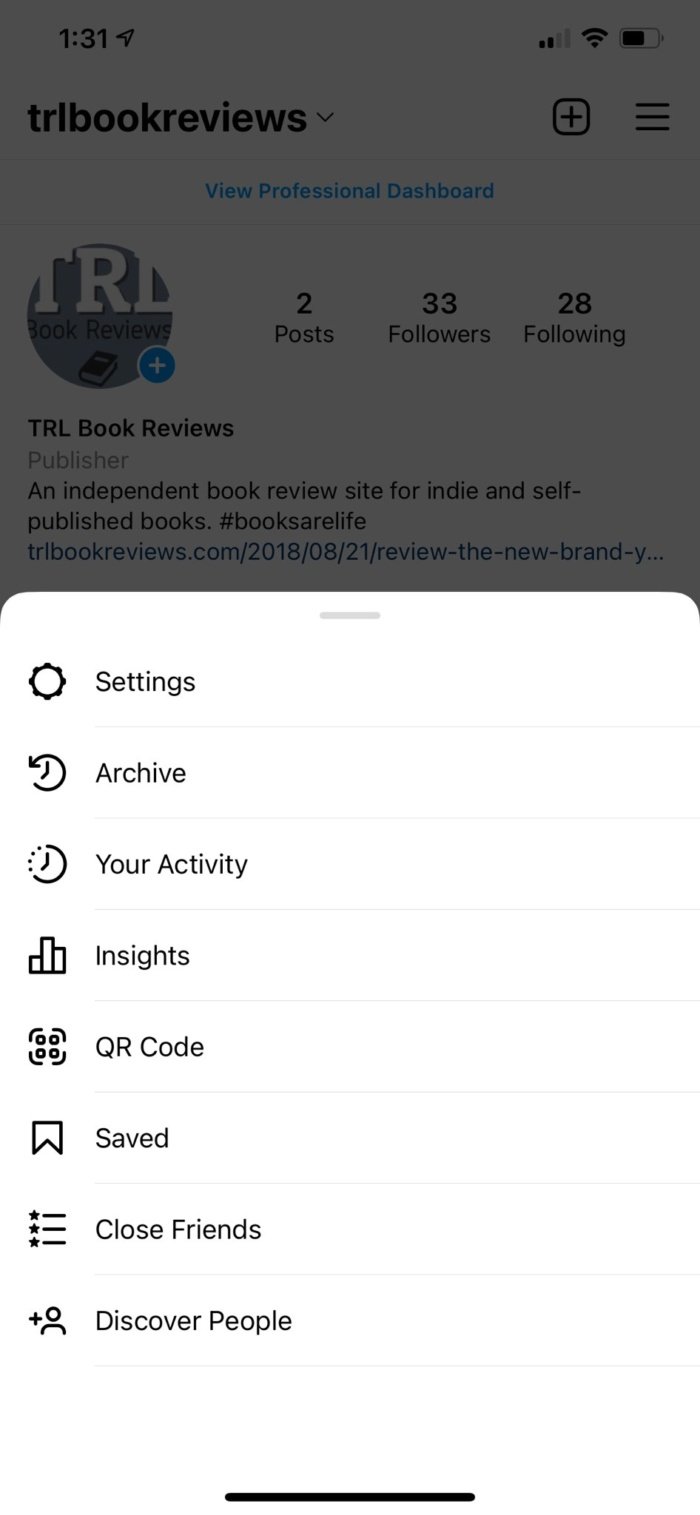 Then tap Insights.
If you visit the Insights homepage, it will give you a general overview of your Instagram account. It first content overview, including posts and Stories.
There are also three tabs: content, activity, and audience. The audience tab will show you who your followers are and demographics.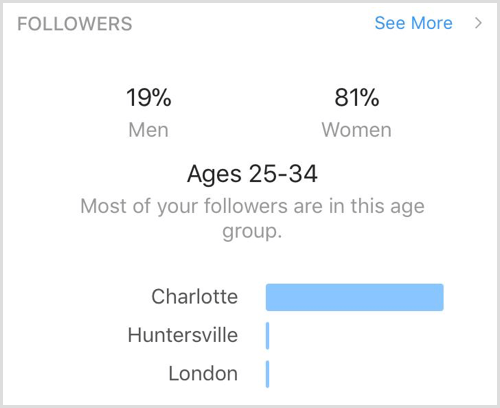 If you want to find out even more about your followers, click "See More" at the top-right corner. That will pull up two graphs.
One will show you the hours when your followers are most active.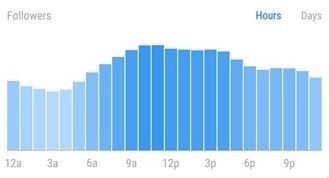 The other will reveal which days they are most active.
You can use this to find the most optimal day and hour to post.
Audit Instagram Posts
Next, it's wise to analyze how your photos are performing. You can do this in one of two ways.
The first option is to select an individual post and click "View Insights."
Likes, comments, shares, and saves will appear at the top. Instagram also tells you how many profile visits the post resulted in and your reach.
Since hashtags are a huge part of marketing on Instagram, take the time to see which ones attracted the most users.
Consider adding that to your spreadsheet as well if you'd like.
Over time, you will be able to weed out the lesser-performing hashtags and replace them with better ones.
The second approach is to navigate to the posts area of the Insights homepage.
Click "Content" and Instagram will display every post from the last year and their impressions.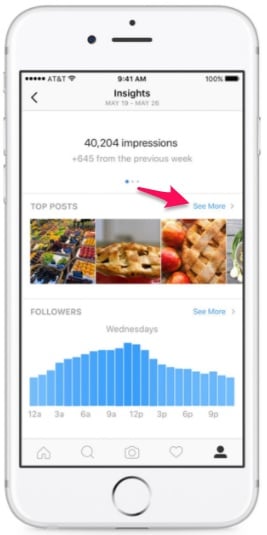 You can further filter it by time, type of content, and measurements such as comments or likes.
There are numerous ways that you can take advantage of this.
For example, you can filter by content to discover whether your audience likes photos, videos, or carousel posts the most.
Refine it down to comments and you may notice which captions or questions get the most responses.
Audit Instagram Stories
Have you ever posted an Instagram Story?
For businesses, it's a fun way to show followers behind-the-scenes action.
With the Insights tool, you can dive into how your Stories are performing. Simply open a Story and click the viewers on the bottom-left area of the screen.
You will find which users viewed the Story, total impressions, and reach. It also documents actions like replies and clicks.
Use this to determine which content followers respond to the most positively with Instagram Stories.
Social Media Audit: Twitter
Twitter advertising is one of my favorite techniques for quickly gaining attention because it's so simple.
If you visit the Ads Manager, you will gain access to your account's analytics.
Let's start by selecting the "Analytics" drop-down menu and clicking "tweet activity." This will let you view tweet engagement, impressions, and more.
First, Twitter is nice enough to give you a convenient graph of your impressions over the last 28-day period. You can change this to the last seven days or a custom number as well.
Click the "Top Tweets" tab to see which of your tweets in a selected period are the most popular. Twitter determines this based on engagement and impressions.
Do you notice any trends?
Are certain calls-to-action or styles of tweets doing better than others?
These are questions you should ask yourself to further complete the audit.
Do you know who your followers are?
Well, you can figure that out by visiting "Audience insights" under the "Analytics" tab on top again.
Make sure that you change the selection to your followers.

At first glance, you'll see an overview with several tabs.
On this first page, you can see information about your followers, such as their:
Interests
Consumer buying styles
Household income categories
Wireless carrier
Gender
If you click the "Demographics" tab, you'll see the following:
It's safe to say that Twitter has a seriously impressive analytics system. It's convenient, too.
From exact regions to home value, there's nothing you won't know about your followers.
Moving along to the "Lifestyle tab," you'll get a better idea of what interests them. This is great information to use for tailoring your content.
If you know what they like, you can integrate that into what you post.
They will feel much more connected to your brand when they know that you understand them on a deeper level.
For those of you who are involved in e-commerce, you'll find a special benefit to the next tab, which is the "Consumer Behavior" tab.

Twitter shows us what kind of consumer buying style our followers fall under and what kind of consumer goods they enjoy purchasing.
This is a goldmine if you sell products online.
It's literally telling you how they prefer to shop and what they're looking for.
Finally, the "Mobile Footprint" tab tells you which carrier and devices your followers mostly use.
What Should You Do With Your Social Media Audit When It's Done?
You're sitting back and marveling at your in-depth spreadsheet. Now what?
It's time to get marketing.
You now hold a great deal of data that you can use to improve your social channels and your business as a whole.
You should start with content.
What type of content does your audience like the most? Try producing more of this and measure the results next week or next month.
For example, you may find that your Facebook fans prefer videos over images. As simple as it sounds, delivering more videos could be the easiest way to increase shares and engagement.
I recently posted this video on Facebook: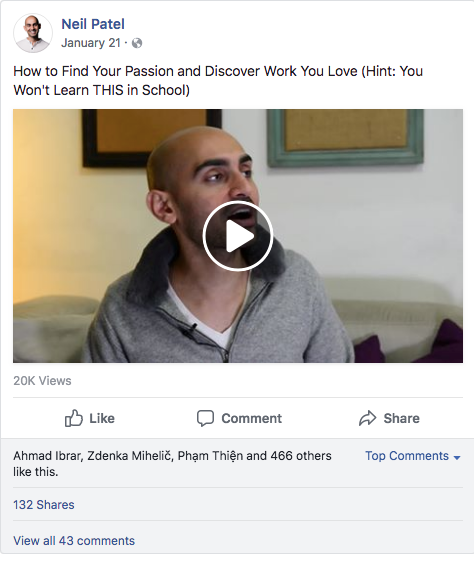 It was a direct result of a simple social media audit like this.
I'm investing a ton into video marketing because I've seen that it produces the best results across almost every platform.
I typically don't talk about "finding your passion" and that type of stuff. I usually like to stick to nerdy marketing ideas.
However, I've noticed that more personal topics like this get an awesome reaction.
Guess what?
I'm adding more topics like this to my content calendar.
The whole reason for producing this content is to gain awareness and increase engagement.
The purpose is not to try and sell anything.
Instead, you want to mix content types and topics to drive the most interest possible.
Then, you can run retargeting campaigns with custom audiences to eventually sell to everyone who's watching, commenting, and hitting the Like button.
Target a More Defined Audience
With all of the research you've performed, you also now know a lot more about the demographics of your fans.
Things like age, gender, and location are much more concrete.
In the beginning, you probably had a rough idea of what your ideal user was like. Now, you know for sure.
I'd recommend searching for market reports based on your target demographics. These will give you further ideas on how to serve them better.
Even infographics like this one from Goldman Sachs on millennials can contain rich nuggets of knowledge about your audience.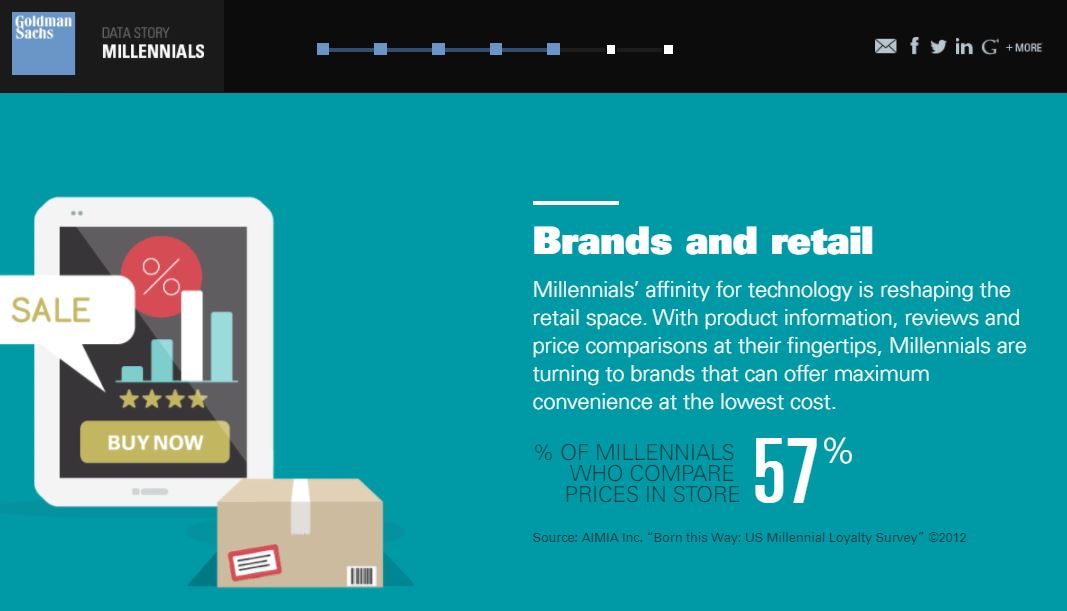 Going off of this example, we might experiment by offering free shipping, discounts, or other convenience as the studies suggest.
Once you've compiled all of the previous data on your users, it's simple to find out what works for them.
Reports and similar publications will detail trends and opportunities to take advantage of.
New sales channels and promising promotional strategies are some things to expect.
Overall, you know what your ideal user responds to the best, so you can tailor more content toward that.
Work Smarter, Not Harder
You now also know which platforms are delivering the biggest results.
You can use this information to implement what we call the "80/20 rule."
It involves doubling down on the social networks that work the best for you.
Perhaps Instagram and Facebook drive the most traffic. If that's the case, then focus your attention on those platforms.
Putting more energy into just a couple of networks may create more results than diversifying.
This rule also applies to content and advertisements. The data is telling you what works the best, so consider shifting your focus to just a few key areas.
At the same time, you can take this opportunity to test out different platforms. At the end of the day, you'll never know until you try.
Maybe another social network would perform incredibly well, but you just haven't tested it.
You can test a couple on a smaller scale and look at the results before you invest too much time into it.
You should also now be setting goals for your social accounts, including:
Follower count
Engagement numbers such as likes or comments
Traffic that you drive to your website
When you perform another audit, you should be able to do it faster. You'll be much more familiar with the process, which will help you streamline the process.
When you perform your next audit, you can track changes by comparing your numbers to your previous audits.
Over time, you will have a vivid picture of how your social accounts are developing.
Calculate Social Media Ad Budget And ROI
Do you include ads in your social media marketing strategy?
If so, you'll want to make them a component of your audit.
Ad platforms on Facebook and Pinterest, for example, will record the performance, costs, and other metrics for the ads you run.
Analyze which ad types and creatives are bringing you the best results. You could invest more of your budget into these while dialing back others.
This way, you can avoid spending money on advertisements that don't deliver the most value.
Even small experiments with paid campaigns can help you better calibrate your organic efforts.
I integrate SEO and PPC for this very same reason.
I run a quick PPC campaign to find the keywords that convert best within an industry. Then, I'll start building out content and SEO campaigns around this new data.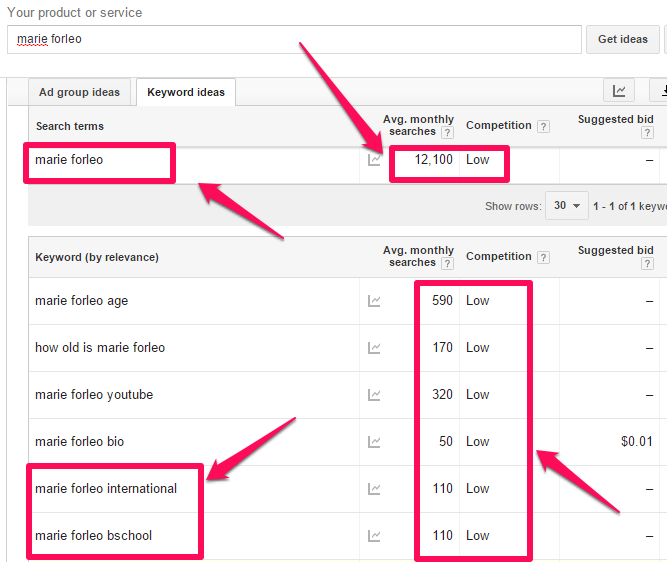 The same applies to social. Run paid campaigns to quickly identify top content, audiences, and so on. Then, tailor your organic efforts around what already works.
Social Media Audit: Frequently Asked Questions
Why are social media audits important?
To understand what is working or what is not in your social media strategy.
How often should I do a social media audit?
Any time you are considering changing your strategy or at least once a year.
Do I need tools to do a social media audit?
No. While they can be helpful, the internal tools on social media can be used in your audit.
What do I do with a social media audit?
Social media audits help you find strengths, weaknesses, and opportunities in your social media strategy. Use it to target a more defined audience, improve your social media strategy, and work harder not smarter.
Social Media Audit Conclusion
A social media audit doesn't have to be long or tedious.
If you follow what I've outlined in this article, you can complete yours in as little 30 minutes.
Every social media platform offers analytics and insights that you need to improve your social media marketing strategy and speak to your audience in their language.
Preparation and organization are the keys to a successful audit. That's why a simple spreadsheet is so handy.
You'll want to keep a record of how these numbers increase or decrease over time. That way, you can draw conclusions about what's working and what's not.
Set a schedule to perform your audits, too. You could do them on a weekly, monthly, or quarterly basis.
Don't be afraid to experiment by trying out new social media networks. You can add these to your next audit.
Set goals based on the collected data, and you'll be consistently growing your social accounts over time.
What do you think is the most important part of a social media audit?
Germany weighs ban on Telegram, tool of conspiracy theorists
Germany has seen regular, sometimes violent, protests against Covid-related government restrictions – Copyright AFP Wakil KOHSAR
David COURBET
The German government is considering a ban on encrypted messaging app Telegram after it was repeatedly used as a channel for spreading anti-vaccine conspiracy theories and even death threats.
The app has also played a key role in mobilising turnout at some of the most violent protests in opposition to the German government's Covid-19 policies since the start of the pandemic.
With parliament due to begin debating compulsory vaccination on Wednesday, authorities fear that the controversial issue could risk firing up another wave of rage.
With this in mind, politicians have set their sights on tighter controls on Telegram.
Interior Minister Nancy Faeser will unveil plans by Easter to require the app to delete messages that contain death threats or hate speech and identify their authors.
If Telegram fails to comply, the government could even ban the service completely.
"We will ensure that those spreading hate are identified and held accountable," Faeser told the Bundestag lower house of parliament in mid-January.
She also told Die Zeit newspaper that Telegram could be deactivated in Germany if it failed to comply with local laws and "all other options have failed".
Telegram chat groups, which can include up to 200,000 members, have been used by some anti-vaccine protesters to share false information and to encourage violence against politicians.
In December, German police seized weapons during raids in the eastern city of Dresden after a Telegram group was used to share death threats against a regional leader.
The same month, Telegram was used to mobilise a group of coronavirus-sceptics to mass outside the house of Petra Koepping, the health minister of Saxony state, armed with flaming torches.
A message viewed by 25,000 people had called for people opposing Covid restrictions to share private addresses of German "local MPs, politicians and other personalities" who they believed were "seeking to destroy" them through pandemic curbs.
– New avenues –
At the height of a refugee crisis that erupted in 2015, online social networking tools Facebook and Twitter fell foul of the authorities as they were seized by the far-right to spread virulent anti-immigrant content.
In 2017, Germany passed a controversial law that requires the social network giants to remove illegal content and report it to the police.
Facebook said in September it had deleted accounts, pages and groups linked to the "Querdenker" (Lateral Thinkers), a movement that has emerged as the loudest voice against the German government's coronavirus curbs.
But that pushed opposing voices to other platforms, with Telegram emerging as the app of choice.
"Since the big platforms like Facebook no longer allow racist, anti-Semitic hate and far-right content like Holocaust denial, people who want to spread this are looking for new avenues," Simone Rafael, digital manager for the Amadeu Antonio anti-racism foundation, told AFP.
"Currently, the most popular one in Germany is Telegram," Rafael said.
While Facebook has an interest in maintaining a presence in Germany and has gradually submitted to national legislation, this is not the case with Telegram, the expert said.
"Telegram is not cooperating with the judicial or security authorities, even on indisputably punishable and reprehensible matters such as child pornography," a behaviour that "deprives the state of any capacity for action", Rafael said.
With Telegram not budging, German federal police are even planning to start flooding the company with requests for content deletion to push it into action, reported Die Welt daily.
– 'Very bad signal' –
One option for the government could be to require Google or Apple to remove Telegram from their app stores. However, this would not affect users who have already downloaded the app.
For Rafael, the only solution is to ban the app completely.
That would make Germany the first Western country to outlaw Telegram, created in 2013 by Russian brothers Nikolai and Pavel Durov, two opponents of Russian President Vladimir Putin who sought to avoid surveillance by their country's secret services.
The company is currently headquartered in Dubai, with its parent group in British Virgin Islands.
Telegram is already banned or heavily regulated in China, India and Russia.
But a move against the app could also spark further dissent in Germany.
Such a drastic step would "send a very bad signal", according to digital journalist Markus Reuter.
"On the one hand we are celebrating Telegram's lack of censorship and its importance for democratic movements in Belarus and Iran, and on the other, we are then disabling the service here" in Germany, he said.
Entireweb Articles – Read the latest Articles and News in Search Engine related world!
Meta Looks to Sell Off its Diem Cryptocurrency Project Due to Ongoing Challenges and Restrictions
After three years of development, and a raft of changes to its name, scope, leadership and purpose, it seems like Meta's trouble cryptocurrency project may soon come to an end.
According to reports, Meta's looking to pull the pin on its Diem/Novi crypto project, with company representatives seeking expressions of interest on its sale.
As reported by Bloomberg:
"The Diem Association, a cryptocurrency initiative once known as Libra backed by Meta Platforms Inc., is weighing a sale of its assets as a way to return capital to its investor members, according to people familiar with the matter. Diem is in discussions with investment bankers about how best to sell its intellectual property and find a new home for the engineers who developed the technology, cashing out whatever value remains in its once-ambitious Diem coin venture, said the people, asking not to be identified because the discussions aren't public."
That would be a significant step back for Meta, which launched its original Libra crypto project to much fanfare in 2019, with former PayPal chief David Marcus at the helm of the initiative.
But the project saw strong resistance from the start.
Maybe it's because it was coming from Meta (then Facebook), or maybe it was due to widespread distrust of crypto projects, but many regions came straight out and said that they would not support the company creating its own currency. The public backlash saw many of the initial big-name backers pull out, including Visa, Mastercard and PayPal, all key names which had leant credibility to the initial concept.
That, already, put the entire experiment in limbo, because without the support of major financial institutions, Meta's options for the project were limited. It seemed, then, that the project would likely fade away, but then in May 2020, Meta announced that it was changing the name of its crypto wallet from Calibra to Novi.
In October last year, after a long period of no news, then Novi chief David Marcus announced the next major step forward for the project, with the launch of a pilot of its Novi digital wallet in the US and Guatemala, enabling users to send and receive money between the two regions.
That was the first concrete steps we'd seen in making the project a workable reality, but still, many regions are still very skeptical of cryptocurrency, and with India, in particular, moving to ban cryptocurrencies outright, the value of the project was also lessened, potentially to the point where it's now no longer viable in broader terms.
India, it's worth noting, is where Meta sees the most potential for money transfers and eCommerce, as it looks to cement its apps as key connective tools in the emerging market.
Shortly after the launch of the Novi payments pilot, David Marcus left the project, and maybe that was the final flag, the signal that it was just never going to make it.
Which now leads to these new reports, that Meta's looking to sell it off – though it is worth noting that the reports suggest that Meta is looking to get out of the Diem Association, the parent group overseeing the project, with no mention of the Novi payment project specifically.
I would assume that they are intrinsically tied together, but maybe there's a way for Meta to continue to support and develop its Novi payments option independently, though that does seem like a stretch.
So what would a sale of Diem, and the failure of Meta's crypto push, mean for crypto more broadly?
I mean, resistance is steadily growing for cryptocurrencies in general, with more regions now moving to cut them off completely, including Russia, China and Indonesia in recent months. A report published the Library Law of Congress late last year showed that the number of countries and jurisdictions that have either banned or restricted cryptocurrencies has more than doubled since 2018, due to concerns around scam activity, market price fluctuations, and environmental impacts as a result of crypto 'mining'.
Yet, at the same time, many western nations are seeing a boom in sales of crypto-aligned projects like NFTs, and with Web3 advocates essentially tying the growing tech movement into crypto development, it is actually gaining momentum in some circles, despite concurrently rising concerns.
But as noted, western markets are not where Meta saw the most potential value in its crypto project. Meta's real aim has been to build native, in-stream payments into its apps, in order to further embed their use into developing markets, like India and Indonesia. Both of these regions see high remittance activity, with people transferring money back to family, and Meta originally saw Diem as a vehicle for removing fees from such exchanges, which would then get more people moving their money through Facebook and WhatsApp.
And once they're already shifting their money around in its apps, that would make it much easier for Meta to parlay that behavior into eCommerce, expanding utility, and importance, for the millions of people in these markets.
But it does seem like that's not to be – and given that, it makes sense for Meta to move on.
Though it's not a great endorsement for the potential of crypto, in a broader sense. If Meta, with all of its resources and influence, can't find a real use case for crypto, does that suggest that its potential value is not as high as some advocates think?
That might be a stretch, but as more regions move to ban crypto projects, and more big players step away from the sector, it does seem like the challenges are rising, which could, eventually, put the brakes on the entire crypto movement.    
Entireweb Articles – Read the latest Articles and News in Search Engine related world!
China restricts activists' social media ahead of Olympics
Multiple Chinese activists have seen their WeChat accounts restricted or disabled entirely in the lead-up to the Winter Olympics in Beijing – Copyright AFP Kirill KUDRYAVTSEV
Laurie CHEN
Human rights activists and some academics in China have had their WeChat messaging app accounts restricted in recent weeks, multiple people affected have told AFP, as Beijing cracks down on dissent before the Winter Olympics.
China hopes to make next week's Games a soft power triumph, although the lead-up has seen some Western powers launch a diplomatic boycott over Beijing's rights record and cybersecurity firms warn athletes of digital surveillance risks.
For China's ever-dwindling community of activists, the imminent arrival of the world's best athletes has triggered a familiar clampdown.
Eight individuals told AFP that their WeChat accounts had been restricted in some form since early December, with some unable to use their accounts entirely and forced to re-register.
The restrictions came as authorities detained two prominent human rights activists, lawyer Xie Feng and writer Yang Maodong, while a third rights lawyer missing since early December is believed by relatives to be in secret detention.
"This storm of shuttering WeChat accounts is too strong and unprecedented," said veteran journalist Gao Yu, whose account had features like group chat messaging permanently disabled for the first time on December 20.
China routinely suppresses the social media accounts and physical movements of dissidents during politically sensitive periods such as Communist Party gatherings in Beijing or key anniversaries like the 1989 Tiananmen crackdown.
A major Party Congress will take place towards the end of this year when President Xi Jinping, China's most authoritarian leader in a generation, is expected to further cement his rule with a third term.
The arrival of the Winter Olympics has presaged a clampdown similar to those surrounding other major events.
"The government now wants to make sure that people don't cross the line online to poke the facade of a perfect Winter Olympic Games," said Yaqiu Wang, senior China researcher at Human Rights Watch.
– Ubiquitous app –
Tencent's app WeChat is a mainstay of daily life in China, with users relying on it for a range of services including payments and scanning health codes that permit entry to public venues.
"I know many people who've been banned from posting in group chats or posting WeChat Moments lately," a Beijing lawyer whose account was restricted last month said on condition of anonymity.
Beijing-based writer Zhang Yihe said her WeChat group chat and Moments functions — similar to Facebook's Wall or Instagram Stories — were restricted on January 8.
Tsinghua University sociology professor Guo Yuhua confirmed her account was permanently blocked the same day, while prominent legal scholar He Weifang said he encountered the same on January 9.
"Isn't this equal to removing an individual from a public space?" said Zhang, adding she can now only send WeChat messages to individual users.
"Before and during the Olympics is a major sensitive period," added a Beijing-based activist whose account was restricted twice in the past two months.
Tencent, the owner of WeChat, did not respond to a request for comment.
– Offline crackdown –
In recent weeks, Chinese police have detained two prominent rights activists on suspicion of "inciting state subversion", according to official notices shared with AFP.
One of them, Yang Maodong, was unable to reunite with his wife in the United States before her death in early January.
Relatives of Tang Jitian, a human rights lawyer who vanished last month en route to an EU Human Rights Day event in Beijing, told AFP they believe he is being held under a form of secret detention commonly used against dissidents, possibly in his home province of Jilin.
"We don't know where he is. I've reported him missing to the police but with no result," said a relative who did not wish to be identified for fear of reprisal.
"They said it doesn't meet the requirements for filing a (missing persons) case and that he had scanned the Jilin province health code."
People arrested for national security offences in China can disappear for months at a time into incommunicado detention before authorities charge them or reveal their fate.
Both Jilin and Beijing's public security bureaus did not respond to requests for comment.
The International Olympic Committee said in an emailed response that it "has neither the mandate nor the capability to change the laws or the political system of a sovereign country", adding that it "must remain neutral on all global political issues".
Beijing Games organisers told AFP they "oppose the politicisation of sports" and were "not aware of these matters".
Meanwhile, those still free lament mounting restrictions on speech under the current political climate.
"The space for public discourse is getting smaller and smaller," said He.
Entireweb Articles – Read the latest Articles and News in Search Engine related world!