Trump's Social Media Posts Could Face Different Moderation Rules Once He Leaves Office. Social …
66% of Democrats said the special rules should "definitely" or "probably" be applied to leaders after they leave office, compared to 46% of Republicans.
34% of social media users said Trump should be banned from platforms whenever he shares disinformation about the election results — the highest share among the list of figures included in the survey.
Come Inauguration Day on Jan. 20, President Donald Trump's social media posts could be treated like those from any other user, with the potential that his account could be suspended or banned from the platform whenever he routinely violates a company's moderation rules, instead of receiving a warning label or other more lenient treatments like his posts do now.
A new Morning Consult survey suggests, however, that most social media users don't appear to have a strong appetite for seeing a former head of state's accounts treated like any other.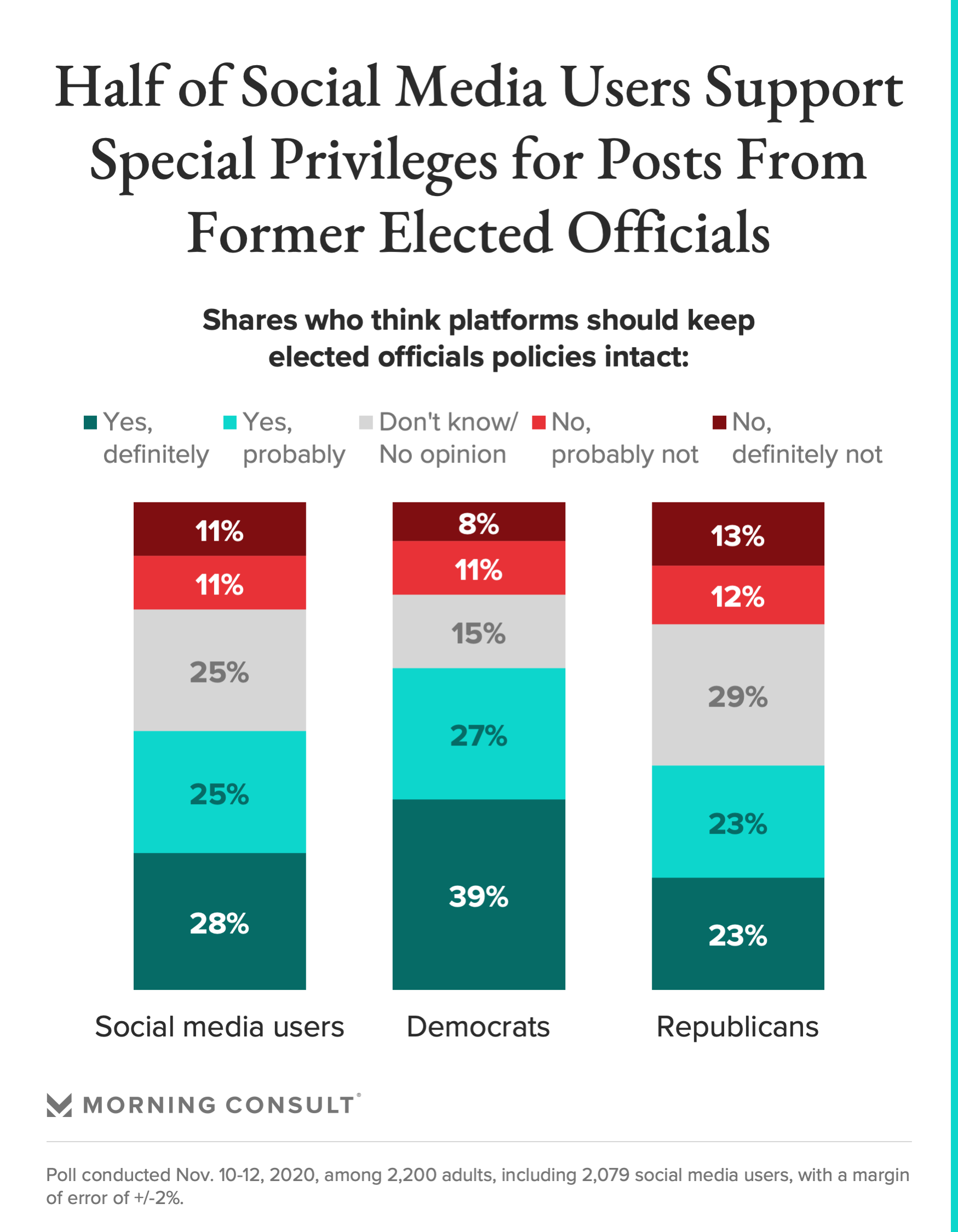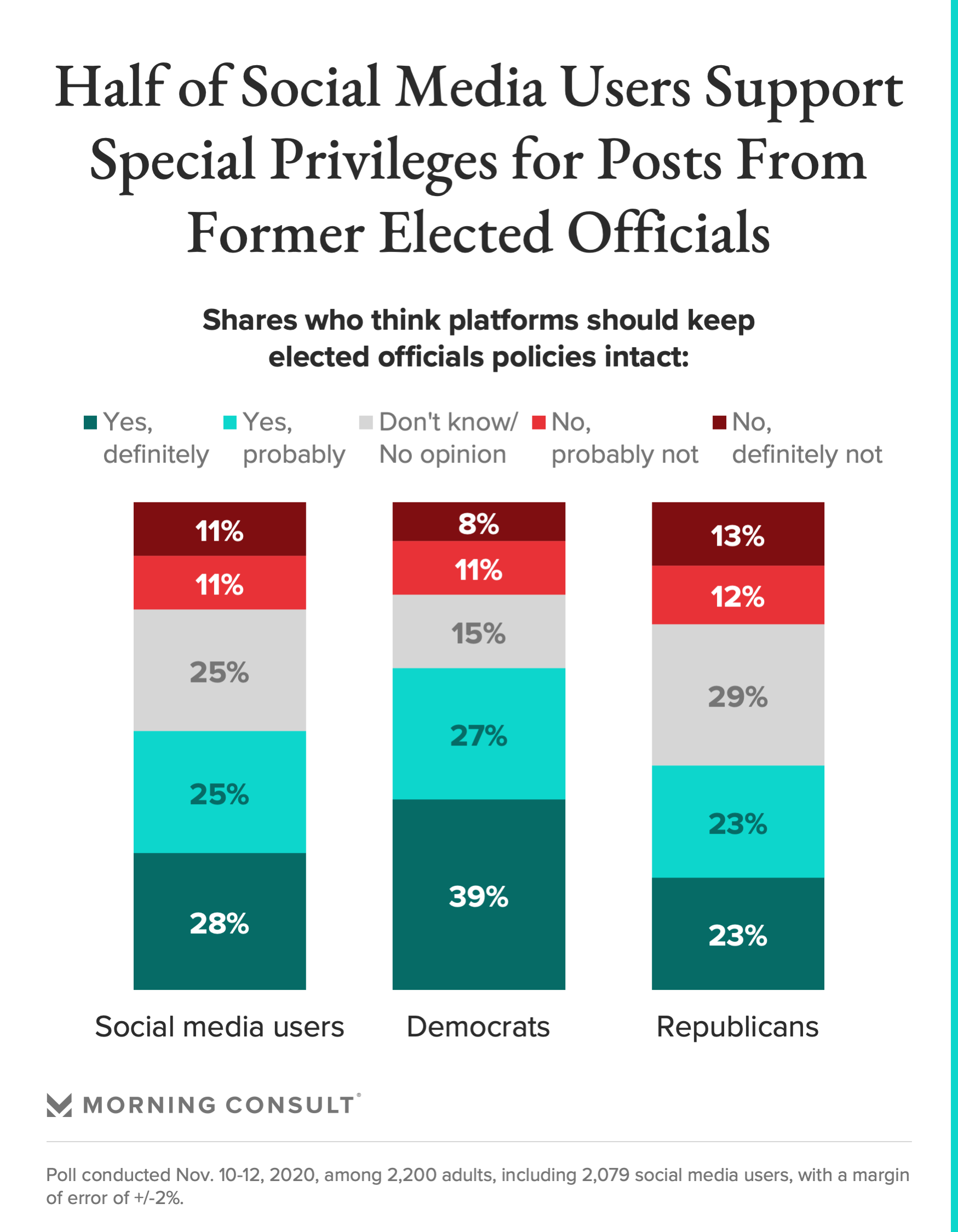 According to the survey conducted Nov. 10-12 among 2,079 social media users, 53 percent said special policies for moderating social media posts from elected officials, such as the sitting president or other heads of state, should "definitely" or "probably" apply to those same accounts once the official leaves office. Another 25 percent said they were unsure or didn't have an opinion.
Given how the posting policies would impact Trump, Democrats, perhaps surprisingly, appeared more inclined to say that the special rules should "definitely" or "probably" be applied after elected officials leave office, with 66 percent saying so compared to 46 percent of Republicans.
The survey has a margin of error of 2 percentage points.
During testimony before the Senate Judiciary Committee on Tuesday, Twitter Inc. Chief Executive Jack Dorsey confirmed in a question from Sen. Cory Booker (D-N.J.) that his platform will no longer apply its "public interest" policies to Trump's tweets, which typically protects the president from being banned or suspended after multiple rule violations. On the other hand, Facebook Inc. CEO Mark Zuckerberg said Trump's posts will continue to be treated as they are, and a company spokesperson said following the hearing that like all other former candidates and elected officials, Trump's posts will continue to be eligible for fact-checking by the company's third-party fact-checking partners.
Since Trump arrived on the political stage in 2015, his use of the major social media platforms — especially Facebook, Twitter and Google's YouTube — have prompted the companies to examine how politicians factor into their content moderation policies, including those targeting false or misleading information, harassment and offensive content.
Over the years, their approaches have varied: Twitter arguably has had the strictest approach, which mostly relies on placing the content behind a warning label that users have to click through. And executives at Facebook and YouTube long argued that exempting Trump's posts that violate their platforms' rules from punishment was necessary because of their news value. Both companies have started placing more labels on the president's posts, especially about the coronavirus pandemic and the 2020 elections.
Despite that, Trump's posts have continued to be a strong source for misinformation about the elections, specifically. A New York Times analysis published Monday indicates that Trump included unsubstantiated falsehoods about voter fraud in over 300 tweets since election night on Nov. 3. And an October report from Harvard University's Berkman Klein Center for Internet and Society concluded that Trump's personal Twitter account was one of the top sources for disinformation about mail-in voter fraud in this year's elections. The study analyzed more than 55,000 online media stories, 5 million tweets and 75,000 posts on public Facebook pages.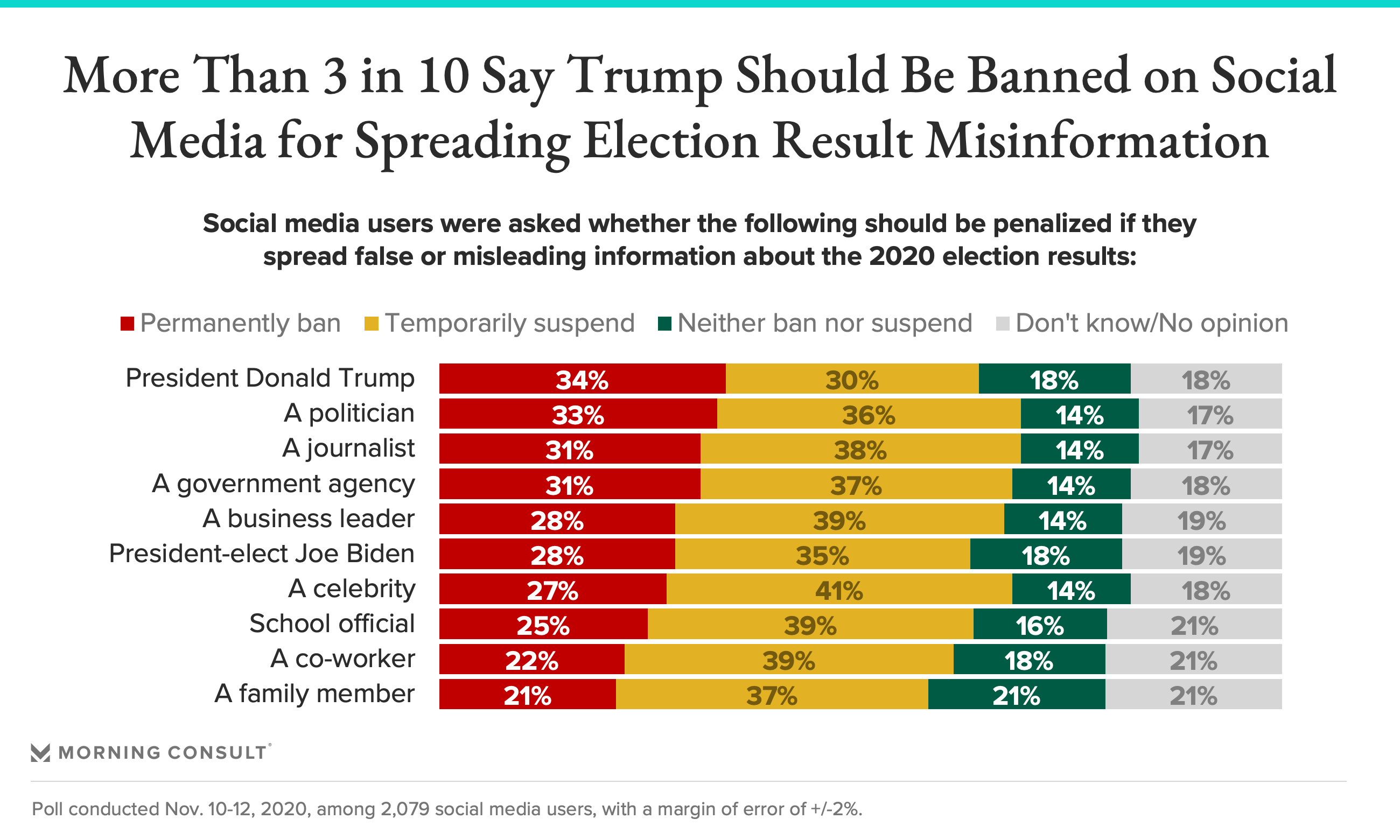 And while social media users aren't so sure that platforms should start moderating the president's posts like any other, they do appear to have a stronger appetite for seeing enforcement actions against Trump's posts that spread false or misleading information about the 2020 U.S. election results.
In the poll, 34 percent of social media users said the president should be banned from social media platforms when he posts disinformation about the election results — the highest share among the list of public figures included in the survey. Thirty percent said Trump's account should be temporarily suspended for spreading such false or misleading election information.
For comparison, 28 percent of social media users said President-elect Joe Biden's account should be banned if he were to share misleading or false information about the election results, and 35 percent said he should be suspended.
Shannon McGregor, senior researcher at the University of North Carolina's Center for Information, Technology, and Public Life, said overall, the general sentiments that social media users have about banning or suspending the president appears to align with the platforms' existing approaches.
"There's some, but not necessarily overwhelming, appetite for political leaders to be banned, or even suspended," McGregor said. "It seems as if people might not understand quite the impact that political elites and public figures have on public discourse."
Is this X's (formerly Twitter) final goodbye to big advertisers? It looks like it
It looks like big advertisers are leaving X (formerly Twitter) for good and its owner Elon Musk couldn't care less.
In the packed DealBook conference in New York on Wednesday, he bluntly told them to shove it. 
This response came after another round of advertisers including IBM, Apple, CNN and Disney bailed on his social network after Musk seemingly supported an antisemitic conspiracy theory last month by responding to an X user's post — a move he's since admitted was silly and apologized for. Musk was less remorseful over the uproar caused among advertisers, telling the room: "This advertising boycott is going to kill the company… let's see how Earth responds to that."
For many large marketers, this marks the end of a drawn-out farewell (lasting a whopping 13 months) to advertising on X since Musk took over. Surprisingly, even some of X's own staff members are now calling it quits. Freelance journalist Claire Atkinson reported a "wave of resignations" from CEO Linda Yaccarino's sales team, including a few of the remaining ad executives who were there before she officially joined in June. Musk's actions are essentially reversing any recent progress made in reviving X's advertising business.
Lou Paskalis, CEO and founder of AJL Advisory confirmed that Musk's comments were indeed another extra nail in the already well sealed coffin because it reaffirmed what most large advertisers already know — Musk resents having to be beholden to them.
"He is trying to position their legitimate brand suitability concerns, largely precipitated by his ongoing antics on X, as a vast, left-wing conspiracy among advertisers to 'blackmail' him into constraining his right to free speech," Paskalis said. "As someone who spent over three decades in the ad buying business, it's laughable to think that we could all act with that level of coordination, presumably in secret."
This event highlights how out of touch Musk is with what keeps his company running. He takes an ad boycott as a personal insult when, truthfully, it's just part and parcel of managing a platform these days. Look at how often YouTube and Meta have dealt with similar issues over the years. The difference? The bigwigs at those companies prioritized protecting their businesses, not their public personas, and were willing to make compromises to win back advertisers. Not that it took much to win back those ad dollars — advertisers rely on those platforms as much as the platforms rely on them.
"It's just a very sensible decision not to continue advertising on that platform which poses such a strong brand safety risk," said Ebiquity's chief strategy officer Ruben Schreurs. "To do all this on stage is unheard of, I've never seen anything like it before."
The largest advertisers seem to agree. Unlike their previous boycotts of advertising on X, this one is permanent for many of them. Some of the most active accounts like Disney, Paramount, Liongsate and Sony Pictures haven't posted in nearly two weeks. This chimes with what one senior ad exec, who had been in touch with a number of X's advertisers over the past year, told Digiday last month. Advertisers who had continued to spend on the platform only paid a fraction of what they used to prior to Musk, out of fear of getting called out by Musk if they didn't.
"It's easier to pull advertising than it is to return, and what makes the X ad boycott unique is that it isn't primarily about content adjacency or moderation," said Jasmine Enberg, principal analyst, social media at Insider Intelligence. "Advertisers are concerned about the reputational damage and the uncertainty of doing business with Musk, and yesterday's comments will deepen the rift between them."
An impossible job has now become even more challenging for Yaccarino. Ad dollars weren't exactly flowing into the social network before Musk's latest rant. X has averaged a 55% year-over-year revenue decline, according to Guideline. This figure increased to 61% YOY between May and August 2023 — despite Yaccarino joining the company during the summer. 
"The hill she [Yaccarino] must climb to rekindle advertiser demand for the platform just went from steep to vertical," said Paskalis. "I don't know how anyone could overcome a direct verbal assault of the magnitude that Musk delivered at the DealBook conference against a customer base already alarmed by his previous rage inducing, divisive and dog whistle laden tweets. None of this will cause Linda to leave, in my opinion, as she sees quitting as failure and failure is not an option in her calculus, no matter what damage may be done to her reputation."
X did not respond to Digiday's request for comment.
YouTube Adds New Analytics Cards, Simplifies its 'Product Drops' Feature
YouTube's making some updates to its Product Drops feature within live streams, while it's also adding some new analytics cards, and testing a new format for its TV app.
First off, on Product Drops. YouTube's changing the requirements for Product Drops in live streams so that more creators will be able to include drops to highlight their items.
Up till now, Product Drops have only been available to creators who've connected their Shopify stores, or have access to Google Merchant Center, while creators have also had to plan Product Drops in advance, and schedule them via Live Control Room. But now, YouTube's giving more creators more ways to access the feature.
As per YouTube:
"Any creators who have connected to their first party stores, or are participating in the YouTube Affiliate Program can set up Product Drops in the live control room on YouTube. This means that more creators will be able to use Product Drops to boost sales and engagement on their live streams."
YouTube will also now enable creators to implement Product Drops at any time during a live stream, eliminating the pre-planned requirement.
"This will give creators more flexibility to react to the moment, and drive excitement in real time."
YouTube says that many creators have seen good response to their Product Drops, with the interactive, engaging process helping to drive hype, and spark more response from viewers.
Product Drops are available via the Live Control Room in YouTube Studio. You can read more about how they work here.
YouTube's also updating its Community Posts creation flow, in order to simplify the process, and ideally get more channels posting text-based updated in the app.
Community Posts remain a lesser element, though YouTube's been working to make them a bigger focus throughout the year, by adding additional engagement elements like polls, quizzes, disappearing updates, and more.
Simplifying the creation process is another step in boosting awareness, and potentially driving more interaction with you YouTube audience.
YouTube's also adding some new revenue analytics cards, including "Total Members" insights (which includes subscriber data) and "Where Members Joined From", which will provide more insight into what's driving channel growth.
YouTube's also adding new data on why users have canceled their membership within the insights tab in YouTube Analytics.
As you can see in this example, the new card will show the reasons why people have opted to stop their subscription to your channel, based on responses provided in the cancellation flow.
Finally, YouTube's also experimenting with a new format for its TV app, which will make it easier to access different elements.
As you can see in this example, shared by 9t05Google, the new format will include bigger buttons to access different elements, and further customize your YouTube experience on the bigger screen.
Connected TV is the fastest growing viewer segment for YouTube, with more and more people now looking to consume YouTube content on their home TV set. As such, it makes sense for YouTube to roll out more updates aligned with big screen viewing in order to feed into this usage.
Some handy updates, across various elements, which are worth noting as you go about managing your YouTube presence.
Musk regrets controversial post but won't bow to advertiser 'blackmail'
Elon Musk's comments at the New York Times' Dealbook conference drew a shocked silence – Copyright GETTY IMAGES NORTH AMERICA/AFP Slaven Vlasic
Elon Musk apologized Wednesday for endorsing a social media post widely seen as anti-Semitic, but accused advertisers who are turning away from his social media platform X of "blackmail" and said anyone who does so can "go fuck yourself."
The remark before corporate executives at the New York Times' Dealbook conference drew a shocked silence.
Earlier, Musk had apologized for what he called "literally the worst and dumbest post that I've ever done."
In a comment on X, formerly Twitter, Musk on November 15 called a post "the actual truth" that said Jewish communities advocated a "dialectical hatred against whites," which was criticized as echoing longtime conspiracy theory among White supremacists.
The statement prompted a flood of departures from X of major advertisers, including Apple, Disney, Comcast and IBM who criticized Musk for anti-semitism.
"I'm sorry for that tweet or post," Musk said Wednesday. "It was foolish of me."
He told interviewer Andrew Ross Sorkin that his post had been misinterpreted and that he had sought to clarify the remark in subsequent posts to the thread.
But Musk also said he wouldn't be beholden to pressure from advertisers.
"If somebody's gonna try to blackmail me with advertising, blackmail me with money?" Musk said. "Go fuck yourself."
But the billionaire acknowledged that there were business implications to the advertiser actions.
"If the company fails… it will fail because of an advertiser boycott" Musk said. "And that will be what will bankrupt the company."
Musk, who met with Israeli Prime Minister Benjamin Netanyahu during a visit to Israel earlier this week, insisted in the interview that he holds no discrimination against Jews, calling himself "philo-Semitic," or an admirer of Judaism.
During the interview, Musk wore a necklace given to him by a parent of an Israeli hostage taken in the Hamas attack on October 7. The necklace reads, "Bring Them Home."
Musk told Sorkin that the Israel trip had been planned earlier and was not an "apology tour" related to the controversial tweet.