Trump's Social Media Posts Could Face Different Moderation Rules Once He Leaves Office. Social …
66% of Democrats said the special rules should "definitely" or "probably" be applied to leaders after they leave office, compared to 46% of Republicans.
34% of social media users said Trump should be banned from platforms whenever he shares disinformation about the election results — the highest share among the list of figures included in the survey.
Come Inauguration Day on Jan. 20, President Donald Trump's social media posts could be treated like those from any other user, with the potential that his account could be suspended or banned from the platform whenever he routinely violates a company's moderation rules, instead of receiving a warning label or other more lenient treatments like his posts do now.
A new Morning Consult survey suggests, however, that most social media users don't appear to have a strong appetite for seeing a former head of state's accounts treated like any other.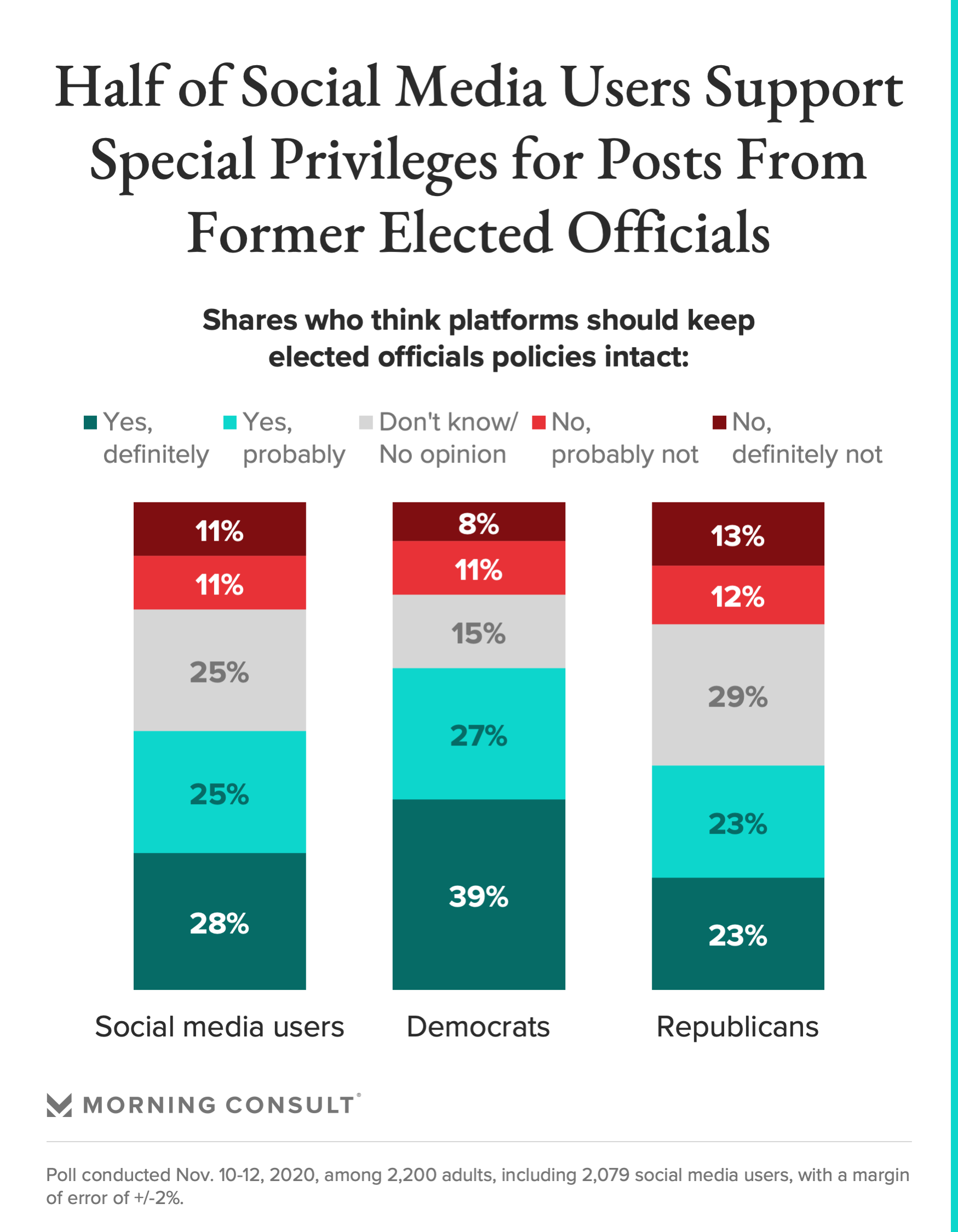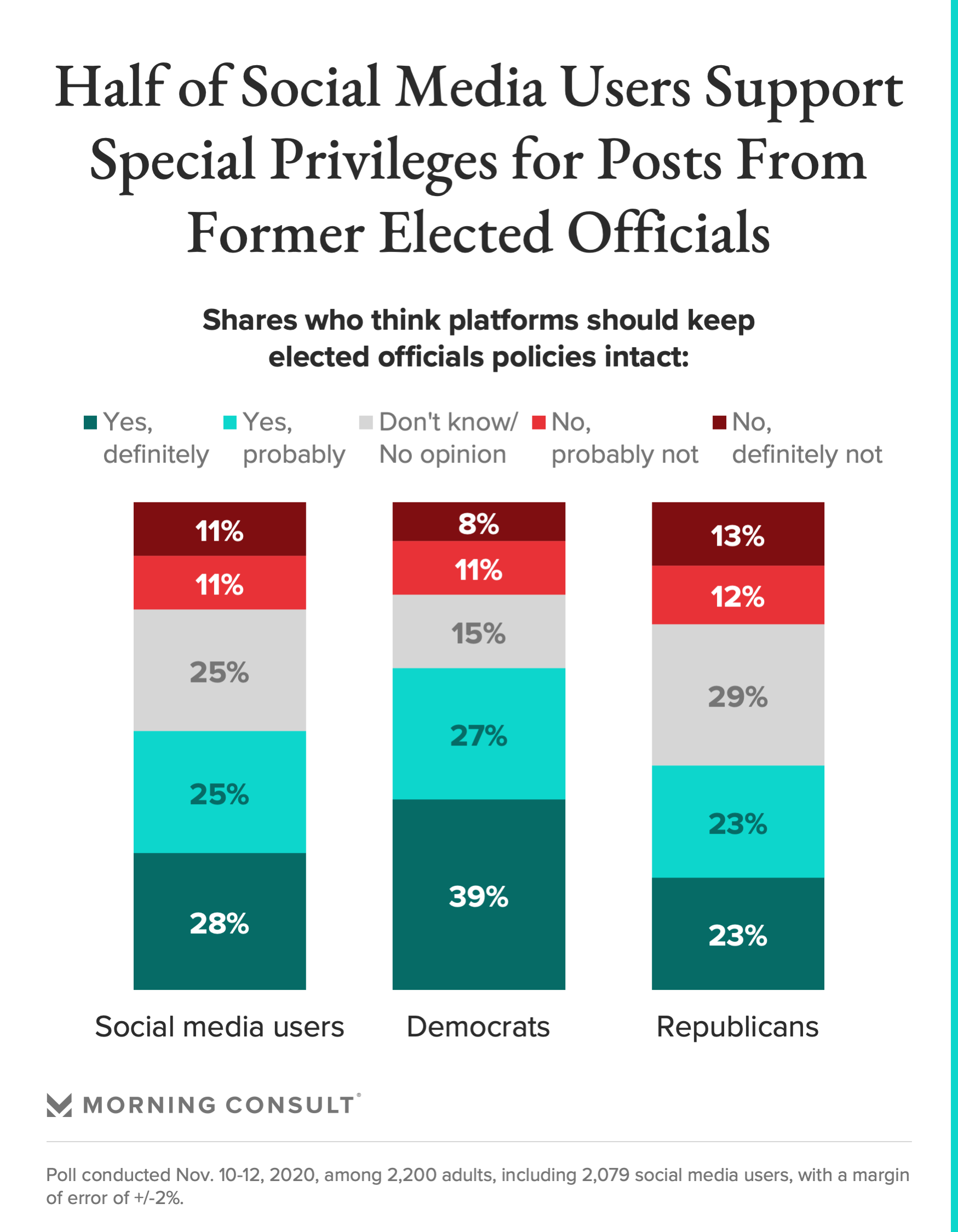 According to the survey conducted Nov. 10-12 among 2,079 social media users, 53 percent said special policies for moderating social media posts from elected officials, such as the sitting president or other heads of state, should "definitely" or "probably" apply to those same accounts once the official leaves office. Another 25 percent said they were unsure or didn't have an opinion.
Given how the posting policies would impact Trump, Democrats, perhaps surprisingly, appeared more inclined to say that the special rules should "definitely" or "probably" be applied after elected officials leave office, with 66 percent saying so compared to 46 percent of Republicans.
The survey has a margin of error of 2 percentage points.
During testimony before the Senate Judiciary Committee on Tuesday, Twitter Inc. Chief Executive Jack Dorsey confirmed in a question from Sen. Cory Booker (D-N.J.) that his platform will no longer apply its "public interest" policies to Trump's tweets, which typically protects the president from being banned or suspended after multiple rule violations. On the other hand, Facebook Inc. CEO Mark Zuckerberg said Trump's posts will continue to be treated as they are, and a company spokesperson said following the hearing that like all other former candidates and elected officials, Trump's posts will continue to be eligible for fact-checking by the company's third-party fact-checking partners.
Since Trump arrived on the political stage in 2015, his use of the major social media platforms — especially Facebook, Twitter and Google's YouTube — have prompted the companies to examine how politicians factor into their content moderation policies, including those targeting false or misleading information, harassment and offensive content.
Over the years, their approaches have varied: Twitter arguably has had the strictest approach, which mostly relies on placing the content behind a warning label that users have to click through. And executives at Facebook and YouTube long argued that exempting Trump's posts that violate their platforms' rules from punishment was necessary because of their news value. Both companies have started placing more labels on the president's posts, especially about the coronavirus pandemic and the 2020 elections.
Despite that, Trump's posts have continued to be a strong source for misinformation about the elections, specifically. A New York Times analysis published Monday indicates that Trump included unsubstantiated falsehoods about voter fraud in over 300 tweets since election night on Nov. 3. And an October report from Harvard University's Berkman Klein Center for Internet and Society concluded that Trump's personal Twitter account was one of the top sources for disinformation about mail-in voter fraud in this year's elections. The study analyzed more than 55,000 online media stories, 5 million tweets and 75,000 posts on public Facebook pages.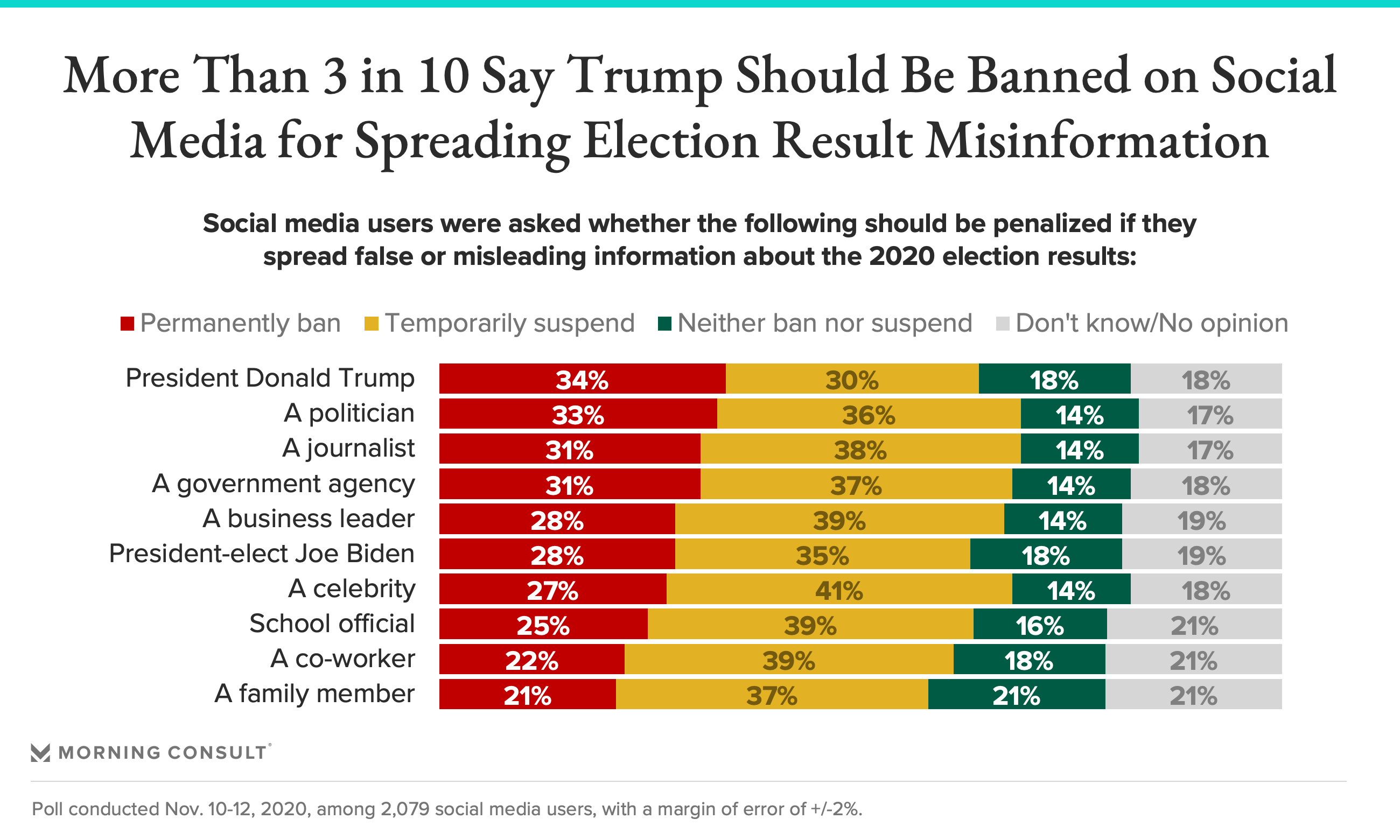 And while social media users aren't so sure that platforms should start moderating the president's posts like any other, they do appear to have a stronger appetite for seeing enforcement actions against Trump's posts that spread false or misleading information about the 2020 U.S. election results.
In the poll, 34 percent of social media users said the president should be banned from social media platforms when he posts disinformation about the election results — the highest share among the list of public figures included in the survey. Thirty percent said Trump's account should be temporarily suspended for spreading such false or misleading election information.
For comparison, 28 percent of social media users said President-elect Joe Biden's account should be banned if he were to share misleading or false information about the election results, and 35 percent said he should be suspended.
Shannon McGregor, senior researcher at the University of North Carolina's Center for Information, Technology, and Public Life, said overall, the general sentiments that social media users have about banning or suspending the president appears to align with the platforms' existing approaches.
"There's some, but not necessarily overwhelming, appetite for political leaders to be banned, or even suspended," McGregor said. "It seems as if people might not understand quite the impact that political elites and public figures have on public discourse."
Entireweb Articles – Read the latest Articles and News in Search Engine related world!
Meta's Developing and 'Ethical Framework' for the Use of Virtual Influencers
With the rise of digital avatars, and indeed, fully digital characters that have evolved into genuine social media influencers in their own right, online platforms now have an obligation to establish clear markers as to what's real and what's not, and how such creations can be used in their apps.
The coming metaverse shift will further complicate this, with the rise of virtual depictions blurring the lines of what will be allowed, in terms of representation. But with many virtual influencers already operating, Meta is now working to establish ethical boundaries on their application.
As explained by Meta:
"From synthesized versions of real people to wholly invented "virtual influencers" (VIs), synthetic media is a rising phenomenon. Meta platforms are home to more than 200 VIs, with 30 verified VI accounts hosted on Instagram. These VIs boast huge follower counts, collaborate with some of the world's biggest brands, fundraise for organizations like the WHO, and champion social causes like Black Lives Matter."
Some of the more well-known examples on this front are Shudu, who has more than 200k followers on Instagram, and Lil' Miquela, who has an audience of over 3 million in the app.
At first glance, you wouldn't necessarily realize that this is not an actual person, which makes such characters a great vehicle for brand and product promotions, as they can be utilized 24/7, and can be placed into any environment. But that also leads to concerns about body image perception, deepfakes, and other forms of misuse through false or unclear representation.
Deepfakes, in particular, may be problematic, with Meta citing this campaign, with English football star David Beckham, as an example of how new technologies are evolving to expand the use of language, as one element, for varying purpose.
The well-known 'DeepTomCruise' account on TikTok is another example of just how far these technologies have come, and it's not hard to imagine a scenario where they could be used to, say, show a politician saying or doing something that he or she actually didn't, which could have significant real world impacts.
Which is why Meta is working with developers and experts to establish clearer boundaries on such use – because while there is potential for harm, there are also beneficial uses for such depictions.
"Imagine personalized video messages that address individual followers by name. Or celebrity brand ambassadors appearing as salespeople at local car dealerships. A famous athlete would make a great tutor for a kid who loves sports but hates algebra."
Such use cases will increasingly become the norm as VR and AR technologies are developed, with these platforms placing digital characters front and center, and establishing new norms for digital connection.
It would be better to know what's real and what's not, and as such, Meta needs clear regulations to remove dishonest depictions, and enforce transparency over VI use.
But then again, much of what you see on Instagram these days is not real, with filters and editing tools altering people's appearance well beyond what's normal, or realistic. That can also have damaging consequences, and while Meta's looking to implement rules on VI use, there's arguably a case for similar transparency in editing tools applied to posted videos and images as well.
That's a more complex element, particularly as such tools also enable people to feel more comfortable in posting, which no doubt increases their in-app activity. Would Meta be willing to put more focus on this element if it could risk impacting user engagement? The data on the impact of Instagram on people's mental health are pretty clear, with comparison being a key concern.
Should that also come under the same umbrella of increased digital transparency?
It's seemingly not included in the initial framework as yet, but at some stage, this is another element that should be examined, especially given the harmful effects that social media usage can have on young women.
But however you look at it, this is no doubt a rising element of concern, and it's important for Meta to build guardrails and rules around the use of virtual influencers in their apps.
You can read more about Meta's approach to virtual influencers here.
Entireweb Articles – Read the latest Articles and News in Search Engine related world!
Meta Publishes New Guide to the Various Security and Control Options in its Apps
Meta has published a new set of safety tips for journalists to help them protect themselves in the evolving online connection space, which, for the most part, also apply to all users more broadly, providing a comprehensive overview of the various tools and processes that it has in place to help people avoid unwanted attention online.
The 32-page guide is available in 21 different languages, and provides detailed overviews of Meta's systems and profile options for protection and security, with specific sections covering Facebook, Instagram and WhatsApp.
The guide begins with the basics, including password protections and enabling two-factor authentication.
It also outlines tips for Page managers in securing their business profiles, while there are also notes on what to do if you've been hacked, advice for protection on Messenger and guidance on bullying and harassment.
For Instagram, there are also general security tips, along with notes on its comment moderation tools.
While for WhatsApp, there are explainers on how to delete messages, how to remove messages from group chats, and details on platform-specific data options.
There are also links to various additional resource guides and tools for more context, providing in-depth breakdowns of when and how to action the various options.
It's a handy guide, and while there are some journalist-specific elements included, most of the tips do apply to any user, so it could well be a valuable resource for anyone looking to get a better handle on your various privacy tools and options.
Definitely worth knowing either way – you can download the full guide here.
Entireweb Articles – Read the latest Articles and News in Search Engine related world!
Twitter bans account linked to Iran leader over video threatening Trump
Iran's supreme leader Ayatollah Ali Khamenei meets with relatives of slain commander Qasem Soleimani ahead of the second anniverary of his death in a US drone strike in Iraq – Copyright POOL/AFP/File Tom Brenner
Twitter said Saturday it had permanently suspended an account linked to Iran's supreme leader that posted a video calling for revenge for a top general's assassination against former US president Donald Trump.
"The account referenced has been permanently suspended for violating our ban evasion policy," a Twitter spokesperson told AFP.
The account, @KhameneiSite, this week posted an animated video showing an unmanned aircraft targeting Trump, who ordered a drone strike in Baghdad two years ago that killed top Iranian commander General Qassem Soleimani.
Supreme leader Ayatollah Ali Khamenei's main accounts in various languages remain active. Last year, another similar account was suspended by Twitter over a post also appearing to reference revenge against Trump.
The recent video, titled "Revenge is Definite", was also posted on Khamenei's official website.
According to Twitter, the company's top priority is keeping people safe and protecting the health of the conversation on the platform.
The social media giant says it has clear policies around abusive behavior and will take action when violations are identified.
As head of the Quds Force, the foreign operations arm of Iran's Revolutionary Guards, Soleimani was the architect of its strategy in the Middle East.
He and his Iraqi lieutenant were killed by a US drone strike outside Baghdad airport on January 3, 2020.
Khamenei has repeatedly promised to avenge his death.
On January 3, the second anniversary of the strike, the supreme leader and ultraconservative President Ebrahim Raisi once again threatened the US with revenge.
Trump's supporters regularly denounce the banning of the Republican billionaire from Twitter, underscoring that accounts of several leaders considered authoritarian by the United States are allowed to post on the platform.
Entireweb Articles – Read the latest Articles and News in Search Engine related world!