New Tool: SEO Audit Management 🔍
As you may already know, SERPed.net allows you to generate SEO audit reports, for yourself and your clients.
With SEO Audit, you can run an audit for any site, not just your own sites and clients' sites, but also prospects' sites, competitors' sites… In short: more flexibility and opportunities.
Here is what the audit report looks like: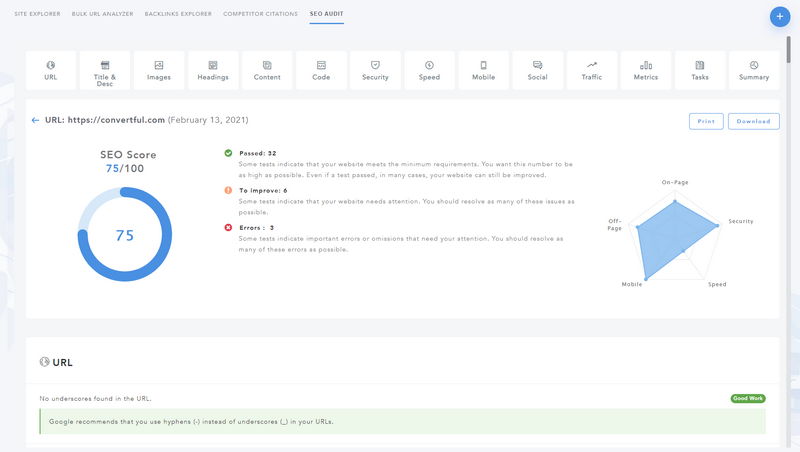 As you can see, we check quite a lot of aspects: on-page, off-page, mobile-friendliness, speed, security…
In SEO Audit, you can generate 2 types of reports:
Standard Report: one-off reports, generated once (you can run an audit for a specific site multiple times of course)
Automated Report: recurring reports, generated every week, month, or quarter (you choose the frequency you want)
Standard Audit Reports
Do you want to create an audit report for a prospect just before a meeting, or simply want to check what your competitors are doing? We suggest you generate a standard (one-off) report.
To do so, simply click on the blue + button located at the top right. This will open the following form: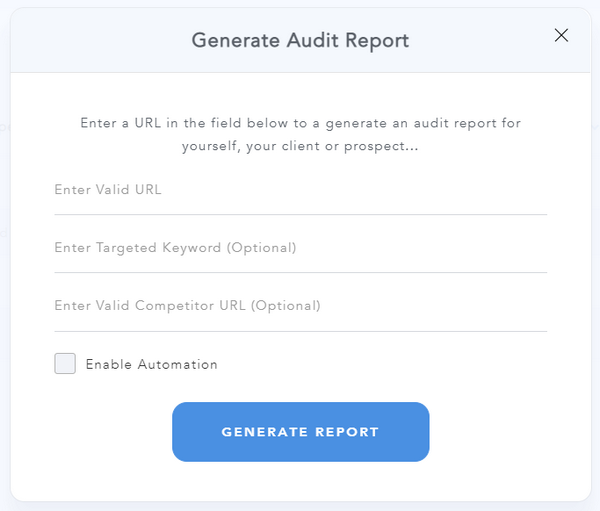 Fill in the relevant information and click to generate your report. You can then view all your audit reports and their respective scores in the form of a table, as shown below:

The table includes several key metrics, including SEO Score, Speed Score on Desktop, Speed Score on Mobile, MozRank, Domain Authority, Page Authority…
Clicking  the mini graph on the right will open the large-sized version, so you can track progress over time, as well as view the latest recommendations: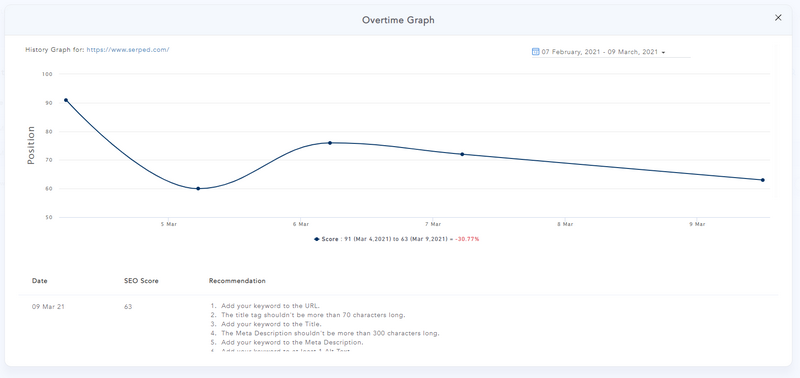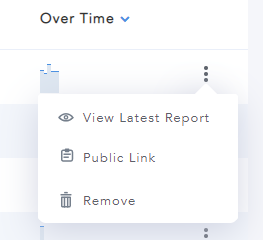 You will be able to share the report with your colleagues, clients or prospects, with the help of a public share link.
This link will load a Web-based version of the audit report, which can then be printed or downloaded as a PDF file.
As mentioned before, you can run an audit for a specific site multiple times. You can generate as many standard audit reports as you want, at no extra cost.
Automated Reports
Do you want to regularly run audits for yourself or a client's site? We suggest you then automate this audit. You can run an audit every week, every month, or every quarter.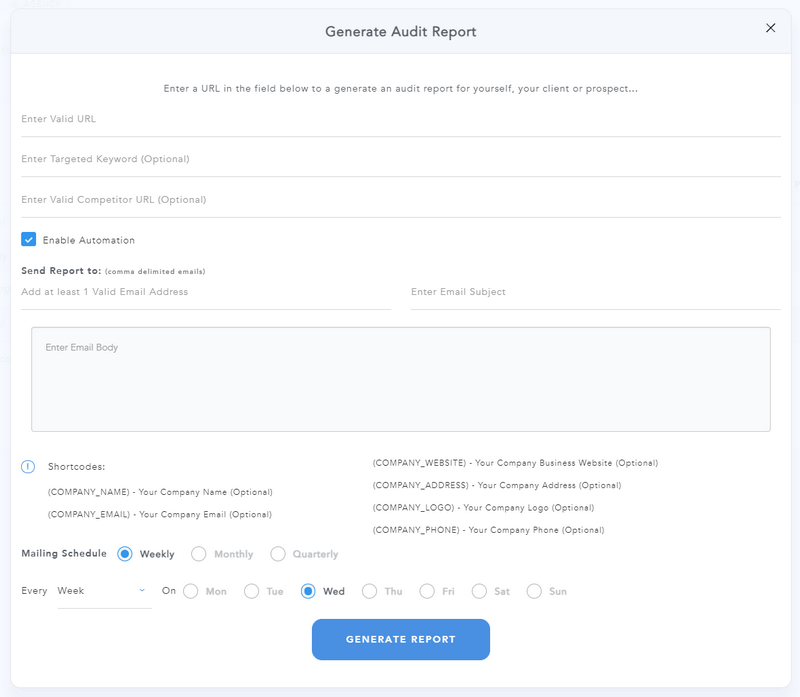 The same principles that apply to standard reports also apply to automated reports, with the exception that the audit will automatically run at the frequency of your choice. The table and graph will be automatically updated as the new audit report is generated automatically.
SEO Audit – Tutorial Video
Upgrade Your SEO Content Strategy With These 3 Steps [Webinar]
With Google constantly releasing algorithm updates, how do you keep up?
Gone are the days when businesses could rank on Google simply by pumping out generic, keyword-stuffed material, which wasn't necessarily user-friendly.
Now, you can stay ahead of the curve with a forward-thinking approach to search marketing.
In today's ever-evolving digital landscape, it's crucial that your SEO tactics stay up-to-date. And, your content should be one of the first places you assess.
A refreshed content strategy can increase organic traffic and drive more conversions.
The key to consistently high rankings is creating high-quality content that offers maximum value to searchers.
It's all about matching intent to keep users on your site longer and take action.
Join me and Carlos Meza, President and CEO at Crowd Content, as we talk about ways you can upgrade your SEO content strategy in just three steps. This webinar will detail how you can execute a winning content strategy that delivers the best ROI for your efforts.
Key Insights:
Drop Outdated Tactics: Learn about and let go of content strategies that used to work but don't anymore due to Google algorithm updates.
Think Ahead: Discover how to future-proof your content strategy to stay ahead of market changes.
Level Up: Get tips to scale your content strategy, increase organic traffic, and improve search rankings.
In this live session, you'll learn how to optimize your content for user intent and relevancy by using a meaningful content structure.
If you struggle with adapting to fast-changing SEO standards, this webinar will help keep your content strategies up-to-date.
Don't miss out! Register now and discover how quality content can increase your online presence.
Can't make the live session? That's ok. Sign up for this sponsored webinar, and we'll send you a recording after the event. Hope to see you there! Be sure to bring your questions for the live Q&A!
if( sopp != 'yes' && addtl_consent != '1~' && !ss_u ){
!function(f,b,e,v,n,t,s) {if(f.fbq)return;n=f.fbq=function(){n.callMethod? n.callMethod.apply(n,arguments):n.queue.push(arguments)}; if(!f._fbq)f._fbq=n;n.push=n;n.loaded=!0;n.version='2.0'; n.queue=[];t=b.createElement(e);t.async=!0; t.src=v;s=b.getElementsByTagName(e)[0]; s.parentNode.insertBefore(t,s)}(window,document,'script', 'https://connect.facebook.net/en_US/fbevents.js');
if( typeof sopp !== "undefined" && sopp === 'yes' ){ fbq('dataProcessingOptions', ['LDU'], 1, 1000); }else{ fbq('dataProcessingOptions', []); }
fbq('init', '1321385257908563');
fbq('track', 'PageView');
fbq('trackSingle', '1321385257908563', 'ViewContent', { content_name: 'upgrade-seo-content-strategy-webinar', content_category: 'content seo webinar' }); } });