How to Make Money on WordPress: 32 Money Making Tips
With over 40% of the web powered by WordPress, this content management system isn't just a blogging platform—it's a potential goldmine. As digital enterprise takes the world by storm, countless entrepreneurs are discovering innovative ways to turn pixels into profit. If you've ever wondered how to make money on WordPress, you're in for a treat. From e-commerce ventures to sage advice from experts, this guide unpacks 32 proven strategies underpinned by success stories of giants like Etsy, TechCrunch, and MasterClass.
Understanding the WordPress Platform
So what is WordPress exactly? For the uninitiated, WordPress might sound like a buzzword. But for many, it's the backbone of their online presence. Originating as a blogging tool in 2003, it has since evolved into a versatile content management system (CMS). The primary distinction to note is between WordPress.com and WordPress.org. While WordPress.com is a hosted platform, WordPress.org allows for more freedom and customization, as users can host their own sites. Some of the internet's top blogs, from TechCrunch to BBC America, trust WordPress for their daily operations.
The Potential of a WordPress Blog
Launching a WordPress blog isn't just about putting thoughts on the web. It's about connecting, influencing, and – yes – monetizing. The beauty of a blog is in its potential. With its plugins and themes, you're not just setting up a site; you're building a brand. Plus, considering its vast user base, the reach is unparalleled. As your readership grows, so do your chances to monetize. Think sponsored posts, affiliate marketing, and ad revenue. With every post, you're stepping closer to turning passion into profit.
WordPress Website – Your Digital Business Ground
Think of a WordPress website as your online storefront or digital office. Whether you're selling handmade crafts or offering consultancy services, this platform enables you to showcase your offerings, interact with clients, and close deals. It's not just about aesthetics, either. With a plethora of plugins available, functionalities such as e-commerce, booking systems, and contact forms are mere clicks away. With a strategic approach, your WordPress website can become a revenue-generating machine.
The Versatility of a WordPress Site
When someone says "WordPress," don't just think of blogs or basic websites. Its adaptability is its forte. From online forums and membership sites to e-learning platforms and e-commerce hubs, WordPress is capable of hosting varied web entities. This adaptability translates to diverse monetization strategies. You could charge for memberships, sell digital products, or even offer online courses. The point is WordPress is not a one-size-fits-all tool; it's a multifaceted platform waiting to be molded to your vision.
How Many Views on WordPress to Make Money?
The million-dollar question (sometimes, quite literally) for many WordPress owners is: how many views do I need to start raking in cash? While there's a clear correlation between traffic and potential earnings, it isn't a linear relationship. Instead, several interplaying elements determine your site's revenue potential.
Traffic and Revenue: The Connection
At a glance, the math seems simple: more views mean more clicks on ads, leading to higher income. However, it's not just the quantity of the traffic but the quality that counts. For instance, 1,000 engaged readers who are keen on your niche are far more valuable than 10,000 random visitors who bounce off the page within seconds.
Beyond Numbers: Quality Matters
A HubSpot survey found that companies that prioritize blogging efforts are 13 times more likely to see positive ROI. But it's not merely about producing content and amassing views; it's about fostering a connection with your readers. High engagement rates, longer time on site, and repeat visitors often indicate a genuine interest in your content, which can translate to better monetization opportunities.
32 Great Strategies to Make Money on WordPress
From e-commerce endeavors to expert advice, let's explore 32 fantastic strategies to make money with WordPress.
Let's start with a quick summary first.
| Strategy | Description | Practical Example |
| --- | --- | --- |
| Selling Physical Products | Leverage WordPress with WooCommerce for e-commerce. | Etsy |
| Dropshipping Ecommerce | Synchronize your store with suppliers' inventory. | Oberlo |
| Offering Online Courses | Turn your WordPress site into an e-learning platform. | MasterClass |
| Create Your Own Blog | Share your voice and passion. | TechCrunch |
| Sponsored Blog Posts | Monetize with branded content. | BuzzFeed |
| Affiliate Marketing | Promote products for commission. | Amazon Associates |
| Accepting Donations | Get support from your audience. | Wikipedia |
| Develop & Sell Plugins | Create solutions for WordPress users. | Yoast SEO |
| Offer Consultancy Services | Convert your site into an appointment hub. | Gary Vaynerchuk |
| Host Webinars | Share expertise live with real-time interaction. | SaaS companies' webinars |
| Monetize with Premium Content | Charge for exclusive content access. | The New York Times |
| Start a Membership Site | Create a paid community or forum. | Patreon |
| Freelance Writing | Showcase writing and land gigs. | Medium |
| Email Marketing | Engage audience with targeted campaigns. | HubSpot |
| Rent Ad Space Directly | Directly offer ad spaces on your site. | Forbes |
| Sell Digital Products | Offer e-books, digital art, etc. | Gumroad |
| WordPress Theme Development | Design themes for others. | Elegant Themes |
| Offer Virtual Workshops | Host workshops via video conferencing. | MasterClass |
| Podcasting | Integrate and monetize podcasts. | Podbean, Anchor |
| Offer Website Maintenance | Provide WordPress maintenance services. | WP Buffs |
| Start an Online Magazine | Transform your site into a digital magazine. | Vogue, Wired |
| Create Quizzes & Surveys | Engage and monetize through sponsored quizzes. | BuzzFeed |
| Event Promotions | Promote events and sell tickets. | Eventbrite |
| Host Sponsored Giveaways | Engage with sponsored product giveaways. | Rafflecopter |
| Stock Photography | Sell your photos as stock photos. | Shutterstock, Getty Images |
| Directory Listing | Charge for business listings. | Yelp, TripAdvisor |
| Job Board Listings | Offer a niche-specific job board. | Glassdoor |
| Flipping Websites | Design, develop, and sell WordPress sites. | Flippa |
| Offer SEO Services | Cater to the demand for SEO. | Moz |
| Integrate a Booking System | Useful for appointment-based businesses. | Spas, consultancies |
| Collaborate with Influencers | Partner for content or product promotions. | AspireIQ |
| Subscription Boxes | Offer curated monthly packages. | Birchbox |
1. Selling Physical Products in Your Own Online Store
Leveraging WordPress with WooCommerce provides a potent combination for aspiring e-commerce entrepreneurs. Take Etsy, for instance, which began as a simple idea and blossomed into a platform hosting millions of shops.
2. Set up a Dropshipping E-commerce store
Instead of managing physical stock, you can synchronize your WordPress store with suppliers' inventory using plugins like AliDropship. The model mirrors businesses like Oberlo, which integrates products from suppliers directly into a store.
3. Offering Online Courses
Your expertise can be gold. Platforms like LearnDash transform your WordPress site into a comprehensive e-learning platform. MasterClass stands as a testament to the power of online courses, having collaborated with numerous celebrities to offer expert advice.
4. Create Your Own WordPress Blog
Whether it's travel, fashion, or tech, the world is eager to hear unique voices. Sites like TechCrunch began as simple blogs and morphed into dominant authorities in their niche.
5. Sponsored Blog Posts
With a steady readership, brands might approach you for sponsored content. BuzzFeed frequently integrates sponsored content while maintaining their distinct voice and style.
6. Become an Affiliate Marketer
Promote products related to your content and earn a commission. Amazon Associates, one of the largest affiliate programs, has been instrumental in monetizing countless sites.
7. Accepting Donations
If you're providing value, your audience might support you. Wikipedia, for all its vast knowledge, operates significantly on donations.
8. Developing and Selling WordPress Plugins
Plugins like Yoast SEO began as solutions to real-world problems and are now used by millions.
9. Offering Consultancy Services
Platforms like WP Booking can convert your site into an appointment hub. Gary Vaynerchuk, a renowned entrepreneur, offers consultancy via his website, guiding businesses to growth.
10. Host Webinars
Expertise can be shared live. Platforms like Zoom, integrated with WordPress, allow for real-time interaction. Many SaaS companies use webinars as part of their sales and customer education funnel.
11. Monetizing with Premium Content
By using plugins like MemberPress, you can charge readers for access to exclusive content. The New York Times, for instance, offers a range of subscription plans, including one for premium articles.
12. Starting a Membership Site
Think about creating a community or forum where members pay a recurring fee for special benefits. Something akin to platforms like Patreon, which allows creators to offer exclusive content to subscribers.
13. Freelance Writing
Use your Website as a portfolio to showcase your writing and land freelance gigs. Sites like Medium partner with writers, compensating them based on the number of claps they receive. Learn more about how to make money on Medium here.
14. Email Marketing
Platforms like Mailchimp can integrate seamlessly with WordPress, allowing for targeted campaigns. Brands like HubSpot have leveraged this to the fullest, offering a range of inbound marketing services.
15. Renting Ad Space Directly
Bypass middlemen and offer ad spaces on your website. Similar to how Forbes might work with direct advertisers for specific campaigns.
16. Selling Digital Products
From e-books to digital art, WordPress can host it all. Gumroad is an excellent example of a platform allowing creators to sell digital goods.
17. WordPress Theme Development
Design unique and responsive themes for others. Just look at the success of companies like Elegant Themes, which offers Divi, one of the most popular themes.
18. Offer Virtual Workshops
Using video conferencing tools, you can host workshops directly through your site. MasterClass does something similar with its array of celebrity-led classes.
19. Podcasting
With the growing popularity of podcasts, platforms like Podbean and Anchor can help you integrate and monetize podcasts on your website.
20. Offer Website Maintenance Services
Capitalize on your WordPress expertise by offering maintenance services. WP Buffs, for instance, focuses exclusively on website care.
21. Starting an Online Magazine
Platforms like Issuu can turn your Website into a digital magazine hub. Magazines like Vogue and Wired have thriving online versions.
22. Create Quizzes and Surveys
Engage your audience and make money through sponsored quizzes and surveys. BuzzFeed's success with quizzes is undeniable.
23. Event Promotions
Promote offline and online events and sell tickets through your site. Eventbrite's integration with WordPress is a classic example of this in action.
24. Hosting Sponsored Giveaways
Engage readers with sponsored product giveaways. Companies like Rafflecopter can help facilitate this on WordPress.
25. Stock Photography
If photography's your game, sell images as stock photos. It mirrors the likes of Shutterstock and Getty Images.
26. Directory Listing
Charge businesses to list on your site. Think of it like a localized version of Yelp or TripAdvisor.
27. Job Board Listings
Offer a niche-specific job board. WP Job Manager can help integrate this functionality, much like platforms such as Glassdoor.
28. Flipping Websites
Design, develop, and sell WordPress websites. Platforms like Flippa have made a business out of this model.
29. Offer SEO Services
With the demand for SEO growing, offer specific services through your Website. Moz started similarly and is now an SEO giant.
30. Integrate a Booking System
If you're in a business that requires appointments, integrate a booking system. Businesses like spas or consultancies can greatly benefit from this.
31. Collaborate with Influencers
Partner with influencers for content or product promotions. Influencer marketplaces like AspireIQ can be integrated with WordPress for streamlined collaborations.
32. Subscription Boxes
Offer monthly subscription packages of curated items. It's a model companies like Birchbox have successfully capitalized on.
How to Make Money from Ads on WordPress
Advertising remains one of the most tried-and-true methods of monetizing a website. In the world of WordPress, several ad networks can seamlessly integrate, but one stands head and shoulders above the rest – Google AdSense.
This is a free program that allows website publishers of all sizes to display targeted Google ads and earn valid clicks by visitors. To get started, you'll need to:
Apply for AdSense: Head over to the AdSense site and sign up using your Gmail account. After signing up, you'll have to add your site details and wait for approval.
Insert Ad Codes: Once approved, you'll receive ad codes that you can add to your WordPress website. This can be done manually, or you can use plugins like Ad Inserter.
Choose Ad Types and Placements: Google AdSense offers various ad formats, from display ads to in-article ads. Placement is crucial. Ensure they're placed in high visibility areas but don't disrupt the user experience.
Earn Money: Every time a visitor clicks on one of the ads, you earn money. The exact amount depends on the competition for the ad and the content's relevance. While the per-click amount might seem small, with substantial traffic, these numbers can quickly add up.
Though AdSense is a popular choice, it's vital to note there are many other ad networks available, like Media.net or Infolinks. Rued Riis also offers some interesting insights on ways you can monetize your WordPress blog. Check out the video:
Using WordPress Themes to Make Money with WordPress
The design and usability of your WordPress site play a pivotal role in its success. Think of your theme as the foundation—it sets the tone, determines usability, and can significantly influence traffic and, by extension, potential earnings.
Why the Right Theme Matters:
User Experience: A well-organized, attractive theme keeps visitors on your site longer. The longer they stay, the higher the chance they'll click on an ad or make a purchase.
Search Engine Optimization (SEO): Many premium themes come  SEO-ready. With search engines being a significant source of traffic, having a theme optimized for SEO can be a game-changer.
Load Times: Visitors are impatient. If your site takes forever to load because of a bulky theme, you'll lose traffic. And less traffic means fewer earnings.
And let's not forget about mobile. The modern web browsing trend heavily leans towards mobile devices. In fact, over half of global web traffic now comes from mobile phones. Therefore, having a mobile-responsive theme isn't just nice to have—it's essential. Google also factors mobile-friendliness into its ranking, so if you want to appear in search results, ensure your chosen theme looks and works great on mobile devices.
FAQs: How to Make Money on WordPress
What are the Benefits of a WordPress Powered Website?
WordPress is one of the most popular website platforms for good reasons. Some of its key benefits include its user-friendliness, a vast library of plugins and themes to enhance functionality, high customizability, strong SEO capabilities, and a large community for support and knowledge-sharing. Furthermore, it's scalable, meaning it can grow as your online business or blog grows.
What's the best way to monetize WordPress for beginners?
For beginners, affiliate marketing and ad placements like Google AdSense are often the most straightforward ways to start. These methods require minimal investment and technical expertise. As you grow and understand your audience better, you can explore other monetization avenues like selling digital products, memberships, or online courses.
How much can I expect to earn from Google AdSense on a Self Hosted WordPress site?
Earnings from Google AdSense vary widely based on factors like website traffic, content niche, ad placement, and audience geography. While some sites may only make a few dollars a month, others with high traffic and a lucrative niche can earn hundreds to thousands monthly. Regularly updating content, optimizing ad placements, and driving quality traffic can help increase AdSense earnings.
How does running multiple WordPress websites impact the potential of making money online?
Managing multiple WordPress sites can significantly boost earning potential, as you diversify your income streams and tap into various niches. However, it also increases the workload and requires strategic management. It's essential to ensure each site maintains quality content and user experience. Using tools like ManageWP can help streamline the process.
How can one transition from a hobby blogger to making money with WordPress?
Transitioning from hobby blogging to a monetized platform requires a strategic approach. Start by understanding your audience's needs and preferences. Once you have a clear picture, identify monetization methods that align with your content—be it ads, affiliate marketing, sponsored posts, or selling products/services. Consistency in content, marketing efforts, and continuously improving user experience are crucial for a successful transition.
Additionally, promote your blogs on other platforms to bring in new readers. Social media sites and other online platforms may even introduce you to new income streams. In fact, there are many different ways to make money on your phone and online outside of WordPress. For example, explore how to make money on Instagram, how to make money on PayPal, or how to make money on Pinterest.
Image: Depositphotos
---
More in: Software and Apps
---
Best Bluetooth speakers at every price point from JBL, Anker, Sony and more.
By
Chi Tran
Tuesday, December 5, 2023 4:15PM
As a participant in multiple affiliate marketing programs, Localish will earn a commission for certain purchases. See full disclaimer below*
You need a powerful, stylish Bluetooth speaker, either for large gatherings or small intimate occasions. We have gathered the best wireless Bluetooth speakers available – everything from tiny speakers to portable boomboxes. Here are our top picks for every category, vetted by our team of experts so you know the products you're buying are either top-rated, staff favorites or from a brand we trust.
What we look for in Bluetooth speakers
Range: You don't want to be standing next to the speaker all night. The Bluetooth speaker needs to have robust connectivity to keep the party going regardless of how far the speaker is from you.
Battery life: Bluetooth speakers' baseline battery life should be around 12 hours, but the longer the runtime, the better. We also take into account whether the speakers have "always-on" features and how that affects battery life.
Quality-Cost tradeoff: Some speakers have better sound quality than others, and some are better value for what they cost. What you need might not be an expensive, high-tech speaker, but one that plays clear sounds in a small room.
Weather-proof: Whether it be dust-proof, waterproof or heat-resistant, wireless speakers have to withstand the elements and deliver consistent quality sounds come rain or shine.
Best overall wireless Bluetooth speaker
Alongside its rugged, portable design, the JBL Flip 5 contains booming bass, 12 hours of playtime and robust waterproof technology fitting for endless outdoor fun. At 38% off, you're getting a great speaker for an even better price.
Best Bluetooth speaker under $30
Anker Soundcore 2 Portable Bluetooth Speaker
Highly affordable, the Anker Soundcore 2 will solve all of your simple speaker needs without breaking the bank. Sound is crisp on the Soundcore 2, but lower waves carry a small buzz that might be annoying in the long run.
Best portable Bluetooth speaker
Ultimate Ears WONDERBOOM 3
The Ultimate Ears Wonderboom 3 packs clean mid-end sounds, booming stereo audio, and up to 14 hours of runtime within its portable design.
Best mini pocket Bluetooth speaker
The Sony SRS-XB13 pushes all of its power into the bass, which creates expansive sounds for a dustproof speaker that can fit into your purse. An absolute bargain at 41% off.
Best big room Bluetooth speaker
Sonos Era 100 Wireless Speaker
With dual beam-forming tweeters and smart Sonos tech, the Era 100 contains booming stereo and room-filling sounds that are perfect for crowded parties. The only drawback would be its price if you don't have already have a Sonos ecosystem at home.
Best value for price Bluetooth speaker
Bose SoundLink Flex Bluetooth Speaker
The Bose SoundLink Flex has a robust, compact design to go with its proprietary sound technology that fills both outdoor and indoor settings. Waterproof and dust-resistant, this Bose speaker is the best value for its price, now 20% off. 
By clicking on the featured links, visitors will leave Localish.com and be directed to third-party e-commerce sites that operate under different terms and privacy policies. Although we are sharing our personal opinions of these products with you, Localish is not endorsing these products. It has not performed product safety testing on any of these products, did not manufacture them, and is not selling, or distributing them and is not making any representations about the safety or caliber of these products. Prices and availability are subject to change from the date of publication.
Copyright © 2023 WLS-TV. All Rights Reserved.
10 best pet gifts that dogs and cats will love (and their owners, too)
ByAmanda Saintina
Sunday, December 3, 2023 6:19PM
As a participant in multiple affiliate marketing programs, Localish will earn a commission for certain purchases. See full disclaimer below*
Our pets are companions we hold near and dear to our hearts. Chances are, you or someone you know refers to their dog as their fur baby or cherishes their cats. Our pets keep us company and provide unconditional love, which is why they should be celebrated. Finding gifts for your four-legged friend can be difficult (especially if they're picky), which is why we have your back. From holiday boxes full of toys and treats to functional gifts that will make pet care easy, there is something for any pet owner.
Best Gifts for Cats and Dogs
Goody Box Holiday Dog Toys & Treats
I love this Goody Box of Holiday Dog Toys and Treats because you get more value for a lower price. The toys are a great way to bond with your pet and try out popular holiday-themed treats before you commit to buying the full-size product. It also comes in two different sizes for small and large dogs.
Goody Box Holiday Cat Toys & Treats
This holiday-themed Goody Box has a great selection of tasty treats for your feline fur baby. I love that you get a lot of value for your money. The box includes: a penguin plush toy; a pack of 10 bouncy, holiday-colored spring toys; a foldable play tunnel; and delicious treats from Temptations and Hartz Delectables. Plus, all three toys include catnip, which is a nice treat.  
Merry Makings 12-Day Cat Toy Advent Calendar
This cat toy advent calendar is sure to make your cat feel special this month with plush toys filled with catnip. We love the variety of items available in this calendar in different shapes, sizes, and colors to keep your feline friend engaged.
Frisco Flip Sequin Naughty/Nice List Dog & Cat Hoodie
Is your four-legged friend naughty or nice? If you love dressing up your pet this is the perfect hoodie to keep them in festive fashion.
K&H Pet Products Cat & Dog Bed Warmer
My pup loves curling up under the sunny spots near my window. If your pet does the same, a bed warmer will be the perfect gift to keep them cozy this winter. This bed warmer comes in sizes ranging from small to giant and can be easily placed in any pet bed.
Best Gifts for Pet Lovers
Leaving your pets at home can be stressful, especially if you have an anxious pup or a pup that likes to get into trouble. This 360-degree dog camera is Amazon's choice for pet cameras and a pet owner favorite. This camera rotates to keep your dog in view at all times, so you can be home even when you're not.
'Tell Your Dog I Said Hi' T-Shirt
For the person who loves your fur baby more than you, lol. I love this T-shirt because it is lighthearted and something a friend or pet lover would appreciate.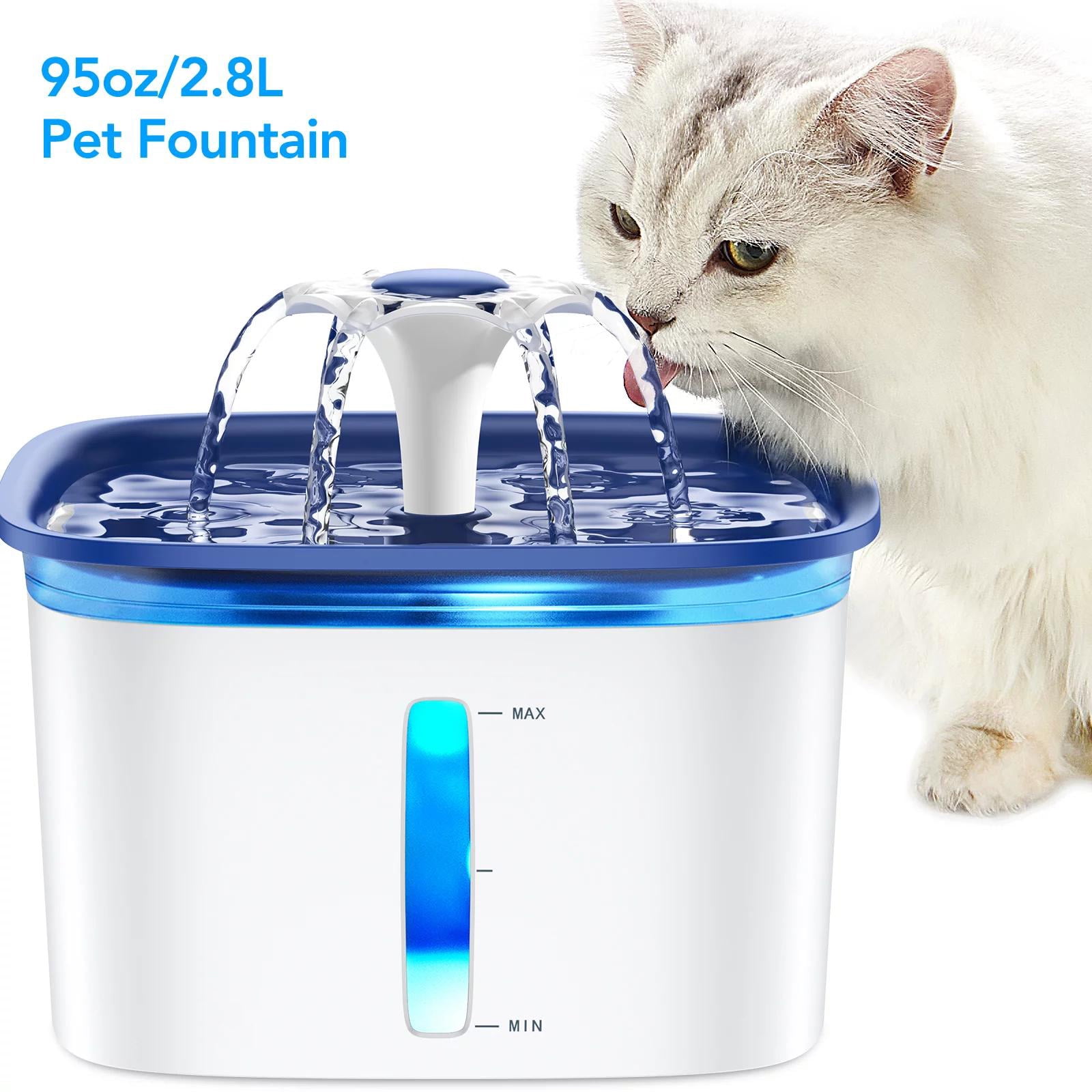 2.8L Pet Fountain with Smart Pump
It can be hard to keep your pet interested in their drinking bowl or even make sure they are getting the hydration they need. This pet fountain has two different flows: a flower waterfall (similar to a faucet) and a gentle fountain. This is perfect to keep your pets hydrated and engaged.
Anavia Personalized Pet Portrait Necklace
This sentimental gift is a #1 best seller on Amazon. A personalized gift can mean the world to the person receiving it. What I love about this necklace is the unique sketch style of the portrait and how it can be used as a keepsake for a friend who may have lost a pet.
ROVERLUND Airline-Compliant Pet Carrier
These carriers make life easier for jet-setting pet owners. These carriers are stylish and come in six different colors, but that's not even the best part about this bag. They have a leak-proof bottom, so you won't have to worry about any accidents, and the shoulder strap turns into a durable leash for your pup.
*By clicking on the featured links, visitors will leave Localish.com and be directed to third-party e-commerce sites that operate under different terms and privacy policies. Although we are sharing our personal opinions of these products with you, Localish is not endorsing these products. It has not performed product safety testing on any of these products, did not manufacture them, is not selling or distributing them, and is not making any representations about the safety or caliber of these products. Prices and availability are subject to change from the date of publication.
The AI Video Industry Disruptor
In a world where generative artificial intelligence (AI) is the talk of the town, you can't afford to overlook the revolutionary role it's playing in our lives. From large language models (LLMs) being used to draft blog posts and diffusion models for image generation to AI coding assistants for code generation, the productivity potential that generative AI unlocks is staggering. If you are looking to know how to invest in Synthesia, this is the right place for you!
This piece will shine a spotlight on Synthesia, its stocks, investment options, and how to make the most out of this tool.
How to invest in Synthesia stocks: Navigating the basics
Investing in the stocks of cutting-edge technology companies like Synthesia can be an attractive proposition for many investors. However, the process and availability of investing in such companies, especially those that are not publicly listed, can be complex. 
Here's a guide to help you navigate the potential avenues for investing in Synthesia.
Step 1: Understanding the company's status
Synthesia is a private company, which means its shares are not available on public stock exchanges. Investing in private companies is typically more challenging than investing in public companies due to limited availability and higher investment minimums.
Synthesia has raised significant capital through Series A, B, and C funding rounds from notable investors. These rounds have contributed to its high valuation and growth but are generally not open to individual retail investors.
If you're curious about the cost of using Synthesia, make sure to check out our in-depth guide on "Is Synthesia Free to Use?" for valuable insights.
Step 2: Explore avenues for investment
Before investing, take a look at the wide range of investment avenues available to you:
Venture capital funds:

One indirect way to invest in Synthesia is through venture capital funds that hold Synthesia in their portfolio. Investors can look for venture capital firms that have backed Synthesia, like Kleiner Perkins, Accel, or GV, and explore investment opportunities in those funds.

Secondary market platforms:

Platforms like Forge Global or EquityZen provide a marketplace for buying and selling shares of private companies. However, these transactions often require significant minimum investments and are typically available to accredited investors.

Direct private investment:

For high-net-worth individuals or institutional investors, direct private investments in Synthesia might be a possibility. This would generally involve directly contacting the company or participating in future funding rounds, subject to the company's approval and investment terms.

Initial public offering (IPO) watch:

Keep an eye on Synthesia's public announcements for any potential IPO. An IPO would allow public investors to buy stock in Synthesia through stock exchanges. However, as of now, there is no public information about an impending IPO.
Step 3: Assess eligibility and requirements
Determine if you meet the criteria for an accredited investor, as many such investment opportunities are limited to accredited investors due to regulatory requirements.
Understand the minimum investment requirements, which can be significantly higher for private companies compared to public stocks.
Step 4: Consult financial experts
Before proceeding, consult with financial advisors, especially those experienced in private equity or venture capital investments. They can provide personalized advice based on your financial situation and investment goals.
Step 5: Monitor your investment
Keep track of Synthesia's business progress, market trends, and any public announcements, especially regarding future funding rounds or a potential IPO.
Additionally, if you're interested in exploring AI-driven creativity, our guide on Deep Dream Generator provides five valuable tips for creating stunning images.
Considerations before investing
Risk assessment:

Investing in Synthesia carries a different risk profile compared to investing in other companies. Understanding these risks is crucial, including the lack of liquidity and the long-term nature of such investments.

Due diligence:

Conduct thorough due diligence on Synthesia's business model, market potential, financial health, and growth prospects. This information may be limited compared to publicly traded companies.

Investment horizon:

These investments often come with a longer investment horizon. Assess whether you are comfortable with tying up your capital for an extended period, as it may take years to realize returns from these investments.

Diversification:

Evaluate how an investment in Synthesia fits into your overall investment portfolio. Diversification is a key risk management strategy, and it's important to consider how this private equity investment aligns with your other assets.

Exit strategies:

Understand the potential exit strategies for your investment. Private equity investments typically involve strategies like mergers and acquisitions (M&A), IPOs, or secondary sales. Familiarize yourself with these options and their associated timelines.
For a more comprehensive evaluation of Synthesia's capabilities, we recommend reading our detailed Synthesia AI review.
Investing in Synthesia's services: An alternate approach
An alternative approach to investing in Synthesia is by availing its services. Take a look at the various ways through which you can make the most out of this AI tool:
1. Creating commercial videos for brands
One lucrative revenue stream with Synthesia is leveraging its video creation capabilities to produce commercial or explainer videos for brands. Businesses often require visually engaging content to promote their products or services. 
As a Synthesia user, you can offer your video production services on freelancing platforms, catering to companies in need of high-quality videos for marketing campaigns or internal use. By delivering professional and compelling videos, you can establish a steady client base and earn income from your creative video production services.
2. Affiliate marketing with AI videos
Another innovative approach to generating revenue with Synthesia is by creating AI-generated videos optimized for affiliate marketing. Instead of relying solely on ad revenue from platforms like YouTube, you can leverage the power of Synthesia to craft engaging and informative videos. Within these videos, strategically embed affiliate links in the video descriptions. 
By promoting products or services through these links, such as those available on e-commerce platforms like Amazon, you have the potential to earn commissions for every sale generated through your affiliate marketing efforts. This revenue stream diversifies your income sources and capitalizes on the popularity of video content in affiliate marketing.
Unlock the mesmerizing world of AI-generated artistry and unleash your creativity with a brushstroke of innovation by exploring our curated list of cutting-edge AI art tools.
3. Comparison and review videos
Synthesia can also be employed to produce valuable comparison and review videos, further expanding your potential revenue streams. For instance, you can create videos that compare two or more products or services within a specific niche, such as "MailChimp vs. SendinBlue" in the email marketing sector. 
In these videos, you can provide insightful analysis and recommendations. To monetize this content, include affiliate links for all the products or services discussed in the video description. This approach allows you to earn commissions regardless of the viewer's choice, as they might click on any of the provided affiliate links based on their preferences. 
By delivering informative and unbiased comparisons, you can attract a dedicated audience interested in making informed purchasing decisions.
4. Targeted content creation
An effective strategy for generating revenue with Synthesia involves conducting thorough research to understand the specific queries and comparisons that people are actively searching for online. 
Armed with this valuable insight, you can create Synthesia videos that directly address these queries or comparative analyses. Within these videos, strategically embed relevant affiliate links that align with the content's focus. 
Looking for alternatives to Synthesia? Explore our article on five AI video editors for quick and professional video editing solutions.
Conclusion
Investing in Synthesia presents a unique opportunity to participate in the growth of the AI video industry. However, like any investment, it comes with its own set of risks. By conducting thorough due diligence and seeking professional advice, investors can make an informed decision.