Google's New Link Building Guidelines
In case you missed it, Google has just changed up the rules for link building.
It used to be that when people link to you, the link would either be a dofollow link or a nofollow link.
Well, that's now changed.
They are now introducing 2 more link types that will affect SEOs.
Now before we get into the 2 new link types, make sure you read the whole post. Because not only will I explain Google's requirements, but I will break down what this means for SEOs.
The current landscape
The current SEO landscape is simple… especially when it comes to link building.
The more dofollow (regular links) links you can get the better your search rankings.
If you are unsure of the number of links you have or the type, just go here and enter in your domain.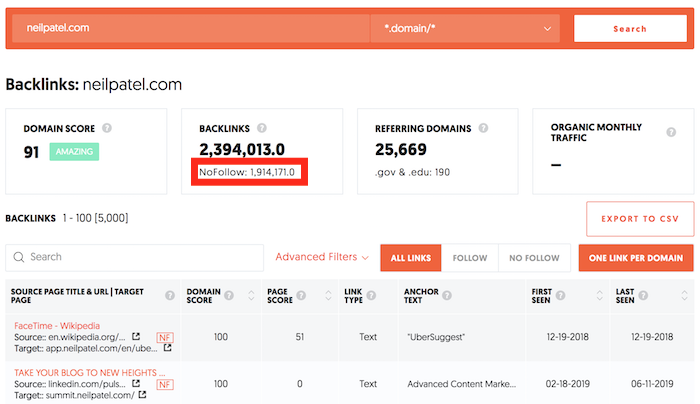 You'll see a count of total backlinks along with the total amount of nofollow links pointing to your site.
Now, when you are link building, if you are paying for links or leveraging tactics like guest posting, Google wants you to nofollow those links because they don't think you should be leveraging tactics like guest posting to manipulate rankings.
And as for buying links, you shouldn't do that as it is a simple way to get penalized or banned from Google.
So don't send emails like this if you are trying to build links… it's a big no, no.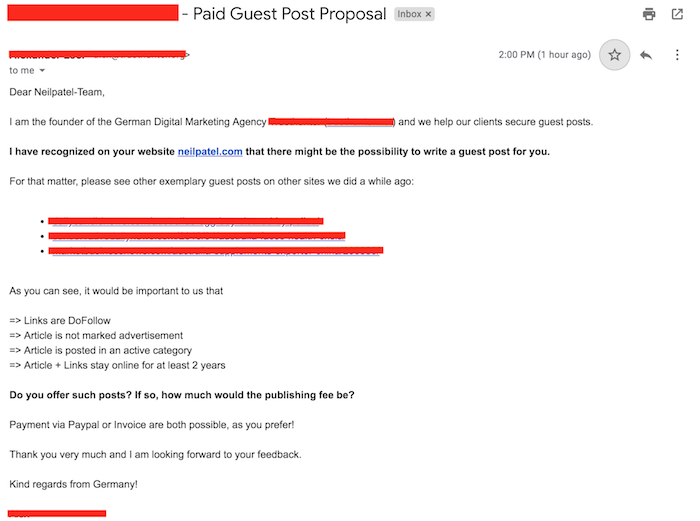 How does Google look at links?
Google's algorithm is smart. Sure, they ideally want you to nofollow links if they are bought or not naturally earned (such as from guest posts), but many SEOs break the rules.
They aren't going to say it publicly but they do these things. And because Google isn't dumb, they also know.
Google can easily identify when a post on these big news sites aren't earned because many of them have signs all over them that Google can detect.
For example, here is an example of a guest post from me.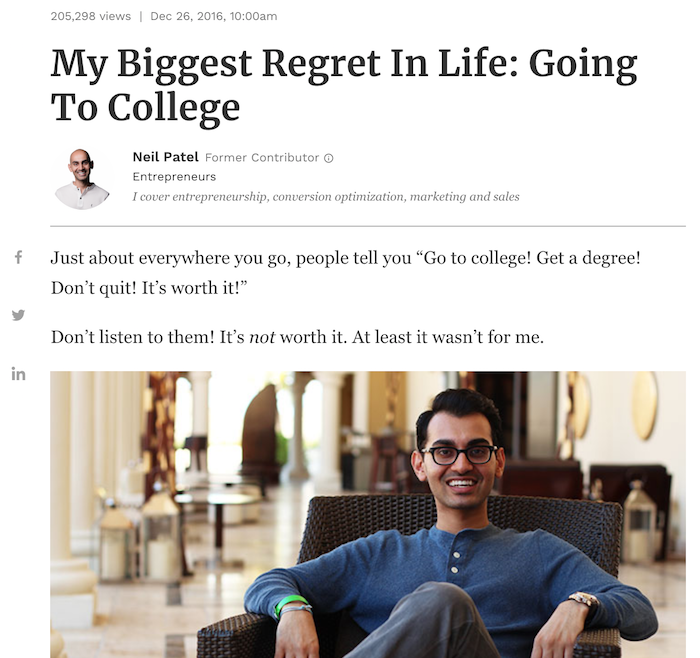 Forbes, of course, uses nofollows links, but it wasn't always that way.
Google can easily detect it is a guest post through verbiage on the page like "former contributor" or "guest contributor".
And even if they didn't label me as a guest contributor, Google can use other signals to figure out that this link shouldn't be given much weight when it comes to SEO just by reading the URL structure of that article on Forbes.
Let's take a closer look at the URL
https://www.forbes.com/sites/neilpatel/2016/12/26/my-biggest-regret-in-life-going-to-college/#5f74f3a91ac7
Do you see the big issue with the URL?
It's clear that an author can have their own subsection on Forbes through the "site" folder structure. Now that doesn't mean all "Forbes sites" are bad, but they clearly know which one is from staff writers because they are clearly marked.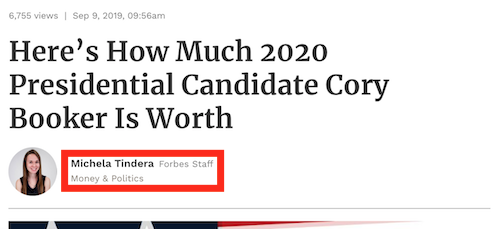 Those signals (among others) that Google probably won't disclose (nor should they) make it easy for Google to determine if a link is natural or earned.
If Google doesn't want to count a link from a specific author, they can just ignore it on their end.
So, whether it is nofollowed or followed, on their end they can systematically control whether a link should help your rankings or if it shouldn't.
As John Mueller from Google once said, in the context of bad links…
If we recognize them, we can just ignore them – no need to have you do anything in most cases.
Now keeping that in mind, here are the changes Google wants webmasters to make.
Google's new link policy
If someone pays you for a link or you are buying a link, Google now wants you to mark it as sponsored. Not just in the text of the site, but more so through the link attribute:
Rel="sponsored"
And if you build links through user-generated content, they want you to mark the links with the attribute:
Rel="ugc"
The same goes for site owners. For example, if you have a forum on your site because the content is user generated, the links that people place should contain a rel="ugc".
You can still use the nofollow attribute or if you want you can use a combination of the above. For example, if you have a paid link you can use:
Rel="nofollow sponsored"
So, what's the purpose of this change?
Well, here is how Google puts it:
All the link attributes — sponsored, UGC and nofollow — are treated as hints about which links to consider or exclude within Search. We'll use these hints — along with other signals — as a way to better understand how to appropriately analyze and use links within our systems.
Now if you are wondering what that means, Google is pretty much saying that adding these attributes will give them a better idea on if they should crawl the link or not. Or how they should analyze the link when it comes to indexing or SEO.
This change goes into effect March 1, 2020, and don't worry because you don't have to make modifications to your old links. The ones that were nofollow can just be left as nofollow.
And even in the future, if you decide to just use nofollow instead of "sponsored", you'll be fine.
What does all of this mean for SEOs?
As I mentioned earlier, I would provide my own insights and opinions on why Google is doing this.
We all know their algorithm is sophisticated and hard to game. But, just like any other algorithm or computer, it isn't perfect.
By webmasters and SEOs labeling the type of links they are building and the purpose of them, it will make it easier for Google to learn how we use different link types and it will help their algorithms more quickly and easily identify link types and the context they are used in.
For example, if thousands of people use rel="ugc" for links generated through guest posts, it may help train Google's algorithm that these links were actually created by random people instead of the webmaster and they should be discounted.
Of course, Google already can identify wikis, forum, and other types of user-generated content, but this helps them tighten things up and make things more accurate.
They can also decide to take a more relaxed stance on certain link types. For example, maybe they will decide to count UGC links when it comes to link building, but they may decide to only give it 1/3rd the weight of a naturally earned link.
In addition to that, this also provides them with more signals on if the URL linked to should be potentially crawled or ignored.
But in the long run, as their algorithm becomes more accurate, it's safe to say that the real solution to winning is putting the user first.
Their goal isn't to rank a site at the top that has "perfect SEO". They want to rank the site that people love the most.
Hence, you'll want to focus on creating an amazing user experience, building a great product/service, creating mindblowing content, and anything else your competition isn't doing.
As for link building though, links will always be hard to come by, so they will be part of their algorithm for the foreseeable future. And as the data shows, there is a strong correlation between links and rankings.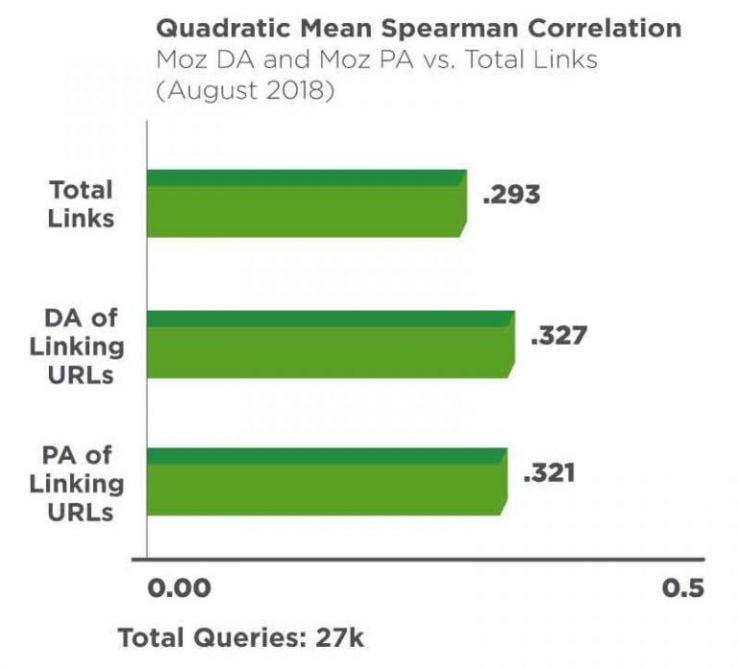 So one thing I would recommend is that you build as many links as possible, even if they are user-generated links. As long as they are from relevant sites, the referral traffic can generate you sales or leads. And if Google starts placing some value on these user-generated links, it can help boost your rankings.
Now that doesn't mean you should go out to forums and spam your link everywhere. It means you should go find all of the user-generated content sites, provide a ton of value, AND ONLY IF IT MAKES SENSE, add a link back to your site when it benefits the reader.
Conclusion
Over the next year or so you'll see adjustments in how SEOs build links.
First off you'll start seeing companies like Ahrefs and the SEMrush show you nofollow, dofollow, UGC, and sponsored backlinks. This one change will help SEOs build better links and spend their effort on the links that actually help with rankings.
Secondly, my hunch is UGC links will eventually carry some weight. Probably not a ton, but more than 0 as long as they are from relevant sites, the link is within context and it provides value to the end-user.
And lastly, most webmasters probably won't use sponsored or UGC attributes anytime soon. It will probably take another year before they really catch on, which means for now you will just have to focus your efforts on dofollow links.
So, what do you think about the new change?
DuckDuckGo Reaches 100B Searches, But Growth Is Slowing Down
DuckDuckGo celebrates a milestone of 100 billion total searches, but the search engine's year-over-year growth is slowing down.
In an announcement on Twitter, DuckDuckGo highlights the fact it hit 100 billion private searches, noting:
Your search history wasn't a data point
What you searched for stays with you
Users recognize their right to privacy and chose to use it
Thanks to you, we've hit 100 billion all time private searches! https://t.co/qlSaz4j9ZH

That's 100B times:
• Your search history wasn't a data point
• What you searched (like cat memes) was your business & only yours
• You recognized your right to privacy & chose it!🤗 pic.twitter.com/HyvMOBK26E

— DuckDuckGo (@DuckDuckGo) January 13, 2022
If you dig into the numbers, however, it's evident the selling point of the private search engine is losing its appeal.
DuckDuckGo's average daily search volume grew 17% from January 2021 to January 2022.
That's the slowest rate of growth for DuckDuckGo in the past five years, and a steep drop from the growth it experienced in 2019 to 2020.
From January 2019 to January 2020, DuckDuckGo's average daily search volume grew 52%.
In the years before that it was hitting over 60% growth.
Here's a breakdown of DuckDuckGo's growth in daily searches:
January 2021 to January 2022 – 17% increase
January 2019 to January 2020 – 52% increase
January 2018 to January 2019 – 62% increase
January 2017 to January 2018 – 61% increase
January 2016 to January 2017 – 30% increase
At the very least, DuckDuckGo sustained the growth it achieved from 2019 to 2020 and increased it by a small margin.
That's a positive thing compared to a year-over-year decrease in daily search volume.
More Evidence Of DuckDuckGo's Waning Popularity
Last January, all signs were pointing to DuckDuckGo's popularity growing like never before.
Not only was search volume up over 50% year-over-year, but it hit #1 in the iOS App Store in the Utilities category.
DuckDuckGo even cracked the top 10 in the iOS App Store among all apps.
Now?
It's sitting at #18 in the Utilities category, and is so low among all apps that the data isn't available.
But Wait, There's More!
Last year at this time, DuckDuckGo was the #2 mobile search engine in the US.
This year it lost the #2 spot to Yahoo. Now, DuckDuckGo is the third most popular mobile search engine among US searchers.
By all measures, DuckDuckGo is losing steam.
It's possible that the search engine is suffering from lack of innovation.
There were no notable developments from DuckDuckGo last year, other than the company announcing plans to launch a desktop browser.
Another possibility is that protecting one's privacy on the web isn't of great concern to that many people.
The data suggests there's a finite amount of users who care enough about privacy to change their search behavior, and perhaps DuckDuckGo has reached a majority of those individuals.
As much as DuckDuckGo touts the importance of online privacy, it can also be a hinderance when it comes to the quality of search results.
This is especially true when it comes to local searches. Since DuckDuckGo doesn't know your exact location, its search results struggle to provide the same value as Google's local SERPs.
Let's see if the 100 billion milestone encourages DuckDuckGo to continue building on what it has already created and offer more to searchers.
Sources: DuckDuckGo, Statcounter, SimilarWeb
---
Featured Image: Ralf Liebhold/Shutterstock
Entireweb Articles – Read the latest Articles and News in Search Engine related world!
Are Local Citations (NAP) A Google Ranking Factor?
In local SEO, a citation is a mention of key business information – your name, address, and phone number (NAP) – anywhere else on the web.
Local citations might appear in directories, on social networking or review sites, in apps, and on all kinds of other websites.
Clearly, these are an important part of a searcher's experience; NAP info is how a local consumer will find their way to your store or give you a call.
But do citations help you rank higher in Google Search results?
The Claim: Local Citations As A Ranking Factor
Some citations allow only for the location's name, address, and phone number.
However, you may be able to add a website link, business description, photos, and more, depending on the directory or platform.
The idea here is that each of these optimizations will help you rank higher in local search results:
Having your NAP info appear on more external sites.
Ensuring the accuracy of your citations.
Optimizing each one by adding as much supporting detail as the fields on that site allow.
WhiteSpark's industry survey on local ranking factors provides a good framework that illustrates the variety of considerations in play when we talk about local citation signals. Citations are evaluated based on:
Consistency.
Quality/authority.
Quantity.
Enhancement/completeness.
The Evidence For Citations As A Ranking Factor
Citations have long been widely accepted by SEO professionals as a key local ranking factor.
"Consistency of citations" came in at #5 in Moz's 2020 industry survey of what SEO pros believe are local ranking factors. (They were ranked fifth in the 2018 survey, as well, for both Local Pack/Finder and Localized Organic search results.)
However, what it is about citations that matter most has been the subject of debate over the years.
When BrightLocal surveyed the industry in 2016, 90% of respondents said citation accuracy was "very important" to "critical" for local search rankings. What's more, 86% said the quality of those citations was more important than quantity.
In this video, Google confirms that local results are based primarily on relevance, distance, and prominence.
And while you cannot control all of these factors, they say:
"First, make sure all of your business information is complete. It's important to have accurate information including your phone number, address, and business category."
Google also recommends that in order to ensure the accuracy of your GMB listing and "help you stand out", you should:
Double-check that hours of operation are accurate.
Use special hours for holidays.
Add photos of your location, services, or merchandise.
Verify your location to tell Google you are the correct owner of the business.
In their "Improve your local ranking on Google" help resource, the advice is clear:
"Local results favor the most relevant results for each search. Businesses with complete and accurate information are easier to match with the right searches."
The Evidence Against Local Citations As A Ranking Factor
You could argue that citations are too difficult to maintain and therefore not a reliable signal.
And you would be right.
It's incredibly difficult to ensure that all citations across the local search ecosystem are kept up to date.
With so many aggregators, user suggestions, manual errors, and other elements wreaking havoc with citation information, how can Google trust that the information they're finding about any one business location is accurate?
This is precisely why local listings management is so important, and providing Google a single source of truth through your GMB profile is key.
Monitoring for citation errors is essential so you can correct them before the wrong information is picked up by aggregators and more widely distributed.
Citation inconsistencies can happen for countless reasons:
Businesses move to new locations.
Brands open and close stores.
Staff and owners create listings without documenting them, and they grow outdated as the business evolves.
Consumers create duplicate listings by making spelling mistakes when trying to leave a review.
Google searchers suggest listing edits with the best of intentions but the wrong information.
And more. A lot more.
Google recognizes that all of these issues can impact citation accuracy, which is why it relies on such a wide array of sources to determine whether the information is trustworthy.
Local Citations As A Ranking Factor: Our Verdict
Bottom line: It is all but confirmed officially by Google that Google uses local citations as a ranking signal in Local Pack/Finder and localized organic search results.
Google's aim is to provide the best, most trustworthy answers to every searcher.
Citations are an important signal as to whether key business information is correct and that location is the best answer for a local searcher's relevant query.
If you're just getting started, check out John McAlpin's Citations & Local SEO: The Ultimate Beginner's Guide.
Ready to get more advanced? Make sure your citations are accurate and complete on as many relevant sources as possible. WhiteSpark's free Top Local Citation Sources by Country finder enables you to pull a list of the top directories, networks, websites, etc. in 15 countries.
And if you really want to step up your local strategy, you'll want to download Local SEO: The Definitive Guide to Improve Your Local Search Rankings.
---
Featured Image: Paolo Bobita/Search Engine Journal
Entireweb Articles – Read the latest Articles and News in Search Engine related world!
Quickly gaining a lot of links from other sites sounds like it should be a positive thing for any website.
But could it actually hurt, rather than help, your rankings?
Or does link velocity not matter at all to Google? Is it, in fact, just some made-up SEO term?
Read on as we investigate the origins of link velocity and whether it's something you need to be genuinely concerned about in SEO.
The Claim: Link Velocity As A Ranking Factor
Link velocity refers to a theory that the speed at which a website gains links has the potential to impact rankings, either positively or negatively.
Link Velocity = Good
Years ago, having a high link velocity in a short period of time was viewed by some as a good thing in the SEO industry, one that could positively influence your Google rankings.
Link velocity was mentioned in articles and during conference sessions – because in those days link building was more about quantity than quality.
Want to get a webpage to rank quickly? Build a whole bunch of links to it fast.
But the idea of quantity over quality changed after Google launched the Penguin algorithm.
Link Velocity = Bad
The belief here is that gaining links too fast can cause a website to get penalized or demoted in search results.
It is based on the idea that Google will interpret a quick increase in inbound links as a sign that the website is trying to manipulate its search rankings.
Understandably, the idea of link velocity can be concerning for everyone who is averse to getting inadvertently penalized for acquiring links.
The growth of a website's link profile is largely out of its control.
If a site publishes a great piece of content, for example, many other sites may reference it within a short time frame, resulting in a number of links gained all at once.
Were link velocity to work as SEO experts claim, the website in the above example could receive a penalty because it gained an influx of inbound links through no fault of its own.
The Evidence: Link Velocity As A Ranking Factor
The origins of link velocity in the SEO community can be dated back to the discovery of a Google patent that was filed in 2003.
The patent, Information Retrieval Based on Historical Data, includes ideas about how a search engine should treat a website based on the growth of its link profile.
In particular, the idea of link velocity can be traced back to this passage:
"While a spiky rate of growth in the number of backlinks may be a factor used by search engine 125 to score documents, it may also signal an attempt to spam search engine 125. Accordingly, in this situation, search engine 125 may actually lower the score of a document(s) to reduce the effect of spamming."
Search Engine Journal's Roger Montti has picked apart SEO experts' interpretation of this patent, noting how they ignore parts of the patent which disprove their own theory.
For instance, the patent goes on to define what a "spiky rate of growth" is and how it can be the defining characteristic of unnatural link building.
The patent isn't about penalizing websites that see a rapid increase in inbound links.
It's about demoting websites that exhibit a pattern of unusual spikes in inbound links over extended periods.
According to Montti:
"What that patent is really talking about is the smooth natural rate of growth versus a spiky and unnatural rate of growth.

A spiky rate of growth can manifest over the course of months. That's a big difference from the link velocity idea that proposes that a large amount of links acquired in a short period will result in a penalty."
The evidence doesn't add up to what experts claim about link velocity.
Link Velocity As A Ranking Factor: Our Verdict
There is no evidence to suggest that Google uses a signal known as link velocity that can negatively impact rankings.
Link velocity is not a term Google officially recognizes.
When asked about it, Google search representatives say a website's links are assessed on their own merits, not by how many are gained in which length of time.
Here's an example of such a response from Google's John Mueller:
"It's not so much a matter of how many links you get in which time period. It's really just… if these are links that are unnatural or from our point of view problematic then they would be problematic. It's like it doesn't really matter how many or in which time."
Google's Gary Illyes put it more bluntly in a Reddit AMA, calling link velocity a made-up term.
Whether links are gained fast or slow, what really matters is the quality of the individual links and the manner in which they were acquired (naturally or unnaturally).
---
Featured Image: Paolo Bobita/Search Engine Journal
Entireweb Articles – Read the latest Articles and News in Search Engine related world!