How I Beat Google's Core Update by Changing the Game
Google released a major update. They typically don't announce their updates, but you know when they do, it is going to be big.
And that's what happened with the most recent update that they announced.
A lot of people saw their traffic drop. And of course, at the same time, people saw their traffic increase because when one site goes down in rankings another site moves up to take its spot.
Can you guess what happened to my traffic?
Well, based on the title of the post you are probably going to guess that it went up.
Now, let's see what happened to my search traffic.
My overall traffic has already dipped by roughly 6%. When you look at my organic traffic, you can see that it has dropped by 13.39%.
I know what you are thinking… how did you beat Google's core update when your traffic went down?
What if I told you that I saw this coming and I came up with a solution and contingency strategy in case my organic search traffic would ever drop?
But before I go into that, let me first break down how it all started and then I will get into how I beat Google's core update.
A new trend
I've been doing SEO for a long time… roughly 18 years now.
When I first started, Google algorithm updates still sucked but they were much more simple. For example, you could get hit hard if you built spammy links or if your content was super thin and provided no value.
Over the years, their algorithm has gotten much more complex. Nowadays, it isn't about if you are breaking the rules or not. Today, it is about optimizing for user experience and doing what's best for your visitors.
But that in and of itself is never very clear. How do you know that what you are doing is better for a visitor than your competition?
Honestly, you can never be 100% sure. The only one who actually knows is Google. And it is based on whoever it is they decide to work on coding or adjusting their algorithm.
Years ago, I started to notice a new trend with my search traffic.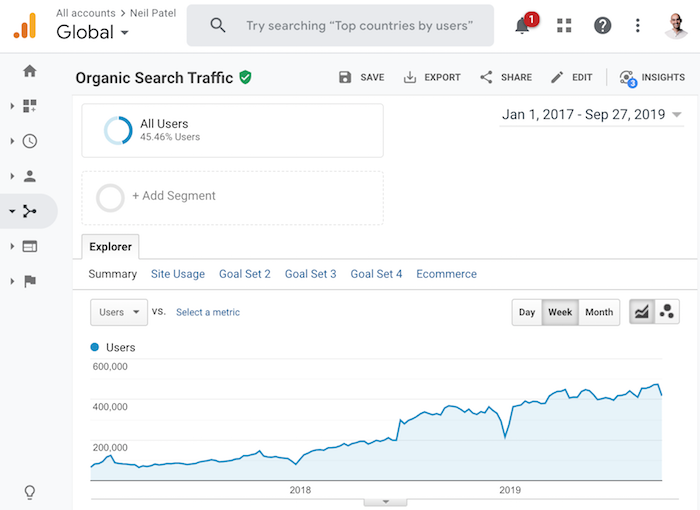 Look at the graph above, do you see the trend?
And no, my traffic doesn't just climb up and to the right. There are a lot of dips in there. But, of course, my rankings eventually started to continually climb because I figured out how to adapt to algorithm updates.
On a side note, if you aren't sure how to adapt to the latest algorithm update, read this. It will teach you how to recover your traffic… assuming you saw a dip. Or if you need extra help, check out my ad agency.
In many cases after an algorithm update, Google continues to fine-tune and tweak the algorithm. And if you saw a dip when you shouldn't have, you'll eventually start recovering.
But even then, there was one big issue. Compared to all of the previous years, I started to feel like I didn't have control as an SEO anymore back in 2017. I could no longer guarantee my success, even if I did everything correctly.
Now, I am not trying to blame Google… they didn't do anything wrong. Overall, their algorithm is great and relevant. If it wasn't, I wouldn't be using them.
And just like you and me, Google isn't perfect. They continually adjust and aim to improve. That's why they do over 3,200 algorithm updates in a year.
But still, even though I love Google, I didn't like the feeling of being helpless. Because I knew if my traffic took a drastic dip, I would lose a ton of money.
I need that traffic, not only to drive new revenue but, more importantly, to pay my team members. The concept of not being able to pay my team on any given month is scary, especially when your business is bootstrapped.
So what did I do?
I took matters into my own hands
Although I love SEO, and I think I'm pretty decent at it based on my traffic and my track record, I knew I had to come up with another solution that could provide me with sustainable traffic that could still generate leads for my business.
In addition to that, I wanted to find something that wasn't "paid," as I was bootstrapping. Just like how SEO was starting to have more ups and downs compared to what I've seen in my 18-year career, I knew the cost at paid ads would continually rise.
Just look at Google's ad revenue. They have some ups and downs every quarter but the overall trend is up and to the right.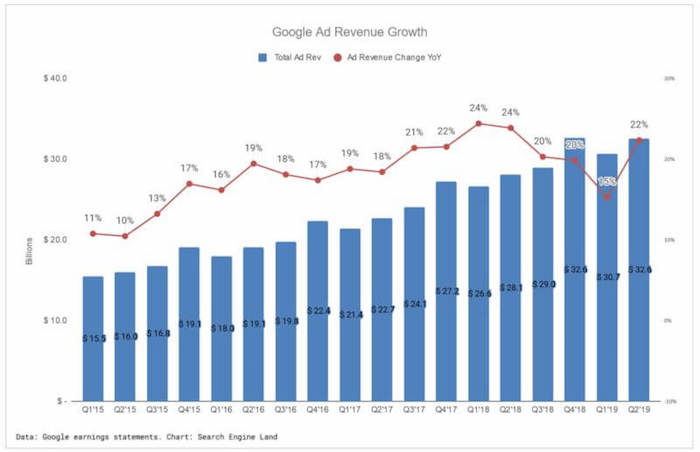 In other words, advertising will continually get more expensive over time.
And it's not just Google either. Facebook Ads keep getting more expensive as well.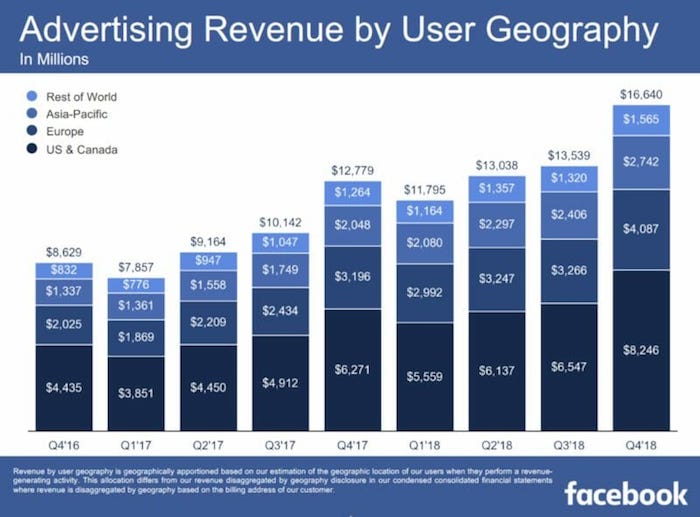 I didn't want to rely on a channel that would cost me more next year and the year after because it could get so expensive that I may not be able to profitably leverage it in the future.
So, what did I do?
I went on a hunt to figure out a way to get direct, referral, and organic traffic that didn't rely on any algorithm updates. (I will explain what I mean by organic traffic in a bit.)
I went on my mission
With the help of my buddy, Andrew Dumont, I went searching for websites that continually received good traffic even after algorithm updates.
Here were the criteria that we were looking for:
Sites that weren't reliant on Google traffic
Sites that didn't need to continually produce more content to get more traffic
Sites that weren't popular due to social media traffic (we both saw social traffic dying)
Sites that didn't leverage paid ads in the past or present
Sites that didn't leverage marketing
In essence, we were looking for sites that were popular because people naturally liked them. Our intentions at first weren't to necessarily buy any of these sites. Instead, we were trying to figure out how to naturally become popular so we could replicate it.
Do you know what we figured out?
I'll give you a hint.
Think of it this way: Google doesn't get the majority of their traffic from SEO. And Facebook doesn't get their traffic because they rank everywhere on Google or that people share Facebook.com on the social web.
Do you know how they are naturally popular?
It comes down to building a good product.
That was my aha! moment. Why continually crank out thousands of pieces of content, which isn't scalable and is a pain as you eventually have to update your old content, when I could just build a product?
That's when Andrew and I stumbled upon Ubersuggest.
Now the Ubersuggest you see today isn't what it looked like in February 2017 when I bought it.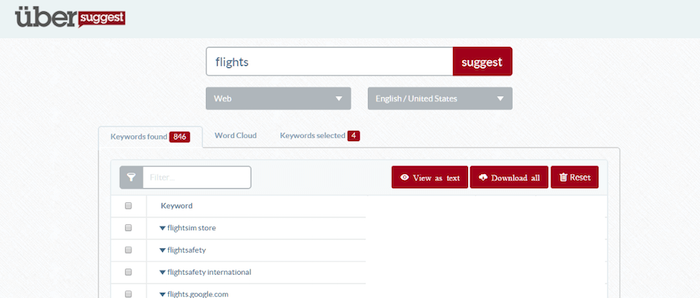 It used to be a simple tool that just showed you Google Suggest results based on any query.
Before I took it over, it was generating 117,425 unique visitors per month and had 38,700 backlinks from 8,490 referring domains.
All of this was natural. The original founder didn't do any marketing. He just built a product and it naturally spread.
The tool did, however, have roughly 43% of its traffic coming from organic search. Now, can you guess what keyword it was?
The term was "Ubersuggest".
In other words, its organic traffic mainly came from its own brand, which isn't really reliant on SEO or affected by Google algorithm updates. That's also what I meant when I talked about organic traffic that wasn't reliant on Google.
Now since then I've gone a bit crazy with Ubersuggest and released loads of new features… from daily rank tracking to a domain analysis and site audit report to a content ideas report and backlinks report.
In other words, I've been making it a robust SEO tool that has everything you need and is easy to use.
It's been so effective that the traffic on Ubersuggest went from 117,425 unique visitors to a whopping 651,436 unique visitors that generates 2,357,927 visits and 13,582,999 pageviews per month.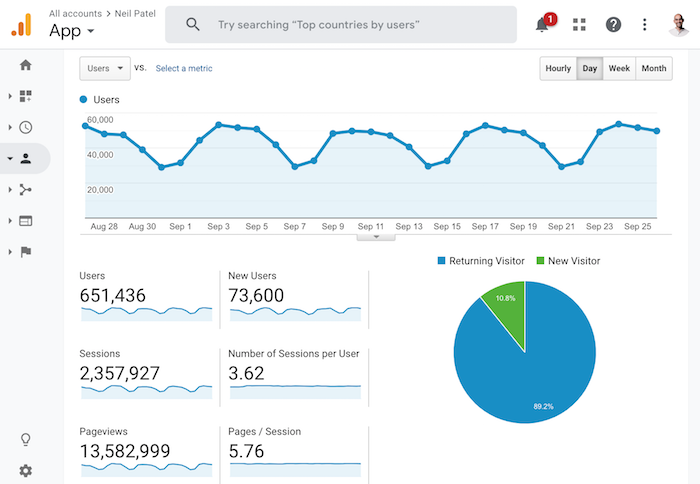 Best of all, the users are sticky, meaning the average Ubersuggest user spends over 26 minutes on the application each month. This means that they are engaged and will likely to convert into customers.
As I get more aggressive with my Ubersuggest funnel and start collecting leads from it, I expect to receive many more emails like that.
And over the years, I expect the traffic to continually grow.
Best of all, do you know what happens to the traffic on Ubersuggest when my site gets hit by a Google algorithm update or when my content stops going viral on Facebook?
It continually goes up and to the right.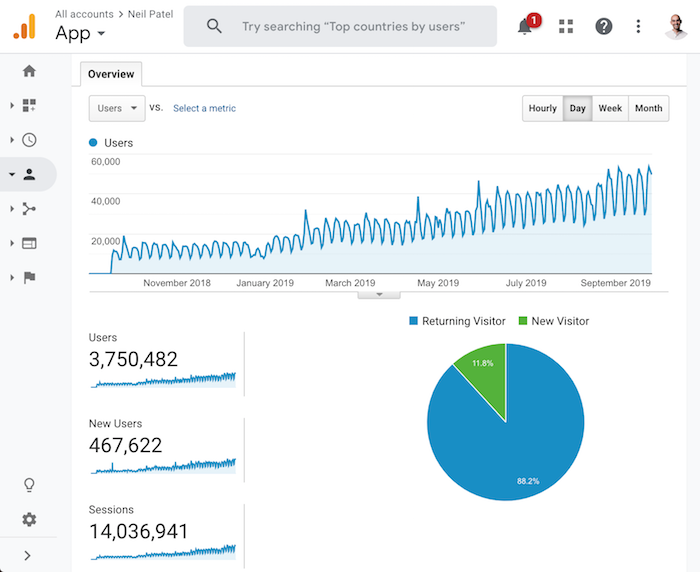 Now, unless you dump a ton of money and time into replicating what I am doing with Ubersuggest, but for your industry, you won't generate the results I am generating.
As my mom says, I'm kind of crazy…
But that doesn't mean you can't do well on a budget.
Back in 2013, I did a test where I released a tool on my old blog Quick Sprout. It was an SEO tool that wasn't too great and honestly, I probably spent too much money on it.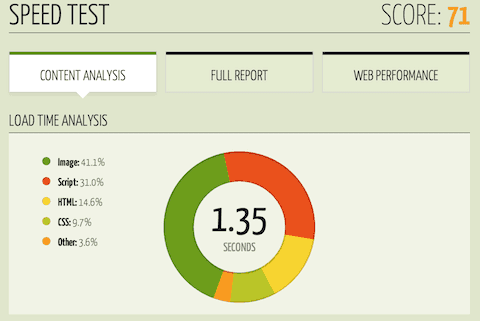 Here were the stats for the first 4 days of releasing the tool:
Day #1: 8,462 people ran 10,766 URLs
Day #2: 5,685 people ran 7,241 URLs
Day #3: 1,758 people ran 2,264 URLs
Day #4: 1,842 people ran 2,291 URLs
Even after the launch traffic died down, still 1,000+ people per day used the tool. And, over time, it actually went up to over 2,000.
It was at that point in my career, I realized that people love tools.
I know what you are thinking though… how do you do this on a budget, right?
How to build tools without hiring developers or spending lots of money
What's silly is, and I wish I knew this before I built my first tool on Quick Sprout back in the day, there are tools that already exist for every industry.
You don't have to create something new or hire some expensive developers. You can just use an existing tool on the market.
And if you want to go crazy like me, you can start adding multiple tools to your site… just like how I have an A/B testing calculator.
So how do you add tools without breaking the bank?
You buy them from sites like Code Canyon. From $2 to $50, you can find tools on just about anything. For example, if I wanted an SEO tool, Code Canyon has a ton to choose from. Just look at this one.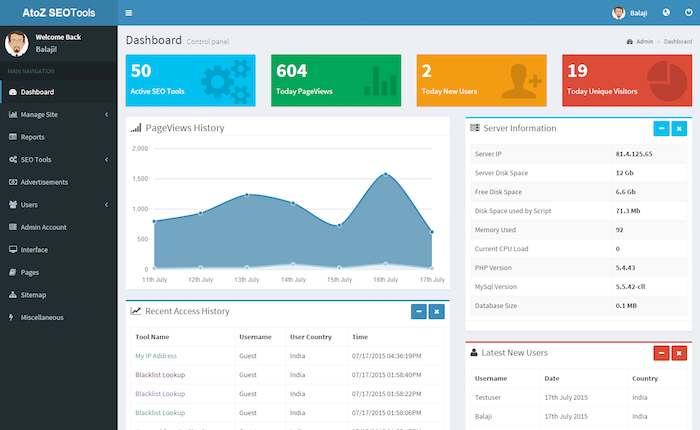 Not a bad looking tool that you can have on your website for just $40. You don't have to pay monthly fees and you don't need a developer… it's easy to install and it doesn't cost much in the grand scheme of things.
And here is the crazy thing: The $40 SEO tool has more features than the Quick Sprout one I built, has a better overall design, and it is .1% the cost.
Only if I knew that before I built it years ago. :/
Look, there are tools out there for every industry. From mortgage calculators to calorie counters to a parking spot finder and even video games that you can add to your site and make your own.
In other words, you don't have to build something from scratch. There are tools for every industry that already exists and you can buy them for pennies on the dollar.
Conclusion
I love SEO and always will. Heck, even though many SEOs hate how Google does algorithm updates, that doesn't bother me either… I love Google and they have built a great product.
But if you want to continually do well, you can't rely on one marketing channel. You need to take an omnichannel approach and leverage as many as possible.
That way, when one goes down, you are still generating traffic.
Now if you want to do really well, think about most of the large companies out there. You don't build a billion-dollar business from SEO, paid ads, or any other form of marketing. You first need to build an amazing product or service.
So, consider adding tools to your site, the data shows it is more effective than content marketing and it is more scalable.
Sure you probably won't achieve the results I achieved with Ubersuggest, but you can achieve the results I had with Quick Sprout. And you can achieve better results than what you are currently getting from content marketing.
What do you think? Are you going to add tools to your site?
PS: If you aren't sure what type of tool you should add to your site, leave a comment and I will see if I can give you any ideas. 🙂
What Is A Google Broad Core Algorithm Update?
When Google announces a broad core algorithm update, many SEO professionals find themselves asking what exactly changed (besides their rankings).
Google's acknowledgment of core updates is always vague and doesn't provide much detail other than to say the update occurred.
The SEO community is typically notified about core updates via the same standard tweets from Google's Search Liaison.
There's one announcement from Google when the update begins rolling out, and one on its conclusion, with few additional details in between (if any).
This invariably leaves SEO professionals and site owners asking many questions with respect to how their rankings were impacted by the core update.
To gain insight into what may have caused a site's rankings to go up, down, or stay the same, it helps to understand what a broad core update is and how it differs from other types of algorithm updates.
After reading this article you'll have a better idea of what a core update is designed to do, and how to recover from one if your rankings were impacted.
So, What Exactly Is A Core Update?
First, let me get the obligatory "Google makes hundreds of algorithm changes per year, often more than one per day" boilerplate out of the way.
Many of the named updates we hear about (Penguin, Panda, Pigeon, Fred, etc.) are implemented to address specific faults or issues in Google's algorithms.
In the case of Penguin, it was link spam; in the case of Pigeon, it was local SEO spam.
They all had a specific purpose.
In these cases, Google (sometimes reluctantly) informed us what they were trying to accomplish or prevent with the algorithm update, and we were able to go back and remedy our sites.
A core update is different.
The way I understand it, a core update is a tweak or change to the main search algorithm itself.
You know, the one that has between 200 and 500 ranking factors and signals (depending on which SEO blog you're reading today).
What a core update means to me is that Google slightly tweaked the importance, order, weights, or values of these signals.
Because of that, they can't come right out and tell us what changed without revealing the secret sauce.
The simplest way to visualize this would be to imagine 200 factors listed in order of importance.
Now imagine Google changing the order of 42 of those 200 factors.
Rankings would change, but it would be a combination of many things, not due to one specific factor or cause.
Obviously, it isn't that simple, but that's a good way to think about a core update.
Here's a purely made up, slightly more complicated example of what Google wouldn't tell us:
"In this core update, we increased the value of keywords in H1 tags by 2%, increased the value of HTTPS by 18%, decreased the value of keyword in title tag by 9%, changed the D value in our PageRank calculation from .85 to .70, and started using a TF-iDUF retrieval method for logged in users instead of the traditional TF-PDF method."
(I swear these are real things. I just have no idea if they're real things used by Google.)
For starters, many SEO pros wouldn't understand it.
Basically, it means Google may have changed the way they calculate term importance on a page, or the weighing of links in PageRank, or both, or a whole bunch of other factors that they can't talk about (without giving away the algorithm).
Put simply: Google changed the weight and importance of many ranking factors.
That's the simple explanation.
At its most complex form, Google ran a new training set through their machine learning ranking model and quality raters picked this new set of results as more relevant than the previous set, and the engineers have no idea what weights changed or how they changed because that's just how machine learning works.
(We all know Google uses quality raters to rate search results. These ratings are how they choose one algorithm change over another – not how they rate your site. Whether they feed this into machine learning is anybody's guess. But it's one possibility.)
It's likely some random combination of weighting delivered more relevant results for the quality raters, so they tested it more, the test results confirmed it, and they pushed it live.
How Can You Recover From A Core Update?
Unlike a major named update that targeted specific things, a core update may tweak the values of everything.
Because websites are weighted against other websites relevant to your query (engineers call this a corpus) the reason your site dropped could be entirely different than the reason somebody else's increased or decreased in rankings.
To put it simply, Google isn't telling you how to "recover" because it's likely a different answer for every website and query.
It all depends on what everybody else trying to rank for your query is doing.
Does every one of them but you have their keyword in the H1 tag? If so then that could be a contributing factor.
Do you all do that already? Then that probably carries less weight for that corpus of results.
It's very likely that this algorithm update didn't "penalize" you for something at all. It most likely just rewarded another site more for something else.
Maybe you were killing it with internal anchor text and they were doing a great job of formatting content to match user intent – and Google shifted the weights so that content formatting was slightly higher and internal anchor text was slightly lower.
(Again, hypothetical examples here.)
In reality, it was probably several minor tweaks that, when combined, tipped the scales slightly in favor of one site or another (think of our reordered list here).
Finding that "something else" that is helping your competitors isn't easy – but it's what keeps SEO professionals in the business.
Next Steps And Action Items
Rankings are down after a core update – now what?
Your next step is to gather intel on the pages that are ranking where your site used to be.
Conduct a SERP analysis to find positive correlations between pages that are ranking higher for queries where your site is now lower.
Try not to overanalyze the technical details, such as how fast each page loads or what their core web vitals scores are.
Pay attention to the content itself. As you go through it, ask yourself questions like:
Does it provide a better answer to the query than your article?
Does the content contain more recent data and current stats than yours?
Are there pictures and videos that help bring the content to life for the reader?
Google aims to serve content that provides the best and most complete answers to searchers' queries. Relevance is the one ranking factor that will always win out over all others.
Take an honest look at your content to see if it's as relevant today as it was prior to the core algorithm update.
From there you'll have an idea of what needs improvement.
The best advice for conquering core updates?
Keep focusing on:
User intent.
Quality content.
Clean architecture.
Google's guidelines.
Finally, don't stop improving your site once you reach Position 1, because the site in Position 2 isn't going to stop.
Yeah, I know, it's not the answer anybody wants and it sounds like Google propaganda. I swear it's not.
It's just the reality of what a core update is.
Nobody said SEO was easy.
More resources:
---
Featured Image: Ulvur/Shutterstock
Entireweb Articles – Read the latest Articles and News in Search Engine related world!
5 Tips For More Engaging & Impactful Branded Travel Content
Branded content is a term that is thrown around quite a lot in marketing circles, but many people struggle to understand what it actually means.
It's likely that you've come across and engaged with plenty of pieces of branded content before without realizing it, both as a consumer and in a professional context.
In the travel industry, in particular, branded content is frequently used as a way to appeal to certain customer demographics who prioritize the integrity and values of a brand over the specifics of their offering.
Branded content can take a wide variety of forms and approaches, which means that it can be tricky to figure out the best way to make the strategy work for you.
The struggle ends here.
What Is Branded Content?
Put simply, branded content is any piece of content that builds brand awareness by associating a company with the values it communicates.
To really understand where this approach comes from, you need to understand the context from which it emerged.
Traditional advertising has the intention of selling a product or experience at its core. Whatever method is used to do this, it is often explicit enough that the customer is aware that they are actively being sold to.
Many of the techniques used in traditional marketing are very effective, but the consumer landscape has changed drastically over the last decade or so.
Potential customers are wise to the classic methods used to catch their attention and subtly manipulate their behavior, which has led to a distrust of brands who use obvious advertising methods to explicitly push what they are selling.
On top of this, what modern consumers want from the brands they support has also changed in recent years.
In fact, 83% of millennials, in particular, prefer to spend their money on products or experiences from businesses whose values align with their own, and actively seek out companies with missions or goals that they also support.
This is particularly relevant in the travel industry as it is in line with many customers' concerns over the social or environmental impact of their holidays.
Instead of looking for the cheapest deals, many consumers now prioritize booking trips with brands that share their priorities when it comes to travel.
Branded content is the product of these key changes in the marketing landscape.
To appeal to this new generation of consumers, and to avoid the distrust that comes with explicit methods of advertising, branded content focuses on creating all kinds of content that potential customers will enjoy and illustrates the values of a company, instead of its offering.
This could be videos, blog posts, publications, and podcasts that are produced by a brand but not directly related to its product or service.
Branded content taps into the topics that potential customers are interested in to catch their attention and then builds affinity by regularly sharing other engaging content so that the brand becomes synonymous with certain positive values or ideas.
The benefits of this approach are clear: Branded content strengthens brand image, which helps you to stand out from your competitors, improves recall, and increases the number of potential customers who hear about your brand.
Targeting potential customers whose values align with your brand also means that conversion rates are higher and that you're more likely to gain long-term customer loyalty.
Branded content is an inbound marketing strategy; it attracts new customers by focusing on creating an appealing brand image.
There's a lot of overlap with other marketing techniques and formats, which makes it easy to integrate this approach into your existing marketing plan.
It should be noted that the term 'branded content' is now also used to refer to a kind of collaborative marketing approach on social media platforms such as Instagram, where a creator indicates that a post has been sponsored or inspired by a business partner.
Influencer marketing can involve kinds of branded content, but in this article, we use the term to refer to the wider style of content creation.
How To Make Branded Content Work For Your Travel Business
Now, you understand what is meant by the term branded content and can see the benefits of adopting the approach for your travel brand, you might have been left wondering how to put these ideas into action.
1. Establish Your Values
Company values are a key part of establishing a unique brand image. They're more than just your business goals and culture.
They dictate the kinds of travel experiences you offer, the way you approach your marketing content, the way you use your profits, and the kinds of consumers who support you.
At the heart of any branded content campaign should be what your company stands for and the impact you want to make in the travel world and beyond.
The whole point of this marketing approach is to highlight brand values that the audience will respond to, so you need to get this straight before you go any further.
If you already have a clear set of company values, fantastic. Identify the ones that you think your audience will relate to most, and go from there.
If you feel your values are lacking, think about issues or trends in the travel and tourism industry that you care about or feel that you could make a difference to.
Cast the net wider and reflect on any social issues that you think your business could support or impact, and consider if there's a way to work these into your values as well.
2. Identify Audience Interests
Understanding the audience you are marketing to is the backbone of any successful marketing scheme. Branded content is no different.
However, instead of just tapping into what your audience wants from a travel company, you need to dig deep and research into the interests and values of each demographic in your customer base.
Branded content works by catching the attention of potential customers who are going to want what your business offers, and building up a trusting relationship with them through the content you share.
In order to grab this attention in the first place, you need to have a clear idea of what your target audience cares about.
This goes further than just understanding what kind of holidays they enjoy and what they seek to get out of travel experiences, although this is still quite useful.
You need to find out what other interests intersect or align with their identity as a consumer.
What kind of hobbies do they enjoy?
What other brands do they support?
What are their values?
What social issues do they care about?
What topics do they enjoy reading about in their free time?
Complete this research for each of the different groups that make up your target audience, the more segmented the better.
Then, identify the areas and topics that have some overlap with your brand, and start seeking branded content inspiration here.
For example, say that you're a travel brand that specializes in wellness holidays to tropical destinations.
Your target audience may have general interests in things like healthy eating, exercise, and mindfulness, and also care about their environmental impact on the planet, for example.
As a travel brand, it doesn't make sense for you to share content offering health or nutrition advice, but you could create content that discusses sustainability in travel or the benefits of activities like yoga or meditation on mental wellness.
There doesn't have to be an explicit travel focus on the branded content you create. As long as it aligns with your overall business values and benefits your brand image, it will attract the right kinds of customers.
3. Choose Popular Formats
A key part of ensuring success when it comes to branded content is choosing a format that your target audience is going to engage with.
There's no point in spending a huge portion of your budget on an elaborate video marketing campaign if your target audience actually prefers to read content instead of watching it.
Alternately, if the majority of your customers enjoy social media content above all other formats, creating a print publication will get you nowhere.
Branded content makes a big impact because it genuinely engages and excites the people who see it, which prompts them to share and grow the content's reach.
If you're not using a platform or a format that your audience is familiar with or want to share content on, you won't get the desired impact.
Another feature of branded content is that it tends to respond to popular trends.
There's no point in trying to create something relevant if your audience has already lost interest in the format you use. If you're going to take inspiration from what's popular, you need to ensure you act fast.
This is one of the simplest pieces of branded content marketing advice, but it's an essential part to make the approach work for your travel brand.
Do your research to make sure you're creating something that potential customers will want to engage with, and then start brainstorming.
4. Create Immersive Content
Branded content seeks to catch people's attention and make an impact, even if they've never interacted with your brand before.
Tapping into consumers' emotions is one of the best ways to do this, which is why creating immersive branded content is such an effective approach.
Video and audio formats are particularly successful for travel brands, as they can immediately transport a potential customer to a new destination or experience.
You shouldn't use this tactic to promote your brand offering (or at least, not in this approach to marketing), but instead, focus on crafting an experience that is so engaging, it will stay in a consumer's mind afterward.
The worlds of VR and augmented reality are opening up more possibilities than ever before when it comes to immersive content, but even if you don't quite have the budget for such formats, you can still effectively hook your audience in an instant.
Consider audio content that speaks directly to the listener, visual-heavy social media posts that inspire instant wanderlust, and description-rich written content that your reader can't help but get lost in.
5. Be Unique
There are plenty of instances in a marketing strategy where it pays to play it safe.
Branded content isn't one of those.
This is definitely the time to do something quirky and creative that will get your brand noticed and your content shared.
A partnership with an unexpected brand on a series of social media posts? A response to a hot topic that clearly illustrates your stance on the matter? A venture into an unusual format, such as producing a music video?
The best examples of branded content are the ones that have gone viral, usually due to their unique or unexpected nature.
Communicating your values is important, but you need to catch consumers' attention first so that they actually listen to what you're saying.
If there was ever a time to take a risk and try something new, this is it.
Conclusion
It's possible that your travel business has already dipped its toe in the branded content waters, or you've been pursuing similar results with your marketing efforts without knowing the technical term for what you're doing.
You might also be a total newcomer to this approach, in which case this article should have given you a good idea of the best ways to make branded content work for you in the travel sector.
The nature of branded content is likely to change over the coming years in response to fluctuating consumer interests and priorities, as well as the introduction of new marketing techniques.
What is unlikely to change however is the positive impact of promoting your brand by finding common ground with your target audience, leading to high levels of customer engagement, trust, and loyalty.
More resources:
---
Featured Image: GaudiLab/Shutterstock
Entireweb Articles – Read the latest Articles and News in Search Engine related world!
How To Use Instagram Reels: A Step-By-Step Guide
Instagram Reels allows you to create and share TikTok-like videos of up to 60-seconds in length.
Unlike Instagram Stories, Reels are featured permanently on your Instagram profile and don't disappear after 24 hours.
Reels shares many of the same features as TikTok, which is helping Instagram stay competitive with what is currently the fastest growing social media app.
Unlike TikTok, which is a standalone app, Reels is built into the Instagram app you already use.
With Instagram Reels you can:
Create and share 60-second videos.
Add your own audio to videos, or choose a song from a catalog of licensed music.
Grab original audio from other videos and add it to your video.
Create reaction videos to content from other users.
Reels are featured in the Instagram Explore tab, which gives you a chance to reach a wider audience of people that aren't already following you.
There's potential to gain significant exposure if your Reel goes viral and becomes "Featured" content in the Explore section.
Here's more about how to create and share Reels.
1. Open The Instagram App & Navigate To Reels
Open the Instagram app and log-in to your account if you're not logged in already.
Then tap the plus-sign button, or swipe right from the main feed to get to the Instagram camera.
With the Instagram camera open, scroll to Reels at the bottom.
2. Record A Reel With The Instagram Camera
After selecting Reels you can either begin recording immediately, or you can add some production quality by selecting one of the following tools:
Audio: Search for a song from the Instagram music library or record your own audio.
AR Effects: Select one of the many effects in effect gallery.
Timer and Countdown: Set the timer to record clips hands-free.
Align: Line up objects from your previous clip before recording your next clip.
Speed: Speed up or slow down part of the video or audio you selected.
Record your Reel by pressing and holding the capture button.
A Reel can be recorded in a series of clips, all at once, or using video uploads from your camera roll.
You can preview your creation, as well as add stickers, drawings, or text before publishing the Reel.
Once your Reel is finished you can move on to the editing screen.
3. Share The Reel To Your Followers
Tap Share to and then tap Cover to change your cover photo and write a caption.
By default your Reel will be shared to Instagram Explore. Tap Stories at the top if you want to share your reel to your story instead of to Explore.
How The Instagram Reels Algorithm Works
Instagram is transparent about how it ranks the content people see when browsing through Reels. This insight may help you with creating more successful clips.
Instagram is pushing Reels as its next flagship feature. Adam Mosseri, head of Instagram, has gone on record saying he wants wants to go big on video in an effort to compete directly with TikTok.
As Instagram continues to invest in Reels it's keeping users informed about how this section of the app works.
The company has revealed how it chooses which Reels are recommended to each individual user.
Continue reading to learn how the Instagram algorithm surfaces Reels, which is information that can assist you with creating more engaging content for your audience.
Here's what you need to know.
How Instagram Recommends Reels to Users
The goal of Intagram's Reels algorithm is to surface content users will enjoy watching and actively engage with.
In order to determine which Reels to show users, Instagram's algorithm considers how likely an individual is to:
Watch a Reel the whole way through
Like it
Say it was entertaining or funny
Go to the audio page to make their own Reel
That last point might sound confusing if you're not familiar with either Reels or TikTok. It refers to the ability to take an audio track from someone's video and create your own content with it.
Unless the creator has the feature disabled, each Reel has a page where viewers can grab the audio and make a new video with the same track.
Creating a Reel with a highly shareable sound clip can get you far with the recommendation algorithm — but it's not the only signal that counts.
Related: How Instagram's Algorithm Works & IG Content Best Practices
Most Important Reels Algorithm Signals
Instagram says user activity is the most important signal when it comes to recommending Reels.
The algorithm considers which Reels a user has engaged with in the past, and whether they've had any direct interaction with the content creator.
That means responding to comments, DMs, and tags can help get your content shown in peoples' feeds more often.
After that, Instagram looks at information about the video itself and information about the content creator.
The most important signals for the Reels recommendation algorithm are (in order of importance):
User activity: Including recent engagement with Reels and interactions with content creators.
Information about the Reel: Such as its popularity, its audio track, and understanding of the video based on pixels and whole frames.
Information about the creator: Including who they are and how other users have interacted with them.
Types of Content Instagram Won't Recommend
There are several types of content Instagram won't recommend regardless of how popular the creator is or how much engagement the video receives.
Instagram avoids recommending Reels for the following reasons:
The video is low resolution and/or watermarked.
The video contains political content.
The video was made by political or government figures.
If you want to get anywhere with Instagram Reels, aim for producing high quality and original content. Watermarked videos recycled from other sites will not get surfaced in peoples' feeds unless they follow the creator directly.
Lastly, keep the subject matter light and friendly for all audiences.
Keep track of which Reels resonate most with your followers by noting the amount of likes, views, and comments each one receives. With a business or creator account you access even more detailed metrics.
More resources:
Source: @creators on Instagram
---
Featured Image: Ascannio/Shutterstock
Entireweb Articles – Read the latest Articles and News in Search Engine related world!