How I Beat Google's Core Update by Changing the Game
Google released a major update. They typically don't announce their updates, but you know when they do, it is going to be big.
And that's what happened with the most recent update that they announced.
A lot of people saw their traffic drop. And of course, at the same time, people saw their traffic increase because when one site goes down in rankings another site moves up to take its spot.
Can you guess what happened to my traffic?
Well, based on the title of the post you are probably going to guess that it went up.
Now, let's see what happened to my search traffic.
My overall traffic has already dipped by roughly 6%. When you look at my organic traffic, you can see that it has dropped by 13.39%.
I know what you are thinking… how did you beat Google's core update when your traffic went down?
What if I told you that I saw this coming and I came up with a solution and contingency strategy in case my organic search traffic would ever drop?
But before I go into that, let me first break down how it all started and then I will get into how I beat Google's core update.
A new trend
I've been doing SEO for a long time… roughly 18 years now.
When I first started, Google algorithm updates still sucked but they were much more simple. For example, you could get hit hard if you built spammy links or if your content was super thin and provided no value.
Over the years, their algorithm has gotten much more complex. Nowadays, it isn't about if you are breaking the rules or not. Today, it is about optimizing for user experience and doing what's best for your visitors.
But that in and of itself is never very clear. How do you know that what you are doing is better for a visitor than your competition?
Honestly, you can never be 100% sure. The only one who actually knows is Google. And it is based on whoever it is they decide to work on coding or adjusting their algorithm.
Years ago, I started to notice a new trend with my search traffic.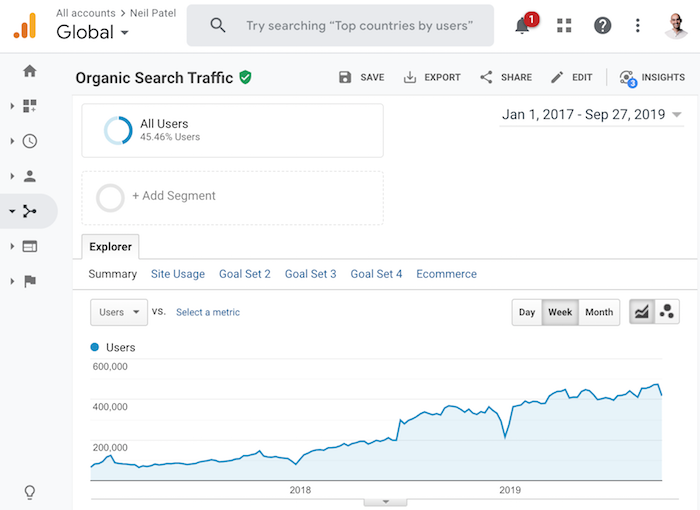 Look at the graph above, do you see the trend?
And no, my traffic doesn't just climb up and to the right. There are a lot of dips in there. But, of course, my rankings eventually started to continually climb because I figured out how to adapt to algorithm updates.
On a side note, if you aren't sure how to adapt to the latest algorithm update, read this. It will teach you how to recover your traffic… assuming you saw a dip. Or if you need extra help, check out my ad agency.
In many cases after an algorithm update, Google continues to fine-tune and tweak the algorithm. And if you saw a dip when you shouldn't have, you'll eventually start recovering.
But even then, there was one big issue. Compared to all of the previous years, I started to feel like I didn't have control as an SEO anymore back in 2017. I could no longer guarantee my success, even if I did everything correctly.
Now, I am not trying to blame Google… they didn't do anything wrong. Overall, their algorithm is great and relevant. If it wasn't, I wouldn't be using them.
And just like you and me, Google isn't perfect. They continually adjust and aim to improve. That's why they do over 3,200 algorithm updates in a year.
But still, even though I love Google, I didn't like the feeling of being helpless. Because I knew if my traffic took a drastic dip, I would lose a ton of money.
I need that traffic, not only to drive new revenue but, more importantly, to pay my team members. The concept of not being able to pay my team on any given month is scary, especially when your business is bootstrapped.
So what did I do?
I took matters into my own hands
Although I love SEO, and I think I'm pretty decent at it based on my traffic and my track record, I knew I had to come up with another solution that could provide me with sustainable traffic that could still generate leads for my business.
In addition to that, I wanted to find something that wasn't "paid," as I was bootstrapping. Just like how SEO was starting to have more ups and downs compared to what I've seen in my 18-year career, I knew the cost at paid ads would continually rise.
Just look at Google's ad revenue. They have some ups and downs every quarter but the overall trend is up and to the right.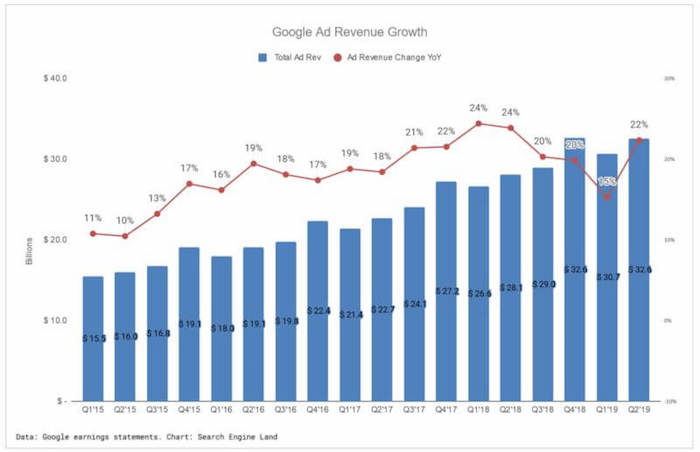 In other words, advertising will continually get more expensive over time.
And it's not just Google either. Facebook Ads keep getting more expensive as well.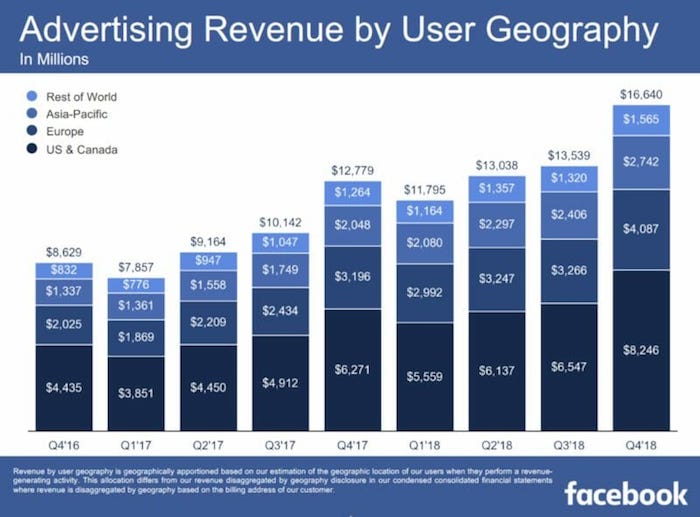 I didn't want to rely on a channel that would cost me more next year and the year after because it could get so expensive that I may not be able to profitably leverage it in the future.
So, what did I do?
I went on a hunt to figure out a way to get direct, referral, and organic traffic that didn't rely on any algorithm updates. (I will explain what I mean by organic traffic in a bit.)
I went on my mission
With the help of my buddy, Andrew Dumont, I went searching for websites that continually received good traffic even after algorithm updates.
Here were the criteria that we were looking for:
Sites that weren't reliant on Google traffic
Sites that didn't need to continually produce more content to get more traffic
Sites that weren't popular due to social media traffic (we both saw social traffic dying)
Sites that didn't leverage paid ads in the past or present
Sites that didn't leverage marketing
In essence, we were looking for sites that were popular because people naturally liked them. Our intentions at first weren't to necessarily buy any of these sites. Instead, we were trying to figure out how to naturally become popular so we could replicate it.
Do you know what we figured out?
I'll give you a hint.
Think of it this way: Google doesn't get the majority of their traffic from SEO. And Facebook doesn't get their traffic because they rank everywhere on Google or that people share Facebook.com on the social web.
Do you know how they are naturally popular?
It comes down to building a good product.
That was my aha! moment. Why continually crank out thousands of pieces of content, which isn't scalable and is a pain as you eventually have to update your old content, when I could just build a product?
That's when Andrew and I stumbled upon Ubersuggest.
Now the Ubersuggest you see today isn't what it looked like in February 2017 when I bought it.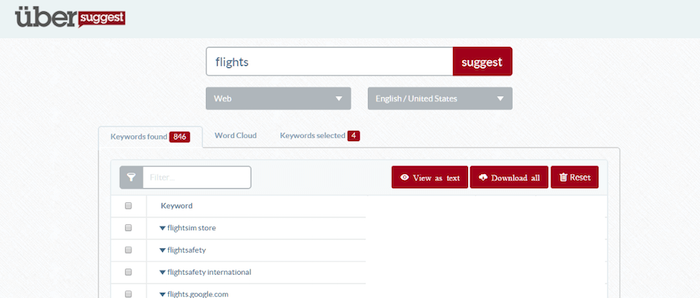 It used to be a simple tool that just showed you Google Suggest results based on any query.
Before I took it over, it was generating 117,425 unique visitors per month and had 38,700 backlinks from 8,490 referring domains.
All of this was natural. The original founder didn't do any marketing. He just built a product and it naturally spread.
The tool did, however, have roughly 43% of its traffic coming from organic search. Now, can you guess what keyword it was?
The term was "Ubersuggest".
In other words, its organic traffic mainly came from its own brand, which isn't really reliant on SEO or affected by Google algorithm updates. That's also what I meant when I talked about organic traffic that wasn't reliant on Google.
Now since then I've gone a bit crazy with Ubersuggest and released loads of new features… from daily rank tracking to a domain analysis and site audit report to a content ideas report and backlinks report.
In other words, I've been making it a robust SEO tool that has everything you need and is easy to use.
It's been so effective that the traffic on Ubersuggest went from 117,425 unique visitors to a whopping 651,436 unique visitors that generates 2,357,927 visits and 13,582,999 pageviews per month.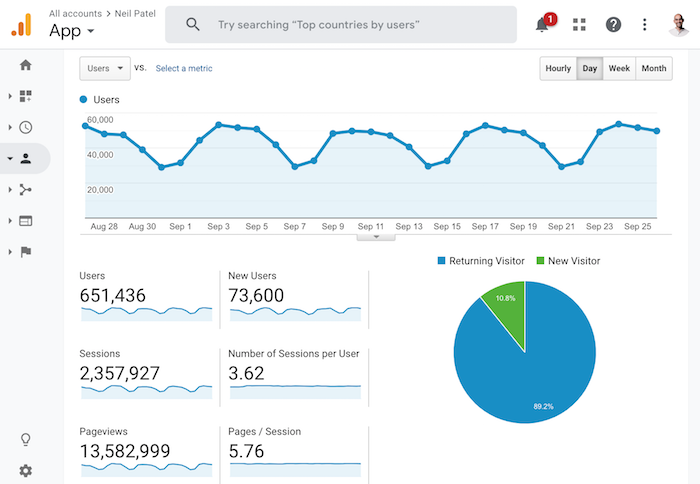 Best of all, the users are sticky, meaning the average Ubersuggest user spends over 26 minutes on the application each month. This means that they are engaged and will likely to convert into customers.
As I get more aggressive with my Ubersuggest funnel and start collecting leads from it, I expect to receive many more emails like that.
And over the years, I expect the traffic to continually grow.
Best of all, do you know what happens to the traffic on Ubersuggest when my site gets hit by a Google algorithm update or when my content stops going viral on Facebook?
It continually goes up and to the right.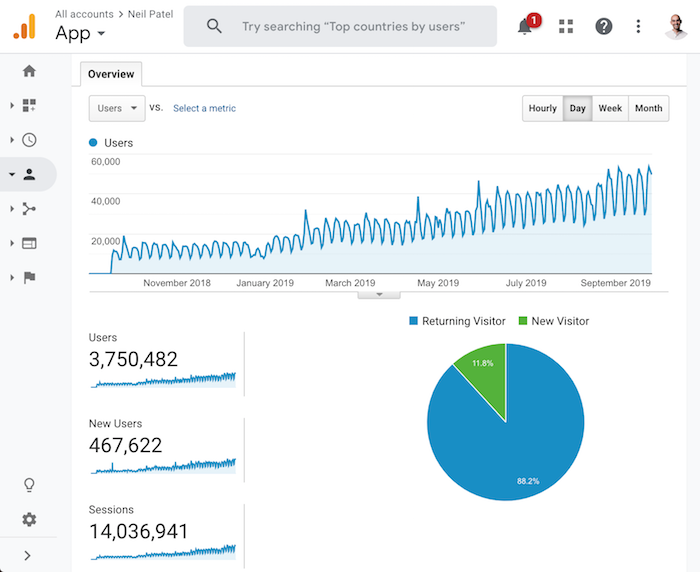 Now, unless you dump a ton of money and time into replicating what I am doing with Ubersuggest, but for your industry, you won't generate the results I am generating.
As my mom says, I'm kind of crazy…
But that doesn't mean you can't do well on a budget.
Back in 2013, I did a test where I released a tool on my old blog Quick Sprout. It was an SEO tool that wasn't too great and honestly, I probably spent too much money on it.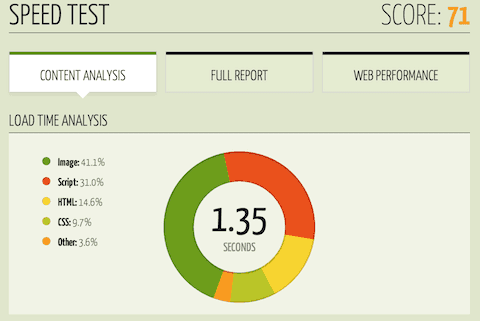 Here were the stats for the first 4 days of releasing the tool:
Day #1: 8,462 people ran 10,766 URLs
Day #2: 5,685 people ran 7,241 URLs
Day #3: 1,758 people ran 2,264 URLs
Day #4: 1,842 people ran 2,291 URLs
Even after the launch traffic died down, still 1,000+ people per day used the tool. And, over time, it actually went up to over 2,000.
It was at that point in my career, I realized that people love tools.
I know what you are thinking though… how do you do this on a budget, right?
How to build tools without hiring developers or spending lots of money
What's silly is, and I wish I knew this before I built my first tool on Quick Sprout back in the day, there are tools that already exist for every industry.
You don't have to create something new or hire some expensive developers. You can just use an existing tool on the market.
And if you want to go crazy like me, you can start adding multiple tools to your site… just like how I have an A/B testing calculator.
So how do you add tools without breaking the bank?
You buy them from sites like Code Canyon. From $2 to $50, you can find tools on just about anything. For example, if I wanted an SEO tool, Code Canyon has a ton to choose from. Just look at this one.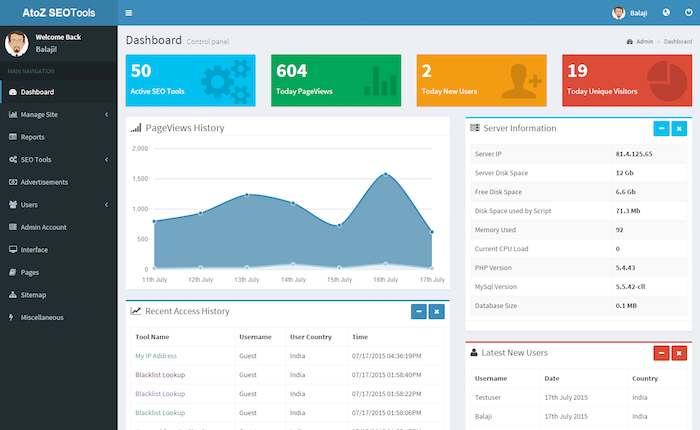 Not a bad looking tool that you can have on your website for just $40. You don't have to pay monthly fees and you don't need a developer… it's easy to install and it doesn't cost much in the grand scheme of things.
And here is the crazy thing: The $40 SEO tool has more features than the Quick Sprout one I built, has a better overall design, and it is .1% the cost.
Only if I knew that before I built it years ago. :/
Look, there are tools out there for every industry. From mortgage calculators to calorie counters to a parking spot finder and even video games that you can add to your site and make your own.
In other words, you don't have to build something from scratch. There are tools for every industry that already exists and you can buy them for pennies on the dollar.
Conclusion
I love SEO and always will. Heck, even though many SEOs hate how Google does algorithm updates, that doesn't bother me either… I love Google and they have built a great product.
But if you want to continually do well, you can't rely on one marketing channel. You need to take an omnichannel approach and leverage as many as possible.
That way, when one goes down, you are still generating traffic.
Now if you want to do really well, think about most of the large companies out there. You don't build a billion-dollar business from SEO, paid ads, or any other form of marketing. You first need to build an amazing product or service.
So, consider adding tools to your site, the data shows it is more effective than content marketing and it is more scalable.
Sure you probably won't achieve the results I achieved with Ubersuggest, but you can achieve the results I had with Quick Sprout. And you can achieve better results than what you are currently getting from content marketing.
What do you think? Are you going to add tools to your site?
PS: If you aren't sure what type of tool you should add to your site, leave a comment and I will see if I can give you any ideas. 🙂
12 Great Link Building Tools That Are Essential To Your Success
Link-building strategies, along with SEO tools, have certainly changed over the years.
Since the old automated link-building tools that automatically placed content like KontentMachine or GSA's Search Engine Ranker, modern tools have moved to manual research and outreach platforms.
Tools that many of my link-building colleagues and I use today look more like ones used for public relations (PR) rather than link-building. However, there are still tools specific to link building that aren't going anywhere.
These can be divided into four categories:
Link research.
Prospecting and outreach.
Reporting.
AI-powered tools.
Emerging technologies powered by AI can make the link-building process easier.
Link Research
Prospecting And Outreach
Reporting
AI-Powered Tools
1. Majestic

Excellent for identifying the types of domains you should generate links from.

3. Pitchbox

Combines email outreach with SEO metrics.

8. Agency Analytics

Connects a variety of performance metrics.

10. Link Whisperer

Good for internal linking efforts.

2. Ahrefs

Provides useful reports to analyze trends.

4. BuzzSumo

Use to identify authors and sharers/backlinkers.

9. Cyfe

Customizable but automatic reporting.

11. Postaga

Find opportunities and initiate outreach.

5. Hunter.IO

A browser extension that helps you find contact information.

12. CTRify

WordPress plugin that generates content.

6. BrightLocal

Submit and manage citations.

7. HARO
Link Research Tools
Link research is vital to figuring out what type of sites you should be approaching. This includes establishing quality criteria, categories of sites, authority metrics, and others.
Majestic and Ahrefs are two research tools that provide large databases and robust reporting.
I've included both of these sites as I constantly see each having data that the other doesn't.
You may find some links to your competitors' sites in Majestic that aren't listed in Ahrefs and vice versa.
These tools can be used together to build a comprehensive list of sites to analyze. As with many SEO tools, the pricing depends on how many features your team needs.
1. Majestic
Pricing: $49.99 per month with one user for the 'Lite' package. $99.99 per month for the "Pro" package, which they recommend for SEO agencies and consultants.
Payment options: Monthly or receive a discount for an annual subscription.
Here are some recommendations on using it and what reports should influence your link-building.
Topics: This data can be used to identify the types of sites you should be generating links from. Consider running this report on the link profiles for top-ranking sites, then finding sites that fit into similar categories.
Referring Domains: Use this to evaluate the number of unique domains you should focus on building for your site. This also offers a look into the trust/citation flow distribution (count of domains by trust/citation flow).
2. Ahrefs
Pricing: $99 per month with only one user for the 'Lite' plan. $199 per month for the "Standard" plan.
Payment options: Monthly or receive a discount for an annual subscription.
In contrast to Majestic, Ahrefs has some reports that are much easier to run inside the tool. It certainly costs more, but if you want more data, then Ahrefs is the right choice.
Here are reports to use in Ahrefs over Majestic:
Pages > Best by links: Two useful applications of this report are:

Identify competitors' most linked content to influence your content strategies.
Identify the type of sites that link to the content you will produce.

Pages > Best by link growth: This is a "trend" report providing content that has been generating links over the last 30 days. Find content here that is receiving a rapid number of links and create more robust content.
Prospecting And Outreach Tools
Finding highly relevant sites that may link to your content is the most excruciating part of link building.
You can create a large list of sites and bulk outreach to save time, but when evaluating your link-building success on links gained per hour and the quality of those links, it's best to handle prospecting manually or in a semi-automated approach.
I'll go through five tools, Pitchbox, BuzzSumo, Hunter.io, BrightLocal, and HARO.
These tools can be used for the most popular link-building strategies.
3. Pitchbox
Pricing: Averages $500+ per month.
Payment options: Prices are dependent on an individual walkthrough with Pitchbox.
Pitchbox is one of the pricier tools on the market compared to email tools like MailChimp, but integrated prospecting helps reduce the time to qualify sites.
The prospecting sites list builder and SEO metrics integrated right into the opportunities report make the tool stand out.
4. BuzzSumo
Pricing: $99 per month for the "Pro" package. $179 per month for the "Plus" package. There's a pared-down free version with limited searches per month.
Payment options: There is also a free version with limited features.
This is an excellent tool for building lists of blogs, influencers, and authors. Out of all the prospecting tools on the list, BuzzSumo has the best filtering options.
You can use the tool for a lot of purposes, but for link building, these are two effective use cases:
Identifying authors: The content research and influencers sections provide lists of authors/influencers that are searchable by keywords in the content they shared or produced. One fantastic use for this is to search through the "most shared" report and find influencers that received more than 2,000 shares of their content, then outreach to them to share yours. This can yield a lot of natural links.
Identifying sharers/backlinks: The second use goes a layer deeper than the first, finding those that have shared the content. Pull a list of shares or backlinking websites by content, then create similar but better content.
5. Hunter.io
Pricing: Starts at free. The first two upgraded packages are $49 per month and $99 per month.
Payment options: Free for 25 monthly searches up to $399 per month for 30,000 searches.
This browser extension finds email addresses for easy contact options.
It helps cut down on time spent sifting through About pages. You can also take it a step further and use the tool for outreach.
6. BrightLocal
Pricing: $29-$79 per month, depending on package size.
Payment options: You can also pay for the citation builder, reviews, or enterprise.
Citation building is important for local SEO and should be considered a link-building project.
One of the tools with the best value for submitting and managing citations is BrightLocal.
There are two components: citation monitoring and citation building. The tool also allows you to figure out how you're ranking based on the local competition.
7. HARO
Pricing: Starts at free. The first paid plan is $19 per month, which adds alerts and search functionality.
Payment options: The free options offer media options delivered to your email three times a day and up to $149/month for premium.
While this tool is traditionally used in the journalism world, it can also help link builders. It connects you with credible sources and allows you to build natural backlinks.
Reporting Tools
Although many of the tools in the previous section have reporting functionality built in, I've found them lacking in custom reporting or the ability to associate links to ranking performance.
These tools solve that issue; AgencyAnalytics and Cyfe.
8. Agency Analytics
Pricing: $12 per month, per campaign. $18 per month per campaign for custom reporting features.
Payment options: Pay annually to save money.
Agency Analytics automatically populates the dashboard with data from Moz and Majestic and connects that data to critical performance metrics, like ranking and organic traffic.
Qualified traffic that converts to leads or sales is the purpose of link-building and SEO efforts, so reporting needs to make a connection between them.
9. Cyfe
Pricing: $19 per month for one user, with higher tiers for more users.
Payment options: Unlimited users for $89/month.
This tool can be built out as a hybrid between Google Sheets and Agency Analytics, meaning it's very customizable but can also automatically and easily aggregate data from multiple sources to create a meaningful report.
AI-Powered Tools
AI-powered tools can significantly simplify otherwise complex and time-consuming tasks. Remember that some of your processes will require a human touch, so always evaluate how performance is impacted when integrating AI into your processes.
The following tools, Link Whisper, Postaga, and CTRify use AI to discover opportunities and automate processes.
10. Link Whisper
Pricing: $77 per month for one site, with additional plans for more sites.
Payment options: One to 50 site licenses.
Link Whisper is useful for internal link building.
AI technologies offer automatic link suggestions as content is produced. It can also help you recognize old content that needs more links directed to it.
The tools also automate links based on keywords and offer internal link reporting. It's pretty all-inclusive and can help speed up internal link-building automatically.
11. Postaga
Pricing: $84 per month for one account with five users. $250 per month for 30 accounts with unlimited users.
Payment options: Save by paying annually.
Postaga does everything from finding opportunities to initiating outreach.
AI comes into play with the outreach assistant, which finds relevant information from influencers to include in emails. You can also enter your domain into the tool to find relevant campaign ideas.
12. CTRify
Pricing: A free version. $197 or $497, depending on the plan.
Payment options: Single payment.
CTRify is a WordPress plugin that is great for content creation.
All it takes is a single keyword, and the AI creates the content you need for a specific campaign. You can then automatically publish the posts – it doesn't get much simpler than that.
Conclusion
I've curated this list with the intent to offer a tool for every reader, providing enterprise-level affordable solutions and highly technical tools.
There is diversity in the available tools, and you will need to select the right one for the job.
You don't need to have a $1,000 monthly tool budget to be a link builder, but all of the tasks will take time. Allocating your time and budget in the right combination improves business outcomes.
---
Featured Image: Paulo Bobita/Search Engine Journal
WordPress Admin Interface Is "Simply Bad"
Yoast SEO plugin founder, Joost de Valk, published a critical appraisal of the WordPress user interface (UI), saying that it makes it  "harder to use" and may be a reason that contributes to WordPress losing market share to companies like Wix and Shopify.
The official WordPress design philosophy states that they want to make WordPress easier to use with every new version published.
They write that it's their goal that the "non-technically minded" user is the one they design for so that they can be set up within five minutes with a fully functional website.
However the reality of how easy WordPress is to use falls far short of their philosophy statement.
Even the developer of WordPress itself, Matt Mullenweg, said that designing in Wix is faster than doing the same thing in WordPress.
WordPress User Interface Design
Joost points the finger at the current WordPress admin user interface as a contributing factor to why WordPress is confusing to use.
He called attention to the fact that WordPress has three different user interfaces, forcing users to learn how to use each interface and complicating the experience of using WordPress.
To make things worse, themes and plugins introduce their own user interface elements, which again forces users to learn an entirely different way to navigate and user the software.
An ideal user interface (UI) offers a consistent workspace so that a user doesn't have to stop and rethink where all the buttons and links are.
Interacting with the interface should be similar across every screen, regardless of what they are trying to accomplish.
Joost wrote:
"The current state is simply bad: WordPress core basically has 3 designs now.

The edit post page I'm typing this in looks nothing like the Posts overview page, which looks nothing like the Site Health page.

And then you go into plugins and each has their own UI there too. This makes WordPress as a whole harder to use."
WordPress is Old Fashioned and Losing Market Share
Aside from the UI being inconsistent, Joost also pointed out that competitors like Wix have a consistent UI throughout their content management systems.
So while the rest of the world is moving on with best practices WordPress is stuck with the same inconsistent interface it's had for years.
Yoast insisted that the poor user interface is contributing to the exodus of users from WordPress to competitors.
"This is how we lose CMS market share to companies like Wix and Shopify (who each do have their own design system)."
Is WordPress Hard to Use?
A major feature that makes a closed source CMS like Wix attractive is that it's easy to use. One of the reasons it's easy to use is a consistent design system.
PC Magazine gave Wix an Editors Choice Best of the Year Award in 2022, writing:
"If you want to build a website online with minimal effort and maximum creative freedom, look no further than Wix."
WordPress received no such award. However, in PC Magazine's overview of WordPress, the authors remarked that it wasn't "particularly difficult."
But the authors of the PC Magazine overview also acknowledged the learning curve to using WordPress:
"…people who aren't familiar with the process may need a guiding hand."
WordPress theme website ThemeIsle writes:
"While WordPress does not require any coding knowledge, customizing your theme is often not that straightforward.

By default, you don't get quite the same visual editing experience as you would with Squarespace or Wix, although the new Block Editor is evolving in that direction…Some poorly coded themes might also be a pain to adjust unless you're an advanced user."
One of the goals of WordPress is to be easy for users to build with.
So it's puzzling that WordPress is acknowledged as difficult to use, particularly in comparison to closed source alternatives like Wix, Shopify and Duda.
Joost de Valk puts his finger on the outdated admin UI as one reason why WordPress is so hard to use.
He practically pleads for the leadership at WordPress to prioritize designing a consistent user interface.
"WordPress needs a design system and it needs it fast…"
Response from Twitter WordPress Community
The response to Joost's article was overwhelmingly positive, with many from the WordPress community thanking Joost for calling attention to the topic.
@learnwithmattc tweeted:
"Excellent write-up, summary, recommendations, tips, resources. It's not often you get this much valuable info in one blog post.

WP Product Devs, pay attention! Settings UIs matter, whether you like the route Yoast took or not, I think it's worth paying attention to."
@Shock9699 tweeted thanks for the article, calling attention to the mismatched menus within the WordPress admin interface.
"Totally agree. WordPress now looks like a 10/15 year old CMS. Especially with the advent of the new FSE where the internal menus are different from those of the normal dashboard."
@mnowak_eth tweeted agreement with the opinions about the state of the WordPress admin UI:
"…Wordpress panel is starting to look like ancient enterprise software (you know the names). With the whole SaaS movement constantly educating the Internet society on good and bad UX and ergonomics, wp panel was overlooked."
A standardized design that is shared by plugins and themes would create a seamless and coherent admin interface. @wpsecurityuser tweeted an appeal for a standardized design system.
"Please stop plugins implementing their UI systems, update the wordpress admin UI and standerdize everything, let's get modern."
@bitartem called attention to the value of having a design system in place so that the WordPress ecosystem can know ahead of time what to expect.
"Another problem is that WordPress is in a transitional phase, I mean Block Editor, and Full Site Editing, and new features are added almost every day, so if there's a Design System, we need to know what WordPress will become in near future."
WordPress Admin User Interface Needs Improvement
It's hard to escape the conclusion that WordPress is in trouble when the person who created it says that it's faster to get things done in a closed source competitor than it is with WordPress.
Joost's article focuses on the outdated state of the WordPress admin interface and calls attention to the need for a coherent design statement that plugin and theme developers could adopt in order to create an easier to use end product.
Read Joost de Valk's Blog Post
Top YouTube Videos, Shorts, And Ads of 2022
Examining YouTube's list of the top trending videos and top Shorts of 2022, as well as the YouTube Ads Leaderboard: 2022 year-end-wrap-up can teach content marketers, content creators, and digital advertisers some important lessons that they can apply in 2023.
But, it helps if you have a secret decoder ring to decipher why there are three lists – and why each one uses a different methodology to come up with the rankings.
YouTube unveiled its first list of the 10 most-watched YouTube videos back in December 2010. Unfortunately, that list taught many marketers that "view count" was the only metric that mattered.
But, I got my secret decoder ring back in October 2012, when YouTube started adjusting the ranking of videos in YouTube search results to reward engaging videos that kept viewers watching.
In other words, YouTube replaced "view count" with "watch time."
This was a significant shift, because "watch time" gives you a sense of what content viewers actually watch, as opposed to videos that they click on and then abandon.
In December 2012, YouTube shifted from unveiling its 10 "most-watched" videos of the year to unveiling its "top trending videos," based on time spent watching, sharing, commenting, liking, and other factors.
In other words, "watch time" and "engagements" were now the metrics that mattered.
Today, YouTube's algorithm rewards "viewer satisfaction."
In other words, YouTube doesn't pay attention to videos; it pays attention to viewers.
So, rather than trying to make videos that'll make an algorithm happy, focus on making videos that make your viewers happy.
This brings us to YouTube's lists of "trending videos" and "top Shorts" for 2022.
To learn important lessons that can be applied in 2023, we need to realize that YouTube's discovery system uses both absolute and relative watch time as signals when deciding audience engagement.
Ultimately, YouTube wants both short and long videos to succeed, so relative watch time is more important for short videos, and absolute watch time is more important for longer videos.
Top 7 Trending Videos Of 2022
1. "So Long Nerds" By Technoblade (6:32 long, 88.3 million Views, 10.2 million engagements)
In this moving tribute, the father of beloved Minecraft creator Technoblade reads a farewell letter from his son.
The gamer lost his battle with cancer in June, but his legacy remains on YouTube.
2. "Watch The Uncensored Moment Will Smith Smacks Chris Rock On Stage At The Oscars, Drops F-bomb" By Guardian News (1:24 long, 104 million Views, and 1.8 million engagements)
It was the smack heard 'round the world: Academy Award winner Will Smith went off-script and slapped Chris Rock, live on-stage, at the film industry's most prestigious event.
3. "Hi, I'm Dream" By Dream (5:42 long, 48.5 million Views, and 4.7 million engagements)
Dream's ingenuity within Minecraft has led him to become a top creator with a devoted fanbase.
But no one knew what he looked like IRL, until now.
Lose yourself in this epic Super Bowl halftime show packed with some of the biggest artists in hip-hop history: Dr. Dre, Snoop, Eminem, Mary J. Blige, Kendrick Lama, and 50 Cent.
5. "I Built Willy Wonka's Chocolate Factory!" By Mrbeast (17:01 long, 132 million Views, and 5.1 million engagements)
In a "Willy Wonka" inspired warehouse, MrBeast challenges contestants to traverse a chocolate river, climb a candy wall, compete in confection-themed games, and indulge in their sweetest fantasies.
6. "Pranks Destroy Scam Callers- Glitterbomb Payback" By Mark Rober (26:41 long, 55.9 million Views, and 2.2 million engagements).
Engineer Mark Rober exacts dazzling revenge on a scam call center in the latest version of his glitterbomb series.
7. "Being Not Straight" By Jaiden Animations (15:22 long, 17.8 million Views, and 1.7 million engagements)
In this coming-out video, Jaiden Animations depicts a personal journey from adolescence to adulthood, sharing how they discovered their sexual identity along the way.
Top 7 Shorts Of 2022
1. "Diver Cracks Egg At 45 Ft Deep #Shorts" By Shangerdanger (0:56 long, 251 million Views, and 12.3 million engagements)
The ocean floor is a mysterious place. It's full of unknown sea creatures, strange plants, and…chicken eggs?!
Join Shangerdanger as he cracks up the internet and dives egg-first into the blue depths.
2. "Sarah Trust Challenges" By Hingaflips (0:31 long, 142 million Views, and 6.5 million engagements)
Better than parkour? This is Trampwall: an epic sport where acrobats defy gravity and leap off a wall, onto a trampoline, to pull off mind-blowing aerial stunts.
3. "Come With Me To Shave My Fluffy Dog! #Doggrooming #Grooming #Goldendoodle" By Brodie That Dood (0:52 long, 108 million Views, and 6.8 million engagements)
For years, his long fluffy fur has made Brodie one of the most iconic dogs on YouTube. So, the heartbreak was real when it was decided that he needed a close trim.
4. "Dave and Busters Bet Me 1000 Tickets I Couldn't Do This…" By Chris Ivan (0:59 long, 83.6 million Views, and 6.3 million engagements).
No one does trick shots like creator Chris Ivan. In this Short, he attempts to land a plunger on a Dave & Buster's sign.
The prize? 1,000 tickets … if he can pull it off.
5. "That Gap Between Your Car Seat and Center Console" By Jay & Sharon (0:58 long, 182 million Views, and 6.4 million engagements)
We've all lost something in the dreaded gap between the car seat and the center console.
In this comedic sketch, creators Jay & Sharon show us what's really going on down there.
6. "Welcome To The Stomach #Shorts" By Adrian Bliss (0:34 long, 118 million Views, and 7.0 million engagements)
In this bite-sized skit, witty creator Adrian Bliss brings to life all the characters trying to gain entrance – and party in – his space-limited stomach.
7. "This Magic Trick Explained (America's Got Talent)" By Zack D. Films (0:34 long, 97.4 million Views, and 5.6 million engagements).
How did he do it? The judges of "America's Got Talent" were confounded by this magic trick.
But not internet-sleuth Zack D., who unveils its clever secret.
Top 7 YouTube Ads Of 2022
Meanwhile, YouTube uses an entirely different methodology to determine the top YouTube ad for its 2022 year-end wrap-up Leaderboard. This makes sense.
The top ads are generally the ones with the biggest budgets, which drive up view counts, but not always engagements.
1. "Amazon's Big Game Commercial: Mind Reader" By Amazon (1:31 long, 69.7 million Views, and 25,700 engagements)
The creative agency for this ad was Lucky Generals and the media agency was IPG – Rufus.
The ad's description asks, "Is Alexa reading minds a good idea? No. No, it is not."
2. "Welcome To Clan Capital! Clash Of Clans New Update!" By Clash Of Clans (1:20 long, 52.9 million Views, and 212,000 engagements)
The creative agency was Psyop, and the media agency was in-house.
The ad's description says,
"Welcome to the ultimate clan destination! A place where you and your clan can BUILD and BATTLE together! A place called CLAN CAPITAL!"
3. "Goal Of The Century X BTS | Yet To Come (Hyundai Ver.) Official Music Video" By Hyundaiworldwide (4:08 long, 40.5 million Views, and 886,000 engagements)
The ad's description says,
"Our 'Goal of the Century' can't be achieved by one individual alone, but we can achieve it if we all join forces and unite.

Just like football players come together as a team to score goals, we aim to use the power of football to go forward together in pursuit of the greatest goal – 'A united world for sustainability.'"
4. "Harry Potter 20th Anniversary: Return To Hogwarts | Official Trailer | HBO Max" By HBO Max (1:58 long, 27.3 million Views, and 739,000 engagements)
The creative agency was in-house, and the media agency was Hearts & Science.
The ad's description says,
"Harry Potter 20th Anniversary: Return to Hogwarts invites fans on a magical first-person journey through one of the most beloved film franchises of all time as it reunites Daniel Radcliffe, Rupert Grint, Emma Watson, and other esteemed cast members and filmmakers across all eight Harry Potter films for the first time to celebrate the anniversary of the franchise's first film, Harry Potter and the Sorcerer's Stone."
5. "Introducing iPhone 14 Pro | Apple" by Apple (4:20 long, 23.8 million views, and 571,000 engagements)
The ad's description asks, "What lies beyond a traditional smartphone? Let's find out. This is iPhone 14 Pro."
6. All of Us Are Dead | Official Trailer | Netflix" by Netflix (2:35 long, 22.6 million views, and 518,000 engagements)
The creative agency was The Refinery, and the media agency was in-house. The ad's description says,
"All of us will die. There is no hope." The school turned into a bloody battleground and our friends into worst enemies. Who will make it out alive?"
7. Sally's Seashells (Extended) | Big Game Commercial 2022" by Squarespace (1:07 long, 21.6 million views, and 67,600 engagements)
The media agency was in-house. The ad's description says,
"See everything that Sally sells in this extended cut of our 2022 Big Game commercial. Starring Zendaya as Sally and narrated by andré 3000."
Most Important Lesson That Marketers Can Apply In 2023
Looking back at YouTube's lists of top trending videos, top Shorts, and top ads for 2022, there is a meta-lesson that marketers can learn: one size does not fit all.
Different metrics matter when measuring different types of video, and different types of ads are better for different marketing objectives.
Or, as the British say, "There are horses for courses."
Now, that's a lesson that all of us can apply in 2023, and beyond.
More resources:
---
Featured Image: /Shutterstock