SEO Doesn't Have to be a Long-Term Game: There Are Quicker Ways to Get Results
Everyone thinks SEO is a long-term game… that you have to wait months if not years to see results. And, maybe that was the case a few years ago when content was still king.
With Google making 3200 algorithm changes in just one year, their goal isn't to make a website wait a year or two before they are able to achieve a top spot.
Instead, they want to show the user the right site as quick as possible. It doesn't matter if the site has been around for 10 years, or 10 days.
How SEO has changed
It used to be that if you want to rank well, you would have to create tons of long-form content and build links.
Or have a really aged domain with history. But as Google has clearly stated, having an older domain or even a new domain won't affect your rankings.
And sure, those things still matter today. But there are over 200 factors in Google's algorithm.
In other words, there are other tactics that produce quick results.
For example, a few weeks I wrote a blog post about FAQ schema and how you can see the difference with your Google listing in 30 minutes.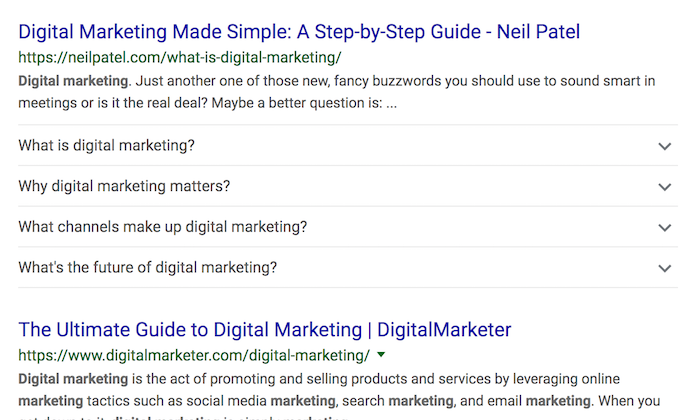 Literally, 30 minutes.
That kind of stuff wasn't possible before.
And SEO is no longer just a game of ranking on Google. There are tons of popular search engines like YouTube, in which you can get results in 24 hours.
Their algorithm is a bit different than Google's in which if a video does really well in the first 24 hours of it being released, it will get shown more and rank higher.
In essence, you can take a top spot on YouTube in just days, no matter how competitive the term maybe.
You are full of it Neil?
Look, I'm not trying to say you can rank for "auto insurance" on Google within 24 hours or achieve unrealistic results, but you can drastically grow your search traffic in a reasonable time if you follow the right tactics.
It doesn't matter if you have a new website or an old one.
So how do you get results faster? What's the secret?
Well, I have a Master Class that will teach you how to double your traffic, but you'll have to wait till Thursday.
I'm going to be introducing something new in which you can get more search traffic in 30 days.
All you have to do is take one simple action each day. And the action is so simple that it shouldn't take you more than 30 minutes.
Stay tuned!
PS: Don't forget to add the Master Class to your calendar. That way you'll get notified on Thursday when it comes out.
Googlebot Crawls & Indexes First 15 MB HTML Content
In an update to Googlebot's help document, Google quietly announced it will crawl the first 15 MB of a webpage. Anything after this cutoff will not be included in rankings calculations.
Google specifies in the help document:
"Any resources referenced in the HTML such as images, videos, CSS and JavaScript are fetched separately. After the first 15 MB of the file, Googlebot stops crawling and only considers the first 15 MB of the file for indexing. The file size limit is applied on the uncompressed data."
This left some in the SEO community wondering if this meant Googlebot would completely disregard text that fell below images at the cutoff in HTML files.
"It's specific to the HTML file itself, like it's written," John Mueller, Google Search Advocate, clarified via Twitter. "Embedded resources/content pulled in with IMG tags is not a part of the HTML file."
What This Means For SEO
To ensure it is weighted by Googlebot, important content must now be included near the top of webpages. This means code must be structured in a way that puts the SEO-relevant information with the first 15 MB in an HTML or supported text-based file.
It also means images and videos should be compressed not be encoded directly into the HTML, whenever possible.
SEO best practices currently recommend keeping HTML pages to 100 KB or less, so many sites will be unaffected by this change. Page size can be checked with a variety of tools, including Google Page Speed Insights.
In theory, it may sound worrisome that you could potentially have content on a page that doesn't get used for indexing. In practice, however, 15MB is a considerably large amount of HTML.
As Google states, resources such as images and videos are fetched separately. Based on Google's wording, it sounds like this 15MB cutoff applies to HTML only.
It would be difficult to go over that limit with HTML unless you were publishing entire books' worth of text on a single page.
Should you have pages that exceed 15MB of HTML it's likely you have underlying issues that need to be fixed anyway.
---
Source: Google Search Central
Featured Image: SNEHIT PHOTO/Shutterstock
if( typeof sopp !== "undefined" && sopp === 'yes' ){ fbq('dataProcessingOptions', ['LDU'], 1, 1000); }else{ fbq('dataProcessingOptions', []); }
fbq('init', '1321385257908563');
fbq('track', 'PageView');
fbq('trackSingle', '1321385257908563', 'ViewContent', { content_name: 'googlebot-crawls-indexes-first-15-mb-html-content', content_category: 'news seo' }); }