The 7 Best Website Builders for SEO
A few years ago, when website builders were a novelty, they didn't exactly have a good reputation when it came to SEO. It simply wasn't a priority.
However, that has changed tremendously over time. Now there are many website builders with options for search engine optimization that are simple and easy to use.
In this article, we'll go through the best website builders for SEO and how you can use them to optimize your website.
1. Wix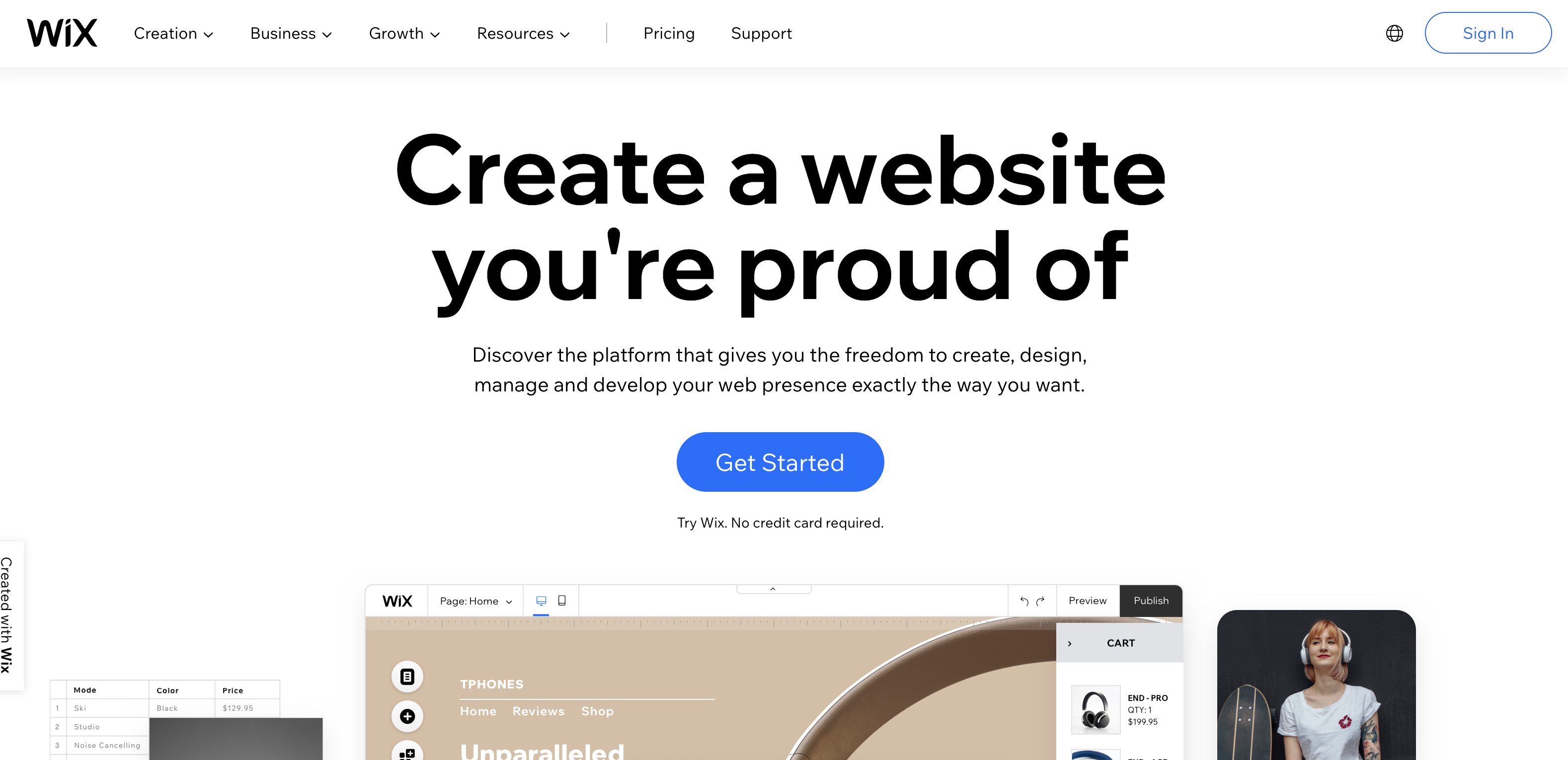 Wix is a well-known website builder that has been around for a while. Although in the beginning it frustrated users with its lack of customization options, now it is considered the easiest solution to build your website without using any code.
While Wix has a drag and drop website builder, it has gone one step further and now also offers an AI-powered builder that builds your website automatically according to the information you provide. This is a great way to save time since it gives you a full website within minutes.
But what about SEO? You'll find Wix allows you to:
Set up 301 redirects
Set up custom meta titles for each page
Set up alt-tags
Access the sitemap
Edit the robots.txt file
And more.
Wix also provides eCommerce building options, which are great if you want to set up an online store quickly. It also has a free version that might help if you're on a tight budget, and seven paid plans that suit different use cases. 💰
2. Squarespace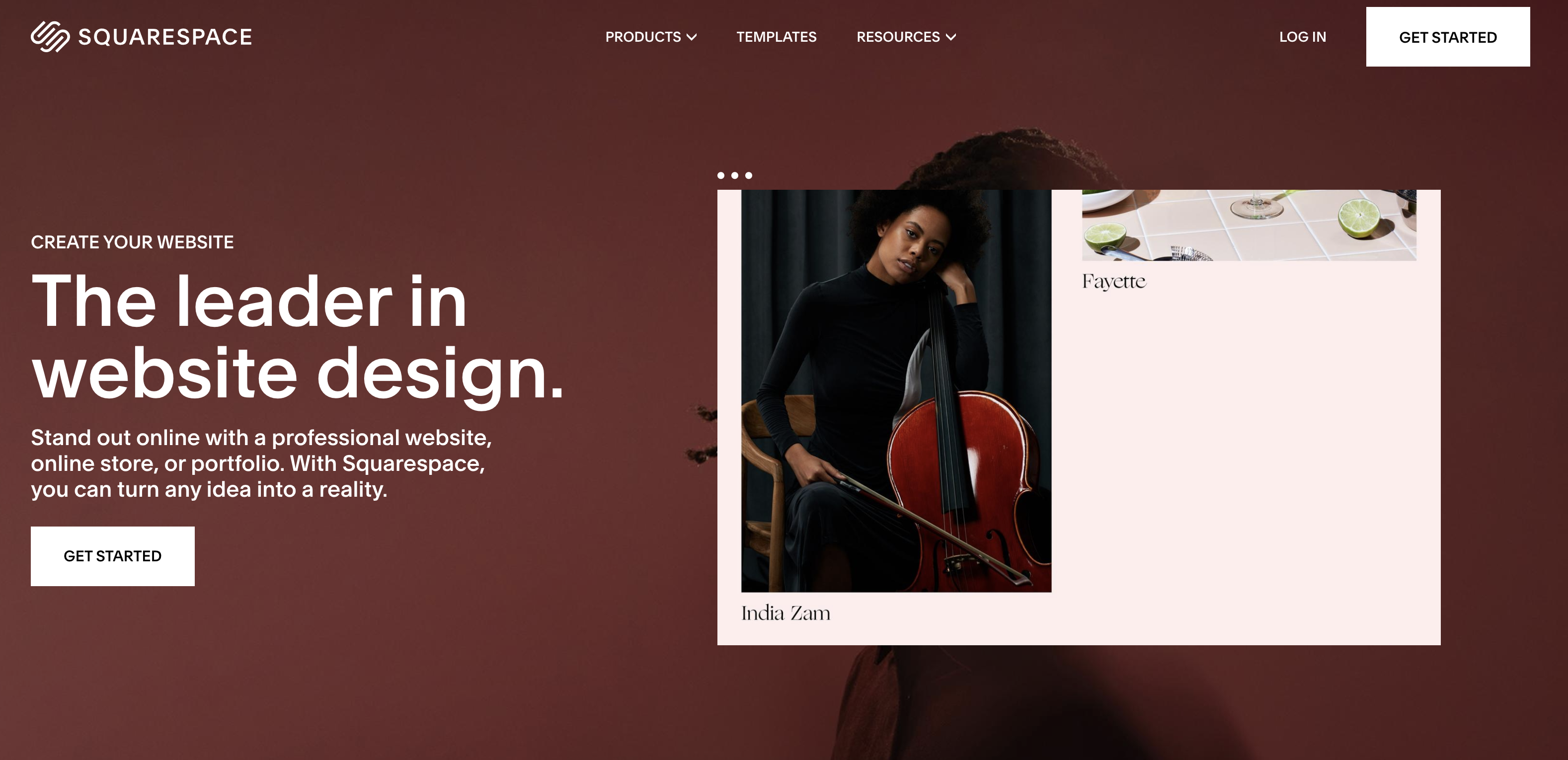 When it comes to website builders, we had to mention Squarespace. It is a popular service that performs quite well in comparison to most website builders.
First of all, regarding website design and aesthetics, Squarespace is the top option. It offers 110 templates that you can use as a base for your website's design.
This website builder also offers you a few more options for SEO. First of all, you can use the "SEO Checklist" tool in order to discover your weaknesses when it comes to search engine optimization and how to fix them. Using a checklist for optimizing your website is a great way to make sure nothing falls through the cracks. ✅
Using Squarespace, you can also find the top-ranking keywords for your website and do keyword research so you can adjust your SEO strategy accordingly.
Its tools allow you to add meta descriptions and title tags, create 301 redirects, edit a standard sitemap and even connect your website to Google My Business.
3. Site123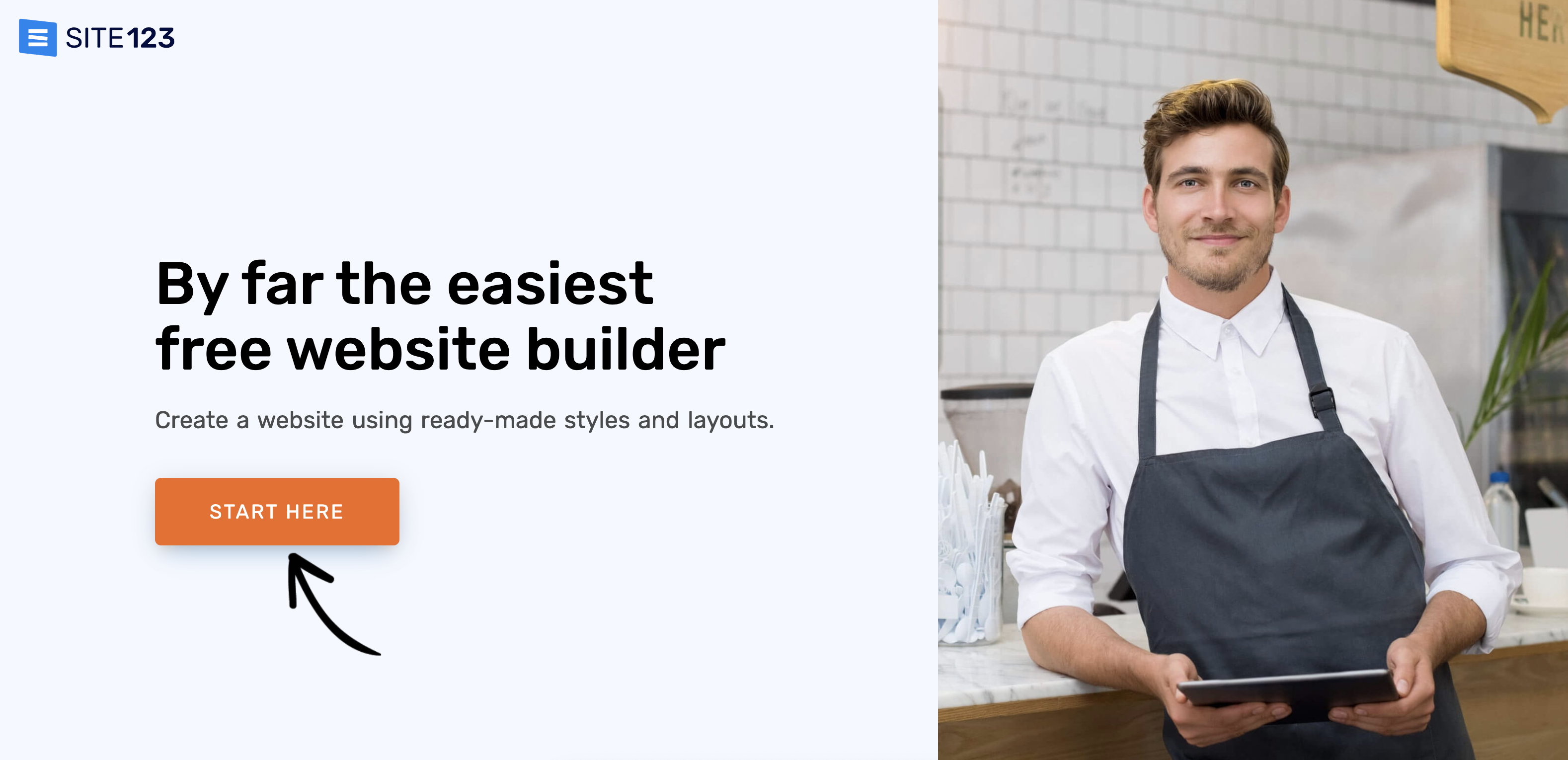 If you don't need all the bells and whistles, Site123 might be right up your alley. It uses a block builder system, which does not require any coding or even SEO experience.
Site123's SEO Adviser Tool, as the name suggests, offers advice about how to optimize your website for search engines. It gives you actionable insights and tips in order to improve your ranking.
SEO Pages – Audit Tool checks your meta descriptions, title tags and focus keywords. For your site to rank properly, you need to make sure these details are optimized according to your product or service, your search terms, and the way your audience searches for products like yours.
Also, Site123 offers 160 pre-made pages that can make the setup process of your website easier and faster. 🚄
However, there is a caveat to these offers: in order to use Site123's SEO tools, you need to have the Gold plan. So, these tools are not exactly free.
4. Zyro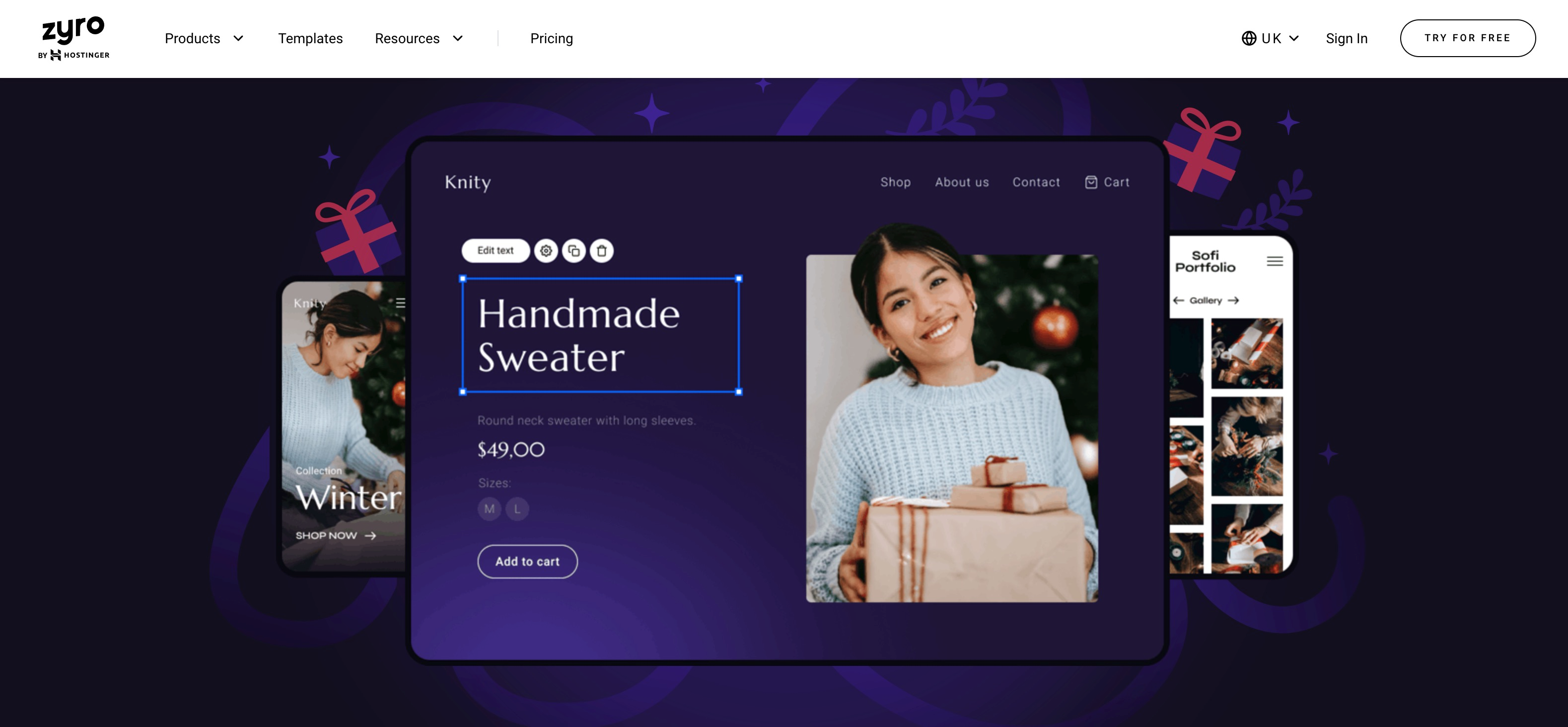 Zyro is not as popular as Squarespace or Wix, but it has a lot of potential when it comes to search engine optimization. First of all, it gives you the ability to edit page titles, meta descriptions, alt-tags, and custom URLs.
It provides you with 130 themes from which you can pick your favorite, and it has a modern interface that is easy to use.
Also, you can integrate your Google Analytics and Google Tag Manager properties in seamless integration. 🏷️
When it comes to mobile optimization, this website builder does not disappoint: the pages have fast loading times, and clean URL structures.
You can also optimize your content using the AI Writer option in Zyro. Another AI-based feature that auto-generates your website, faster than using the regular template editor.
5. GoDaddy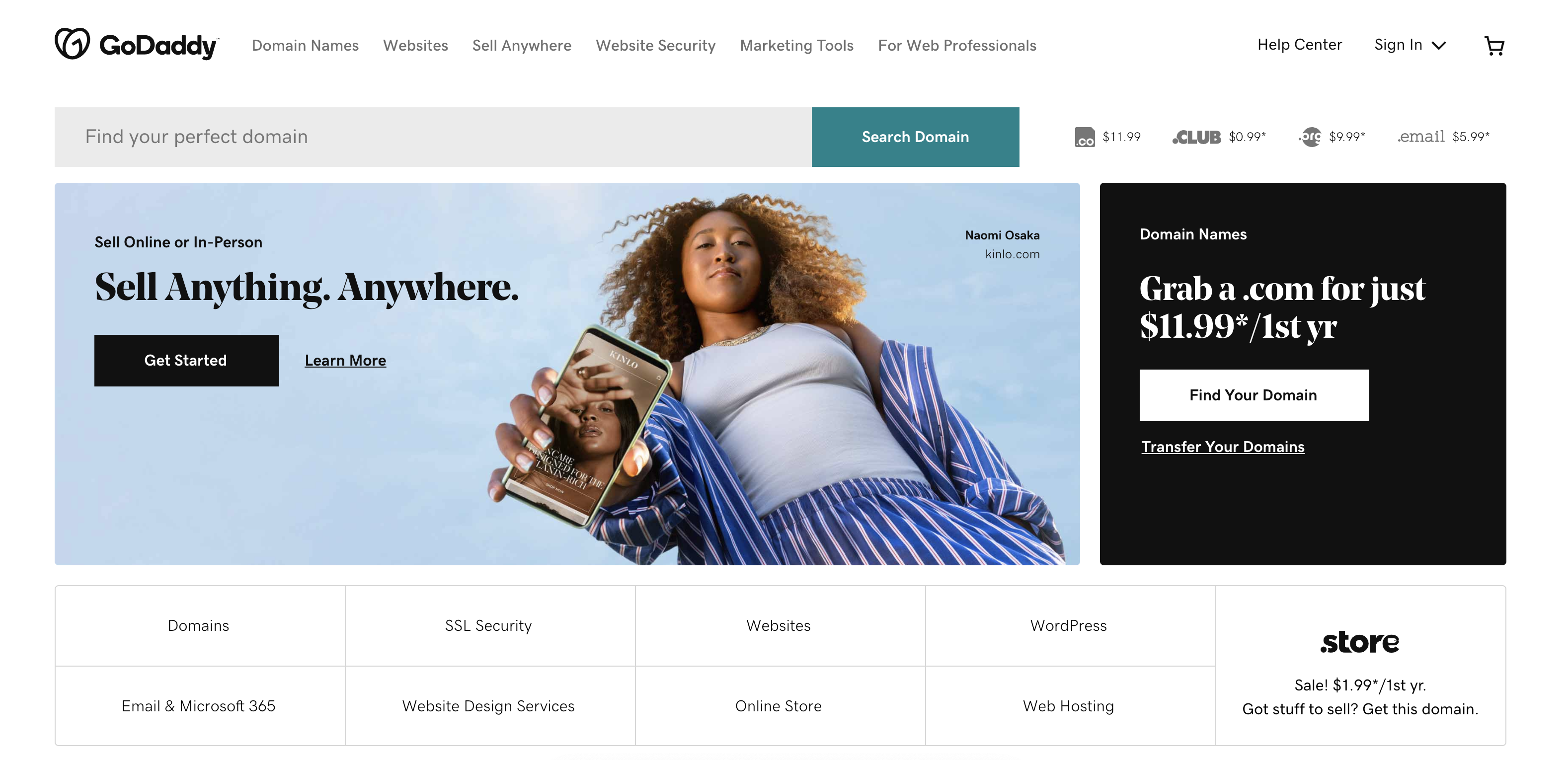 You probably already heard of GoDaddy as a hosting provider that can be used in conjunction with other website builders. But did you know that GoDaddy also offers its own website builder?
If time is short for you, GoDaddy is a great solution. It offers hosting, domain registration, and advanced marketing and SEO tools.
Their InSight tool is adequate for digital marketing, especially if you're in a rush. Simply tell the platform who you are, and what you wish to do. InSight will then draw your business plan, helping you determine your goals and achieve them.
Specifically for SEO, GoDaddy offers their SEO Wizard tool that gives you tips about what you need to improve on your website.
When it comes to the actual website building process, GoDaddy does not use templates per se. However, there are 20 different layouts. Then, on each layout, you just need to pick the sections you need and add the content.
If all this is not enough for you, fret not. GoDaddy has a dedicated SEO team that offers their customers personalized information and in-depth SEO reports. 📓
6. Gator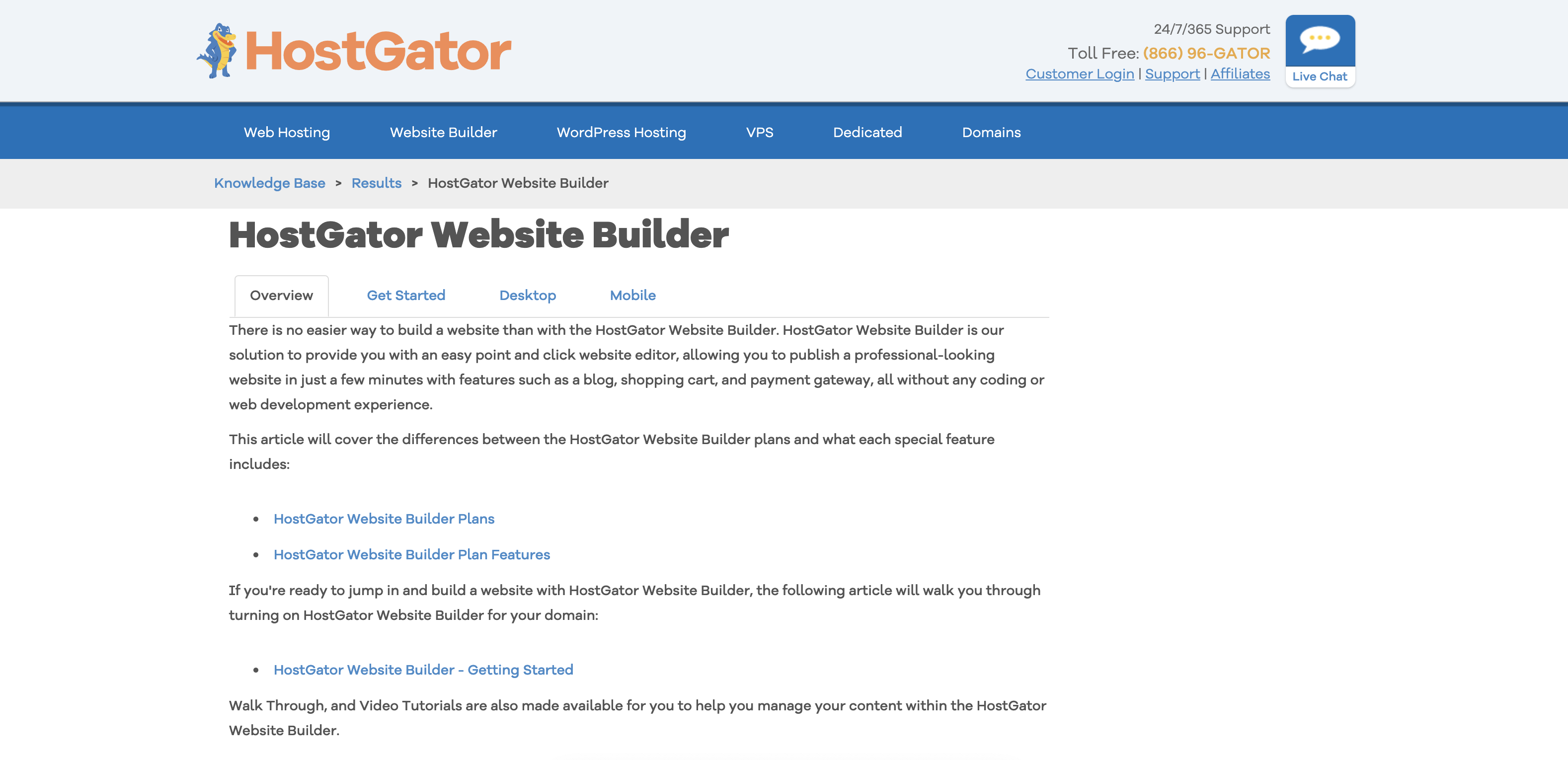 If your goal is cheap and cheerful, Gator might be the solution for you. It is simple and low-priced, while its ease of use makes it ideal for beginners – especially business owners that don't have a lot of time or money to invest in their website.
Gator is another website builder that resorts to AI to create unique websites. You just need to give it a bit of information, add images, and that's pretty much it: you've got yourself a website.
This website builder, however, allows for a lot of customization, even though it is one of the cheapest options available for web building.
When it comes to SEO specifically, Gator allows you to create custom URLs, meta descriptions, title tags, and other metadata. It also lets you add featured images for your pages. Gator generates your sitemap automatically. 🐊
Bonus: WordPress
WordPress is not exactly a website builder, as it is a CMS (content management system). However, it is a great option to build a website that adjusts well to the user's knowledge of web development.
Although some users fear WordPress, thinking it is too complicated to use, it is actually quite simple to create a basic website. You just need to choose a theme (there are thousands of themes available on WordPress), free or paid. All other functions can be added through their plugins – and there are many of them.
WordPress's themes and plugins are SEO-friendly, and there are lots of customization options available. Hosting is also easy to set up using WP Installer.
Although WordPress is quite different from the other items in this list, it's impossible to ignore it. If you're in doubt, it might help to know that a whopping 37% of websites are WordPress-based. 💬
Website Builders: A Short Summary
Website Builder
Pricing Plans
Biggest Pros
Biggest Cons
Free Plan? (Yes/No)
Wix
Free, Combo, Unlimited, Pro, VIP, Business Basic, Business Unlimited, Business VIP
Solid SEO tools

Terrific versatility

Strong business features

A great app store

Structured data can only be added via code

Classic Wix Editor may be a little complicated

Yes
SquareSpace
Personal, Business, Basic Commerce, Advanced Commerce
Good SEO tools

Excellent templates

Perfectly suited for small businesses

Advanced edits require code injections

No free plan

No
Site 123
Free, Basic, Advanced, Professional Gold
Easy to use platform

Good in-house SEO tools

Excellent 24/7 customer support

Limited customization options

SEO tools only available with the top-tier plan

Yes
Zyro
Basic, Unleashed, eCommerce, eCommerce+
Very affordable

Simple and modern templates

Intuitive SEO tools

Solid website performance

Limited customization

SEO tools lack depth

No
Go Daddy
Basic, Standard, Premium, Ecommerce
Plenty of business tools

Very beginner friendly

Professional SEO help available

SEO features not available on the cheapest plan

Lack of in-depth customization

No
Gator
Starter, Premium, eCommerce
Very easy to build a website

Simple SEO tools available

Excellent introductory prices

Limited design options

Limited SEO editing

No
WordPress
Free
Plenty of customization options

SEO-friendly

Plenty of plugins that add all sorts of functions

It does not include hosting; might be too complicated if some unique functions are needed
Yes
Wrapping Up
Modern website builders are no longer lacking when it comes to SEO. As you see, there are several platforms that allow you to optimize your website without having to write a single line of code.
The right platform depends on your needs and your budget. Our comparison table gives you a few tips in order to help you pick your ideal website builder for SEO.
However, in our opinion, nothing beats WordPress – and SERPed.net offers an SEO plugin you can use on your website to enhance your search engine optimization efforts. You can find it for free download here…
Still, using a website builder is justifiable for many reasons. If customization is less important than having your website online fast, these builders are ideal. If, on the other hand, you have very specific needs for your website, WordPress might be a better option.
Is there any other website builder for SEO that you think should have made the cut? What do you think of these options? Let us know in the comment section below or find us on Facebook, Twitter or LinkedIn.
Google's Advice For Targeting Multiple Locations With One Website
Google provides detailed advice for websites that need to target multiple locations, such as a business with offices in different states.
This topic is discussed during the Google Search Central SEO office-hours hangout recorded on January 14.
An SEO professional named Gail (last name not provided) asks Google's Search Advocate John Mueller about an idea her client has to optimize their website for several US states.
Their idea is to create landing pages for each state they operate in, and automatically send visitors from the homepage to the appropriate landing page via dynamic geo IP redirection.
On top of that, they also plan to add a noindex tag to each of the separate landing pages.
If you hear alarm bells ringing, your instincts are correct. This is not a good strategy.
Mueller explains the SEO implications of following through with this plan, and explains various ways it can be done better.
See his advice in the sections below.
First Consideration: Google Crawls From One Location
The first thing to consider when targeting multiple cities or states with the same website is Google only crawls from one location.
That means dynamic geo IP redirects, as Gail's client proposes, would not help Googlebot find the different landing pages.
Mueller says:
"I think there are a few things to keep in mind there. On the one hand… we generally just crawl from one location. And probably for most systems, that would map back to California.

And essentially what that would mean is that the content that we can look at would be the content for California, and we would not have access to the content for the other states, which depending on what kind of content you have there, for the other states, that might be okay but it might be problematic.

So that's kind of the first thing to keep in mind is when you search for your company it'll look like this is purely in California, or maybe even in San Francisco, I don't know how the IP addresses would map there.

So I think that's something that often throws people off, especially with geo IP redirects or dynamically swapping the content."
While redirecting visitors based on their IP address may work in practice, it's not optimal when it comes to Googlebot crawling.
Second Consideration: Do Not Redirect To A Noindexed Page
The second, and more serious, consideration of the plan proposed by Gail's client is what happens when redirecting to a noindexed page.
Mueller explains this would cause the site's homepage to drop out of search results:
"The other thing is if you noindex the individual state landing pages, then, of course, the state landing page that someone from California would go to would also be noindexed, which would basically mean that your homepage would drop out of search results. So that would be a pretty bad thing."
Again, this plan might've worked for human visitors, but would cause major problems as far as SEO is concerned.
Here's what Mueller recommends doing instead.
Mueller's Recommendations For Targeting Multiple Locations
Instead of redirecting visitors to pages based on where they're located, Mueller says it's better to offer visitors links to relevant pages with a dynamic banner.
"My general recommendation for these kinds of situations, instead of redirecting automatically to a specific location, is to make it so that the user can find that content much easier.

So something like a dynamic banner on a page when the user goes to the homepage, there's a banner on top that says: 'oh, it looks like you're in Texas, and we have an office in Texas, and here's the information, and click this link to find out more.'

And that way the user has the ability to go to these individual pages. And ideally those individual pages would also be indexable, because that way if someone looks for your company name plus the state name they would be able to find that landing page, which would be essentially ideal."
Another way of handling this situation, Mueller says, is to dynamically swap out some of the copy on the homepage based on visitor location.
Instead of multiple landing pages for different states, you could set the homepage to display different text for visitors that pertains to where they're located.
Mueller explains:
"The other approach that you could take is to swap out some of the content dynamically on the homepage. So instead of having separate state landing pages, you have your general homepage and you have that state specific information dynamically swapped out.

The important part here is to make sure that overall that homepage still has enough generic content so that it doesn't come across as like everything is for California, but rather it's like this is lots of information about your business, and since it looks like you're in California here's specific information for California, or whatever state that you're in.

So those are generally the two directions that we recommend there."
Mueller clarifies that there's nothing wrong with creating individual state landing pages if Gail's client chose to go that route instead.
It's not a great idea to create landing pages for every city in every state, but having landing pages for each state where a business is located is okay.
"With regards to the individual state landing pages for a handful of versions, we wouldn't really see that as being problematic. If you had landing pages for every city in every state, then that would start looking a bit iffy for our web spam algorithms.

But if you're talking about a handful of states, or maybe even all states, it's something where you have 50 different versions of the homepage with your local address with phone numbers, opening hours, kind of that additional local information on them. From our point of view that's generally fine."
Hear the full discussion in the video below:
---
Featured Image: Screenshot from YouTube.com/GoogleSearchCentral, January 2022.
Entireweb Articles – Read the latest Articles and News in Search Engine related world!
Searchmetrics' CMO Talks Enterprise Volatility, SEO Careers & CWVs
Are there upsides to the volatility inherent to SEO with all of its Google updates, changing consumer behaviors, and constantly evolving technology?
And just how important are Core Web Vitals, anyway?
I had a chance to catch up with Lillian Haase, CMO at Searchmetrics, recently to get her take on a few enterprise SEO hot topics and advice for beginners in SEO looking to grow into leadership roles.
If you're in the market for employment with a leading search data, software, and consulting solution, you'll want to check out her tips as to what Searchmetrics looks for in new hires, as well.
1. Core Web Vitals (CWV) has been a hot topic this past year.
What do enterprise marketers need to know about CWVs now that the dust has settled?
Lillian Haase: "For marketers in any business, focusing on reducing friction for users when they arrive at your website is the name of the game — with or without CWVs.
Before the official announcement that CWV's page speed signals would become ranking factors, fast-loading and easy-to-navigate websites saw better results in the search engines. The CWV rollout just made it official.
I will say, too, that the dust has only settled in terms of Google talking about CWV.
The work for many brands is still colossal.
Our team sees many large companies still experiencing major problems with site speed and shifting layouts. Until domains can fix those issues, they'll struggle to excel in competitive SERPs.
Having a decent CWV will be the price for entry onto the playing field.
If your CWV is far worse than your competitors, you'll struggle for rankings – but CWV goes beyond SEO. The gains are much more concrete when it comes to revenue and conversions."
Related: Analyzing 2 Million URLs: What We Learned About Core Web Vitals
2. We've seen you write before on volatility as an opportunity in SEO.
Can you share a few ways these volatile times may translate to opportunities for enterprise SEO?
Lillian Haase: "At the start of the pandemic, we had major shifts going on in marketing. This necessitated a pivoting of methods to adapt to a new, uncertain environment.
When it came to SEO, we had clients with unprecedented traffic drops and increases. The world had changed and so had their web traffic.
My advice remains the same as then.
When you've experienced a sudden drop in traffic, analysis of where the drop occurred is the first step towards recovery – but it's not the last.
It's crucial to understand why it happened.
Was it a change made to your website?
A loss of keyword rankings for a specific page or group of pages — or something else?
Take steps to improve, or reverse an earlier change, depending on what you find.
The opposite happens, too, and you may experience a sudden influx of traffic and better rankings.
While celebrating is certainly not to be neglected (after all, teams work for years to see increases in traffic, so be sure to enjoy it when it happens!), it's still important to ensure it's the right kind of traffic, and that visitors are engaging with your web content.
Look at ways you can optimize your top-traffic pages to keep visitors engaged and moving through your website. Take advantage of that extra traffic with conversion rate optimization.
In addition, update your keyword research around topics that are ranking well to determine if you missed anything.
There might be something new uncovered through research that you haven't optimized for.
Cover all your bases and see how much more extra traffic you can get on top of those already good results. Good can always get better."
3. What do you think is the most underrated optimization or tactic in enterprise SEO today?
Lillian Haase: "The basics, such as optimized headers and user experience, are still the same.
But the bar for great content and high-performing websites is much higher.
Your content needs to be heads and shoulders above the rest.
For example, the Google Product Reviews Update impacted many affiliate sites.
With these and other Google Updates, the days where you could write basic copy about a product and hoping to rank are gone.
Now, you make your expertise on the topic very clear by providing a truly informed opinion about the product's performance."
Related: 3 Ways SEO Has Changed This Year & What It Means for You with Jordan Koene
4. What advice or recommendations do you have for junior SEO professionals who might aspire to a leadership role?
"My advice would be to learn to tell the story of SEO's impact on the business in terms of revenue.
In other words, if you can communicate the value of organic traffic framed in business terms, you will be heard by leaders in other teams who do not understand the ins and outs of SEO.
They're looking for the value (often, in financial terms) the channel is bringing the company.
One of the most difficult things I see SEOs struggle with is that they go into unnecessary detail about search engines.
As SEOs, we're so interested in the many moving pieces of the work, and we get overly excited with the minutiae.
But if no one understands what we're talking about or they think it's boring, the message is lost.
Try to focus on business results in your presentations, reports, and in meetings with your superiors, instead.
In most organizations, organic search is undervalued when compared with other channels such as paid search.
If you can find a way to elevate the conversation to business metrics and stay out of the technical details, you're well on your way towards future opportunities in SEO leadership.
If you can also consistently increase organic traffic, leads, and sales for your organization, you're also setting yourself up for success."
5. What does it take to succeed in a role at Searchmetrics?
And are you currently looking for any specific types of talent?
Lillian Haase: "We're growing our services teams globally, so thanks for asking this and giving me a chance to share a little more.
While we have a variety of roles open, we're actively recruiting SEO consultants and account executives.
One of the benefits of working for a company of our size is having the opportunity to have your voice heard.
We understand the next great idea can come from anyone at any level.
Successful team members adopt the mindset of builders and innovators and seek out opportunities for growth. Then they present those opportunities with a clear focus on the bottom line.
In general, we look for people that are not just looking to "do the job."
Yes, we want people skilled in a particular area. However, we want people that are looking to push the envelope by asking, "How can we be better in our function?"
When it comes to culture, we're looking for a culture add, not a fit.
We understand having a true diverse Searchmetrics family not only includes diversity in gender and ethnic background but also experience and thought."
More resources:
---
Featured Image: Courtesy of Searchmetrics
Entireweb Articles – Read the latest Articles and News in Search Engine related world!
What To Focus On This Year
As the ball dropped in Times Square at midnight on January 1, 2022, many search engine marketers were tempted to check their analytics and rankings.
It appears that Google has replaced Santa as the purveyor of the "Naughty or Nice" list in the online world.
Some sites receive the gift of better rankings before the New Year.
Others are cleaning the coal dust out of their stockings, running frantic analyses on why they were put on the naughty list.
Holiday core algorithm updates from Google are nothing new to veteran search engine marketers.
And I don't know who needs to hear this, but next year the update will be there after Christmas.
Don't feel guilty about taking a few days off.
Take some time to think about how you can be even better in the New Year.
That's what I did.
Below is my list of SEO resolutions for the New Year.
1. Remember To Have Empathy
In my experience, most search engine marketers are very "left-brained."
Sure, there's a ton of creativity in the search engine marketing world – but most search engine marketers would rather figure out why a piece of code isn't loading as fast as it should versus trying to understand the intricacies of a searcher's mind.
Don't get me wrong, the technical aspects of SEO and paid search are essential – and without technical savvy, what we do doesn't work.
But technical fixes are not enough to show continued improvement in your search engine marketing results.
I believe that the best tool any marketer can have is empathy, the ability to understand the feelings of others.
If we as marketers can understand the feelings, motivations, intent, and actions of search engine users, we can create webpages and content that not only provides value to visitors but also increases our site's bottom line.
I have always prided myself on my ability to empathize with searchers.
But with every core algorithm update or IT person screwing up a site, I find it very easy to put my empathetic impulses on the back burner to chase technical fixes.
Those technical fixes are for Google, not the searchers.
I need to remember to spend as much – or more – time understanding those who make a query as I do looking at ways to improve a site's performance.
The dividends that come from empathetic marketing practices are usually greater than those gleaned from technical fixes.
All of us in search would be wise to remember this.
2. Automate All The Things
In the last few years, many prominent SEO professionals have touted the advantages of using the Python programming language to automate rote search engine optimization tasks.
Python, in the hands of a competent programmer, is a powerful tool that can cut the amount of time required for search engine optimization significantly.
Python can help you scrape data to come up with content ideas, analyze common on-page SEO issues, track and analyze issues in your backlink profile and much more.
Those interested in some of the possibilities with Python should read this article: How To Use Python To Analyze SEO Data: A Reference Guide.
As I've stated in the past, by definition I am not a coder.
However, I've been around code for so long I know what to look for when I'm analyzing how the code will react with the search engines.
For those like me, I encourage you to dig in and learn the basics of the Python language.
No one is going to care if you master the intricacies of the code.
In fact, I would argue that spending too much learning the language is a waste of time.
For me, the end goal of learning about any new technology is to learn its full capabilities and limitations.
If you understand what a piece of software can do, you can then plan what you need and either figure out how to program just what you need or hire someone to program it for you.
It's almost impossible to hire someone to automate your SEO tactics if you don't understand how Python (or any other software) can help you achieve your goal.
My goal in 2022 is to learn everything python can do.
If you are a freelance python developer, feel free to hit me up around May, as I suspect I'll have some projects by then.
3. Get Your Tracking Right
The introduction of Google Analytics 4 has thrown a wrench in a lot of sites' tracking codes.
Many went from somewhat high confidence that their analytics data was correct to uncertainty.
When you don't trust your analytics numbers, you can't make proper decisions.
You can't plan properly.
We often have prospects that show up with poorly executed tracking.
This has become so much of an issue that we recently implemented a policy where we don't move on to any other work until the tracking is set up.
And it needs to be set up so everyone in your organization trusts the data.
If you increase traffic by 140% but the boss doesn't believe the numbers are accurate, no one will get credit. There is a good chance that the tactics used to achieve the increased traffic won't be approved again in the future.
Why would anyone approve activity that, based upon their worldview, isn't effective?
On the other hand, if traffic falls and no one trusts the data, it will be almost impossible to accurately diagnose what is causing the traffic decrease – at least in a way where the whole team is on board with the diagnosis and action items to fix the issues.
4. Embrace The Grind
Good SEO is a grind.
In many cases, we are implementing tactics and must wait several weeks before we know if our efforts worked or not.
We're a lot like farmers – planting our seeds in the code of our sites, watering and caring for the code while knowing that storms from Google or drought from lack of consumer interest may mean a disastrous harvest.
Successful SEO pros embrace the daily grind.
We work on content to bolster our authority.
We check the code daily to make sure nothing is broken.
And when Google announces an upcoming update, the net looks like a town that just heard a storm is coming – SEO professionals work to batten down the hatches, even if we aren't exactly sure what to do to prepare for the storm.
All-in-all, SEO becomes a list of daily chores.
Those SEO pros that embrace this daily grind are successful.
Those that look for magic bullets and quick fixes end up chasing their tail.
Embrace the grind.
It's how you show long-term, sustainable SEO success.
In Conclusion
If you've read this far, I'd love to hear your search engine marketing resolution.
Feel free to post your SEO New Year's resolution on Twitter using the hashtag #seo2022.
I am looking forward to reading all the new year's resolution inspiration I'm sure the readers of Search Engine Journal can provide.
More Resources:
---
Featured image: LanaSweet/Shutterstock
Entireweb Articles – Read the latest Articles and News in Search Engine related world!