The 7 Best Website Builders for SEO
A few years ago, when website builders were a novelty, they didn't exactly have a good reputation when it came to SEO. It simply wasn't a priority.
However, that has changed tremendously over time. Now there are many website builders with options for search engine optimization that are simple and easy to use.
In this article, we'll go through the best website builders for SEO and how you can use them to optimize your website.
1. Wix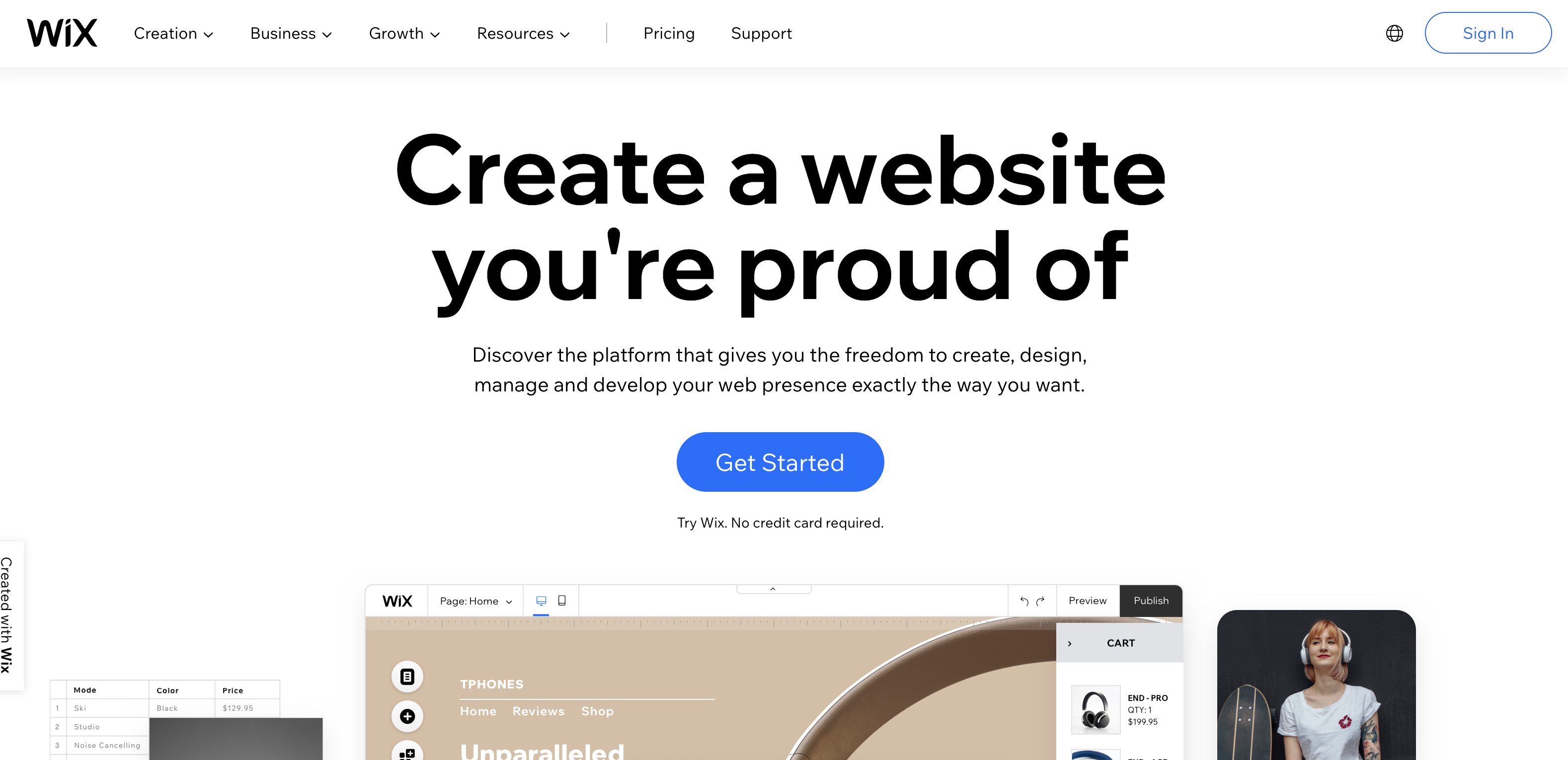 Wix is a well-known website builder that has been around for a while. Although in the beginning it frustrated users with its lack of customization options, now it is considered the easiest solution to build your website without using any code.
While Wix has a drag and drop website builder, it has gone one step further and now also offers an AI-powered builder that builds your website automatically according to the information you provide. This is a great way to save time since it gives you a full website within minutes.
But what about SEO? You'll find Wix allows you to:
Set up 301 redirects
Set up custom meta titles for each page
Set up alt-tags
Access the sitemap
Edit the robots.txt file
And more.
Wix also provides eCommerce building options, which are great if you want to set up an online store quickly. It also has a free version that might help if you're on a tight budget, and seven paid plans that suit different use cases. 💰
2. Squarespace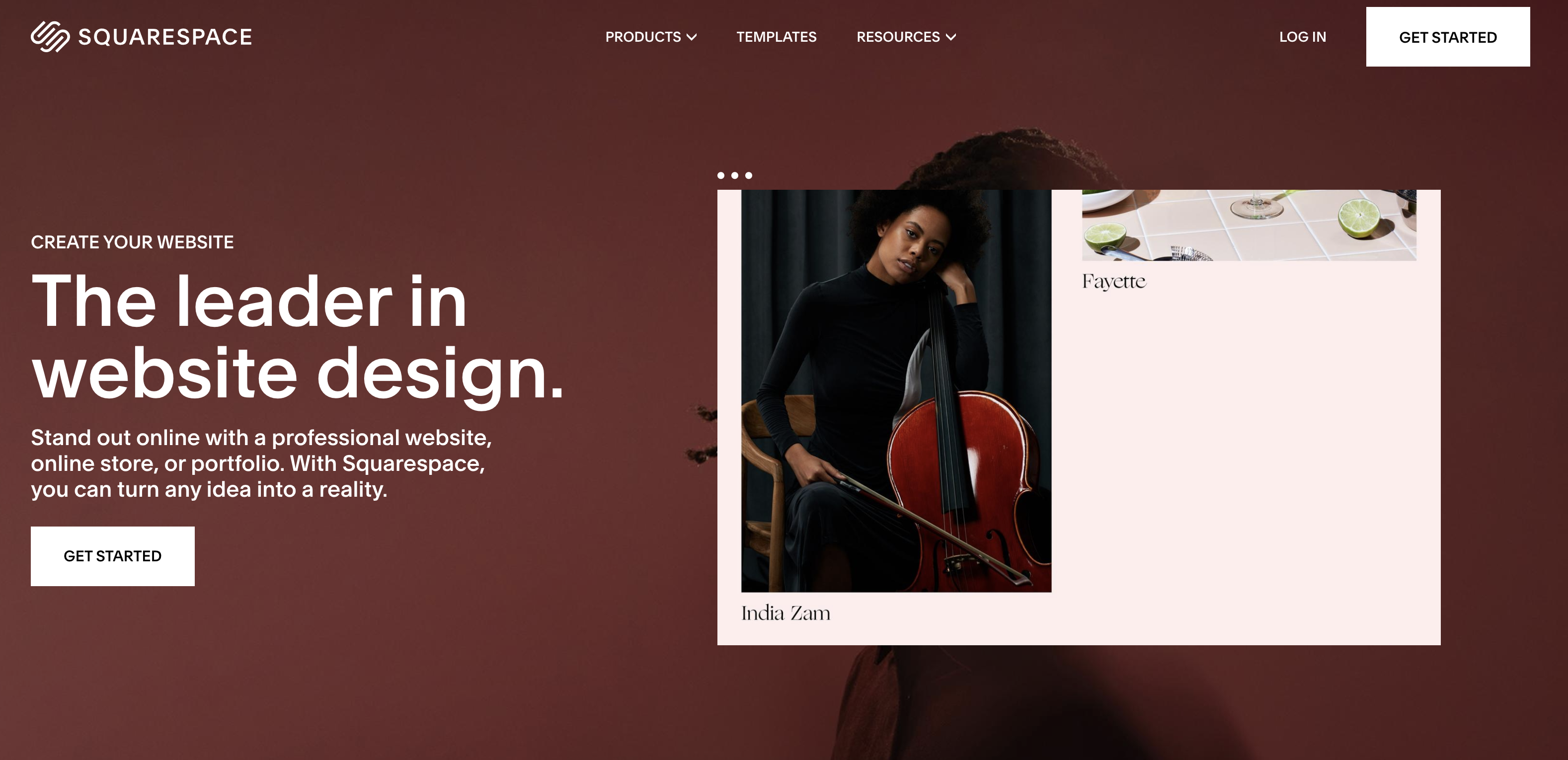 When it comes to website builders, we had to mention Squarespace. It is a popular service that performs quite well in comparison to most website builders.
First of all, regarding website design and aesthetics, Squarespace is the top option. It offers 110 templates that you can use as a base for your website's design.
This website builder also offers you a few more options for SEO. First of all, you can use the "SEO Checklist" tool in order to discover your weaknesses when it comes to search engine optimization and how to fix them. Using a checklist for optimizing your website is a great way to make sure nothing falls through the cracks. ✅
Using Squarespace, you can also find the top-ranking keywords for your website and do keyword research so you can adjust your SEO strategy accordingly.
Its tools allow you to add meta descriptions and title tags, create 301 redirects, edit a standard sitemap and even connect your website to Google My Business.
3. Site123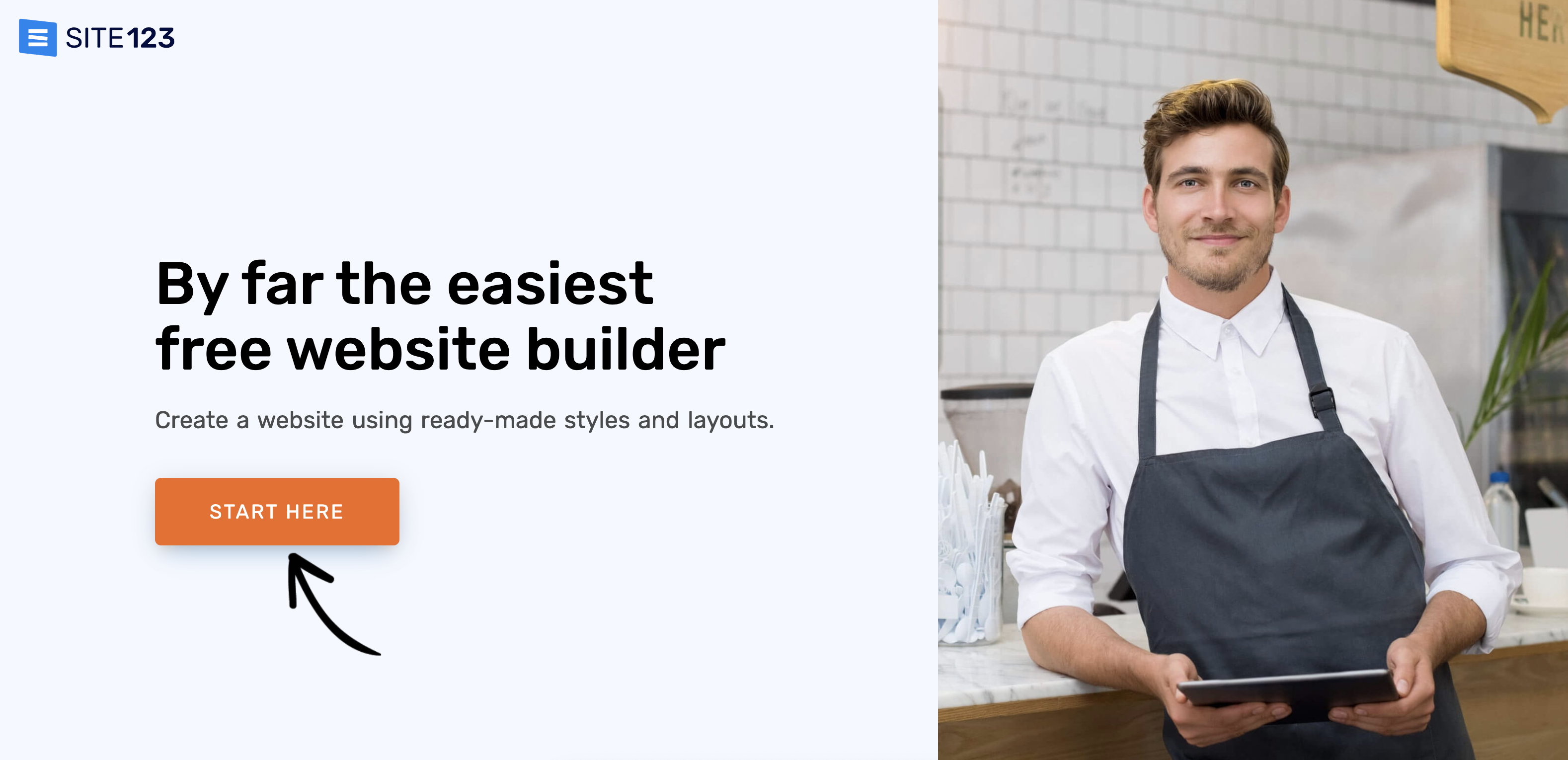 If you don't need all the bells and whistles, Site123 might be right up your alley. It uses a block builder system, which does not require any coding or even SEO experience.
Site123's SEO Adviser Tool, as the name suggests, offers advice about how to optimize your website for search engines. It gives you actionable insights and tips in order to improve your ranking.
SEO Pages – Audit Tool checks your meta descriptions, title tags and focus keywords. For your site to rank properly, you need to make sure these details are optimized according to your product or service, your search terms, and the way your audience searches for products like yours.
Also, Site123 offers 160 pre-made pages that can make the setup process of your website easier and faster. 🚄
However, there is a caveat to these offers: in order to use Site123's SEO tools, you need to have the Gold plan. So, these tools are not exactly free.
4. Zyro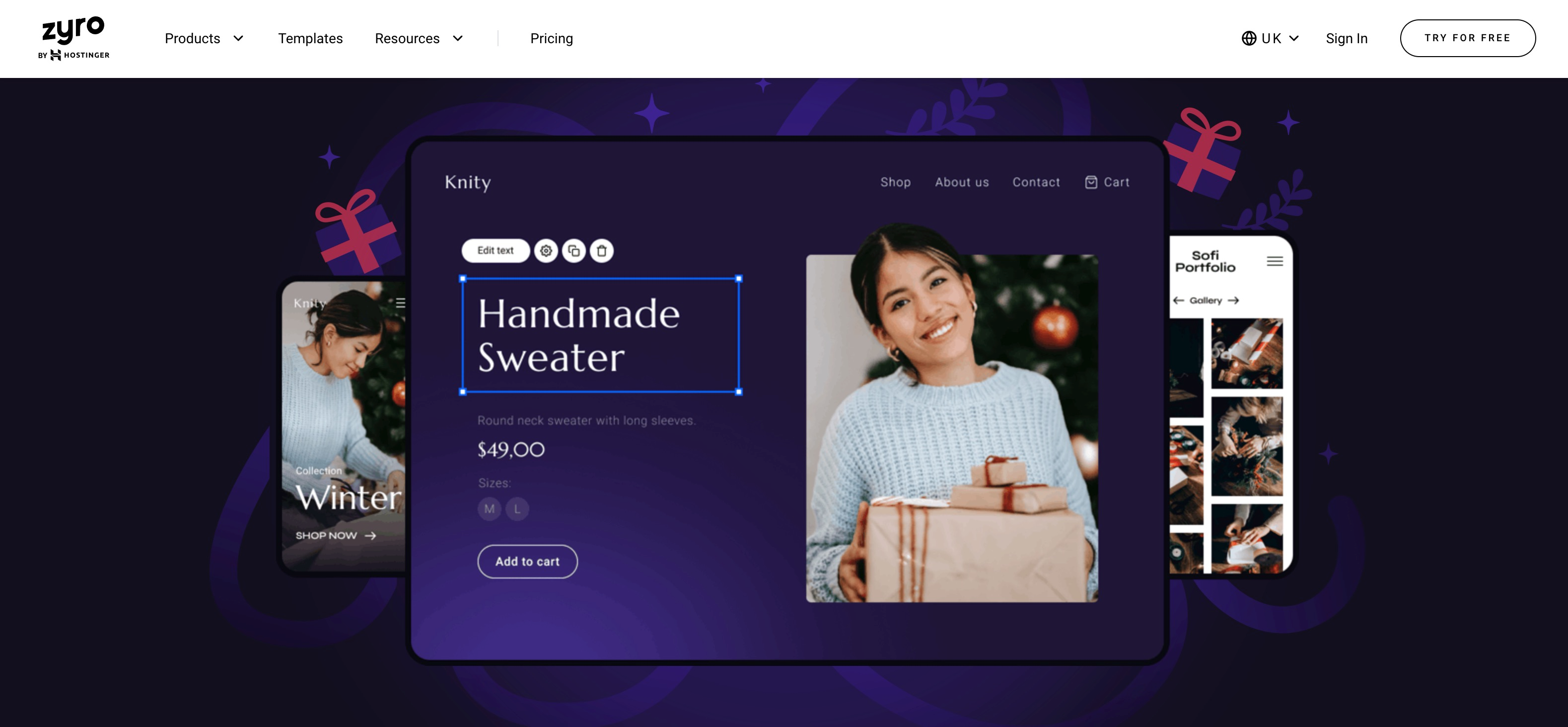 Zyro is not as popular as Squarespace or Wix, but it has a lot of potential when it comes to search engine optimization. First of all, it gives you the ability to edit page titles, meta descriptions, alt-tags, and custom URLs.
It provides you with 130 themes from which you can pick your favorite, and it has a modern interface that is easy to use.
Also, you can integrate your Google Analytics and Google Tag Manager properties in seamless integration. 🏷️
When it comes to mobile optimization, this website builder does not disappoint: the pages have fast loading times, and clean URL structures.
You can also optimize your content using the AI Writer option in Zyro. Another AI-based feature that auto-generates your website, faster than using the regular template editor.
5. GoDaddy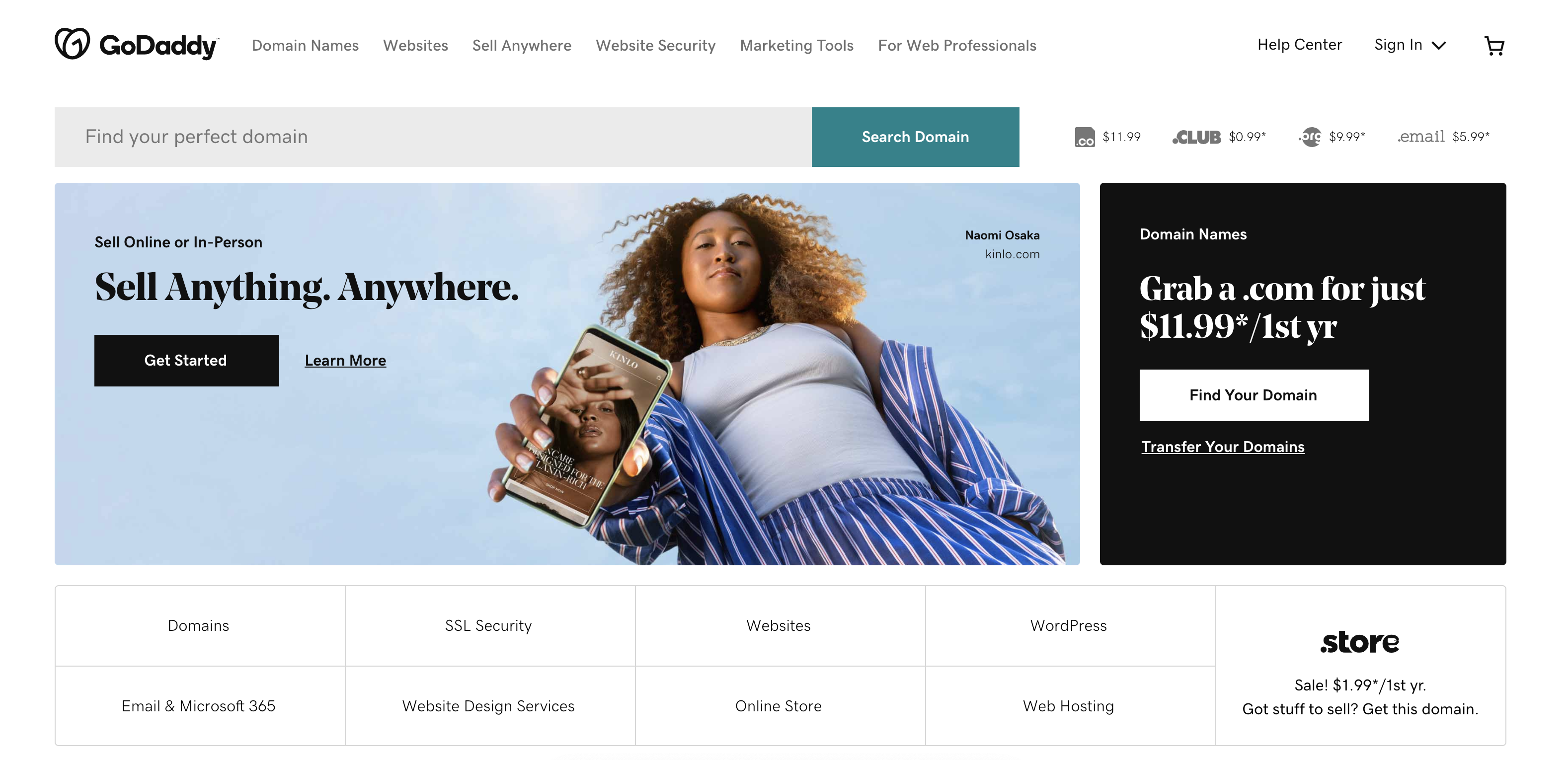 You probably already heard of GoDaddy as a hosting provider that can be used in conjunction with other website builders. But did you know that GoDaddy also offers its own website builder?
If time is short for you, GoDaddy is a great solution. It offers hosting, domain registration, and advanced marketing and SEO tools.
Their InSight tool is adequate for digital marketing, especially if you're in a rush. Simply tell the platform who you are, and what you wish to do. InSight will then draw your business plan, helping you determine your goals and achieve them.
Specifically for SEO, GoDaddy offers their SEO Wizard tool that gives you tips about what you need to improve on your website.
When it comes to the actual website building process, GoDaddy does not use templates per se. However, there are 20 different layouts. Then, on each layout, you just need to pick the sections you need and add the content.
If all this is not enough for you, fret not. GoDaddy has a dedicated SEO team that offers their customers personalized information and in-depth SEO reports. 📓
6. Gator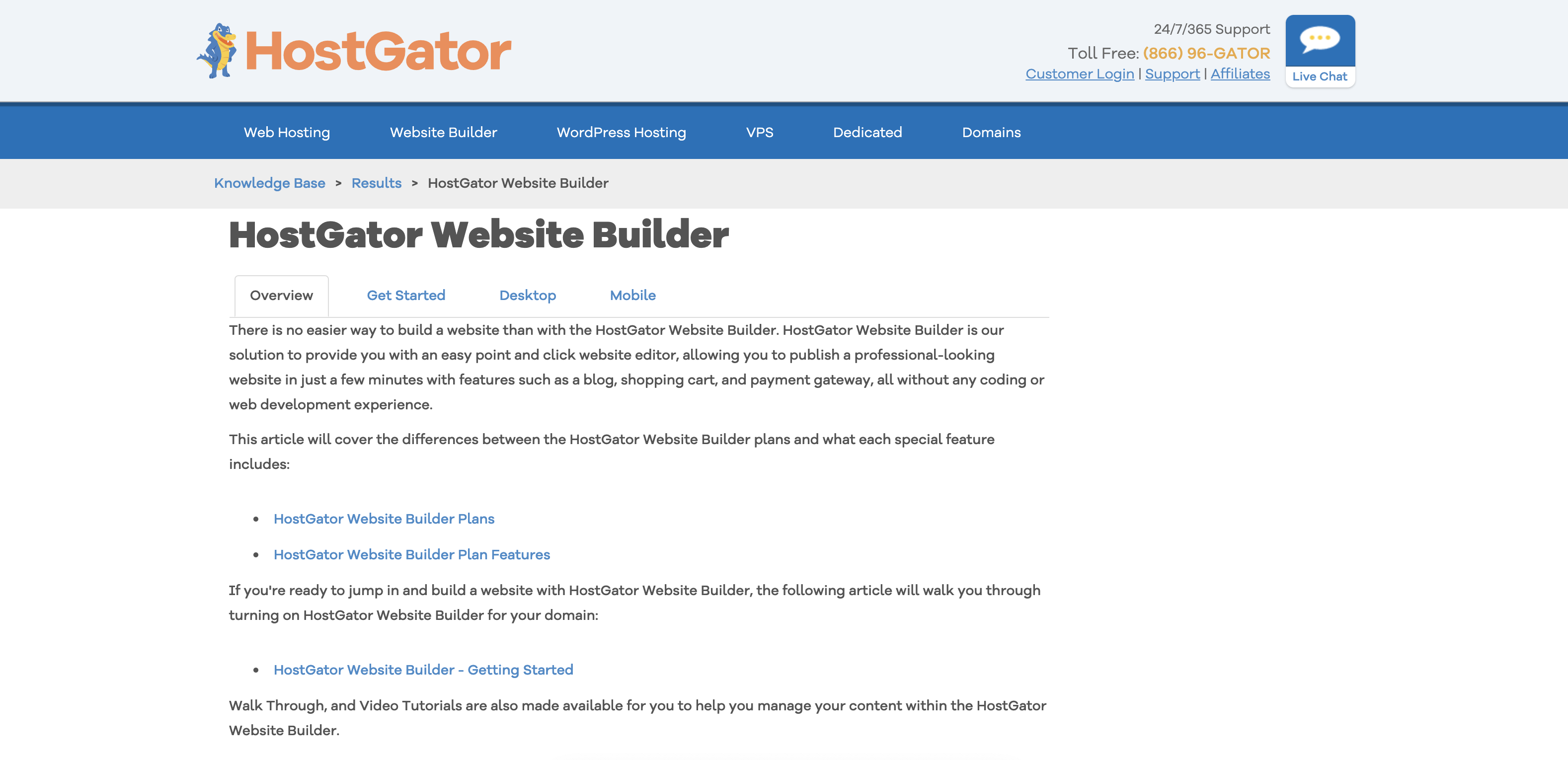 If your goal is cheap and cheerful, Gator might be the solution for you. It is simple and low-priced, while its ease of use makes it ideal for beginners – especially business owners that don't have a lot of time or money to invest in their website.
Gator is another website builder that resorts to AI to create unique websites. You just need to give it a bit of information, add images, and that's pretty much it: you've got yourself a website.
This website builder, however, allows for a lot of customization, even though it is one of the cheapest options available for web building.
When it comes to SEO specifically, Gator allows you to create custom URLs, meta descriptions, title tags, and other metadata. It also lets you add featured images for your pages. Gator generates your sitemap automatically. 🐊
Bonus: WordPress
WordPress is not exactly a website builder, as it is a CMS (content management system). However, it is a great option to build a website that adjusts well to the user's knowledge of web development.
Although some users fear WordPress, thinking it is too complicated to use, it is actually quite simple to create a basic website. You just need to choose a theme (there are thousands of themes available on WordPress), free or paid. All other functions can be added through their plugins – and there are many of them.
WordPress's themes and plugins are SEO-friendly, and there are lots of customization options available. Hosting is also easy to set up using WP Installer.
Although WordPress is quite different from the other items in this list, it's impossible to ignore it. If you're in doubt, it might help to know that a whopping 37% of websites are WordPress-based. 💬
Website Builders: A Short Summary
Website Builder
Pricing Plans
Biggest Pros
Biggest Cons
Free Plan? (Yes/No)
Wix
Free, Combo, Unlimited, Pro, VIP, Business Basic, Business Unlimited, Business VIP
Solid SEO tools

Terrific versatility

Strong business features

A great app store

Structured data can only be added via code

Classic Wix Editor may be a little complicated

Yes
SquareSpace
Personal, Business, Basic Commerce, Advanced Commerce
Good SEO tools

Excellent templates

Perfectly suited for small businesses

Advanced edits require code injections

No free plan

No
Site 123
Free, Basic, Advanced, Professional Gold
Easy to use platform

Good in-house SEO tools

Excellent 24/7 customer support

Limited customization options

SEO tools only available with the top-tier plan

Yes
Zyro
Basic, Unleashed, eCommerce, eCommerce+
Very affordable

Simple and modern templates

Intuitive SEO tools

Solid website performance

Limited customization

SEO tools lack depth

No
Go Daddy
Basic, Standard, Premium, Ecommerce
Plenty of business tools

Very beginner friendly

Professional SEO help available

SEO features not available on the cheapest plan

Lack of in-depth customization

No
Gator
Starter, Premium, eCommerce
Very easy to build a website

Simple SEO tools available

Excellent introductory prices

Limited design options

Limited SEO editing

No
WordPress
Free
Plenty of customization options

SEO-friendly

Plenty of plugins that add all sorts of functions

It does not include hosting; might be too complicated if some unique functions are needed
Yes
Wrapping Up
Modern website builders are no longer lacking when it comes to SEO. As you see, there are several platforms that allow you to optimize your website without having to write a single line of code.
The right platform depends on your needs and your budget. Our comparison table gives you a few tips in order to help you pick your ideal website builder for SEO.
However, in our opinion, nothing beats WordPress – and SERPed.net offers an SEO plugin you can use on your website to enhance your search engine optimization efforts. You can find it for free download here…
Still, using a website builder is justifiable for many reasons. If customization is less important than having your website online fast, these builders are ideal. If, on the other hand, you have very specific needs for your website, WordPress might be a better option.
Is there any other website builder for SEO that you think should have made the cut? What do you think of these options? Let us know in the comment section below or find us on Facebook, Twitter or LinkedIn.
Better Alternatives To 'Click Here'
Nothing is more boring and unmotivating to a user than seeing a big "Click Here" or "Learn More" link.
As a user, they're already researching a product or a service they want to purchase. Of course, they're going to click links to learn more.
Going Beyond "Click Here" Or "Learn More"
So, how do we get users motivated to take the action that we want them to?
It begins by:
Understanding user goals and user behavior.
Establishing trust.
Creating accessible, clearly labeled directions that inspire interest.
It sounds so easy in theory, but in truth, why are our webpages only converting at an average of 2.8% in the US?
Obviously, something is missing from our webpages. If 97.2% of us don't convert on a webpage, we're likely confusing our users on what we want them to do to some degree.
Let's dive into how we can accomplish this.
While You're Here, Go There Now
The trick to optimizing calls to action is to present the action at the precise moment when your website visitor is most interested in taking the next step.
If a user is met with a call to action before any information, do you think they are going to click on it?
There has to be compelling content preceding the link, as well as an accurate description of the landing page.
If the landing page isn't what a user expected, every time you present another opportunity to leave the page, your user may not trust that you can help them solve their problem.
The call to action is clearly labeled in the example below.
Even better, it is obvious designers understand their customers' fears over money, ease of use, customer confidence, and the use of color.
First Date Links
When your webpage visitor is ready to take action, they must feel confident that the link invitation is worthwhile, credible, and constructive.
When you present a new product offering, nothing should prevent your visitor from immediately seeing what it is.
We may begin by being sly, especially if we want something. I call these "First Date Links."
The screenshot above is taken from an ecommerce website. What you see here is the entire top half of the homepage.
There is no text. There are no product images.
First-time visitors would need to know in advance what the company is selling.
With this website, first-time visitors are required to scroll down, wait for the gigantic images to load, and scan minimal text to gain a better understanding of the brand and its products.
The fun part of this "First Date Links" example is knowing that this particular brand runs this special or something similar to it every single day.
There is no incentive to "shop now" for regular customers and first-time visitors have no idea where that "shop now" button is taking them.
They've been presented with this link that will likely overwhelm them with choice and decision paralysis – and most likely leave the site.
Try adding specific promotions for your loyal customers, or even first-time customers, into your marketing strategy.
By creating specific promotions segmented by customer type, you're showing that you understand what they're searching for.
Trust, credibility, and being forthcoming with your story add spice to calls to action on websites and real-life too.
Scarecrow Links
If you have watched the original film, "The Wizard of Oz," you will understand why I refer to these calls to action as "Scarecrow Links."
These are calls to action that provide many choices, usually with vague labels and often to the same destination.
In the film, when Dorothy is traveling the Yellow Brick Road to find Oz, she comes upon the Scarecrow and asks for directions.
Dorothy: Now which way do we go?
Scarecrow: Pardon me. That way is a very nice way… [pointing]
Dorothy: Who said that?
[Toto barks at the Scarecrow]
Dorothy: Don't be silly, Toto. Scarecrows don't talk!
Scarecrow: It's pleasant down that way too! [pointing in another direction]
Dorothy: That's funny. Wasn't he pointing the other way?
Scarecrow: Of course, people do go both ways [pointing in both directions]. That's the trouble. I can't make up my mind. I haven't got a brain. Only straw.
Sometimes, calls to action are placed within webpage content at a moment when we really don't want choices. We just want to be directed to that cool thing you just showed us.
In the example below, the top CTA is the best option because the destination is clearly defined and is the desired user task.
If the company wants customers to learn more about curvy jeans, they can provide this information on the landing page that presents sorting options when they click to shop all the curvy jeans.
The smaller link to details would make more sense if it explained what the details are about.
Is it a size chart? Pricing?
What does that link do for us that "Learn more" doesn't offer?
What does the user really want to do here after they have been shown images of curvy jeans?
Link Optimization Is More Than A Label
This next example is a mixture of a button, text sentence, and text sentence with a clickable icon overlaying a large header image.
If you were to watch someone using your website during a live session, you would most likely watch them mouse over the button, the text, and the text with the icon to see which one is going to go somewhere they want to go.
For this example, the "Learn more" button label provides no information about what we are going to learn.
It is the most visible CTA and the eyes of the person in the image are facing the button, which is a designer trick because studies show we look to see what the face is looking at.
How can we optimize the CTA for this page?
First, remove the "Learn More" button. We are going to give it an upgrade.
The text below the image, in tiny font size, is not linked. It asks a question, but the user must look for where to get the answer.
It also asks a question that may not be as important or interesting as the one following it. I would remove the entire "Want to get to know us better" sentence.
The more compelling story is why.
The button can be larger and placed in line with the model's eye gaze. The button label is the invitation to "See why we do what we do" and link that to their story.
Not only does this narrow the choice to one link for one lead task, but it is easier for screen reader software to announce the link and direct visitors listening to the page.
Links with labels such as "Learn more," "Read more," "Shop now," "Submit," "Click here," "Download," and "Continue" are common.
However, these links are probably less likely to be clicked on than a more specific, inviting link.
Don't be afraid to experiment to optimize calls to action by inviting the action. Don't be afraid to tell the user what you want them to do by clicking that link.
If anything, you're guiding them on their purchase decision journey.
Now, sometimes we may get a little too enthusiastic with our link text.
Every Call To Action Is A Risk
Remember that when providing a call to action, it must be placed at the moment when you inspired your reader to leave their train of thought.
Every call to action is a risk. At the minimum, your link should:
Have a clear label with the exact destination.
Be easy to see and read.
Be compelling to the person.
Present itself at the exact moment when it is most useful.
Not have competition (other links) nearby.
Navigate to the desired task that will provide a benefit to your user.
As humans, our attention span is already short.
Each time a call to action takes them forward, they may have forgotten where they just were.
It is important to support tasks with well-organized information architecture and navigation that provides signals for a sense of place.
Calls to action are sometimes annoying interruptions.
What additional incredibly fascinating information is hiding behind "Learn more" that is so compelling that you have interrupted their thought process?
It better be worth it.
Conclusion
We have a small window of time to catch a user's attention.
Using generic language like "Click Here" or "Learn More" won't cut it anymore. When creating call-to-actions for a user, try to reiterate what exactly you want them to do.
Don't insert CTA links for the sake of having them or taking up space.
Rethink your link strategy by viewing it from a user's point of view: Is there more than one link option? Are they both needed? Are they clear enough for a user to take action?
Furthermore, your content leading to that call-to-action should be enticing enough for them to want to take action.
---
Featured Image: Motortion Films/Shutterstock
In-post image #4 created by author, June 2022