Critical Vulnerabilities in All in One SEO Plugin Affects Millions of WordPress Websites …
Security Risk: High

Exploitation Level: Easy

CVSS Score: 9.9 / 7.7

Vulnerability: Privilege Escalation, SQL Injection

Patched Version: 4.1.5.3
Last week, security researcher at Automattic Marc Montpas recently discovered two severe security vulnerabilities within one of the most popular SEO plugins used by WordPress website owners: All in One SEO. The plugin is used by more than three million websites and if left unpatched could cause some serious headaches for WordPress users.
The Details
Both vulnerabilities require that the attacker have an account on the website, but the account could be as low-level as a subscriber. WordPress websites by default allow any user on the web to create an account. By default new accounts are ranked as subscriber and do not have any privileges other than writing comments. However, certain vulnerabilities, such as the ones just discovered, allow these subscriber users to have vastly more privileges than they were intended to have. When exploited in tandem, these two security holes allow an attacker to take over an unpatched WordPress website.
Authenticated Privilege Escalation
The first issue found with this plugin is interesting, and can be exploited by simply changing a single character of a request to uppercase. It affects versions 4.0.0 and 4.1.5.2 of All in One SEO. This plugin has access to a number of REST API endpoints, but performs a permission check before executing any commands sent. This ensures that the user has proper permissions to instruct the plugin to execute commands. However, All in One SEO did not account for the subtle fact that WordPress treats these REST API routes as case-insensitive strings. Changing a single character to uppercase would bypass the authentication checks altogether.
When exploited, this vulnerability has the capability to overwrite certain files within the WordPress file structure, effectively giving backdoor access to any attacker. This would allow a takeover of the website, and could elevate the privileges of subscriber accounts into admins.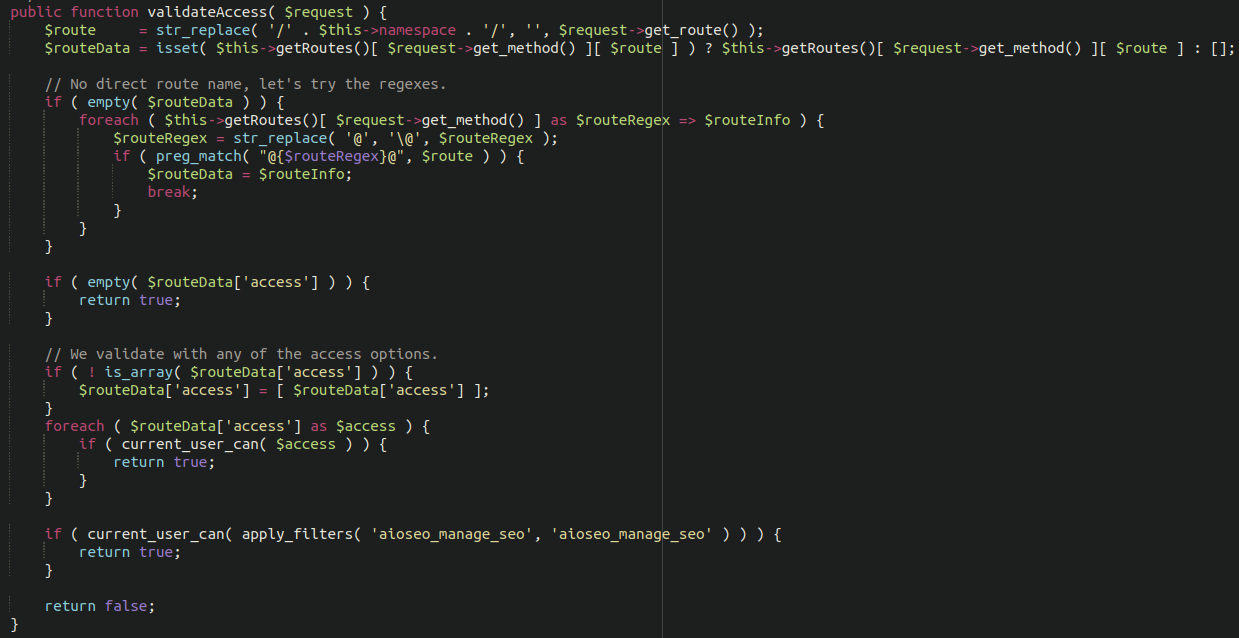 Vulnerable code in All-In-One-SEO WordPress plugin allowing for privilege escalation
Authenticated SQL Injection
The second vulnerability discovered is present in versions 4.1.3.1 and 4.1.5.2 of this plugin. There is a particular endpoint located here:
/wp-json/aioseo/v1/objects
This endpoint isn't intended to be accessible by low-level accounts. However, since the previous vulnerability described allowed for privilege escalation, the attackers could first elevate their privileges and then execute SQL commands to leak sensitive data from the database, including user credentials and admin information.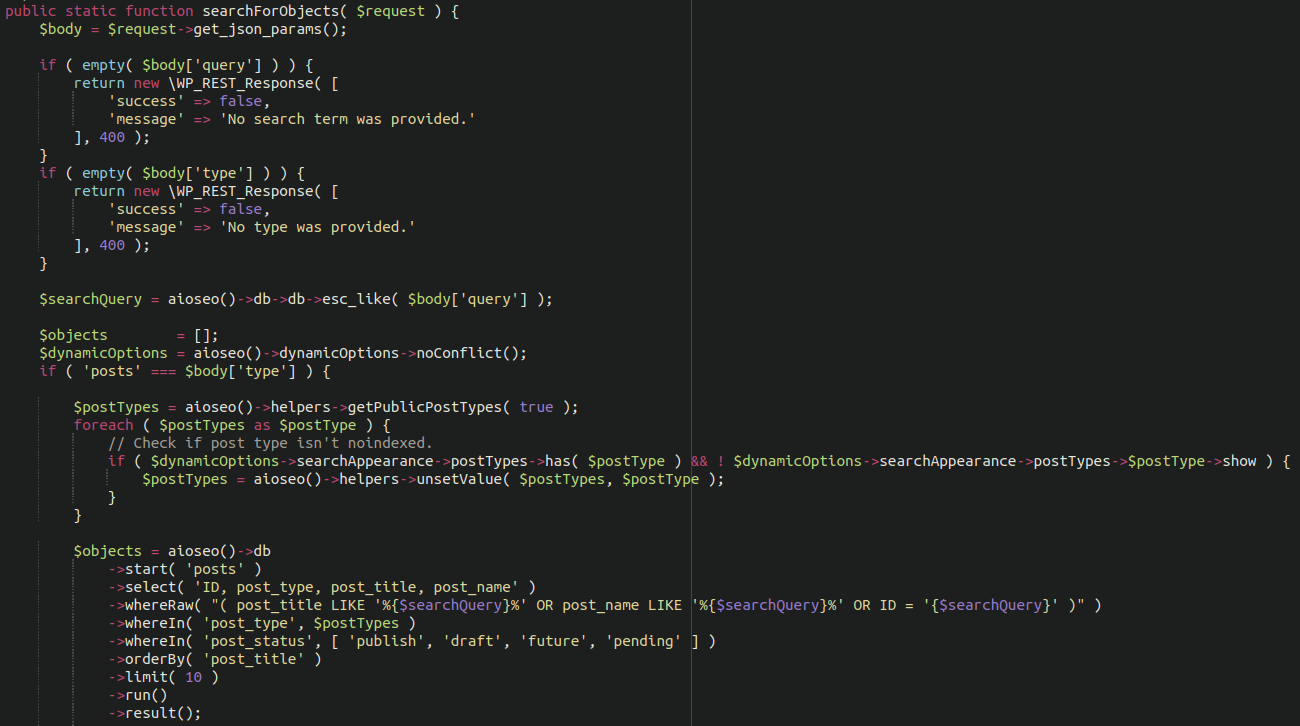 Vulnerable code in All-In-One-SEO WordPress plugin allowing for SQL injection
In Conclusion
If your website is using All in One SEO be sure to update to the most recent version as soon as possible! You will also want to review the administrator users present on your website. Remove any suspect users that you do not recognise, and for good measure change all administrator account passwords. It's also prudent to add some additional hardening to your administrator panel.
Users of our firewall are protected against these vulnerabilities. Although we always recommend updating out of date plugins to the most recent version, particularly in cases such as these where security issues are present!
*** This is a Security Bloggers Network syndicated blog from Sucuri Blog authored by Ben Martin. Read the original post at: https://blog.sucuri.net/2021/12/critical-vulnerabilities-in-all-in-one-seo-plugin-affects-millions-of-wordpress-websites.html
Customize Your Entire Site With New Block Themes – WordPress.com News
Customize Your Entire Site With New Block Themes
Experiment with a new look for your site with themes created to take advantage of Full Site Editing.
In case you missed it, we've been rolling out a new set of powerful site design tools called Full Site Editing (or "FSE") and it's now available for all WordPress.com users!
Don't worry if you're just hearing about Full Site Editing for the first time. We've been releasing these new tools in a way that doesn't actually require you to do anything with your existing site(s). If you are up for a change though, we're happy to announce the launch of a brand new family of themes made specifically with Full Site Editing features in mind. As of this writing we have over two dozen themes available that support Full Site Editing.
These new themes have been designed with a wide variety of sites cases in mind. But their potential stretches well beyond their screenshots and demo sites. Because each theme is fully editable in the Site Editor, every one of these themes can be heavily customized to fit your site's needs. You can start with theme that features single minimalist homepage, and then add as many menus and sidebars as you wish. Or, you can start with a complex business theme and strip it down to something minimal to suit your vision.
The Site Editor also includes a new feature called "Global Styles," which allows you to edit site-wide settings for color, typography, and more. You're free to change your theme's default color scheme to whatever fits your mood, or even make all site text larger or smaller in a couple of clicks. To kick off this new feature, we're also providing a few pre-built variations on some of these new themes.
All the new themes and variations can be found in the Theme Showcase. Or, if you're starting a fresh site, they'll be offered to you automatically in the site creation flow. This collection of themes is just the beginning, and we're excited to continue launching a variety of diverse theme options for you. What would you like to see in the next set of themes on WordPress.com?