The science behind email open rates (and how to get more people to read your emails)
The success of your email campaigns depends on email open rate. If no one opens your email, then you cannot generate new business from email marketing. So, what is a good email open rate?
We share open rate numbers by industry, by device, by out send time and more – all backed by research from 50 email marketing statistics to help you increase email open rates.
With our unique case study, we show you how we earn an average 40% email open rate for every single email we send (based on over 99,000 emails sent). Plus, learn how we generated a 94% email open rate!
How do you measure the success of your email campaigns?
The chances are that you measure the success by the number of people who open the mail (email open rate) and the number of people who click on a link (click-through rate).
That's how I used to measure it.
And while there's nothing wrong with that, what gets overlooked is that the click-through rate is entirely dependent on the open rate, because unless people open your email, there's no chance they can click on it!
Therefore, in order to get a better click-through rate, you need people to open your email.
So, how do you get more people to open your email?
There's a lot of opinions on the web about how to increase email open rates, but I'm only interested in the concrete data behind email open rate success – which is why this article is stacked full of more than 50 email marketing statistics!
Since launching SuperOffice Marketing, we've helped thousands of companies use email marketing to engage with their subscribers. It's also given us access to data and insight on how people open, respond and engage with email campaigns – which we'll be sharing in this report.
The science and data presented to you in this article will help you get more people to read your email marketing campaigns and help you increase email open rates, which in turn positively impacts the overall performance of your email marketing strategy.
But, first…
What is an email open rate?
Before I dive into the data, you and I need to understand this metric. You see, most people consider the open rate as the number of people who open your email.
Sounds logical, right?
Unfortunately, that's not the case. An email is only counted as opened when one of the following occurs:
The reader enables images in your email to be displayed in the preview pane or in a full view of the email.
The recipient clicks a link in the email.
OK, easy enough. But, how are email open rates calculated?
Email service providers (ESPs) calculate the open rate by taking the number of people who open the email and dividing it by the number of emails sent that did not bounce, i.e. failed to reach the recipient.
For example, if you send 100 emails, and 10 of them bounce, this leaves you with 90 delivered emails. Of those 90 emails, let's say that 10 are opened. This means that your email campaign open rate is 11% (10 emails opened from 90 delivered).
Emails that are not delivered cannot be opened, which is why this number is not included in the open rate percentage.
What is the average email open rate?
Given that B2B email marketing has been the most popular marketing channel for several years' and that the average number of promotional emails sent to readers continues to increase, you would think that email open rate is on the decline.
For the most part, that wasn't the case.
Until 2019, that is.
Between 2015 to 2018, the average open rate for email was steady – hovering at 24% globally.
However, in 2020, the average open rate dropped to 21.3% (a slight decrease compared to 2019).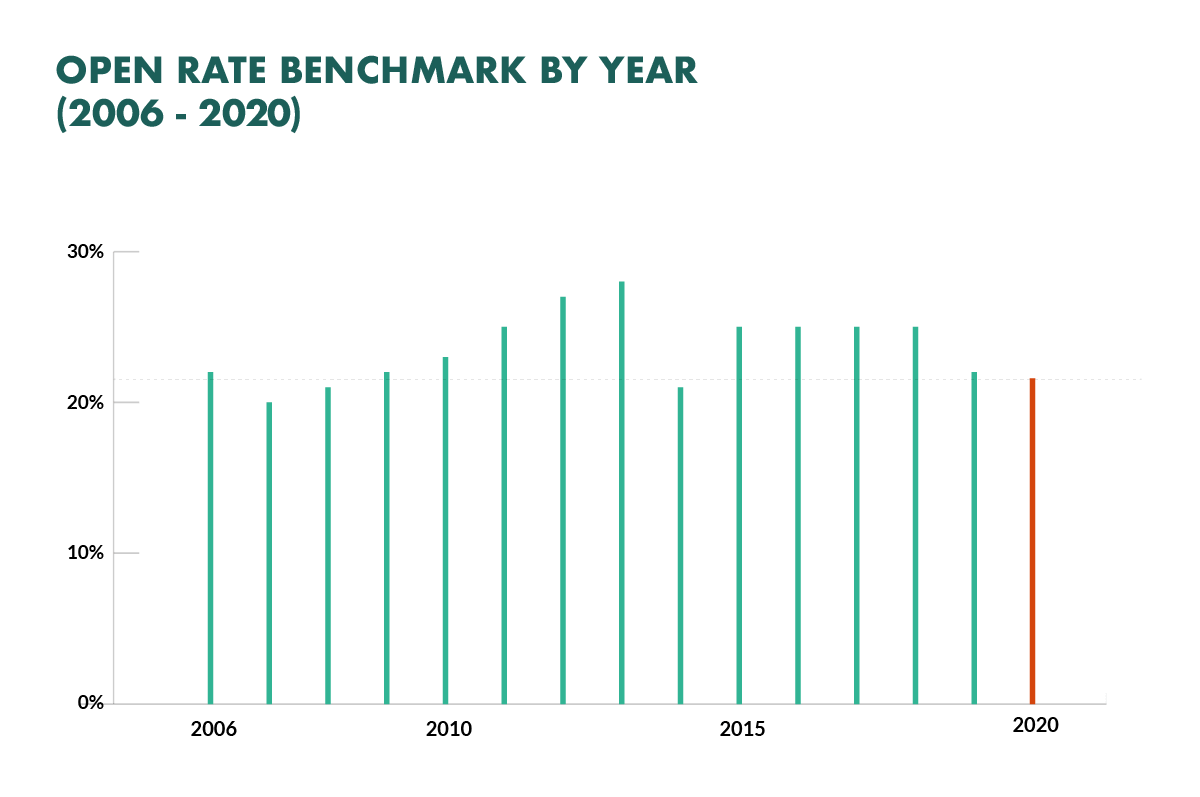 Does a decrease in email open rates signal the death of email marketing?
Of course not.
It's not the first time open rates will fall and it's not the last time.
The good news is that based on historical data, we can see that each time there is a decrease, it's always followed by a strong period of growth. So, we can expect to see an increase again in 2021.
Before you get more people to read your emails, you first need to understand where you stand.
How many people currently ready your emails? What is your current email open rate?
This is where industry benchmark open rate reports comes in.
How do I compare to the industry average?
Benchmark reports are important in understanding of how the industry is changing on the whole and you should find out your own benchmark based on your email campaign performance. You should be able to pull this number from your email service provider.
Here's a look at our own open rates based on an email campaign we ran earlier this year: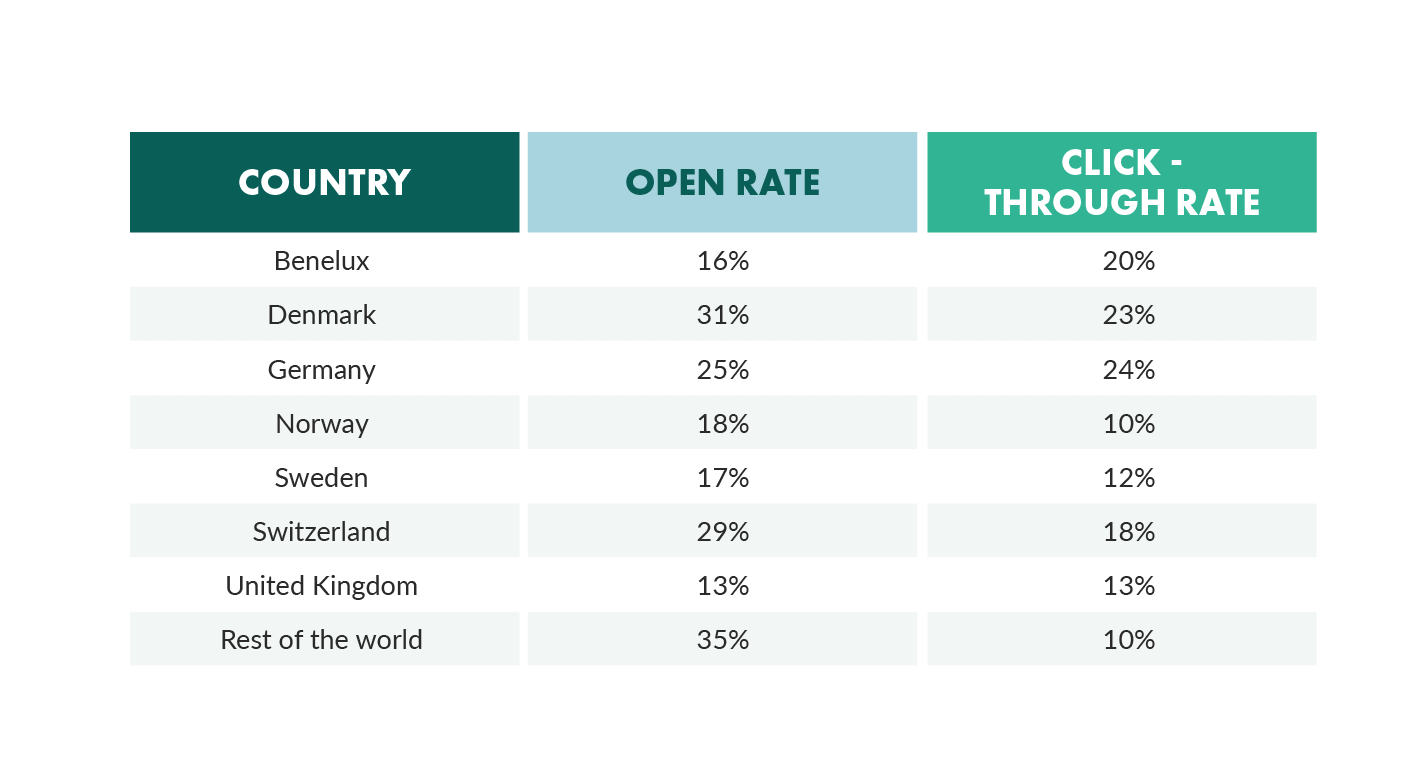 As you can see, open rates differ from country to country.
How do your own email open rates compare?
In 2020, the average open rate across all industries is 21.3%.
If you have an open rate of 22% or higher, then you're doing great!
If not, don't worry. You know your email subscribers better than anyone else. For example, if you consistently reach a 15% open rate, which is below average yet your campaign is delivering results, it's obvious that you are not under performing even if the "industry average" says you are.
Of course, averages are to be taken lightly. Open rates in the insurance industry, for instance, differ from those in the health care industry. And open rates in Europe differ from those in North America.

The first challenge you need to work on is getting your email to your subscriber list. It's no use spending hours crafting a perfectly optimized campaign if it ends up in your readers' spam folder, is it?
How do I get more emails delivered?
Think about this:
More than 20% of marketing emails never make it to a subscriber's inbox. That's more than one in five emails!
Of course, just like open rate, average deliverabilty rates differ by region.
For example, only 66% of emails reach a reader's inbox in Asia compared to 86% in Europe.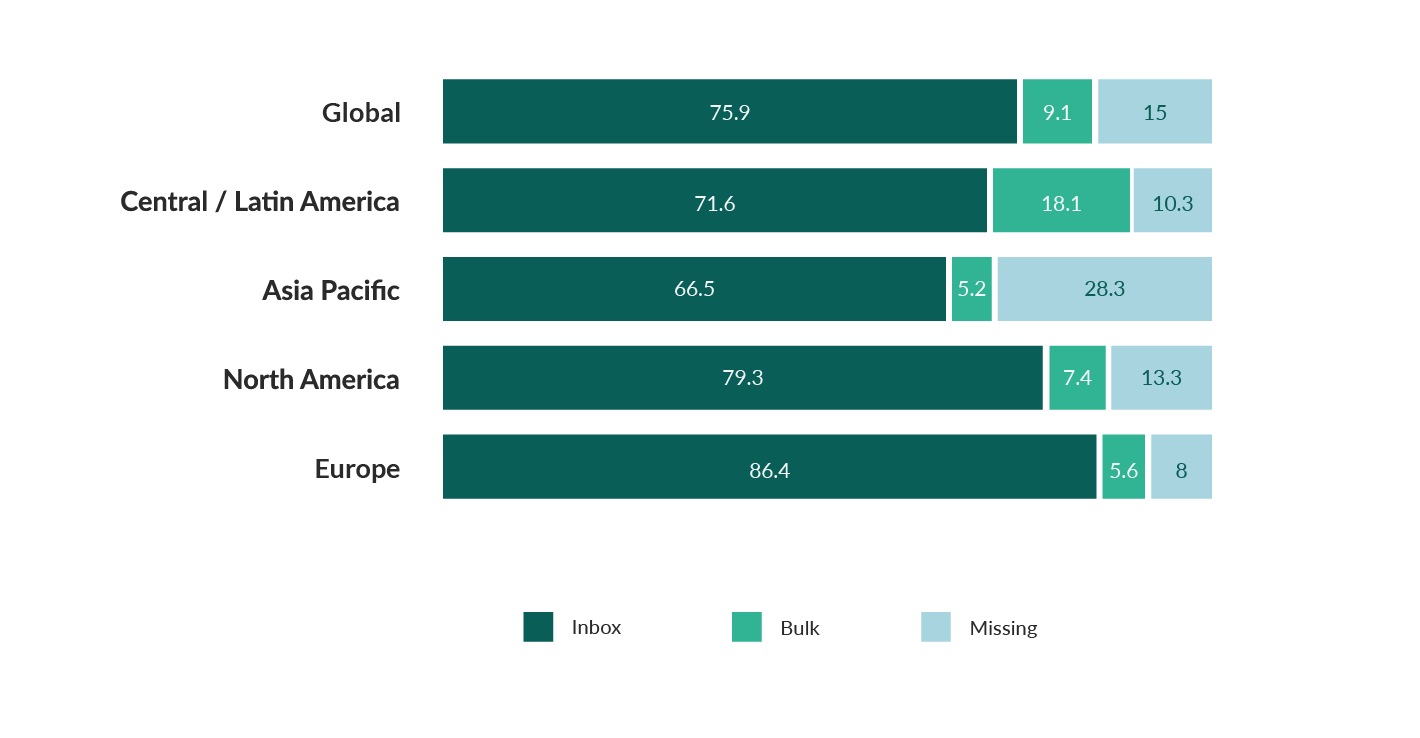 This makes a huge difference to your email open rates!
So, how can you make sure your emails are delivered to your readers?
Here are a few tips on how you can increase delivery rates.
Use double opt-in. Double opt-in means that the subscriber will verify that she wants to receive emails from your business (although this not a requirement under GDPR). You don't want to send emails to people who don't particularly care about them; otherwise, they will not read them and lower your open rates.
Ask your readers to add you to their trusted address book. By simply asking your readers to add the "from" email address to their contact lists, you can increase the number of emails delivered.
Cleanse your email list. If a subscriber does not open an email from you three times in a row, the chances are that she is no longer interested in your company. Gmail and Yahoo Mail are smart enough to understand this so if you continue to send emails to subscribers who do not open them, they might be directed to the spam folder, so consider cleansing your list (like JD Whetherspoon did before GDPR).
The more emails that are delivered to your audience, the better chance you have of getting more people to open them.
How do people read my email campaigns?
The way people read emails can provide key insights in how you create your email marketing campaigns.
For example, the type of device they read it on.
Marketers' can no longer ignore mobile and tablet devices.
Email open rates from mobile devices have grown by more than 100% since 2011 and the percentage of open rates from mobile continues to grow each year!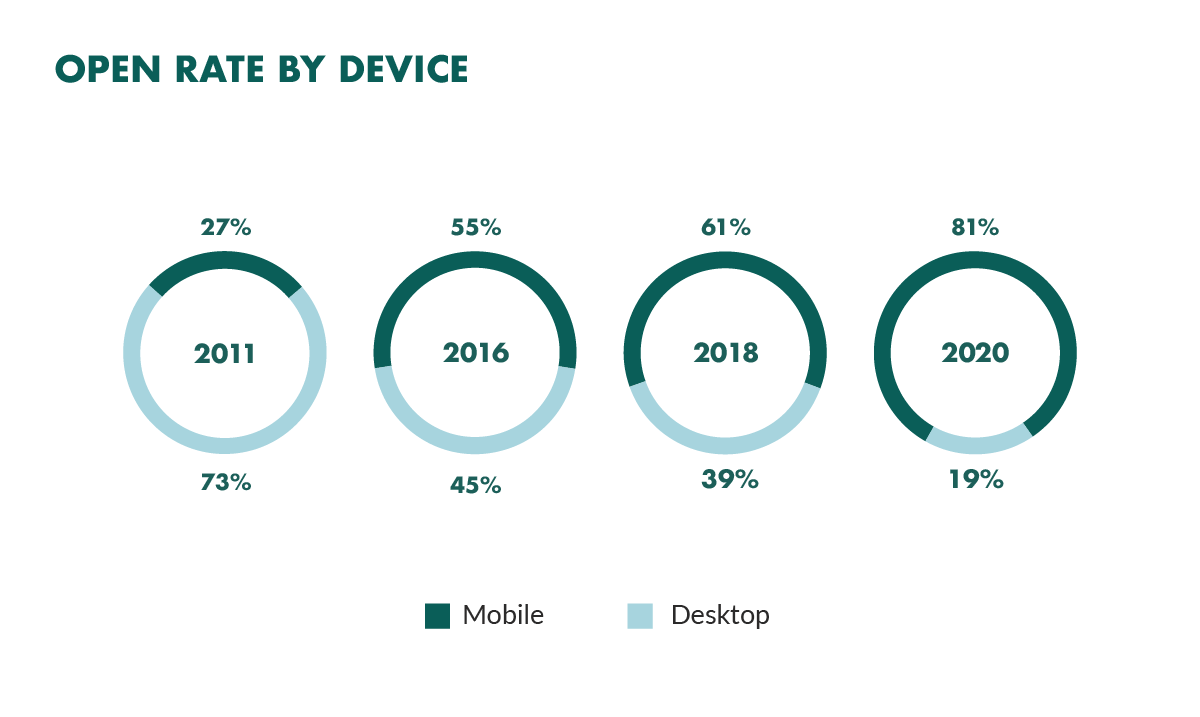 Today, 81% of all emails are now opened and read on mobile devices.
Can you guess what your readers do when you send them an email that isn't optimized for mobile?
They delete it. In fact, 80% delete the email immediately!
And companies are realizing the importance of email marketing optimization. As many as nine in ten businesses are developing a strategy to optimize their email layout.
Worse still, our own email marketing benchmark report found that only 20% of email campaigns are optimized for mobile devices.
Have you seen how your own email campaign template reads on a mobile device recently?
If not, you should take a look. If you haven't optimized your email campaigns for mobile devices yet, now is the time.
When should I send my email campaign?
Timing is important to open rates. To know when to send your email campaigns, you have to know your audience.
If you sell software, most of your customers will be enjoying family time on the weekends. That means sending an email campaign on the weekend will lead to fewer opens, if any at all!
So when should you send your email?
Research by Get Response found that the best day to send emails in order to get the highest open rate is on Tuesday.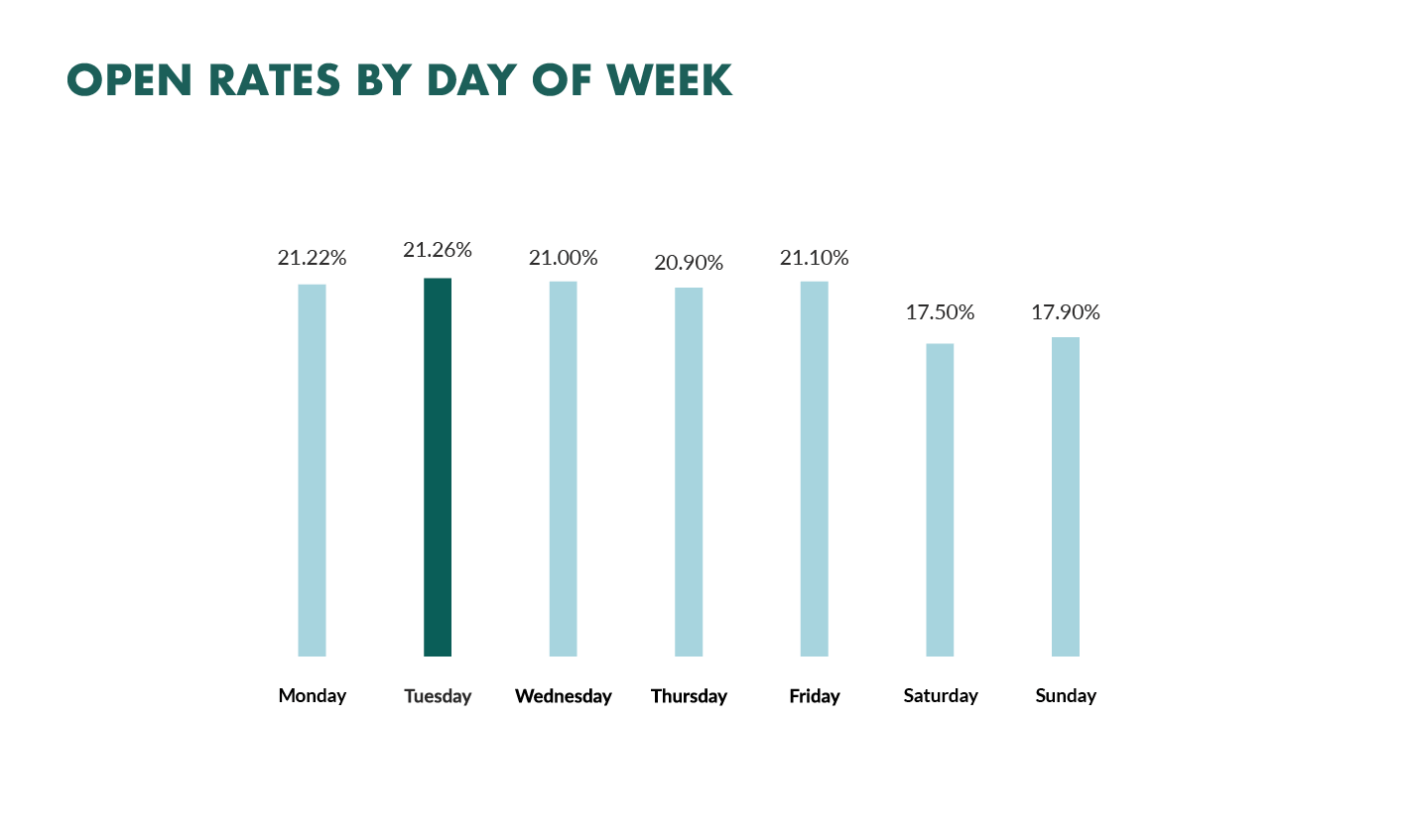 Now that you know on which day to send your emails, what about the time of day?
Further research shows that subscribers are most likely to read your email at either 10am, after they arrived at work, or at 1pm, when they are catching up on their emails after lunch.
And that 23% of all email opens occur during the first hour after delivery. After 24 hours, an email's chance of being opened drops below 1%!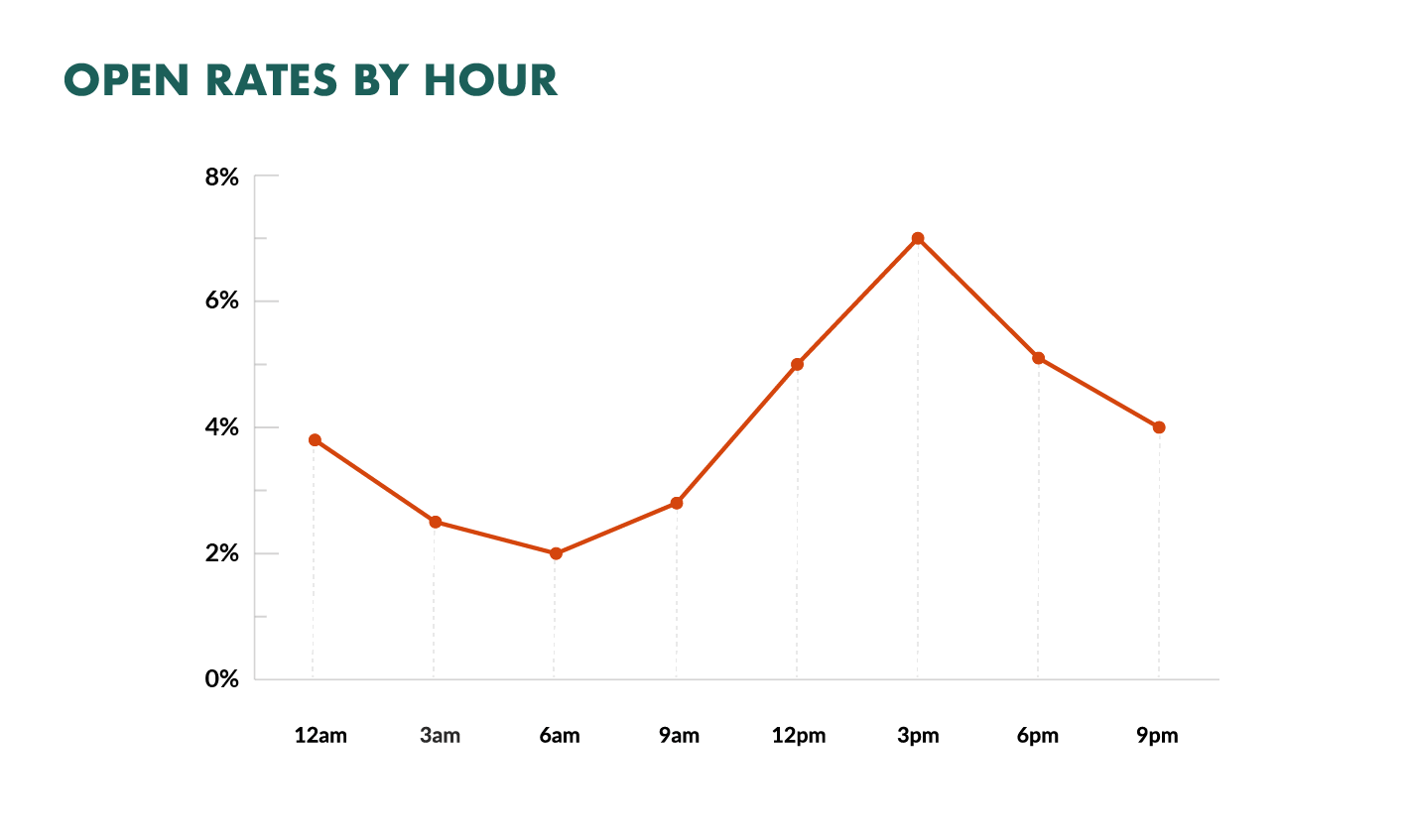 As you see, the timing of when you send your email is crucial to the success of your campaign. If you send it on a day when people are less likely to read your email, then you could be missing out on a lot of interested customers.
So, when it comes to sending out your email campaign, Tuesday, after 1pm. is your best bet.
How do I increase email open rates?
The sender name and subject line of your emails are the most important factors in getting them opened and read.
For example, our own research found that 45% of subscribers say they are likely to read your email because of who it's from, and 33% of email recipients open an email based on the subject line.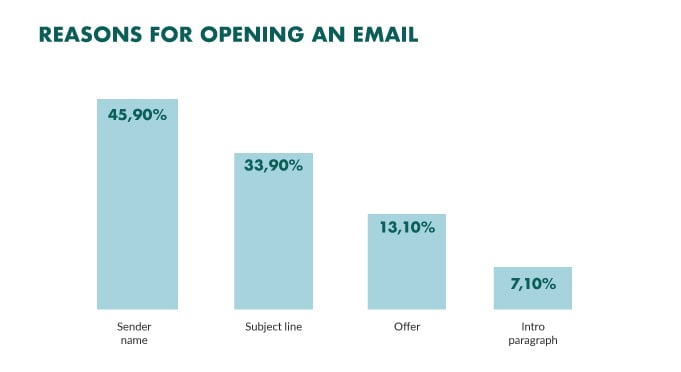 What sender name do you use?
Do you send your emails from company XYZ, or do you use a specific person's name?
Believe it or not, but this can make a huge difference!
Research from Pinpointe marketing found that by using a specific personal name, rather than a general email address or company name, you can increase open rates by as much as 35%!
Which is why it's surprising to find that that our own B2B email marketing research found that 89% of email marketing campaigns are sent from a company name.
When it comes to subject lines, have you heard the phrase "you should spend as much time writing your headline as you spend on writing the content"?
Well, the exact same phrase applies to your subject line.
A well crafted subject line shouldn't be the first thing you think of. Instead, it should take time. And you should use research and data to help guide you.
A report by Retention Science found that subject lines with 6 to 10 words deliver the highest open rate, making 8 words an ideal number for a subject line.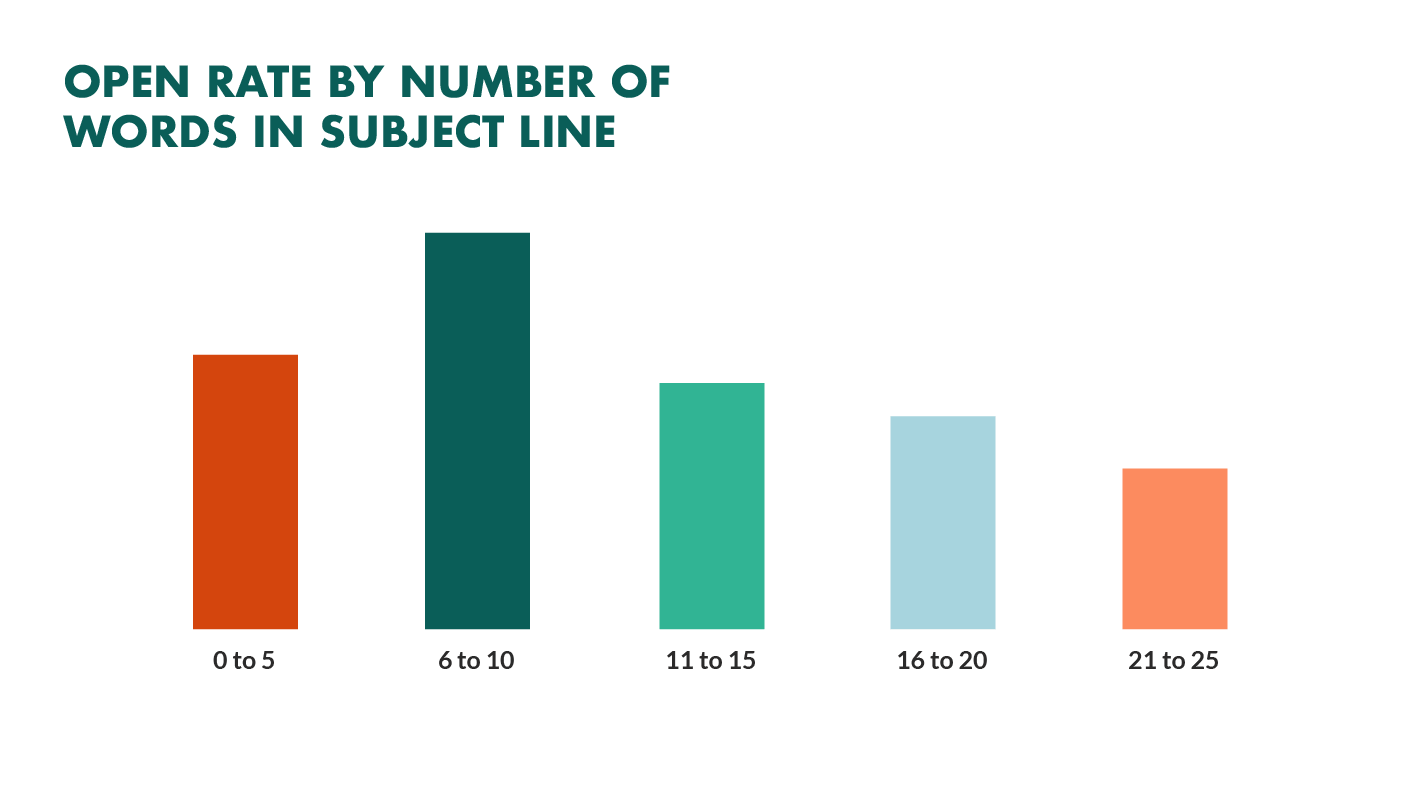 If a subject line is too long, it will get cut off and your reader will not know what the email is about (and could ignore it).
This is especially important for mobile readers as the subject line character length is even shorter – which is why more than 85% of subject lines are shorter than 90 characters!
Another reason for opening an email is if the subject line is addressed to the recipient, as subject lines personalized with a recipient's first name, for example, can lift open rates by as much as 20%!
Personalized subject lines are still popular, but the results have dropped in 2019.
There is only a 2% improvement if you use personalized subject lines. Today, it's not enough to add "Hey John" to your subject line to increase open rates. What's important is how relevant and compelling your message is.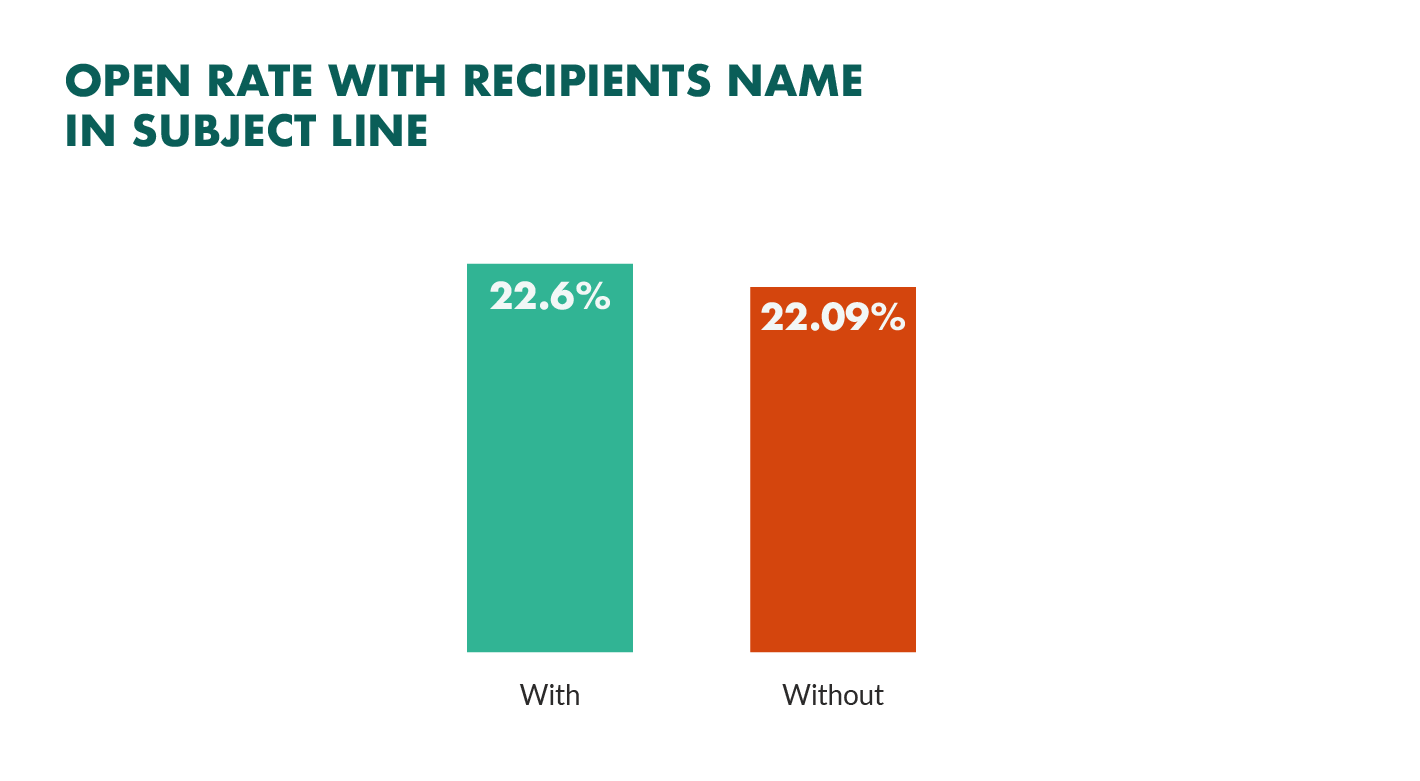 Using a recipients name in a subject line is simple, if you use a CRM.
Of course, if you are feeling super creative, you can take it one step further.
Retention Science found that subject lines with movie titles and song lyrics have an average open rate of 26% (Tweet this!)!
Here's some ideas for you to start testing with:
Subject line #1: "Imagine all the people…" got free shipping today!
Subject line #2: Gone with the wind? Book your summer vacation now
Subject line #3: 10% discount on all products! I'm all shook up, uh huh huh
(OK, they might be a little lame, but hey I tried!)
If you link to a video within your email, you can also include the word "video" in your subject line. It's something we have tested and including the word video increased our open rates by 6%!
Are there any words I should use or avoid?
By analyzing billions of emails sent and opened, Dan Zarella was able to find out which words to use and which to avoid in the subject line.
Here's a look at the findings:
Most clicked-on emails include these words in the subject line: "secrets", "e-sales" and "awesome".
Emails mostly reported as spam included the words "confirm", "features" and "upgrade".
People are less likely to open emails that include a question mark (?) or a hashtag (#).
Creating the perfect subject line that includes key words proven to increase open rates, and sending the email from a known sender should now be at the top of your to-do list for when you next send out an email.
But wait, what about emoji's? Should you use emoji's in your email subject lines? 😍
Well, according to the latest research from Neilsen, the answer is no.
The research compared email subject lines sent with and without an emoji in the subject line and found that emojis in subject lines increase negative sentiment toward an email and do not increase the likelihood of an email being opened
"…all things being equal, adding an emoji to the email does not make people more likely to want to open that email"

Email open rate case study
By now, you're probably thinking:
"Steven, this sounds really great, but does it work?"
And you know what? If I was reading this article, I would be thinking the same thing!
The good news is that I've tested the science. And it works!
Earlier in the post, I referenced that the average open rate in 2019 was 22.15%.
Using the techniques listed above and based on data of more than 99,000 emails sent during the last 10 months, my average email open rate is 40.9%.
That's right – forty percent!
That's 85% higher then the average open rate.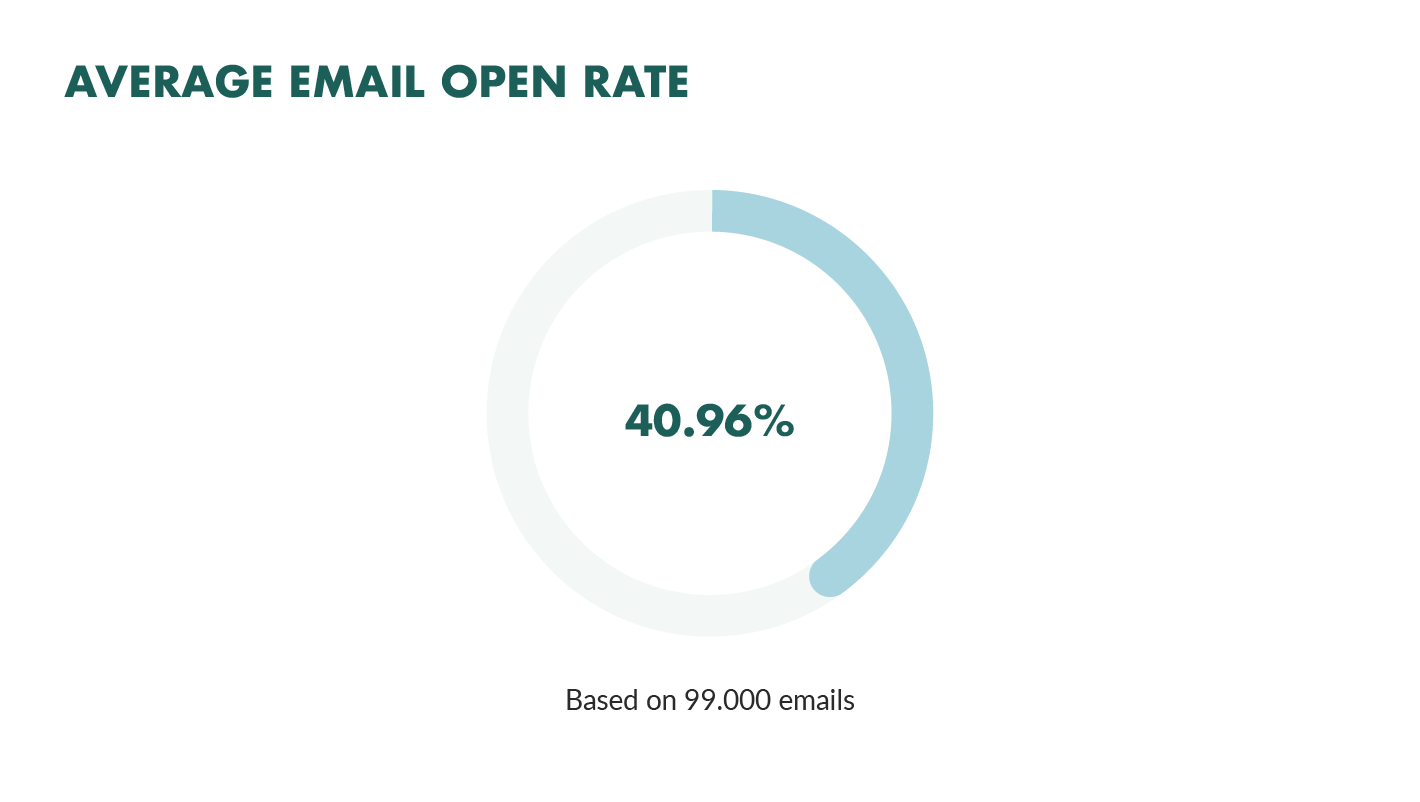 If you're looking to increase your own email open rates, then try one or two of these techniques the next time you send out a campaign!
How important is segmentation?
Earlier this week, I conducted an email campaign test.
In the test, I sent two emails. The first email was sent to a segmented list (based on interest) and the second was sent to my main blog subscriber list.
The subject line was the same.
And the email content was the same.
Upon viewing the results, the main blog subscriber list generated my average response of a 40% open rate.
I was happy.
But, what happened next blew my mind…
The segmented list earned a staggering 94% open rate!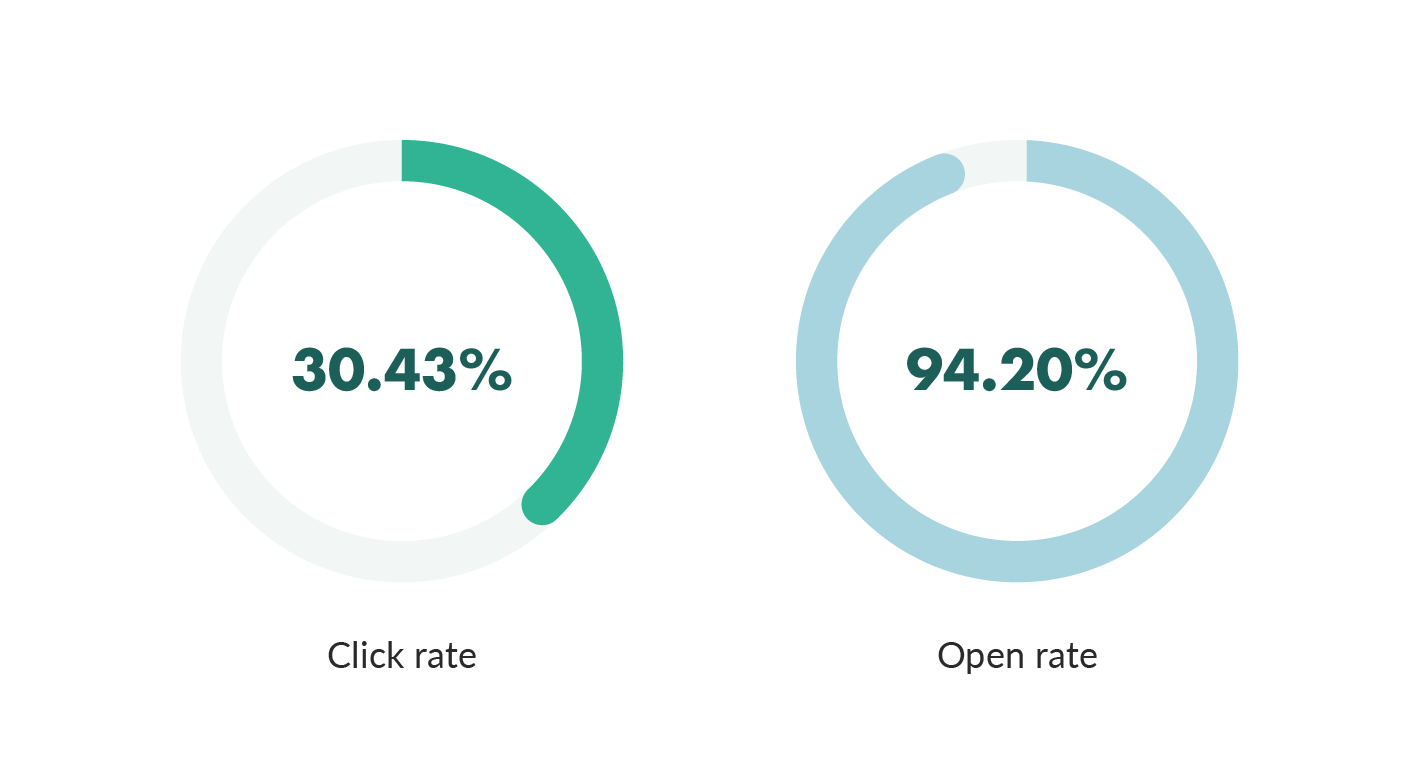 The sad part is that 89% of marketers do not segment their email list.
Perhaps now is a good time to start segmenting your lists?
(On a side note, the campaign also generated a 30% click-through rate. Improving your click through rate starts with the design. Use these B2B email marketing examples to help you craft a template that's designed for maximum clicks.)
Conclusion
So there you have it!
I've provided the science behind email open rates and the ways you can use the data to make actionable decisions about your email marketing.
Here's the key points for you to take away and use the next time you send an email to increase email open rates:
Use 6 to 10 words in your subject lines to get the best open rate
Send your email campaigns during the work day and after lunch
Personalize subject lines with the reader's name
Use a recognizable sender name
Optimize your email campaigns for mobile
Bonus: Segment your email lists
Of course, the best option for you might not be to use any of the above. It depends entirely on what your reports tell you. But you can start with the data provided in this post and use the science to guide you to more get more emails opened.
Author:
Steven MacDonald
How to Create an Email Marketing Calendar in 2022
How many batch and blast marketing emails do you get in a day? More importantly, how often do you mark all of them as "read" without actually reading them? 
Naturally, you don't want to be just another brand that clutters your customers' inboxes. So how then can you cut through the noise and ultimately increase your open and click-through rates?
There are two things that determine a successful email marketing campaign: consistency and proper segmentation.
This means that you should be able to reach the right audience, at the right time, with the right message. 
One way to ensure this is through an email marketing calendar. 
With one, you can plan, create, and schedule your emails for the best possible results.
There are many ways to create an email marketing calendar including using spreadsheets or tools specifically designed for planning. 
Now, let's talk about how you can create an email marketing calendar.
Be Clear on Your Goals for Your Email Campaigns
The first step to creating an email campaign calendar is to figure out what type of messages you want to share to your customers.
Do you want to:
Promote a new product or event?
Re-engage your customers?
Encourage them to check out items from their abandoned carts?
Launch a seasonal campaign tied to an upcoming sale?
Send a newsletter or useful content to establish your expertise in the field? 
Identifying your goals can help you tailor a strategy that makes sense to your recipients. From this list, you can then start to plan the kind of emails that you want to send out, and when they will be sent out. 
Determine the frequency of your send-outs for each campaign
Now that you have a list of campaigns that you want to launch through email, you can then plot these on your working calendar. 
For example, if you want to start sending a newsletter, what are the best practices in doing so? Your research might tell you that it is best sent once a month. You can then go ahead and plot this in your calendar. 
You might also want to run a sale monthly. If so, be sure to block out a day in your calendar for send out. 
The idea is to plot these emails on your calendar to give you a visual idea of how your quarter (or perhaps, year) is shaping up. You might notice that some months may be overloaded with emails and some have huge gaps in them. You can then adjust your emails accordingly—both for your subscribers and the marketing team's benefit. 
Determine Your Segments
The last thing that you want to do is to send emails that are not relevant to your recipients. After all, not everyone is going to be on the same stage in your marketing funnel — so be sure to segment your emails based on where they are in their buyer's journey.  
You can do this by determining which campaigns you want to send to everyone, and which ones should go to a specific set of people on your list.  Doing this after you have plotted the frequency of your send-outs will also help you determine which segments will be overloaded with emails and which ones aren't getting enough attention. 
Actionable tip: for every email that you want to send out, be sure to ask yourself who should this email go to and who shouldn't receive this email. For example, you don't want to send a welcome series to someone who has been in your mailing list for a long time.
The better you get at organizing your emailing list, the more equipped you can be in providing better value through your content. This will help you send targeted messages to the right people.
Start Writing Down Potential Email Subject Lines
One of the challenges that marketers face when drafting their email content is in writing the subject line. It has to be catchy, relevant and provides the recipient with a sneak peek at what's inside the email. In other words, it is a pain to write. 
However, it deserves special attention because it will determine whether your email will get opened or not. No matter how much time you've spent creating superb content, well-designed graphics, and hard-to-ignore promotions, all of this will be irrelevant if your subject line fails to catch your audience's attention. 
A component this important should be planned ahead of time. 
Our advice: Come up with a list of your potential subject lines and run them through email subject line testers. Even with these steps, there's still a possibility that you'll end up with an entirely different subject line as your content takes shape — but this will help. 
Determine The Type of Content You Want To Share in Every Email
The next thing that you want to do is to determine the content that you want to include in each of your emails. Your task should then include pulling relevant articles from your blog, linking videos from your brand's channel, and creating graphics for the body of your email. 
All of this should then be saved in a single folder dedicated to every campaign. This eliminates the possibility of sending the wrong graphics or linking the wrong video to your emails. 
Of course, after all, this, be sure to link each specific folder to the right entry in your email marketing calendar.
Finalize the dates and times of your send-outs
Now that you have a solid idea of what you'll be sending out, who it will be sent to, and what the content of each email will be, it's time to determine your publish dates and time. 
Be sure to research what the best practices are in sending out emails. For example, you might find out that the best days to send emails are Tuesdays, Wednesdays, and Thursdays. 
Plotting the send-out dates in your calendar lets you or your team manager plot the workflow so each member can be delegated a task with the corresponding deadlines—all in time for the publish date. 
Final Thoughts
Email marketing is all about providing relevant content to the right audience. While there is no single formula that can ensure positive results, coming up with a solid plan and a well-designed email marketing calendar is a good start. 
Just remember that your job as an email marketer does not end after the last email has been sent out. Be sure to constantly monitor each campaign's performance, employ email A/B testing to improve open rates, and always be prepared to reevaluate and revise your approach. 
10 Tips On Effective Email Marketing For Mobile Apps in 2022
If you are one of those who thinks email marketing does not work, then you are definitely missing out on a huge market opportunity.
The reason most people conclude email marketing is least relevant is that they aren't doing it effectively.
An effective email marketing campaign will still produce tremendous results in 2022. It is a good way that top app development companies in the USA can get their messages out to their customers and clients and can also help to strengthen relationships.
There are basically three types of emails; marketing emails, transactional emails, and operational emails.
Marketing emails consist of a newsletter, announcements, sales promotions, and press releases. Companies send these emails to people who want to receive updates from them. These include; clients, affiliates, prospects etc. This is the type of email you get when you subscribe to a website's newsletter.
Transactional emails are emails that are triggered by a customer's action or activities. Some examples of transactional emails include welcome messages, registration confirmations, tracking information, sales receipt, invoice etc. Transactional emails have the best chance of being opened as they are trusted emails. They provide an opportunity for more engagement.
Operational emails communicate important information about a business to customers. This includes informing them of holidays closures, service unavailability, maintenance plans etc. This is one of the least successful emails as people tend to skip it quite frequently.
10 Tips On Effective Email Marketing For Mobile Apps in 2022
Below are ten tips for effective email marketing during mobile app development;
---
1. Building subscriber list:
The first step towards an effective email marketing campaign for mobile apps is building your subscriber list. Of course, who would you promote to if you don't have any subscribers?
App development companies can encourage sign up by making sure subscriptions forms are available on their homepage and in every other location on their site. Some websites even have sign-up forms that hover over the page and follows the users as they scroll. It is not intrusive, yet it catches attention.
Another effective method of encouraging sign up is by explaining to readers what they stand to gain by subscribing, perhaps a free ebook, or tutorial.

---
2. Proper targeting:
In order to have an effective email marketing campaign in 2021, you must learn to target your emails to the right recipient.
One of the top reasons why email marketing fails is because mobile app development companies treat all subscribers as the same, hence sending blanket emails.
To have an effective email marketing campaign you must segregate appropriately. This will require you to gather as much data as possible pertaining to your subscribers; their geographical location, their buying habit etc.
This way, you can send your subscribers messages that resonate more with their needs and interest. This makes it more likely for them to take up your offer.
---
3. Personalization:
Personalizing your emails is also another proven way top app development companies can boost their email marketing campaign.
Rather than sending a generalized email to all your subscribers using the boring "dear reader", you can replace this with the recipient's name.
Current emailing software allows users to interchange the generalized address pattern with the recipient's name. This creates a feeling of camaraderie and trust and increases the chance of your email being opened and read.
---
4. Keep it simple:
It gets pretty confusing and annoying when you open a webpage and you are bombarded by flashy graphics, huge fonts and some other elements that obstruct the main content of the page.
Most times people just abandon such pages and head to alternative one. In order to prevent irritating their audience and potential customers, top app development companies need to keep their layout as simple as possible.
You should make it look professional. A good number of people often mistake simplicity with being cheap or substandard, and complexity with top-notch. That is far from the truth. The most successful campaigns and websites (Facebook, Google, and Instagram etc.) are built on simplicity and ease of use.
---
5. A powerful call to action:
There is no point sending dozens of emails if you don't tell your readers what you want them to do with.
Call-to-action is an important element of a successful email marketing campaign. It is the push that is sometimes needed to turn a reader into a customer.
A call to action can ask customers to make a purchase, to subscribe to a newsletter, click on a link, fill a survey form etc.
Email marketing example from Netflix.
---
6.Proper formatting:
The manner by which the content of your email is presented also goes a long way in determining the success of your campaign.
Firstly, learn to use catchy titles and engaging opening lines. Your opening lines must be geared at holding and sustaining the attention of your readers.
Your opening paragraphs must be such as to highlight the subject matter of the content. Do not beat around the bush, you will lose your readers before they get to the sweet part.
Also, mobile app developers have to observe proper formatting of their content so as to make them easily readable. This will include using short paragraphs, using keywords and phrases that are relevant to their content, using bullet points to allow their audience be able to skim through their content and identify the key points, using of images to illustrate message etc.
---
7. Ability to unsubscribe:
This may seem like a point that is a successful email marketing campaign but it is actually beneficial to it.
For some reasons, a subscriber may want to opt out of your mailing list. If they are unable to or they find extremely difficult to, they may flag your email as spam and this will cause you problems down the line.
---
8. Ensure it is mobile friendly:
We are in the age of smartphones where the majority of users access the web via their phones than on their desktops.
Therefore, to have a successful email marketing campaign top app development companies must ensure that their emails are mobile friendly.
They must be able to open on mobile without any of the elements of the email missing. One way to confirm how mobile friendly your emails are is to subscribe to your newsletter and then view it on your smartphone.
---
9. Test:
Before you send out emails ensure that you test and double check your message. Make sure all the properties and links to the email are working properly.
You should also check it on different platforms and on a variety of mobile devices. For a more efficient testing, you can utilize tools like Litmus. This tool tests and provides screenshots of your email as it would appear on different email platforms.
It is bad practice to send mass email without testing. If there is any major error this could damage the credibility of your brand tremendously.
---
10. Monitor your data:
For an effective email marketing campaign to promote your mobile app, it is important that you monitor your data. Take note of how many of your subscribers actually opened their emails and how many carried out the expected action. Other information such as time of day people opened the messages is also equally important.
You can also read more about personalization of mobile app and evolution of app design articles to learn more about.
How Does Storytelling Work And Why It Should Be Used In E-Mailing
We tell each other stories all the time: at family dinners, at friendly parties, during office lunches, sharing photos on social media, shooting dozens of stories a day. And this information sits much more firmly in our heads than just the facts.
Because when we read stories, our brain uses not only the language part of the brain, which converts words into meanings but also the parts of the brain that deal with emotions. We imagine taste, smell, color, and movement by combining what we've heard with our own personal experiences.
What is storytelling, where does it come from and where is it used
Storytelling is a method of conveying information in the form of a story in order to engage the listener's sensory and emotional experience.
It is the emotional connection to the brand and the company that determines the audience's affection and trust. And a story is a great way to start this attachment. Storytelling is more than simply that. Any story resolves a conflict, "does irreparable good", or solves a problem.
How storytelling works
Our brain only engages the left hemisphere when we hear boring facts. Stories include the right hemisphere, which generates images, pictures, emotions. It is a chemical reaction that produces oxytocin, which creates the trust necessary for the success of any deal. When you bring in the emotional connection created by the story, the client doesn't need to be persuaded.
Commercial storytelling serves several functions.
Propaganda
Unification
Communication
Influence
Propaganda
Stories have the power to inspire, persuade, and convince. They have the potential to be long-lasting and drive others to do useful things. In early 2017, Nike, for example, promoted women's freedom of choice in sports.
Unification
Stories help to shape a project's, brand's, and/or company's culture and establish a common identity. Lego came up with a cute commercial, utilizing a sketch from one family's life to demonstrate how to bring together customers and a company that creates cubes, after which parents stop walking barefoot in the house.
Communication
Stories inspire trust, and trust is the key to understanding. The greater the understanding, the more effective the communications that lead to the goal.
Influence
Stories inspire and build credibility. Steve Jobs was a brilliant entrepreneur, inventor, and industrial designer, as everyone knew. And when he gave his famous Stanford speech, the world recognized him as a wise man in whom one believes unconditionally.
Features of commercial stories
To build storytelling into a company's marketing, you need to:
formulate the purpose of the story;
be client-oriented;
use the "situation-problem-solution" scheme;
show the audience the value of the brand;
if possible, use a story to engage the audience or make the client a full participant in it.
How to tell stories that people will believe
You don't have to be a talented storyteller, creative research paper writer, or director to come up with a story. It is enough to take a plot, phenomenon, or event that really changed your life or the life of someone around you.
Stories can tell:
about the creation of the product;
about working with clients;
about successes and failures;
directly about the product;
about the company;
about anything in general, directly or indirectly related to your business.
Ways to tell a story
Marketers don't just tell stories with text or video. It can be comics, cards, offline speeches, podcasts, other formats for presenting content, and even multimedia. The main thing is to follow the algorithm.
Storytelling algorithm
Analysis of the target audience for storytelling
True, but marketers and other associated professionals frequently overlook this step, despite the fact that any marketing activities, whether launching an ad campaign or implementing a new product, begins with research on the target audience.
Before telling a story to readers or listeners, you should assess their prior experiences and listening skills. After that, bet on the ones who are more loyal and receptive.
The main idea of storytelling
In marketing, a commercial story catches the user's attention and establishes an emotional link to the brand, resulting in trust and leading the customer to take a specific action.
When starting to build storytelling in a company, a marketer should keep in mind that there is a story behind every fact. It begins the moment a fact is discovered, and its impact on the further course of events is obvious. This fact becomes important to a certain audience when it somehow affects the context of that audience.
Choosing a hero for storytelling
The stories that a company tells about its job or product are dependent on the client's context – their life, habits, and interests – rather than the company itself. The main character could be the client's image or the image of the relative (mother, spouse, child). It could also be a pet, a household object, or another familiar object.
The character is usually drawn from a living person, and the audience thinks, "Oh, this is what my mother would do, and this is what my friend would say". The character must be completely understood in order for you to know exactly how he would act in a certain situation – for this, you must fully develop the character.
Choosing the plot
It's not so much about the story itself in commercial storytelling as it is about the advantage the story will give. It is critical in marketing to demonstrate how the brand can solve the customer's problem.
That's why storytellers base their stories on the product's usefulness to the customer. The basis of the story is usually as follows: the hero encounters a problem and solves it with the help of the company's product.
Storytelling in email marketing
Companies that launch mailing lists often use numbers and a simple listing of facts, and don't want to scatter the attention of subscribers. They think, if people have already opened the letter, let them get the "maximum benefit". But why do they need this, if trust in the company has not yet been formed? And trust cannot arise without emotion.
Stories in letters that aren't just numbers and facts, but also include a plot, characters, and emotional attachment, can affect readings, establish a relationship between the subscriber and the brand, and involve to use of the product.
Most consumers have already developed banner blindness and don't notice the standard advertising in newsletters, but they are not yet accustomed to letters with stories. That's why such emails draw attention to themselves.
Features of email storytelling
Content story emails are usually lengthy, but if your story holds the reader's attention from the beginning, the recipient is more likely to finish the email and possibly take targeted action.
Important: storytelling in a letter begins with the subject and the preheader. No matter how exciting the story is in the letter, it may not be opened at all if the headline is boring.
Storytelling techniques in emails
You can tell stories in letters in the following ways:
Blog article announcements as standalone stories.
A short story that leads to a targeted action.
Letter from the blog editor.
Stories in article previewsю
Quotes and stories from the brand's customersю
Stories with a brand mascot.
Cases.
Comics.
You can also include videos in mailings, tell jokes in letters, start a series of letters, conclude each letter with an intrigue – so the reader expects the next one, and use a variety of formats (text + photos + video) in your mailings.