Facebook Adding Context Labels to Pages Seen in News Feeds
Context of Facebook Pages
There are times where understanding the context of an article is important because the article makes more sense when there is additional information.
For example some articles in a Facebook news feed are satire. Satire is humor, often in the form of exaggeration or implausible situations meant to poke fun at people and other entities.
But sometimes the satire might seem real to a person who isn't aware that something is meant to be a joke and the title of the article might be taken for fact.
Here's a screenshot of a "news" report by the satire site The Onion. It looks like a real news video but it's actually just satire.
Screenshot of a Facebook Video by The Onion that Resembles a News Report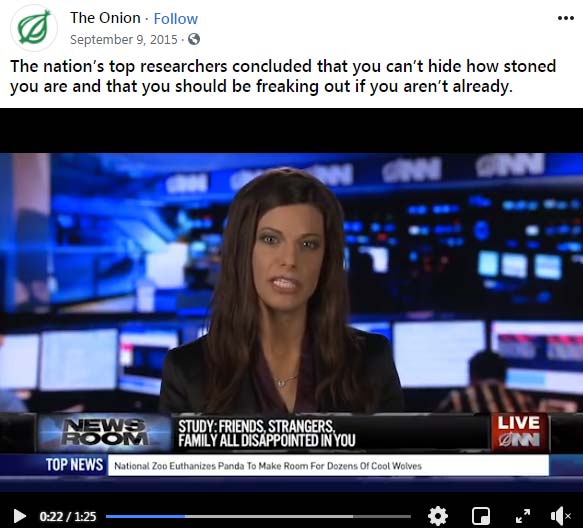 In this case it's a satirical "news" report that's ridiculing certain pot smokers anxieties about others becoming aware that they've been smoking marijuana.
Facebook tweeted about the new policy:
"Starting today in the US, we're testing a way to give people more context about the Pages they see. We'll gradually start applying labels including 'public official,' 'fan page' or 'satire page' to posts in News Feed, so people can better understand who they're coming from."
The response to Facebook's announcement on Twitter reflected today's hyper political environment and general distrust of big tech.
Who Will Apply the Article Labels to Facebook Pages?
Nevertheless some valid concerns were expressed about bias in the labeling process and if some labels will be unfair. Those fears may be unfounded.
The tweet announcing Facebook's new policy contained an FAQ about the policy that implies that Facebook Pages themselves will be able to label themselves.
This is what was in the FAQ:
"What are Satire Pages?

They're a way for people to share social commentary by using humor, exaggeration and absurdity to make a point.

Why are they labeled as Satire Pages?

Posts from Satire Pages can appear very similar to posts from public figures or conventional news sources. Pages can label themselves as Satire Pages to help avoid this confusion."
The quote from an FAQ about the labels strongly implies that the Facebook Pages themselves do the labeling. If that's the case then there should be no fears about having an inappropriate label applied.
Screenshot of Facebook Page Article Label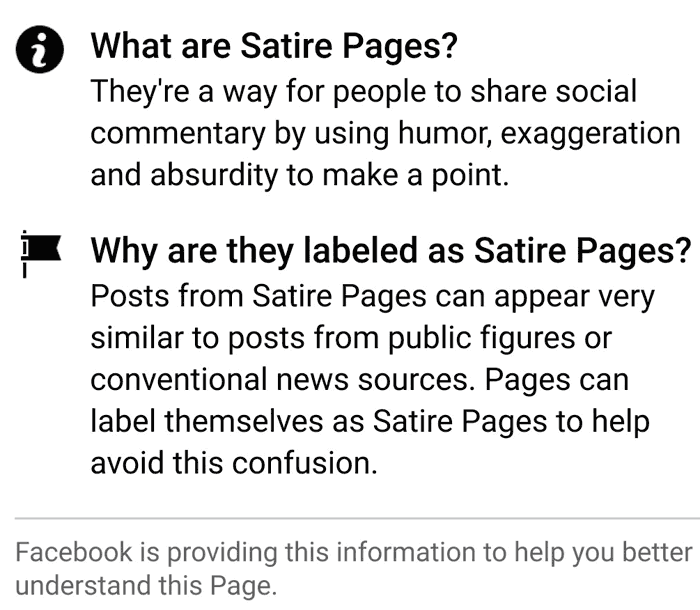 Although it appears that Facebook Page admins will be able to select their labels, it may still be prudent for everyone who manages social media with exposure in the United States to monitor if Facebook is adding an article label to Facebook Page posts that show up in member Facebook news feeds and to validate if those article labels accurately describe what the Facebook page is about.
Citation:
Read Facebook's announcement on Twitter
Brandi Carlile and Catherine Shepherd Full Relationship Timeline
Once upon a time, Brandi Carlile and Catherine Shepherd first crossed paths via the telephone while they were in different countries and kept in touch FOR AN ENTIRE YEAR before they met IRL and fell in love. ❤️ They've been going strong ever since and have (blessedly) not been shy about posting their adorable 'ship on social. Prepare to laugh, cry, and see tons of endearing Facebook life update posts as we walk through their decades-long 'ship!
2009
Truly still can't get over how iconic the beginning of this love story was. Way back when, Catherine—who is originally from the United Kingdom—was working for former Beatles singer Paul McCartney's charity. During one fated day while she was reaching out to donate Beatles memorabilia to Brandi's Fight the Fear campaign, she actually wound up speaking to the singer herself. And the rest is history! Well…kind of.
2010
The pair wound up speaking for an entire year (!!) before they finally met IRL in New York City in 2010. "It was shocking to say the least," Brandi confessed to People over a decade later in April 2021. "Every time I talked to her over the phone, I thought I was talking to somebody who was like 65 years old. I don't know why. I think because of her wisdom and her demeanor. Or maybe I thought she was Paul's age or something. So we met backstage in New York, and we were both like 27."
Obsessed with them. Obsessed with this pic. Obsessed with everything!
May 16, 2012
Brandi and Catherine walked their first red carpet at the 2012 Donor Of The Day Celebration at The Whitney Museum of American Art in New York. 😭❤️
September 15, 2012
Only a few months after their red carpet ~debut~, the duo tied the knot in Boston during a ceremony in front of family and friends. At the time, Brandi took to Facebook to share everything that went down, including some truly wow moments you couldn't make up if you tried.
"See I'm sure all weddings have an insane week preceding the event but me and Catherine might have won that contest," the singer wrote on Facebook. "Bailey (the dog) had to be rushed to the vet on our wedding day, and the day before the wedding we had to put down one of our goats (RIP Tim). To top it all off our priest didn't show up! Ha ha! (Not her fault but it'll be one of those funny stories well be telling for years). My church friends Jason and Mandy were there and Jason performed the perfect ceremony with 15 minutes notice!" she continued.
Even with all this happening, Brandi maintained, "It was truly one of our best days, completely awkward and human and beautiful. I'm married to my best friend and nothing has ever brought me more joy than that." Obsessed!
February 2013
"The more the merrier" was clearly the wedding theme for Brandi and Catherine, because they wound up following their Boston wedding with a ceremony in Brandi's home state of Washington before heading to England for a civil ceremony in front of Catherine's friends and family.
In another Facebook post, the Grammy winner mused the following alongside an image of herself and Catherine at their wedding venue: "We had our London ceremony at the famous Chelsea Old Town Hall. It was one of our best days and when the officiant asked if anyone could think of a reason we should not be married, a four-year-old guest wisely shouted NO!"
June 15, 2014
Congrats were in order for the stunning couple, who welcomed their first child, daughter Evangeline Ruth, in 2014. Brandi shared an adorbs photo of the bb with the caption, "Please allow me to introduce Evangeline Ruth Carlile, Born June 15th. Welcome to the world kid! xobc."
The couple opened up about having IVF treatments to get pregnant, and Brandi was super honest about the process.
"I made peace with knowing that there was some pioneering involved in what we were doing, to the point where there wasn't even a two mother template on a birth certificate yet," she confessed to People. "There is now, but psychologically, all these things are really hard. And the high dive into parenting is a complicated leap to take anyway…I'm hoping people see through my story that there's no right or wrong way to evolve into a parenting role in either heterosexual or same-sex relationships."
February 15, 2016
Brandi and Catherine looked amaze during their appearance at the 58th annual Grammy Awards. The night was especially meaningful, as it also marked Brandi's first year being nominated for Best Americana Album for The Firewatcher's Daughter.
January 6, 2017
The duo realized a bucket list goal after attending a farewell party at the White House for former President Barack Obama. Always a Facebook girly, Brandi took to the platform to reflect on the evening: "We had the unbelievable privilege of spending the evening at the White House with the first family and friends in what will no doubt go down in history as a legendary party! It was so diverse and beautiful, full of all walks of life and an amazing sense of strength and community."
March 18, 2018
Brandi and Catherine welcomed baby number two, a daughter named Elijah.
On Instagram, the singer noted that the newest addition to their family was 9 pounds, making Catherine "a beast." Truly loving the sense of humor these two have. 😂
February 10, 2019
The couple stepped out to attend the 61st Grammy Awards, where Brandi delivered a legendary performance of her song "The Joke."
This content is imported from youTube. You may be able to find the same content in another format, or you may be able to find more information, at their web site.
Oh, and she also happened to be the most-nominated female artist of the night, NBD. (But actually, Very Big Deal.)
April 6, 2021
Brandi released her memoir, Broken Horses, which topped the New York Times bestseller list shortly after its release. I mean, what can't she do?!?!?
June 1, 2021
Though Catherine doesn't have an Instagram, she cheekily did a takeover on her wife's account to celebrate her 40th birthday, and it could not be any cuter. "Happy 40th birthday to my beautiful, brilliant and fearless wife Brandi. I woke up this morning thinking about us falling in love on the eve of your 30th birthday 10 years ago in New York City. We were both tortured poets, too thin and unaware of the remarkable life that we were about to build together."
P.S. Should you choose to read the whole post (you're doing yourself a serious disservice if you don't), you're gonna wanna break out a box or two of Kleenex.
May 8, 2022
Brandi posts a sweet Mother's Day vid to Instagram. Cue the waterworks again!
August 10, 2022
Brandi and Catherine decide to launch their monthly radio show, Somewhere Over the Radio.
A few months later, the singer posts a clip of herself and Catherine goofing off in the studio alongside the caption, "My wife Catherine took me to work with her today. I took it very seriously because I'm a professional, she on the other hand… 🤪. For those of you who've been living under a rock these past few months, my wife and I have a radio show! Celebrating queer brilliance in music!"
October 14, 2022
The couple beautifully sang Brandi's song "You and Me on the Rock" for a live IMAX event.
Literally no words, just seconding *the* Mandy Moore's comment: "Damn! Of course you both sound like magic together. So beautiful!!!!"
And that's about it! This timeline will be updated with the next sweet installment of Brandi and Catherine's relationship.
Instagram's co-founders launch Artifact, a kind of TikTok for text
Kevin Systrom and Mike Krieger are back.
The Instagram co-founders, who departed Facebook in 2018 amid tensions with their parent company, have formed a new venture to explore ideas for next-generation social apps. Their first product is Artifact, a personalized news feed that uses machine learning to understand your interests and will soon let you discuss those articles with friends.
Artifact — the name represents the merging of articles, facts, and artificial intelligence — is opening up its waiting list to the public today. The company plans to let users in quickly, Systrom says. You can sign up yourself here; the app is available for both Android and iOS.
The simplest way to understand Artifact is as a kind of TikTok for text, though you might also call it Google Reader reborn as a mobile app or maybe even a surprise attack on Twitter. The app opens to a feed of popular articles chosen from a curated list of publishers ranging from leading news organizations like The New York Times to small-scale blogs about niche topics. Tap on articles that interest you, and Artifact will serve you similar posts and stories in the future, just as watching videos on TikTok's For You page tunes its algorithm over time.
"Every time we use machine learning to improve the consumer experience, things got really good really quickly."
Users who come in from the waitlist today will see only that central ranked feed. But Artifact beta users are currently testing two more features that Systrom expects to become core pillars of the app. One is a feed showing articles posted by users that you have chosen to follow, along with their commentary on those posts. (You won't be able to post raw text without a link, at least for now.) The second is a direct message inbox so you can discuss the posts you read privately with friends.
In one sense, Artifact can feel like a throwback. Inspired by TikTok's success, big social platforms have spent the past few years chasing shortform video products and the ad revenue that comes with them.
Meanwhile, like a social network from the late 2000s, Artifact has its sights set firmly on text. But the founders are hopeful that a decade-plus of lessons learned, along with recent advances in artificial intelligence, will help their app break through to a bigger audience.
Systrom and Krieger first began discussing the idea for what became Artifact a couple years ago, he told me. Systrom said he was once skeptical of the ability of machine-learning systems to improve recommendations — but his experience at Instagram turned him into a true believer.
"Throughout the years, what I saw was that every time we use machine learning to improve the consumer experience, things got really good really quickly," he said.
But Systrom told me they didn't want to start a new company until three things happened: One, a big new wave in consumer technology that he and Krieger could attempt to catch. Two, a way to connect that wave to social technology, which he and Krieger continue to feel invested in emotionally. And three, an idea for how their product could solve a problem — Systrom has long considered technology design from the standpoint of what jobs it can do for its customers.
The tech that enabled ChatGPT also created new possibilities for social networks
The breakthrough that enabled Artifact was the transformer, which Google invented in 2017. It offers a mechanism for systems to understand language using far fewer inputs than had previously been required.
The transformer helped machine-learning systems improve at a much faster pace, leading directly to last year's release of ChatGPT and the attendant boom in interest around AI. (Transformers are the "T" in ChatGPT.)
It also created some new possibilities for social networks. At first, social networks showed you stuff your friends thought was interesting — the Facebook model. Then they started showing you stuff based on the people that you chose to follow, whether you were friends or not — the Twitter model.
TikTok's innovation was to show you stuff using only algorithmic predictions, regardless of who your friends are or who you followed. It soon became the most downloaded app in the world.
Artifact represents an effort to do the same thing but for text.
"I saw that shift, and I was like, 'Oh, that's the future of social,'" Systrom said. "These unconnected graphs; these graphs that are learned rather than explicitly created. And what was funny to me is as I looked around, I was like, 'Man, why isn't this happening everywhere in social? Why is Twitter still primarily follow-based? Why is Facebook?'"
Artifact will take seriously the job of serving readers with high-quality news and information
Like most startups at this stage, Artifact has yet to commit to a business model. Advertising would be an obvious fit, Systrom said. He's also interested in thinking about revenue-sharing deals with publishers. If Artifact gets big, it could help readers find new publications and encourage them to subscribe to them; it may make sense for Artifact to try to take a cut.
Systrom also told me Artifact will take seriously the job of serving readers with high-quality news and information. That means an effort to include only publishers who adhere to editorial standards of quality, he told me. For now, the company won't disclose every publisher in its system, but you can search for individual outlets within the app.
Both left- and right-leaning publishers were included; you'll find Fox News there, for example. But Systrom isn't shy about the fact that the company will be exercising its own judgment about who belongs and who doesn't.
"One of the issues with technology recently has been a lot of these companies' unwillingness to make subjective judgments in the name of quality and progress for humanity," he says. "Right? Just make the hard decision."
Artifact will also remove individual posts that promote falsehoods, he says. And its machine-learning systems will be primarily optimized to measure how long you spend reading about various subjects — as opposed to, say, what generates the most clicks and comments — in an effort to reward more deeply engaging material.
"We fundamentally like building."
For now, Systrom and Krieger are funding Artifact themselves, though I imagine they will soon have investors beating a path to their doors. A team of seven people is now working on the app, including Robby Stein, a top product executive at Instagram from 2016 to 2021.
Having sold Instagram to Facebook for $715 million, Systrom and Krieger had no pressing need to get a job. So what's driving them this time?
"We fundamentally like building," Systrom said. "There's no other place in the world we'd rather spend our time than writing code and building products that people enjoy. I just love it."
Advances in AI have also captured their imaginations, he said.
"I think machine learning is undeniably the coolest thing to work on right now," he said. "Not because it's hip, but because when it knows you're into a certain topic, and it totally gets you, you're like, 'How is it that just some numbers multiplied together did that?' The CTO of OpenAI said that machine learning is basically many months of things not working, and then suddenly it works, and then it works scarily well. I resonate with that."
I've only used Artifact for a few hours now, and many of the features that the company plans to build remain in the planning stages. As you would expect from Systrom and Krieger, the app already shows a good deal of polish. Read an article inside the app, and when you return to the feed, it will suggest more stories like it in a handsome carousel. The app automatically switches to dark mode at night. And when you post a link, you can choose whether to let everyone comment, limit comments to people you follow, or shut them off entirely.
In many ways, I think the time is ripe for this kind of product. AI really is making new things possible in consumer apps, and the collapse of Twitter under Elon Musk has created an opportunity for a team with genuine expertise in this space to take a run at text-based social networking again.
To succeed on a grand scale, I suspect Artifact will have to do more than simply show you a collection of interesting links. Even in the current depressed state of digital publishing, the web remains rich with stories of interest, as anyone who has ever glanced at the list of clickbait headlines below the Google search box these days can attest. Few people spend much time complaining that they can't find anything good to read on the internet.
Yes, AI represents a huge part of TikTok's success. But like Twitter before it, TikTok also succeeded because of the way it captures conversations about the core feed — more than a few tweets have gone viral noting that the comments on TikTok are often better than the videos themselves. Similarly, Twitter endures as a primary source for breaking news in large part because it's where elites go to discuss the news in public.
That aspect of Artifact remains under construction. But if Systrom and Krieger can bring the same craftsmanship to that part of the product that they brought to Instagram, it might not be long before they have me once again forgetting my Mastodon login.
Where Will Meta Stock Be in 1 Year?
Meta Platforms (META -3.08%) had an awful 2022. Revenue growth stalled at just the wrong time for the social media business, leading to collapsing earnings in the nine months that ended in late September. The company will close out 2022 with its Q4 earnings announcement in early February that's expected to show a 3% sales drop.
Wall Street isn't optimistic about the year ahead, either. Most Wall Street pros forecast that revenue will rise in the low-single-digit-percentage range as annual earnings decline for a second straight year.
Let's look behind those headline projections for clues to where the stock might be headed as management works to turn the Facebook owner around.
Meta is growing faster
The immediate challenge for CEO Mark Zuckerberg and his team is to get the business back on a growth footing. The good news is that this goal is more achievable than you might think after a glance at the company's 4% year-over-year sales decline in Q3. Strip out currency exchange rate shifts and that figure becomes a 2% increase, after all.
Meta is still gaining users, too, even on its most mature platform, Facebook. It's not hard to see how a sustained focus on engaging videos in the Reels service can contribute to improving sales trends in 2023. "The fundamentals are there for a return to stronger revenue growth," Zuckerberg told investors in late October. Ideally, executives will back up those words with more concrete signs of a rebound in the early February update.
Meta has been slashing costs
Meta entered the 2022 year with some of the best finances in the tech industry. But the scale of its negative turn here has been hard to watch.
Operating income through the first three quarters of the year dropped to $22.5 billion from $34.2 billion. Net income in that period fell by more than $10 billion to $18.5 billion.
Watch for Meta to be brutal in slashing costs this year so it can end this profitability slide. The company already got the ball rolling here as it closed offices and announced layoffs in some areas. Yet these moves likely won't start affecting the bottom line in a big way until future years, perhaps when sales growth is accelerating again.
The big questions Meta needs to answer
Meta isn't skimping on the investments that management thinks will drive growth over the next several years. The Reality Labs division, home to the Quest VR brand, is projecting accelerating losses in 2023 as spending ramps up in areas like hardware and the metaverse. The company should add more context about these projects when it closes out fiscal 2022 and issues its first detailed projection for the new year ahead.
The stock's path in 2023 will depend in part on things that are outside Meta's control, including the pace of advertising spending and consumers' discretionary tech budgets.
Yet there's still plenty the company can do to improve sales and profitability trends over the next several quarters. And if both metrics have started rebounding, Meta shares have a good chance at outperforming the market in 2023 after posting their worst year yet last year.
Randi Zuckerberg, a former director of market development and spokeswoman for Facebook and sister to Meta Platforms CEO Mark Zuckerberg, is a member of The Motley Fool's board of directors. Demitri Kalogeropoulos has positions in Meta Platforms. The Motley Fool has positions in and recommends Meta Platforms. The Motley Fool has a disclosure policy.