Facebook Adding Context Labels to Pages Seen in News Feeds
Context of Facebook Pages
There are times where understanding the context of an article is important because the article makes more sense when there is additional information.
For example some articles in a Facebook news feed are satire. Satire is humor, often in the form of exaggeration or implausible situations meant to poke fun at people and other entities.
But sometimes the satire might seem real to a person who isn't aware that something is meant to be a joke and the title of the article might be taken for fact.
Here's a screenshot of a "news" report by the satire site The Onion. It looks like a real news video but it's actually just satire.
Screenshot of a Facebook Video by The Onion that Resembles a News Report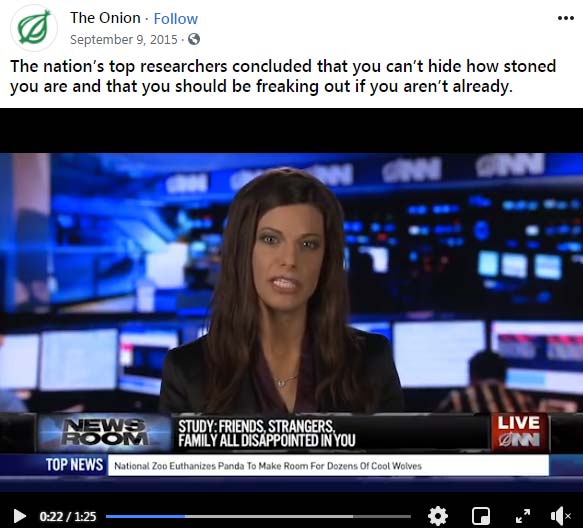 In this case it's a satirical "news" report that's ridiculing certain pot smokers anxieties about others becoming aware that they've been smoking marijuana.
Facebook tweeted about the new policy:
"Starting today in the US, we're testing a way to give people more context about the Pages they see. We'll gradually start applying labels including 'public official,' 'fan page' or 'satire page' to posts in News Feed, so people can better understand who they're coming from."
The response to Facebook's announcement on Twitter reflected today's hyper political environment and general distrust of big tech.
Who Will Apply the Article Labels to Facebook Pages?
Nevertheless some valid concerns were expressed about bias in the labeling process and if some labels will be unfair. Those fears may be unfounded.
The tweet announcing Facebook's new policy contained an FAQ about the policy that implies that Facebook Pages themselves will be able to label themselves.
This is what was in the FAQ:
"What are Satire Pages?

They're a way for people to share social commentary by using humor, exaggeration and absurdity to make a point.

Why are they labeled as Satire Pages?

Posts from Satire Pages can appear very similar to posts from public figures or conventional news sources. Pages can label themselves as Satire Pages to help avoid this confusion."
The quote from an FAQ about the labels strongly implies that the Facebook Pages themselves do the labeling. If that's the case then there should be no fears about having an inappropriate label applied.
Screenshot of Facebook Page Article Label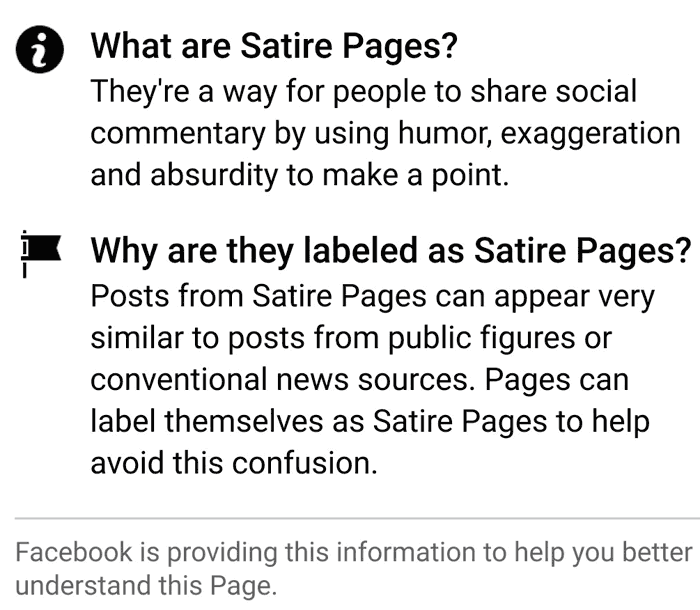 Although it appears that Facebook Page admins will be able to select their labels, it may still be prudent for everyone who manages social media with exposure in the United States to monitor if Facebook is adding an article label to Facebook Page posts that show up in member Facebook news feeds and to validate if those article labels accurately describe what the Facebook page is about.
Citation:
Read Facebook's announcement on Twitter
Facebook fighting against disinformation: Launch new options
Meta, the parent company of Facebook, has dismantled new malicious networks that used vaccine debates to harass professionals or sow division in some countries, a sign that disinformation about the pandemic, spread for political ends, is on the wane not.
"They insulted doctors, journalists and elected officials, calling them supporters of the Nazis because they were promoting vaccines against the Covid, ensuring that compulsory vaccination would lead to a dictatorship of health," explained Mike Dvilyanski, director investigations into emerging threats, at a press conference on Wednesday.
He was referring to a network linked to an anti-vaccination movement called "V_V", which the Californian group accuses of having carried out a campaign of intimidation and mass harassment in Italy and France, against health figures, media and politics.
The authors of this operation coordinated in particular via the Telegram messaging system, where the volunteers had access to lists of people to target and to "training" to avoid automatic detection by Facebook.
Their tactics included leaving comments under victims' messages rather than posting content, and using slightly changed spellings like "vaxcinati" instead of "vaccinati", meaning "people vaccinated" in Italian.
The social media giant said it was difficult to assess the reach and impact of the campaign, which took place across different platforms.
This is a "psychological war" against people in favor of vaccines, according to Graphika, a company specializing in the analysis of social networks, which published Wednesday a report on the movement "V_V", whose name comes from the Italian verb "vivere" ("to live").
"We have observed what appears to be a sprawling populist movement that combines existing conspiratorial theories with anti-authoritarian narratives, and a torrent of health disinformation," experts detail.
They estimate that "V_V" brings together some 20,000 supporters, some of whom have taken part in acts of vandalism against hospitals and operations to interfere with vaccinations, by making medical appointments without honoring them, for example.
Change on Facebook
Facebook announces news that will facilitate your sales and purchases on the social network.
Mark Zuckerberg, the boss of Facebook, announced that the parent company would now be called Meta, to better represent all of its activities, from social networks to virtual reality, but the names of the different services will remain unchanged. A month later, Meta is already announcing news for the social network.
The first is the launch of online stores in Facebook groups. A "Shop" tab will appear and will allow members to buy products directly through the group in question.
Other features have been communicated with the aim of facilitating e-commerce within the social network, such as the display of recommendations and a better mention of products or even Live Shopping. At this time, no date has been announced regarding the launch of these new options.
In the light of recent features, the company wants to know the feedback from its users through the survey same like what Tesco doing to get its customers feedback via Tesco Views Survey. However, the company is still about this feedback will announce sooner than later in this regard.