18 Ways to Improve Your Organic Click-Through Rate (CTR)
Many times, marketers focus their SEO efforts entirely on discoverability.
They want to tick that careful balance between keyword optimized and "keyword stuffed," but here's a secret: being on the first page of search engine results pages (SERPs) won't do you any good if searchers aren't interested in your content.
Instead of focusing all your efforts on creating local SEO content to bag that top spot, you need to understand what turns searchers into readers, and readers into customers, through first improving your organic click-through rate (CTR).
Why Should You Care About Your Organic CTR?
Organic click-through rate refers to the percentage of users who click on a search engine result. In this case, that result would be your URL. While it's primarily dependent on ranking position (the more people that see your content, the higher chance they'll click), it is also influenced by a variety of other factors.
If you focus your efforts on improving organic CTR, you can also improve your Google ranking. When URLs are being frequently visited, the search engine algorithm will consider your page to be valuable and relevant to future queries containing your content keywords.
18 Ways to Improve Your Organic CTR
Now that you know what organic CTR is and why it's important, let's dive into how you can improve yours.
1. Use Long-Tail Keywords
One of the first ways you can boost your organic CTR is by using long-tail keywords—especially in your headings and title tags. Long-tail keywords are highly descriptive and, as a result, they match your content to search intent.
When users see a descriptive long-tail keyword relevant to what they're looking for, they're motivated to click on your URL as they're confident your post will contain the information they're looking for.
How do you find long-tail keywords that meet user intent?
Using keyword research tools like Ubersuggest will help. Simply plug in your seed keyword in the search bar and click "search." Next, click on the "Keyword Ideas" in the left sidebar.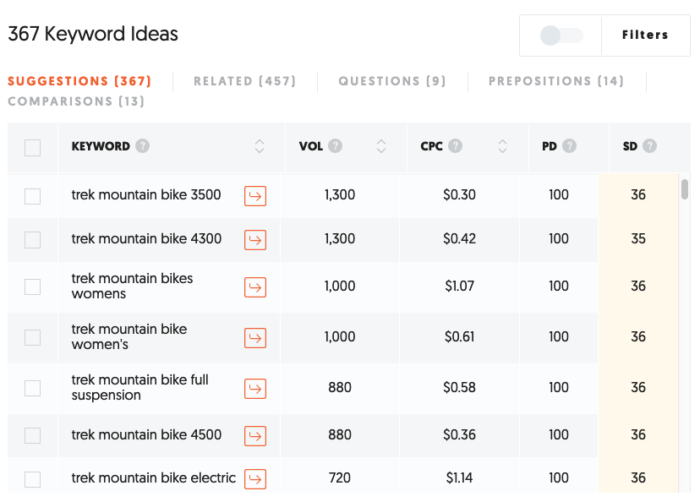 All that's left is to select the keywords that are relevant to your post, and include them in your new content.
2. Write Effective Meta Descriptions
Another strategic way of improving your organic CTR is to write effective meta descriptions. These are the snippets of text that appear below your title tag in the SERPs. An effective meta description informs users what your page is about and also compels them to click through to your post.
Again, your keywords will come in handy here. Use them to show users that your article solves a problem they're needing answers for. Other ways of optimizing your meta description include:
Answering questions: If you can answer your users' questions in the meta description, you've won half the battle driving your organic click-through rate up.
Make it specific and relevant: You only have 160 characters to craft a meta description. That's why you must make yours as specific and relevant as possible.
Powerful language: Use persuasive and powerful language, such as emotionally charged words to elicit strong responses associated with your post to improve your CTR.
Meta descriptions shouldn't just be a product feature—turn it into an elevator pitch to convince users you have the content and solution for them. If possible, you can also add a CTA (such as "learn more" and "find out how.")
3. Implement Structured Data
Implementing structured data is a great way to "speak" to search engine algorithms. You can do this by using Schema.org to change your content into code that search engines can easily process. This will help them display rich, interactive search results. These are commonly called rich snippets (which we'll talk more on later).
Of course, this type of search result attracts more clicks because:
They appear at the top of the SERPs.
They are more attractive than plain URLs.
They give more information about the content at a glance.
Implementing structured data will boost your organic CTR rates as people love interactive content.
4. Create Posts With Images
Using images in your posts is a common practice, but did you know it can improve your organic CTR? Images in your content are a powerful way to boost engagement. They are an essential ingredient to your content appearing in the featured snippets and other infoboxes on the SERPs.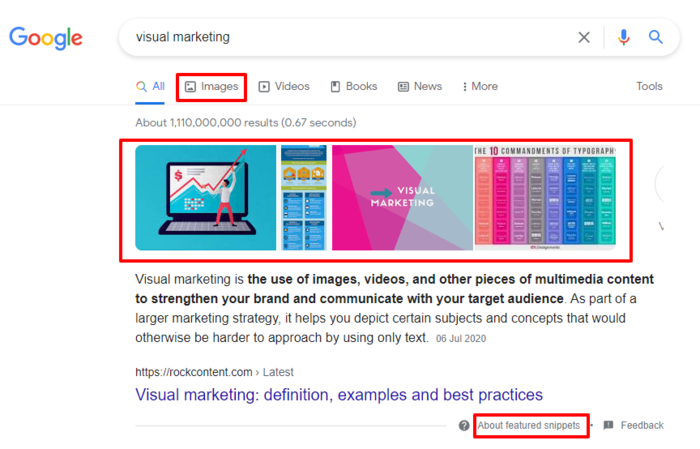 Not only that, but it also improves the chances of your URL being clicked on when users look for search results in the images section. For this to work, you must implement image SEO best practices like naming your images properly and adding alt text.
5. Use Descriptive URLs
Your page URL is one of the main pieces of information shown on SERPs. As such, you must optimize it to help you improve your organic CTR.
One way you can do that is by making it as descriptive as possible.

Try to naturally include your keyword in your URL. This will reinforce the core topic your post is about, thereby showing users that your content is relevant.
Another tip for optimizing your URL is to keep it short. This makes it easier on the eye as well as more attractive. As a result, more people will click on it.
If you're a WordPress user, you can change your URL in your permalink settings.
6. Simplify Your Title Format
Your title tag is another part of the information displayed on the SERPs, and you must take your time to format it properly. The best way to do so is to keep it simple.
Remember, people usually skim through the search results looking for the most relevant result. If your title is simple and clearly explains what the post is about, you'll drive more clicks.
Another title tag tip that will optimize your organic CTR is to leverage your corporate or personal branding. Here's how I do it:

This tip will work especially well if you're already an authority in your niche. Recognizing that the post is from a respected and trusted source will give users the confidence to click on your URL. Make sure you:
Don't frontload your brand: I used to put my name at the front of the title but then I noticed it caused my rankings to drop.
Make sure your title is clear: notice that the title in the above screenshot is cut-off, but the topic has already been covered.
Use tools such as Avid Demand to preview what your content will look like on the SERPs.
7. Localize Your Content
Mobile has rapidly overtaken desktop for internet traffic sources. Most mobiles have locations turned on, for map functions, allowing Google to read their location and provide local solutions. Creating localized content is great for SMEs who only operate in certain areas and in-person service businesses.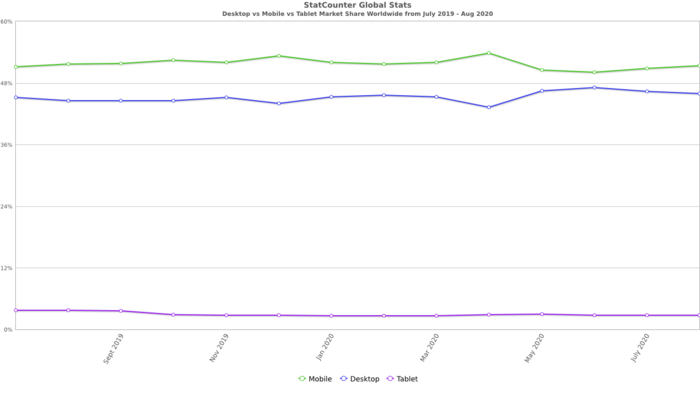 Through localized content, you can target your audience efficiently—and receive high-intent customers as a result, who are already looking online for something you sell or offer.
One way of localizing your content is to add your location in your content, meta description, and title tag. Another tip is to list your business on Google My Business (GMB). This literally puts you on the map. When local searches are made, your location and other business info will appear in the search results alongside competitors.
Remember, to drive clicks, you must offer relevant information. For local searches, it doesn't get more relevant than seeing your location in your metadata.
8. Use the Listicle Format
People love lists.
Why? Listicles require minimum cognitive effort to digest.
Include them in your content strategy to improve organic clicks. To do that, make sure to include numbers in your headline and title tag. This will make it clear to users that beyond the click is an easy-to-read listicle.
Another organic CTR boosting reason to use listicles is that they increase your chances of appearing in featured snippets.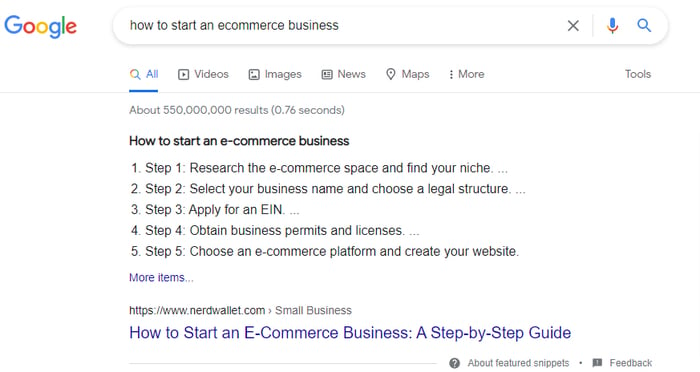 Notice how the headline doesn't include a number, yet Google shows users that the post is a listicle in the featured snippet? Google's SERP knows what content types are most useful to its audiences, and using listicles is bound to boost your organic CTR.
9. A/B Test Headlines on Social Media
Your headline is your first chance to compel users to click on your article. As it plays such an important role, you must make sure it resonates with your target audience.
One way to do that is by testing it on social media.
Once you've optimized your headline with tools like CoSchedule's Headline Analyzer, test out your headline by sharing your article on your favorite social media platforms.
Give it a few days and then change the title of your headline and re-publish your post. Share the new article on social media and wait for the same number of days as you gave the first post then check the engagement rates for both.
The headline that drives the most engagement wins and should be the headline to use. This A/B test works best if you have a large audience on social media.
10. Use Yoast Preview (in WordPress)
For WordPress users, Yoast is another SEO tool you can use to improve your organic CTR. Before you publish your post, preview your snippet as it will appear on SERPs. You can then make changes according to the recommendations given.
This will help you see if any keywords are cut off, or even if your snippet makes sense. It also works for mobile, too, so no need to worry about cross-platform searches.
11. Use Google Ads to Preview (Other CDN)
Google AdWords Preview Tool is an alternative to Yoast SEO that also has an extra feature: it allows you to preview Ads.
Ad previews can also be optimized for organic CTR on both mobile and desktop, with alternative titles provided. This is a great way to see how different ideas would work while possibly generating new ideas for content.
12. Identify CTR Winners and Losers
One essential step to improving your organic CTR is to calculate the winners and losers of your current pages. This will show you which pages, titles, and content types are performing well as well as which are performing poorly.
You can easily use Google Analytics for this information.
First, go to "Acquisition," then "Search Console," then "Queries" and learn which Google searches lead to your current pages.

The report will show you valuable information like the clicks, impressions, CTR, and average SERP position of your pages. It also shows bounce rates, sessions, conversions, and other valuable data.
Next, in the same menu, you can also check your landing pages.
Using these two reports, you can see what works and what doesn't. You can then revisit old pages and web content to optimize them for more organic click-throughs.
13. Optimize Site Speed
With Google prioritizing Page Experience and Web Core Vitals as ranking factors, site speed has never been more important.
If your website isn't optimized for speed, people may click on your link but will quickly bounce off, negatively affecting your organic CTR. To put it in perspective, on mobile devices, a leap from one to three seconds in site speed increases bounce rates by 32 percent.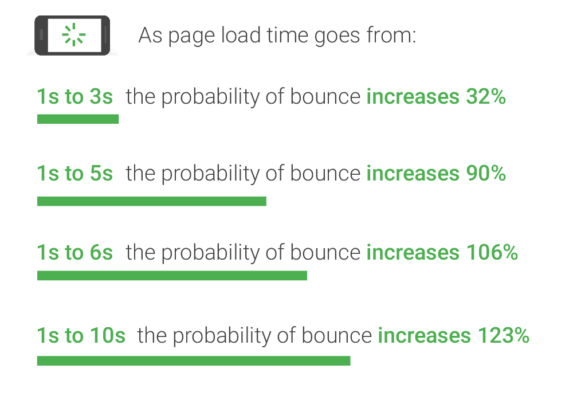 Again, this is where a tool like Ubersuggest comes in handy. To check your site speed, enter your URL into the search bar and click "Search." Next, head to the left side of the sidebar and click "Site audit." Scroll down to "Site Speed" and you'll be shown the loading time for mobile and desktop. In addition to loading time, it also tests:
First Contentful Paint
Speed Index
Time to Interactive
First Meaningful Paint
First CPU Idle
Est. Input Latency
Ubersuggest will outline where you can make site improvements. Take its guidance into consideration, make the necessary changes, and then test your site speed again.
14. Utilize Rich Snippets
As we touched on earlier, rich snippets are another way you can drive clicks to your website. These are search results with data displayed alongside. Here's an example:

The only ways to show those reviews and ratings in search results are either (A) activating a rich snippet plugin or (B) coding it manually. The extra information (like ratings, for example), helps users decide whether to click on your URL or not.
15. Activate Breadcrumb Navigation
"Breadcrumb navigation" is coined after the trail of bread crumbs left by Hansel and Gretel to find their way back home. Just like in the fairy tale, its secondary navigation helps you easily trace your steps back on a website.
The primary purpose of bread crumb navigation is to provide users with a positive user experience. This has a snowball effect that results in your website ranking higher and thus results in higher organic CTR.
Activating bread crumb navigation on your website is not an option. It's vital to your success, and must be a deliberate part of your strategy. Here are detailed instructions on how you can do just that.
16. Leverage Google Analytics Reports
Have you been keeping an eye on your Google Analytics reports? These actually deliver the information you need to improve organic search performance and your landing page conversion rates. This will result in better calls-to-action and, ultimately, a higher quality score.
If you know what to look for, your Analytics Dashboard can tell you exactly how Google's AI and your users perceive your site's pages. You can then tailor them to be optimized to rank and for engagement.
17. Build High Converting Landing Pages
Landing pages are an essential element of your digital marketing strategy.
After all, designed well, they are an excellent source of traffic. To ensure your landing pages succeed in doing that you should:
Understand landing page anatomy—elements such as a clear and concise headline, high-quality images, well-produced videos, persuasive copy, and calls-to-action should be done right.
Optimize for UX—give users a positive experience by ensuring the landing page loads fast and is easy to read.
Doing this will likely increase your conversions and improve your click-through rates.
18. Use Heatmaps to Improve Site Clicks
A smart way to get the most out of your site users is to understand the areas of your web page where they click the most. It's also an excellent idea to check where most users drop off. This is essential as it will help you know which parts of your website to improve.
Why is this important?
When people spend more time on your website and engage with it by clicking through to other pages, search engines take it as a signal that your content is valuable. On the other hand, if your bounce rate is high, your website will be ranked lower as search engines see that as a sign that your content is unhelpful.
Organic CTR Frequently Asked Questions
What Is a Good Organic CTR?
The average organic CTR is between 3-5 percent. However, a good organic CTR is not benchmarked against industry standards but against your own CTR curve.
What Is the Significance of the Organic CTR ?
Organic CTR is an important metric to track as it impacts your rankings and the amount of traffic that comes to your website.
What Are Some Common Reasons for a Low CTR?
Common reasons for low CTR include metadata that's not compelling enough. It could also be because of not utilizing rich snippets among other things.
Is a High CTR Good or Bad?
Having a high CTR is good for business as it means more traffic to your website. It also means better brand awareness as your rankings will improve.
Organic Click-Through Rate (CTR) Conclusion
Your organic CTR plays a crucial role in the success of your digital marketing campaigns.
It's "free" customers coming in to browse your business, brand, products, and services.
Therefore, optimizing your content must be a priority.
With so many options for improving CTRs, it's no longer a hassle for website and business owners. Plus, the results are certainly worth the effort and speak for themselves.
What strategies do you use to improve your organic CTR?
See How My Agency Can Drive Massive Amounts of Traffic to Your Website
SEO – unlock massive amounts of SEO traffic. See real results.
Content Marketing – our team creates epic content that will get shared, get links, and attract traffic.
Paid Media – effective paid strategies with clear ROI.
An In-Depth Guide For Beginners
Every month, 2.98 billion people around the globe open up their laptops or smart devices and navigate their way to Facebook.
That's roughly a quarter of everyone in the world, visiting the same social media platform, every single day.
Mark Zuckerberg likely didn't imagine such astounding reach in his wildest dreams when he launched the first iteration of what would become the world's most popular social networking site in 2003.
These days, nearly everyone uses Facebook, and it's become as much a part of daily life as watching television.
For marketers, this means a massive opportunity to reach and engage with new audiences.
But you can't just set up a company page and hope to attract millions of followers. You need a plan to capitalize on these opportunities and make the maximum impact.
If you're a Facebook marketing beginner, this may sound like a daunting task, but don't worry – it's easier than you think.
Continue reading for an in-depth guide to Facebook marketing that you can use to get started right away.
What Is Facebook Marketing?
Facebook marketing is the process of using the social media platform to promote your business to potential buyers.
There are a variety of ways to do this, both paid and organic.
Paid Facebook marketing means using advertising campaigns within the platform to target people on the site and ideally, convert them into customers.
Organic marketing on Facebook occurs when you post content that your targets will find valuable, with the goal of increasing your following and engaging with your audience.
Why You Should Be Marketing On Facebook
If nearly 2 billion potential customers using Facebook didn't entice you to create your own business profile, maybe this will: There are currently more than 200 million businesses already using Facebook's free tools and apps.
And, of those, more than 3 million are actively advertising on the platform.
That means there's a good chance your competition is already using this social media site to grow their business.
And if they're not, jumping on board now will give you a serious edge over them.
So, with no further ado, let's get started.
How To Set Up Facebook For Business
The very first thing you need to do to launch your marketing efforts on Facebook is to create a page for your business.
It's free to set up and gives you a place for people to like or follow you. It also gives you a chance to engage with your customers (and potential customers), and share content with them via posts.
In your web browser, go to facebook.com/pages/create and select the category that best describes your organization. For most people, that's going to be "Business or Brand."
You'll then be directed to a page where you can enter your brand's name, select the category your business falls under, and add bio information.
If you're a bit stuck on what to include in your bio, don't worry – you can always change it later.
You'll also have an opportunity to add a logo and cover image – again, don't worry, these can be changed.
Next, you'll be able to claim your unique URL, which will likely be something along the lines of facebook.com/TheNameOfYourBusiness.
The next step is an important one: editing your page info.
Make sure you provide all relevant details including your address, service hours, and other details customers and prospects might be looking for.
Congratulations – you've just created your Facebook business page. Now, it's time to figure out how to use it for marketing.
How To Build A Facebook Marketing Strategy
As you probably already know, Facebook makes its money via advertising revenue. As such, it has made it simple for even the most technologically inept person to use it for marketing.
And this includes offering free information on how to create your own social media strategy.
You can read that helpful guide at your leisure, but for now, let's break it down into eight steps:
Set your goals – What do you hope to accomplish via Facebook marketing? Facebook has three marketing objectives: awareness, consideration, and conversion.
Identify your audience – How old are they? Where do they live? What is their level of education? How can your offering solve their problem? Facebook lets your market with remarkable precision, so the more information you have on your targets, the better.
Plan your content – Decide what kind of things you'll post. It could be industry news, behind-the-scenes pictures, or promotions – get as creative as you like. Just make sure you're planning content your audience will like.
Create a content calendar – Decide when you will post specific pieces of content. Be as accurate as you can, right down to publishing time, because there will likely be times when your audience is more active.
Create your content – It's time to put step three into action and create engaging pieces. Read this article for tips on keeping your content interesting and relevant.
Explore Facebook's free tools – Facebook has several options for sharing content, including text, image, and video posts, as well as Stories and live streams.
Determine how you will use ads – You have multiple options for advertising on Facebook. We'll go into them in more detail in the next section so you can choose what's right for your needs.
Add the Facebook Pixel to your website – Don't forget to add the tracking code to your website to collect data, enable retargeting, and track conversions.
Types Of Facebook Posts For Marketing
Facebook offers incredible flexibility when it comes to marketing, with numerous post and paid ad options.
Let's first dive into the posts.
Facebook Marketing Post Types
The type of post you use when marketing on Facebook will depend on what you're hoping to accomplish. Some of the more popular are:
Text posts or status updates – these are a great way to initiate conversations, share information, and educate your followers.
Photo posts – A great way to capture attention, images are useful for attracting new customers.
Video posts – Videos are a great way to engage with your audience and encourage interaction.
Facebook Live – Use the platform's live streaming capabilities for product demonstrations, answering questions, or interacting with your followers.
Link posts – Use posts with direct links to your external website or blog. They include an automatic preview.
Stories – Just like Instagram Stories, Facebook Stories are great for building engagement without disrupting your followers' feeds.
Pinned posts – Stuck at the top of your page, these are great for maximizing the reach of top-performing posts or relaying critical information, promotions, or events.
Once you have your business page set up and you've begun sharing content, the next phase of Facebook marketing is to venture into paid ads.
Facebook Ad Types
At the moment, there are four main types of ads on the platform:
Image Ads
These are static ads in JPG or PNG format. They should include a headline of up to 40 characters and the main text of 125 characters.
You also have a link description area which should be used for a clear and succinct CTA.
Image ads are easy to set up and work well for driving traffic to your website.
For a list of best practices for this ad format, click here.
Video Ads
Facebook video ads are a great way to boost your brand and don't require expensive recording equipment or software. You can record these spots using your phone and there are a number of free editing apps that can help you.
Video ads can be placed in-stream (the short commercials that are shown before a video your target wants to watch), in-feed, or in Stories.
As a general rule of thumb, they should be under two minutes long and have an attention grabber within the first three seconds.
For more video best practices, click here.
Carousel Ads
Carousel ads combine multiple videos and images into a single ad, which is a great way to improve your chances of conversion.
They tend to work best for ecommerce brands, as they allow you to showcase multiple products or angles of a single product in one ad.
Ideally, these should point to a purpose-built landing page.
Here are some other best practices offered by Meta.
Collection Ads
Collection ads are another way for e-commerce brands to showcase products but are more similar to image ads than carousels.
You are restricted to a 40-character headline and a 125-character primary text.
Read about collection ads best practices here.
Which Goal Should I Focus on For Facebook Marketing?
The type of marketing that will work best for your brand depends on your goals.
As was mentioned previously, Facebook has three objectives that correspond with the top, middle, and bottom of the sales funnel, respectively:
Awareness
Facebook has two awareness objectives to help you expand your reach and generate interest:
Brand awareness – Used to entice a new audience or keep your brand top of mind. This usually results in little audience action.
Reach – Designed to reach as many people as possible within your ad budget.
Consideration
Consideration lets you choose from six objectives:
Traffic – Choose this objective when you want to increase the number of visitors to your external website.
Engagement – This is used to encourage people to like and comment on your posts, or respond to event invitations.
App promotion – Used to drive downloads of your app in Google Play or the App Store.
Video views – If you're showcasing your brand or highlighting a unique value proposition (UVP). It's also a good way to lay the groundwork for future retargeting.
Lead generation – Collect information about your customers and add them to your sales funnel.
Messages – Use this when you're seeking to start conversations around your brand.
Conversions
Conversions lets you choose from three objectives:
Conversions – This could be making a purchase, signing up for a newsletter, or taking any other action.
Catalog sales – By connecting your e-commerce store with Facebook Ads, you can promote products from your catalog.
Store traffic – Use this to drive traffic to your physical location by targeting nearby potential customers.
Once you have determined your objectives, you can determine which format will work best to help you accomplish your goals.
From here, you'll need to determine your budget and schedule. You can opt for either a daily or monthly budget, with the option for an end date for time-sensitive promotions.
Next, you'll choose your audience – a process we'll dive into in the next section – and select your placements.
If you've never placed ads on Facebook before, you will probably be best served by selecting Automatic Placements, which will allow the social media platform to determine where you're likely to get the best results.
If you know what you're doing, you can customize your placement and select things like device type and operating system.
When Not To Use Facebook Ads
There's no question that running Facebook ad campaigns can be extremely beneficial. But it's not a magical sales multiplier.
In fact, in some situations, it can be a complete waste of money – and Facebook Ads can be quite costly.
Here are some situations when you should not use Facebook Ads:
You're unclear on your targeting – Nothing will blow through your ad spend faster, and with less to show for it, than going after the wrong demographic.
You're not using your metrics – As with every marketing campaign, your Facebook Ads should be subject to measurement and A/B testing to find the optimal placement and format.
You don't have anything worth sharing – To get engagement, your ads need to be compelling. It could be a unique product, a special event, or a sale, but people need a reason to click your ads.
Your landing page and ad are disconnected – If you're promising one thing in your Facebook Ad and then delivering something different on your website, people will not follow through with your CTA.
Using Facebook Analytics
Facebook's biggest value to marketers lies in its analytics capabilities via Facebook Insights.
To access it, go to your Page Manager and click on Insights.
You'll be presented with quite a lot of data, created using a default range of 28 days. You can change this as needed.
The first thing you'll likely want to check is the Overview tab, which will tell you how your page is performing. This gives you key metrics about your page and your most recent posts, and compares you to similar pages.
Use the Likes tab to see the averages, growth, and source of your likes to help you understand how your page is performing.
The Reach tab tracks how many people have seen your posts, their reactions, comments, and shares, as well as how many have hidden them or reported them as spam.
Page views help you identify where your traffic is coming from and how many views your posts are receiving.
Under the Actions of Page tab, you'll get a report of what actions visitors took on your Facebook page, as well as demographic information on the people who clicked your phone number or website or took another action.
There are also separate tabs to tell you how your posts, events, and videos are performing on the platform.
The People tab gives you information about who saw and engaged with your posts or page. It gives you data on your fans, as well as reach and engagement numbers.
The Messages tab tracks Messenger analytics, including response time, while Promotions gives you an overview of recent sales and promotions.
Branded Content lists your mentions from Verified Pages (those with a blue checkmark).
Finally, there's the Local tab, which while not relevant for strictly online businesses, is extremely valuable for any company with a physical location.
It gives you information about the foot traffic in your area, as well as demographic information about these people and the number of people nearby who saw your ads.
How To Create Great Facebook Campaigns
There is no question that Facebook can be an excellent marketing tool for virtually any organization.
But if you don't pay attention to what you're doing, it can also be an easy way to blow through your advertising budget in no time.
To ensure your Facebook marketing campaigns give you the biggest bang for your buck, here are some key takeaways to keep in mind:
Identify your audience and write to it – Keep your posts only as long as is required to persuade a target. Keep your ads within specified limits. Keep your CTAs short and to the point.
Don't take a "one-size-fits-all" approach – Facebook allows you incredible targeting options. Use them. Highly targeted ads are going to perform much better than those that take a scattergun approach.
Have a good offer – Even the best copy and image can't overcome a bad offer. Make sure you're providing something people want.
Connect your visuals with your copy – Copy should reinforce your images and videos and vice versa. Make sure yours does.
Refine your strategy – You're not going to get everything perfect for your first, second, or even hundredth Facebook campaign. In fact, there are no perfect campaigns. That means you should always be working on your strategy and content, striving to find something better.
More resources:
---
Featured Image: Production Perig/Shutterstock
7 Essential Tips & Tricks You Might Not Know
It may not look like one of the fancy, paid SEO tools you're used to logging into, but Excel remains one of the most versatile and powerful tools in an SEO professional's toolbox.
You can use Excel to track and analyze key metrics such as rankings, website traffic, and backlinks.
Use it to create and update meta tags, track and analyze competitors' SEO strategies and performance, build automated reports, and take care of many of the data tasks you'll encounter every day.
Combine your Excel knowledge with Python, Tableau, R, and other tools, and there is nothing you can't do.
If you've never worked with data before, you'll find Excel has a bit of a learning curve, but you can use it right from the start. And it's flexible enough to scale and grow as your site grows.
Why Excel For SEO Tasks?
While many paid tools can help you do the same tasks, Excel is a fantastic option to enhance, combine, or replace those tools.
It's affordable and comes with a range of tools you already use.
There are a ton of resources and courses to help you learn.
Easily handles large amounts of data.
Sorting and de-duplicating – a feature often missing when you need it.
Create and manage databases with simple formulas.
Data ports easily to other tools and is available for other tasks.
Pivot tables and smart charts.
1. Combine Multiple Data Sources
You will often find yourself having to merge data from multiple sources.
This is intuitive and quick in Tableau, Python, or R, but you can do the same in Excel using Power Query.
There are a few steps to this process, but it's not as complicated as you might think – even if you are new to working with data or Excel.
Power Query has automated and simplified tasks that required a lot of time and skill.
And it is probably THE best Excel feature for business and SEO professionals.
Seem a bit daunting? Don't worry. There are several courses and tutorials on YouTube to get you started.
What It's Good For:
Building reports.
Analytics and sales data.
Combining data sources to identify opportunities and gain insights.
2. Data Cleaning
Much of your time is lost simply preparing data for analysis. It doesn't have to be that way.
Large lists are often larger than they need to be. Finding and manually removing all the duplicates, however, can be a serious pain.
Excel can do this instantly for you. Simply go to the "Data" tab and click "Remove Duplicates."
Unwanted spaces and blank lines tend to cause havoc with many tasks, formulas, and statistics.
Excel will remove them for you simply by going to Edit > Find > Go To. Select "Special," "Blanks," and tell Excel how it should handle them.
"Convert text to columns" can be a lifesaver, especially if you've received data where the addresses or names are all in the same cell or you need to extract domains from email addresses.
Go to Data > Text to Columns. Then, indicate what to use for Delimiters (comma or space) and preview the results. When you're ready, click "Next," choose a destination, and click "Finish."
When To Use It:
Data analysis.
Data processing.
Processing and cleaning lead databases.
Working with any data.
 3. Power Excel With Add-On Tools
Some of the more complex tasks, such as crawling, require a bit of coding knowledge.
If you don't have that in your skillset, however, there are tools you can download, integrate with other tools, and add on.
SEOTools offers off and on-page SEO tools, integrations, connectors, spiders, and several other tools that make it easy to customize your Excel and create custom projects.
SEOGadget brings the power of Moz, Grepwords, and Majestic to Excel.
Analysis ToolPak is for serious data analysis. This add-on improves and automates in-depth statistics, perfect for forecasting, trending, regression analysis, and more complex data analysis tasks you might otherwise perform in R or Python.
When To Use It:
Reporting.
Regular data analysis.
Presentations.
Integrating and coordinating with other teams.
4. Infographics And Charts
Data is useless if you can't understand it.
In fact, data visualization and storytelling are likely some of the most important skills you can have. This is where tools like Power Query and PivotTables come in.
Built right into Excel, pivot tables are the other valuable tools you have for this purpose.
However, instead of just creating a straight pivot table and a related chart, save yourself some steps by creating a master "template" first that you can then replicate as needed and adjust to suit your needs.
In many instances, however, you will need to work with dates or segments of the data. For that, you'll want to enter splicers and timelines.
To splice data into segments: Select the pivot table and go to PivotTable Tools > Analyze > Filter > Insert Slicer. Then, simply input how you would like to segment the content (e.g., by product or topic).
To utilize timelines: Click the pivot table's tools option, go to Analyze > Filter > Insert Timeline. Once there, you can choose what you'd like to use, style it, add captions, and more.
If you've never used Excel's PivotTables before, a short tutorial will have you on your way to analyzing data in no time.
Still want a little more? Make your reports, social media, and updates even better by upping your data visualization game with add-ons like People Graph.
When To Use It:
Reporting.
Daily updates.
Surface data analysis.
Team collaboration and integration.
5. Automate Common Tasks With Macros
SEO, particularly agency SEO, is full of repetitive tasks like weekly reporting that consume much of your time. Excel's macros are the answer. And they're really easy to use.
Under the "View" tab, click "Macros" and "Record Macro."
Fill out the details.
The macro is now recording. So, simply walk through the steps that you'd like to automate. And when you're done, go back to the ribbon and stop the recording.
When you're ready to run the automation, go to the macro button in the ribbon, click "View Macros," and select the desired macro from the list.
If you have some macros that you use more often than others, you can add them to the Quick Access Toolbar.
When To Use It:
Sorting.
Calculations.
Reformatting data.
Setting up new site documents or new pages for reports.
6. Easily Import Feeds And Data Into Excel
If you use Google Alerts or publish frequently, automatically importing feeds into Excel can be a huge time saver.
To start, simply grab the RSS feed address. (Or, create an alert for Google Alerts and have them delivered as an RSS feed.)
Then, go to Google Sheets and use the IMPORTFEED function to bring the updates straight into a spreadsheet.
Alternatively, you can add the information to separate columns.
From here, you can regularly download and import the data into Excel, combine it with other related data, or integrate it into your custom dashboards.
If you need something a little more automatic, use Google Apps Script or one of the add-ons available to automate the process.
Want a little more data behind your reports? You can scrape and import Google Search Results into Excel, too.
7. Backlink Analysis
To analyze backlinks with Excel, collect backlink data with tools such as Ahrefs, Majestic, or Google Search Console.
Then, import it into Excel and use it to analyze your backlinks in a number of ways:
Who links to you: Use Excel's sorting and filtering tools to filter the data and use the IF function: IF(logic, true_value,[false_value]) to sort and identify domains linking to you.
What do people link to: Sort and filter to see the anchor text used most often for your backlinks (using frequency/count).
When did people link to you: Organize the data by date to see how old your links are and when most of your backlinks were acquired.
Find trends or patterns in your backlink profiles with pivot tables, groups, charts, and graphs by combining your backlink and sales or conversion data.
Highlight specific data based on certain conditions with conditional formatting. This makes it easy to spot backlinks from high-authority websites or backlinks with specific anchor text.
Summary
Many people overlook Excel either because they think it's too basic to be of much use. Or it looks too intimidating or daunting to learn.
But those of us who use it understand just how powerful it can be and the unlimited possibilities it provides.
Hopefully, these tips will help you craft better strategies, find new opportunities, and tell your story with better reports and dashboards.
---
Featured Image: Paulo Bobita/Search Engine Journal
12 Great Link Building Tools That Are Essential To Your Success
Link-building strategies, along with SEO tools, have certainly changed over the years.
Since the old automated link-building tools that automatically placed content like KontentMachine or GSA's Search Engine Ranker, modern tools have moved to manual research and outreach platforms.
Tools that many of my link-building colleagues and I use today look more like ones used for public relations (PR) rather than link-building. However, there are still tools specific to link building that aren't going anywhere.
These can be divided into four categories:
Link research.
Prospecting and outreach.
Reporting.
AI-powered tools.
Emerging technologies powered by AI can make the link-building process easier.
Link Research
Prospecting And Outreach
Reporting
AI-Powered Tools
1. Majestic

Excellent for identifying the types of domains you should generate links from.

3. Pitchbox

Combines email outreach with SEO metrics.

8. Agency Analytics

Connects a variety of performance metrics.

10. Link Whisperer

Good for internal linking efforts.

2. Ahrefs

Provides useful reports to analyze trends.

4. BuzzSumo

Use to identify authors and sharers/backlinkers.

9. Cyfe

Customizable but automatic reporting.

11. Postaga

Find opportunities and initiate outreach.

5. Hunter.IO

A browser extension that helps you find contact information.

12. CTRify

WordPress plugin that generates content.

6. BrightLocal

Submit and manage citations.

7. HARO
Link Research Tools
Link research is vital to figuring out what type of sites you should be approaching. This includes establishing quality criteria, categories of sites, authority metrics, and others.
Majestic and Ahrefs are two research tools that provide large databases and robust reporting.
I've included both of these sites as I constantly see each having data that the other doesn't.
You may find some links to your competitors' sites in Majestic that aren't listed in Ahrefs and vice versa.
These tools can be used together to build a comprehensive list of sites to analyze. As with many SEO tools, the pricing depends on how many features your team needs.
1. Majestic
Pricing: $49.99 per month with one user for the 'Lite' package. $99.99 per month for the "Pro" package, which they recommend for SEO agencies and consultants.
Payment options: Monthly or receive a discount for an annual subscription.
Here are some recommendations on using it and what reports should influence your link-building.
Topics: This data can be used to identify the types of sites you should be generating links from. Consider running this report on the link profiles for top-ranking sites, then finding sites that fit into similar categories.
Referring Domains: Use this to evaluate the number of unique domains you should focus on building for your site. This also offers a look into the trust/citation flow distribution (count of domains by trust/citation flow).
2. Ahrefs
Pricing: $99 per month with only one user for the 'Lite' plan. $199 per month for the "Standard" plan.
Payment options: Monthly or receive a discount for an annual subscription.
In contrast to Majestic, Ahrefs has some reports that are much easier to run inside the tool. It certainly costs more, but if you want more data, then Ahrefs is the right choice.
Here are reports to use in Ahrefs over Majestic:
Pages > Best by links: Two useful applications of this report are:

Identify competitors' most linked content to influence your content strategies.
Identify the type of sites that link to the content you will produce.

Pages > Best by link growth: This is a "trend" report providing content that has been generating links over the last 30 days. Find content here that is receiving a rapid number of links and create more robust content.
Prospecting And Outreach Tools
Finding highly relevant sites that may link to your content is the most excruciating part of link building.
You can create a large list of sites and bulk outreach to save time, but when evaluating your link-building success on links gained per hour and the quality of those links, it's best to handle prospecting manually or in a semi-automated approach.
I'll go through five tools, Pitchbox, BuzzSumo, Hunter.io, BrightLocal, and HARO.
These tools can be used for the most popular link-building strategies.
3. Pitchbox
Pricing: Averages $500+ per month.
Payment options: Prices are dependent on an individual walkthrough with Pitchbox.
Pitchbox is one of the pricier tools on the market compared to email tools like MailChimp, but integrated prospecting helps reduce the time to qualify sites.
The prospecting sites list builder and SEO metrics integrated right into the opportunities report make the tool stand out.
4. BuzzSumo
Pricing: $99 per month for the "Pro" package. $179 per month for the "Plus" package. There's a pared-down free version with limited searches per month.
Payment options: There is also a free version with limited features.
This is an excellent tool for building lists of blogs, influencers, and authors. Out of all the prospecting tools on the list, BuzzSumo has the best filtering options.
You can use the tool for a lot of purposes, but for link building, these are two effective use cases:
Identifying authors: The content research and influencers sections provide lists of authors/influencers that are searchable by keywords in the content they shared or produced. One fantastic use for this is to search through the "most shared" report and find influencers that received more than 2,000 shares of their content, then outreach to them to share yours. This can yield a lot of natural links.
Identifying sharers/backlinks: The second use goes a layer deeper than the first, finding those that have shared the content. Pull a list of shares or backlinking websites by content, then create similar but better content.
5. Hunter.io
Pricing: Starts at free. The first two upgraded packages are $49 per month and $99 per month.
Payment options: Free for 25 monthly searches up to $399 per month for 30,000 searches.
This browser extension finds email addresses for easy contact options.
It helps cut down on time spent sifting through About pages. You can also take it a step further and use the tool for outreach.
6. BrightLocal
Pricing: $29-$79 per month, depending on package size.
Payment options: You can also pay for the citation builder, reviews, or enterprise.
Citation building is important for local SEO and should be considered a link-building project.
One of the tools with the best value for submitting and managing citations is BrightLocal.
There are two components: citation monitoring and citation building. The tool also allows you to figure out how you're ranking based on the local competition.
7. HARO
Pricing: Starts at free. The first paid plan is $19 per month, which adds alerts and search functionality.
Payment options: The free options offer media options delivered to your email three times a day and up to $149/month for premium.
While this tool is traditionally used in the journalism world, it can also help link builders. It connects you with credible sources and allows you to build natural backlinks.
Reporting Tools
Although many of the tools in the previous section have reporting functionality built in, I've found them lacking in custom reporting or the ability to associate links to ranking performance.
These tools solve that issue; AgencyAnalytics and Cyfe.
8. Agency Analytics
Pricing: $12 per month, per campaign. $18 per month per campaign for custom reporting features.
Payment options: Pay annually to save money.
Agency Analytics automatically populates the dashboard with data from Moz and Majestic and connects that data to critical performance metrics, like ranking and organic traffic.
Qualified traffic that converts to leads or sales is the purpose of link-building and SEO efforts, so reporting needs to make a connection between them.
9. Cyfe
Pricing: $19 per month for one user, with higher tiers for more users.
Payment options: Unlimited users for $89/month.
This tool can be built out as a hybrid between Google Sheets and Agency Analytics, meaning it's very customizable but can also automatically and easily aggregate data from multiple sources to create a meaningful report.
AI-Powered Tools
AI-powered tools can significantly simplify otherwise complex and time-consuming tasks. Remember that some of your processes will require a human touch, so always evaluate how performance is impacted when integrating AI into your processes.
The following tools, Link Whisper, Postaga, and CTRify use AI to discover opportunities and automate processes.
10. Link Whisper
Pricing: $77 per month for one site, with additional plans for more sites.
Payment options: One to 50 site licenses.
Link Whisper is useful for internal link building.
AI technologies offer automatic link suggestions as content is produced. It can also help you recognize old content that needs more links directed to it.
The tools also automate links based on keywords and offer internal link reporting. It's pretty all-inclusive and can help speed up internal link-building automatically.
11. Postaga
Pricing: $84 per month for one account with five users. $250 per month for 30 accounts with unlimited users.
Payment options: Save by paying annually.
Postaga does everything from finding opportunities to initiating outreach.
AI comes into play with the outreach assistant, which finds relevant information from influencers to include in emails. You can also enter your domain into the tool to find relevant campaign ideas.
12. CTRify
Pricing: A free version. $197 or $497, depending on the plan.
Payment options: Single payment.
CTRify is a WordPress plugin that is great for content creation.
All it takes is a single keyword, and the AI creates the content you need for a specific campaign. You can then automatically publish the posts – it doesn't get much simpler than that.
Conclusion
I've curated this list with the intent to offer a tool for every reader, providing enterprise-level affordable solutions and highly technical tools.
There is diversity in the available tools, and you will need to select the right one for the job.
You don't need to have a $1,000 monthly tool budget to be a link builder, but all of the tasks will take time. Allocating your time and budget in the right combination improves business outcomes.
---
Featured Image: Paulo Bobita/Search Engine Journal