The Real Secret to My Social Media Success
The other day I was recording a podcast episode with my co-host Eric Siu and he wanted to discuss something in particular.
He wanted to talk about how I got to 62,000 Instagram followers in a very short period of time and without spending any money on ads or marketing.
Eric is a great marketer as well, and when it comes to social media, he spends much more time than me on it and he even has people at his ad agency dedicated to helping him grow his personal brand online.
And of writing this post, he has 4,056 followers.
It's not just with Instagram either, I beat him on all platforms.
Heck, he even does something that I don't do, which is smart… he continually pays for advice. For example, he had his team jump on an hour call with Gary Vaynerchuk's social media team so they could learn from them and grow his brand faster.
So, what's the secret to my success?
Well, before I get into it, let me first start off by saying I love Eric to death and the point of this post isn't to pick on him or talk crap… more so, I have a point to make and you'll see it in a bit below.
Is it the fundamentals?
Everyone talks about strategies to grow your social following… from going live and posting frequently or talking about the type of content you should post and what you shouldn't do.
I could even tell you that you need to respond to every comment and build up a relationship with your followers, which will help you grow your following and brand.
And although all of this is true, I dare you to try the fundamentals or the strategies that every marketing guru talks about doing. If you do, I bet this will happen…
It will be a lot of work and, if you are lucky, in the next 30 days you may get 10% more followers.
Sure, some of you will get much more growth, but you'll find that you can't always replicate it and it won't be consistent.
So, what is it then?
Is it luck?
Luck is part of some people's success, but not most. The problem with luck is it doesn't teach you much and it isn't easy to replicate.
The reality is, some people will just get lucky and have tons of traction.
In other words, luck isn't the secret. But if you do want to get "luckier", then you can always become an early adopter which helps a bit.
How early is early?
When you jump onto a social network when it's new, it's easier to grow and become popular.
For example, I got to over 30,000 Twitter followers extremely fast when Twitter first came out.
At that time, I wasn't as well known… it happened because of a few reasons:
Social algorithms are favorable early on – algorithms are typically favorable and most people will see your content. There aren't many restrictions, hence it's easier to grow. After a social network becomes popular, algorithms tighten up.
Algorithms are easier to game early on – when you are early, you can use a lot of hacks to grow faster. For example, on Twitter, I would just follow tons of people a day and unfollow anyone who didn't follow me back.
First movers' advantage – social networks want more users, that's what they need to succeed. In the early stages of any platform, they want to help you gain more of a following so you will keep using their platform.
But here is the thing: even though being an early adopter helps, it's not the secret to my success.
Just look at Instagram, I am really late to the game. But I started growing fast just this year as that is when we really started.
If you can get in early, you should do so, assuming you have the time to invest. For example, this is the time to get in on Tiktok.
When you get in early, there is always the chance that the social network may end up flopping. But if it does take off, you'll be ahead of your competition.
So what did I do?
Here was the secret to my growth… and it still works today. Eric Siu is even doing it with me right now.
It's piggybacking on brands that are already popular.
When I first started, no one knew who I was. And I'm not saying everyone knows who I am today… by no means do I have a large brand like Tony Robbins.
What I did early on in my career was piggyback off of other popular brands.
For example, I hit up Pete Cashmore from Mashable, Michael Arrington from TechCrunch, Adrianna Huffington from Huffington Post, and so many other popular sites like ReadWriteWeb, Business Insider, Gawker Media, and GigaOm to name just a few.
I know some of them don't exist anymore, but back then they were extremely popular. Anyone who was in tech, and even some who weren't, knew about each of those sites.
So, when I got started as a marketer, I hit up all of those sites and offered all of them free marketing in exchange for promoting my brand and adding "Marketing done by Neil Patel" or "Marketing done by Pronet", which was my ad agency back then.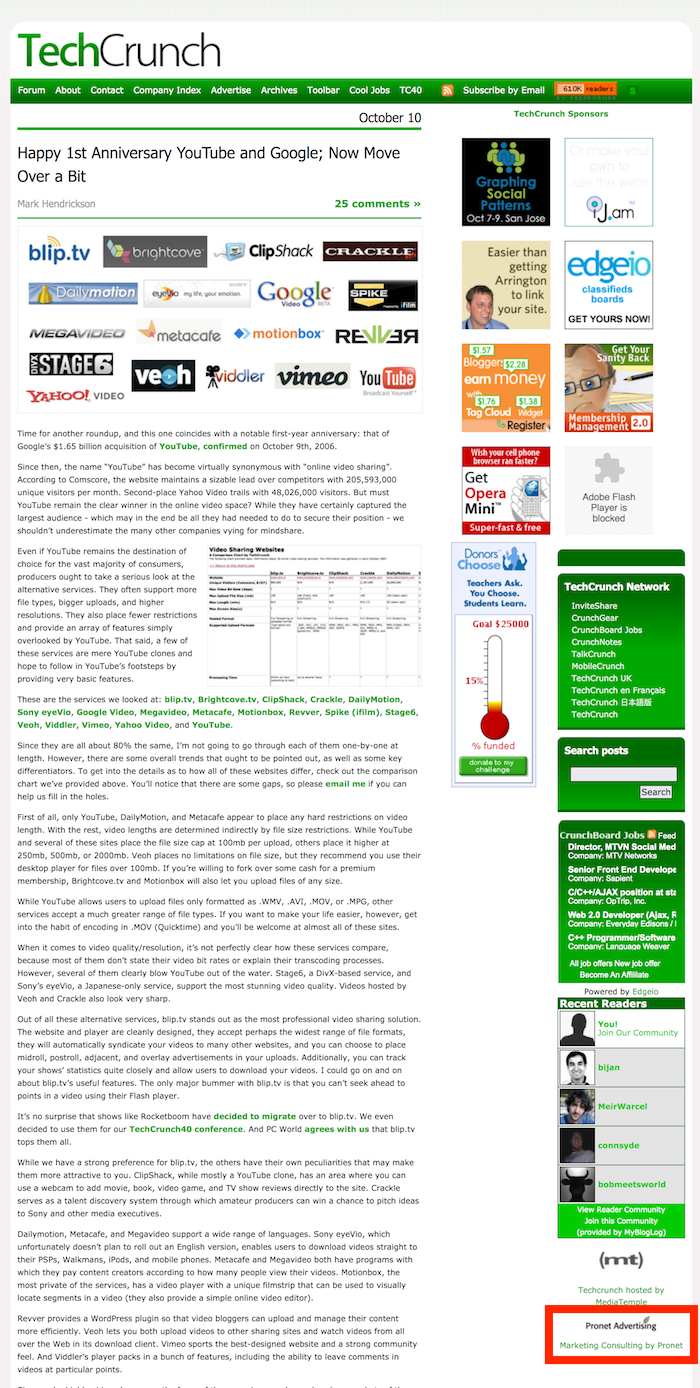 Just look at the image above. TechCrunch used to link to my site on every page of their site… forget rich anchor text, it really is all about branding.
The hardest part is, I had to email and message these influencers dozens of times just to convince them to let me help them for free. And a lot of them ignored me or didn't accept my offer.
But of a few said yes.
Pete from Mashable was one of the first to say yes. Once his traffic and rankings skyrocketed, his competition hit me up. Especially TechCrunch.
What was funny, though, is that I was constantly emailing TechCrunch and didn't hear back. 6 months from my first email, they eventually accepted my offer.
I made a deal with Michael Arrington at the time in which once I boosted his traffic, he would add a logo that I did marketing for him, which you saw above.
In addition to that, he would tell all of his venture capital friends what I did for him and share the results (so hopefully they would share it with their portfolio companies, which would help me make money) and write a blog post about me.
He didn't end up writing the blog post, which is fine, but he did the other two.
When he sent out emails to VCs showing a Google Analytics graph of his traffic growing at a rapid pace, I quickly got inundated with inquiries about my marketing services.
In addition to that, I was building up my brand… and my social media following. I was gaining "social clout" because I was doing good work for influencers.
One could argue that boosting traffic for someone like TechCrunch by 30% is worth millions and I should have charged for my services. Although I spent countless time doing free work, I wouldn't trade it for any single dollar as it is what made me and helped build up my reputation.
And I didn't stop there. Even today, I try to associate myself with other popular brands. Just like how I was lucky enough to work with Robert Herjavec, who has a popular TV show in the US along with Mark Cuban…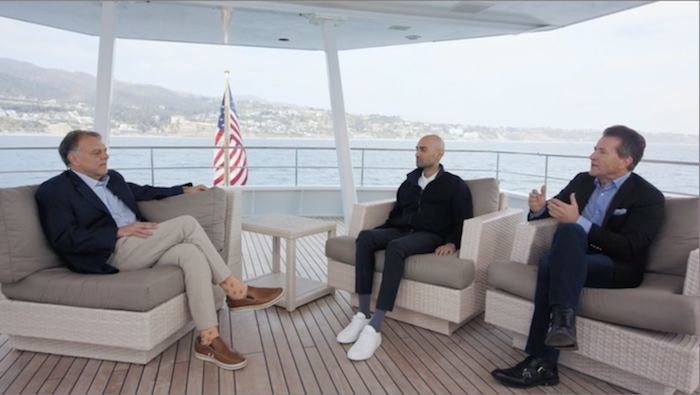 Here's how many visitors I was getting for my name "Neil Patel" on a monthly basis before I started working with Robert.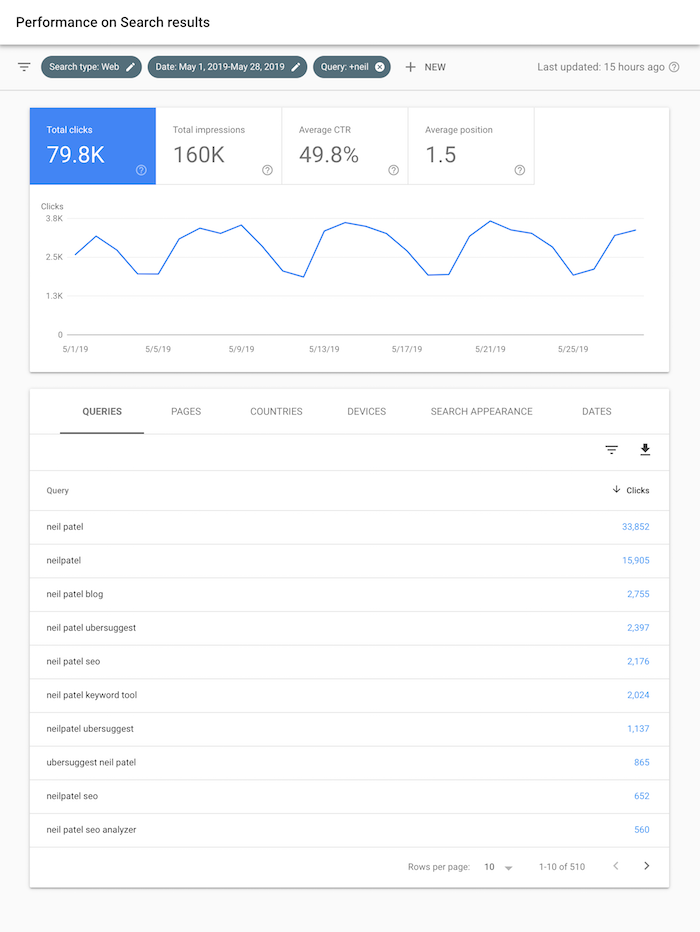 And this is how many visitors I get for my name on a monthly basis a few months after I worked with Robert.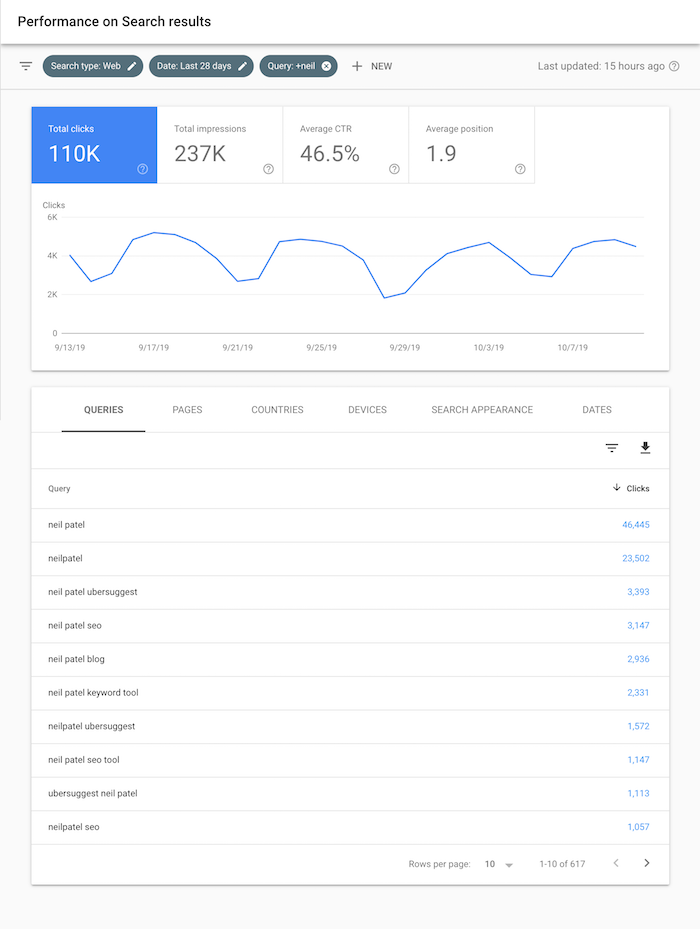 That's a 37.84% increase in a matter of months!
By piggybacking off of popular brands, it doesn't just help my website traffic but also helps to grow my social media following as well.
Just like as you can see below with my Instagram growth…

Now it isn't just me who can do this, anyone can.
How can you piggyback off of other brands?
Just like how I piggybacked off of brands like TechCrunch, Eric is doing something similar to me at the moment.
We have a podcast that generates over 1 million downloads a month.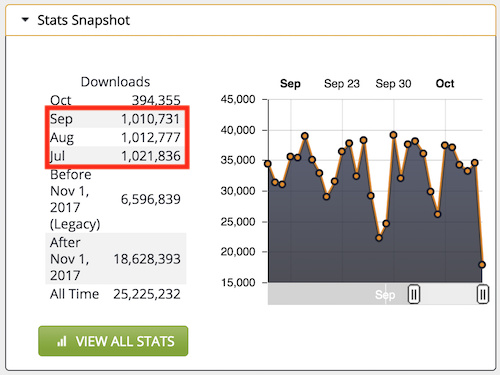 Eric's had a podcast for years, but the one he has with me has more than 10x the listeners. This has helped him grow his brand a lot over the last year.
Let's just look at the data. According to Eric, due to the podcast, he has signed up 6 clients, which has generated 540,000 dollars in annual revenue.
Now when he goes to tech conferences, 3 to 4 people tend to come up to him and mention how they love Marketing School and his work. In addition to that, it has been easier for Eric to set up meetings (people respond back to him more now), and he is also getting advisory shares in companies due to his growing brand. And the best part is, he is getting more paid speaking gigs for up to $10,000 a pop because of the podcast.
The data shows it was a good move by Eric for partnering up with me. He pushed me to do a podcast years ago and I told him no because I was too lazy. He didn't give up though. Eventually, he got me to say yes and flew to my house in Las Vegas to record our first episode.
He did all of the work and it has been a great mutual relationship as doing this podcast has also helped grow my brand at the same time.
Now you are probably thinking, why isn't his follower count growing fast enough?
Well, he needs to do what he is doing with me with a few more influencers to really put fuel to the fire. Just like how I didn't only piggyback off of TechCrunch… at one point the Gawker Media network was linking to me on every page of their sites, which was seen by over 100 million unique people per month.
That really gets your brand out there!
Another example is Brian Dean from Backlinko as he did something similar with me back in the day. Years ago I approached him to write a detailed guide on link building with him and he also created videos that were on my old marketing blog Quick Sprout, which helped him grow his brand.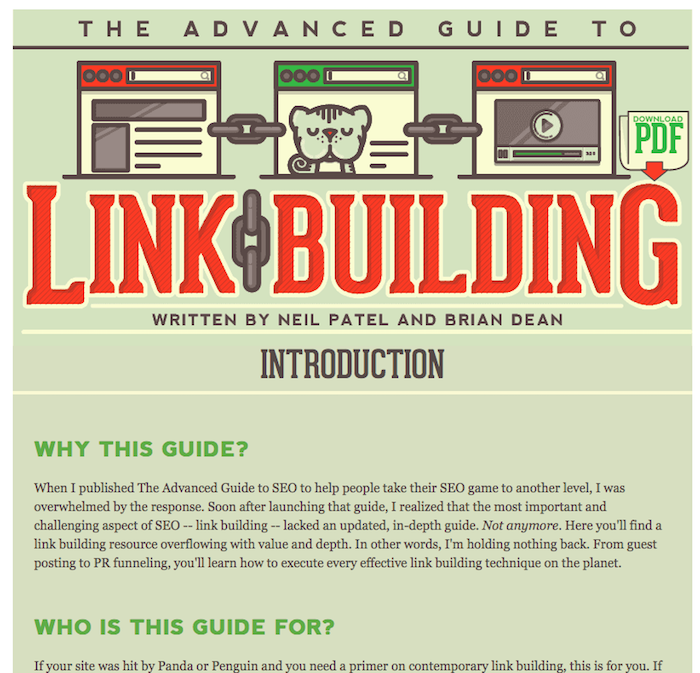 I can't take credit for "making" Eric or Brian successful. They would have done well without me… and in the grand scheme of things, I really didn't do much for either of them.
It's like saying TechCrunch made the Neil Patel brand. Of course, it helped, and helped a lot… but one partnership won't make or break you.
And if I didn't continually blog, create videos, speak at events, or do any of the other stuff that I did, the TechCrunch partnership wouldn't have been as effective.
Eric and Brian would have grown their brand in other ways because their work stands for itself, hence they would have been successful on their own. I just helped provide a little boost, just like how TechCrunch provided me with a boost.
And once more people get to know you, you'll naturally do better on the social web.
For example, when Will Smith created his Instagram account, he didn't have to buy ads or anything. Everyone just knows him already and that's why his Instagram account blew up really quickly.
And you can do what Will Smith did on a smaller scale. Similar to what I did.
But don't expect it overnight. Will Smith has been on television for over 20 years. It's multiple shows, movies, and connections with other famous people that have really helped grow Will's brand.
Of course, we won't get on TV as Will has, but you can piggyback on other popular brands multiple times to create a similar (smaller) effect.
All you have to do is help these influencers out for free.
If you are a web designer, offer design services. If you are a marketer, offer marketing services. If you are selling a product or service, keep giving it away for free and maybe someone will talk about your company.
If you don't have anything you can offer that has value, just look at whatever influencer you want to associate with, see where they may need help, learn that skill, and offer it for free.
It's the easiest way to become popular on the social web.
Conclusion
That's my secret to being popular on the social web.
It's also how I built a decent size company… purely by leveraging other popular brands in the early days.
You can do the same, but you have to be patient. Don't expect it to happen overnight.
For example, Eric's brand has been growing but we have been doing a podcast together for over 2 years now.
Plus, he continually pushes on his own and doesn't just rely on leveraging other influencers.
Remember, nothing worthwhile happens overnight.
You have to be persistent with your emails, your direct messages, your text messages, and whatever else you can do to get a hold of these influencers. Most will ignore you but it is a numbers game and, eventually, you'll be able to associate your brand with someone popular, which will grow your brand.
And last but not least: Don't expect an influencer to make you successful. Sure, multiple influencers are better than one, but that's not what I meant.
If Brian Dean from Backlinko wasn't good at link building, creating content, SEO, and educating, he wouldn't do well… no matter who he associated himself with. The same goes for Eric.
Your skills, your abilities, your product… whatever you are trying to brand needs to stand on its own.
So, what do you think about my secret? Are you going to copy it?
Comparing Credibility of Custom Chatbots & Live Chat
Addressing customer issues quickly is not merely a strategy to distinguish your brand; it's an imperative for survival in today's fiercely competitive marketplace.
Customer frustration can lead to customer churn. That's precisely why organizations employ various support methods to ensure clients receive timely and adequate assistance whenever they require it.
Nevertheless, selecting the most suitable support channel isn't always straightforward. Support teams often grapple with the choice between live chat and chatbots.
The automation landscape has transformed how businesses engage with customers, elevating chatbots as a widely embraced support solution. As more companies embrace technology to enhance their customer service, the debate over the credibility of chatbots versus live chat support has gained prominence.
However, customizable chatbot continue to offer a broader scope for personalization and creating their own chatbots.
In this article, we will delve into the world of customer support, exploring the advantages and disadvantages of both chatbots and live chat and how they can influence customer trust. By the end, you'll have a comprehensive understanding of which option may be the best fit for your business.
The Rise of Chatbots
Chatbots have become increasingly prevalent in customer support due to their ability to provide instant responses and cost-effective solutions. These automated systems use artificial intelligence (AI) and natural language processing (NLP) to engage with customers in real-time, making them a valuable resource for businesses looking to streamline their customer service operations.
Advantages of Chatbots
24/7 Availability
One of the most significant advantages of custom chatbots is their round-the-clock availability. They can respond to customer inquiries at any time, ensuring that customers receive support even outside regular business hours.
Consistency
Custom Chatbots provide consistent responses to frequently asked questions, eliminating the risk of human error or inconsistency in service quality.
Cost-Efficiency
Implementing chatbots can reduce operational costs by automating routine inquiries and allowing human agents to focus on more complex issues.
Scalability
Chatbots can handle multiple customer interactions simultaneously, making them highly scalable as your business grows.
Disadvantages of Chatbots
Limited Understanding
Chatbots may struggle to understand complex or nuanced inquiries, leading to frustration for customers seeking detailed information or support.
Lack of Empathy
Chatbots lack the emotional intelligence and empathy that human agents can provide, making them less suitable for handling sensitive or emotionally charged issues.
Initial Setup Costs
Developing and implementing chatbot technology can be costly, especially for small businesses.
The Role of Live Chat Support
Live chat support, on the other hand, involves real human agents who engage with customers in real-time through text-based conversations. While it may not offer the same level of automation as custom chatbots, live chat support excels in areas where human interaction and empathy are crucial.
Advantages of Live Chat
Human Touch
Live chat support provides a personal touch that chatbots cannot replicate. Human agents can empathize with customers, building a stronger emotional connection.
Complex Issues
For inquiries that require a nuanced understanding or involve complex problem-solving, human agents are better equipped to provide in-depth assistance.
Trust Building
Customers often trust human agents more readily, especially when dealing with sensitive matters or making important decisions.
Adaptability
Human agents can adapt to various customer personalities and communication styles, ensuring a positive experience for diverse customers.
Disadvantages of Live Chat
Limited Availability
Live chat support operates within specified business hours, which may not align with all customer needs, potentially leading to frustration.
Response Time
The speed of response in live chat support can vary depending on agent availability and workload, leading to potential delays in customer assistance.
Costly
Maintaining a live chat support team with trained agents can be expensive, especially for smaller businesses strategically.
Building Customer Trust: The Credibility Factor
When it comes to building customer trust, credibility is paramount. Customers want to feel that they are dealing with a reliable and knowledgeable source. Both customziable chatbots and live chat support can contribute to credibility, but their effectiveness varies in different contexts.
Building Trust with Chatbots
Chatbots can build trust in various ways:
Consistency
Chatbots provide consistent responses, ensuring that customers receive accurate information every time they interact with them.
Quick Responses
Chatbots offer instant responses, which can convey a sense of efficiency and attentiveness.
Data Security
Chatbots can assure customers of their data security through automated privacy policies and compliance statements.
However, custom chatbots may face credibility challenges when dealing with complex issues or highly emotional situations. In such cases, the lack of human empathy and understanding can hinder trust-building efforts.
Building Trust with Live Chat Support
Live chat support, with its human touch, excels at building trust in several ways:
Empathy
Human agents can show empathy by actively listening to customers' concerns and providing emotional support.
Tailored Solutions
Live chat agents can tailor solutions to individual customer needs, demonstrating a commitment to solving their problems.
Flexibility
Human agents can adapt to changing customer requirements, ensuring a personalized and satisfying experience.
However, live chat support's limitations, such as availability and potential response times, can sometimes hinder trust-building efforts, especially when customers require immediate assistance.
Finding the Right Balance
The choice between custom chatbots and live chat support is not always binary. Many businesses find success by integrating both options strategically:
Initial Interaction
Use chatbots for initial inquiries, providing quick responses, and gathering essential information. This frees up human agents to handle more complex cases.
Escalation to Live Chat
Implement a seamless escalation process from custom chatbots to live chat support when customer inquiries require a higher level of expertise or personal interaction.
Continuous Improvement
Regularly analyze customer interactions and feedback to refine your custom chatbot's responses and improve the overall support experience.
Conclusion
In the quest to build customer trust, both chatbots and live chat support have their roles to play. Customizable Chatbots offer efficiency, consistency, and round-the-clock availability, while live chat support provides the human touch, empathy, and adaptability. The key is to strike the right balance, leveraging the strengths of each to create a credible and trustworthy customer support experience. By understanding the unique advantages and disadvantages of both options, businesses can make informed decisions to enhance customer trust and satisfaction in the digital era.
The Rise in Retail Media Networks
As LL Cool J might say, "Don't call it a comeback. It's been here for years."
Paid advertising is alive and growing faster in different forms than any other marketing method.
Magna, a media research firm, and GroupM, a media agency, wrapped the year with their ad industry predictions – expect big growth for digital advertising in 2024, especially with the pending US presidential political season.
But the bigger, more unexpected news comes from the rise in retail media networks – a relative newcomer in the industry.
Watch CMI's chief strategy advisor Robert Rose explain how these trends could affect marketers or keep reading for his thoughts:
GroupM expects digital advertising revenue in 2023 to conclude with a 5.8% or $889 billion increase – excluding political advertising. Magna believes ad revenue will tick up 5.5% this year and jump 7.2% in 2024. GroupM and Zenith say 2024 will see a more modest 4.8% growth.
Robert says that the feeling of an ad slump and other predictions of advertising's demise in the modern economy don't seem to be coming to pass, as paid advertising not only survived 2023 but will thrive in 2024.
What's a retail media network?
On to the bigger news – the rise of retail media networks. Retail media networks, the smallest segment in these agencies' and research firms' evaluation, will be one of the fastest-growing and truly important digital advertising formats in 2024.
GroupM suggests the $119 billion expected to be spent in the networks this year and should grow by a whopping 8.3% in the coming year.  Magna estimates $124 billion in ad revenue from retail media networks this year.
"Think about this for a moment. Retail media is now almost a quarter of the total spent on search advertising outside of China," Robert points out.
You're not alone if you aren't familiar with retail media networks. A familiar vernacular in the B2C world, especially the consumer-packaged goods industry, retail media networks are an advertising segment you should now pay attention to.
Retail media networks are advertising platforms within the retailer's network. It's search advertising on retailers' online stores. So, for example, if you spend money to advertise against product keywords on Amazon, Walmart, or Instacart, you use a retail media network.
But these ad-buying networks also exist on other digital media properties, from mini-sites to videos to content marketing hubs. They also exist on location through interactive kiosks and in-store screens. New formats are rising every day.
Retail media networks make sense. Retailers take advantage of their knowledge of customers, where and why they shop, and present offers and content relevant to their interests. The retailer uses their content as a media company would, knowing their customers trust them to provide valuable information.
Think about these 2 things in 2024
That brings Robert to two things he wants you to consider for 2024 and beyond. The first is a question: Why should you consider retail media networks for your products or services?   
Advertising works because it connects to the idea of a brand. Retail media networks work deep into the buyer's journey. They use the consumer's presence in a store (online or brick-and-mortar) to cross-sell merchandise or become the chosen provider.
For example, Robert might advertise his Content Marketing Strategy book on Amazon's retail network because he knows his customers seek business books. When they search for "content marketing," his book would appear first.
However, retail media networks also work well because they create a brand halo effect. Robert might buy an ad for his book in The New York Times and The Wall Street Journal because he knows their readers view those media outlets as reputable sources of information. He gains some trust by connecting his book to their media properties.
Smart marketing teams will recognize the power of the halo effect and create brand-level experiences on retail media networks. They will do so not because they seek an immediate customer but because they can connect their brand content experience to a trusted media network like Amazon, Nordstrom, eBay, etc.
The second thing Robert wants you to think about relates to the B2B opportunity. More retail media network opportunities for B2B brands are coming.
You can already buy into content syndication networks such as Netline, Business2Community, and others. But given the astronomical growth, for example, of Amazon's B2B marketplace ($35 billion in 2023), Robert expects a similar trend of retail media networks to emerge on these types of platforms.   
"If I were Adobe, Microsoft, Salesforce, HubSpot, or any brand with big content platforms, I'd look to monetize them by selling paid sponsorship of content (as advertising or sponsored content) on them," Robert says.
As you think about creative ways to use your paid advertising spend, consider the retail media networks in 2024.
Like what you read here?
Get yourself a subscription to daily or weekly updates.  It's free – and you can change your preferences or unsubscribe anytime.
HANDPICKED RELATED CONTENT:
Cover image by Joseph Kalinowski/Content Marketing Institute
AI driving an exponential increase in marketing technology solutions
The martech landscape is expanding and AI is the prime driving force. That's the topline news from the "Martech 2024" report released today. And, while that will get the headline, the report contains much more.
Since the release of the most recent Martech Landscape in May 2023, 2,042 new marketing technology tools have surfaced, bringing the total to 13,080 — an 18.5% increase. Of those, 1,498 (73%) were AI-based. 
"But where did it land?" said Frans Riemersma of Martech Tribe during a joint video conference call with Scott Brinker of ChiefMartec and HubSpot. "And the usual suspect, of course, is content. But the truth is you can build an empire with all the genAI that has been surfacing — and by an empire, I mean, of course, a business."
Content tools accounted for 34% of all the new AI tools, far ahead of video, the second-place category, which had only 4.85%. U.S. companies were responsible for 61% of these tools — not surprising given that most of the generative AI dynamos, like OpenAI, are based here. Next up was the U.K. at 5.7%, but third place was a big surprise: Iceland — with a population of 373,000 — launched 4.6% of all AI martech tools. That's significantly ahead of fourth place India (3.5%), whose population is 1.4 billion and which has a significant tech industry. 
Dig deeper: 3 ways email marketers should actually use AI
The global development of these tools shows the desire for solutions that natively understand the place they are being used. 
"These regional products in their particular country…they're fantastic," said Brinker. "They're loved, and part of it is because they understand the culture, they've got the right thing in the language, the support is in that language."
Now that we've looked at the headline stuff, let's take a deep dive into the fascinating body of the report.
The report: A deeper dive
Marketing technology "is a study in contradictions," according to Brinker and Riemersma. 
In the new report they embrace these contradictions, telling readers that, while they support "discipline and fiscal responsibility" in martech management, failure to innovate might mean "missing out on opportunities for competitive advantage." By all means, edit your stack meticulously to ensure it meets business value use cases — but sure, spend 5-10% of your time playing with "cool" new tools that don't yet have a use case. That seems like a lot of time.
Similarly, while you mustn't be "carried away" by new technology hype cycles, you mustn't ignore them either. You need to make "deliberate choices" in the realm of technological change, but be agile about implementing them. Be excited by martech innovation, in other words, but be sensible about it.
The growing landscape
Consolidation for the martech space is not in sight, Brinker and Riemersma say. Despite many mergers and acquisitions, and a steadily increasing number of bankruptcies and dissolutions, the exponentially increasing launch of new start-ups powers continuing growth.
It should be observed, of course, that this is almost entirely a cloud-based, subscription-based commercial space. To launch a martech start-up doesn't require manufacturing, storage and distribution capabilities, or necessarily a workforce; it just requires uploading an app to the cloud. That is surely one reason new start-ups appear at such a startling rate. 
Dig deeper: AI ad spending has skyrocketed this year
As the authors admit, "(i)f we measure by revenue and/or install base, the graph of all martech companies is a 'long tail' distribution." What's more, focus on the 200 or so leading companies in the space and consolidation can certainly be seen.
Long-tail tools are certainly not under-utilized, however. Based on a survey of over 1,000 real-world stacks, the report finds long-tail tools constitute about half of the solutions portfolios — a proportion that has remained fairly consistent since 2017. The authors see long-tail adoption where users perceive feature gaps — or subpar feature performance — in their core solutions.
Composability and aggregation
The other two trends covered in detail in the report are composability and aggregation. In brief, a composable view of a martech stack means seeing it as a collection of features and functions rather than a collection of software products. A composable "architecture" is one where apps, workflows, customer experiences, etc., are developed using features of multiple products to serve a specific use case.
Indeed, some martech vendors are now describing their own offerings as composable, meaning that their proprietary features are designed to be used in tandem with third-party solutions that integrate with them. This is an evolution of the core-suite-plus-app-marketplace framework.
That framework is what Brinker and Riemersma refer to as "vertical aggregation." "Horizontal aggregation," they write, is "a newer model" where aggregation of software is seen not around certain business functions (marketing, sales, etc.) but around a layer of the tech stack. An obvious example is the data layer, fed from numerous sources and consumed by a range of applications. They correctly observe that this has been an important trend over the past year.
Build it yourself
Finally, and consistent with Brinker's long-time advocacy for the citizen developer, the report detects a nascent trend towards teams creating their own software — a trend that will doubtless be accelerated by support from AI.
So far, the apps that are being created internally may be no more than "simple workflows and automations." But come the day that app development is so democratized that it will be available to a wide range of users, the software will be a "reflection of the way they want their company to operate and the experiences they want to deliver to customers. This will be a powerful dimension for competitive advantage."
Constantine von Hoffman contributed to this report.
Get MarTech! Daily. Free. In your inbox.