The Real Secret to My Social Media Success
The other day I was recording a podcast episode with my co-host Eric Siu and he wanted to discuss something in particular.
He wanted to talk about how I got to 62,000 Instagram followers in a very short period of time and without spending any money on ads or marketing.
Eric is a great marketer as well, and when it comes to social media, he spends much more time than me on it and he even has people at his ad agency dedicated to helping him grow his personal brand online.
And of writing this post, he has 4,056 followers.
It's not just with Instagram either, I beat him on all platforms.
Heck, he even does something that I don't do, which is smart… he continually pays for advice. For example, he had his team jump on an hour call with Gary Vaynerchuk's social media team so they could learn from them and grow his brand faster.
So, what's the secret to my success?
Well, before I get into it, let me first start off by saying I love Eric to death and the point of this post isn't to pick on him or talk crap… more so, I have a point to make and you'll see it in a bit below.
Is it the fundamentals?
Everyone talks about strategies to grow your social following… from going live and posting frequently or talking about the type of content you should post and what you shouldn't do.
I could even tell you that you need to respond to every comment and build up a relationship with your followers, which will help you grow your following and brand.
And although all of this is true, I dare you to try the fundamentals or the strategies that every marketing guru talks about doing. If you do, I bet this will happen…
It will be a lot of work and, if you are lucky, in the next 30 days you may get 10% more followers.
Sure, some of you will get much more growth, but you'll find that you can't always replicate it and it won't be consistent.
So, what is it then?
Is it luck?
Luck is part of some people's success, but not most. The problem with luck is it doesn't teach you much and it isn't easy to replicate.
The reality is, some people will just get lucky and have tons of traction.
In other words, luck isn't the secret. But if you do want to get "luckier", then you can always become an early adopter which helps a bit.
How early is early?
When you jump onto a social network when it's new, it's easier to grow and become popular.
For example, I got to over 30,000 Twitter followers extremely fast when Twitter first came out.
At that time, I wasn't as well known… it happened because of a few reasons:
Social algorithms are favorable early on – algorithms are typically favorable and most people will see your content. There aren't many restrictions, hence it's easier to grow. After a social network becomes popular, algorithms tighten up.
Algorithms are easier to game early on – when you are early, you can use a lot of hacks to grow faster. For example, on Twitter, I would just follow tons of people a day and unfollow anyone who didn't follow me back.
First movers' advantage – social networks want more users, that's what they need to succeed. In the early stages of any platform, they want to help you gain more of a following so you will keep using their platform.
But here is the thing: even though being an early adopter helps, it's not the secret to my success.
Just look at Instagram, I am really late to the game. But I started growing fast just this year as that is when we really started.
If you can get in early, you should do so, assuming you have the time to invest. For example, this is the time to get in on Tiktok.
When you get in early, there is always the chance that the social network may end up flopping. But if it does take off, you'll be ahead of your competition.
So what did I do?
Here was the secret to my growth… and it still works today. Eric Siu is even doing it with me right now.
It's piggybacking on brands that are already popular.
When I first started, no one knew who I was. And I'm not saying everyone knows who I am today… by no means do I have a large brand like Tony Robbins.
What I did early on in my career was piggyback off of other popular brands.
For example, I hit up Pete Cashmore from Mashable, Michael Arrington from TechCrunch, Adrianna Huffington from Huffington Post, and so many other popular sites like ReadWriteWeb, Business Insider, Gawker Media, and GigaOm to name just a few.
I know some of them don't exist anymore, but back then they were extremely popular. Anyone who was in tech, and even some who weren't, knew about each of those sites.
So, when I got started as a marketer, I hit up all of those sites and offered all of them free marketing in exchange for promoting my brand and adding "Marketing done by Neil Patel" or "Marketing done by Pronet", which was my ad agency back then.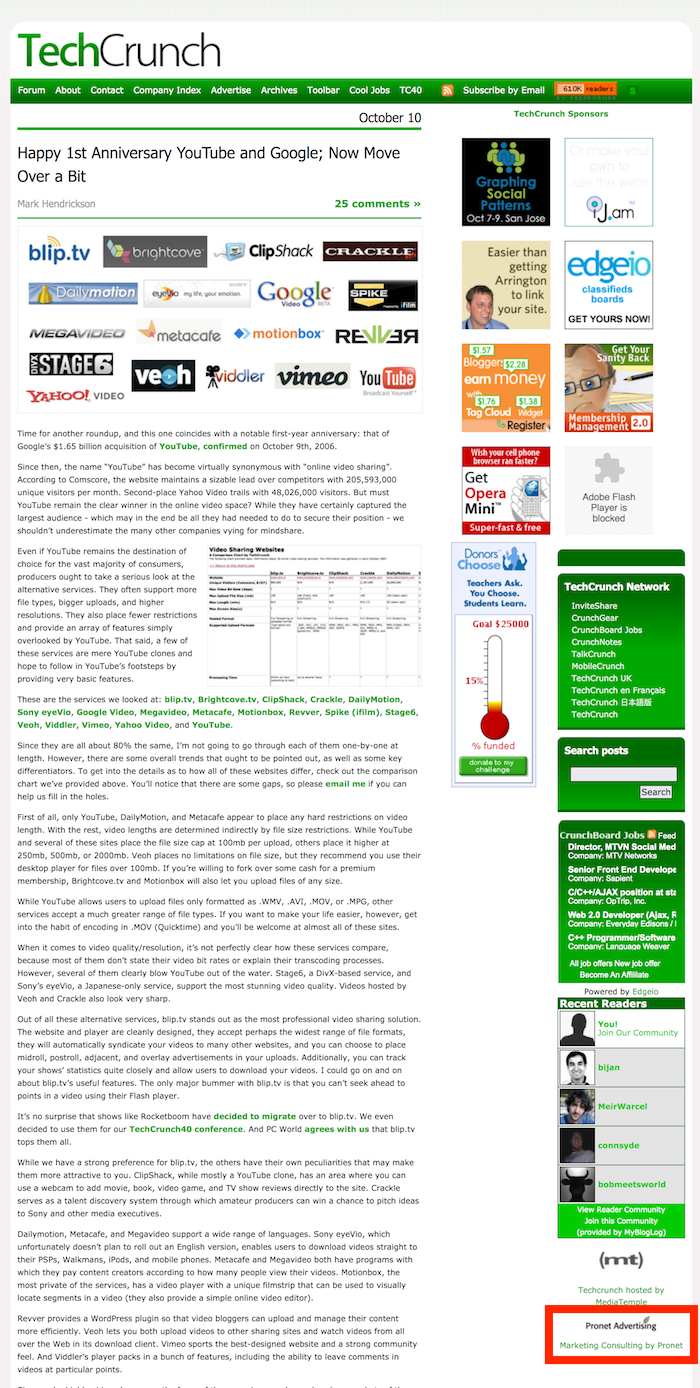 Just look at the image above. TechCrunch used to link to my site on every page of their site… forget rich anchor text, it really is all about branding.
The hardest part is, I had to email and message these influencers dozens of times just to convince them to let me help them for free. And a lot of them ignored me or didn't accept my offer.
But of a few said yes.
Pete from Mashable was one of the first to say yes. Once his traffic and rankings skyrocketed, his competition hit me up. Especially TechCrunch.
What was funny, though, is that I was constantly emailing TechCrunch and didn't hear back. 6 months from my first email, they eventually accepted my offer.
I made a deal with Michael Arrington at the time in which once I boosted his traffic, he would add a logo that I did marketing for him, which you saw above.
In addition to that, he would tell all of his venture capital friends what I did for him and share the results (so hopefully they would share it with their portfolio companies, which would help me make money) and write a blog post about me.
He didn't end up writing the blog post, which is fine, but he did the other two.
When he sent out emails to VCs showing a Google Analytics graph of his traffic growing at a rapid pace, I quickly got inundated with inquiries about my marketing services.
In addition to that, I was building up my brand… and my social media following. I was gaining "social clout" because I was doing good work for influencers.
One could argue that boosting traffic for someone like TechCrunch by 30% is worth millions and I should have charged for my services. Although I spent countless time doing free work, I wouldn't trade it for any single dollar as it is what made me and helped build up my reputation.
And I didn't stop there. Even today, I try to associate myself with other popular brands. Just like how I was lucky enough to work with Robert Herjavec, who has a popular TV show in the US along with Mark Cuban…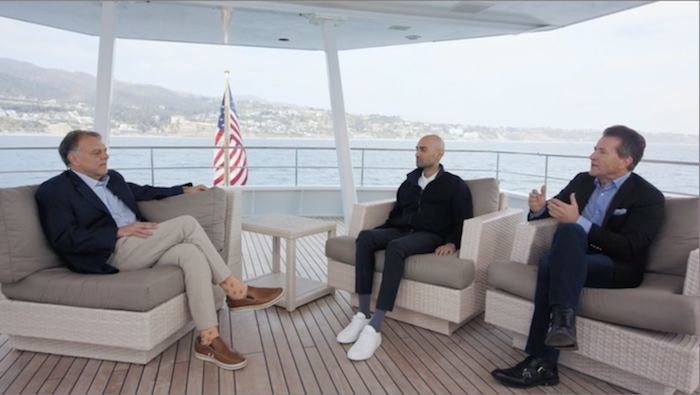 Here's how many visitors I was getting for my name "Neil Patel" on a monthly basis before I started working with Robert.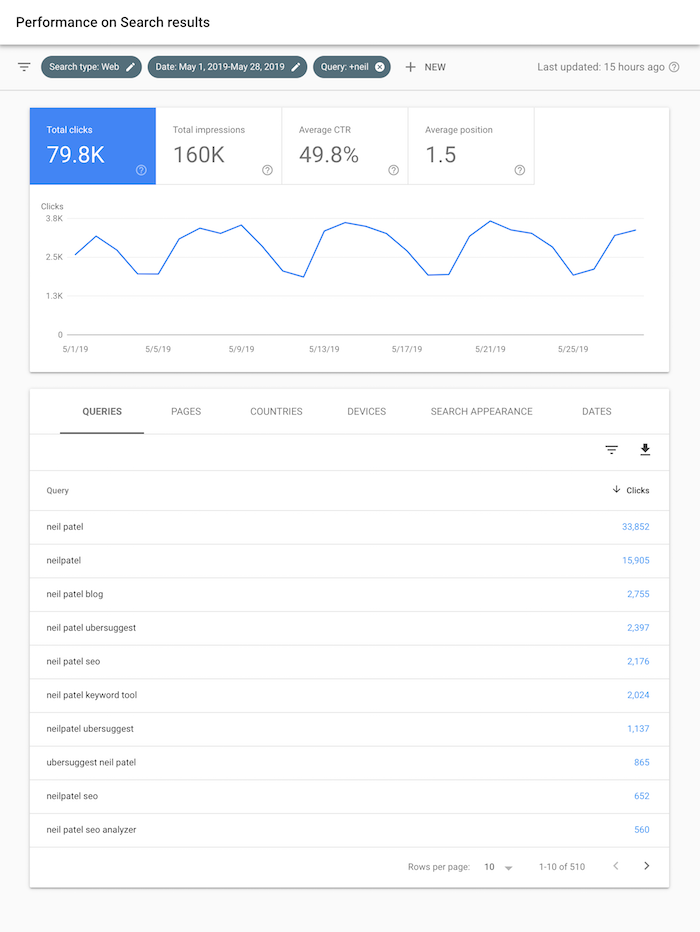 And this is how many visitors I get for my name on a monthly basis a few months after I worked with Robert.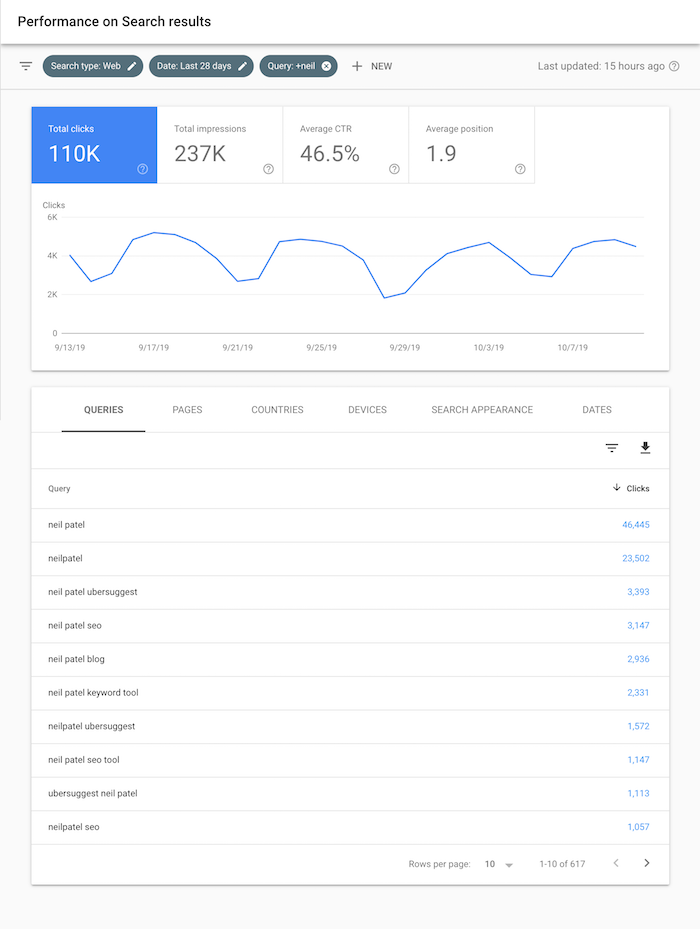 That's a 37.84% increase in a matter of months!
By piggybacking off of popular brands, it doesn't just help my website traffic but also helps to grow my social media following as well.
Just like as you can see below with my Instagram growth…

Now it isn't just me who can do this, anyone can.
How can you piggyback off of other brands?
Just like how I piggybacked off of brands like TechCrunch, Eric is doing something similar to me at the moment.
We have a podcast that generates over 1 million downloads a month.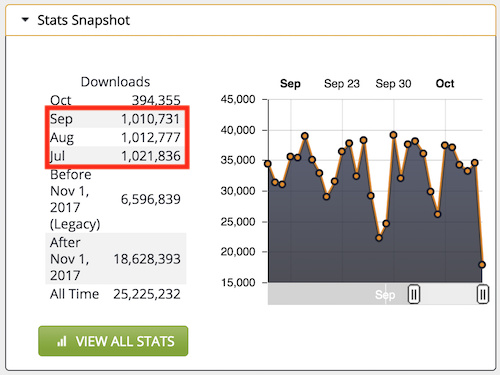 Eric's had a podcast for years, but the one he has with me has more than 10x the listeners. This has helped him grow his brand a lot over the last year.
Let's just look at the data. According to Eric, due to the podcast, he has signed up 6 clients, which has generated 540,000 dollars in annual revenue.
Now when he goes to tech conferences, 3 to 4 people tend to come up to him and mention how they love Marketing School and his work. In addition to that, it has been easier for Eric to set up meetings (people respond back to him more now), and he is also getting advisory shares in companies due to his growing brand. And the best part is, he is getting more paid speaking gigs for up to $10,000 a pop because of the podcast.
The data shows it was a good move by Eric for partnering up with me. He pushed me to do a podcast years ago and I told him no because I was too lazy. He didn't give up though. Eventually, he got me to say yes and flew to my house in Las Vegas to record our first episode.
He did all of the work and it has been a great mutual relationship as doing this podcast has also helped grow my brand at the same time.
Now you are probably thinking, why isn't his follower count growing fast enough?
Well, he needs to do what he is doing with me with a few more influencers to really put fuel to the fire. Just like how I didn't only piggyback off of TechCrunch… at one point the Gawker Media network was linking to me on every page of their sites, which was seen by over 100 million unique people per month.
That really gets your brand out there!
Another example is Brian Dean from Backlinko as he did something similar with me back in the day. Years ago I approached him to write a detailed guide on link building with him and he also created videos that were on my old marketing blog Quick Sprout, which helped him grow his brand.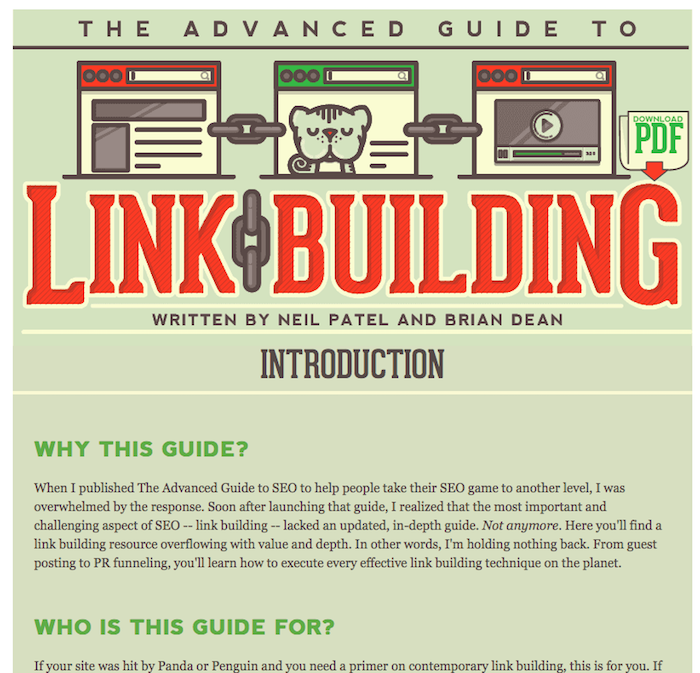 I can't take credit for "making" Eric or Brian successful. They would have done well without me… and in the grand scheme of things, I really didn't do much for either of them.
It's like saying TechCrunch made the Neil Patel brand. Of course, it helped, and helped a lot… but one partnership won't make or break you.
And if I didn't continually blog, create videos, speak at events, or do any of the other stuff that I did, the TechCrunch partnership wouldn't have been as effective.
Eric and Brian would have grown their brand in other ways because their work stands for itself, hence they would have been successful on their own. I just helped provide a little boost, just like how TechCrunch provided me with a boost.
And once more people get to know you, you'll naturally do better on the social web.
For example, when Will Smith created his Instagram account, he didn't have to buy ads or anything. Everyone just knows him already and that's why his Instagram account blew up really quickly.
And you can do what Will Smith did on a smaller scale. Similar to what I did.
But don't expect it overnight. Will Smith has been on television for over 20 years. It's multiple shows, movies, and connections with other famous people that have really helped grow Will's brand.
Of course, we won't get on TV as Will has, but you can piggyback on other popular brands multiple times to create a similar (smaller) effect.
All you have to do is help these influencers out for free.
If you are a web designer, offer design services. If you are a marketer, offer marketing services. If you are selling a product or service, keep giving it away for free and maybe someone will talk about your company.
If you don't have anything you can offer that has value, just look at whatever influencer you want to associate with, see where they may need help, learn that skill, and offer it for free.
It's the easiest way to become popular on the social web.
Conclusion
That's my secret to being popular on the social web.
It's also how I built a decent size company… purely by leveraging other popular brands in the early days.
You can do the same, but you have to be patient. Don't expect it to happen overnight.
For example, Eric's brand has been growing but we have been doing a podcast together for over 2 years now.
Plus, he continually pushes on his own and doesn't just rely on leveraging other influencers.
Remember, nothing worthwhile happens overnight.
You have to be persistent with your emails, your direct messages, your text messages, and whatever else you can do to get a hold of these influencers. Most will ignore you but it is a numbers game and, eventually, you'll be able to associate your brand with someone popular, which will grow your brand.
And last but not least: Don't expect an influencer to make you successful. Sure, multiple influencers are better than one, but that's not what I meant.
If Brian Dean from Backlinko wasn't good at link building, creating content, SEO, and educating, he wouldn't do well… no matter who he associated himself with. The same goes for Eric.
Your skills, your abilities, your product… whatever you are trying to brand needs to stand on its own.
So, what do you think about my secret? Are you going to copy it?
45 Free Content Writing Tools to Love [for Writing, Editing & Content Creation]
Creating content isn't always a walk in the park. (In fact, it can sometimes feel more like trying to swim against the current.)
While other parts of business and marketing are becoming increasingly automated, content creation is still a very manual job. (more…)
How data clean rooms might help keep the internet open
Are data clean rooms the solution to what IAB CEO David Cohen has called the "slow-motion train wreck" of addressability? Voices at the IAB will tell you that they have a big role to play.
"The issue with addressability is that once cookies go away, and with the loss of identifiers, about 80% of the addressable market will become unknown audiences which is why there is a need for privacy-centric consent and a better consent-value exchange," said Jeffrey Bustos, VP, measurement, addressability and data at the IAB.
"Everyone's talking about first-party data, and it is very valuable," he explained, "but most publishers who don't have sign-on, they have about 3 to 10% of their readership's first-party data." First-party data, from the perspective of advertisers who want to reach relevant and audiences, and publishers who want to offer valuable inventory, just isn't enough.
Why we care. Two years ago, who was talking about data clean rooms? The surge of interest is recent and significant, according to the IAB. DCRs have the potential, at least, to keep brands in touch with their audiences on the open internet; to maintain viability for publishers' inventories; and to provide sophisticated measurement capabilities.
How data clean rooms can help. DCRs are a type of privacy-enhancing technology that allows data owners (including brands and publishers) to share customer first-party data in a privacy-compliant way. Clean rooms are secure spaces where first-party data from a number of sources can be resolved to the same customer's profile while that profile remains anonymized.
In other words, a DCR is a kind of Switzerland — a space where a truce is called on competition while first-party data is enriched without compromising privacy.
"The value of a data clean room is that a publisher is able to collaborate with a brand across both their data sources and the brand is able to understand audience behavior," said Bestos. For example, a brand selling eye-glasses might know nothing about their customers except basic transactional data — and that they wear glasses. Matching profiles with a publisher's behavioral data provides enrichment.
"If you're able to understand behavioral context, you're able to understand what your customers are reading, what they're interested in, what their hobbies are," said Bustos. Armed with those insights, a brand has a better idea of what kind of content they want to advertise against.
The publisher does need to have a certain level of first-party data for the matching to take place, even if it doesn't have a universal requirement for sign-ins like The New York Times. A publisher may be able to match only a small percentage of the eye-glass vendor's customers, but if they like reading the sports and arts sections, at least that gives some directional guidance as to what audience the vendor should target.
Dig deeper: Why we care about data clean rooms
What counts as good matching? In its "State of Data 2023" report, which focuses almost exclusively on data clean rooms, concern is expressed that DCR efficacy might be threatened by poor match rates. Average match rates hover around 50% (less for some types of DCR).
Bustos is keen to put this into context. "When you are matching data from a cookie perspective, match rates are usually about 70-ish percent," he said, so 50% isn't terrible, although there's room for improvement.
One obstacle is a persistent lack of interoperability between identity solutions — although it does exist; LiveRamp's RampID is interoperable, for example, with The Trade Desk's UID2.
Nevertheless, said Bustos, "it's incredibly difficult for publishers. They have a bunch of identity pixels firing for all these different things. You don't know which identity provider to use. Definitely a long road ahead to make sure there's interoperability."
Maintaining an open internet. If DCRs can contribute to solving the addressability problem they will also contribute to the challenge of keeping the internet open. Walled gardens like Facebook do have rich troves of first-party and behavioral data; brands can access those audiences, but with very limited visibility into them.
"The reason CTV is a really valuable proposition for advertisers is that you are able to identify the user 1:1 which is really powerful," Bustos said. "Your standard news or editorial publisher doesn't have that. I mean, the New York Times has moved to that and it's been incredibly successful for them." In order to compete with the walled gardens and streaming services, publishers need to offer some degree of addressability — and without relying on cookies.
But DCRs are a heavy lift. Data maturity is an important qualification for getting the most out of a DCR. The IAB report shows that, of the brands evaluating or using DCRs, over 70% have other data-related technologies like CDPs and DMPs.
"If you want a data clean room," Bustos explained, "there are a lot of other technological solutions you have to have in place before. You need to make sure you have strong data assets." He also recommends starting out by asking what you want to achieve, not what technology would be nice to have. "The first question is, what do you want to accomplish? You may not need a DCR. 'I want to do this,' then see what tools would get you to that."
Understand also that implementation is going to require talent. "It is a demanding project in terms of the set-up," said Bustos, "and there's been significant growth in consulting companies and agencies helping set up these data clean rooms. You do need a lot of people, so it's more efficient to hire outside help for the set up, and then just have a maintenance crew in-house."
Underuse of measurement capabilities. One key finding in the IAB's research is that DCR users are exploiting the audience matching capabilities much more than realizing the potential for measurement and attribution. "You need very strong data scientists and engineers to build advanced models," Bustos said.
"A lot of brands that look into this say, 'I want to be able to do a predictive analysis of my high lifetime value customers that are going to buy in the next 90 days.' Or 'I want to be able to measure which channels are driving the most incremental lift.' It's very complex analyses they want to do; but they don't really have a reason as to why. What is the point? Understand your outcome and develop a sequential data strategy."
Trying to understand incremental lift from your marketing can take a long time, he warned. "But you can easily do a reach and frequency and overlap analysis." That will identify wasted investment in channels and as a by-product suggest where incremental lift is occurring. "There's a need for companies to know what they want, identify what the outcome is, and then there are steps that are going to get you there. That's also going to help to prove out ROI."
Dig deeper: Failure to get the most out of data clean rooms is costing marketers money
---
Get MarTech! Daily. Free. In your inbox.
---
At this stage, your goal is to generate repeat buys and real profits. While your entry-point offer was designed for conversions, your ascension offers should be geared for profits—because if you're serving your customers well, they'll want to buy again and again.
Ascension offers may be simple upsells made after that initial purchase… bigger, better solutions… or "done for you" add-ons.
So now we must ask ourselves, what is our core flagship offer and how do we continue to deliver value after the first sale is made? What is the thing that we are selling? 
How we continue to deliver value after the first sale is really important, because having upsells and cross sales gives you the ability to sell to customers you already have. It will give you higher Average Customer values, which is going to give you higher margins. Which means you can spend more to acquire new customers. 
Why does this matter? It matters because of this universal law of marketing and customer acquisition, he or she who is able and willing to spend the most to acquire a customer wins.
Very often the business with the best product messaging very often is the business that can throw the most into customer acquisition. Now there are two ways to do that.
The first way is to just raise a lot of money. The problem is if you have a lot of money, that doesn't last forever. At some point you need economics. 
The second way, and the most timeless and predictable approach, is to simply have the highest value customers of anyone in your market. If your customers are worth more to you than they are to your competitors, you can spend more to acquire them at the same margin. 
If a customer is worth twice as much to you than it is to your competitor, you can spend twice as much trying to acquire them to make the same margin. You can invest in your customer acquisition, because your customers are investing in your business. You can invest in your customer experiences, and when we invest more into the customer we build brands that have greater value. Meaning, people are more likely to choose you over someone else, which can actually lower acquisition costs. 
Happy customers refer others to us, which is called zero dollar customer acquisition, and generally just ensures you're making a bigger impact. You can invest more in the customer experience and customer acquisition process if you don't have high margins. 
If you deliver a preview experience, you can utilize revenue maximizers like up sells, cross sales, and bundles. These are things that would follow up the initial sale or are combined with the initial sale to increase the Average Customer Value.
The best example of an immediate upsell is the classic McDonalds, "would you like fries with that?" You got just a burger, do you also want fries with that? 
What distinguishes an upsell from other types of follow up offers is the upsell promise, the same end result for a bigger and better end result. 
What's your desired result when you go to McDonalds? It's not to eat healthy food, and it's not even to eat a small amount of food. When you go to McDonalds your job is to have a tasty, greasy, predictable inexpensive meal. No one is going there because it's healthy, you're going there because you want to eat good. 
It's predictable. It's not going to break the bank for a hamburger, neither will adding fries or a Coke. It's the same experience, but it's BIGGER and BETTER. 
Amazon does this all of the time with their "Customers Who Bought This Also Bought …" But this one is algorithmic. The point of a cross sell is that it is relevant to the consumer, but it doesn't necessarily have to be aligned with the original purchase. What you don't want to do is start someone down one path and confuse them.
You can make this process easy with Bundles and Kits. With a bundle or a kit you're essentially saying to someone, "you can buy just one piece, or you can get this bundle that does all of these other things for a little bit more. And it's a higher value."
The idea behind bundles and kits is that we are adding to the primary offer, not offering them something different. We're simply promising to get them this desired result in higher definition. 
The Elements of High-Converting Revenue Maximizers (like our bundles and kits) are:
Speed
If you're an e-Commerce business, selling a physical product, this can look like: offering free shipping for orders $X or more. We're looking to get your customers the same desired result, but with less work for them.
Automation
If you're a furniture business, and you want to add a Revenue Maximizer, this can look like: Right now for an extra $X our highly trained employees will come and put this together for you. 
Access 
People will pay for speed, they'll pay for less work, but they will also pay for a look behind the curtain. Think about the people who pay for Backstage Passes. Your customers will pay for a VIP experience just so they can kind of see how everything works. 
Remember, the ascension stage doesn't have to stop. Once you have a customer, you should do your best to make them a customer for life. You should continue serving them. Continue asking them, "what needs are we still not meeting" and seek to meet those needs. 
It is your job as a marketer to seek out to discover these needs, to bring these back to the product team, because that's what's going to enable you to fully maximize the average customer value. Which is going to enable you to have a whole lot more to spend to acquire those customers and make your job a whole lot easier. 
Now that you understand the importance of the ascend stage, let's apply it to our examples.
Hazel & Hem could have free priority shipping over $150, a "Boutique Points" reward program with exclusive "double point" days to encourage spending, and an exclusive "Stylist Package" that includes a full outfit custom selected for the customer. 
Cyrus & Clark can retain current clients by offering an annual strategic plan, "Done for You" Marketing services that execute on the strategic plan, and the top tier would allow customers to be the exclusive company that Cyrus & Clark services in specific geographical territories.