How Brands Can Use Affiliate Marketing to Increase Their Marketing ROI
Opinions expressed by Entrepreneur contributors are their own.
Getting a strong return on a marketing investment: It keeps a lot of people up at night. How will the money spent on that PR firm translate into sales dollars? How will that huge advertising campaign that cost a million dollars impact your brand? For most marketing initiatives, determining ROI is an unpredictable waiting game with no guaranteed outcome.
There's one marketing model that plays by a different set of rules, however — rules based on paying for performance after results have been driven. Affiliate marketing, once viewed as a shot in the dark, is driven today by sophisticated technology, transparency between partners and compensation tied to specific, measurable results.
Related: How This Affiliate Marketer Learned Enough About His Craft to Strike Out on His Own
That said, a successful affiliate program requires the right experience and partners. Whether you're looking to start an affiliate program or take an existing program to the next level, you need a strong team behind you. Here are the five players you need to ensure you're driving the affiliate ROI you want:
1. An Agency
Unless your company has the resources and bandwidth to build a team of several people with extensive affiliate marketing knowledge and experience, hiring an agency is the best option. Agency marketers are experienced at handling the multifaceted complexities that come with building and growing a high-performing program.
Make sure you're clearly looking at the agency's setup, ensuring it's based on performance. I once saw a speech by Robert Glazer, the CEO of Acceleration Partners, a global affiliate marketing company. He wrote a book called "Performance Partnerships," which focused on aligning any affiliate program with performance. It's easy to fall for the trap of working with a company that says it will bring you sales, but make sure it puts its money where its mouth is. If it doesn't deliver in the short term, chances are high it might not be able to meet long-term expectations.
2. A Scalable Network or Platform
Whether it's an affiliate network or SaaS platform, all affiliate marketing programs need a technology platform to run on. Your platform should be able to support your growth plans and offer you the right features and geographical coverage, particularly if yours is a global brand.
Awin is an example of this type of platform. The firm provides technology that helps address industry challenges, such as third-party tracking, data light tracking, attribution and advanced commissioning. These types of data weren't available years ago, but with new tech advances, you can identify what works, as well as when and why. It's not just valuable for the affiliate program, but for also learning what works so you can apply that knowledge to different sales channels.
3. Loyalty Partners
If you want to scale your program quickly, you'll need to partner with players who are focused on establishing loyal customers. Ebates is one of the bigger players in the loyalty sector operating on a performance basis. The brand is actively expanding its markets and its categories beyond retail to include travel, dining and ride-sharing for cash-back rewards.
It's important to determine whether these types of partners will truly create loyalty or attract the wrong types of customers. If you pick the right type of loyalty partner, it can result in the strong, loyal customer base that's key to long-term brand survival.
Related: How Loyalty Programs Are Emerging as Effective Marketing Tools
4. Mobile Partners
Customers are increasingly spending time on mobile devices and apps, so it's imperative to have partners within your affiliate program who dominate the mobile ecosystem.
Ibotta is an example of one of these apps in the U.S., connecting consumers with grocery, retail and lifestyle brands and rewarding them with cash for buying things they need. I used the app pretty easily when I was standing in line with customer service after a purchase. I simply took a picture of the receipt, and the app applied the cash back to my account. With a lot of mobile user growth, it's good to look at partners who have developed a mobile user experience that makes things easy and accessible for the customer.
5. Tech-Driven Publishers
The affiliate space has grown well beyond coupon and deal partners. To drive incremental revenue on a performance basis within your program, consider partnering with publishers who are advanced in e-commerce technology, including deep website integration and artificial intelligence.
RevLifter is one example: The company helps brands deliver more conversions, incremental sales and customers by personalizing deals for advertisers across marketing channels. Available worldwide on a pay-per-performance model, it uses AI to understand real-time signals from users' on-site behavior and deliver the right deal to the right customer at the right time.
Related: Partner Programs Turn Competitors Into Collaborators
Whether you're new to affiliate marketing or simply needing to step up your game, checking off these boxes will help you develop a strong affiliate marketing program. ROI is hard to manage when you're running a bevy of marketing programs, but the right team can help you take the reins — and get the outcome you want.
Source link
16 Common Blogging Mistakes

Common blogging mistakes often derail even the most dedicated bloggers. From neglecting SEO strategies to ignoring audience engagement, these errors …

Source link
How to Make Money with Custom GPTs and ChatGPT
The new GPT store on ChatGPT is expected to be launched by OpenAI in December, there aere a number of other ways that you can make money with Custom GPTs and ChatGPT as well as the new store. In the dynamic and ever-changing digital world we inhabit, the emergence of Generative Pre-trained Transformers (GPTs), such as ChatGPT, signifies a major leap in the field of artificial intelligence. These sophisticated AI models are rapidly transitioning from being mere technological marvels to valuable assets in the business arena.
Entrepreneurs and forward-thinking innovators are now at the forefront, actively seeking out and experimenting with inventive and effective ways to harness the financial potential of these tools. This article aims to explore and elucidate a variety of practical and groundbreaking strategies. These strategies are not only innovative but also highly effective in tapping into the revenue-generating capabilities of custom GPTs and ChatGPT. We aim to provide a deeper understanding and fresh perspectives, moving beyond traditional methods and applications, thereby opening up new avenues for leveraging these advanced AI technologies in the commercial sphere.
1. Merchandise Sales Powered by GPTs
One of the most direct ways to monetize GPTs is through merchandise sales. For instance, imagine a custom GPT named 'Sticker WHZ' designed to create unique sticker designs based on user inputs. Such AI-powered creativity can be a game-changer in the custom merchandise sector. By integrating with platforms like Teespring, the entire process from creation to distribution can be streamlined, offering a novel avenue for e-commerce.
2. Tip Jars: A Simple Yet Effective Model
Tip jars represent a straightforward monetization method. A custom GPT, like 'Grimoire GPT', aimed at enhancing specific skills such as engineering, can include a feature allowing satisfied users to leave tips. Digital platforms like 'Buy Me a Coffee' and Patreon make it easy to set up and manage these donations, providing a steady income stream for creators and developers.
3. Consultation Calls Facilitated by GPTs
GPTs can serve as powerful lead generators for professional services. For example, a 'GPT Idea Evaluator' could offer initial assessments or advice, leading interested users to personalized, paid consultation calls. This approach not only monetizes the GPT service but also leverages its capabilities to enhance a consulting business. Scheduling and payment collection can be efficiently managed through tools like Calendly.
4. Affiliate Marketing: GPTs as Product Recommenders
Affiliate marketing, a well-established online revenue model, can be innovatively integrated with GPTs. These AI systems can be programmed to recommend products or services, embedding affiliate links within their responses. This method adapts well to a variety of niches, including physical goods and online courses, and can be a subtle yet effective monetization strategy.
5. Sponsorships Tailored for GPT Content
Similar to traditional digital content monetization, GPTs can feature sponsored links or product mentions in their outputs. This approach mirrors the sponsorship models seen in digital platforms like YouTube or newsletters, providing an opportunity for businesses to reach audiences through AI-generated content.
Summary
Filed Under: Guides




Latest Geeky Gadgets Deals
Disclosure: Some of our articles include affiliate links. If you buy something through one of these links, Geeky Gadgets may earn an affiliate commission. Learn about our Disclosure Policy.
5 best 2024 planners to organize your busy life and keep track of tasks
By
Amanda Saintina
Wednesday, November 22, 2023 5:23PM
As a participant in multiple affiliate marketing programs, Localish will earn a commission for certain purchases. See full disclaimer below*
When it comes to completing daily tasks, planning goals, and scheduling your day instead of opting for an app, an effective planner can be a great tool to jumpstart your productivity. The right planner for you can help you set better habits, simplify your to-dos, and serve as a reflection on the year. It may be hard to find the ideal one for you with the vast array of planners available. That is why we have narrowed down the 5 best 2024 planners based on effectiveness, versatility, and design.
I love these Papier planners because of their range of designs whether you like color block or floral prints these planners add a pop of color to any bag. This is a hardcover planner that is organized with weekly, monthly, and yearly overviews.
Papier offers 16-week undated planners, which is perfect because you can start it at any point in time of the year. You can personalize it with your name on the cover and choose any style personal to you. I love that it allows you to plan your productivity with no time constraints. You can use this planner to write to-dos, make shopping lists, review your goals, and track habits. It comes with a mind map page which I personally love because it allows you to reflect on your personal growth.
Clever Fox Planner 2nd Edition Dated Jan 2024-Jan 2025
This Clever Fox weekly and monthly planner covers 13 months from January 2024 until January 2025. What I like about this planner is that each month has a different color scheme to keep things fun. My favorite part of this planner is the weekly spread with a personal to do list, habit tracker, and weekly reflections. This helps with keeping track of your progress and helps visualize what steps you can take to improve the following week.
Gratitude For Manifestation: How To Become The Master Of Your Life Through Gratitude
Andrea Cox and Kathleen Cameron's gratitude journal are for those wanting a non-traditional way to manifest and journal your goals. They are experts in manifestation and created this journal to help you focus on gratitude journaling. What I love about this is that there are blank gratitude statements where you can share what you are grateful for now and what's coming your way.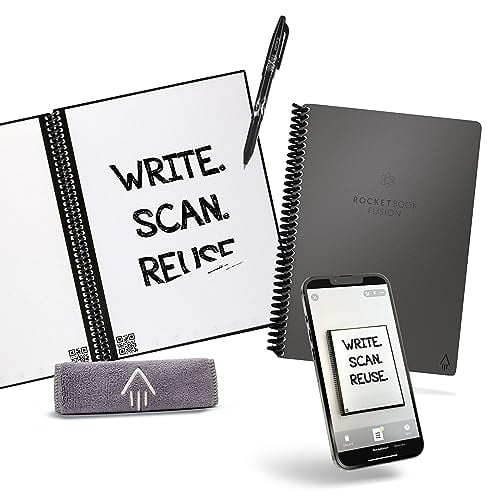 Rocketbook Planner Notebook Fusion
The Rocketbook Planner is a reusable smart planner and notebook. It is a 42-page notebook equipped with 7 different page styles: task lists, weekly planner, monthly calendar, OKR goal template, idealist, dot grid and lined pages. You can easily upload these handwritten notes to any cloud services like Google Drive, Slack, ICloud, and more. I chose this planner because I love how sustainable this item is. It comes with a special pen to write, and wipes clear with water and cloth.
* By clicking on the featured links, visitors will leave Localish.com and be directed to third-party e-commerce sites that operate under different terms and privacy policies. Although we are sharing our personal opinions of these products with you, Localish is not endorsing these products. It has not performed product safety testing on any of these products, did not manufacture them, and is not selling, or distributing them and is not making any representations about the safety or caliber of these products. Prices and availability are subject to change from the date of publication.
Copyright © 2023 WLS-TV. All Rights Reserved.