A Beginner's Guide to Email Marketing
It may be one of the oldest forms of digital communication, but email still reigns supreme when it comes to usage.
Sure, there are other newer methods of communicating with your audience and customers. Communication methods like social media, live chat, and many others. However, with a user base of over 4 billion people, email is the king of marketing channels.
Additionally, email marketing has an ROI of $38 for every dollar spent, meaning it deserves a place in every marketer's toolbox.
Email marketing is still ranked as the most effective marketing channel, beating out social media, SEO, and affiliate marketing.
Why is that? With all the hype over new channels, why is decades-old technology still one of the most effective marketing strategies?
Despite the rise of social, people use email more than other platforms. After all, what's the good of marketing to someone if they're not there?
Data shows that most people are on email—and the number increases every year.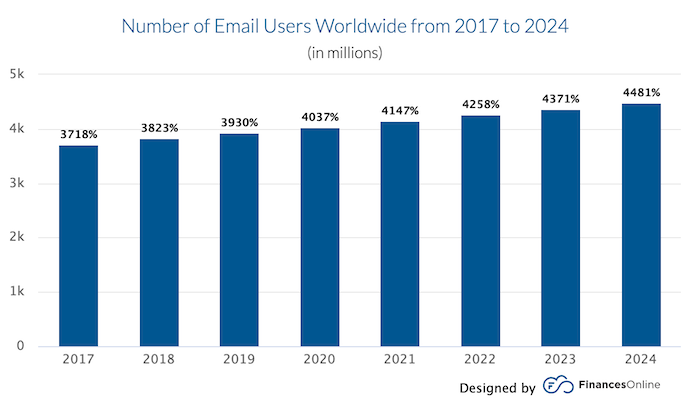 In addition, with email marketing you own the connections—you don't have to worry about algorithm changes tanking your reach.
That's why building a successful email marketing campaign is more important than ever.
There's a problem—most people don't know how to do it right. (In fact, you've probably seen those people in your email box.)
This post will walk you through tips and strategies for executing impactful email marketing campaigns.
What is Email Marketing?
Email marketing is the act of sending promotional messages to people in mass quantities. It typically is to generate sales or leads and it may contain advertising.
Remember: You're a Guest in Their Inbox
People are inundated with interruptions, pitches, and advertisements everywhere they look.
Though you might think your email is special. To the reader, your email is one in a million—and not in a good way.
This is why it's important to remember where you are and use good manners.
Getting into someone's inbox is like being invited to their home for dinner. If they ask you to take your shoes off, you respectfully do so.
It's the same with email marketing, so before we begin I'd simply like to remind you to be on your best behavior at all times and remember… you're a guest in their inbox.
Now, let's talk about how to build your email marketing strategy from the ground up.
How Does Email Marketing Work?
Email marketing is one of the top-performing strategies, in no small part because it's fairly intuitive and often automated.
In its basic form, an effective email marketing campaign requires three essential elements:
1. An Email List
For you to pull off successful email campaigns, you need an active email list. This is a database of email contacts who have expressed interest in receiving marketing communications from your brand.
There are many ways to build an email list. One of the easiest is to create a lead magnet (also called an offer) your target audience is interested in, like a coupon, in exchange for their email addresses.
2. An Email Service Provider
An email service provider (ESP), also known as an email marketing platform, is software that helps manage your email list. It also helps design and execute automated email marketing campaigns.
Using an ESP allows you to automate actions triggered by your target audience's behaviors. These enable you to personalize each interaction with them, meaning engagement and conversion rates generally improve.
3. Clearly Defined Goals
You can use email marketing to achieve many business goals. For example, you can use email marketing to:
boost brand awareness
generate and nurture leads
keep customers engaged
increase customer loyalty and lifetime value
To execute an effective email marketing campaign, your email list, ESP, and goals must align. Then, you can get to work.
The first step is to segment your email list according to subscriber demographics or actions.
Next, create an email or series of emails designed to get consumers to do something (your goal).
Finally, use your ESP to send emails and monitor the campaign automatically.
Advantages and Disadvantages of Email Marketing
Just like any other marketing channel, email marketing has pros and cons. Let's briefly dive into some of the more significant ones:
Advantages of Email Marketing
Email Is Permission-based
When a customer trusts you with their email address, it's the virtual equivalent of being given the keys to their house. Gaining permission to enter rather than showing up uninvited increases the chances of engagement and conversion.
Affords You Direct Access to Your Audience
You can communicate directly with subscribers on their schedules. In addition, because people check their emails daily, your email is likely to be viewed.
Gives You More Control
With most other marketing platforms, you don't own the platform. If the platform ceases to exist, all your hard work sinks with it.
With email, you own the relationships you forge with your subscribers.
More Personalization Capabilities
You can use demographic or psychographic data to create personalized and hyper-targeted campaigns. Research shows segmented and personalized campaigns increase revenue by as much as 760 percent.
Measurable
Measuring the effectiveness of a marketing campaign is crucial, and automated email marketing makes measuring your campaign a breeze.
Scalable
Email marketing campaigns can scale without putting a strain on your resources or compromising quality.
Disadvantages of Email Marketing
Tough Competition
Standing out in a cluttered inbox can be quite a challenge. You have to be creative to ensure your emails get noticed and opened.
You Need an Email List
With email marketing, you must already have an email list for your campaigns to be effective.
Tricky Rules and Regulations to Navigate
There are a lot of rules governing the use of email for commercial purposes. Common examples include GDPR, CAN-SPAM, and CCPA. All of these state you can't send unsolicited emails.
Unfortunately, some subscribers also report your emails as being spam even after they subscribed to the list. As a result, your sender reputation takes a hit.
Delivery and Deliverability Issues
Getting your email to land in receivers' inboxes is not guaranteed. To run effective email marketing campaigns, you must contend with delivery and deliverability issues.
Email Marketing Examples
Let's briefly look at a couple of email marketing examples for a bit of inspiration.
Teaonic
Teaonic is an e-commerce brand specializing in organic, healthy teas.
Subject line: Getting Low On Wellness?

What does this email get right?
Great subject line: The subject line focuses on the target audience's main pain point, i.e., improving their health.
Leverages color psychology: The bright, warm colors trigger feelings of health and happiness.
Well-timed: The email is targeted at people who have purchased the product and is sent when the customer's supply is about to run out.
Bluehost
Well-known for its hosting services, Bluehost decided to try its hand at creating a website builder.
Subject line: Bluehost's new Website Builder makes building simple.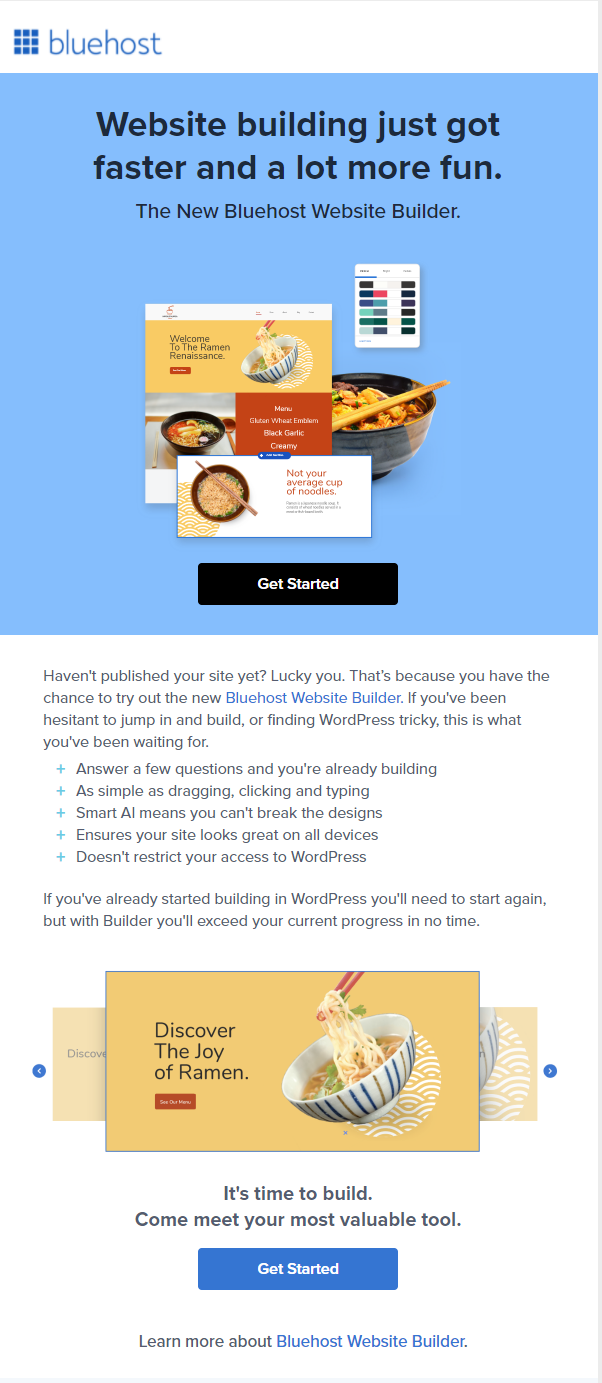 Sells the benefits, not features: Focusing on the benefits makes the copy more compelling.
Clean design: The simple design makes the email aesthetically pleasing and easy to read.
Excellent targeting: Bluehost knows their audience is mainly made up of small business owners without technical expertise. The email uses language targeted at this demographic.
How to Automate Your Email Marketing
While the automation process varies from one ESP to another, there are some universal steps to automating your email marketing.
Define Your Segments
Effective email marketing campaigns start with list segmentation. Use the data you have about your subscribers to group them. This allows you to create more personalized campaigns.
Design an Efficient Workflow
After segmenting your email list, it's time to design a workflow. This is the series of emails to fulfill the objective of the campaign.
Determine the Right Triggers
Once you've designed your workflow, determine the triggers that will set off the following email in the sequence. Examples of triggers can include customers opening your email, clicking on a link, or not opening it at all within a predetermined time frame.
Best Email Marketing Strategies
To succeed with email marketing, you have to be strategic in the way you design your campaigns. Here are some of the best email marketing strategies you can employ.
Use the Right List Building Strategies
The success of your email marketing campaigns depends on the quality of your email list. To build such a list, you must use list-building strategies designed to attract your target audience. For example, a case study promoted on LinkedIn may help a B2B brand build a list of engaged subscribers but flop when used by a B2C brand.
Practice Good Email List Hygiene
Another essential email marketing strategy is practicing good email list hygiene. Cleaning out inactive subscribers and email addresses that are no longer in use will ensure you have a good sender reputation.
Keep Your List Warm
Regularly send emails to your list to keep your subscribers engaged (warm). However, sporadic emailing could result in subscribers forgetting who you are and lead to low conversion rates.
If some of your subscribers go cold, you can run a re-engagement campaign.
Focus on One Objective
Design each campaign and email to focus on one objective. Trying to kill two (or more) birds with one stone doesn't work with email marketing. It only confuses your audience and reduces your conversion rates.
Define and Track the Right KPIs
Email marketing is more than sending your subscribers a couple of emails. It also entails tracking the performance of your campaigns. To do so, you must define and track the right key performance indicators (KPIs).
Top 7 Email Marketing Tools Every Marketer Should Know
To pull off a successful campaign, you need to leverage email marketing tools to optimize your processes. Here are the top seven you should know:
Email Service Providers (ESP)
One of the most critical email marketing tools you need is an ESP. Some top ESPs are:
Constant Contact: This is best for e-commerce email marketing campaigns, thanks to features like automated product recommendations and shoppable emails. Plans start at $20/month.
Sendinblue: Sendinblue is best for small businesses running simple email campaigns. It has a rich feature set with a CRM, live chat, and SMS, among others. Plans start at $25/month.
Pardot: B2B email campaigns require a platform specifically designed for the B2B buyer journey. Pardot fits the bill perfectly. However, to build high-growth email campaigns with Pardot, be prepared to part with at least $1,250/month.
Deliverability Tools
Email deliverability refers to the ability of an ESP to place emails in your receivers' inboxes successfully. The wise email marketer will have an email deliverability tester in their toolbox. Here are some of the top ones:
MailGenius: MailGenius inspects your emails for possible spam triggers. You can use it to run deliverability tests to ensure your emails reach their intended recipients' inboxes. MailGenius is a free tool.
GlockApps: GlockApps shows your delivery results in real-time, including whether your email landed in the Inbox, Spam folder, Gmail's Promotional or Social tabs, or if it was never delivered at all. Personal accounts are free, and prices go up from there.
Testing and Tracking
Testing and tracking the campaign performance helps you create optimized iterations of your campaigns. Which email marketing tools are best for testing and tracking?
Litmus: You can use Litmus to test and track your emails in traditional web clients and popular mobile devices.
Email Personalization Tools
Take your personalization game beyond just using your recipients' name by using a personalization tool.
Hyperise: When it comes to personalizing email marketing campaigns, no tool does it better than Hyperise. It helps you add dynamic, personalized images to each of your emails, including profile images from social media platforms.
How to Write Email Marketing Copy That Drives Results
Whatever your email marketing goal is, it all hinges on email marketing copy.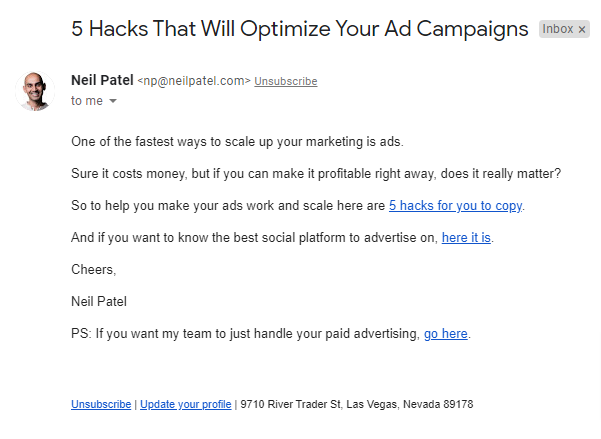 That's why you must write yours well. To do that:
Know Your Audience
The first step to crafting compelling email marketing copy is knowing your audience. This will help you better segment your list and create hyper-targeted email copy.
Craft a Hard-to-Ignore Subject Line
The subject line is one of the most important elements of email copy as it helps readers decide whether to open your email. To craft a hard-to-ignore subject line:
use keywords
make it benefit-driven
use active voice
personalize as much as possible
Get the Preview Text Right
Email preview text appears immediately below or beside the subject line. Limited to a maximum of 140 characters (email client dependent), it acts as an elevator pitch to convince people to open your email. An optimized preview text is an extension of your subject line and reinforces your value proposition.
Make It Easy to Read
People are busy. That's why you should write your email copy so it's easy to read and understand. Do this by:
using short sentences and paragraphs
avoiding jargon and complicated words
using bullet points
If your readers find your emails easy to read, they'll likely engage with them more.
Leverage Storytelling
Stories are a powerful way to grab attention and get your message across. That's why you should leverage storytelling in your email copy.
Use Psychology to Your Advantage
Human beings are wired to react in specific ways. Use psychological triggers to direct your readers towards fulfilling your campaign objectives. Examples of such triggers include:
fear of missing out (FOMO)
color psychology
social proof
Used well, these triggers can help you craft email effective copy.
Email Marketing Step 1: Build Your List
Before you can start sending out emails, you need people to send emails to. How do you get started building your list? Start by adding a banner or form to your website simply asking people to subscribe.
Then, follow these tips.
1. Offer An Incentive
Think of email addresses as a currency: you wouldn't give money away for free, right? Offering an incentive is the simplest way to gather email addresses.
There are many ways you can do this, of course. Some prefer to give something away for free while others simply offer a newsletter or product updates.
For example, the business newsletter Morning Brew offers readers a simple benefit: their fun, interesting updates every morning.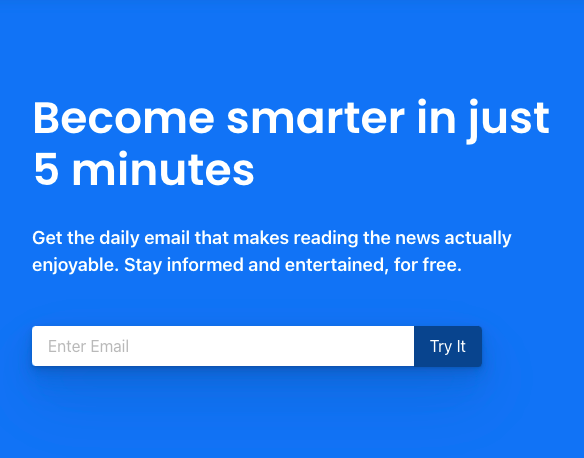 Search Engine Journal uses a small form in their right sidebar offering daily news—they also ask which topics the user is interested in, which helps them send more valuable content.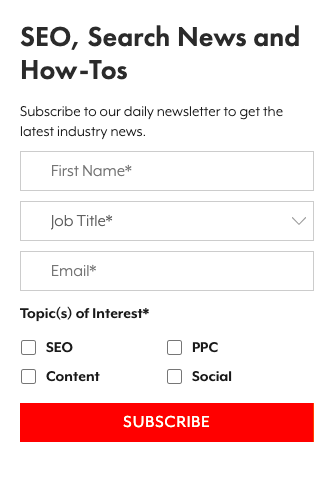 You can also offer a checklist, ebook, white paper, or another downloadable asset. Contests and giveaways are another great way to convince people to share their email addresses.
I can't tell you which is the right or wrong path for your business, but I can tell you that it's important to have a clear purpose when asking for an address.
This is where a strong call to action comes into play, and copywriting is super important.
Establish your credibility, explain what the emails are for, and get people interested in receiving them.
Simply posting "enter your email for updates" isn't going to get anyone excited. Instead, share specifics.
By sharing a specific call to action or benefit to providing their email address, you can get more people to subscribe.
Some common ways to entice people to sign up include:
email series
free downloads
free white papers or eBooks
update lists, like new releases and product updates
Whatever that incentive is, make it clear and enticing, and don't be afraid to promote it.
2. Follow Email Marketing Laws and Regulations
You'll also want to make sure your emails follow local rules and regulations, including CAN-SPAM and GDPR.
Don't let all the legalese scare you—just make sure you never buy email lists and consider using double opt-in options so people know what they are getting into. Finally, make it easy for people to unsubscribe.
Email Marketing Step 2: Provide Great Content
Email marketing is all about expectations, and it's up to you to set them.
If your call to action is strong, and your follow-up is consistent, then you can count on a successful email campaign.
However, if you promise to send one email per week and instead send them daily, then you're setting yourself up for failure.
On the contrary, if someone is expecting daily updates or critical product updates and you don't deliver, then they are likely to be just as upset in that case, too.
This is why the first follow-up email is so crucial to the success of your email marketing efforts.
Send an Introduction Email
For example, here's a basic welcome email from Airbnb to a new host. It explains the basics of the process and what you can expect to receive from Airbnb.
Spotify sends out a similar email that confirms the subscription and lets them know what they can expect.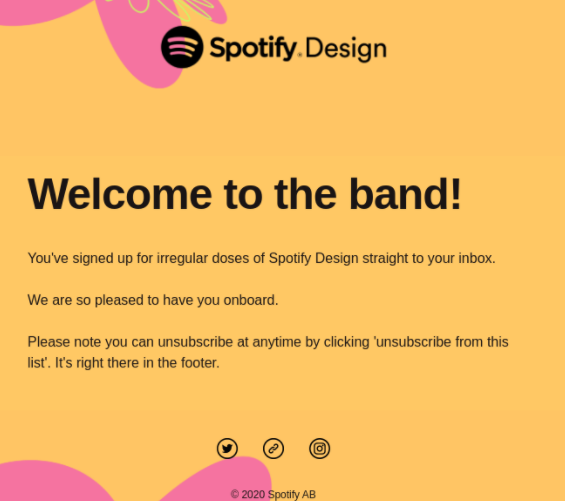 Almost all email service providers give you the option to create an automated welcome sequence, so take advantage of it.
The initial follow-up email should be sent immediately as a way to introduce yourself and detail what you plan on doing with your new subscriber's email address.
It's better to be long-winded and detailed than it is to be quick and unobtrusive, but if you can pull off quick and concise, then more power to you.
From here, it's simply a matter of living up to their expectations.
Don't Pitch Right Away
You're not running an email list just for the fun of it—you're there to engage customers and make sales.
Transitioning from an email list that provides tons of free value into a list that pitches a product for money can be a tricky switch to make.
To do it effectively, it's a good idea to think in advance about your pitching. You don't want to surprise everyone with a pitch all of the sudden.
You'll have a much more successful campaign if people expect sales pitches every once in a while.
If you're going to get in the habit of selling often, try to put yourself in the reader's shoes.
Ask yourself if your messaging is consistent with the expectations you've set. If possible, understand what the customer has shown interest in before, and send similar offers down the line.
Those that send blind offers are far more likely to lose permission to keep doing so.
Again, each business has different needs, and there aren't any hard and fast rules as to how often you can pitch or provide content.
Just remember that an email list is a permission asset and it's better to err on the side of caution than to play it loose and reckless.
How to Write a Great Email Newsletter
Let's talk about the difference between a good newsletter and a bad newsletter.
The first sign that you've received a bad newsletter is that you don't recall ever asking to receive it.
Typically, this happens when a business either fails to maintain a regular email routine or manually adds someone to their list after receiving a business card or personal email.
Make sure everyone remembers you—the best way to do this is not to let your emails lapse for too long. Try to send an email at least once a month, or once a week if you can.
I find the most compelling newsletters are those that do a great job of mixing messaging and updates.
For example, while the email might contain a list of product updates and images, it's balanced by a personal message or friendly memo.
Use your newsletter as a way to further your relationship with the reader/customer rather than to pitch them.
Save the pitch for unique updates, offers, and announcements.
Use Email Automation Carefully
If you're just starting out with an email list, it's easy to imagine you'll have time to personally respond to every new subscriber.
Once you start getting more than a handful of subscribers, it becomes next to impossible to keep up.
You'll start to get more and more complex campaigns, and following through with everyone all the time is impossible.
Top marketers seem to do this exact thing. How?
Their secret is email automation.
It automatically sends out emails that you schedule in advance.
By scheduling a set of emails to send in advance, you can prevent "going dark" for any length of time.
Oftentimes, companies plan out a series of emails—ranging from a few days to a few months—that automatically deliver, warming up anyone who signs up for your list.
That way, when you do need to announce a new product or sale, you can count on the fact that they are paying attention.
Since you've built up a relationship over several weeks or months, you're much less likely to annoy your readers.
Email Marketing Step 3: Analytics and Segmentation
Now that you understand the basics behind an effective email campaign, let's talk about how to take things to the next level.
Specifically, using segmentation and analytics to refine your broadcasts and generate even better results than a basic campaign.
How To Understand Email Analytics
We've talked before about the importance of analytics in web copy, and email is no different.
Every email service provider I've ever worked with provides complimentary analytics.
Though they're all important, the three most important are open rate, click-through rate, and unsubscribes. Let's break down each one and see what there is to learn from it.
First, your open rate explains how many people open your emails. It's based on a single invisible tracking pixel that loads when someone clicks on your message.
When looking at open rates, it'll usually tell you how well you've built your relationship with readers. Ideally, people are excited to read your emails and open them quickly.
If your open rate is low, it usually means you have a lot of unengaged subscribers. You need to work harder on providing value and managing expectations. Here are a few tips on raising your open rate.
Next, your click-through rate, or CTR, shows how many people clicked on a link (if any) in your email.
If your CTR is low, it means that your message is either not targeted enough, or simply not getting through. In this case, focus on improving your copy.
Finally, your unsubscribe rate tells you how many people have clicked the "unsubscribe" button at the bottom of your email.
If your unsubscribe rate is high in relation to your opt-in rate, then you've passed the point of building value and writing good copy… you've got some serious work to do.
Essentially you've built a sieve and people that sign up eventually leave. If this is you, try to examine when people are leaving and take action based on those leaks.
If they're leaving after a certain automated email, then re-work it. If they're leaving after marketing messages, then re-work the way you present offers.
If they're leaving early on in your email funnel, then you need to fix your original call to action so that it's in harmony with what you're sending.
Email analytics are critical because, if you're paying attention, they'll give you very specific clues as to what you're doing wrong.
Of course, the key here is "paying attention."
How To Segment Your Email Marketing List
If you're unfamiliar with the term, email segmentation is the practice of splitting up your email list into more targeted groups.
Here are a few ways to segment a larger list:
customer list (in comparison to leads who haven't bought)
newsletter subscribers
daily email list (in comparison to weekly, bi-weekly, monthly, etc)
demographics, such as age, location, or job title
interests, such as marketing or sales topics
Just like targeting in paid ads, dividing your list gives you the ability to send more targeted communications.
For example, some customers want both product and sales updates, while others might only want to hear about new versions. Sales team leads might want to hear about a new sales feature but not a new marketing tool.
Plus, you can send specific emails to buyers thanking them for their purchase, like this email from Chrome Industries thanking people for making a purchase.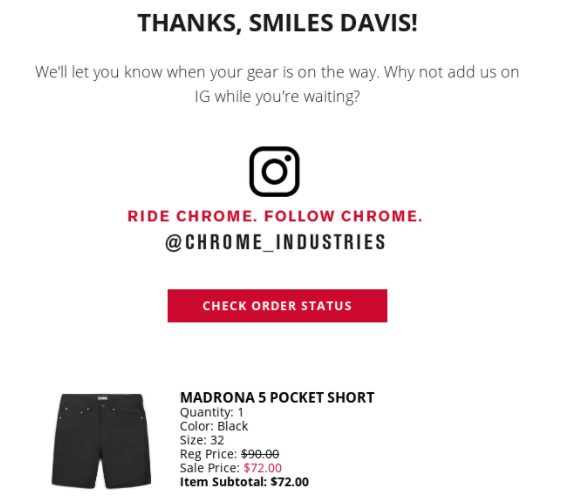 With segmentation, you can send a broadcast only to those that didn't open your last message (ask them why), or to those that showed interest (a second pitch).
You can also split test messaging amongst different groups to A/B test titles, content, or best practices.
As you can see, segmentation isn't rocket science, but it is work, which is why most don't take the time to do it right.
If you do, you'll immediately separate yourself from the pack.
How Much Is Your Email List Worth?
Your email list is one of your most valuable resources, and if you learn how to treat it right, it will pay for itself many times over.
Over time, you can start tracking how much money people on your list spend on average. This will tell you how much your list is worth.
If a list of 10,000 people usually spends $50,000 on a campaign, and you run two of those campaigns each year, you could average it out and say that each subscriber is worth $10 a year.
When you do the math like that, it is easy to see how losing several hundred subscribers could be dangerous to your bottom line.
Email Marketing FAQs 
What are the benefits of email marketing?
Email marketing can help businesses reach a wider audience, drive sales, recover abandoned carts, and further develop your relationship with your audience.
How do I build an email list?
You can offer a downloadable asset, host a giveaway, or provide a free email course.
What email marketing regulations are there?
CAN-SPAM and GDPR (for Europe) require you to protect user's privacy and avoid sending emails to purchased lists.
What is email automation?
Email automation allows you to create complex email campaigns that send emails based on actions, such as when a subscriber adds an item to their cart or downloads an asset.
How do I segment my email list?
Use your email tool to split subscribers based on demographics, interests, or customers versus non-customers. Then, send customized messages to each segment.
Email Marketing Conclusion
If you've been ignoring email marketing, it's time to reevaluate your strategy.
Email marketing delivers huge returns for marketers willing to learn how to do it right. It doesn't have to be too complicated.
First, remember you're a guest in the inboxes of your subscribers. Your emails are always just one click away from losing their interest forever. Be polite, respectful, and deliver value.
As you get started, you'll need to ask permission. Of course, it's the right thing to do. In the era of new data protections, like the EU's GDPR, it's also a legal requirement.
You'll want to follow through with the promises you make. Provide people with what they've asked for and email regularly to line up with their expectations.
There's no formula for boosting email automation. It's all about what works best for you and your company's voice and style.
Finally, you can move on to email segmentation and analytics once you've mastered the basics. Start sending separate types of emails to different groups of people so you can deliver more useful emails.
What email marketing practices keep your readers engaged?
See How My Agency Can Drive Massive Amounts of Traffic to Your Website
SEO – unlock massive amounts of SEO traffic. See real results.
Content Marketing – our team creates epic content that will get shared, get links, and attract traffic.
Paid Media – effective paid strategies with clear ROI.
Top Email Marketing Strategies To Use For Q4
As we approach the Q4 period, it's never too early to start preparing for your Black Friday and Cyber Monday email marketing strategy. Once Black Friday week hits, our inboxes are filled with a hurricane of brands fighting for attention, each with the 'biggest' and the 'best' offers you won't get anywhere else. 
To set your brand apart from the competition, it's crucial to plan ahead. Over 60% of brands send out multiple emails over the course of the Black Friday/ Cyber Monday weekend, and it's a perfect time to up your brand awareness ahead of the Christmas shopping season. 
If you're not sure where to start with Q4 planning or need some last-minute tips to enhance your strategy, we've outlined some top email marketing strategies to incorporate into your plans!
1. Send Pre-Black Friday Emails
Sending pre-Black Friday emails is great for keeping your brand at the forefront of people's minds ahead of the big day. Not only will a pre-Black Friday email let your audience know about your upcoming event, but it will also ensure that your audience is regularly checking in on your brand throughout the Q4 period.
Additionally, sending pre-Black Friday emails is beneficial for A/B testing. Sending out different formats of emails with minor tweaks, such as the CTAs or subject lines, can help you determine what your audience is more likely to engage with so you can then tailor your Black Friday strategy accordingly.
2. Run a Lead Gen
It might seem like a given, but ahead of Black Friday, it's beneficial to give your email list a much-needed boost. A simple but effective way to do this is to run a lead-generation advertising campaign. For example, offering your audience the chance to win a prize in return for submitting details, such as their email address, is a quick and easy way to increase your list size. Similarly, refreshing your pop-up on-site with an irresistible offer will also contribute to gaining new profiles.
3. Offer Something Unexpected
Email marketers only have 3 seconds to capture the attention of their readers, which isn't surprising due to the amount of emails the average person will receive daily. If an email isn't driving you to click on it, it swiftly gets forgotten about and lost within their inbox. Over Black Friday, to avoid this happening, make sure you're offering something unexpected, whether that's a mystery discount or a gift with each purchase!
One of the worst things you can do over Black Friday is to overcomplicate your promotions. If you're offering multiple promotions and codes, things can get a bit too hectic. To make it as simple as possible, consider running a standard "up to" percentage amount. If you want to include a code, it helps to have this auto-applied at checkout to avoid customers dropping off if they input it incorrectly. In the design of your email, make sure the promotion is clearly highlighted within the design so it can't be missed, and also referenced in the body copy and subject lines too!
5. Create An Effective Design 
Creating an effective design is one thing, but how do you know what works? To improve your email campaigns, consider running an A/B test to pinpoint which elements of your design are improving the CTR and which are hindering it.
Highlighting metrics such as colour, font size, and CTAs can instantly impact whether people will click through or discard! If a consumer clicks on your email, you'll have, on average, 11 seconds to keep their attention, so making sure your design stands out for the wave of other Black Friday content is key! Keep the design of your email reflective of your branding but with stand-out elements specifically for the shopping season.
6. Make Use Of CTAs
CTAs (call-to-action) are one of the most underrated parts of any email campaign, especially over the Black Friday period. They're one of the driving forces behind making your email recipients turn into passive readers to customers. One key way to make your CTAs stand out is to make use of bright and bold colours that will attract and hold attention. Additionally, it's important to think about the placement of your CTAs to increase your click-through rate, make sure the copy used is clear and concise (between two and five words) and use actionable language.
7. Focus On Subject Lines
Subject lines are make or break for every email campaign. Over Black Friday, consumers' inboxes are cluttered with emails, so it's important to stand out. It's estimated that on Black Friday, 116.5 million emails from brands were sent out (more than any other day), and Black Friday sees the highest number of emails opened and clicked. To prevent your emails from being lost in the void, having a cracking subject line to stand out from competitors is everything.
The secret to a great subject line is to keep it short and snappy. On average, subject lines with 50 characters or less tend to get an average of 12% higher open rates and 75% higher click-through rates. Including emojis within subject lines has been seen to increase click-through-rates by as much as 28%!
Additionally, it helps to use language that will really pique your audience's interest, stay away from any overused cliches and keep them as attention-grabbing as possible.
8. Prep for Cyber Monday
To plan an effective Black Friday, it's crucial to prepare for Cyber events too. With Cyber following straight after, it's easy to forget about it or not prioritise it as much as Black Friday, however, it's still an extremely profitable day! To make the most of it, create dedicated campaigns and tailor your online sales messaging so that it focuses on driving urgency. 
9. Incorporate SMS into Your Strategy
Sometimes the importance of SMS can be overlooked because a lot of brands assume that text messages won't fit in with their brand. However, it's a no-brainer for reaching even more customers. On average, 82% of people engage with marketing content on their smartphones, so it's something to definitely explore, especially over the busy shopping period.
To gain SMS sign-ups, you can effectively tie your SMS campaign in with your lead generation and ask for customers to fill out their phone number as well as their email address. That way, they'll be opted into your send list. It can also be used to send reminders when sales have launched or when offers are coming to a close.
Despite having only 160 characters to work with, SMS campaigns are longer than recommended email subject lines, so it can be just as, if not more effective than email marketing campaigns.
Mastering Email A/B Testing for Mobile Apps: The Ultimate Guide
Welcome to the world of email A/B testing for mobile apps!
Here at Favoured, we're all about delivering the best results for our clients, and that includes mastering the art of email marketing. In this guide, we'll take you through the essentials of A/B testing your email campaigns to achieve maximum success for your mobile app.
What Is Email A/B Testing?
Email A/B testing, also known as split testing, is a method used to compare two or more variations of an email campaign to determine which one performs better. The goal is to identify the version that resonates most with your target audience, ultimately leading to higher open rates, click-through rates, and overall engagement.
In the context of mobile apps, email A/B testing can be particularly valuable, as it helps you fine-tune your marketing messages to drive user acquisition, engagement, and retention.
Benefits Of Email A/B Testing
There are numerous advantages to incorporating A/B testing into your email marketing strategy for mobile apps. Some of the key benefits include:
Improved open rates: By testing different subject lines, you can identify which ones capture your audience's attention and entice them to open your emails.
Increased click-through rates: Experimenting with various email elements, such as CTAs and layout, can help you determine the most effective ways to encourage recipients to take action.
Enhanced engagement: A/B testing allows you to create more relevant and engaging content for your target audience, resulting in higher conversion rates and stronger user relationships.
Data-driven decision making: With A/B testing, you can make informed decisions based on actual user behaviour, rather than relying on assumptions or gut feelings.
Key Metrics To Track
When conducting email A/B tests, it's essential to track specific metrics to gauge the success of your campaigns. Some of the most critical metrics to monitor include:
Open rate: The percentage of recipients who open your email. This metric can help you evaluate the effectiveness of your subject lines.
Click-through rate (CTR): The percentage of recipients who click on a link within your email. A high CTR can indicate that your email content is engaging and relevant.
Conversion rate: The percentage of recipients who take the desired action after clicking a link in your email, such as downloading your app, making a purchase, or signing up for a newsletter.
Unsubscribe rate: The percentage of recipients who opt out of receiving future emails from you. A high unsubscribe rate may suggest that your email content is not resonating with your audience.
Understanding the basics of email A/B testing is the first step towards optimising your mobile app marketing campaigns. By grasping the concept, benefits, and key metrics of A/B testing, you'll be well-equipped to make data-driven decisions that drive real results for your mobile app.
Setting Up Your Test 
Defining Your Goal
Before you start setting up your A/B test, it's crucial to determine the primary objective of your test. Having a clear goal will help you focus your efforts and make data-driven decisions based on the results. Your goal should align with your overall mobile app marketing strategy and be specific, measurable, attainable, relevant, and time-bound (SMART). Examples of goals for email A/B tests include:
Increasing the open rate by 10% within 30 days
Boosting the click-through rate by 15% within 60 days
Reducing the unsubscribe rate by 5% within 45 days
Selecting Variables To Test
Once you've set your goal, it's time to choose the variables to test in your email campaign. The variables you select should have a direct impact on your goal and be something you can measure. Here are some common email elements to consider testing:
Subject lines: Test different wording, phrasing, or personalisation techniques to capture your audience's attention.
Email content: Experiment with different content styles, lengths, or structures to see what resonates with your recipients.
Call-to-action (CTA): Try various CTA placements, wording, or button designs to encourage users to take the desired action.
Images and visuals: Test different images, colours, or visual layouts to determine which one drives higher engagement.
Personalisation: Compare personalised content, such as using the recipient's name, to generic content to assess its impact on your metrics.
Creating Variations
Now that you've chosen your variables, it's time to create the variations for your email campaigns. Keep the following tips in mind when crafting your variations:
Limit the number of variations: While it may be tempting to test multiple variations, it's best to limit yourself to two or three, so you don't dilute your results or prolong the testing process.
Make distinct changes: Ensure the variations are different enough to provide meaningful insights. For instance, if testing subject lines, one could be a question, while the other could be a statement.
Keep other elements consistent: To ensure accurate results, only change the variable you're testing and keep all other elements the same across variations.
Consider your audience: When creating variations, take into account your target audience's preferences and behaviours to craft relevant and engaging content.
Setting up an A/B test for your mobile app's email campaigns is an essential step towards optimising your marketing efforts. By defining your goal, selecting the right variables to test, and creating effective variations, you'll be well on your way to enhancing your app's performance and building stronger relationships with your users.
Implementing & Analysing Your Test
Test Duration & Sample Size
Determining the optimal test duration and sample size is crucial for obtaining accurate and reliable results. Here are some factors to consider when deciding on these parameters:
Test duration: The length of your test should be long enough to gather sufficient data, but not so long that it delays your marketing efforts. Generally, a test duration of 7 to 14 days is recommended for most email A/B tests.
Sample size: Your sample size should be large enough to provide statistically significant results. Use an A/B test sample size calculator to determine the appropriate size based on your desired confidence level and the expected difference between variations.
Keep in mind that these recommendations may vary depending on your specific circumstances, such as the size of your email list or the frequency of your email campaigns.
Launching Your Test
Once you've determined the test duration and sample size, it's time to launch your A/B test. Follow these steps to ensure a smooth test launch:
Segment your email list: Divide your email list into random, equal-sized groups to ensure a fair comparison between variations.
Send your variations: Schedule your email campaign to send the different variations to the corresponding segments of your email list.
Monitor the progress: Keep an eye on the key metrics, such as open rates, click-through rates, and conversion rates, throughout the test duration to ensure everything is running smoothly.
Analysing Results & Drawing Conclusions
After your test has concluded, it's essential to analyse the data, draw conclusions, and apply your findings to future email campaigns. Here's how to go about it:
Review the data: Examine the key metrics for each variation and compare them to determine which one performed better.
Check for statistical significance: Use an A/B test calculator to ensure the differences between the variations are statistically significant, indicating that the results are not due to random chance.
Draw conclusions: Based on the data, determine what you've learned from the test and how it can inform your future email marketing efforts. For instance, if a specific subject line format led to higher open rates, consider using a similar approach in future campaigns.
Apply your findings: Incorporate your learnings into your email marketing strategy to continually optimise your campaigns and drive better results for your mobile app.
Implementing and analysing your email A/B tests is a critical step towards optimising your mobile app marketing campaigns. By determining the appropriate test duration and sample size, launching your test, and analysing the results, you'll be able to make data-driven decisions that enhance your app's performance and foster stronger relationships with your users.
Best Practices
Consistent Testing
To achieve long-term success in email marketing for mobile apps, it's crucial to make A/B testing a consistent part of your strategy. Regular testing allows you to:
Continuously optimise your campaigns: Stay ahead of the curve by continually refining your email campaigns based on data-driven insights.
Adapt to changing trends: Keep your email marketing efforts relevant and up-to-date by adapting to evolving user preferences, industry trends, and market dynamics.
Validate new ideas: Use A/B testing to validate new marketing concepts or tactics before fully implementing them in your campaigns.
Avoiding Common Pitfalls
As with any marketing endeavour, there are potential pitfalls to watch out for when conducting email A/B tests. Here are some common mistakes and how to avoid them:
Testing too many variables at once: Focus on testing one variable at a time to ensure accurate results and avoid confusion when analysing the data.
Ignoring statistical significance: Make sure your test results are statistically significant to avoid drawing conclusions based on random chance or insufficient data.
Focusing solely on short-term gains: While it's essential to optimise for immediate results, also consider the long-term impact of your email marketing strategy on user retention and lifetime value.
Utilising Automation & Growth Hacking Strategies
Leveraging automation and growth hacking techniques can help streamline your email A/B testing efforts and drive even better results for your mobile app. Consider the following strategies:
Email automation: Use email marketing automation tools to schedule and send your A/B tests, track key metrics, and segment your email list efficiently.
Dynamic content: Implement dynamic content in your email campaigns to personalise messages based on user behaviour, preferences, or demographics, and A/B test the effectiveness of various personalisation techniques.
Multivariate testing: Once you're comfortable with A/B testing, consider using multivariate testing to assess the impact of multiple variables simultaneously and identify the best combination of elements for your campaigns.
Mastering email A/B testing for your mobile app is an ongoing process that requires consistent effort, learning, and adaptation. By following best practices, avoiding common pitfalls, and utilising automation and growth hacking strategies, you'll be well on your way to achieving long-term success in your email marketing campaigns.
As a data-driven full-funnel marketing agency, Favoured believes in the power of optimising every aspect of the customer journey, and that includes email marketing.
We're dedicated to helping businesses drive real results, and A/B testing plays a crucial role in this process. Reach out if you want to supercharge your email campaigns with us. Happy testing!
The Untapped Power of Email Signatures in Digital Marketing
Digital marketers are continually scrambling to unearth the latest SEO techniques, social media trends, and pay-per-click strategies. However, there's one tool that is often overlooked, gathering dust in the corner, while holding a significant amount of untapped potential. This unassuming powerhouse is none other than the humble email signature. 
This tiny parcel of real estate at the end of your email, which is often given a simple cursory glance, can be a significant part of your digital marketing arsenal. So, before your eyebrows disappear into your hairline, let's delve into why you shouldn't underestimate the might of a well-crafted email signature.
Understanding the Basics of a Professional Email Signature
A professional email signature is more than just your name and job title (or at least it should be). It's like a digital business card – concise, informative, and, if done right, memorable. Here are the fundamental elements of an effective email signature:
Your name and title: This is not the place to be mysterious. Make sure your full name and your position in the company are clearly stated.
Contact information: This typically includes your work phone number, email address, and possibly a physical address if relevant.
Company logo: Adding a company logo increases recognition and adds a visual element to your signature.
Social media icons: Provide links to your professional social media platforms. This bridges the gap between email and social networking, helping to increase your followers.
A call-to-action (CTA): This could be anything from 'Book a free consultation' to 'Check out our latest blog post.' A compelling CTA can drive traffic and conversions.
How to Build an Effective Email Signature
Building an effective email signature is more art than science. It requires finesse, creativity, and the ability to condense crucial information into a compact, engaging package. The following steps should serve as your roadmap:
Keep it short and sweet: Though it might be tempting to include every detail about your role or your company, remember that brevity is key. Your email signature should ideally be no more than three or four lines of text. In this small space, you need to convey who you are, what you do, and how the recipient can connect with you.
Choose the right information: Prioritize what information is most important for your contacts to have. Beyond your basic personal details, consider what would serve your audience best. Would they appreciate a direct line to your desk phone? An invitation to connect on LinkedIn? A link to your latest insightful blog post? Tailor your content to your audience.
Make it mobile-friendly: In today's digital era, it's a given that many people check their emails on their mobile devices. Therefore, ensure your signature is easily readable on smaller screens. A stack, rather than a horizontal layout, typically works better for mobile viewing.
Design for clarity: Select a simple, professional font and stay away from ornate or stylized choices that might confuse or distract the reader. Ensure there is enough contrast between the text color and background so your signature is easily legible. Also, resist the urge to overuse color. Stick to one or two brand colors to maintain a clean, professional look.
Include a call-to-action: This is one of the most underutilized aspects of an email signature. It's an opportunity to direct the recipient towards something specific – a new product, a whitepaper, an event, or even a survey. This CTA should be updated regularly to keep your communication fresh and relevant.
Use appropriate visuals: If there's space, consider adding a professional headshot or your company logo. It helps to humanize your emails and boost brand recognition, but remember to keep the file size small to avoid issues with email loading times.
Add your signature to your email client: After crafting your compelling and concise signature, it's time to bring it to life. Different email clients have their own methods for adding signatures.
Outlook: To add a signature in Outlook, click on 'File', then 'Options', followed by 'Mail'. Navigate to the 'Signatures' button where you can create a new signature and assign it to your desired email account.
Gmail: If you're a Gmail user, click on the gear icon in the top right corner of your mailbox and select 'See all settings'. From there, go to the 'General' tab and scroll down to 'Signature'. Here you can create a new signature and format it as desired.
The Benefits of a Professional Email Signature for Digital Marketing
Harnessing the power of a professional email signature can provide a treasure trove of benefits for your digital marketing strategy.
Enhances Brand Awareness
Each email you send is a branding opportunity, a chance to visually etch your brand into the recipient's memory. With a consistent, professional signature, you reinforce your brand identity with every correspondence. Over time, this repetition builds brand familiarity and keeps you top-of-mind for potential clients or collaborators.
Promotes Brand Consistency
By using a standardized email signature across your organization, you can maintain brand consistency. This professionalism doesn't just look good – it fosters trust and credibility, which are invaluable in any business relationship.
Drives Traffic to Your Website or Social Media
Strategic links in your email signature can guide your recipients to your website, blog, or social media platforms. It's a simple yet effective way to increase your overall web traffic and boost potential conversions.
Boosts SEO
Those strategically placed links can also contribute to your SEO efforts. While they won't have a massive impact, every bit helps when you're competing in the digital marketing arena.
Adds a Personal Touch
An email signature, especially one with a professional headshot, adds a human element to your communication. This touch of personality can help to build trust and foster relationships, particularly important when connecting with new contacts or maintaining existing relationships.
Reinforces Your Professional Image
The simple act of including an informative and professional signature can heighten the perception of your professional image. It shows that you pay attention to details and respect the recipient enough to provide them with important contact information.
Provides a Low-cost Marketing Tool
Unlike other marketing tactics, email signatures cost practically nothing. However, with careful crafting, they can yield considerable returns. By leveraging the emails you already send out every day, you're utilizing a space that would otherwise go to waste.
Offers Additional Contact Points
Including different contact methods in your signature gives recipients more ways to reach you. By offering various channels – whether that's a phone number, a LinkedIn profile, or a direct email address – you make it easier for the recipient to choose their preferred method of communication. In turn, this can lead to increased interaction and engagement.
Final Word
In the constantly evolving landscape of digital marketing, it's easy to get swept up in the whirlwind of new trends and tactics. Amid all this change, however, don't forget about the unassuming power of the professional email signature. Though it may seem small and insignificant in the grand scheme of digital marketing, it can act as a silent yet potent partner in your marketing endeavors.
With its potential to enhance brand awareness, drive web traffic, offer a personal touch, and provide a cost-effective marketing tool, a well-crafted email signature is a hidden gem in the digital marketing toolbox. So, don't overlook this valuable space. Make every pixel count, and let your email signature do some of the heavy lifting in your digital marketing strategy.