Blogging has changed over the years.
When I first started blogging, it wasn't that competitive.
You write an article… on pretty much anything… and you get some social shares.
And then you would try to build links, but even if you weren't great at link building you would still naturally generate more backlinks overtime.
Just take a look at one of my first blog posts that I wrote on August 31, 2005. Here are the first few paragraphs…
SEO Made Easy

The hardest thing for any site owner these days is getting the search engines to properly list their website. Making a site search engine friendly is the key to the success of search engine optimization. A site must be written in a language that the search engine will recognize such as HTML. In addition, the site must have defined keywords that are going to be used in classifying the site.

In all actuality, search engine optimization is nothing more than simple common sense. The whole goal of optimizing your site is so that search engines will find your site easily and catalog it within their systems for easy retrieval by consumers. Simple SEO is not hard and requires only basic knowledge of how algorithms work in relation to programming. The two important things to remember for those that are trying to learn the basics are how a search engine spider works and how it figures out what content is relevant to your keywords you have chosen.
I didn't really provide anything actionable in the post. I even went on to discussing how search engine algorithms aren't that complex.
But back then there weren't many blogs. Now there are over a billion. That's roughly 1 for every 7 people in this world.
Which is why it's hard for you to generate backlinks, social shares or even get SEO traffic when you blog.
So, does that mean all hope is lost and that blogging is dealing?
Of course not. It just means you have to adjust your approach to blogging.
And that's what I am going to share today. Here's the new formula to blogging.
Not all content is equal
Before I dive into the formula you should follow, you should first have a better understanding of the type of content that does well.
And it's not the same for all platforms.
Just look at the screenshot below from the NeilPatel.com blog. These are the top blog posts by traffic…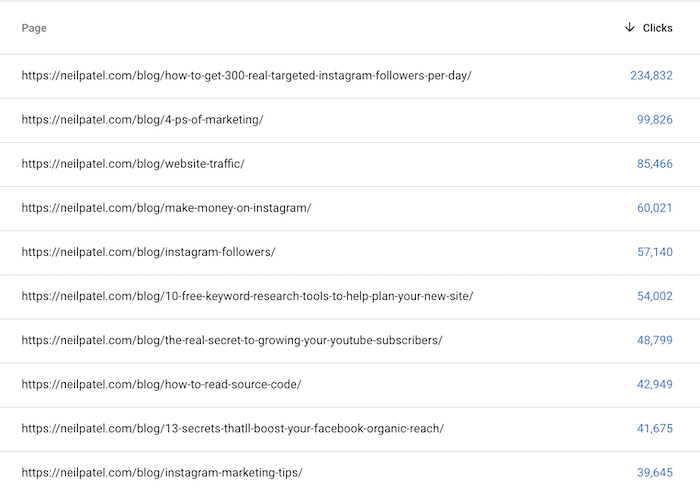 What do you notice?
The first post breaks down how to get Instagram followers.
The second tells you what the 4ps of marketing is.
The third post tells you how to check the traffic of a website.
The fourth breaks down how to make money from Instagram.
Do you see a trend yet?
Here's another hint. Let's look at the keywords that drive traffic to the 4ps post.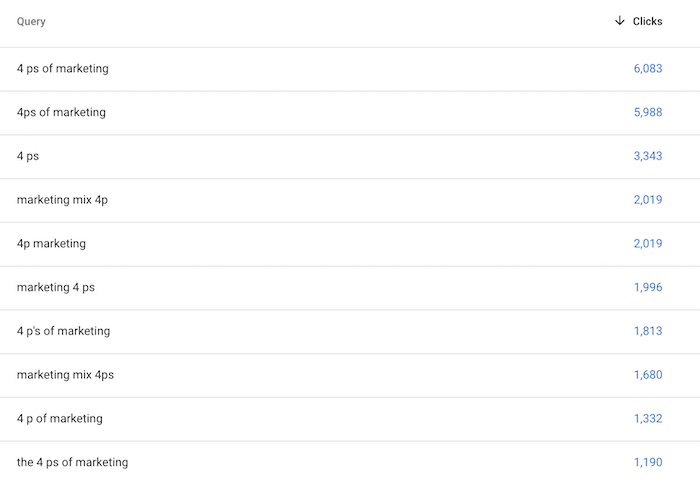 As you can see the keywords that drive traffic to that page are all basic and beginner terms.
But here is what's interesting. I broke down all my beginner content versus advance content.
Beginner content on average gets 3.68x more SEO traffic than advance content.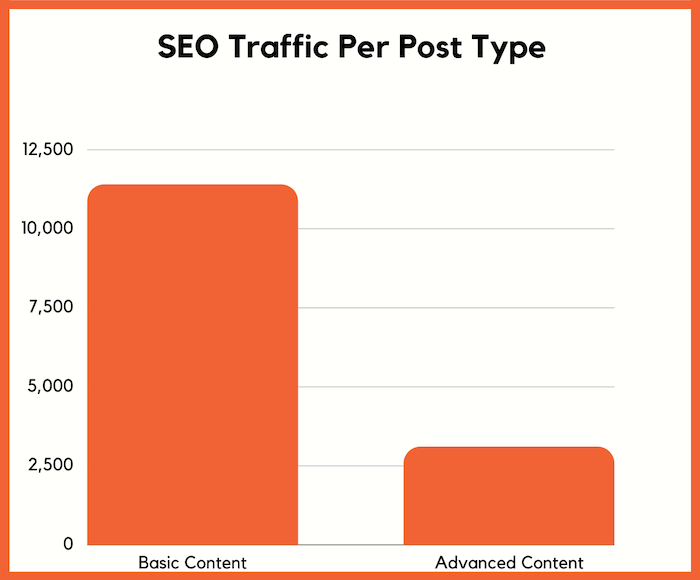 So, at first, I thought it's because beginner content gets shared more on the social web. But that can't be true because I just skip beginner content myself… so I decided to look at the social shares per post on Facebook (I could get Linkedin and Twitter stats due to API limitations).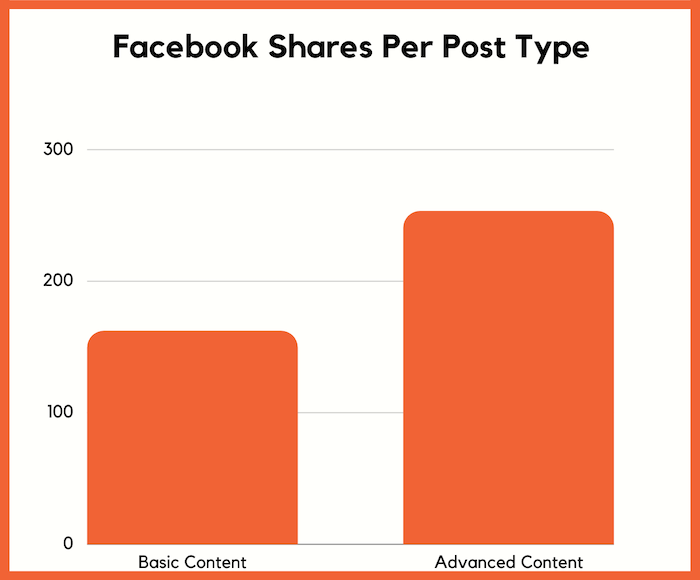 Interestingly enough, advanced content gets 91 more Facebook shares on average and 288 extra visitors from Facebook.
Now let's look at backlinks. (You can check the backlink count for any page here.)
On average my advanced content generated 4.81 times more backlinks on average than my beginner content. (When going through the backlink count numbers, we removed links from scrape sites and RSS feeds as we don't really consider quality links, they are more so spam.)
So, what does this tell you?
Well first off, not all content is equal.
Secondly, advanced content tends to get more backlinks and social shares.
But basic content tends to generate more SEO traffic.
And no, it's not just NeilPatel.com
To make sure we weren't the only ones seeing this, we analyzed 191 blogs using Ubersuggest.
Can you guess what we found?
The results were somewhat similar.
Here's what we saw form a social share perspective.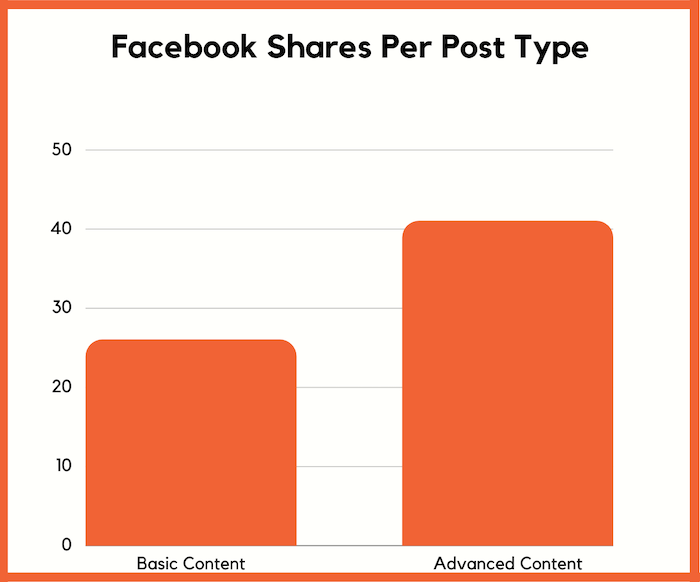 As you can see advanced content generated more social shares. Now we couldn't see people's Facebook traffic stats, but it's a pretty safe assumption to assume posts with more social shares typically generate more social traffic.
And here's backlink data.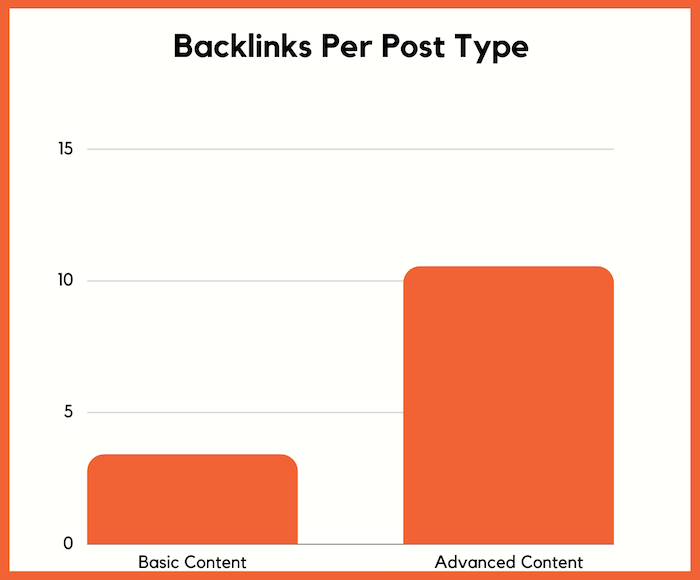 Advanced content generated more backlinks. It wasn't 4.81 times like it was for NeilPatel.com, but it is still a significant difference.
And as for search traffic, based on our Ubersuggest traffic estimation basic content generate more SEO traffic.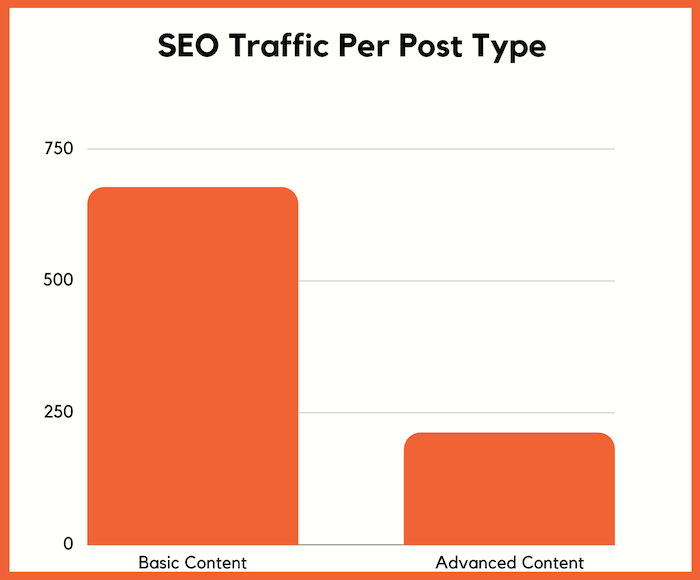 So, what's the new way to blog?
The beautiful part about owning an ad agency is that you see a lot of data, you can spot a lot of trends and figure out what works for all industries.
Globally we have over 700 customers. It allows us to test a lot, so we can figure out how to provide the best results in the long run.
Here's the formula we found to work well.
Spend 40% of your time creating basic content
When thinking about basic content, I want you to keep "how to" in mind.
Anything that is how to that targets beginners typically is considered beginner content.
You can find these keywords in two simple ways…
First off, you can go to Ubersuggest and type in a keyword related to your space.
You'll see an overview of how popular the keyword is.
And then in the left-hand navigation, click on "Keyword Ideas". You will see a big list of keywords and as you click on the tabs or scroll you will see hundreds if not up to a million ideas.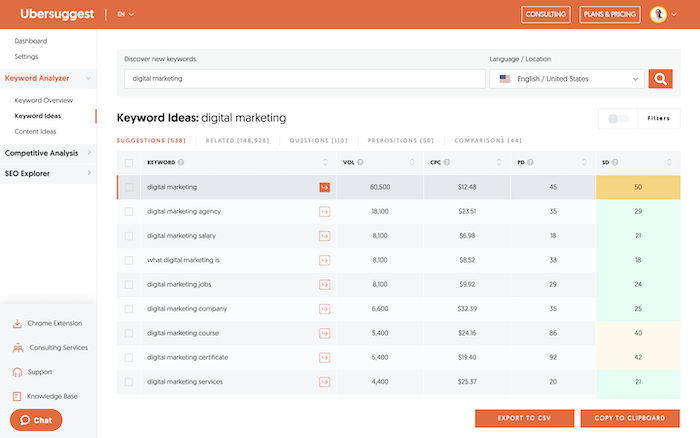 Beginner keywords tend to be searched a lot and, in many cases, have a lower cost per click than advanced keywords as they are more top of the funnel and less likely to convert a visitor to a purchaser right away.
The second way you can find these keywords is to go to Ubersuggest and type in a competitor URL.
In the left-hand navigation click on "Keywords by Traffic" and you will see all of the keywords that your competition ranks for.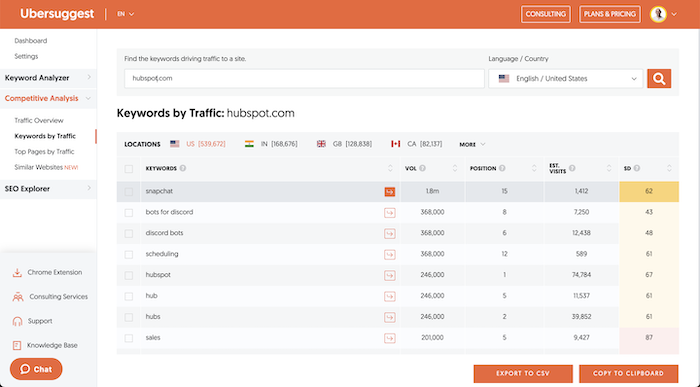 No matter what industry you are in, these how to informational keywords or generic terms can drive brand awareness… doesn't matter if you are an ecommerce store or even a B2B company.
It's great to have this traffic because a portion of those visitors will convert into customers. It won't be at a high percentage (usually a fraction of a percent), but you can get millions of visitors due to the volume so it will still add up to being meaningful.
And if you aren't sure on how to create basic content, followthis. Or you can watch this…
Spend 10% of your time creating advanced content
Think of advanced content as anything that an industry expert, or a speaker would discuss.
Think thought leadership.
Whether you include stats, talking about trends, or what the future beholds… this is the type of content that generates the social shares and backlinks.
And if you want to take it one step further, we've found that if you include charts and graphs it tends to generate more backlinks than if you don't.
Here's my backlink count from posts with charts and graphs versus ones without: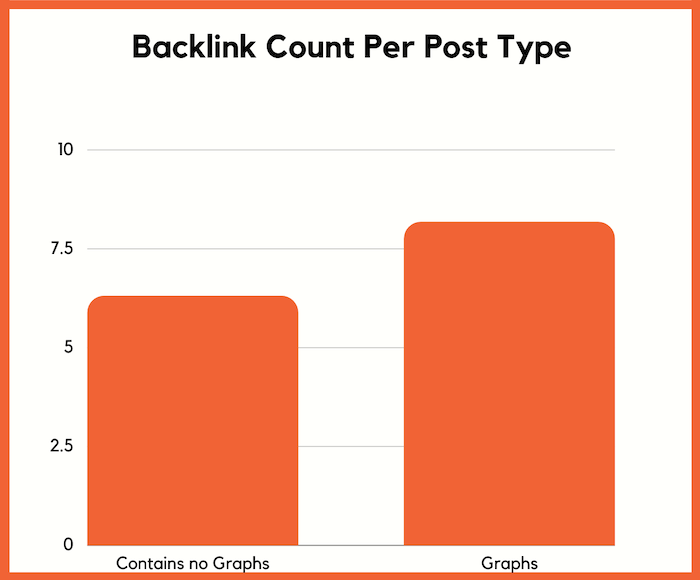 You can use Canva to create them, which is free.
In most cases you probably won't have data like I was able to show you in this post, but you can get it.
From sites like Upwork, you can hire researchers for $5 or $10 who can reach out to companies and help you gather data, or they can search the web to find it.
The big thing to consider with advanced content is, if it is something you would share on the social web, chances are it's good. If you wouldn't, then others probably won't.
Spend 20% of your time refreshing old content
What you will find with blogging is that your old content will get less SEO traffic over time.
The easiest way to see this is to follow this video…
If you spend 20% of your time updating old content you will not only maintain, but you can grow your SEO traffic from your older posts.
It works so well I have a team that just updates old content for me because it's too much work once you have thousands of blog posts.
If your blog is new you won't be refreshing much, but once you have over 100 blog posts you'll find that you will need to spend a good amount of time updating.
Spend 30% of your time marketing your content
I have this saying with my team…
Don't forget the "marketing" in content marketing.
If you write content, whether it is advanced or basic, it doesn't automatically mean it will do well.
If no one sees it, no one is going to share it or link to it.
So how do you ensure your old content gets read? It starts with 3 simple steps.
Internal linking – I want you to add 3 links to the new blog post you just published from your old content. Go into your old blog posts that are relevant and add 3 links to it from relevant old posts (one link per post). And if it is a good fit also link your new post to any old posts that are a good fit or ones that you referenced.
Social shares – follow this process to get social shares (scroll down and read the "ask people to share it" section). It's tedious, but it works and it's how we get social shares to any new blog that doesn't have an audience or a big social following or even a big budget.
Conclusion
Blogging still works. It's not dead!
You just have to change your approach to how you blog.
Copying what people or even I did years ago won't work. You have to take a new approach. And that new approach is outlined above. 🙂
If you follow this for 6 months you will see results. If you follow it for a year, your traffic will be noticeably different. And if you stick with it for 2 to 3 years, the results start compounding.
So, what do you think about the process above?
See How My Agency Can Drive Massive Amounts of Traffic to Your Website
SEO – unlock massive amounts of SEO traffic. See real results.
Content Marketing – our team creates epic content that will get shared, get links, and attract traffic.
Paid Media – effective paid strategies with clear ROI.
Pillar Pages: Why and How You Should Add Them to Your Content Strategy
The author's views are entirely his or her own (excluding the unlikely event of hypnosis) and may not always reflect the views of Moz.
In a recent study, we found that our pillar pages are magnets for links, organic traffic, and newsletter subscribers — especially compared to regular blog posts. Here are the results that both types of SEO content generated over the course of a year:
Do these results mean you should ditch your blog strategy in favor of pillar pages? Not exactly.
Here's the catch: You really can't have one without the other, and it all comes down to content mapping. I'll explain exactly what I mean in this article.
What is a pillar page?
A pillar page is a piece of content that comprehensively covers a broad topic. Pillar page — also sometimes referred to as hub and spoke — content weaves together a wide range of relevant subtopics (spokes), organizes them all in one place (hub), and effectively showcases your subject matter expertise for the broad topic.
Pillar page content should be easy to navigate for readers looking to learn — at a high level — about a particular topic, but should also offer relevant resources for them to dive deeper. 
It's kind of like the choose-your-own-adventure of content marketing.
Topical authority: why it's important
When it comes to content creation for SEO and digital marketing, you don't want to create content around any old topic. Instead, you want to reinforce your brand's topical authority with every new piece of content you create (be it a blog, a pillar page, an eBook, etc.).
Let's put it this way: If you're in the business of selling mechanical keyboards, it doesn't make sense to publish a blog article about the best recipes for a summer BBQ. Unless you're recommending that your customers grill and eat their mechanical keyboards, which is (highly) unlikely.
Instead, it's more helpful to your brand — and your audience — if you cover topics related to mechanical keyboards, like:
What is a mechanical keyboard?

Mechanical keyboards vs. regular keyboards.

Custom mechanical keyboards.

How to transition to a mechanical keyboard.

Pros and cons of a mechanical keyboard.
By covering as many topics related to mechanical keyboards as possible, you're building a foundation of informational content that tells search engines: "Hey, I know a lot about mechanical keyboards!"
And the more content you have that starts to rank for important search terms related to mechanical keyboards, the more likely searchers will see you as an authority on the subject. Ideally, they will start coming back to your content when they need to learn more about this specific topic.
Pillar pages + blogs = a match made in content marketing heaven
A well-executed and organized pillar page is one of the best ways to showcase to your audience (and search engines) that you have topical authority in a specific area. Blog posts help you achieve topical authority by allowing you to cover a wide range of relevant subtopics in great detail, and pillar pages organize all of that content into a nice, user-friendly package.
Let's take a look at this tactic in action.
We built our content marketing guide as a pillar page, which allowed us to cover a slew of subtopics related to the broader topic of content marketing, all in one piece of collateral. 
All of these subtopics are organized into sections on the page, with a hyperlinked table of contents at the top to allow readers to pick and choose exactly what they'd like to learn about:
Then, throughout the page, we offer readers the opportunity to go deeper and learn more about each subtopic by linking to relevant blog content:
What is content mapping?
A pillar page is a great tactic if you've got a lot of existing blog content all focused on a particular parent topic. It's one of our favorite ways at Brafton to repurpose and repromote our blogs.
But you can also create a pillar page with all brand-new content — it'll just take more research, planning, and production time to complete.
Enter: content mapping.
Content mapping is the process of assessing your target audience, understanding what they are trying to achieve, and helping them along that journey with branded educational and commercial content. Its scope can span the entirety of your content marketing strategy or a single piece of pillar page content.
Why content mapping matters in content marketing
The planning (or content mapping) of a pillar page is just as important as the research done to choose the correct keyword to target for your business.
Pillar pages are kind of like the books of the marketing world. If you were an expert birder, for example, you wouldn't set out to write a book about bird-watching without doing any research. Especially if you've spent a lot of time writing and publishing articles about bird-watching on your blog. You'd want to understand a few things before starting that book, like:
Which of my blog posts generated the most interest from new and returning readers? (i.e. pages with the most new and returning visitors, as seen in your web analytics tool).

Which blogs kept readers coming back for more? (i.e. pages with the most newsletter subscriptions, or the best newsletter subscription rates).

Which blogs did my industry peers find most useful? (i.e. pages with the greatest number of high-quality referring domains and backlinks).
These questions can be answered by looking through your web analytics tools, such as Google Analytics and Moz Pro.
You'd also want to understand what the competition looks like before you spend dozens of hours writing thousands of words to fill a book.
You'd want to answer questions, like:
What do my competitors' books on bird-watching look like? (i.e. the types of bird-watching subtopics the page 1 results cover).

What does Google think searchers want to see when they search for bird-watching? (i.e. the types of content that are found on page 1 for your target keyword — and surprise! it might not be books).

How long and detailed are my competitors' books? (i.e. the level of complexity and comprehensiveness of the content ranking on page 1).
These questions can be answered by manually reviewing relevant SERPs and utilizing TF-IDF tools like Clearscope or MarketMuse to understand the breadth of subtopics and types of content ranking on the first page.
Once you understand which of your content performs best and which content Google and other search engines prefer to rank highly for your target keyword, you can start piecing together a plan for your pillar page.
A note about internal linking
Before we dive into the how-to portion of this piece, we should also acknowledge the importance of internal linking to this whole process.
And I'm not just talking about throwing in a link to a related product/service at the end of the page and calling it a day. The internal linking structure of your pillar page is literally the glue that holds the whole thing together. It helps readers easily navigate to related resources to continue learning from your brand. And it helps search engines understand the relationship between your pillar page content and the additional content you're highlighting on the page.
But when it comes to internal linking, there is such a thing as too much of a good thing.
Including too many internal links throughout your content can cause a frustrating user experience or look spammy, so use caution and make sure the only internal linking you do on the page is extremely relevant to the parent topic.
If you're unsure whether or not you've got too many internal links on the page, you can run it through Moz's On-Page Grader tool, which automatically counts the number of links on your page and flags if you've got too many.
Tip: Keep in mind that this tool will count ALL links found on the page, including those in your main navigation and footer, so the "Too Many Links" warning could be a false positive.
As Moz explains: Google recommends you don't go over 100 internal links per page, because it can dilute the SEO value sent from the pillar page to the linked pages, and it can also make it more challenging for users and crawlers to navigate all of the content.
Two data-led ways to map out content for a pillar page
There are a couple of different ways to approach the construction of this type of content, but they each rely on organic search data to lead the way.
1. Planning a pillar page and related resources (all from scratch)
Let's pretend you don't have any prior content created about a particular topic. You're basically starting from scratch. Let's also assume the topic you've selected is both core and commercially valuable to your business, and that your domain realistically has a chance of ranking on page 1 for that keyword.
Let's say you're a pet food company and one of your main products is cat dental treats. Once you've determined that this is the exact keyword you want to target ("cat dental treats"), it's time to start your research.
Step 1: Manually inspect SERP to understand searcher intent
First, we'll start by manually inspecting the first SERP for this keyword, and answering the following questions:
What types of content are on the first page of results?

Why are people searching for "cat dental treats"?
By answering these two questions in our SERP analysis, we'll make sure that our plan for creating a pillar page to rank actually makes sense and it's what searchers want to see on the SERP. We'll also better understand all the reasons behind why someone might search this keyword (and we can then address those reasons in the content we create).
So let's answer these questions:
Question 1: What types of content are on the first page of results?
Answer 1: The first SERP includes a variety of product ads, a People Also Ask section, and a selection of organic blogs and product pages.
Question 2: Why are people searching for "cat dental treats"?
Answer 2: From a quick analysis of the SERP, we can deduce that people want to know why and how cat dental treats are important to a cat's health, and they also want to know which cat dental treats work best. Perhaps most importantly, it's highly likely that they plan to purchase cat dental treats for their furry companion(s) in the near future.
Step 2: Select related keyword ideas for blog content
Since you don't just want to create a pillar page for just the primary keyword, you also want to pinpoint a selection of related subtopics to be written as blog content.
For this part of the process, head over to your keyword research tool, plug in your target keyword and (with an eye for topics that you're well-suited to cover), jot down a list of keywords and phrases.
Here's our list of potential blog topics:
Best cat dental treats.

How do cat dental treats work?

What to look for in cat dental treats.

Do cat dental treats work?

Can cat dental treats replace brushing?

Vet recommended cat dental treats.

Grain-free cat dental treats.
Step 3: Choose subtopics to cover in your pillar page content
Next, you'll want to review the subtopics mentioned in the top ranking results. While this process can be done manually (by clicking into each result on the SERP and jotting down the topics mentioned), a TF-IDF tool like MarketMuse makes this part of the process much quicker:
These TF-IDF tools analyze the top 10-20 results for your target keyword and automatically present the common subtopics mentioned in each piece. This gives you a very good understanding of what you'll also need to cover in your piece to compete for a top-ranking spot.
Here's the list of subtopics we'll want to cover in this pillar page, based on our MarketMuse data:
Step 4: Create your outline and plan content
Now it's time to connect the dots from your research. The best way to do this is to start by structuring your pillar page outline, and then going back in and filling in the areas where you want to create supporting blog content.
Here's an example of what the end result might look like:
H1: The Complete Guide to Cat Dental Treats: For a Fresh-Breath Feline Friend
H2: What are cat dental treats and how do they work?
Topics to cover: Cat dental treats
Blog post to support section:
Title: How Cat Dental Treats Work (& Why Your Kitty Needs Them)
Keyword: how do cat dental treats work
H2: What are the benefits of cat dental treats?
Topics to cover: Clean teeth, fresh breath
Blog post to support section:
Title: Do Cat Dental Treats Really Work? (Here's What The Experts Say)
Keyword: do cat dental treats work
H2: Are cat dental treats an acceptable alternative to brushing?
Topics to cover: Cats dental health
Blog post to support section:
Title: Cat Dental Treats Vs Brushing: Everything You Need To Know
Keyword: can cat dental treats replace brushing
H2: Do vets recommend using cat dental treats?
Topics to cover: Veterinary oral health council
Blog post to support section:
Title: Vets Recommend Using Cat Dental Treats — Here's Why
Keyword: vet recommended cat dental treats
H2: The best cat dental treats to try
Topics to cover: Purina dentalife, Feline greenies, natural ingredients, artificial flavors.
Blog post to support section:
Title: 5 Of The Best Cat Dental Treats & Why We Love Them
Keyword: best cat dental treats
Blog post #2 to support section:
Title: What To Look For In Cat Dental Treats
Keyword: what to look for in cat dental treats
Creating an outline for a pillar page isn't easy, but once laid out, it helps us understand the content that needs to be produced to bring the whole thing to life.
Here is our list of content to create (based on our outline):
Pillar page: The Complete Guide to Cat Dental Treats: For a Fresh-Breath Feline Friend

Blog #1: How Cat Dental Treats Work (& Why Your Kitty Needs Them)

Blog #2: Do Cat Dental Treats Really Work? (Here's What The Experts Say)

Blog #3: Cat Dental Treats Vs Brushing: Everything You Need To Know

Blog #4: Vets Recommend Using Cat Dental Treats — Here's Why

Blog #5: 5 Of The Best Cat Dental Treats & Why We Love Them

Blog #6: What To Look For In Cat Dental Treats
The best way to tackle this list of content is to create and publish the six blog posts first, then once they are live, you can write the pillar page content, placing hyperlinks to the supporting blog posts directly in the copy.
2. Planning a pillar page from top performing content
For this next method, let's say you already have a ton of published content about a particular topic, and you'd like to reuse and repromote that content within a pillar page dedicated to that topic.
All of the steps in the previous process apply, but for Step 2 (Select Related Keyword Ideas for Blog Content), do the following:
First, you'll want to understand which of your existing pieces generates the most interest from your audience. Let's use our web analytics data for this. In this example, we'll look at Google Search Console data because it shows the actual search performance of our website content.
Let's use the topic of "content creation" as our desired pillar page keyword. Search for the query in Google Search Console (choose the "Queries containing" option): 
Pull all of the pages currently generating impressions and clicks from terms containing your topic, placing those with the highest clicks and impressions at the top of your list. Here's what this might look like: 
As you can see, most of the content we've created that also ranks for keywords containing "content creation" is blog content. These will be highly useful as related resources on our pillar page.
Now, go back to your TF-IDF tool and select the subtopics related to "content creation" that you want to cover in your pillar page. Example:
Social media content

Content creation tool

Content creators

Content strategy

Content creation process
Finally, map your existing blog content to those "content creation" subtopics. The initial mapping may look something like this:
You may not be able to map each blog perfectly to the subtopic you're covering in your pillar page, but that's  OK. What's important is that you're providing readers with relevant content (where applicable) and that content, as you've seen in your Search Console data, is already proven to perform well with your organic search audience.
Pillar page planning templates and resources
Pillar pages take an incredible amount of time and planning to execute, but they are worth every penny.
Here's an example of the success we saw after producing one of our more recent pillar pages, "How to Rank on Google:"
Here's a template of the outline used to bring the page to life (and you can use it for your own pillar page). Just make a copy and off you go. Good luck!
11 Free Email Hacks to Step Up Your Productivity
If you're anything like me, a solid portion of your day is sifting through your inbox, sending emails to junk, and responding to time-sensitive emails.
How CTV can deliver market research for B2B marketers
Connected TV (CTV) is the fastest-growing digital ad channel, as more TV watchers cancel cable subscriptions and turn to lower-priced or free a la carte streaming options they can watch on TVs, laptops and mobile devices. Many streamers are also potential B2B prospects, but not many B2B marketers are leveraging CTV for advertising.
"We believe connected TV advertising is undervalued, and there's so much that digital, data-driven marketers can do with connected TV advertising that goes beyond the scope of any other ad channel," said Hooman Javidan-Nejad, director of performance marketing for CTV advertising platform MNTN, at The MarTech Conference.
Why we care. Hit shows on streaming services get the credit for the CTV surge. But within these mass audiences there is data for targeting and segmentation. B2B marketers ahead of the curve have also experimented with streaming for delivering on-demand video content to prospects. 
Serving prospects ads on ad-supported Netflix, or managing your own video programming like a kind of B2B Netflix, is a much different experience than traditional whitepapers that recognize professionals' changing media consumption and self-serve research habits.
CTV data. "Data-driven marketing has picked up in the last decade because the nature of all those digital channels are enabling you, and empowering you, to have access to the data and to act on it," said Javidan-Nejad. "This is something that we never had for a TV — [traditional linear] TV advertising has always had limited or no reporting."
Because of CTV's digital infrastructure, ad campaigns on that channel have performance and measurement data that can be used as a market research tool.
"The beauty of approaching connected TV just like another digital channel is that you can apply the same targeting criteria you are applying today on LinkedIn, or on Facebook," he added. "The insights that you're getting from connected TV advertising can be applied to all the other channels, or the insights that you're getting from the creative can be applied into the other channels."
Dig deeper: Bringing your ABM strategy to CTV
Finding audiences on CTV. When advertising on CTV, B2B marketers should execute multiple campaigns, or target different audiences with a single campaign.
For example, a B2B marketer could run one campaign based on job titles, and another one based on firmographic criteria. You could also launch a retargeting campaign, based on first-party data acquired from those who have visited your website and shared their info.
"For each of these audiences, you will get audience segment reporting," Javidan-Nejad explained. "So you will be able to see which of these audiences have performed better, which of these audiences had a better verified visit rate, and all the other metrics [to discover] which audiences are performing better. And then you can take those audience insights and apply them to the other channels."
Matched audiences. B2B marketers can also use existing customers and prospects from their CRM and match them with a CTV adtech partner, in order to deliver CTV ads to those prospects when they're watching streaming TV.
"This is the same audience that you're using across all the other paid social channels," said Javidan-Nejad. "The insights and learnings that you get from CTV can be extended and implemented across the other channels."
Testing creative. Before committing a large budget on a robust TV campaign, B2B marketers can test different kinds of creative on CTV to determine what messages and visual cues stick with customers and prospects.
While every digital ad channel has its own sweet spot for what works in video ads, some of these insights about what works best on CTV can be applied to other channels.
"We are all familiar with A/B testing," Javidan-Nejad said. "As digital marketers, we always try to leverage this feature or functionality across all the other digital channels. Now you're able to do that for your TV advertising."
Register for The MarTech Conference here.
---
Get MarTech! Daily. Free. In your inbox.
---