How to Generate More Traffic with Google's New Features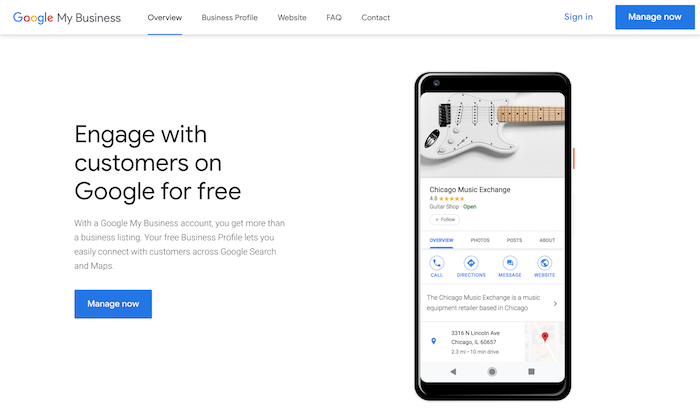 You're probably already familiar with Google My Business.
If you aren't, as a quick recap, Google My Business is a simple way to claim your office address or storefront on Google.
That way, when someone searches for your business, you'll show up on the right side of a Google search like the image above.
Or better yet, when someone searches for a product or service you'll offer, you'll show up in the local pack.
What's interesting, though, is Google has been making changes to it, which means it just got easier to generate leads and sales for you.
Best of all, very few marketers are even leveraging these features.
Welcome Offers
What's one of the easiest ways to generate more sales?
By offering discounts and coupons, right? Just think of it this way, if it didn't work, Cyber Monday wouldn't bring in $7.8 billion in sales.
Google knows that people are looking for ways to save money and find good deals. With this new feature, businesses can reward their customers by giving them welcome offers.
By following your business, they can get first-time deals and always keep in touch to see when new deals are posted.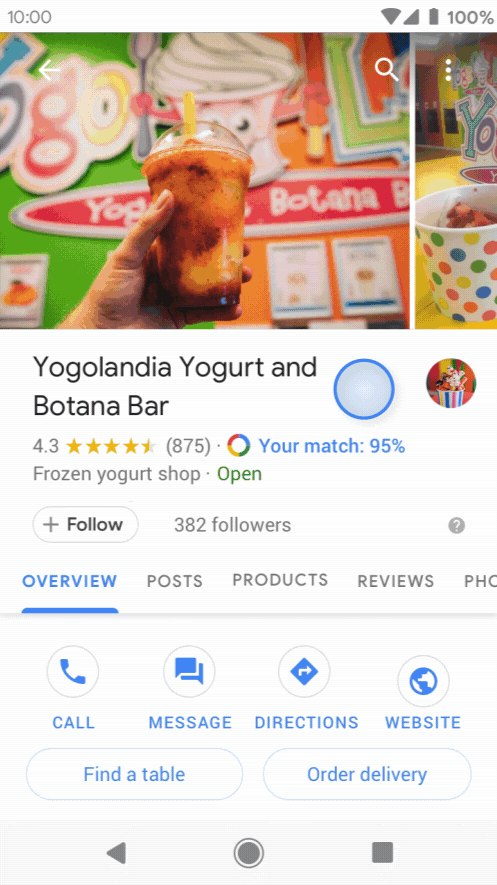 Not only will this bring you new customers but also repeat customers because people will be notified every time you have new deals.
To set up a welcome offer, open your Google My Business app and tap on your profile. Under "Turn followers into customers," click on 'Create Welcome Offer' and hit 'Create.'
You can enter the following information in your offer:
Title (30% off oil changes)
Description
Coupon Code (Optional)
Terms and Conditions (Optional)
Website (Optional)
Once finished, you can preview your message and publish. For notifications on new followers, and editing or deleting offers, you can read more on Google Support.
Generate leads in just a few clicks
Google is now adding a "Request a Quote" button in your business listing which was discovered by Joy Hawkins and can also be seen on mobile when searching branded terms.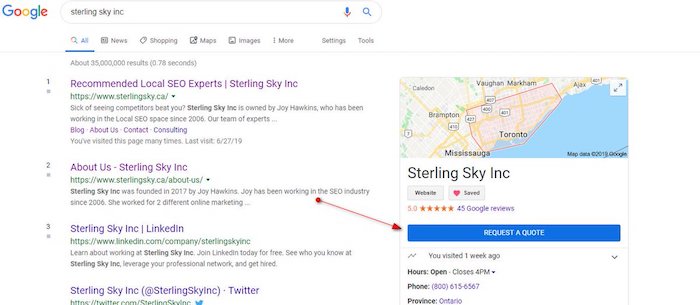 This is happening with businesses that have the Google My Business messaging feature on.
To enable messaging, open the Google My Business app and go to your listing.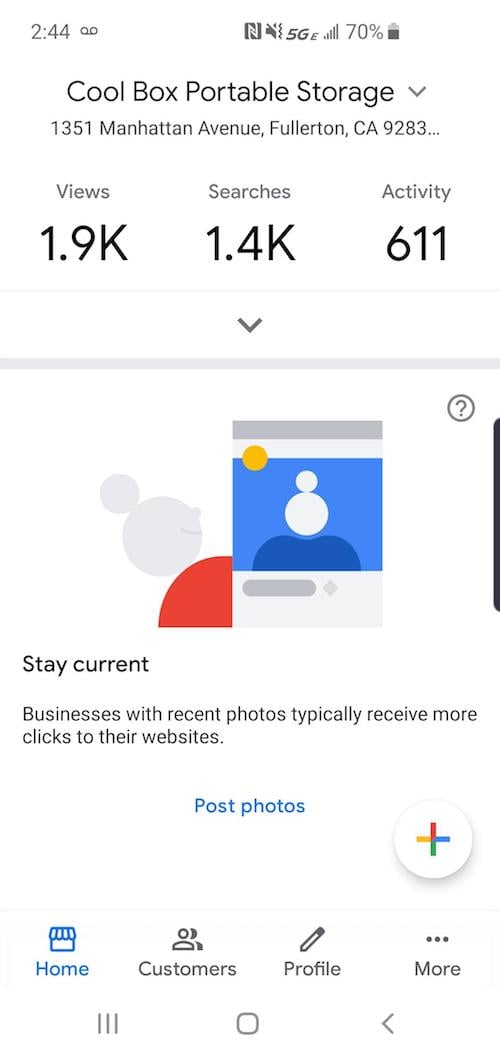 Navigate to Customers -> Messages and turn on!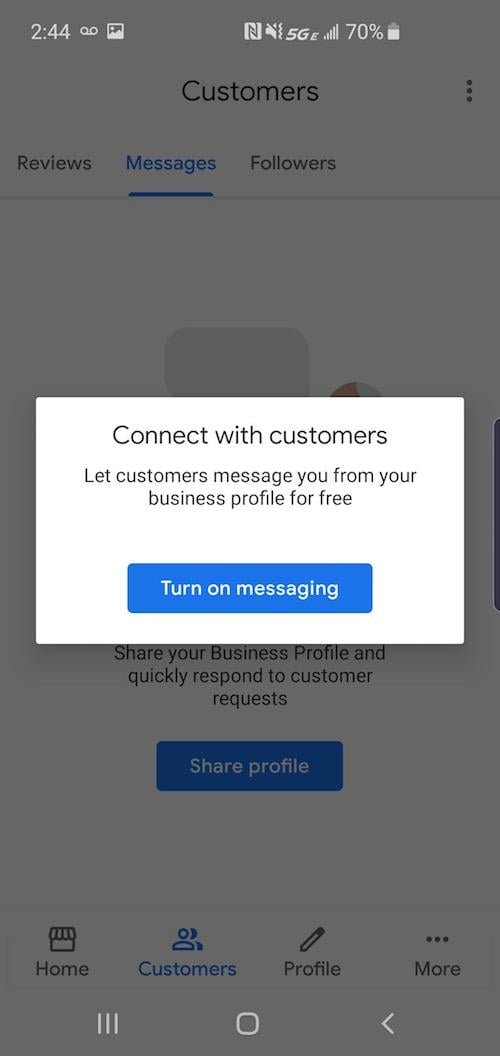 People will now be able to ask for quotes on cars, insurance, and pretty much any service out there.
You can even review these quotes and reply to them within the Google My Business App and connect with your customers easily for a quick sale.
Make sure you claim your URL
Businesses can now claim a Short Name and URL for their listing.
If you haven't claimed your URL, make sure you do so before it gets taken by someone else.
Don't get too crazy though as you can only change your short name three times per year. You can enable this by navigating to your locations page, click "Info" on the left-hand side, and see "add short name".

You may not think this is a big deal, but if you have used Google My Business before, then you know it's not easy to share your profile on business cards, emails, and text messages without posting a huge URL.
With short names, your landing page will show as g.page/businessname and can be easily shared.
A business can choose a name between 5 and 32 characters and it can contain the business name, location, and more. People can still flag a name for impersonating another business or if the name is offensive, fake, spammy, or contains inappropriate terms.
So, remember not to violate any policies with your name.
I recommend doing this as it will make it easier for your customers to refer back to your profile where they can read updates, post, make reservations, read/write reviews, and more!
And eventually, people will be able to search short names in Google Maps to find the businesses they love.
Google Assistant
Google is now letting customers order food from restaurants and stores via Google Assistant, which is delivered through DoorDash, Postmates, Delivery.com, Slice, ChowNow, and Zuppler, with other partners possibly coming soon.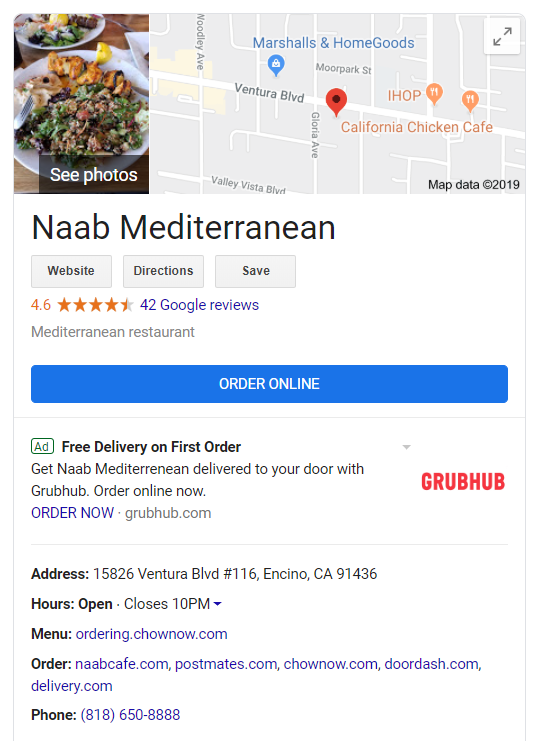 Users can click on Order Now on the listing and can choose pick-up or delivery and if they want to order ASAP or schedule for later. Payment happens through the default payment on Google Pay. If they do not have one, they will be able to add credit card information through this too.
Additionally, customers can order food by using Google Assistant by saying "Okay Google, order food from [restaurant]." If the user has ordered before, it will let them see past orders.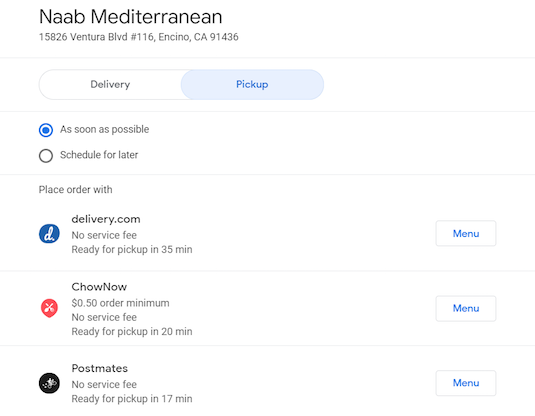 Updating your menu online, as well as delivery service carriers and their apps will help get you started on this.
You'll want to make sure your menus are consistent through all your service carriers to get the best orders to your hungry customers.
And of course, I know there is a good chance you don't have a restaurant or aren't in the food delivery business, but expect to see more ways Google My Business gets integrated with Google Assistant.
It's better to be early than late.
And speaking of food, Google has also added the popular dish tab on your menu which features images and menu items that people love the most.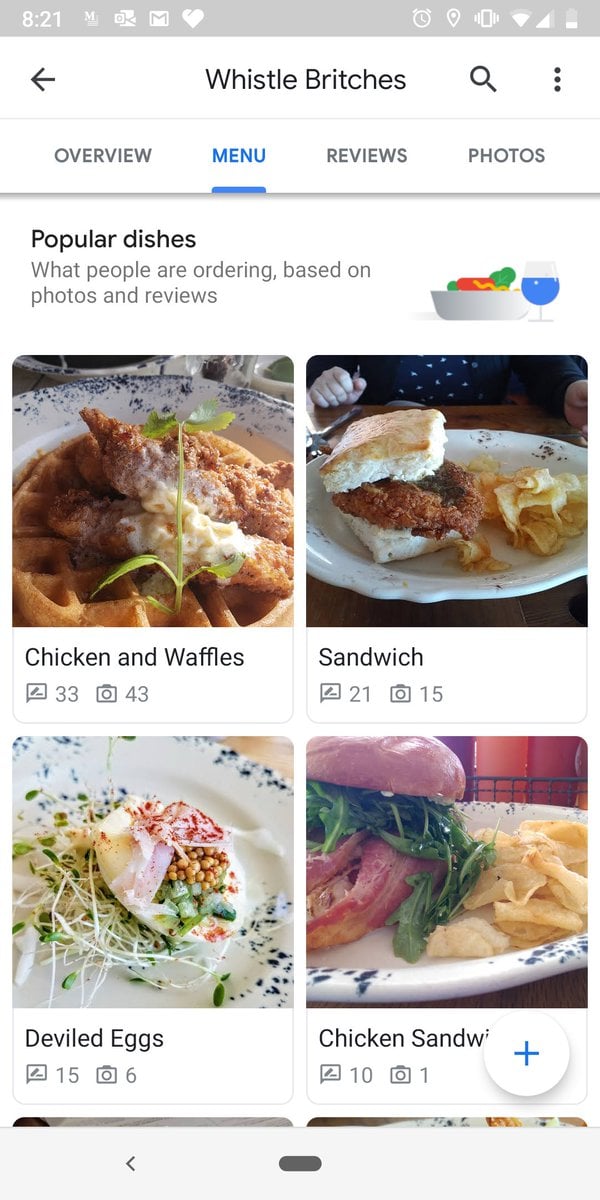 This scans reviews and images on your Google My Business profile to find the most commonly mentioned dish and adds it to your popular dish tab. Of course, if anything is wrong, you can suggest edits to these.
This helps if there are dishes without names, wrong names, or typos can be fixed.
Auto-generated posts based on reviews
Look, you are busy, but you have no choice but to create content.
Google has given you easier ways to generate posts… in essence, they are now creating auto-generated posts for you.
These recommended posts are suggested through customer reviews on your Google My Business profile and are similar to their Small Thanks program, which tried to get you to highlight reviews given by previous customers on social media and even being able to print it out and display it on your business walls.
You are probably wondering why should you use it, right?
This helps keep people engaged in your profile if you haven't posted on Google My Business in a while and gives you fast and easy publishing. It even gives you options to customize backgrounds with images and colors.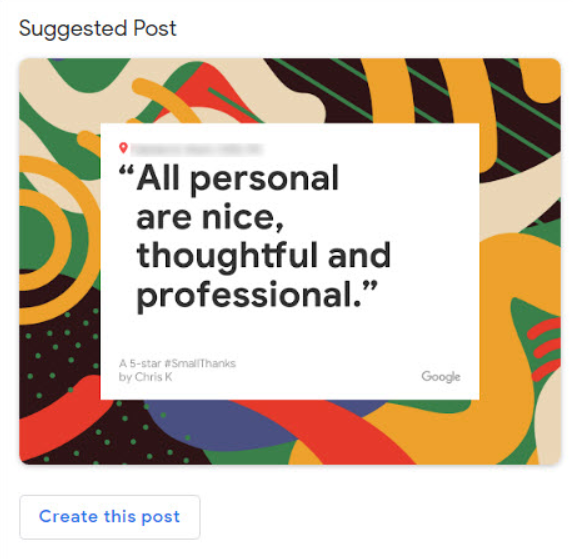 This will pop up on your Google My Business dashboard and all you have to do is hit "Create this post".
There's no real way to pick other reviews for Suggested Posts, but you are always welcome to create your own. This is just a simple feature created to help engage your audience more.
Boost your conversions by controlling your images
Businesses can now set a preferred profile cover photo in your image carousel and have a place for logos at the top-right of your profile next to the business name.
This is an additional feature to the regular NAP (Name, Address, Phone Number) as well as business hours and will be prominently featured.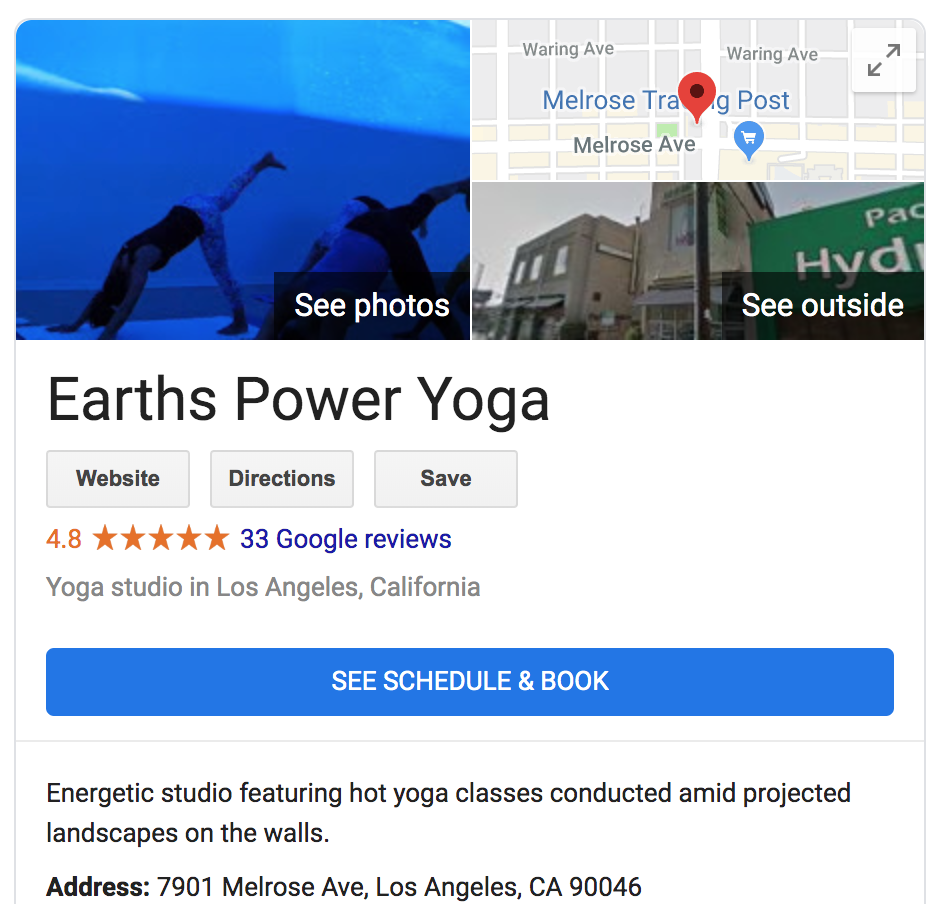 You can easily create offline material
Google is launching a website where businesses can order and get custom promotional items such as stickers and posters to advertise their business. This is in hopes that it will entice customers to follow places on your profile, add reviews, and create bookings.
You can even order signs like 'follow us on Google' and more for free (one shipment per location).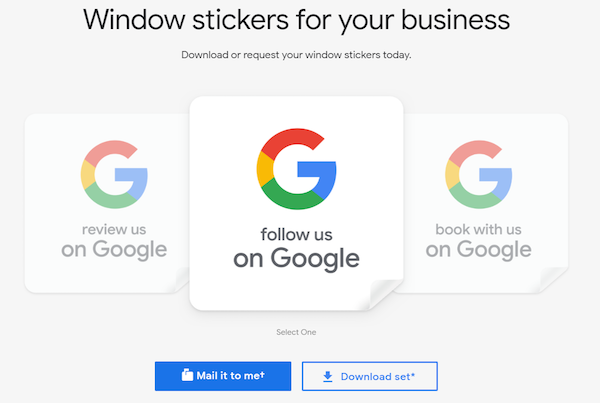 For posters, you can use the editor to create your own type of poster that can be downloaded and easily printed by yourself or a local printing company. If posters aren't your cup of tea, you can even share these on social media.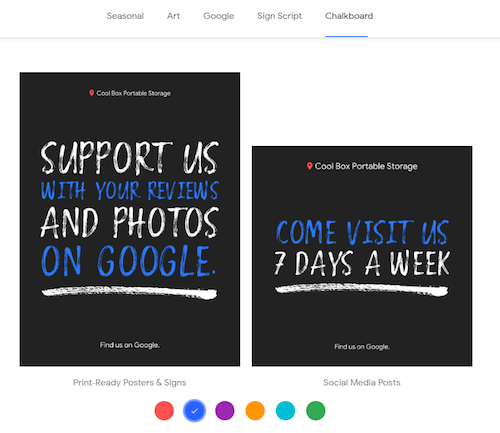 This is currently free as it is a downloadable offer, but you may want to pay to have someone print this out in poster size or as stickers to put on your business windows.
Just think of it this way, people put Yelp signage everywhere because it works. Chances are, it will work on Google as well.
Place Topics
Google launched Place Topics which uses data based on reviews to help give information on what previous customers think about your business.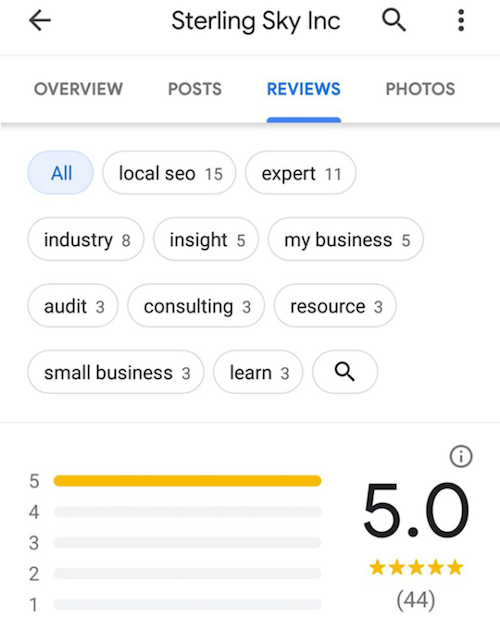 This can help users see themes of reviews at a glance for businesses and it's all automated.
It's kind of like a tag cloud.
This does mean that you cannot generate these yourselves or edit them. So, if you don't have one, you may not have enough reviews.
Also, if you have a negative one, there's potentially no way of removing this unless you get the review removed. So, make sure your happy customers are leaving reviews is very important.
Possibly entice them with a 10% discount the next time they come… assuming you aren't breaking any policy guidelines.
Q&A Auto-Suggest Answers
This feature that Google updated uses previous answers to questions and Google My Business Reviews to answer new questions on the spot. As you start writing the question, different answers start to pop up to give you the best match.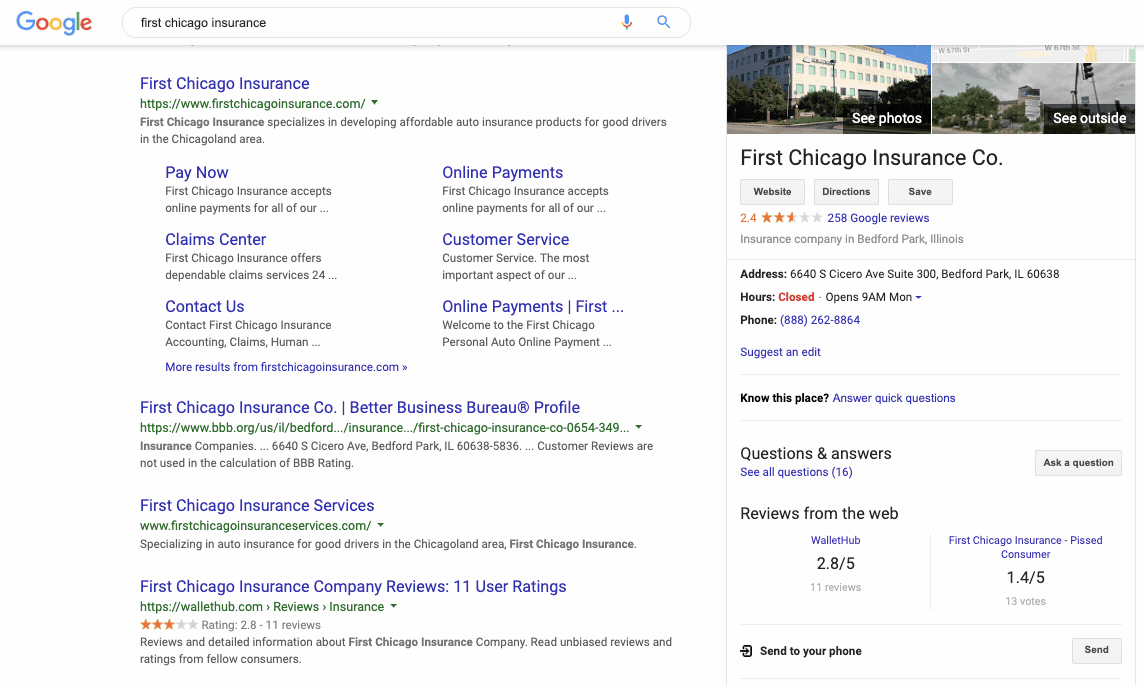 So how can you make sure people get the most accurate answer?
Similar to place topics, encouraging your customers to leave detailed reviews of their experience really helps. The more detailed the review is, the better the question gets answered.
Of course, people who are searching for answers can potentially see negative reviews such as prices are too high, service takes long, very long waits on weekends, and more.
In other words, always encourage positive reviews from your loyal customers.
Conclusion
If you haven't used Google My Business before, you should check it out. With their updates and new features, it is now easier to generate sales and collect leads.
In the future, you'll see a much deeper integration between Google My Business and Google Assistant. This is going to be important as 50% of the searches will soon by voice searches according to ComScore.
Make sure you are leveraging all of these features and releases Google is launching because it doesn't cost you money and if you get in early enough, you'll have an advantage over your competition.
So are you using Google My Business to it's fullest extent?
How SEO Works in Digital Marketing
Search engine optimization (SEO) is an integral part of digital marketing.
SEO helps with brand discoverability. When done right, SEO can create the most consistent and by far the highest-quality traffic source which doesn't require on-going maintenance.
Yet, SEO is usually the most isolated part of the marketing. Whether it is an in-house team or a third-party service that's delivering your SEO campaigns, it usually exists on its own without really communicating goals, progress or results to the whole company.
This creates silos that can lead to poor results and even reputation crises.
How does SEO work in digital marketing and how can a business make it work better?
What is SEO?
SEO is a collection of tactics (content, technical, link building, even website security and usability) that ensures that your website is easy to understand for search engines.
Basically, it ensures a machine knows that your page will be easy to find to a human being who is looking to solve a related problem.
Search engine traffic is one of the highest-quality traffic for many reasons:
Unlike PPC (paid) traffic, it doesn't require an ongoing investment to keep coming
Unlike social media traffic, it doesn't require an ongoing work to keep coming
Unlike social media traffic, you are not interrupting people's browsing. Instead you give them what they were actually searching for.
In other words, it is consistent and it converts well. No other digital marketing tactic beats that.
Apart from driving direct traffic, search engine optimization helps build brand awareness by increasing your brand's organic findability.
Keep Your Whole Team Aware of Why SEO is Important
The great thing about today is that everyone understands the value of ranking high on Google! Sadly, however, many folks only know that they "need SEO" without having really understood what that means.
SEO these days is too hard for a digital marketer to do alone. Many SEOs find themselves in situations where an executive will simply come down and go "Why are we not ranking well for 'dingwobble'?"
Keep working hard with teams for them to understand how they contribute to the SEO process:
Product Marketers who are responsible for the business, personas and messaging understand that SEO is critical to driving the bottom line revenue numbers they are looking at. Part of the persona developing process should be the development of the "digital persona" – what websites and search terms are these people looking for? This helps the product marketer when it comes time to develop messaging, as that is going to be critical for developing the content, so the right search terms better be there!
Field Marketers responsible for the campaigns need to know how SEO fits within their campaign, how it in fact is core to our demand generation, and how to make sure to keep the campaigns integrated.
Marketing Communications is creating the content, so SEO should very well be top of mind for them, as the content itself will be critical in impacting how successful SEO will be.
But that's not all! Often, other groups are creating content (Press Releases, Blog Posts, Presentations, etc.) that also end up on the web and impact SEO. Whether it's Corporate Communications, Investor Relations or even Legal teams, working with them is critical.
IT manages the infrastructure and can be very critical to the technical aspects of SEO.
Sales and customer support teams are at the forefront of marketing talking to your future and current customers, so they need to be involved in the SEO strategy. Creating relevant content goes beyond keywords. It needs to address real problems and answer actual people's questions, and your client-facing teams will be your best source of inspiration here.
Executives also care! While they can't often influence the day-to-day of SEO, they will care a lot about the bottom line, to which SEO contributes.
Educating all of these people about SEO helps empower them, as well as position yourself, the SEO, as the subject matter expert who is not just someone back-office who gives very little visibility into the black box of SEO, but someone who is actively educating and contributing to the organization's success.
Review and discuss common KPIs early and often to make sure everyone knows what victory looks like to the team.
Additionally, SEO should be a solid part of any project launch as it impacts every stage of product positioning. From choosing a business name to choosing a website builder, your initial efforts should be driven by SEO best practices.
What is the key to SEO success in a constantly changing environment?
As a practitioner of SEO, I believe that you need to look to ensure you are looking at both developing yourself in both depth and breadth of knowledge. A key danger in the name of being informed or being a part of the SEO community is spending all your time debating tactics and practices rather than testing them.
Additionally, SEOs as with all employees need to look outside their field to stretch and learn how to be more well rounded. This could mean learning to code, or educating yourself in some other area of the business you work for. This will expose you to ideas others may not have.
As a manager of people, success is really about diversity of expertise. Who you hire and the kind of people you hire will be far more valuable than much of what people invest in with regards to SEO programs. You have to have people who can roll with the punches and develop a skill for self-management and personal growth.
Finally, I think knowing what your real goals are in having an SEO program are the key to long term success. The reality is you may get more traffic, but if that traffic is not from qualified leads and generates real revenue then the benefit may be very little. Having well defined goals and metrics will also help you avoid chasing algorithm changes and focus on the big picture.
Conclusion
SEO is the most essential long-term digital marketing strategy but to make it really effective, you need a knowledge team that is well-integrated into the company's life. Good luck!
Ann Smarty
Ann Smarty is the brand NINJA at Internet Marketing Ninjas as well as the founder of numerous startups including MyBlogGuest, MyBlogU, ViralContentBee, TwChat and many more.
Ann Smarty has been an online marketing consultant for 10 years providing high-quality digital marketing consulting through her services and courses (both free and paid).
Ann Smarty's content marketing ideas have been featured in NYtimes, Mashable, Entrepreneur, Search Engine Land and many more. She is known for her indepth tool reviews, innovative content marketing advice and actionable digital marketing ideas.
Source: Ann Smarty