Coding is everything when it comes to web development. So you simply have to get it right for better security and to avoid glitches in the future.
Luckily, there's a very effective solution. Just like spellcheck helps you write error-free documents, web developers can use HTML editors to to avoid mistakes.
Everything is faster and easier thanks to HTML editors' spell-checking, syntax highlighting, and auto-completion features, among others.
In this guide, I'll look at the best HTML editors available. Some of these options are free. Try them out. You may find they let you accomplish more in less time, or give you the confidence to try something new.
#1 – Atom Review – The Best for Advanced Customization
Atom is a free, open-source code editor developed by the GitHub team and maintained by the GitHub community. It comes with enough packages and theme collections, runs light, and loads super fast, making this HTML editor one of the best you can find.
It's a modernized WYSIWYG (what you see is what you get) HTML editor available for Windows, Mac, and Linux and is built for collaboration. Whether you're a newbie or an experienced professional, Atom is everyone's favorite with its premium feel and customization flexibility.
Think of it as an advanced text editor that has several features commonly limited to high-level coding programs.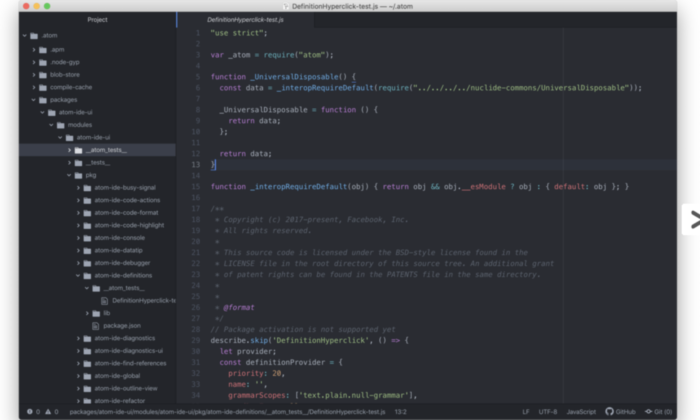 It also comes with a hackable text editor! It's a feature that enables developers to edit, extend, change, and share the program source code and design their own packages to improve Atom.
Multiple pane support is another feature I like. You can split the interface into as many windows as you need to compare and write code side-by-side.
Other features include syntax correction and highlighting, autocompletion, project management, and Teletype (users can collaborate with other developers in real-time).
Atom is entirely free of charge! So you don't have to shell out any money to use this excellent editor.
#2 – Notepad + + Review – The Best for Front-End Developers and Web Designers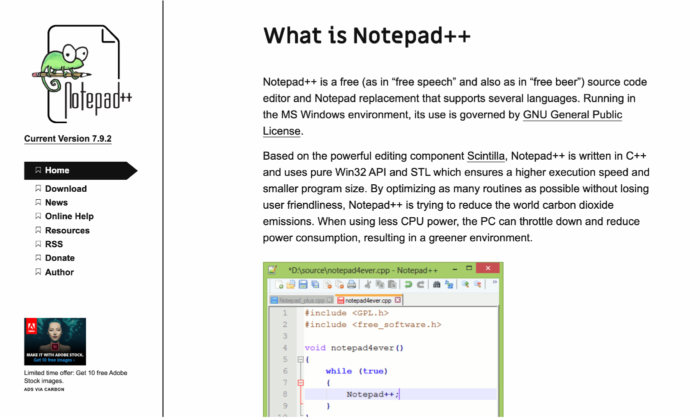 Fast working, time-tested, and foolproof, Notepad + + is one of the most popular HTML editors used by millions worldwide. It's an open-code editor that offers multi-language support, which isn't restricted to only HTML and CSS.
One of the primary reasons for Notepad + +'s popularity is its feature-rich interface.
You get syntax folding, syntax highlighting, multi-view, document map, multi-document interface, auto-completion, bookmarks, and a fully customizable GUI. And even after this long list, there's still more.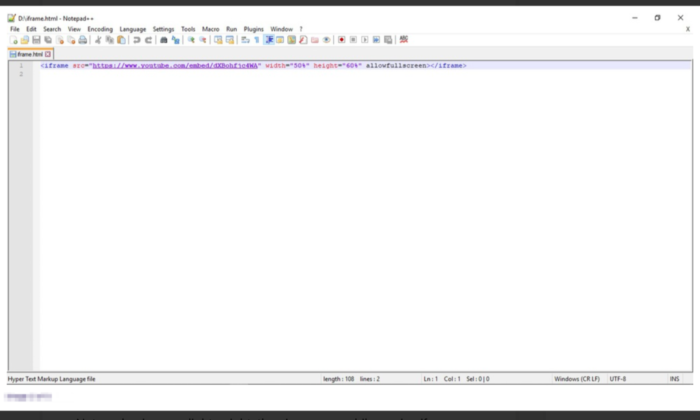 Notepad + + was developed for Windows-based machines, but Linux users can use it via Wine. As the name suggests, this editor is like an upgraded version of the Notepad software, which is already available in Windows by default. You also get its repository on GitHub.
A mobile version is also available, so you can work no matter when and where you find a problem.
Environmentalists would love Notepad + + as well. It has programs that run on less CPU power in a bid to reduce carbon emissions.
Notepad + + is free for all! So no extra money or hidden costs for you to worry about.
#3 – Brackets Review – The Best for Beginners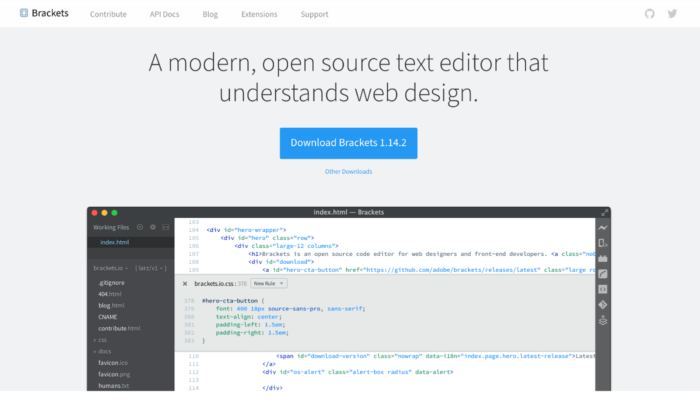 Brackets is another widely popular HTML editor for programmers compatible with different operating systems like Windows, Mac, and Linux. It comes with a built-in package manager that allows users to search and install any supported package they like.
I highly recommend this open-source HTML editor for beginners due to its smart auto-completion feature that makes coding incredibly fast and accurate.
Bracket's coding UI can be split into multiple panes, making writing and comparing codes between different files easy and precise. Its integrated file system browser enables you to access files within your PC.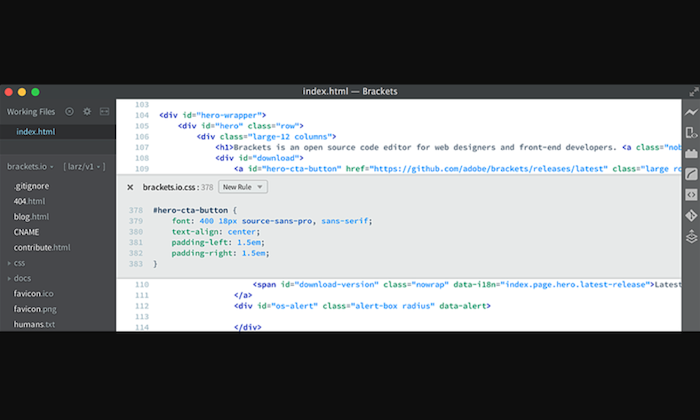 Plus, it has a find and replace feature that allows developers to fine-tune the code when appropriate. This can be useful for novices and experienced professionals to ensure their website stays up-to-date.
Styling and customization are super easy and simple, so coding won't ever get boring with Brackets.
The pre-installed syntax themes feature dark and flashy bright colors. With no shortage of packages on the platform, you can add as many features as you want, based on your use-case and preference.
Brackets is completely free! You can download it directly from the official website
Note: Support for Brackets ends in September 2021. You'll be able to fork projects on GitHub or migrate to Visual Studio Code, a free code editor from Microsoft.
#4 – Sublime Text Review – The Best for Multi-Language Support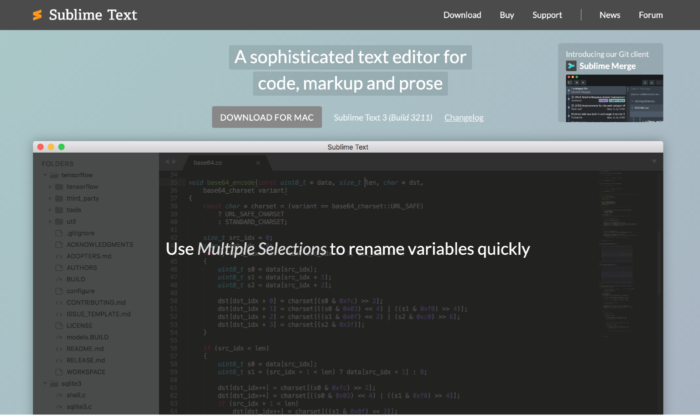 Sublime Text is the advanced version of Notepad + +. It comes with the standard features of Notepad + +, along with more modern ones to suit the sophisticated needs of the more experienced users.
You get cross-platform support, split editing, multiple-selection editing, proprietary command palette, and syntax editing to make web development simpler. The editor is incredibly powerful and promises high performance. However, you have a steeper learning curve ahead of you in exchange for this flexibility and power.
One of the more advanced features of Sublime Text is "Goto Anything." Using this, you can find and replace the code within a considerably shorter period. The distraction-free mode is another great feature that displays only the code by hiding other elements.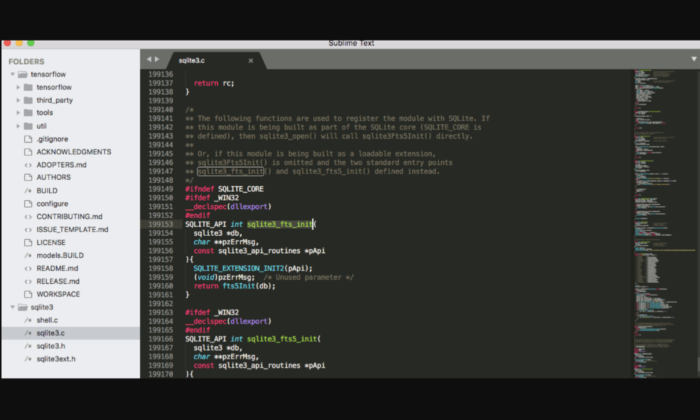 You can use keyboard shortcuts to execute tasks quickly–provided you can remember them. Everything is easily customizable in the editor as well, whether you want to personalize key bindings to snippets to menus.
Accessible on Windows, Mac, and Linux, Sublime Text also supports different languages like C, HTML, C++, C#, Java, CSS, JavaScript, PHP, Python, Ruby, and many more.
Sublime Text has a free version available that's enough for beginners, but if you want access to all its features, you have to pay a one-time cost of $80.
#5 – Adobe Dreamweaver CC Review – The Best for Web Developers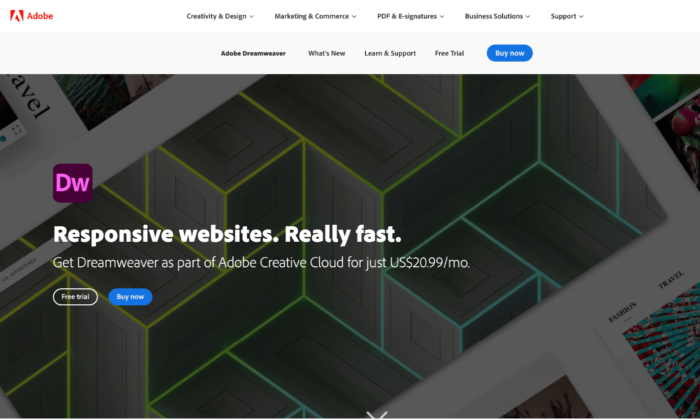 Most of the other options work great for front-end development, but having an HTML editor that facilitates back-end development is also necessary, which is where Adobe Dreamweaver CC comes in.
Made by renowned company Adobe, this editor is hands down one of the most famous and influential options on the market. You get all sorts of plugins and premium features that you wouldn't normally have access to with other HTML editors.
Whether it's creating more responsive sites or editing the website code, Dreamweaver makes everything possible.
This editor is a closed source software, designed to work within the Adobe ecosystem. It supports both the textual and WYSIWYG methods, allowing you to choose between coding with a live visual presentation or take the traditional route. You can write code in any major programming language and enjoy access to creative cloud libraries.
Web developers would particularly love Adobe Dreamweaver CC. It automatically confirms the code and page accessibility, making it easier for developers to follow Web Content Accessibility Guidelines (WCAG), and even reviews the end product.
Plus, the direct access to an abundant supply of assets in the Adobe ecosystem like graphics, layers, colors, words, characters, and much more, is another advantage.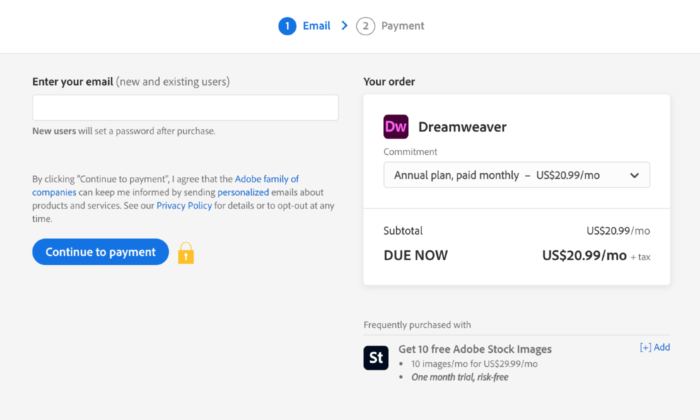 Dreamweaver has a free version, but you can opt for premium plans as well. You have three options:
Annual Plan, Payable Monthly – $25.99 per month
Monthly Plan – $31.49 per month
Annual Plan, Prepaid – $239.88 per year
What I Looked at to Find the Best HTML Editor
HTML editors—both free and paid—come with several cosmetic features. Based on your business needs, you'll find some to be absolutely necessary, while others you may not need at all.
I've compiled a list of features that I think a good HTML editor should have. You may not need all of them, but here is what you should be looking for when choosing an HTML editor.
Color-Coding or Syntax Highlighting
HTML has a tag-based markup language. You need an HTML editor with syntax highlighting or color-coding features to light up these tags.
Doing this will help you identify the tags quickly, which, in turn, will make working with blocks of code easier.
Autocomplete and Suggestions
The autocomplete and suggestions feature helps to quickly fill in longer code at the press of a button.
The editor gives you pop up suggestions based on your work–all you have to do is click on it, and the code will autocomplete. Think of how you type text messages on your phone or when you do a quick Google search.
You can also automate creating closing tabs through this feature.
Find and Replace
I highly recommend looking for code editors with the find and replace feature, as it allows you to locate certain strings and replace them with something else very quickly.
Plus, HTML is constantly changing and updating standards and deprecation of inefficient tags. So, you'll definitely find yourself wanting this feature sometime in the future to update your website.
Version Control
Editors with version control enable you to see the previous versions of your code and rollback when needed.
As a result, you can store all the copies without making separate documents, and I know how crucial this is when you're working with other developers.
Multi-Cursor Functionality
The role of multi-cursors is simple: It allows you to write code in multiple places at once. In other words, you can edit code simultaneously.
This is especially useful when you want to add duplicates of the same tag.
FTP Support and Error Detection
Getting HTML editors with FTP support lets you connect to WordPress and upload changes you want to make without any hassle. As a result, you won't find yourself logging into FileZilla or your preferred FTP client every time you want to update anything.
Live error detection is equally important.
HTML is a markup language and not a programming language, which is why it doesn't compile. It also means you can't test your code. With live error detection, though, you'll know immediately whenever you write something incorrectly.
In addition to these, there are several other features like code folding and autosave that can increase productivity and accuracy.
Note: If you're looking for a code editor with advanced features and platform integration, you'll need an integrated development environment or IDE rather than a text editor. While IDEs are similar to HTML editors, they are more beefed up designed for advanced developers.
Conclusion
HTML editors are a must for any web development and design toolkit. Not only can you create code faster, but it also simplifies the whole process by helping you avoid errors.
The only catch is to select an option that aligns with your needs.
You can select an option from my top picks or look for other alternatives in the market. Here is a complete list of the top picks:
Try to look for prospective editors that include syntax highlighting and live preview. If you want something more sophisticated, a find and replace feature will be a great asset.
3 Best Practices For Predictive Data Modeling
Predictive modeling is used to develop models that use past occurrences as reference points for organizations to forecast future business-related events and make clever decisions.
It is heavily involved in the strategy-making processes of companies in industries such as healthcare, law enforcement, pharmaceuticals and many more. The practices that can be used to make predictive data modeling error-free can be of great importance to everybody.
Predictive data modeling involves the creation, testing and validation of data models that will be used for predictive analysis in businesses. The lifecycle management of such models is a part of predictive data modeling. Such models, which use data captured by AI systems, machine learning tools, and other sources, can be used in advanced predictive analysis software systems used by organizations. The predictive data modeling process can be broken down into four steps:
Developing a model

Testing the model

Validating the model

Evaluating the model
There are a significant number of application areas for predictive analysis, such as financial risk management, international trade, clinical trials, cancer detection and many others. As we can see, each application area specified above is sensitive to mistakes or prediction inaccuracies. An inaccurate prediction could lead to incorrect diagnoses, potential patient deaths or financial turmoil in such industries. Therefore, organizations must implement certain practices to optimize the process of predictive data modeling. They must also continuously monitor the performance of the models.
1)  Keeping the First Model Simple
As a process, predictive data modeling uses plenty of resources before organizations can expect it to bear fruit for them. Therefore, the competence of IT infrastructure present in the organization to carry out predictive data modeling is vital for streamlining the process without lag or inefficiencies. Accordingly, businesses must invest time and money to firstly make sure that their IT infrastructure is able to handle the process. This can be made sure with actions such as checking network connectivity, checking internet speeds, cybersecurity-related elements, and other factors before your business can use predictive data modeling. Additionally, your business needs to make sure that all your IT tools are aligned perfectly to make the model development process smoother.
More importantly, the first model created by an organization need not be overly complex or fancy. The first model will not be used for hardcore endpoint applications. A simplistic model provides the metrics and behaviors that can be used as a yardstick to test bigger and more complicated data models in the future. During the initial phases, businesses need to answer a few queries related to carrying out the predictive data modeling process. Some of such questions are related to the number of features needed to test a specific hypotheses, whether features that are useful are practical to make for the future, where they can store a model for maximum data security and threat protection, and finally, whether every significant decision-maker believes that the architecture and tools present currently in the organization are good enough to carry out the process.
Having an advanced hardware and software infrastructure conducive to predictive data modeling is vital for the process to be a success. Maintaining the simplicity of the first data model is valuable to train other, more complex models easily in the future.
2)  Validating Models Consistently
Result validation involves organizations running their model and evaluating its results with visualization tools. To carry out the validation process, organizations need to understand how business data is generated, and how it flows through organizational data networks. As we know, today, data analytics is highly integrated into nearly every business aspect. Individuals at every level in an organization use company resources and the web to make calculated business decisions. Information is gathered for predictive model training purposes too. Accordingly, getting the datasets that can be used to train predictive models also requires a lot of effort. The level of effort involved in data collection means that predictive models are quite highly valued, and each model may have the power to influence organizational data compliance (in a good or a bad way), financial bottom lines, as well as the creation of legal risks for the organization. As a result, such high-value assets need to be validated consistently.
Additionally, businesses may be under the impression that model validation is a one-off process and does not need to be carried out in the future. However, as an expert in the field of model training will tell you, that is a misconception. Predictive models need to constantly evolve with time to become more adept at making accurate forecasts, and so, the validation process needs to take place on a consistent basis. Here are some of the tasks that must certainly be carried out in the validation process:
The Thorough Validation of 'Predictor' Variables
A model is made up of several variables. Some of those variables may have strong predictive abilities. Such variables are labeled 'predictors' due to those capabilities. While predictors are useful for regular business work, they may, in some cases, also cause unwanted risk exposure for their organization when they are used for predictive analysis. For example, the absence of ultra-personal details of users in models may be a conscious effort taken by network administrators to not fall into legal troubles regarding privacy violations of users.
The Validation of Data Distribution
This type of validation is carried out by organizations to get an understanding of the distribution of predictor and target variables. Over time, there may be distribution shifts in such variables and models. If such shifts are detected in variables within data models, such models will have to be retrained with new data as they wouldn't be able to provide predictive analysis with accuracy.
The Validation of Algorithms
As we know, analytical algorithms are used to train models. Validation must be done for algorithms that train models, which go on to carry out predictive analysis in businesses. Also, only certain types of models can provide clear, interpretable predictions. For example, there are multiple types of models, such as decision trees and neural networks. Decision trees provide more open and interpretable—albeit less accurate—results whereas neural networks do not—with more accurate results. So, decision trees must be validated more frequently as they participate more in predictive analysis. Data administrators need to choose between interpretability and prediction accuracy when carrying out the validation of such algorithms.
Compare Model-Prediction Accuracy Tests
To know the actual competence of a model, it must be compared with other models for accuracy. The most accurate models must be used in predictive analysis systems. This is also a validation task and must be carried out regularly if newer, more accurate models enter the fray with time. After all, the improvements in predictive analysis performance carry on perpetually.
Additionally, tasks such as auditing of models, and keeping track of every validation log entry are included under the umbrella of validation. Finally, the performance of models is monitored before and after deployment. Before deployment, businesses must test them for operational glitches that may impact their decision-making and predictive capabilities. Pre-deployment checking is essential because most models chosen for predictive analytics are used in real-world environments.
After a model is deployed, it needs to be monitored for wear, as, generally, models tend to degrade over time. So, validation helps with phasing such models out from a predictive analytics system and replacing them with new, useful ones. With constant validation, models could become less error-prone and more time-efficient. Constant validation is a potent practice as it improves the predictive data modeling process in several ways.
3) Recognizing Data Imbalances
Imbalanced data is a classification issue where the number of observations per class is not equally distributed. As a result, there may be a higher number of observations for a given class—known as a majority class—and much fewer observations for one or other classes—known as minority classes. Data imbalances cause inaccuracies in predictive analysis.
A data imbalance in a model can cause it to be erratic, and not very useful. For example, let's talk about a fraud forecasting system proposed for a bank. Now, the bank may have a record of 95%— meaning that 95% of its transactions turn out to be non-fraudulent. In an imbalanced system, a system may state that the bank is 100% safe. Now, while the system may be right, and the bank will face fraud only 5% of the time, the forecast system will be in trouble whenever any fraud takes place because the system had clearly stated that the safety quotient was at a 100%.
Predictive data modeling is a tough task in the current digital world due to certain potential weaknesses that may creep into its functioning. By following the best practices, businesses can be sure of avoiding poor forecasting.
Entireweb Articles – Read the latest Articles and News in Search Engine related world!
To Leverage Deep Learning, You Must Know This First!
Before implementing deep learning for business, it is vital that business leaders understand the capabilities and features of this path-breaking technology.
What is Deep Learning?

Deep learning is a type of machine learning in AI that gathers huge datasets to make machines act like humans. Due to the use of neural networks, deep learning produces optimized results. You must have observed how Facebook automatically finds your friend in an image and suggests you tag her. Here, Facebook uses deep learning to recognize your friend. We were amazed to read what Gartner had to predict for about deep learning. It said, "Deep learning will soon provide best-in-class performance for demand, fraud and failure predictions." Such a prediction encourages business leaders to implement deep learning for business and drive their business to greater success. While most business leaders are aware of the term, deep learning, they have very little to no understanding of the technology. Before leveraging deep learning for business, leaders should take a look at what deep learning offers and what the future of deep learning will look like.
Deep Learning for Business
For any business, the ultimate goal is to make profits. Organizations can make profits only if customers buy their products or service. Hence, every company aims at keeping their customers happy and fulfilling their demands. In any business, leaders must ask questions like:
What are the challenges faced with the current model?

How can deep learning help overcome the challenges?

How will the technology help to keep customers happy and attract new customers?

What are the areas in their business where they can implement deep learning to make higher gains?
Shared below are few deep learning applications that every business leader must leverage:
Image recognition – Deep learning algorithm recognizes various elements that are located in an image. One of the most common examples of image recognition is Google Images. Based on the content that we are searching for, Google offers us a set of relevant images. Another example is the self-driving vehicles that use image recognition to recognize obstacle son road and act in time. Also, the healthcare industry is using image recognition to understand the human anatomy better.

Sequence learning – Using predictive analysis, business leaders can predict the future outcomes in their business. An example is the product recommendation, when we shop online.

Machine translation – Google's translate engine helps translate the language you enter to any other language of your choice.
The Future of Deep Learning
The future of deep learning is bright. Soon we will see self-driving vehicles becoming a part of our daily lives, thereby reducing accidents and air pollution. Amazon is already using drones for delivering products in 30 minutes or less. There are enormous opportunities for various industries to benefit with the deep learning technology. Business leaders should find these hidden opportunities and drive their business ahead of the curve.
Now that you have a comprehensive idea about the capabilities of deep learning, you should start planning to implement deep learning in your business.
Entireweb Articles – Read the latest Articles and News in Search Engine related world!
5 Things You Didn't Know About Artificial Intelligence
Artificial intelligence (AI) has been a hot topic for a while now.
While it might appear to be a fairly new concept, artificial intelligence has actually been around since the first computer was built back in the 1930s.
Source: Decan Herald
Based on capabilities, artificial intelligence can be classified into three types:
Narrow AI
General AI
Super AI
The concept of AI involves other subsets such as machine learning and deep learning.
Computers could learn and act on data sets without any human programming. Essentially, AI is mimicking the human brain, but it will soon surpass our mind. AI learns and adapts to information and scenarios, and it gets smarter in the process. Over time, it can begin to react differently to achieve better results.
While AI has been around for quite some time now, there are still several things that many people don't know about it. Let's take a closer look. Here are 5 things you didn't know about artificial intelligence.
1. Artificial Intelligence is Already Present In Our Everyday Lives

Without even realizing it, you're likely interacting with artificial intelligence every day. If you've searched for information on your smartphone, asked your digital assistant for the weather forecast, or plugged in directions in your car's navigation system, you've used machine learning, which is a subset of AI. It might not seem all that significant, but these little things help us live our daily lives.
2. Artificial Intelligence Can Assist with Weather Forecasting
Artificial intelligence has the ability to take in massive volumes of data and uncover patterns that would take humans days, weeks, or even months. In such a capacity, it can assist weather forecasting. It can predict severe weather conditions, such as hail or hurricanes, that can help utility companies make smarter decisions. It can also be beneficial for solar power system companies. In recognizing specific patterns, it can also predict weather patterns that might impact solar production. This can be helpful for power producers, enabling them to adjust accordingly.
3. Artificial Intelligence Can Restore Vintage and Damaged Photographs
Vintage photographs provide us with a glimpse into how things used to be in the past. The thing is, pictures don't last forever. Old photos fade or get damaged. Since these images were created before computers were really a thing, they're likely to disappear forever once they're gone.
Thanks to artificial intelligence, we can save vintage and damaged pictures. NVIDIA developed an AI that uses what's known as image painting to successfully restore images with rips, holes, or missing spots. After being fed thousands of images, the AI can analyze any picture and automatically fill in the missing areas, effectively repairing them.
4. Artificial Intelligence Can Help Spot "Deepfakes"
Deepfakes are AI-generated videos that are becoming increasingly more common and realistic-looking. These images take faces of people and put them on the bodies of others. They can also create some rather convincing audio. Well-done videos and pictures can make it appear as though someone said or did something they didn't actually do.
Not only can artificial intelligence make deepfakes, but it can help to spot them, too. As convincing as many deepfakes are, there are some tell-tale signs that they're not real. The voice might sound a bit too robotic, or there's something a little off with the image (such as hair not quite matching up). AI can help to spot these inconsistencies, which can protect people. In some cases, it may even help to prove a person's innocence.
5. Artificial Intelligence is Helping Medical Professionals Fight Cancer
Computers are an integral tool in the field of medicine. One way artificial intelligence is helping is by assisting medical professionals in the fight against cancer. AIs developed by the University of Surrey and the University of California were fed thousands of accounts of people affected by cancer. Now, they can predict which people are likely to develop cancer. The technology may also be able to detect symptoms of cancer in its earliest stages.
Conclusion
These are just a few of the incredible things artificial intelligence can do. AI is smart, and it's getting better. It's beating humans at their own games, such as solving Rubix cube puzzles and topping the high score charts in video games. While it can be a strange thought that machines are becoming smarter than humans, AI can go a long way in helping us achieve things we never thought possible.
Entireweb Articles – Read the latest Articles and News in Search Engine related world!