How to Setup Google Analytics using Google Tag Manager?
Do you want to set up Google Tag Manager? If you already have a Google account, Google Tag Manager (GTM) is very easy to create and install. Here, in this blog, you will get a brief knowledge of how to manage Google Tags with each option highlighted.
But before going further, let us know some basics about GTM:
Google Tag Manager is a free tool that allows you to manage and deploy marketing tags ( tracking pixels) on your website and a mobile app without modifying the code. In simple words, it is a way you can easily update measurement codes and related code fragments collectively on your website or mobile applications.
Let's consider the steps to install GTM (Google Tag Manager) today:
Step #1 Go To The GTM Account Page:
To get started, first create a GTM account. Go to the official website of Google Tag Manager "https://marketingplatform.google.com/about/tag-manager/". And click on the main call-to-action to create a new Google Tag Manager account. If you already have on Gmail (Google Ads, Google Analytics, etc.), you will automatically log in to Google Tag Manager. Otherwise, you have to create a new account first.
Step #2 Create a GTM Account:
After logging in, you will be asked to create a new Google Tag Manager account. For this, follow the below process:
First, in tag manager, click on accounts and then create an account.
Enter an account name and fill the other optionally indicate if you won't share data with Google.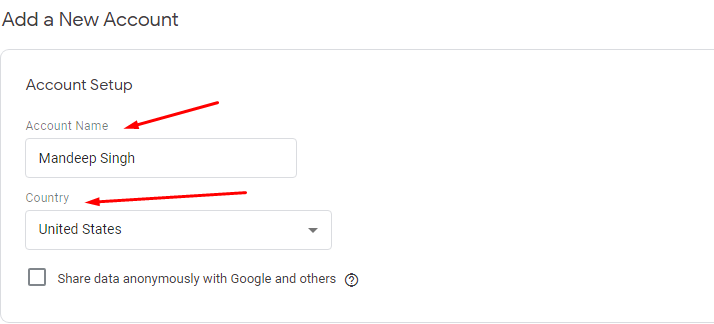 After this, click on CONTINUE.
Step 3: Setup Your GTM Container
A container is where you will easily manage all your tags.
After clicking on the CONTINUE Create container page will appear.
Enter a descriptive container name with the name of your site (But make sure don't use HTTPS:// or HTTPS://)
Select the type of content where the container will use Web, AMP, Android, or iOS.
Then click on "CREATE".
Step 4: Accept the Data Processing Terms Required by GTM:
Here you have to read all the terms and conditions of the services agreement. Click "yes" by scroll down to the very bottom of the page and then click on the checkbox.
"I accept the Data Processing Terms As Required By GDPR, Learn More."
Step 5: Open GTM Container:
In this step, click on your container's name, which you create, and click on your GTM tracking code ID. Once you click, you would see the code for installing a tag manager.
Step 6: Install GTM:
Important consideration:
"Before moving further to the next steps, make sure that you audit the current tags installed in the code of your website, app, or AMP pages. Plus, create an analytics migration plan".
To install the GTM, you have to copy (highlighted below) code and paste it within the <head> section of every page of your site. And click on the "ok" button. Here, you will see the GTM user interface. But, sometimes, not all vendor tags are currently supported by GTM, and for those that are not for this, you might want to check with the vendor's technical support to make sure their tracking code works with GTM.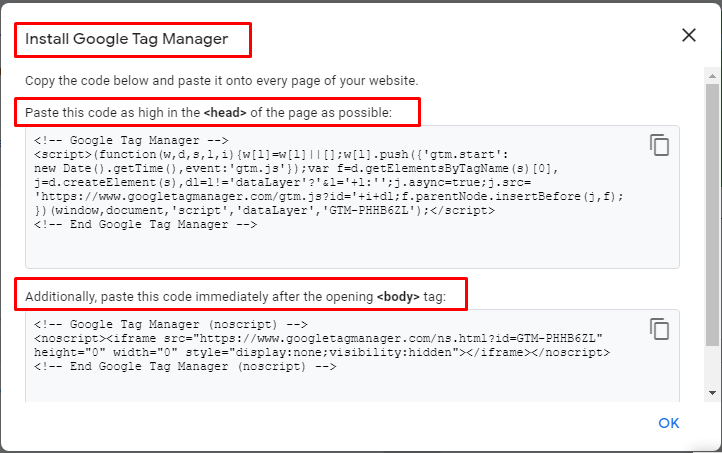 Step 6: Analyze the Coverage of GTM Container Tracking Code:
Once you install the code, now it's time to test that code is running on every page. Several tools that you can use for this process, but one of these is Google Tag Assistant Legacy. A free tool commonly used by several professionals to analyze small sites!
Congratulations! You have successfully installed your GTM Google Tag Manager!!
How to Setup Google Analytics with Google Tag Manager
Once you are successfully entering the code snippet on your website, you will need to set a tag.
Start by clicking on the new tag.
By clicking on the untitled field, you can rename the tag. Then click on the big icon where it says choose a tag type to start setup.

Once you click, there are different types of tags that will appear on-page. You have to select "Google Analytics: Universal Analytics."
Now, under Google Analytics settings, click on the dropdown menu and select a "NEW VARIABLE."
Here, give a name to your variable and enter your Google Analytics "TRACKING ID" After that, click "SAVE" when you are done.
In the next step, you will have to set up a trigger. For this, click on the big icon where it says "choose a trigger to make this tag fire."

Here select All Pages for basic Google analytic implementation and click on the Save button at the top.
Now, you are ready to publish your Google Analytics tag.
After that, you will have to submit a Newly Created Tag. For this, select tag from the left appearing options. Then select Google Analytics Tag and click on the submit button.
That's all! You have successfully implemented Google Analytics with Google Tag Manager. And now, it will execute on every page. Now, all you will have to do is wait for a few hours for Google Analytics to collect your website's data. Then, you can log in to your Google Analytics account and analyze or view your website's reports.
Google to pay $391.5 million settlement over location tracking, state AGs say
Google has agreed to pay a $391.5 million settlement to 40 states to resolve accusations that it tracked people's locations in violation of state laws, including snooping on consumers' whereabouts even after they told the tech behemoth to bug off.
Louisiana Attorney General Jeff Landry said it is time for Big Tech to recognize state laws that limit data collection efforts.
"I have been ringing the alarm bell on big tech for years, and this is why," Mr. Landry, a Republican, said in a statement Monday. "Citizens must be able to make informed decisions about what information they release to big tech."
The attorneys general said the investigation resulted in the largest-ever multistate privacy settlement. Connecticut Attorney General William Tong, a Democrat, said Google's penalty is a "historic win for consumers."
"Location data is among the most sensitive and valuable personal information Google collects, and there are so many reasons why a consumer may opt out of tracking," Mr. Tong said. "Our investigation found that Google continued to collect this personal information even after consumers told them not to. That is an unacceptable invasion of consumer privacy, and a violation of state law."
Location tracking can help tech companies sell digital ads to marketers looking to connect with consumers within their vicinity. It's another tool in a data-gathering toolkit that generates more than $200 billion in annual ad revenue for Google, accounting for most of the profits pouring into the coffers of its corporate parent, Alphabet, which has a market value of $1.2 trillion.
The settlement is part of a series of legal challenges to Big Tech in the U.S. and around the world, which include consumer protection and antitrust lawsuits.
Though Google, based in Mountain View, California, said it fixed the problems several years ago, the company's critics remained skeptical. State attorneys general who also have tussled with Google have questioned whether the tech company will follow through on its commitments.
The states aren't dialing back their scrutiny of Google's empire.
Last month, Texas Attorney General Ken Paxton said he was filing a lawsuit over reports that Google unlawfully collected millions of Texans' biometric data such as "voiceprints and records of face geometry."
The states began investigating Google's location tracking after The Associated Press reported in 2018 that Android devices and iPhones were storing location data despite the activation of privacy settings intended to prevent the company from following along.
Arizona Attorney General Mark Brnovich went after the company in May 2020. The state's lawsuit charged that the company had defrauded its users by misleading them into believing they could keep their whereabouts private by turning off location tracking in the settings of their software.
Arizona settled its case with Google for $85 million last month. By then, attorneys general in several other states and the District of Columbia had pounced with their own lawsuits seeking to hold Google accountable.
Along with the hefty penalty, the state attorneys general said, Google must not hide key information about location tracking, must give users detailed information about the types of location tracking information Google collects, and must show additional information to people when users turn location-related account settings to "off."
States will receive differing sums from the settlement. Mr. Landry's office said Louisiana would receive more than $12.7 million, and Mr. Tong's office said Connecticut would collect more than $6.5 million.
The financial penalty will not cripple Google's business. The company raked in $69 billion in revenue for the third quarter of 2022, according to reports, yielding about $13.9 billion in profit.
Google downplayed its location-tracking tools Monday and said it changed the products at issue long ago.
"Consistent with improvements we've made in recent years, we have settled this investigation which was based on outdated product policies that we changed years ago," Google spokesman Jose Castaneda said in a statement.
Google product managers Marlo McGriff and David Monsees defended their company's Search and Maps products' usage of location information.
"Location information lets us offer you a more helpful experience when you use our products," the two men wrote on Google's blog. "From Google Maps' driving directions that show you how to avoid traffic to Google Search surfacing local restaurants and letting you know how busy they are, location information helps connect experiences across Google to what's most relevant and useful."
The blog post touted transparency tools and auto-delete controls that Google has developed in recent years and said the private browsing Incognito mode prevents Google Maps from saving an account's search history.
Mr. McGriff and Mr. Monsees said Google would make changes to its products as part of the settlement. The changes include simplifying the process for deleting location data, updating the method to set up an account and revamping information hubs.
"We'll provide a new control that allows users to easily turn off their Location History and Web & App Activity settings and delete their past data in one simple flow," Mr. McGriff and Mr. Monsees wrote. "We'll also continue deleting Location History data for users who have not recently contributed new Location History data to their account."
• This article is based in part on wire service reports.
5 Tips to Boost Your Holiday Search Strategy
With the global economic downturn, inflation, ongoing supply chain challenges, and uncertainty due to the Ukraine war, this year's holiday shopping season promises to be very challenging. Will people be in the mood to spend despite the gloom? Or will they rein in their enthusiasm and save for the year ahead?
With these issues in mind, here are five considerations to support your search engine optimization strategy this holiday shopping season:
1. Start early.
Rising prices are likely to mean shoppers will start researching their holiday spending earlier than ever to nab the best bargains. Therefore, retailers must roll out their holiday product and category pages — and launch any promotions — sooner to ensure their pages get crawled and indexed by search engines in good time.
Some e-commerce stores manage to get their pages ranking early by updating and reusing the same section of the website for holiday content and promotions, rotating between content for Christmas, Mother's Day, Valentine gifts, Fourth of July sales, etc. This approach can help you retain the momentum, links and authority you build up with Google and get your holiday pages visible and ranking quickly.
2. Make research an even bigger priority.
With all the uncertainty this year, it's vital to use SEO research to identify the trending seasonal keywords and search phrases in your retail vertical — and then optimize content accordingly.
With tools such as Google Trends you can extract helpful insights based on the types of searches people are making. For example, with many fashion retailers now charging for product returns, will prioritizing keywords such as "free returns" get more search traction? And with money being tighter, will consumers stick with brands they trust rather than anything new — meaning brand searches might be higher?
3. Make greater use of Google Shopping.
To get the most out of their holiday spending, consumers are more likely to turn to online marketplaces such as Google Shopping as they make it easier to compare products, features and prices, as well as to identify the best deals both online and in nearby stores.
Therefore, take a combined approach which includes listing in Google Shopping and at the same time optimizing product detail pages on your e-commerce site to ensure they're unique and provide more value than competitors' pages. Be precise with product names on Google Shopping (e.g., do the names contain the words people are searching for?); ensure you provide all the must-have information Google requires; and set a price that's not too far from the competition. 
4. Give other search sources the attention they deserve.
Earlier this year Google itself acknowledged that consumers — especially younger consumers — are starting to use TikTok, Instagram and other social media sites for search. In fact, research suggests 11 percent of product searches now start on TikTok and 15 percent on Instagram. Younger consumers in particular are more engaged by visual content, which may explain why they're embracing visually focused social sites for search. So, as part of your search strategy, create and share content on popular social media sites that your target customers visit.
Similarly, with people starting their shopping searches on marketplaces such as Amazon.com, optimizing any listings you have on the site should be part of your strategy. And thankfully, the better optimized your product detail pages are for Amazon (with unique, useful content), the better they will rank on Google as well!
5. Hold paid budget for late opportunities.
The greater uncertainty and volatility this holiday season mean you must keep a close eye on shopper behavior and be ready to embrace opportunities that emerge later on. Getting high organic rankings for late promotions is always more challenging, so hold some paid search budget back to help drive traffic to those pages — via Google Ads, for example. Important keywords to include in late season search ad campaigns include "delivery before Christmas" and "same-day-delivery." For locally targeted search ads, consider "pick up any time before Christmas."
The prospect of a tough, unpredictable holiday shopping season means search teams must roll out seasonal SEO plans early, closely track shoppers' behavior, and be ready to adapt as things change.
Marcus Pentzek is chief SEO consultant at Searchmetrics, the global provider of search data, software and consulting solutions.
Google Home App Gets an Overhaul, Rolling Out Soon
Google refreshes its Home app with a slew of new features after launching a new Nest gear. This makes it faster and easier to pair smart devices with Matter, adds customization and personalization options, an enhanced Nest camera experience, and better intercommunication between devices.
This revamped Home app utilizes Google's Matter smart home standard – launching later this year – especially the Fast Pair functionality. On an Android phone, it will instantly recognize a Matter device and allow you to easily set it up, bypassing the current procedure that is often slow and difficult. Google is also updating its Nest speakers, displays, and routers – to control Matter devices better.
Google Home App New Features
Spaces: 

This feature allows you to control multiple devices in different rooms. Google has listed a few things by room: kitchen, bedroom, living room, etc., although it's pretty limited right now. Spaces let you organize devices how you see fit. For instance, you can set up a baby monitor in one room and set a different room's camera to focus on an area the baby often plays. With Spaces, you can categorize these two devices into one Space category called 'Baby.'
Favorites: 

This one is pretty self-explanatory. It allows you to make certain gears as a favorite that you frequently use. Doing so will bring those devices into the limelight within the Google Home app for easier access. 
Media:

 Google adds a new media widget at the bottom of your Home feed. This will automatically determine what media is playing in your home and provide you with the appropriate controls as and when needed. There will be song controls if you listen to music on your speakers. There will be television remote controls if you're watching TV. 
Google probably won't roll out this Home app makeover anytime soon. But you can try it for yourself in the coming week by enrolling in the public preview, available in select areas.