How to Use Header Bidding
Despite the technology involved in the adtech space, there are still many inefficiencies and unfair practices that need to be ironed out. Header bidding is a solution that brings publishers and advertisers together.
What Is Header Bidding?
Header bidding is a process where many advertisers simultaneously bid (in real-time) in a digital auction to win ad space on your website. This auction occurs outside your primary ad server every time your pages load or whenever an ad unit refreshes.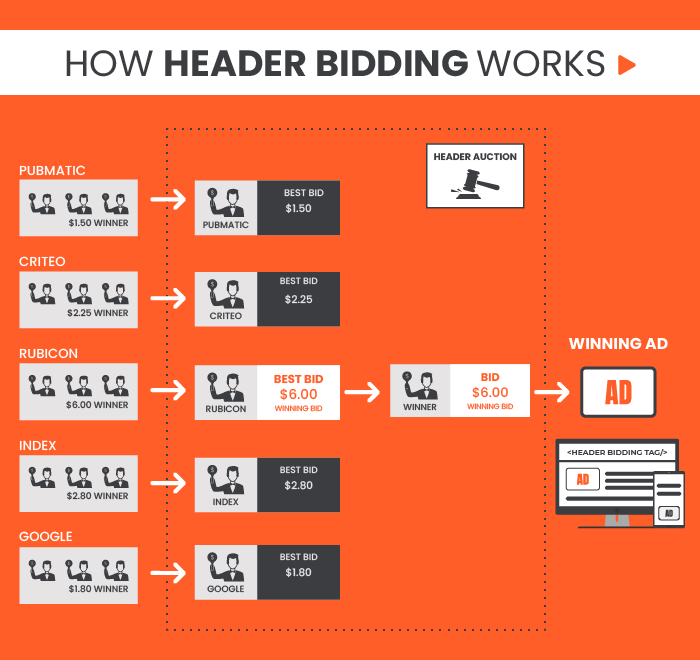 For publishers, the primary advantage is it helps ensure you get the best deals on your ad space. To do this, you must ensure that you reach out to supply-side platforms (SSPs) and other demand partners to ensure you have many advertisers to bid on your inventory.
Header bidding is a more refined way of auctioning off your ad inventory. While it may be a bit more complex to implement than traditional methods (like waterfall bidding), it has many advantages that make it worth the hassle.
How Header Bidding Works
Here's how the whole process play out when a visitor lands on a publisher's page:
A visitor clicks a link that takes them to a web page
As the page loads, the short string of JavaScript in the page's header makes a call to your demand partners or ad networks
Each demand partner places a bid on the publisher's ad inventory
The winning bid is directed to the publisher's ad server
The publisher's ad server then connects the user to the advertiser's server and displays the winning ad
The process may involve several steps, but it takes less than a second from start to finish.
Header Bidding Vs. Waterfall Bidding
One of the most popular methods of buying and selling ad space was waterfall bidding. It has worked pretty well for the past few years, and some publishers are still reluctant to move away from it to embrace header bidding.
The question, however, is which is better: header bidding or waterfall bidding?
To properly understand why it is your better option, we need to briefly look at what waterfall bidding is and its pros and cons.
What Is Waterfall Bidding, and How Does It Work?
Waterfall bidding is one of the earliest forms of programmatic bidding.
Waterfall bidding is an old-school way of ad serving in which publishers set a floor price for their ad space. The publisher sets the priority for each advertiser or ad network they're connected to.
When selling ad impressions using the waterfall bidding process, inventory is offered to advertisers at a fixed minimum price per impression. The first ad network to bid at that price gets the slot.
Another important aspect of waterfall bidding is that the bidders don't get to bid randomly. Networks that rank higher, thanks to higher historical yield, get dibs on bidding.
In a sense, waterfall bidding isn't accurate bidding at all.
The most significant disadvantage of waterfall bidding is that the price you sell your inventory at doesn't necessarily reflect its true value.
Ad space that remains unsold is passed on to the next ad exchange, determined by size, not the amount of the bid. The process goes on until the inventory is sold. It's from this cascading nature of passing down inventory that the waterfall method gets its name.
Unfortunately for publishers, this means if the runner-up advertiser was willing to pay more, the publisher misses out on getting more revenue.
9 Reasons You Should Use Header Bidding
You've probably noticed a few advantages that header bidding has (for both publishers and advertisers) over other methods of auctioning off ad space.
Some of these benefits include:
1. Header Building Gives Publishers Access to More Advertisers
For publishers, a significant advantage of header bidding is it allows you to expand and diversify the advertisers on your site. It ensures that you're not reliant on a small set of advertisers. Doing so helps increase your business' resilience and adaptability.
2. Fair Bidding
One of the biggest advantages for advertisers is that it levels the playing field. That's because no advertiser has an advantage. All bids are placed fairly, and the highest bidder wins, no matter who they are (and even if they use AdEx).
3. Header Building Improves Auction Efficiency
This type of bidding utilizes real-time pricing instead of the historical pricing used by other ad auction models. This makes it faster and more efficient.
4. Header Bidding Gives You More Control
For publishers, one of the main advantages is it gives you more control over the sources that can participate in the bidding process. As a publisher, you retain control over your site.
5. Increased Revenue
Another reason publishers like header bidding is the increased ad revenue. Not only can you charge more for your premium inventory, but you are also assured that the highest bidder wins every time.
6. Improved Ad Quality
Thanks to the increased competition, advertisers work hard to ensure their ads are high quality and more relevant to a publisher's audience. Improved ad quality helps ensure a better user experience (UX.)
7. Improved Yield
With header bidding, you rely less on a single supply-side platform. As a result, your overall yield increases due to smarter allocation of impressions and increased fill rate.
8. Increased Fill Rates
One main reason you should use header bidding is that it exposes you to more advertisers. This has the huge advantage of increasing the chances of publishers filling all their ad slots.
9. Better Transparency
Advertisers enjoy the improved transparency that header bidding affords. They have access to all the publisher's inventory, and thus know what's available and how much it can cost them. This transparency helps advertisers make informed bidding decisions.
Header bidding has so many advantages for both publishers and advertisers, it's undoubtedly worth the effort to implement it.
What Are the Drawbacks of Header Bidding?
While this type of bidding might seem like the perfect solution for both advertisers and publishers to maximize their returns, it does have its drawbacks. Here are the main ones:
Increased Latency
To run header bidding, publishers have to add a script to their site, which can slow down page load speed, resulting in a poor user experience. Another caveat is that the more advertisers that bid on your inventory, the more the page latency is affected.
You can mitigate these by following website optimization best practices to ensure your pages load faster.
Increased Management Overheads
Once you've set up header bidding, it requires close management to ensure it performs well. Besides ensuring that your code is working well for all your partners, adjusting bids, timeouts, and several other tasks are required to keep your header bidding optimized.
Infrastructure Costs
Implementing this bidding style can lead to increased infrastructure costs for SSPs and demand-side platforms (DSPs). One reason for this is the increased load on their servers. Another reason is the required tools and personnel needed to run it.
Header bidding may have its drawbacks, but overall, the pros definitely outweigh the cons.
How to Implement Header Bidding
Implementing header bidding for publishers can be a complicated process. Setting it up is tedious as it may require you to develop countless line items of ad inventory. As said, this can have an impact on your page load speed. The consequences are poor UX for both advertisers and website visitors.
Thankfully, there are a couple of solutions for that: wrappers and server-side.
Header Bidding Wrappers
Header bidding wrappers are code containers that help ensure all auctions start simultaneously and end on time. Wrappers also ensure ads load asynchronously. This means the page's content can load before the ads, ensuring your website latency doesn't impact visitors
Server-Side Header Bidding
Another solution is to implement server-side header bidding.
Traditional header bidding takes place client-side (also called browser-side), meaning it depends on the browser to handle individual networks' requests. Of course, this can put a strain on resources; something header wrappers can help address.
If many networks access the header wrapper, it triggers several JavaScript processes that make site load speed suffer.
One way to solve that problem is to limit the number of advertisers that can bid for your inventory. However, that defeats the purpose of header bidding, as you want as many advertisers as possible to participate.
Server-side header building is a solution to this problem. Server-side header bidding takes the bidding process off your browser and moves it to an external server.
To do this, you must embed code on the back-end of your website. This way, all the heavy work is transferred from your browser to your ad server. As a result, your browser can focus on the one thing it's meant to do: serve your website visitors with content.
One of the most significant advantages of server-side is that it helps improve page load times. It also helps ensure a more efficient bidding process.
Conclusion
Whether you're a publisher or advertiser, you should consider a header bidding strategy.
For advertisers, header bidding levels the playing field by allowing everyone to bid fairly, no matter the ad network's size.
Publishers ensure their ad inventory sells for what it's worth. Your primary task is to drive traffic to your website and let the bidding code do the heavy lifting of monetizing your website. With header bidding, you won't leave money on the table, which is a win-win for everyone involved.
If you need help implementing a header bidding strategy (or even a holistic campaign that incorporates other digital ad strategies), let our agency know. Our team of experts can help!
Have you tried header bidding as a publisher or advertiser?
What was your experience with it?
See How My Agency Can Drive Massive Amounts of Traffic to Your Website
SEO – unlock massive amounts of SEO traffic. See real results.
Content Marketing – our team creates epic content that will get shared, get links, and attract traffic.
Paid Media – effective paid strategies with clear ROI.
Top 6 SEO Tips for Bloggers that Will Skyrocket Google Rankings
The majority of blogs rely heavily on search engines to drive traffic. On the other hand, there is a misunderstanding that creating "SEO-optimized content" entails stuffing keywords into paragraphs and headers, which leads to barely readable blog articles.
But that's not what SEO is all about. In this article, you'll discover the top 6 SEO strategies and how crucial they are for improving your blog posts rank in Google search results.
How Important Are Google Rankings For Your Blog?
Search engine traffic is essential if you're blogging in hopes of growing your business. After all, what's the point in writing content if no one is going to see it? The higher your blog post ranks in Google search results, the more likely people will find and read it.
And the more people who read your blog post, the more likely someone will take the desired action, whether signing up for your email list, buying one of your products, or hiring you as a coach or consultant. So, it is essential to have SEO optimized blog.
How To Incorporate SEO Into Your Blogs?
It would help if you started putting these six pieces of constructive SEO advice for bloggers into practice immediately:
1. Write For Your Readers
The standard of blog writing started significantly declining when "SEO content" became a buzzword. Instead of writing for people, they began to write mainly for robots in search engines. Unfortunately, some bloggers still express themselves in this way nowadays.  
But luckily, things have greatly improved, especially since the Hummingbird update and the rise of voice searches. The Hummingbird update was developed to assist Google in comprehending the purpose of searches.  
For instance, Google would understand that you are seeking nearby restaurants if you Googled "places to buy burgers." It influences SEO because search engines are now more geared toward providing answers to queries and supporting semantic search rather than merely focusing on keywords.
You typically utilize Google, Bing, YouTube, or even Siri to find answers to questions. Take that idea and use it to improve your blog. Your writing should address the concerns of your intended audience in detail.
Your blog shouldn't exist solely to help you rank for a particular keyword. Instead of concentrating on keywords, shift your attention to creating content that addresses the issues of your target audience.
2. Link to High-Authority websites
Don't be scared to use external links when you construct your blog content. In addition to giving blog visitors more resources to read and learn from, linking to reputable websites demonstrates to search engines that you have done your research.
Research-based statistics from reputable websites are the best way to support blog content. Using compelling statistics will help you create a stronger, more specific argument that will help you win your readers' trust.
3. Design a link building Strategy
Your search ranking is significantly impacted by link building. Why? Consider search results a contest where the people who receive the most votes win.
Google considers every website that links back to you as a vote for your website, elevating your content's credibility. You will move up in ranking as a result. Here are some starter ideas for your link-building:
Communicate to other bloggers in your niche and offer to guest post on their website. Include a link back to your blog in your guest post.
Participate in online and offline community events related to your niche. For example, if you blog about fitness, you could attend a trade show related to fitness or health.
Create helpful resources that other bloggers in your niche find valuable, such as an eBook, cheat sheet or template. Include a link back to your blog on these resources.
Leverage social media to get your content in front of as many people as possible.
4. Learn About Google Webmaster Tools
Do you remember getting a warning from your teacher when you did anything incorrectly in elementary school? Your opportunity to clean up your act and get back on track to avoid punishment was given to you with that warning. In a way, Google Webmaster Tools serves that purpose for your blog.
Google Webmaster Tools will warn you when something suspicious is happening with your blog by giving you diagnostics, tools, and data to keep your site in good condition.
What you can observe in the Webmaster Tools Search Console is:
The percentage of your pages that Google has indexed
If your website is having issues with Google's bots indexing it
If your website was hacked
How search engine bots see your website
Links to your site
If Google penalized your website manually
The great thing about Webmaster Tools is that it informs you what's wrong with your website and how to fix it. To resolve any difficulties Google discovers with your blog, you can utilize a vast knowledge base of articles and a forum.
5. Include Keywords in your Meta Description
Does your post include meta descriptions? If not, you're probably not providing your content with the best chance of being seen. Google also analyzes meta-descriptions to determine search results. The one- to three-sentence summaries beneath a result's title is known as meta descriptions.
Use meta descriptions to briefly summarize the subject of your post, and keep in mind to:
Make it brief.
Use between one and two keywords.
Since there will likely be other postings that are identical to yours, you should make your description stand out from the competition.
6. Establish Linkable Assets
A linkable asset is a unique, instrumental piece of content that's so valuable people can't resist linking to it. It's similar to dining at a fantastic restaurant and a merely adequate one. You'll go out of your way to tell everyone about the excellent restaurant, but if someone asks if you've been there, you'll probably only mention the merely adequate one.
The ProBlogger job board is an excellent example of a linkable asset. For independent bloggers looking for compensated writing opportunities, it's a terrific resource. The page is constantly linked in blog posts on monetizing your blog or websites that pay you to write for them. Why? Because it is rare and costly.
You can build the following linkable assets for your blog:
Free software or apps
Ultimate guide posts
Huge lists
Infographics
Online guide
Influencer tally reports
Quizzes
A case studies
Industry studies or surveys
Final Thoughts
By following these six SEO tips for bloggers, you'll be well on your journey to improving your blog's Google ranking. Remember that SEO is an ongoing process, so don't get discouraged if you don't see results immediately. The key is to be patient and consistent in your efforts, and soon you'll start reaping the rewards of your hard work!
B2C Marketers Treat Content Marketing as a Project; That's a Mistake [New Research]
In The End of Competitive Advantage, Rita Gunther McGrath illustrates all competitive advantages are transient. She contends everybody understands that. So why hasn't basic strategy practice changed?
As Rita writes:
Most executives, even when they realize that competitive advantages are going to be ephemeral, are still using strategy frameworks and tools designed for achieving a sustainable competitive advantage, not for quickly exploiting and moving in and out of advantages.
That last part resonates after working with hundreds of enterprise brands over the last 10 years. Most businesses think about how they can change content to fit marketing's purpose, not how they might change marketing to fit content's purpose.
Guess what? Your content will never be a sustainable competitive advantage or differentiator – all content assets are easily replicable and, at best, only transient in differentiated value.
In the newly released Content Marketing Institute/MarketingProfs B2C Content Marketing Benchmark, Budgets, and Trends – Insights for 2023, I see it's time to feed the content giant that awakened last year. But be careful not to get so distracted by the food you fail to cook consistently over time. All too often, content marketers get wrapped up in content creation rather than in the ability to lead the capabilities to create consistently.
Content should be a strategic activity
Look at content operations as the catalyst that can change everything for your content marketing challenges. You should recognize the activities you perform are a competitive advantage. Success hinges on the ability of a team (of one or 100) to be dynamic and fluid – moving in and out of "arenas" (as Rita calls them in her book) of content and creating temporary advantages.
Here's the real takeaway: Ask everyone in your business – including your CEO – if they believe compelling, engaging, useful, and dynamic content-driven experiences will move the business forward.
If the answer is yes, then the strategic value lies in your ability to evolve and coordinate all the activities to create those content-driven experiences repeatedly. It does not lie in the content or the distribution plans. Your team's job is not to be good at content; your job is to enable the business to be good at content.
#ContentMarketing's strategic value lies in the ability to repeatedly deliver content-driven experiences, not the content itself, says @Robert_Rose via @CMIContent. Click To Tweet
Consider some highlights from this year's research.
Struggle is real for content marketing strategy
Content marketing remains important.
Seventy percent of B2C marketers told us that content marketing has become more important to their organization over the last year. (Only 4% say it's less important.)
With an increase in importance comes a need for more resources. When asked what they would change about content marketing in their organization, they say they want more staff, more budget, and better access to subject matter experts.
70% of #B2C marketers say #ContentMarketing is more important in their organization than last year according to @CMIContent #research via @Robert_Rose. Click To Tweet
Yes, content marketing is more important, but content marketers struggle to keep up with the demand.
Why?
Because so many businesses treat content marketing as a campaign-, project-focused effort that requires different "assets." Content marketers are so busy churning out projects of content that they haven't figured out how to make it a repeatable, consistent, and scalable process.
As far as their biggest challenges in content marketing, 57% of B2C marketers say creating content that appeals to different target audiences. Rounding out the top three: developing consistency with measurement (44%) and differentiating our products/services from the competition (40%).
57% of #B2C marketers say they are challenged to create #content that appeals to different target audiences according to @CMIContent #research via @Robert_Rose. Click To Tweet
Solving all three of these challenges centers around strategic content operations – setting a consistent long-term strategy to differentiate, developing a measurement plan that stands the test of time, and scaling to meet the needs of different audiences. But most marketers aren't planning to acquire the help to tackle those challenges. Among the resources they plan to hire or contract in the coming year, almost half (45%) say they will look to grow writers, designers, photographers, and videographers.
It's like trying to design a bigger house by simply adding more bricks.
45% of #B2C marketers plan to hire content creators in the coming year. @Robert_Rose says that's like designing a bigger house by adding more bricks via @CMIContent #research. Click To Tweet
But B2C content marketing is working
Despite their challenges, talented practitioners find success. Overall, 81% of B2C marketers rate their success as either moderately, very, or extremely successful. Only 2% say they were "not at all" successful.
And 86% say content marketing provides a "meaningful/purposeful career path."
These results align with the research discovered in CMI's Content Marketing Career & Salary 2023 Outlook (registration required). We found though content marketers are generally happy in their current roles, they would be happier if their organizations prioritized content marketing, backed it with strategies and resources, and invested in technologies to help them do their jobs faster and more efficiently.
The final bit of good news? Almost three-quarters (73%) of content marketers expect their organization's investment in the practice will increase or remain the same this year. Only 3% believe it will decrease.
Different activities, not more efficient ones
The B2C research presents some interesting insights into the priorities for 2023:
Businesses must increasingly stop organizing and scaling new marketing teams based on platforms, technologies, or inside-looking-out views of the customer journey. The format and placement of those experiences on multiple channels will always be temporal. Success happens when the business becomes skilled and integrated at operating and managing all manners of content-driven experiences.
Businesses must stop looking at content from a container-first perspective – designed solely to support marketing tactics or initiatives. Success happens when the business recognizes content operations as a function, supporting the fluid use of content to fuel better customer experiences.
Businesses must not say, "That's the way we've always done it," when one experience no longer works. Success happens when the business can healthily disengage and dismantle experiences that aren't working. They can constantly reconfigure their activities and manage portfolios of content-driven experiences.
Starting with the wrong premise
Often the first sign of trouble in any content marketing approach is when you hear, "How do we get more efficient at content?"
Efficiency involves changes to a process to remove friction. The question often assumes a working, standard operation providing value already exists. But if there is no repeatable standard operation, efficiency ends up meaning producing the same or more content with the same resources.
That rarely works out to be better for the business.
The more difficult task for content marketers is to determine the different activities necessary to create or augment the processes and identify the activities to undertake differently.
The content you create provides no sustainable competitive business advantage. But a strategic content operation just might.
Get the latest Content Marketing Institute research reports while they're hot –
subscribe
 to the newsletter. 
HANDPICKED RELATED CONTENT:
Cover image by Joseph Kalinowski/Content Marketing Institute
Renting vs. Owning the Post-Review Local Consumer Journey
The author's views are entirely his or her own (excluding the unlikely event of hypnosis) and may not always reflect the views of Moz.
Technology can be a conductor or a barrier. Everything we do to market local businesses is meant to culminate in a human encounter. When we get our part right (and external forces smile upon us), technology connects us. When we get our part wrong (or external forces impede us), technology can have the frustrating effect of sundering local brands from their customers, with everybody losing out on the deal.
The modern phenomenon of local search exemplifies the concept of a "mixed blessing". Loss of control over significant parts of the customer journey can be a source of legitimate stress for owners and marketers. Stress isn't good for us, of course, and that's why I'm hoping this message brings some welcome relief: control of the most important aspects of the consumer journeys remains strongly on your side, and you can thrive without the parts you have to give up. We've got data to back this up, thanks to Moz's recent report, The Impact of Local Business Reviews on Consumer Behavior, and I'm hoping today's column will lift some burdens that may have been weighing you down.
The data
Let's start out by taking a moment to really reflect on what it means that 96% of adults read local business reviews. Basically almost everyone in your community is perusing this content, making it the widest possible road to your front door, but the truth is that it exists in a space you only partially control. Given that only 11% of review-readers trust brand messaging over public opinion, reviews matter greatly, and it's a tough reality that they mainly happen in digital spaces you rent rather than own.
If something goes wrong with your reviews on third party platforms like Google, Nextdoor, or Yelp, such as a spam attack, or the random disappearance of your reviews due to a bug or update, or a single irate customer shouting half-truths or downright falsehoods through a megaphone amid a small number of reviews, you have limited direct recourse for resolution. Platforms may or may not respond to your pleas for help, and some customers may ignore even your best offers to resolve their complaints – the sense of lost control is not imaginary.
Here is the good news: for 91% of your potential customers, the very next step they take after reading reviews will land them in spaces you own. 51% will head to your website, which you fully control, 27% will visit your place of business, which you also fully control, and 13% will contact you, and it's you who control your phone and text lines, your email, forms, and live chat. Apart from the 8% that will move from reviews to the profiles you rent on social media platforms, management of customer experiences is almost all on your side and in your house.
Barring mishaps like your website being infected with malware, a temporary closure of your premises due to illness, or a power outage bringing down your phone lines, it turns out that you remain in charge of key customer/brand experiences during nearly all of the post-review consumer journey. Great news, indeed! But it carries some big responsibilities with it.
Converting on the next step after reviews
The wide funnel begins to narrow as consumers transition from reading reviews to their next steps. Winning maximum conversions from their next actions depends on having the right welcome in place in all three of these spaces:
The local business website
Whether customers click from the review profile to your website homepage, or to a landing page your listing is linked to, prepare this welcome for them:
An accessible, secure, technically-clean, optimized website housing the multi-media content and features the customer needs to take their next steps towards a transaction.

Highly visible information on every way in which the customer can contact and visit you, including phone, text, chat, messaging, email, forms, hours of operation, maps, and written directions.

Additional first-party reviews to provide further proofs of your good reputation and tide you over in times when bugs make your third-party reviews go missing.

A unique selling proposition to seal the deal.
Your place of business
Whether your place of business is your physical premises, or your clients' locations, you can shine on this main stage with the following:
Exceptional customer service based on the training of your staff and good management of the entire customer service ecosystem. With 65% of review writers saying they've written negative reviews because of experiencing bad or rude customer service, building an employee-centric company that radiates both happiness and helpfulness is your best bet for building an excellent reputation.

Careful guardianship of your supply chain. 63% of review writers say they've written negative reviews after purchasing bad products. The quality of your inventory supports both repeat purchases and high ratings.

Accurate online local business listings. 52% of survey respondents have written negative reviews after encountering incorrect business information on the Internet. Use of listings management software like Moz Local can ensure that what's published about your business online (like hours of operation, addresses, and key services) matches what the customer will experience in the real world, preventing inconvenience and disappointment.
Your contact options
Whether a review reader turns next to your phone line, text line, live chat, website form, or email, assist them towards a next conversion by:
Reducing on-hold times on your phone line to the bare minimum

Ensuring all public-facing representatives of the business are well-trained in your products, services and policies

Providing realistic estimates of when a customer will hear back if they are required to leave an email address on chat instead of speaking immediately to a live person

Reducing the number of form fields the customer is required to fill out before reaching you

Offering an after-hours support option

And, of course, for the 8% who will visit your rented spaces on social media platforms as their next step after reading reviews, be sure your full contact information is included on your profiles.
Despite the market disruption of the Internet, so much about local businesses remains the same
While technological innovations are ongoing, it's apparent that deeply-rooted consumer behaviors continue to follow a traditional pattern that's existed for hundreds of years. In summary, people in your town want to know what others say about your business >>> people want to connect with your business for a possible transaction >>> people then tell others about what they experienced with your business. All of this cycle has always happened offline, and the only real change is that the means for some of this communication has partly transitioned online.
Just as business owners always had to do without the ability of controlling the word-of-mouth reputation their community was creating for them on front porches and over fences, modern business owners can live without directly controlling the online brand sentiment that exists in spaces they have to rent rather than owning. While it's true that traditional PR may have had more power to shape public perception before online local business reviews made individual consumer voices so loud, the not-so-secret ingredient to brand longevity and loyalty remains unaltered: great customer experiences at and around the time of service are the foundation of success.
What every local business needs today is a thoughtful plan for managing the digital assets that now contribute to these positive consumer experiences. The winning recipe, then, is developing high standards for the spaces you own (your website, place of business, and most contact methodologies) and being as hands-on as possible in the spaces you rent (the online profiles containing your local business information, reviews, and social content). With a workable strategy and good quality tools for managing this ecosystem, the development of your good name in the community you serve will follow.
Knowledge is power; read Moz's full survey report: The Impact of Local Business Reviews on Consumer Behavior