When to Target Low Search Volume Keywords
Going after the "low-hanging fruit" is common advice in the SEO world. Ranking for those terms will help you rank for bigger terms down the line, at least that's the standard belief.
Do you think that's true?
There might be some truth to it, but there are many reasons to target low search volume keywords whether your site is brand-new or well-seasoned.
In this guide, I'll cover why low search volume keywords are crucial to SEO and show you how to find them.
Reasons to Target Low Volume Keywords
There are many scenarios where you would want to target low search volume keywords. Let's take a look at six of my most prominent reasons.
1. If User Intent Is High
User intent refers to the reason why someone is searching a specific phrase into Google. For example, when someone searches for the "best tennis shoes" versus "tennis shoes," each of these keywords has a different intent.
Someone who searches for the best tennis shoes is likely looking for reviews of tennis shoes. When we put that into Google, the results prove to be true.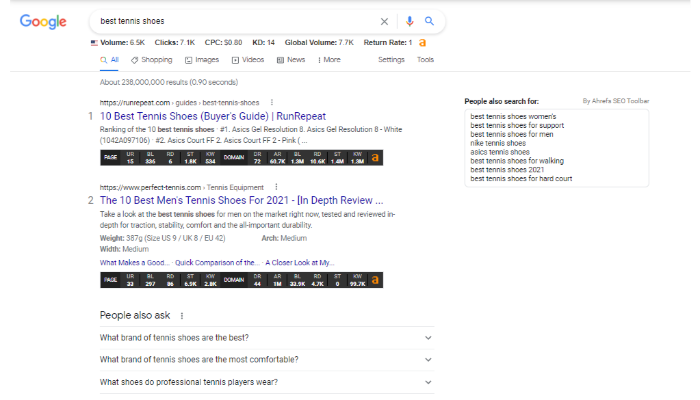 The majority of results Google provides are reviews of the best tennis shoes because that's what people want. This tells us most people who search this phrase end up clicking reviews.
If we change the search to "tennis shoes" the results are dramatically different. Now we're not receiving results for reviews of shoes, but we're receiving results of places to buy shoes and different brands instead.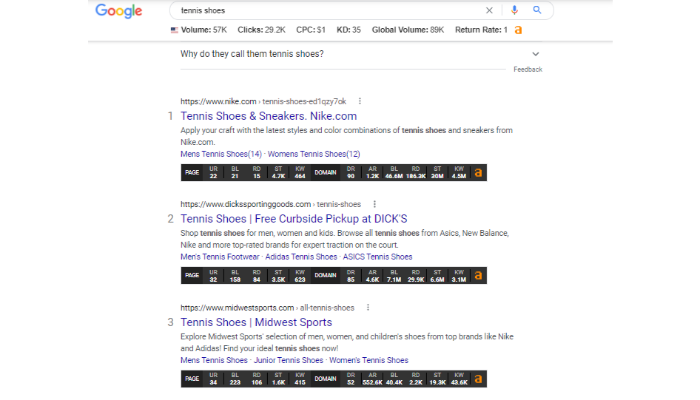 What does this mean?
It means the keyword "best tennis shoes" has an informational-based search intent. This could mean the person is interested in buying shoes but hasn't entirely decided on a brand or a location to buy them.
They might want to read reviews, surf the web, and shop around a little before making a final decision.
When someone searches "tennis shoes," it's clear they're ready to buy and they know what they want. This is considered transactional intent — meaning they want to make a purchase.
If we're writing a review on the best tennis grips and we're trying to get people who are researching rather than buying, we may want to target the following keywords.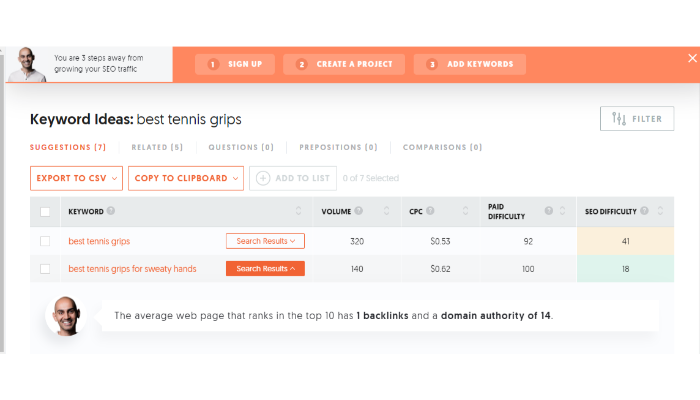 The keyword "best tennis grips for sweaty hands" is a very specific keyword. Even though it only averages 140 searches per month, it could still be a worthwhile long-tail keyword because it's highly targeted and the search intent is spot on.
2. If Search Difficulty Is Low 
Search difficulty refers to how difficult it will be for you to rank for a specific keyword. One of the main reasons people target low keywords is because it's easy for them to rank quickly without much work.
If you refer back to the previous image, you'll see "best tennis grips" has a search volume of 320 with a difficulty of 41. This means the keyword might be challenging to rank, and would require more backlinks and higher authority.
The keyword below it, "best tennis grips for sweaty hands" will be much easier to rank for because it only has a search difficulty of 18. As you can see, it has a lower search volume, though.
One of the basic principles of SEO is to find as many low competition keywords as possible and include them in your content as naturally as you can. By doing this, you might spread yourself wide over many different keywords, but they're all low competition so you'll be able to rank quickly, get traffic on your site, and increase your domain authority to begin to target more competitive keywords.
3. If It's a Long-Tail Keyword That Contains a High Volume Keyword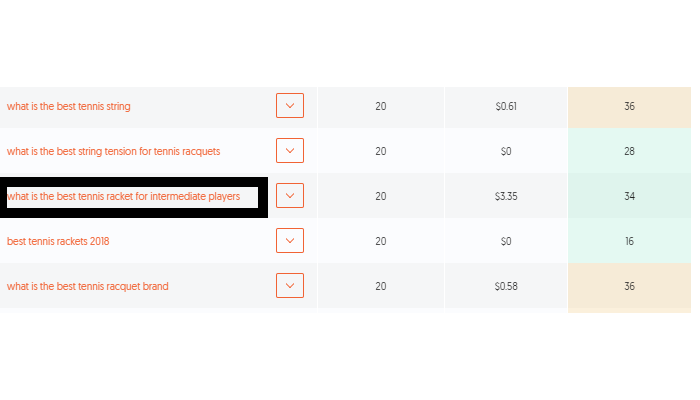 Take a look at the list of keywords above. These all have low search volume. If you look at the one highlighted with a rectangle around it, you'll see it contains nine words, which makes it a "long-tail keyword." Long-tail keywords are phrases that contain more than four words and oftentimes, they contain a high search volume keyword in the middle.
That's the case with this example.
While "what is the best tennis racket for intermediate players" may only get 20 searches per month, the keyword "best tennis rackets" gets 8,100 searches per month. As a result, you may want to target these long-tail keywords and position an entire piece of content around them with the intent of eventually getting the high-volume keyword.
When you're starting out with a newer site or trying to grow an existing one, you'll target these types of keywords that contain the high search volume keyword because they offer you a way to get both of them without having to go all in on the highly competitive phrase. The same goes for high search volume, low competition keywords.
4. If You're Covering a Niche Topic 
If we continue on with the tennis example, tennis is considered a niche topic. It's something that doesn't interest everyone, but those who enjoy it will want to know as much as possible about the sport. They're highly interested in it and will spend a lot of money to purchase products to make them better at it.
As a result, it is beneficial to go after low search volume keywords even if they don't bring about a lot of traffic. Google is putting a lot more emphasis on the comprehensiveness of a website and rewarding those who cover topics to the fullest extent.
In fact, a great example of this came in a 2021 update where they targeted affiliate websites with "thin content." Thin content refers to pieces that don't add a lot of value or personality to the products or services they promote.
Affiliate marketing websites are notorious for this.
Let's say you have a site and you're promoting tennis rackets on Amazon. Some affiliate sites will simply copy everything in the Amazon product description over to their site and slap an affiliate link on it.
You can't do this, according to Google. They refer to it as "scraped content" and while they won't penalize you for it, they're rewarding sites that add insight and interesting anecdotes in addition to product specifications.
How does this tie into low search volume keywords and niche topics?
Targeting low search volume keywords isn't always about traffic. The goal of your site should be topic mastery and expertise. Google is paying a lot more attention to this nowadays. You can't simply be the best keyword research expert and expect to rank right away anymore.
Google wants to see you actually understand the topic and are passionate about it. As a result, you can cover extensive topics by researching low search volume keywords that provide a well-rounded piece of content for the reader. Doing so shows you not only understand SEO but understand the topic you're covering as well.
5. If It Has a Low Cost-Per-Click (CPC)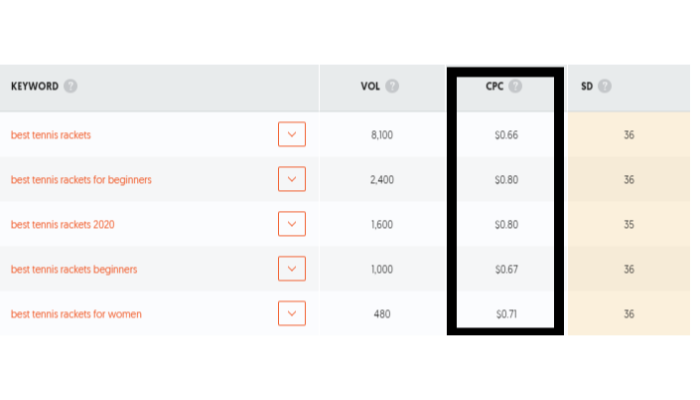 The cost-per-click is the average cost an advertiser pays to get someone to click on their Google ad. If certain low search volume keywords also have a low cost per click you might want to target them because it would be easy for you to beat out the competition and get to the top of the SERP even if it's only for 50 people a month.
Keywords that have a high CPC are more competitive and will cost more to get you one click. For example, if you're targeting a keyword with a $4.00 CPC, chances are you'll have to have a large budget and be willing to pay more than that per click if you expect to get on the first page.
That cost can add up quickly and it doesn't mean a conversion. You're paying more than $4.00 just to get someone to click through to your website. The rest is up to you.
By going after low search volume keywords, there is less competition and the cost of getting someone to your website is lower.
6. For Link-Building Purposes 
We all know link building is an important piece of the SEO puzzle and acquiring as many high-quality backlinks as possible is crucial if you expect to ever rank for anything. One way a lot of people acquire backlinks is through manual outreach.
You reach out to website owners in your niche to see if they're interested in either including a link to your content on their site or fixing a broken link by replacing it with your great piece of content.
For this to work, you need to have a great piece of content with traffic that shows the website owner you're worth their time.
A great way to do this is targeting a bunch of low search volume keywords that are relevant to your niche but might not be the most competitive. By doing so, you're creating a piece of content that is topically relevant and interesting to the person you're reaching out to. This increases the chances of them including a link on their site.
FAQs About Low Volume Keywords 
How to Determine Search Volume for Keywords?
Ubersuggest is a great tool and is pictured above in many of the images. All you need to do is input a phrase and the tool will provide relevant keywords as well as their search volume.
What Is a Good Keyword Search Volume?
There's really no specific volume because the goal is to find a keyword with as low competition by high search volume as possible. If you can do that, you'll have an easier time ranking in a shorter amount of time.
How to Find High Search, Low Competition Keywords?
Finding low search volume keywords with high traffic isn't easy. If it was easy, you wouldn't have thousands of people competing against each other, and we'd all get to rank for whatever keywords we wanted. Utilize Google Trends, research using tools like Ahrefs, and spy on your competition by seeing what keywords they rank for.
How to Get Search Volume for Keywords? 
Finding the search volume of a keyword is as simple as punching it into one of the various tools. You can use Ubersuggest, Ahrefs, SEMRush, and even Google Keyword Planner. All of these tools will display search volume. Keep in mind these are estimates so the results may vary from tool to tool.
Conclusion 
Finding low search volume keywords is a great way to get traffic to your website whether you're just starting out or making sure your site is topically relevant. There are many pieces to the SEO puzzle and we're always trying to figure out how to get ahead of our competition.
If you're struggling to figure out keyword research and SEO, we can help. Be sure to keep these tips in mind as you conduct your research and put together the next list of keywords you plan to target.
Do you think low search volume keywords can help you rank for higher search volume keywords? Let me know why in the comments.
See How My Agency Can Drive Massive Amounts of Traffic to Your Website
SEO – unlock massive amounts of SEO traffic. See real results.
Content Marketing – our team creates epic content that will get shared, get links, and attract traffic.
Paid Media – effective paid strategies with clear ROI.
Google Says Google Search Handles marquee Tags Appropriately
Gary Illyes, from the Google Search Relations team, said on LinkedIn that Google Search handles the marquee HTML tag "appropriately." What does it mean by appropriately? That is Gary for you.
I assume it means Google can read the text within the marquee HTML tag.
The marquee HTML element is used to insert a scrolling area of text. You can control what happens when the text reaches the edges of its content area using its attributes.
Google even has this long standing marquee tag new easter egg that looks like this:
Here are some funny comments in the LinkedIn thread:
Again, Gary wrote, "Please note that, after digging through some ancient code, I can confidently confirm Google handles marquee tags appropriately. You're welcome, internet."
Forum discussion at LinkedIn.
Google Search Result Snippet Scrollable On Some Browsers
Did you know that in some browsers, specifically on Android on Chrome and maybe others, that you can scroll to see more of a longer and truncated snippet in the Google Search results? I didn't but Kamran Badal spotted this the other day and Glenn Gabe was able to replicate it.
I am not sure if you would care but I found it super interesting that you can kind of scroll to see more of a snippet in the mobile Google Search results. I cannot replicate this on iOS devices but this can be replicated on Android devices.
Kamran Badal wrote on Twitter, "Fun fact, kind of? The descriptions in #Google search results mobile layout are scrollable."
Here is his screenshots showing this in action:
Glenn Gabe also replicated it himself:
Wow, very interesting. I'm seeing that too for some listings. When truncated heavily, I can tap on that description and see more by scrolling. Highly doubt anyone knows that or is using it. Great catch, though. 🙂 pic.twitter.com/uwGjylqNAR

— Glenn Gabe (@glenngabe) January 24, 2023
How interesting.
Again, not sure any of you should care about this, but I found it interesting because it seems like some sort of hack or bug that should not work in Google Search.
Forum discussion at Twitter.
Most SEOs Won't Recommend Using AI To Write Content
A new Twitter poll shows that most SEOs do not yet feel comfortable recommending using AI to write client content. The poll asked, "Would you recommend using an AI writer to your clients?" Most SEOs said no.
Mordy Oberstein posted this poll on Twitter and there were over 600 votes. About 66% said no, they would not recommend an AI writer to their clients, the rest said yes, they would recommend an AI writer.
Here is the poll:
Would you recommend using an AI writer to your clients?

— Mordy Oberstein 🇺🇦 (@MordyOberstein) January 18, 2023
Do you think this poll is representative of the SEO industry?
Forum discussion at Twitter.