Disclosure: This content is reader-supported, which means if you click on some of our links that we may earn a commission.
What would you do with an extra $1,500 a day?
With a bit of work and the right ecommerce platform, you can create an online store that generates that kind of revenue (and more).
Shilpi Yadav is an excellent example. She quit her job to start an online clothing store based around her Indian heritage.
Despite all the risks, the brand now makes more than half a million dollars a year (averaging around $1,500 per day).
She built her online store using Shopify, one of the best ecommerce platforms on the market. However, there are a ton of different options to choose from depending on what you need.
And the most significant thing standing in the way of your own $500k success story is deciding which ecommerce platform is right for your new store.
In this post, I'll break down the major aspects to consider in choosing the right platform for your current situation. Then we'll take a close look at seven of top options available today.
#1 – Wix Review — The Best for Flexibility and Customization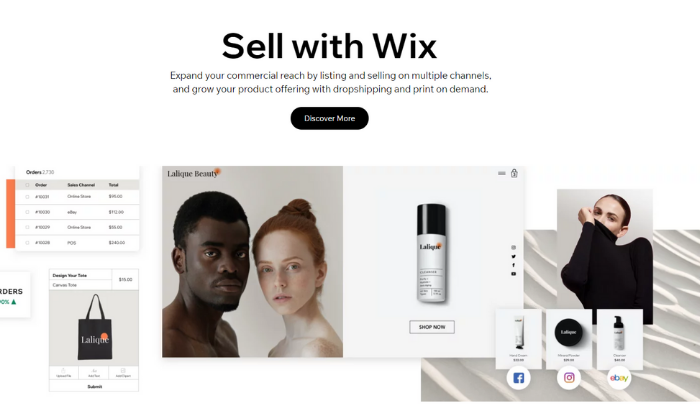 Wix is a great option if you're looking for an affordable and flexible ecommerce platform. It's famous for it's drag-and-drop interface with complete design freedom to create anything you can imagine.
Instead of having to write code, you can use the visual building tools to get your site looking just the way you want it.
With Wix, you also get access to more than 500+ prebuilt website templates and plenty of customization options. Or you can create pages from scratch with complete design control.
The Wix template selection is really helpful for launching a new online store. Instead of having to mess with settings, you can plug your products into a framework that's going to look great every time.
People visiting your store will think you spent days getting such a professional look, but it takes hardly any time at all with Wix.
Furthermore, they have a robust mobile app so you can make changes and manage your store from anywhere in the world.
Wix also includes a wide variety of marketing features, like emails, Facebook ads, and social media posts right from your account dashboard. You can even sell directly via social media.
Their ecommerce plans include powerful features, like:
Support of 90+ languages and local currencies
250+ apps to add extra functionality to your site
No additional transaction fees
Custom product pages
Worldwide shipping and taxes
Coupons and discounts
Advanced sorting and filtering
Product collections
Customizable checkout
Recurring payments
Plus, if you already use Wix, you can upgrade to an ecommerce plan in just a few clicks within your account dashboard.
Wix offers four ecommerce plans for online shops of different sizes, including:
Business Basic — $23/month
Business Unlimited — $27/month
Business VIP — $49/month
Enterprise — custom pricing
This is an excellent option if you have a small store or special design requirements. However, If you expect a high order volume and large range of products, you're better off with BigCommerce or Shopify instead.
#2 – Squarespace Review — The Best Ecommerce Platform for Creatives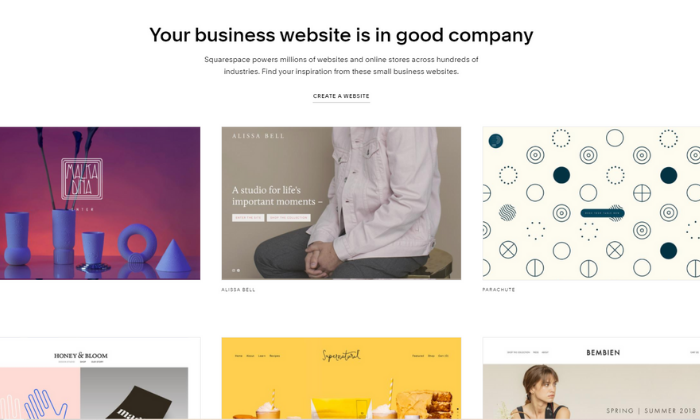 Squarespace is well-known as a website builder, but their higher-tier plans also include ecommerce functionality.
The design templates are fairly easy to work with, but you're not just coloring inside the lines–there's a lot of potential to create a unique shopping experience for your customers.
Some of the other easy-to-use platforms are a little limited with what you can do. Squarespace gives you a lot more artistic freedom.
Install and customize multiple templates at a time to see which one you like best. And switching between templates takes just a few clicks.
Aside from beautiful templates, Squarespace offers a variety of ecommerce features, including:
Subscriptions, digital products, and in-person compatibility
Built-in tax tools for automatic tax calculations
Discount codes and gift cards
Abandoned cart recovery
Mobile-optimized checkout
Mobile store management
Rich product listings
Quick view capability
Inventory management
Real-time shipping estimates
Furthermore, Squarespace integrates with most of the popular email marketing and social media platforms so you can sell and market your products like a pro.
And they have fantastic 24/7/365 customer support ready to answer your questions and help you get things set up the way you want to.
Squarespace offers three ecommerce plans:
Business — $18 per month + 3% transaction fees
Basic Commerce — $26 per month + 0% transaction fees
Advanced Commerce — $40 per month + 0% transaction fees
As you scan their pricing options, you'll see a Personal plan for $12 per month. This is great if you want to build a website, but it doesn't come with any ecommerce features, so it's not going to work if you want to set up an online store.
They also have an enterprise plan with a dedicated account manager, SEO consultations, and prioritized technical support.
And while the Business plan offers ecommerce capabilities, I highly recommend choosing Basic Commerce to start. It's the cheapest plan with no transaction fees, plus it includes other essential features like, customer accounts and ecommerce analytics.
Learn more and get started at Squarespace.
#3 – Bluehost Review — The Best for Hands-Off WooCommerce Store Setup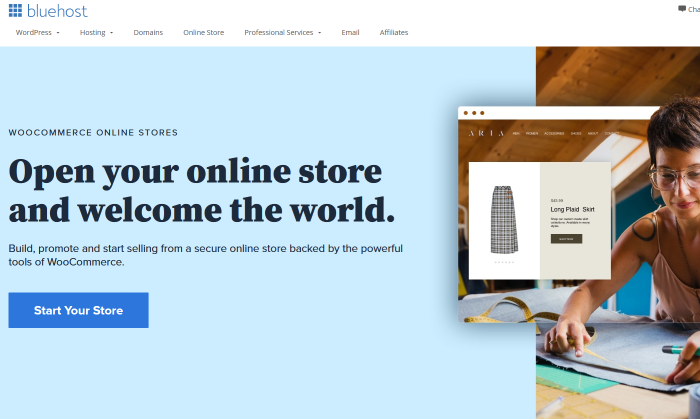 I really like WooCommerce. And, fortunately, I'm comfortable enough with WordPress to install, customize, and manage the WooCommerce plugin and the additional plugins that really make it shine on my own WordPress sites.
But I know many folks who would rather not have that responsibility, whether because of a lack of familiarity with WordPress plugins or just a lack of time to self-manage WooCommerce.
Bluehost gets that, too—that's why they've rolled out an easy, turnkey solution to getting a WooCommerce store up and running in no time, for anyone.
With Bluehost's package for ecommerce powered by WooCommerce, you get a handy guided store creator, plus:
Built-in SSL and Jetpack for security
Unlimited product listings
Payment processing
Customer reviews
Coupon codes
Manual order creation
One year free of CodeGuard Backup Basic, for daily site backups
And that's all in the Standard Plan. The built-in SSL certificate is really helpful because it encrypts information customers enter on your website (like credit card numbers or login credentials), and protects everyone from hackers. All you have to do is click a button and your set with Bluehost–this can be much more challenging if the host doesn't manage SSL certificates for you.
What I think is most convenient, though, is that Bluehost has preselected the top 20 store plugins that your WooCommerce store will need. Not only does that save you the headache of researching and installing plugins on your own, they're included at no extra charge.
That's huge. Some of these plugins cost around $200 a pop to install.
Take it one step higher to the Premium plan and you'll also get:
Online appointment scheduling
Subscription-based ecommerce
Advanced product customization
Local tax management
Free domain privacy
CodeGuard Backup Basic, included for free
Pricing is based on your initial term commitment. Choose from month-to-month billing, a one-year contract, or a three-year contract.
The Standard plan starts at $12.95/month for a three-year commitment, while Premium starts at $24.95/month for the same.
Both plans renew at the standard month-to-month rate after the term is completed—$29.95/month for Standard and $49.95/month for Premium.
So, if you want to get a WooCommerce store up in no time with no hassle on your end at all, head over to Bluehost today.
#4 – BigCommerce Review — The Best for Medium to Large Stores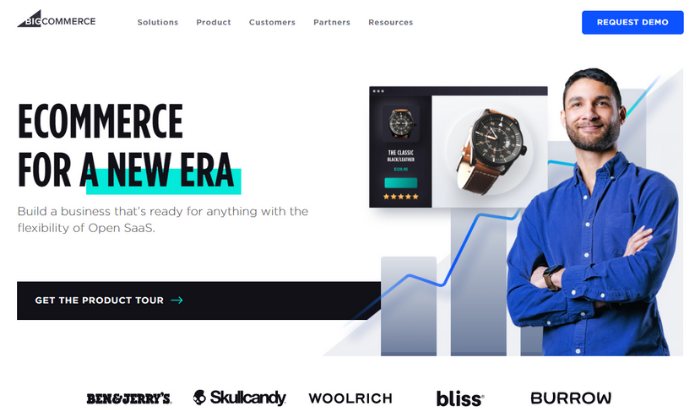 BigCommerce is an all-in-one ecommerce website builder specifically for large online stores. It includes more advanced ecommerce features suitable for managing high volumes and a large number of products.
With a customer base of 100,000+ stores, including some big names like Ben & Jerry's and SkullCandy, they're a smaller player in the industry.
But that doesn't make the platform any less powerful.
BigCommerce plans include access to powerful, industry-leading features, including:
Customer accounts for faster checkouts
Mobile-optimized checkout
Abandoned cart recovery
Google AMP and Akamai
Advanced product filters
Coupons and discount codes
Advanced inventory management
Customer groups for personalized shopping
65+ payment gateways with no extra transaction fees
Built-in shipping management
Plus, all of their plans include unlimited products, file storage, bandwidth, and staff accounts.
And you can choose between 12 free mobile-responsive design templates or opt for a paid template to make your online store stand out from the crowd without touching a single line of code.
BigCommerce offers four paid plans (with a 15-day free trial), including:
Standard — $29.95/month with a $50,000 annual sales limit
Plus — $79.95/month with a $180,000 annual sales limit
Pro — $299.95/month with a $400,000 annual sales limit
Enterprise — custom pricing
If you're just getting started, BigCommerce is overkill for your online store. However, if you're an established business or plan to sell high volumes, it's an excellent choice.
#5 – Shopify Review — The Best All-In-One Ecommerce Platform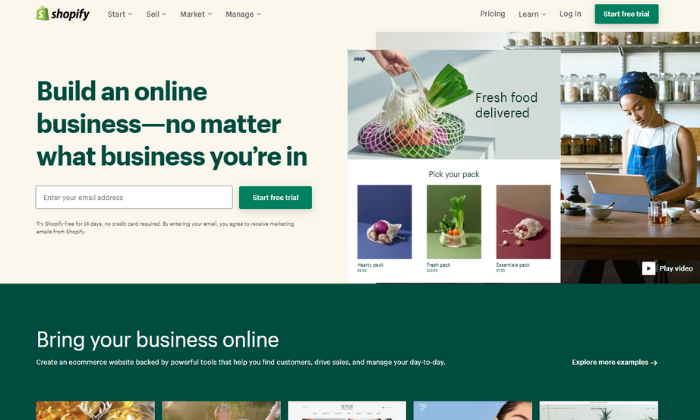 Shopify is an all-in-one ecommerce website builder that powers more than one million online stores, making it one of the most popular choices on this list.
However, it's not as customizable as Wix. But it offers more advanced ecommerce features because it's built specifically to host online stores. Plus, it's easy to use with just the right level of flexibility.
It's also incredibly versatile, powering micro to large stores, and everything in between. Shopify plans include access to an incredible suite of ecommerce features, including:
Point of Sale for brick and mortar shops
Real-time carrier shipping rates
Abandoned checkout recovery
100 different payment gateways
Automatic tax calculations
Customer accounts and profiles
Fulfillment centers
Advanced inventory management
Unlimited products
In-depth analytics
Plus, with 70+ professional themes (nine of which are free) and 4,100+ apps, you can create a beautiful and highly functional ecommerce store without having to start from scratch. Or write a single line of code.
Combine that with award-winning 24/7/365 customer support and you have an excellent ecommerce platform.
Shopify offers five plans for businesses of all sizes, including:
Shopify Lite — $9 per month
Basic Shopify — $29 per month
Shopify — $79 per month
Advanced Shopify — $299 per month
Shopify Plus — custom pricing
Shopify Lite is a great option if you want to embed products and "buy" buttons onto an existing website. However, it doesn't come with the all-inclusive website builder.
Keep in mind that Shopify has its own payment processor. They charge 2.4% – 2.9% + $0.30 depending on the plan you choose. They also charge additional fees (0.5% – 2%) if you use a separate payment processor like PayPal or Square.
#6 – WooCommerce Review — The Best for WordPress Websites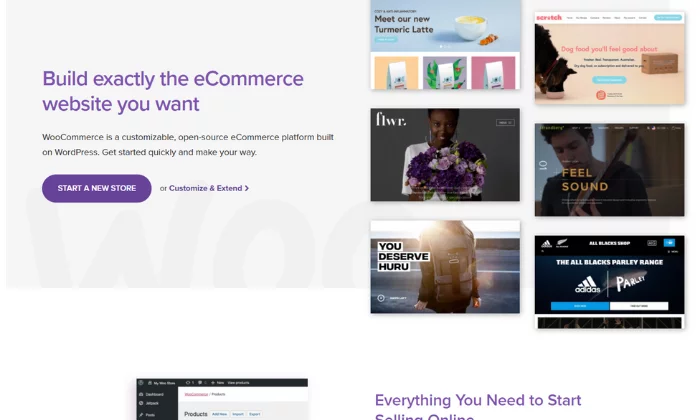 The recommendations thus far are all-in-one website builders. WooCommerce, however, is not. It's a WordPress plugin built to add ecommerce functionality to existing WordPress websites.
WooCommerce powers approximately 30% of stores online today. And with 80+ million downloads, it's one of the most popular ecommerce platforms on this list.
Note: if you don't already have a WordPress website, I don't recommend going this route. Stick to an all-in-one ecommerce platform, instead.
WooCommerce is a lightweight plugin that adds ecommerce capabilities like accepting online payments, configurable shipping options, product listings, and more. But you have to have an existing website to use it. So, it's a great option if you already use WordPress.
It includes powerful ecommerce features like:
Plugin extensions to increase functionality
Rest APIs for developers to create custom platforms
Extensive tutorials and documentation
140 region-specific payment gateways
Support of subscriptions and deposits
Automated tax calculations
Real-time shipping rates
iOS and Android mobile apps
Physical and digital product capability
Endless product variations
Public support forum
And the best part? It's free to download, install, and use. Forever.
However, some of the extensions aren't free so watch out for that if you start digging into those.
With the power of WordPress behind it, your customization options are only limited to what you can imagine. So, the sky is legitimately the limit with WooCommerce.
But with that said, it's not the easiest or most intuitive ecommerce platform. So, I don't recommend it if you aren't already using WordPress and 100% comfortable with it.
#7 – OpenCart Review — The Best for Selling Digital Products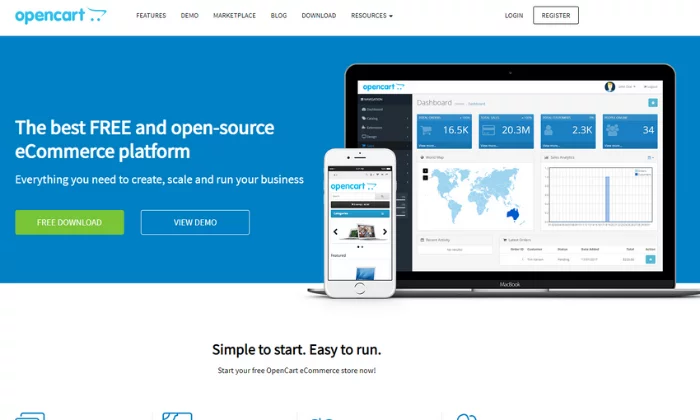 OpenCart is another open source ecommerce platform, much like WooCommerce. However, it's not limited to WordPress websites. But you do need to have an existing website to use it.
Over 300,000 online stores use OpenCart to confidently sell products of all shapes and sizes online. Plus, most web hosting companies offer one-click installation or will install it for free, so it's incredibly easy to set up.
Note: I only recommend going this route if you already have a website up and running.
While you can sell products of any kind, the no-fluff interface (and free price tag) makes it an excellent option for selling digital products to make more money with your online business.
All without adding an extra monthly expense because it's 100% free forever.
OpenCart offers a powerful set of ecommerce features, including:
Simple and centralized admin dashboard
Advanced user roles and access controls
Manage multiple stores from a single dashboard
Limitless product variables and variations
Built-in affiliate management and rewards system
Discounts and coupons
Unlimited products
One-click digital downloads
Product reviews and ratings
36 built-in payment methods
Recurring payments
Plus, with 13,000 modules and themes in the marketplace, you can add any functionality you can imagine including service integrations, conversion modules, email marketing, and more.
Keep in mind that not all of OpenCart's extensions are free. You may have to pay for more advanced capabilities.
And they don't currently offer support for free, either.
If you can't find what you're looking for on their community forum, you have to pay for dedicated help. Dedicated support starts at $99 per site per month or $99 for a one-time fix.
#8 – Ecwid Review — The Best for Integrating With Your Current Platform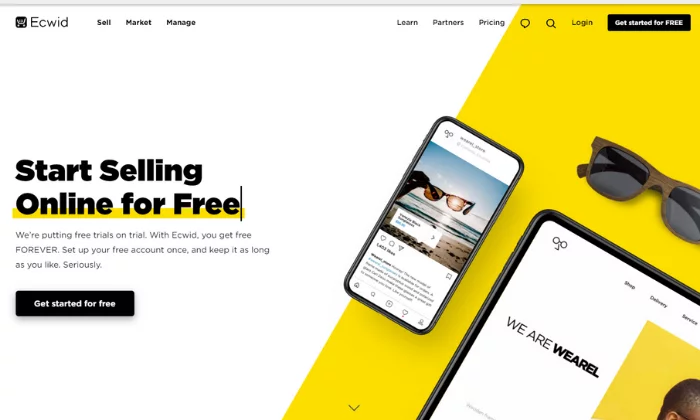 Like OpenCart and WooCommerce, Ecwid is an ecommerce platform you can use to integrate with your current platform, regardless of what you're already using.
It integrates with platforms like Weebly, Wix, WordPress, Squarespace, and more. So, if you already have a website set up and want to add ecommerce functionality, Ecwid is an excellent choice.
With that said, they also offer an all-in-one ecommerce website builder if you want to start from scratch. However, there are better website builders to use.
So, I only recommend Ecwid if you want to integrate ecommerce into your existing website.
This ecommerce platform includes a wide range of features, like:
Multi-channel selling (social media, marketplaces, in-person, etc.)
Integrated email marketing and advertising features
Centralized inventory and order management
No transaction fees
Fully responsive designs
Built-in POS integrations
Customer accounts for easy checkout
Real-time shipping rate calculator
Poduct variations
Digital product capabilities
40 payment options
The biggest downside is that you can't manage your store from inside your website account dashboard. You have to log in to Ecwid instead. So, you need to manage two separate accounts.
But the good news is that you can start on the limited free forever plan to try it out before making any investments.
The free plan only allows up to ten products, so you have to upgrade if you need more. Ecwid also offers three paid plans, including:
Venture — $15/month (up to 100 products)
Business — $35/month (up to 2,500 products)
Unlimited — $99/month (unlimited products)
This is the price if you pay month to month. If you are willing to sign a contract for a year, the price is a little lower.
As a stand-alone store builder you might be better off with other options (like Wix and Shopify).
But if you already have a website and want to add an ecommerce store, Ecwid is a great alternative to WooCommerce and OpenCart.
What I Looked at to Find the Best Ecommerce Platform
The best ecommerce platform for your business depends on several factors like your experience level, your customization requirements, and the type of products you want to sell.
But choosing the right platform can feel overwhelming because there are countless options to choose from.
It may help to start with a list of requirements and the features you need. From there, you can narrow down your choices based on the following criteria.
Physical vs Digital Products
Digital products are a booming market. Online courses, music, art, and podcasts are just some of the digital products netting new businesses tons of cash.
But selling and delivering digital products isn't the same as delivering a physical product to someone's doorstep.
If you want to sell digital products, Shopify is a really great option, but some ecommerce may not support digital products at all. So it's important to understand which type you plan to sell before you make a decision.
Deployment Options
What do you need to do to get your ecommerce platform up and running?
There are a few different ways to deploy your platform depending on where you are starting from and where you want to go.
If you already have a website, the best option is integrating an online store rather than creating a brand new website on a new platform. This way, you build on what you've already done. OpenCart is ideal for this use-case.
For people with WordPress sites, you can add ecommerce functionality via a plugin like WooCommerce. This is super simple to set up and easy to manage.
If you're starting from scratch, you'll want a website builder and other tools to help you design your platform.
In this case, going with solutions like Wix and Squarespace makes a lot of sense. They bundle everything you need to get started at a really affordable price.
Day-to-Day Management
Order management, product creation, tracking orders, and dashboard navigation are important factors of day-to-day ecommerce management.
Choose a platform that's easy to use and manage on a daily basis. It shouldn't feel like a struggle to create new products, check the status of an order, or update the pages of your website.
It's all about finding the right balance of flexibility, customization, and ease of use. The more a platform can do, the harder it is to manage.
You can simplify your workload by choosing a platform that offers just enough flexibility without going overboard for your specific needs.
Design Capabilities
Some ecommerce website builders (like Wix) are truly drag and drop, meaning the customization options are endless. If you can imagine it, you can build it. But, that freedom also makes the platform more difficult to use.
Other platforms integrate into your current site, taking the look and feel of your existing website with very few customization options. For some users, this is perfect.
But others may want more control.
If you're just starting out, simple designs and ease of use are more important than design flexibility.
However, if you already own a physical store or an established brand, design is more important so you can create a cohesive aesthetic from one touch point to the next.
Advanced Ecommerce Features
Do you want to be able to offer discounts or accept payments through different payment processors? Maybe you want to send visitors a reminder email when they exit your website with something in their cart.
Perhaps you're interested in creating customer profiles and analyzing advanced analytics.
Other advanced ecommerce features include:
Email marketing integrations
Memberships and recurring payments
Gift cards and discount codes
Partial payments or payment plans
Shipping and fulfillment management
Product variations
Product categories
Think carefully about what you need and what would be nice to have. Then, you can use your list of requirements to narrow down your list of choices.
Summary
Finding an ecommerce platform does what you need is a breath of fresh air. After using dozens of different options over the years, I'm confident with my selection of the top options available:
My #1 recommendation for most users is Wix. It's great for users of all experience levels. Plus, it's easy to use, highly customizable, and affordable as well. But if Wix is too customizable for you, Squarespace is a fantastic alternative.
For large stores, I highly recommend BigCommerce or Shopify.
However, if you already have a website, WooCommerce, OpenCart, and Ecwid are excellent choices depending on what you need.
If you have a WordPress site and want an easier way to set up your WooCommerce store on it, you can't go wrong with Bluehost's WooCommerce Online Stores.
See How My Agency Can Drive Massive Amounts of Traffic to Your Website
SEO – unlock massive amounts of SEO traffic. See real results.
Content Marketing – our team creates epic content that will get shared, get links, and attract traffic.
Paid Media – effective paid strategies with clear ROI.
How to choose a content marketing automation platform
A 1917 poster says in bold capital letters: "I WANT YOU FOR THE U.S. ARMY," along with the famous image of Uncle Sam pointing at the viewer.
In 1917, most advertising was blunt and direct, but in the following 100+ years, consumers have become desensitized to typical marketing strategies. As a result, companies have turned to new forms of marketing to reach their audience.
One of these forms of marketing is content marketing: an indirect type of advertising that delivers blog posts, podcasts, and other forms of content to indirectly market a brand to consumers. Today, businesses can automate many aspects of content marketing, and choosing the right platform for content marketing automation unlocks new efficiencies and return on investment for companies.
Key takeaways:
Content marketing is a powerful way to reach customers by providing value through content.
Automation makes content marketing efficient and convenient.
Optimizely can help you take your content management to the next level.
What is content marketing?
Content marketing is a new strategy for reaching potential customers by delivering content they want to consume. Content marketing improves the brand's image by providing useful or entertaining content which builds goodwill and brand recognition among potential customers.
Content marketing takes many forms: podcasts, digital video, webinars, articles, infographics and more. Creating and delivering quality content is difficult because it must deliver on multiple levels: it must be useful, entertaining and informative, but it must also inspire confidence and credibility. In other words, quality content marketing must be both good content and marketing material.
Why would a company spend its marketing dollars on content marketing instead of more direct forms of advertising? There are several reasons content marketing is a good choice for companies:
Content marketing improves organic reach by delivering content that customers want to consume. This can range from entertainment like TikTok videos or online quizzes to more serious informative content like how-to guides and video conferences.

Content marketing inspires confidence in your brand by establishing your company as an expert and key player in your industry.

Content marketing improves goodwill by delivering personable, relatable content that meets customers where they're at. Rather than trying to make customers interested in your company directly, content marketing capitalizes on the things your customer is already interested in.
How to automate content marketing
AI can't host a podcast or present a webinar (at least not yet), but automation plays an important role in content marketing.
Social media
Social media is one of the largest opportunities for marketers. Social media is the second largest market within the world of digital advertising, second only to search marketing. Content marketing is uniquely poised to cover both categories as it can optimize content for organic search results and social media sharing.
This is where automation comes into the picture: automation can't take over your social media presence for you, but it can take on some of the most tedious and error-prone aspects of your digital presence. Some key ways you can automate your social media content marketing are by scheduling posts, connecting various social media platforms to publish content on multiple platforms at once, regularly sharing your content, automatically promoting content and more.
Recently, AI has taken significant steps forward in Natural Language Processing (NLP), which makes AI chatbots a powerful way to connect with users on social media platforms (as well as on your platform).
Email marketing
A fan of the television show Arrested Development would finish the phrase "The money is in the…" with "banana stand," but experienced marketers know that the right answer is "the money is in the list."
This popular phrase refers to the fact that email marketing is one of the most important aspects of a marketing plan, and a longer list of quality leads is one of the most reliable ways to grow sales. Email newsletters are one of the most popular forms of content marketing but sending email after email is a tedious and treacherous process as it creates limitless opportunities for human error.
Automation revolutionizes email marketing by automatically sending emails. With a customer relationship management platform, email automation can automatically send emails based on milestones and timelines and personalize emails based on the customer's name and history. This level of personalization is difficult for small businesses and impossible for large ones, but with automation, it's straightforward and convenient.
Tracking performance 
One of the keys to marketing automation is tracking marketing communication performance. Marketers should be performing A/B testing to see which campaigns perform the best and merit further expansion, but tangibly measuring the outcome of these tests is difficult without the right tools.
Automation helps companies track the performance of their content marketing by collecting data from various platforms, bringing it all into one convenient place and providing metrics about the traffic and conversions coming from each piece of content. 
Features of the right content marketing platform
Harnessing the value of these powerful automation options requires a quality content marketing platform. The right platform should include some qualities that maximize its usefulness.
Flexibility.

One of the essential functions of automation is the ability to share content on multiple platforms simultaneously. While this is already a powerful option, it becomes more powerful with a headless API that empowers you to deliver content on various platforms.

Personalization.

71% of consumers

expect companies to deliver personalized interactions, and 76% become frustrated when companies don't personalize their communications. The right content marketing platform makes personalization second nature with robust personalization tools that go beyond copy-and-pasting names. Content marketing platforms like

Optimizely

target personalized digital experiences to dynamic customer segments.

Capacity.

Your business has unique needs, and your content platform shouldn't hold you back. Rather than making your job harder, the right content marketing platform makes your job easier by offering a wide range of options and high-capacity storage for all your needs.
When it comes to content management, Optimizely is an industry leader. Optimizely's advanced tools range from A/B testing, e-commerce support and headless digital experience management.
To learn how Optimizely can help you harness the power of automation and revolutionize your content marketing, request a meeting today to start the next chapter of your marketing journey.
Skills to Look for in a Freelance Software Developer
According to Statista, the number of software developers around the globe is expected to increase to 28.7 million by 2024.
Freelance software developers benefit companies because of the ease and speed with which they can be onboarded and used as project-specific resources. This blog will answer the most asked concerns about using contract services.
Benefits of Hiring Freelance Software Developers
When hiring a freelancer, your first expectation is impeccable skills and expertise, followed closely by cost savings, or vice versa. Here are the most popular reasons why companies choose to hire freelance talent.
Cost-efficiency
Full-time employees cost an organisation a salary, as well as added investments in training, equipment, perks, overheads of utilities and rented space, and benefits such as healthcare and social security.
Freelancers work remotely using personal resources; businesses reduce investments without losing quality.
Reduced Risk
Businesses reduce financial risk by working with freelancers on an hourly, monthly, or project basis. Setting a clearly worded contract that the freelance software developer agrees to and signs, mitigates financial risk and clearly stipulates ownership of intellectual property.
Expertise
Freelancers with niche expertise such as software development company in London, provide companies with the best talents for their projects. Hiring freelancers for different projects allows businesses to match the varying demands of each project, streamlines workflows and ensures productivity.
Global Talent
Businesses choose professional freelancers expecting them to complete any given task with minimum input from the organization. You can access talent from across the globe on platforms such as UpWork, People Per Hour, Fiverr, and Toptal, amongst others. Client reviews on such portals help in assessing proficiency and expertise.
Work Quality
A freelancer is as good as her or his portfolio. Successful freelancers achieve credibility by building long-term relationships and providing consistent quality. Freelancer work depends on referrals and good reviews, hence a potential contract employee's work portfolio, and reviews showcase their abilities.
Skills of A High-Quality Freelance Software Developer
The first criterion for hiring a developer for your project is knowing what skill sets are needed. List your project specifications to customise your search and determine the expertise required for the project. Freelance developers may work on web development (front-end, back-end, or full-stack developers) or mobile application development.
Front-end freelance developers
Front-end software developers design websites and web applications and manage the graphical interface of websites. They use HTML, CSS, and JavaScript, and technologies like Foundation, AngularJS, Bootstrap, Backbone, DOM, and EmberJS to create layouts and graphics.
Back-end freelance developers
Back-end developers handle server-side processes such as website security, speed, databases, servers, application logic, and APIs. Back-end developers are typically skilled in Java, Python, and PHP, as well as SQL, Git, HTML, CSS, and JavaScript.
Full-stack freelance developers
Full-stack freelance developers handle both the front and back ends of the website. They are responsible for everything from project planning to website coding. Front-end frameworks include HTML, CSS, and JavaScript, and backends employ NodeJS, ExpressJS, Django, Flask, and C++. Full stack programmers manage database systems (such as SQL SERVER, MySQL, PostgreSQL, MongoDB, and Oracle Database), version control, and web hosting.
Mobile app developers
Mobile app developers develop, create, and test mobile applications for iOS and Android operating systems. Mobile app developers have programming language skills such as NodeJS, PHP, Python, or Ruby on Rails. They must also be proficient in back-end frameworks, database management and security, and hardware interaction. They need expertise in UI/UX design, security, and the Internet of things (IoT) for mobile devices.
How to Locate the Best Freelancers  Online
Talent portals such as Upwork, People Per Hour, and Fiverr showcase many talented freelance software developers. Here are steps on how to hire talent from an online opportunity marketplace.
Set a Hiring Budget
Look for similar job postings to learn what are the current hourly rates for the work you require. Define a reasonable budget. Beware that a freelance software developer may have higher hourly rates than regular employees.  
Clearly Define Project Requirements
Freelancers can be effective resources when you provide clear details about your project requirements. Be sure to mention the following
Allocated Budget
Payment terms
Project start and end dates
Clear job descriptions
Project expectations
Shortlist and Assess Freelance Software Developers
Top software developers typically work harder and achieve results because client reviews are essential to their ongoing success. The details you post make it easier for them to determine if they fit your requirements. Once you begin receiving qualified responses, choose according to their ratings and reviews, your interview process, and any sample project to build software and check their skills.
Six Factors to Consider when Hiring Freelance Sofware Developers
Hiring a freelancer revolves around their technical skills, certifications and education, attitude towards work, and ability to deliver results. Here are some crucial pointers to help you find the most appropriate fit for your project.
Technical Expertise
Freelancers must be able to handle the technical requirements of the project. They should be well-versed in software stacks, coding, development and task management software, version control tools, and deployment processes. Freelance software developers may charge more for specific technical abilities such as mobile app development, web development, or project rescues.
Experience
Freelancers who have worked on similar projects will have come across pain points and solutions. Any relevant experience enhances their expertise for your project and boosts their ability to strategise toward productive outcomes. Note that a freelancer's experience typically increases their pay rate.
Cost
Experience and expertise increase a freelancer's worth, but their services must provide value for your money. Knowing current hourly or project rates ensures that you are connecting with the right candidates. Freelancers that accept less payment may be new to the market and want to create a client base. Or, are choosing to supplement their income with multiple projects, which may reduce their work quality.
Professionalism
Education and certifications improve a freelancer's pay scale, but they do not signal a freelancer's abilities. The easiest way to gauge work ethic is from social proof such as client endorsements and their portfolio. A professional freelance software developer will openly share these details, with their client's approval, of course.
Reliability
A reliable freelancer will have a long-standing client base, developed by consistent efforts and proven results. The more repeat customers a freelancer has, the better the chances of them being dependable. The following actions demonstrate the integrity of any freelance work and can be testified by customer reviews.
Following instructions
Regular updates
Quickly responding to queries
Willingly accepting critique
Meeting deadlines consistently
Location
One of the best features of acquiring freelance talent is access to global resources. Ensure that your communication skills match. Also, check that the culture and holidays in the freelancer's location do not conflict with project development. Location can also affect fees, where freelancers in the USA charge the highest as compared to their Asian counterparts.
Conclusion
Finding and hiring the right freelance software developers is easy when you have the necessary checklists in place. Software development work is complex, make sure you are vetting your candidates carefully to get the best fit for your project. Good luck!
State of Content Marketing in 2023
I just pressed send on the manuscript for my book to be released in September. It's called Content Marketing Strategy (snappy, eh?), and Kogan Page will publish it.
Last week, marketing professor Philip Kotler wrote the foreword. I won't spoil it, but he mentioned the need for a strategic approach to owned media.
He writes, "(T)he company doesn't carry an account of showing these marketing assets and their value. As a result, the company cannot show the CEO and company board members a return on owned assets or content."
Luckily, my upcoming book shows exactly how to do that. Funny how that works out.
In any event, all this struck me that now is an opportune time to look at where the beloved practice of content marketing stands today.
First, let's go back to 1999 when Kotler published Kotler On Marketing, one of his more than 70 books. The latter 1990s – a time of tumultuous change – fueled most of the thinking for the book. But he knew that it was merely the beginning.
Kotler concluded the book with a section called "Transformational Marketing."  In the next decade, he wrote, "marketing will be re-engineered from A to Z. Marketing will need to rethink fundamentally the processes by which they identify, communicate, and deliver customer value."
Well, it's taken over two decades, but it's finally happening.
Consumers have changed, but marketing operations are just starting to
In case you didn't notice, almost every marketing conference these days starts with the same four or five requisite slides:
Digital technologies, such as search and social media, empower consumers today.
Consumers research, engage, buy, and stay loyal to brands in ways that have fundamentally changed.
First-party data and privacy are of the utmost importance.
Artificial intelligence begins to threaten the idea of the usefulness of search and pressure companies to deliver better and more personalized experiences.
You get it. Consumer expectations in the age of the social, mobile, and AI-driven web are different than they were.
However, the continuing challenge in 2023 is that content and/or marketing operations in enterprise companies are only beginning to evolve. Most marketing departments have remained as they were when Kotler wrote his book — they still work from mid- to late-20th century hierarchies, strategies, and processes.
Most marketing departments still work with mid- to late-20th-century hierarchies, strategies, and processes, says @Robert_Rose via @CMIContent. Click To Tweet
Content marketing isn't new, but a content marketing strategy is
For hundreds of years, businesses have used content to affect some kind of profitable outcome. But the reality is this: Whether it was John Deere's The Furrow from the 1800s, Michelin's guide to car maintenance in the early 1900s, or even Hasbro's GI-Joe partnership with Marvel in the 1980s, content was not — and is not for the most part now — a scalable, repeatable practice within the function of marketing. In short, companies almost always treat content marketing as a project, not a process.
That fundamental change will finally take hold in 2023. It could happen because of the digital disruption and ease by which you can now publish and distribute content to aggregate your own audiences. It could happen through the natural evolution that the ultimate outcome – more than the marketing – matters more.
As we roll through 2023 and beyond, content — and the exponentially increasing quantities of it produced by every organization — deeply affects not just your marketing strategy, but your business strategy. Content in marketing is now bigger than simply content marketing, and it should be dealt with as a component of that business strategy throughout the enterprise.
#Content in marketing is bigger than #ContentMarketing. Treat it as a component of the business strategy, says @Robert_Rose via @CMIContent. Click To Tweet
In 2023, the No. 1 focus of my consulting and advisory practice these days: help companies transform content into a repeatable, scalable, and measurable function that drives value through a multi-channel strategy. It's bigger than publishing a blog, creating a lead-generating resource center, or sending an email newsletter. Today's content marketing team is being absorbed into marketing because marketing and its various operations are fundamentally transforming into a content-producing machine.
It is not good enough to produce content "like a media company would." The goal must be to operate as a media company does. Your job is not to change content to fit new marketing goals. Rather, your job in 2023 is to change marketing to fit the new business content goals.
Your job in 2023 is to change #marketing to fit the new business #content goals, says @Robert_Rose via @CMIContent. Click To Tweet
The unaware builds a case for the aware
The term "content marketing" continues to evolve. Even today, I run across those who still call it "brand publishing," "custom content," or "inbound marketing."
My take matches with what Kotler described in 1999. I always thought the term "content marketing" would become part of "marketing" more broadly. In 2023, that happened. So, returning to the lexiconic debates of 2013, 2014, or 2015 doesn't seem terribly productive. Content marketing is just good marketing, and marketing is just good content marketing.
That said, two kinds of companies do well at the broader view of content marketing. Some of them, such as Cleveland Clinic, Red Bull, Arrow Electronics, HubSpot, and REI, have purposely devised content marketing strategies as differentiating approaches to their marketing. They are succeeding.
Others, like Amazon, Microsoft, JPMorgan Chase, and Peloton, backed into a smart content marketing strategy. But executives at those companies probably don't recognize it as such. If asked (and some have been), they would say acquiring or launching a media company operation was just a smart business strategy to diversify their ability to reach their consumers consistently.
They're right, of course. Many have yet to read books about content marketing, been influenced by the Content Marketing Institute, or even recognize content marketing as a separate approach (as far as I know). And they are also succeeding.
Consider this proof: As I write this article, six companies have a market capitalization of more than $1 trillion. Four of the six wholly or partially use the business model of media creation to further marketing and business strategies. Apple, Microsoft, Alphabet, and Amazon are all, in part, media companies that also sell products and services.
Why would you not avail yourself of that same model?
The future looks cloudy and bright
As for the overall state of enterprise content marketing, it's in transition, as all marketing is. As a focused project-based approach, working in ad-hoc ways across a business, content marketing appears to have proven its worth. Hundreds of entries every year to the Content Marketing Awards feature myriad case studies using content marketing techniques in strategic ways to profitably affect business results.
And yet, it remains to be seen whether you can make content marketing a scalable, repeatable, measurable function within marketing.
As to what the discipline's future holds? At last year's Content Marketing World, one of my favorite events, the Executive Forum gathered senior leaders from brands succeeding with content marketing. As we talked about the future, one participant said: "The only certainty is change. I can't tell you where or when, but I do know there will be change, and this is the principle we build on now."
As for my take, Kotler's idea of transforming the marketing function seems to have gotten lost along the digital road traveled by marketers. In so many cases, marketing – and especially content – remains just an on-demand service function within the business. Its sole job is to produce ever more voluminous amounts of content that describe the value of the brand (or its products or services) so that sales can sell more efficiently, customer support can serve more effectively, and all manner of customer interfaces are more beneficial to both sides.
However, and maybe because I need to rationalize now that my book is finished, I passionately believe it's finally time for marketing to reclaim its ability to create value — not just reflect it in the polished shine of your traditional products and services.
Almost 27 years ago today, Microsoft founder Bill Gates wrote an essay called Content is King. In it, he said that "(C)ontent is where I expect much of the real money will be made on the Internet, just as it was in broadcasting."
It certainly was one of his more prescient moments. Nearly three decades later, his words have proven true. The essay title has become the rallying cry for thousands and thousands of entrepreneurs who now make their living on creating, managing, optimizing, and measuring content on the internet. (A Google search for "content is king" nets more than 1.7 million results.)
But it's the last line of his essay that I find the most visionary: "(T)hose who succeed will propel the Internet forward as a marketplace of ideas, experiences, and products – a marketplace of content."
That's what content marketing is for me in 2023. It's just marketing – optimizing the value of ideas, experiences, and products in a marketplace of content.
Time to get to work.
It's your story. Tell it well.
Get Robert's take on content marketing industry news in just five minutes:
https://www.youtube.com/watch?v=videoseries
Watch previous episodes or read the lightly edited transcripts.
Subscribe
to workday or weekly CMI emails to get Rose-Colored Glasses in your inbox each week. 
HANDPICKED RELATED CONTENT:
Cover image by Joseph Kalinowski/Content Marketing Institute