7 Tips to Highlight Product Features on Your Website
Whether your customers are shopping for tennis shoes or a marketing automation tool, they care about your product's features. Features (along with price and design) are one of the main factors people consider when comparing products.
Would you buy a computer without knowing how much storage it has? Or a pair of yoga pants without knowing whether they stretch?
Despite their importance, many brands fail to make their product's features clear on their websites—and that could cause revenue to drop.
Your product's features are massive selling points, so they need to be clear and compelling. Here's how to get your product features right.
What Is a Product Feature?
A product feature is a characteristic of your product that differentiates it from other products in the market. It could be how it looks (a design feature), how you can use it (a functional feature) or what it comes with (an added-value feature).
Let's take running shoes as an example. The material of the shoe is a feature, so is the technology in the shoe. Both are highlighted in this example by Nike.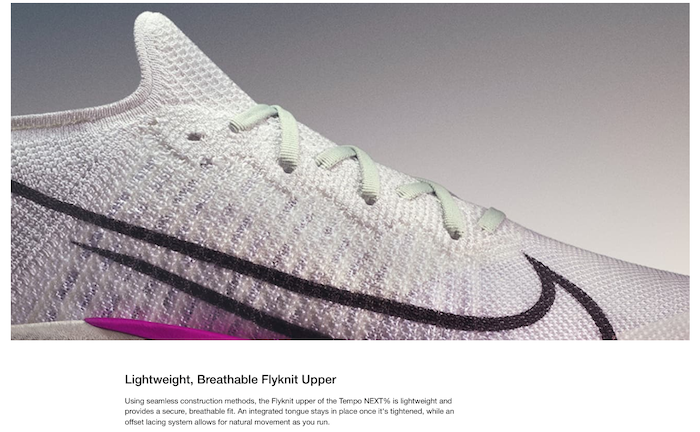 What about a software product?
Features typically center on the product's functionality (what you can do with it), but they can also include integrations or data security. Slack's feature page below highlights these types of features: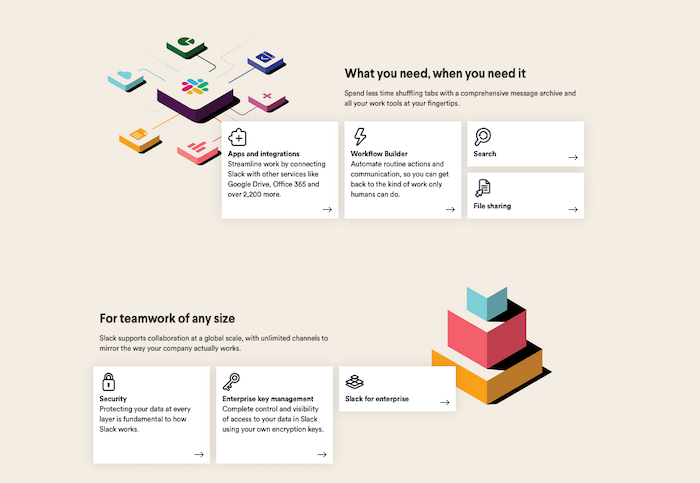 Features don't have to be unique to your product, though. As design, technology, and manufacturing processes evolve, some features become standard. You'd be hard-pressed to buy a smartphone without a touchscreen, but that doesn't mean it isn't a feature brands can talk about.
Whether your product comes with ten features or two, you need to be talking about them across your website including your product descriptions, landing page, and even your homepage.
Make your product features clear so customers can easily compare you to your competitors. It's even more important if your product boasts the best features in the industry. The more you shout about them, the more likely consumers are to take notice—and maybe make a purchase.
7 Strategies for Highlighting Product Features
You know what features are, and you know why they're important to include on your site. Now let's look at seven ways e-commerce stores and SaaS tools can effectively leverage them.
Include Social Proof
Talking about how great your features are is nice, but every other company does the same thing. Even if your product features are superior, customers may not believe you. After all, only one-third of customers trust the brands they buy from.
You need social proof to convince them your product delivers. Add quotes and testimonials from your customers or trusted third parties that mention your product features to relevant pages. Better yet, include images and videos of them using your product.
Featuring real people showing off your product's features instantly makes them more credible and makes it much more likely consumers will trust your brand.
UK maternity brand Isabella Oliver does a great job of this, including a quote from Vogue in the product description of a maternity tank dress.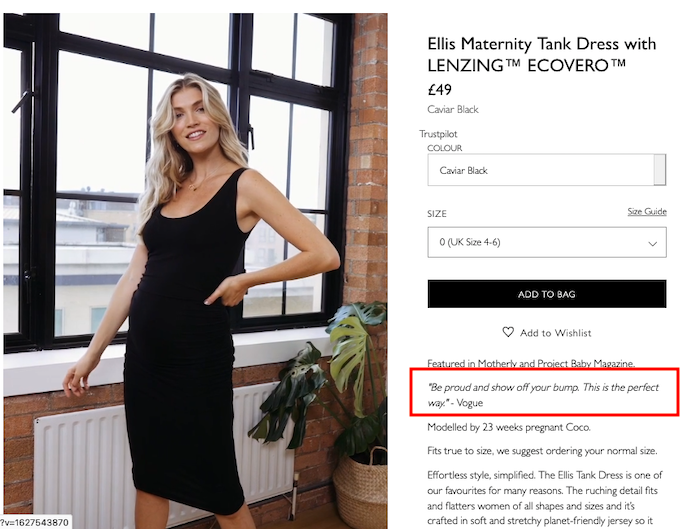 Speak to Your Target Audience
You need to understand your target audience to write about your product features effectively. If you have buyer personas, make sure to refer to them while writing. This will help you prioritize which features your customers care about most.
Start by looking at reviews for your product and those of your competitors—G2 is a great place to start for software companies and Amazon for e-commerce brands. Identify the top features customers talk about and prioritize them.
Be wary of trying to target everyone. This is particularly important for SaaS products that can have a dozen different use cases. Each target customer should have a dedicated landing page where you speak exclusively about relevant product features. If you try to speak to everyone on one landing page, you'll end up not targeting any audience well.
Everlane is an example of a brand who knows their target audience and what they care about. Each product description includes a link to the factory it's made in and other information related to sustainability.
Focus on the Benefits
Consumers only care so much about what makes your product special. What they really care about is how it benefits them.
Talk about a benefit whenever you mention a feature.
Writing about benefits requires a bit more effort and creativity. Your product's features are fairly obvious, especially to you. What isn't so obvious is how the user benefits from them. Think about your customer personas and spend some time reading product reviews. These will help you get into your customers' minds and focus on the benefits they care about.
If you really want to do a good job, interview your customers to find out exactly how they benefit from your product. It takes a little more effort, but this is hands-down the best way to tease out the benefits of your product.
One of Hootsuite's most popular features is the ability to track social media mentions on their dashboard–but that's not how the brand sells the feature to its users. Instead, they focus on the benefit: finding out what customers really think. They even follow this up with another user-generated benefit of the feature.

Draw Attention to the Important Details
There are some features you'll want customers to take note of more than others. That's why it's important to create a hierarchy of features and look for ways to draw attention to the features consumers care most about.
To do this, break your page into sections and devote each section to a specific feature. Use a bold heading to grab your reader's attention and back this up with short, sharp copy and eye-catching imagery.
Google takes this to the extreme by letting each feature take up all of the screen's real estate. There's no way to miss them: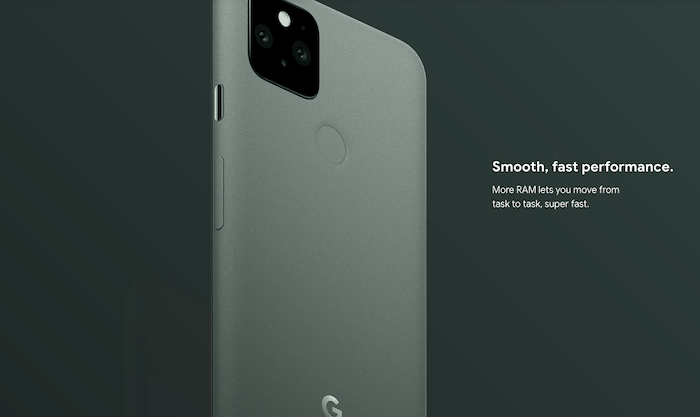 Another is to remove the navigation menu from your landing page. With no way to move away from the page, users are forced to focus on your sales copy and read about your product's features. Don't get carried away using this tactic, however. Most customers won't be happy with you removing the navigation bar, especially if you're an e-commerce site.
Make Information Scannable
Your customers are busy, and most aren't going to read every word on your page. Instead, they're going to scan it for key bits of information. It's your job to make your product features as scannable as possible while still getting across the core message.
Bullet points are an excellent tool because huge chunks of text are a massive turn-off for readers—especially if you want to share a lot of information.
Target includes a bullet list of each product's features on their listing page, so you don't even have to click them individually to get the need-to-know information.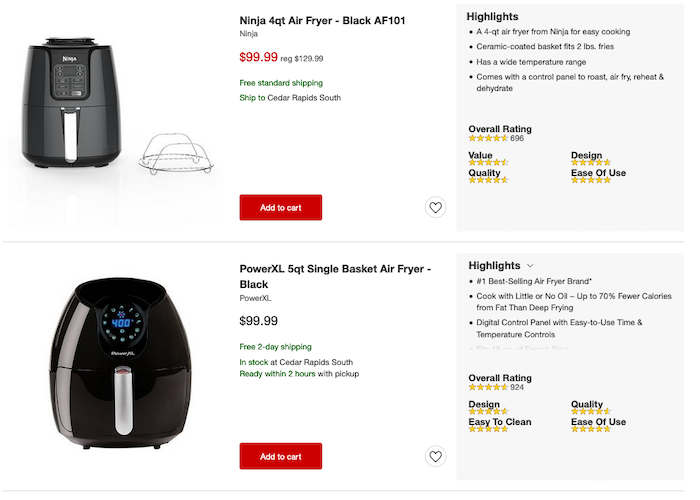 Use Video and Images
Words aren't the only way to get across your product features. Images and videos are usually a much better way to get across exactly what your product can do.
Images are an easy way to show customers how key features look and work. They are particularly powerful for design-focused features and most e-commerce products in general. Bonus points if you include user-generated photos in your descriptions.
UK furniture brand Made did a great job of including user-generated images in their product listings. Potential customers can see exactly what each sofa will look like in a range of settings.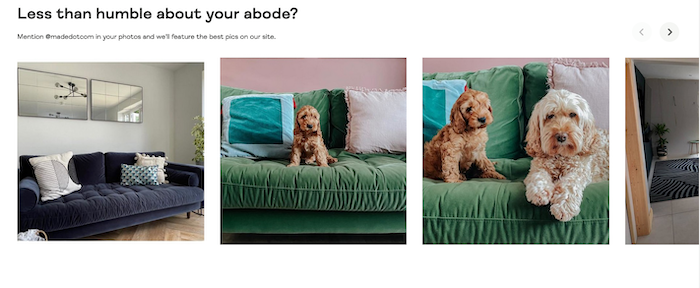 Videos take a little more work, but they can be even more effective. For example, you could create an explainer video that highlights your product's core features, or a separate video for each feature.
Your feature-led videos can also be used as part of your onboarding process and by your sales team during client calls. They can even boost your search rankings, especially if you host them on YouTube.
Write Blog Posts and Emails
If you have a SaaS product, blog posts, emails, and other forms of content marketing are one of the best ways to highlight your product features—particularly if those features come in the form of new software releases.
Make sure your blog posts talk about the benefits that users can gain from the new features and don't just talk about the features alone. Plenty of screenshots are also a good idea, so is a video if you can create one.
Unlike other forms of content marketing, there's no need to post these articles regularly. Writing them when you have a new feature to describe is enough.
Email updates should also be sent sparingly. Only email when you have a new feature to announce and keep your email succinct. Only include the key details in the email and link to a more in-depth blog post if necessary.
Existing users will learn about the new features when using the software, so it may be wise to only send an email about features that may re-engage lost customers.
Asana's blog is filled with feature-focused blog posts. Note that many don't focus on individual features. Rather they cluster feature releases around a particular topic and write about that instead.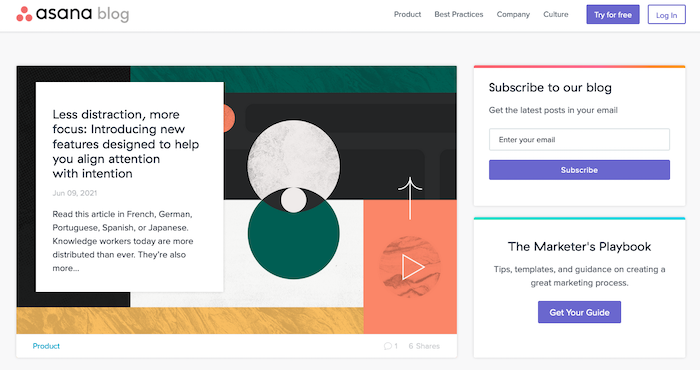 3 Examples of Product Feature Highlights
If the examples above weren't enough for you, I've got three more examples of brands that do a great job highlighting their product features.
Apple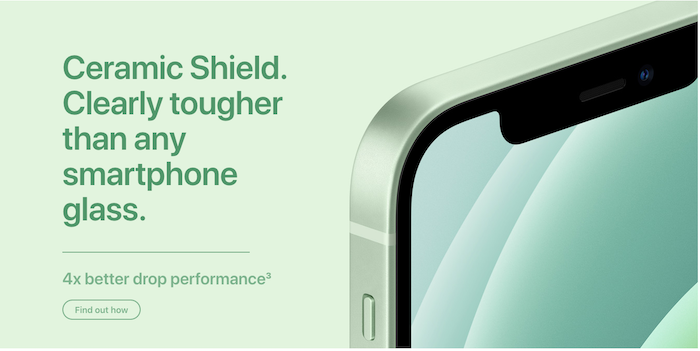 Few companies are better than Apple at creating buzz about their products. There aren't many better at highlighting their product's benefits, either.
Apple makes a point of creating a new banner for every feature, pairs each with a user benefit, and includes high-quality images and graphics. Even if you already have an iPhone, reading their product pages makes you want to upgrade.
Amazon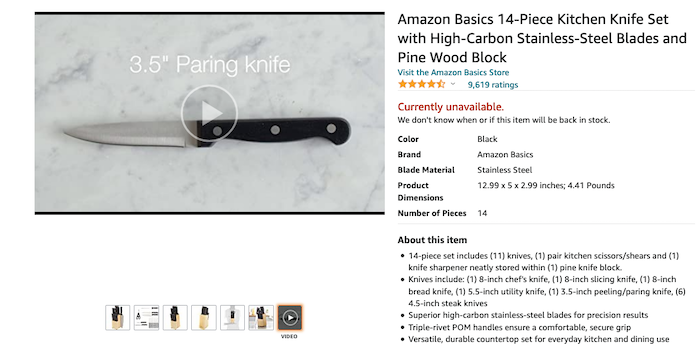 Amazon is famous for its in-depth product listings, but those listings are also great at highlighting each product's most important features.
The clear layout makes it easy for customers to skim the product description, and bullet points highlight the most important features. There's even a video showcasing the product in detail.
Tesla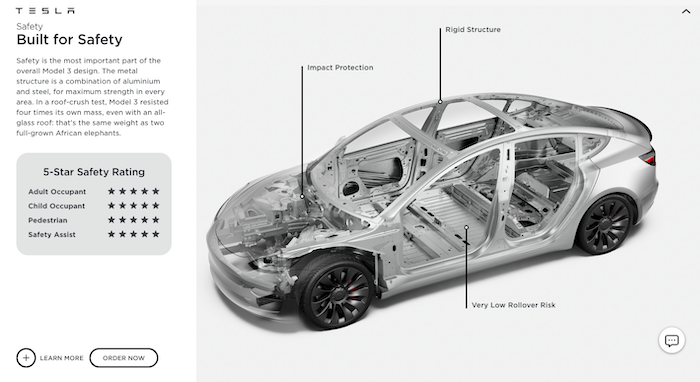 Tesla combines several of the tactics mentioned above to highlight the key features of the Model 3. Each feature is given a hierarchy—security is first—and takes up the entire page. They also use graphics to illustrate points and annotations to draw attention to specific features.
Frequently Asked Questions About Product Features
What are product features?
Your product features are any characteristic of your product that makes it stand out and separates it from your competitors. It can include the look and design of the product, how it's made, or what you can do with it.
What are examples of product features?
For an e-commerce product, the material the product is made with can be a feature—if it's made from recycled plastic, for example. For SaaS products, features include the functionality of the product. The ability to instantly message colleagues is a feature of Slack, for instance.
What's the difference between a product feature and a benefit?
A feature is a characteristic of your product. A benefit is how a customer can use that characteristic to overcome a pain point.
How can I highlight the features of my SaaS product?
A sales page is an excellent way to highlight all of the features of your SaaS products. Blog posts, videos, and demos are also great ways to highlight SaaS features.
How can I highlight the features of my e-commerce product?
Your product description is the best place to highlight the features of your e-commerce product. Make sure they are easy to read and stand out from the rest of your copy.
The Conclusion of My Product Features Guide
Showcasing your product features is a hugely underrated tactic. Marketers and salespeople will tell you to focus on the benefits of your product rather than the features. While benefits are important, they rely on explaining your features clearly first. Features are also one of the most common ways potential customers compare your product with your competitors.
Take time to determine which features are most important and get opinions from current customers if you can. Then use the seven tactics I've listed above to make them as clear as possible on your site.
Which features of your product are you most proud of?
See How My Agency Can Drive Massive Amounts of Traffic to Your Website
SEO – unlock massive amounts of SEO traffic. See real results.
Content Marketing – our team creates epic content that will get shared, get links, and attract traffic.
Paid Media – effective paid strategies with clear ROI.
How to Cure "Lonely Marketer Syndrome"
If you feel lonely as a digital marketer, you are not alone.
According to an ongoing survey conducted by CareerExplorer, marketing managers rate their career happiness at 3.1 out of 5 stars, which puts them at the bottom 40% of careers.
Why would a job that involves the most entertaining and fun aspects of business, that being growth, change, and interaction between business and customer, lead to such an unsatisfactory rating?
Further, how could a job that is perfectly suited for remote working still rate so low?
Why Marketers Are Unhappy
There are lots of reasons why someone could be unhappy with their job, but for now, let's focus on the five core factors that generated a 3.1 star rating for marketing management. We'll expand it a bit to accommodate soloprenuers/consultants and marketing agency owners as well:
Compensation & Revenue
Meaningfulness
Personality Fit
Work Environment
Skill Utilization
Marketing Compensation & Revenue
Marketing Managers aren't happy with their salary, even though they rate very high according to CareerExplorer's survey. With an average of $135,000, marketing managers are the highest among similar careers like management consultants, investment fund managers, online merchants, operation managers, advertising managers, human resource managers, and project managers.
On the marketing business side, marketing agency revenue has continued to increase as well. According to Statista, digital advertising agency revenue grew from $5.69 billion in 2012 to $30.6 billion in 2022, an increase of 437% over 20 years (22% average annual increase).
Even so, they're not happy!
Want to get certified in Content Marketing?
Leverage the tools and channels to predictably and profitably drive awareness, leads, sales, and referrals—EVERYTHING you need to know to become a true master of digital marketing.​ Click Here
Meaningfulness
Do marketing managers find their work meaningful? Most of them don't according to the survey. They ranked meaningfulness at 2.7 out of 5 stars.
Personality Fit
How about the personality fit of people who are marketing managers? According to the survey, marketing managers rank fit as 3.8 out of 5 stars. Not bad considering! Still not great.
Work Environment
What about the work environment of marketing managers? That's not bad as well, with a rating of 3.5 out of 5 stars. Even so, it could be better.
Skill Utilization
Finally, let's talk about skill utilization. Do marketing managers feel that they're using their skills to an adequate degree? They have skill utilization a 3.5 out of 5 stars. Again, not bad but not great either.
Overall, marketing professionals are missing on a lot of the key factors that lead to job and life satisfaction. Could there be a root cause for the disconnection?
Why the Marketing Profession is Awesome
We now have some insights into why the marketing profession may not be ideal, now let's examine why it's a really, really good job for some people. Let's use those same survey factors to discuss.
Marketing Compensation & Revenue
Marketers make GOOD money. The survey by CareerExplorer said $135,000 average, which sounded high to me, however, Salary.com confirmed the range with the median being $113,582. No matter how you look at it, that is a great paycheck.
Meaningfulness
This is an abstract measure, but I think marketers have a huge opportunity to find meaning in marketing. Your job directly impacts the success of businesses. Businesses provide goods and services for their customers, while also providing paychecks for 47.5% of the population of the USA. What's more meaningful than helping 58.9 million people to get paychecks?
Personality Fit
The marketing profession is perfect for people who like networking, extroverts that like building relationships, number-heads who love analytics, creatives who like constantly creating new media, attention-seekers who love interacting with audiences, and business people who like money. If your personality fits into any of those groups, you can find a good fit with marketing.
Work Environment
Marketers to work pretty much anywhere, PLUS there are tons of networking groups, expos, masterminds, courses, and other events to attend all year long all over the planet. You can work from home, work at an office, travel to clients' locations, or take your laptop to the beach. A marketer can create their own work environment if they want to!
Skill Utilization
Few professions utilize a more dynamic list of skills than marketing. From technical to analytical to creative to relational, marketing requires the utilization of vast, complex, and evolving skillsets. You will never get bored with a marketing career because you never know what you're going to need to know next. Better yet, you have the opportunity to create entirely new skillsets that no one has even considered before!
Loneliness is Bad for Productivity
With all that said, why are marketers still unhappy? I believe that the majority of marketers are more socially-minded than your average person. They crave connection between people. That could be connection with other marketers, connection between companies and their customers, and connection between owners and marketing professionals.
Problem is that since marketers can work anywhere, they often default to working remotely. As of mid-2022, Linkedin reported that jobs offering "remote work" increased 457% year over year. Remote working for marketing roles working remotely increased 177% in just the first half of 2022.
What do you get when you have primarily "social" people working remotely? You get lonely, and loneliness hurts productivity, creativity, and health.
Research by Dr. Vivek Murthy showed that loneliness and depression cost employers $44 billion a year. A study of remote workers found that one in five said "loneliness" was their biggest struggle.
So, while marketers are generally well paid and provided with challenging work that engages their personalities, they are faced with loneliness which greatly impairs work satisfaction. How do we fix the issue?
DOWNLOAD: The TikTok Ad Set Up Guide. Learn how to quickly create 16 TikTok ads in the least amount of time possible. Click Here
How to Fix Lonely Marketer Syndrome
The fix may seem obvious, but it is usually missed or approached too casually in most cases. Marketers need to become part of marketing communities. Not just any communities however, the ones that will truly impact their business and mindset will have the following characteristics:
#1: Formal Education Systems
Ideally, your community should have a proven set of frameworks that other marketers (preferably hundreds or even thousands) have used to succeed.
#2: In-Person & Online Events
Online events are great, but if there is no planned in-person event, you're going to be missing an important part of connecting with others: seeing them "for real." Your new community should have plans for in-person meeting opportunities, even if it's just once a year.
#3: Broad & Narrow Specialty Groups
If you can find a network with a significant amount of people in your specific marketing niche, great! Just note that they should also be connected to broader topics so that you can learn more about interacting with entire marketing teams, not just people do the exact same work as you do.
#4: An Established History
Brand new groups are great, but there's nothing worse than committing to a brand and having it disappear on you. Ideally, look for marketer communities that have been around for at least 5 years, but preferably longer.
#5: A Hierarchy for Ascension
The best communities provide opportunities for their members to grow and contribute, with the possibility of becoming a thought-leader, teacher, or contributor to the knowledge contained within an organization. Look for groups that have positions, awards, and prizes for top community members.
Where to Find the Right Marketer Community
Lucky for you, you're already on the right website! DigitalMarketer has been growing their marketer community since 2008. With over 120,000 marketers completing courses, thousands of contributors, and over 1 million email subscribers, DigitalMarketer is the community of choice for marketers in over 60 different countries.
Whether you're a beginner looking for your first certification with a Lab Membership, an agency owner looking to scale with our Certified Partner network, or a successful business owner looking to scale with the M3 Mastermind, DigitalMarketer is the place to be.
Beat Lonely Marketer Syndrome and join us today!