Best WordPress Themes for Blogs
More people blog on WordPress than any other platform. If you want to stand out from the crowd, you need the right theme.
WordPress themes determine the layout of your blog, the impression it has on visitors, and how easy it is to navigate.
There are a lot of WordPress themes to choose from. Over the years, I've experimented with dozens of themes across my sites. As one of the internet's most successful bloggers, I know what works.
Here's my latest take on the seven best WordPress themes for blogs. This page is always getting updated as new themes come out and others outlive their use.
Keep reading to find my top picks along with a buyer's guide that will help you make sense of your many good options.
#1 – Extra Review — The Best for Most Standard Blogs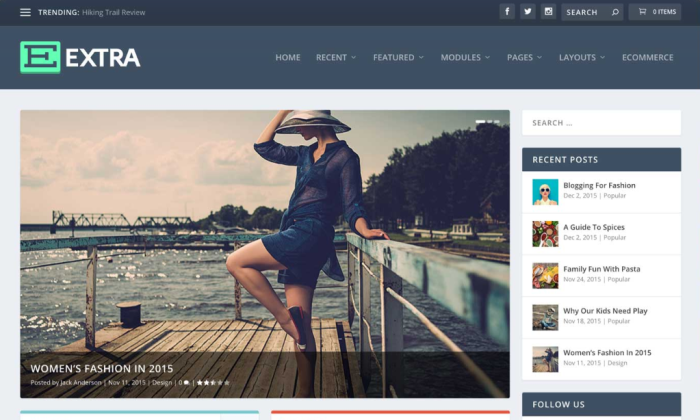 If you are looking for a WordPress theme that lets you do it all–and have an easier time doing it–then Extra is my top recommendation.
With some themes, you can get pigeon-holed into a certain style or format. With Extra, you never have to worry about limits or boundaries.
Blogs of any type, digital magazines, portfolios, online stores–really any kind of blogging experience you are looking to deliver is possible with Extra.
Extra is from Elegant Themes, the same people who make Divi, which is the most popular WordPress theme in the world. If you are looking to build a unique website on WordPress, Divi is a great choice.
However, if you are specifically focused on finding a theme for WordPress blogging, go with Extra. It gives you the same foundation as Divi, but it's been optimized for bloggers.
The most important aspects are the new modules within the Divi Builder that help you curate your content for readers, including post feed, post carousel, post slider, and tabbed posts. All of these are tied to the categories you set and easy to arrange in an appealing layout.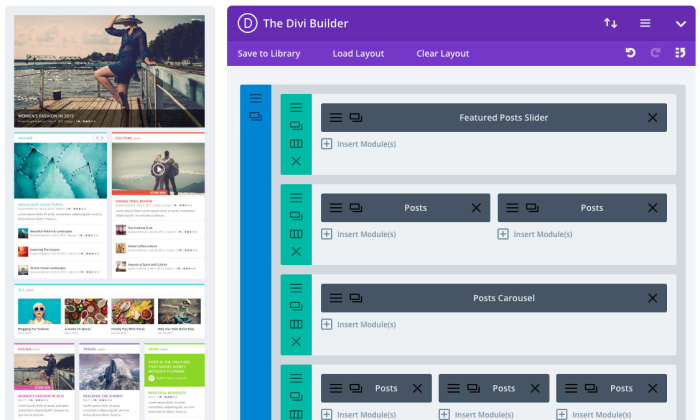 Publishing the striking blog on the left is as easy as filling in the intuitive layout on the right.
With Extra you get the Divi Builder ability to create everything visually, but it's within a framework that makes blogging easier. It's a true drag-and-drop editor that lets you build elegant posts and pages very quickly.
Start from one of more than 800 pre-made layouts and customize virtually every aspect from there. Colors, fonts, sizing, spacing, sizing is easy to adjust with clicks, not code. Whatever you design is fully responsive to any screen size. No extra work or double-checking on your part.
Here are some of the other ways that Extra helps people take their WordPress blog to the next level:
Built-in ratings and review system
Customizable menus and headers
Automatic WordPress updates
24/7 customer support
Optimized for WooCommerce
Social media integration
All of these features work together beautifully. Your blog readers are greeted by an enticing layout and your site is effortless to navigate. They can read, review, rate, and share your posts across other channels.
Extra is available for purchase through a membership to Elegant Themes. That means for one price, you get access to Divi, Extra, as well as Bloom (email plugin) and Monarch (social media plugin).
This is a complete set of tools that can power your entire website with a modern and integrated blog.
Elegant Themes memberships are $89 per year, or $249 for a lifetime subscription. This includes 24/7 premium support and unlimited usage of every product.
The company is constantly adding new features. I'm talking about fresh layouts every week and new tools to help your blog stand out.
Try the whole suite of Elegant Themes products risk free for 30 days.
#2 – Olsen Review – The Best WordPress Theme for Lifestyle and Fashion Blogs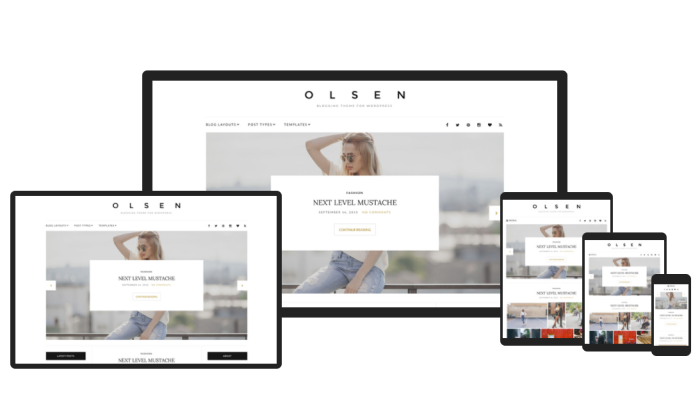 If you are a lifestyle or fashion blogger looking for a place to store all of your content among a focused layout with crisp fonts, Olsen is the perfect theme for you.
It takes very little work to pull off a very professional blog. You're not going to break the mold with something people have never seen before–Olsen's strength is in it's familiarity. Readers will immediately be comfortable with your layout, knowing how to navigate and share your content.
Providing a fluid and peaceful reading experience, Olsen is the theme for anyone who wants their images to stand out next to their content. Tell a story with more than just words.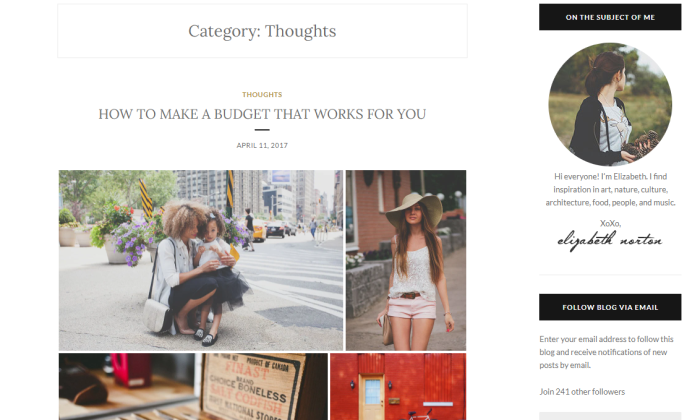 Olsen is completely customizable and is the perfect place to show off your best work.
Two unique elements this theme offers are a Featured Content slider and an Instagram footer widget. Both elements are great for sharing your work with readers.
The Featured Content slider is a little different from the average Featured Content add-on. This element allows you to pick up to six images or posts and include them at the front of your blog. The reader can navigate this slider by clicking the left or right arrow.
The Instagram footer widget is unique and doesn't appear in any other theme on this list. This is the perfect add-on for a fashion or lifestyle blogger who wants to showcase their photos. It shows the widget at the bottom of your blog and features your most recent Instagram posts in a large single row.
The downside is for people who want the Instagram feature for free. Unfortunately, you must pay for the theme or buy a plan to use it, but we think this trade-off is worth it.
You can get started with Olsen today for free. Upgrading to Olsen Pro is only $34.30 for a full year. There is also a Club Membership, which gives you access to many more themes and plugins, and it's only $48.30.
#3 – Newspaper Review — The Best for Breaking Stories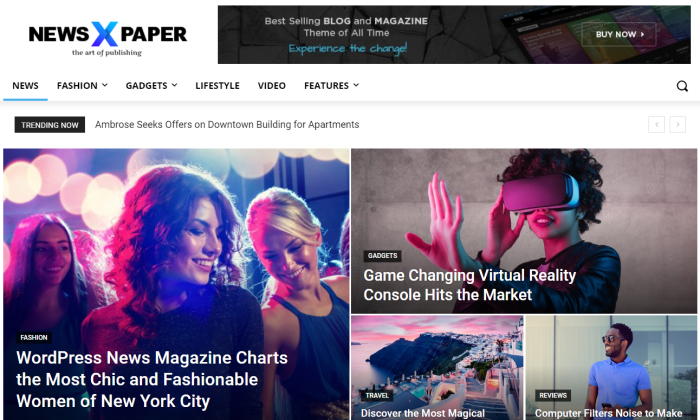 Some people need a simple blog that showcases their portfolio. Others need a platform that delivers new content to their readers on a daily basis, whether they are breaking stories about their brand or community.
I'm talking about a blog experience where visitors show up to find a new arrangement of content every morning. If this describes you, then Newspaper is the WordPress theme for your blog.
It is the number one bestselling news theme of all time, and for good reason. You can use any kind of content or social media integration–it's all going to look sharp.
Beginners and professionals will love how easy Newspaper is to use. Whether you want to get set up in minutes or craft a trendsetting design, you'll find the theme very accommodating.
Include sound, moving images, and other features to engage your audience with no more than a few clicks. And, you can rest assured that none of the changes you make will slow your site down.
This is true even if readers are on their phone, as Newspaper is completely integrated with the Google AMP (Accelerated Mobile Pages) plugin.
Instead of a slow, cluttered experience–as you might get with another news-style WordPress theme–all of your readers can enjoy what you publish. Given how much traffic comes from mobile-users, this is a big deal.
None of this will require coding, so your whole team can take advantage of the theme. No graphic design degree necessary to edit images. With Newspaper, it's a snap to create eye-catching, on-brand images that develop your story.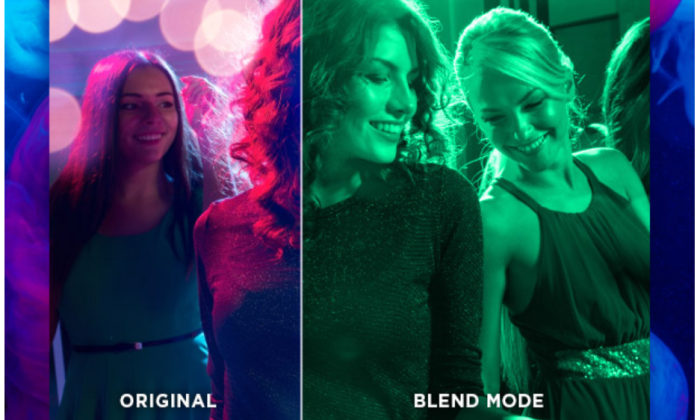 This means fewer steps to make sure your content, logos, headers, and footers are all working together to deliver a positive blog experience for your readers. And if you are constantly updating, the time-savings adds up quick.
With Newspaper, you can eliminate hours from your monthly workflows and free up your team to create.
Despite being able to do so much, management remains quite simple. Quickly gain mastery over your blog and use the great features included with Newspaper like:
100+ pre-built websites
1,000+ pre-made templates, pages, posts and sections
Unlimited sidebars
Live search display
WooCommerce shortcodes
Membership paywalls
Rating and review system
Monetizing your blog is incredibly easy with banner ads, Google Ads, and Adsense. All ads are responsive, and Newspaper starts you off with 14 predefined and 5 custom spots. You can place ads where you want without disrupting the flow of your blog.
Pricing for Newspaper starts at $59 for a regular license. This includes free future updates and 6 months of premium support. You can extend support for a full year for $17.63.
There's a ton included with the price, but if you want to add other plugins to optimize SEO, open an online store, or increase security, you can rest assured that Newspaper theme will integrate smoothly.
Get started with Newspaper today and start publishing a world-class blog every day.
#4 – Akea Review — The Best for Minimalist Style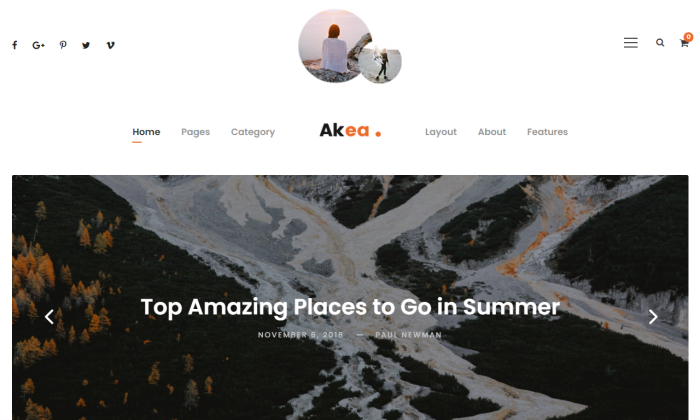 Akea is a WordPress theme from GoodLayers, a company that empowers bloggers who live by the "less is more" mantra.
Over the years, the company has released some of the greatest minimal blog themes. It's best for people who don't want too much information and stimulation a negative and expect readers with similar tastes.
You get total control over how your content is exhibited. Play with the spacing between items on your page. Tweak the size of thumbnails used for your blog. Use a single image to fit any screen size with the 100 percent fluid layout.
Customize it until you get it just right. With Akea, you don't have hundreds of templates, but you don't have to squeeze anything into a pre-built mold. Instead, you get a relatively small selection of blog layouts and each one is an open field.
Upload your own font. Bring in any video, quotes, galleries in a slider. Make a bold impression using a few commanding content elements arranged just the way you like.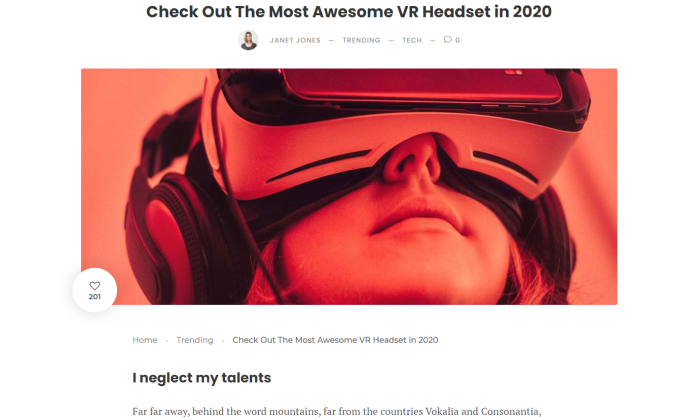 If you're looking to jam the most content per square inch into your blog, this is not for you.
This isn't to say you can't include sidebars, or menus, or give your readers tons of options. With Akea, that's all easy to do. It's just really focused on the minimal style, so all of these elements are unobtrusive and clean.
You get a floating navigation bar, so your readers always have quick access to more content, but you are never overloading them at any point.
That's the spirit of Akea, which comes with a trim feature set designed for you to start making it your own immediately. Some of the essentials include:
Drag-and-drop page builder
Unlimited customizable sidebars
14 blog layouts
Social media integration
WooCommerce integration
Custom skin colors for page sections
While you get comparatively few templates compared to other options, there's a lot you can do with each one.
Akea starts at $54. It includes free lifetime updates and premium customer support for the first six months.
Because Akea is a newer theme, there are fewer reviews of the theme than some of the others I recommend. But GoodLayers has always done a solid job, and Akea works well with the latest plugins and WordPress updates.
This means less work on your end to make sure everything is running smooth, as the modern integration decreases problems and potential security issues.
It's also fully compatible with the WordPress Gutenberg editor, which is now standard for all new sites. This is going to save a lot of time and make the final product look better with less configuration.
If you value simple, clean design for your WordPress blog, Akea is a theme you should check out today.
#5 – Pearl Review — The Best Corporate WordPress Theme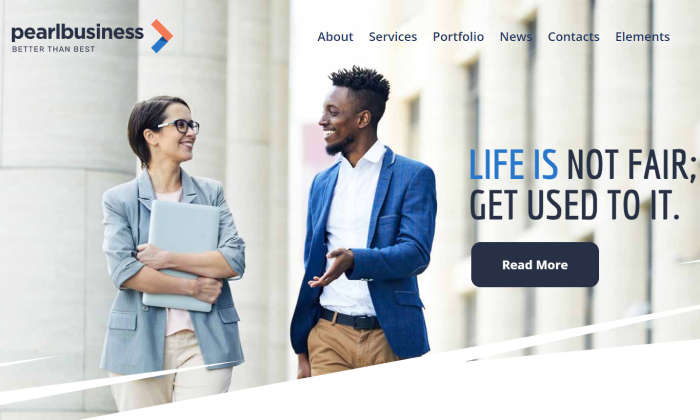 Pearl is an incredibly feature-rich and flexible WordPress theme that's got enough options to outfit any business.
I recommend this to people whose blog is part of a larger website. Pearl is kind of overkill if you just need a blog, though you could make an incredible blog with it.
On that note, it might be a good option if you are hitting your limits with your current WordPress theme. If there's features and functionality you can't swing now, Pearl will help you get there.
To put it simply, with Pearl you're not making compromises–you're making a blog that's tailored to fit the needs of your industry and goals. Pearl offers an astonishing range of demos for virtually every vertical: agency, beauty, ecommerce, law, music, software, and more.
Each of these demos has been carefully designed to include a suite of features and layout to meet the challenges businesses face.
The Pearl Viral demo, for example, showcases your posts according to how popular they are, with professional category tags to help readers find what they want.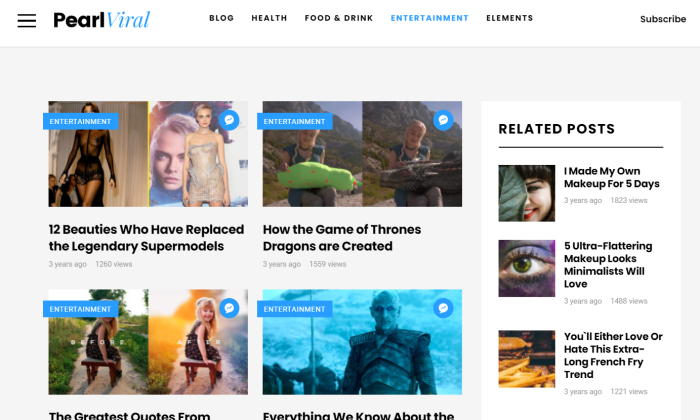 For a business in the entertainment industry, the out-of-the-box power of this blog layout and styling is obvious. The same is true for everyone of the many industries Pearl supports.
And your blog will be totally tied into the rest of your site, which is a must if blogging is a part of your business outreach. Readers can react to posts, leave a reply, share it on social media, or get drawn further into your site and company offerings.
You can add more than 55 different types of shortcodes (UI blocks) into your posts. This includes things like a music player, calls to action, events lists, icon boxes, galleries, pricing tables, and a lot more.
This is huge for corporate users who need a range of ways to communicate and interact with their audience. Some of the other standout features include:
Visual Composer drag-and-drop builder
Mega menus with three drop down levels
Customizable headers and footers
800+ fonts
Custom icons
Sidebar builder
24/7 with live chat
There's really not much you can't do with Pearl, and most of it can be accomplished without writing a line of code.
And all of this is available for the price of $59 for a regular license with free lifetime updates. Six months of maintenance is included, with additional coverage available for purchase.
If you need a high-functioning blog, bear in mind that Pearl includes a number of premium plugins for free. You get WPBakery, Booked Appointments, Ninja Popups–in total it's about $325 worth of premium plugins based on the going rates.
Pearl is a very reasonable price for what you get, and you'll have to spend less moving forward.
Get started with Pearl today, and forget about limitation.
#6 – TinySalt Review — The Best for Food Blogs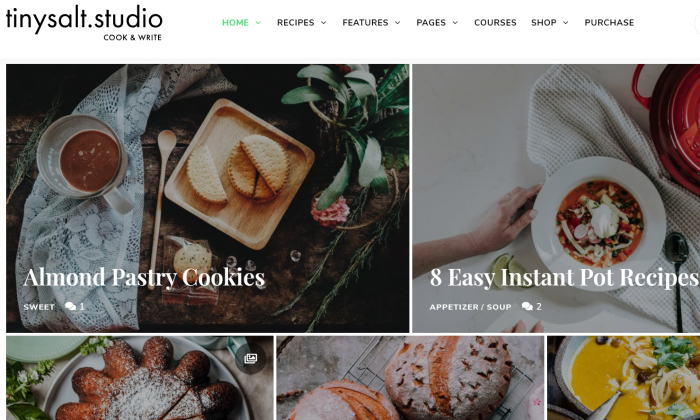 For as popular as food blogs are, they can be tricky to create if you are using a multi-purpose theme.
You can do it, for sure, but it's going to take a lot more work. And it's probably not going to come out as well as if you had just started with a WordPress theme built specifically for food blogs..
TinySalt is just that. It's got every feature and formatting capability you need to blog in this space.
Where a recipe would be difficult to get the formatting correct with an ordinary WordPress theme, TinySalt gives you turnkey options to produce this niche type of content immediately.
Breakdown your most complicated dish into a series of simple steps. Include photos where you think it will help. Add a button early in the post to let readers jump straight to the recipe.
And you don't have to spend any time getting all of this to flow on your blog. TinySalt has 12 demos you can import to your website. Mix and match to deliver the exact experience you are looking for.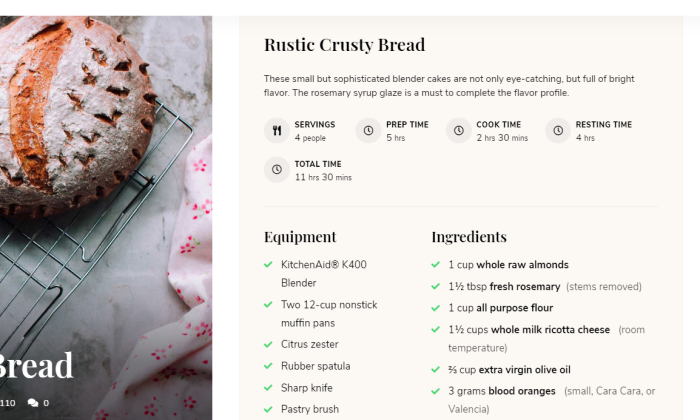 Readers can quickly search through your recipes with a convenient filter, or browse your beautiful blog. When they find one they like, they can print, rate, and share them with their friends on social media.
If they decide against a certain meal, your blog can automatically recommend related recipes at the end of a post.
Don't let the Tiny in the name fool you, this theme is packed with potential. You get:
32 blog variations
10 post templates
Recipe videos
Unlimited colors
900+ fonts
Featured recipes slider on your homepage
All TinySalt is missing is your recipes and imagination.
TinySalt starts at the low cost of $39 for a regular license. Future updates and six months of premium customer service is included at that price. Ongoing support is available if you need it.
At that price, it's not hard to turn a profit with TinySalt, even if it's just a side-hustle for now.
You'll be able to see your own products with WooCommerce, or promote items through advertising and affiliate marketing. It's also compatible with MailChimp, which means you can turn your food blog into a newsletter to build your subscriber base.
Eliminate the complex configuration that goes into food blogging and take your site to the next level. Stop cooking with the wrong equipment and get TinySalt today.
#7 – ConsultingWP Review — The Best for Promoting Your Business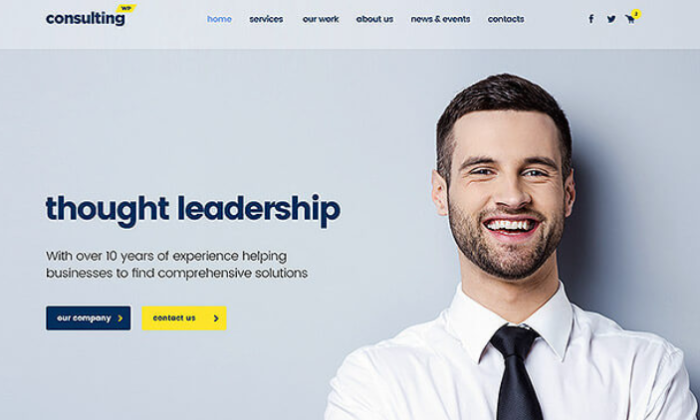 I really like ConsultingWP for businesses that want their blog to make a splash.
Whether you are looking to make connections for providing services, or to get your brand out to the world, this is an empowering WordPress theme for business blogs.
You get tools to build that anyone at your company can use on day one. You're not going to have to hire out a professional or lean on a single person in-house to keep everything looking great.
Never touch code and never compromise on the finished product.
Simply browse through the hundreds of templates offered by ConsultingWP, find the one you like, and begin importing it. You'll have complete control over what plugins and options you want to bring over to your new blog.
From there, you can customize the blocks, fonts, headers, layout, and so on on. Instead of having to mess around editing PHP or CSS files, everything is a few clicks.
Up to this point, what I've described is a very good WordPress theme for blogs, but where ConsultingWP steps away from other easy/powerful options is the business-focused feature set.
One of the most useful is the Cost Calculator Builder, which lets clients price out your services on your blog. Instead of having to call for a quote (which can be a tricky step to get people to take) people can investigate on their own using the simple calculator.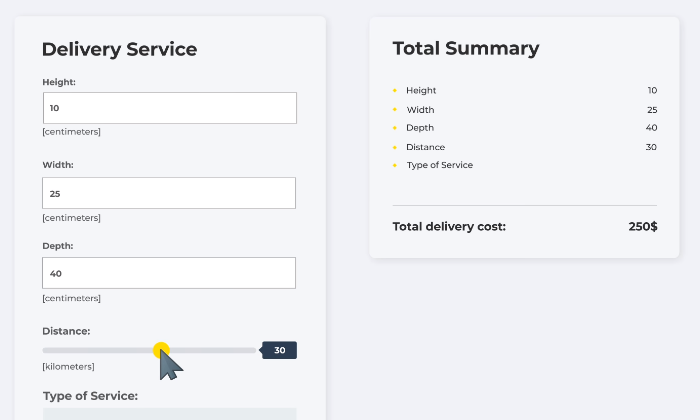 Normally, creating an interactive form like this would take some serious effort. And, if you wanted to make changes to your pricing, it might be a hassle to get it right.
With ConsultingWP, you have full control over this simple feature. Run promotional pricing without worrying it's going to break your site and confuse potential clients.
Some of the other fantastic built-in elements include:
eRoom Zoom meetings and webinars
Professional booking for appointments
100+ page templates
500+ theme options
Customizable menus
Events manager
24/7 customer support
For businesses, the all-in-one feature set is really attractive. I mean, you can do all of this with a hodge-podge of third-party plugins, but there is zero guarantee they are going to work well together. At best, you'd have a lot of maintenance to keep things running smooth without slowing your site to a crawl.
With ConsultingWP, on the other hand, businesses get a toolkit that's been designed to work in harmony. This means less work for better results.
Starting at $59 a regular license, this is a great deal. Trying to match the feature set by downloading individual plugins would be far more expensive and frustrating.
A regular license comes with six months of premium customer support. You can choose to extend support for an additional cost.
If you are looking for a professional blog that establishes your business as a leader in your space, I highly recommend ConsultingWP.
What I Looked at to Find the Best WordPress Theme
Now that you know our seven best theme recommendations, it's important to understand what matters.
Make the right decision by following these considerations.
Know Your Blogging Niche
It sounds self-explanatory, but it's relevant when choosing the perfect theme. Today we looked at the seven most common blogging niches, and how each theme suited for those niches is different.
When choosing a theme, you must know your blogging niche because you don't want to install TinySalt if food blogging is your focus. Different niches require different themes with distinct features, layouts, and designs.
I would suggest creating a list of your most passionate hobbies and start there.
Customization is Key
Having a customizable theme is crucial for an easily-navigated blog.
It's okay if you are not interested in investing money into your blog. However, many free themes have limits on customizing, whether for headers, colors, or layouts.
Every theme on this list is customizable to some extent, some more than others, so it's important to look into the nitty-gritty before installing.
Features
Every theme listed here today has some incredible features that work best for its particular niche. However, some themes have more unique elements than others, and it's critical to weigh whether you need them.
Paid themes are more likely to have more unique elements, such as Olsen with the Instagram footer widget, and the premium plugins that come free with Pearl.
If you know you won't need an Instagram footer, it's best to keep your money in your pocket.
Some basic features that are imperative for most blogs include:
Custom colors
Site logo
Flexible display
Classic menu
Widgets
So, make sure you look for these when installing any theme.
Conclusion
Running a successful WordPress blog isn't easy. Having the right theme helps a lot.
Here's the complete list of my top recommendations:
Extra is a great all-in-one blog solution that's going to cover most people. No matter what direction you take, you're always going to get the latest features to experiment and engage your audience.
Some of my recommendations work really well in particular niches, like Olsen and TinySalt, whereas others play to a certain style. Akea favors minimal content with maximum impact, whereas Newspaper is going to give readers dozens of posts to read at every turn.
ConsultingWP and Pearl are safe bets for any business blog. I'd lean toward the former if you are looking for something sleek for your company, and toward the latter if your blog is part of a more complex site.
What matters most, of course, is what you do with your WordPress theme. Even the best products can only get you so far. Check out my guide on how to get your blog posts to rank in Google's top 10 search results.
Hope this helped. Happy blogging!
See How My Agency Can Drive Massive Amounts of Traffic to Your Website
SEO – unlock massive amounts of SEO traffic. See real results.
Content Marketing – our team creates epic content that will get shared, get links, and attract traffic.
Paid Media – effective paid strategies with clear ROI.
How to Accept Alipay Payments in WordPress (2 Easy Methods)
Are you wondering how to receive Alipay payments in WordPress?
Alipay is a digital wallet based in China with over 1 billion active users. Accepting Alipay payments on your WordPress site means you open the door to a broader audience, potentially increasing your sales.
In this article, we will explain how to accept Alipay payments in WordPress. That way, you can tap into a large market of users who prefer using this payment method.
Why Should You Accept Alipay Payments in WordPress?
Alipay is a payment app that allows users to send and receive money online. It is a dominant player in the Chinese market and is now gaining popularity in Singapore, Malaysia, Hong Kong, and across the world.
It's also not just used by international users. Many domestic dropshipping stores that buy products wholesale use Alipay as well. That's because Alipay is the primary payment method for Alibaba and AliExpress, which are two eCommerce giants.
Alipay is well on its way to serving over 2 billion customers worldwide, so adding it as a payment option will help you tap into a huge market and attract customers from regions where Alipay is popular.
That being said, let's dive into the 2 ways you can accept Alipay payments. You can use our links to jump to skip ahead to the method you prefer:
Method 1: Easily Collect Alipay Payments With WP Simple Pay (Recommended)
For this method, we will use WP Simple Pay, which is the best Stripe payment plugin on the market. With this plugin, you can accept payments without needing to set up any complicated APIs on your site.
WP Simple Pay integrates into Stripe's payment options, which allows businesses using Stripe to accept payments from customers who want to pay with Alipay.
The good news is you can use WP Simple Pay Lite since it can accept Alipay payments. Best of all, it's 100% free.
Note: You will need WP Simple Pay Pro for access to the Alipay payments form. With the free version, you can only create an Alipay payment button to add to your pages. Also, you won't be able to build on-site payment forms without the paid plan.
For most businesses, we recommend WP Simple Pay Pro. This paid version accepts 10+ payment methods and offers recurring payments, buy now, pay later plans, and an advanced form builder.
For this tutorial, we will be using the Pro plan so that we can build a payment form to accept Alipay payments. The process is the same with the free plan, but you will have access to fewer features.
Step 1: Install and Activate WP Simple Pay
To begin, you'll need to install and activate the WP Simple Pay plugin. If you need help, read our tutorial on how to install a WordPress plugin.
Upon activation, the plugin will automatically launch the WP Simple Pay setup wizard. You'll need to click on the 'Let's Get Started' button.
Step 2: Complete the Setup Wizard
You'll be taken to the next step in the process. From there, you'll have to create a new Stripe account or connect to an existing one. Click the 'Connect with Stripe' button to move to the next screen.
Assuming you already have a Stripe account, you can type in your email address and click the 'Continue' button.
It will integrate your Stripe data into your site. That way, all of the payments you receive will go to your Stripe account.
From here, you'll be prompted to select your Stripe account.
Then hit 'Connect.' Or you can choose to create a new account instead.
Step 3: Create a Form to Accept Alipay Payments
Once you've connected your Stripe account, you will need to create a payment form.
Go ahead and click the 'Create a Payment Form' button.
You will land on a template library where you can pick one from the many pre-built templates for your form.
Next, look for the 'Alipay Payment Form' and click on 'Use Template.'
As soon as you choose the template, you will be taken to an intuitive drag-and-drop builder.
You will also be prompted to configure the General settings. This is where you will customize the title, description, form type, and more.
There are also options to add a CAPTCHA and email verification button to prevent fake orders.
If you go to the 'Confirmation Page' tab, you can configure where you direct users when they complete the form.
By default, WP Simple Pay will show a custom success page when a customer makes a payment. But you can select 'Custom Page' if you'd like to show a different page hosted on your WordPress site. This is a great opportunity to send them to a thank you page and even upsell them on more products or services.
Or, if you prefer to redirect customers to an external page, you can select 'External URL.' You can also add a 'Payment Success Message' to thank customers and tell them what they can expect from you next.
After that, you need to go to the 'Payment' tab on the left.
This is where you will set the 'Default Price.'
And under the 'Payment Methods,' be sure to check off the box next to Alipay to begin accepting Alipay payments on your site.
You can also choose other payment methods, such as a Card or ACH direct deposit. If you have WP Simple Pay Pro, you will have full access to 13 payment methods, including Apple Pay, Google Pay, Afterpay, Klarna, Cashapp, and more.
Then, go to the 'Form Fields' tab on the left. Here, you can add or change any existing form fields.
All you need to do is hit the dropdown menu under 'Form Fields' and click 'Add Field.'
You have plenty of options to choose from, such as phone, address, coupon, and more.
Step 4: Publish Your Alipay Form
Once your form is ready to go, make sure to save your changes. Next up, you are ready to publish and embed your Alipay payments form on your site.
Go ahead and click the 'Publish' button on the right side.
Now, you will need to embed the form in your WordPress website. Just go to the post or page where you want to include your form. This could be a services page, a product page, or anywhere else.
On the top left corner, hit the '+' button.
Search for the WP Simple Pay block to add it to your page.
You'll see the block appear in the block editor.
In the dropdown menu, simply select the Alipay payment form you've just created.
You will see the form embedded into your page.
Finally, hit 'Publish' or 'Update.'
There you have it. Now you know how to easily collect Alipay payments on your WordPress site.
Don't forget to test the form to ensure payments are going through.
Here's an example of what the form should look like:
Method 2: Accept WooCommerce Alipay Payments With Stripe Payment Gateway Plugin
If you run a WooCommerce store, then you may want to use a payment plugin instead. While you can add a WP Simple Pay button or form to your product pages, it may not embed into the form as seamlessly.
With a WooCommerce plugin, Alipay will integrate smoothly into the payment page as a checkbox that customers can tick off during the checkout process.
Step 1: Install the WooCommerce Stripe Plugin
To get started, you will need to download the free WooCommerce Stripe plugin. This plugin will redirect users to the Alipay payment page, where they can log in and authorize the payment.
Go to the WooCommerce Stripe plugin page and click on 'Free Download.'
From here, you will be directed to the cart page.
Check that the order details are correct and hit 'Proceed to Checkout.'
You'll be taken to the checkout page. All you need to do is enter your name and email address.
After that, just click on the 'Pay $0.00' button.
You'll be directed to the thank you page.
Just click the 'Download' button so you can download the plugin files to your computer.
From here, all you need to do is install the WooCommerce Stripe plugin by uploading it to WordPress. If you need help, you can follow our step-by-step guide on how to install a WordPress plugin.
Step 2: Enable Alipay in WooCommerce
Upon activation, you need to head over to WooCommerce » Settings in your WordPress dashboard. Then go ahead and navigate to the 'Payments' tab.
If you scroll down the page, you will find 'Stripe Alipay' as a payment method.
Simply toggle on the button to enable Alipay for your WooCommerce site. Click on 'Save changes' at the bottom.
Then go ahead and click 'Finish set up' next to the Alipay option.
Step 3: Add Your Stripe Account
You will now be asked to integrate your Stripe account.
Just hit the 'Create or connect an account button' to add your Stripe account to WooCommerce.
All you have to do is choose your Stripe account and click 'Connect.'
If you don't have a Stripe account yet, then you can select 'Create a new account.'
Step 4: Activate Alipay
Now, your Stripe account is fully connected to your online store.
You will need to go back to the 'Payments' tab. Next to the 'Stripe Alipay' method, click on 'Manage.'
This is where you will be able to configure the Alipay settings, such as the name and description that appear on your checkout page.
Go ahead and click on the 'Activate in your Stripe Dashboard link.'
You will be directed to your Stripe account's payment method tab in the settings.
Scroll down to find 'Alipay,' and next to it, click on 'Request access.'
From here, a popup message will appear asking if you want to activate Alipay payments.
Simply hit the 'Continue' button to accept Alipay payments in your WooCommerce store.
After you've requested access, you need to wait for Stripe to approve your account. It should take about 1-2 business days before you can begin accepting Alipay payments.
When you are approved, you should receive an email from Stripe letting you know that Alipay has been activated for your Stripe account.
On top of that, you will want to go to your Stripe account's payment methods and make sure that it doesn't say 'Pending' next to Alipay.
Otherwise, you'll have to wait until Stripe approves your request.
Now, all you need to do is check that the Alipay method appears at checkout for your customers.
Go to any product page and go through the checkout progress. Under the order summary, you should see an option for customers to pay with Alipay.
When the customer places an order, they should be sent directly to the Alipay login page. That is where they can log in to their Alipay account and finalize their payment.
Then, the money goes straight into your Stripe account through the integration.
There you have it! Now, you are ready to accept Alipay payments in your WooCommerce store.
We also recommend adding other WooCommerce payment gateways, such as PayPal and Square, to give customers more options to choose from.
We hope this article helped you learn how to accept Alipay payments in WordPress. You may also want to see our guide on how to easily accept credit card payments in WordPress and our picks for the must-have WordPress plugins and tools for business sites.
If you liked this article, then please subscribe to our YouTube Channel for WordPress video tutorials. You can also find us on Twitter and Facebook.
10 Best WordPress Translation Plugins For Global Traffic & Reach in 2023
Looking for the best WordPress translation plugins?
WordPress is the go-to choice for site owners across the globe. As of now, the CMS powers an impressive 810 million websites.
However, not all those sites cater to an English-speaking audience. And that's why adding a WordPress translation plugin to your site can be extremely valuable.
The best WordPress translation plugins seamlessly translate your content for a global audience. Plus, they boast many other features that help drive engagement and conversions for your business.
Let's take a look at the best plugins out there, including their key features and price plans:
10 Best WordPress Translation Plugins For Multilingual Websites
It's not uncommon for WordPress websites to be restricted to just English. But this seemingly minor mistake can deprive you of millions of visitors and customers from non-native English-speaking regions around the world.
According to a study, 9 out of 10 users prefer visiting a website in their own language. Fortunately, tons of WordPress plugins in the market can turn your website into a multilingual hub within a few clicks.
Let's take a look at the 10 best translation plugins for WordPress below:
1. GTranslate: Best Overall
If you're running a WordPress site and must go multilingual, GTranslate is your tool. Developed by Translate AI Multilingual Solutions, it leverages Google Translate to cover nearly 103 languages. This means your site can reach over 99% of internet users.
The plugin is affordable and user-friendly and offers automatic and human translations. You get features like machine translation and compatibility with WooCommerce.
GTranslate even handles languages left and right, offering various styles for its language selector.
For SEO, the paid version packs a big punch. It works with Yoast for meta translations and supports URL translation. You can manually tweak translations and access advanced features like image localization and AMP translation. This makes GTranslate an essential tool for sites looking to drive global audience engagement.
Key Features
Automatic switching to visitors' browser language
Translate non-AMP, AMP, and Schema
Translations for subdirectory and subdomain structures
Google Analytics integration
Pricing
GTranslate offers a free plan that provides machine translation for all languages. Paid plans start at $9.99/month and includes features like front-end editing and search engine indexing for translated pages.
---
2. Weglot: Easiest To USe
Weglot tackles two major issues with typical WordPress plugins:
Server space
And manual management
Instead of duplicating your site in multiple languages, Weglot saves server space by automatically translating all content, including media, and saving them on their own CDN. This means you avoid maintaining multiple versions of your site while retaining loading speeds.
The plugin also offers versatile translation options. It uses services like Google, Yandex, and DeepL for quick results. You have the choice to enter translations for specific languages manually. Weglot also allows integration with human translators for super-accurate results.
However, probably the greatest feature of Weglot is its customizable glossary that keeps distinct terms, such as your brand name, consistent across all languages.
Key Features
Automatic translation and content detection
Clean source code for all translated web pages
Dedicated URLs and subdomains
Integrates with Shopify and other platforms
Pricing
Weglot's free plan lets you translate up to 2,000 words in 1 extra language. Paid plans start at $16.50 per month and offer higher word limits and additional languages.
---
3. WPML: Total Translation Solution
WPML is a top choice for translating WordPress sites. It lets you translate your site and themes, plugins, and more.
With a handy translation management system, setting up translator roles and linking translators to specific languages is a breeze.
WPML gives you three ways to translate: manually, by professional translators, or through machine translation services like Google. It can connect your site to third-party translation services, too.
Plus, WPML offers different URL options for SEO-friendly websites.
The only downside is that it only supports around 40 languages, less than some other paid plugins.
Key Features
Import multilingual content to WordPress in a click
Option to manually add unsupported languages (or choose from variants)
Advanced custom fields
Compatible with Gravity Forms, WooCommerce, and more
Pricing
WPML only comes with the following paid plans:
Blog: $43 per year with no credits
CMS: $109 per year with 90,000 auto translation credits
Agency: $218 per year with 180,000 auto translation credits
---
4. Google Website Translator
Prisna's Google Website Translator plugin is free and designed to create multilingual websites easy. It brings Google Translate to WordPress and can convert your content into more than 100 languages. The plugin is user-friendly, and its lightweight nature ensures your site's speed remains fast.
To use GWT, you only need to paste a shortcode in that part of your website. This means no extra files from other platforms are needed. The plugin also handles the translation work automatically, giving you more time to manage other aspects of your business.
Key Features
Import/export configurations and settings for different sites
Setup support during the initial phase
Open-source software
Pricing
Prisna Google Website Translator is completely free to install and use.
If you're suffering from sluggish loading speeds, check out our guide on Why Is My WordPress Website Loading So Slow? 6 Ways To Boost Your Site Speed.
---
5. TranslatePress
TranslatePress offers a unique approach to website translation in WordPress. Unlike other plugins, it doesn't confine you to the backend for translation tasks. Instead, it provides a real-time view of your translations, functioning similarly to a page-builder. This ensures your site maintains its look and feel across different languages.
TranslatePress grants detailed control over translations, letting you decide which website elements are translated manually or automatically. A key feature is that many of these capabilities, including this level of control, are available in the free version. The paid upgrades offer additional benefits like access to add-ons, extensions, and more sophisticated features.
Key Features
Translate WordPress pages visually from the front end
Google Translate and DeepL support
130+ languages and customizable language switcher
SEO support for page slug, URL, and more
Pricing
TranslatePress has a free plan with support for 2 languages. You can get their Personal plan for $8.80/month and Business plan for $15.40/month to avail automatic translation and multiple accounts.
---
6. Loco Translate
Loco Translate—ideal for WordPress developers—is a freemium plugin. Its interface is clean and straightforward, making translation tasks super convenient. This plugin excels in syncing with top translation APIs like DeepL and Google, allowing more accurate and effective results.
While Loco Translate excels in translating themes and plugins within the WordPress admin, there's something to note. When these themes or plugins update, you must manually refresh the translations. It doesn't automatically update them, requiring a hands-on approach to keep translations fresh.
Key Features
Update language files from themes directly
Extract translatable strings from the source code
Integration with various translation APIs
Native MO file compilation
Pricing
Loco Translate is free for up to 2,000 translations. Once you exceed this limit, you need to sign up for one of its premium plans—Pro starts at $5.95 per month and Business starts at $19.95 per month.
---
7. Polylang Pro
Polylang Pro transforms your WordPress site into a multilingual hub. It translates posts, menus, categories, and even widgets. You can add as many languages as you like—the plugin will automatically organize them into subdirectories and SEO-friendly URLs for better distinction.
Polylang Pro also lets you add a language switcher in the menu or as a widget. This lets visitors pick their preferred language in an instant.
The plugin also integrates with WooCommerce, allowing site owners to translate their shop page, checkout page, and even e-mails in various languages. Polylang also pairs well with Yoast SEO and auto-translates meta descriptions to boost international SEO rankings.
Key Features
WordPress language packs
RTL scripts support
Customizable language switcher
SEO tools compatibility
Pricing
Polylang offers a free version with limited features. They offer the following paid plans:
Polylang Pro: $108.50 per year for 1 website
Polylang for WooCommerce: $108.50 per year for 1 website
Polylang Business: $153.30 per year for 1 website (for both website and WooCommerce translation)
---
8. Lokalise
Lokalise is a simplified, AI-powered translation tool for big teams. Unlike other plugins, Lokalise offers a built-in dashboard to assign translation tasks and keep track of their progress in one shared space.
You get machine translations for cost efficiency and can tap into professional language vendors as needed. This centralized approach ensures complete visibility and context for managing translations.
Moreover, with over 50 integrations, Lokalise effortlessly fuses into your existing workflows. Their built-in tools, such as translation memory, enable teams to create a glossary of commonly used phrases and increase efficiency. These compatibilities and integrations pave the way for optimal automation, making Lokalise a go-to for cohesive and streamlined translation management.
Key Features
Advanced translation workflows
Translate both new and updated strings
WordPress content export
Automated QA checks
Pricing
Lokalise doesn't have a free plan. Paid plans come with a complimentary 14-day free trial and start at the following prices:
Start: $120 per month
Essential: $230 per month
Pro: $825 per month
---
9. Multilingual Press
Multilingual Press prides itself in being the best multi-site WordPress translation plugin. It lets you set up and run up to 174 languages on their own unique site.
With its language switcher widget, visitors can easily choose their preferred language. Instead of loading multiple languages in the background, Multilingual Press only displays the site your visitor wants, saving crucial loading time.
What sets Multilingual Press apart is its no lock-in feature. Meaning that even if you turn off the plugin, your translated sites keep working with zero data loss.
The plugin also gives an SEO boost to your site, generating search engine-friendly URLs and offering automatic hreflang support. This approach helps improve your website's global rankings on multilingual SERPs.
Note: The latest version of Multilingual WordPress has Advanced Custom Fields and page builder functionality.
Key Features
User-friendly cache system
WP Auto Translate compatibility
Quick links support
Automatic language redirection
Pricing
Multilingual Press is free to download. However, using its advanced subscription requires one of the following paid plans:
Standard: $99 per year (1 website + 3 languages)
Pro: $299 per year (3 websites + 6 languages)
Agency: $599 per year (9 websites + 18 languages)
---
10. Babble
Babble is a free open-source WordPress multilingual plugin backed by a strong community. It's designed to be compatible with all core functions of WordPress and can be activated within a couple of minutes. All you need to do is install a language pack, enable Babble, and start translating. 
The plugin offers two versions of the WordPress visual editor: the original content and a version for translators.
This setup speeds up the translation process by a huge margin. Babble is backed by an active open-source community on GitHub. And since it's built on WordPress's core architecture, it can generate pages up to 20% faster and with 40% fewer queries than some premium plugins.
Key Features
Support all types of scripts and directions
Translate any existing page or post
Customizable language switcher
Optimized user interface
Pricing
Babble is completely free to install and use.
---
How To Choose The Best WordPress Translation Plugin
Choosing the best WordPress translation plugin involves several key factors to ensure it meets your specific needs. Here is a list of criteria you should consider:
Language support: Remember to check how many languages the plugin supports. More languages mean your site can reach a wider audience. Ensure the plugin supports the native language of at least the top 10 countries from where you get the most traffic.
Translation quality: Consider whether the plugin uses artificial intelligence, humans, or both for translating content. For websites that contain technical information or terms, it's always better to have the option for human input and a customizable glossary.
Compatibility: Ensure the plugin works well with your WordPress theme and other plugins, like WooCommerce or Shopify. A plugin that interferes with existing ones can lead to errors and slow loading speeds. 
Ease of use: Look for a plugin that's easy to use. If you have a team of translators, make sure it has a management dashboard and the option to add multiple team members. Using a plugin that features a language switcher can also benefit your site's user-friendliness.
SEO features: Choose a plugin that helps with multilingual SEO, like creating SEO-friendly URLs or subdomains. Some advanced plugins can automatically translate meta descriptions, making your website even more appealing on non-English search engines. 
Performance: Select a lightweight plugin that won't slow down your site. Avoid plugins that bombard your visitors with HTTP requests or lack caching. To check how a translation plugin affects speed, test your site's loading time before and after activating the plugin on GTMetrix or PageSpeed Insights.
Pricing: Balance the cost with the features you need. Some free plugins offer basic features, while paid ones might offer more.
Final Verdict On The Best WordPress Translation Plugins
There you have it—the top 10 translation plugins for WordPress. People around the globe use different languages and dialects, and excluding them from your website can be inconsiderate and bad for your site's traffic and conversion. 
Installing a WordPress translation plugin like GTranslate opens doorways to new audiences, making your site not just a webpage but a global meeting place. Start today and make your WordPress website a home for everyone, no matter their language.
To upgrade your site and offer a more immersive user experience, check out our article on the 17 Best WordPress Plugins You'll Want To Install.
Or, if you want to revamp your website's appearance and boost rankings, explore our list of 31 Best WordPress Themes For SEO.
The Best Deals of the Year on Websites and Domains  – WordPress.com News
Black Friday 2023 deals have arrived for WordPress.com.
The best Black Friday deal isn't a disposable gadget or a trendy clothing item. Instead, consider something that will help you grow and will grow along with you. Your website isn't just about your online presence—it's the foundation for everything you hope to achieve.
From today through Cyber Monday (November 27), we're offering unbeatable deals on website plans and domains.
Save up to 50% on websites  
For a limited time, both our monthly and annual website plans are on sale:
50% off monthly plans 
Get half off the first month of any monthly plan when you use the code bf23monthly at checkout. 
25% off annual plans 
Get 25% off the entire year when you purchase any 1-year plan. Use the code bf23annual at checkout. 
Redeeming your discount is simple 
Three simple steps for taking advantage of this Black Friday discount: 
Choose "Monthly" or "Annual" at the top of the page
Pick your plan
At the checkout page, click "Add a coupon code" 
Here's what you get with all paid plans
Stunning design options: dive into a sea of themes and find the perfect one. 
Monetization tools: set up payments and donations in a flash. 
Expert support: our dedicated team is here, anytime you need.
150+ premium domain extensions up to 90% off 
With over 150 domain extensions on sale, you have unlimited opportunities to express yourself or memorably brand your business. With some domains starting at under $1 for the first year, owning your identity online won't break the bank. 
Visit wordpress.com/domains to start exploring. 
The most popular domains—.com, .net, and .org—are always available for just $12 per year. 
---
These deals are valid for new website and domain purchases only (no renewals or upgrades). The offers are good through the end of the day Monday, November 27, wherever you are in the world. 
---
Join 103.4M other subscribers