Google Workspace vs. Microsoft 365: What's the best office suite for business?
Once upon a time, Microsoft Office ruled the business world. By the late '90s and early 2000s, Microsoft's office suite had brushed aside rivals such as WordPerfect Office and Lotus SmartSuite, and there was no competition on the horizon.
Then in 2006 Google came along with Google Docs & Spreadsheets, a collaborative online word processing and spreadsheet duo that was combined with other business services to form the Google Apps suite, later rebranded as G Suite, and now as Google Workspace. Although Google's productivity suite didn't immediately take the business world by storm, over time it has gained both in features and in popularity, boasting 6 million paying customers, according to Google's most recent public stats in March 2020.
Microsoft, meanwhile, has shifted its emphasis away from its traditional licensed Office software to Microsoft 365 (formerly Office 365), a subscription-based version that's treated more like a service, with frequent updates and new features. Microsoft 365 is what we've focused on in this story.
Nowadays, choosing an office suite isn't as simple as it once was. We're here to help.
Google Workspace vs. Microsoft 365
Google Workspace and Microsoft 365 have much in common. Both are subscription-based, charging businesses per-person fees every month, in varying tiers, depending on the capabilities their customers are looking for. Although Google Workspace is web-based, it has the capability to work offline as well. And while Microsoft 365 is based on installed desktop software, it also provides (less powerful) web-based versions of its applications.
Both suites work well with a range of devices. Because it's web-based, Google Workspace works in most browsers on any operating system, and Google also offers mobile apps for Android and iOS. Microsoft provides Office client apps for Windows, macOS, iOS, and Android, and its web-based apps work across browsers.
Google Introduces Cloud Backup and Disaster Recovery
Google recently introduced Cloud Backup and Disaster Recovery (DR), allowing customers to enable centralized backup management directly from the Google Cloud console. The new backup and recovery service is designed to work with cloud storage repositories, databases, and applications.
With Google Cloud Backup and DR, administrators can effectively manage backups spanning multiple workloads. Moreover, they can generate application- and crash-consistent backups for VMs on Compute Engine, VMware Engine, or on-premises VMware, databases (such as SAP, MySQL, and SQL Server), and file systems. And the service on the Google Cloud platform provides a holistic view of backups across multiple workloads.
Google Cloud Backup and DR store the backup data in its original, application-readable format, which allows backup data for many workloads to be directly available from long-term backup storage (using, for example, cost-effective Cloud Storage). In addition, it supports the so-called space-efficient "incremental forever" storage technology, ensuring customers only pay for what they need.
Jaswant Chajed, and Jerome McFarland, both product managers at Google Cloud, explain in the blog post on Google Cloud Backup and DR:
With "incremental forever" backup, after Google Cloud Backup and DR takes an initial backup, subsequent backups only store data associated with changes relative to the prior backup – allowing backups to be captured more quickly and reducing the network bandwidth required to transmit the associated data. It also minimizes the amount of storage consumed by the backups, which benefits you via reduced storage consumption costs.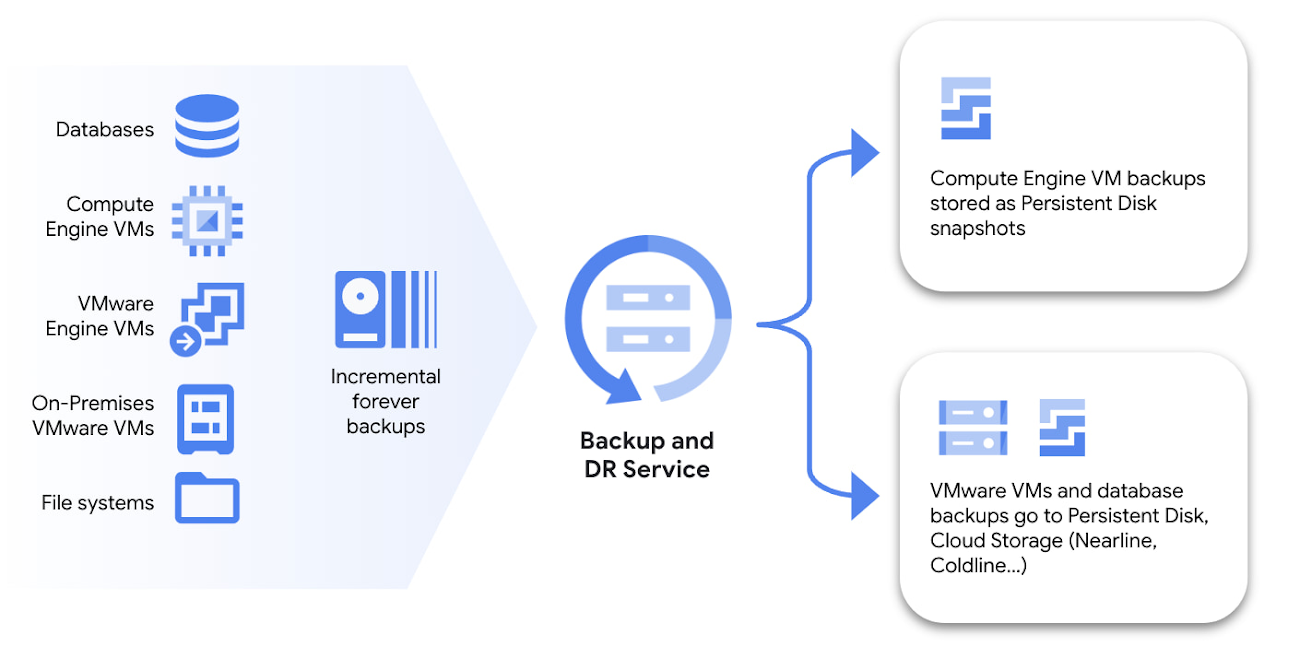 Users of Google Backup and DR also can choose where to store the backups on Google Cloud Storage through the various Cloud Storage classes.
Other public cloud vendors like Microsoft offer backup and disaster recovery services. Azure offers an end-to-end backup and disaster recovery solution similar to Google's Backup and DR, which is secure, scalable, and cost-effective—and can be integrated with on-premises data protection solutions. Yet it's not a single centralized service.
Richard Seroter, director of outbound product management, tweeted on the new backup and recovery service:
In addition, Antonio Gulli, a director of engineering at Google, tweeted:
More details of the new backup and recovery service are available on the documentation website, and pricing details are on the pricing page.