How to Create Ultimate Guides to Drive Leads, Traffic, and Conversions
Ultimate guides are everywhere. You've probably read your fair share, and maybe you've even written a couple.
They can be a great way to get traffic, build links, and increase your authority, but they're far from easy to create. The issue most people run into is the sheer amount of content out there nowadays. How do you create an ultimate guide if there are already tons of posts on your chosen subject?
In this post, we'll look at the steps to creating the ultimate guide on just about anything.
What Is an Ultimate Guide?
What turns a lengthy blog post into an ultimate guide? Well, there are a few things that almost every in-depth guide has in common:
It goes very deep into a pretty broad topic.
It contains several chapters that look at the topic from a variety of angles.
An industry expert or researcher writes it.
Apart from that, what you put in your ultimate guide and how you design it is up to you.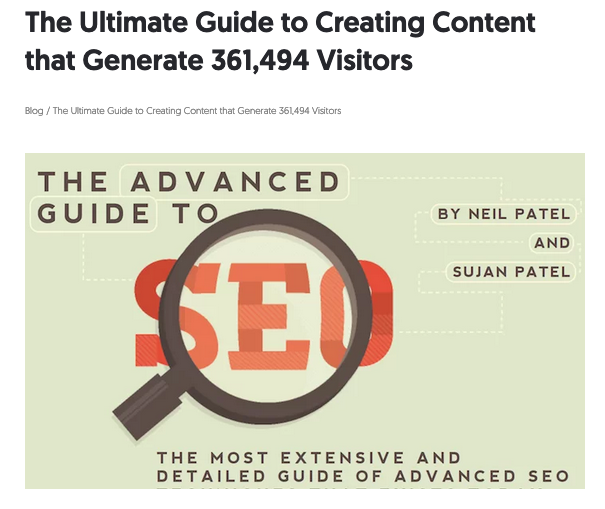 Why You Should Create an Ultimate Guide
If you didn't know how powerful ultimate guides are already, here's why you should start creating them right now.
Rank for Many Keywords
The length, depth, and authority that go into ultimate guides make them a fantastic weapon in your SEO arsenal. The fact that they are so detailed means they should rank for a huge number of keywords. Including internal links to your other blog posts boosts their rankings, too.
Get Backlinks
A big, in-depth resource like an ultimate guide can be a fantastic source of links. Not only can you use it to go out there and request a backlink as part of your link-building process, but other sites naturally start linking to an authoritative resource, too. So much so that your ultimate guide can continue to attract links for years to come.
Build Your Authority
There are few pieces of marketing collateral better at positioning your brand as an authority in your industry than an ultimate guide. This is your opportunity to showcase how much you know about your subject to the world and go above and beyond what has previously been written about your topic.
How to Pick Topics for Your Ultimate Guide
Picking a topic can be a huge stumbling block for many aspiring writers. Don't get bogged down overthinking it, though. Here's how you can find the perfect topic quickly.
Choose a Topic You Know About
This first point is obvious, but it needs to be said. You need to know your topic inside and out if you want to write an excellent guide. That doesn't mean you can't use a freelance writer to help you out, but you should give them a thorough brief and create the outline of the guide yourself.
Choose a Topic With High Search Traffic
Not every guide needs to be written with the express purpose of ranking in Google, but it can seriously help drive traffic and generate customers. That's why I recommend you enter your topic ideas into a tool like Ubersuggest to see the keyword volumes of the main topic and the volumes of every other related keyword.
Don't just pick the topic that has the main keyword with the highest search volume, however. You may find another topic has so many more related keywords that it could actually generate more traffic overall.
Choose a Topic That's Trending
Ultimate guides are successful when they're written about trending topics. When people are excited about a topic, they want to consume all the information they can find about it. Your guide should be a part of that, too.
That's not the only reason you want to focus on what's trending, though. The newer your post is, the better it might do in search results if someone is searching by posts made within the last week, month, and so on.
How to Create an Ultimate Guide
With your topic picked, it's time to get to work creating your guide. Here's how I recommend you go about it.
1. Consume as Much Content as You Can
Even if you're an expert in your field, you'll still want to read blog posts on your topic before you start writing. Doing so will help you understand the level of content currently out there, the common threads writers pull, and the things you need to mention.
Pay attention to the results that Google serves up, too. You'll find that specific formats are more popular than others, and you'll want to try to mirror these when it comes to writing your content.
2. Identify What's Missing
While you're reading other people's content, make a note of everything that's missing from the posts. If you're writing a how-to post, be sure to go through the steps yourself after reading posts by others.
Then, jot down things you notice during the process that others might have missed or not explained thoroughly. It also might help to sit down with someone who is unfamiliar with your topic and see what questions they come up with.
3. Do Research
You can write an ultimate guide off the back of your expertise alone—but you can make it stand head and shoulders above everyone else's content if you conduct your research.
For some, this is a case of canvassing their colleagues and contacts for their opinion on a certain topic. Others might want to commit to more detailed research and partner with a market research company that'll carry out a study on their behalf.
The more effort you put into the research, the more valuable and link-worthy your ultimate guide will become.
4. Put It All Together
To create your ultimate guide, simply combine the basics plus the additional details you found were missing from other posts and your research. This way, people coming across your guide as the first piece of content they have read about a topic will get all of the basic information, and people who have read many other guides will be wowed by all of the missing pieces that you included.
5. Promote, Promote, Promote
An ultimate guide is no good if no one reads it. Considering the amount of time and energy you have spent on your ultimate guide, you owe it to yourself and your readers to promote it well. Do so by:
Sharing it on all of your social networks: Twitter, Facebook, and LinkedIn are the best. Promote it on your personal and business accounts, if possible.
Sharing it in groups on social networks: LinkedIn, for example, has some great groups on particular topics. Facebook has some as well, although many are full of spammers who are just there for their promotions. This will expand your guide's exposure from just your network to all of the members of the groups you select.
Emailing your list: If you have a mailing list, let them know about your latest and greatest piece of content.
Repurposing your content: If you can turn your ultimate guide into an infographic, video, slide presentation, or PDF document, you can spread it on even more networks.
4 Tips to Create an Awesome Ultimate Guide
If you want to take your ultimate guide to the next level, bear in mind these four tips when writing.
Write Clearly and Format Appropriately
You don't have to be Hemingway to write a great ultimate guide, but take a lesson from Ernest regarding clarity. Short, clear, punchy sentences win out here, especially when writing thousands of words on your topic. Long, convoluted paragraphs may help you get your message across, but they'll only cause the reader's mind to wander.
Formatting will also help in this regard. Clearly labeled titles and subheadings will make your guide much more digestible. Short paragraphs will, too. Don't forget that most of your audience will be reading your advice on a screen, so consider how they might skim it for the information they're looking for.
Include Images and Screenshots
One thing I sometimes find missing from other ultimate guides is good screenshots. Take yours using your account of the topic as opposed to generic stock photos. This will make it easier for others to follow along and visualize the process.
Use Real-Life Examples
Once you have the basics and missing pieces down for your ultimate guide, look for some good examples of your tips in action. If you're talking about creating great timeline cover photos, then include some examples from pages in different industries.
If you're talking about using Pinterest to drive traffic, then link to top Pinterest users who are doing things right. Think about your target audience and find examples that they can easily relate to so they feel they must follow your advice to be successful.
Don't Break Up Your Hard Work
There is a lot of advice out there suggesting you should take long posts and break them up into a series, so you can get people to come back to your website over and over again. However, I find that if someone hits a piece of content that says 101 Tips on ___, and the post only includes steps 1–20 with the promise of more to come, they move on to find everything they're looking for elsewhere.
People want to consume information now, not wait for it. When they read the words ultimate guide, they're going to expect to get everything in one chunk, so unless you are planning to write 5,000+ words on a topic, keep it in one piece.
Examples of Great Ultimate Guides
There are a lot of great ultimate guides out there, but here are some of my all-time favorites.
The Ultimate Guide to Startup Marketing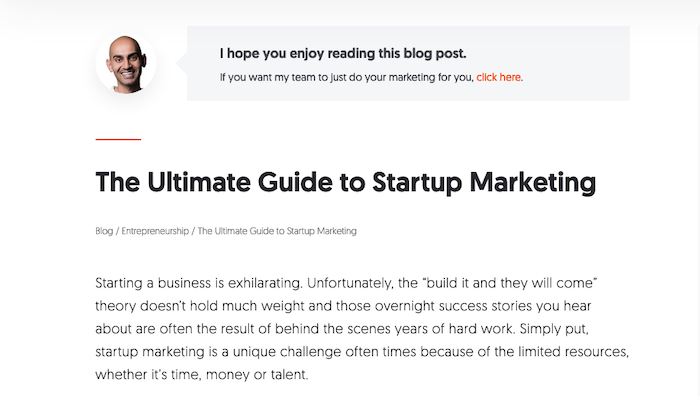 If you're looking to grow your startup, I'm pretty sure you'll get a huge amount of value out of my ultimate guide on the topic.
How to Design a Logo: The Ultimate Guide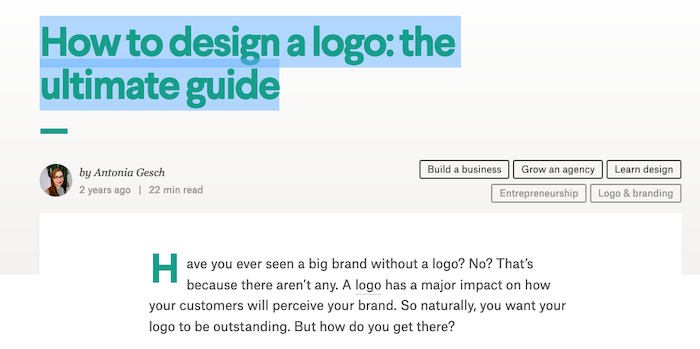 With 12 chapters and virtually every angle covered, there's no reason to read another guide before creating your logo.
The Ultimate Guide to Cart Abandonment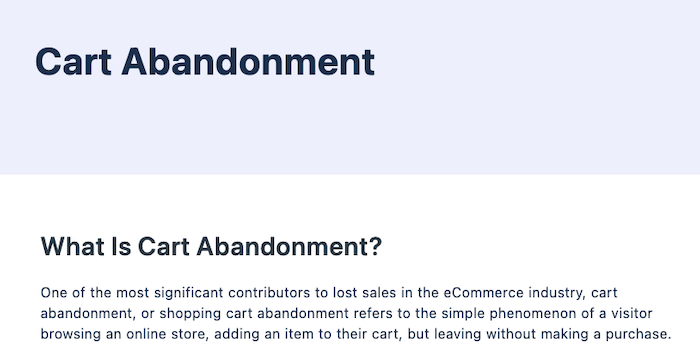 If you've ever wondered why shoppers are leaving your website at checkout, this mammoth guide by VWO will answer all your questions.
The Ultimate Guide to Writing & Illustrating Your First Children's Book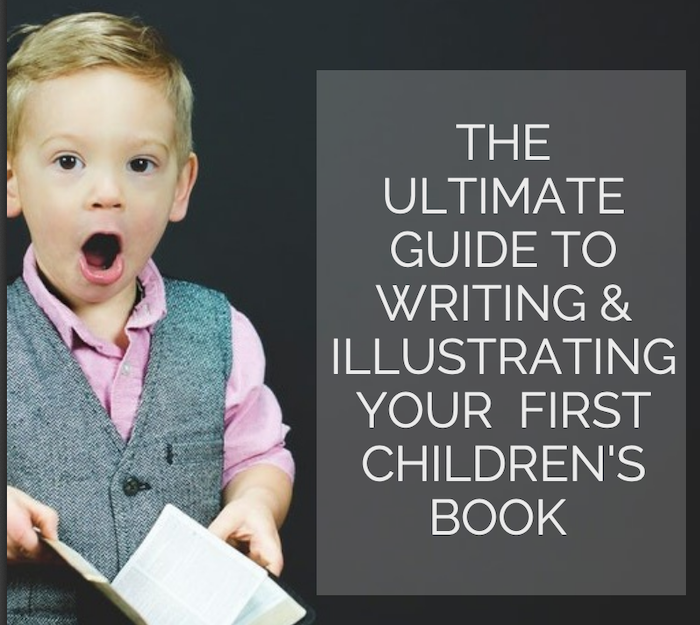 Ultimate guides don't have to be about marketing, as this guide by Eevi Jones proves.
How to Pick a Career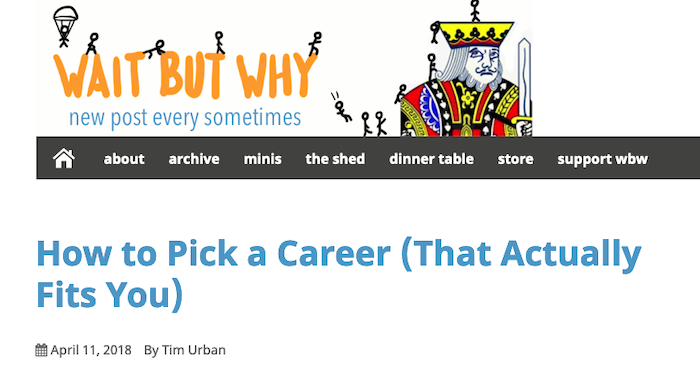 While Tim Urban hasn't called this an ultimate guide, you're unlikely to find a more thoughtful or detailed blog post on picking a career anywhere online.
Further Resources on Ultimate Guides
This blog post isn't exhaustive by any means. If you want to dive deep into creating high-quality long-form content, then check out these five resources:
How to Create Specs for an Ultimate Guide
You don't have to write your ultimate guide yourself. If you're hiring a freelance writer to write your guide for you, here's how you can create a spec they can follow with ease.
Give an overview.

A top-level overview can help a writer quickly get to grips with the topic and goals of the ultimate guide.

Create a clear structure.

Take the initiative and write an outline that includes all of the major points you want the writer to talk about. This makes sure all of the gaps you identified in other pieces of content get covered.

Include keyword research.

If improved rankings are one of your main goals, then highlight the keywords you're aiming to rank for.

Note or record your expertise.

Where appropriate, make notes for the writer to help guide them. Alternatively, you can record yourself talking about the topic.

Provide additional resources.

Highlight a handful of top-quality resources your writer can turn to for inspiration.

Set a deadline

Expect an ultimate guide to take a fair bit longer to write than a standard blog post.
Ultimate Guide Frequently Asked Questions
How long should my ultimate guide be?
There isn't a defined length for an ultimate guide, but most are at least 3,000 words in length.
How do I distribute my ultimate guide to my target audience?
You can use social media and email to get your ultimate guide in front of your target audience.
Should I create more than one ultimate guide for my website?
Absolutely. Ultimate guides offer a lot of value in terms of SEO and building your authority, so you should write as many as you can.
At what part of the funnel are ultimate guides most useful?
Ultimate guides can be used at any part of your funnel, but they'll be most useful towards the top. They are great at attracting users into your funnel and converting them to email subscribers.
How to Create Ultimate Guides Conclusion
Ultimate guides are an incredibly valuable marketing resource. I've used them to generate huge levels of traffic, build my reputation as an authority in the industry, and improve my site's SEO.
Follow the advice I've given above, and you'll be on your way to achieving your content goals while sharing valuable insights about your chosen topic.
Have you created an ultimate guide on your website or blog? What other tips would you add to making your ultimate guide a success?
See How My Agency Can Drive Massive Amounts of Traffic to Your Website
SEO – unlock massive amounts of SEO traffic. See real results.
Content Marketing – our team creates epic content that will get shared, get links, and attract traffic.
Paid Media – effective paid strategies with clear ROI.
Is a Marketing Degree Worth it in 2023?
If you're thinking about getting a degree at any age, it makes sense to think about the value of that degree. Is the qualification needed for the career you want? Are there alternative paths to that career? Can you develop better skills by gaining experience in work? 
All of these are perfectly valid questions. After all, getting a degree requires a pretty large investment of both time and money. You want to know that you'll get enough return on that investment to make it worthwhile.
Why marketing?
When it comes to marketing, a lot of entry-level jobs list a bachelor's degree as a requirement. That doesn't mean there aren't alternate ways to get into marketing but having a relevant degree certainly makes your resume more competitive. 
Growth industry
Marketing skills are in demand in the current jobs market. According to a recent report from LinkedIn, marketing job posts grew 63% in just six months last year. Half of those jobs were in the digital and media sectors, meaning digital and content marketing skills are highly valued. 
Personal Development & Career Path
The reason for this increased demand for marketers is tied to the rise in digital marketing. New methods of marketing have continued to develop out of the digital sector. This means that marketers capable of creating engaging content or managing social media accounts are needed.
This leaves a lot of room for personal development. Young graduates who are well-versed in social media and community management can hit the ground running in digital marketing. Getting on this path early can lead to content strategist and marketing management positions.    
What are the Types of Marketing Degrees?
When we say marketing degree, the term is a bit too general. There are a lot of degree paths that focus on marketing in major or minor ways. The level of degree available will depend on your current education history, but the specific course will be down to your personal choice. 
Associate, Bachelor's, or Master's?
Recent statistics suggest that 74% of US marketing professionals hold a bachelor's degree. 9% have an associate degree and 8% have a master's degree. Here's a quick overview of the differences. 
Associate degrees – 2-year courses that cover marketing and business in a more basic way than bachelor's qualifications. They're designed to give students the basic skills needed to apply for entry-level marketing jobs.   
Bachelor's degrees – 3/4-year courses that cover business and economics. There is a range of bachelor's courses with marketing at their core, but you'll also cover wider business topics like management, communication, and administration. 
Master's degrees – 2-year courses, usually only available if you've already completed a bachelor's degree. MA or MBA courses are designed to develop a deep understanding of complex business topics. They are highly specific, covering areas like strategic marketing or marketing analytics. 
Free to use image from Pixabay
Marketing Specific or Business General? 
This is down to personal choice. There are general business degrees that will cover marketing as a module as well as marketing-specific degrees. There are also multiple universities and colleges, both offline and online, offering different course platforms. 
If you're looking at a specific job role or career path, then research which type of degree is most relevant. Remember that you will need to add to your marketing skills if you intend to progress to management roles in the future. 
Check the Modules & Curriculum
This is important, and not only because it lets you see which courses align with your career goals. Marketing has changed significantly over the last decade, even more so if you go back to before the digital age. Many business courses are still behind on current marketing trends. 
What Jobs Look for a Marketing Degree?
Once you've got your marketing qualification, what jobs should you be looking for? Here are some job titles and areas you should watch out for, and what qualifications you'll need for them.
Entry level
If you're starting with a degree and no experience, or work experience but no degree, take a look at these roles. 
Sales/customer service roles – These are adjacent roles to marketing where most companies do not ask for prior qualifications. If you don't have a degree, this is a good place to start.
Marketing or public relations intern – Another possibility if you don't have a degree, or you're still in education. 
Digital/content marketing associate – These roles will almost always require an associate's or bachelor's degree. A good grasp of new digital and social marketing techniques will be required to succeed. 
Copywriter/Bid writer – This is a good route into marketing for those with journalism or literature qualifications. These roles combine aspects of marketing, creative writing, and persuasive writing. 
SEO specialist – A more focused form of marketing centered on SEO content optimization. If you know how to optimize a blog post for search engine rankings, this role is for you. Bachelor's or associate qualifications will be a minimum requirement. 
Social media/community manager – Since these are relatively new roles, we tend to see a mix of degree-qualified marketers and people who've had success fostering communities or online brands but don't have on-paper credentials.  
Free to use image from Unsplash
Career Progression
If you have an MA or MBA, or significant experience in one of the above roles, then you can look at these more advanced roles for your career progression.
Digital Marketing Manager – A role for experienced marketers that involves running campaigns and coordinating marketing associates. 
Senior Marketing Coordinator – A department management level role. Responsible for overall marketing strategy and departmental performance.  
Content Strategist – A specialist role that focuses on content strategy. Designing content plans based on demographic and keyword research are a core aspect of this role. 
Marketing Analyst – This role involves analyzing customer behaviors and market trends. If you want to move into analysis from a more direct marketing role, you'll likely need specific data analysis qualifications. 
Public Relations Specialist – The public voice of a large organization's PR team. Managing a brand's public perception and setting brand-level communication policies like tone of voice.   
Experiential Marketing Specialist – This area of marketing is focused on optimizing the customer experience. Experiential specialists have a deep understanding of customer psychology and behaviors. 
Corporate Communications Manager – Communications managers are responsible for company-wide communications policies. This is an executive-level role that a marketing coordinator or public relations manager might move up to. 
Average marketing salaries
Across all the roles we've discussed above, salaries vary widely. For those entry-level roles, you could be looking at anything from $25 – $40K depending on the role and your experience. 
When it comes to median earnings for marketers with a bachelor's or master's degree, we can get a bit more specific. Recent statistics from Zippia show us that $69,993 p/a is the average for bachelor's degree holders and $80,365 p/a for master's degree marketers. 
Image sourced from Zippia.com
Marketing Degree Pros and Cons
So, the question we asked above was "Is a marketing degree worth it?" Yet, in truth, it's not a simple yes or no answer. The question you need to ask is "Is a marketing degree right for me?" Here's a summary of the pros and cons that might give you some answers.  
Pros
Degree holders have better job prospects and higher earnings potential in marketing
You can study highly specific skills with the right courses
Gain soft skills like communication and collaboration
Cons
High time and money investment required 
Diminishing salary returns at higher levels
Can be a restrictive environment for self-starters and entrepreneurs
What are Marketing Degree Alternatives?
If you want to stick with education but don't want to invest four years into a degree, then accredited online courses can provide an alternative. This can be your best choice if you wish to upskill in a specific area like running conference calls from Canada. 
If higher education really isn't your thing, the other option is gaining experience. Some businesses prefer internships and training programs for entry-level roles. This allows them to train marketers "their way" rather than re-training someone with more experience.  
Free to use image from Unsplash
How to Decide if a Marketing Degree is Right for You
Ultimately, choosing to do a marketing degree depends on your goals, your preferences, and your talents. Consider all three factors before making your choice. 
Career Goals
Do you want a management position that needs marketing knowledge? What areas of marketing interest you? What skills do you already possess? Answering these three questions will help you define your career path. That will narrow down your course choices. 
If you want to get better at selling small business phone systems in Vancouver, you don't need a four-year course for that. If you want to develop into high-level marketing roles, then you want that degree. 
Personality
You don't need a specific personality type to work in marketing. Your personality and interests might determine what area of marketing would suit you best though. For example, if you're outgoing and creative then public relations or social media management might be for you.    
Investment & Return
Money isn't everything. But, if you're going to put the resources into getting a degree, you want to know that you'll get some return on your investment. From the figures we quoted above, it seems the "optimal" qualification in terms of salary return vs. time and money investment is a bachelor's degree. 
Average earnings for marketers with a master's qualification were only $10k higher. This suggests that you're not really getting a significant financial return for the additional investment. Of course, if that master's leads to your dream job, you might see it differently.  
Final Thoughts: Forge Your Own Path
Is a marketing degree worth it in 2023? The short answer is yes. Whether that means a marketing degree is right for you, we can't tell you. Hopefully, though, this guide has given you the information you need to make that choice. 
How the LinkedIn Algorithm Works in 2023 [Updated]
LinkedIn bills itself as "the world's largest professional network" — and they have the numbers to prove it. With over 875 million members in more than 200 countries and regions, LinkedIn is immensely popular and well-used. On top of the sheer size of the platform, nearly 25% of users are senior-level influencers; about 10 million are categorized as C-level executives, and LinkedIn classifies 63 million as "decision makers."
If you're a B2B marketer or brand, you probably already know this social media platform offers you an excellent opportunity to reach your target demographic. However, seizing that opportunity is easier said than done since LinkedIn uses a unique algorithm to serve content to users.
In this article, we will walk through how the LinkedIn algorithm works in 2023, best practices for beating the algorithm with organic content, and how brands can elevate their presence on the platform.
 
What is the LinkedIn Algorithm?
 
The LinkedIn algorithm is a formula that determines which content gets seen by certain users on the platform. It's designed to make each user's newsfeed as relevant and interesting to them as possible to increase engagement and time spent on the platform. In this way, the LinkedIn algorithm is similar to the Facebook or TikTok algorithm, though LinkedIn's is slightly more transparent (which is good news!). 
In fact, LinkedIn itself is a good source for demystifying the algorithm and understanding what content is prioritized for members. But the general function of the LinkedIn algorithm is to review and assess billions of posts every day and position those that are most authentic, substantive and relevant to each user at the top of their feeds.  
How the algorithm achieves that function is a little more complex.
 
How the LinkedIn Algorithm Works in 2023
 
 
LinkedIn users' feeds don't show posts in chronological order. Instead, the LinkedIn algorithm determines which posts show up at the top of users' feeds, meaning that sometimes users see older or more popular posts before they see more recent ones.
Several factors influence the LinkedIn algorithm, and the factors change relatively often. Let's take a closer look.
 
1. Assess and Filter Content by Quality
 
When someone posts on LinkedIn, the algorithm determines whether it's spam, low-quality, or high-quality content. High-quality content is cleared, low-quality content undergoes additional screening, and spam content is eliminated. 
Spam –

Content flagged as spam can have poor grammar, contain multiple links within the post, tag more than five people, use more than ten hashtags (or use expressly prescriptive hashtags like #follow, #like, and #comment) or be one of multiple postings from the same user within three hours. 
Low-quality –

Content categorized as low quality isn't spam but is judged as not particularly relevant to the audience. These posts can be hard to read, tag people who are unlikely to respond or interact, or deal with topics too broad to be interesting to users.  
High-quality –

"Clear" content is easy to read, encourages engagement, incorporates strong keywords, uses three or fewer hashtags, and reserves outbound links to the comments. In other words, it's something your audience will want to read or see and react to in a substantive way.
2. Test Post Engagement with a Small Follower Group
 
Once a post has made it through the spam filter, the algorithm distributes it to a small subset of your followers for a short time (about an hour) to test its ability to generate engagement. If this group of followers likes, comments or shares the post within this "golden hour," the LinkedIn algorithm will push it to more people. 
If, on the other hand, the post is ignored, or your followers choose to hide it from their feeds (or, worst of all, mark it as spam), the algorithm will not share it further.  
 
3. Expand the Audience Based on Ranking Signals
 
If the algorithm decides your post is worthy of being sent to a broader audience, it will use a series of three ranking signals to determine exactly who sees it: personal connection, interest relevance and engagement probability. 
These signals boil down to the level of connection between you and the user who potentially sees the post, that user's interest in the content's topic and the likelihood of that user interacting with the content. We'll break down exactly what these ranking signals are further in the post.
 
4. Additional Spam Checks and Continued Engagement Monitoring
 
Even after a post is pushed to a broader audience, the LinkedIn algorithm continues monitoring how users perceive it in terms of quality. If your content is marked as spam or entirely ignored by the new audience group, LinkedIn will stop showing it to those audiences. On the other hand, if your post resonates with new audiences, LinkedIn will keep the post in rotation. So long as the post gets a steady stream of engagement, posts can stay in circulation for months.
 
8 Best Practices to Make the LinkedIn Algorithm Work for You
 
 Understanding how the LinkedIn algorithm works is the first step to reaching more people on LinkedIn and ensuring your content is well-received and engaging. The next step is optimizing your content based on the factors the algorithm prioritizes to maximize its effect. This is where mastering the ranking signals comes into play.
Here are eight tips for crafting high-performing LinkedIn content:
 
1. Know What's Relevant to Your Audience
 
Relevance is what the algorithm prizes above all other content qualities. For LinkedIn, relevance translates to engagement, which leads to more time spent on the platform, which results in more ad revenue and continued growth. Following this tip will win you points in the "interest relevance" and "engagement probability" ranking categories. 
The entire LinkedIn ecosystem is set up to prioritize highly relevant content. To ensure your posts are relevant, create content focused on your niche and your audience's specific needs and interests. As LinkedIn's then-Director of Product Management Linda Leung explained in 2022, "we are continuously investing in the teams, tools, and technology to ensure that the content that you see on your feed adds value to your professional journey." 
Use customer research and analytics from other social media platforms to learn more about what your audience wants to know. Focus on creating high-quality, valuable content that helps professionals succeed in formats they prefer (for example, videos, which get three times the average engagement of text-only posts). But above all, posting content that is personal and has industry relevance is vital. 
 
2. Post at the Right Time
 
As with most things, timing is crucial for successful LinkedIn posts. It's even more critical when considering the "golden hour" testing process integral to the algorithm's rankings. Remember, how much interaction a post gets within the first hour after it's published determines whether it gets pushed to a broader audience. That means posting at the optimal time when your followers are online and primed to respond is a central factor to success.
You are the best judge of when your top LinkedIn followers and people in your network are most likely to be on the platform and engaging with content. But for the general public, data suggests the best time to post is at 9:00 a.m. EST on Tuesdays and Wednesdays. Cross-reference these times with your own analytics and knowledge about your audience — like a common time zone, for example — to find the best time for your posts.
 
3. Encourage Engagement
 
Your post format can play a significant role in user engagement. The LinkedIn algorithm doesn't explicitly prioritize videos over photo and text posts, but LinkedIn's internal research has found video ads are five times more likely to start conversations compared to other types of promoted content. 
Asking a question is another great way to encourage interaction with your post. If you're sharing industry insights, open the conversation to commenters by asking them to share their opinions or experiences on the topic. 
Additionally, tagging someone in your LinkedIn post can expand its reach, but only tag relevant users and people likely to engage with the post. You don't automatically get in front of a celebrity's entire following just because you tagged them. In fact, the algorithm's spam filter can penalize your post for that. But when you tag someone relevant, the tagged person's connections and followers will also see your post in their feeds. 
 
4. … But don't beg users to engage
 
The LinkedIn algorithm penalizes posts and hashtags that expressly ask for an engagement action like a follow or a comment. In an official blog post from May 2022, LinkedIn said that it "won't be promoting" posts that "ask or encourage the community to engage with content via likes or reactions posted with the exclusive intent of boosting reach on the platform." Essentially, content that begs for engagement is now considered low-quality and should be avoided.
 
5. Promote new posts on non-LinkedIn channels
 
LinkedIn doesn't exist in a vacuum, and neither do its users. Content that gains traction in other channels can help boost LinkedIn posts and vice versa. Sharing posts on your website, other social media platforms, or with coworkers can spark the initial engagement required for a viral LinkedIn post. Promoting content on other channels can also encourage inactive LinkedIn users to re-engage with the platform, and that interaction will be interpreted as net new engagement for your post.
 
6. Keep Your Posts Professional
 
As the "professional social networking site," LinkedIn has a well-honed identity that extends to the type of content it favors. Specifically, business-related content that users will find relevant and helpful to their careers or within their industry. 
This might seem common sense, but it can be tempting to think that content that earns lots of clicks or likes on other social media platforms will perform similarly when cross-posted on LinkedIn. Unfortunately (or fortunately), hilarious memes, TikTok dance clips and personal videos don't resonate with the LinkedIn algorithm. 
 
7. Avoid Outbound Links
 
 
The urge to include an outbound link in a LinkedIn post is real, especially for B2B marketers using LinkedIn to generate leads and traffic to their websites. But this is universally regarded as a tactic to avoid. LinkedIn wants to keep users on the platform and engaging; link-outs defeat that purpose. Therefore, the algorithm tends to downgrade content that includes an outbound link. 
Posts without outbound links enjoyed six times more reach than posts containing links. Does that mean there's no room for a link to your brand's website or blog with additional resources? No. But the best practice is creating content that encourages a conversation and letting the audience request an outbound link. If you feel compelled to link to something off-platform, include that link in the comments. 
 
8. Keep an Eye on SSI
 
LinkedIn has a proprietary metric called the Social Selling Index, which measures "how effective you are at establishing your professional brand, finding the right people, engaging with insights, and building relationships." Per LinkedIn, social selling leaders create 45% more opportunities than those users with lower SSI scores.
A higher SSI boosts users' posts closer to the top of their audience's feeds. While this impacts post visibility for individual posters rather than brands and companies, it remains a significant influence on LinkedIn's algorithm and is worth noting. 
Source: Business 2 Community
 
An Overview of Ranking Signals on LinkedIn's Algorithm
 
 
As mentioned earlier, there are three ranking signals the LinkedIn algorithm uses to rank posts in a user's feed:
 
Personal connections

Interest relevance

Engagement probability
 
And here's how each signal impacts a post's ranking:
 
Personal Connections
 
In 2019, LinkedIn began deprioritizing content from mega influencers (think Oprah and Richard Brandon) and instead began highlighting content from users' personal connections. To determine a user's connections, LinkedIn considers these two things:
 
Who a user works with or has previously worked with

Who a user has interacted with before on the platform
 
At the top of the feed, users now see posts by people they engage with often and by anyone who posts consistently. Users also see more posts from connections with whom they share interests and skills (according to their LinkedIn profiles). 
That said, as of 2022, LinkedIn is also "creating more ways to follow people throughout the feed experience," including thought leaders, industry experts, and creators that may be outside of a user's network. So it's important to remember that personal connection is just one factor influencing post ranking.
 
Interest relevance
 
Relevance is another of the three ranking signals – and in many ways, the most important one. LinkedIn explains on its engineering blog: "We already have a strong set of explicit and implicit signals that provide context on what content a member may find interesting based on their social connections and the Knowledge Graph (e.g., a company that they follow, or news widely shared within their company)."
LinkedIn also uses what they call an "interest graph" that represents the relationships between users and a variety of topics. This lets the LinkedIn algorithm measure the following:
 
How interested users are in certain topics

How related are different topics to one another

Which connections share a user's interests
 
The algorithm also considers the companies, people, hashtags, and topics mentioned in a post to predict interest. To maximize the interest relevance ranking, you have to understand your target audience and craft content that they'll find relevant.
 
Engagement Probability
 
Interaction plays a significant role in a post's ranking on LinkedIn. The platform uses machine learning to rank interaction in two ways:
 
How likely a user is to comment on, share, or react to a post based on the content and people they have interacted with

How quickly a post starts receiving engagement after it's published. The faster users interact with a post, the more likely it will appear at the top of others' feeds
 
Users who regularly interact with others' posts in their LinkedIn feed are more likely to see interactions on their content, which in turn means that they'll be more likely to show up on other people's feeds.
 
Elevate Your Brand's LinkedIn Presence
 
The LinkedIn algorithm can seem intimidating, but it really isn't. It relies on a series of rules and ranking measures that can be understood and mastered to present users with content they find helpful in their professional lives.
Knowing that the algorithm prioritizes engagement, relevance and connection will help get your posts in front of more LinkedIn users and improve your overall performance on the platform. And by following the eight best practices outlined in this article, you'll be able to keep your audience's interest and create plenty of opportunities for them to engage with your content. 
Tinuiti helps brands strengthen relationships with new and current customers through expert social media strategy and brilliant creative. Reach out to our Paid Social services team to learn how to start advancing your LinkedIn strategy today.
Editor's Note: This post was originally published in September 2021 and has been regularly updated for freshness, accuracy, and comprehensiveness.
A Digital Practioner's Guide to Starting the New Year Right
It's that time of year again – the holiday excitement has faded as we fall back into the workweek. With a year's worth of work stretched in front of us, there can be both a sense of opportunity and overwhelmedness.  
Because transitioning back into the swing of things can be daunting, We've gathered key takeaways from the previous year, global Opticon Tour, and how we can successfully apply those learnings in 2023.  
1.

"Work about work" is holding teams back. Take this chance to declutter. 

 
Consider the reality of what most digital teams are up against. When it comes to managing the content lifecycle, draft documents that are stored in separate places and disparate tools that don't work together are the norm for many. With no centralized point of communication and cumbersome workflows, it can take forever for teams to create and approve content, and work is often duplicated or unused.  
After work is completed, it can be easy to dismiss the headaches caused by inefficient, siloed workflows and processes. But the long-term effects of inefficient and bulky collaboration can be detrimental to a brand's digital experience – and bottom line. (Those who joined us in San Diego at Opticon might recall this concept played out via ). 
Digital teams with unwieldy content lifecycles can take back control using , saving countless hours and frustration over the year.  
2. Change is constant. Set your team up to be adaptive.

 
We all know how difficult it is to create amazing customer experiences these days. The world is moving faster than ever, and change is constant and chaotic with uncertainty on nearly every level: economic upheaval, rapid cultural change, ever-escalating customer expectations (thanks, Amazon), and a tight talent market.  
To not only stay the course but to also grow in this unpredictable environment, it's important that teams constantly stay on the lookout for new ways to drive more sales and increase loyalty. In other words, consistently deliver modern, relevant, and personalized commerce experiences.  
3. Data fuels a great customer experience. Test and optimize every touchpoint.

 
As practitioners, we all know that the best customer experience wins.  
When teams don't clearly understand what's happening and when, they miss the mark. With little patience and high expectations, today's customers will simply switch to a competitor that better understands them and provides a more personalized experience.  
But when teams work together to inject data across silos, they have the insight needed to make the right decisions and create with confidence.  
For instance, take the marketing team: with access to a slew of customer touchpoints and experimentation data, marketers should be a critical resource for understanding customers' wants and needs. Developers, product teams, and beyond should utilize this data to remove the guesswork and inform strategies, priorities, roadmaps, and decisions.  
With customer-centricity at the heart of any great digital experience, the best experiences are fueled by data uncovered by high-velocity experimentation. Consider the power that Optimizely's Experimentation products can have on your entire team's ability to unlock personalized insights and better connect with customers.  
Hopefully, your new year is off to a great start – but if you're feeling a little off track, contact Optimizely today to learn more about our DXP can impact your business and set you up for a successful and productive year.  
A special thanks to our sponsors at Opticon London – Microsoft, Google Cloud, Valtech, and Siteimprove – and Opticon Stockholm – Microsoft, Google Cloud, Valtech, and Contentsquare.