How to Create Ultimate Guides to Drive Leads, Traffic, and Conversions
Ultimate guides are everywhere. You've probably read your fair share, and maybe you've even written a couple.
They can be a great way to get traffic, build links, and increase your authority, but they're far from easy to create. The issue most people run into is the sheer amount of content out there nowadays. How do you create an ultimate guide if there are already tons of posts on your chosen subject?
In this post, we'll look at the steps to creating the ultimate guide on just about anything.
What Is an Ultimate Guide?
What turns a lengthy blog post into an ultimate guide? Well, there are a few things that almost every in-depth guide has in common:
It goes very deep into a pretty broad topic.
It contains several chapters that look at the topic from a variety of angles.
An industry expert or researcher writes it.
Apart from that, what you put in your ultimate guide and how you design it is up to you.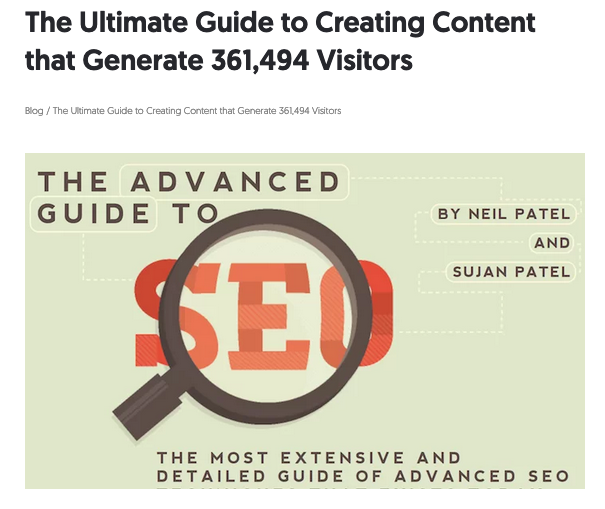 Why You Should Create an Ultimate Guide
If you didn't know how powerful ultimate guides are already, here's why you should start creating them right now.
Rank for Many Keywords
The length, depth, and authority that go into ultimate guides make them a fantastic weapon in your SEO arsenal. The fact that they are so detailed means they should rank for a huge number of keywords. Including internal links to your other blog posts boosts their rankings, too.
Get Backlinks
A big, in-depth resource like an ultimate guide can be a fantastic source of links. Not only can you use it to go out there and request a backlink as part of your link-building process, but other sites naturally start linking to an authoritative resource, too. So much so that your ultimate guide can continue to attract links for years to come.
Build Your Authority
There are few pieces of marketing collateral better at positioning your brand as an authority in your industry than an ultimate guide. This is your opportunity to showcase how much you know about your subject to the world and go above and beyond what has previously been written about your topic.
How to Pick Topics for Your Ultimate Guide
Picking a topic can be a huge stumbling block for many aspiring writers. Don't get bogged down overthinking it, though. Here's how you can find the perfect topic quickly.
Choose a Topic You Know About
This first point is obvious, but it needs to be said. You need to know your topic inside and out if you want to write an excellent guide. That doesn't mean you can't use a freelance writer to help you out, but you should give them a thorough brief and create the outline of the guide yourself.
Choose a Topic With High Search Traffic
Not every guide needs to be written with the express purpose of ranking in Google, but it can seriously help drive traffic and generate customers. That's why I recommend you enter your topic ideas into a tool like Ubersuggest to see the keyword volumes of the main topic and the volumes of every other related keyword.
Don't just pick the topic that has the main keyword with the highest search volume, however. You may find another topic has so many more related keywords that it could actually generate more traffic overall.
Choose a Topic That's Trending
Ultimate guides are successful when they're written about trending topics. When people are excited about a topic, they want to consume all the information they can find about it. Your guide should be a part of that, too.
That's not the only reason you want to focus on what's trending, though. The newer your post is, the better it might do in search results if someone is searching by posts made within the last week, month, and so on.
How to Create an Ultimate Guide
With your topic picked, it's time to get to work creating your guide. Here's how I recommend you go about it.
1. Consume as Much Content as You Can
Even if you're an expert in your field, you'll still want to read blog posts on your topic before you start writing. Doing so will help you understand the level of content currently out there, the common threads writers pull, and the things you need to mention.
Pay attention to the results that Google serves up, too. You'll find that specific formats are more popular than others, and you'll want to try to mirror these when it comes to writing your content.
2. Identify What's Missing
While you're reading other people's content, make a note of everything that's missing from the posts. If you're writing a how-to post, be sure to go through the steps yourself after reading posts by others.
Then, jot down things you notice during the process that others might have missed or not explained thoroughly. It also might help to sit down with someone who is unfamiliar with your topic and see what questions they come up with.
3. Do Research
You can write an ultimate guide off the back of your expertise alone—but you can make it stand head and shoulders above everyone else's content if you conduct your research.
For some, this is a case of canvassing their colleagues and contacts for their opinion on a certain topic. Others might want to commit to more detailed research and partner with a market research company that'll carry out a study on their behalf.
The more effort you put into the research, the more valuable and link-worthy your ultimate guide will become.
4. Put It All Together
To create your ultimate guide, simply combine the basics plus the additional details you found were missing from other posts and your research. This way, people coming across your guide as the first piece of content they have read about a topic will get all of the basic information, and people who have read many other guides will be wowed by all of the missing pieces that you included.
5. Promote, Promote, Promote
An ultimate guide is no good if no one reads it. Considering the amount of time and energy you have spent on your ultimate guide, you owe it to yourself and your readers to promote it well. Do so by:
Sharing it on all of your social networks: Twitter, Facebook, and LinkedIn are the best. Promote it on your personal and business accounts, if possible.
Sharing it in groups on social networks: LinkedIn, for example, has some great groups on particular topics. Facebook has some as well, although many are full of spammers who are just there for their promotions. This will expand your guide's exposure from just your network to all of the members of the groups you select.
Emailing your list: If you have a mailing list, let them know about your latest and greatest piece of content.
Repurposing your content: If you can turn your ultimate guide into an infographic, video, slide presentation, or PDF document, you can spread it on even more networks.
4 Tips to Create an Awesome Ultimate Guide
If you want to take your ultimate guide to the next level, bear in mind these four tips when writing.
Write Clearly and Format Appropriately
You don't have to be Hemingway to write a great ultimate guide, but take a lesson from Ernest regarding clarity. Short, clear, punchy sentences win out here, especially when writing thousands of words on your topic. Long, convoluted paragraphs may help you get your message across, but they'll only cause the reader's mind to wander.
Formatting will also help in this regard. Clearly labeled titles and subheadings will make your guide much more digestible. Short paragraphs will, too. Don't forget that most of your audience will be reading your advice on a screen, so consider how they might skim it for the information they're looking for.
Include Images and Screenshots
One thing I sometimes find missing from other ultimate guides is good screenshots. Take yours using your account of the topic as opposed to generic stock photos. This will make it easier for others to follow along and visualize the process.
Use Real-Life Examples
Once you have the basics and missing pieces down for your ultimate guide, look for some good examples of your tips in action. If you're talking about creating great timeline cover photos, then include some examples from pages in different industries.
If you're talking about using Pinterest to drive traffic, then link to top Pinterest users who are doing things right. Think about your target audience and find examples that they can easily relate to so they feel they must follow your advice to be successful.
Don't Break Up Your Hard Work
There is a lot of advice out there suggesting you should take long posts and break them up into a series, so you can get people to come back to your website over and over again. However, I find that if someone hits a piece of content that says 101 Tips on ___, and the post only includes steps 1–20 with the promise of more to come, they move on to find everything they're looking for elsewhere.
People want to consume information now, not wait for it. When they read the words ultimate guide, they're going to expect to get everything in one chunk, so unless you are planning to write 5,000+ words on a topic, keep it in one piece.
Examples of Great Ultimate Guides
There are a lot of great ultimate guides out there, but here are some of my all-time favorites.
The Ultimate Guide to Startup Marketing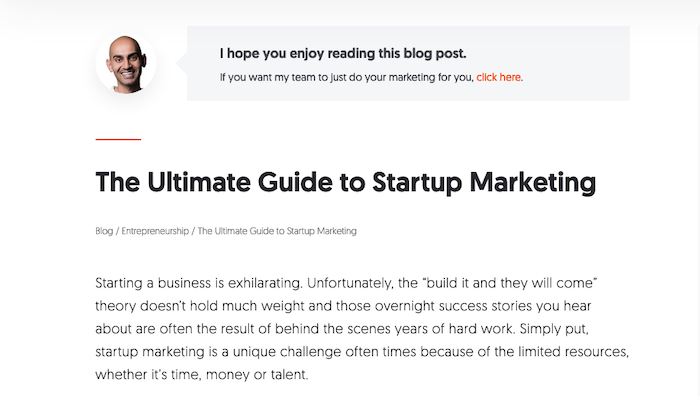 If you're looking to grow your startup, I'm pretty sure you'll get a huge amount of value out of my ultimate guide on the topic.
How to Design a Logo: The Ultimate Guide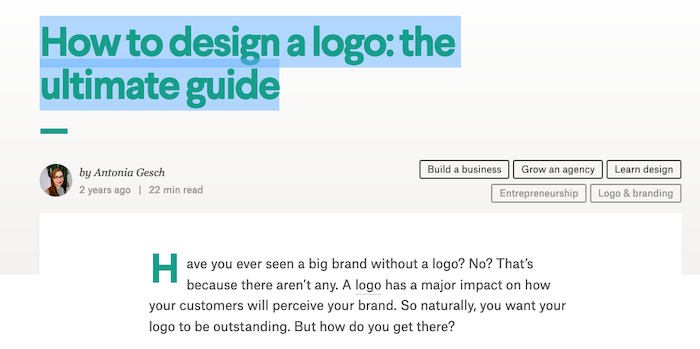 With 12 chapters and virtually every angle covered, there's no reason to read another guide before creating your logo.
The Ultimate Guide to Cart Abandonment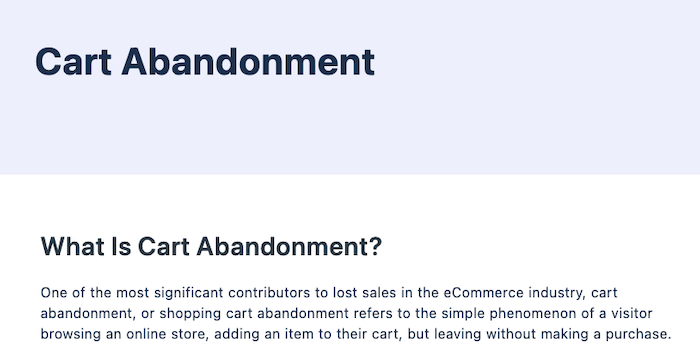 If you've ever wondered why shoppers are leaving your website at checkout, this mammoth guide by VWO will answer all your questions.
The Ultimate Guide to Writing & Illustrating Your First Children's Book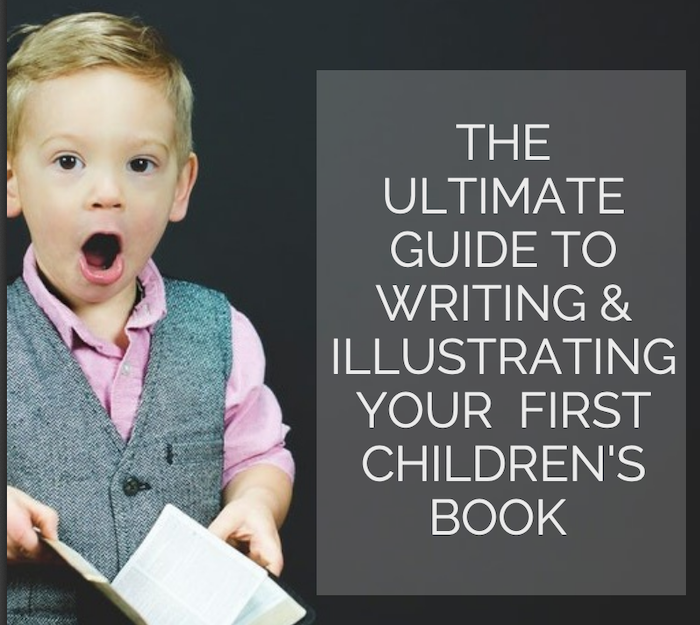 Ultimate guides don't have to be about marketing, as this guide by Eevi Jones proves.
How to Pick a Career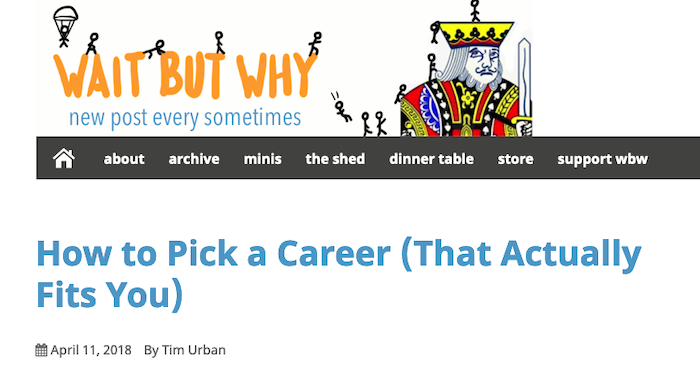 While Tim Urban hasn't called this an ultimate guide, you're unlikely to find a more thoughtful or detailed blog post on picking a career anywhere online.
Further Resources on Ultimate Guides
This blog post isn't exhaustive by any means. If you want to dive deep into creating high-quality long-form content, then check out these five resources:
How to Create Specs for an Ultimate Guide
You don't have to write your ultimate guide yourself. If you're hiring a freelance writer to write your guide for you, here's how you can create a spec they can follow with ease.
Give an overview.

A top-level overview can help a writer quickly get to grips with the topic and goals of the ultimate guide.

Create a clear structure.

Take the initiative and write an outline that includes all of the major points you want the writer to talk about. This makes sure all of the gaps you identified in other pieces of content get covered.

Include keyword research.

If improved rankings are one of your main goals, then highlight the keywords you're aiming to rank for.

Note or record your expertise.

Where appropriate, make notes for the writer to help guide them. Alternatively, you can record yourself talking about the topic.

Provide additional resources.

Highlight a handful of top-quality resources your writer can turn to for inspiration.

Set a deadline

Expect an ultimate guide to take a fair bit longer to write than a standard blog post.
Ultimate Guide Frequently Asked Questions
How long should my ultimate guide be?
There isn't a defined length for an ultimate guide, but most are at least 3,000 words in length.
How do I distribute my ultimate guide to my target audience?
You can use social media and email to get your ultimate guide in front of your target audience.
Should I create more than one ultimate guide for my website?
Absolutely. Ultimate guides offer a lot of value in terms of SEO and building your authority, so you should write as many as you can.
At what part of the funnel are ultimate guides most useful?
Ultimate guides can be used at any part of your funnel, but they'll be most useful towards the top. They are great at attracting users into your funnel and converting them to email subscribers.
How to Create Ultimate Guides Conclusion
Ultimate guides are an incredibly valuable marketing resource. I've used them to generate huge levels of traffic, build my reputation as an authority in the industry, and improve my site's SEO.
Follow the advice I've given above, and you'll be on your way to achieving your content goals while sharing valuable insights about your chosen topic.
Have you created an ultimate guide on your website or blog? What other tips would you add to making your ultimate guide a success?
See How My Agency Can Drive Massive Amounts of Traffic to Your Website
SEO – unlock massive amounts of SEO traffic. See real results.
Content Marketing – our team creates epic content that will get shared, get links, and attract traffic.
Paid Media – effective paid strategies with clear ROI.
The Rise in Retail Media Networks
As LL Cool J might say, "Don't call it a comeback. It's been here for years."
Paid advertising is alive and growing faster in different forms than any other marketing method.
Magna, a media research firm, and GroupM, a media agency, wrapped the year with their ad industry predictions – expect big growth for digital advertising in 2024, especially with the pending US presidential political season.
But the bigger, more unexpected news comes from the rise in retail media networks – a relative newcomer in the industry.
Watch CMI's chief strategy advisor Robert Rose explain how these trends could affect marketers or keep reading for his thoughts:
GroupM expects digital advertising revenue in 2023 to conclude with a 5.8% or $889 billion increase – excluding political advertising. Magna believes ad revenue will tick up 5.5% this year and jump 7.2% in 2024. GroupM and Zenith say 2024 will see a more modest 4.8% growth.
Robert says that the feeling of an ad slump and other predictions of advertising's demise in the modern economy don't seem to be coming to pass, as paid advertising not only survived 2023 but will thrive in 2024.
What's a retail media network?
On to the bigger news – the rise of retail media networks. Retail media networks, the smallest segment in these agencies' and research firms' evaluation, will be one of the fastest-growing and truly important digital advertising formats in 2024.
GroupM suggests the $119 billion expected to be spent in the networks this year and should grow by a whopping 8.3% in the coming year.  Magna estimates $124 billion in ad revenue from retail media networks this year.
"Think about this for a moment. Retail media is now almost a quarter of the total spent on search advertising outside of China," Robert points out.
You're not alone if you aren't familiar with retail media networks. A familiar vernacular in the B2C world, especially the consumer-packaged goods industry, retail media networks are an advertising segment you should now pay attention to.
Retail media networks are advertising platforms within the retailer's network. It's search advertising on retailers' online stores. So, for example, if you spend money to advertise against product keywords on Amazon, Walmart, or Instacart, you use a retail media network.
But these ad-buying networks also exist on other digital media properties, from mini-sites to videos to content marketing hubs. They also exist on location through interactive kiosks and in-store screens. New formats are rising every day.
Retail media networks make sense. Retailers take advantage of their knowledge of customers, where and why they shop, and present offers and content relevant to their interests. The retailer uses their content as a media company would, knowing their customers trust them to provide valuable information.
Think about these 2 things in 2024
That brings Robert to two things he wants you to consider for 2024 and beyond. The first is a question: Why should you consider retail media networks for your products or services?   
Advertising works because it connects to the idea of a brand. Retail media networks work deep into the buyer's journey. They use the consumer's presence in a store (online or brick-and-mortar) to cross-sell merchandise or become the chosen provider.
For example, Robert might advertise his Content Marketing Strategy book on Amazon's retail network because he knows his customers seek business books. When they search for "content marketing," his book would appear first.
However, retail media networks also work well because they create a brand halo effect. Robert might buy an ad for his book in The New York Times and The Wall Street Journal because he knows their readers view those media outlets as reputable sources of information. He gains some trust by connecting his book to their media properties.
Smart marketing teams will recognize the power of the halo effect and create brand-level experiences on retail media networks. They will do so not because they seek an immediate customer but because they can connect their brand content experience to a trusted media network like Amazon, Nordstrom, eBay, etc.
The second thing Robert wants you to think about relates to the B2B opportunity. More retail media network opportunities for B2B brands are coming.
You can already buy into content syndication networks such as Netline, Business2Community, and others. But given the astronomical growth, for example, of Amazon's B2B marketplace ($35 billion in 2023), Robert expects a similar trend of retail media networks to emerge on these types of platforms.   
"If I were Adobe, Microsoft, Salesforce, HubSpot, or any brand with big content platforms, I'd look to monetize them by selling paid sponsorship of content (as advertising or sponsored content) on them," Robert says.
As you think about creative ways to use your paid advertising spend, consider the retail media networks in 2024.
Like what you read here?
Get yourself a subscription to daily or weekly updates.  It's free – and you can change your preferences or unsubscribe anytime.
HANDPICKED RELATED CONTENT:
Cover image by Joseph Kalinowski/Content Marketing Institute
AI driving an exponential increase in marketing technology solutions
The martech landscape is expanding and AI is the prime driving force. That's the topline news from the "Martech 2024" report released today. And, while that will get the headline, the report contains much more.
Since the release of the most recent Martech Landscape in May 2023, 2,042 new marketing technology tools have surfaced, bringing the total to 13,080 — an 18.5% increase. Of those, 1,498 (73%) were AI-based. 
"But where did it land?" said Frans Riemersma of Martech Tribe during a joint video conference call with Scott Brinker of ChiefMartec and HubSpot. "And the usual suspect, of course, is content. But the truth is you can build an empire with all the genAI that has been surfacing — and by an empire, I mean, of course, a business."
Content tools accounted for 34% of all the new AI tools, far ahead of video, the second-place category, which had only 4.85%. U.S. companies were responsible for 61% of these tools — not surprising given that most of the generative AI dynamos, like OpenAI, are based here. Next up was the U.K. at 5.7%, but third place was a big surprise: Iceland — with a population of 373,000 — launched 4.6% of all AI martech tools. That's significantly ahead of fourth place India (3.5%), whose population is 1.4 billion and which has a significant tech industry. 
Dig deeper: 3 ways email marketers should actually use AI
The global development of these tools shows the desire for solutions that natively understand the place they are being used. 
"These regional products in their particular country…they're fantastic," said Brinker. "They're loved, and part of it is because they understand the culture, they've got the right thing in the language, the support is in that language."
Now that we've looked at the headline stuff, let's take a deep dive into the fascinating body of the report.
The report: A deeper dive
Marketing technology "is a study in contradictions," according to Brinker and Riemersma. 
In the new report they embrace these contradictions, telling readers that, while they support "discipline and fiscal responsibility" in martech management, failure to innovate might mean "missing out on opportunities for competitive advantage." By all means, edit your stack meticulously to ensure it meets business value use cases — but sure, spend 5-10% of your time playing with "cool" new tools that don't yet have a use case. That seems like a lot of time.
Similarly, while you mustn't be "carried away" by new technology hype cycles, you mustn't ignore them either. You need to make "deliberate choices" in the realm of technological change, but be agile about implementing them. Be excited by martech innovation, in other words, but be sensible about it.
The growing landscape
Consolidation for the martech space is not in sight, Brinker and Riemersma say. Despite many mergers and acquisitions, and a steadily increasing number of bankruptcies and dissolutions, the exponentially increasing launch of new start-ups powers continuing growth.
It should be observed, of course, that this is almost entirely a cloud-based, subscription-based commercial space. To launch a martech start-up doesn't require manufacturing, storage and distribution capabilities, or necessarily a workforce; it just requires uploading an app to the cloud. That is surely one reason new start-ups appear at such a startling rate. 
Dig deeper: AI ad spending has skyrocketed this year
As the authors admit, "(i)f we measure by revenue and/or install base, the graph of all martech companies is a 'long tail' distribution." What's more, focus on the 200 or so leading companies in the space and consolidation can certainly be seen.
Long-tail tools are certainly not under-utilized, however. Based on a survey of over 1,000 real-world stacks, the report finds long-tail tools constitute about half of the solutions portfolios — a proportion that has remained fairly consistent since 2017. The authors see long-tail adoption where users perceive feature gaps — or subpar feature performance — in their core solutions.
Composability and aggregation
The other two trends covered in detail in the report are composability and aggregation. In brief, a composable view of a martech stack means seeing it as a collection of features and functions rather than a collection of software products. A composable "architecture" is one where apps, workflows, customer experiences, etc., are developed using features of multiple products to serve a specific use case.
Indeed, some martech vendors are now describing their own offerings as composable, meaning that their proprietary features are designed to be used in tandem with third-party solutions that integrate with them. This is an evolution of the core-suite-plus-app-marketplace framework.
That framework is what Brinker and Riemersma refer to as "vertical aggregation." "Horizontal aggregation," they write, is "a newer model" where aggregation of software is seen not around certain business functions (marketing, sales, etc.) but around a layer of the tech stack. An obvious example is the data layer, fed from numerous sources and consumed by a range of applications. They correctly observe that this has been an important trend over the past year.
Build it yourself
Finally, and consistent with Brinker's long-time advocacy for the citizen developer, the report detects a nascent trend towards teams creating their own software — a trend that will doubtless be accelerated by support from AI.
So far, the apps that are being created internally may be no more than "simple workflows and automations." But come the day that app development is so democratized that it will be available to a wide range of users, the software will be a "reflection of the way they want their company to operate and the experiences they want to deliver to customers. This will be a powerful dimension for competitive advantage."
Constantine von Hoffman contributed to this report.
Get MarTech! Daily. Free. In your inbox.
Mastering The Laws of Marketing in Madness
Navigating through the world of business can be chaotic. At the time of this publication in November 2023, global economic growth is expected to remain weak for an undefined amount of time.
However, certain rules of marketing remain steadfast to guide businesses towards success in any environment. These universal laws are the anchors that keep a business steady, helping it thrive amidst uncertainty and change.
In this guide, we'll explore three laws that have proven to be the cornerstones of successful marketing. These are practical, tried-and-tested approaches that have empowered businesses to overcome challenges and flourish, regardless of external conditions. By mastering these principles, businesses can turn adversities into opportunities, ensuring growth and resilience in any market landscape. Let's uncover these essential laws that pave the way to success in the unpredictable world of business marketing. Oh yeah, and don't forget to integrate these insights into your career. Follow the implementation steps!
Law 1: Success in Marketing is a Marathon, Not a Sprint
Navigating the tumultuous seas of digital marketing necessitates a steadfast ship, fortified by a strategic long-term vision. It's a marathon, not a sprint.
Take Apple, for instance. The late '90s saw them on the brink of bankruptcy. Instead of grasping at quick, temporary fixes, Apple anchored themselves in a long-term vision. A vision that didn't just stop at survival, but aimed for revolutionary contributions, resulting in groundbreaking products like the iPod, iPhone, and iPad.
In a landscape where immediate gains often allure businesses, it's essential to remember that these are transient. A focus merely on the immediate returns leaves businesses scurrying on a hamster wheel, chasing after fleeting successes, but never really moving forward.
Want to get certified in Content Marketing?
Leverage the tools and channels to predictably and profitably drive awareness, leads, sales, and referrals—EVERYTHING you need to know to become a true master of digital marketing.​ Click Here
A long-term vision, however, acts as the north star, guiding businesses through immediate challenges while ensuring sustainable success and consistent growth over time.
Consider This Analogy: 
Building a business is like growing a tree. Initially, it requires nurturing, patience, and consistent care. But with time, the tree grows, becoming strong and robust, offering shade and fruits—transforming the landscape. The same goes for business. A vision, perseverance, and a long-term strategy are the nutrients that allow it to flourish, creating a sustainable presence in the market.
Implementation Steps: 
Begin by planning a content calendar focused on delivering consistent value over the next six months. 
Ensure regular reviews and necessary adjustments to your long-term goals, keeping pace with evolving market trends and demands. 
And don't forget the foundation—invest in robust systems and ongoing training, laying down strong roots for sustainable success in the ever-changing digital marketing landscape.
Law 2: Survey, Listen, and Serve
Effective marketing hinges on understanding and responding to the customer's needs and preferences. A robust, customer-centric approach helps in shaping products and services that resonate with the audience, enhancing overall satisfaction and loyalty.
Take Netflix, for instance. Netflix's evolution from a DVD rental company to a streaming giant is a compelling illustration of a customer-centric approach.
Their transition wasn't just a technological upgrade; it was a strategic shift informed by attentively listening to customer preferences and viewing habits. Netflix succeeded, while competitors such a Blockbuster haid their blinders on.
Here are some keystone insights when considering how to Survey, Listen, and Serve…
Customer Satisfaction & Loyalty:
Surveying customers is essential for gauging their satisfaction. When customers feel heard and valued, it fosters loyalty, turning one-time buyers into repeat customers. Through customer surveys, businesses can receive direct feedback, helping to identify areas of improvement, enhancing overall customer satisfaction.
Engagement:
Engaging customers through surveys not only garners essential feedback but also makes customers feel valued and involved. It cultivates a relationship where customers feel that their opinions are appreciated and considered, enhancing their connection and engagement with the brand.
Product & Service Enhancement:
Surveys can unveil insightful customer feedback regarding products and services. This information is crucial for making necessary adjustments and innovations, ensuring that offerings remain aligned with customer needs and expectations.
Data Collection:
Surveys are instrumental in collecting demographic information. Understanding the demographic composition of a customer base is crucial for tailoring marketing strategies, ensuring they resonate well with the target audience.
Operational Efficiency:
Customer feedback can also shed light on a company's operational aspects, such as customer service and website usability. Such insights are invaluable for making necessary enhancements, improving the overall customer experience.
Benchmarking:
Consistent surveying allows for effective benchmarking, enabling businesses to track performance over time, assess the impact of implemented changes, and make data-driven strategic decisions.
Implementation Steps:
Regularly incorporate customer feedback mechanisms like surveys and direct interactions to remain attuned to customer needs and preferences.
Continuously refine and adjust offerings based on customer feedback, ensuring products and services evolve in alignment with customer expectations.
In conclusion, adopting a customer-centric approach, symbolized by surveying, listening, and serving, is indispensable for nurturing customer relationships, driving loyalty, and ensuring sustained business success.
Law 3: Build Trust in Every Interaction
In a world cluttered with countless competitors vying for your prospects attention, standing out is about more than just having a great product or service. It's about connecting authentically, building relationships rooted in trust and understanding. It's this foundational trust that transforms casual customers into loyal advocates, ensuring that your business isn't just seen, but it truly resonates and remains memorable.
Are You Ready to Master Social Media?
Become a Certified Social Media Specialist and learn the newest strategies (by social platform) to draw organic traffic to your social media sites.
For instance, let's talk about Oprah! Through vulnerability and honest connections, Oprah Winfrey didn't just build an audience; she cultivated a community. Sharing, listening, and interacting genuinely, she created a media landscape where trust and respect flourished. Oprah was known to make her audience and even guests cry for the first time live. She had a natural ability to build instant trust.
Here are some keystone insights when considering how to develop and maintain trust…
The Unseen Fast-Track
Trust is an unseen accelerator. It simplifies decisions, clears doubts, and fast-forwards the customer journey, turning curiosity into conviction and interest into investment.
The Emotional Guardrail
Trust is like a safety net or a warm embrace, making customers feel valued, understood, and cared for. It nurtures a positive environment, encouraging customers to return, not out of necessity, but a genuine affinity towards the brand.
Implementation Steps:
Real Stories: Share testimonials and experiences, both shiny and shaded, to build credibility and show authenticity.
Open Conversation: Encourage and welcome customer feedback and discussions, facilitating a two-way conversation that fosters understanding and improvement.
Community Engagement: Actively participate and engage in community or industry events, align your brand with genuine causes and values, promoting real connections and trust.
Navigating through this law involves cultivating a space where authenticity leads, trust blossoms, and genuine relationships flourish, engraving a memorable brand story in the hearts and minds of the customers.
Guarantee Your Success With These Foundational Laws
Navigating through the world of business is a demanding odyssey that calls for more than just adaptability and innovation—it requires a solid foundation built on timeless principles. In our exploration, we have just unraveled three indispensable laws that stand as pillars supporting the edifice of sustained marketing success, enabling businesses to sail confidently through the ever-shifting seas of the marketplace.
Law 1: "Success in Marketing is a Marathon, Not a Sprint," advocates for the cultivation of a long-term vision. It is about nurturing a resilient mindset focused on enduring success rather than transient achievements. Like a marathon runner who paces themselves for the long haul, businesses must strategize, persevere, and adapt, ensuring sustained growth and innovation. The embodiment of this law is seen in enterprises like Apple, whose evolutionary journey is a testament to the power of persistent vision and continual reinvention.
Law 2: "Survey, Listen, and Serve," delineates the roadmap to a business model deeply intertwined with customer insights and responsiveness. This law emphasizes the essence of customer-centricity, urging businesses to align their strategies and offerings with the preferences and expectations of their audiences. It's a call to attentively listen, actively engage, and meticulously tailor offerings to resonate with customer needs, forging paths to enhanced satisfaction and loyalty.
Law 3: "Build Trust in Every Interaction," underscores the significance of building genuine, trust-laden relationships with customers. It champions the cultivation of a brand personality that resonates with authenticity, fostering connections marked by trust and mutual respect. This law navigates businesses towards establishing themselves as reliable entities that customers can resonate with, rely on, and return to, enriching the customer journey with consistency and sincerity.
These pivotal laws form the cornerstone upon which businesses can build strategies that withstand the tests of market volatility, competition, and evolution. They stand as unwavering beacons guiding enterprises towards avenues marked by not just profitability, but also a legacy of value, integrity, and impactful contributions to the marketplace. Armed with these foundational laws, businesses are empowered to navigate the multifaceted realms of the business landscape with confidence, clarity, and a strategic vision poised for lasting success and remarkable achievements.
Oh yeah! And do you know Newton's Law?The law of inertia, also known as Newton's first law of motion, states that an object at rest will stay at rest, and an object in motion will stay in motion… The choice is yours. Take action and integrate these laws. Get in motion!