My 6-Step Content Marketing Formula That Drives 3,549 Visitors
Writing a blog post is easy.
If you don't write often, you may feel otherwise, but just follow this and you'll be good to go when it comes to writing. Or, you can just watch the video below.
But still, you write a blog post and then what do you do?
Well, I'll tell you this… most people forget the "marketing" in content marketing. Most people write content but don't do a great job of promoting it.
Here's the thing: I figured out the perfect formula to promoting content.
Best of all, it's not complex. Heck, it doesn't even take 30 minutes. It's so easy that I broke it down into 6 steps.
And just to give you an idea before we dive into the formula, it's so effective here is the traffic to my latest blog post.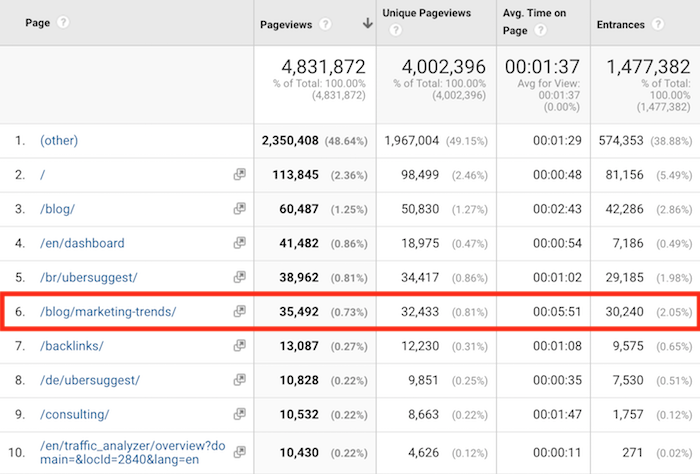 35,492 visits in a week isn't too shabby. The post didn't do exceptionally well and it didn't tank. It was just an average post.
Now you probably won't see the same results as me as I've been doing this for a long time, but your results will be much better than what you are currently getting. Hence, I used the number of 3,549 in the title as you should be able to drive 1/10th of what I am generating.
So, let's dive right into the formula.
Step #1: Optimize your headline
8 out of 10 people will read your headline, but only 2 out of 10 people will click through on your headline to read the rest of your article.
No matter how well written your content is, promoting it won't be effective if no one likes your headline.
Now I know what you are thinking… I've already published my article, is it too late to change my headline?
Nope, you can always change your headline, just try not to change the URL of the article once it is already published. And if you decide to change the URL, use a 301 redirect.
There's a really simple way to come up with headlines that work. Heck, it doesn't even take more than a minute or two.
Just head over to Ubersuggest and type in the main keyword or phrase your article is about.
You'll see a report that looks something like this: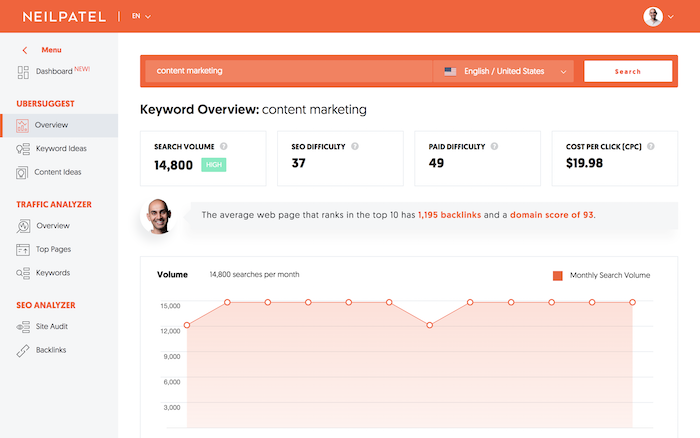 Now I want you to click on "Content Ideas" in the left-hand navigation.
You should now see a report that looks like this: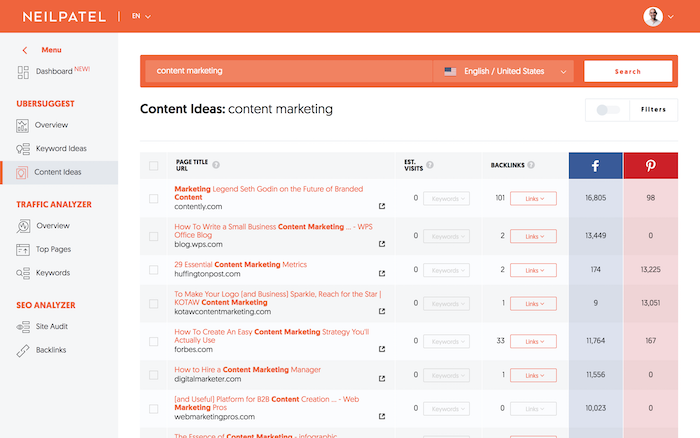 This report shows you all of the blog posts around the web that contain your keyword or phrase within their title. And it breaks it down by social shares, backlinks, and search traffic.
You can use this to see what is working in your space.
Ideally, you want to look for headlines that have thousands of social shares (or hundreds if you aren't in a popular industry), at least 10 backlinks, and more than 100 estimated visits. Just like the example below.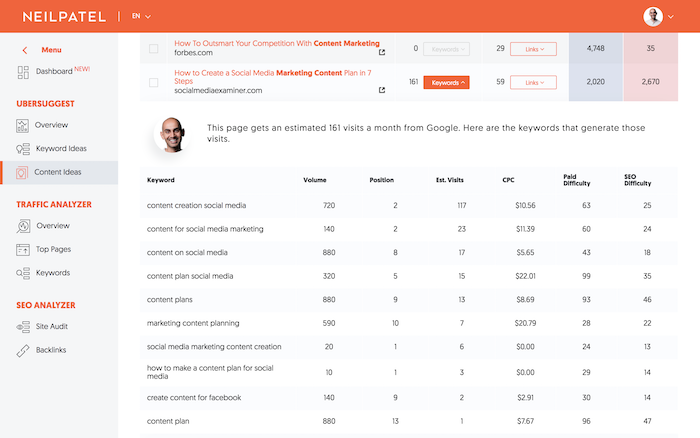 Making your headlines similar to ones that meet those 3 criteria will increase your odds of getting more traffic.
Step #2: Add 3 internal links
The easiest way to get your new content more love is to build links.
Yes, links are hard to build, but internal links are not… plus they are still effective.
I rank for competitive terms like "digital marketing"…
A lot of it has to do with internal links. I link to my main digital marketing page within my sidebar and within my content.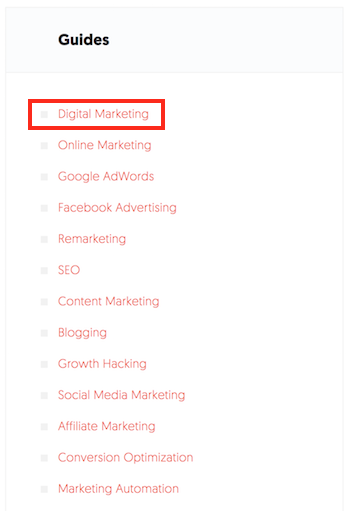 Every time you publish a new blog post, I want you to go into your older content that is relevant to your newly published blog post and add a link to it. Do this to 3 of your older blog posts.
This helps with indexing and it also helps your new content rank higher on Google.
Step 3: Share your content on the social web carefully
The problem with social media marketing is that people think they can just share their content on sites like Facebook or LinkedIn and it will automatically do well.
Sadly, it won't because billions of URLs have been shared already.
In other words, we just tend to ignore most of the links people share.
But there is a simple way to stand out and get thousands of visitors from the social web, just like I get.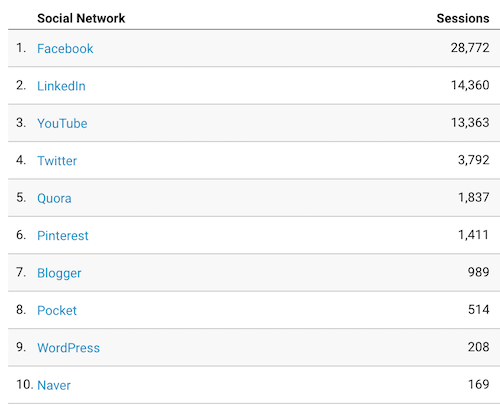 So, what's my secret?
Well, I will give you a hint. Just look at one of my most recent posts on LinkedIn: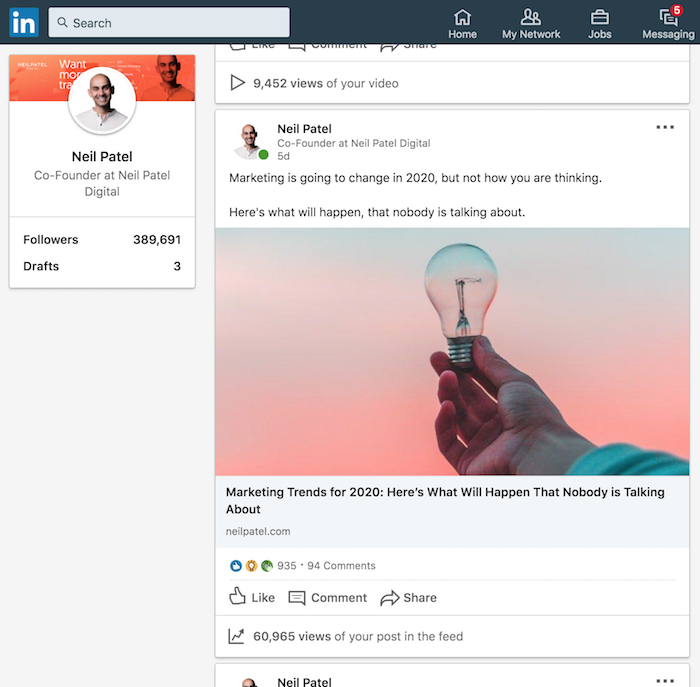 And here is one from Facebook: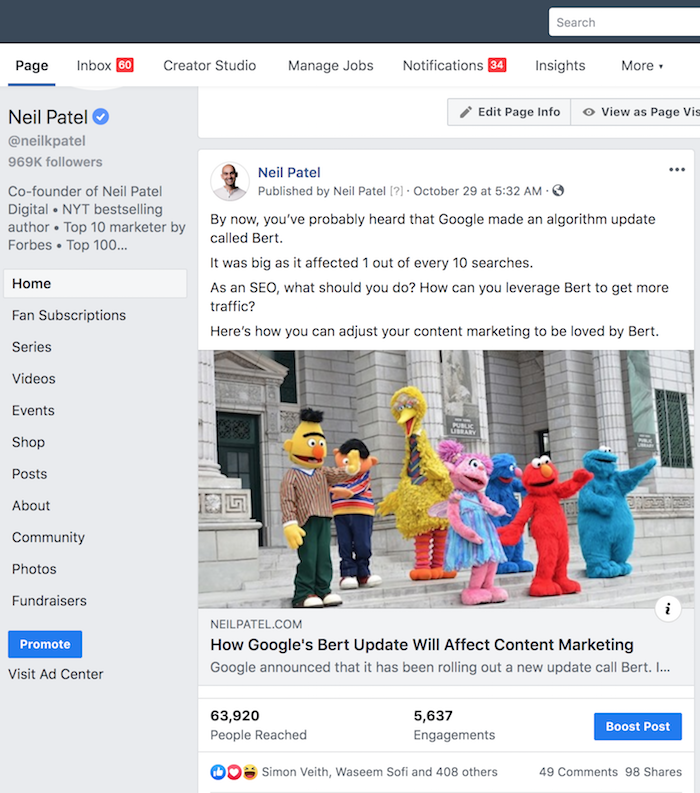 Do you notice a pattern?
I'm evoking curiosity. In other words, I am piquing your interest and if you want to know the "solution" you have to click through to my site.
With the LinkedIn post, I tell you that marketing is going to change next year. I also make a point to say how it is going to change in a way that nobody is talking about.
I do this because we all can assume marketing will change. But by saying it is in a way nobody is talking about, it evokes curiosity. And if you want to know how it will change you have no choice but to click through over to my site to read the rest.
With my Facebook post, I also evoke curiosity. I talk about a Google algorithm update, but I hint that I have an answer to leveraging Google's latest algorithm update. And if you want to know what it is, you have to click through over to my site.
Whenever you post on the social web, evoke curiosity if you want people to head over to your site.
The easiest way to do this is that every time you share one of your articles on the social web, add a few sentences above the link that helps pique peoples' interest.
Step #4: Message everyone you link out to
It's common to link out to other sites within your blog posts.
Heck, sometimes I even link out to my competition.
If you don't ever link out to other sites, you are making a big mistake. It helps with authority and trust.
If you are using stats and data within your article, you want to cite your sources. This brings credibility to you and it helps brand yourself as an expert which can help with Google's medic update.
Now, when you link out to a site, go and search their email address. You can typically find their email address on their website.
Or if you can't find their email address, look for a contact page on their site, you'll typically see a form that you can fill out.
Whether you find an email address or contact form, I want you to message each and every single site you link out to with a message that goes like this:
Hi [insert their first name],

I just wanted to say, I love your content. Especially your article on [insert the name of the article you linked out to].

I linked to it from my latest blog post [insert URL of your blog post]. It would make my day if you checked it out and even shared it on your favorite social network if you enjoyed it.

Cheers,

[insert your name]
When I send out these emails, I am getting 50 to 60% of the people to respond and share my content. But of course, my blog is popular, so for me, it isn't too hard. But it hasn't always been that way, and I've been leveraging this tactic for ages.
On the flip side, I also use this tactic on a few of my blogs that are in other niches and don't use my name (no one knows I own them) and I am seeing success rates around 20%.
Just make sure you don't use this tactic to ask for a link back. Your success rate will be slim.
Step #5: Send an email blast
These last two tactics produce a large portion of my results, and you shouldn't take them for granted, no matter how basic they may seem.
If you already haven't, start collecting emails from your site. You can use free tools like Hello Bar to create popups or sliders.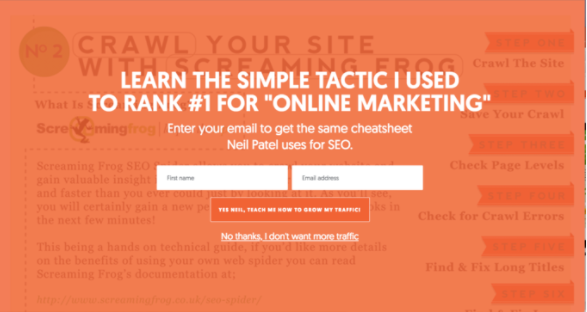 Hello Bar will plug into whatever email provider you are currently using.
Once you are up and running, every time you release a new blog post, send out an email blast.
Here's an example of one of my email blasts.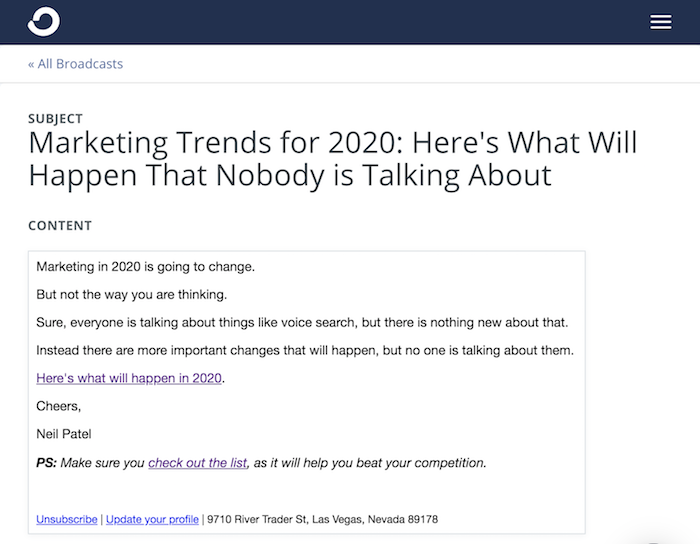 It's so effective it generated 13,544 clicks.

I've found that you can drive good traffic from emails as long as you do the following:
Scrub your list – if someone doesn't open your emails over the last 30 or 60 days, remove them from your list. It helps keep your emails in people's inboxes.
Send text-based emails – if you look at the email I sent, I keep it simple. No images, nothing fancy, just text and a link back to my site. It's that simple.
Evoke curiosity – just like how I explained with the social media posts, your emails won't do well unless you evoke curiosity.
As you write more content you will get more traffic, which will cause your email list to grow. That will also cause you to get more traffic. 🙂
Step #6: Send a push notification
I don't know why so few sites are leverage push notifications. It's so effective I believe I will get more traffic from push notifications in 2020 than I will from email marketing.
To give you an idea, when I analyze my competitors in the marketing arena, only 3 out of 19 use push notifications.
In other industries, the percentage is far worse, which means there is more opportunity for you.
Here's how push notifications work….
Someone comes to your site and through their browser, they get a message if they want to subscribe to your site.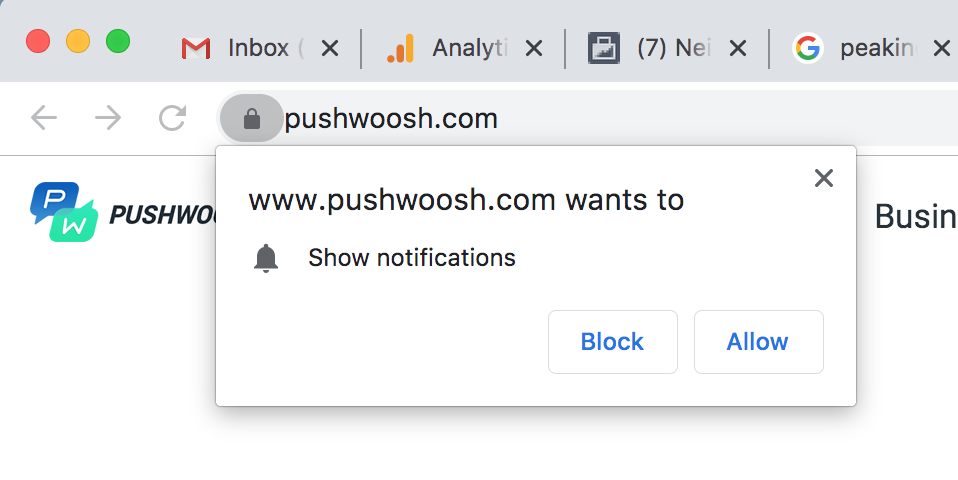 A portion of your visitors will click "allow". With NeilPatel.com, roughly 5.4% of visitors are currently clicking "allow".
You can send push notifications and get subscribers using a free tool like Subscribers.com.
And then when you write a new blog post, you log into Subscribers.com and click on the "Create Notification" button. From there you will see a screen where you can enter the title and description of your latest post.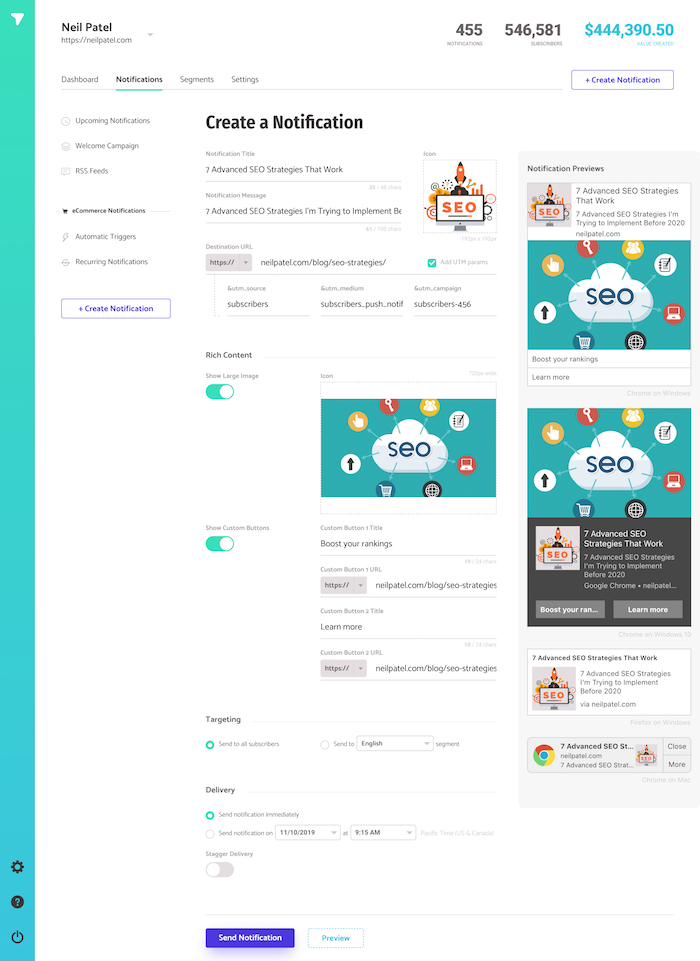 As you can see from the image above, you'll notice that I use an "icon" image, a "large" image, and I show "custom buttons."
Using those 3 elements is the key to getting the most traffic from push notifications. Here are some of my stats from using Subscribers.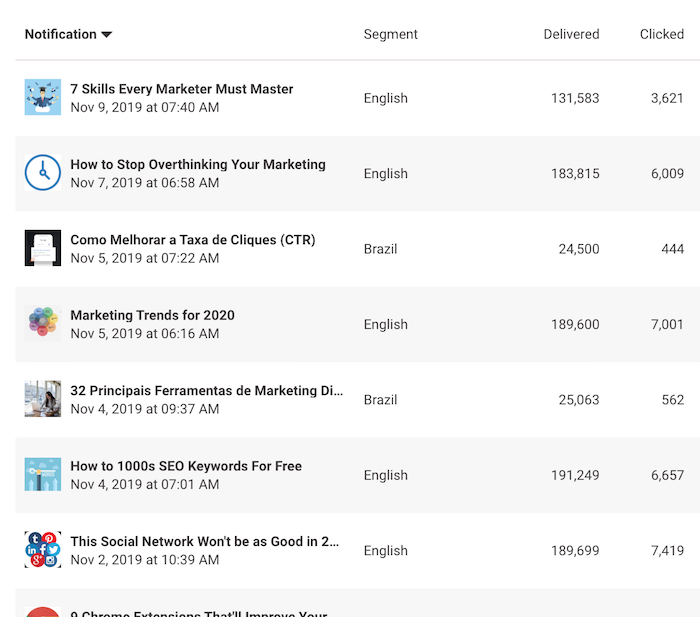 I'm getting roughly 6,000 visits from every push notification I send. That's not too bad.
And if you are curious about what a push notification looks like, here's what people get when I send it out.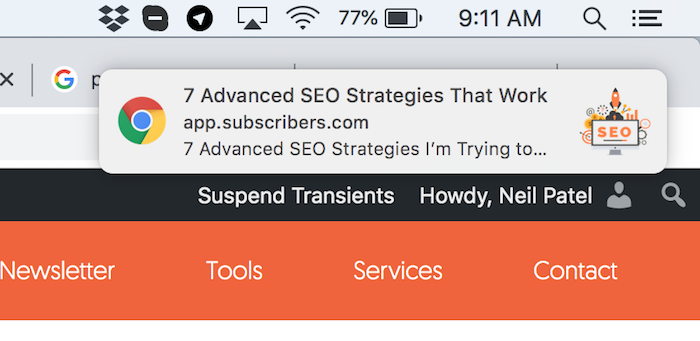 What's cool about push notification is no matter what website someone is on, they will see a message similar to the one above, which will bring people back to your site.
No dealing with spam filters or messages not going through. Plus, if someone isn't online when you send a push notification, the next time they use their web browser they will see your message.
Conclusion
Promoting your content doesn't have to be hard.
You don't need "advanced" tactics or anything that is out of the box. The basics work well, and I have been using the above formula for years… literally.
Now, I know there are other things you can do to promote your content, but let's be realistic: we are all strapped for time. And I've found the ones I've mentioned above to produce the biggest bang for the buck.
So, what other simple ways do you promote your content?
(Re)Introducing your favorite Optimizely products!
It's important to us that you, our valued customers and partners, can identify with the tools you use daily. 
In that pursuit, Optimizely set out to simplify the way we talk about our product suite. That starts, first and foremost, with the words we use to refer to the technology.  
So, we've taken a hard look at everything in our portfolio, and are thrilled to introduce new names we believe are more practical, more consistent, and better representative of the technology we all know and love.  
You may have seen some of these names initially at Opticon 2022 as well as on our website. In the spirit of transparency, the team here at Optimizely wanted to make sure you had full visibility into the complete list of new names, as well as understand the context (and rationale) behind the changes. 
So, without further ado… 
Which names changed? 
Some, but not all. For your ongoing reference, below is a complete list of Optimizely products, with previous terminology you may be familiar with in the first column, and (if applicable) the new name in the second column.  
| | | |
| --- | --- | --- |
| Used to be…  | Is now (or is still)…  | Meaning…  |
| DXP  | | A fully-composable solution designed to support the orchestration, monetization, and experimentation of any type of digital experience — all from a single, open and extensible platform.  |
| Content Cloud  | | A best-in-class system for building dynamic websites and helping digital teams deliver rich, secure and personalized experiences.  |
| Welcome  | | An industry-leading and user-friendly platform helping marketing teams plan campaigns, collaborate on tasks, and author content.  |
| DAM  | | A modern storage tool helping teams of any size manage, track, and repurpose marketing and brand assets (with support for all file types).  |
| Content Recs  | | AI-powered and real-time recommendations to serve the unique interests of each visitor and personalize every experience.  |
| B2B Commerce  | | A templatized and easy-to-deploy platform designed to help manufacturers and distributors drive efficiency, increase revenue and create easy buying experiences that retain customers.  |
| Commerce Cloud  | | A complete platform for digital commerce and content management to build dynamic experiences that accelerate revenue and keep customers coming back for more.  |
| PIM  | | A dedicated tool to help you set up your product inventory and manage catalogs of any size or scale.  |
| Product Recs  | | Machine-learning algorithms optimized for commerce to deliver personalized product recommendations in real-time.  |
| Web  | | An industry-leading experimentation tool allowing you to run A/B and multi-variant tests on any channel or device with an internet connection.  |
| Full Stack  | | A comprehensive experimentation platform allowing you to manage features, deploy safer tests, and roll out new releases – all in one place.  |
| Personalization  | Optimizely Personalization  | An add-on to core experimentation products, allowing teams to create/segment audiences based on past behavior and deliver more relevant experiences.  |
| Program Management  | Optimizely Program Management  | An add-on to core experimentation products, allowing teams to manage the end-to-end lifecycle of an experiment.  |
| ODP  | | A centralized hub to harmonize data across your digital experience tools, providing one-click integrations, AI-assisted guidance for campaigns, and unified customer profiles.  |
So, why the change? 
 It boils down to three guiding principles:  
Uniformity:

Create a naming convention that can be applied across the board, for all products, to drive consistency

 

Simplicity:

Use terms that are both practical and concise, ensuring the names are something that everyone can understand and identify with 

 

Completeness:

Develop a framework that showcases the full and complimentary nature of all the products and solutions within the Optimizely suite

 
 As the Optimizely portfolio comes together as a complete, unified platform, it's important that our names reflect this, as well as support our 3 key solutions (i.e. orchestrate amazing content experiences, monetize every digital experience, and experiment across all touchpoints).  
Other questions? We've got you covered.
Q: Why have you made these product name changes? 
We wanted to simplify how we talk about our portfolio. The renaming applies a naming convention that is both practical and concise.  
Q: Do the new product name changes affect the products I own? 
No, there is no impact to product functionality or capabilities.  
Q: Do the new product name changes affect who is my Customer Success Manager or Account Manager?  
No, there are no changes to your Customer Success Manager or Account Manager. 
Q: Do the new product name changes affect the ownership of the company?  
No, ownership of the company has not changed. We have only made changes to the Product Names. 
Q: Have any contact details changed that I need to be aware of?  
Only contact details for former Welcome customers has changed. These are the new contact details you should be aware of: Optimizely, Inc.| 119 5th Ave | 7th Floor | New York, NY 10003 USA. Phone: +1 603 594 0249 | www.optimizely.com 
Q: Where can I send any follow up questions I might have?  
If you have any questions about the Product Names, please contact your Customer Success Manager or Account Manager.  
Email Marketing Trends 2023: Predictions by the Industry Stalwarts

Every year, we see new trends entering the world of email marketing.

Source link
5 Simple Things You Can Do To Improve the Content Experience for Readers
Who doesn't like to have a good experience consuming content?
I know I do. And isn't that what we – as both a consumer of content and a marketer of content – all want?
What if you create such a good experience that your audience doesn't even realize it's an "experience?" Here's a helpful mish-mash of easy-to-do things to make that possible.
1. Write with an inclusive heart
There's nothing worse than being in a conversation with someone who constantly talks about themselves. Check your text to see how often you write the words – I, me, we, and us. Now, count how often the word "you" is used. If the first-person uses are disproportionate to the second-person uses, edit to delete many first-person references and add more "you" to the text.
You want to let your audience know they are included in the conversation. I like this tip shared in Take Binary Bias Out of Your Content Conversations by Content Marketing World speaker Ruth Carter: Go through your text and replace exclusionary terms such as he/him and she/her with they/them pronouns.
Go through your text and replace exclusionary terms such as he/him and she/her with they/them pronouns, says @rbcarter via @Brandlovellc @CMIContent. #WritingTips Click To Tweet
2. Make your content shine brighter with an AI assist
Content published online should look different than the research papers and essays you wrote in school. While you should adhere to grammar rules and follow a style guide as best as possible, you also should prioritize readability. That requires scannable and easily digestible text – headings, bulleted text, short sentences, brief paragraphs, etc.
Use a text-polishing aid such as Hemingway Editor (free and paid versions) to cut the dead weight from your writing. Here's how its color-coded review system works and the improvements to make:
Yellow – lengthy, complex sentences, and common errors

Fix: Shorten or split sentences.

Red – dense and complicated text

Fix: Remove hurdles and keep your readers on a simpler path.

Pink – lengthy words that could be shortened

Fix: Scroll the mouse over the problematic word to identify potential substitutes.

Blue – adverbs and weakening phrases

Fix: Delete them or find a better way to convey the thought.

Green – passive voice

Fix: Rewrite for active voice.
Grammarly's paid version works well, too. The premium version includes an AI-powered writing assistant, readability reports, a plagiarism checker, citation suggestions, and more than 400 additional grammar checks.
In the image below, Grammarly suggests a way to rephrase the sentence from:
"It is not good enough any longer to simply produce content "like a media company would".
To:
"It is no longer good enough to produce content "as a media company would".
Much cleaner, right?
3. Ask questions
See what I did with the intro (and here)? I posed questions to try to engage with you. When someone asks a question – even in writing – the person hearing (or reading) it is likely to pause for a split second to consider their answer. The reader's role changes from a passive participant to an active one. Using this technique also can encourage your readers to interact with the author, maybe in the form of an answer in the comments.
4. Include links
Many content marketers include internal and external links in their text for their SEO value. But you also should add links to help your readers. Consider including links to help a reader who wants to learn more about the topic. You can do this in a couple of ways:
You can link the descriptive text in the article to content relevant to those words (as I did in this bullet point)
You can list the headlines of related articles as a standalone feature (see the gray box labeled Handpicked Related Content at the end of this article).
Add links to guide readers to more information on a topic – not just for SEO purposes says @Brandlovellc via @CMIContent. #WritingTips Click To Tweet
You also can include on-page links or bookmarks in the beginning (a table of contents, of sorts) in longer pieces to help the reader more quickly access the content they seek to help you learn more about a topic. This helps the reader and keeps visitors on your website longer.
5. Don't forget the 'invisible' text
Alt text is often an afterthought – if you think about it all. Yet, it's essential to have a great content experience for people who use text-to-speech readers. Though it doesn't take too much time, I find that customizing the image description content instead of relying on the default technology works better for audience understanding.
First, ask if a listener would miss something if they didn't have the image explained. If they wouldn't, the image is decorative and probably doesn't need alt text. You publish it for aesthetic reasons, such as to break up a text-heavy page. Or it may repeat information already appearing in the text (like I did in the Hemingway and Grammarly examples above).
If the listener would miss out if the image weren't explained well, it is informative and requires alt text. General guidelines indicate up to 125 characters (including spaces) work best for alt text. That's a short sentence or two to convey the image's message. Don't forget to include punctuation.
General guidelines indicate up to 125 characters (including spaces) work best for alt text, says @Brandlovellc via @CMIContent. Click To Tweet
For both decorative and informative images, include the photo credits, permissions, and copyright information, in the caption section.
For example, if I were writing an article about Best Dogs for Families, I would include an image of a mini Bernedoodle as an example because they make great family pets. Let's use this image of my adorable puppy, Henri, and I'll show you both a good and bad example of alt text.
An almost useless alt-text version: "An image showing a dog."
It wastes valuable characters with the phrase "an image showing."
Use the available characters for a more descriptive alt text: "Author's tri-colored (brown, white, black, grey wavy hair), merle mini Bernedoodle, Henri, lying on green grass."
It's more descriptive, and I only used 112 characters, including spaces.
Want to learn more? Alexa Heinrich, an award-winning social media strategist, has a helpful article on writing effective image descriptions called The Art of Alt Text. @A11yAwareness on Twitter is also a great resource for accessibility tips.
Improve your content and better the experience
Do any of these suggestions feel too hard to execute? I hope not. They don't need a bigger budget to execute. They don't need a lengthy approval process to implement. And they don't demand much more time in production.
They just need you to remember to execute them the next time you write (and the time after that, and the time after that, and the … well, you get the idea.)
If you have an easy-to-implement tip to improve the content experience, please leave it in the comments. I may include it in a future update.
All tools mentioned in the article are identified by the author. If you have a tool to suggest, please feel free to add it in the comments.
If you have an idea for an original article you'd like to share with the CMI audience, you could get it published on the site. First, read our 
blogging guidelines
 and write or adjust your draft accordingly. Then submit the post for consideration following the process outlined in the guidelines.
In appreciation for guest contributors' work, we're offering free registration to one paid 
event
 or free enrollment in 
Content Marketing University
 to anyone who gets two new posts accepted and published on the CMI site in 2023.
HANDPICKED RELATED CONTENT:
Cover image by Joseph Kalinowski/Content Marketing Institute