5 Google My Business Features That Support PPC
The question was posed: Does having a Google My Business (GMB) account help Google Ads pay-per-click (PPC) performance?
I researched this quite a bit and was unable to find any evidence that having a GMB account provides any quantified uplift to an advertiser's PPC account. There is no Quality Score boost for simply having a GMB listing. But that's not the whole story.
Having a GMB account linked to a Google Ads account does, in fact, allow the advertiser to utilize five features they otherwise would not have access to.
1. Location Extensions
Having a GMB listing allows advertisers to use location extensions, those addresses that appear in text ads:

Not only does the address allow the user to determine the business location, but it also gives the ad an extra line of space on the search engine results page (SERP). And the only way to set up a location extension is to link a GMB account to the Google Ads account.
2. Local Pack
Another benefit to having a GMB account when running a PPC campaign is that ads are eligible to run in the Local Pack. On the SERP, Google includes up to three listings below the map, in between the paid and organic results. When running a paid campaign with a GMB account linked, a paid listing is eligible to run above the other three organic listings: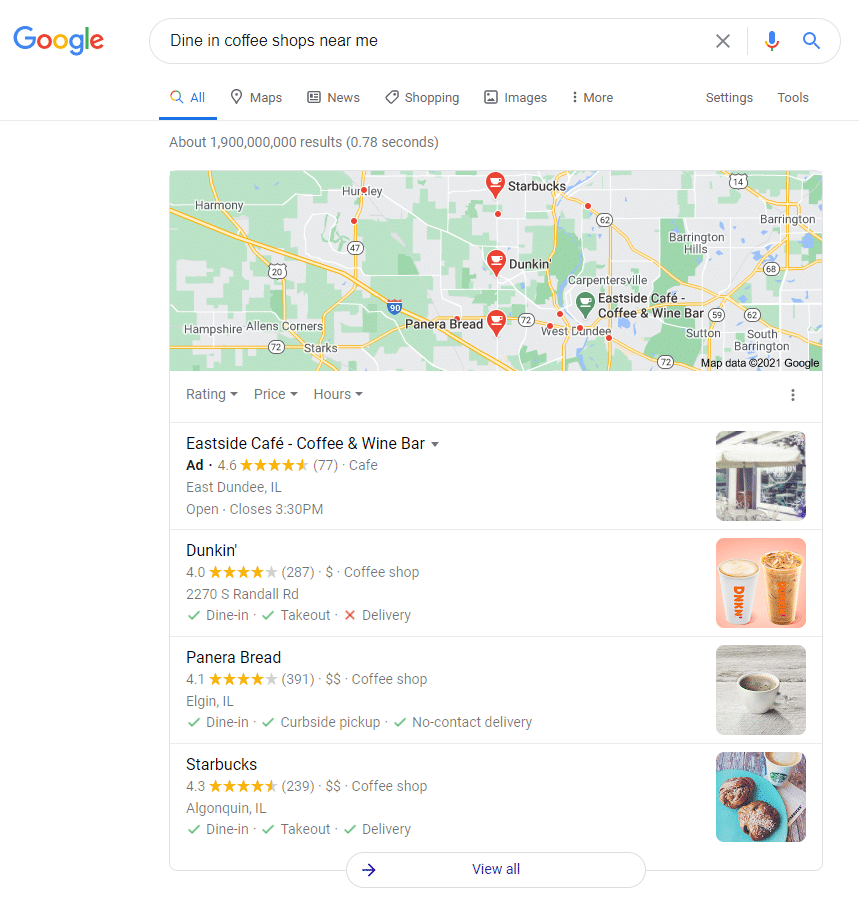 This provides a second paid opportunity on the SERP as the text ad is eligible to run on the same results page as the GMB information, increasing your advertising presence.
3. Local Campaigns
The third benefit of GMB listings to advertisers is the ability to use local campaigns in Google Ads. Local campaigns utilize machine learning to promote offline business goals and maximize in-store value by measuring store visits, call clicks, and direction clicks. With only a few lines of text, some images, and a budget, Google serves these ads across Search, Google Maps, the Google Display Network, and YouTube.
4. Customer Reviews
Another important GMB perk is the ability to collect online customer reviews that can be added as an extension and shown alongside your ad.
It's important to keep an eye on GMB reviews and make sure customer satisfaction remains high. One study found that PPC conversion rates can be impacted by GMB ratings. Accounts with ratings below 3.5 stars had average conversion rates of around 3% while accounts with ratings around 4.5 stars enjoyed conversion rates that were over 4%.
This same study also found businesses that replied frequently to their reviews saw a 30% higher conversion rate than businesses that replied less frequently.
5. Keyword Mining
The final benefit of having a GMB account is the fact that it can be used to mine for new paid search keywords.
Under Insights, which is currently transitioning to Profile Performance, is a list of search terms that triggered the GMB listing to appear in the results. Not many of these keywords will be appropriate for adding to a PPC campaign, but there may be some gems that can be added to your marketing mix.
A Google My Business listing can take a PPC account to the next level. In order to capitalize on the power of GMB, make sure the listing is created, linked, and optimized. Remember to ask for GMB reviews often and reply to those reviews just as often. Your next big sale could be peeking right around the GMB corner.
Google to pay $391.5 million settlement over location tracking, state AGs say
Google has agreed to pay a $391.5 million settlement to 40 states to resolve accusations that it tracked people's locations in violation of state laws, including snooping on consumers' whereabouts even after they told the tech behemoth to bug off.
Louisiana Attorney General Jeff Landry said it is time for Big Tech to recognize state laws that limit data collection efforts.
"I have been ringing the alarm bell on big tech for years, and this is why," Mr. Landry, a Republican, said in a statement Monday. "Citizens must be able to make informed decisions about what information they release to big tech."
The attorneys general said the investigation resulted in the largest-ever multistate privacy settlement. Connecticut Attorney General William Tong, a Democrat, said Google's penalty is a "historic win for consumers."
"Location data is among the most sensitive and valuable personal information Google collects, and there are so many reasons why a consumer may opt out of tracking," Mr. Tong said. "Our investigation found that Google continued to collect this personal information even after consumers told them not to. That is an unacceptable invasion of consumer privacy, and a violation of state law."
Location tracking can help tech companies sell digital ads to marketers looking to connect with consumers within their vicinity. It's another tool in a data-gathering toolkit that generates more than $200 billion in annual ad revenue for Google, accounting for most of the profits pouring into the coffers of its corporate parent, Alphabet, which has a market value of $1.2 trillion.
The settlement is part of a series of legal challenges to Big Tech in the U.S. and around the world, which include consumer protection and antitrust lawsuits.
Though Google, based in Mountain View, California, said it fixed the problems several years ago, the company's critics remained skeptical. State attorneys general who also have tussled with Google have questioned whether the tech company will follow through on its commitments.
The states aren't dialing back their scrutiny of Google's empire.
Last month, Texas Attorney General Ken Paxton said he was filing a lawsuit over reports that Google unlawfully collected millions of Texans' biometric data such as "voiceprints and records of face geometry."
The states began investigating Google's location tracking after The Associated Press reported in 2018 that Android devices and iPhones were storing location data despite the activation of privacy settings intended to prevent the company from following along.
Arizona Attorney General Mark Brnovich went after the company in May 2020. The state's lawsuit charged that the company had defrauded its users by misleading them into believing they could keep their whereabouts private by turning off location tracking in the settings of their software.
Arizona settled its case with Google for $85 million last month. By then, attorneys general in several other states and the District of Columbia had pounced with their own lawsuits seeking to hold Google accountable.
Along with the hefty penalty, the state attorneys general said, Google must not hide key information about location tracking, must give users detailed information about the types of location tracking information Google collects, and must show additional information to people when users turn location-related account settings to "off."
States will receive differing sums from the settlement. Mr. Landry's office said Louisiana would receive more than $12.7 million, and Mr. Tong's office said Connecticut would collect more than $6.5 million.
The financial penalty will not cripple Google's business. The company raked in $69 billion in revenue for the third quarter of 2022, according to reports, yielding about $13.9 billion in profit.
Google downplayed its location-tracking tools Monday and said it changed the products at issue long ago.
"Consistent with improvements we've made in recent years, we have settled this investigation which was based on outdated product policies that we changed years ago," Google spokesman Jose Castaneda said in a statement.
Google product managers Marlo McGriff and David Monsees defended their company's Search and Maps products' usage of location information.
"Location information lets us offer you a more helpful experience when you use our products," the two men wrote on Google's blog. "From Google Maps' driving directions that show you how to avoid traffic to Google Search surfacing local restaurants and letting you know how busy they are, location information helps connect experiences across Google to what's most relevant and useful."
The blog post touted transparency tools and auto-delete controls that Google has developed in recent years and said the private browsing Incognito mode prevents Google Maps from saving an account's search history.
Mr. McGriff and Mr. Monsees said Google would make changes to its products as part of the settlement. The changes include simplifying the process for deleting location data, updating the method to set up an account and revamping information hubs.
"We'll provide a new control that allows users to easily turn off their Location History and Web & App Activity settings and delete their past data in one simple flow," Mr. McGriff and Mr. Monsees wrote. "We'll also continue deleting Location History data for users who have not recently contributed new Location History data to their account."
• This article is based in part on wire service reports.